Our apple peanut butter smoothie recipe combines these ingredients to turn out a fantastic treat. It's a sweet, fruity treat that combines not just what's in the name, but also fantastic aromas from vanilla and cinnamon.
Is This Apple Peanut Butter Smoothie Healthy?
Yes, it is.
First of all, it comprises a range of wholesome ingredients, such as bananas, apples, milk, and peanuts. Together they provide you with vitamin C, B vitamins, magnesium, potassium, calcium, and more, which are all necessary for our bodies' proper functioning.
We are using unsalted peanut butter for this smoothie, to keep it low in sodium. Each serving yields about 33 mg, which naturally comes from milk.
Since the fruits are pretty sweet by themselves, each serving of our apple peanut butter smoothie recipe needs no sugar or added sweetener. However, peanut butter contains a decent amount of fat, which pumps the calories up to about 207.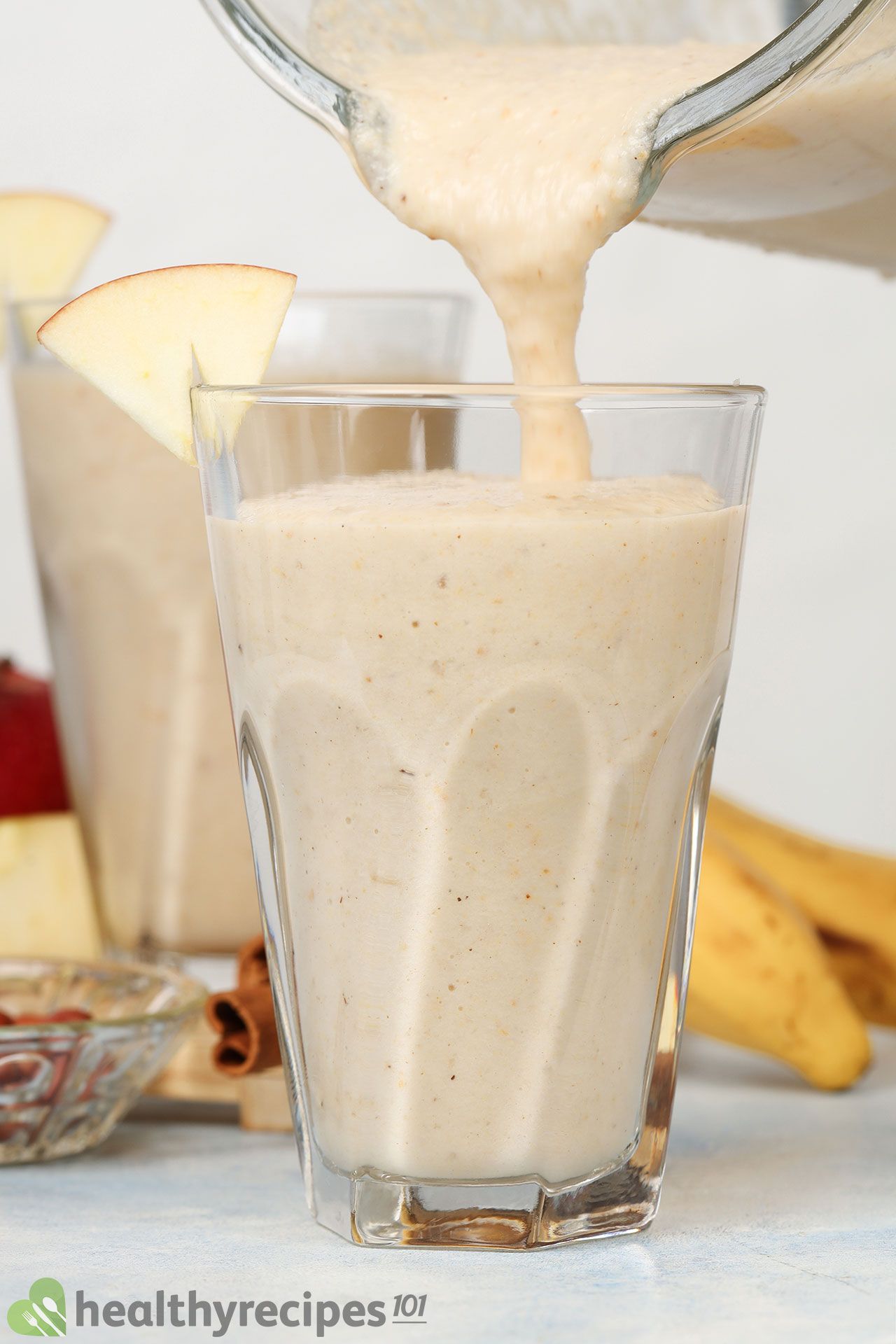 Ingredients for This Apple Peanut Butter Smoothie
There are apples, bananas, peanuts, peanut butter, milk, vanilla, cinnamon, and ice:
We are creating a sweet smoothie with no hint of tartness, so sweet apple breeds like Fuji, Kiku, Ambrosia, Gala, or Red Delicious are good options. We also peel their skin so the smoothie turns out more consistent in texture.
Bananas become sweeter the riper they get, so if you prefer a very sweet smoothie, choose very ripe bananas. They may have an unappealing dark skin and texture too soft to bite into, but they do make amazing desserts (and smoothies!)
To ensure smooth blending, we're using whole milk. It doesn't matter what type — skimmed, half and half, almond, or other plant-based type works just fine.
Just like the best apple pie and banana bread recipes, we add to this smoothie some vanilla extract and cinnamon. While their fragrances are phenomenal, too much of either can be overpowering, so we suggest you stick to our measurements.
1. Can I Use Frozen Fruits for This Smoothie?
Yes, you totally can. Once frozen, the bananas will make the smoothie even thicker and cooler.
To freeze these fruits, it's important that you cut them into blender-friendly pieces and freeze them on a tray lined with baking paper. Once they're frozen, you can remove them from the paper, place into bags, and use in smoothies.
2. Can You Substitute Peanut Butter for Peanuts?
We are using both of these ingredients, and no, because they're used for different purposes. Peanut butter is for the rich flavor and the smooth texture, whereas the toasted peanuts provide a crunchy texture that's fun to chew on.
The final ingredient is ice. We use ice nuggets, the friendliest type of ice for smoothie-making. If you don't have it to hand, crush whatever ice you have before blending to avoid the presence of ice chunks in the final product.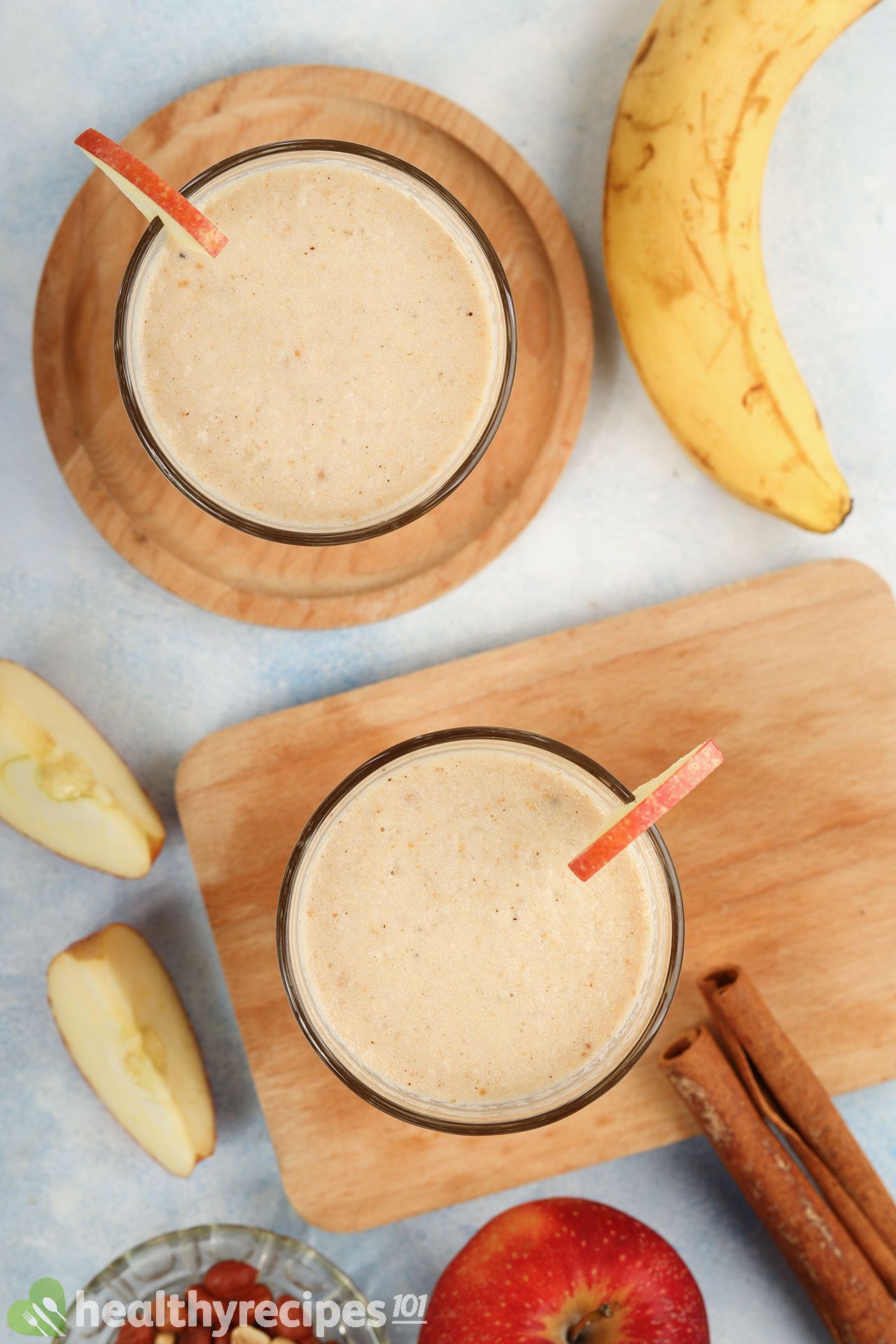 How to Make Apple Peanut Butter Smoothie
Once you've measured out the apples, bananas, peanut butter, milk, toasted peanuts, vanilla extract, cinnamon, and ice, place it all into a blender and blend until smooth. Measurements are listed at the bottom of this 'Apple Peanut Butter Smoothie Recipe' article.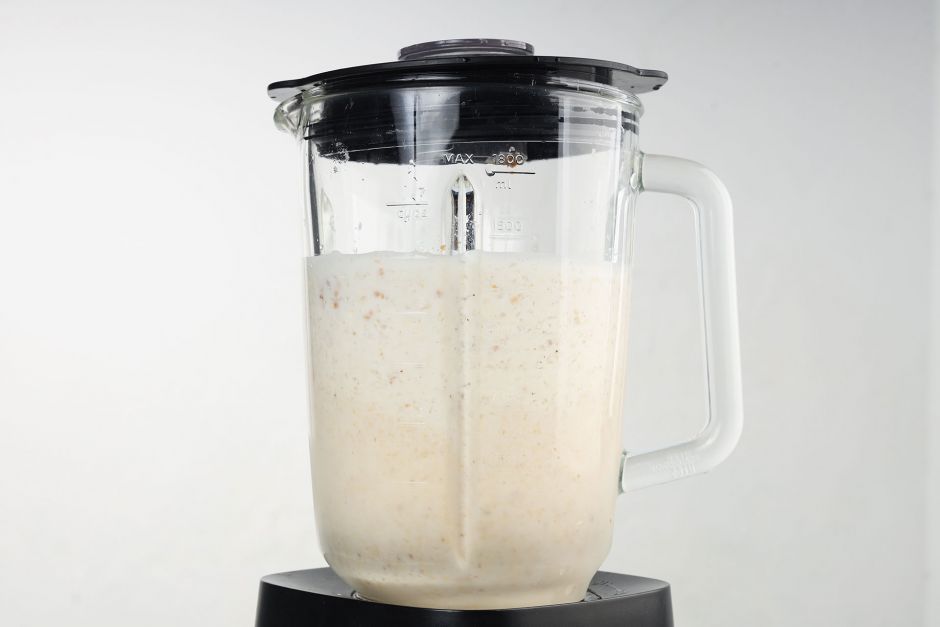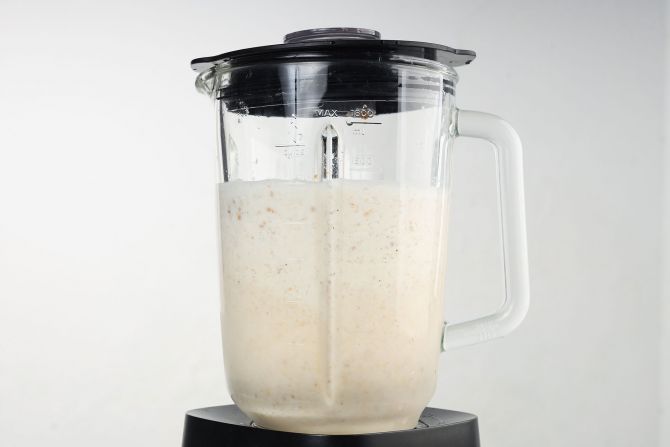 Blend ingredients.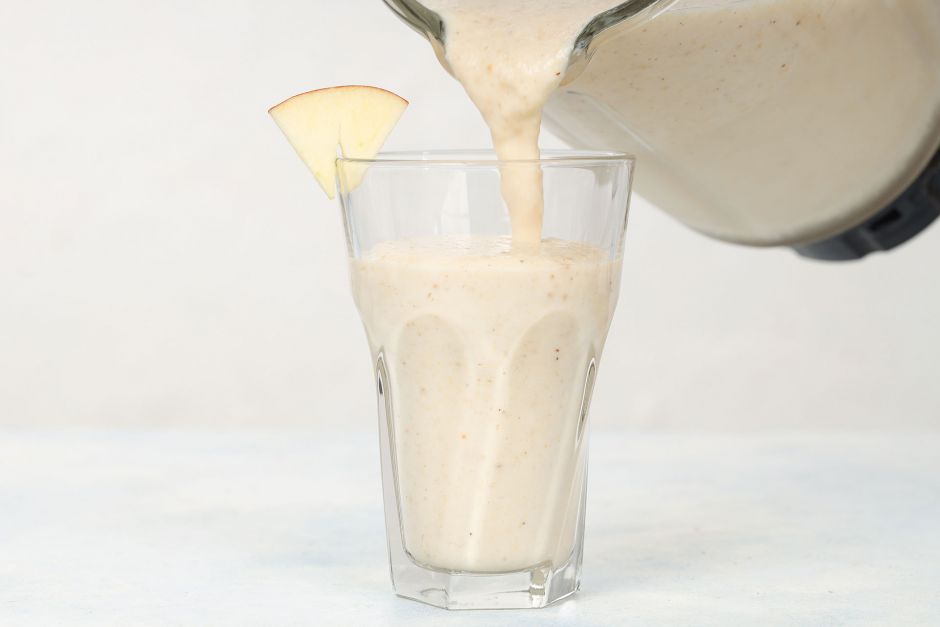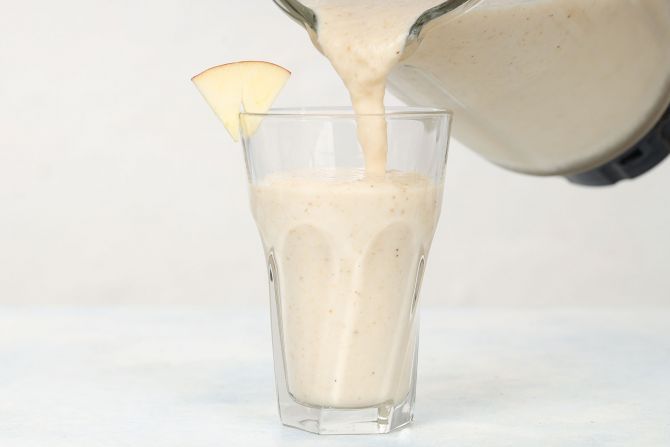 Pour into serving glasses.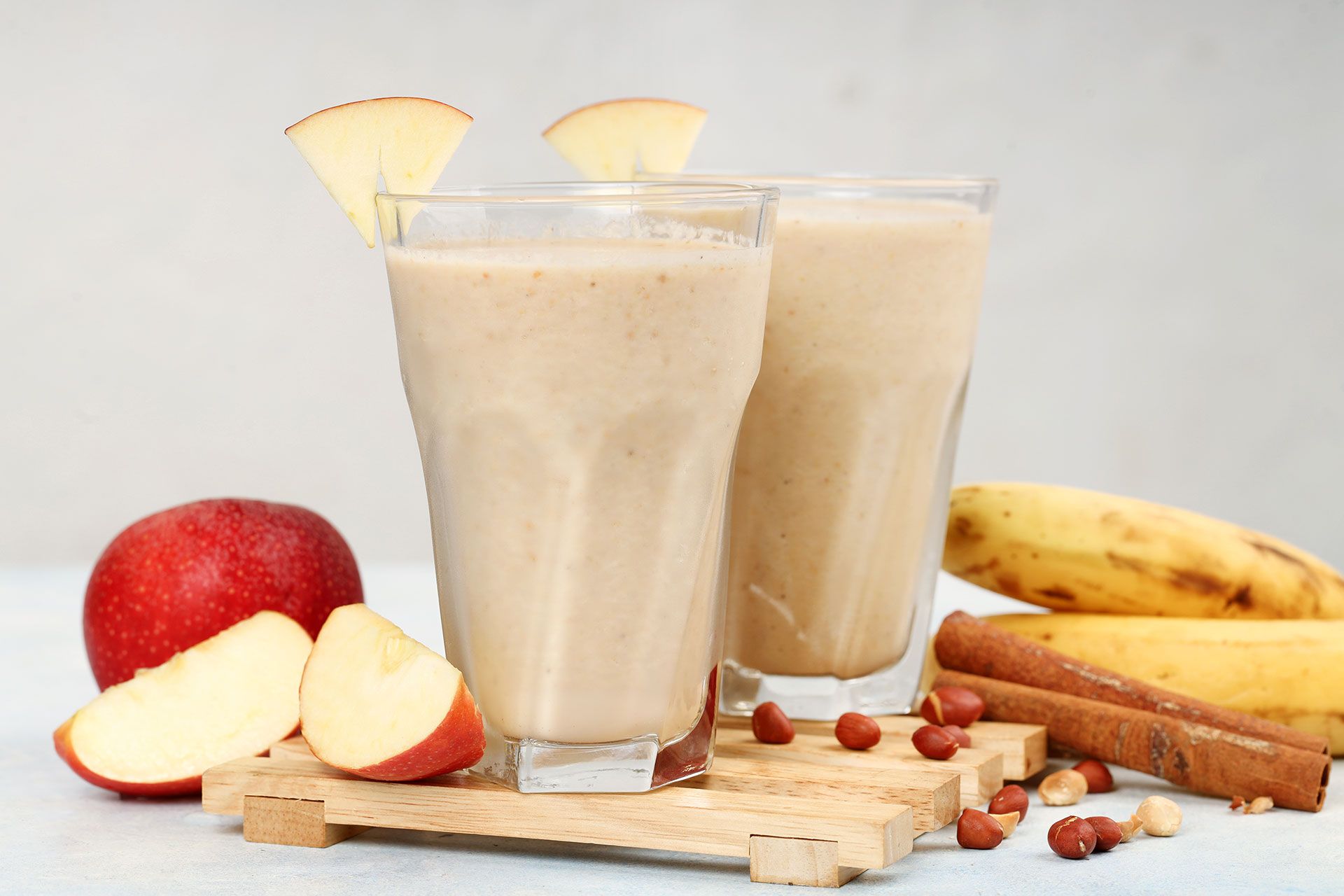 Garnish with more peanuts and serve immediately.
Storing and Freezing Apple Peanut Butter Smoothie
Once ice has been added, this smoothie should not be stored. Instead, leave the ice out, blend the ingredients, and divide it into small bags to freeze. These 'smoothie pouches' can last for up to 3 months, and be blended quickly with ice for a healthy, tasty treat.
Small Ziploc bags or biodegradable bags are our containers of choice. It often takes us about 5 minutes to thaw one pouch, and once the smoothie is removed, the bag can be washed for future uses.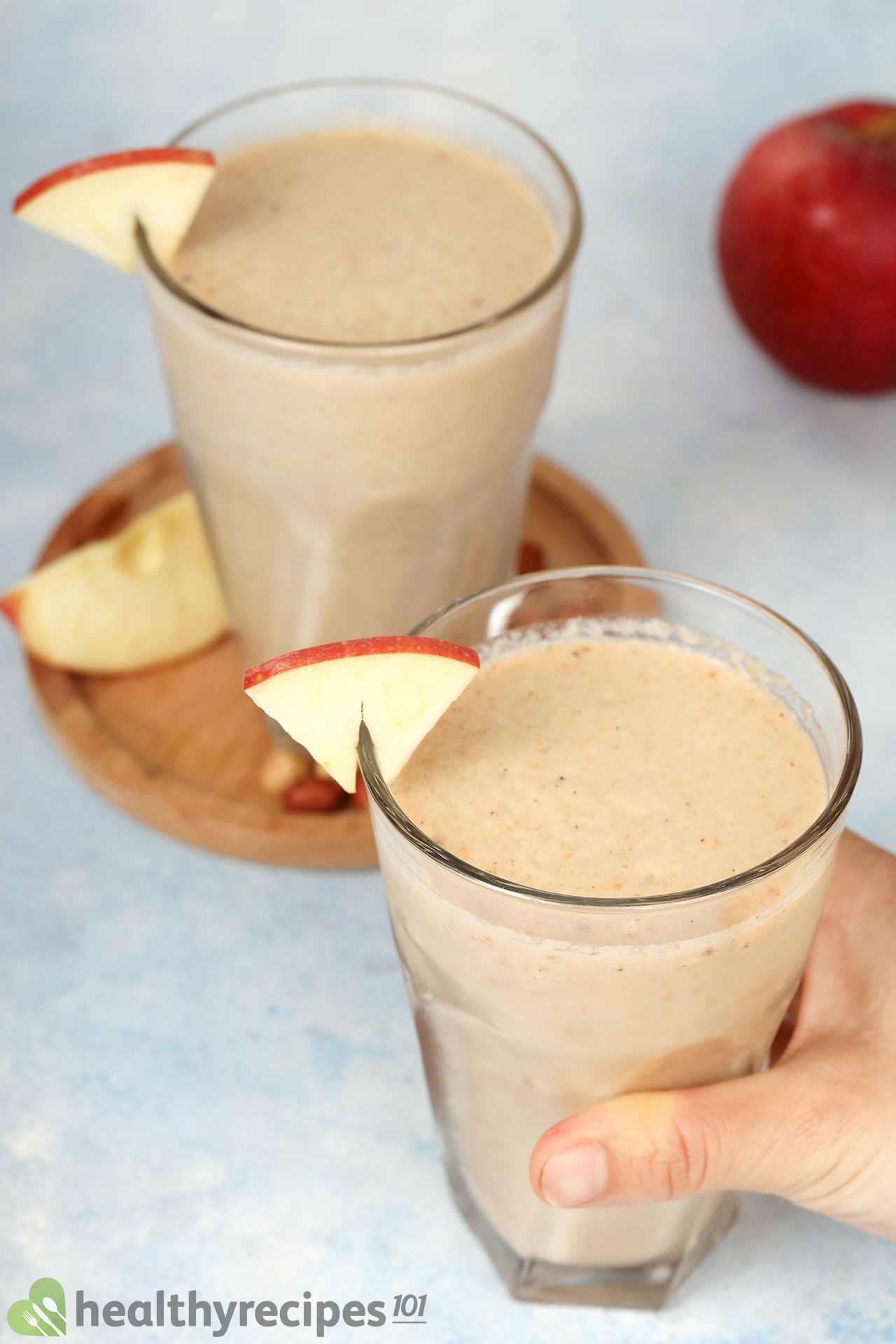 Apple Peanut Butter Smoothie Recipe
Our apple peanut butter smoothie is fragrant, thick, and rich in flavor. If pies are your favorites, consider this smoothie a must-try.
Ingredients
12

oz

red apples

peeled

6

oz

bananas

peeled and cut into segments

2

cups

ice

preferably ice nuggets

1

cup

whole milk

2

tbsp

unsalted peanut butter

1/4

tsp

vanilla extract

1/4

tsp

cinnamon

1

oz

peanuts

roasted and crushed
Instructions
Place all ingredients in the blender, starting with the ice. Cover and blend until smooth.

Pour into serving glasses.

Garnish with more peanuts and serve immediately.
Nutrition
Nutrition Facts
Apple Peanut Butter Smoothie Recipe
Amount Per Serving (1 serving)
Calories 207
Calories from Fat 90
% Daily Value*
Fat 10g15%
Cholesterol 7mg2%
Sodium 33mg1%
Potassium 433mg12%
Carbohydrates 27g9%
Protein 6g12%
Vitamin A 172IU3%
Vitamin C 8mg10%
Calcium 99mg10%
Iron 1mg6%
* Percent Daily Values are based on a 2000 calorie diet.