This mango avocado smoothie recipe is an easy and lip-smacking way to incorporate more fruits into your diet. The drink is refreshing, nutritious, and features the goodness of tropical fruits.
Is This Mango Avocado Smoothie Recipe Healthy?
The short answer is yes, our mango avocado smoothie recipe is healthy.
Mangoes are not just a delectable tropical fruit; they also bring great health benefits.
A cup of diced mango contains approximately 60 mg of vitamin C (about two-thirds of the vitamin C you need in a day). Vitamin C is critical for the body's healing process, as it aids in the formation of blood vessels, cartilage, muscles, and collagen in bones.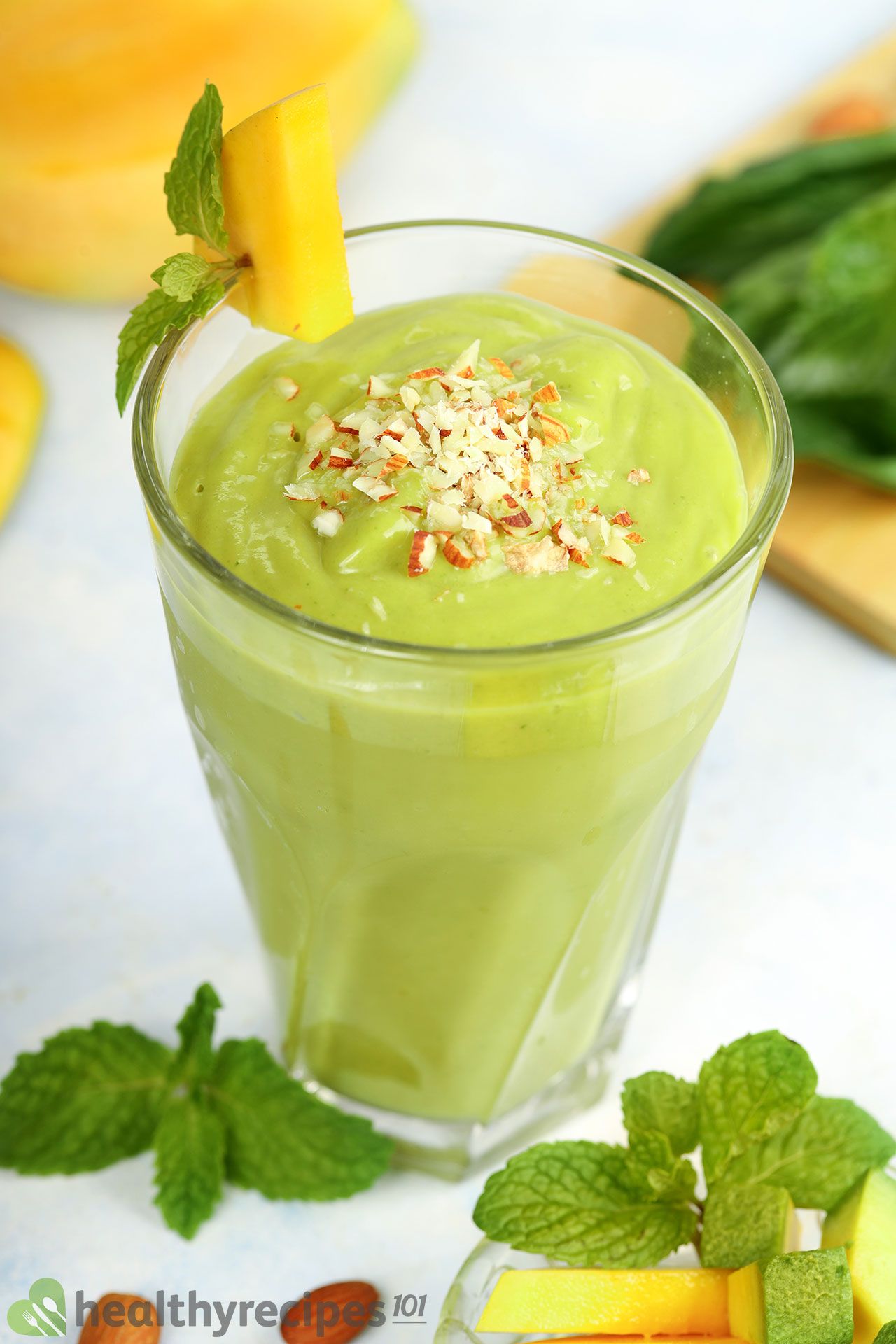 There is around 3 g of fiber in one cup of mango, which is approximately 10% of the daily need. Dietary fiber has been recognized as crucial for digestive health.
This green fruit has established itself as a true mainstay in kitchens the world over — and with good cause.
They contain a significant amount of potassium. According to the US Department of Agriculture, a 100-gram serving of avocado contains 485 mg of potassium. This mineral aids in the regulation of nerve function and the transport of nutrients into cells while also removing waste.
Avocados are also a good source of monounsaturated fats. Monounsaturated fats benefit your health in a variety of ways, such as aiding in the reduction of your LDL (bad) cholesterol level. Maintaining a low LDL cholesterol level lowers your risk of heart disease and stroke.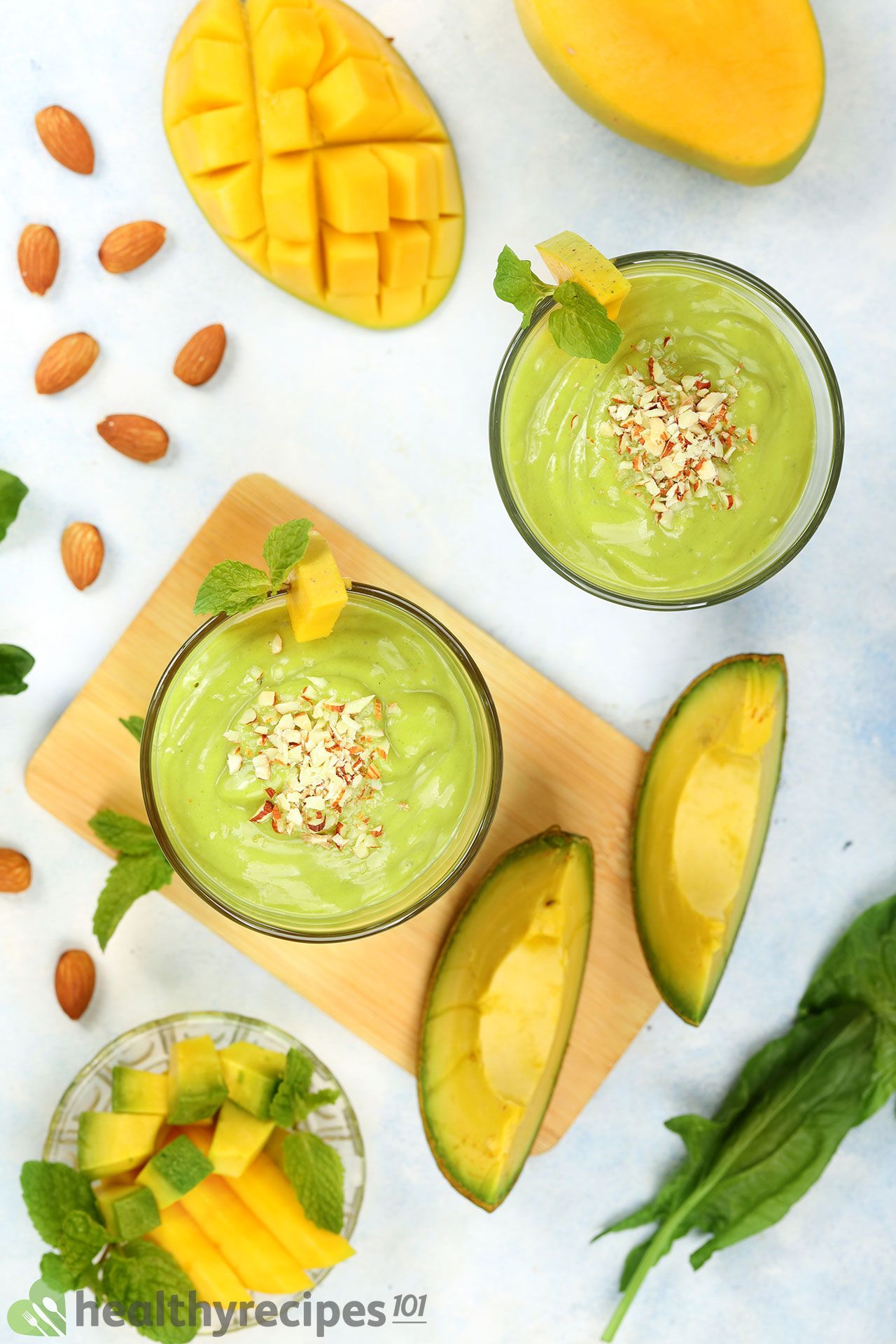 Ingredients for Mango Avocado Smoothie
Fruits: Avocado makes for the ultimate creamy base and smooth consistency. The addition of mango brings a pleasant sweetness and delicious tropical flavors.
Vegetables: Spinach is low in calories and high in fiber, vitamins, and minerals. Although the spinach imparts a distinct color to the smoothie, it is very subtle in taste. This green smoothie does not have a green flavor.
Milk: Although we used homemade almond milk, you may substitute any other type of plant milk of your choice. You can also use juice, coconut water, or plain water in place of the milk.
Nuts: Adding almonds are an excellent way to boost the protein content and nutrienttional density inof a smoothie. If you don't have almonds, feel free to substitute other types like hazelnuts or pecans.
Honey: We skipped the processed sugar but introduced a pleasant sweetness by adding honey. In addition to giving you energy and making your drink sweet, raw honey has a great nutty aroma.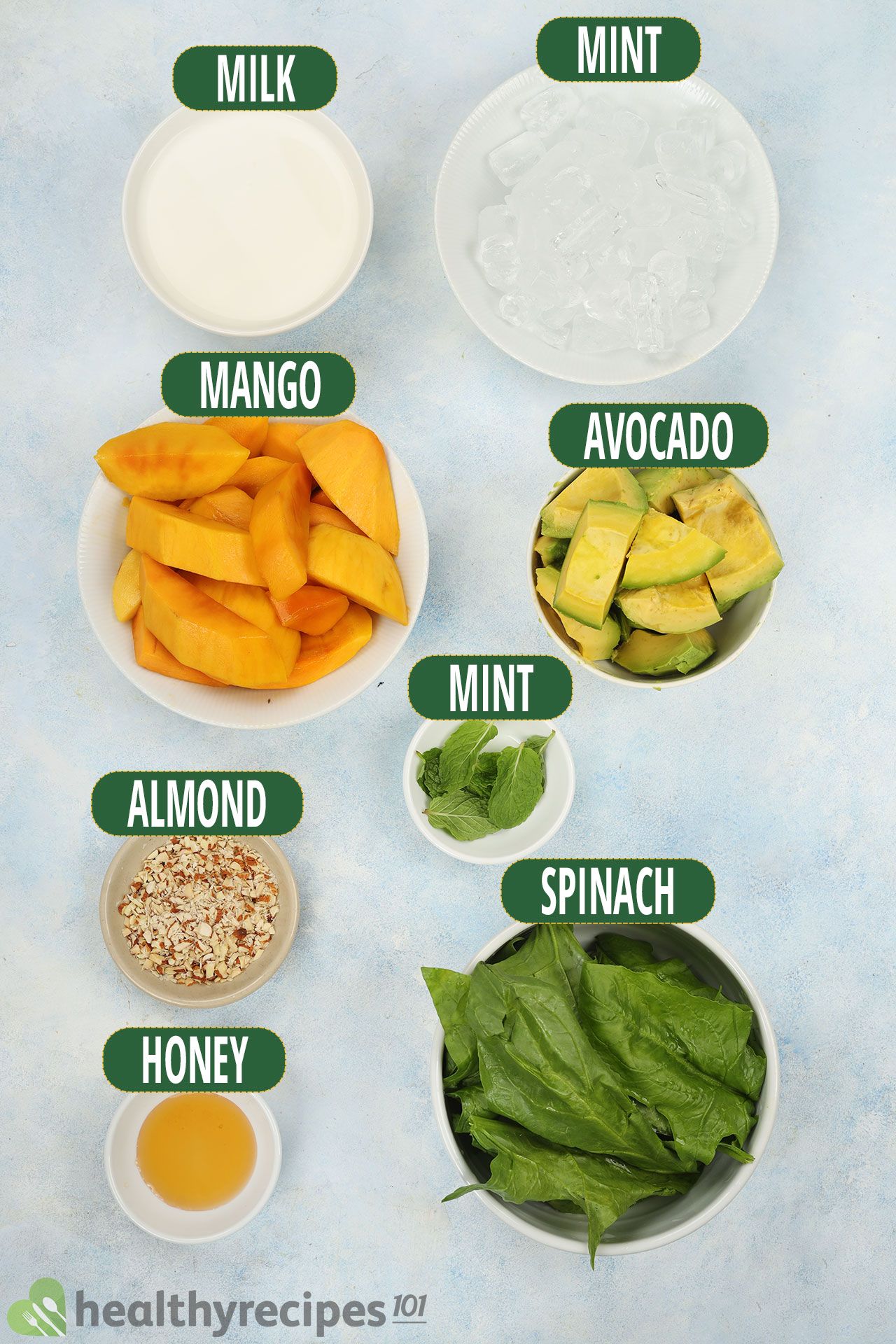 How to Make Mango Avocado Smoothie
Our mango avocado smoothie is super easy to make. Here's how we made it: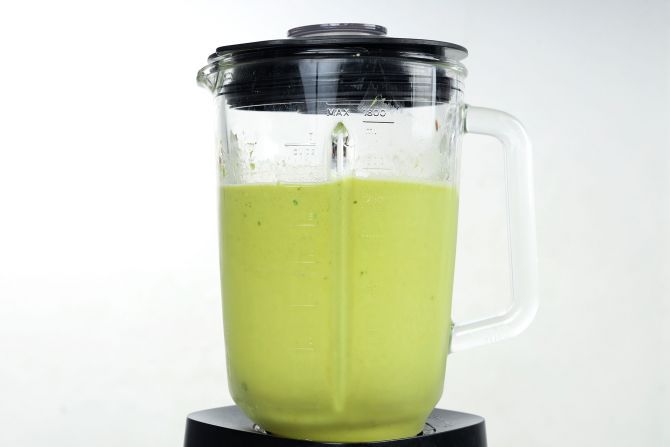 Blend ingredients.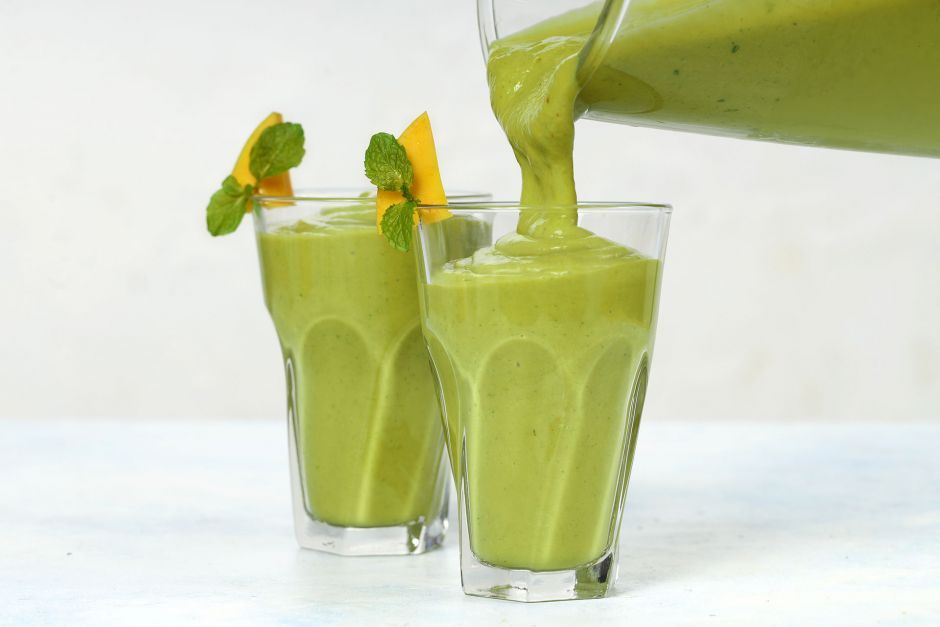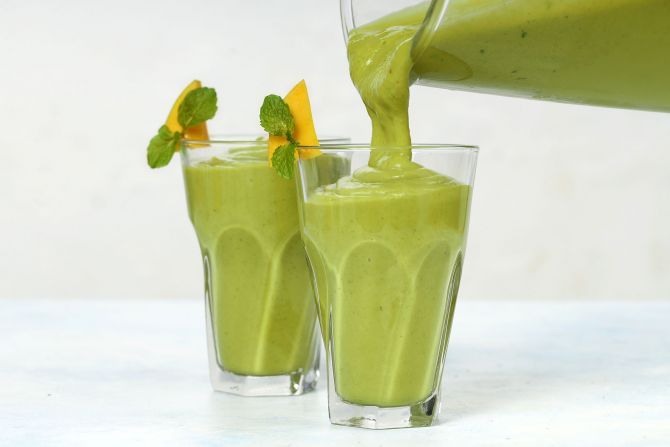 Garnish with mint leaves. Pour into serving glasses.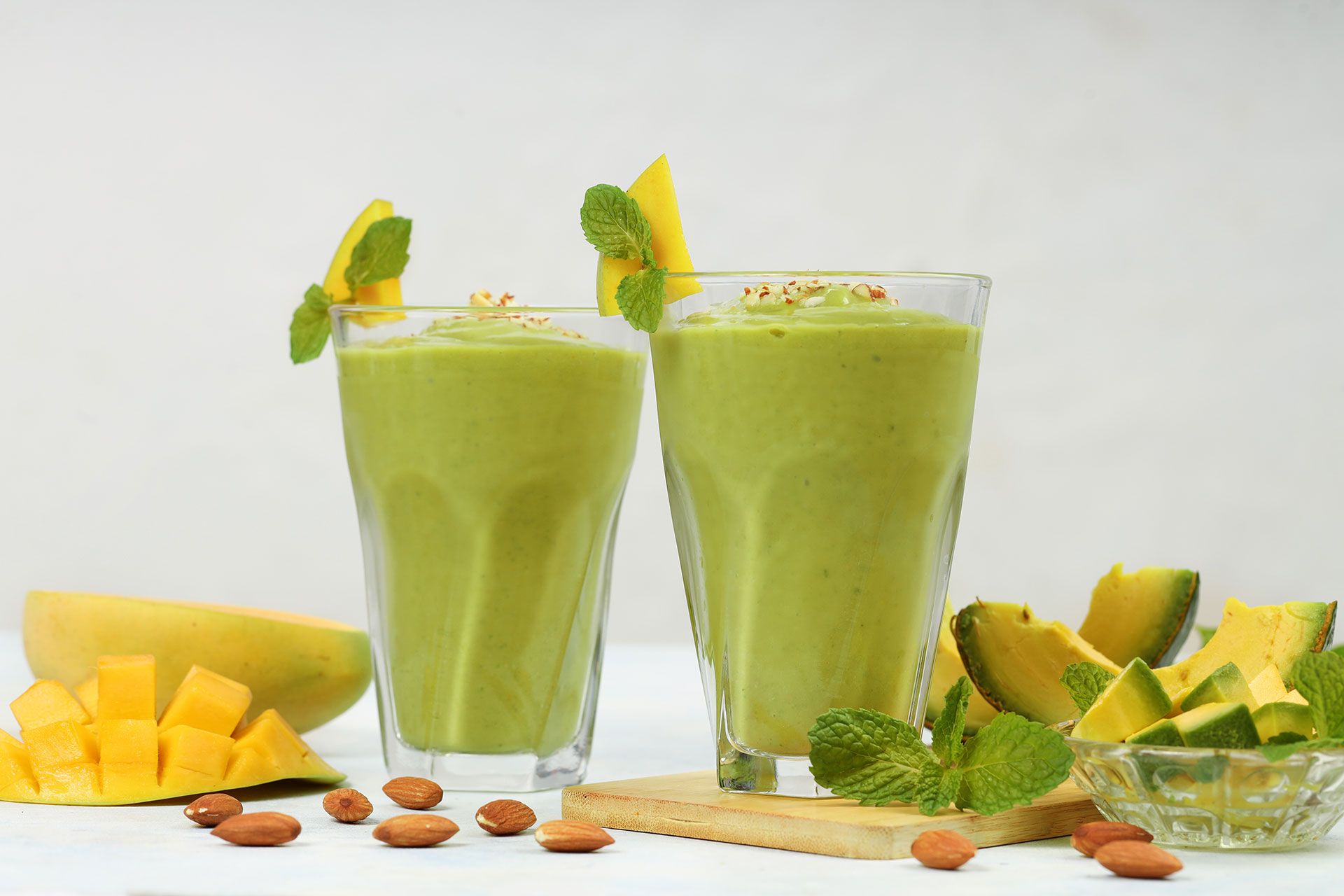 Serve immediately.
Jump to Recipe
How to Keep Avocado From Turning Brown?
Avocados contain an enzyme called polyphenol oxidase, which browns the flesh when it is exposed to air — or more precisely, oxygen. Thus, in order to keep the avocado's stunning green hue, the flesh must be kept free from oxygen exposure.
Consider one of these do-it-yourself tricks. None of the remedies are long-term. Over time, the exposed flesh will turn brown. But they will help you keep your sliced avocado in the fridge for longer without the worry of it browning too much.
Seal with plastic wrap: If you halve an avocado, gently press the plastic wrap against the flesh and along the well where the pit was to ensure a tight seal.
Brush with oil: Oil prevents oxygen from reaching the avocado flesh. Brush olive or vegetable oil over the exposed area to establish a barrier, then cover it in an airtight container.
How Long Does This Smoothie Last?
In general, homemade smoothies are best consumed freshly after preparing them. The same rule applies to our mango avocado smoothie.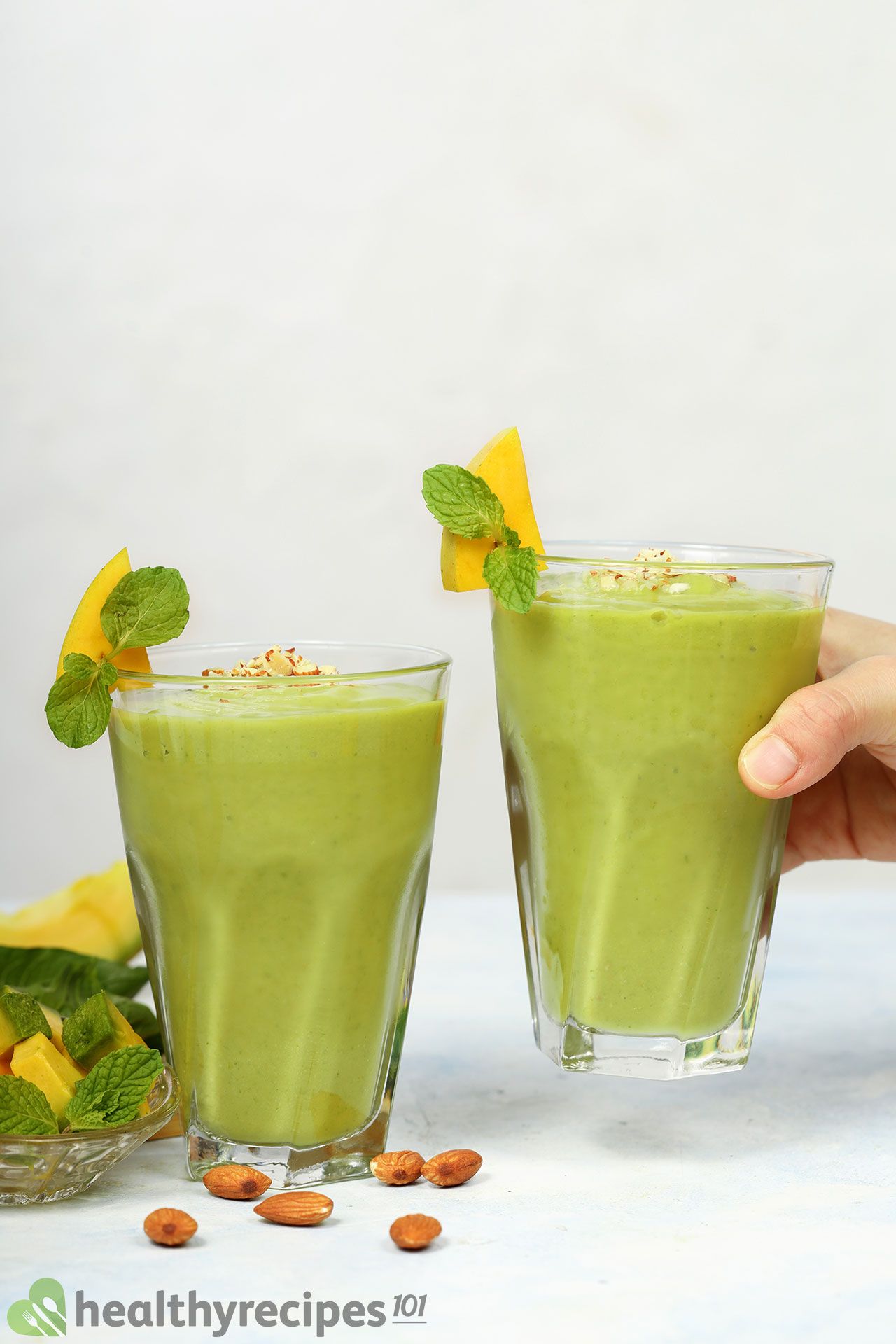 When this avocado smoothie is exposed to the air, the surface becomes brown — it is a natural chemical reaction. This doesn't mean they are going bad or growing rancid, and even if the smoothie becomes a touch brown, it will retain the same qualities as a completely green drink.
If you do have some smoothie left over, keep it in the refrigerator for 2 – 3 days and in the freezer for up to 3 months. Frozen avocado will be hard to scoop out, so make sure that you thaw it before usage. To do so, place the frozen avocado smoothie in the fridge and let it defrost slowly for about 1- 2 hours.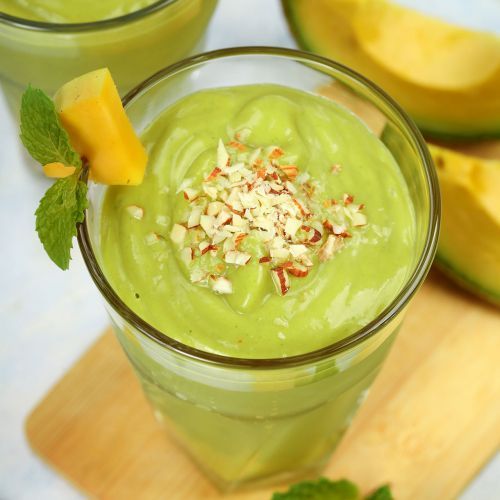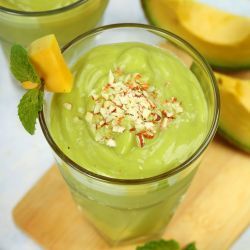 Mango Avocado Smoothie Recipe
Our mango avocado smoothie recipe makes a creamy drink with a velvety texture. To make it, you need a blender and a few ingredients.
Ingredients
10

oz

avocado

14

oz

mango

2

cups

ice

1

cup

milk

1/2

tbsp

honey

1

oz

spinach

1

oz

almonds

chopped

8

mint leaves
Instructions
Add 2 cups ice, 14 oz mango, 10 oz avocado, 1 cup milk, 1/2 tbsp honey, 1 oz spinach, and 1 oz almonds to a blender. Blend until smooth and creamy.

Garnish with mint leaves. Pour into serving glasses.
Nutrition
Nutrition Facts
Mango Avocado Smoothie Recipe
Amount Per Serving (1 serving)
Calories 266
Calories from Fat 153
% Daily Value*
Fat 17g26%
Cholesterol 7mg2%
Sodium 42mg2%
Potassium 722mg21%
Carbohydrates 28g9%
Protein 6g12%
Vitamin A 1927IU39%
Vitamin C 45mg55%
Calcium 130mg13%
Iron 1mg6%
* Percent Daily Values are based on a 2000 calorie diet.