Inspired by classic Thai cuisine, our salmon curry recipe uses seafood as the main protein and makes a wholesome dish in minutes. The salmon is poached in a rich, complex coconut-based sauce infused with spices until deliciously fork-tender.
The coconut milk sauce creates a velvety and creamy broth that complements the fish beautifully. Salmon is our choice of protein, but shrimp or even chicken will all benefit from our quick poaching method in this recipe.
Is This Salmon Curry Recipe Healthy?
The answer is yes, our salmon curry recipe is healthy.
Built around seafood, it's no surprise that our salmon curry is packed with protein. Specifically, each serving contains approximately 37 g of protein — up to 74% of the USDA's dietary guidelines' recommended daily intake.
Salmon is also a great source of DHA — a type of omega-3 fat that can only be absorbed into your body through eating. By consuming salmon, it's no exaggeration to say that you'll do your heart, eyes, skin, and cognitive health a huge favor.
In terms of calories, when eaten with rice, our salmon curry provides a balanced amount of 490. This leaves room for a side dish and juice drink, making the whole meal more filling and nutritious.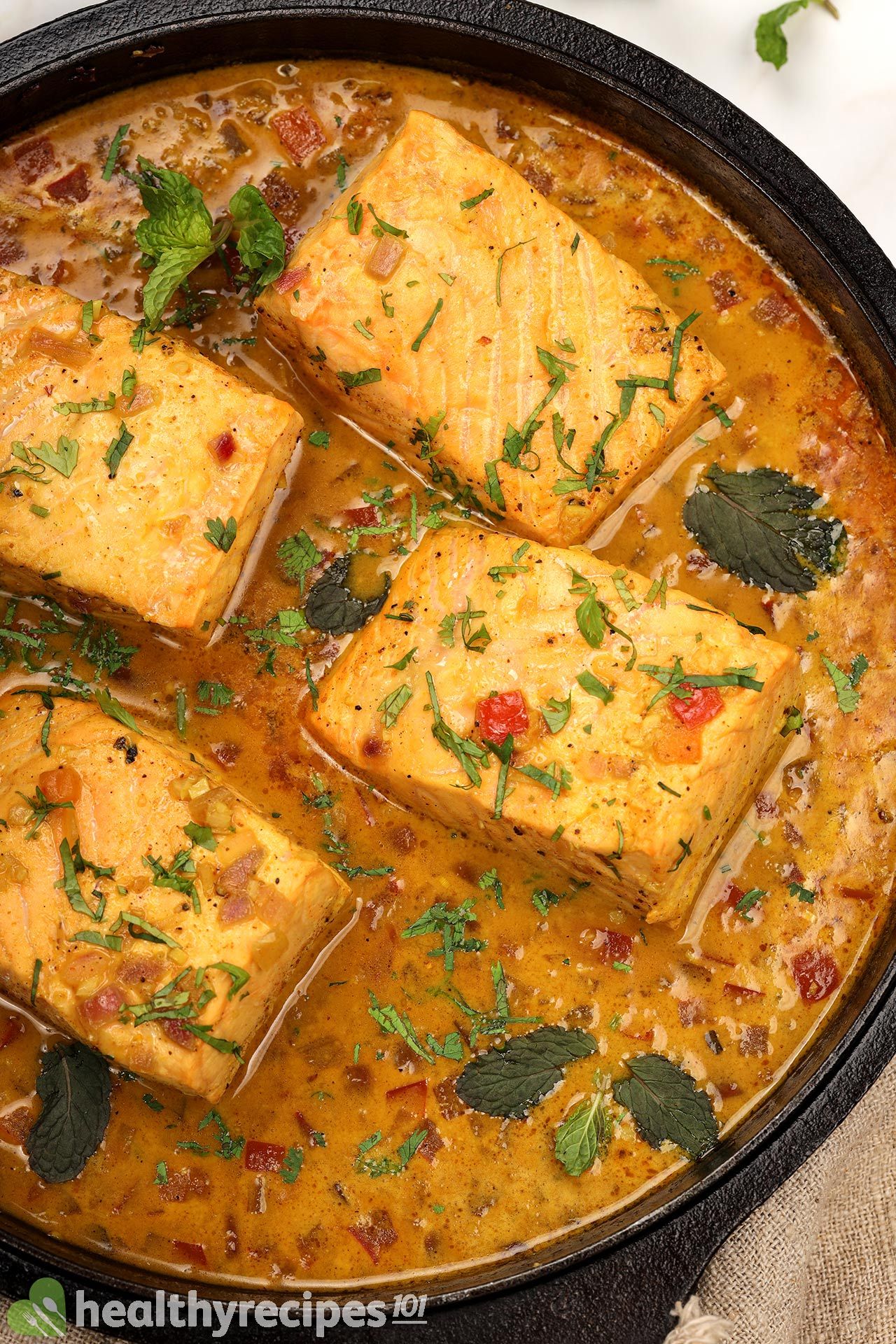 Main Ingredients for Salmon Curry
1. Salmon
Though salmon is not commonly found in curry recipes, it's easily accessible, nutrition-packed, and perfect for rich-sauce dishes.
In this recipe, we add the salmon directly to the sauce. Poaching the fish ensures that it will end up tender and moist even if it's overcooked a little.
If you prefer the texture of seared salmon, cut the salmon into steaks, and quickly sear them in oil before simmering in the coconut curry. Either way will result in deliciously tender, flaky salmon!
2. Spices
Spices are the secret to our mouthwateringly special coconut-based curry. To bring out the flavor of curry, the recipe calls for:
Cumin
Coriander
Turmeric
Cajun seasoning
Black pepper
Mustard
Paprika
Chili powder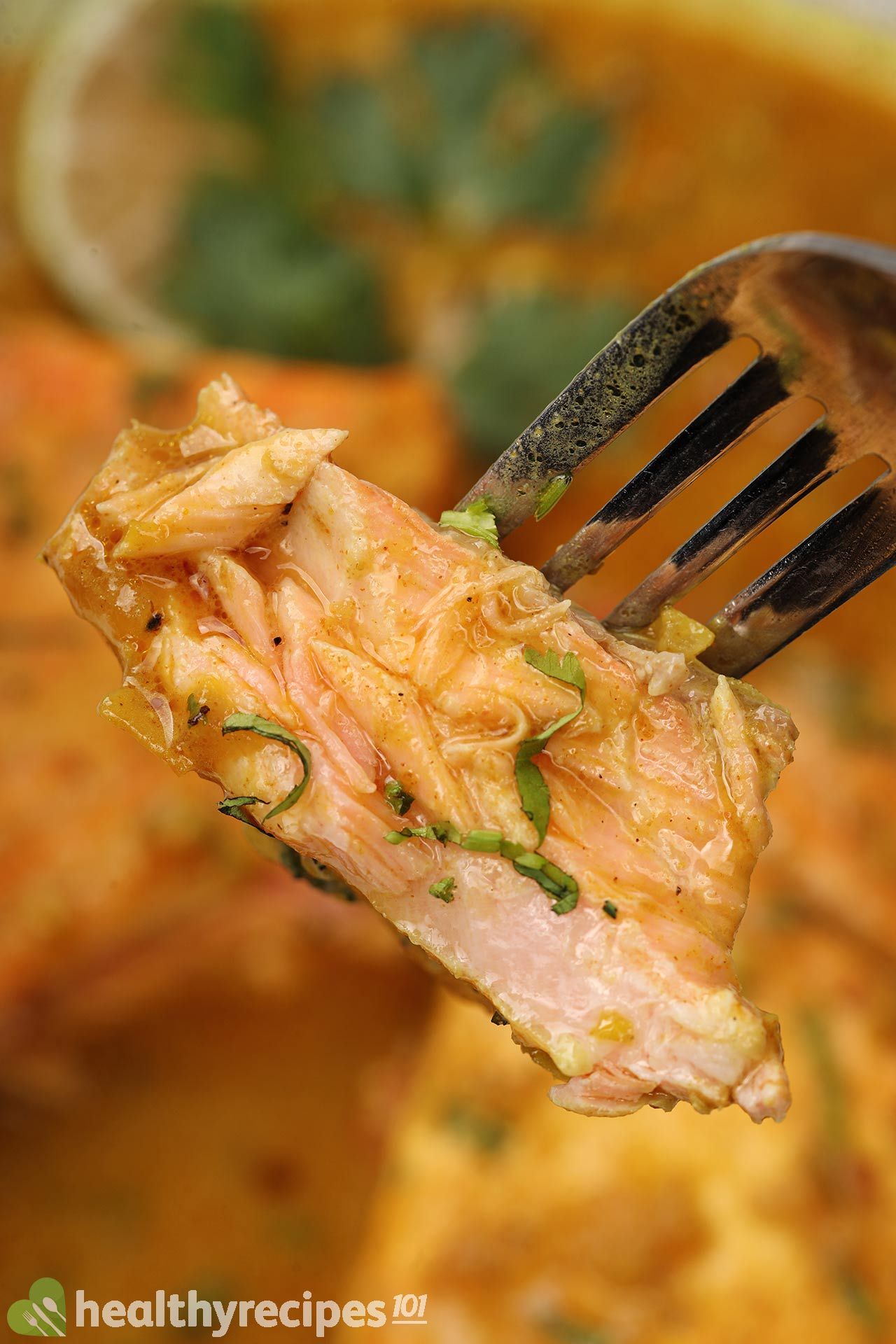 3. Herbs
Fresh garlic, ginger, and lemongrass sautéed in oil will always take a regular curry to another level of deliciousness. Only taking an extra minute for an instant aroma, it's an essential component for a flavor-intense curry.
4. Coconut Milk
This dairy-free milk is one of the signature ingredients in any Thai curry sauce.
If you don't have coconut milk, opt for sugar-free milk or even yogurt. They all create that signature creaminess that we love about a Thai curry.
5. Rice
Our curry is served over a bed of steamed rice. Basmati, jasmine, jeera, or pilaf also work wonderfully in this recipe.
To add even more Asian-style curry flavor, you may like to go for Indian bread. You could try chapathi, naan, roti, or appam.
If none of the above appeal to you or you want to decrease your calorie intake, go with cauliflower rice. It provides additional fiber with fewer carbohydrates.
6. What Vegetables Go in Curry
Our recipe doesn't include vegetables as the salmon cooks quickly in just 10 minutes. However, curries are generally versatile so you can add any vegetable you have to hand.
Our favorite add-ins include carrots, peas, zucchini, pumpkin, and broccoli. However, note that you should cook the veg in the curry before adding the salmon. Vegetables often require a longer simmering time.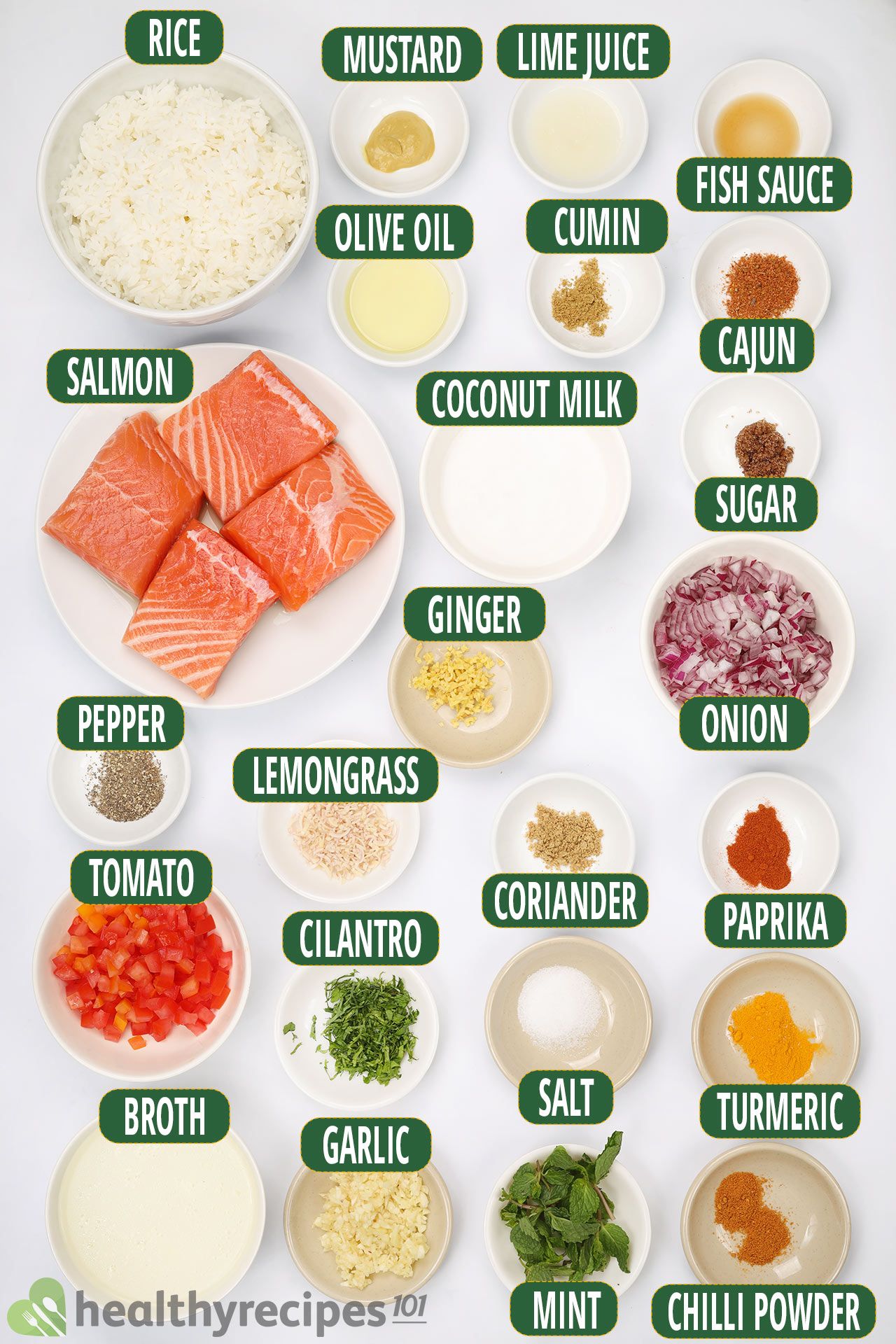 How to Make Salmon Curry
Preparing salmon curry is pretty straightforward. Most salmon from the grocery store come with the pin bones removed. This saves enormous time and effort in the kitchen. All that is left to do is to gather the spices and start cooking.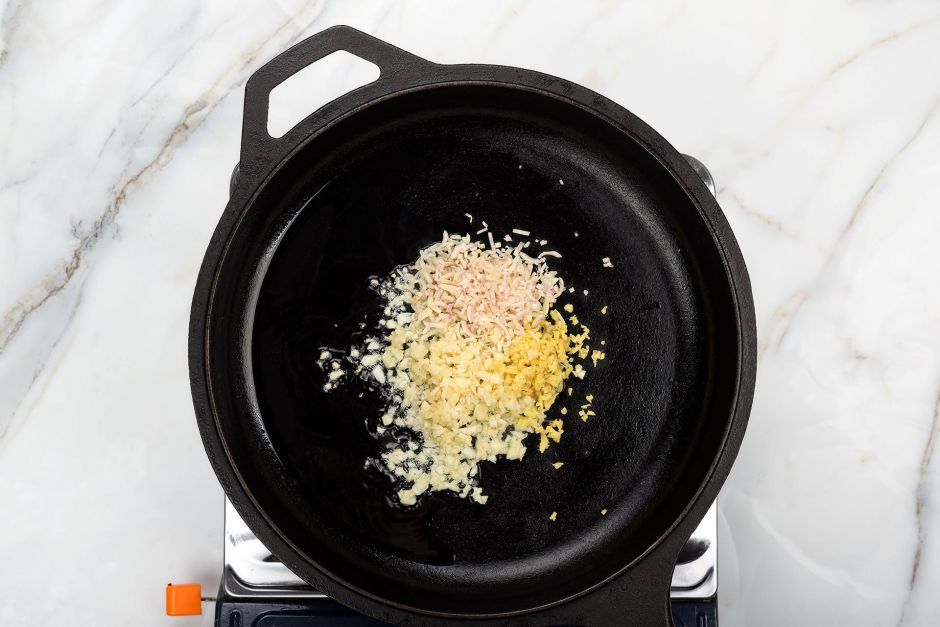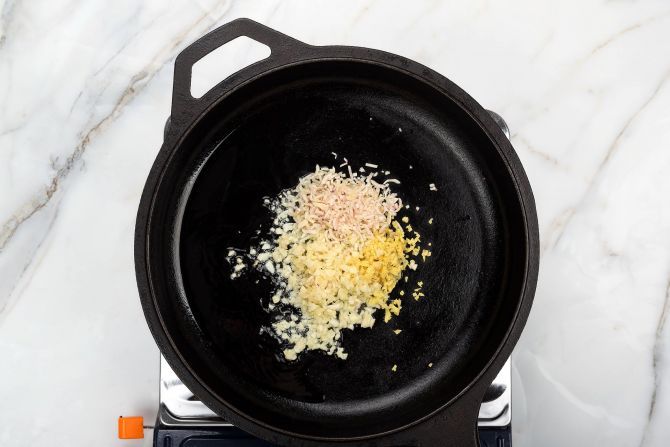 Sauté the spices in the olive oil.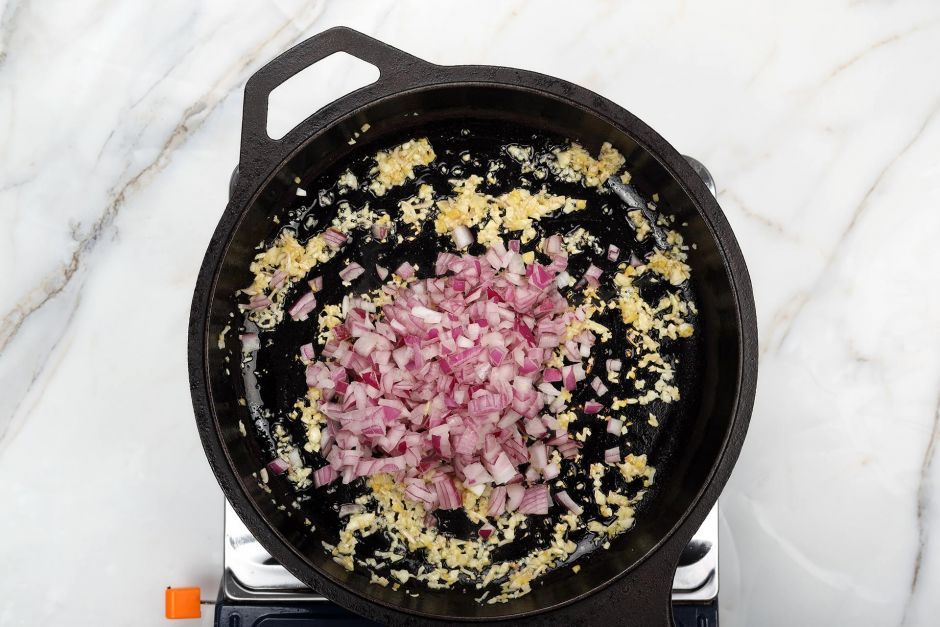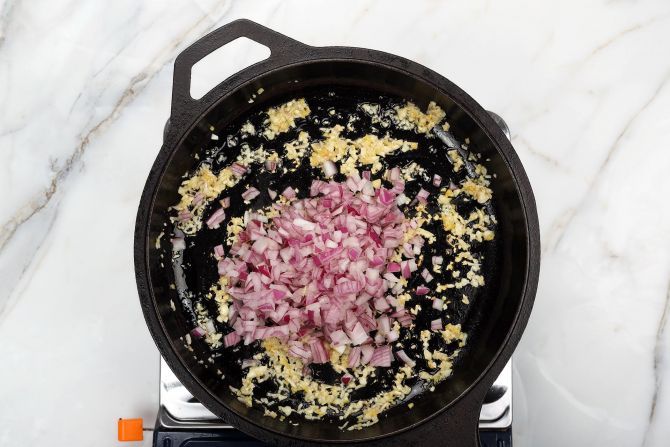 Stir in the red onions.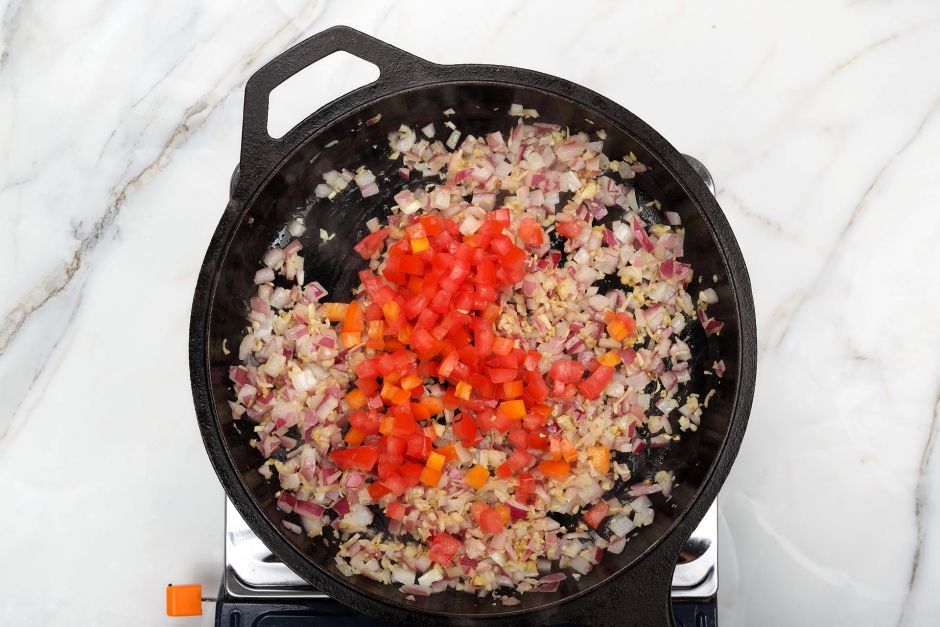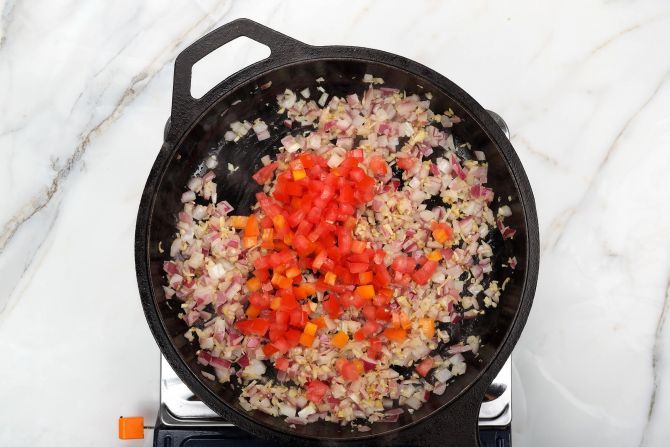 Sauté the tomatoes.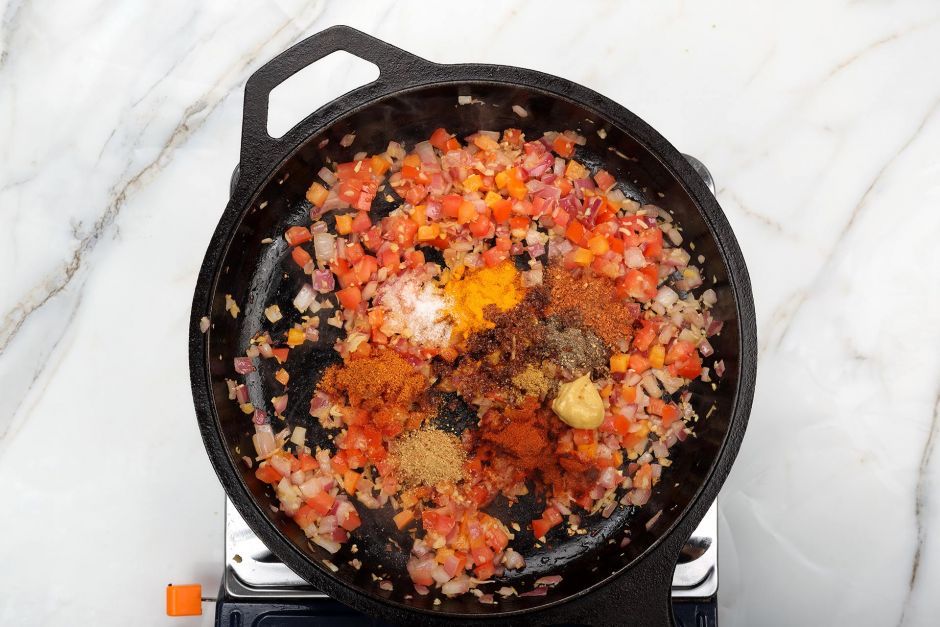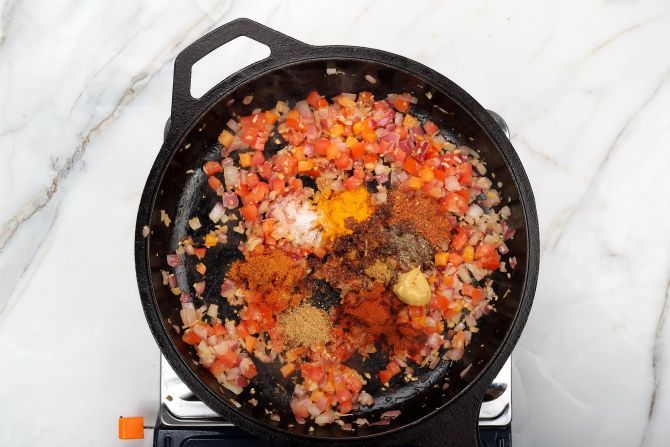 Add the seasonings and spices to the mixture.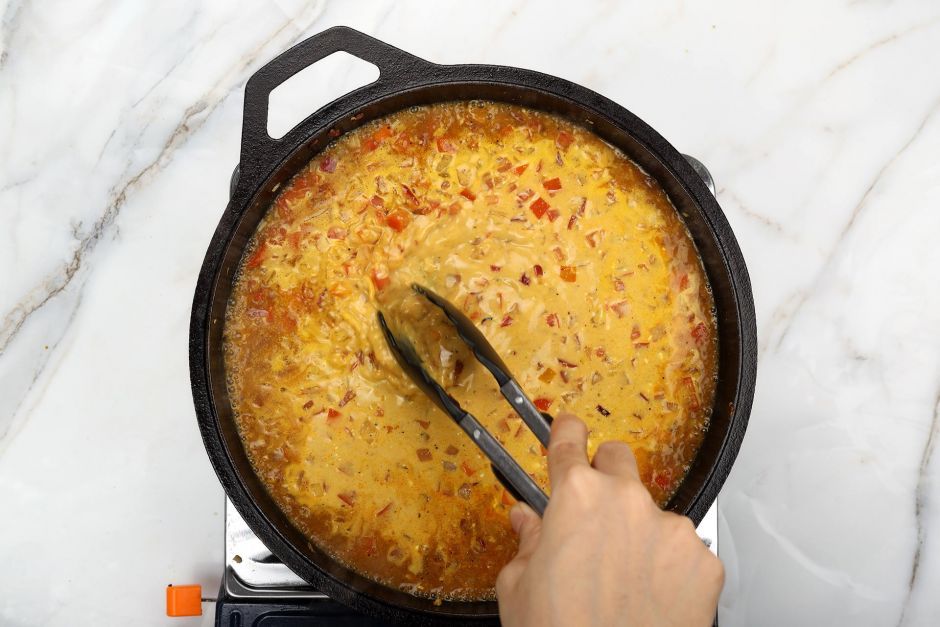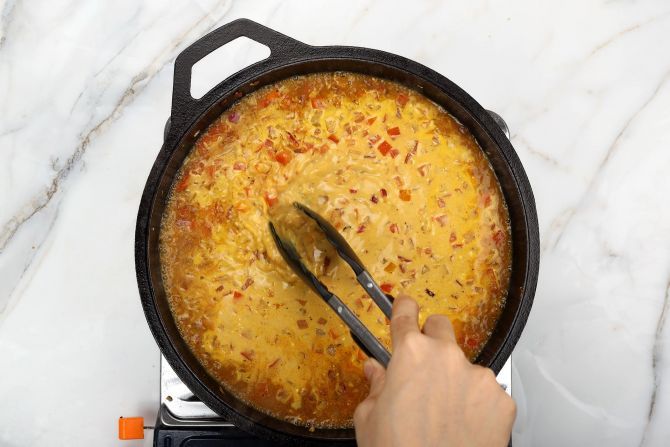 Pour in the chicken broth and coconut milk.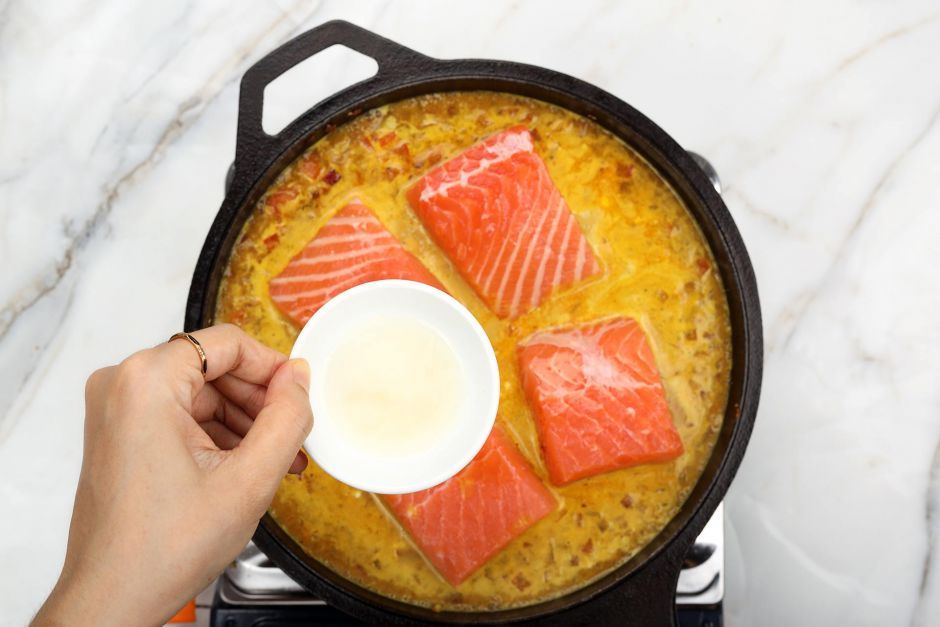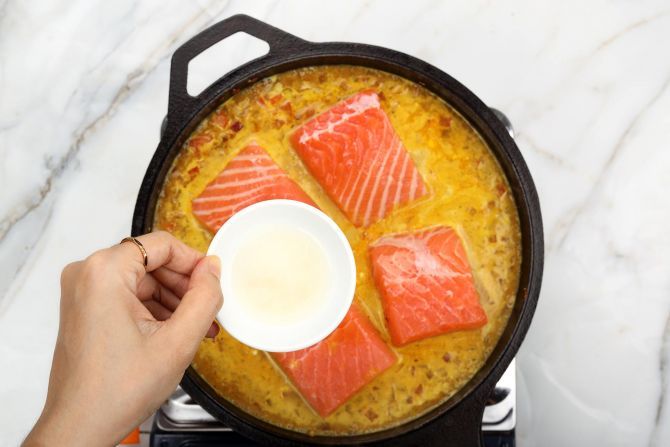 Add the salmon, fish sauce, and lime juice.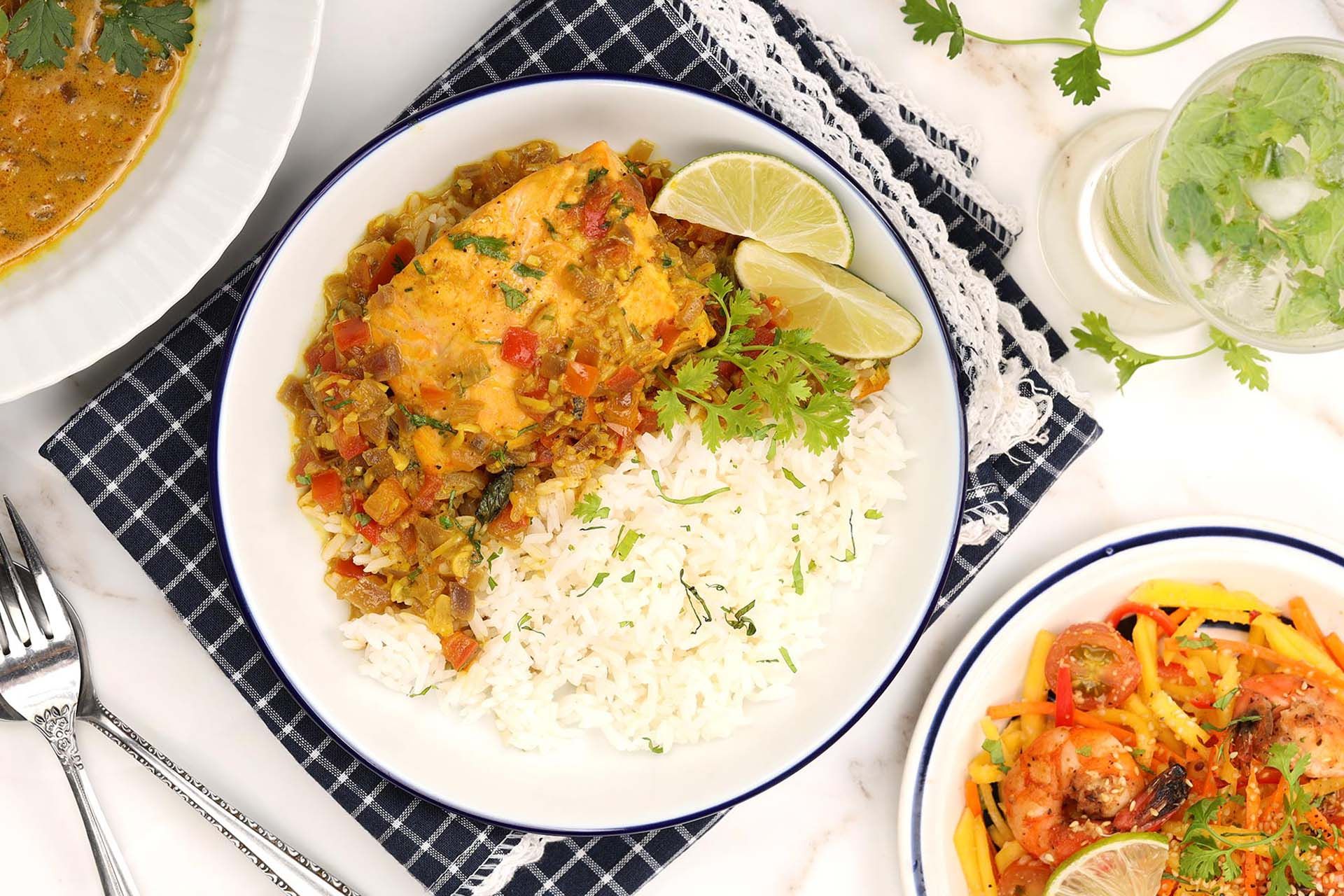 Garnish with cilantro and mint. Serve over hot rice.
This is a short version of our salmon curry how-to. Please refer to the recipe card further down the page for detailed cooking instructions.
Jump to Recipe
How to Store and Reheat Salmon Curry
Curry dishes like this salmon recipe are perfect for storing as they will continue to infuse the spices and become even more flavorsome.
To store the salmon curry, transfer the leftovers to an airtight container as soon as possible. Refrigerated salmon curry stays fresh for 3 – 4 days and up to 3 – 4 months in the freezer.
When ready to enjoy the curry, thaw the container in the fridge overnight. Once thawed, reheat the dish in a skillet on the stovetop with one or two tablespoons of chicken broth or water.
If you're in a hurry, it's best to warm the curry in a microwave. But keep the power low and stir halfway through so that the dish is warmed thoroughly and evenly.
To have perfectly salmon recipes every time, check out our best salmon roundup.
What to Serve With Salmon Curry
Side dishes and drinks are always present in our satisfying and filling recipes. Our rich and fragrant salmon curry is served alongside a Thai mango salad and lime-water juice.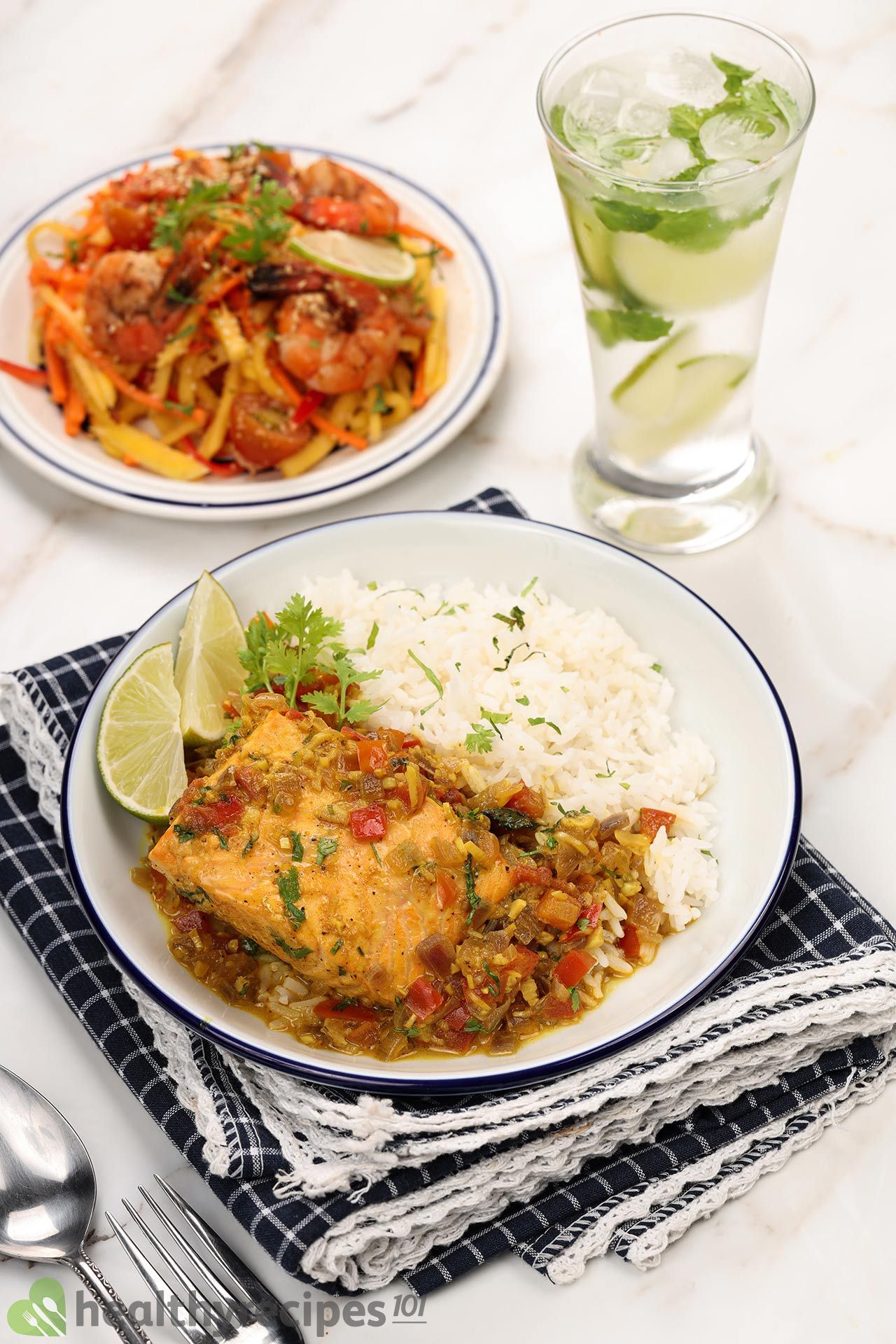 Our Thai-style salad has a vibrant, sweet, and sour taste that balances out the rich curry while the refreshing lime juice drink helps to cut through the spices. The combination will transform your dinner into a true family feast.
Other Savory Salmon Recipes
Here are a few of our favorite recipes with salmon: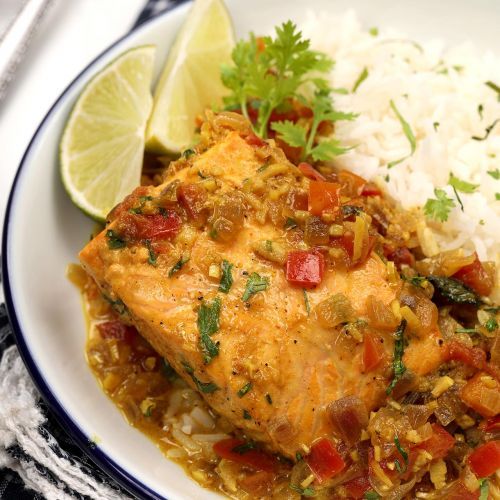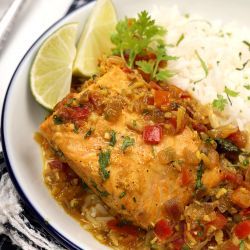 Salmon Curry Recipe
Our salmon curry recipe makes a simple, healthy, and delicious meal in no time at all. The dish will be adored by adults and kids.
Ingredients
20

oz

salmon filets

1

tbsp

olive oil

2

tbsp

garlic

finely chopped

1/2

tbsp

ginger

finely chopped

1

tbsp

lemongrass

finely sliced

4

oz

red onions

chopped

3

oz

tomatoes

chopped

1/2

salt

1/2

tsp

black pepper

1/4

tsp

cumin

1/2

tsp

ground coriander

1/2

tsp

paprika

1/2

tsp

turmeric

1/2

tsp

Cajun seasoning

1/2

tsp

chili powder

1

cup

unsalted chicken broth

1/2

cup

coconut milk

1/2

tsp

Thai fish sauce

1

tbsp

lime juice

2

tbsp

cilantro

finely chopped

2

tbsp

mint leaves

3

cups

cooked medium-grain rice
Instructions
Heat a skillet over medium heat. Add 1 tbsp olive oil, 2 tbsp garlic, 1/2 tbsp ginger, and 1 tbsp lemongrass. Sauté for 1 minute or until the spices are fragrant.

Stir in 4 oz red onions and continue cooking for 2 minutes.

Add 3 oz tomatoes and stir to combine.

Season the mixture with 1/2 salt, 1/2 tsp black pepper, 1/4 tsp cumin, 1/2 tsp ground coriander, 1/2 tsp paprika, 1/2 tsp turmeric, 1 tsp Dijon mustard, 1/2 tsp Cajun seasoning, 1/2 tsp chili powder, and 1 tsp brown sugar. Stir occasionally for 2 minutes.

Pour in 1 cup chicken broth and 1/2 cup coconut milk.

Add 20 oz salmon fillet, 1/2 tsp fish sauce, and 1 tbsp lime juice. Cook for extra 10 minutes. Flip the salmon halfway through to ensure they are cooked evenly.

Take off the heat. Garnish with 2 tbsp cilantro and 2 tbsp mint leaves. Serve hot over 3 cups of cooked rice.
Nutrition
Nutrition Facts
Salmon Curry Recipe
Amount Per Serving (1 serving)
Calories 490
Calories from Fat 153
% Daily Value*
Fat 17g26%
Cholesterol 73mg24%
Sodium 563mg24%
Potassium 808mg23%
Carbohydrates 48g16%
Protein 37g74%
Vitamin A 755IU15%
Vitamin C 9mg11%
Calcium 54mg5%
Iron 4mg22%
* Percent Daily Values are based on a 2000 calorie diet.