A piece of advice I'd give to people who are trying to eat more vegetables is to start with asparagus. It is, after all, the natural bitterness of many vegetables that make a bad first impression of themselves. With a gentle aroma, tender texture, and mildly sweet taste, asparagus can be considered more enjoyable than many vegetables.
Today's crème d'asperge recipe, or cream of asparagus soup recipe, makes a delightful appetizer out of this versatile veg. It is cooked with spinach and onion in chicken broth, milk, seasonings, and a good amount of cream. It's full of flavor, smooth, and rich.
Is Cream of Asparagus Soup Healthy?
Asparagus, along with spinach, provide a plethora of nutrients:
Vitamin C, vitamin A, vitamin K, vitamin B6, potassium, etc. from asparagus.
Vitamin A, vitamin B6, iron, calcium, magnesium, etc. from spinach.
This soup, however, shouldn't be considered an alternative to vegetables since it contains ingredients high in saturated fats, like heavy cream, milk, and bacon. Therefore, to make it suitable for a healthy diet, we think carefully about how much of them to use.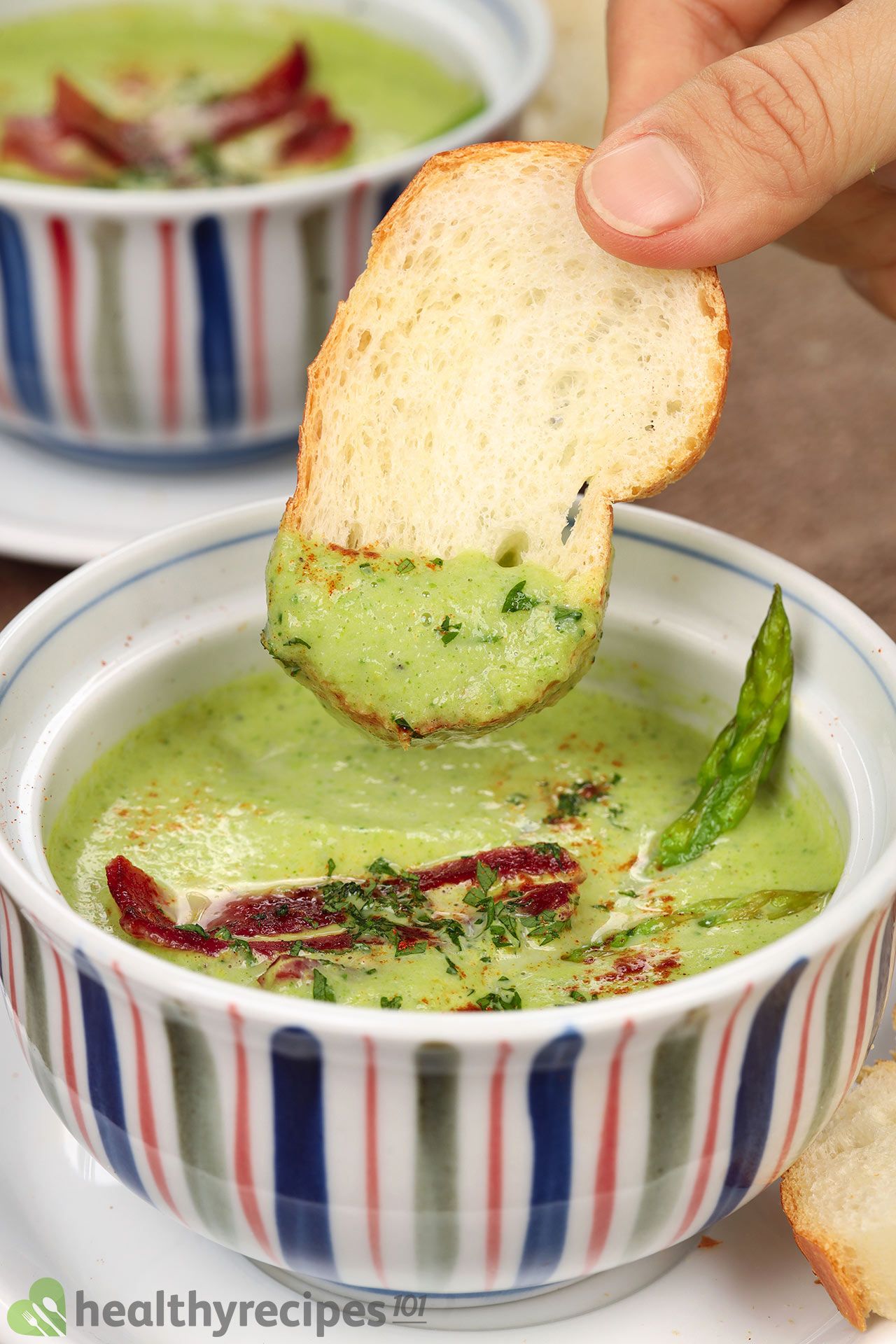 With this in mind, we used just enough cream and milk to maintain the dish's identity while keeping the saturated fats content within a manageable range. Doing so allows the soup to be incorporated into a healthy diet easier.
Ingredients for Our Cream and Asparagus Soup Recipe
You'll need asparagus, spinach, onion, milk, cream, chicken broth, bacon, baguette, and some seasonings:
Some of the ingredients don't belong to the original version but hey, it is our version after all. Bacon, for instance, adds savoriness and a fun chewy texture, but, as a result, the soup is no longer vegetarian. If that is what you're after, we suggest omitting the bacon and switching the broth to vegetable broth.
Speaking of which, at the HR101 test kitchen, we usually make our vegetable broth out of scraps (they're rinsed before peeled, of course). They don't look very appetizing, but once roasted until slightly charred and simmered for 1 hour, the broth they create does. We have just the regulars: the tops of celery, carrot trimmings, potato peels, onion slices, and many more. The pot just simmers away in the background, so this stock is very convenient to make, too.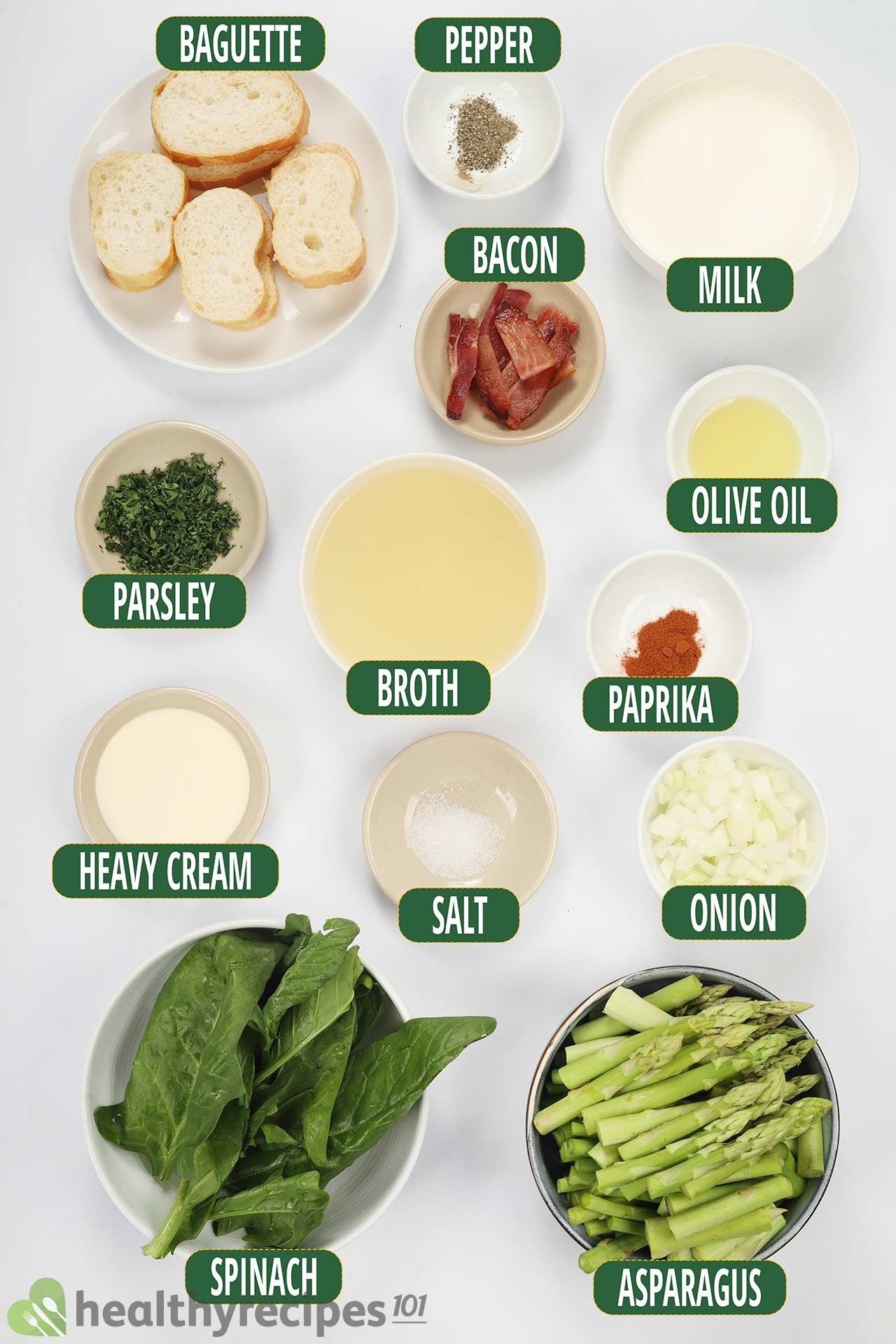 Types of Asparagus You Can Use
Asparagus comes in different varieties, each taking on a different shade. The most common variety is green, possessing a mild flavor, light sweetness, and soft texture when cooked.
The all-white variety has a woodier texture since it's harvested before it has had a chance to break through the surface. However, if it's not all white but rather pink at the top, that's another variety named Précoce d'Argenteuil. It's especially sweet and makes a perfect soup.
There's also an-all purple variety, which is also deliciously sweet when cooked. Yet another variety, turning from purple to green as soon as they're cooked, has a much softer texture compared to the regular ones that we believe makes an awesome soup.
How to Prepare Asparagus
This spear-like vegetable comes with a tender top and a woody base, usually much paler in color compared to the tender top. To slice it off, look for the gradual change in shade from white to green, then make the incision where the white begins to fade.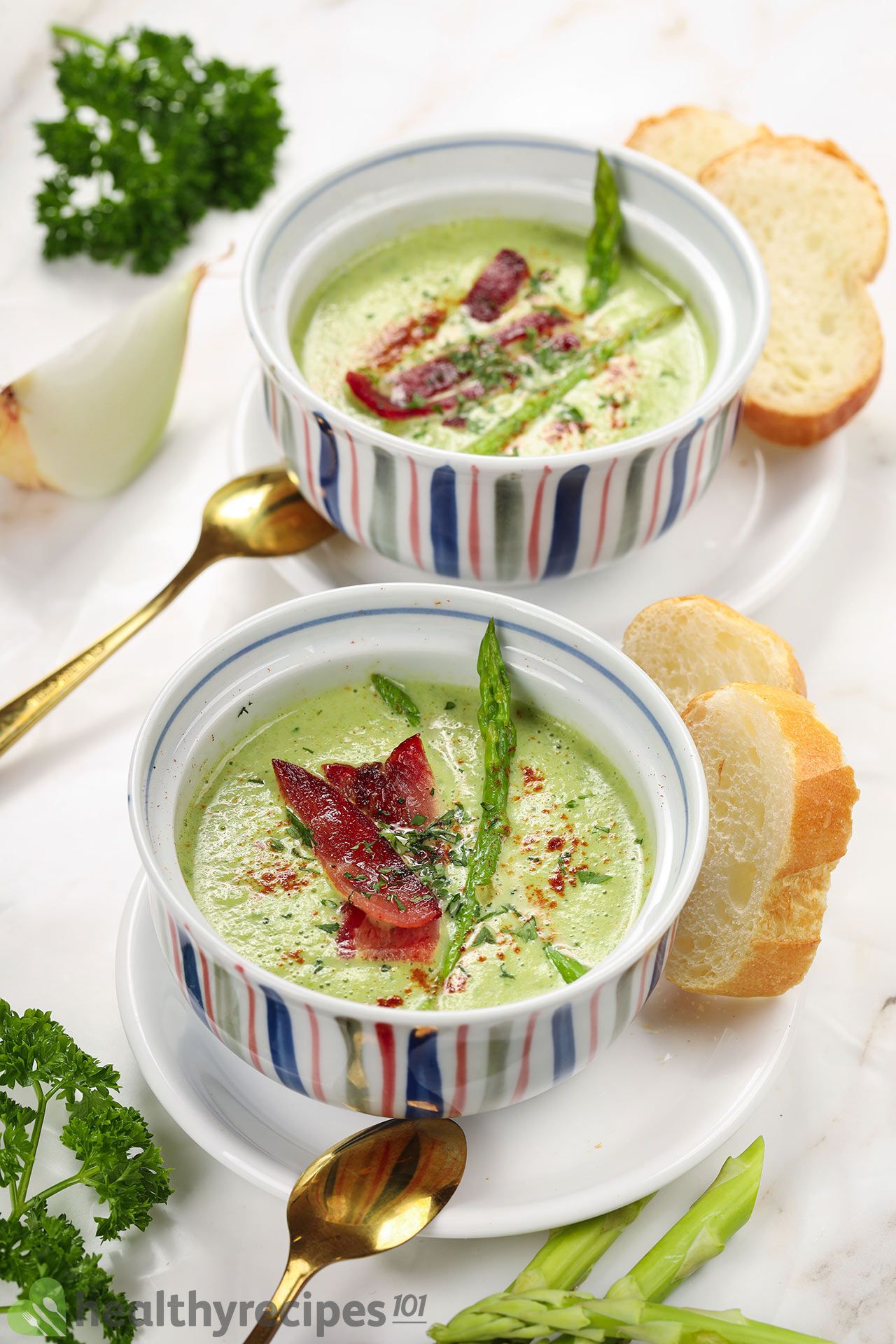 The top is usually left as-is and slid into the oven, but since we're cooking it in a pot, it's best to cut them into smaller segments. Ours are cut into sticks about 2 inches long.
What to Do With the Tough End of Asparagus
The tough part is usually discarded, but at Healthy Kitchen 101, we try our best to reduce food waste. Like broccoli stems, asparagus roots are only woody on the outside—the inside is as tender as the top. Simply shave the outside with a peeler, like how you would peel carrots, and it's good to go.
Since we're discarding the woody parts, the stems of the spinach are also to be chopped off. They're ideal for stir-fries, but their texture may not be ideal for soups.
To make sure that you have all the woody parts removed, you can run the soup through a sieve once it's blended.
Serving, Storing, and Reheating Cream of Asparagus Soup
This soup can be served warm or cold according to your preference. If it's not served right away, keep it in an air-tight container and refrigerate for a maximum of 4 days. For up to 3-months storage, keep each serving in a Ziploc bag and stack the bags in the freezer.
To reheat, transfer the soup into a pot and heat over medium heat until bubbling. The bread and bacon can be heated in an air fryer at 350 for about 3 minutes or in the oven at the same temperature for 7 minutes.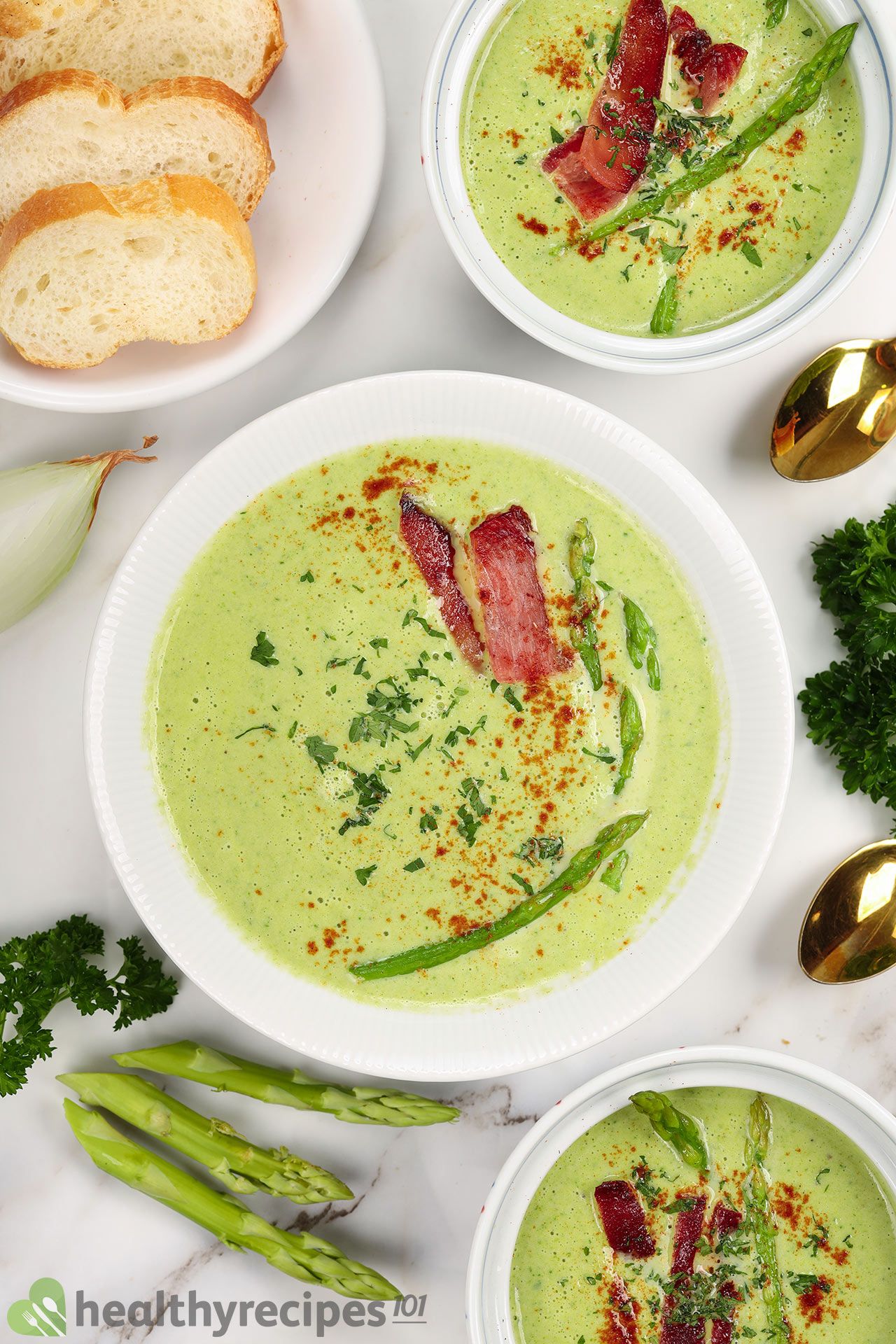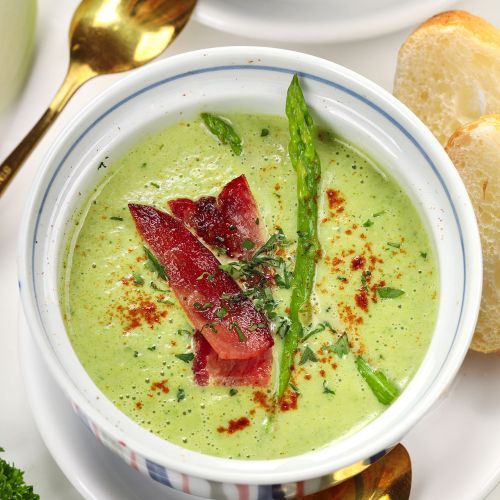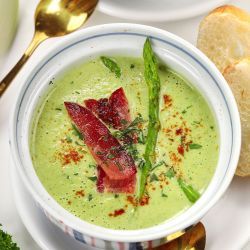 How to Make Cream of Asparagus Soup
This cream of asparagus soup recipe makes a delightful appetizer. It takes 30 minutes, 10 of which are hands-free.
Ingredients
12

oz

asparagus

0.5

oz

spinach

2

oz

onion

0.5

oz

bacon

1

oz

baguette bread

1

tbsp

olive oil

2

tbsp

parsley

1/4

tsp

salt

1/4

tsp

ground black pepper

1/4

tsp

paprika

1

cup

unsalted chicken broth

1

cup

whole milk

2

tbsp

heavy cream
Instructions
Prep:
Cut the woody ends off the asparagus. Cut the top into 2-3" segments, and peel the woody ends with a peeler until a light green layer is revealed. Measure out 12 oz.

Cut away the stems of spinach and save it for stir-fries. Measure out 0.5 oz worth of spinach leaves.

Cut out 1 oz worth of bread from a baguette and put away the rest. Slice that segment into 8 equal pieces.

Cook some bacon over medium heat in a pan until brown and crispy. Measure out 0.5 oz, cut it however you want, and keep the bacon fat in the fridge for later cooking.

Half an onion and put away one half. Peel the other, chop it, and measure out 2 oz.

Chop some parsley and measure out 2 tbsp.
Cook:
Air-fry 1 oz worth of sliced baguette (8 slices in total) at 350 for 5 minutes.

Heat 1 tbsp olive oil in a non-stick pot. Add 12 oz asparagus and 2 oz onion. Stir to cook for 4 minutes or until the asparagus turns vibrant green.

Pour in 1 cup chicken broth and 1 cup milk and season it with 1/4 tsp salt, 1/4 tsp pepper. Simmer for about 10 minutes on medium heat.

Add in 0.5 oz spinach and 2 tbsp heavy cream. Cook for about 2 minutes or until it's wilted. Turn off the heat.

Blend the soup with an immersion blender. You can use a regular blender, but when blending hot soups this way be sure not to fill more than 1/3 of its volume.

Ladle the soup into serving bowls. Sprinkle 2 tbsp parsley and 1/4 tsp paprika on top and enjoy with baguette and bacon.
Nutrition
Nutrition Facts
How to Make Cream of Asparagus Soup
Amount Per Serving (1 serving)
Calories 154
Calories from Fat 81
% Daily Value*
Fat 9g14%
Cholesterol 19mg6%
Sodium 289mg13%
Potassium 362mg10%
Carbohydrates 12g4%
Protein 7g14%
Vitamin A 1305IU26%
Vitamin C 9mg11%
Calcium 114mg11%
Iron 1mg6%
* Percent Daily Values are based on a 2000 calorie diet.