You'd notice its absence. Without garlic, something just doesn't feel right no matter how much seasoning there is. It has a non-replicable pungent nuttiness that, at first, appears to be too intense, but then rounds off beautifully on a sweet, savory note.
Although one clove or two is often enough, we know that there are people who like more. If you're in this group, today's garlic soup recipe is for you. It is smooth, rich, thick, and tastes like a bowl of mashed garlic confit. You can stop at five cloves as we do, or add whatever number you desire.
It's also topped with crunchy air-fried croutons.
Garlic Soup's Health Benefits
Garlic is packed with antioxidants responsible for fighting inflammation and diseases.
Garlic also contains other healthy substances, but they are found at low concentrations. Their effects are more likely seen in studies using garlic supplements or extracts instead and we wouldn't deem a diet or dish rich in garlic able to replicate them.
Besides antioxidants, the soup also contains complex carbohydrates and micronutrients from potatoes, such as vitamin C, vitamin B6, potassium, manganese, magnesium, phosphorus, etc. Complex carbs are considered healthier than refined (or processed) carbs and are a crucial energy source.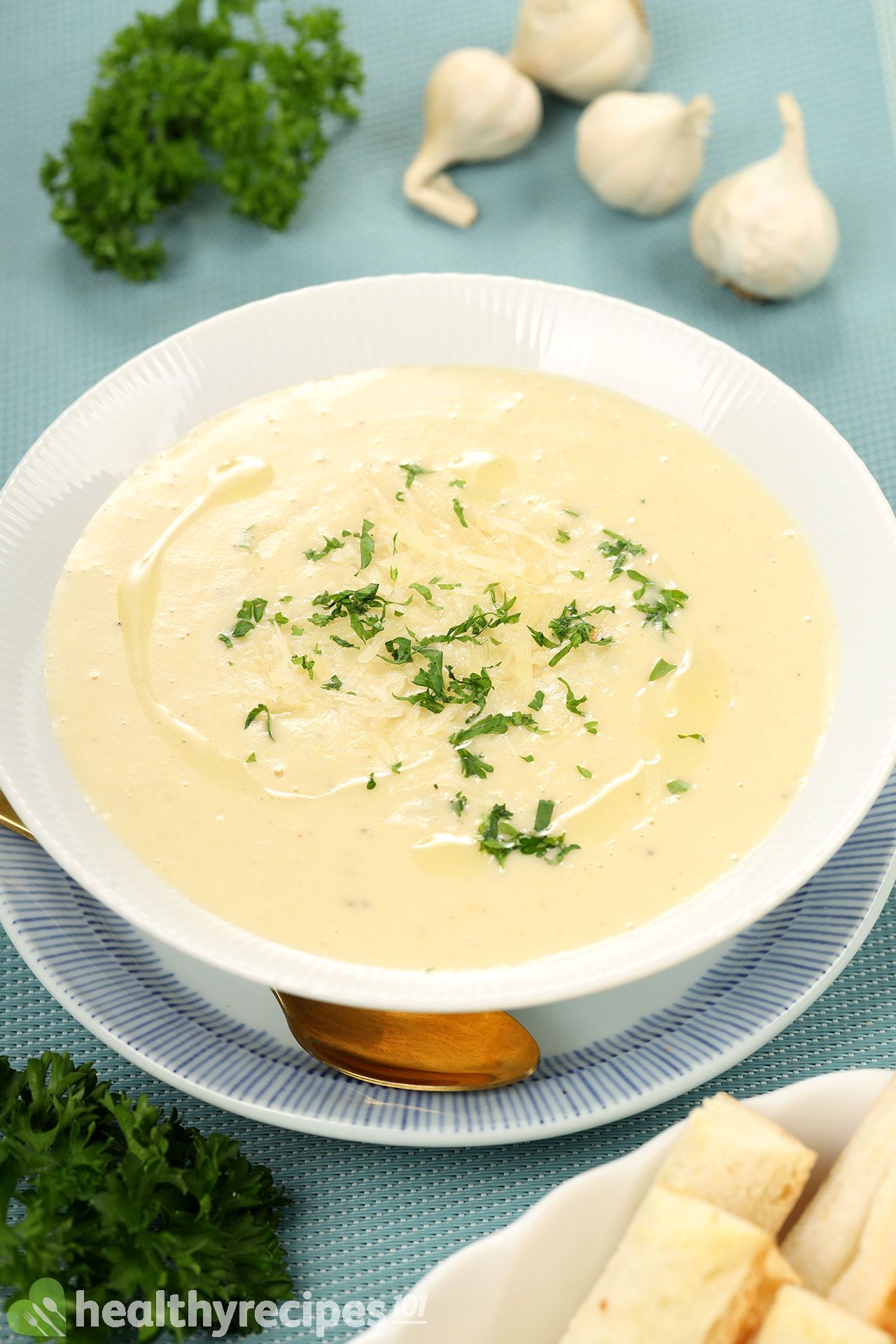 Our Changes to Make the Soup Healthier
Once happy with how the soup tasted:
We adjusted the portion size to control its calorie and sodium content.
We reduced the amounts of cream, milk, and cheese to lower the saturated fats, but not too much that the soup lost its identity.
We often make these adjustments to keep the calories, saturated fats, and sodium contents of a dish within reasonable ranges.
Ingredients for Our Garlic Soup Recipe
Besides loads of garlic, you'll also need garlic powder, onions, potatoes, milk, cream, broth, seasonings, parsley, leek, parmesan, and bread to make croutons:
For this garlic soup, chicken stock or vegetable stock will do. You can go for beef broth if you like things to have a strong meaty aroma but we normally go for the other two since we make them ourselves pretty often.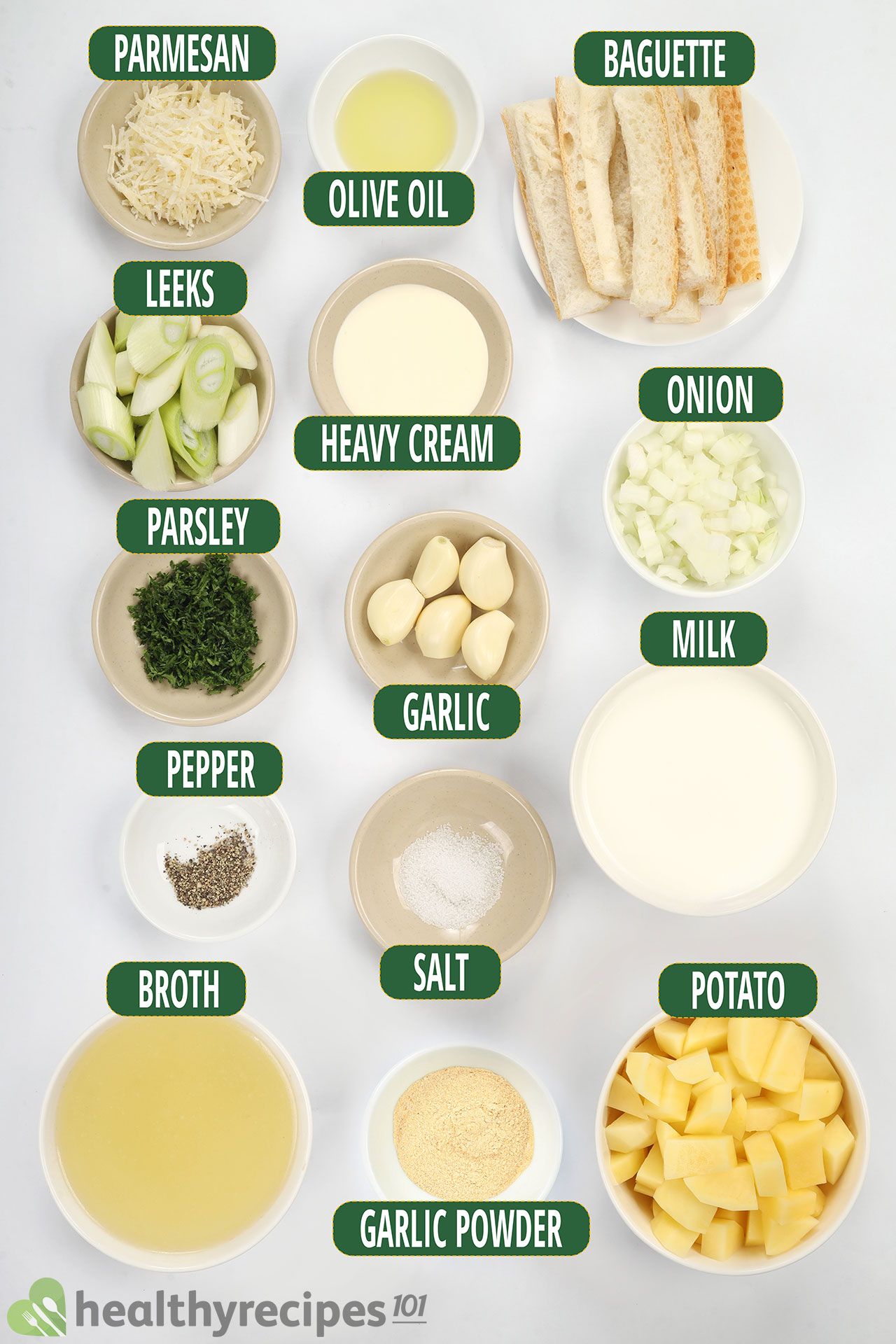 How to Peel Garlic
We assume you already know the easiest way to get rid of those stubborn garlic peelings, but if you didn't, here's how:
Slice away the root. This part ties the cloves together and is responsible for making the peel so stubborn.
Place one clove onto your cutting board, with a knife laying flat on top of it. Press down and stop when the clove cracks open, and the peel should come off in one or two pieces.
This method won't preserve the cloves, but what comes out is good enough for garlic confit. If you need them whole, for presentation purposes we suppose, the peeling process is already much easier with the root sliced off.
We also tried the popular trick of placing all the cloves in a jar and shaking them vigorously to have them all peeled off. The trick, however, didn't work as promised, but it surely loosened the peel and made peeling easier. Still, between the knife and the jar (that's also harder to clean by the way), we'd stay faithful to the trusty classic method.
How to Store and Reheat Garlic Soup
Soup in general can be refrigerated if it's to be served within 5 days (4 days, if there's seafood). For longer storage (up to 3 months), keep it in sealable bags or containers (we prefer bags) and stack them in the freezer.
To reheat, transfer it to a pot and heat the pot over medium heat until the soup fully melts and bubbles.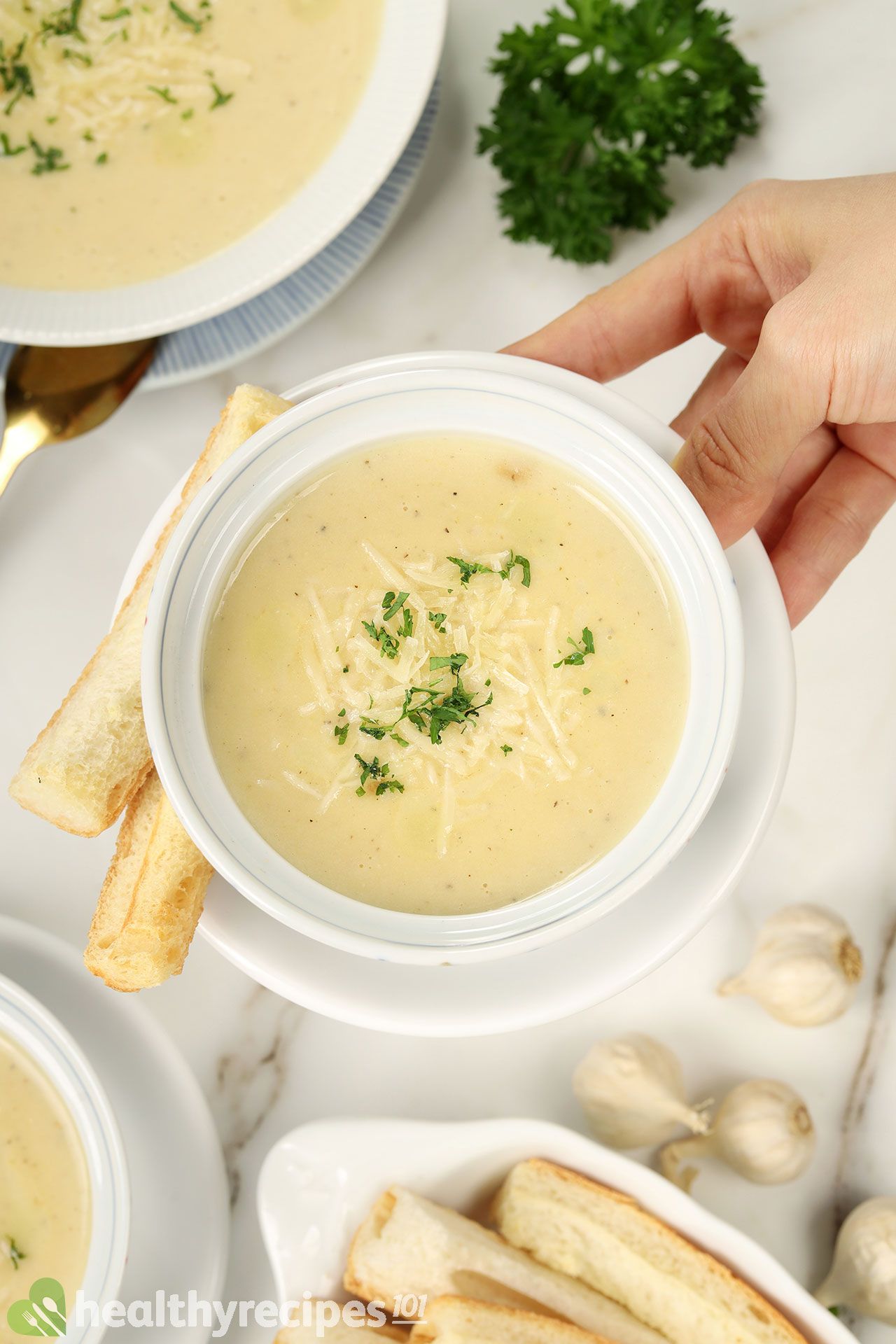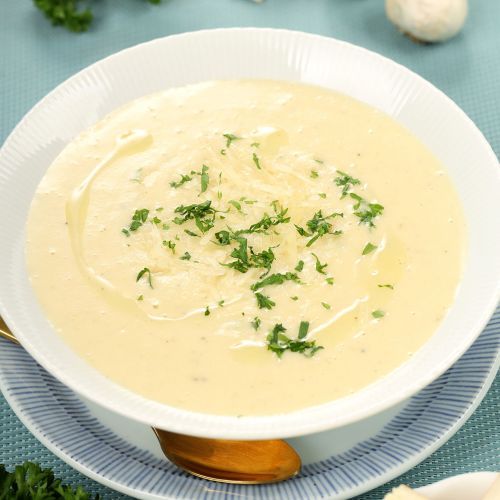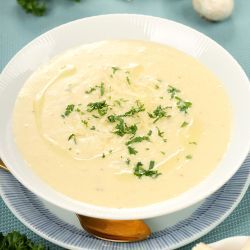 How to Make Garlic Soup
Our garlic soup recipe is a simple appetizer you can make in bulk and save for later uses. It can be left to simmer in the background while you get busy with the main dish.
Ingredients
1

oz

garlic

2

oz

onion

2

oz

leeks

8

oz

russet potatoes

1

oz

french baguette

2

tbsp

parsley

0.5

oz

parmesan cheese shredded

1

tbsp

olive oil

1

cup

chicken broth

1

cup

whole milk

1

tbsp

garlic powder

1/4

tsp

ground black pepper

1/4

tsp

salt

2

tbsp

heavy cream
Instructions
Prep:
Slice the root off of the garlic cloves (1 oz), press them down with a knife, and peel away.

Slice an onion in half, put one half away in the fridge, and peel the other half. Chop that half and measure out 2 oz.

Cut the white part off of some leeks, slice them on a bias, and measure out 2 oz.

Peel 8 oz potatoes with a peeler, cut them into quarters, then half each quarter. Select the pieces that are larger than the rest and half them once again.

Cut out 1 oz of baguette and put the rest away. Half the selected segment and cut each half into four equal fingers.

Finely chop some parsley and measure out 2 tbsp.

Shred 0.5 oz parmesan cheese with a grater.
Cook:
Heat 1 tbsp oil to a pot over medium heat. Add 1 oz garlic and 2 oz chopped onion to the pot. Stir for about 1 minute or until some of the onion pieces begin to char.

Add 2 oz leeks. Stir for about 30 seconds or until the leeks soften.

Add 8 oz potatoes along with 1 cup chicken broth, 1 cup whole milk, 1 tbsp garlic powder, 1/4 tsp pepper, and 1/4 tsp salt. We're saving the cream for later — simmering the cream can make the soup boil over when you're not looking.

Let the soup simmer over medium heat for about 20 minutes.

While waiting, place the bread (1 oz) into the air fryer. Cook it at 350°F for 3 minutes.

Remove the soup pot from the heat and stir in 2 tbsp heavy cream.

Blend the soup with an immersion blender until smooth. You can also use the blender, but be sure to fill just under 1/3 of the blender. You can never be too careful blending hot soups.

Ladle the soup into four serving bowls. Sprinkle on top 2 tbsp chopped parsley, 0.5 oz grated parmesan cheese, and serve each bowl with 2 sticks of air-fried bread.
Nutrition
Nutrition Facts
How to Make Garlic Soup
Amount Per Serving (1 serving)
Calories 200
Calories from Fat 81
% Daily Value*
Fat 9g14%
Cholesterol 18mg6%
Sodium 299mg13%
Potassium 467mg13%
Carbohydrates 23g8%
Protein 7g14%
Vitamin A 518IU10%
Vitamin C 13mg16%
Calcium 163mg16%
Iron 1mg6%
* Percent Daily Values are based on a 2000 calorie diet.