Today's Instant Pot minestrone soup recipe only takes 30 minutes to make a healthy, hearty side dish from scratch. Since you only need one pot to cook, cleaning up is so much faster and easier.
Before we start, let's get to know this soup a little better.
What Is Minestrone Soup?
Minestrone is an Italian soup that is commonly made with various vegetables, legumes, tomatoes, and broth. Pasta or rice can also be added to the soup to make it more filling.
What we love about this soup is there is no specific requirement for a minestrone recipe. You can be creative and use whatever ingredients you have left in the fridge to make a delicious side dish.
If you love simple Italian-style soups like this one, we also have an Instant Pot Zuppa Toscana recipe that you may like.
Is Minestrone Soup Healthy?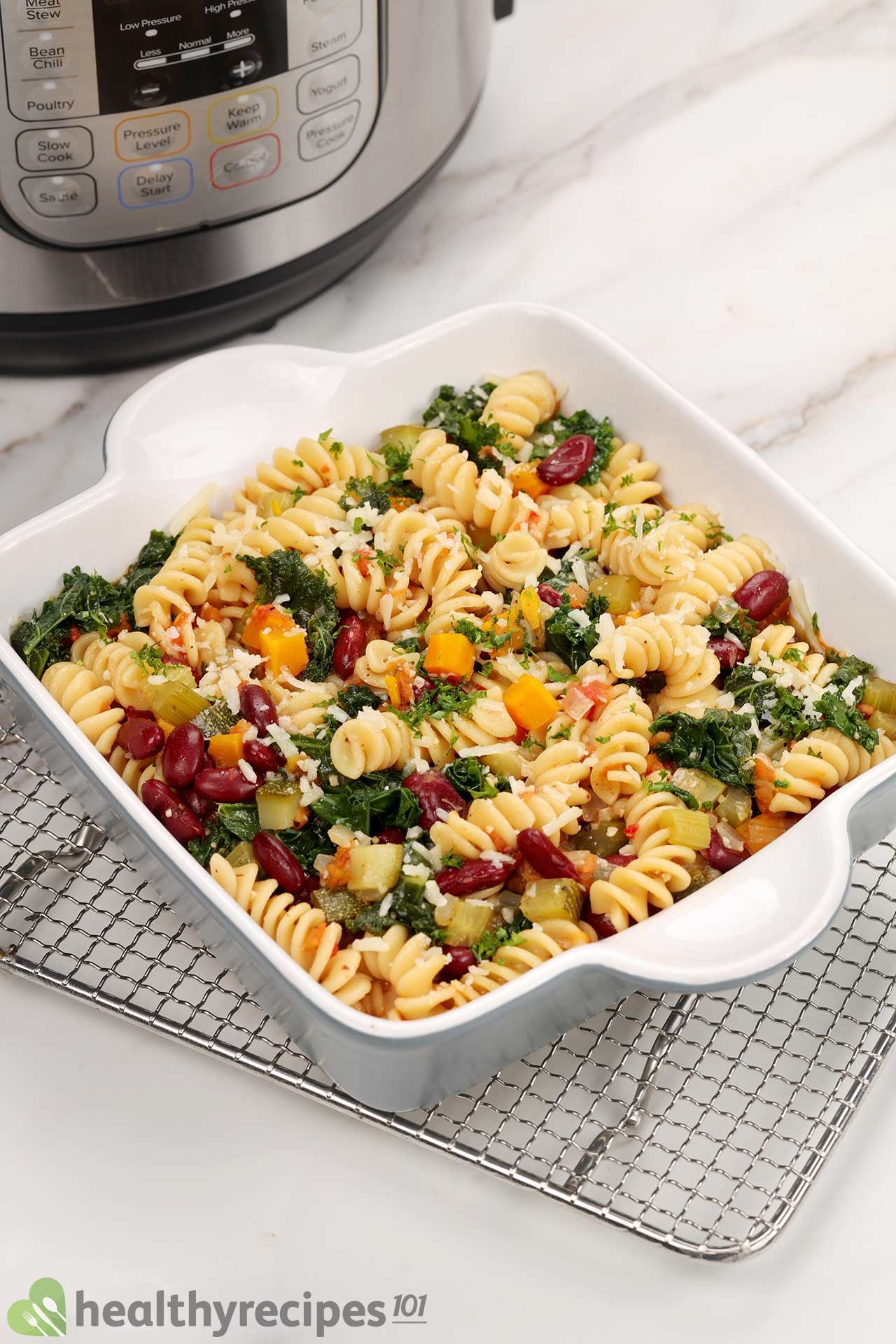 Yes, it is. Here are a few reasons why:
This soup contains fibrous ingredients such as red kidney beans and carrots. This gives you about 6 grams of dietary fiber per serving (more than 20% of your recommended daily intake.)
Our recipe also contains only 1 tablespoon of olive oil, making it low in saturated fat and cholesterol. We also follow our healthy eating guidelines to make sure the amount of calories and sodium are within recommended limits.
Instant Pot Minestrone Soup Ingredients
Let's take a look at the ingredients to today's Instant Pot minestrone soup recipe: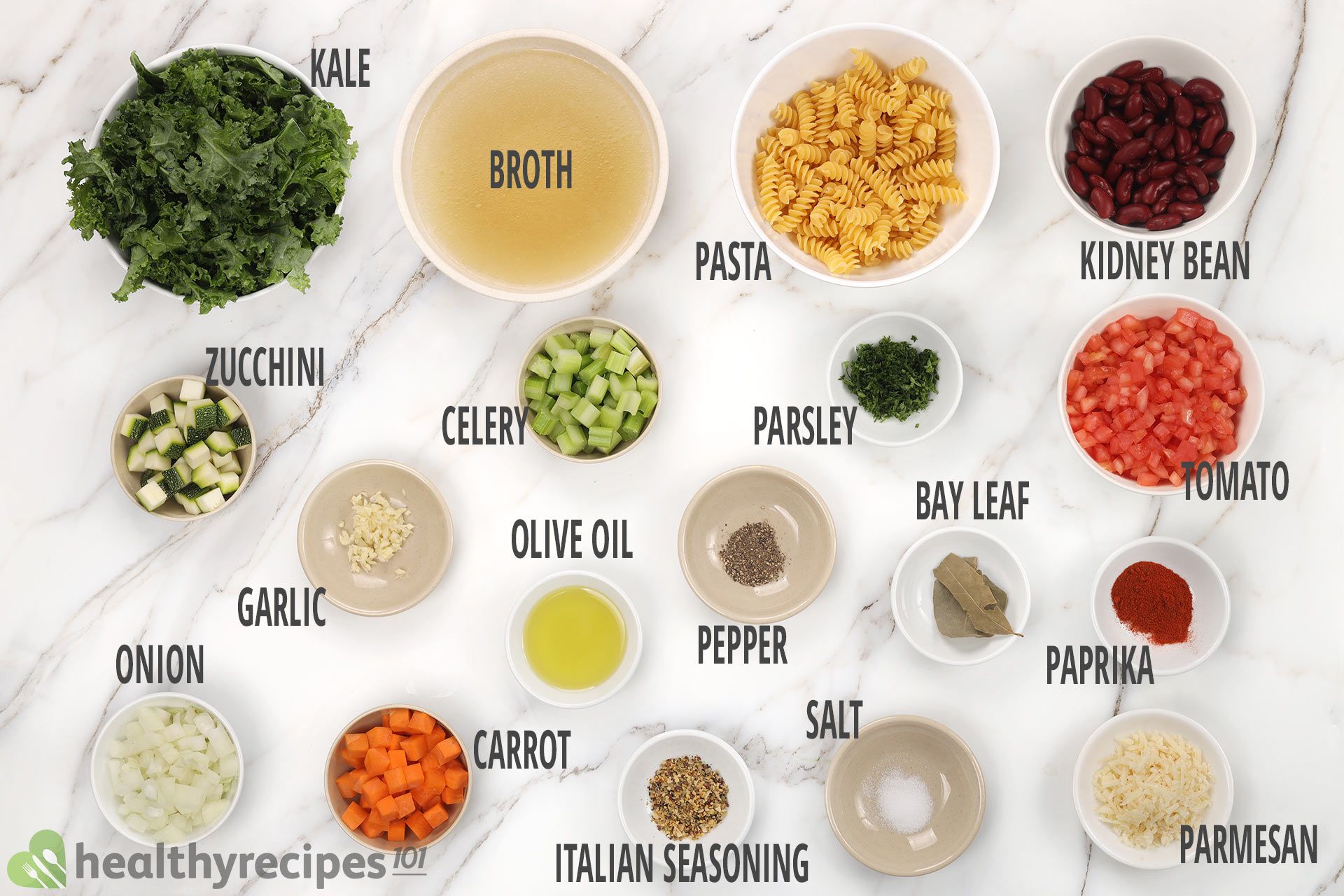 Broth: An authentic Italian minestrone recipe would call for bean broth, but vegetable or chicken broth are great alternatives.
Olive oil: You can use regular olive oil instead of extra virgin for this recipe.
White onion: Adding onions to your soup can give it a mildly sweet flavor.
Vegetables: We're using tomatoes, celery, green zucchini, and carrots, but you can use whatever vegetables you have in your fridge.
Legumes: Our recipe uses red kidney beans, but you can also use lentils, chickpeas, broad beans, etc.
Herbs: We're using parsley, bay leaf, and an herbal mix that contains dried oregano, basil, rosemary, thyme, sage, and marjoram.
Spices: We season our minestrone soup with salt, freshly ground black pepper, and paprika.
For garnish, we add grated Parmesan cheese on top to make the soup visually appealing and season it as well.
How to Make Minestrone Soup in an Instant Pot
Here is a quick look at our Instant Pot minestrone soup recipe: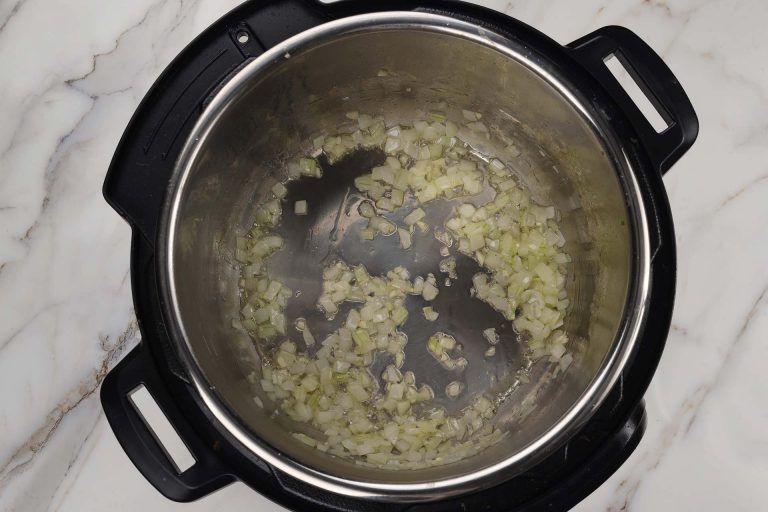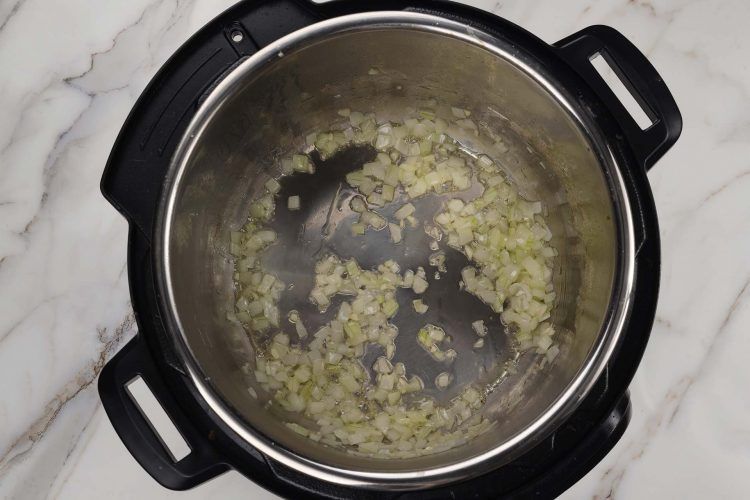 Sweat the onions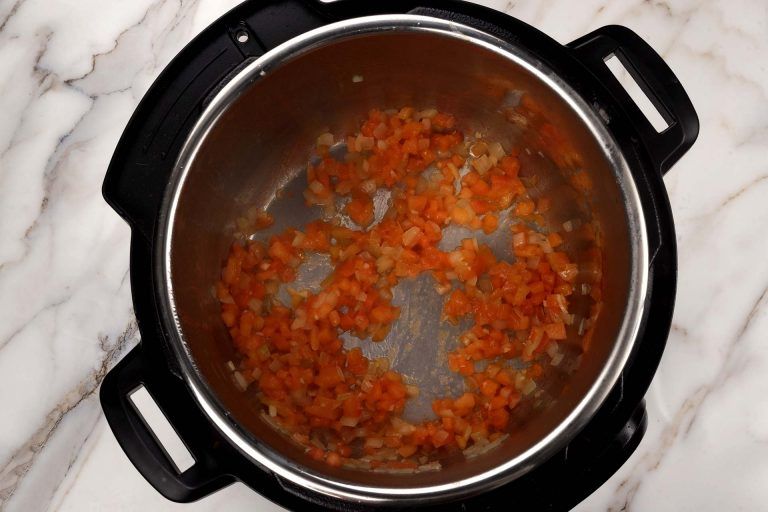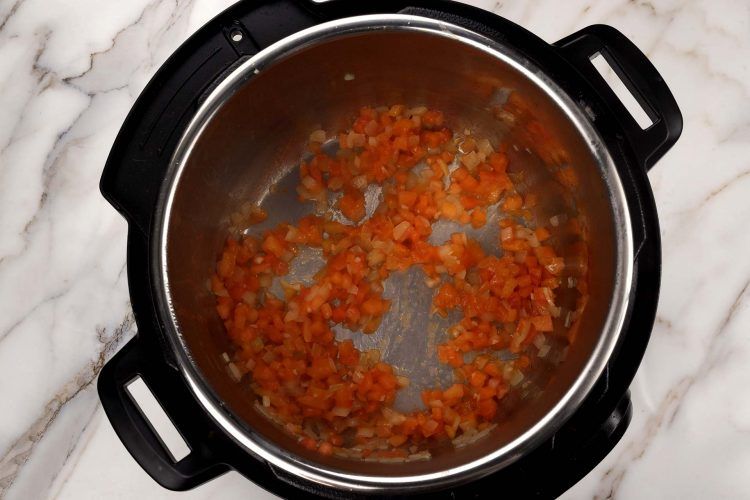 Cook the tomatoes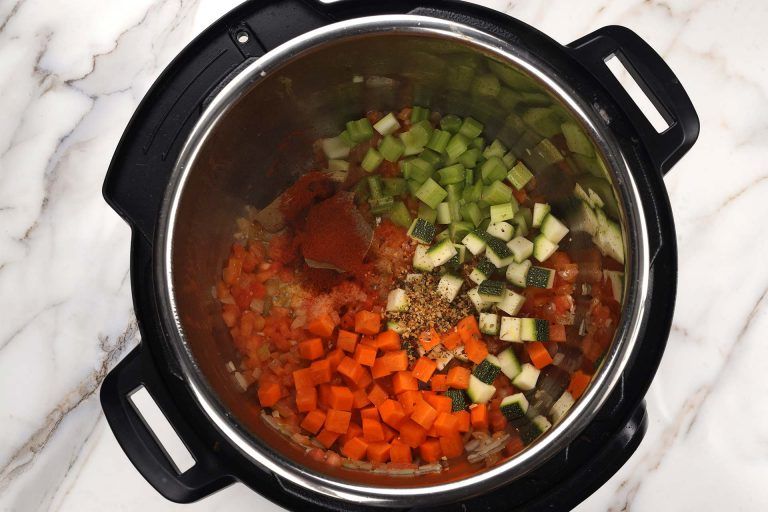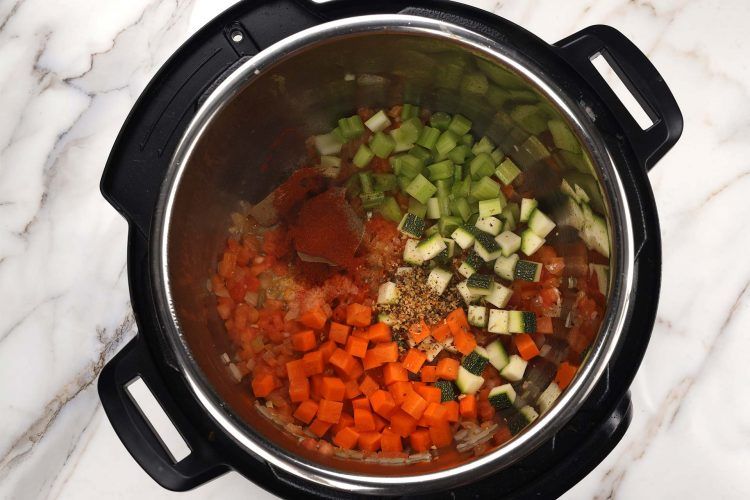 Toast the spices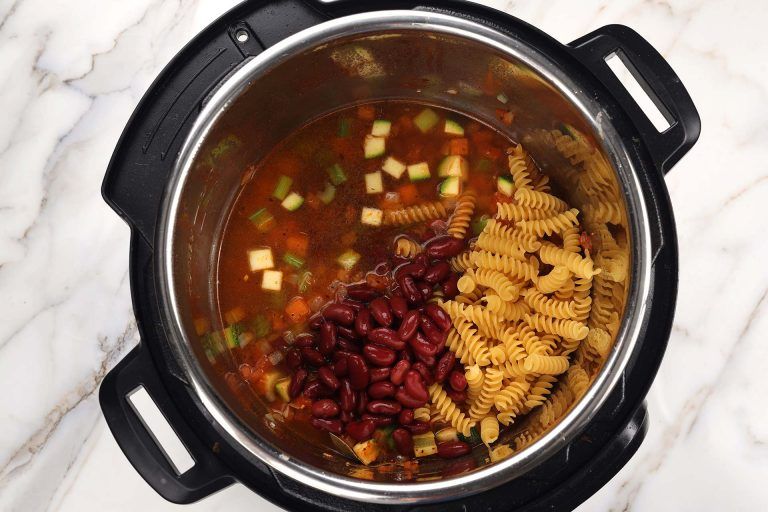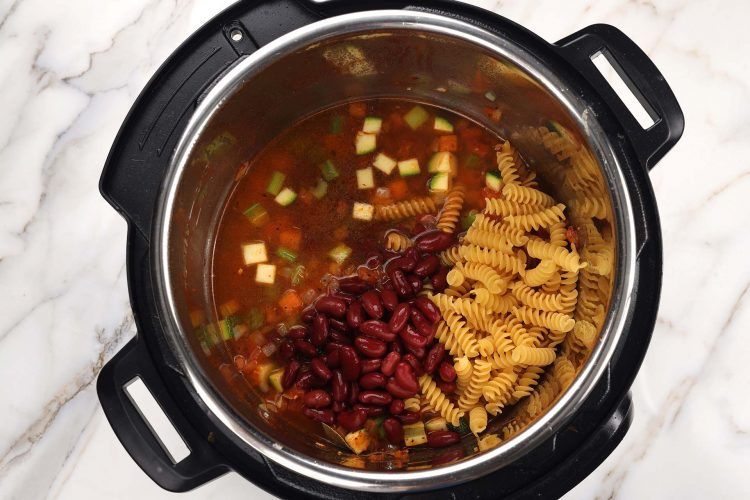 Cook the soup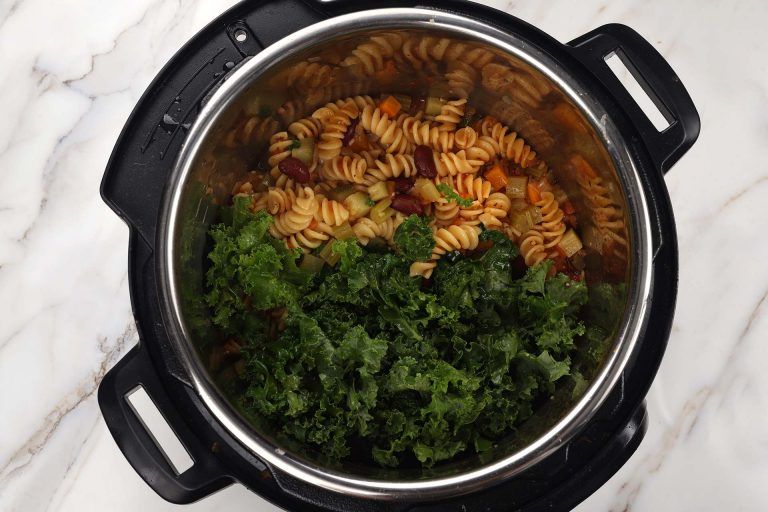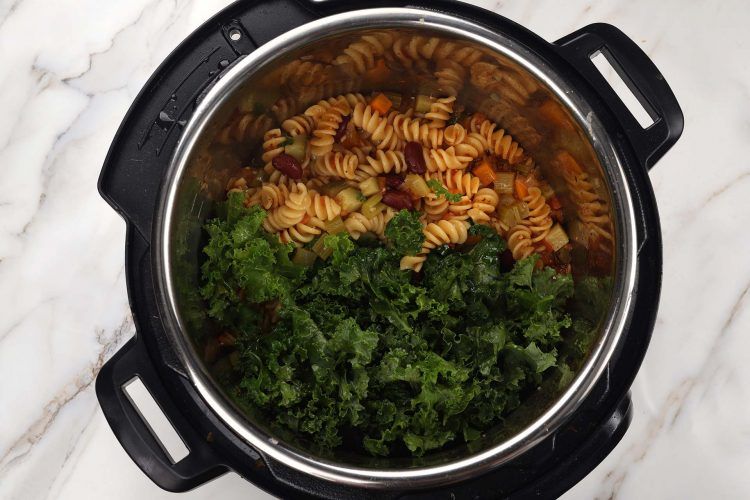 Add kale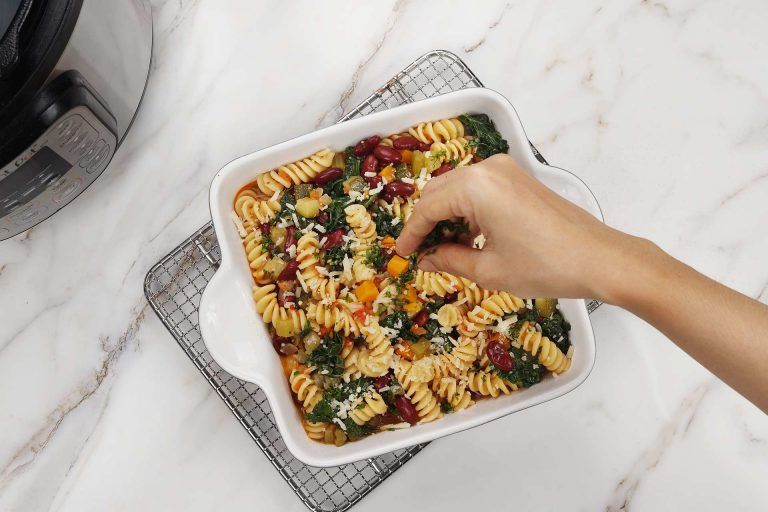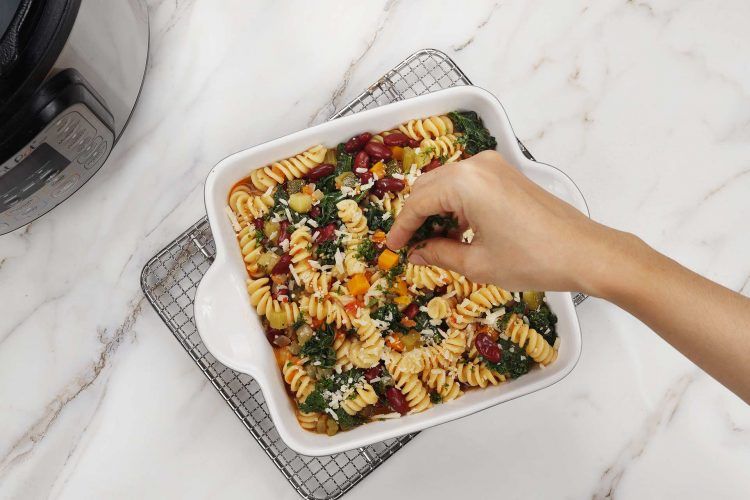 Garnish and serve
As always, detailed instructions and full ingredients are available in the recipe card below.
Jump to Recipe
How to Thicken Minestrone Soup
This minestrone soup is rather light and brothy with a thin consistency. If you prefer a thicker soup, here's what you can do:
Mix 1 tablespoon each of water and cornstarch together in a small bowl.
After adding kale to your soup, set the Instant Pot to low heat on the "Sauté" program.
Add the cornstarch mixture to the pot and stir gently for 1 to 2 minutes to cook the starch.
You can also apply this thickening method with our Instant Pot bean soup recipe.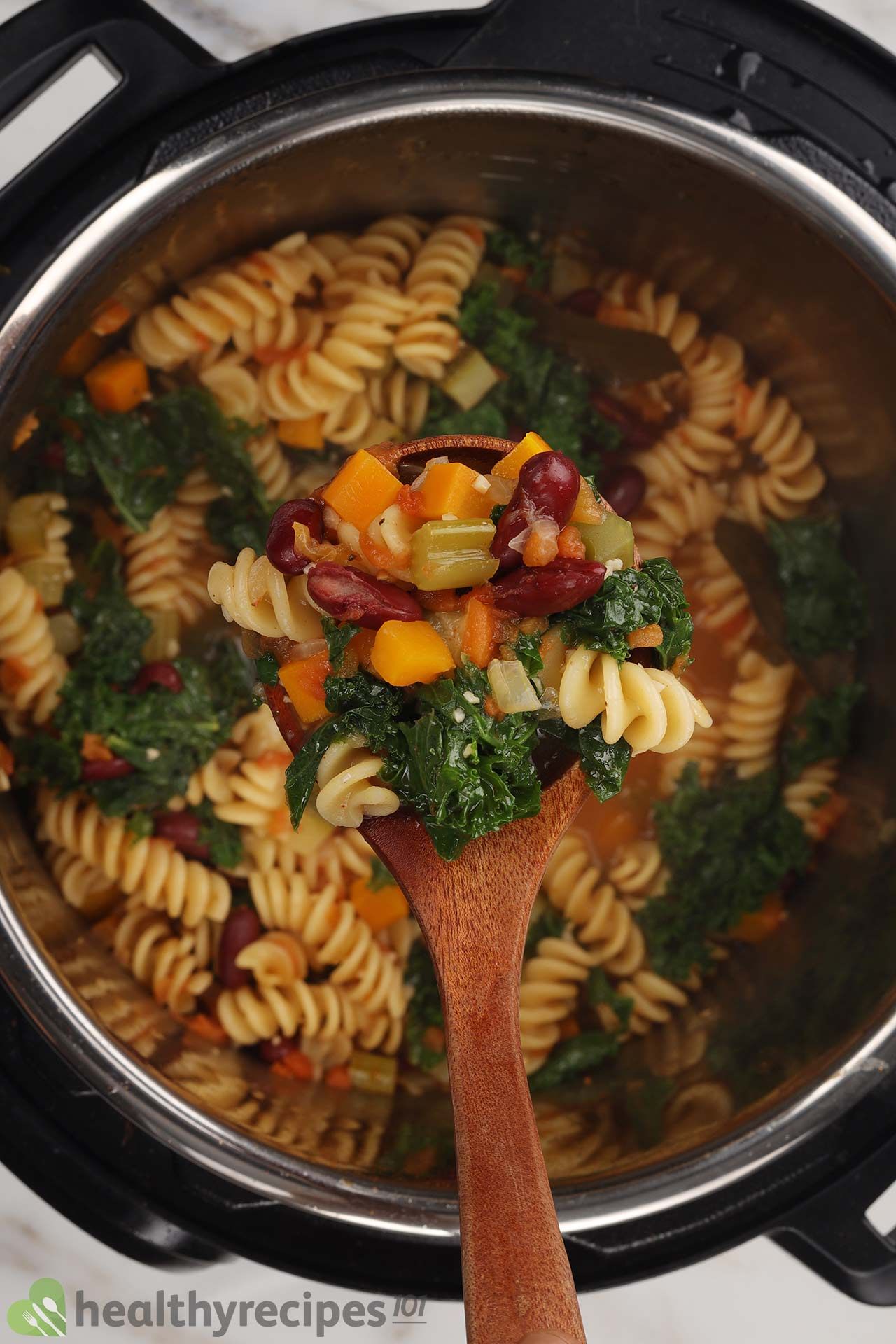 How to Store and Reheat Leftover Minestrone Soup
Before you put your leftover minestrone into the fridge, it's best to leave it to cool first.
If you put hot food into a clean airtight container, it releases steam and increases moisture inside that confined environment. This will make it an ideal place for bacteria to grow and spoil your food more quickly.
If you store your soup properly as instructed, it should last up to 3 days in the fridge. You can even freeze it for up to 1 month.
To reheat the soup, transfer it to a microwave-safe container and let it warm up for 2 minutes. If your soup is frozen, defrost it in the microwave for 3 to 5 minutes before reheating.
If you would like to see more healthy instant pot options, our best Instant Pot breakfast recipes is definitely worth a try, or see our collection of Instant Pot dinner recipes.
What to Eat With Instant Pot Minestrone Soup
With something as light and versatile as this minestrone soup, you can pair it with any type of protein. Here are some of our recommendations: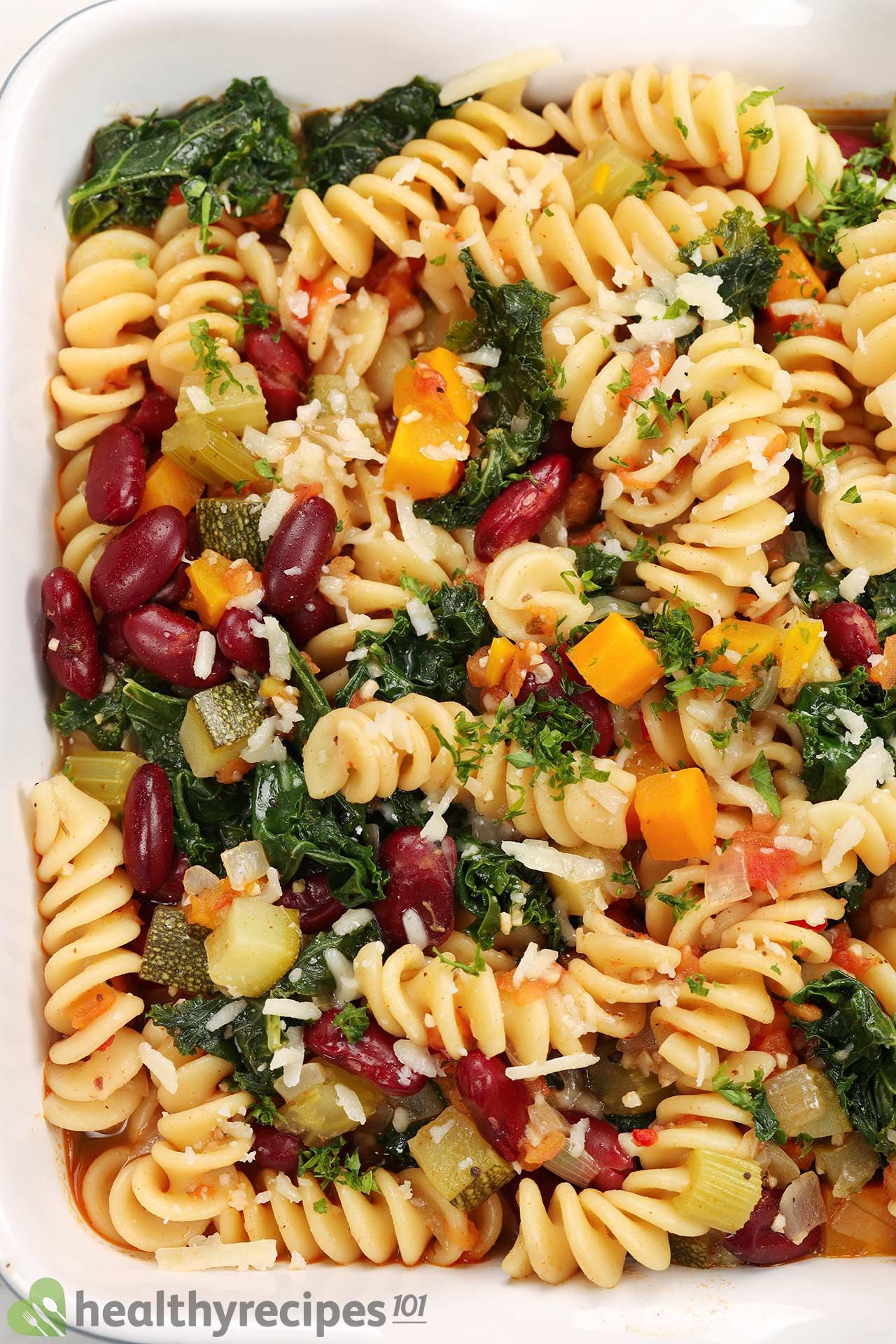 1. Baked or Roasted Chicken
If you're looking for a low-fat, high-protein meat, then boneless, skinless chicken breast is the best cut for you. In addition, chicken is relatively quick and easy to prepare and cook.
It can take less than 30 minutes to bake or roast chicken breast and have it ready to eat. We recommend cooking the minestrone soup first and keeping it warm in the Instant Pot while you cook the chicken.
2. Beef or Lamb
Roasted or grilled red meat is delicious on its own, but you should always add a side dish to it.
Serve our minestrone soup as an appetizer while you wait for the meat to roast. With its high fiber and carb content along with the high-protein meat, you will be full for longer.
Healthy and Easy Instant Pot Recipes You May Like:
Besides this tasty Instant Pot minestrone soup, we also have several amazing others that we would like you to try. Check out these 4 Instant Pot side dish recipes to plan your next days' menu with ease: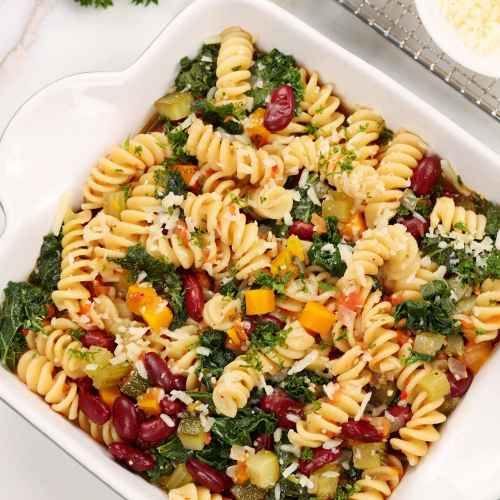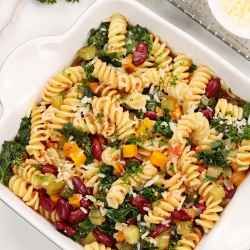 Instant Pot Minestrone Soup Recipe
This Instant Pot minestrone soup recipe will show you how to make a light, delicious, healthy Italian side dish. Let's begin.
Ingredients
1

tbsp

olive oil

2

oz

onions

chopped

1

tsp

garlic

minced

1

cup

tomatoes

peeled, deseeded, diced

1/4

tsp

salt

1/4

tsp

black pepper

1

bay leaf

1/2

tbsp

Italian seasoning

1

tsp

paprika

2

oz

celery

cubed

2

oz

zucchini

green, diced

2

oz

carrots

finely diced

4

oz

fusilli pasta

uncooked

4

oz

unsalted dark red kidney beans

rinsed and drained

2

cups

unsalted chicken broth

2

oz

kale

roughly torn apart

2

tbsp

parsley

roughly chopped

0.5

oz

grated Parmesan cheese
Instructions
Sweat the onions: Turn on your Instant Pot, set to the "Sauté" program, and wait for it to heat up. Add olive oil, onions, and garlic. Cook for 2 minutes or until translucent, stirring constantly.

Cook the tomatoes: Add diced tomatoes to the pot. Cook for 2 minutes, stirring constantly to avoid burning.

Toast the spices: Add salt, black pepper, bay leaf, Italian seasoning, paprika, celery, zucchini, and carrots to the pot. Stir for another 3 minutes.

Cook the soup: Add dried fusilli pasta, kidney beans, and unsalted chicken broth. Stir gently to combine. Cover the lid and turn the steam valve to "Sealing Position". Set your Instant Pot to the "Meat Stew" program for 10 minutes.

Add kale: After 10 minutes, carefully turn the valve to release steam before opening the lid. Add kale and cook for 2 minutes on the "Sauté" setting.

Garnish and serve: Turn off your device. Ladle the soup into a bowl or deep dish. Sprinkle with chopped parsley and grated Parmesan cheese before serving.
Nutrition
Nutrition Facts
Instant Pot Minestrone Soup Recipe
Amount Per Serving (1 serving)
Calories 219
Calories from Fat 45
% Daily Value*
Fat 5g8%
Cholesterol 3mg1%
Sodium 264mg11%
Potassium 514mg15%
Carbohydrates 34g11%
Protein 9g18%
Vitamin A 4622IU92%
Vitamin C 30mg36%
Calcium 104mg10%
Iron 2mg11%
* Percent Daily Values are based on a 2000 calorie diet.