This Instant Pot mushroom soup recipe combines hearty mushrooms with shallots and onions, and brings it all together with a creamy base. It's a great go-to recipe whenever you are craving something comforting and flavorful. It is guaranteed to impress even the pickiest eaters!
An Instant Pot makes this simpler and quicker than the traditional method. You'll only need to spend about 35 minutes in the kitchen. Also, cooking at home ensures a healthy product with fresh ingredients that precisely match your preferences.
This creamy, savory soup is perfect to enjoy on busy weeknights, in cool weather, and at holiday gatherings. Simply pair it with roasted bread and serve as a side dish or starter for your next home-cooked meal.
Is Mushroom Soup Healthy?
Yes, mushroom soup is healthy. Mushrooms are powerhouses of vitamins and minerals (including vitamin D, B6, folate, magnesium, zinc, and potassium) while being relatively low in calories.
Nutritionally, one serving of our Instant Pot mushroom soup provides 165 calories. Out of that, there is 6.6 g of protein per serving — 13% of the daily recommended requirement.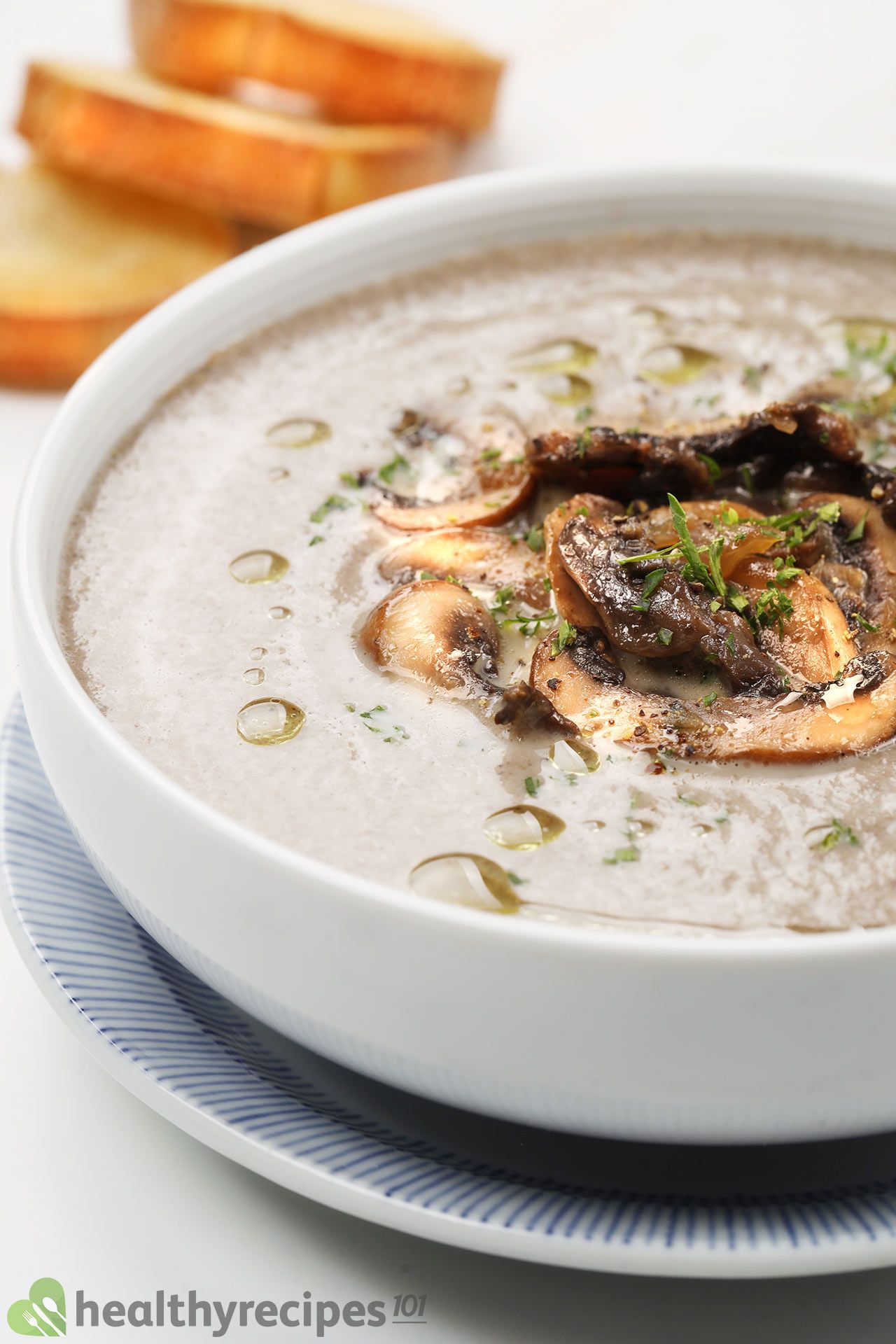 We also keep a strict eye on the amount of salt, milk, and heavy cream used in the recipe. Thus, the sodium and saturated fat content aligns with the USDA's Dietary Guidelines, making this one of the healthiest versions of mushroom soup out there.
Main Ingredients
This mushroom soup delivers an impressive variety of flavors and textures, considering its simple list of ingredients:
Mushrooms: This recipe can function with any type of mushroom you have in your kitchen. However, for enhanced flavor, we recommend going with cremini and porcini mushrooms because they offer rich, deep, earthy flavors.
Onion and Garlic: The aromatic combo of these classic flavors forms the foundation for this soup.
Chicken Broth: Water or chicken broth can be used interchangeably in this recipe. However, if you add water to the soup, check your seasonings and adjust the amount of salt to your liking.
Heavy Cream: A tablespoon of heavy cream gives this dish a comforting touch. You can omit the cream for a dairy-free and vegan version. However, note that without heavy cream in the recipe, the soup will be thinner in texture and less creamy in taste.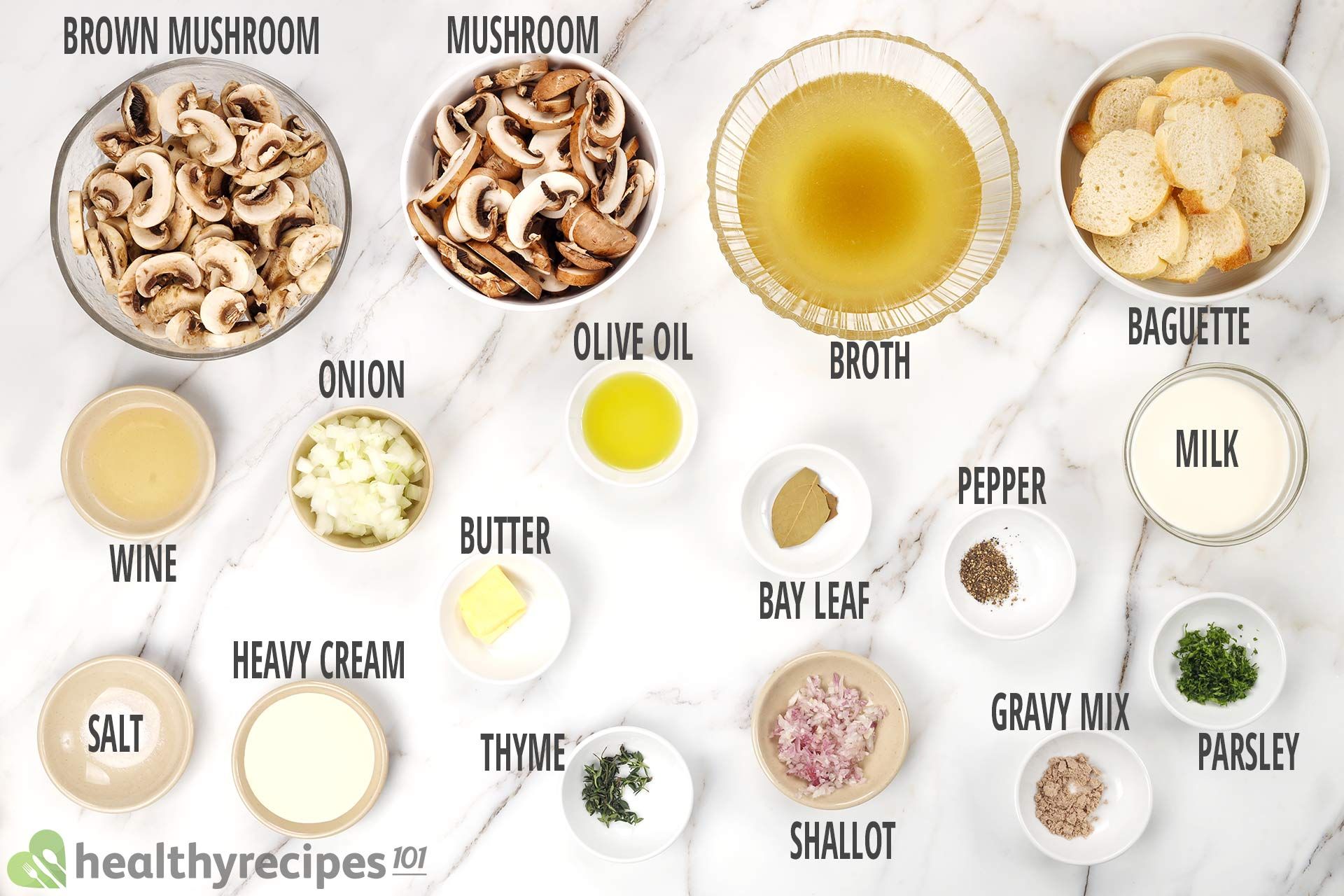 How to Make Mushroom Soup in an Instant Pot
Once you gather your ingredients, here is how to make this cozy soup: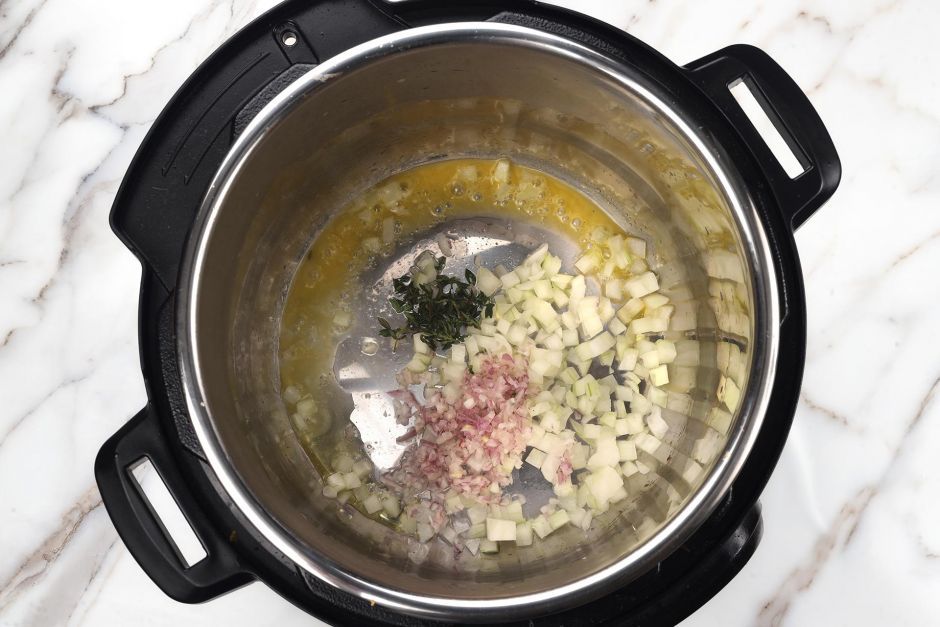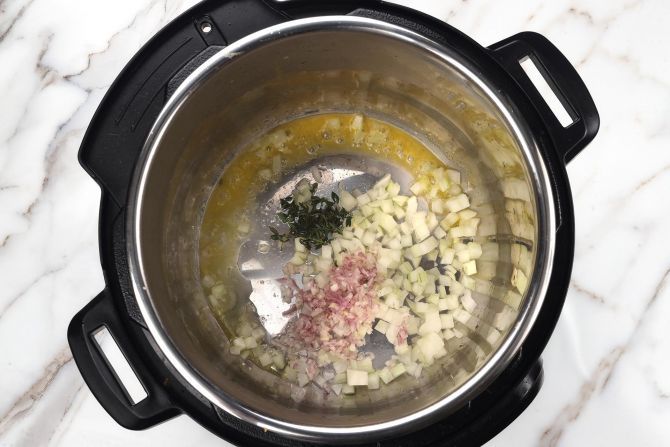 Sauté your onions and shallots.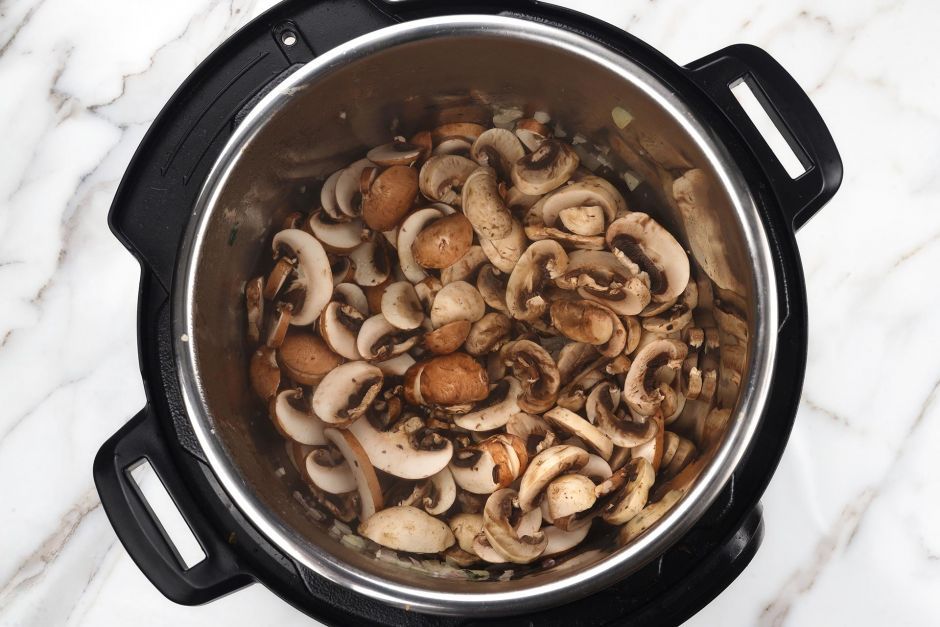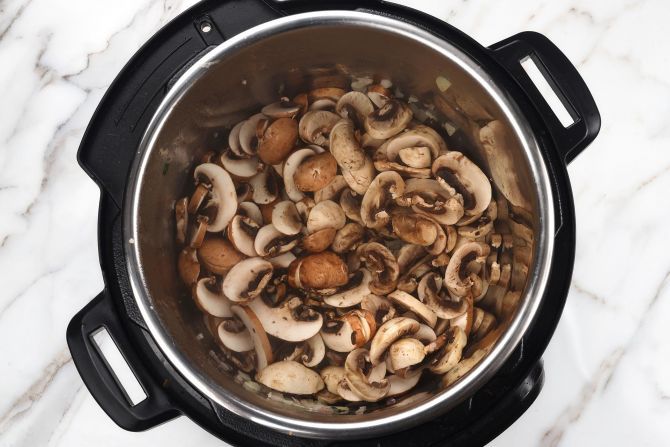 Stir-fry the mushrooms.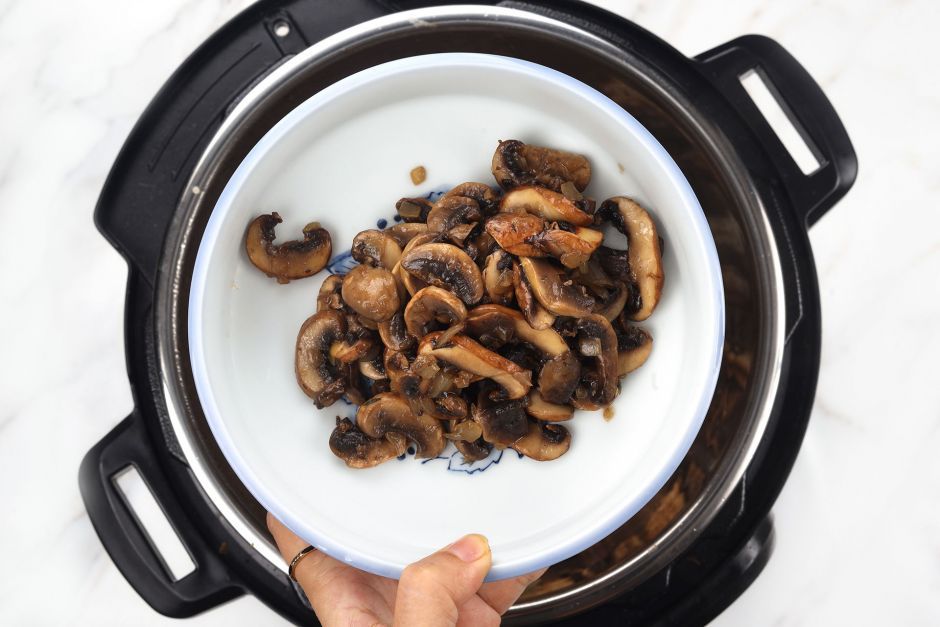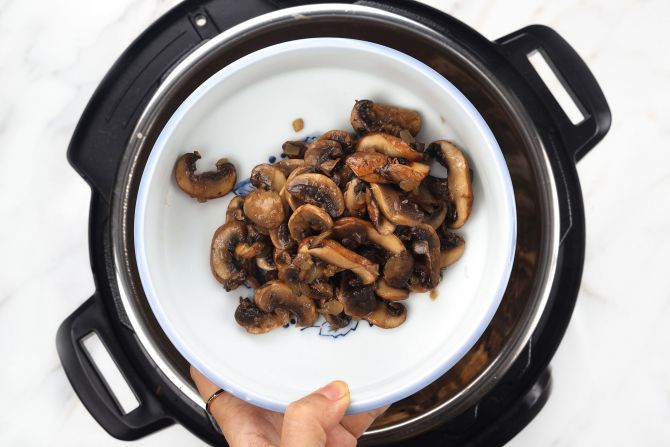 Transfer half of the stir-fried mushrooms to a plate.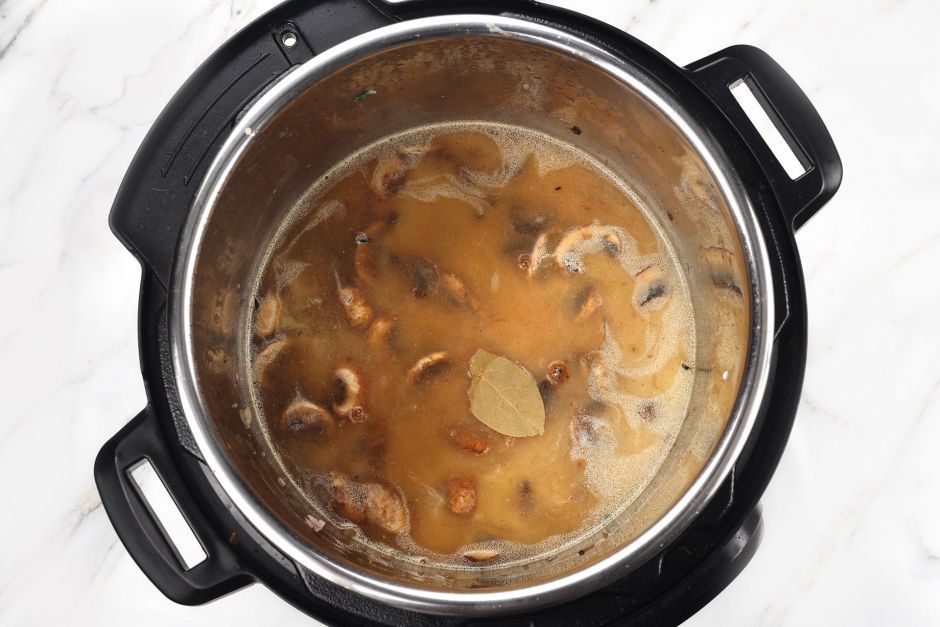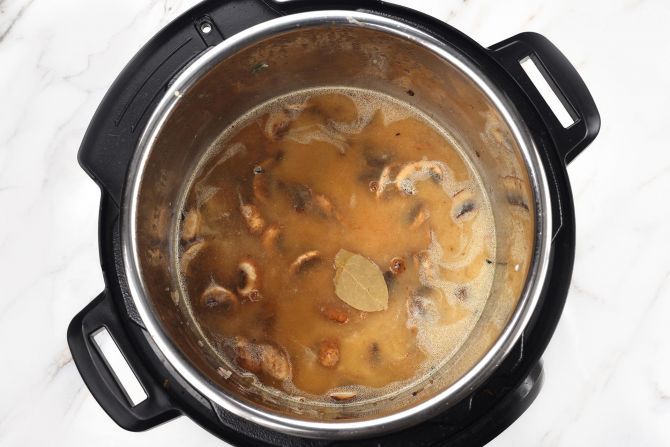 Add liquid and stew.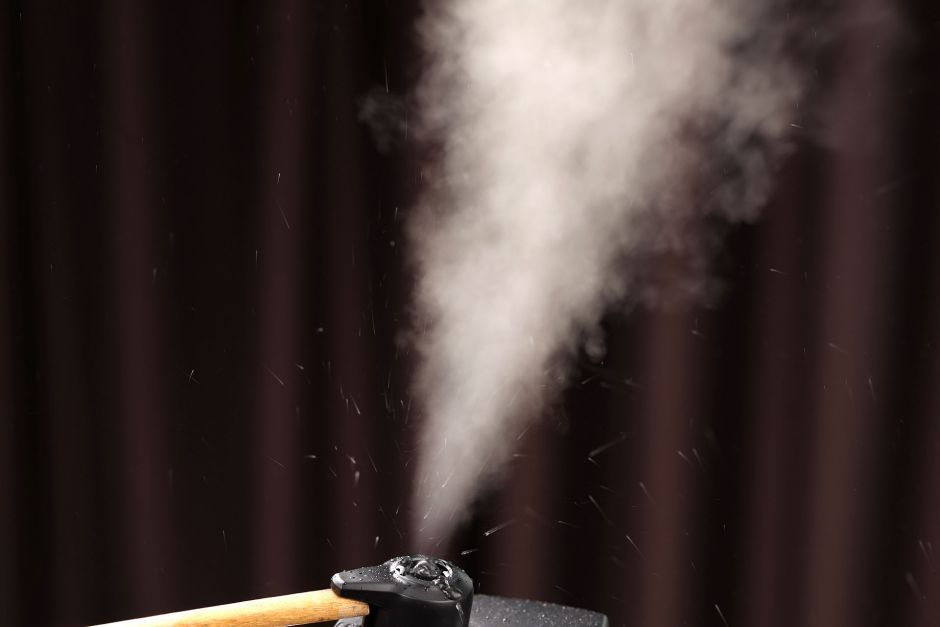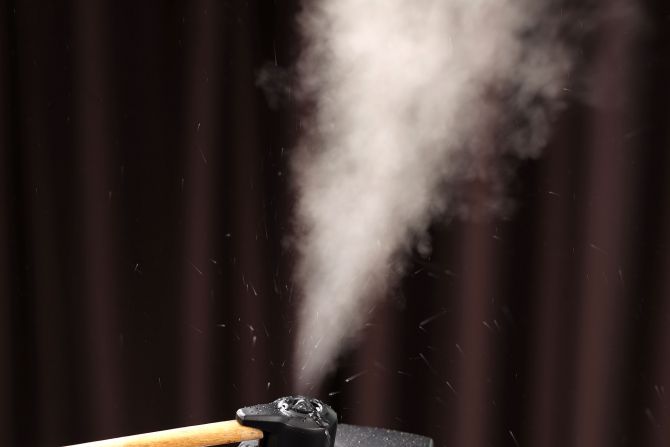 Remove bay leaves.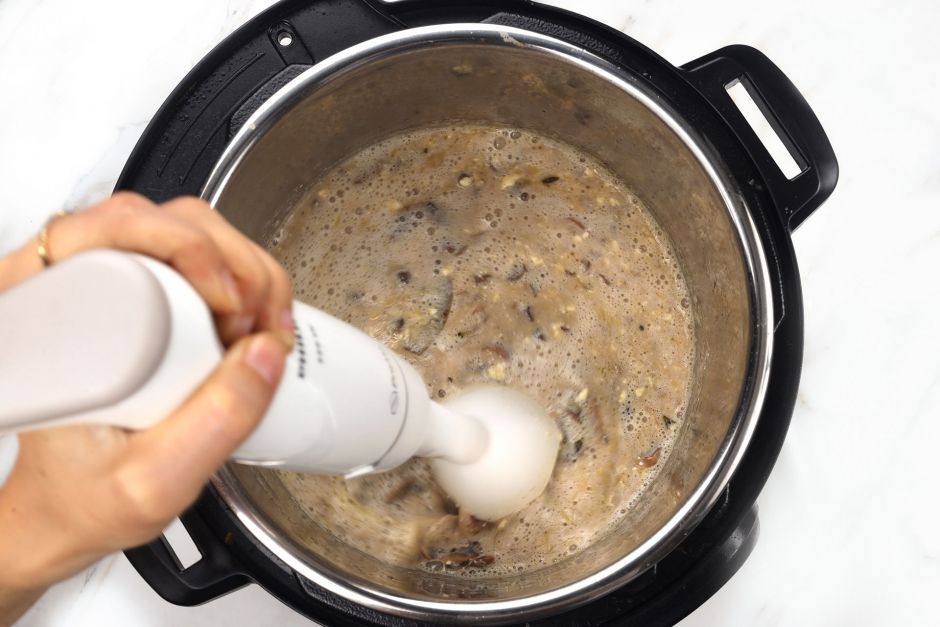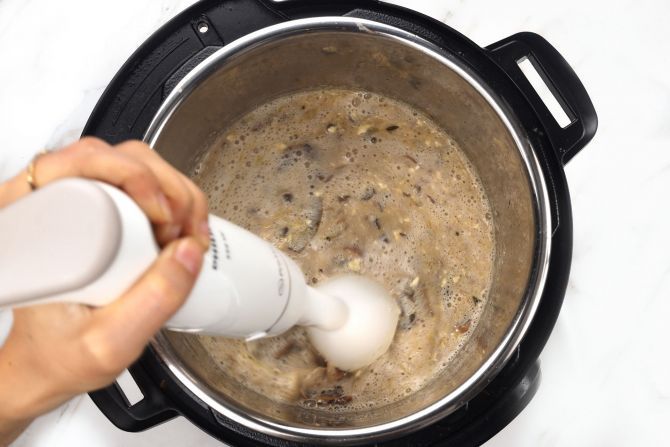 Blend the soup.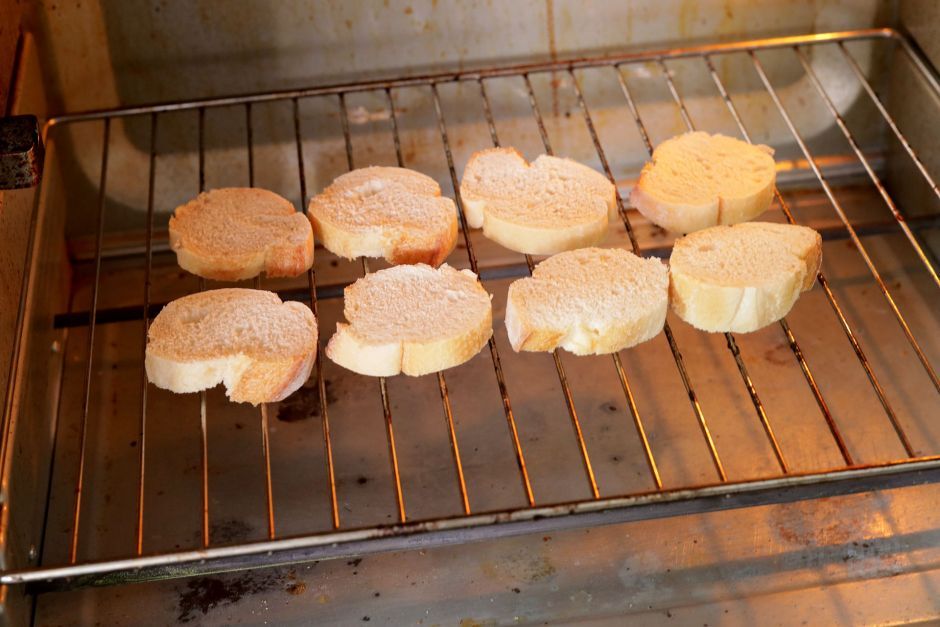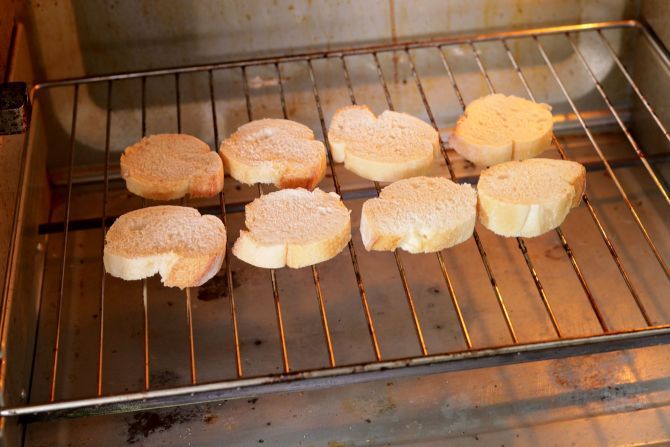 Roast the baguette.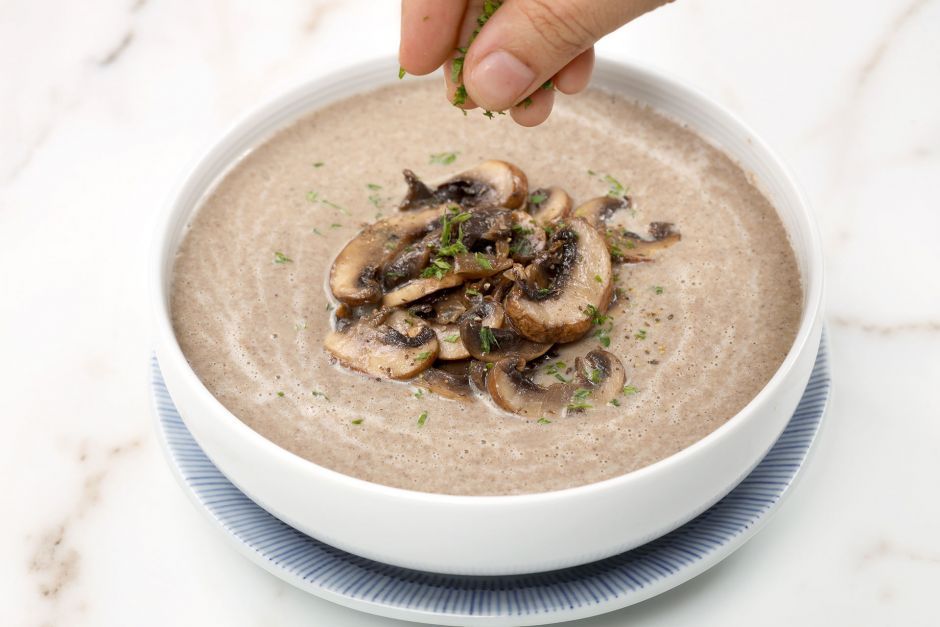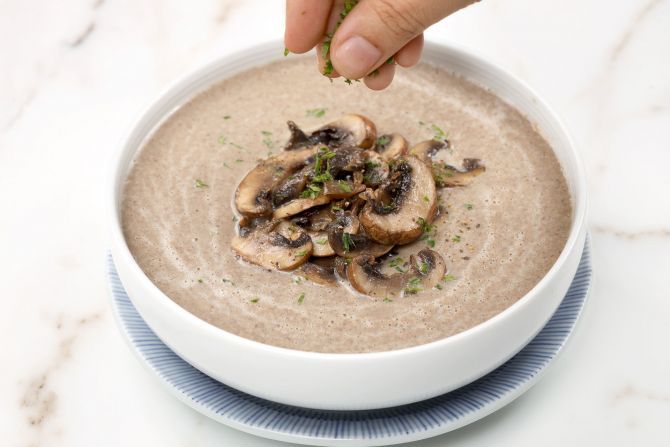 Transfer the soup to a bowl. Garnish.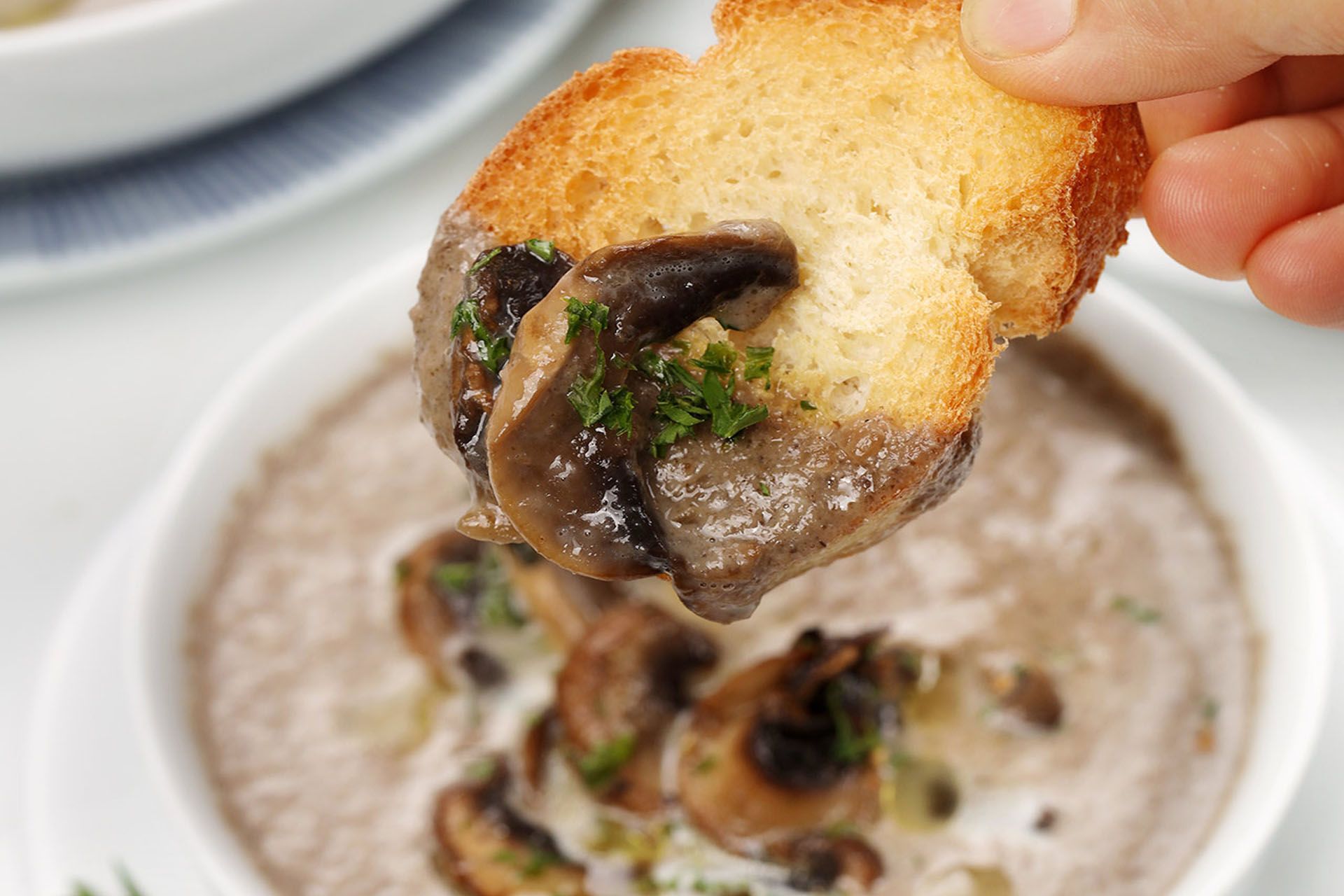 Serve with baguette.
For the detailed instructions, refer to the recipe card below.
Jump to Recipe
Tips for Cooking Instant Pot Mushroom Soup
Sauteing draws the mushroom and shallot flavors out into the open, giving the soup its sweet and aromatic aftertaste.
Allow the pressure to release naturally. This extra time in the pot helps the vegetables to soften and creates a thicker consistency.
Be sure to discard the bay leaves before blending the soup. Bay leaves are great for enhancing the flavor and aroma, but they aren't pleasant to eat.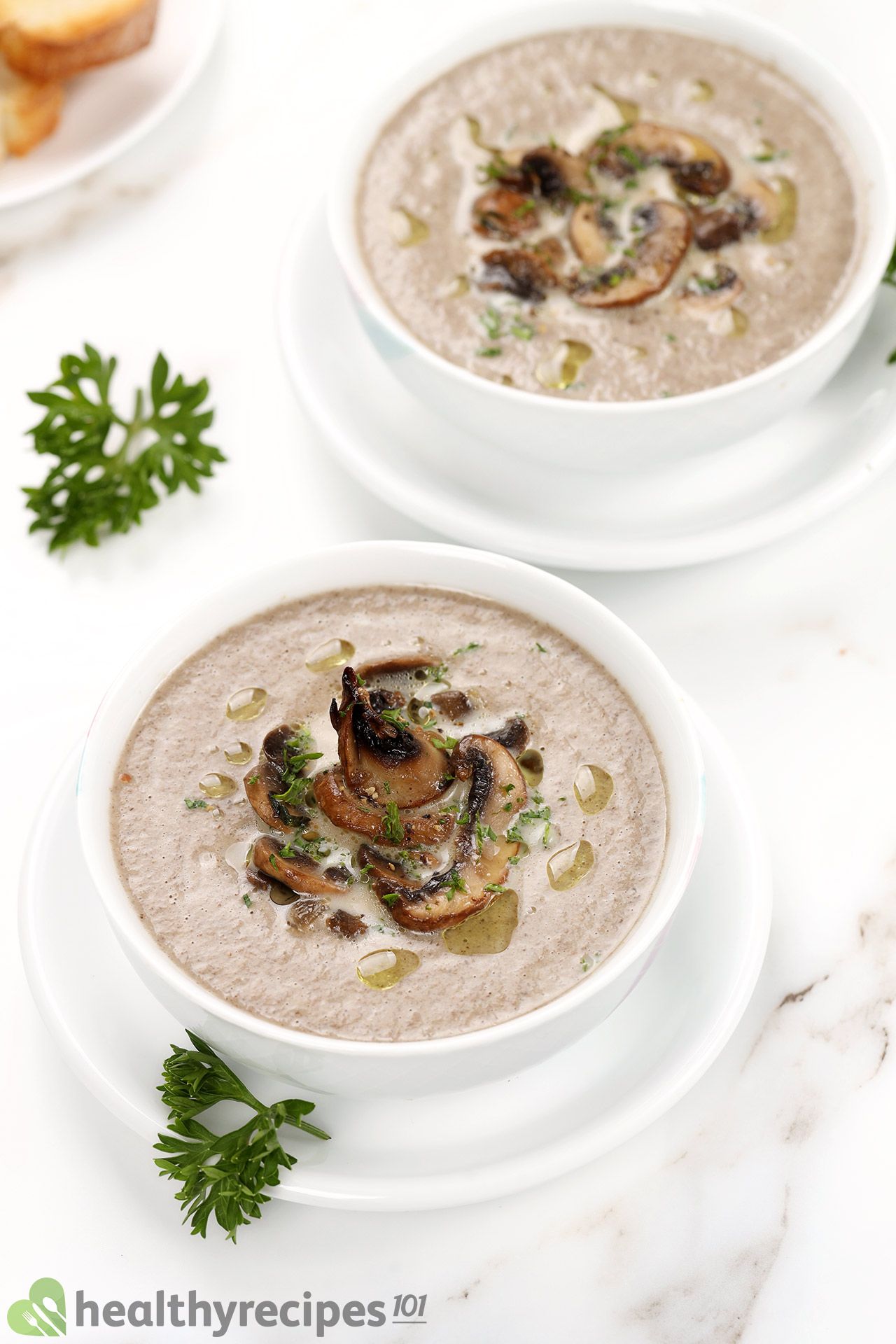 How to Store and Reheat Leftover Mushroom Soup
The leftovers from this creamy mushroom soup can be kept for up to 3 days in the refrigerator or can be frozen for a month. Note that you should let the soup cool completely before transferring it to an airtight container for storage.
Allow frozen soup to thaw slowly overnight prior to serving. Alternatively, you can directly reheat it in the microwave or on the stovetop for a few minutes. Stir occasionally while reheating the soup to prevent it from curdling.
For more delicious instant pot dishes, check out our easy instant pot dinner roundup and top Instant Pot Breakfast Recipes.
What to Eat With Mushroom Soup
We recommend pairing the warm soup with some form of crusty bread or baguette like in this Instant Pot Broccoli Cheddar Soup Recipe, then sprinkle a little ground pepper and parsley for an additional boost of flavor.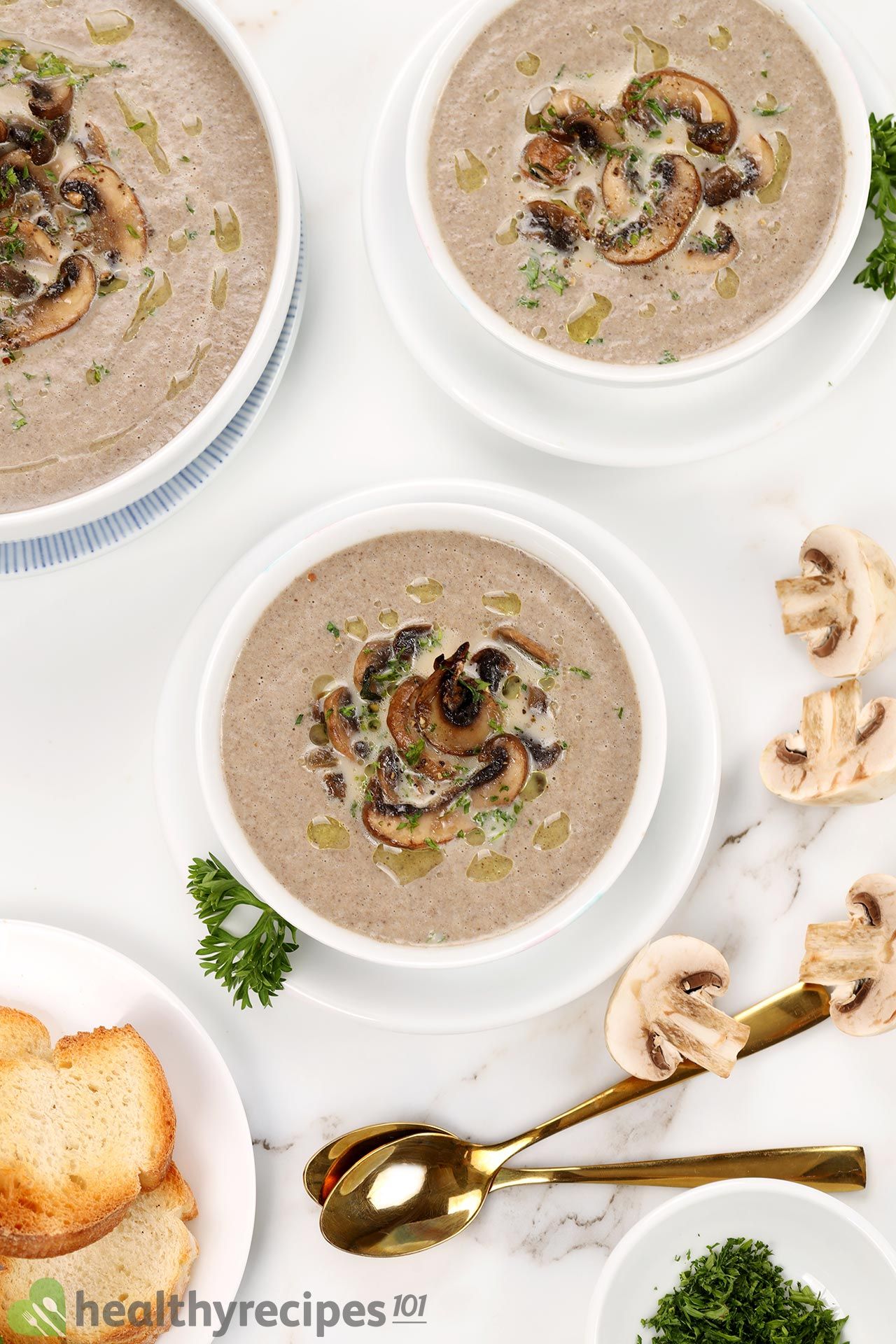 Bread is always the obvious choice for soup, but if you fancy something different, try savory scones, muffins, or dampers. A hot soup also cooperates well with freshly baked cake, making a great starter to liven up your taste buds.
More Quick & Easy Instant Pot Soup Ideas
These favorite Instant Pot soup recipes are as comforting and healthy as this Instant Pot Mushroom soup recipe.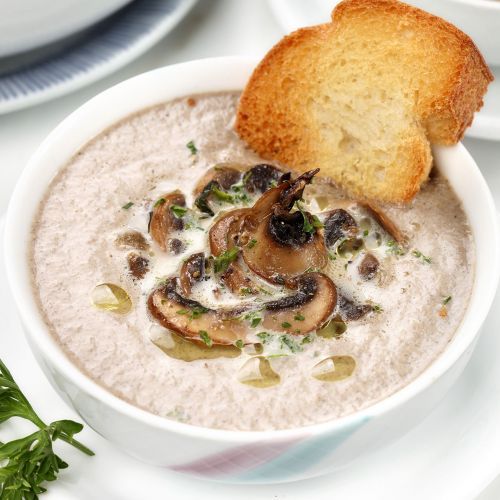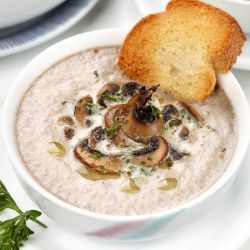 Instant Pot Mushroom Soup Recipe
This Instant Pot mushroom soup recipe makes a rich, smooth, and flavor-packed side dish with just a handful of ingredients.
Ingredients
1

tbsp

olive oil

divided

1/2

tbsp

unsalted butter

1

tsp

thyme

2

oz

onion

chopped

0.5

oz

shallot

chopped

8

oz

white mushroom

diced

6

oz

brown mushroom

diced

2

tbsp

white wine

2

cup

unsalted chicken broth

1/2

cup

milk

1/2

tsp

brown gravy mix

1/4

tsp

salt

1

bay leaf

2

tbsp

heavy cream

2

oz

French baguette

1/4

tsp

ground pepper

1

tbsp

parsley

chopped
Instructions
Turn on the Sauté Mode, then add 1/2 tablespoon olive oil, 1/2 tbsp unsalted butter, 1 tsp thyme, 2 oz onion, and 0.5 oz shallot to the pot. Stir-fry for 3 minutes.

Add in 6 oz brown mushroom and 8 oz white mushroom and cook for about 10 minutes until all the juice has evaporated and the mushrooms turn brown. Pour in 2 tbsp white wine and stir occasionally for another minute.

Transfer half of the stir-fried mushrooms to a plate.

Add 2 cup unsalted chicken broth, 1/2 cup milk, 1/2 tsp brown gravy mix, 1/4 tsp salt, and 1 bay leaf to the pot. Cook in Meat Stew Mode for 10 minutes.

Release the steam naturally and remove the bay leaves.

Add in 2 tbsp heavy cream. Blend the soup with a hand blender until smooth.

Bake 2 oz baguette in the oven at 400°F for 3 minutes or until golden brown.

Transfer the soup to a small bowl. Garnish with stir-fried mushrooms, the remaining olive oil, 1/4 tsp ground pepper, and 1 tbsp parsley.

Serve with roasted baguette.
Nutrition
Nutrition Facts
Instant Pot Mushroom Soup Recipe
Amount Per Serving (1 serving)
Calories 165
Calories from Fat 81
% Daily Value*
Fat 9g14%
Cholesterol 15mg5%
Sodium 290mg13%
Potassium 512mg15%
Carbohydrates 16g5%
Protein 7g14%
Vitamin A 159IU3%
Vitamin C 5mg6%
Calcium 66mg7%
Iron 1mg6%
* Percent Daily Values are based on a 2000 calorie diet.