Get ready to discover a symphony of flavors that will leave you craving for more with these miso sea bass recipes.  From succulent glazes to tantalizing marinades, we explore a variety of dishes that perfectly showcase the versatility and magic of this incredible pairing. Give them a try to introduce a wonderful piece of Japanese cuisine to your meals.
Best Miso Sea Bass Recipes
Without further delay, here's our list of best miso sea bass recipes.
1. Miso Glazed Sea Bass
Sea bass filets coated in a glossy, luscious miso glaze is truly a sight to behold at any dining table. Beyond the appetizing appearance, this dish also captivates you with its deeply sweet and savory flavors that melt like a dream onto your taste buds. Combined with the fish's tender, flaky meat and slightly crispy skin, each bite is nothing short of heavenly.
Go to Recipe
2. Miso-Marinated Sea Bass
Elevate your dinner in just 30 minutes with this recipe. Sea bass filets are marinated in an umami, rich, and savory mixture of miso, mirin, sake, sugar, and ginger then grilled to smoky, tender-crisp perfection. Serve it on its own or with companies of other Japanese dishes like miso soup, green tea rice, or edamame for a wholesome, flavorful meal.
Go to Recipe
3. Miso Shiitake Sea Bass
Crispy-skinned, golden brown sea bass laid on a bed of silky, lush mushroom ragout is our definition of food heaven. Each bite makes your taste buds sing with sweet, savory, earthy, and umami notes that harmonize with one another flawlessly. Elegant and complex but also engulfed with the wholesomeness and simplicity of homemade food, this dish is the perfect choice for any dining occasion.
Go to Recipe
4. Chilean Sea Bass With Champagne and Yuzu Miso Sauce
In the mood for something a little fancy and elaborate? This recipe might just be worth a try. The sea bass filets are tenderly baked and drenched in a zingy, deeply umami yuzu miso sauce. It brings together the bold and elegant flavors of miso, champagne, and yuzu lemon to create a dish that is both comforting and full of depth.
Go to Recipe
5. Miso and Soy Chilean Sea Bass
When the night calls for something that's both comforting and gourmet, consider giving this dish a try. The sea bass is marinated in a hearty, umami mixture of miso paste, soy sauce, mirin, sake, and brown sugar then broiled to a tender perfection. Serve it over white rice and a side of leafy greens and you've got yourself a foolproof main course good enough to liven up any meal.
Go to Recipe
We hope our miso sea bass recipes have motivated you to explore beyond your comfort zone and spread your seafood passion to other friends and family members.
What Is Miso Glaze Made of?
Miso glaze is a Japanese-inspired sauce that Asian chefs love adding to stir-fries, soups, or stews. Though some may think making this marinade at home is tricky, it's the opposite.
With only six ingredients and no cooking involved, you'll be able to pull off this umami-packed goodness.
Here's what a typical miso glaze consists of:
Miso paste: Made from fermented soybeans, grains, seasonings, yeast, and Koji, miso paste offers notes of sweetness and tanginess. Plus, the longer we let it ferment and age, the bolder its flavor will be.
Soy sauce: This liquid condiment, rooted in China, is one of the oldest flavorings in Asia. The complexity of soy sauce shines through in any dish—umami hits with a slightly bitter aftertaste.
Rice vinegar: Unlike the intense acidity of white vinegar, rice vinegar will intrigue you with its subtle sour and sweet flavor profile.
Sriracha: This hot sauce introduces moderate heat to spice up your dish. If you're a big fan of spicy food, don't hesitate to go generously on the sriracha.
Cooking mirin: Imparts a pleasing aroma and a palatable taste to our glaze.
Brown sugar: Two excellent alternatives to sugar are maple syrup and honey. While the former delivers hints of caramel and vanilla, the latter sweetens our dish delicately.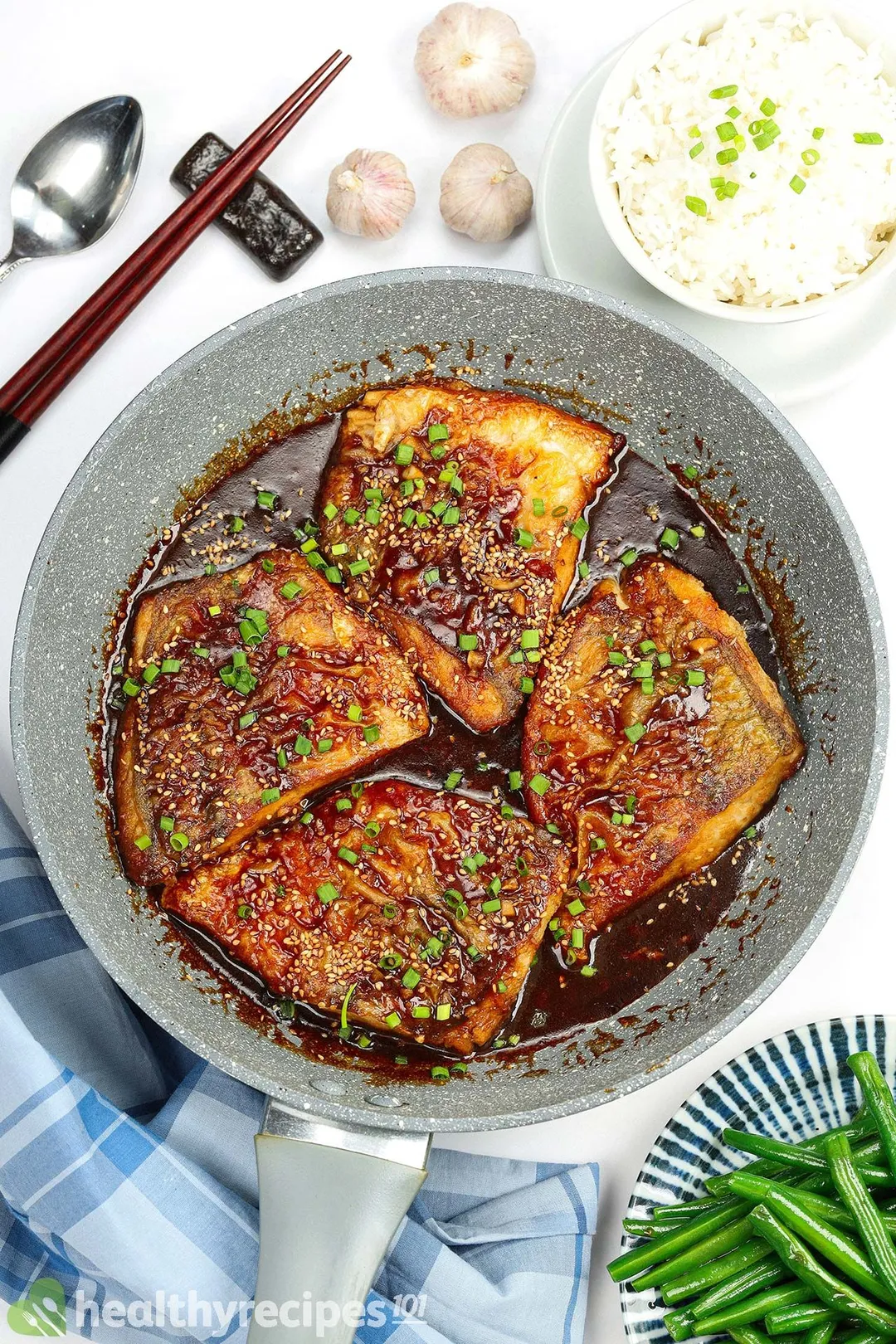 Types of Miso Paste
Depending on the length of the aging process, miso pasta will fall into two categories— light or dark miso.
Light miso has a mild sweetness that works magic in dressings and desserts, while its dark counterpart brings a savory taste to braised and stewed dishes.
How to Prepare Sea Bass Before Cooking
1. Thaw or Not to Thaw
When working with frozen seafood, defrosting is one of the crucial steps to ensure your creation comes out perfectly.
Here are two safest and most efficient ways to thaw your fillets:
Refrigerator thawing: Remove your fillets from the freezer section and let them rest in the fridge for 8-12 hours before cooking.
Cold water thawing: Place your fillets in a leak-proof bag and submerge it in a bowl of ice water. If you're defrosting a large portion of fish, add more ice after each period of 30 minutes to maintain a temperature of 40 °F or below.
2. Rinse or Not Rinse
If you're used to washing raw meat under running water, it's time to give up this habit as it could have many negative consequences.
Specifically, the bacteria in your fillets may splatter onto other surfaces and cause cross-contamination. Hence, raising the risk of foodborne illness.
Best Ways to Cook Miso Sea Bass
You will be amazed by the multitude of ways to make miso sea bass tasty and healthy:
Air-fried miso sea bass: The air-fryer is a trusty friend of those healthy eaters as it requires significantly less to no added fat during the frying process. With no flipping required, your fillets still have crispy outer skin and a flaky interior.
Oven-baked miso sea bass: Baking sea bass fillets at low temperatures will restrict the formation of advanced glycation end products (AGEs). Also, this cooking technique helps retain the moisture of your fillets to the fullest—golden brown edges with a melt-in-your-mouth texture.
Pan-seared miso sea bass: If blistered sea bass coated with a caramelized miso sauce is your go-to, why not try pan-searing? Sear your fillets skin-side down on a medium-heat pan for 6-7 minutes before flipping to the other side for another 2-3 minutes.
What Wine Goes Well With Miso Sea Bass?
If you happen to run out of cooking mirin, here are some wine-based alternatives that will save the day.
Sake: Unfiltered/Nigori sake is a great substitution for cooking mirin as both taste somewhat similar—sweet and umami.
Sherry: This amber-colored wine leaning on the sweeter side has a sharp flavor that best replicates the taste of mirin.
White wine: Combine white wine and sugar at a 1:1/2 ratio to form a perfect alternative.
Vermouth: Sweet vermouth per se works well; however, if dry vermouth is what you have on hand, add some sugar to balance its acidity.
Writer, Author
Luna Regina is an accomplished writer and author who dedicates her career to empowering home cooks and making cooking effortless for everyone. She is the founder of HealthyKitchen101.com and HealthyRecipes101.com, where she works with her team to develop easy, nutritious recipes and help aspiring cooks choose the right kitchen appliances.
Comments/ Reviews