Today, Healthy Recipes 101 presents our very own potato soup with chicken broth recipe. It's a simple recipe that doesn't take much time or effort to make.
However, its simplicity doesn't make this soup any less delicious. It may be one of the best soups you've ever tasted.
Before we start, there are a few interesting facts about this dish you may want to know.
Is This Recipe Healthy?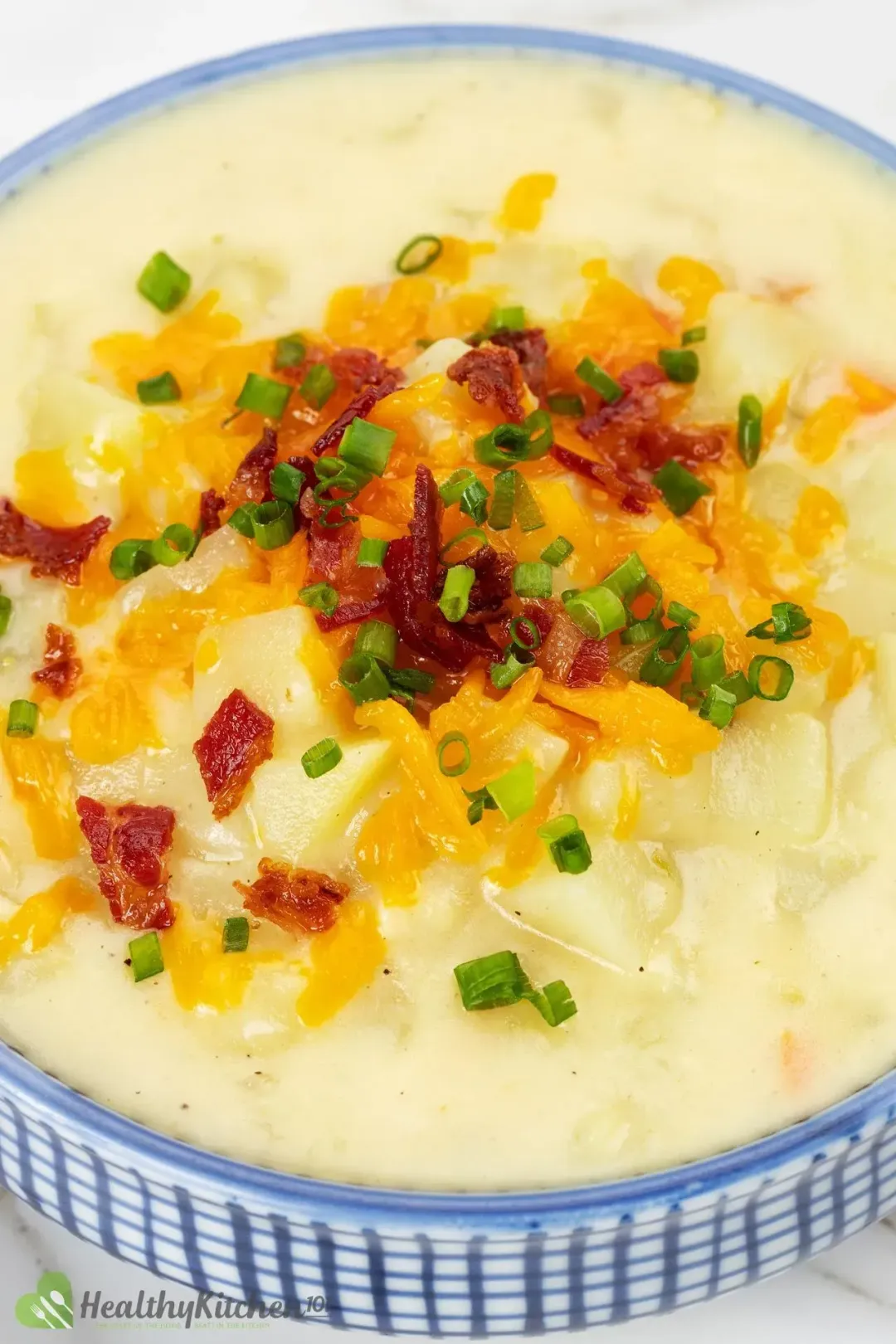 Potatoes are rich in vitamins, minerals, and antioxidants, making them nutritious and healthy vegetables. Studies have linked the consumption of potatoes with some impressive health benefits, including improved heart health as well as boosting the immune and digestive systems.
Plus, dietary fiber in potatoes is considered a helpful factor in weight control. They are filling yet low in calories and can also reduce appetite. This means you will feel full longer and be less likely to eat more.
Calories
Each serving of this soup yields 240 calories and 4.5 grams of saturated fat. We carefully calculated the amount of milk and butter used in the recipe to ensure a delectable and nutritionally balanced dish.
Best Potatoes for Potato Soup
Ingredients for potato soup are simple. The key is to start with the most suitable types of potatoes to ensure that the soup has a perfect silky and creamy texture.
Potatoes that are low-starch and high-moisture can hold their shape well in stews and soups. These include varieties such as waxy, gold, fingerling, and long white.
Idahos or russets, however, are even better for soup since they are high in starch and have a mealy texture. They quickly absorb the liquid and become tender, making them ideal choices for thick soups.
Ingredients
This potato soup is full of flavor, considering its simple list of ingredients.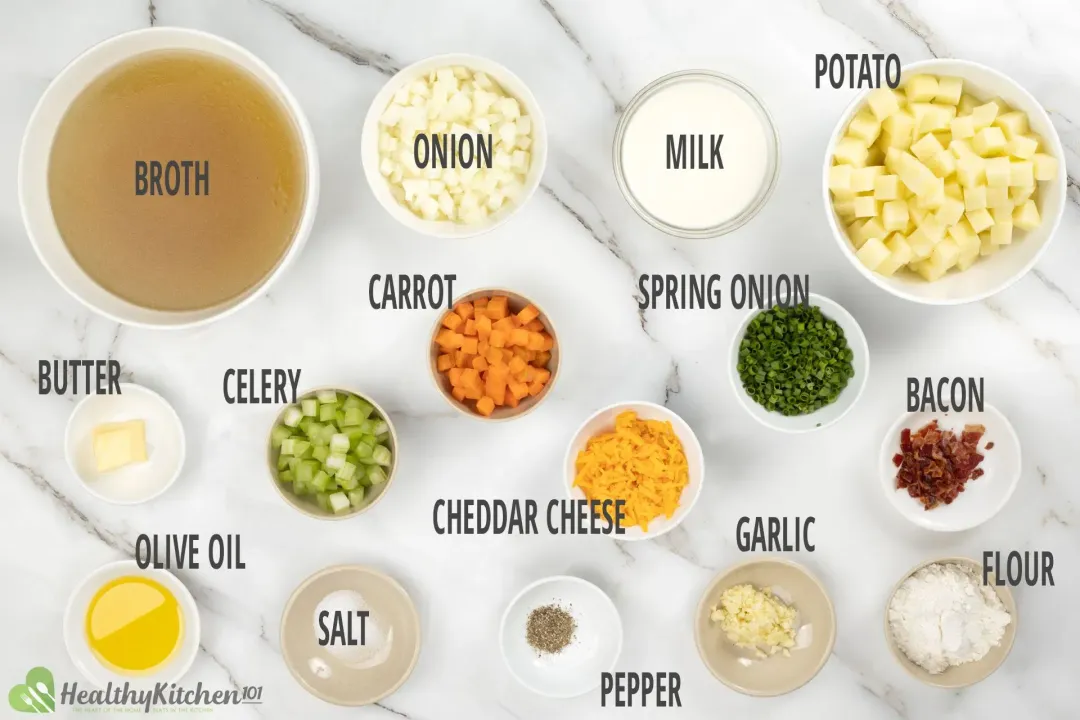 Potatoes: You can use any type of potato for this recipe, but we suggest going for some high-starch ones like russets or Idahos.
Vegetables: Some extra veggies for soup are always a good idea. Onions are a must, while carrots and celery add color and sweetness. Plus, they also offer a good dose of fibers, vitamins, and other nutrients.
Cheese: Sharp cheddar cheese is our favorite for this recipe. This is partly because its flavor is so distinctive and appealing and partly because the cheddar melts well in hot liquid into a creamy, smooth texture.
Milk: A few tablespoons of milk helps turn the soup into a more rich and luxurious version. Milk isn't the only option, and you can try sour cream, cream cheese, or plain yogurt in its place.
Bacon: Crispy, savory baked bacon provides a contrasting texture and balances out the soup's richness.
Tips for Making The Best Soup
It may be hard to find the "best ever potato soup recipe" because everyone has their preferences. However, there are some cooking tips to make the most delicious soup to your taste. Here are some tips we've come up with.
First of all, the soup needs to have the perfect texture. It can either be silky smooth or chunky — it's up to you. We blend our soup halfway to achieve a creamy texture while leaving some of the vegetables in chunks. This will give the soup a contrast in texture.
For a silky smooth soup, blend the whole thing and check the consistency. If your soup is a bit too thin for your liking, here are some tricks to make it thicker.
Adding flour is an easy way to thicken the liquid, and we also use it in this recipe. Yogurt, cream, or cheese can also help with the soup's consistency. Note that if you do add cream or yogurt, don't boil the soup, or it will end up curdling.
What to Serve With Potato Soup
This will depend on how you plan your meal. 
If you only have the soup for dinner, remember to double this recipe and throw in a couple of slices of toast to go with your soup. Since the soup is rather liquidy, it should be served with something that adds a contrast of textures — that's where the toast comes in.
Any bread will do the trick just fine, as long as you toast it to a nice golden brown color before serving. You can toast day-old bread and rub garlic onto it to impart aroma and flavor.
If this soup is your opening course, we suggest some grilled, roasted, or pan-seared meat with some baked vegetables on the side for the main course.
If you're looking for more potato-based appetizers like this potato soup recipe, take a look at our mustard potato salad and healthy baked potatoes. They are all easy-to-make and healthy side dishes.
How Long Does This Soup Last?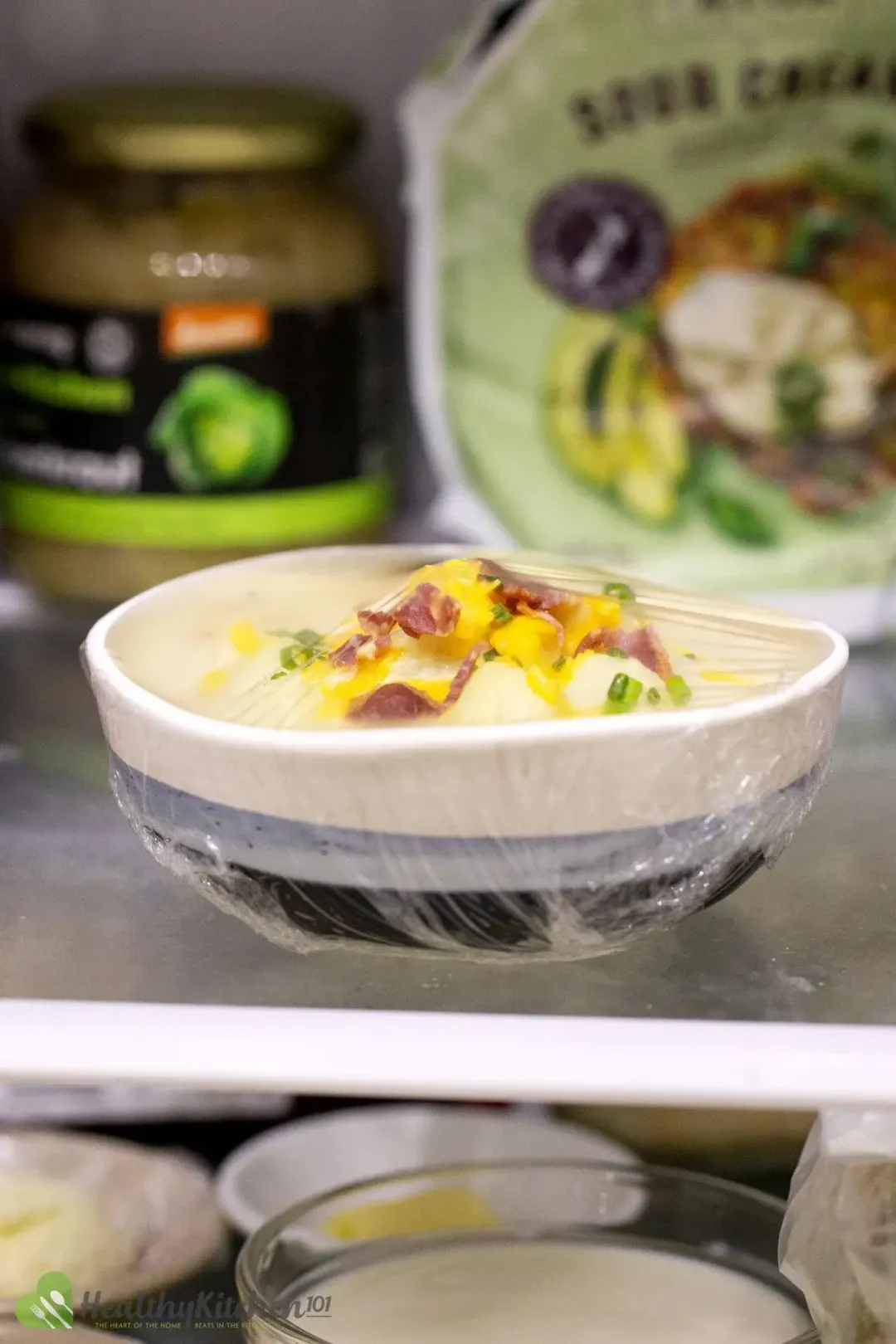 Since potato soup contains dairy products, we advise consuming it fresh within 2 hours. A general rule of thumb is that creamy soups can stay in the refrigerator for 2 – 3 days and in the freezer for 2 months.
To best prepare your soup for storage, you should keep it in an airtight container or a freezer-safe bag. Don't pour too much liquid into the container; we recommend leaving one inch of space to expand.
Can You Freeze Potato Soup?
Potato soup can be frozen; however; it is not the best soup to freeze. 
In case you want to make a big pot of potato soup and freeze it ahead of time, you can either omit the milk and cheese in the recipe or use dairy-free alternatives. This way, you can avoid freezing dairy, which is often the first ingredient to get spoiled in the soup.
As with refrigerated food, trust your nose and taste buds. If it has a funky smell or sour taste, you'd better not eat it.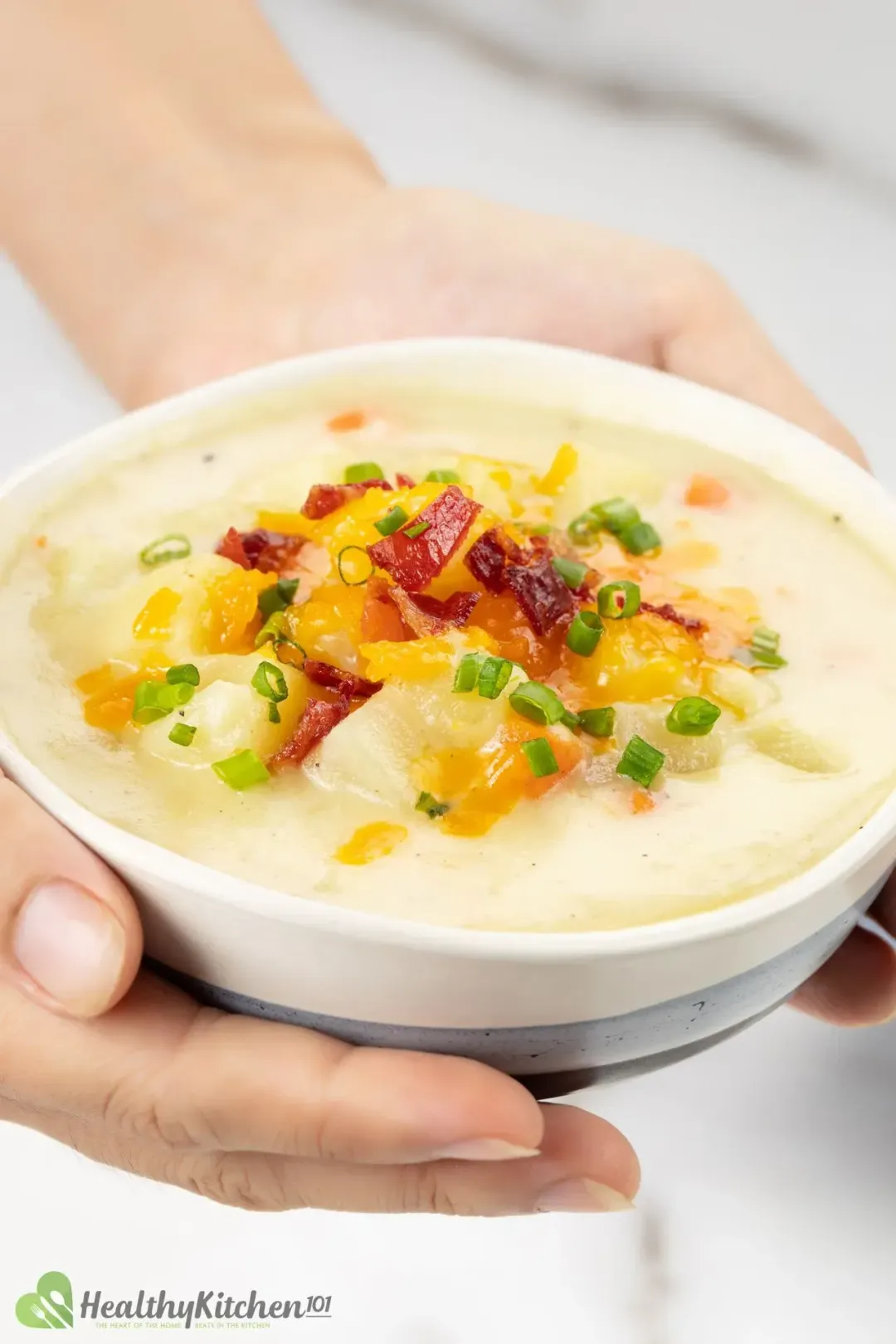 Simple Potato Soup with Chicken Broth
This simple potato soup with chicken broth recipe is one of the best comfort food recipes we've made so far. It has a satisfying savory taste from bacon and cheese and a creamy texture. And yet, it is still healthy.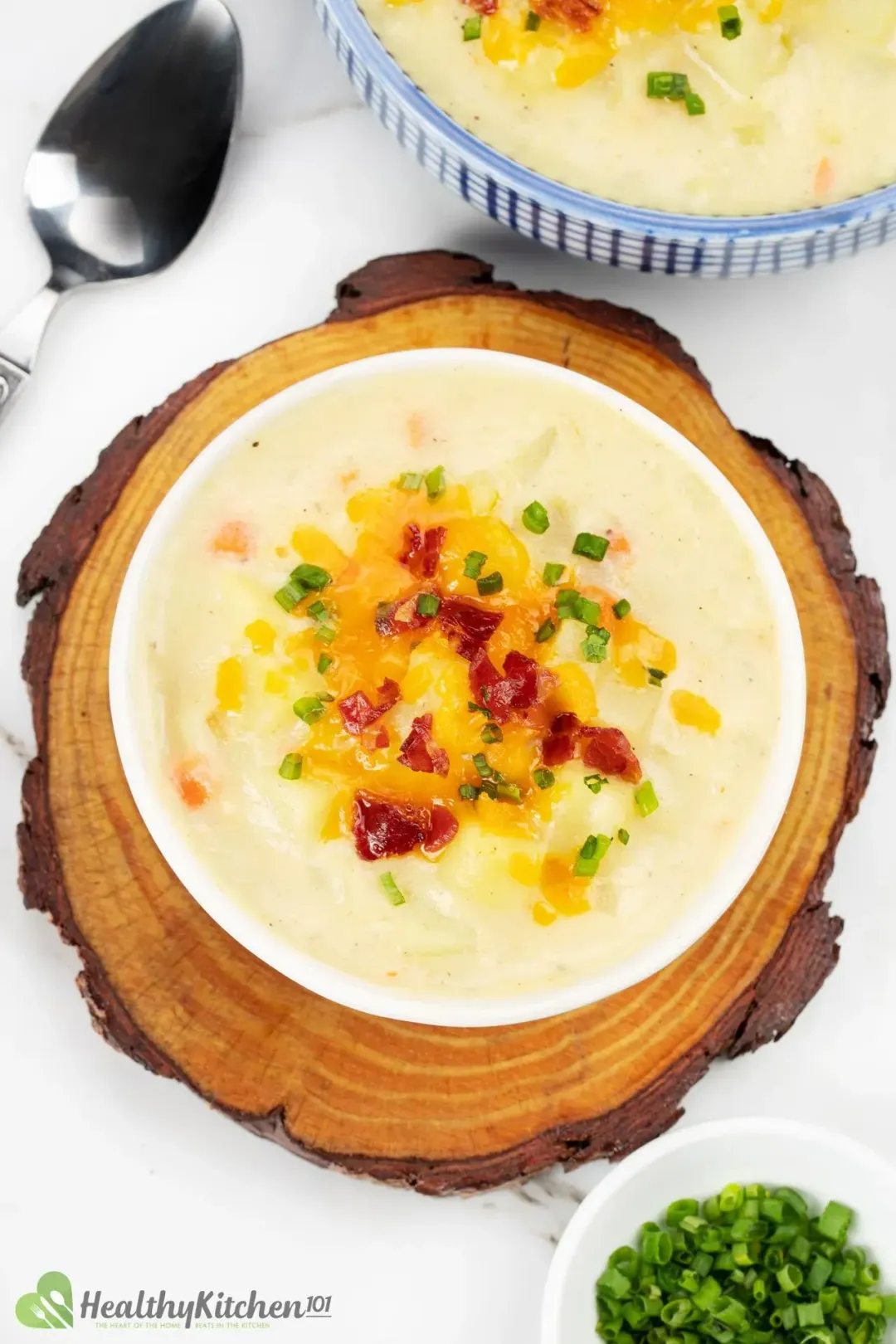 cook TIME

20 mins

prep TIME

10 mins

total TIME

30 mins
COURSE

Dinner, Lunch, Side Dish, Soup

CUISINE

American

SERVINGS

CALORIES

240 kcal
INGREDIENTS
12 oz

russet potatoes

(peeled and cut into 1/2-inch chunks)

3 cups

unsalted chicken broth

4 oz

yellow onions

(chopped)

1 oz

cheddar cheese

(shredded)

0.25 oz

oven-cooked bacon

(chopped)

0.5 oz

spring onions

(chopped)

1/4 cup

all-purpose flour

1/4 tsp

ground black pepper
INSTRUCTIONS
1
Heat a pot over high heat. Add 1 tbsp olive oil, 1 tbsp butter, 4 oz yellow onions, 2 oz carrots, and 2 oz celery. Cook for 2 minutes or until translucent, stirring constantly. Add 3 tsp minced garlic and 12 oz potatoes; continue to cook for another 2 minutes.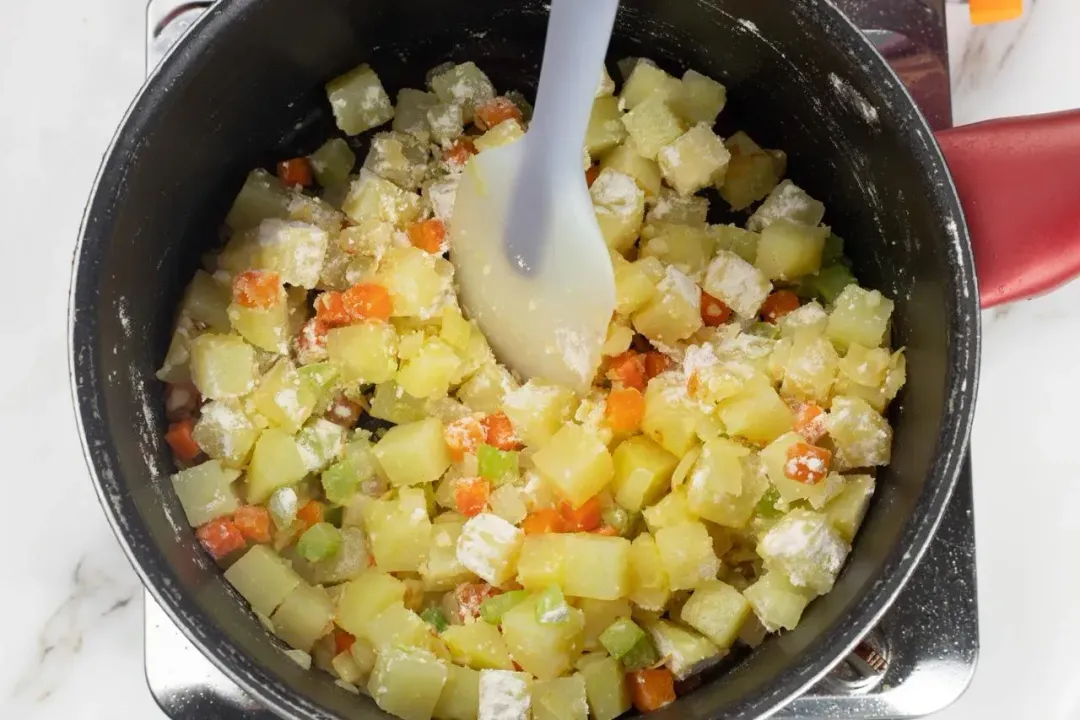 2
Add 1/4 cup all-purpose flour to the pot and mix it in with other ingredients. Add 3 cups chicken broth, 1/4 tsp salt, and 1/4 tsp pepper. Bring to a boil, then reduce the heat to medium-low and cook uncovered for 20 minutes or until the potatoes are fully cooked. Add 1/2 cup milk and stir to mix. Turn off the heat.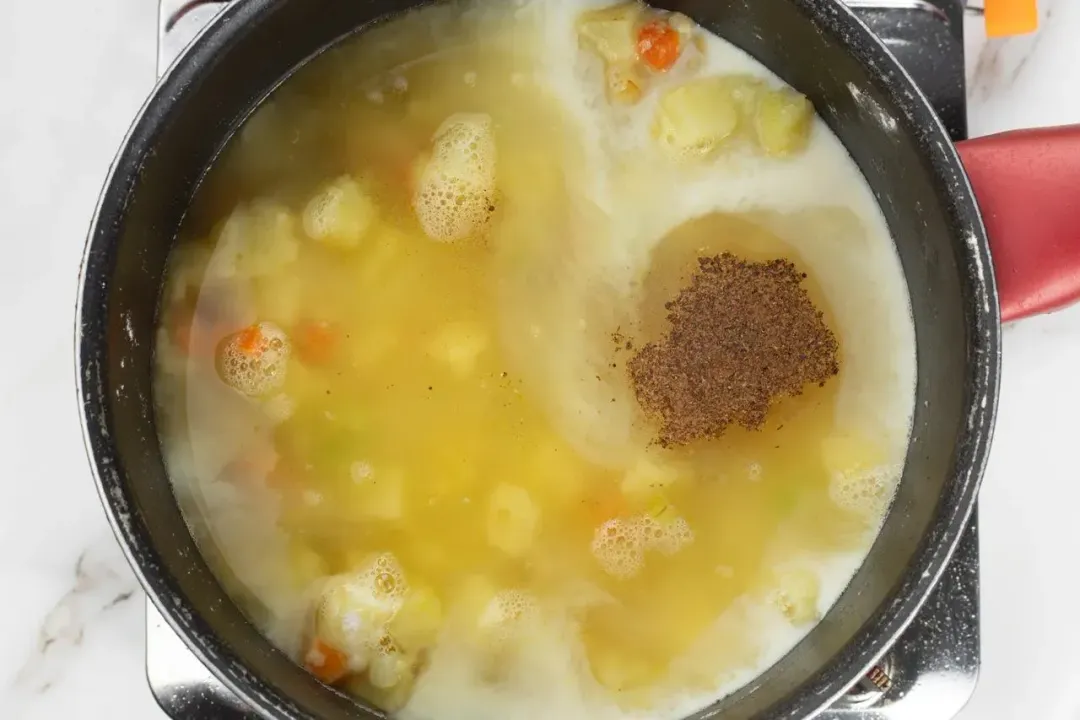 3
Using a potato masher or a hand blender, mash or blend potatoes and vegetables to make the soup thicker to your liking. (This step is optional.)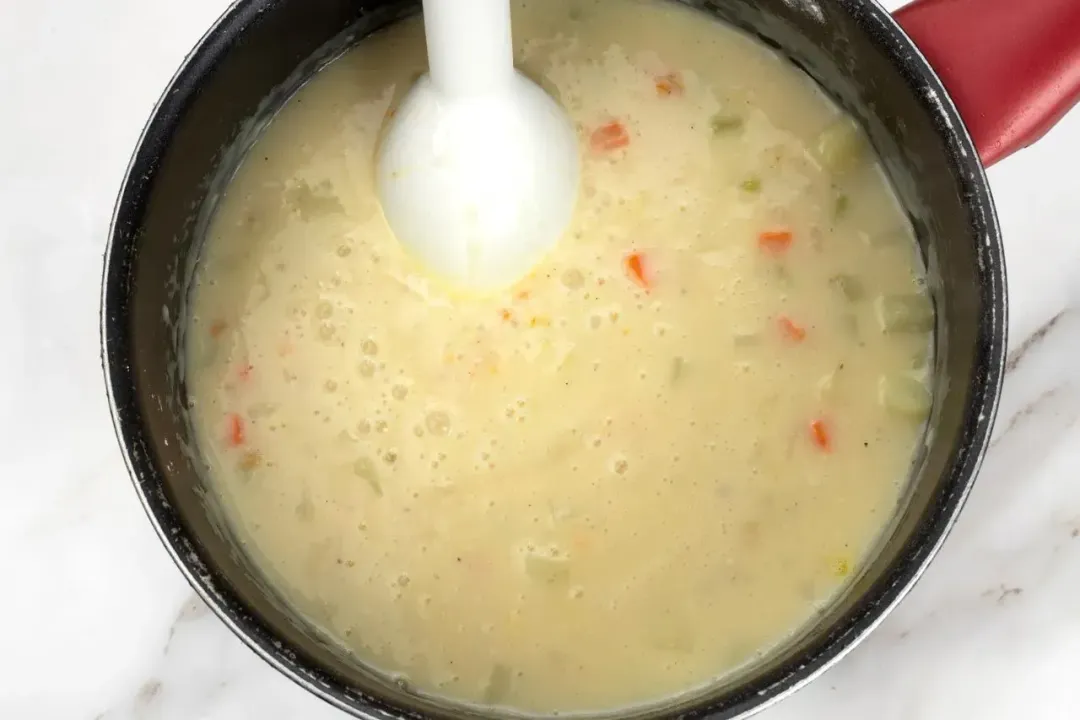 4
To serve: ladle the soup in a bowl or a deep dish, garnish with 0.5 oz chopped spring onions, 0.25 oz bacon, and 1 oz shredded cheddar cheese.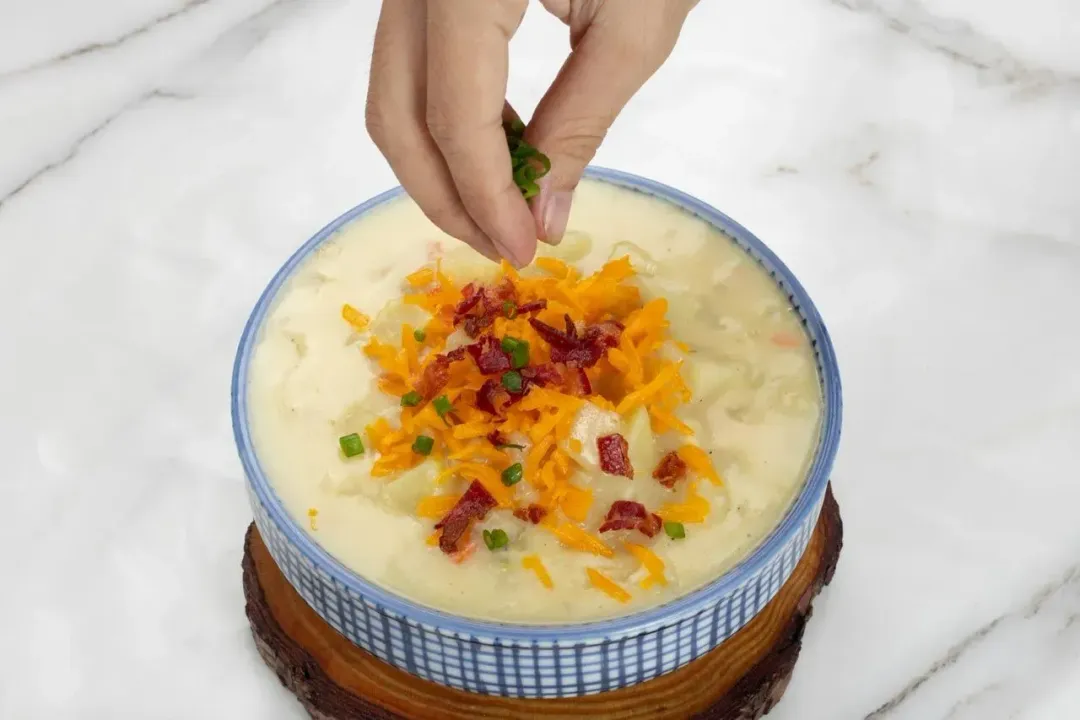 NUTRITION
Nutrition Facts
Simple Potato Soup with Chicken Broth
Amount Per Serving (1 serving)
Calories 240
Calories from Fat 99
% Daily Value*
* Percent Daily Values are based on a 2000 calorie diet.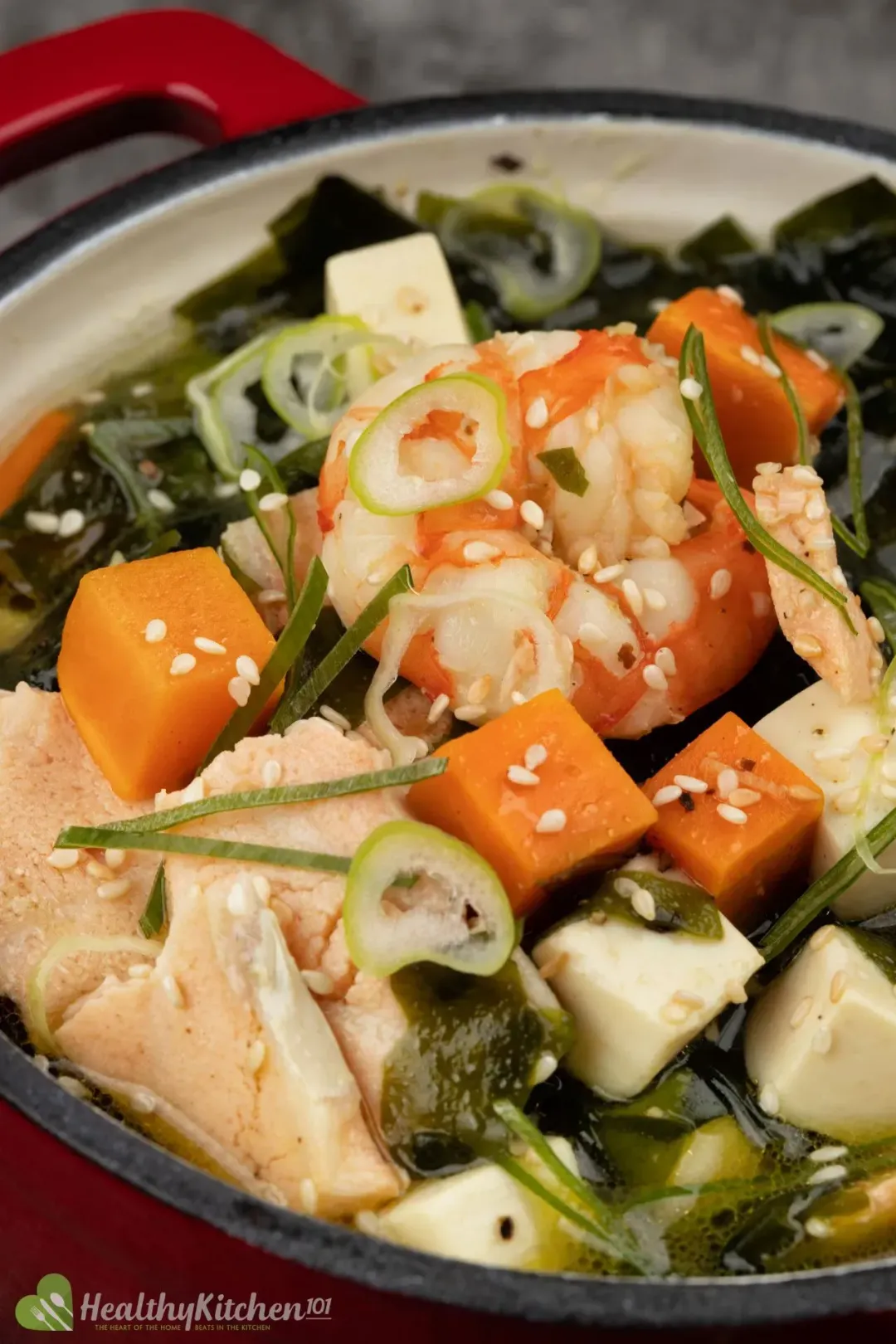 Previous Recipe
Healthy Miso Soup
Healthy Miso Soup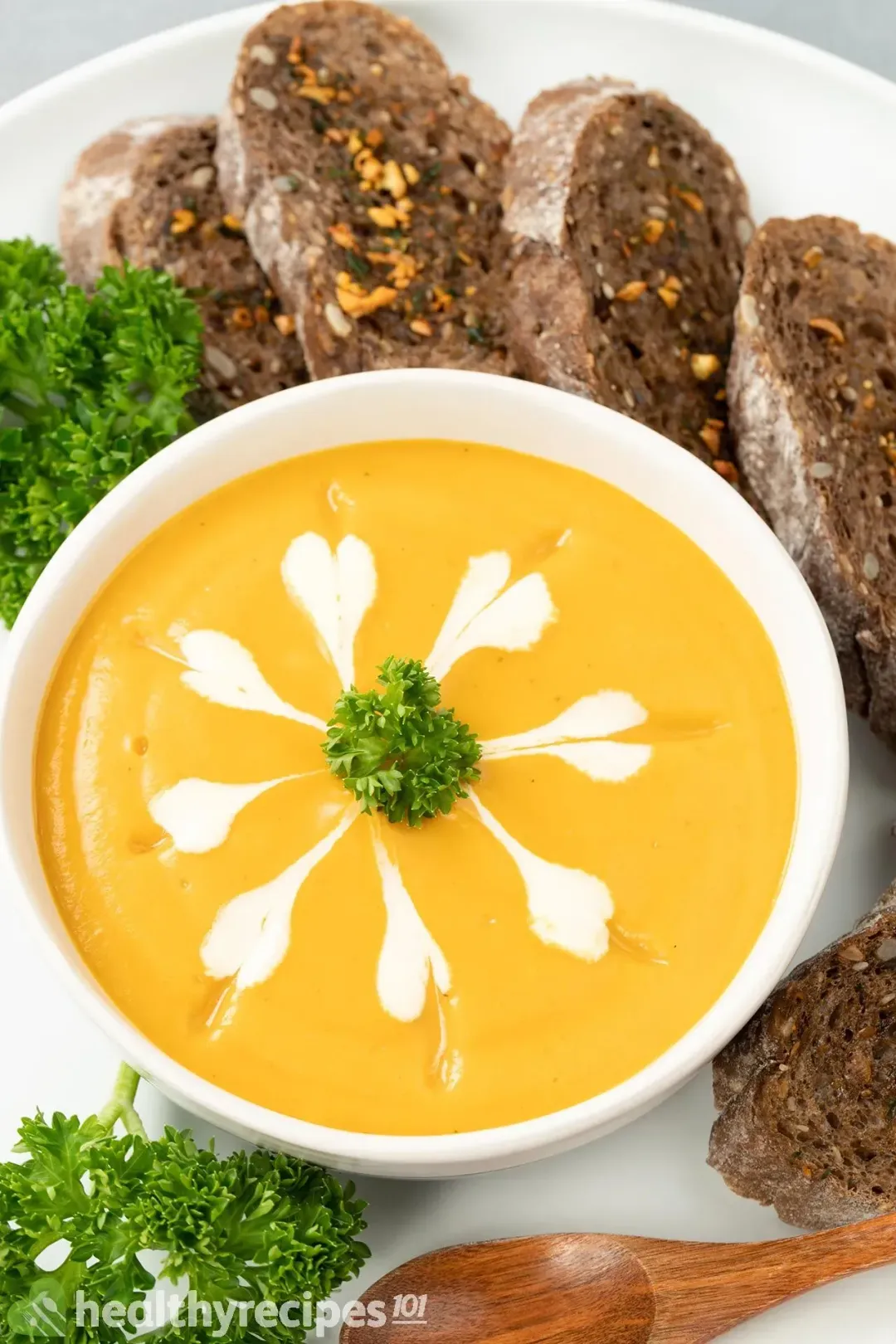 Pumpkin Soup
Head Chef, Culinary Consultant
Tuyet Pham is an award-winning Saigonese chef who believes that joy is the secret ingredient to delicious food. At Healthy Recipes 101, Tuyet personally tests and simplifies every recipe, ensuring maximum flavor with minimal effort. With a background at prestigious French restaurants P'TI Saigon and Le Corto, Tuyet knows how to make every dish exceptional.
Writer, Author
Luna Regina is an accomplished writer and author who dedicates her career to empowering home cooks and making cooking effortless for everyone. She is the founder of HealthyKitchen101.com and HealthyRecipes101.com, where she works with her team to develop easy, nutritious recipes and help aspiring cooks choose the right kitchen appliances.
Nutrition Reviewer
Lizzie Streit is a Minneapolis-based dietitian and founder of It's a Veg World After All. She completed her MS in Human Nutrition from Drexel University, and is an expert in culinary nutrition, recipe development, and nutrition communications. Lizzie's philosophy is centered around making nutrition recommendations, and especially the advice to eat more vegetables, approachable and realistic. She is excited to be working with the team at Healthy Recipes 101 to ensure that their recipes are both nutritious and delicious.
Thanks for highlighting how to get the "perfect texture". I can't wait to make this!

Absolutely the best recipe I have ever made.

Warm and comforting potato soup made with chicken broth for added depth of flavor.

Why can't u fry up the bacon then use the grease to sauté veggies instead of oil and butter?