To my mind, a Thanksgiving dinner just isn't complete without a delicious twice baked potatoes recipe.
This healthy recipe requires only simple ingredients and a few minutes in the oven. It results in perfect potatoes with crisp skins and fluffy, creamy interiors full of cheese and broccoli.
These flavorful potatoes deserve a place on any comfort-food lover's dinner table or holiday feast!
Are Twice Baked Potatoes Healthy?
Besides being fat-free, cholesterol-free and relatively high in fiber (4 grams per potato), potatoes are also an excellent source of vitamin C and B6. Plus, they're among the most common filling foods, meaning they can promote a feeling of fullness, and lead to an overall decrease in your calorie intake.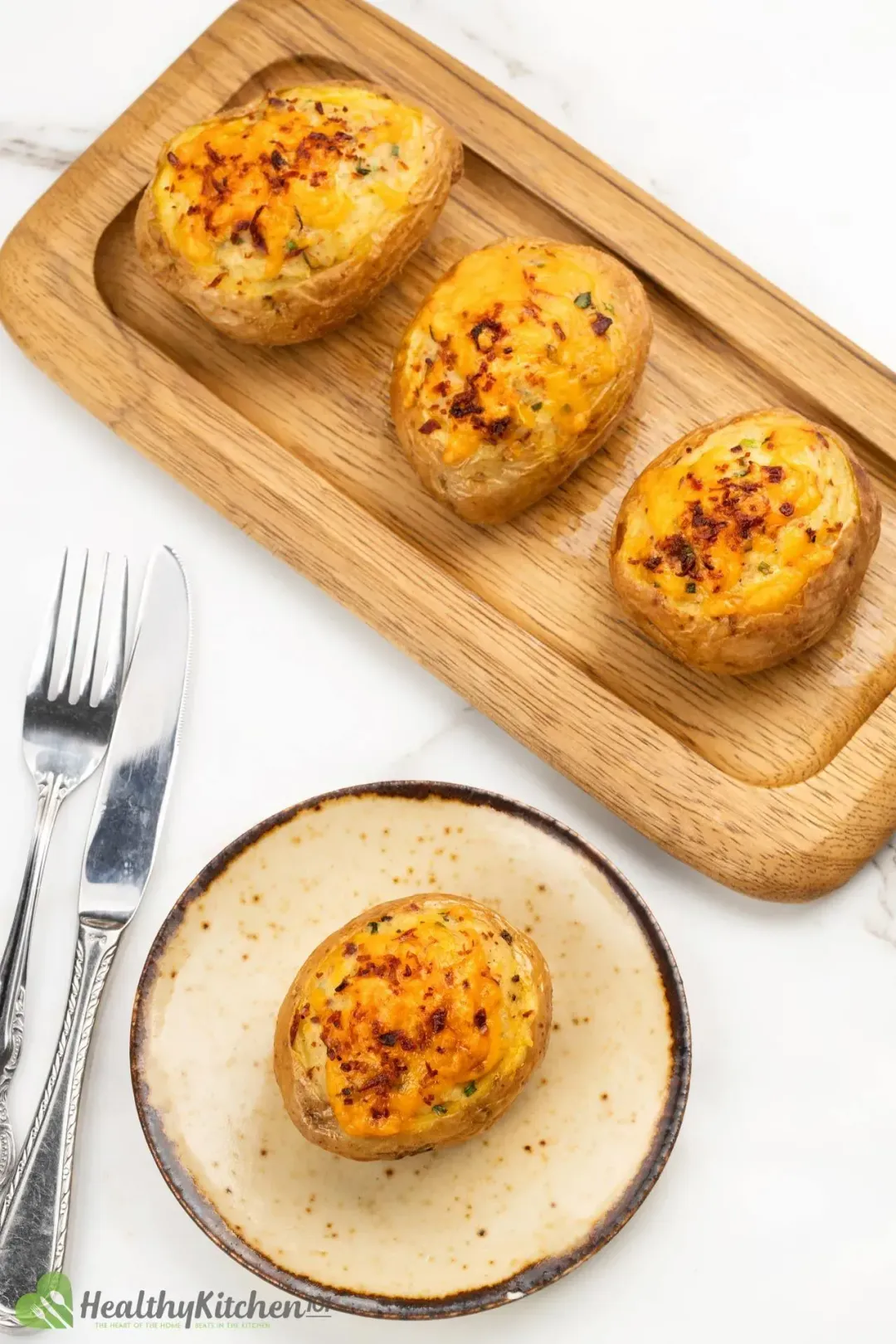 The problem you should keep in mind if you choose to fry potatoes in oil and add salt, however, is that the amount of calories, fat, and sodium will rise significantly as a result. If you want a healthy potato dish, consider healthier cooking methods like baking or steaming.
Best Potatoes for Twice Baked Potatoes Recipe
If you've started to venture into the world of baked potatoes, your first question is probably, "What is the best type of potato to bake/for baked potatoes?"
For most of us, we see many different types of potatoes any time we're in the store. To be honest, they all can work quite well for an average baked potato recipe. 
However, if you want to use the best potatoes for your baked recipe, knowing something about them is really a must. Basically we can classify potatoes into 3 types:
1. Starchy Potatoes
Those potatoes are high in starch and have a floury texture. The flesh is fluffy and can break down easily, which makes them perfect for baked or fried dishes. Some iconic starchy potatoes are the russet, Idaho, and red potatoes.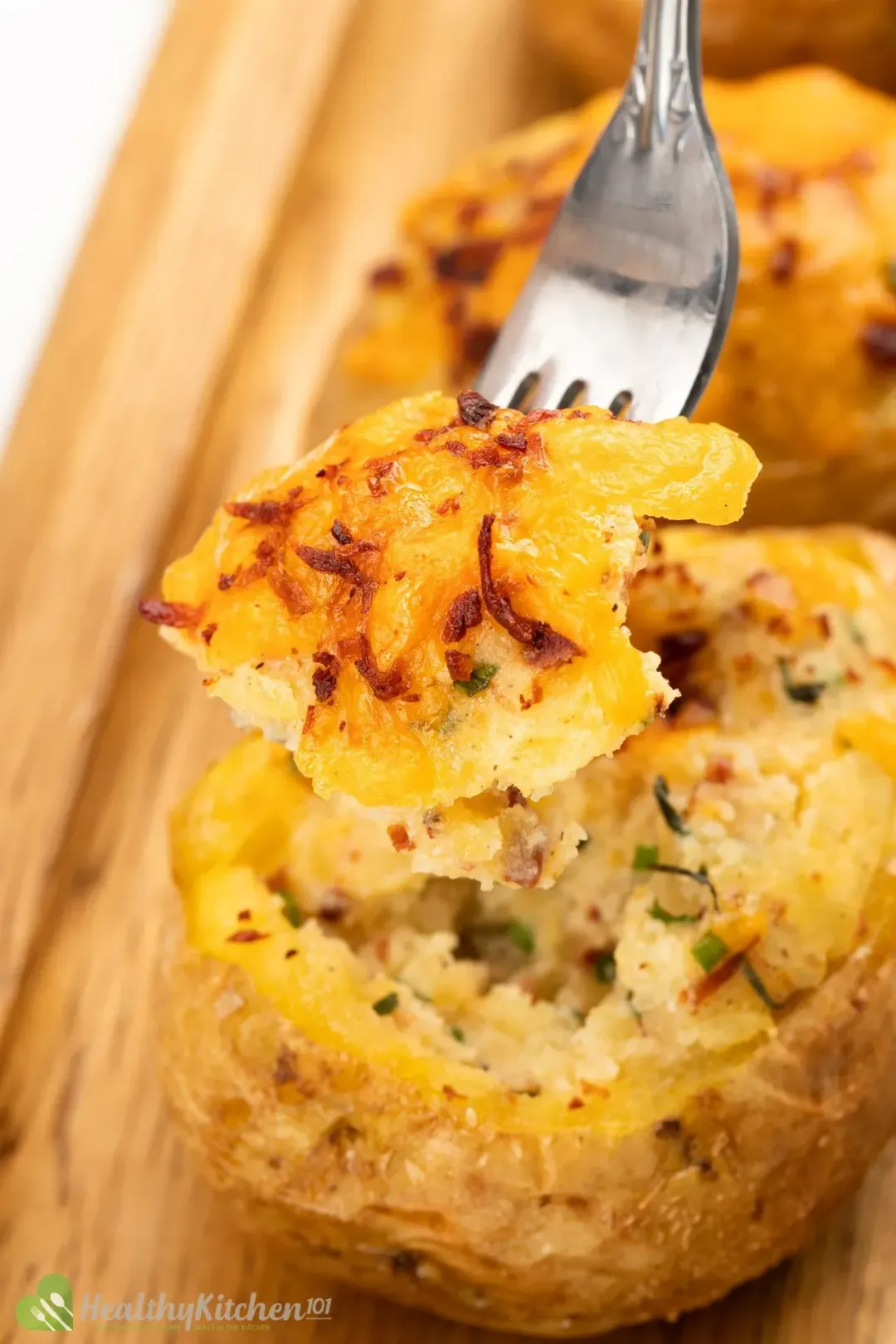 2. Waxy Potatoes
This type contains more sugar and moisture, so they can hold their shape well even after slicing. Their firm texture makes them perfect for potato salads. 
Some waxy potatoes include kipfler, nicola, and Dutch cream.
3. All-purpose Potatoes
All-purpose potatoes have a medium starch content. They have more moisture and hold their shape better than starchy potatoes. 
Some popular names are golden delight, coliban, and royal blue. 
For the question of what is the best potato for this recipe, our answer is russet potatoes. Their skins are thick and easily crisp up in the oven. The interiors are fluffy and starchy, making them perfect to pair with extra fillings like cheese and vegetables.
Ingredients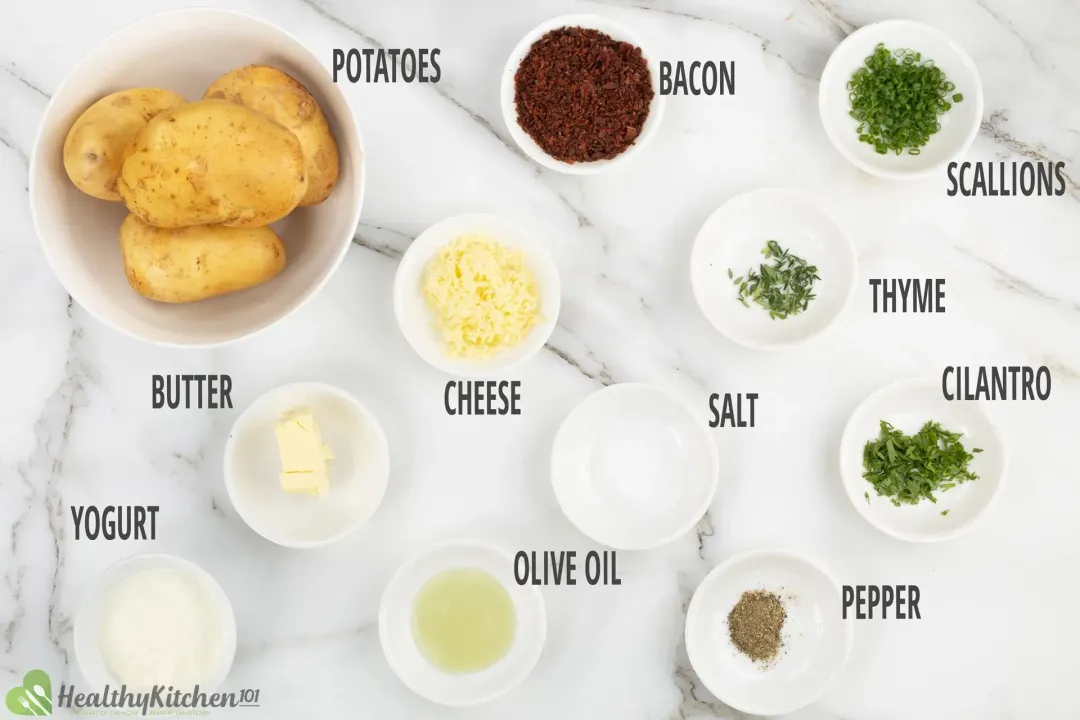 The best thing we love about this recipe is that it is so versatile. You only need to follow our instructions for the general cooking method, but the rest is really up to your own preference and taste. 
Here are some main ingredients you need for this healthy and hearty side dish:
Potatoes: choose a starchy potato type for the best result, crispy skin and fluffy filling after baking.
Spices: salt, pepper, chilies, or any your heart calls for.
Cheese: gouda, cheddar, or mozzarella can all be used in the cheese sauce. 
Start the experiment by emptying out the fridge. You can use leftovers as toppings. Not to worry! Almost any combination of topping can work magically.
[Video]How to Make Twice Baked Potatoes in Oven
Temperature for Twice Baked Potatoes
Baking at different temperatures results in different textures. 
Foil-wrapped potatoes are usually baked at 425°F for about 1 hour. This can result in a soft and tender interior.
If you want crisp-skinned potatoes, reduce the heat for the second baking to about 350°F. The baking time will be a little bit longer than 1 hour, but slow baking makes the potatoes crispier and tastier. 
How Long to Bake Baked Potatoes
Around 60 minutes. It will take about 45-60 minutes at 400°F, and 60-75 minutes at 350°F.
Toppings for Twice Baked Potatoes Recipe
Baked potatoes are something that we are glad to have at any weeknight dinner. They have everything we love: fluffy mashed potatoes, melty cheese, and the possibility to add all sorts. 
The potato flesh is scooped out to become the base for your filling. You can choose everything you want to go inside these crispy potatoes, and here are some suggestions:
1. Cheese
It's a classic topping for many reasons. Top your potatoes with cheese towards the end of baking time, and let it melt. Cheddar also works well in this recipe.
2. Sour Cream
Sour cream is a star here. Thanks to the creamy texture, sour cream moisturizes the filling, and livens up the other ingredients. 
2. Broccoli
Broccoli adds a nice crunchiness to your dish. Plus it's also a healthy dose of nutrients that we all need.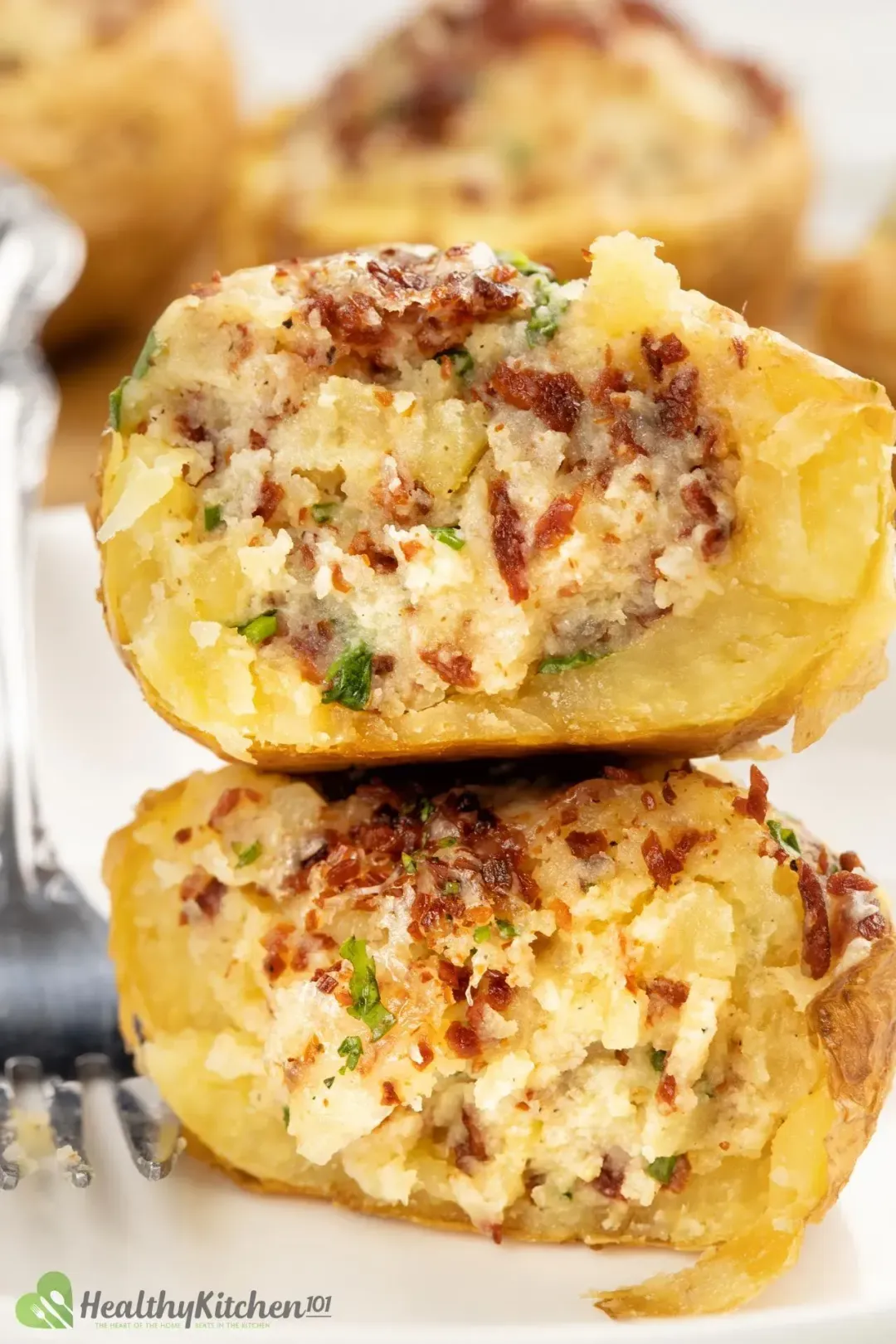 Can You Freeze Baked Potatoes
Sure you can. Once your potatoes are cooled down completely to room temperature. You should store them in a ziplock bag or freezer safe container and keep them in the freezer for up to two months. 
Whenever you need to use them, simply thaw them in the refrigerator overnight and bake them in the oven again.
If you love this recipe, this air fryer baked potatoes is a more convenient version.
How to Reheat Twice Baked Potatoes
In the microwave: this is the quickest way but it can dry out potatoes. To prevent that, cover each potato with a damp paper towel. Place potatoes in the microwave and heat for about 2 minutes. 
In the oven: simply wrap the potatoes in foil and place them on the grill. Bake for about 10-15 minutes or until they are heated through. Remember to rotate them halfway through. 
This method might sound a bit complicated but it helps the potato skin remain crispy.
How Long Do Twice Baked Potatoes Last
When baked, potatoes can be kept in the refrigerator for 2-4 days. If frozen, they can last up to 3 months. 
For the best quality and safety, refrigerate your potatoes in airtight containers or plastic bags.
What to Serve with Twice Baked Potatoes
This dish has become a staple in many households since it tastes great with many different types of cuisine and additions.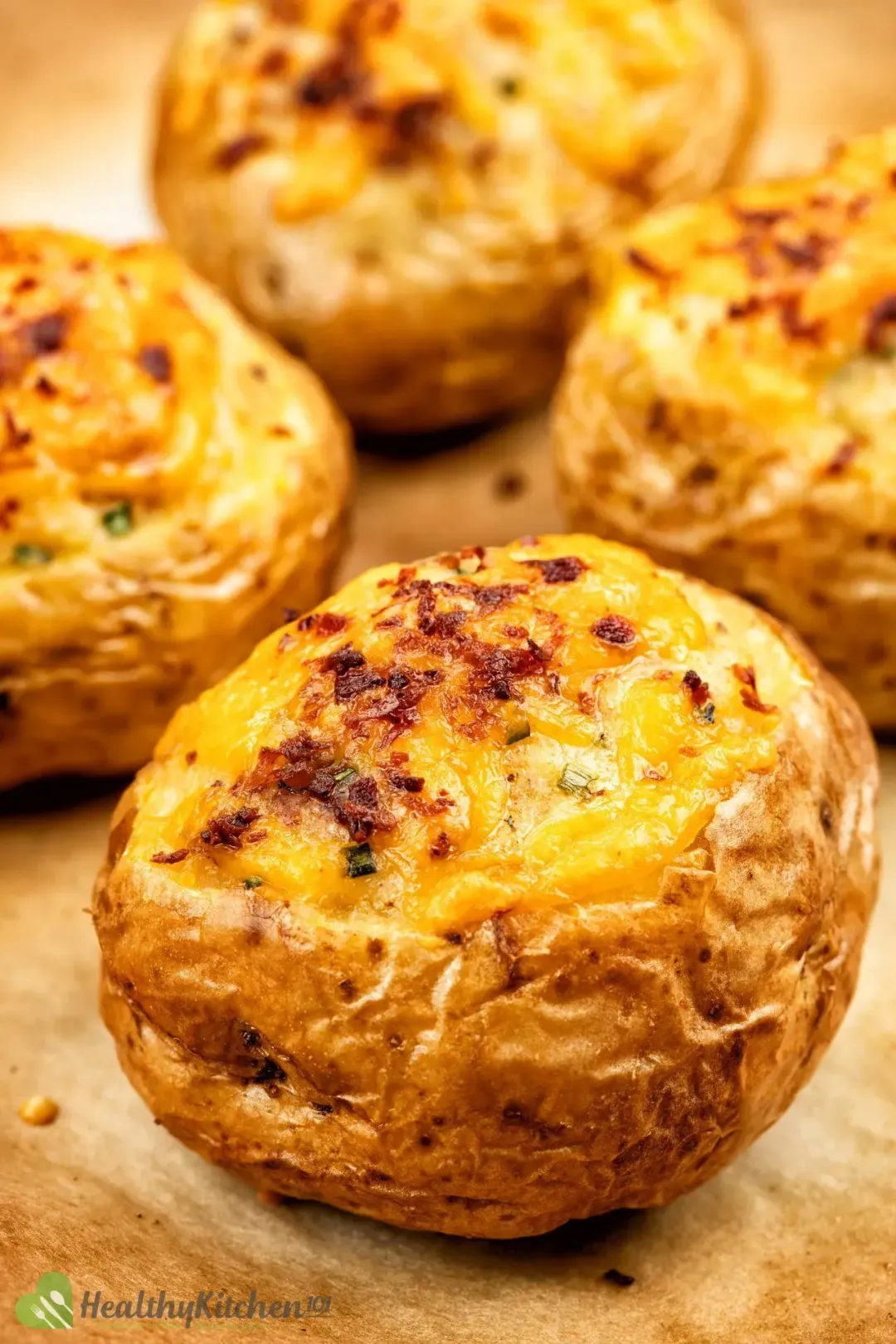 1. Bacon
Serving potatoes with some protein is a simple way to turn them into a main dish. Bacon or sausage can be a great choice. 
2. Shrimp
It's always nice to have potatoes to side with a hearty and delicious shrimp dish. You don't need rice or pasta since potatoes provide enough carbs for the meal. 
3. Beef 
Baked potatoes pair wonderfully with savory options like rosemary steak or marinated grilled beef.
For other healthy recipes from potatoes, check out our mashed potatoes. Happy cooking!
More Delicious Potato Recipes
Twice Baked Potatoes
Sometimes the simplest of ingredients and methods can yield delicious food, and this twice baked potatoes recipe is proof. They come out with a crispy skin and a well-seasoned, fluffy filling. They're so simple, allowing you to add nearly any of your favorite toppings, and come away with a delicious, personalized meal.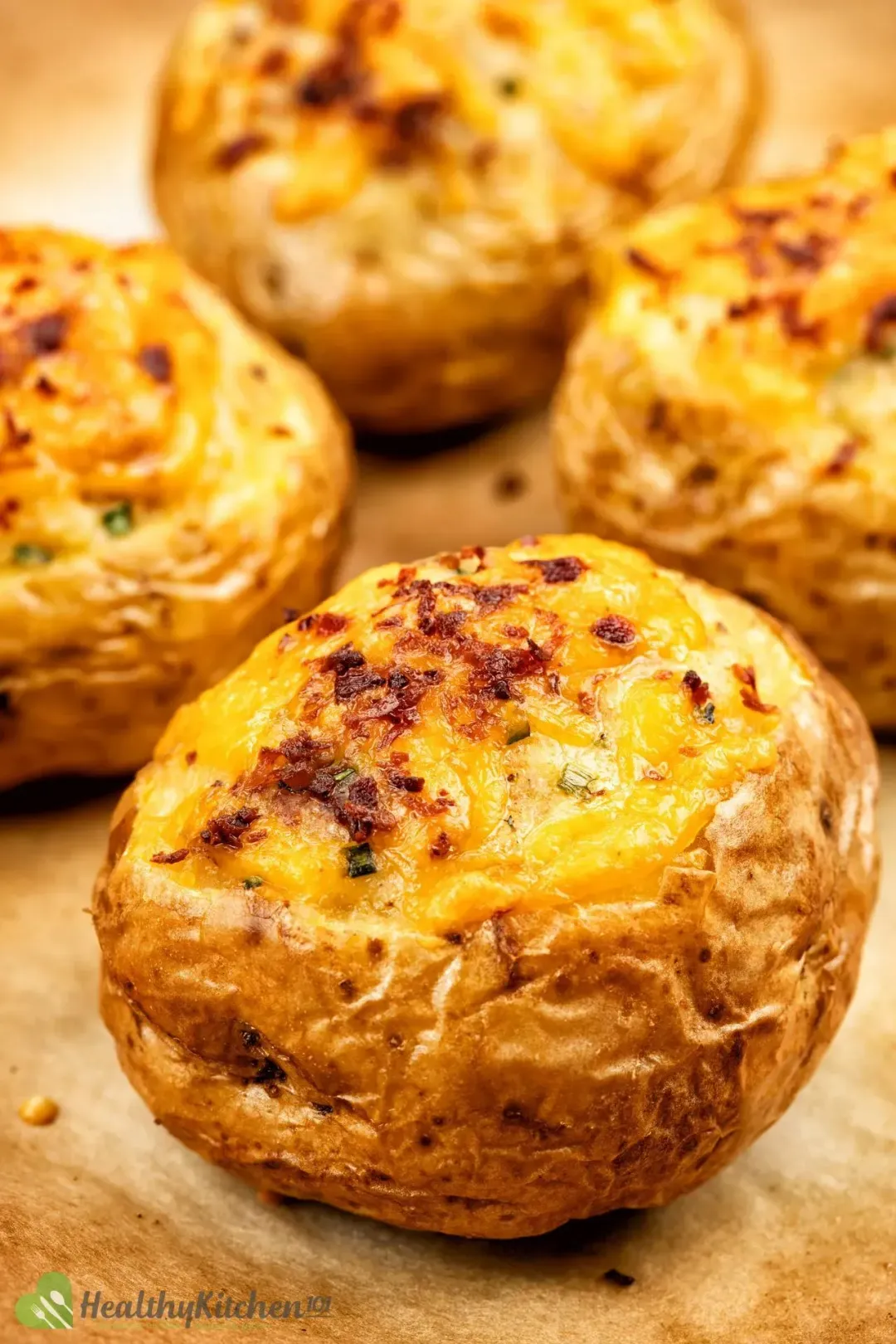 cook TIME

55 mins

prep TIME

10 mins

total TIME

1 hr 5 mins
COURSE

Side Dish

CUISINE

American

SERVINGS

CALORIES

185 kcal
INGREDIENTS
20 oz

russet potatoes

(4 small)

1/4 cup

plain Greek yogurt

0.75 oz

baked bacon

(crumbled)

1 tbsp

scallions

(chopped)
INSTRUCTIONS
1
Wash 20 oz russet potatoes. Use a fork to pierce the skin of each potato in several places. Then rub 1/2 tsp olive oil onto the skin and sprinkle the potato with 1/8 tsp of salt and 1/8 tsp of pepper.
2
Place a foil on the middle rack and then put whole potatoes on it. Bake them at 400°F for 45-60 minutes until the skin feels crisp. Turn the potatoes once or twice while baking. Total cook time will vary depending on the size of the potatoes.
3
Let potatoes cool for 10 minutes. Then cut the top off each potato and scoop out the inside.
4
In a large bowl, add the potato filling with the remaining 1/8 tsp salt, 1/8 tsp pepper, 1/4 cup plain Greek yogurt, 1/4 tsp thyme, 1 tbsp scallions, 1 tbsp unsalted butter, 1 tbsp of cheddar cheese, and 0.5 oz bacon. Mash filling until smooth.
5
Spoon it all back into the potato skins. Top the potatoes with the remaining 1 tbsp cheese and 0.25 oz bacon. Return potatoes to the baking sheet and bake at 400°F for another 5-10 minutes, until the cheese melts.
6
Garnish with chopped 1 tsp cilantro and serve while potatoes are still hot.
NUTRITION
Nutrition Facts
Twice Baked Potatoes
Amount Per Serving (1 serving)
Calories 185
Calories from Fat 72
% Daily Value*
* Percent Daily Values are based on a 2000 calorie diet.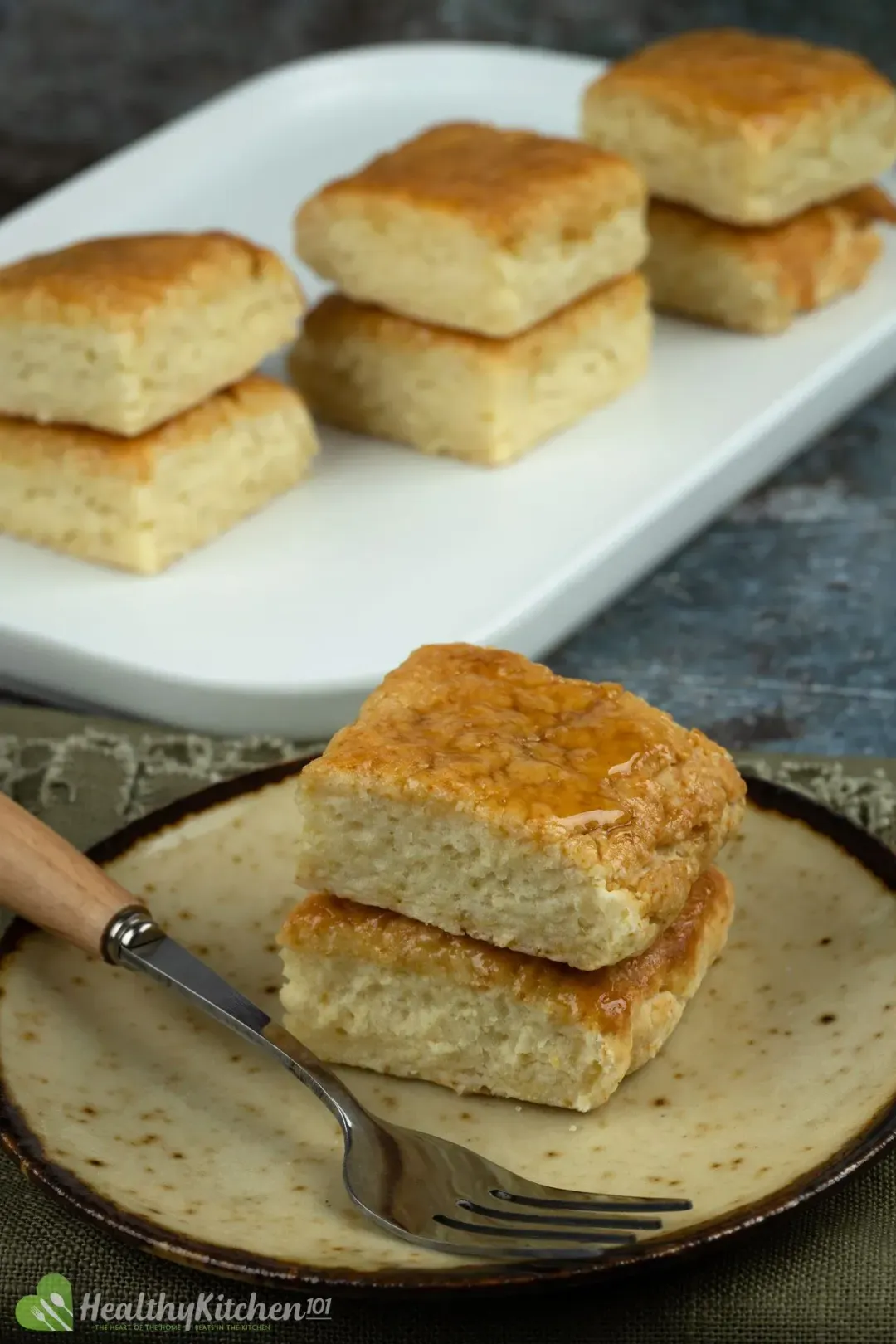 Previous Recipe
Honey Butter Biscuits
Honey Butter Biscuits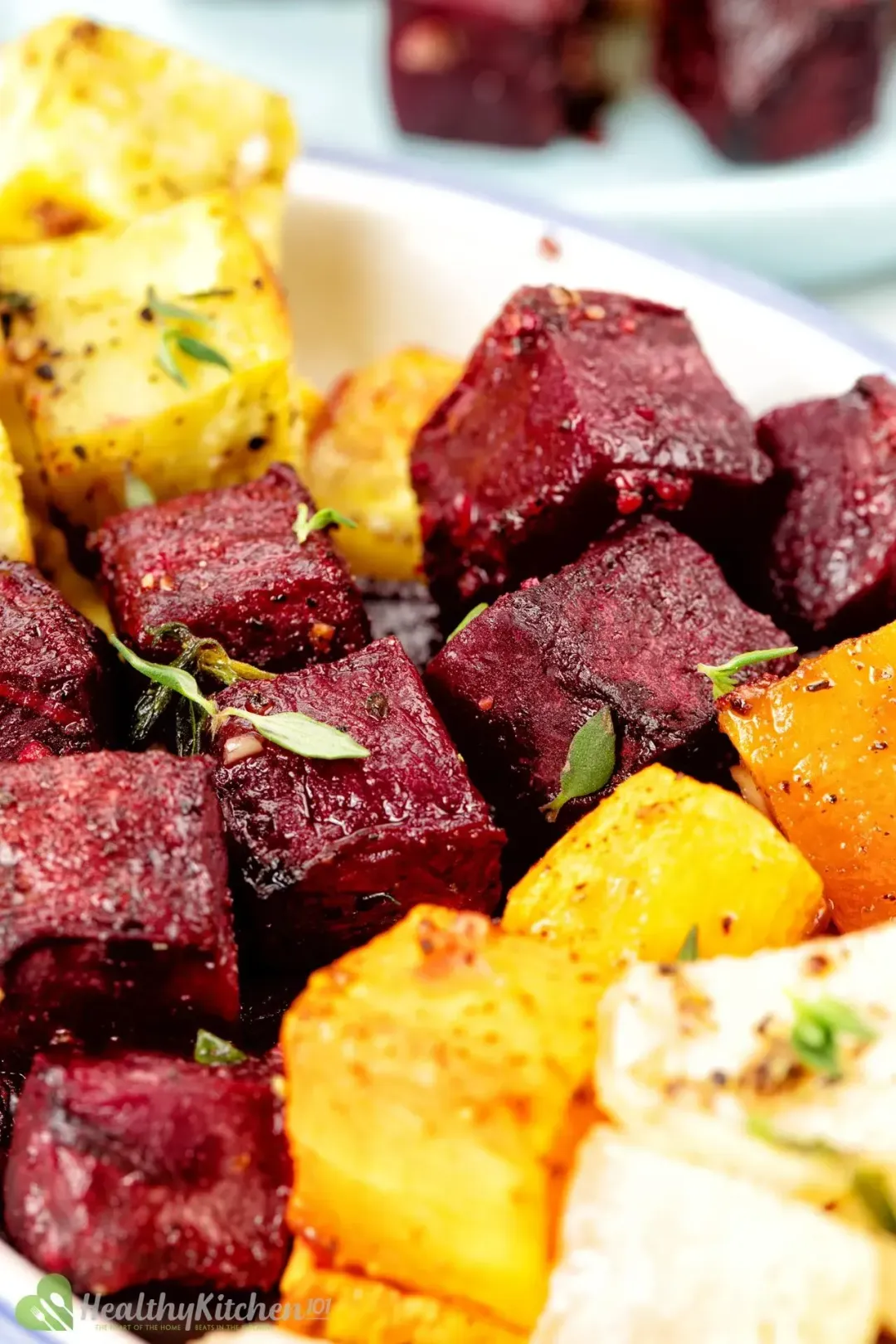 Roasted Beets
Head Chef, Culinary Consultant
Tuyet Pham is an award-winning Saigonese chef who believes that joy is the secret ingredient to delicious food. At Healthy Recipes 101, Tuyet personally tests and simplifies every recipe, ensuring maximum flavor with minimal effort. With a background at prestigious French restaurants P'TI Saigon and Le Corto, Tuyet knows how to make every dish exceptional.
Writer, Author
Luna Regina is an accomplished writer and author who dedicates her career to empowering home cooks and making cooking effortless for everyone. She is the founder of HealthyKitchen101.com and HealthyRecipes101.com, where she works with her team to develop easy, nutritious recipes and help aspiring cooks choose the right kitchen appliances.
Nutrition Reviewer
Lizzie Streit is a Minneapolis-based dietitian and founder of It's a Veg World After All. She completed her MS in Human Nutrition from Drexel University, and is an expert in culinary nutrition, recipe development, and nutrition communications. Lizzie's philosophy is centered around making nutrition recommendations, and especially the advice to eat more vegetables, approachable and realistic. She is excited to be working with the team at Healthy Recipes 101 to ensure that their recipes are both nutritious and delicious.
I made these potatoes to go with steak yesterday, and I could just eat them as is!