This red bean soup recipe will round off your meal with a sweet, fragrant note.
What Is Red Bean Soup?
This sweet soup is a Chinese dessert that's usually served at family get-togethers. It traditionally takes hours to make, so Chinese people tend to make a lot at once.
Traditionally, fresh Adzuki beans are selected for the soup. They're as small as mung beans, but red like kidney beans. People cook them up to the point when they're very tender but still able to hold their shape well.
The broth is a basic sugary syrup with a few slices of aged orange peel, giving off a nutty citrus aroma.
They are cooked with chewy rice balls, made from glutinous rice, which is often prepared separately.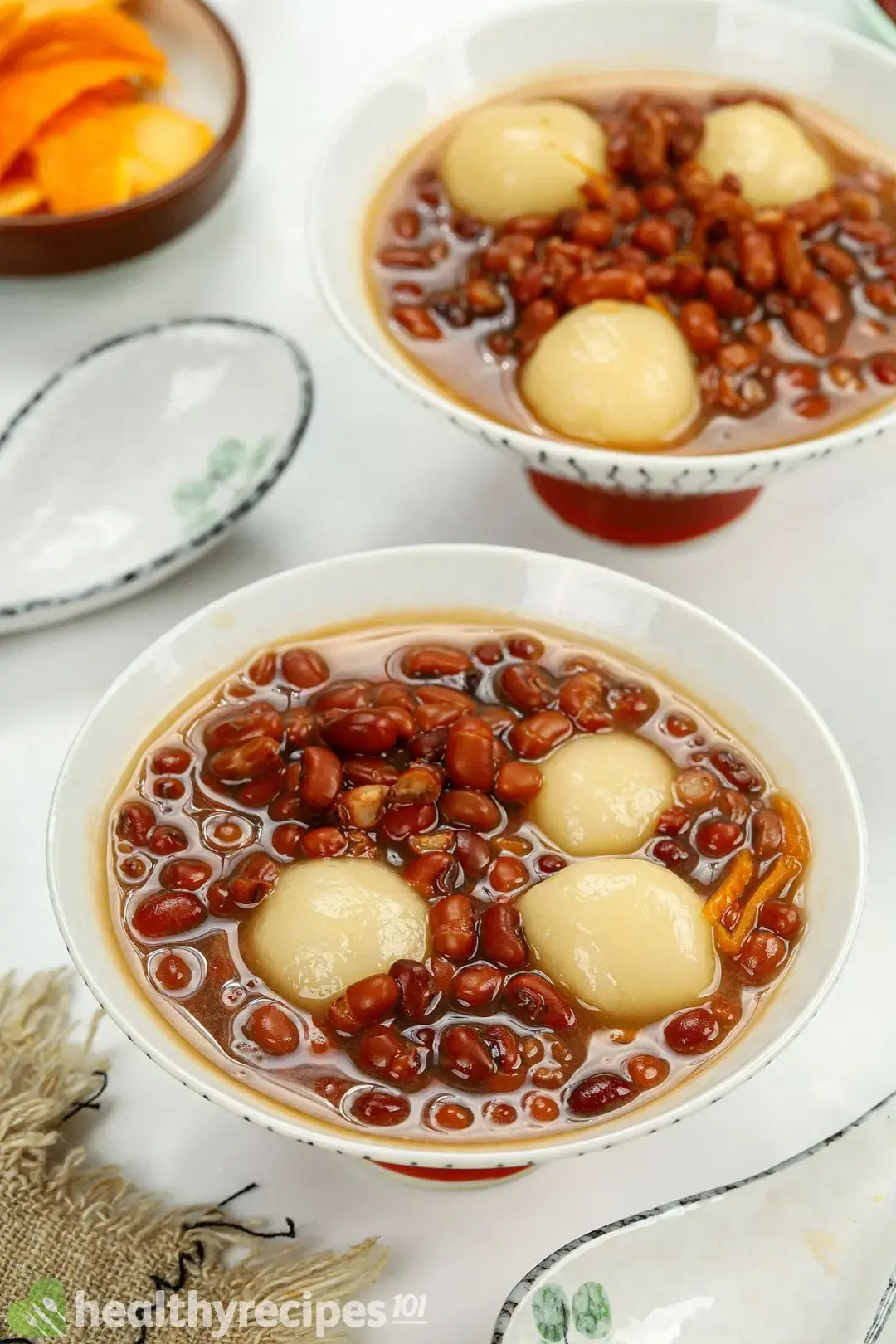 With a pressure cooker, the soup comes together in just 35 minutes. All you have to do is add the beans and water, close the lid, press the button, and wait while the pot does its thing. The beans will come out as tender as if they've cooked for hours.
Is a Pressure Cooker Necessary?
This dessert dates years back, so it's not necessary to use a pressure cooker. People usually simmer the beans on low heat for about two hours covered to preserve liquid.
But all in all, it's a matter of choice. If you have a pressure cooker, we highly recommend using it for making this dessert or cooking beans in general.

Ingredients for This Red Bean Soup Recipe
Red Adzuki beans can be found in Asian stores, or specifically, Chinese and Japanese stores. Red beans also work well, although they may not turn out as tender as this variety.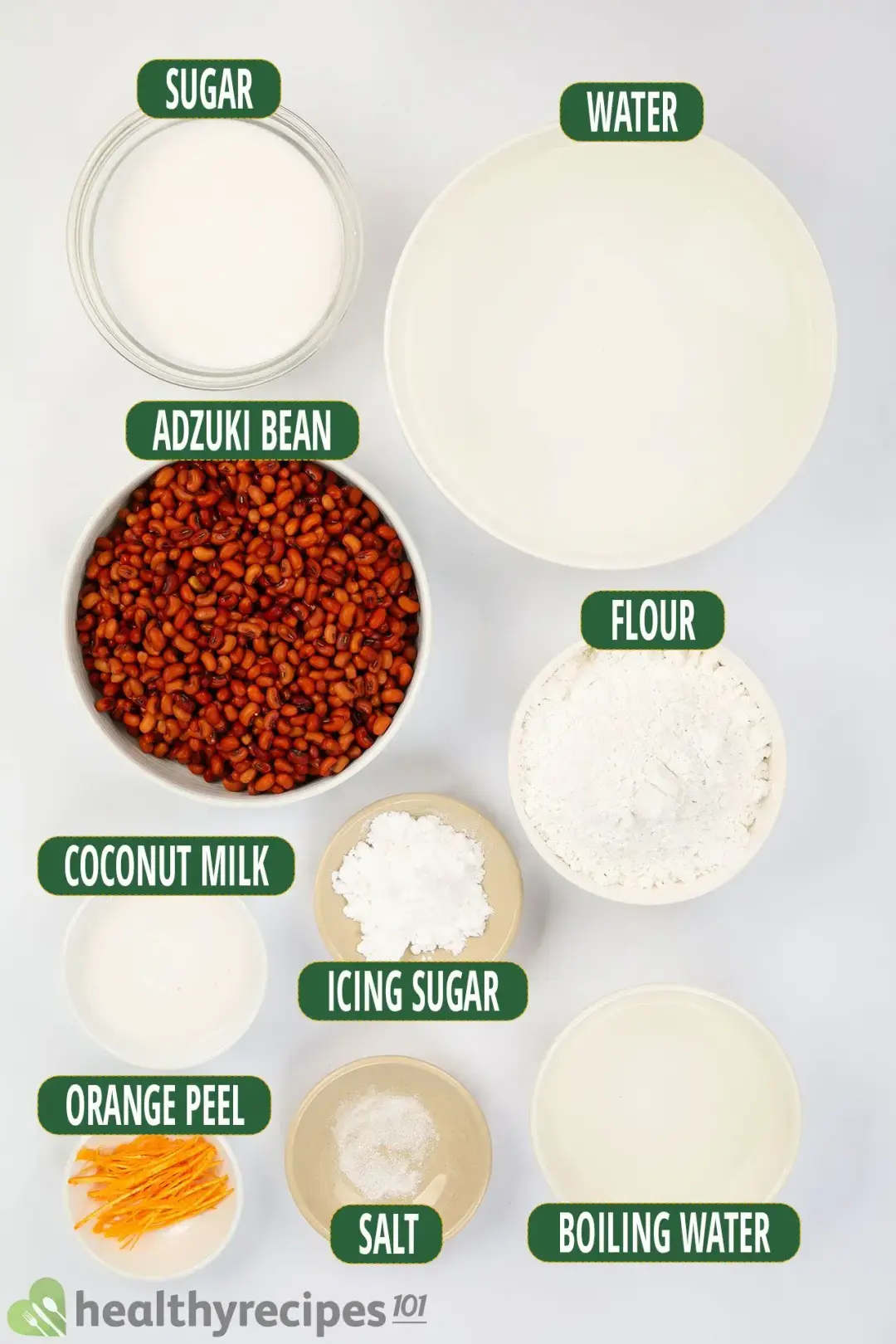 The sweet syrup is made of water, granulated sugar, and aged orange peel. It's usually found at Asian stores, but if you can't find it, go for fresh orange peel like we do instead. It has a gentler, fresher aroma, but it still works really well.
While the beans cook, prepare some sticky rice balls from just glutinous rice flour, icing sugar, and some boiling water. Again, the flour is available at Asian stores, and despite the name, it's gluten-free.
Details on making this sweet soup are in the 'Red Bean Soup Recipe' card at the bottom.

Is Red Bean Soup Healthy?
The soup is nutritious, with red beans as a great source of protein, carbohydrates, fiber, and micronutrients—folate, manganese, phosphorus, potassium, copper and many more. Each serving yields around 250 calories, a moderate amount for a dessert.
Still, as each serving also contains around 20 g sugar (already less than how it's usually prepared), the soup should be consumed in moderation.
Storage and Reheat
The soup can be kept in the Instant Pot under 'keep warm' mode for 10 hours. For storage up to four days, keep it in an airtight container and refrigerate.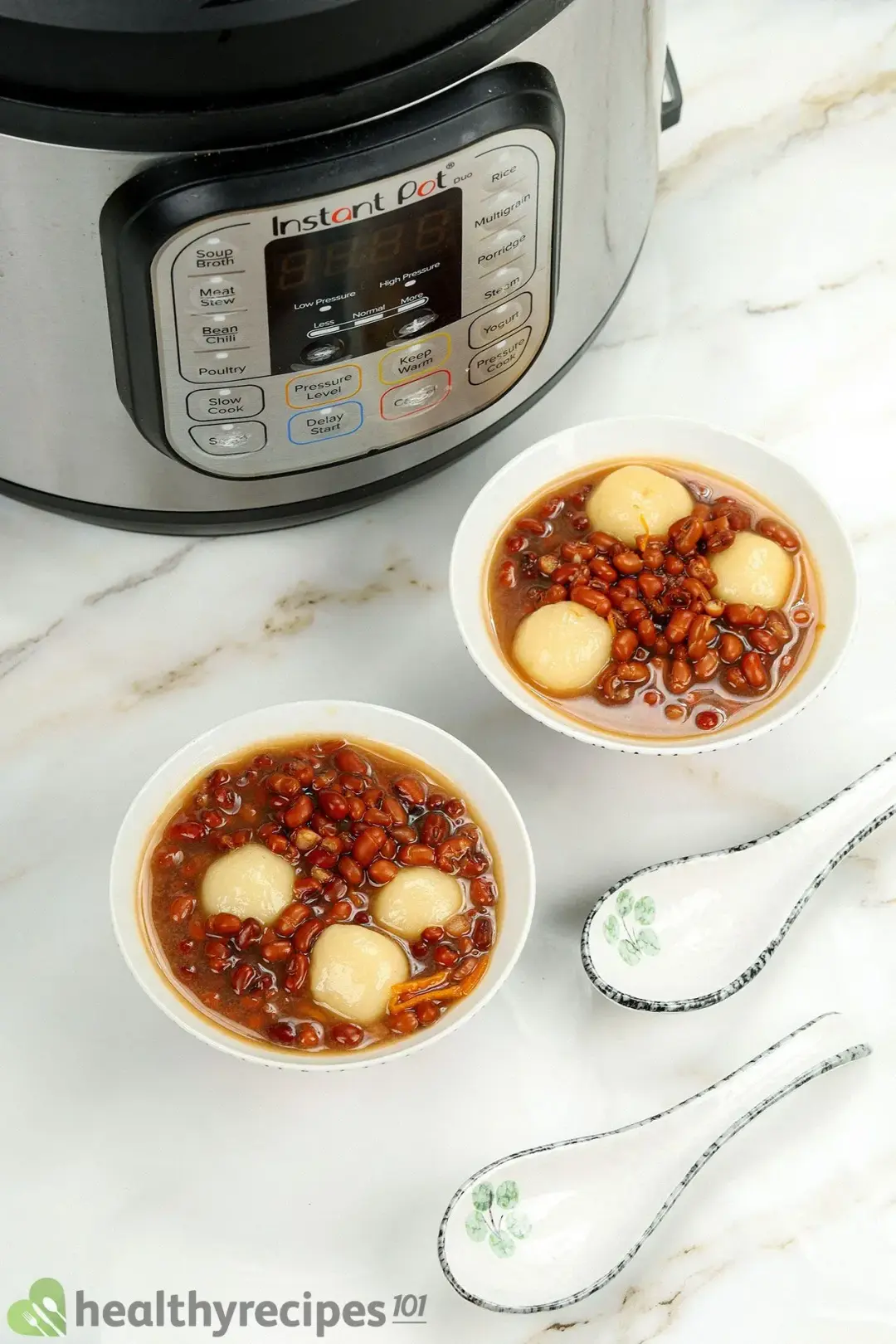 How to Make Red Bean Soup
This red bean soup recipe is a fragrant sweet treat prepared in 35 minutes with your Instant Pot. It serves eight!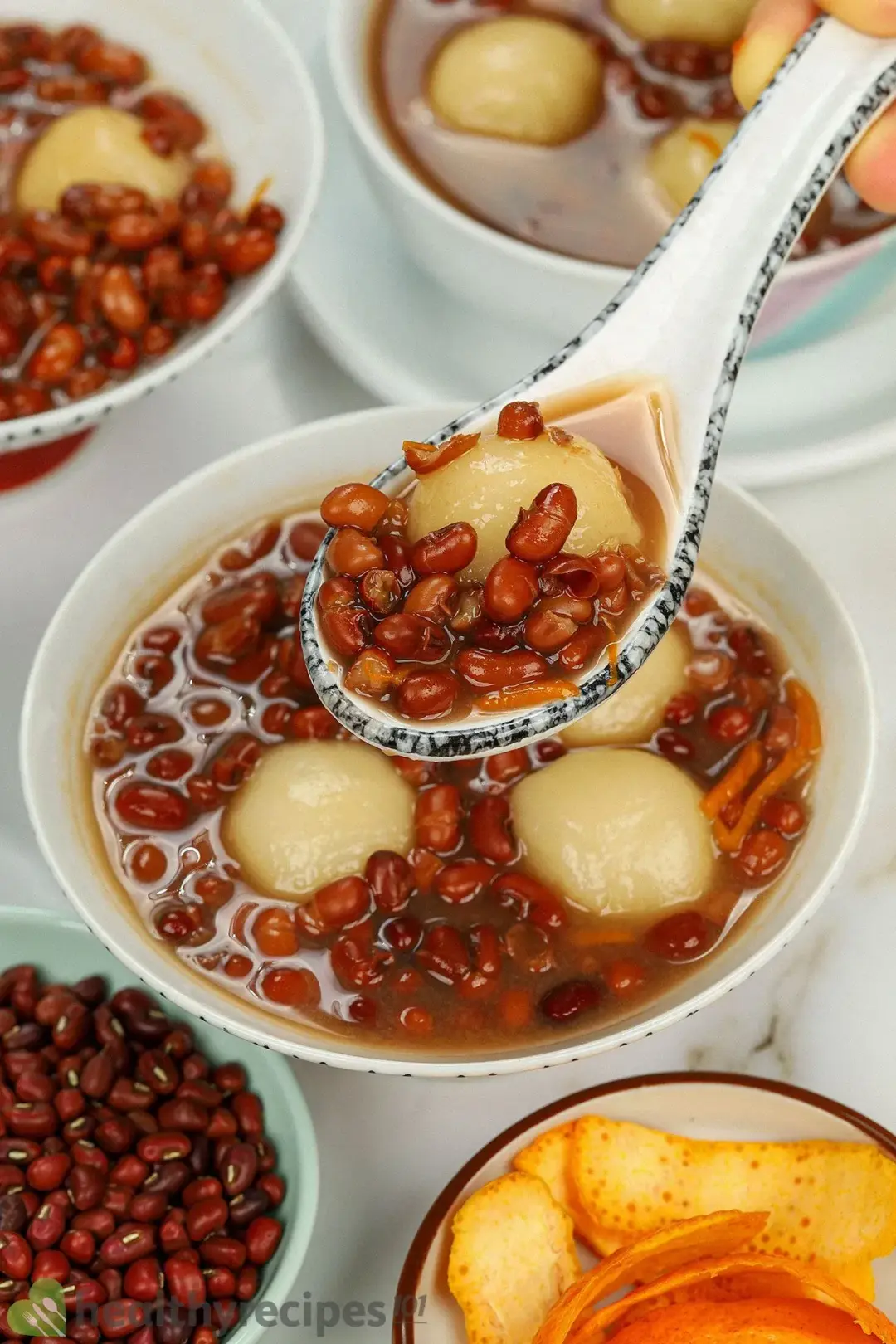 cook TIME

30 mins

prep TIME

5 mins

total TIME

35 mins
COURSE

Dessert

CUISINE

Chinese

SERVINGS

servings

CALORIES

246 kcal
INGREDIENTS
6 oz

red Adzuki beans fresh not dried

8 cups

water divided

0.8 cups

granulated sugar

0.1 tsp

salt

1 oz

mandarin peel or orange peel

0.3 cup

coconut milk

6 oz

glutinous rice flour

2 tbsp

icing sugar
INSTRUCTIONS
1
Pressure-cook the beans: In your Instant Pot, add 6 oz red Adzuki beans, 4 cups water, and 1 oz mandarin peel. Close the lid, turn the float valve to "sealing", and cook on steam mode for 30 minutes.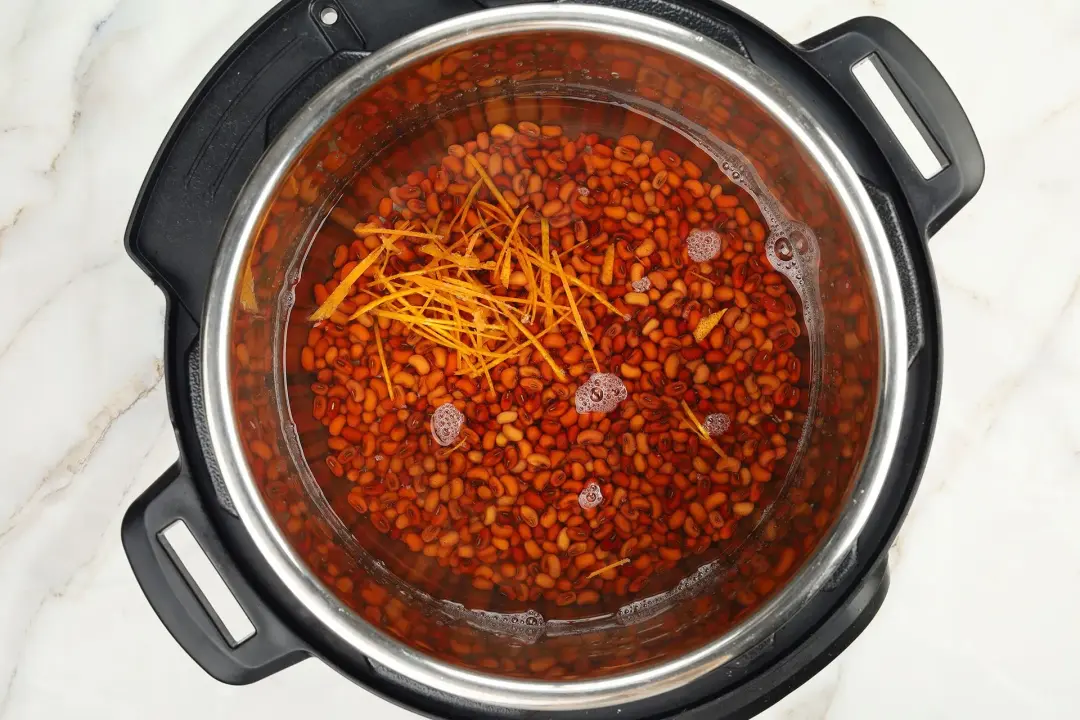 2
Prepare the rice flour: Bring the remaining 4 cups of water to a boil to prepare the chewy balls. Combine 6 oz glutinous rice flour with 2 tbsp icing sugar in a large bowl. As the pot of water comes to a vigorous boil, measure out 1/2 cup and quickly stir it into the flour.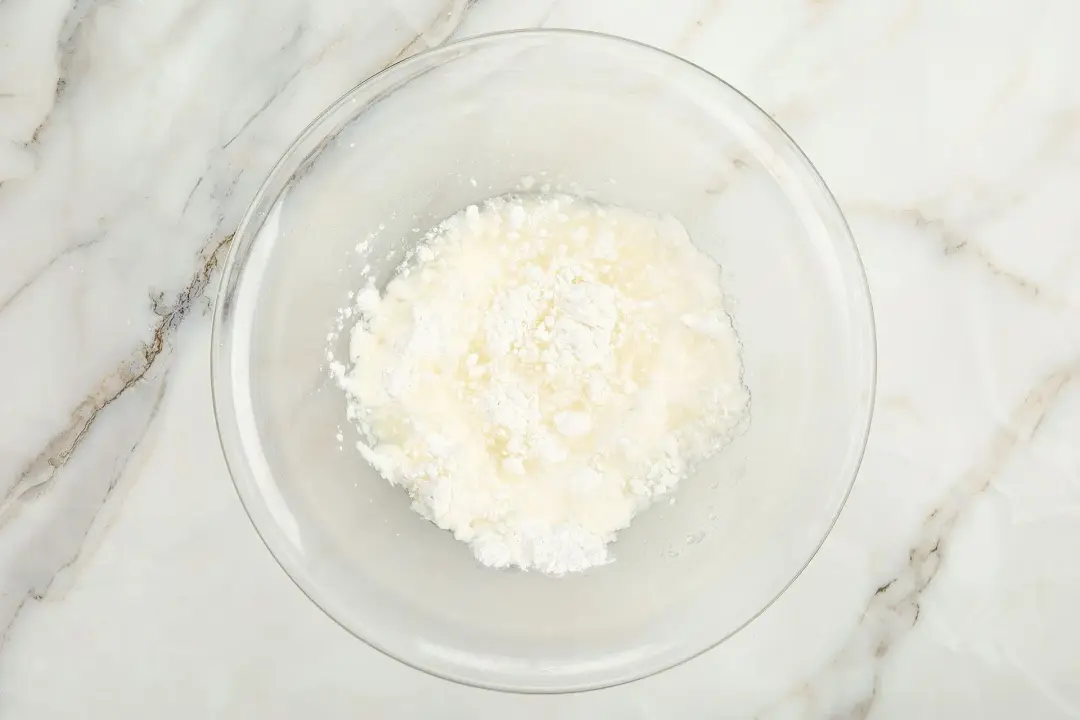 3
Knead the dough: Stir the flour so the liquid is absorbed entirely, then knead the dough with your hands just until it becomes a uniform ball of dough.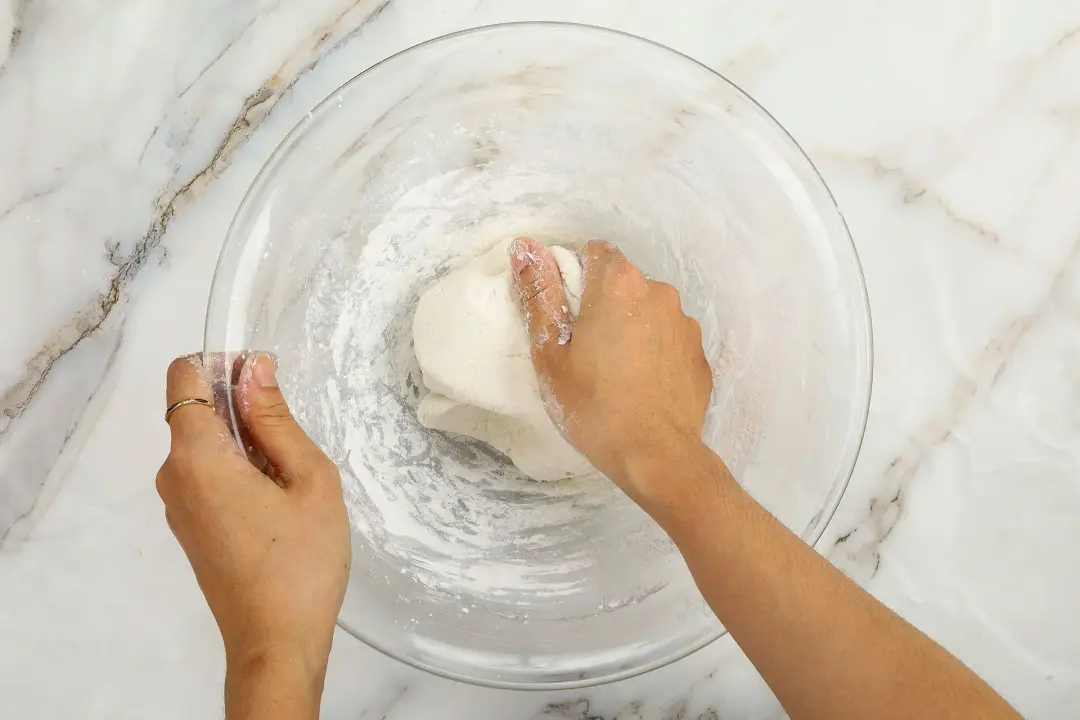 4
Make little balls: Divide the big ball into 28 smaller portions (cut the dough into 4, and divide each quarter into 7 portions). Roll the portions into balls. There's no need to wet or dust your hands—the flour isn't sticky.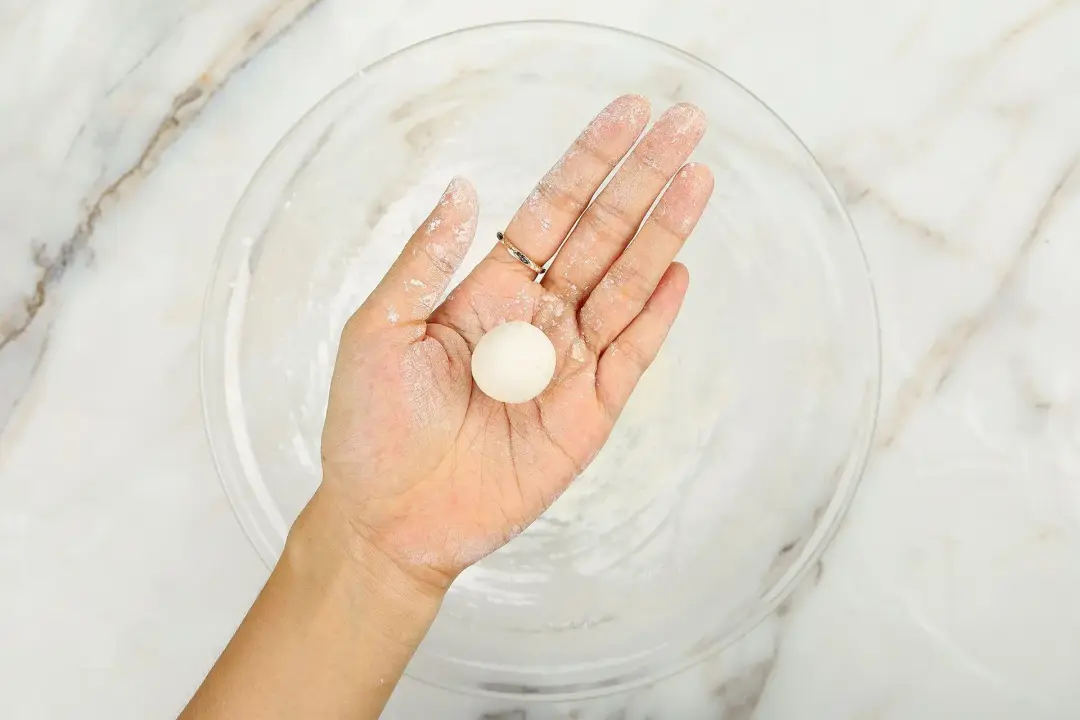 5
Cook the rice balls: Bring the pot of water to a rolling boil again, then gently drop the balls in and cook on medium heat. They should sink to the bottom at first then float once they're done.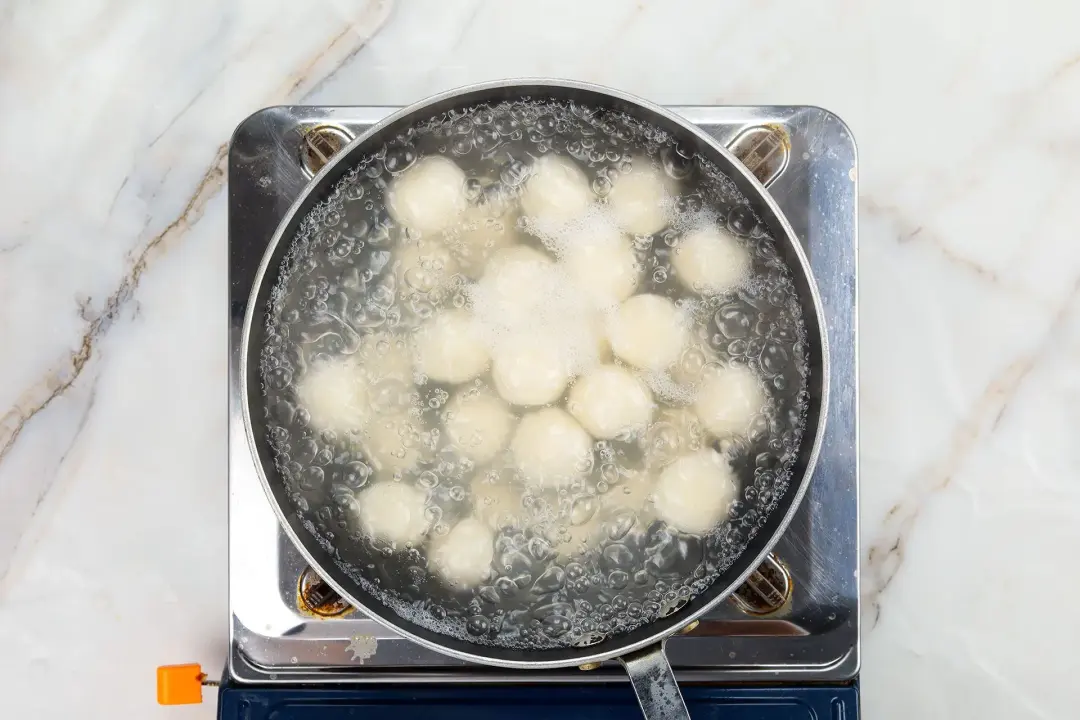 6
Scoop the balls out: As soon as you see all of them floating, wait for 1 minute and turn off the heat.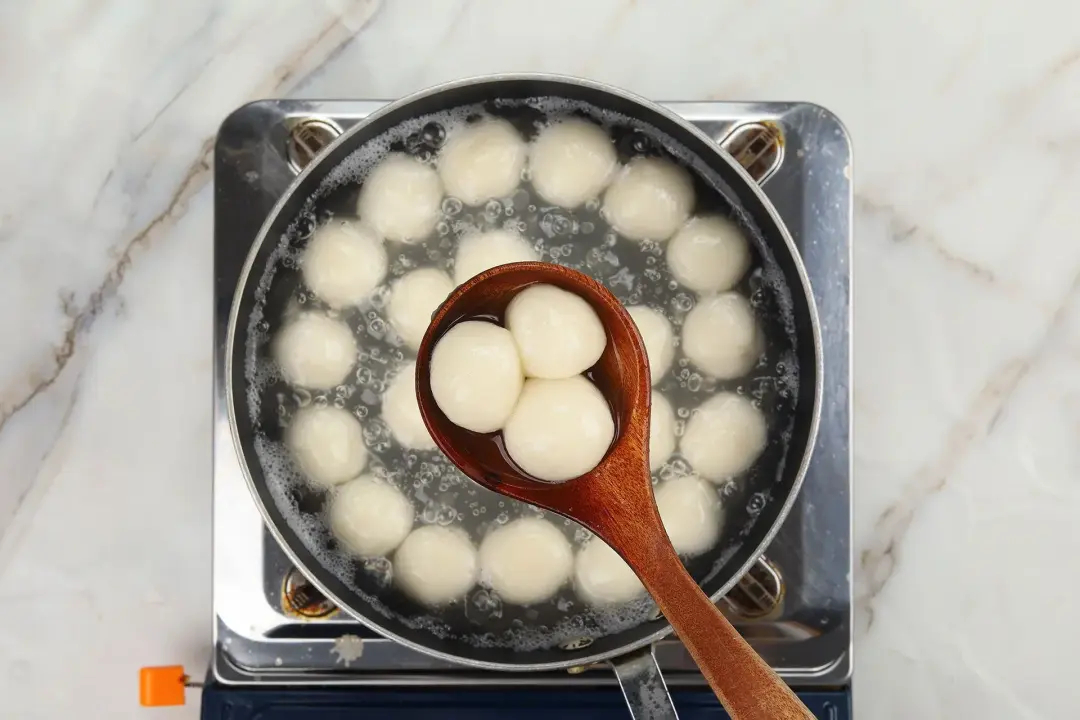 7
Shock the balls in cool water: Transfer them into a bath of cool (or ice) water to stop the cooking process. Allow them to sit for at least 10 minutes.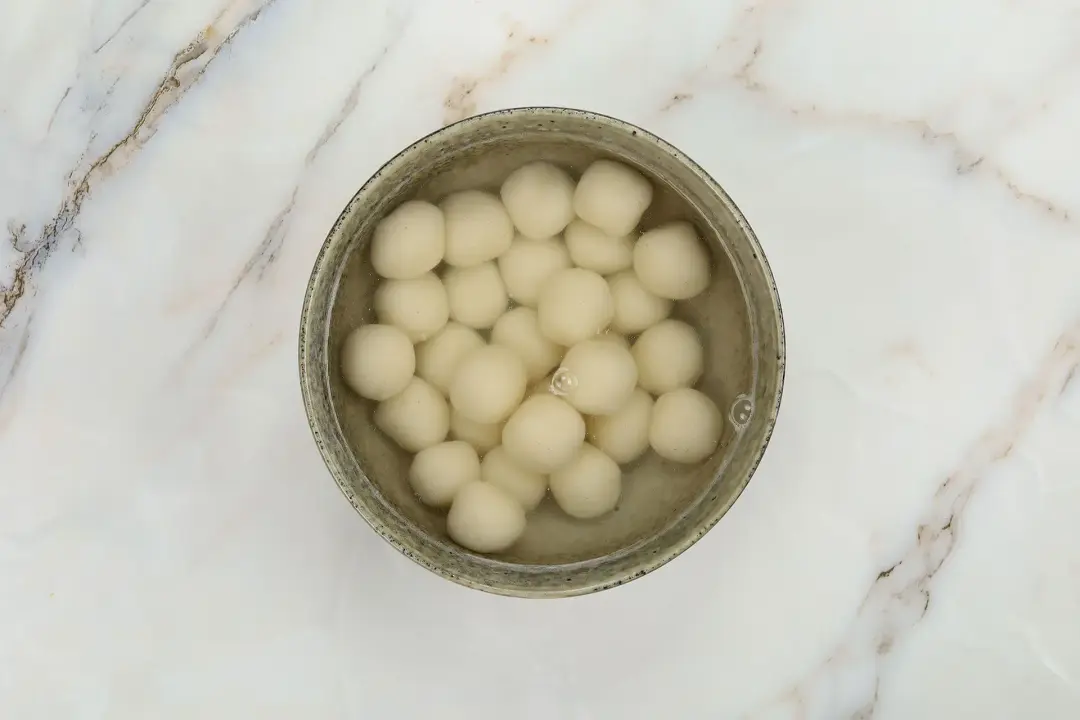 8
Add sugar to the beans: Once the beans are done, carefully quickly release the steam and open the pot. Gently stir into it 3/4 cups sugar and 1/8 tsp salt. Add the chewy balls in.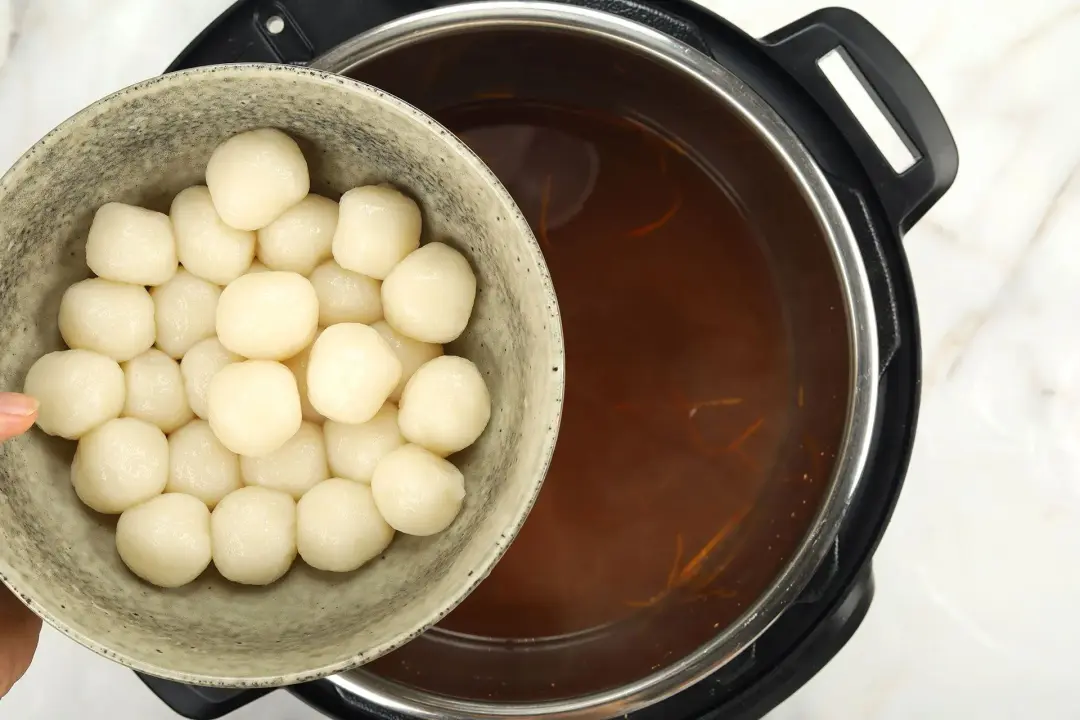 9
Serve: Stir to combine, then put the pot on "keep warm" mode until serving. Before serving, stir in 1/3 cup coconut milk, and ladle the soup into bowls. Each serving should come with 7 chewy balls.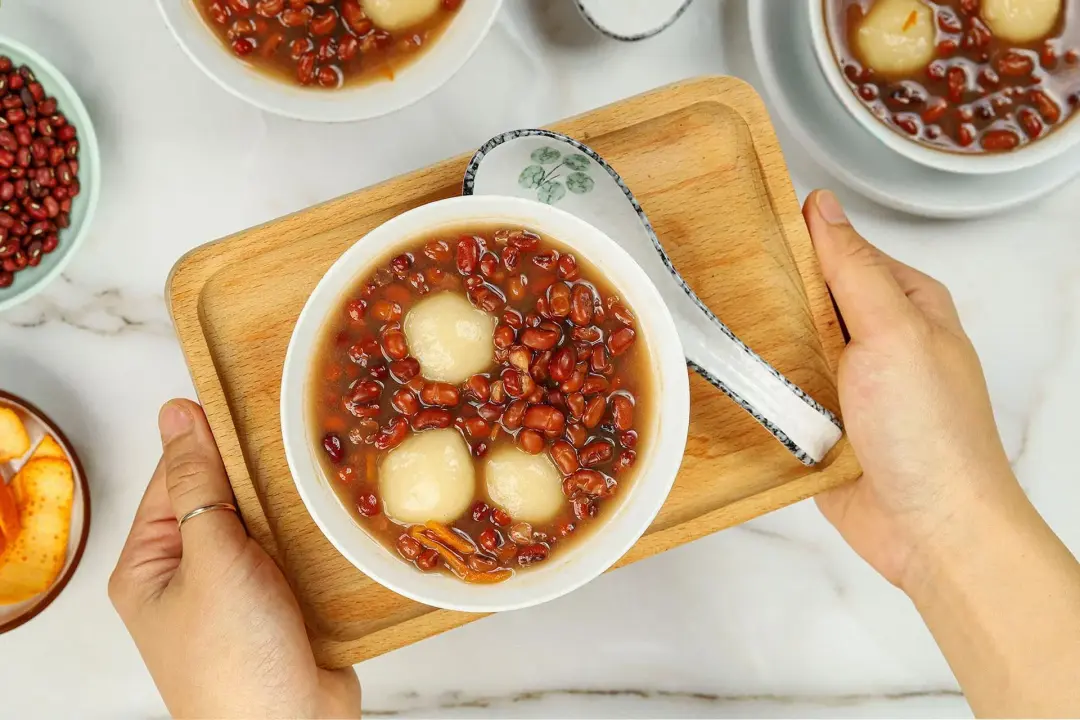 NUTRITION
Nutrition Facts
How to Make Red Bean Soup
Amount Per Serving (1 serving)
Calories 246
Calories from FDA
% Daily Value*
* Percent Daily Values are based on a 2000 calorie diet.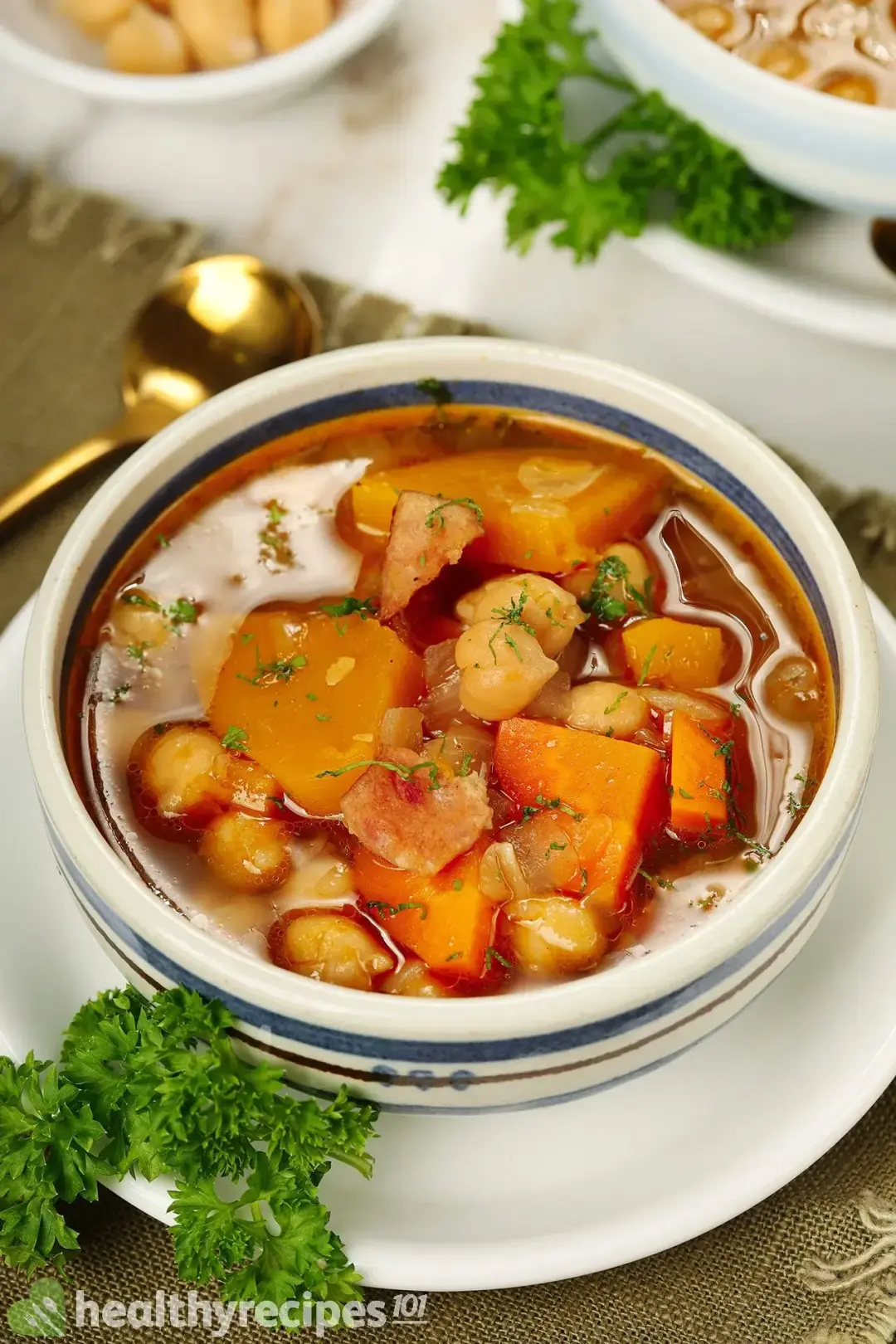 Next Recipe
Chickpea Soup
Chickpea Soup
Luna Regina
A writer and entrepreneur, Luna's day doesn't start at the computer keyboard, but in the kitchen.
Half of her working hours are spent on mixing ingredients for her recipes. The other half involve working with the tech team to research and test the tools and appliances that promise to make kitchen work effortless and mess-free. From a kitchen knife or water filter to the Instant Pot, if it can help save time and effort for the home cook, Luna and her team are on it.
Luna's extracurricular pastimes include camping, travel, and photography.