If you are fond of pizza and want to have a healthier but still delicious option, we're more than glad to introduce you to this wholesome cauliflower pizza crust recipe.
Our cauliflower pizza is a tasty blend of cauliflower, mushroom, beef, sausage, cheese, and a few spices, flattened and baked to a golden crunchy crust. With a veggie-based dough, our pizza is healthier and more nutritious than its flour-based counterpart.
The best thing about this recipe is that you can freeze the crust and top it with any fresh ingredients available in your fridge at the time for a quick and healthy dinner or an International Beer & Pizza Day (October 9th) or National Sausage Pizza Day (October 11) feasting.
Is Cauliflower Pizza Crust Healthy?
Yes, compared to the traditional carbohydrate-based food, our cauliflower pizza crust is relatively healthy. And here are the reasons why:
Fewer carbs: Containing less flour in the dough, one serving of our cauliflower pizza base contains only 31 grams of carbohydrates. It wouldn't be considered 'low-carb' but still an ideal option for anyone who wants to cut down the carbohydrate content in their diet.
Excellent source of vitamins and minerals: Each serving of the food provides up to 55% of your recommended Vitamin C daily intake and 46% of your recommended zinc daily intake. Cauliflower is also high in fiber and can reduce inflammation and keep the digestive system healthy.
Less sodium and saturated fats: We have kept a strict eye on the amount of added salt and cheese in this recipe. As a result, our pizza recipe contains 9.1 grams of saturated fat and 576 milligrams of sodium. Those numbers align with the current USDA's Dietary Guidelines, making our pizza a healthy option to combine with your daily dietary requirements.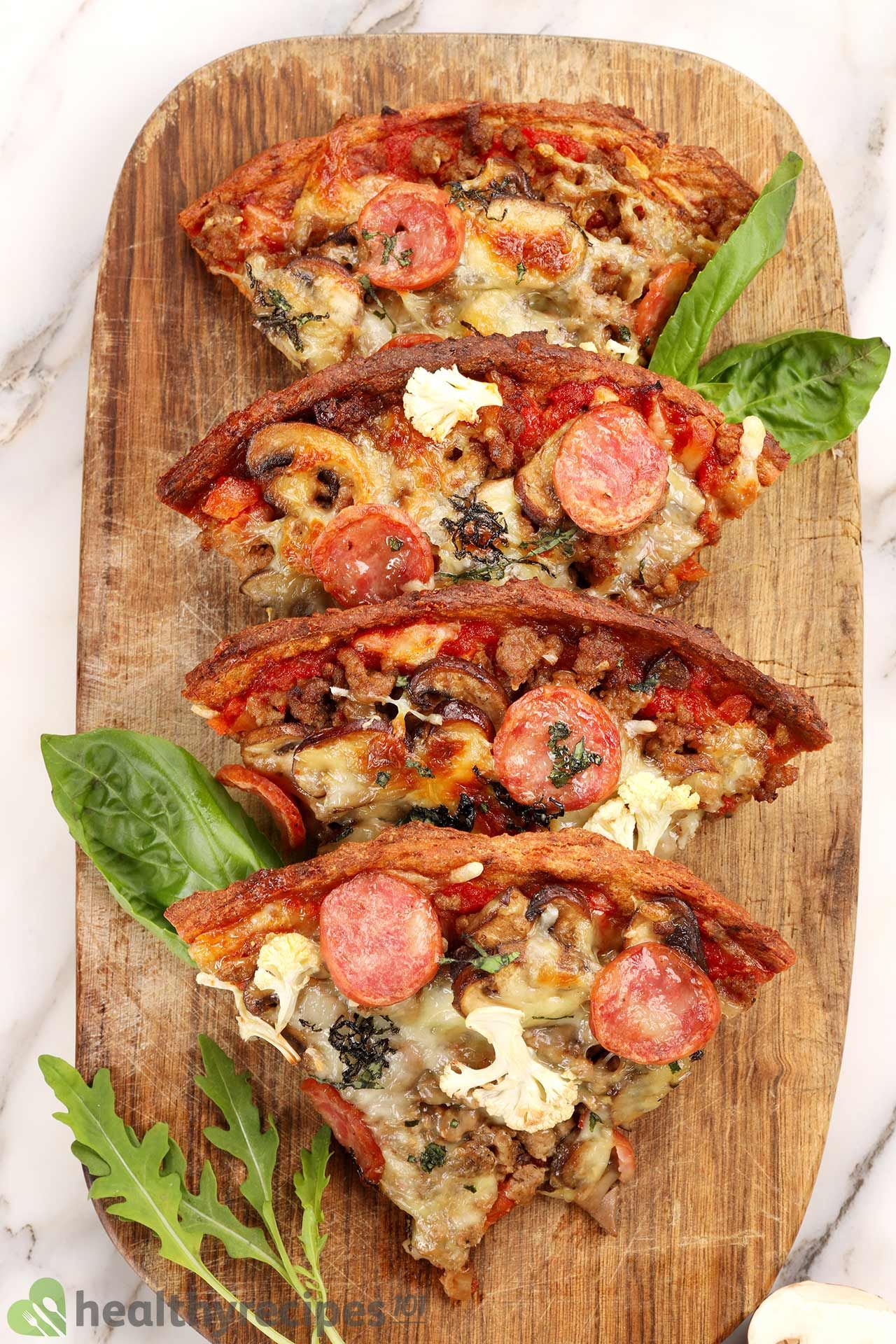 Cauliflower Pizza Crust Ingredients
Our cauliflower pizza crust recipe only uses simple ingredients. Here is a quick look at the main ingredients you will need for the dish:
Cauliflower: As the star of the show, cauliflower produces a healthier, yet delicious, base than the traditional flour-based crust.
Beef: We used lean beef in our recipe, but you can go with any protein-rich food of your choice, from chicken or pork to even seafood.
Eggs: Eggs act as the 'glue' that holds the cauliflower dough ingredients together.
Cheese: Cheese is an essential ingredient in every pizza, melting when baked, to bind the toppings onto the crust and bring a delicious creaminess to the flavors.
Seasoning and Spices: Cauliflower itself is quite bland in taste, so we used salt, pepper, and some simple spices, like an Italian seasoning mix, to add flavor to the crust, making the experience even more delicious.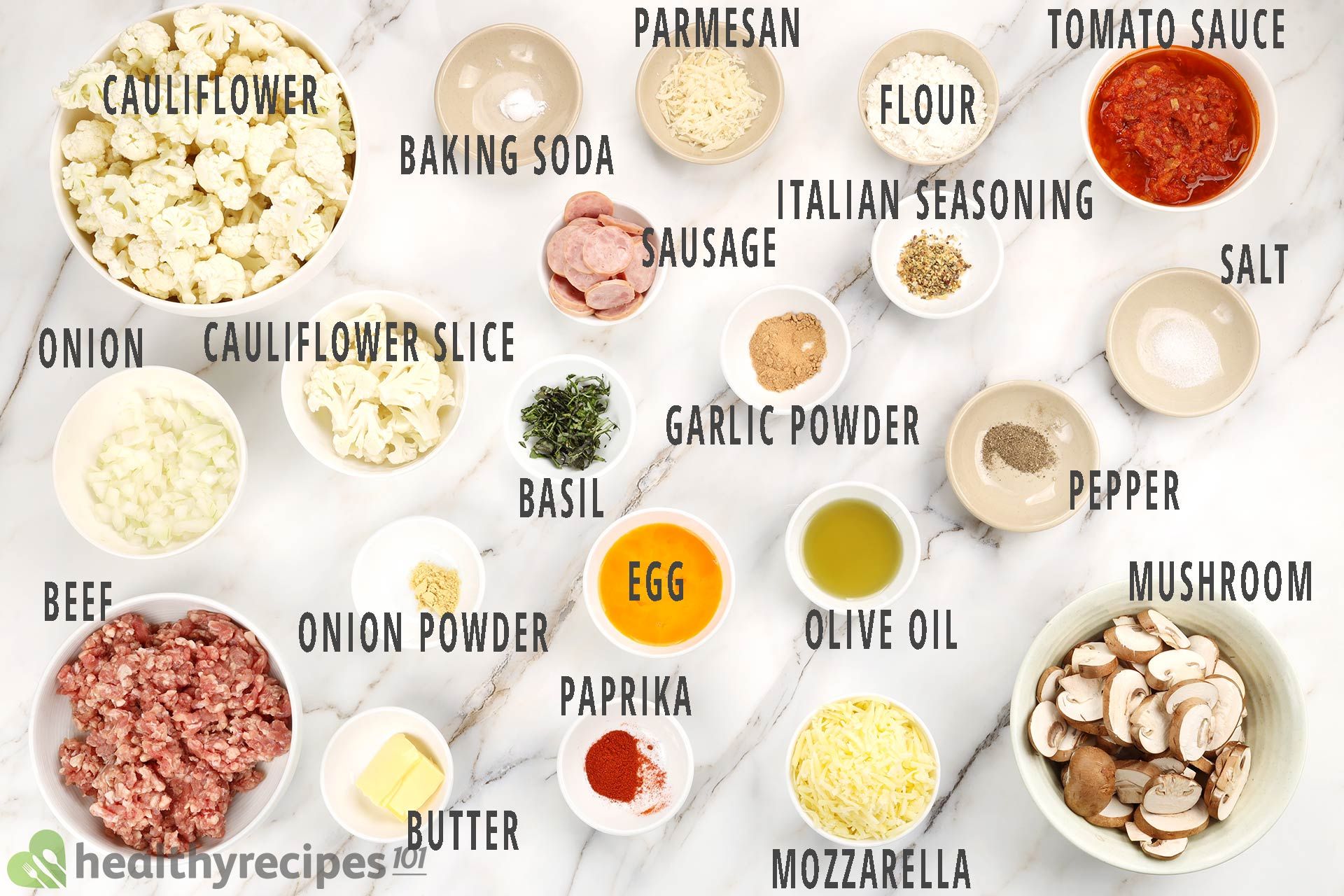 Cauliflower Pizza Topping Ideas
Choosing the toppings may be the most enjoyable part of making this delicious treat. The secret is the chunkier the better since you don't want your ingredients to be too runny and your crust too soggy.
In terms of flavors, the combinations are endless; our cauliflower pizza crust can be topped with almost anything. Here are some of our favorite combinations:
Pesto Chicken Pizza: shredded chicken, sauteed spinach, cheese, and pesto sauce.
Margherita Pizza: mozzarella, marinara sauce, and fresh herbs.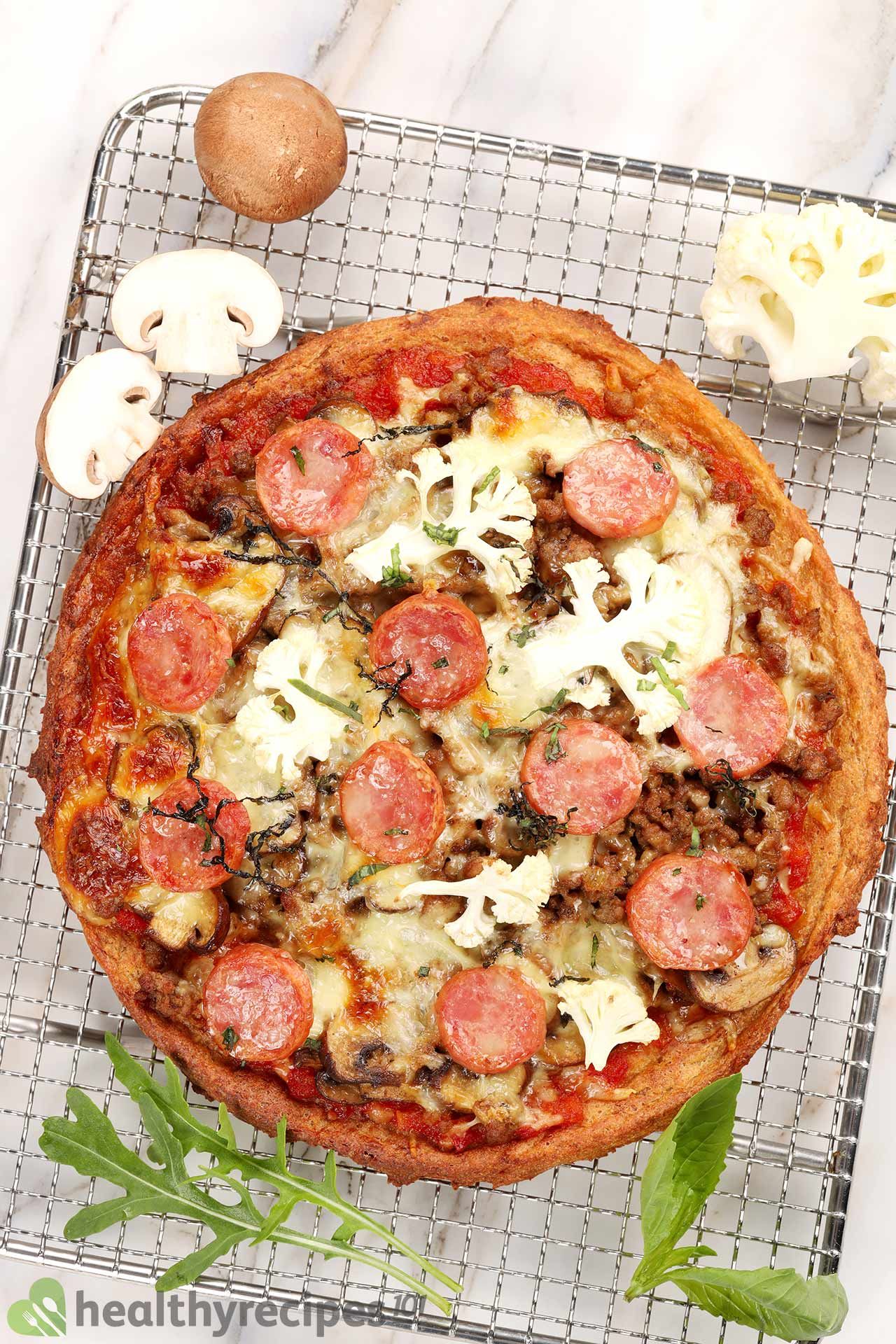 Types of Cauliflower to Use
There are several different options when it comes to cauliflower: fresh cauliflower, frozen cauliflower, and pre-riced cauliflower.
Fresh Cauliflower: Fresh cauliflower is the most common type you can purchase and our go-to variation.
Frozen Cauliflower: Don't forget to thaw it in the refrigerator the night before. The frozen type allows you to skip the cleaning and chopping of the cauliflowers, saving you valuable time.
Pre-riced Cauliflower: Many stores carry the pre-riced cauliflower. This saves you even more time on prepping, since you now don't even have to chop the veggie in the food processor.
From our experience, the consistency of all these types is similar. So if you're wondering which type of cauliflower is the best, just feel free to go with the one you have to hand.
How to Make Cauliflower Pizza Crust
Making cauliflower pizza crust is a little labor-intensive, but it's worth the time and effort.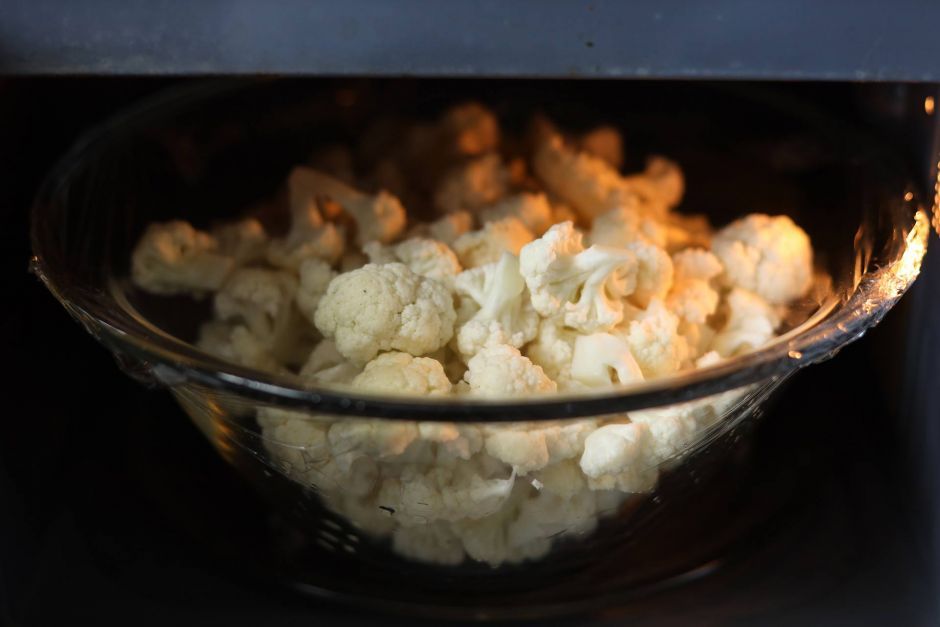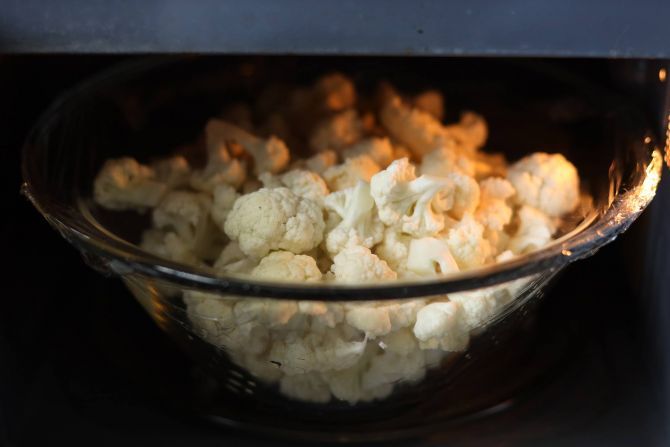 Cook the cauliflower.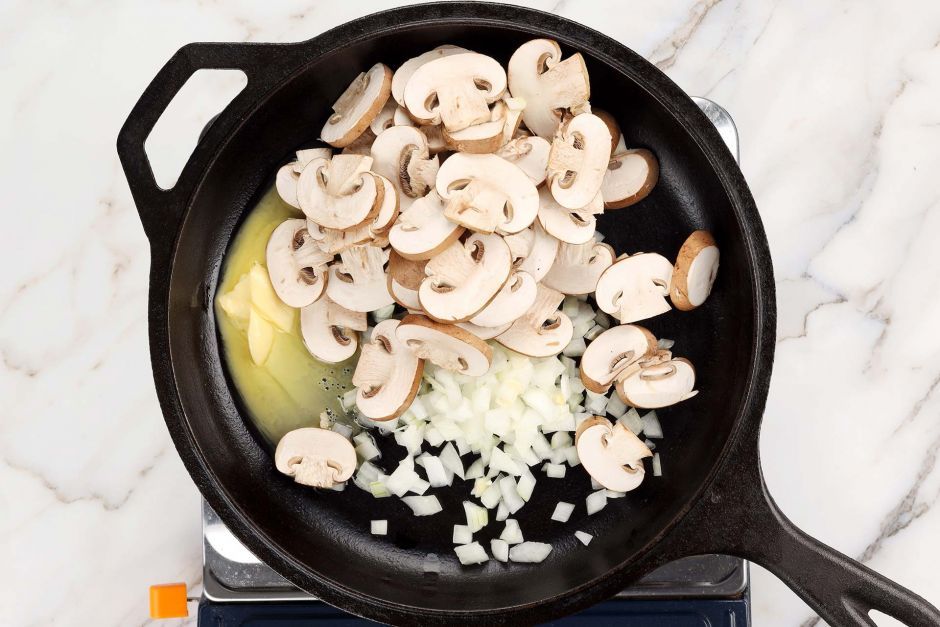 Stir fry vegetables for the topping.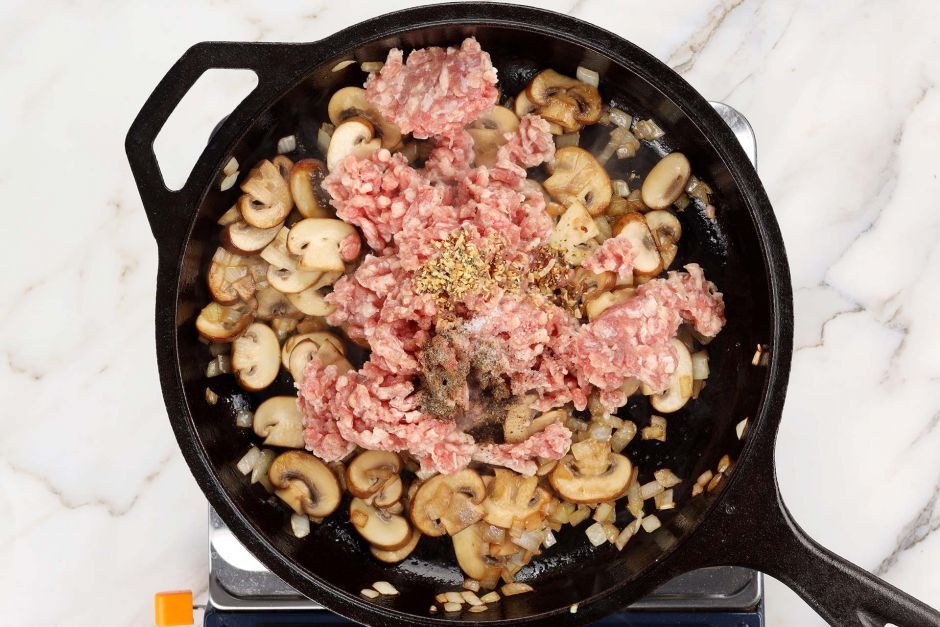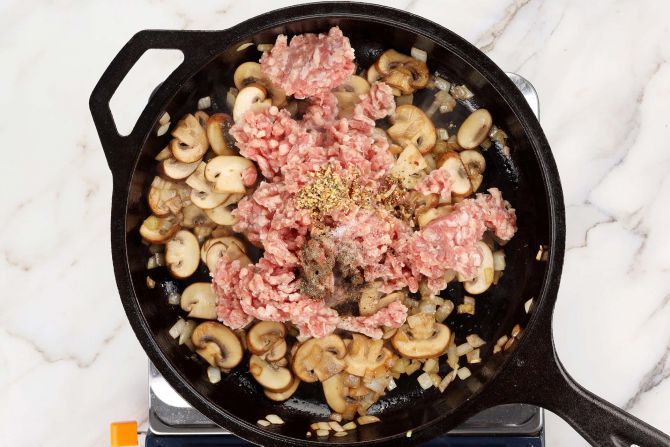 Add beef and season the topping mixture.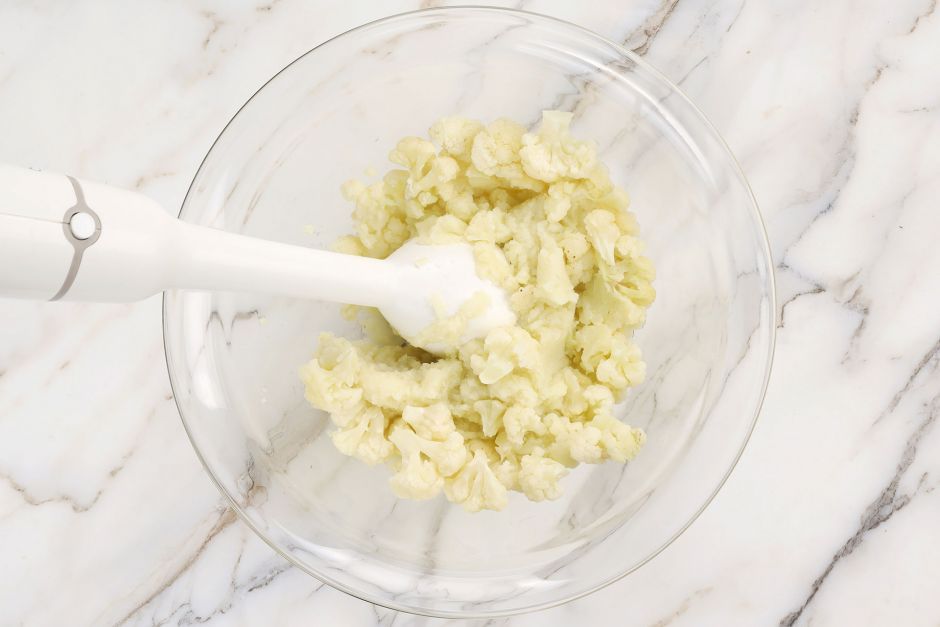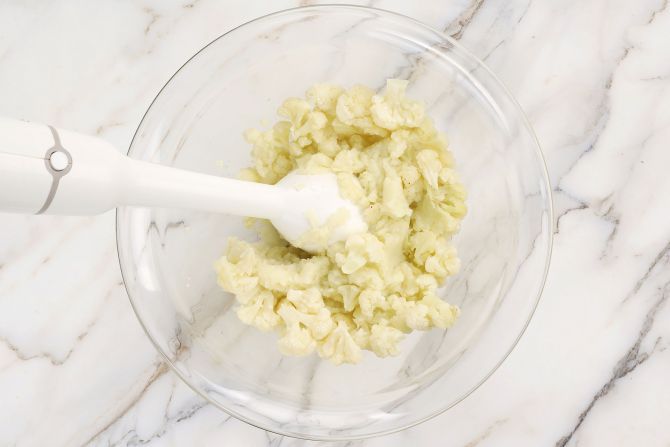 Blend the cauliflower.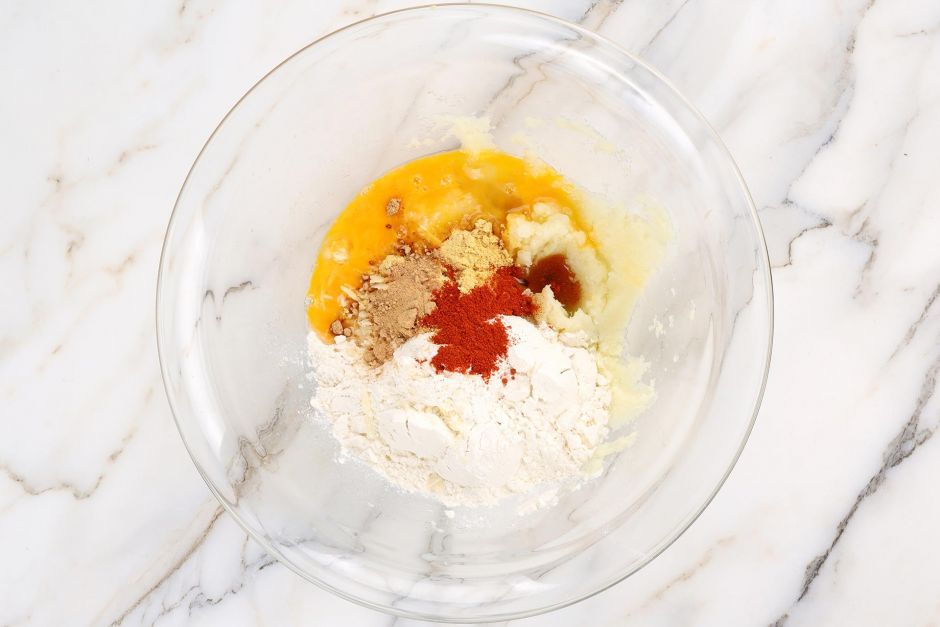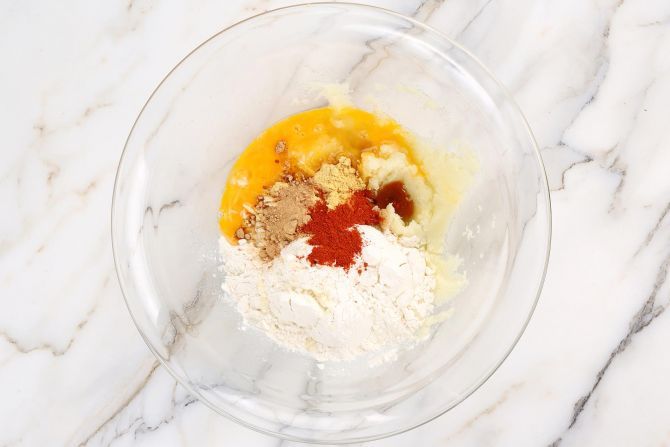 Make the cauliflower pizza dough.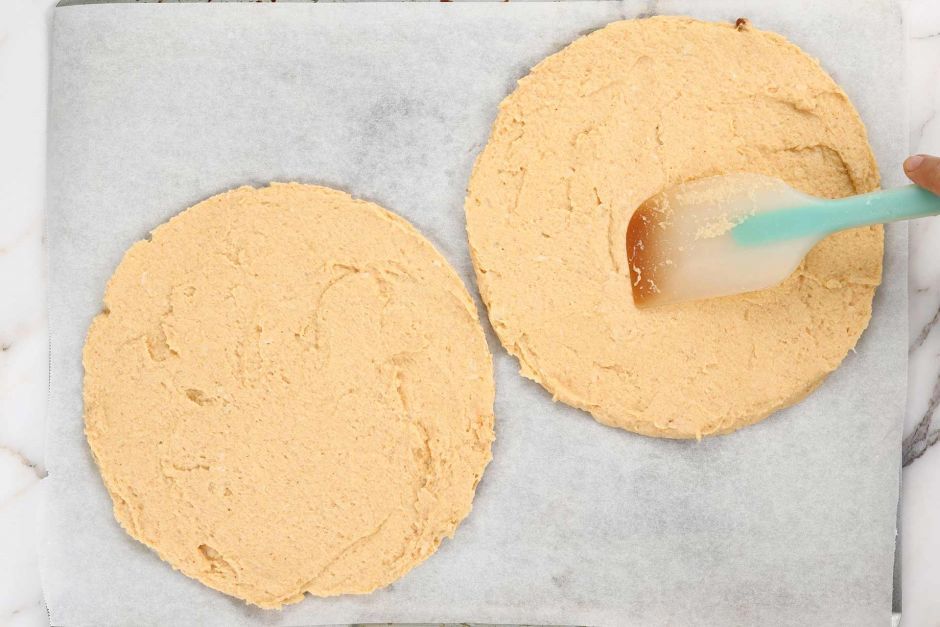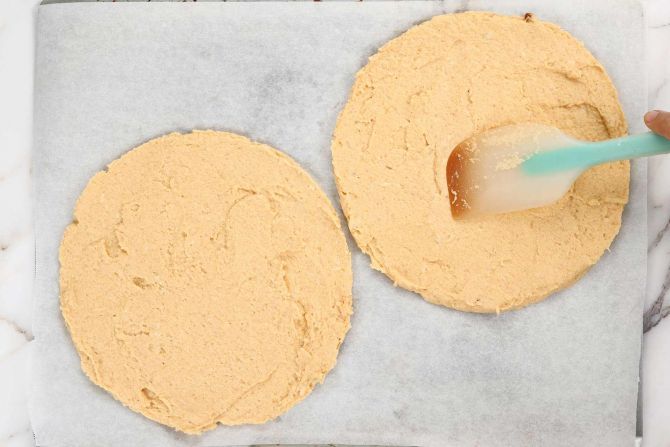 Shape the crust and bake.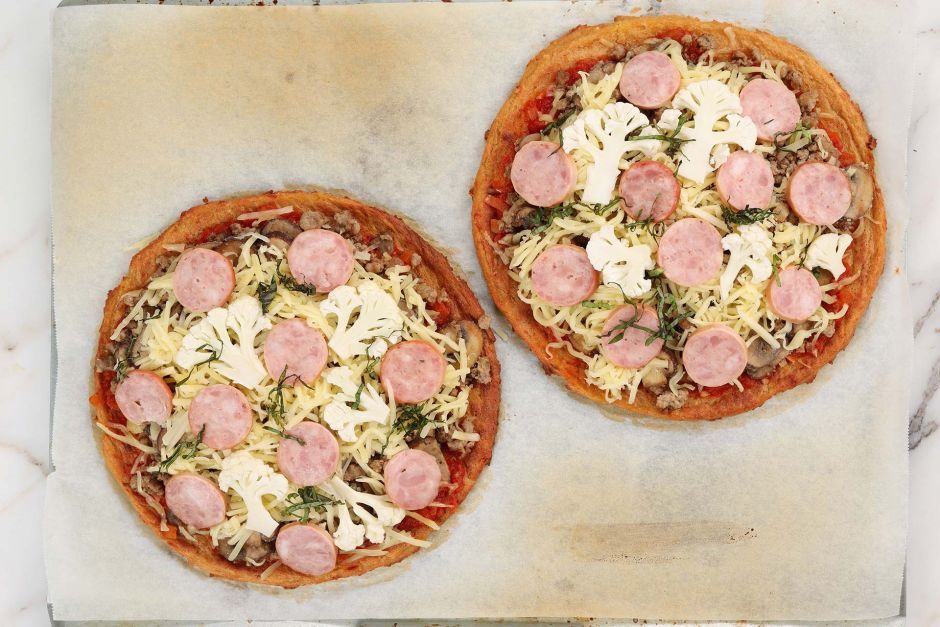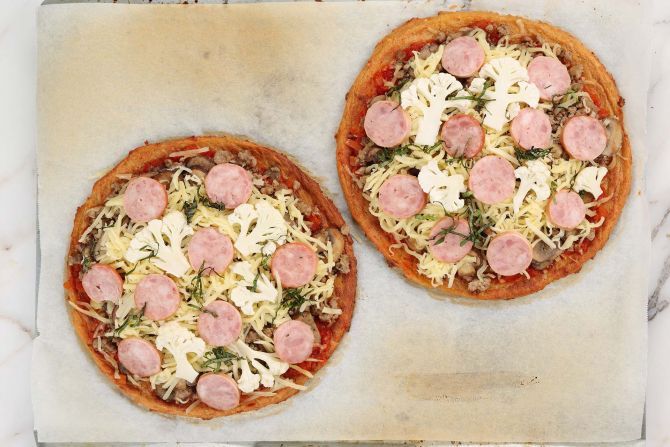 Top the crust with the toppings.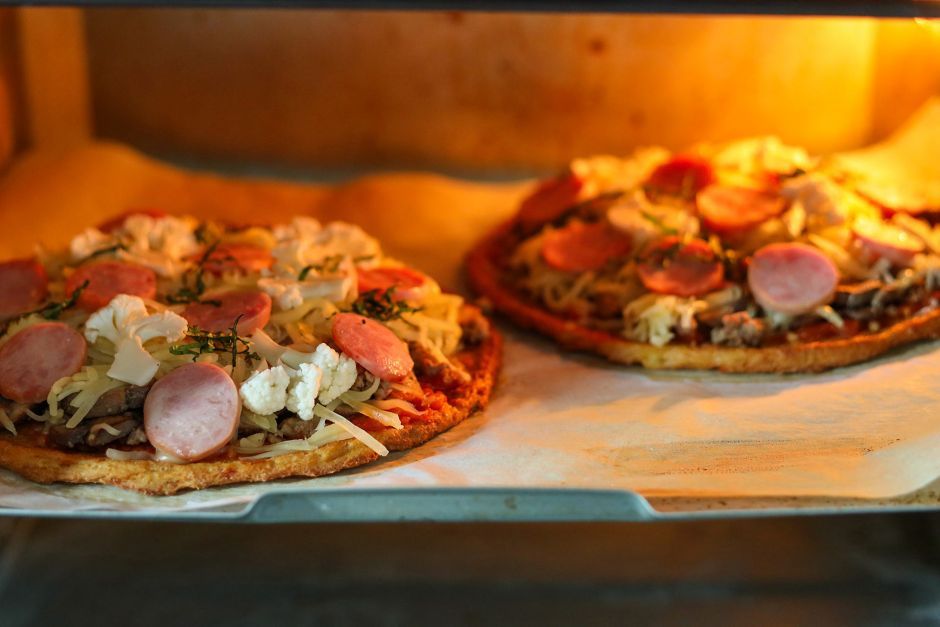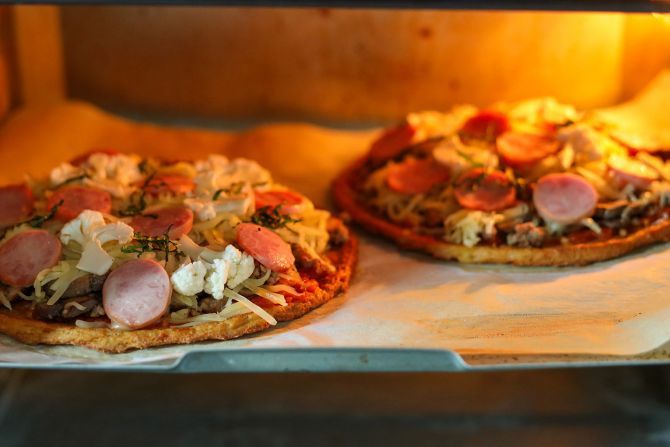 Bake the pizza.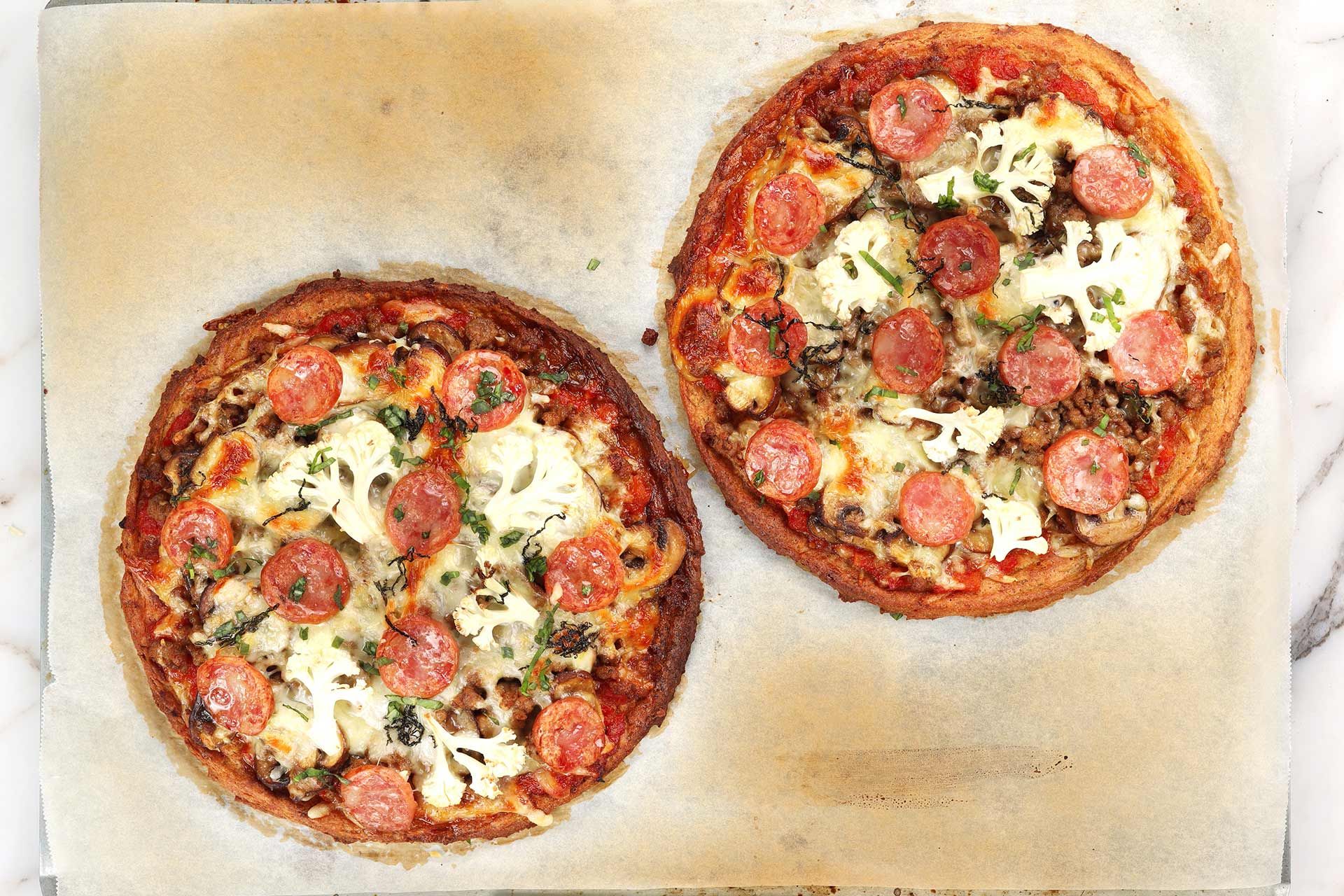 Serve.
Tips for Making Perfect Cauliflower Pizza Crust
The secret to a crispy crust that won't fall apart is to dry out the cauliflower as much as possible.
Once the cauliflower is cooked to tender, you will find that it often has a surprisingly large amount of moisture in it. Unfortunately, the excess liquid causes the crust to be soggy and too weak to hold the topping.
To dry out the cauliflower, use a cheesecloth to squeeze out the moisture. This way, you will be left with only the dry cauliflower rice, that will make a perfect foundation for your pizza crust.
Another essential step to ensure a crispy cauliflower pizza crust is to pre-bake it. We cooked our crust in the oven before adding any toppings, which helped to strengthen it, with the edges browning once it was baked for the second time with all the toppings.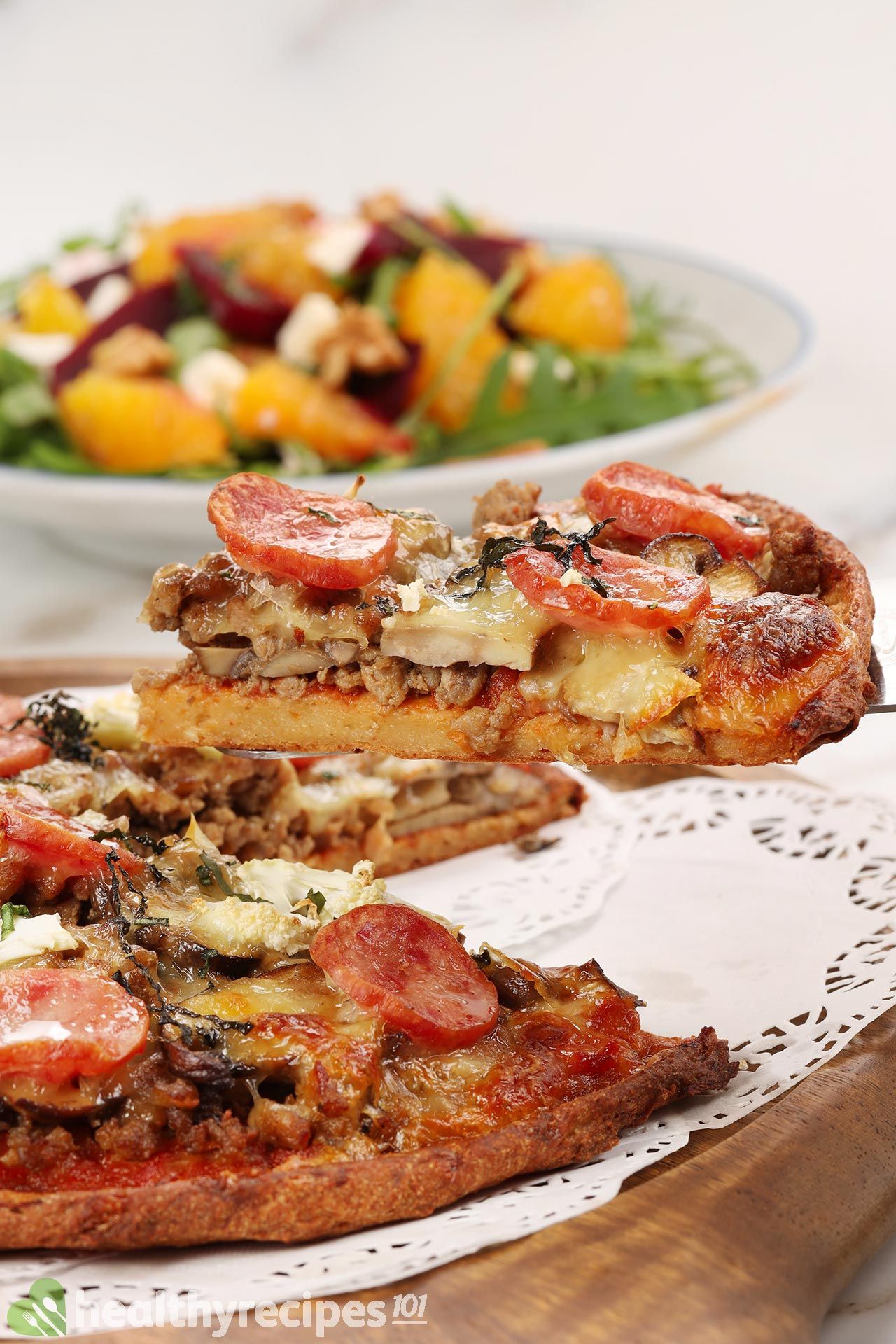 Trying to include more cauliflower and rice in your meal plan? Check out our Kung Pao Cauliflower and Gobi Manchurian.
Can You Freeze Cauliflower Pizza Crust?
Because cauliflower pizza crust can be labor-intensive, you can double the recipe to make an extra crust and freeze it for a quick and easy meal in the future.
The pizza crust, once baked, must be frozen in an airtight container. Whenever you are ready to make a pizza, place the crust in the oven and bake until it's heated through.
Then add the topping of your choice and bake for a few minutes until the crust is crispy and the cheese is melted to perfection.
If you are craving some pizza ideas, our Cheeseburger Pizza Recipe is definitely worth a try.
Side Dishes for This Recipe
Nutritional values in this table vary somewhat to those below due to different app calculations. Read more...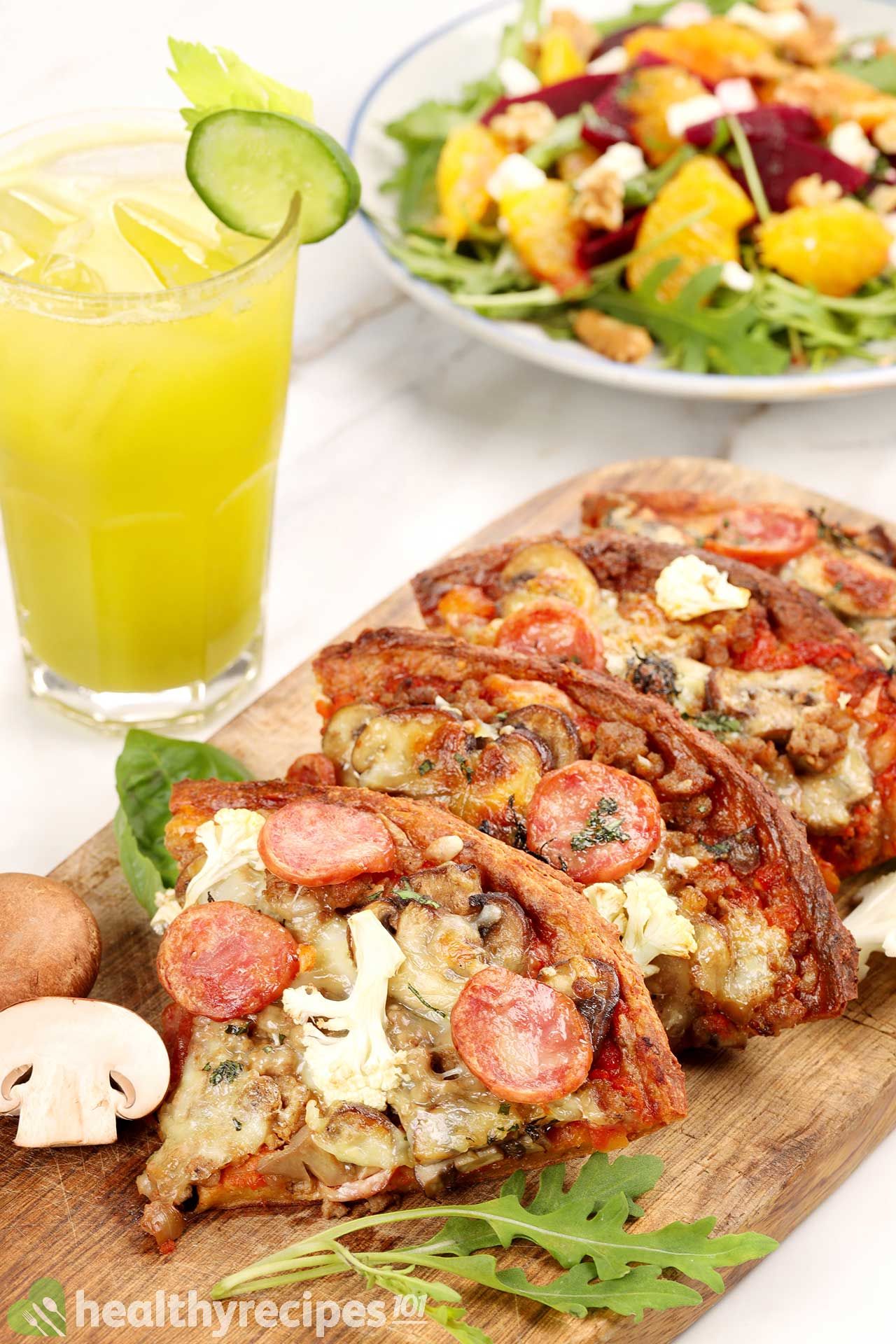 Love Cauliflower? These cauliflower recipes are some of our most delicious picks: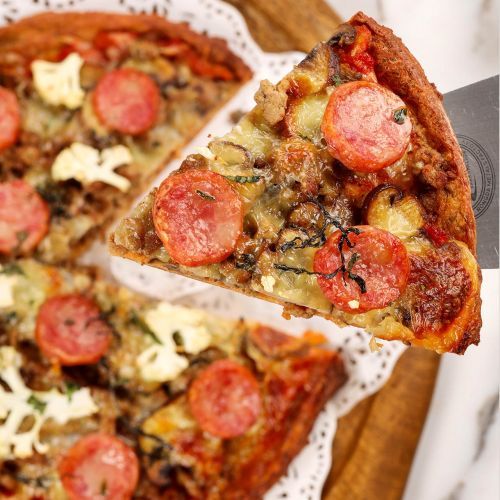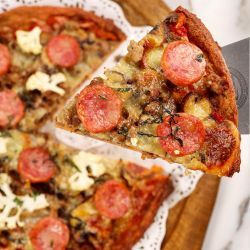 Cauliflower Pizza Crust Recipe
With the veggie-based crust and fresh ingredient toppings, our cauliflower pizza crust recipe is a healthy twist on the classic Italian dish.
Ingredients
12

oz

cauliflower florets

1 1/2

tbsp

olive oil

divided

1

tbsp

unsalted butter

6

oz

brown mushrooms

sliced

2

oz

onion

chopped

10

oz

97% lean ground beef

1/4

tsp

salt

1/4

tsp

ground black pepper

1/2

tsp

Italian seasoning

3/4

cup

all-purpose flour

1/4

tsp

baking soda

0.25

oz

shredded parmesan

1

tsp

garlic powder

1/4

tsp

paprika

1/4

tsp

onion powder

1

medium egg

1/2

cup

homemade tomato sauce

3

oz

mozzarella

2

oz

smoked sausage

sliced

2

oz

cauliflower

sliced

2

tbsp

basil

chopped
Instructions
Transfer 12 oz cauliflower florets to a microwave-safe bowl. Cover loosely and place into the microwave for 7 minutes.

Meanwhile, in a pan, heat 1 tablespoon of olive oil over a medium heat. Add 1 tbsp unsalted butter, 2 oz onion, and 6 oz brown mushrooms to the pan and stir fry for 2 minutes.

Add 10 oz ground beef, 1/4 tsp salt, 1/4 tsp ground black pepper, and 1/2 tsp Italian seasoning. Cook for another 3 minutes.

Remove the cauliflower from the microwave and let cool completely. In the same bowl whisk together 3/4 cup all-purpose flour, 1/4 tsp baking soda, 0.25 oz parmesan, 1 tsp garlic powder, 1/2 tbsp olive oil, 1/4 tsp paprika, 1/4 tsp onion powder, and 1 medium egg with a spatula until well combined.

Line some parchment paper on the baking tray. Transfer the cauliflower pizza dough to the middle of the tray and flatten with a spatula until a thin pizza crust forms. Bake for 20 minutes at 430℉. Flip the crust and bake for another 10 minutes.

Top with 1/2 cup homemade tomato sauce, stir-fried beef, mushrooms, 3 oz mozzarella, 2 oz smoked sausage, 2 oz sliced cauliflower, and 2 tbsp basil.

Place into the oven and bake for 15 minutes.

Serve immediately.
Nutrition
Nutrition Facts
Cauliflower Pizza Crust Recipe
Amount Per Serving (1 serving)
Calories 454
Calories from Fat 216
% Daily Value*
Fat 24g37%
Cholesterol 118mg39%
Sodium 577mg25%
Potassium 1060mg30%
Carbohydrates 31g10%
Protein 30g60%
Vitamin A 822IU16%
Vitamin C 56mg68%
Calcium 195mg20%
Iron 5mg28%
* Percent Daily Values are based on a 2000 calorie diet.