Our Kung Pao cauliflower recipe proves that with the right combination of ingredients, any dish can be made to taste awesome.
Take-outs can be amazing, but sometimes existing menus are no match for our own creativity. That's when it's time to head for the kitchen, and make the best ideas come to life.
This recipe, which revolves around cauliflowers, was one of the creations of HR101. The cauliflowers are battered, baked to perfection, sautéed with bell peppers and nuts, and finally glazed in an extra-umami bomb.
Yes, it's a Chinese staple with a veggie twist, and please believe us when we say it's as addictive as the original dish. Read on to learn more about this fascinating fare, or click the button above to jump right to the Kung Pao cauliflower recipe card.
What Does Kung Pao Sauce Taste Like?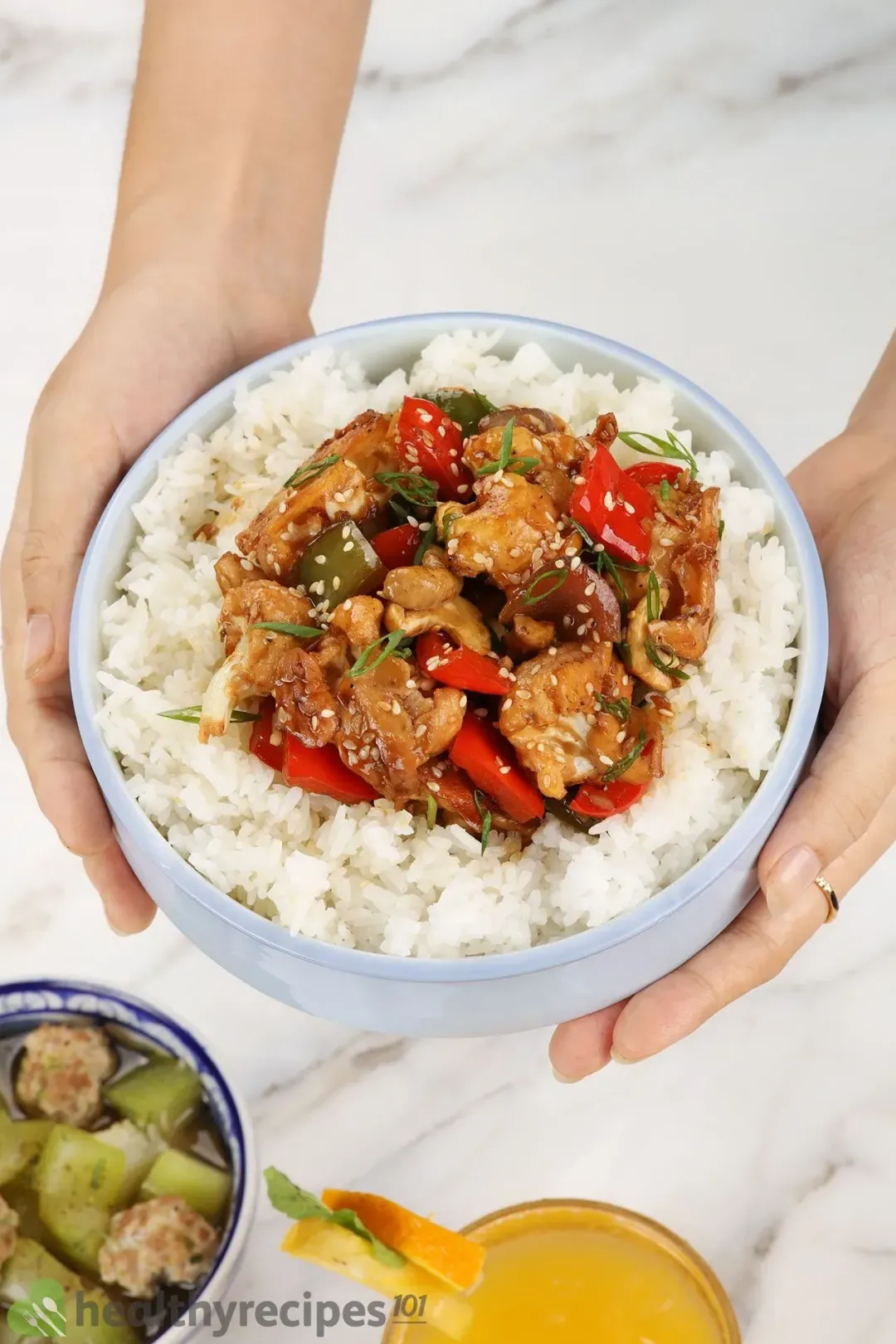 We're assuming you've never had Kung Pao chicken, because once you do, you never forget it. Its aroma lingers for a long while, even when the dish is already sitting comfortably in your tummy.
In terms of taste, it's the perfect balance of sweetness and umaminess. In our recipe, we've added a dash of vinegar, for extra zinginess and bite.
For a fragrant sauce we sauteed minced ginger and garlic, and thanks to a hint of white wine, you will pick up that unmistakable Chinese character.
This sauce is not only delicious but also incredibly versatile. You can find it in various other dishes that we adore: Kung Pao Spaghetti Recipe and Kung Pao Shrimp Recipe.
Of course there is more to it, but we'll go into more detail in the ingredients section.
Is Kung Pao Cauliflower Spicy?
Authentic Chinese take-outs can be particularly spicy, but when cooking at home, this characteristic is something we can adjust to our taste. We may have used a lot of dried chilis, but don't worry, they bring surprisingly little heat to the dish.
However, if spicy food is your thing, you can include cayenne powder in your batter mix. We'll include a little note to remind you later.
Is Kung Pao Cauliflower Healthy?
Chinese foods from restaurants do tend to be greasy and seasoned with a lot of salt. This, of course,  may not help you with pursuing a healthy diet defined by the USDA.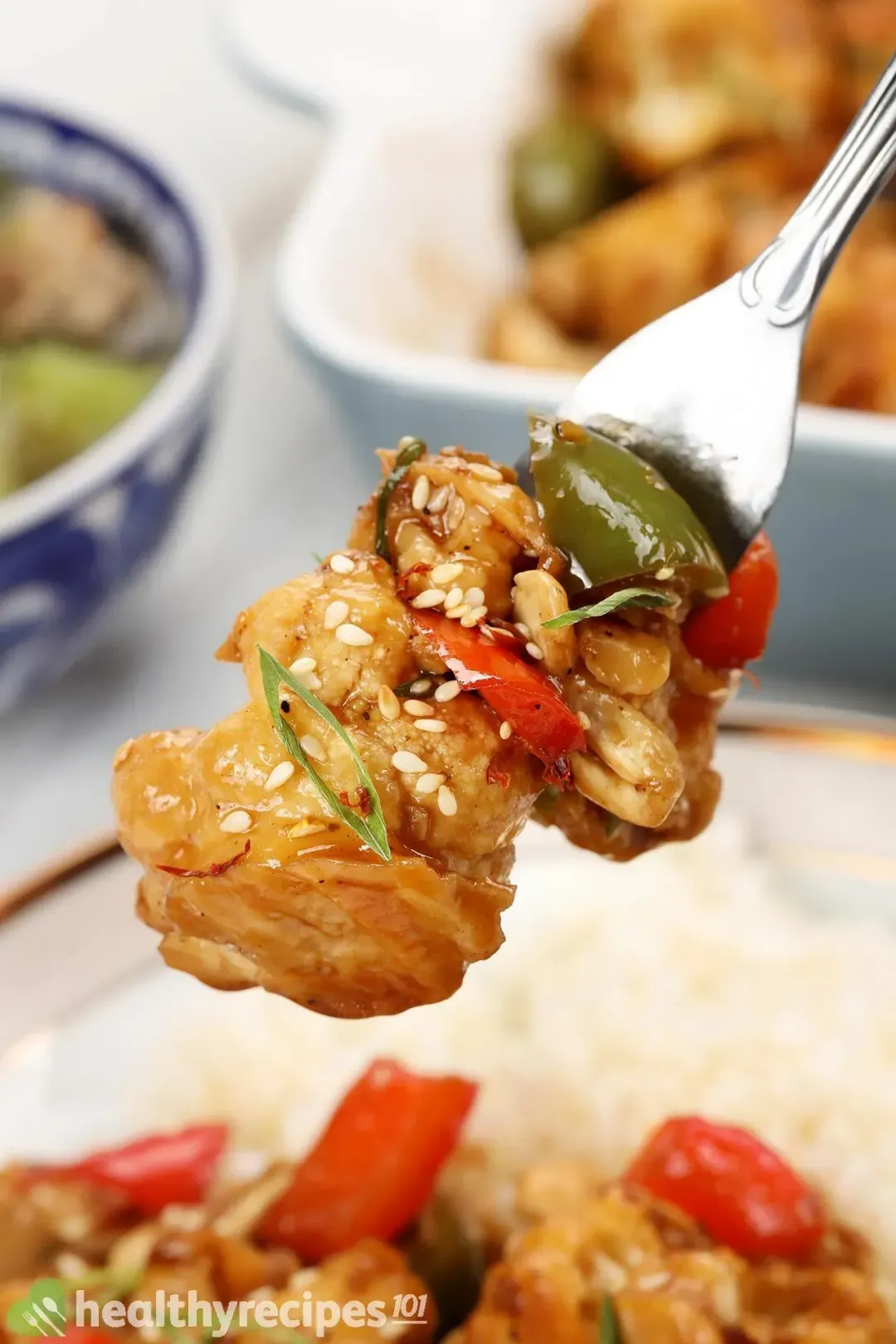 By cooking at home, however, you're completely in control of what goes into your dish, and we've done the calculations for you. Each serving of this recipe is consistent with what we advise in our dietary guidelines.
Besides, cauliflower, bell peppers, and the nuts we use all have plenty of micronutrients, essential components in building a stronger body.
Main Ingredients for Kung Pao Cauliflower
1. Cauliflower
You can choose any type of cauliflower available, but the white variety was the one we decided on.
Usually we'd boil them before sautéing for a softer texture, but not today. We'll make little cauliflower 'nuggets', which have a crunchier texture and bite.
2. The Batter
Our batter is made with flour, egg, water to thin it out a little, and butter to react with the flour in the oven and give it a crispy skin.
When it comes to battered food, deep-frying might make more sense, but in this case baking works just fine, and the end result is much healthier than the deep-fried version.
3. The Veggies
As with the original Kung Pao chicken we included bell peppers and onions in the pan.
We chose both red and green bell peppers for more vibrant colors, but you can stick to either one if you want.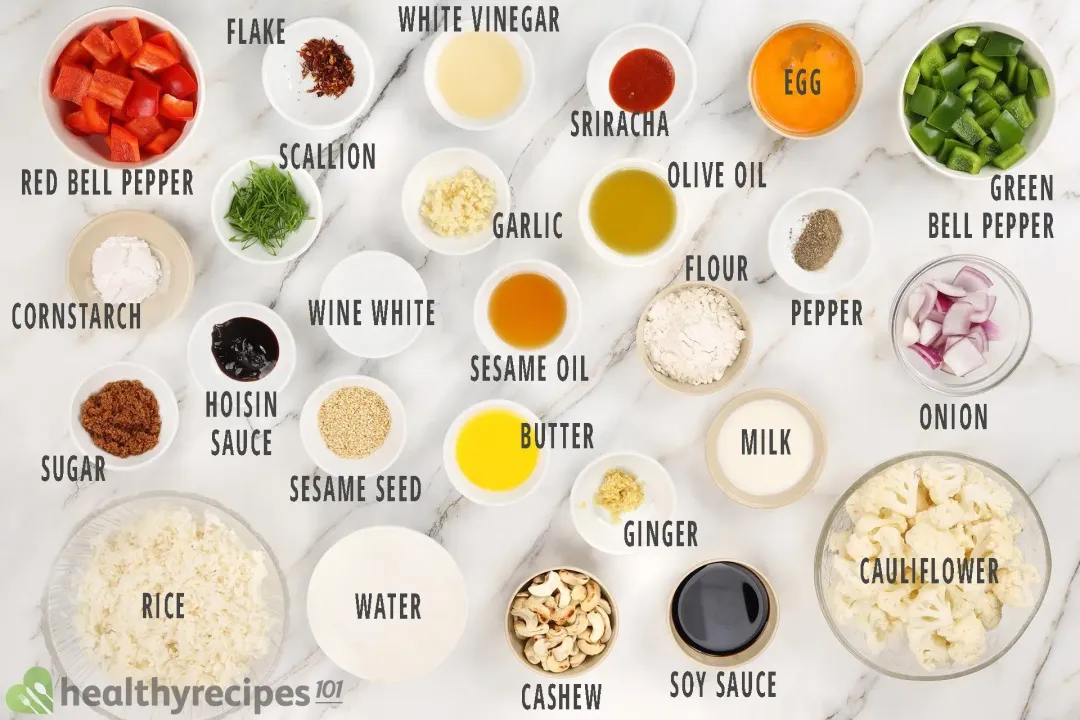 4. The Aromatics
Before the sauce, aromatics must be added to provide those intense aromas. As such, we heated up a little oil in the pan and stirred in garlic and ginger until fragrant.
Garlic is the base flavor for almost every Chinese dish, but ginger is the secret ingredient of this cuisine. A little goes a very long way, and gives a 'cozy' feel to the meal.
5. Kung Pao Sauce
The sauce is similar to the one we used in our Kung Pao chicken recipe. It includes sesame oil, hoisin sauce, soy sauce, white wine, vinegar, sugar, pepper, and as a thickening agent — cornstarch.
For a kick we also added a little sriracha. Feel free to give the sauce a quick taste and add more if you like.
6. Finishing Touches
The dish is considered finished when the stove is turned off, but it's not complete without these final touches.
During the final stir, we added some cashews that we had toasted earlier and kept in jars. However, any nuts you have on hand will work just fine (none is also acceptable).
Finally, we sprinkled nutty sesame seeds, fresh green onions, and red chili flakes on top, for both decoration and flavor.
Now that the ingredients are all covered, we think you're ready to cook.
How to Make Kung Pao Cauliflower
We highly recommend that you read this section before following our instructions.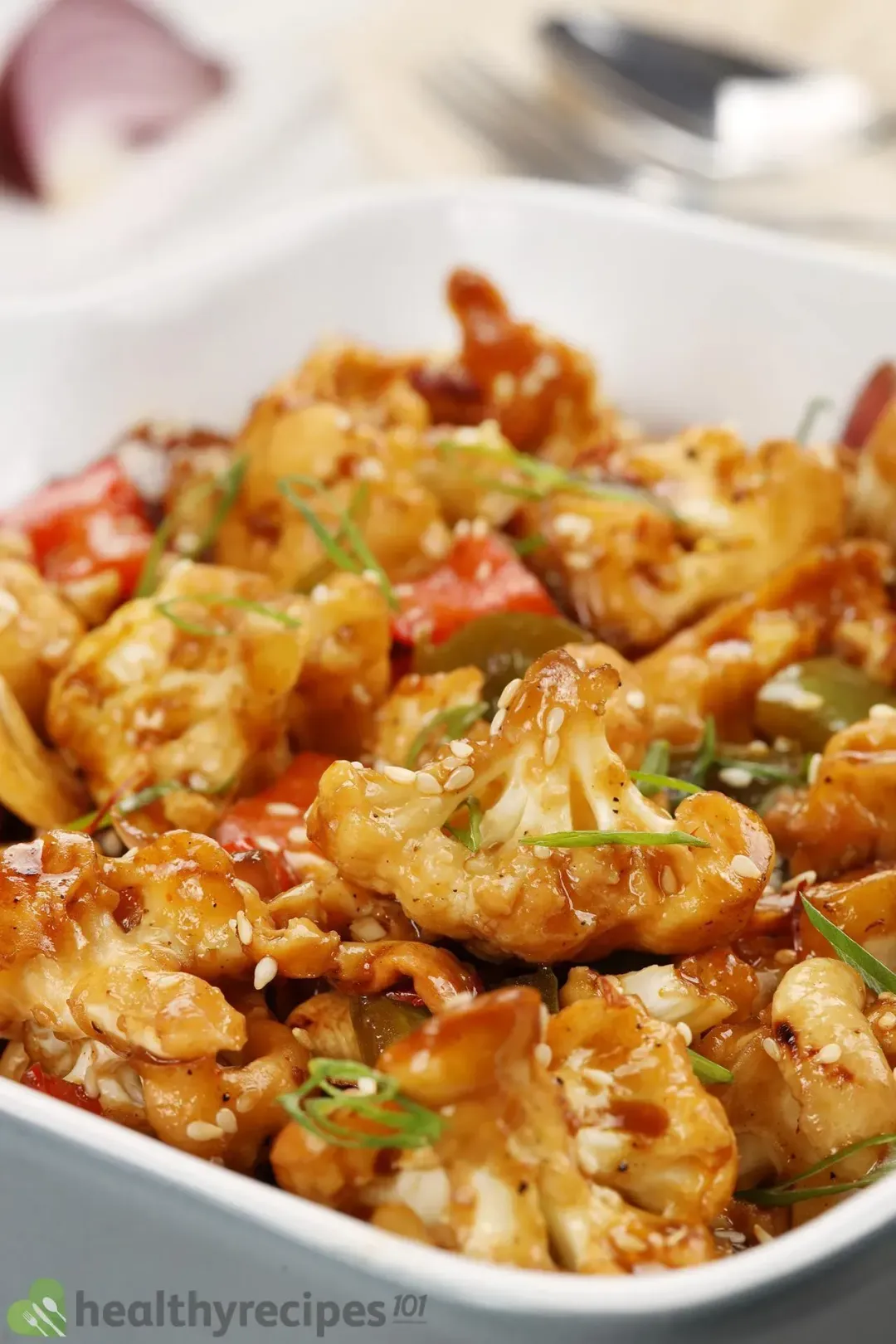 Before making the dish, cook any long-grain rice you have on hand. Place it in your rice cooker with water with a 1:1 cup ratio.
After the rice is taken care of, you need to mix the batter in a large bowl, then add the cauliflower to coat the nuggets. Coating all at once can be difficult, so it's best to do this in three or four batches.
As soon as they're coated, they should be placed on a baking tray, not touching one another. The oven should be preheated and ready and the tray should be right next to the bowl.
After you've slid them into the oven, you can mix the sauce in a small bowl, and stir-fry the peppers in the pan. When done, set them aside, stir-fry the aromatics until fragrant, then add the sauce to reduce.
When the cauliflower nuggets have finished cooking, place them straight into the pan along with the sautéed peppers, and turn the heat to high. Keep stirring everything until evenly coated, then turn off the heat and serve.
For exact measurements and timing, refer to the Kung Pao cauliflower recipe card below.
How to Store and Reheat Kung Pao Cauliflower
If you're going to eat it within a week, simply cover it in cling film wrap and place it in the fridge.
If you're storing it for longer, you need to divide it into portions and keep them in your freezer. We advise placing them in air-tight containers.
To reheat, place a portion (or however many you'd like) in a pot with a tablespoon of water, and turn the heat to medium. Allow the sauce to bubble for a minute, then turn off the stove and serve over freshly cooked (or microwaved) rice.
For more delicious cauliflower and rice recipes, have a look at our Chicken and Cauliflower and Cauliflower Manchurian.
What to Serve With Kung Pao Cauliflower
Cooked rice and Kung Pao cauliflower is a classic combination and we find it to be the best. However, you can also serve it with cooked pasta or quinoa.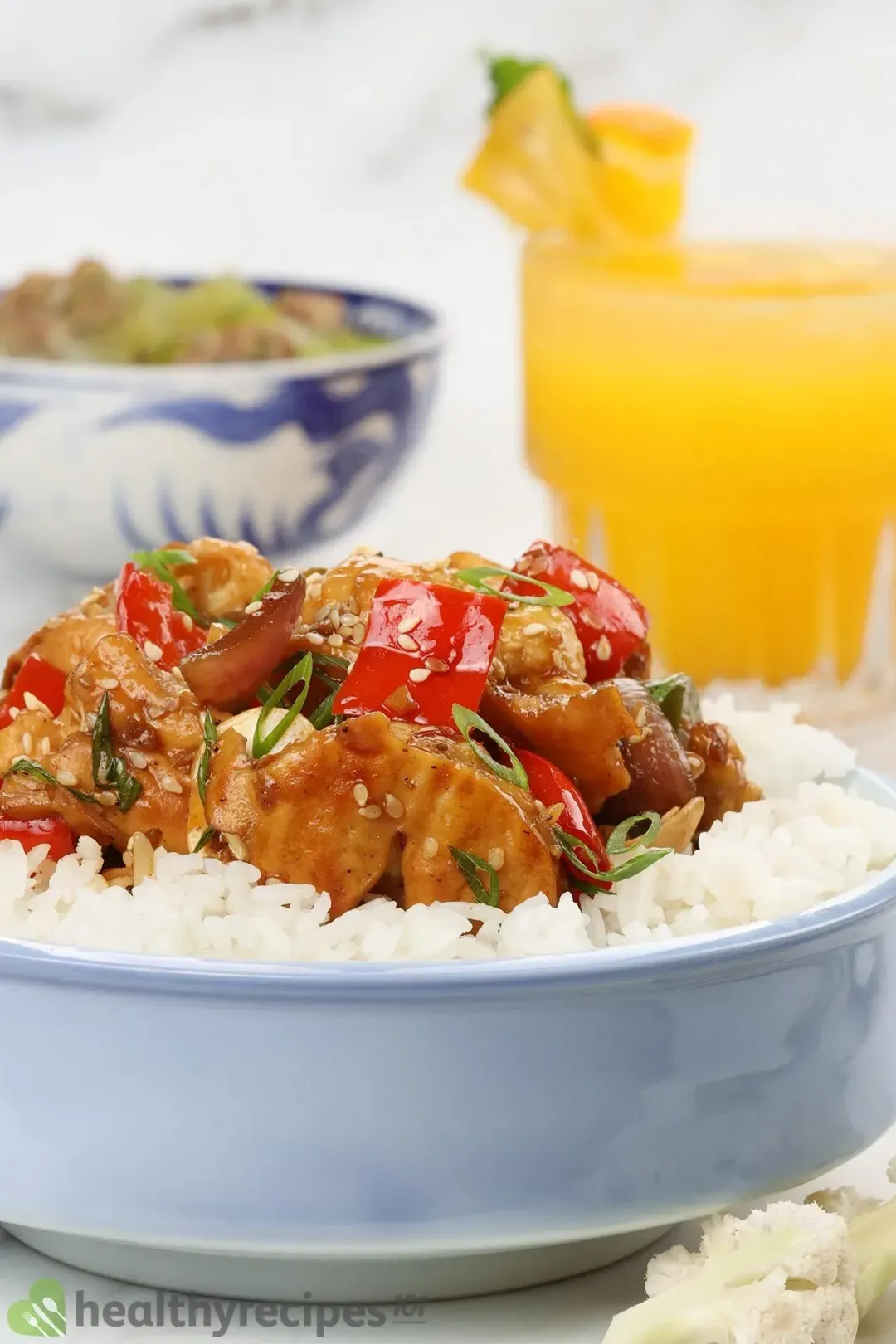 To build a meal around it, like Chinese people would do, we served ours with soup and a glass of juice:
Winter melon soup: juicy cubes of winter gourd and meatballs make a cozy, comforting soup. It's one of the most common soups served with cooked rice in Chinese cuisine.
Pineapple orange juice: refreshing and vitamin-packed, this juice can round off almost any meal.
We understand that making all of these dishes may seem like a lot of work, but they're all simple and healthy recipes so you can easily enjoy a meal with an attractive nutritional profile.
Other Delicious Cauliflower Dishes
Kung Pao Cauliflower
Our Kung Pao cauliflower recipe will show you how to recreate a Chinese staple at home. It won't disappoint!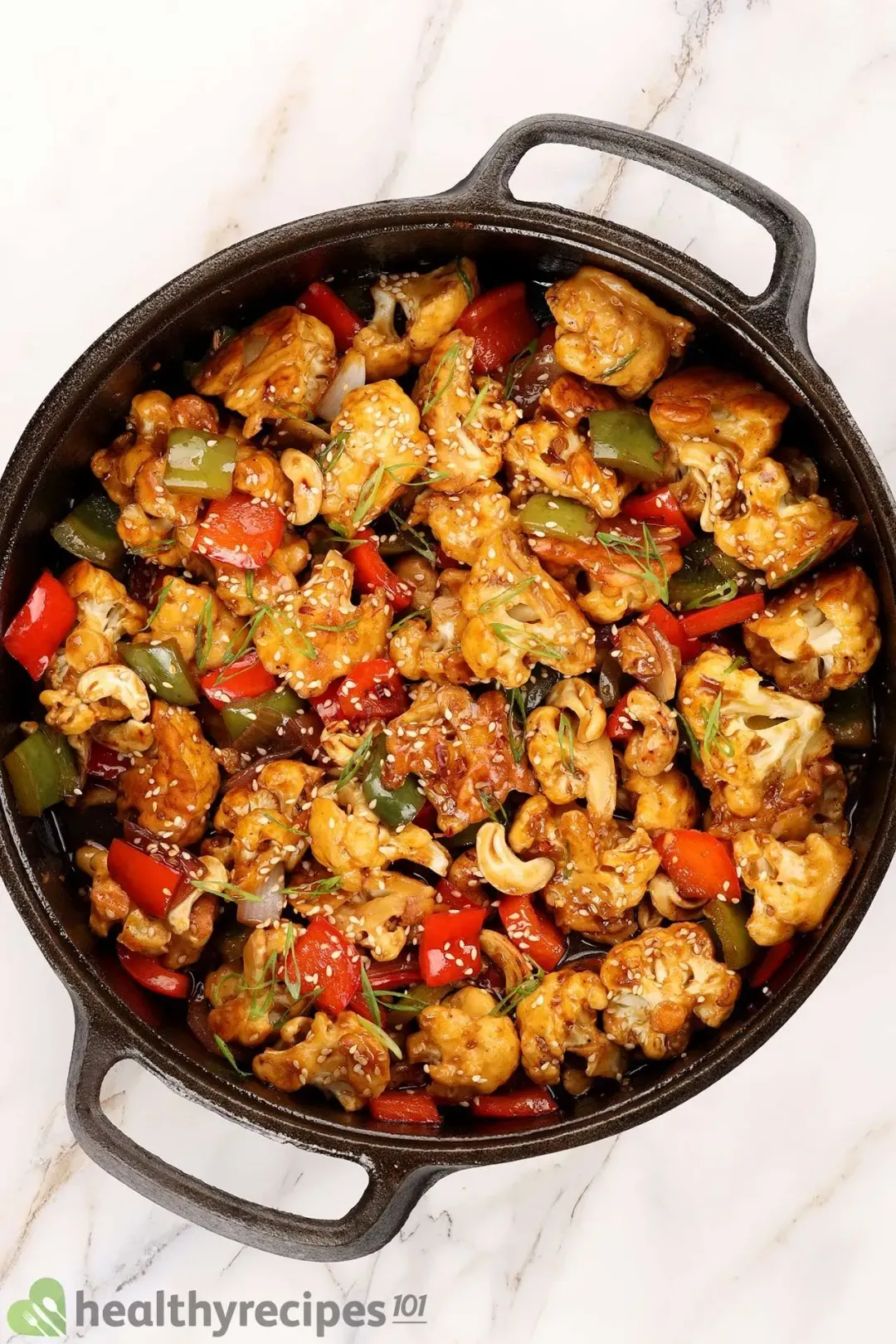 cook TIME

25 mins

prep TIME

5 mins

total TIME

30 mins
COURSE

Main Course

CUISINE

American

SERVINGS

CALORIES

501 kcal
INGREDIENTS
14 oz

cauliflower

(cut into florets)

4 oz

red bell peppers

(cut into chunks)

4 oz

green bell peppers

(cut into chunks)

2 oz

red onions

(cut into chunks)

1 1/2 tbsp

unsalted butter

(melted)

1/4 cup

all-purpose flour

1/2 tsp

ground black pepper

3 tbsp

reduced-sodium soy sauce

1 1/2 tbsp

olive oil

(divided)

1 tsp

ginger

(finely minced)

2 tbsp

scallions

(finely chopped)

1 tbsp

sesame seeds

(toasted)

3 1/2 cups

cooked long-grain rice
INSTRUCTIONS
1
Preheat the oven to 400°F.
2
In a large bowl, whisk together 1 1/2 tbsp unsalted butter, 1 medium egg, 1/4 cup all-purpose flour, and 2 tbsp whole milk. Add the cauliflower and toss to coat. It's most convenient to do in three or four batches. Place the battered florets onto a lined baking sheet.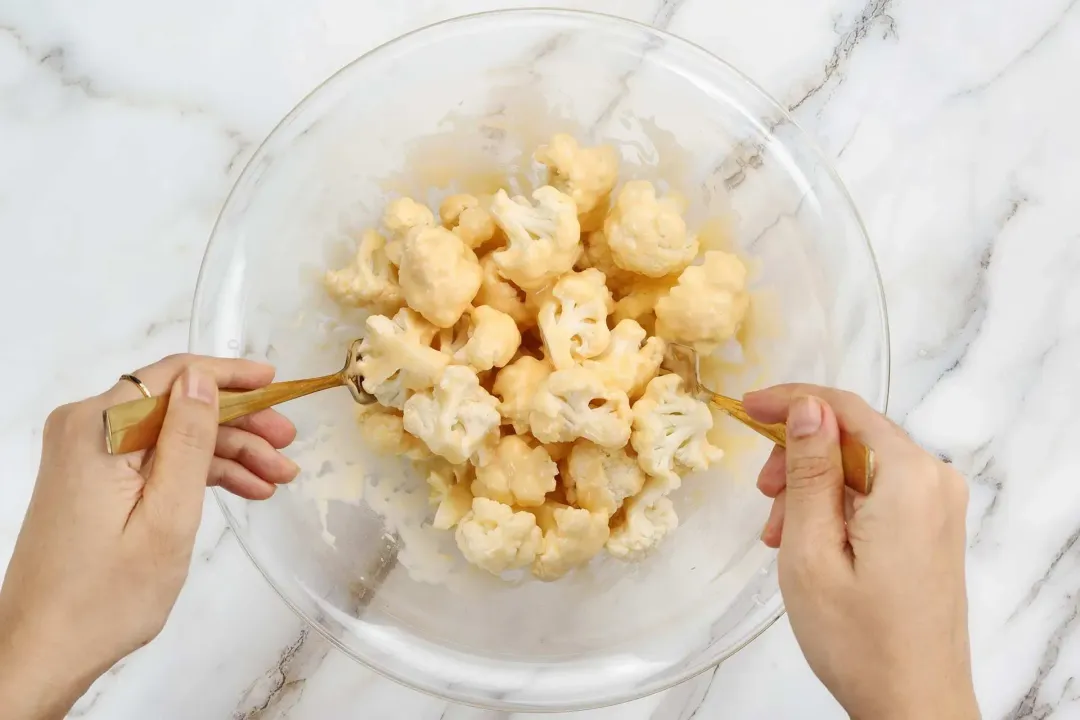 3
Slide the sheet into the preheated oven and cook for 15 minutes.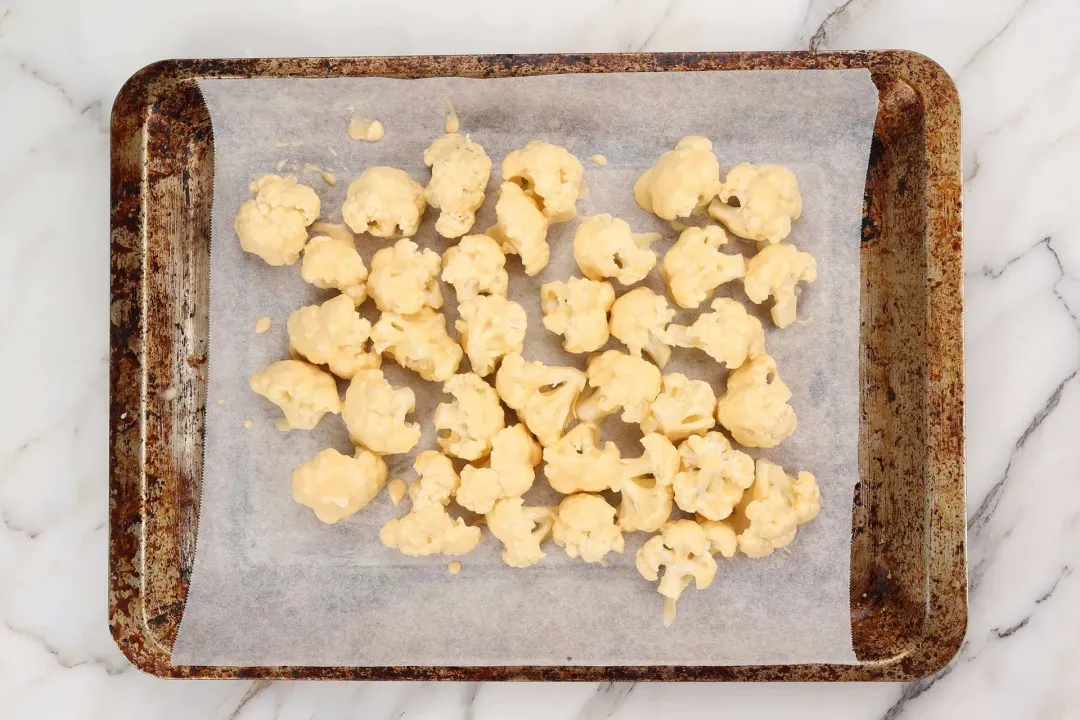 4
Meanwhile, in a bowl, mix together 1/2 tbsp sesame oil, 1/2 tsp ground black pepper, 1 tbsp cornstarch, 1 tbsp rice vinegar, 2 tbsp water, 2 tbsp white wine, 3 tbsp lite soy sauce, 1 tsp Hoisin sauce, 1 tsp sriracha, and 2 tsp brown sugar.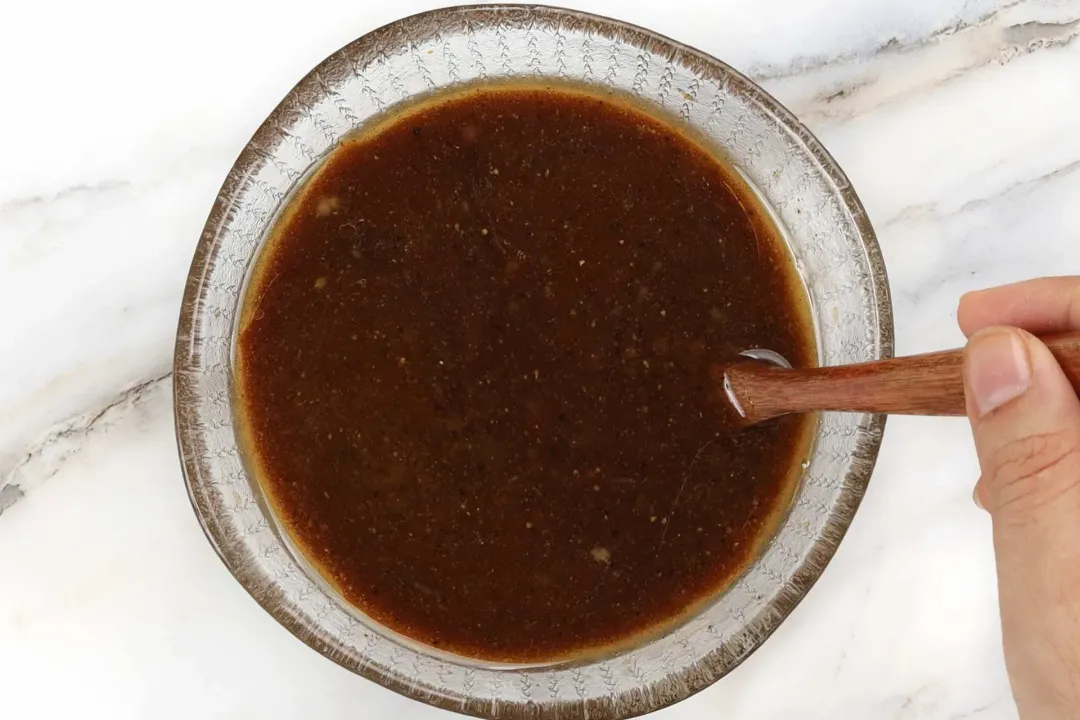 5
Heat 1 tbsp olive oil in a skillet over medium heat, then cook 4 oz red bell peppers, 4 oz green bell pepper and 2 oz red onions for 2 minutes. Place them into another bowl and set aside.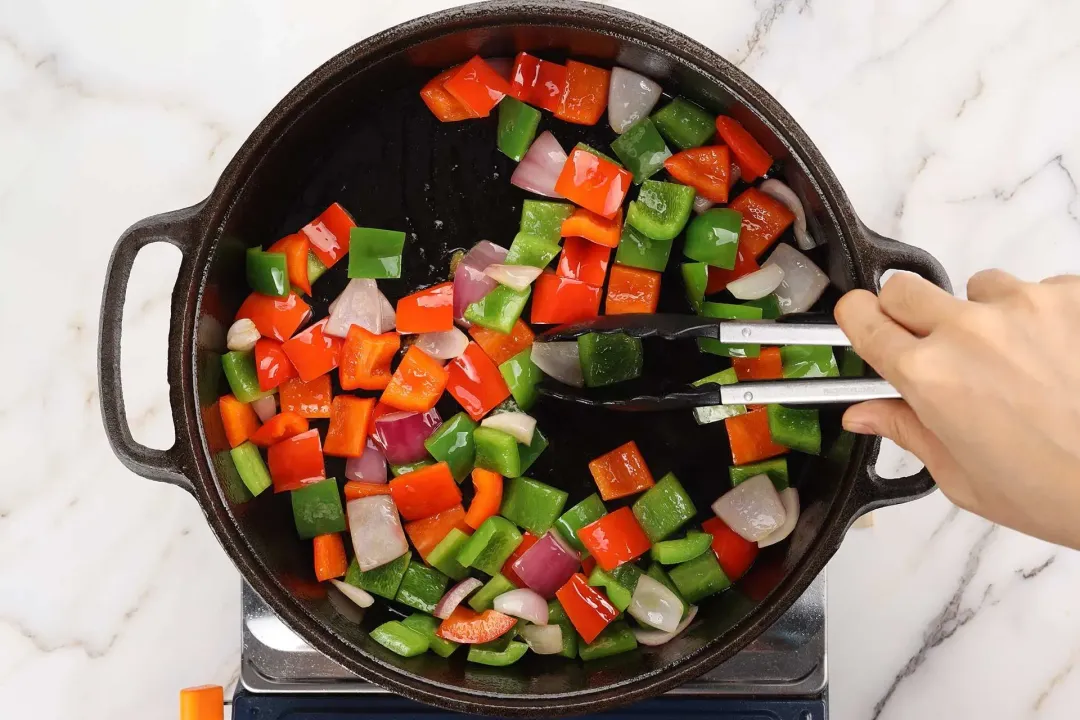 6
Add the remaining 1/2 tbsp olive oil and stir in the 1 tbsp minced garlic and 1 tsp minced ginger and cook until fragrant.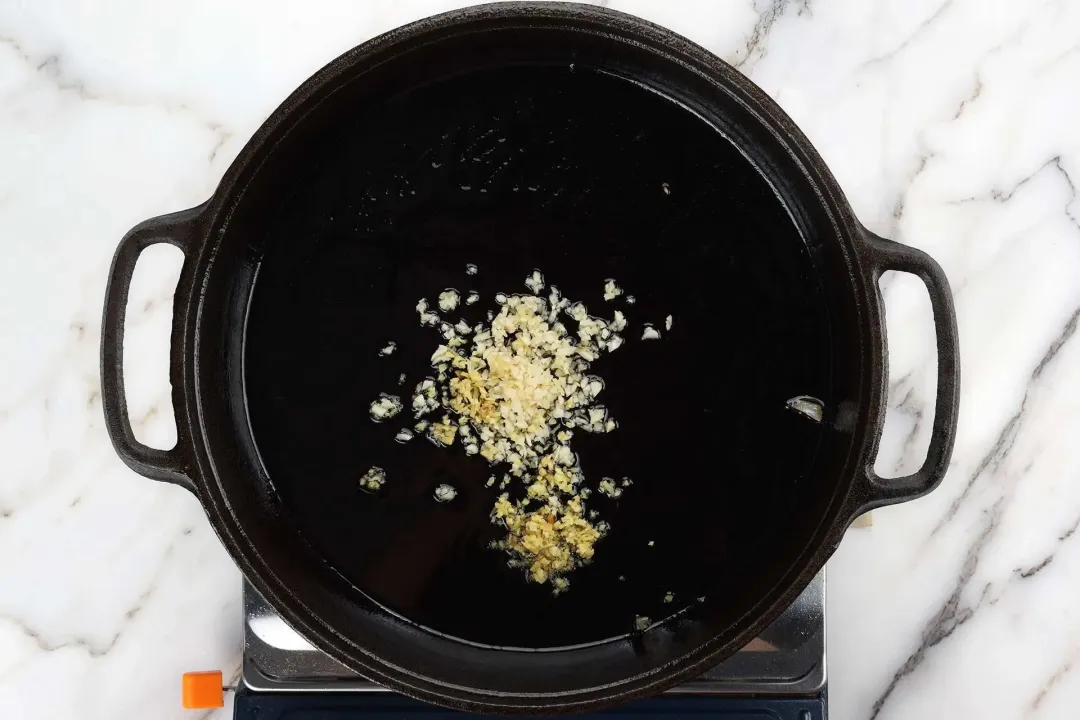 7
Add the sauce and reduce for 30 seconds.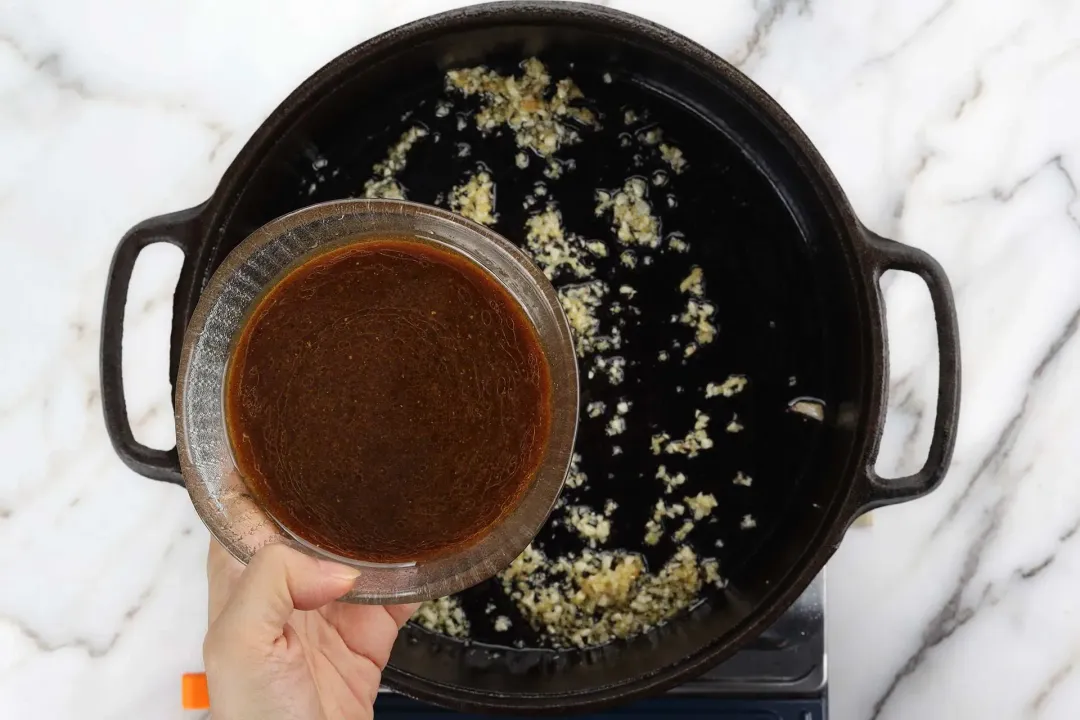 8
The cauliflower florets should be done by now, so remove them from the oven and add them straight to the pot along with the bell peppers and onions. Add 2 oz cashews and stir well to coat.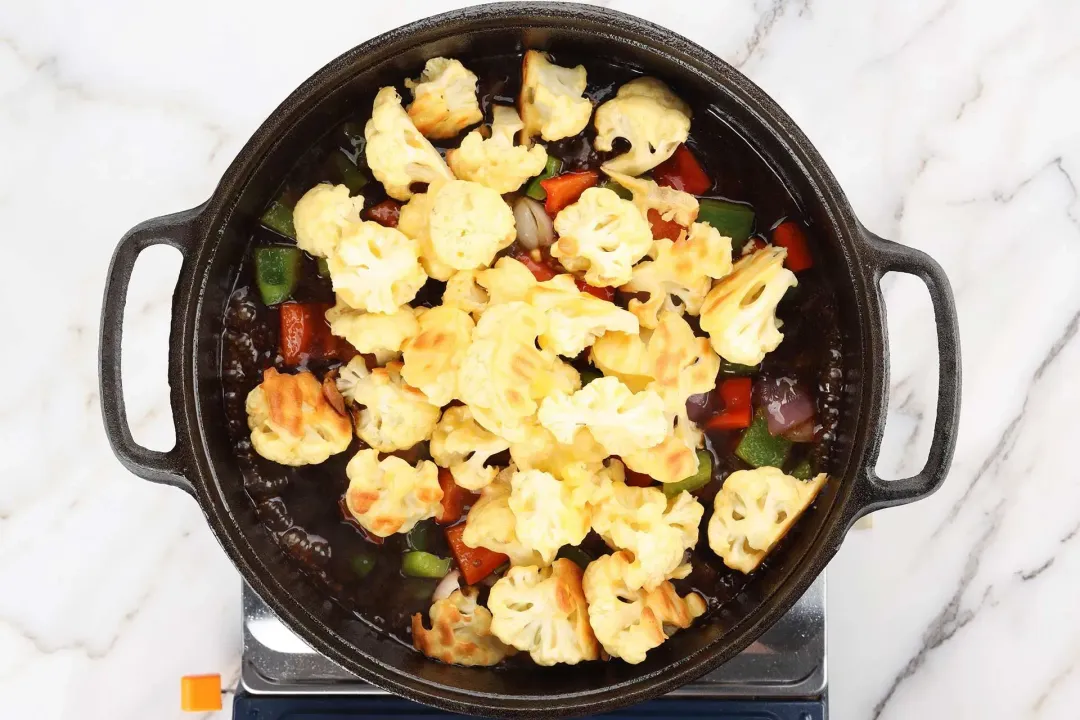 9
Turn off the heat and sprinkle 1 tsp red pepper flakes, 2 tbsp scallions, and 1 tbsp sesame seeds on top. Serve with rice.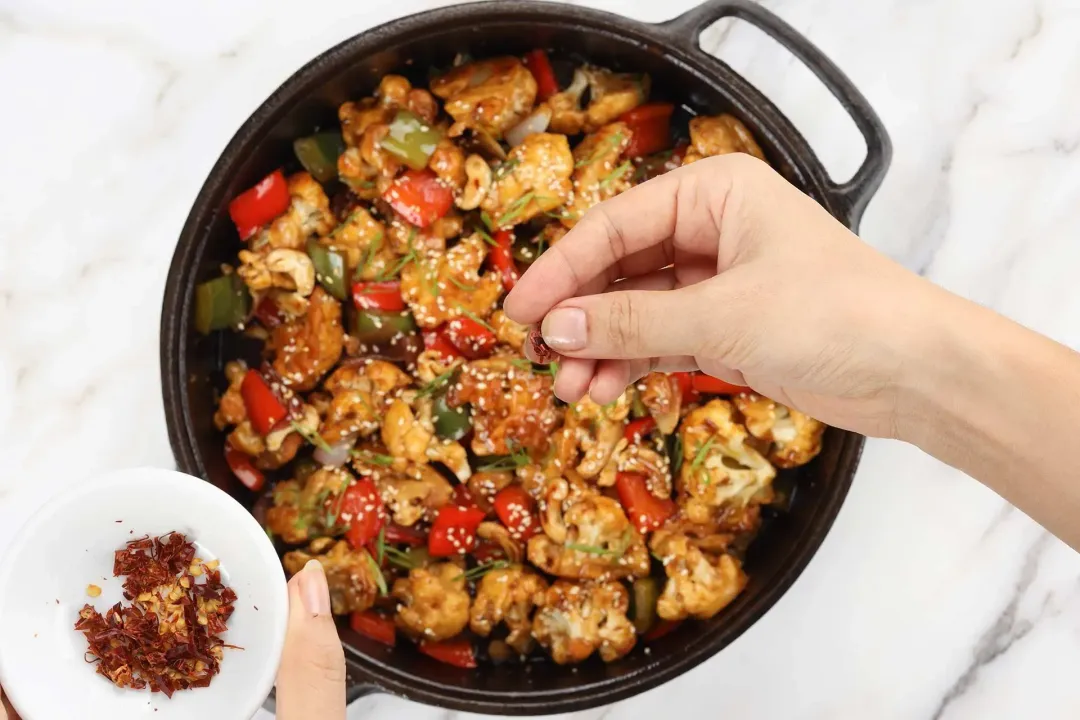 NUTRITION
Nutrition Facts
Kung Pao Cauliflower
Amount Per Serving (1 serving)
Calories 501
Calories from Fat 189
% Daily Value*
* Percent Daily Values are based on a 2000 calorie diet.
Keywords: Kung Pao Cauliflower, Kung Pao Cauliflower Recipe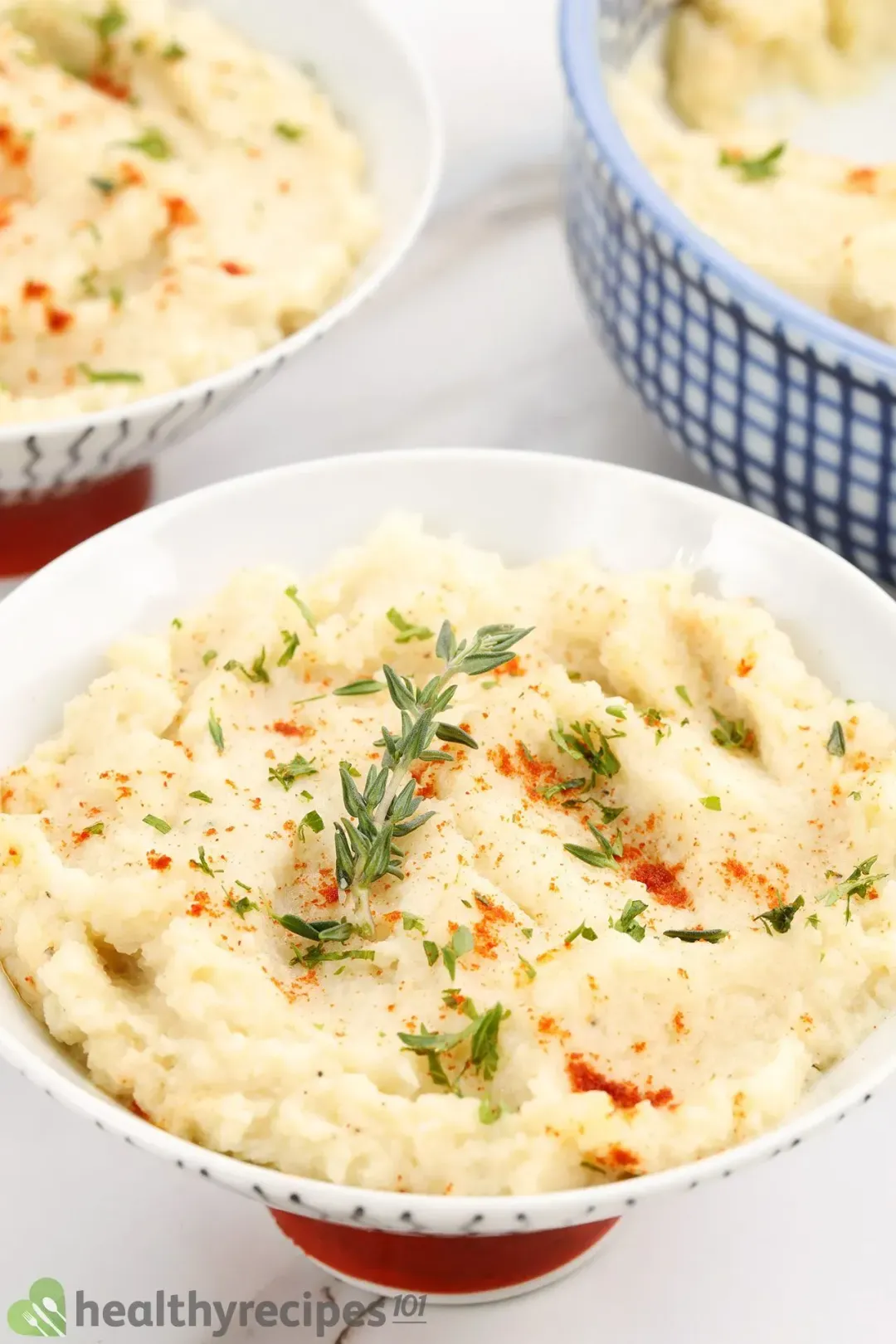 Previous Recipe
Mashed Cauliflower
Mashed Cauliflower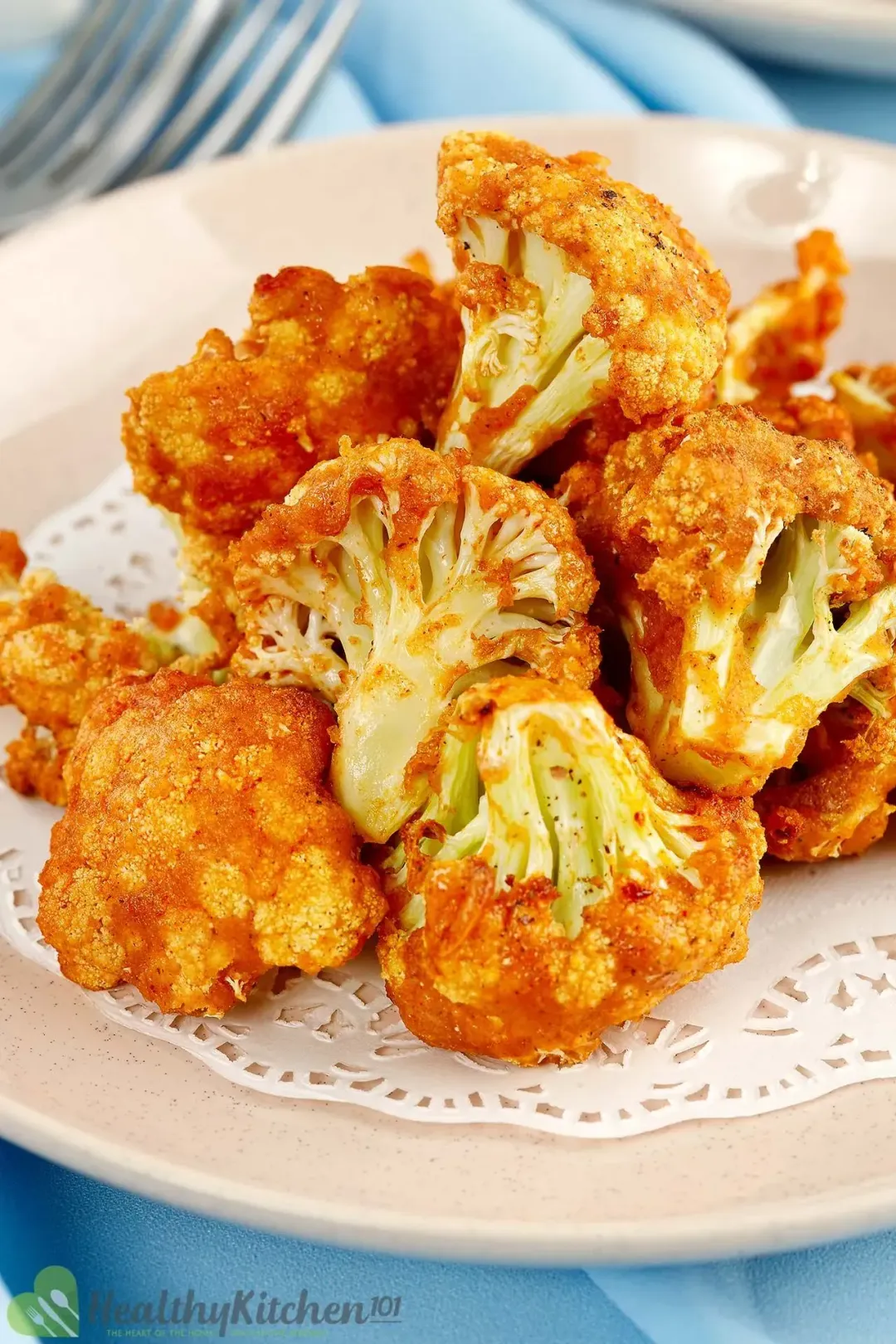 Next Recipe
Air Fryer Buffalo Cauliflower
Air Fryer Buffalo Cauliflower
Head Chef, Culinary Consultant
Tuyet Pham is an award-winning Saigonese chef who believes that joy is the secret ingredient to delicious food. At Healthy Recipes 101, Tuyet personally tests and simplifies every recipe, ensuring maximum flavor with minimal effort. With a background at prestigious French restaurants P'TI Saigon and Le Corto, Tuyet knows how to make every dish exceptional.
Writer, Author
Luna Regina is an accomplished writer and author who dedicates her career to empowering home cooks and making cooking effortless for everyone. She is the founder of HealthyKitchen101.com and HealthyRecipes101.com, where she works with her team to develop easy, nutritious recipes and help aspiring cooks choose the right kitchen appliances.
Nutrition Reviewer
Lizzie Streit is a Minneapolis-based dietitian and founder of It's a Veg World After All. She completed her MS in Human Nutrition from Drexel University, and is an expert in culinary nutrition, recipe development, and nutrition communications. Lizzie's philosophy is centered around making nutrition recommendations, and especially the advice to eat more vegetables, approachable and realistic. She is excited to be working with the team at Healthy Recipes 101 to ensure that their recipes are both nutritious and delicious.
This Kung Pao cauliflower looks like a fantastic twist on traditional Kung Pao chicken.