Today's Alfredo chicken pizza is fun-to-make and indulgent-to-enjoy goodness for those captivated by the charm of homemade dishes.
After 30 minutes of resting, your dough is ready to be pre-baked for a crispy-edged but chewy crust. Then, the pizza crust is laced with a creamy white sauce and topped with a rainbow of toppings—pan-seared chicken, bacon, veggies, and cheese—before returning to the oven. 
The final product will come together like a dream with luscious flavor and incredible texture.
Though the cooking process may be a bit complicated, it is all part of the excitement, especially for those wanting to engage the kids in a family activity. 
Is Our Recipe Healthy?
For those enthusiast dieters, a pizza layered with meat and cheese doesn't give the impression of a healthy meal. 
However, our version of Alfredo chicken pizza is an exception.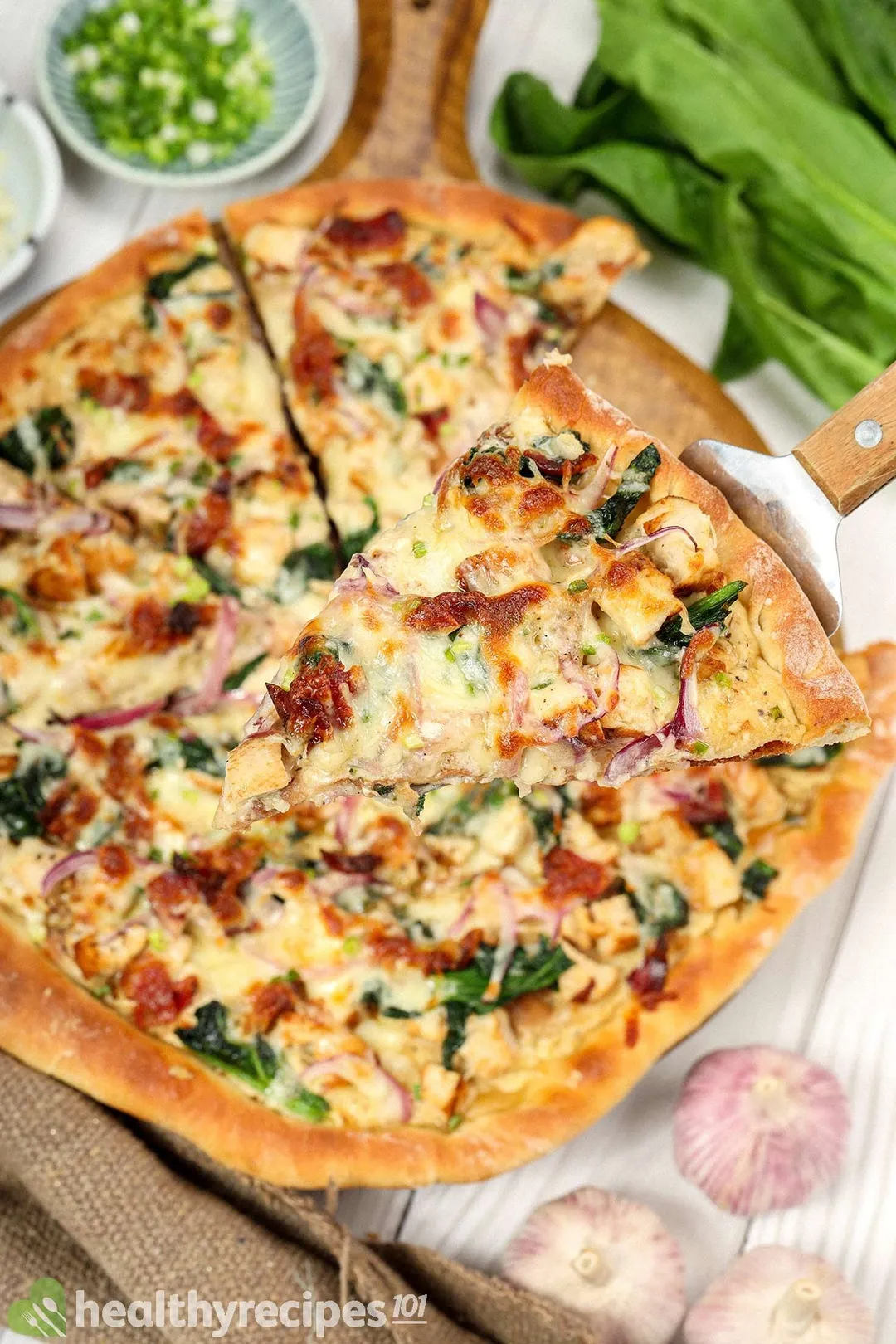 Our chefs have taken all the factors (the ingredient choices, portion size, calorie count, amount of added sodium, and saturated fat) into consideration, ensuring this pizza creation is diet compatible. 
Specifically, each serving contains only 467 calories, 7.9 g of saturated fat, and approximately 554 mg of sodium.
With toppings of chicken breasts, spinach, red onion, and cheese, this Alfredo chicken pizza is a protein-dense and micronutrient-rich dinner option.
Ingredients
The list of ingredients includes quite a few items: yeast, flour, and sugar for the fresh dough; dairy products and spices for the sauce; chicken, cheese, and vegetables for the toppings.
Nevertheless, grocery shopping won't be a problem as most items are pantry-ready and easily accessible.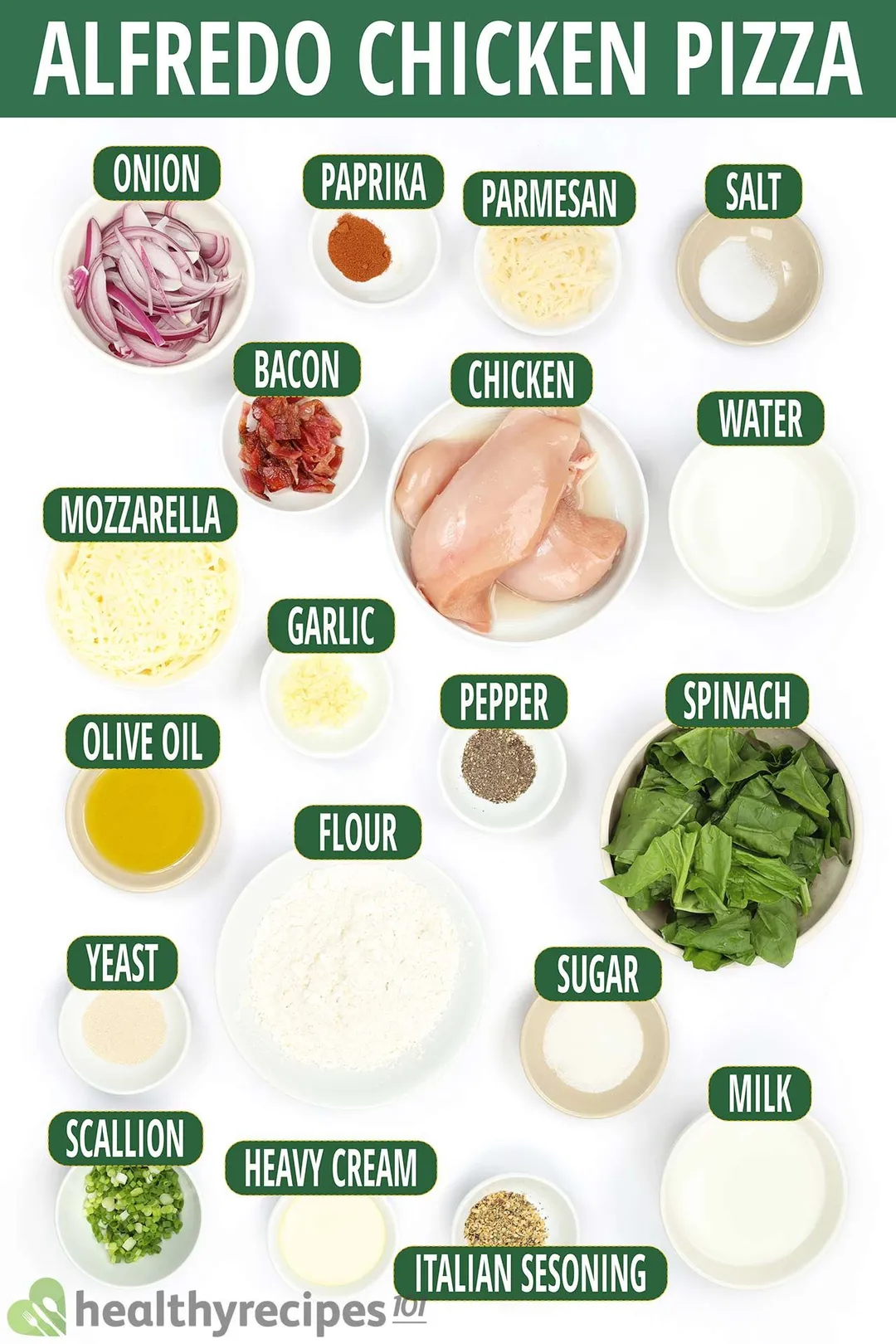 1. For the Pizza Crust
Yeast is the indispensable ingredient that gives your crust its lightweight, and airy texture. There are three most widely-used types on the market: instant active, active dry, and fresh yeast—which can be used interchangeably.
For our homemade dough recipe, we activate active dry yeast with warm water and let it rest for a few minutes in a humid area (between 95°F and 120°F) before adding the all-purpose flour. Once well combined, the flour and yeast mixture will need to sit for another 30 minutes before it is ready to go. 
A small tip for a light and puffy pizza crust: knead and roll out your dough by hand instead of using the rolling pin.
2. For the Sauce
Garlic: Once fresh garlic hits the heated olive oil, it fills your kitchen with an irresistible aroma.
Whole milk and heavy cream: No need for extra butter since the combination of whole milk and heavy cream is enough to give your white sauce the right flavor and texture—a creamy taste with a velvety consistency. 
Italian seasoning: This spice blend, usually including dried basil, thyme, rosemary, oregano, and marjoram, won't contrast the sauce's flavor profile but add an earthy aftertaste to it.
3. For the Toppings
Chicken: You can do so many great things with skinless, boneless chicken breast. As for today's specialty, we marinate the chicken breasts with a pinch of paprika, pan-sear them on medium heat, then dice them to layer on top of the pizza. If you prefer a little more texture, use either shredded or ground chicken as an alternative. 
Red onion: Scattering strips of red onion all over the Alfredo chicken makes for a better visual and mouthfeel.
Spinach: We chose regular spinach as its earthiness leans on the intense side for this recipe. However, if you are not used to its pungent flavor, baby spinach with a mild bitter-sweet taste may be more up your alley.
Cheese: A thick, melted layer of mozzarella and parmesan cheese helps bind all the ingredients onto the pizza crust, giving you that satisfying stringy cheese pull every time.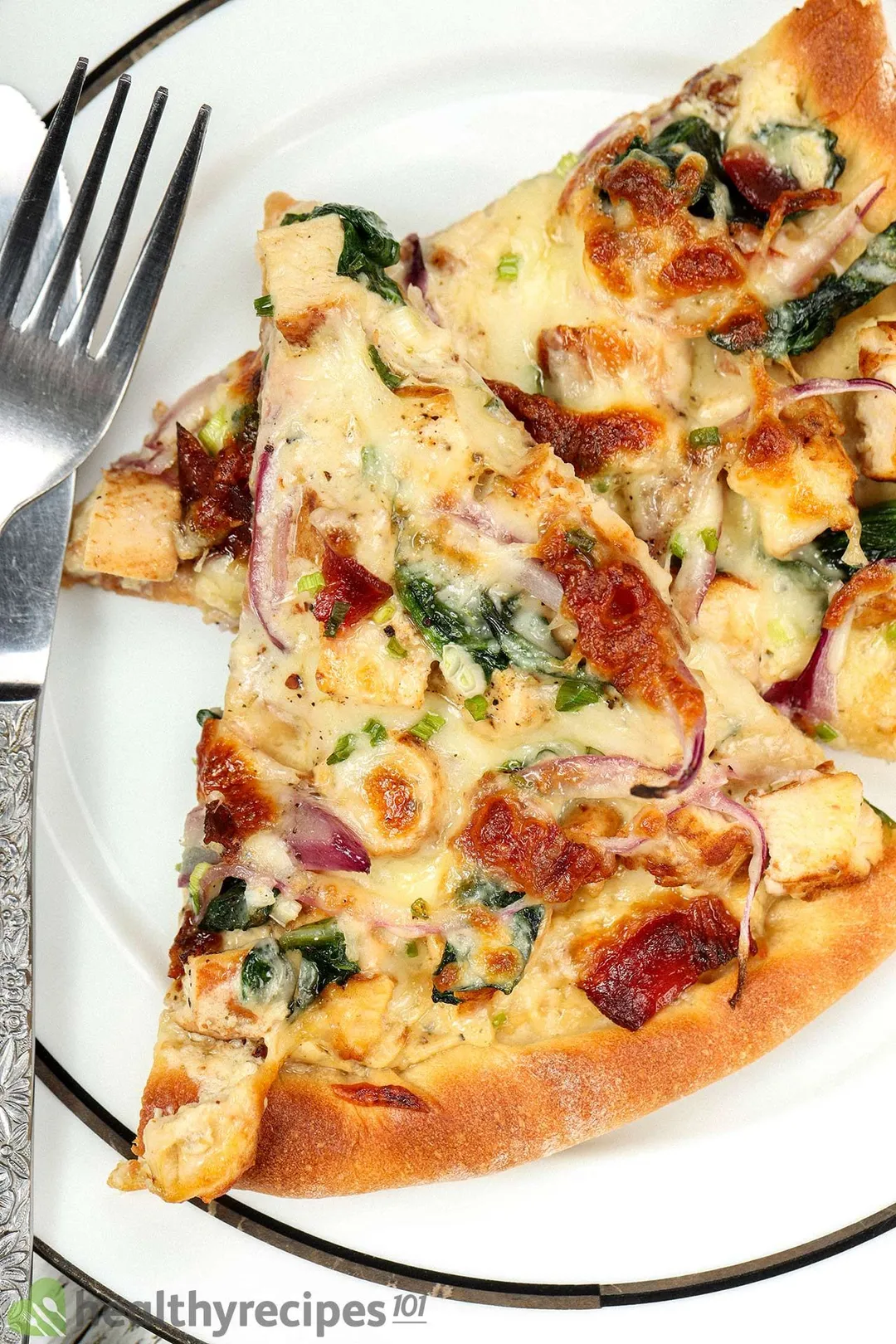 Already Tried This One? Try These Next
This buffalo chicken pizza really combines the true essence of the two iconic dishes. We used our homemade buffalo sauce, which we're really proud of because it tastes so good.
This is, in my opinion, one of the simplest savory pastries to make at home. The crust is just a homemade pizza dough that rolls out easily and holds a tasty filling of chicken, onion and cheeses.
Alfredo Chicken Pizza
Today's Alfredo chicken pizza recipe features tender chicken, crunchy onion, spinach, and cheese on top of an airy homemade crust. Baked until the edges are crispy and the cheese is melty, this pizza will be the staple for any party.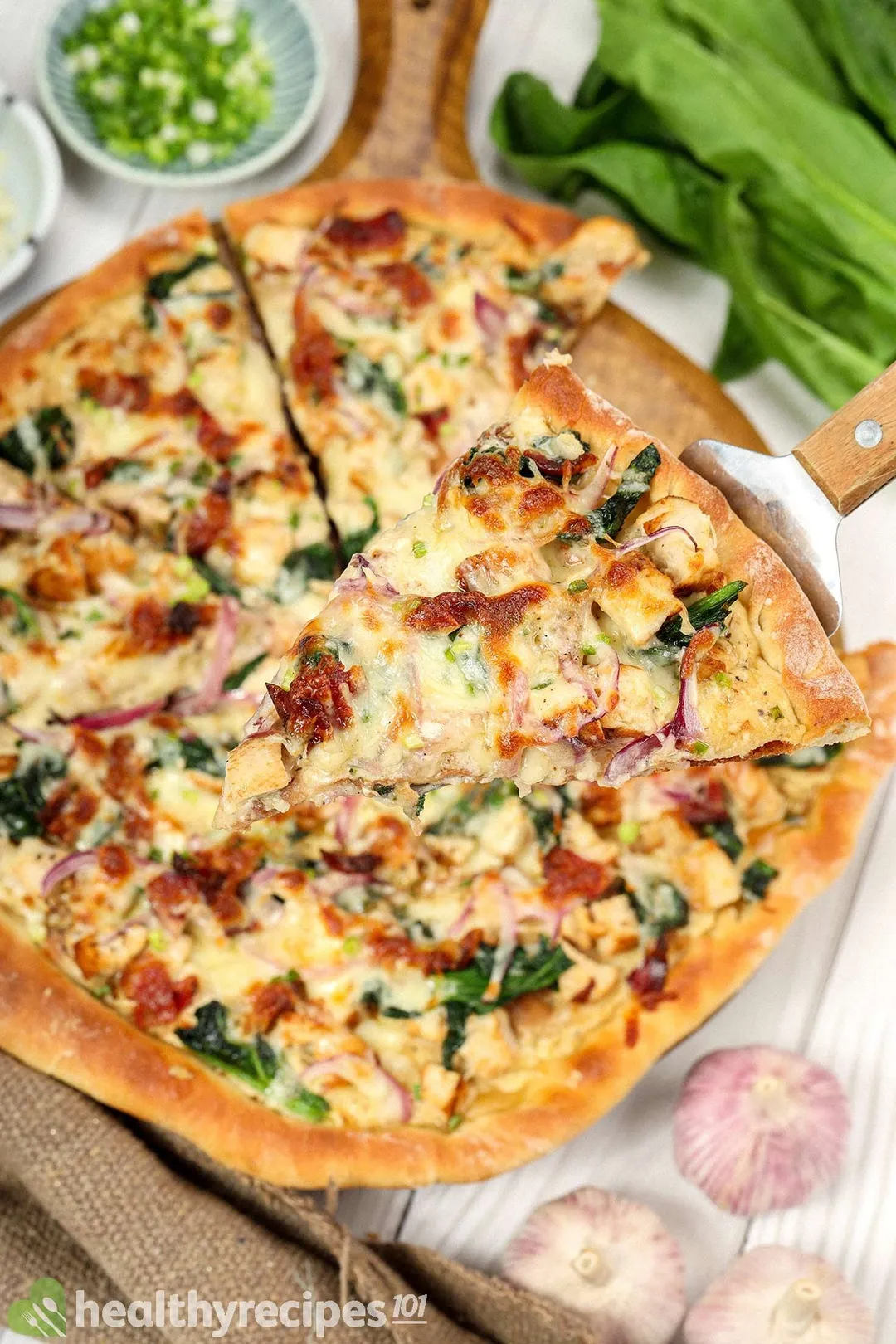 cook TIME

1 hr 3 mins

prep TIME

7 mins

total TIME

1 hr 10 mins
COURSE

Main

CUISINE

Italian

SERVINGS

CALORIES

464 kcal
INGREDIENTS
12 oz

skinless boneless chicken breast

3 oz

mozzarella cheese

(shredded)

0.5 oz

shredded parmesan cheese

1 1/4 cups

all-purpose flour

1 1/2 tsp

active dry yeast

1/2 tbsp

Italian seasoning

1/4 cups

scallion

(chopped)
INSTRUCTIONS
Prep:
1
Place the spinach bunch on the cutting board. Trim off and discard the thick stems. Slice the spinach leaves crosswise into small pieces, about 2-inch long.
2
Cut off the stem end and the root end, then peel away the skin of the red onion. Slice the peeled onion in half lengthwise. Lay each half flat on the chopping board, then slice it crosswise into thin strips.
4
Trim away the tips and ends of the scallions. Bunch them together and finely chop.
Cook:
1
Activate the yeast: In a large mixing bowl, add 1/2 cup warm water and 1 1/2 tsp active dry yeast. Mix well with a wooden spoon. Tightly cover the bowl with plastic wrap, then place it in a warm area (between 95°F and 120°F) for 5 minutes.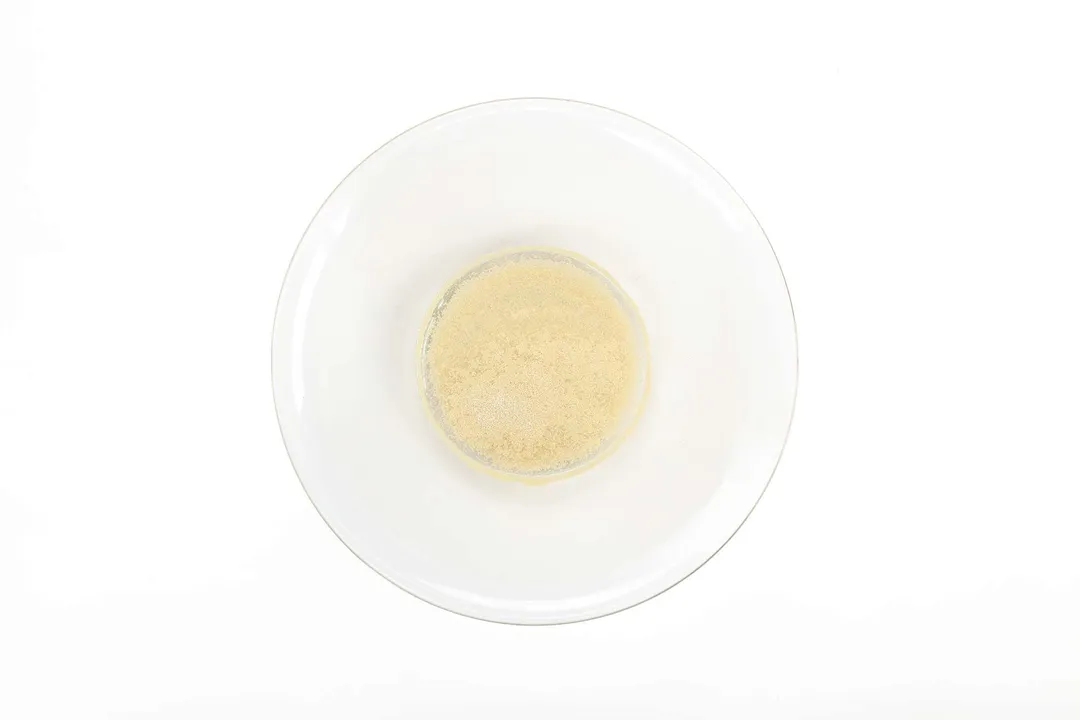 2
Add the all-purpose and sugar: Leave out 3 tbsp of all-purpose flour for later use. Add the remaining flour and 1/2 tbsp sugar to the activated yeast, then mix and mold the mixture by hand. Cover the bowl tightly with plastic wrap and let it rest in a warm area (between 95°F and 120°F) for 30 minutes.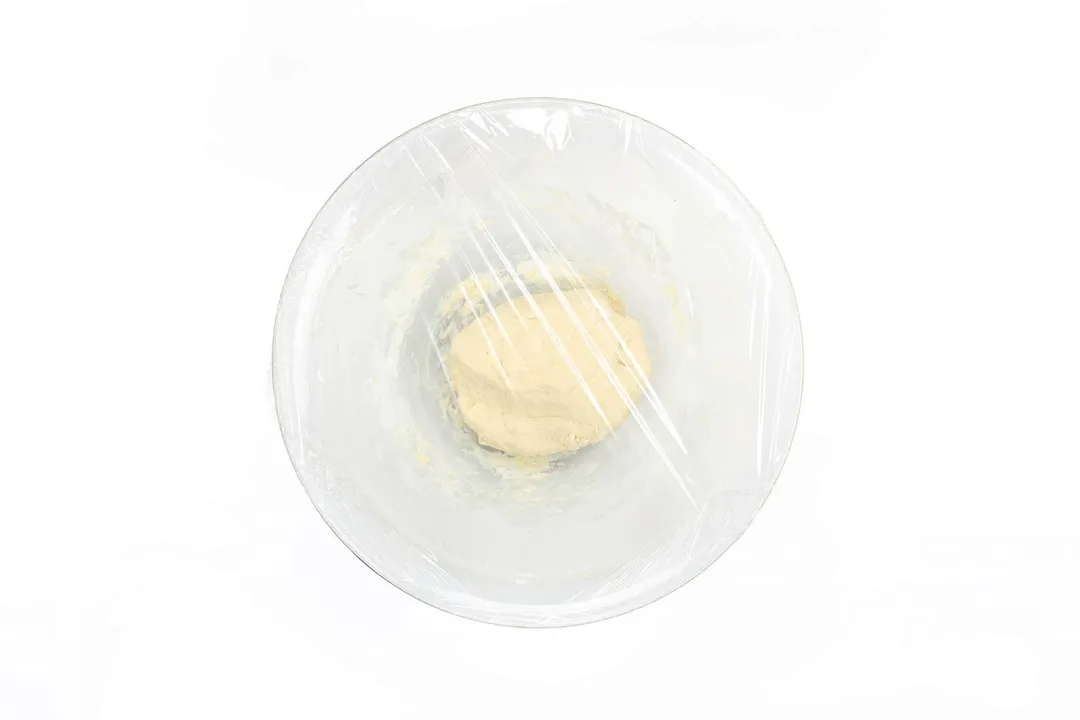 3
Marinate the chicken breasts: On a large platter, add 12 oz skinless, boneless chicken breast and 1/2 tsp paprika. Gently rub the paprika onto both sides of the chicken breasts.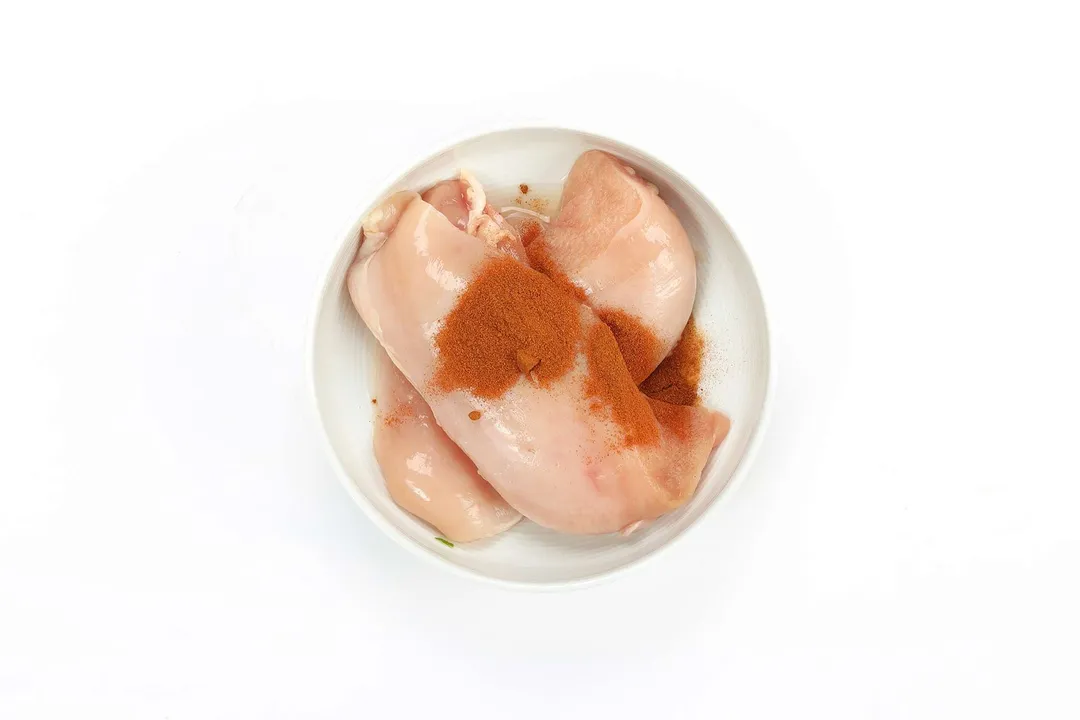 4
Pan-sear the well-seasoned chicken breasts: Place a large non-stick pan over medium heat. Add 1 tbsp olive oil and the seasoned chicken breasts to the pan. Sear the chicken breasts for 5 minutes. Remove the chicken breasts from the heat and set them aside to cool.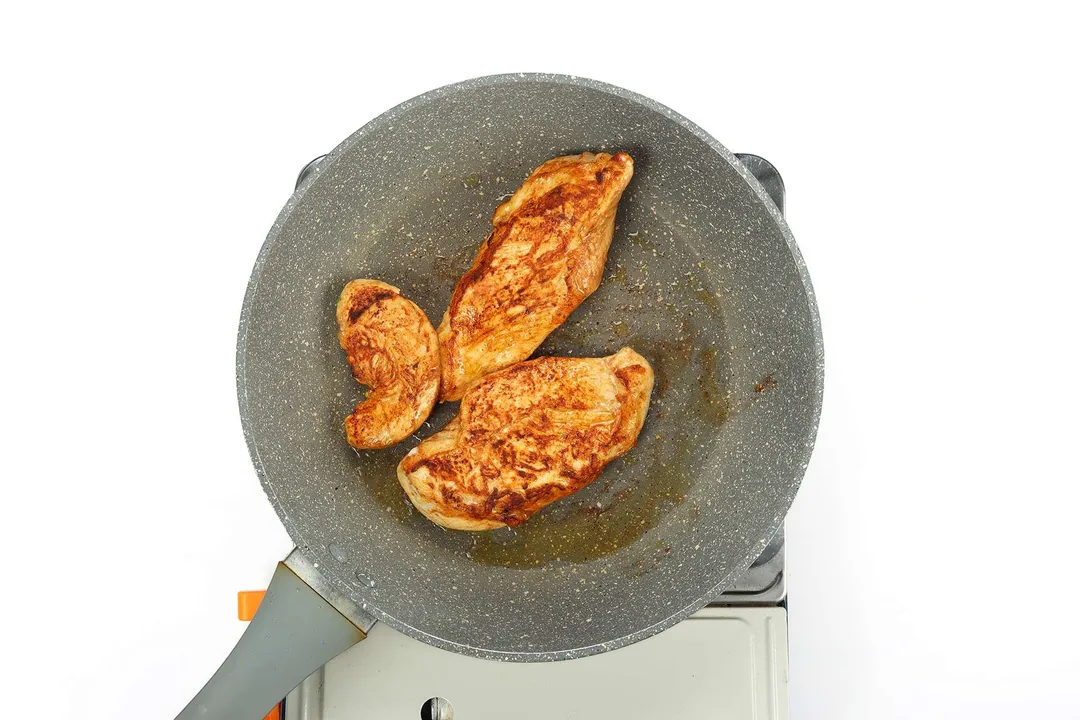 5
Cook the spinach: Add 2 oz sliced spinach to the same pan. Stir to cook for 2 minutes, then remove them from the heat.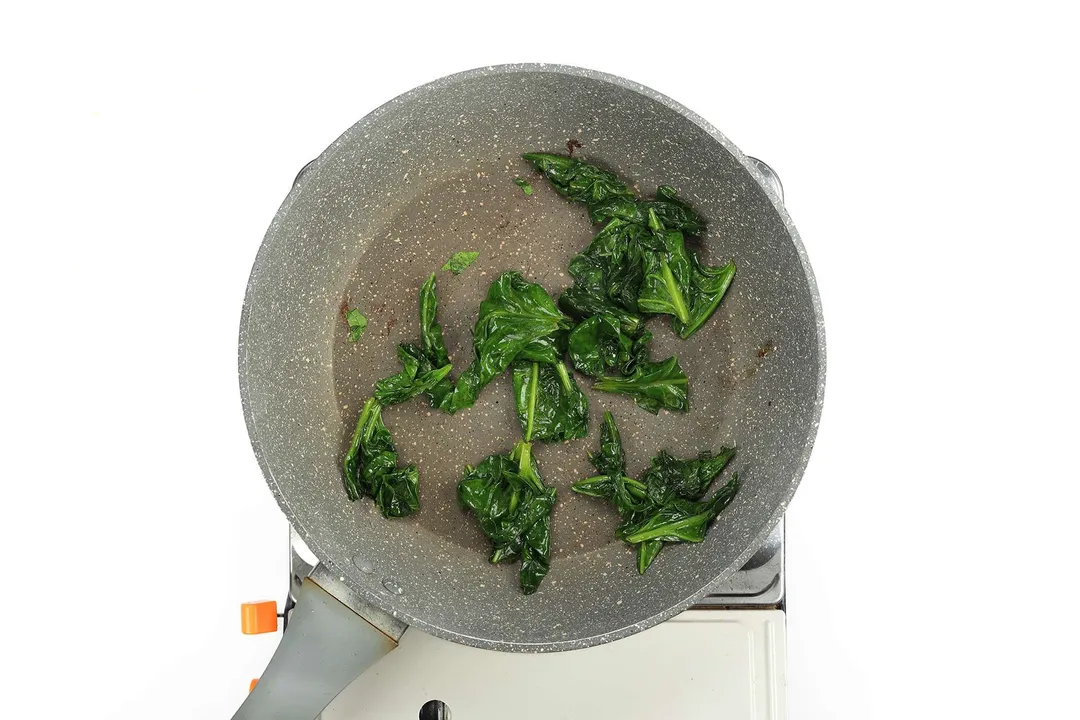 6
Sauté the garlic: Add 1 tbsp olive oil and 1 tbsp minced garlic to the non-stick pan. Sauté the garlic until fragrant for 30 seconds. Stir in 1 tbsp all-purpose flour, then mix well for another 30 seconds.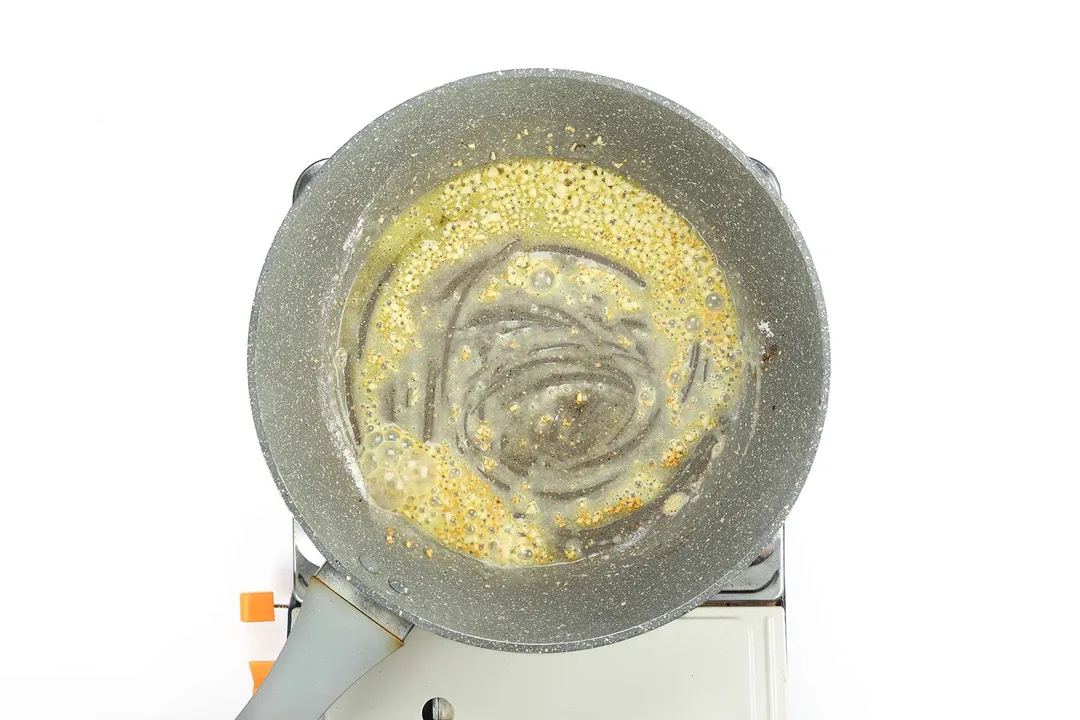 7
Make the white sauce: In the same pan, add 3/4 cup whole milk, 2 tbsp heavy cream, 1/2 tbsp Italian seasoning, and 1/2 tsp salt. Stir occasionally for 3 minutes.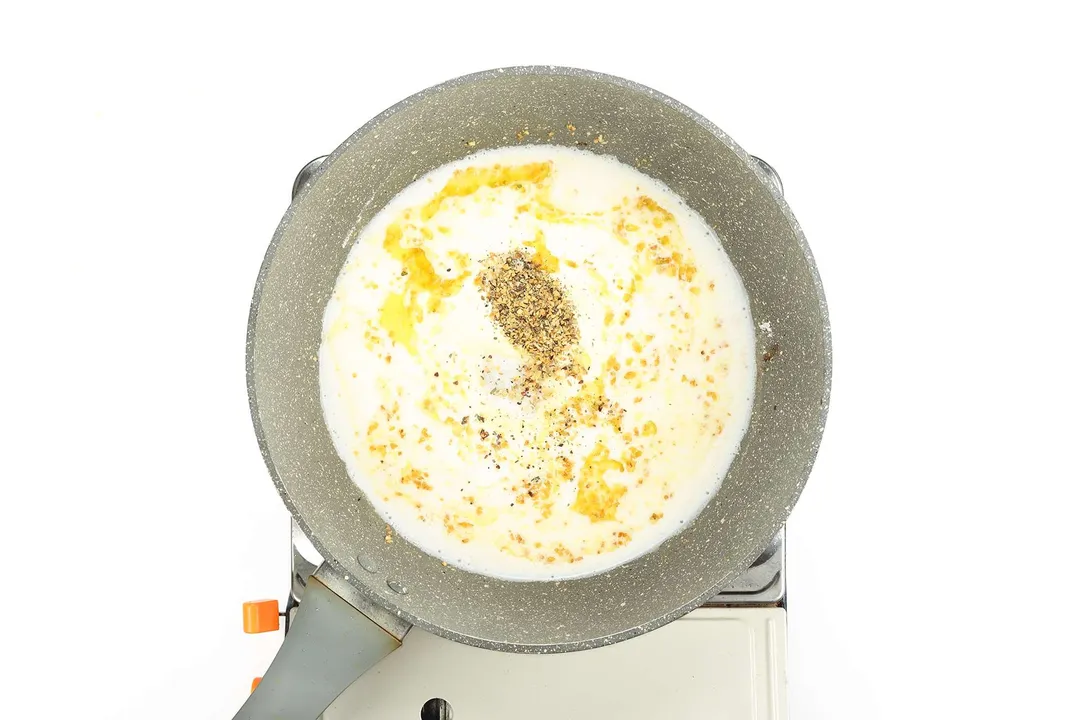 8
Cube the pan-seared chicken breast: Slice the cooked chicken breasts lengthwise into 1-inch thick strips, then cut those strips crosswise into 1-inch thick cubes.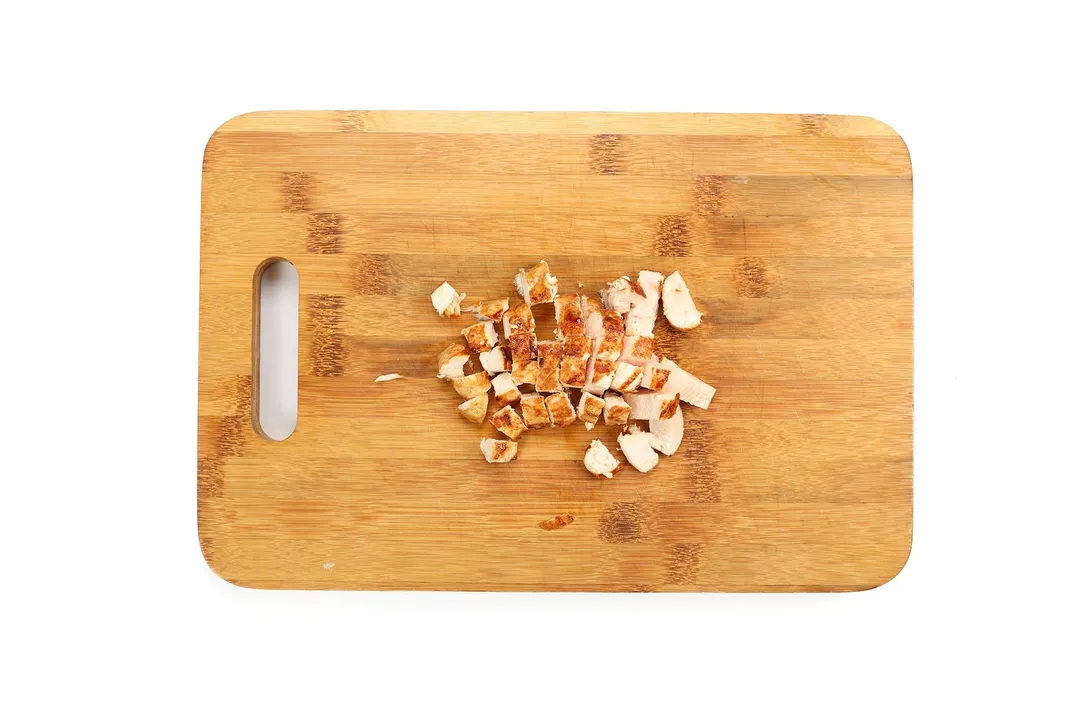 9
Shape and prick holes in the crust: Sprinkle 2 tbsp all-purpose flour onto a baking tray lined with parchment paper. Place the pre-made dough onto the tray center, then roll it into a 2mm-thick round. Fold an inch of the edges towards the center. With a fork, poke small holes into the crust surface to prevent it from bubbling up.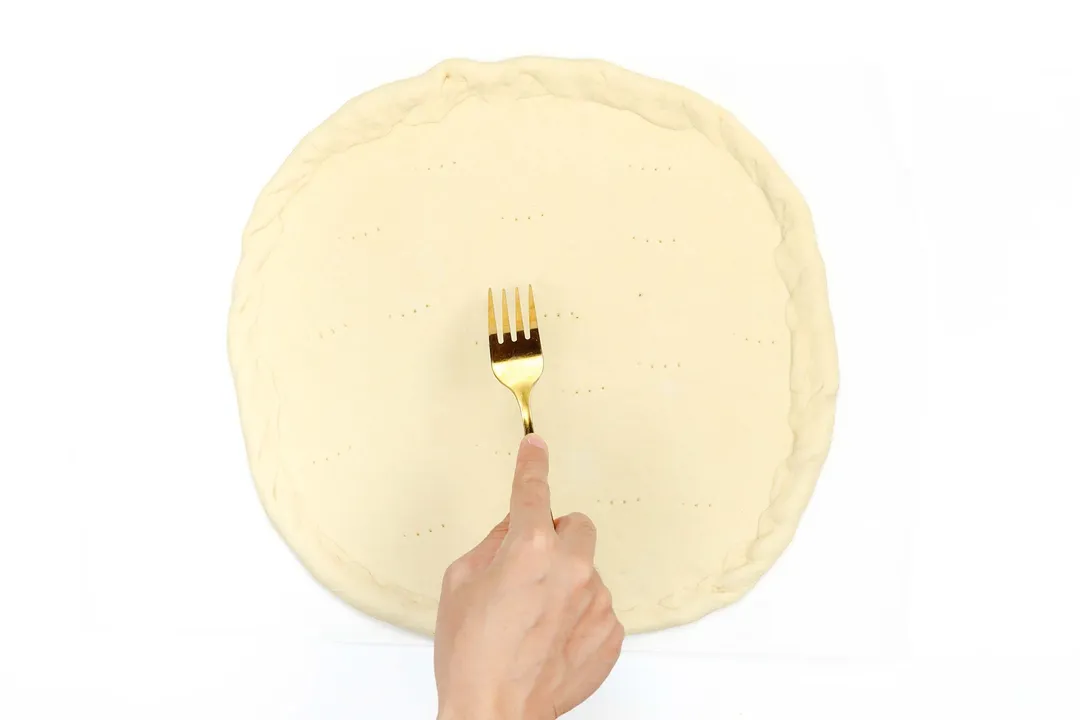 10
Bake the pizza crust: Preheat the oven to 475°F. Bake the pizza crust in the oven for 7 minutes. Remove the crust from the oven.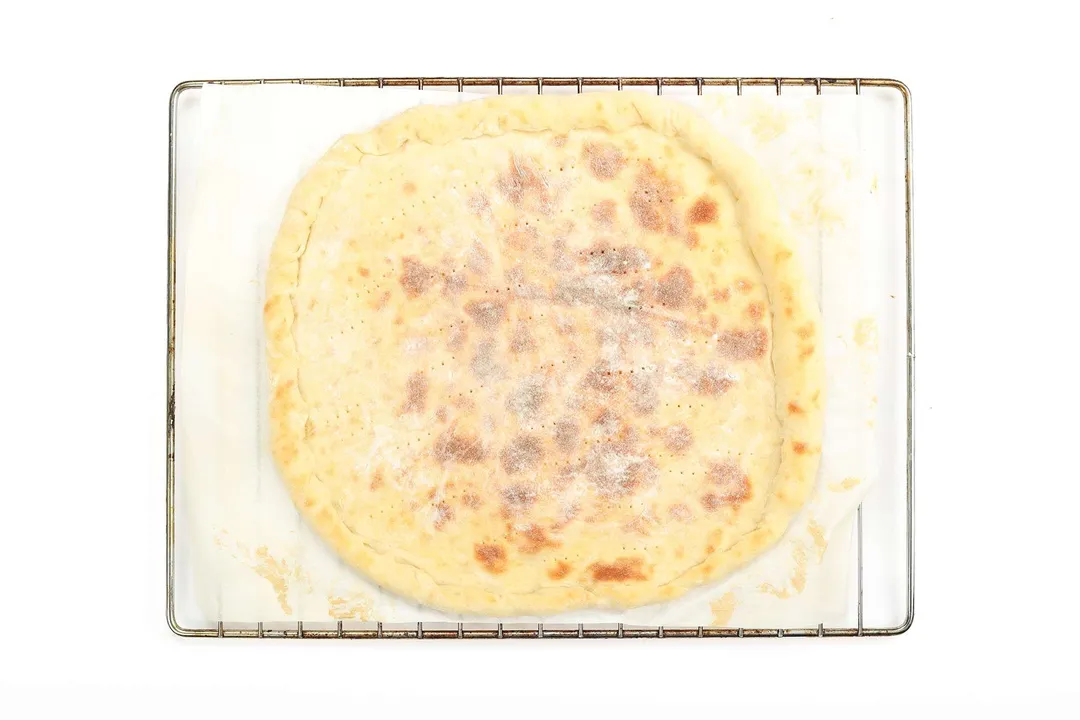 11
Add the sauce and the toppings: Spread the white sauce evenly onto the crust's surface. Atop, arrange the pan-seared chicken cubes, cooked spinach, 1 oz sliced red onion, 0.5 oz pan-fried bacon, 3 oz shredded mozzarella cheese, 0.5 oz shredded parmesan cheese, 1/4 cups scallion, then sprinkle on 1/2 tsp black pepper.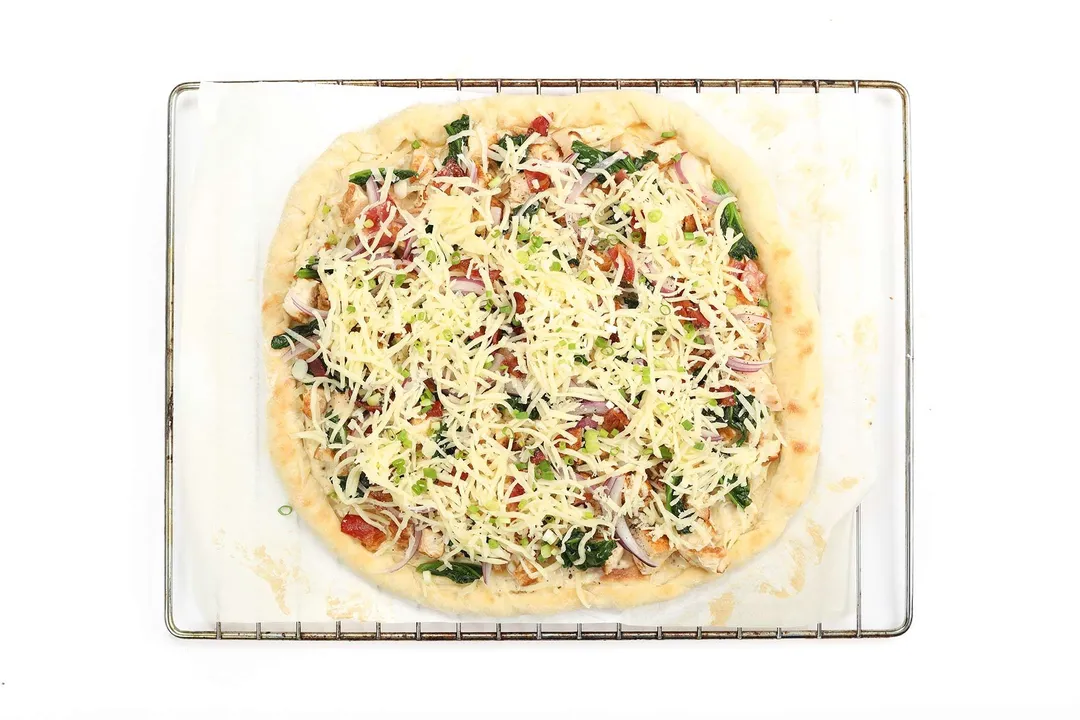 12
Bake the Alfredo chicken pizza: Preheat the oven to 400°F, then bake the pizza for 7 minutes.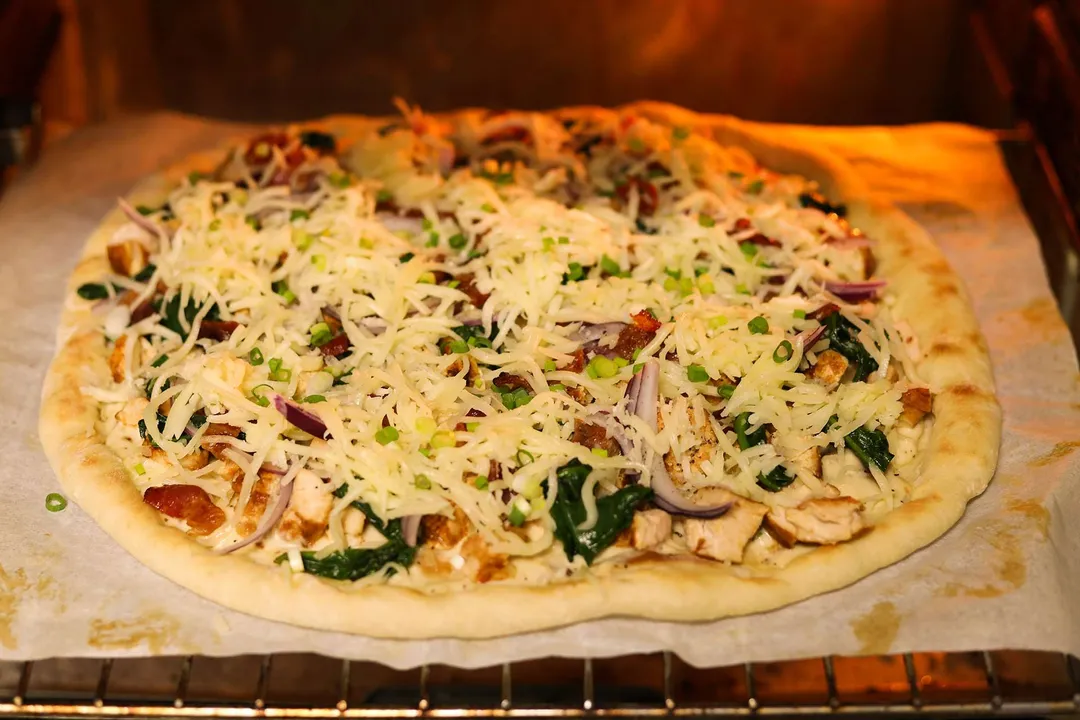 13
Serve: Remove the pizza from the oven. With a sharp pizza cutter, cut the Alfredo chicken pizza into pieces. Enjoy!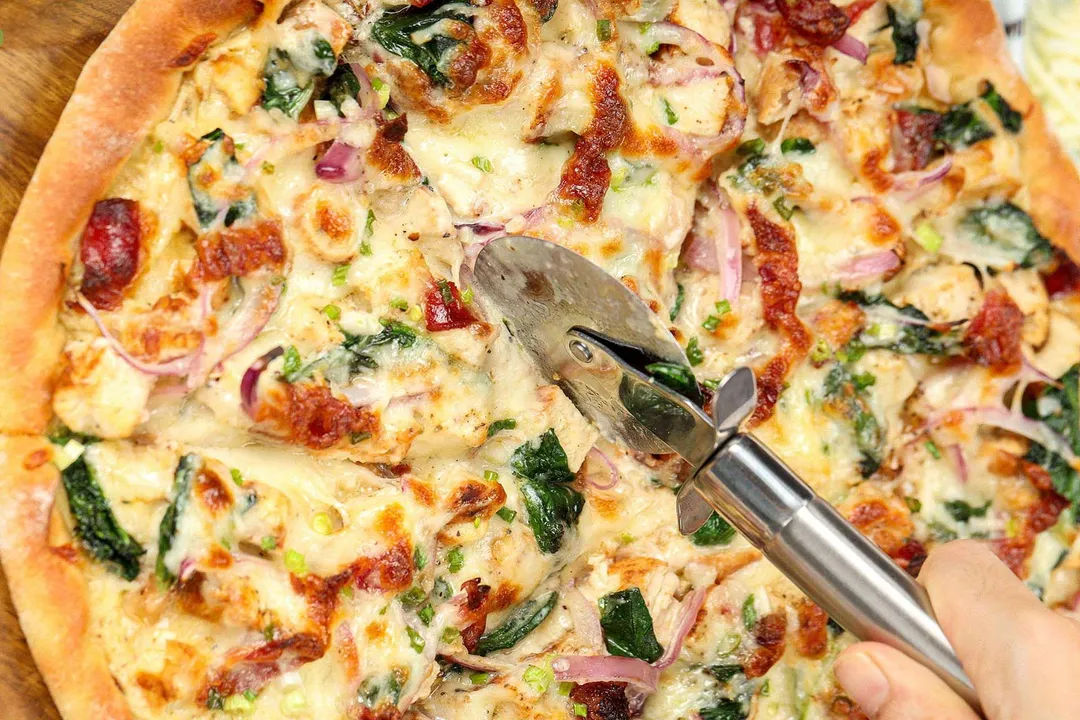 NUTRITION
Nutrition Facts
Alfredo Chicken Pizza
Amount Per Serving (1 serving)
Calories 464
Calories from Fat 183
% Daily Value*
* Percent Daily Values are based on a 2000 calorie diet.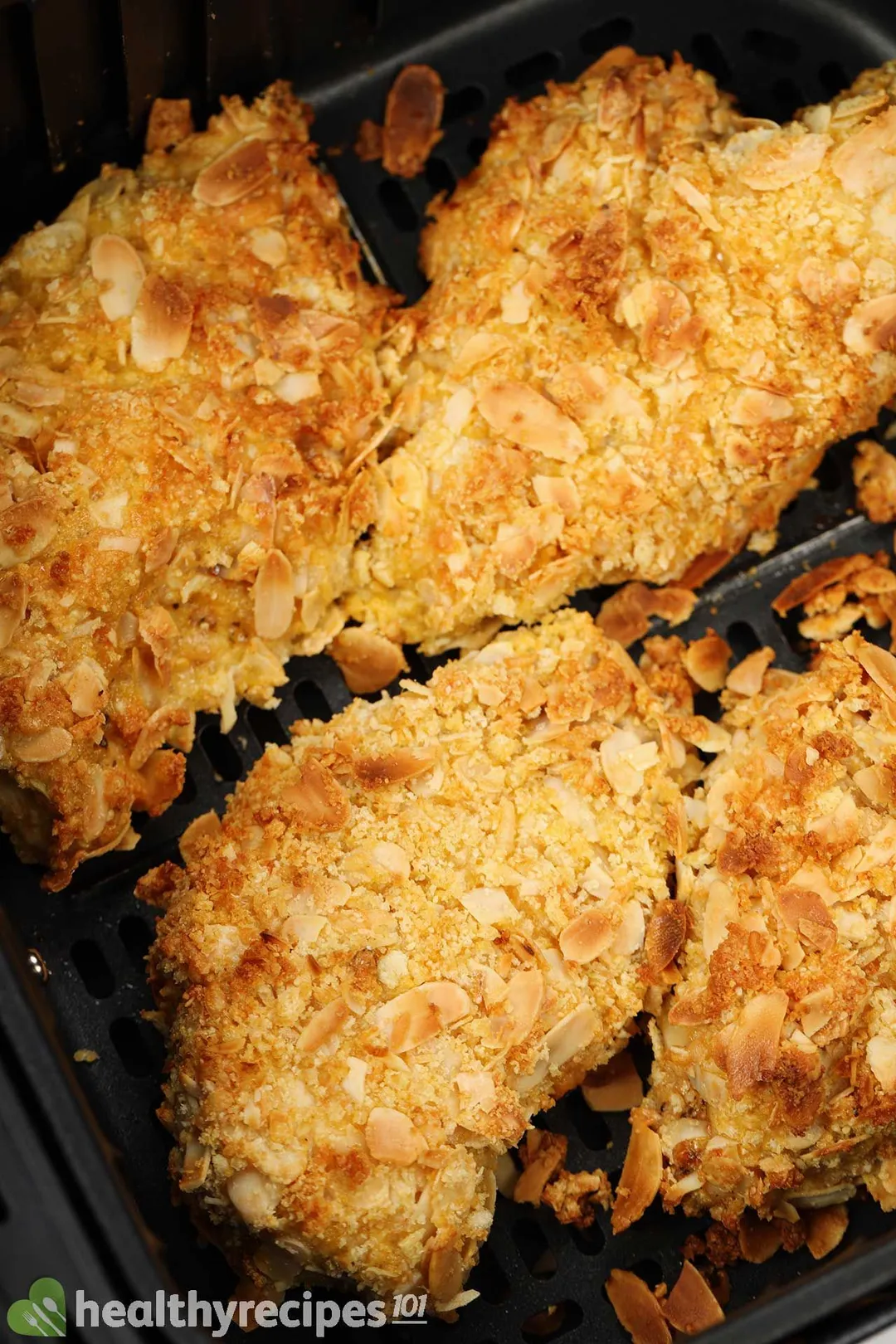 Previous Recipe
Almond Chicken
Almond Chicken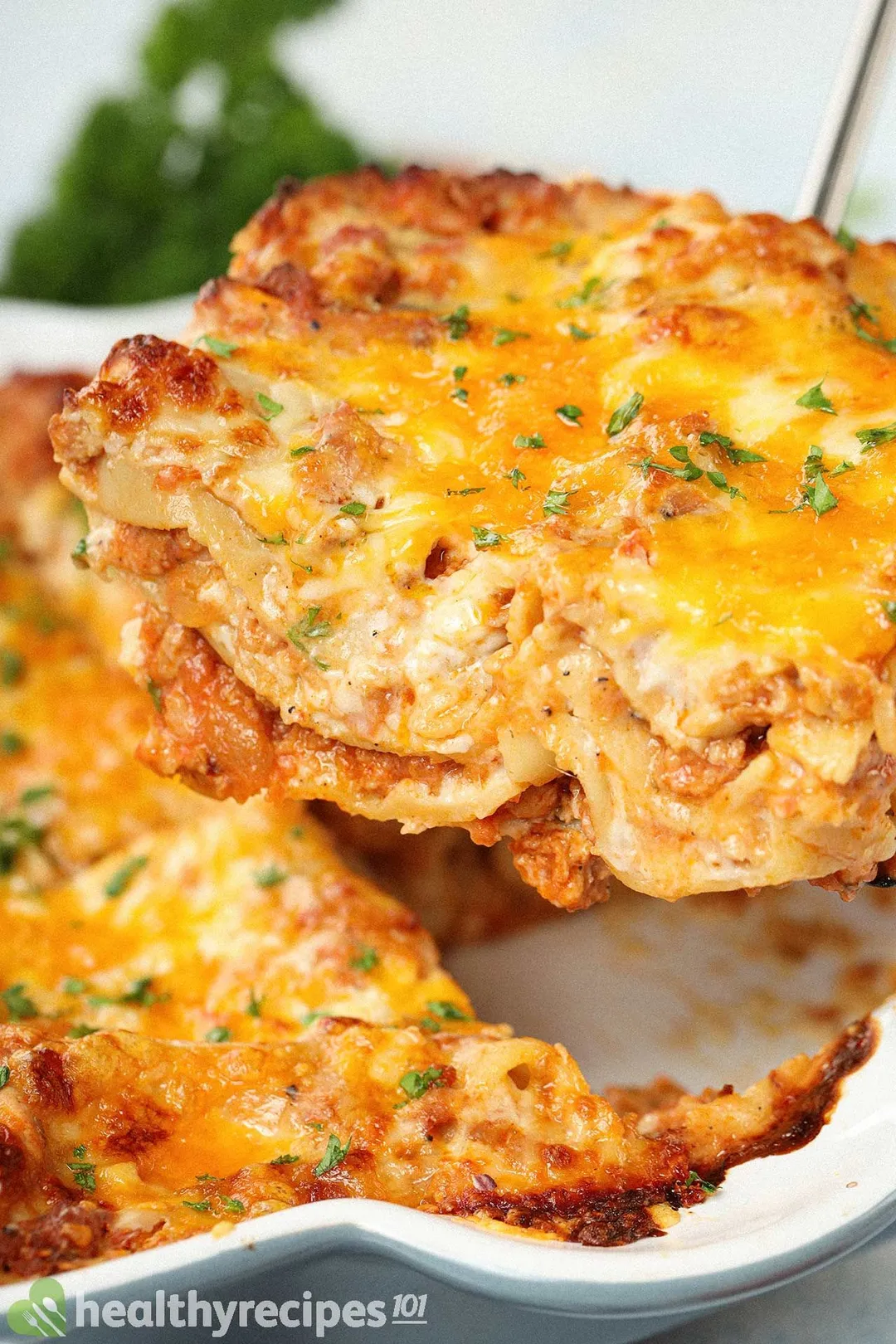 Next Recipe
Ground Chicken Lasagna
Ground Chicken Lasagna
Head Chef, Culinary Consultant
Tuyet Pham is an award-winning Saigonese chef who believes that joy is the secret ingredient to delicious food. At Healthy Recipes 101, Tuyet personally tests and simplifies every recipe, ensuring maximum flavor with minimal effort. With a background at prestigious French restaurants P'TI Saigon and Le Corto, Tuyet knows how to make every dish exceptional.
Writer, Author
Luna Regina is an accomplished writer and author who dedicates her career to empowering home cooks and making cooking effortless for everyone. She is the founder of HealthyKitchen101.com and HealthyRecipes101.com, where she works with her team to develop easy, nutritious recipes and help aspiring cooks choose the right kitchen appliances.
This chicken pizza is a delicious and satisfying meal that's perfect for a cozy night in with family or friends.

It worked out well and delicious.