This is a quick and straightforward broccoli cauliflower salad recipe. It celebrates two humble ingredients by combining them with intense lemon and bacon flavors.
To prepare the salad, broccoli and cauliflower are blanched until tender but still firm before adding nuts and raisins. This creates the ultimate blend of textures; crunchy, smooth, and chewy — it's truly a treat for any occasion.
But before we begin making this dish, it may help to know more about our main ingredients.
Broccoli vs. Cauliflower
Both broccoli and cauliflower are cruciferous vegetables. This means they belong to the cabbage family and possess similar attributes.
Be that as it may, they do differ in several aspects. Here are a few:
Appearance: The most evident difference is color; broccoli is green, and cauliflower is white. You might notice too that broccoli florets are made of individual stems, while cauliflower heads are formed like a solid mass.
Taste: The taste of broccoli alone is a contentious issue. Some people love it, others not so much, but the general consensus seems to be that it's mildly bitter. Cauliflower's taste, on the other hand, lies on the sweeter, more mild side. When eating the two, you can instantly notice the differences.
Nutrition: From calories to vitamins, these two vegetables have several differences. A cup of broccoli contains more calories and vitamins C and K, while cauliflower provides more vitamin B6 and pantothenic acid. But minor differences aside, broccoli and cauliflower's nutritional profiles are largely identical. You can find most of broccoli's nutrients in similar amounts in cauliflower too.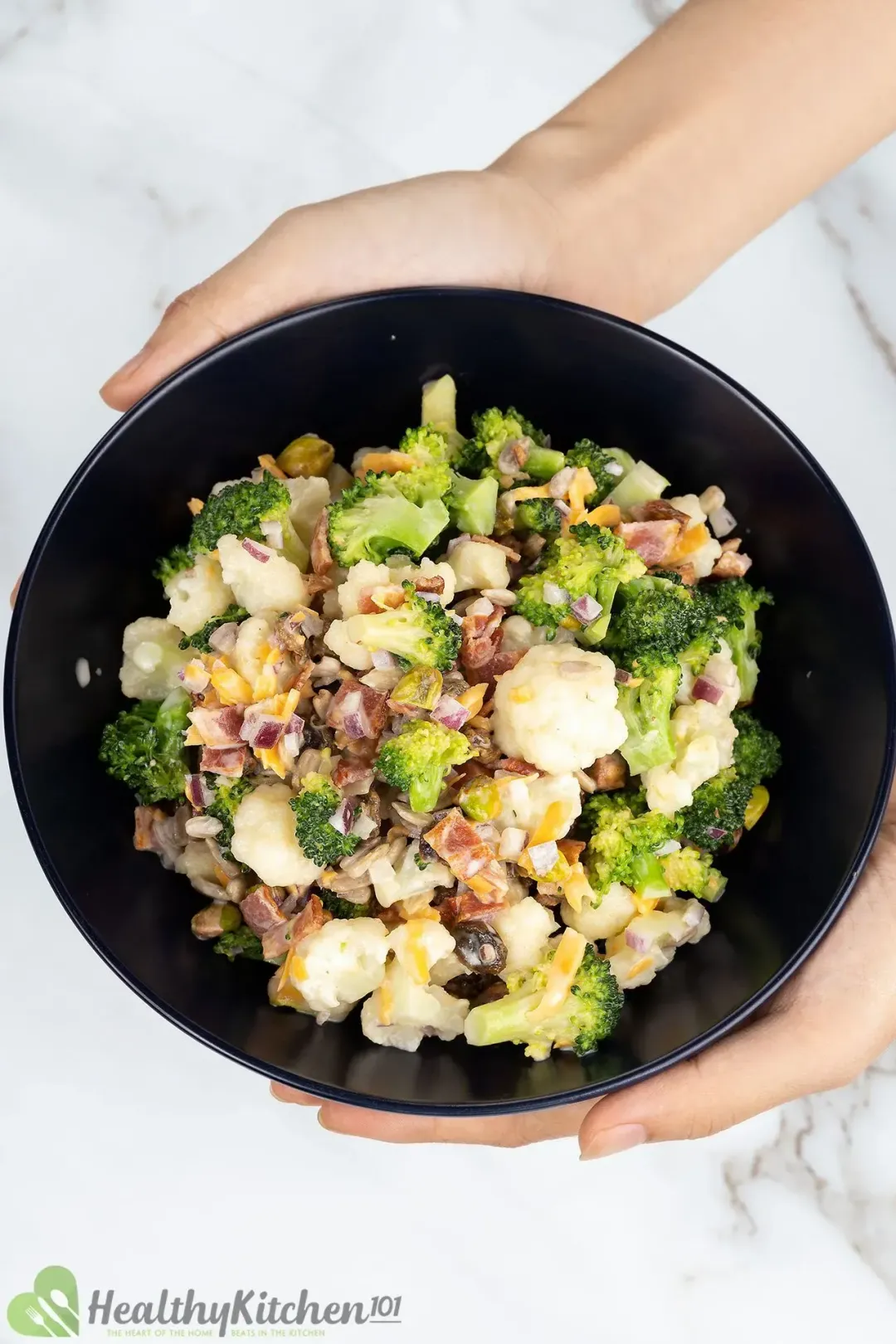 Is Broccoli Cauliflower Salad Healthy?
As with most salads, there's no doubt that this dish is healthy. But how exactly can it benefit your health?
Broccoli and cauliflower contain several nutrients, and they're most noted for their sulfur compounds, namely glucosinolates.
Researchers have studied the relationship between certain cancers and ingesting cruciferous vegetables. They found that cruciferous vegetables may help reduce the risk of getting cancers, while in other cases, they may not.
Overall, broccoli and cauliflower's high nutrition and low-calorie profiles make them ideal for a healthy diet.
Calories per Serving
Broccoli and cauliflower both contain relatively low calories. This broccoli cauliflower salad recipe contains 205 calories per serving.
Ingredients for Broccoli Cauliflower Salad
This dish centers around elements that improve its flavor and nutritional content. Here are the ingredients for our broccoli cauliflower salad recipe:
Broccoli and cauliflower: These are the main elements.
Baked bacon: Including bacon adds a fun, crispy texture and loads of flavor.
Red onion: Raw onions can be pretty pungent, so adjust the amount as you see fit.
Cheddar: We used shredded cheddar, but any type of semi-hard cheese is acceptable. Gouda, edam, gruyere, or emmental are among the best substitutes.
Nuts and seeds: Sunflower seeds and pistachio are our choices to give the salad a crunchier texture.
Raisins: There's nothing better for adding natural sweetness as well as a pleasant chew to the texture.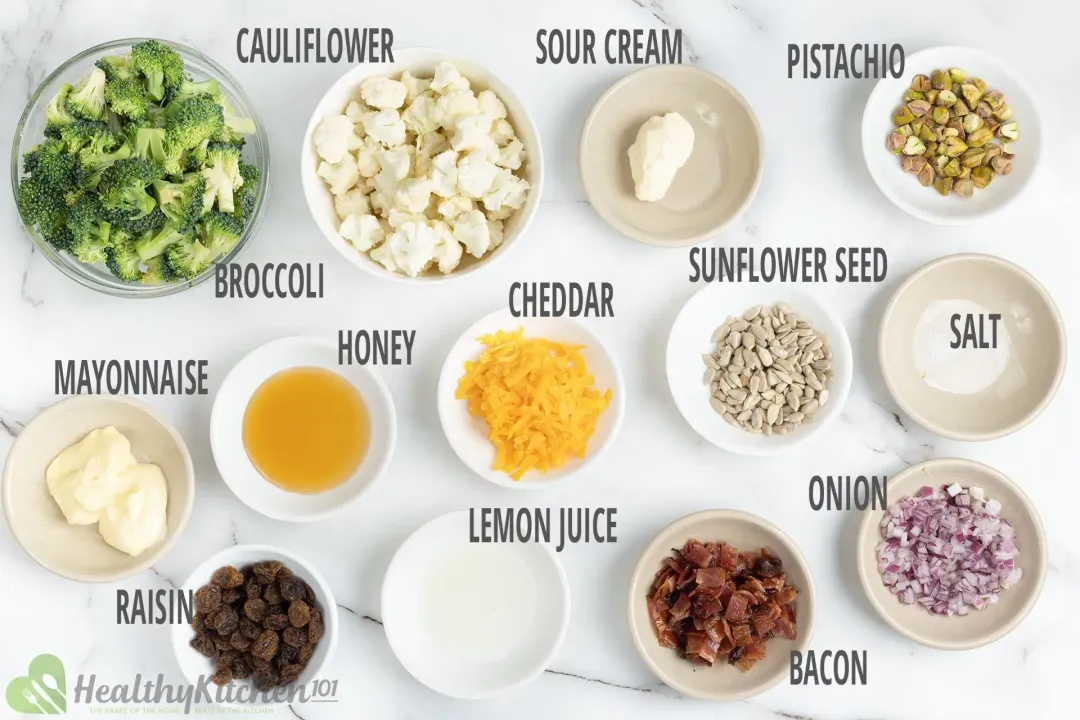 Broccoli Cauliflower Salad Dressing
Our dressing for this broccoli cauliflower salad recipe consists of five dynamic ingredients synonymous with depths of flavor:
Japanese mayonnaise: Ideal for tying all elements together while adding a hint of tartness.
Sour cream: Adds a refreshing tang and creaminess.
Lemon juice: We love lemon juice for its ability to impart a sharp, fresh citrus essence.
Honey: Adds sweetness to the salad and balances the tangy flavors of mayonnaise, sour cream, and lemon juice.
Salt: You only need a tiny amount of salt as this recipe already contains flavoring elements like mayonnaise and cheese.
You can also substitute yogurt for mayonnaise, like we did in this recipe for broccoli salad.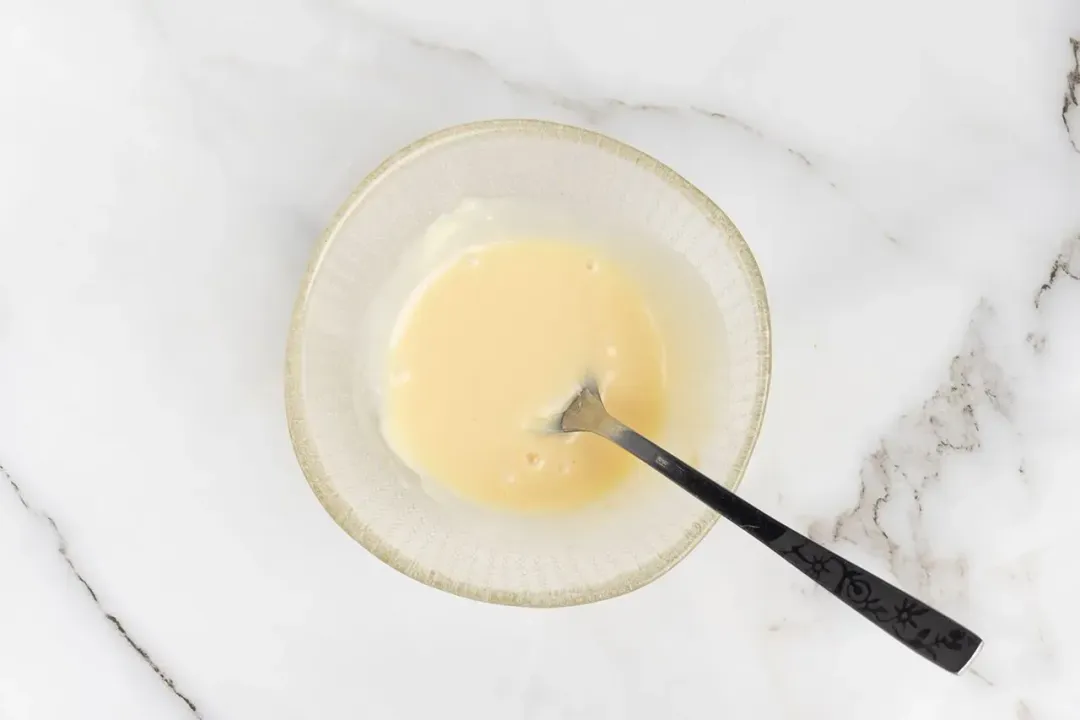 How to Make Broccoli and Cauliflower Salad With Ranch Dressing
Alternatively, you can use ranch dressing.
Ranch dressing is typically a delicious dairy dip. It's an all-time American favorite made with buttermilk, sour cream, mayonnaise, and seasonings such as garlic, parsley, and dill.
As with this broccoli and cauliflower salad recipe, you simply have to mix the ranch dressing ingredients in a separate bowl before adding in the cooked broccoli and cauliflower. Chill the salad before serving — this intensifies the bold flavors of ranch dressing and makes it more enjoyable.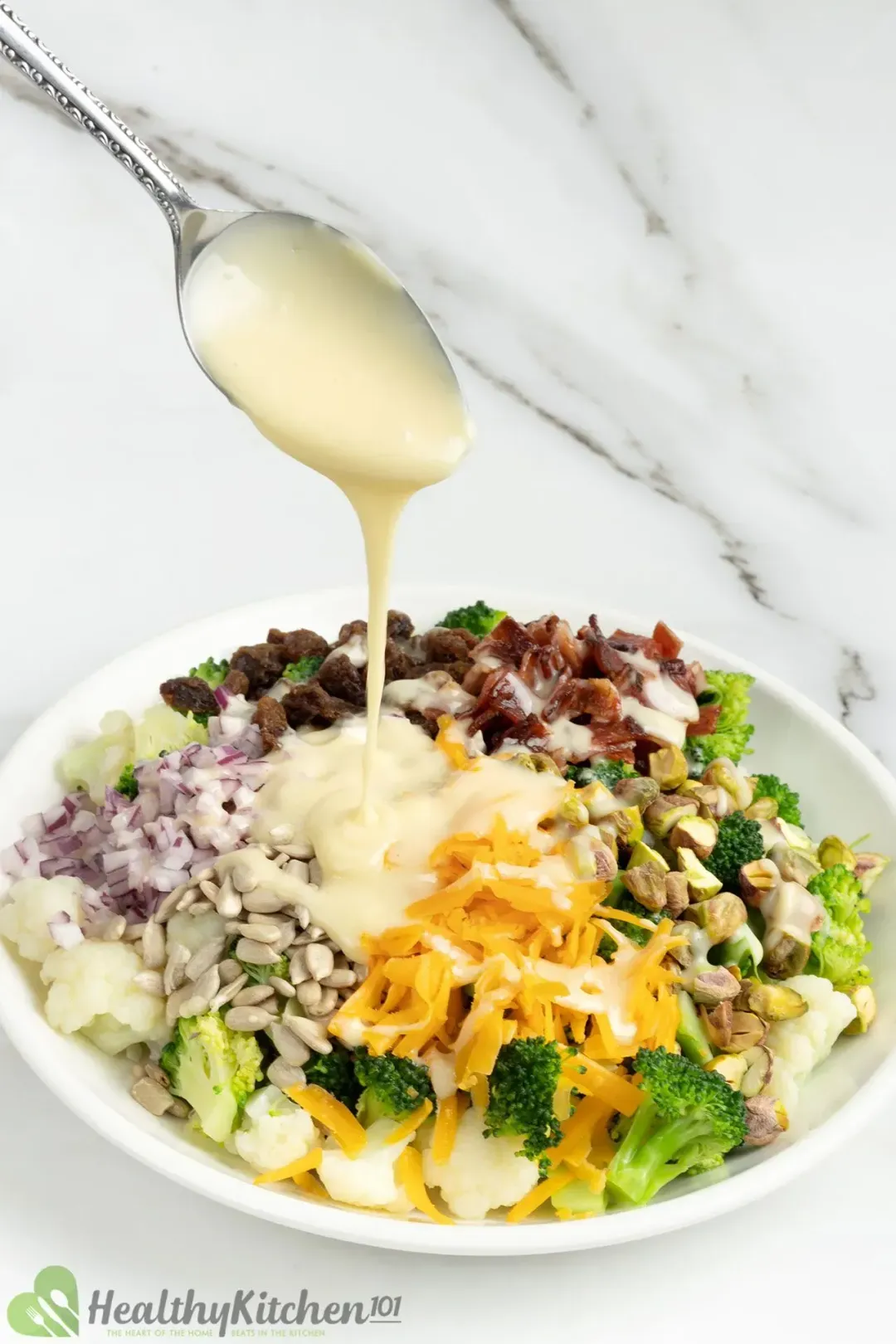 What Else Goes Well in a Broccoli Cauliflower Salad Recipe?
1. Noodles
Adding noodles — ramen or spaghetti — can help achieve a more filling dish. Watch out for those carbs, though, especially if you're dining Keto!
2. Dried Fruit
When you don't have any raisins at hand, you can use dried currants, cranberries, or prunes. Ultimately, you're looking for that chewy texture that mimics raisins and their naturally sweet taste.
Craisins give an added tartness with the sweetness as well, but in general, any dried fruit cut into small bits can work just fine.
3. Carrots
Carrots are one of our favorite additions to salads. Incorporating them into this dish means more texture, more vegetables, and more fiber.
Whichever way you choose to include them: shaved, cubed, sliced — there's an excellent chance you'll love them too!
How Long Does Broccoli Cauliflower Salad Last?
Our salad can last up to five days in the refrigerator. It's best to keep it in an airtight container to reduce exposure to bacteria and prolong its shelf life.
You can also freeze this salad for up to six months. This may, however, ruin broccoli and cauliflower's textures.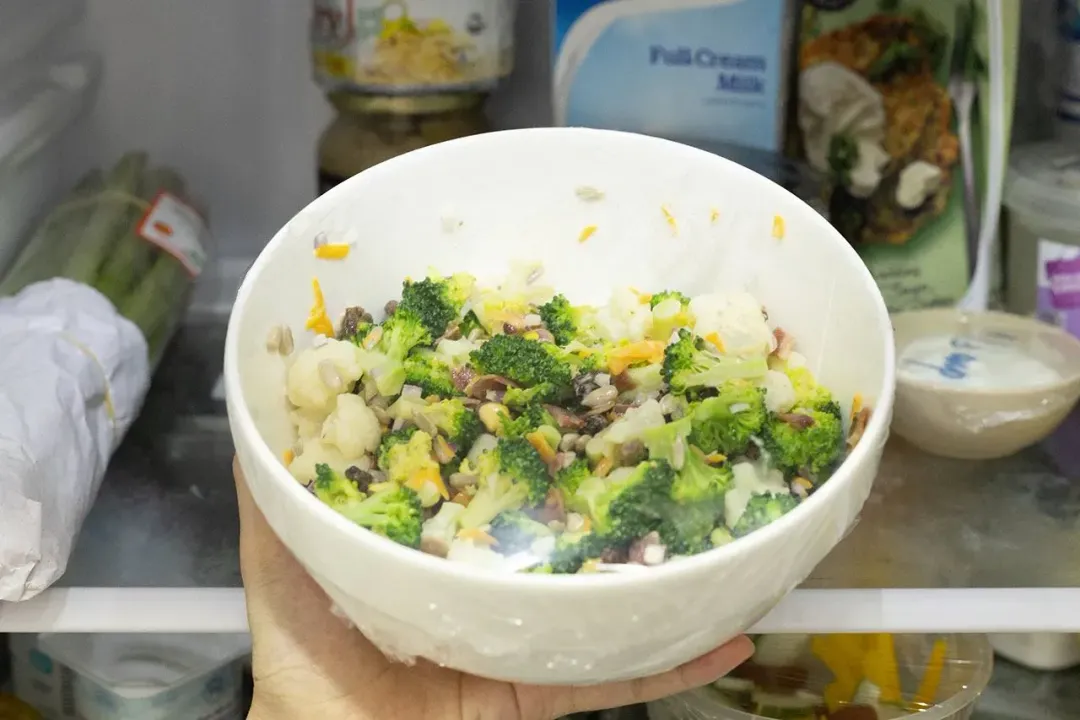 For more salad recipe ideas, have a look at our best 44+ healthy salad recipes.
Can You Use Frozen Broccoli for This Broccoli Salad?
Yes, you can. You just have to thaw it completely before use.
That said, frozen broccoli isn't our first pick for this recipe.
When it thaws, broccoli tends to have a higher moisture content than when it's fresh. By the time it's ready to use, the broccoli will likely be too soft for this salad.
This may not affect the overall flavor, but it will definitely affect the texture, making the salad significantly less enjoyable without that crunch.
Some More Healthy and Tasty Broccoli Recipes You'll Love:
Broccoli can be a real craving sometimes. Check out these 5 broccoli recipes to plan your next days' menu with ease:
Broccoli Cauliflower Salad
This healthy broccoli cauliflower salad recipe may require only simple ingredients, but its flavor is beyond complex. Enjoy it as an appetizer or crunchy side!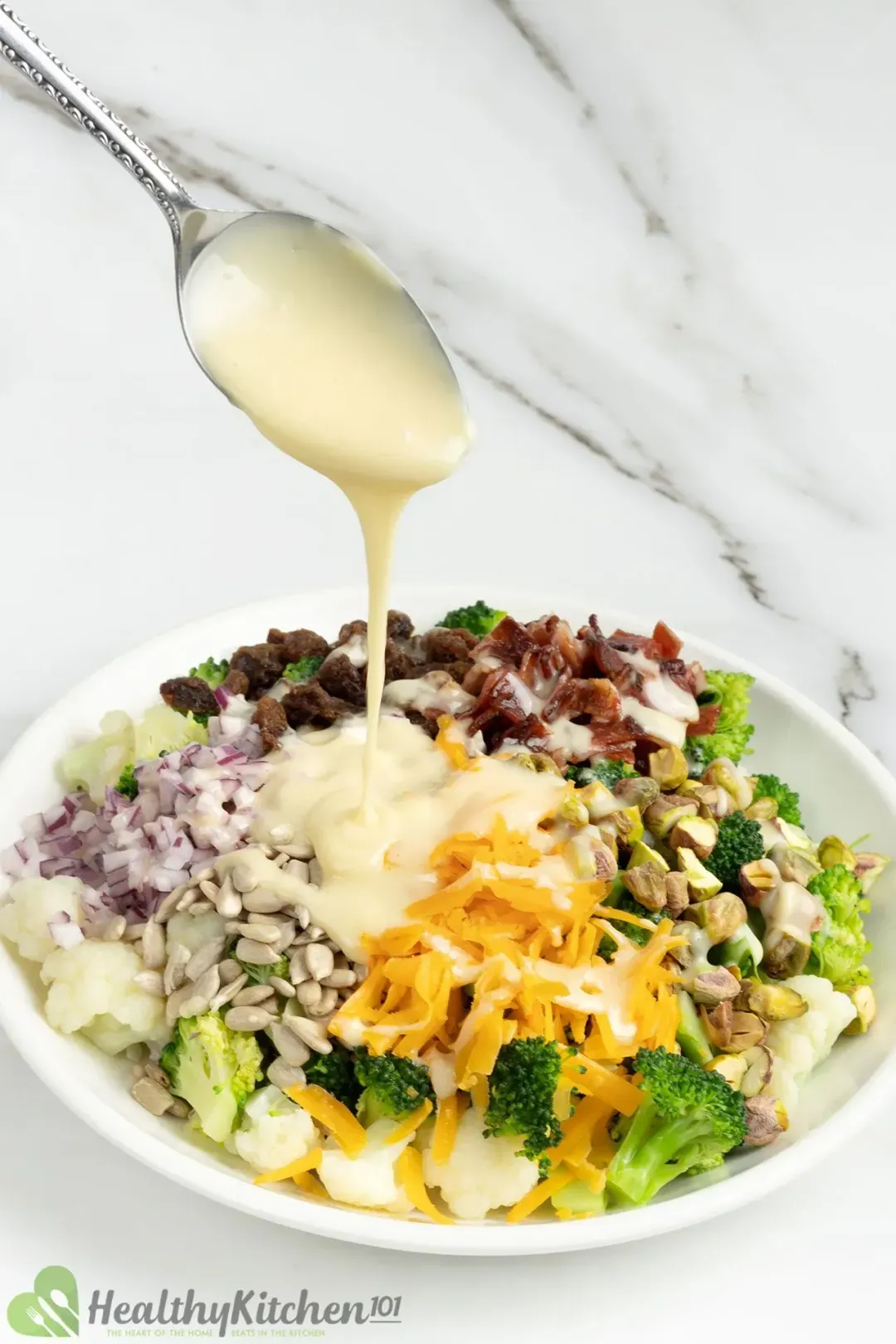 cook TIME

2 mins

prep TIME

10 mins

total TIME

22 mins

INACTIVE TIME

10 mins
COURSE

Dinner, Lunch, Side Dish

CUISINE

Global

SERVINGS

CALORIES

205 kcal
INGREDIENTS
4 oz

broccoli

(1 1/2 cups)

4 oz

cauliflower

(1 1/2 cups)

2 tbsp

Japanese mayonnaise

0.5 oz

baked bacon

(roughly chopped)

0.5 oz

cheddar cheese

(shredded)

0.5 oz

red onion

(finely chopped)

1 oz

sunflower seeds

(lightly toasted)

0.5 oz

pistachios

(roughly chopped)
INSTRUCTIONS
1
Blanch the vegetables: Bring a large pot of water to a boil over high heat. Once boiling, add cauliflower and broccoli and allow them to cook for 2 minutes. Use a slotted spoon to transfer cauliflower and broccoli into an iced bath. Once cooled, drain well and set aside.
2
Make the dressing: In a small bowl, combine mayonnaise, sour cream, honey, lemon juice, and salt. Mix well and set aside.
3
Mix the salad and refrigerate: In a large mixing bowl, combine bacon, cheddar, red onion, sunflower seeds, pistachios, and raisins, together with the dressing. Mix well to dress the ingredients evenly. Put the salad in the fridge for at least 10 minutes or up to an hour.
4
Plate and serve: Once the salad is slightly chilled, remove it from the fridge. Divide into four serving dishes and enjoy.
NUTRITION
Nutrition Facts
Broccoli Cauliflower Salad
Amount Per Serving (1 serving)
Calories 205
Calories from Fat 126
% Daily Value*
* Percent Daily Values are based on a 2000 calorie diet.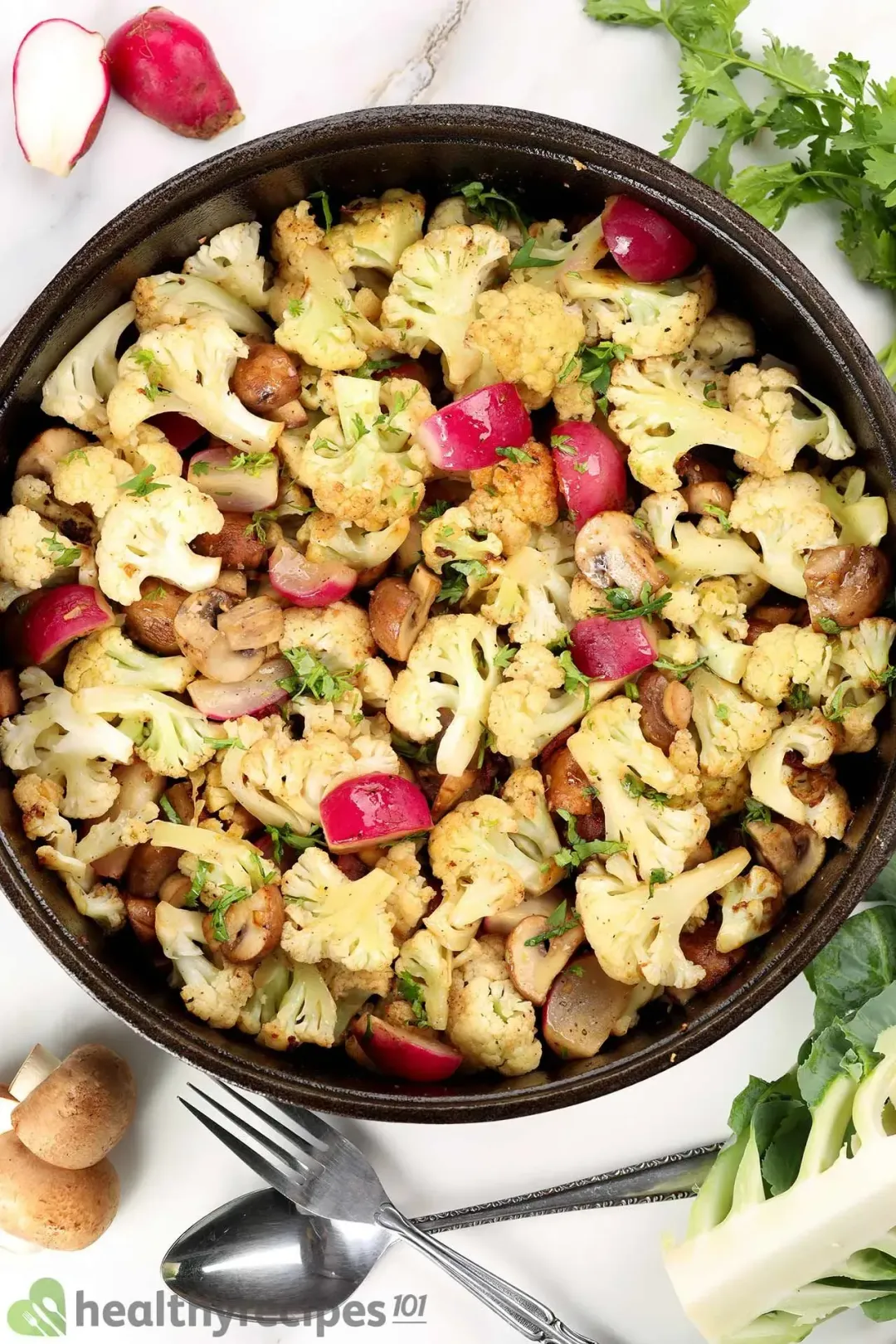 Next Recipe
Sauteed Cauliflower
Sauteed Cauliflower
looks like a refreshing and healthy dish! I love that it combines two of my favorite vegetables, broccoli and cauliflower. The fresh dill, lemon juice, and olive oil give the salad an amazing flavor that I'm sure my family would really enjoy.

Yummy. Would love to make it again.