Today, we're making pasta Bolognese.
We were appalled to find that this easy classic hadn't been in our archives for years! The sauce comes together in just a few steps—we kid you not—and making lots (10-20 servings of sauce) is a breeze. It may take around half an hour to make, but once it's done, a decent meal is just 7 minutes away by simply boiling pasta. Keep it in the freezer, and it'll last for up to 3 months.
Why make the sauce at home, you ask? For us, it's how we get to control its nutritional content.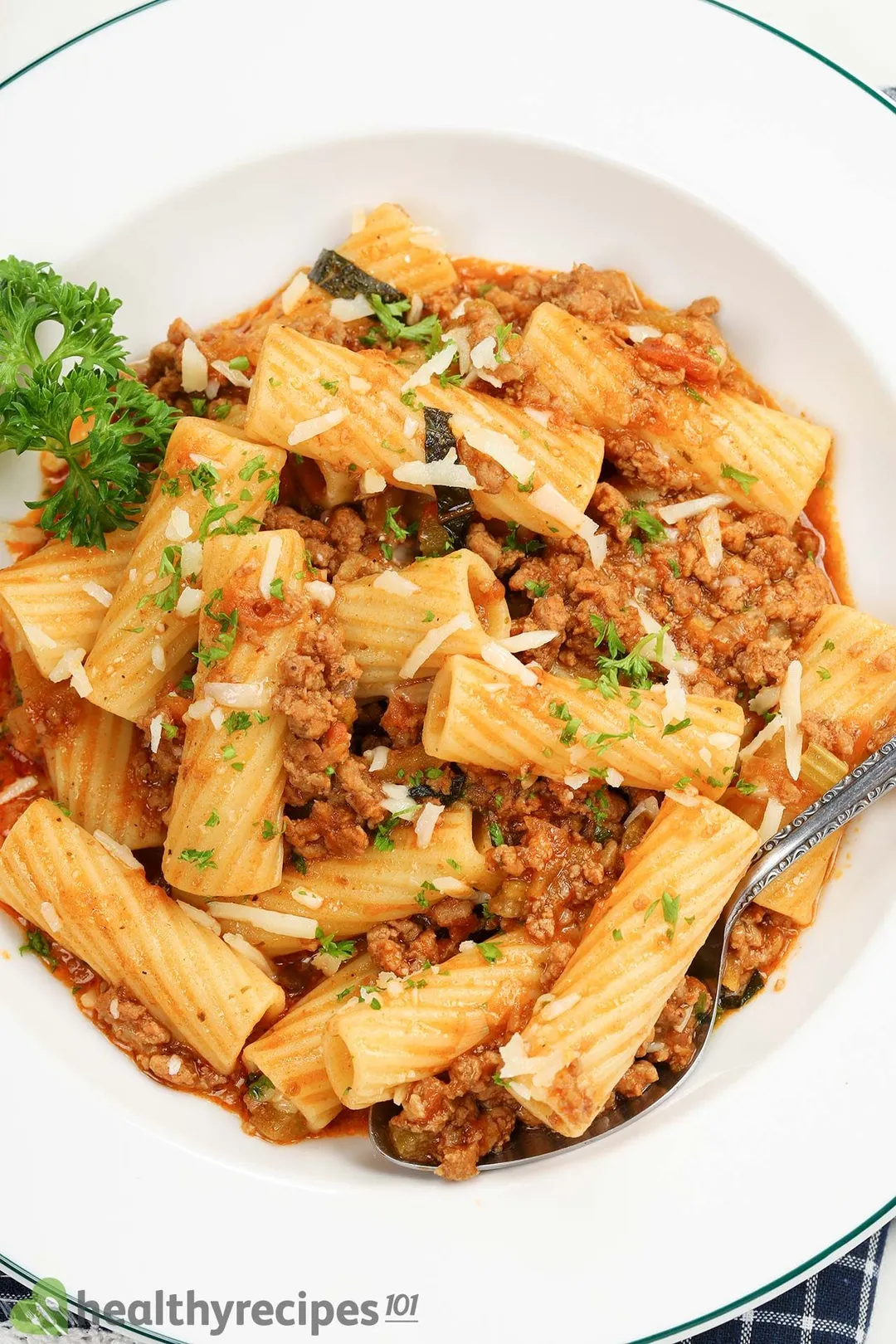 Ingredients for Pasta Bolognese
First, let's go through meat options.
The meat in Bolognese is sometimes pure ground beef, sometimes a half and half mixture of beef and pork. This combination means more than just a way to cut back on production cost—pork makes the meat mixture more tender. Beef has a strong smell, so its aroma (and flavor) isn't compromised.
We chose to keep things simple by using pure ground beef, the 85% lean kind that's highly accessible. If you have a pressure cooker, it will make your beef very tender.
Cooked with the meat are aromatics (garlic, onion, oregano), seasonings (salt, pepper, paprika), red wine, and tomato sauce. We make the tomato sauce ourselves to control the sodium, but if you prefer something easy, we recommend an unsalted product (link is in the recipe card).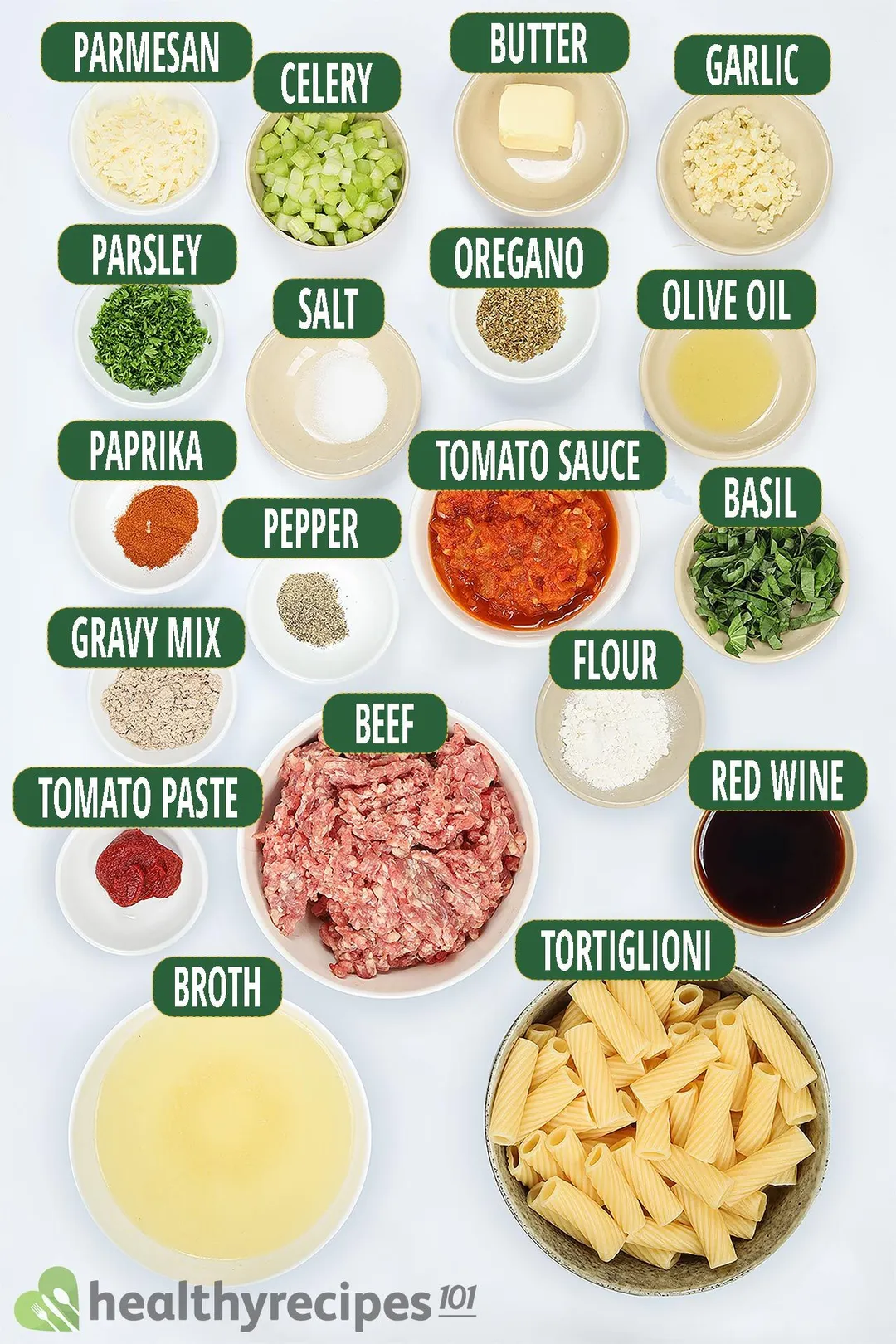 The sauce also has a few optional ingredients that we think add a lot to the sauce:
Beef gravy mix: this powder turns soup broths into a savory beef stock. Without saying, it adds so much beef stock flavor to the sauce.
Tomato paste: tomato sauce is made with tomato paste in it, but we don't see why there shouldn't be more. The paste deepens the sauce's savoriness and adds to it an inviting red color.
All are seasoned with salt and pepper.
In terms of pasta, any would do. We're serving the sauce with a tube-shaped one today, tortiglioni. It should take about 7 minutes to be al-dente (cooking time may vary depending on pasta type and is determined by the manufacturer).
How-to instructions are at the bottom of this article, in the 'Pasta Bolognese Recipe' card.
Is Pasta Bolognese Healthy?
We're not putting the blame on this classic staple. What we're saying is store-bought pasta sauces, usually with a high sodium content, may not be suitable for a healthy diet. Sure, a salty sauce tastes good, but in the long run, it may pose major health issues.
By making the sauce at home, you get to control your sodium intake better. If lunch and breakfast have been high in sodium, maybe add less salt to your dinner.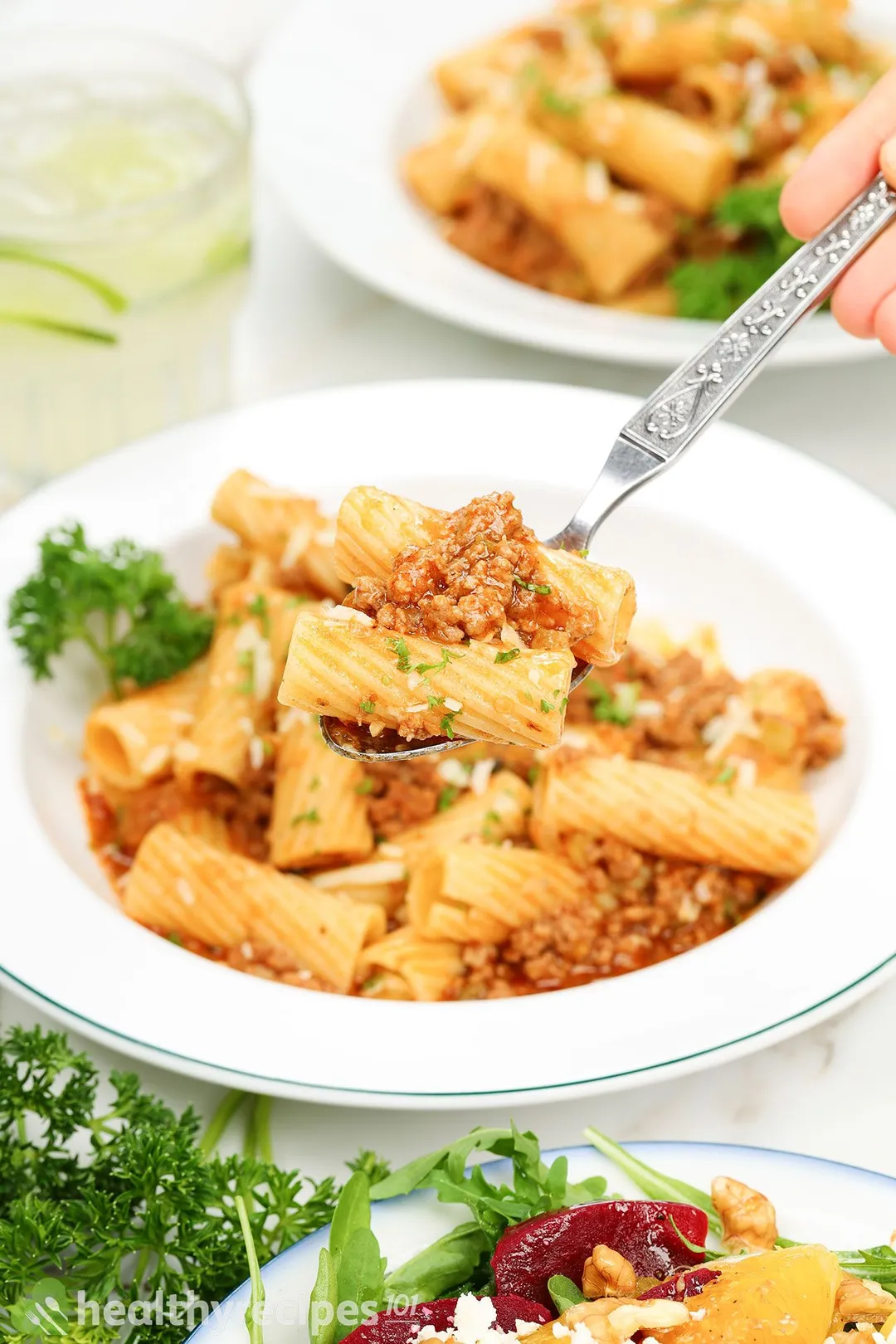 Meat sauces can also be high in saturated fat and calories because of the high fat content in the ground meat. We're using the standard, 85% lean—not the leanest option but in a moderate amount. Each serving of sauce contains just 8.7 g saturated fat, and together with the pasta, is around 500 calories.
Apart from these, Bolognese pasta has a lot of benefits:
It's a moderate source of lean protein (25 g per serving) that also tastes good.
Its calorie content comes from a diverse range of foods (pasta, tomato, meat, etc.) and with plenty of micronutrients. There is vitamin B12, vitamin B3, vitamin B6, zinc, selenium, iron, phosphorus, etc. coming from meat alone.
To up the meal's nutritional values, you may want to pair the pasta with a salad. It's abundant in greens and rich in good fats—exactly what the dish lacks.
Notes When Making Plenty
More meat to be cooked requires additional cooking time. Cook your ground meat until it turns uniformly brown, then give it an additional 1 minute so the bottom is charred a little.
Our recipe cooks to serve 4. It's fine to cook 8 servings of sauce in the same pot; but if you're making for 12 or 16, you may want to work in batches or use a bigger pot.
We've cooked the pasta prior to making the sauce. If you haven't and want to serve the pasta immediately, put a separate pot of water on medium heat before you make the sauce. Add pasta to it when it boils, and you'll have cooked pasta as soon as the sauce finishes.
Store and Reheat
For convenience, the sauce can be frozen in ice cube trays and popped out when needed. Alternatively, it can be kept in containers or sealable bags for easy removal. The frozen sauce keeps for up to 3 months.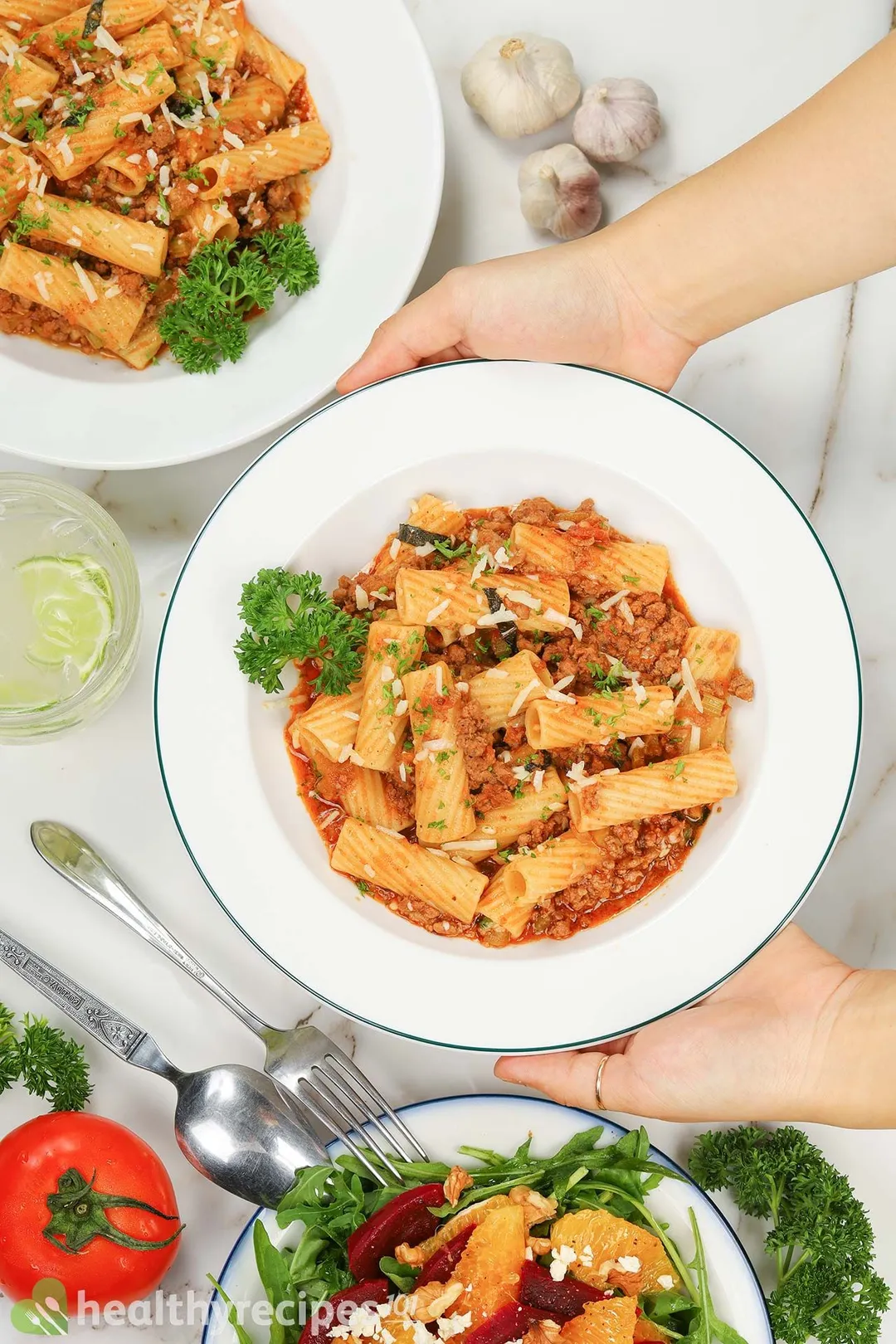 The pasta can be stored according to the instructions on the box (in a dry place for however long) or cooked, divided into bowls, and kept refrigerated for about 4 days.
To reheat, heat the sauce over medium heat until bubbling; then plop the pasta in, stir, and remove from heat when it's pliable (1 minute most of the time).
Pasta Bolognese
If you have yet to find a favorite pasta Bolognese recipe, try ours. It's quick to make, scales easily, and can be stored for up to 3 months.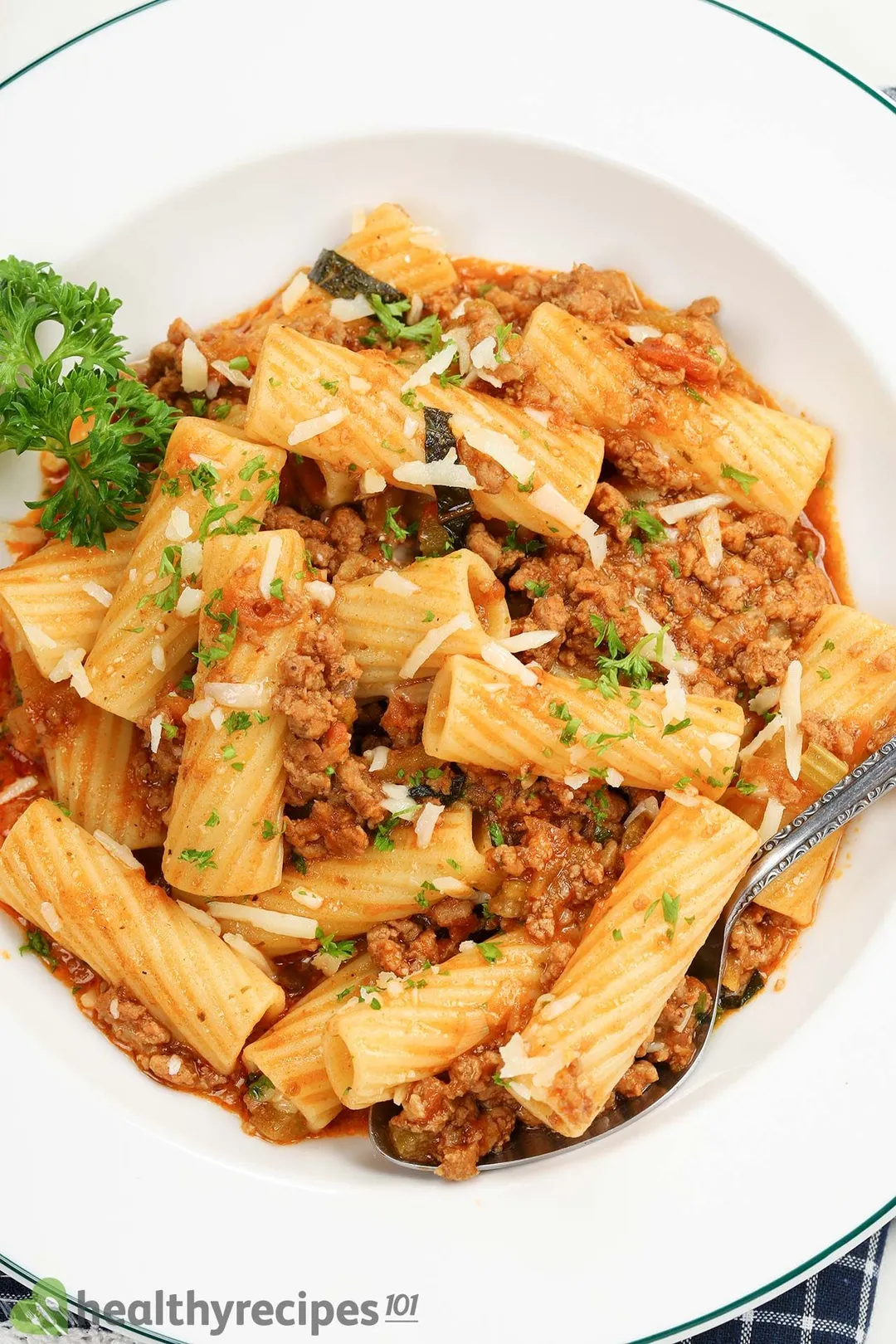 cook TIME

15 mins

prep TIME

5 mins

total TIME

20 mins
COURSE

Main Dish

CUISINE

Global

SERVINGS

CALORIES

495 kcal
INGREDIENTS
12 oz

tortiglioni

(cooked)

12 oz

85% lean ground beef

2 tbsp

basil

(thinly sliced)

2 tbsp

parsley

(finely chopped)

1-1/2 cup

unsalted chicken broth

1 cup

homemade tomato sauce

1 tbsp

Hunt's® tomato paste

1/2 tsp

ground black pepper
INSTRUCTIONS
Prep:
1
Peel and mince the garlic: cut to remove the root part of 3 garlic cloves and press them down with a knife to remove the peel with ease. Mince the peeled cloves.
3
Thinly slice 2 tbsp basil.
4
Finely chop 2 tbsp parsley.
6
Cook 10 oz tortiglioni, and measure out 12 oz of it cooked.
Cook:
1
Cook the garlic and celery: In a pot, heat together 1 tbsp olive oil and 1 tbsp butter over medium heat until the butter melts. Add to it 1 tsp garlic and 2 tbsp celery, and cook for about 1 minute or until fragrant.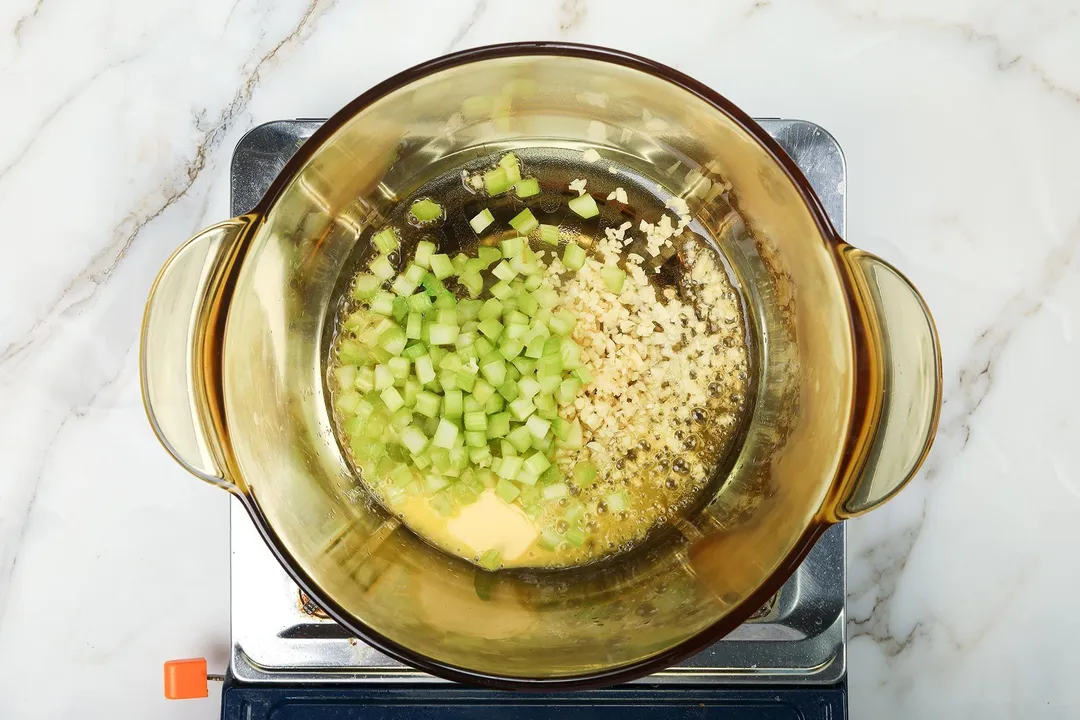 2
Add tomato paste: Stir in 1 tbsp tomato paste until it melts and coats the aromatics evenly.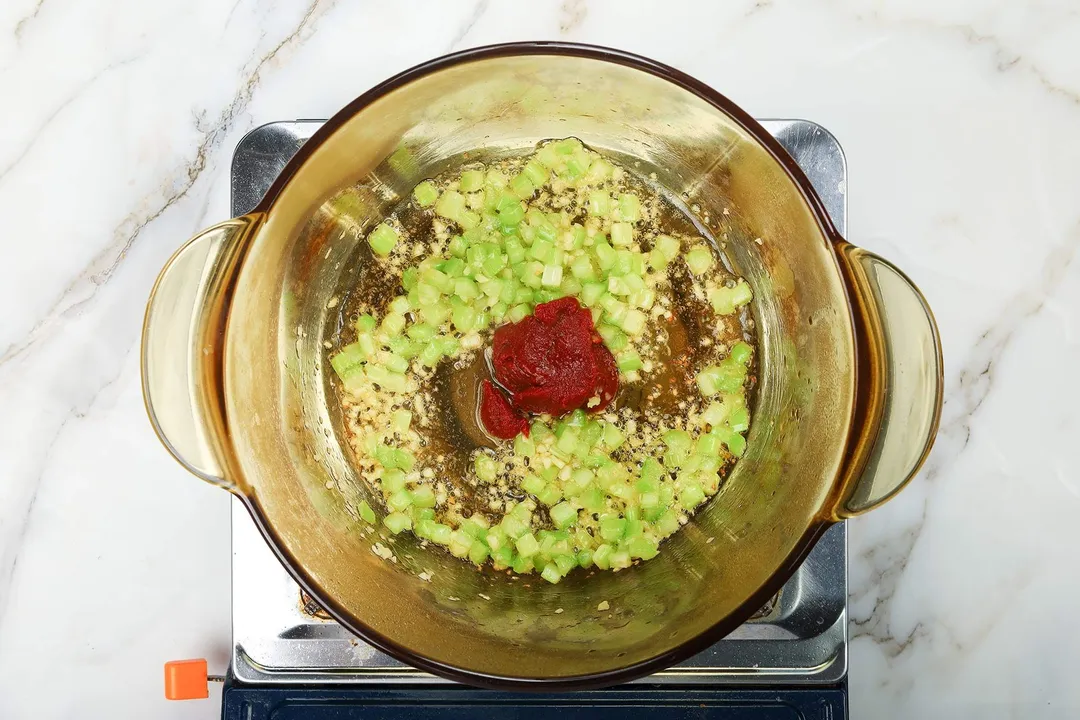 3
Add the meat: Add 12 oz ground beef and cook for 2 minutes (stir every 30 seconds). Leave to cook for an additional 1 minute to get a charred flavor.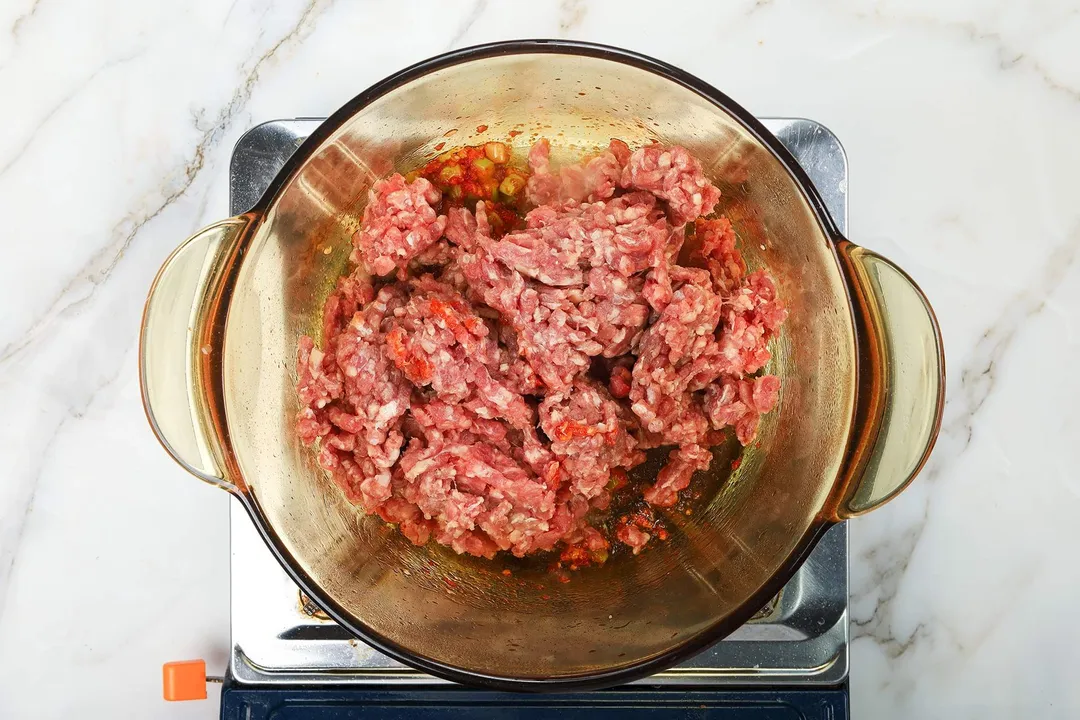 4
Add the red wine: Add 1/4 cup red wine and scrape the bottom with a spatula, until you feel that there's no longer any sticking bits.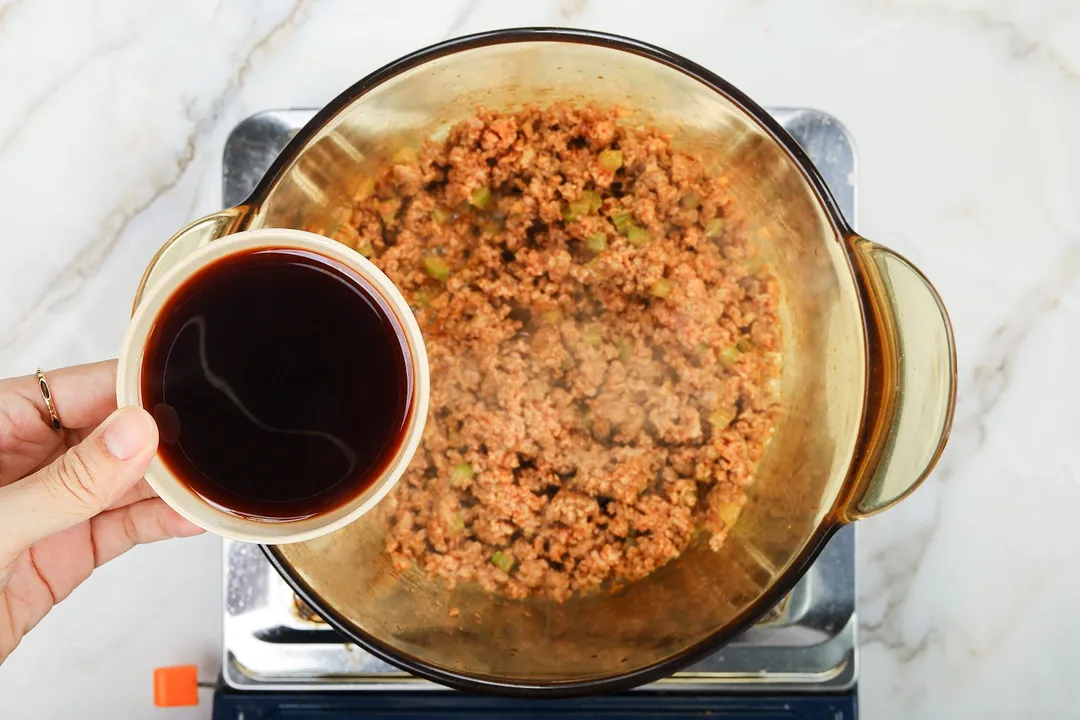 5
Add the tomato sauce and seasonings: Stir in 1 cup homemade tomato sauce, 1 tbsp brown gravy mix, 1 tsp oregano, 1/2 tsp salt, 1/2 tsp ground black pepper, and 1/2 tsp paprika. Stir so everything is mixed well.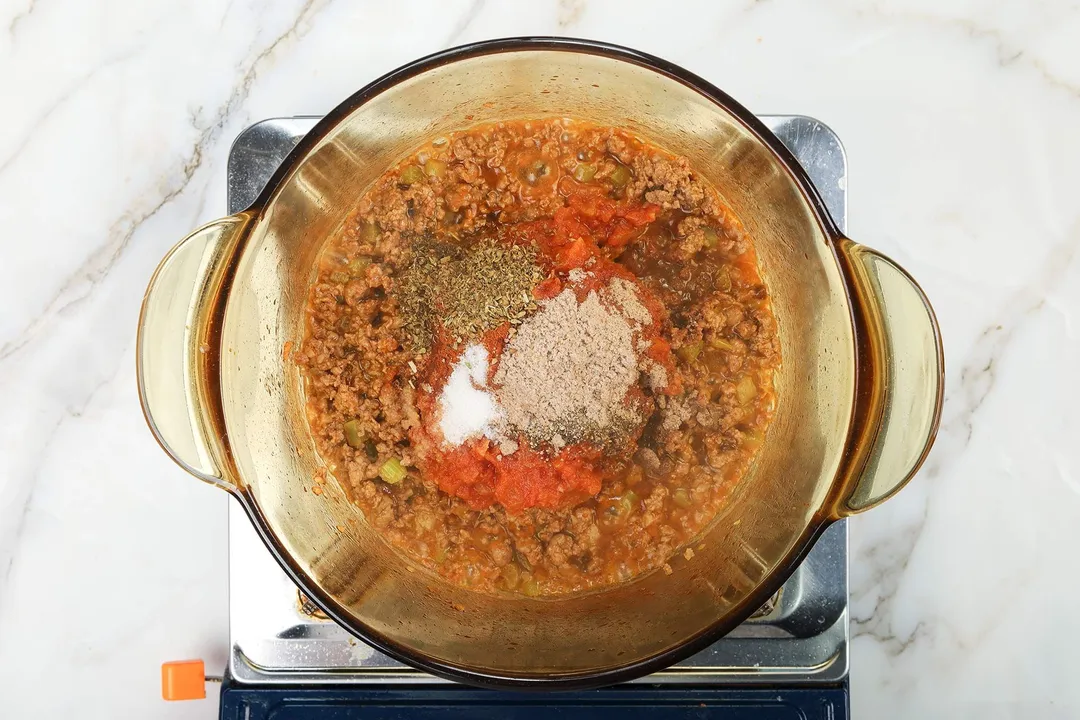 6
Add the stock: Add 1-1/2 cup unsalted chicken broth. Allow the sauce to simmer for 5 minutes.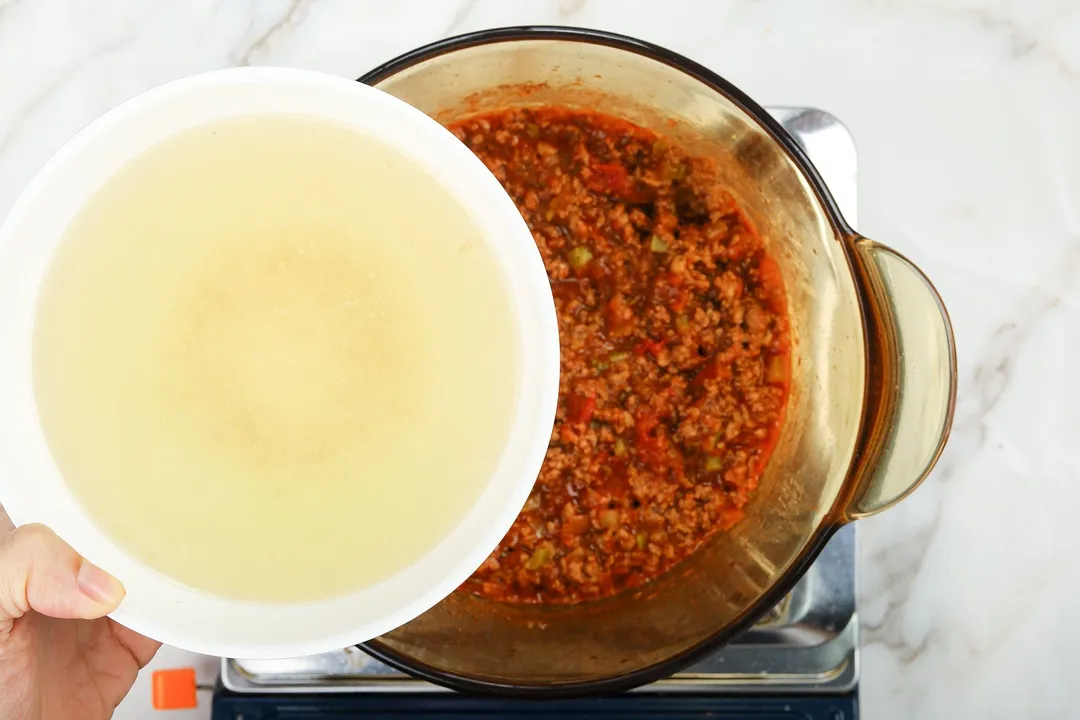 7
Add the cornstarch: Add 1 tsp cornstarch, preferably dissolved in 1 tsp cold water. Stir it into the bubbling sauce and turn off the heat once you see it thickens. At this point the sauce can be let to cool and stored in the refrigerator.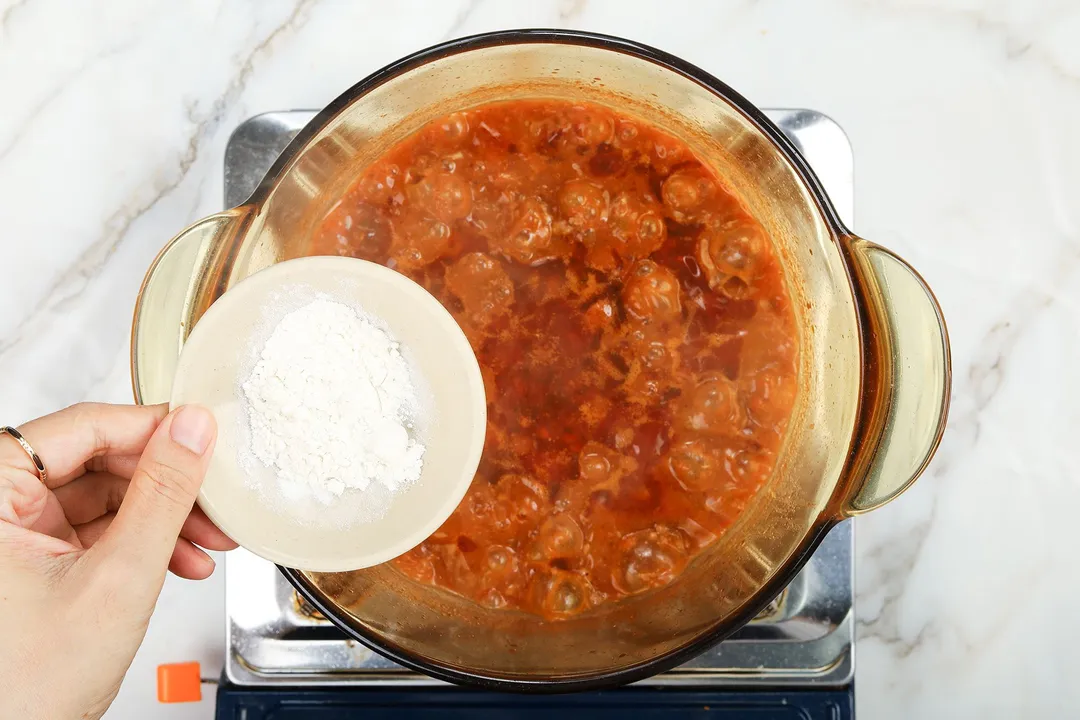 8
Add the cooked pasta: Add 12 oz tortiglioni, or pasta of your choice. Mix well. Sprinkle with 2 tbsp chopped basil, 2 tbsp chopped parsley, and 0.5 oz parmesan.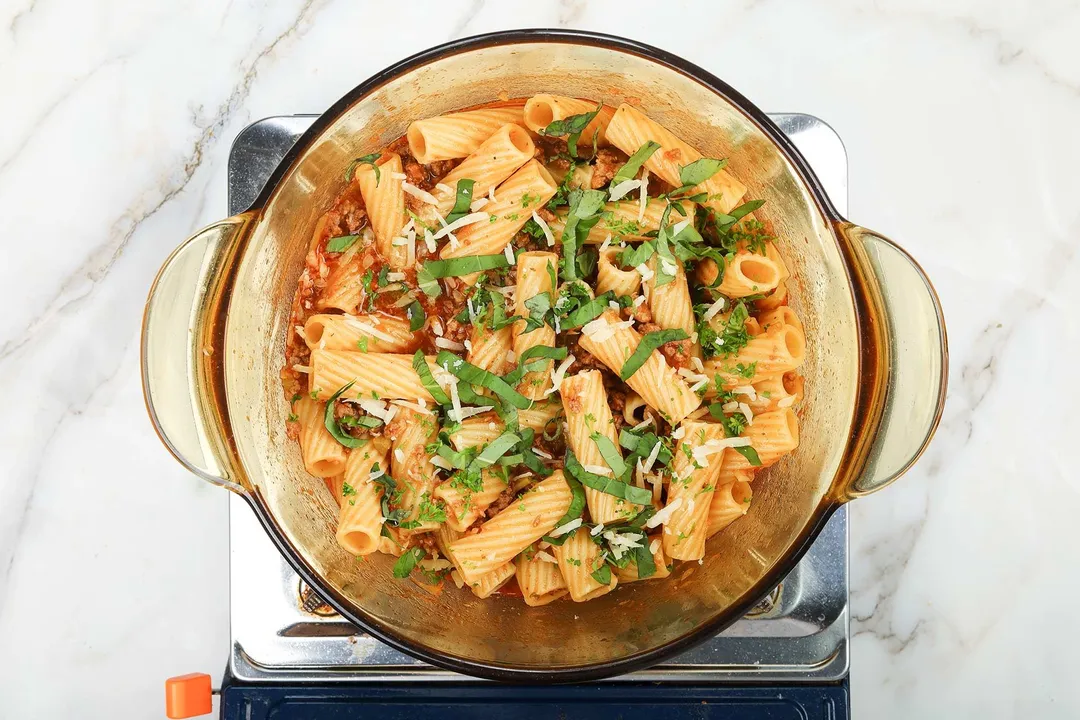 9
Serve: Ladle into serving dishes. Enjoy!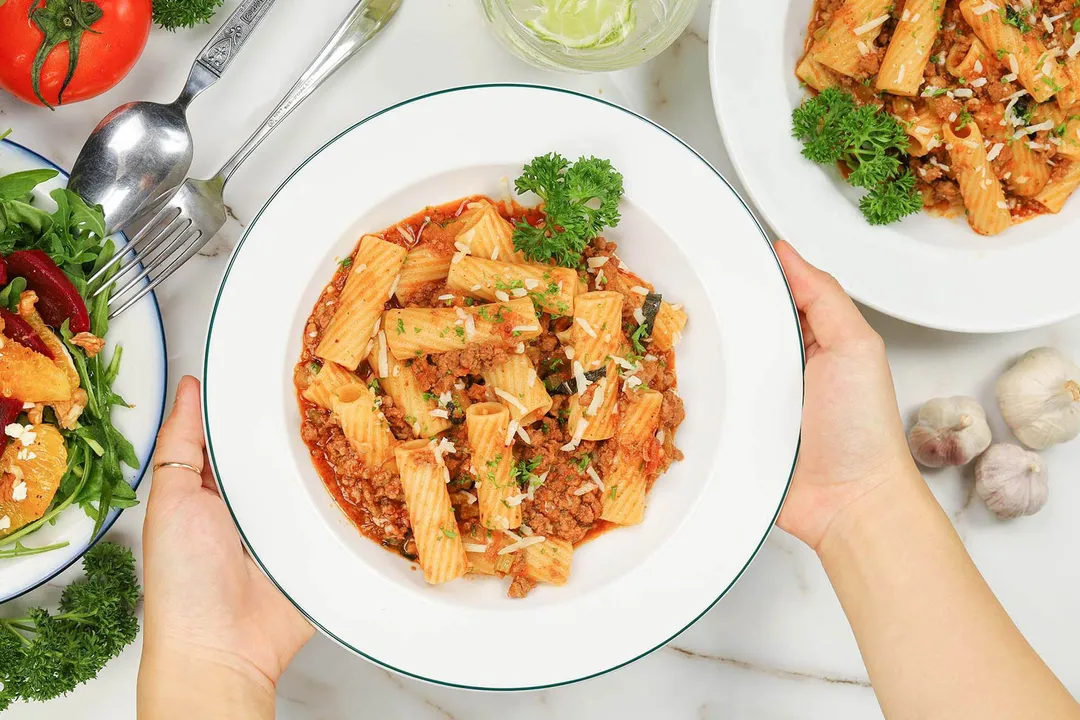 NUTRITION
Nutrition Facts
Pasta Bolognese
Amount Per Serving (1 serving)
Calories 495
Calories from Fat 239
% Daily Value*
* Percent Daily Values are based on a 2000 calorie diet.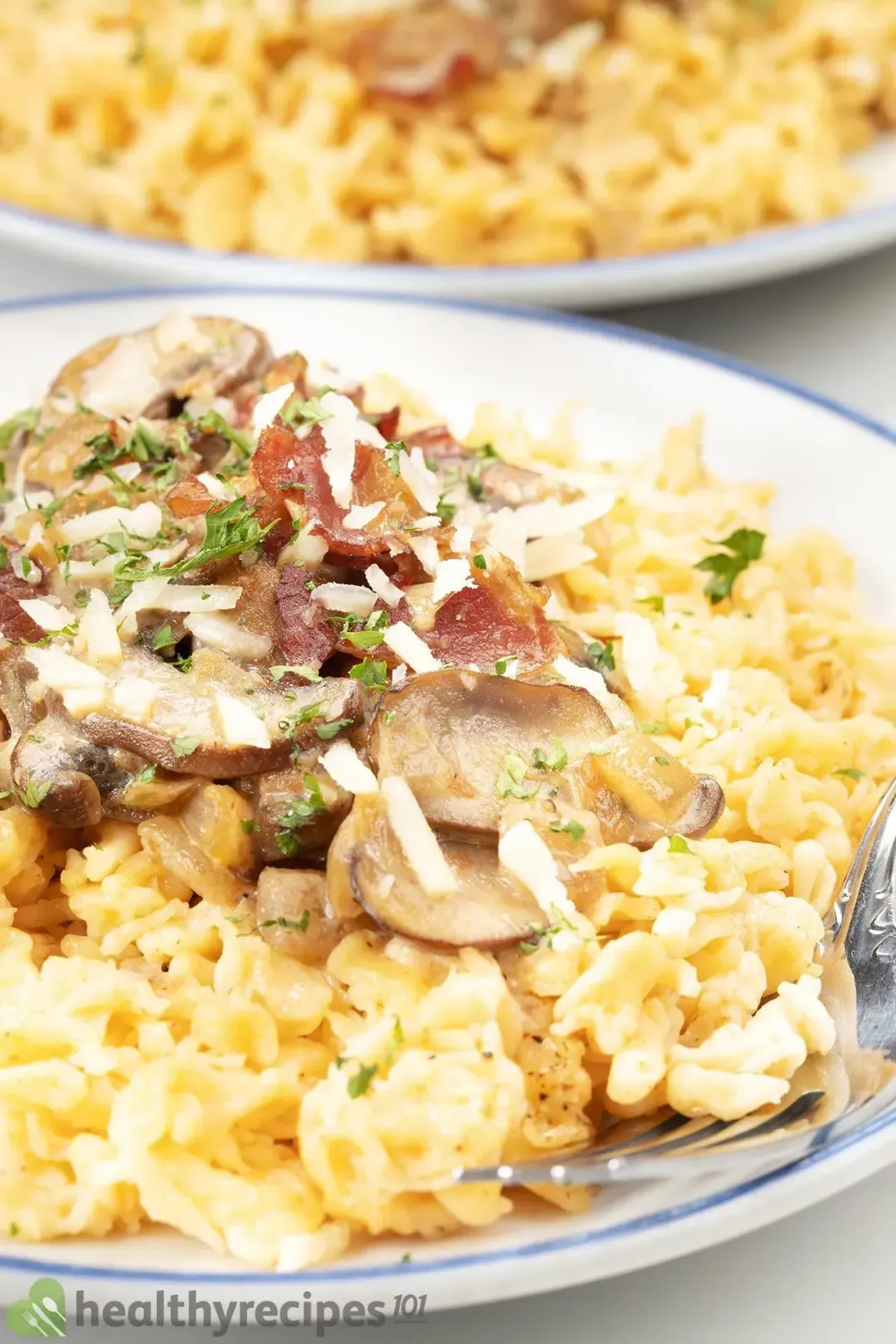 Spaetzle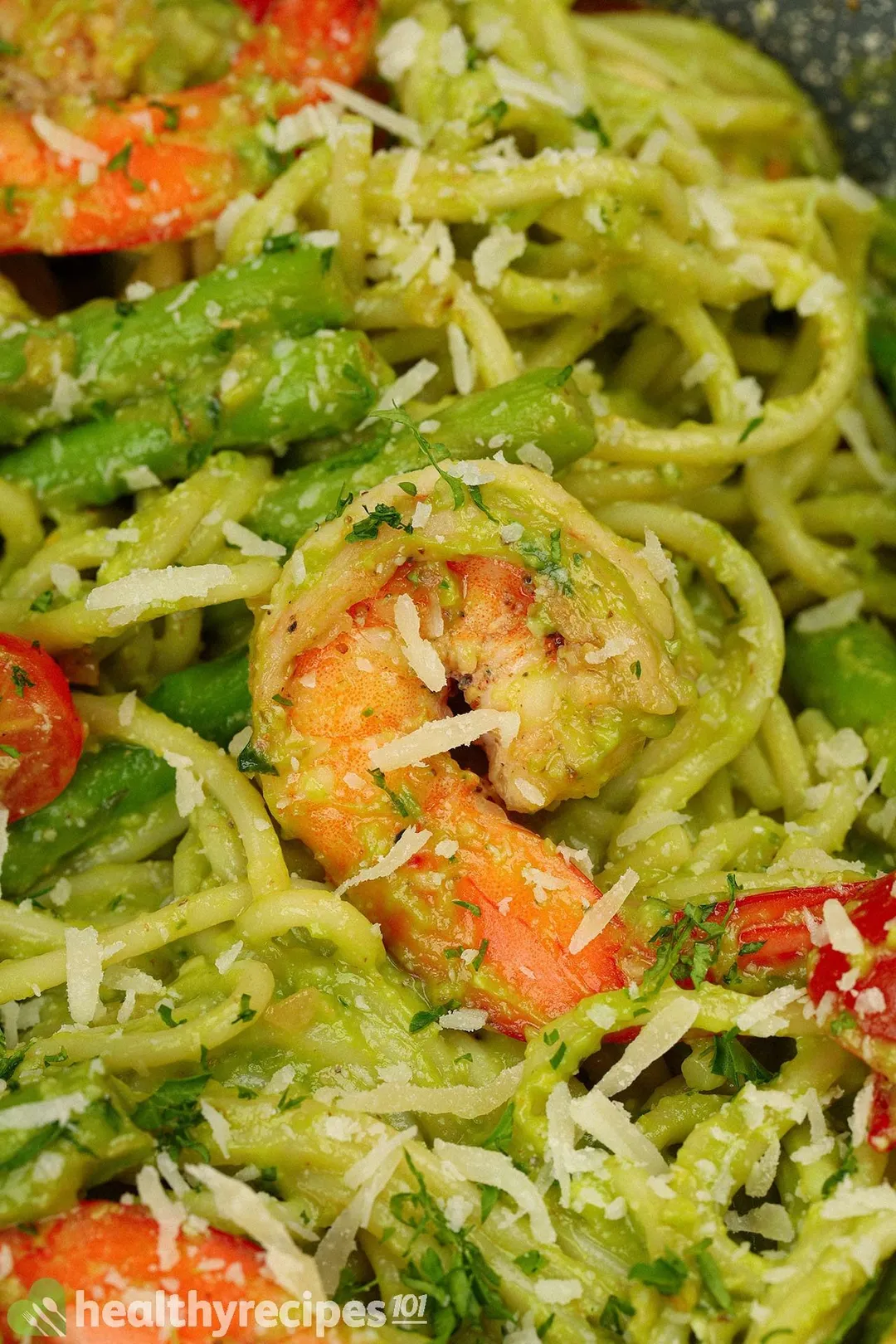 Avocado Pasta
Head Chef, Culinary Consultant
Tuyet Pham is an award-winning Saigonese chef who believes that joy is the secret ingredient to delicious food. At Healthy Recipes 101, Tuyet personally tests and simplifies every recipe, ensuring maximum flavor with minimal effort. With a background at prestigious French restaurants P'TI Saigon and Le Corto, Tuyet knows how to make every dish exceptional.
Writer, Author
Luna Regina is an accomplished writer and author who dedicates her career to empowering home cooks and making cooking effortless for everyone. She is the founder of HealthyKitchen101.com and HealthyRecipes101.com, where she works with her team to develop easy, nutritious recipes and help aspiring cooks choose the right kitchen appliances.