Today's healthy spaetzle recipe is all about a new type of pasta that is very easy to make.
It's perfect for those who want to try making pasta at home, but don't have a pasta machine. No kneading needed!
What Is Spaetzle?
Spätzle /ˈʃpɛtslə/, or Spaetzle, is a type of pasta popular in German, Austrian, or other Central European cuisines.
It is made primarily from salt, eggs, and a type of strong flour. To make spaetzle, you need to mix all of the ingredients together until a smooth batter is formed.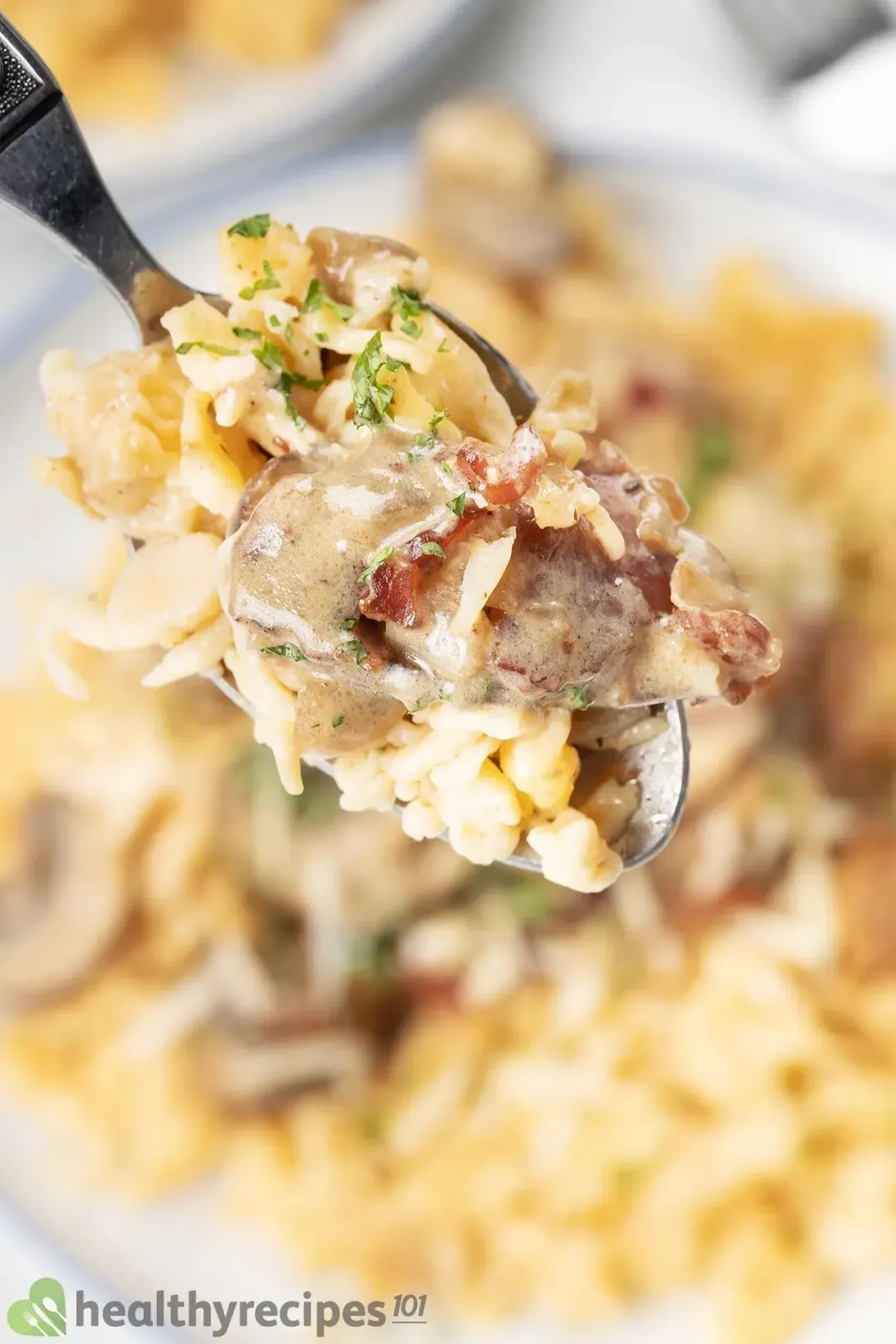 Traditionally, to make spaetzle, you will need a wooden cutting board. You will hold the cutting board over a pot of boiling water and spread the batter onto it.
Then, the batter is scraped off the board (in the form of long thin strips), into the water. Once the strips of batter hit the water, it becomes firm and starts to cook.
When the pasta floats to the surface, you know it's cooked and ready to be fished out of the water.
This technique can be very interesting, but it will take some time and a bit of effort to master. We would recommend buying a spaetzle maker as it makes the process easier.
If you can't find one, you can still make spaetzle using basic kitchen utensils. We will give you step-by-step instructions later.
Is Spaetzle Healthy
Traditional spaetzle recipes often contain a lot of butter, milk flour, and salt. This means the dish can be high in saturated fat and sodium.
Fortunately, we have healthy eating guidelines to help us know how much saturated fat and sodium you can consume. Armed with this information, we can modify the dish, making it as healthy as possible while maintaining its delicious flavors.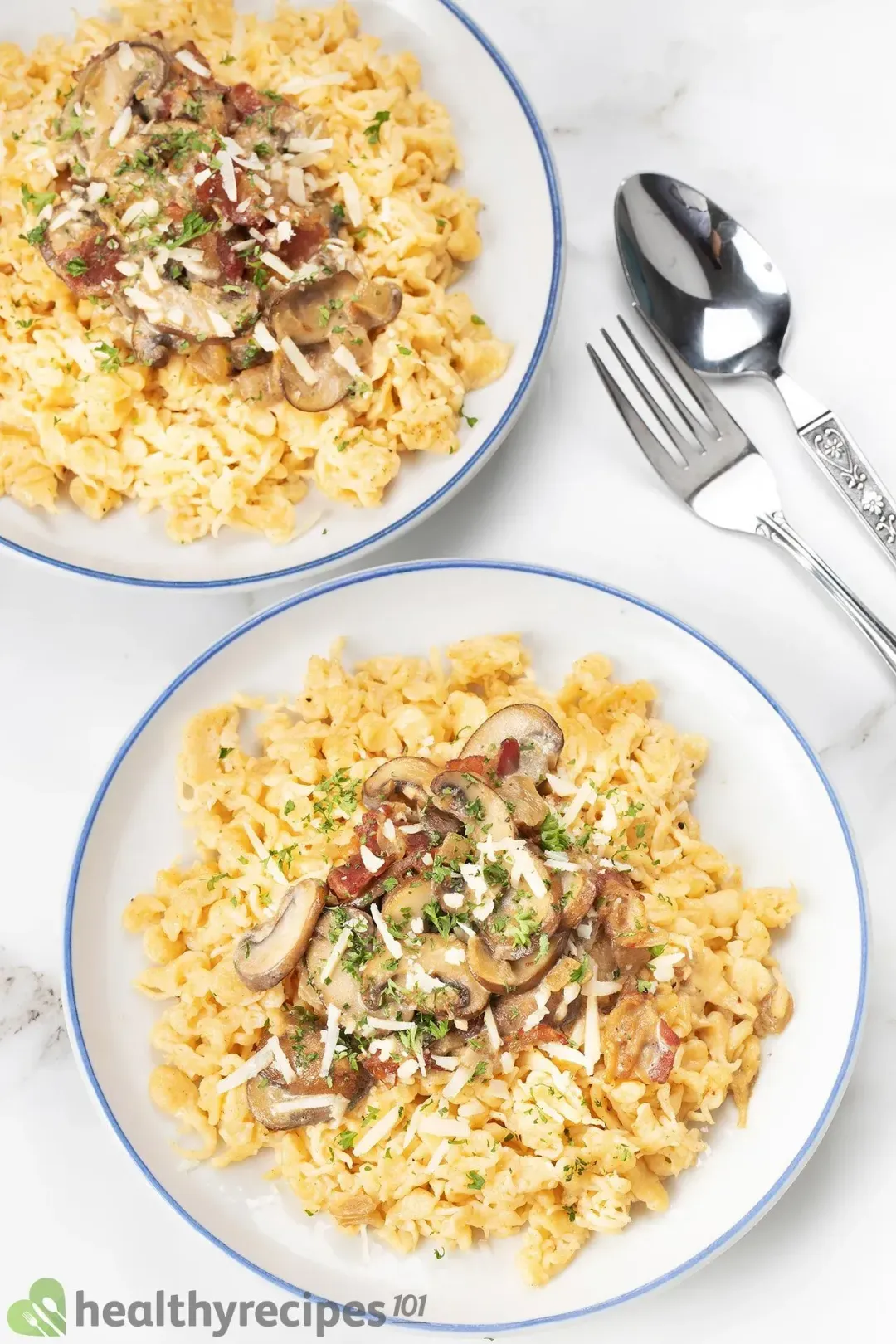 In the end, our spaetzle contains about 10g of saturated fat and 528mg of sodium per serving. This may not be low in saturated fat and sodium, but it's still within the recommended limit.
How Many Calories Are in Spaetzle?
There are 498 calories in one serving of our spaetzle recipe. One serving contains about 1 cup of spaetzle and creamy mushroom sauce.
This should provide enough calories for you to function properly without feeling fatigued, provided that you don't exercise too much.
However, if you want to have a wholesome, nutritious meal, we recommend pairing spaetzle with a side salad. We will go into more detail about side dishes later.
Sauces for Spaetzle
1. Mushroom Sauce
Today's spaetzle recipe wouldn't be complete without mushroom sauce.
Mushrooms are high in B vitamins and proteins while low in calories and fats. In other words, not only are mushrooms healthy, but they also make excellent fillers.
To make mushroom sauce, you will need to make a roux. A roux is a thickening agent made by cooking flour in some sort of fat such as oil or butter.
Instead of making the roux first, we sauté the mushrooms to draw out moisture. This will give them a meat-like texture and smoky, charred flavor.
Once the mushrooms are browned, add flour directly into the pan. The residual fat that is used to cook the mushrooms will cook the flour.
Our mushroom sauce also contains bacon, onions, garlic, white wine, heavy cream, and herbs to make it more flavorful.
2. Gravy
Gravy is a sauce that has a similar base to the mushroom sauce— a roux. It's made from the juice of meat or vegetables which and then thickened with cornstarch.
This creamy, luscious sauce adds tons of flavor to your spaetzle.
Tips for Making the Best Spaetzle Recipe
It can be difficult to tell if your spaetzle batter has reached the right consistency.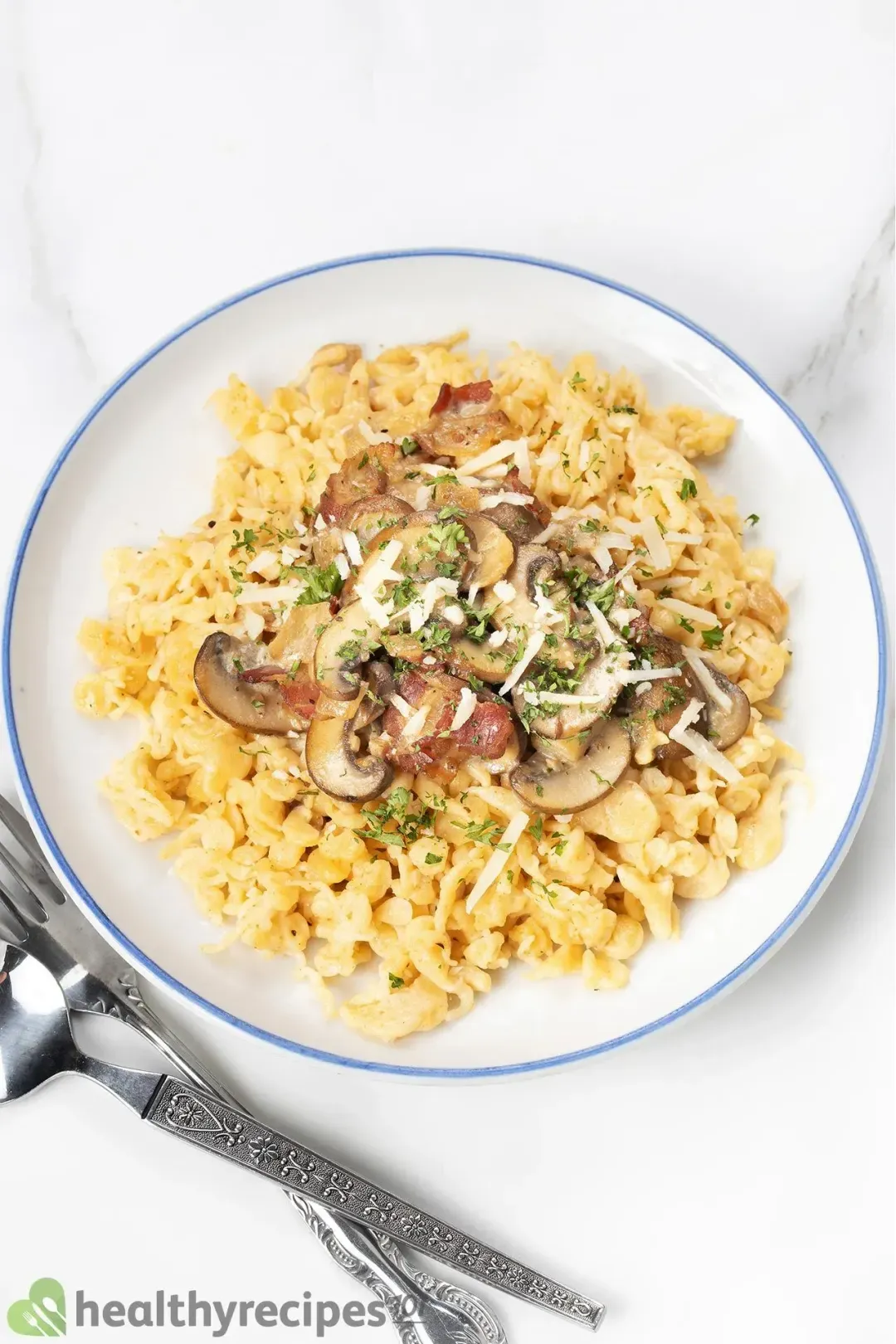 A good trick is to spread the batter on the back of the grater. It shouldn't drip easily through the holes of the grater without you pressing it.
If the batter is too runny, add a tablespoon of flour, whisk it into the batter, and check again. Vice versa, if it's too thick, add a tablespoon of milk or water.
Another trick to up your spaetzle game is to sauté cooked spaetzle in melted butter. The pasta will become crispy while still being a bit soft and chewy— giving it contrasting textures.
What Else Goes With Spaetzle
Green beans are versatile; you can cook them however you want and they will still retain their nutrients. They can be a great addition to our creamy mushroom sauce.
However, green beans tend to be rather bland and don't absorb flavors well. Sautéing the beans along with the mushrooms before making the sauce will lend them a touch of umami flavor.
Peppers also make a good addition, and this Rasta Pasta dish showcases their aromatic essence when paired with pasta. Or toss in some ground beef and cheese to resemble a tasty Cheesy Taco Pasta.
What to Serve With Spaetzle
1. Chicken Paprikash
Spaetzle is often served plain as a side dish that accompanies this Hungarian chicken dish.
Traditional chicken paprikash is rich, creamy, slightly spicy, and flavorful. It will pair perfectly with a buttered spaetzle.
Delicious as it may sound, the pair doesn't make a very healthy combo. This combination may contain a high amount of saturated fat and lack in fiber.
We would like to suggest a healthier option.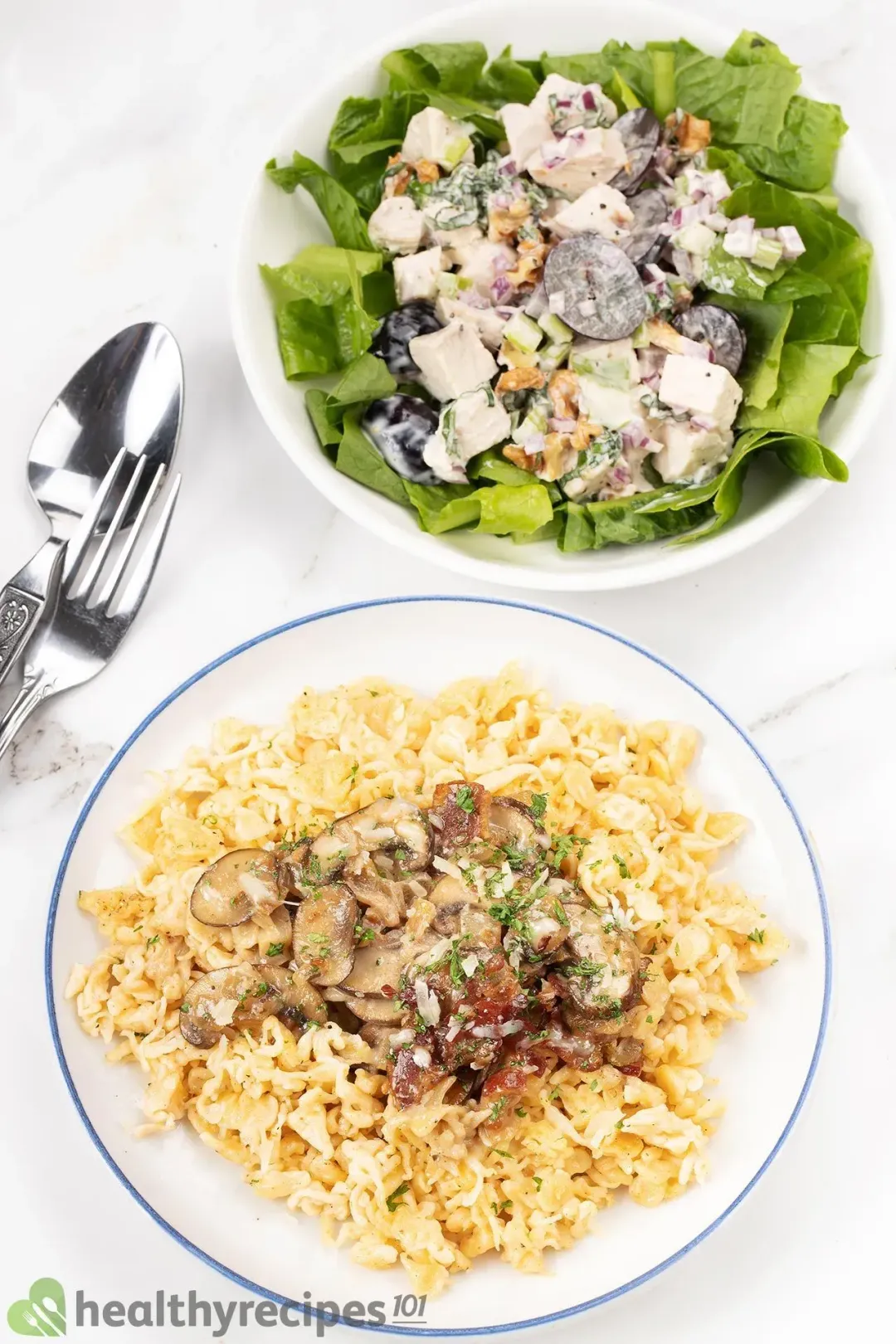 2. Waldorf Chicken Salad
For today's recipe, we're turning spaetzle into the main dish and pairing it with a salad.
This crispy, buttery pasta with a creamy mushroom sauce is served with Waldorf chicken salad. This salad will add vegetables and protein to your meal— making it a wholesome and nutritious supper.
FAQ
1. Can You Freeze Spaetzle?
Yes, you can.
Put cooked spaetzle in a freezer-safe ziploc bag. Seal it tightly and put it in the freezer.
Frozen spaetzle will last up to 1 month.
When you need it, put it in the fridge and allow it to thaw slowly overnight. Alternatively, you can put the sealed bag of frozen spaetzle in a tub of water and let it thaw.
Once thawed, you can proceed to reheat the spaetzle over the stove or in the microwave.
Place the spaetzle in a pan, add butter, and cook over medium heat until slightly crispy.
If you use the microwave, put spaetzle in a microwave-safe container and cover with a lid.
2. How Long Does Spaetzle Last?
Our spaetzle will last up to 5 days in the refrigerator. We recommend storing the noodles and sauce in separate airtight containers to prolong shelf life.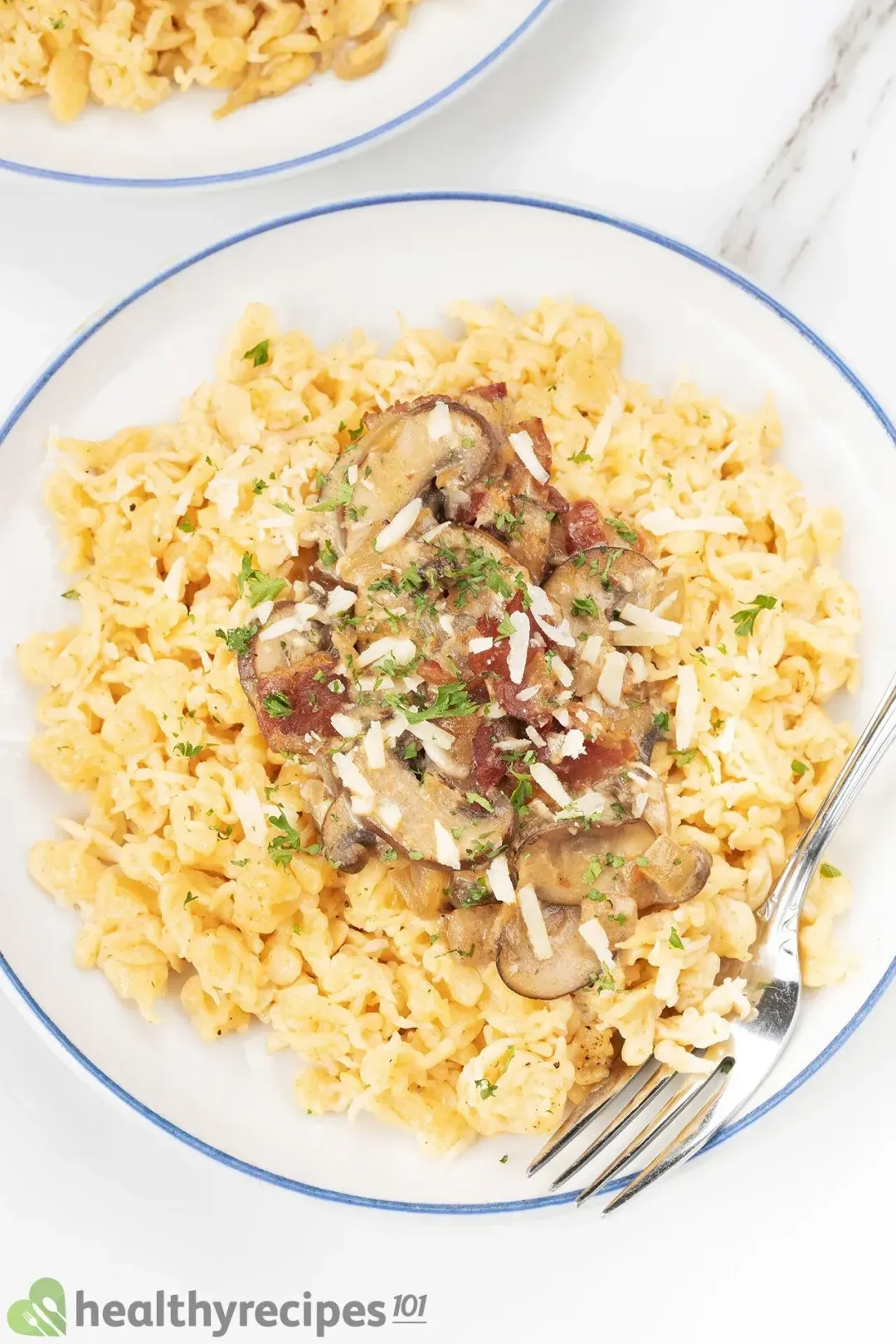 3. Can You Make Spaetzle Ahead of Time?
Yes, you can.
Even though the batter literally takes minutes to make, the whole process can be quite time-consuming without a spaetzle maker.
Making spaetzle in advance will save you some time. And, it is also nice to have some ready to eat whenever you fancy.
When you have some time to spare, make a big batch of this eggy pasta. Boil and drain it as usual and toss it in olive oil to prevent sticking.
We recommend placing it in an airtight container to keep the pasta from drying out.
Spaetzle
This might not be your authentic spaetzle recipe, but it's definitely worth a try. How could it not be, when it's so easy and fascinating to make?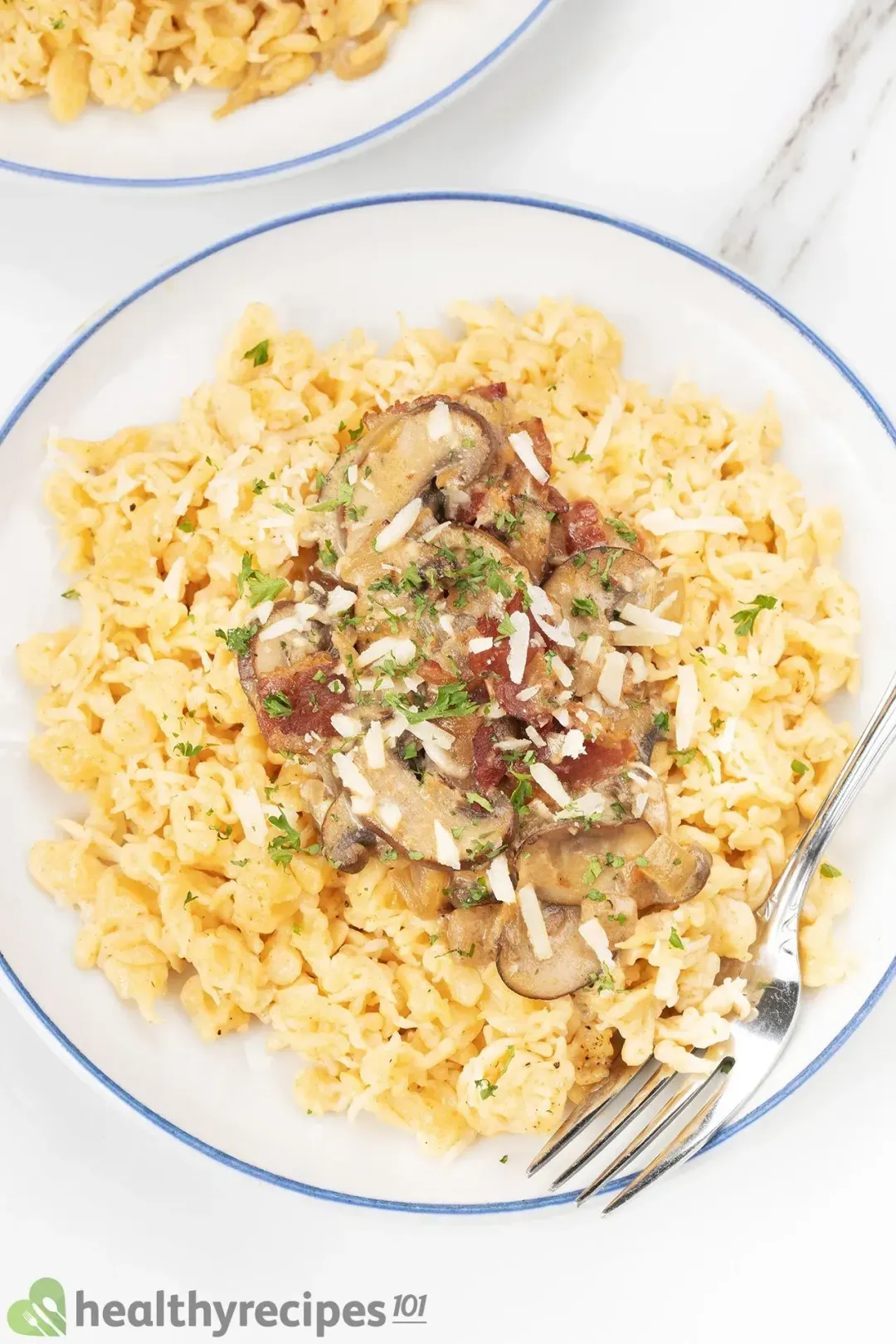 cook TIME

40 mins

prep TIME

5 mins

total TIME

45 mins
COURSE

Dinner, Main Course

CUISINE

German

SERVINGS

CALORIES

498 kcal
INGREDIENTS
1 1/2 cups

all-purpose flour

4 tbsp

plain Greek yogurt

2 quarts

water

(to boil the spaetzle)

3 tbsp

olive oil

(divided)

1/4 tsp

ground black pepper

(divided)

1.2 oz

raw cured bacon

(roughly chopped)

6 oz

button mushrooms

(sliced)

4 oz

onions

(finely diced)

1 cup

unsalted chicken broth

3 tbsp

grated parmesan cheese

1 tbsp

fresh parsley

(chopped)
INSTRUCTIONS
1
Make the batter: In a large mixing bowl, add 1 1/2 cups all-purpose flour, 1 tsp cayenne pepper, and 1/4 teaspoon salt. Whisk to combine. Make a well in the center of the flour mixture and add 9 tbsp whole milk, 4 tbsp plain Greek yogurt, and 3 medium eggs. Whisk until smooth. Set aside.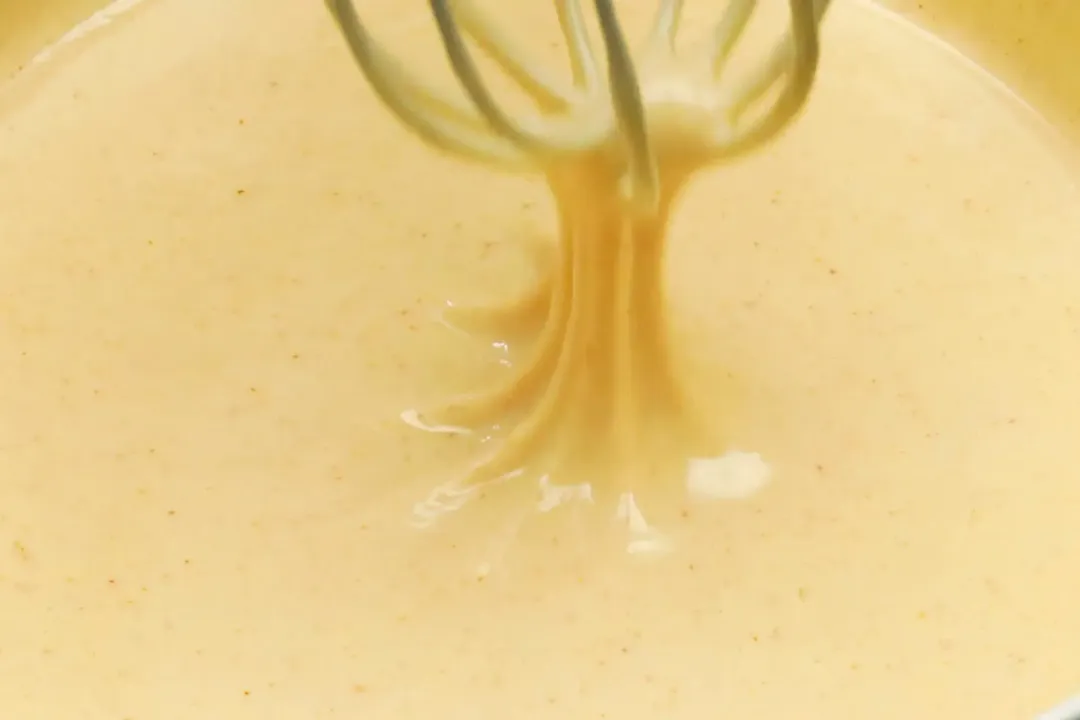 2
Prepare a workstation: Fill a large pot with 2 quarts of water and bring to a boil over high heat. Meanwhile, set up a workstation: place the bowl of batter, a spatula, and a ladle next to the pot (preferably on the side of your dominant hand), and a clean bowl with a mesh strainer on the other side of the pot.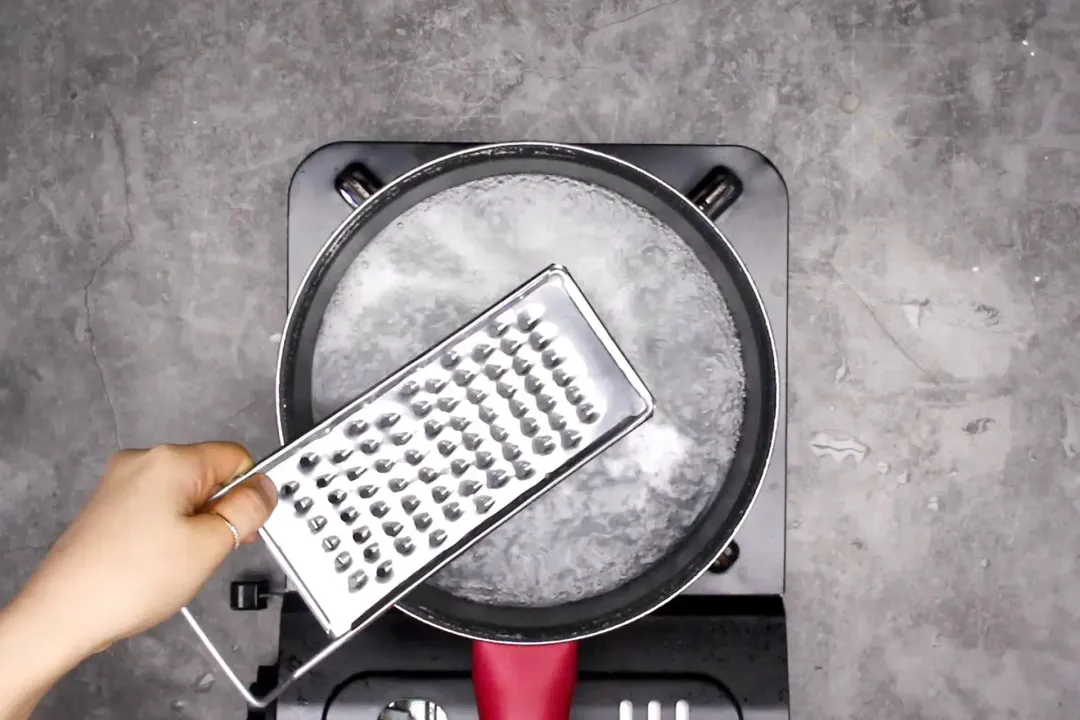 3
Cook the spaetzle: Once the water is boiling, reduce the heat to medium-high. Put a flat grater with large holes over the pot, smooth side facing up. Scoop half a ladle of the batter and pour directly on the grater and press it down with a spatula. The batter will go through the holes of the grater and form its shape once it's in the boiling water. Remove the spaetzle with a strainer immediately when it floats to the surface. Fish it out using a slotted spoon or strainer and put it in a clean bowl. Repeat with the remaining batter and set aside.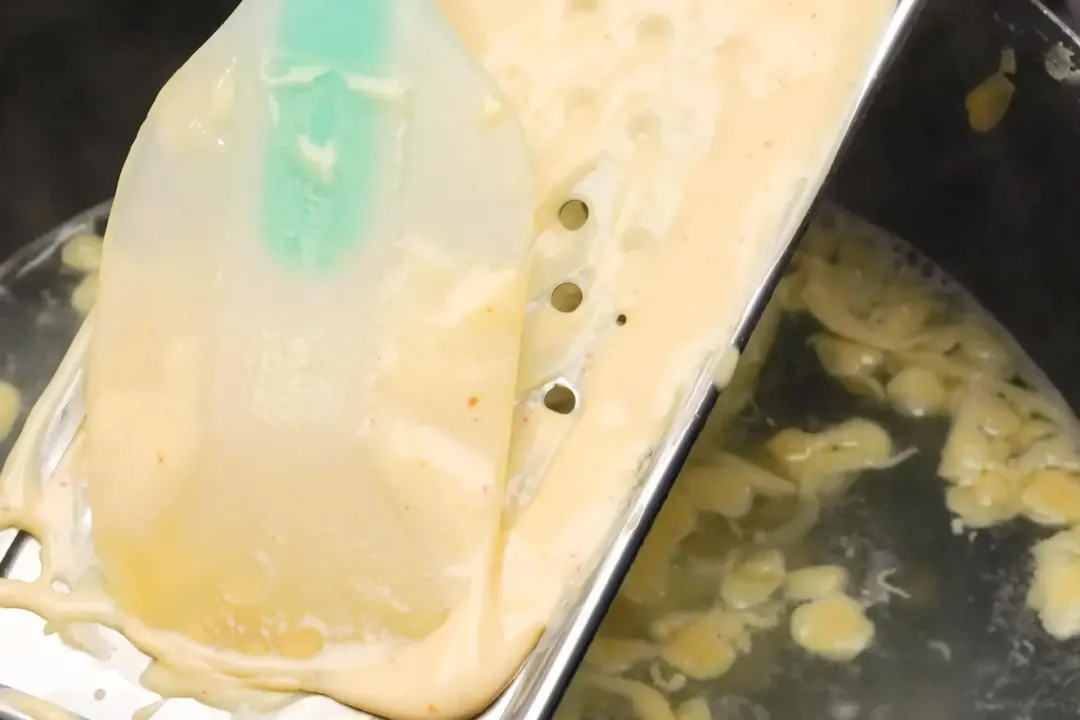 4
Sauté the spaetzle: In a large pan, heat 3/4 tbsp unsalted butter and 1 tbsp olive oil over medium-high heat. Once the butter is melted, add spaetzle, 1/8 tsp black pepper, and stir-fry for 5 minutes. Transfer to a large plate, cover with aluminum foil to keep warm, and set aside.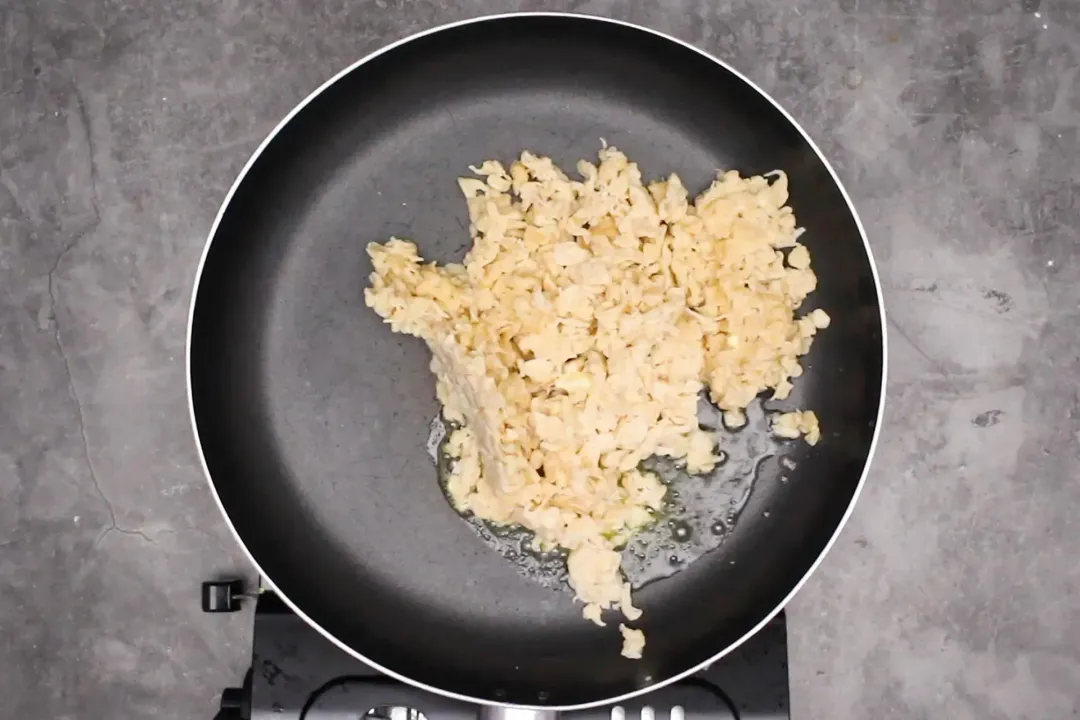 5
Make the mushroom sauce: In the same pan, add the remaining 2 tbsp olive oil, 1.2 oz raw cured bacon, and sliced 6 oz button mushrooms, reduce heat to medium and sauté for 5 minutes. Add 4 oz onions and 1 tsp garlic; cook for another 10 minutes or until vegetables are browned. Turn the heat up to high, add 2 tbsp white wine and stir constantly for 30 seconds. Add 1 cup unsalted chicken broth. Bring to a boil and add 1/4 tsp salt and 1/8 tsp black pepper. Cook for 5 minutes or until reduced by half. Turn heat down to low and stir in cream. Turn off the heat.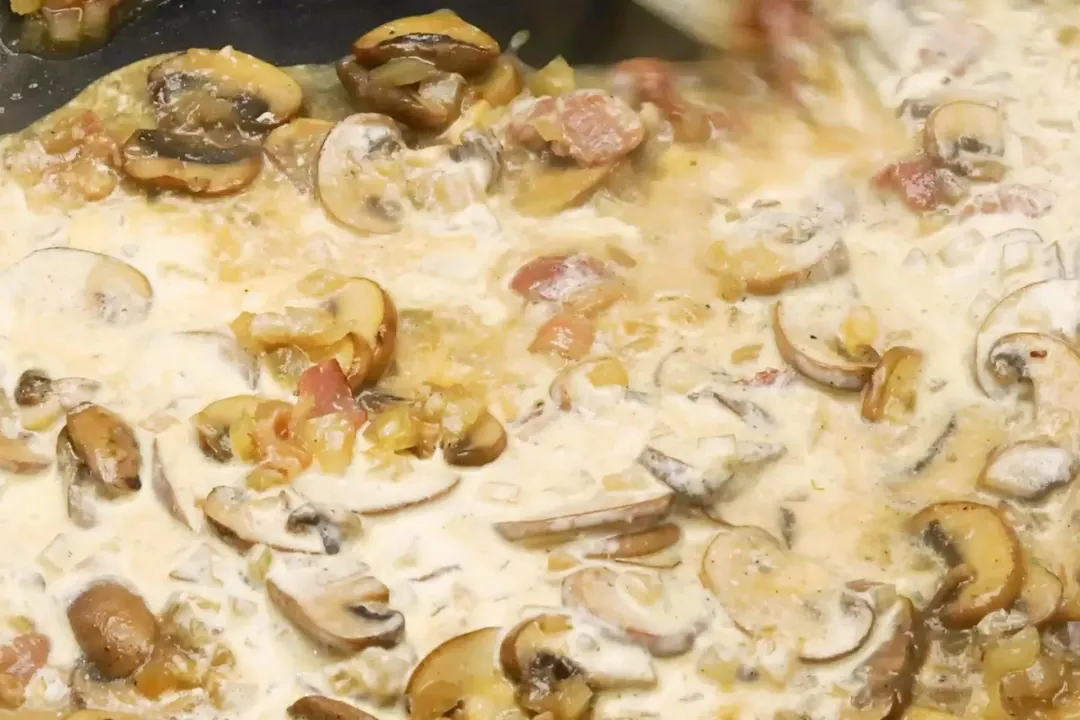 6
Serve: Transfer spaetzle into a deep dish or bowl. Ladle hot mushroom sauce over the spaetzle, garnish with 3 tbsp grated parmesan cheese and chopped 1 tbsp fresh parsley, and serve.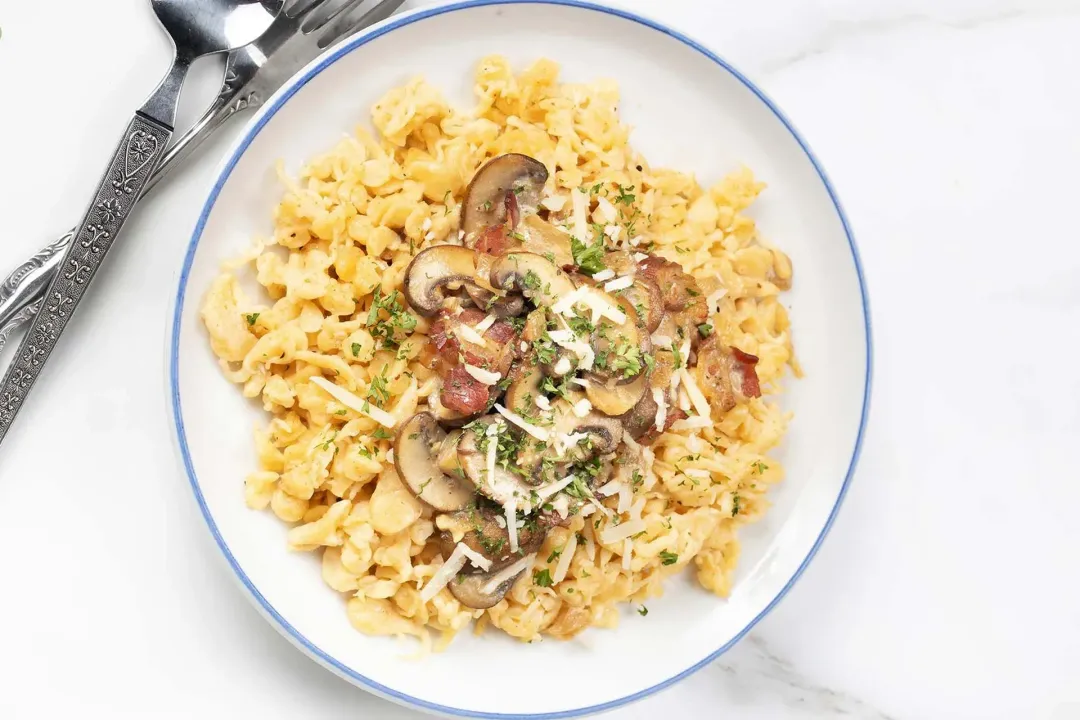 Note:
Another tip to tell if your spaetzle batter has reached the right consistency is to spread it on the back of the grater, it shouldn't drip through the holes of the grater without you pressing it.
NUTRITION
Nutrition Facts
Spaetzle
Amount Per Serving (1 serving)
Calories 498
Calories from Fat 252
% Daily Value*
* Percent Daily Values are based on a 2000 calorie diet.
Keywords: german noodles, spaetzle, spaetzle recipe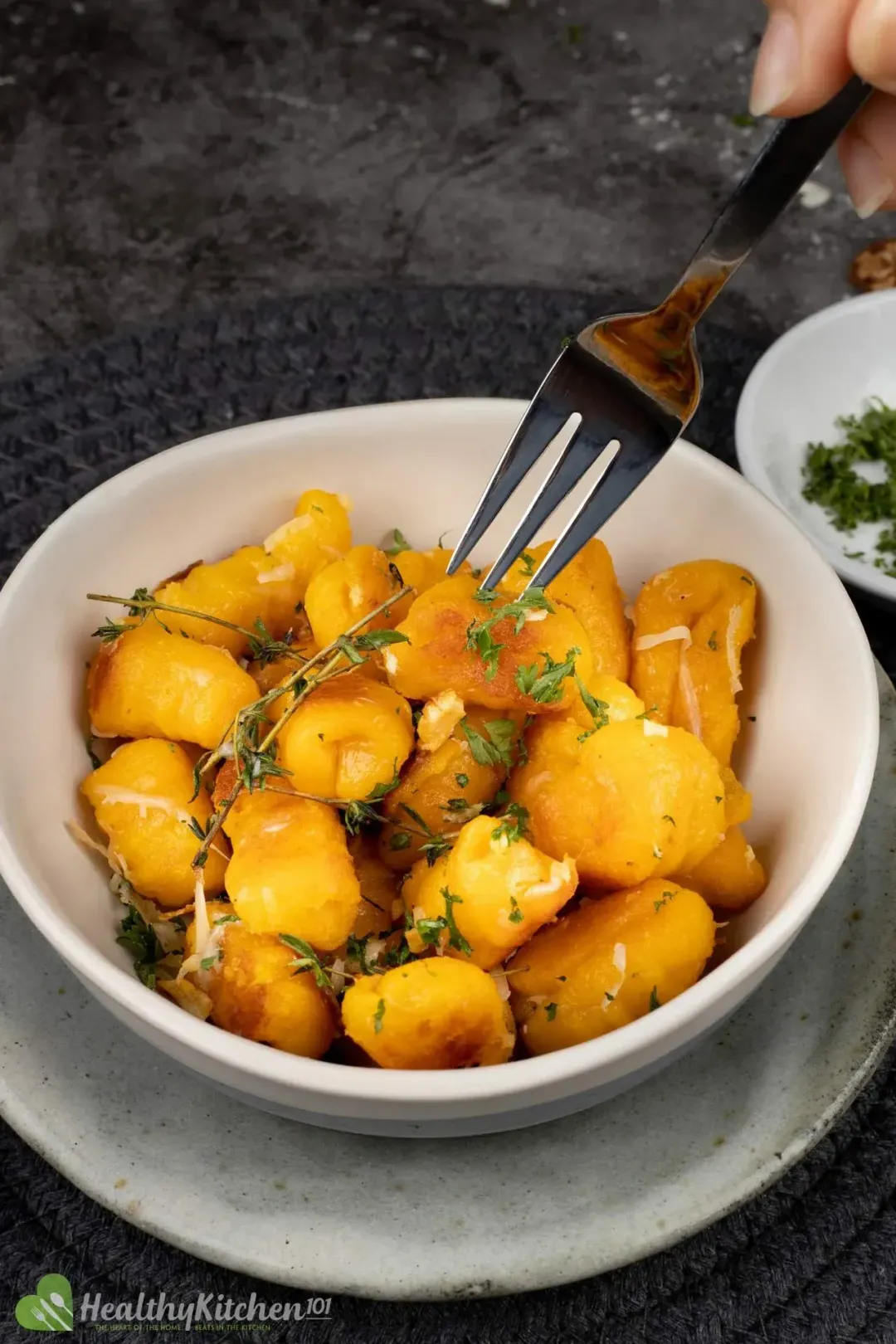 Previous Recipe
Sweet Potato Gnocchi
Sweet Potato Gnocchi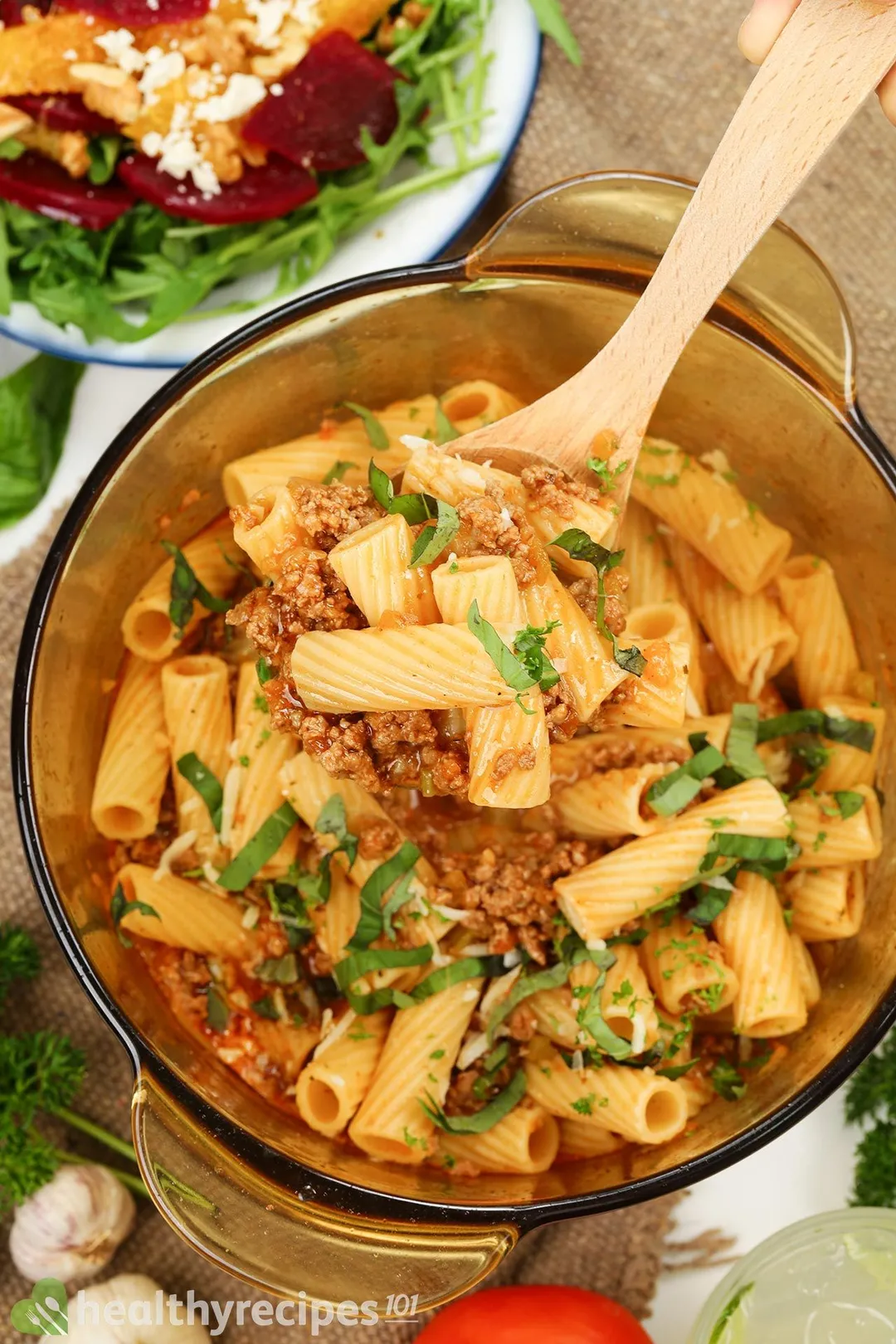 Next Recipe
Pasta Bolognese
Pasta Bolognese
Head Chef, Culinary Consultant
Tuyet Pham is an award-winning Saigonese chef who believes that joy is the secret ingredient to delicious food. At Healthy Recipes 101, Tuyet personally tests and simplifies every recipe, ensuring maximum flavor with minimal effort. With a background at prestigious French restaurants P'TI Saigon and Le Corto, Tuyet knows how to make every dish exceptional.
Writer, Author
Luna Regina is an accomplished writer and author who dedicates her career to empowering home cooks and making cooking effortless for everyone. She is the founder of HealthyKitchen101.com and HealthyRecipes101.com, where she works with her team to develop easy, nutritious recipes and help aspiring cooks choose the right kitchen appliances.
Nutrition Reviewer
Lizzie Streit is a Minneapolis-based dietitian and founder of It's a Veg World After All. She completed her MS in Human Nutrition from Drexel University, and is an expert in culinary nutrition, recipe development, and nutrition communications. Lizzie's philosophy is centered around making nutrition recommendations, and especially the advice to eat more vegetables, approachable and realistic. She is excited to be working with the team at Healthy Recipes 101 to ensure that their recipes are both nutritious and delicious.
I use a 99 cent plastic streamer that I picked up at a second hand store to make my spoetzl with although my recipe is a little different than yours I have never found a bad one yet

That seems like a creative way of making spaetzle! Thanks for commenting!

My grandmother made them and I do also. She mixed her batter in a bowl and using a. Knife and a fo r k cult the batter off into the boiling water. Some reason they were always the same size. I've yet to master that technique.

Yes that is not an easy technique. We had to figure and cheat our way out using a grater!

My husbands grandmother would use a metal pie tin. Punch a lot of holes in it with a nail, set it on top of the boiling broth and push the batter through the holes into the liquid.

Hi Sharon! That sounds like an interesting way to make spaetzle. Hope you guys enjoyed the recipe!

Spice up your traditional pasta dish with Spaetzle!