If you're a pasta lover, you have come to the right place as today we are giving you our favorite healthy pasta recipes. All of these recipes require nothing but a few simple ingredients and a passion for pasta—best of all, they won't take much of your time.
Best Healthy Pasta Recipes
Is Pasta Healthier Than Rice?
When it comes to eating a balanced diet, most people believe that carbohydrate-rich meals like pasta and rice can be harmful.
However, this could not be further from the truth, as the exact reverse is the case. These slow-release carbs aid in energy replenishment and, as a result, endurance during workouts.
As part of a balanced diet, starchy foods like rice and pasta should account for a third of our daily calories. But, in terms of nutrition, which is better: pasta or rice?
To uncover the answer, we looked at a regular bag of retail white rice and white pasta and dissected the nutritional benefits.
Pasta (per 100 g)
Calories: 160                                                              
Fat: 0.7 g
Carbs: 32.5 g
Fiber 1.4 g
Protein: 5.1 g
Rice (per 100 g)
Calories: 117
Fat: 0.5 g
Carbs: 25.1 g
Fiber: 1.2 g
Protein: 2.6 g
The breakdown:
Though there may not appear to be much of a difference between rice and pasta at first glance, when we examine the details, we can see that these carbohydrates have their own distinct advantages and disadvantages. The greatest option for you is the one that works best with your diet.
1. Rice
When it comes to calorie content, rice has 117 calories per 100 g compared to 160 calories for pasta. If you're trying to lose weight on a low-calorie diet, rice over pasta might be the best option.
When it comes to carbohydrate content, rice has far fewer than pasta. If your gym regimen requires you to limit the number of carbohydrates in your diet for the best results, rice may be a better option than pasta.
2. Pasta
We can see that pasta has more nutritional fiber than rice, which is an important aspect of a balanced diet and digestive system health.
We can also see that pasta has more protein per 100 g than rice (5.1 g vs. 2.6 g), thus if getting enough protein from your dietary sources is a priority for you, pasta may be a better option.
Protein aids in the development and recovery of our muscle groups, therefore if weight training is a part of your gym routine, protein is an essential nutrient to include in your diet.
The results:
Both rice and pasta have health benefits when eaten in moderation. Rice takes the cake when it comes to calorie and carbohydrate levels. However, if you want more protein and fiber, pasta beats rice.
Though carbohydrates are an important element of your diet, portion control is crucial, and whole-grain alternatives to rice and pasta are better for your body than refined-grain alternatives.
Remember that nutrient-dense foods like vegetables should make up a large portion of your plate. Adding protein from meat or meat substitutes to pasta and rice dishes makes for a more filling and nutritious dinner.
3. How Many Calories Are There in Pasta?
As mentioned before, there are 160 calories per 100 g of pasta.
Types of Pasta
Despite the fact that pasta was originally mentioned in the 13th century, it is now one of the most popular foods on the planet. It's adaptable, practical, and rewarding - and there are many varieties to choose from.
While there are roughly 350 different types, each shape and style is ideally suited to specific types of Italian cuisine, which is a little-known truth.
1. Spaghetti
Consisting of long, thin noodles that may be coupled with a variety of sauces, spaghetti is one of the most popular pasta in the world. Spaghetti Bolognese is perhaps the most well-known meal, in which pasta is served with meat in a marinara sauce. This spaghetti goes well with any meat or veggie meal, or even just garlic and olive oil.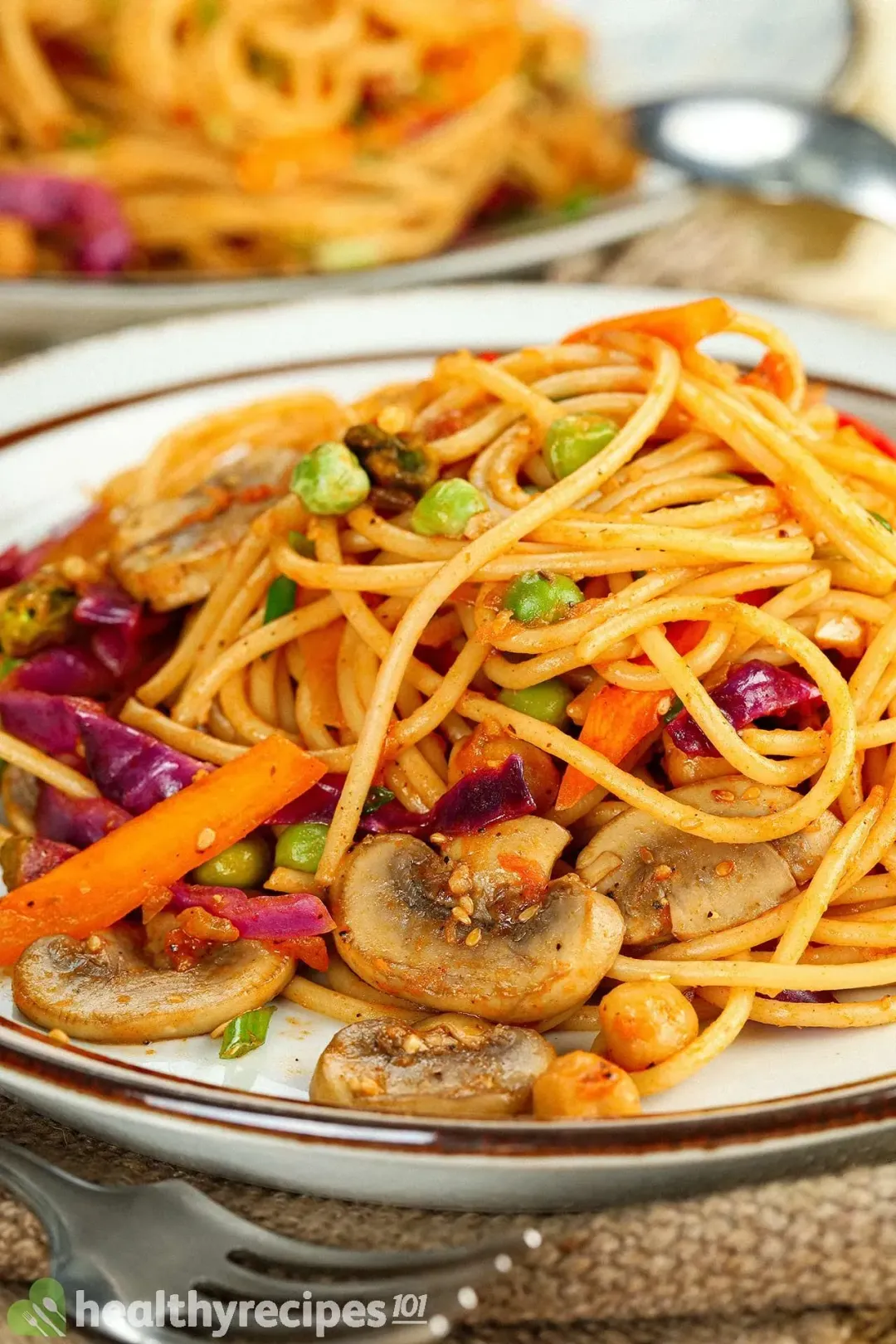 2. Penne
Penne is a popular shape with a circular, tube-like structure and diagonal cuts on both ends. Because the tube holds the sauce well, it's best served in meals with a rather thick, creamy sauce, such as Penne Arrabbiata. This is also the greatest variety of pasta for making spaghetti bakes.
3. Lasagne
Lasagne is the name of the thin pasta sheets that make up a dish, not the dish itself, contrary to common perception. Lasagne is commonly used in oven-baked dishes, the most well-known of which is lasagne al forno, which consists of a beef or pork ragu sandwiched between layers of lasagne and béchamel sauce, then topped with cheese. This meal can be made with any type of stuffing, such as mushrooms in place of pork.
4. Ravioli
Ravioli are pillow-shaped dough squares that can be used in a variety of ways. They can be stuffed with cheese, seafood, meat, or vegetables and covered with sauce, served in soups, or drizzled with olive oil.
5. Rigatoni
Rigatoni are tubes with little ridges on the outside, similar to penne, but they are somewhat wider and cut in a square rather than diagonally. Because of their size, they're best served with chunky vegetable sauces or baked into a gratin.
6. Farfalle
This pasta is known as 'bow-tie' pasta and is shaped like a butterfly. It's a little pasta with a vast surface area, which is why it's best served with cheese or tomato sauce, as the 'wings' perfectly hold the sauce. It goes well with a cold pasta salad and is occasionally served with grilled chicken.
Fusilli
This spiral-shaped pasta goes well with rich meat sauces or chunky vegetables because the pieces get stuck in the crevices of the twirls, giving the meal a wonderful texture.
Macaroni
Macaroni is a simple shape consisting of little tubes of pasta cut into short lengths and often curved. They're frequently found floating in a minestrone or cheese sauce, ready to be baked for a classic Mac 'n Cheese, so they don't actually need to contain sauces.
How to Cook Pasta
1. Dry, store-bought pasta
The best advice we can give you on how to cook pasta is to follow the instructions on the packet. No one knows dry pasta better than its manufacturers.
2. Freshly made pasta
If you have the time, try making homemade pasta for once.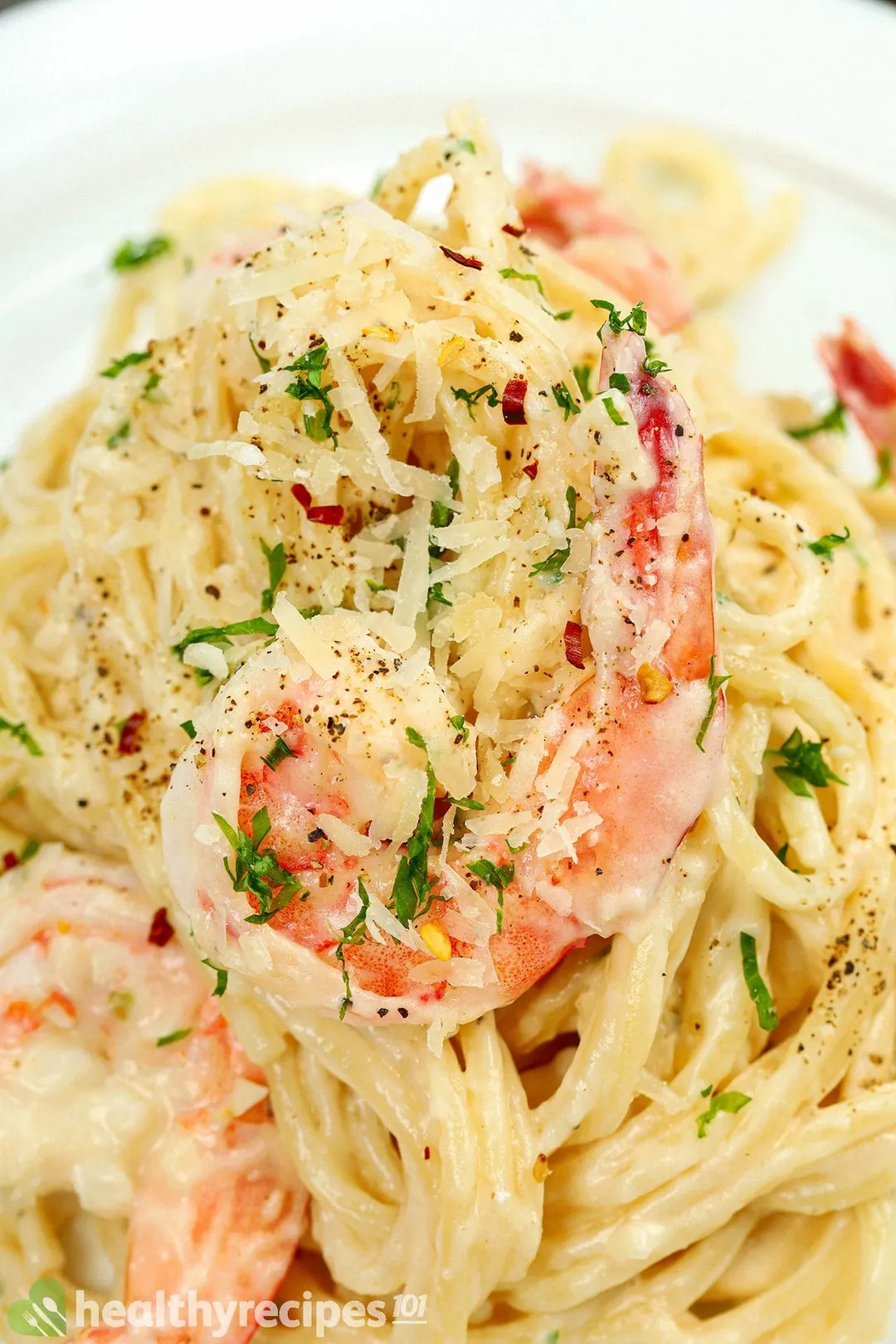 Healthy Pasta Recipes
This collection of healthy pasta recipes is dedicated to all pasta lovers out there. May your stomach and soul be filled with delicious and comforting food.
Ingredients
Directions
Choose a recipe that you like.
Assemble all the essential ingredients.
Follow the instructions to give you incredibly tasty pasta recipe in less than 40 minutes!
Writer, Author
Luna Regina is an accomplished writer and author who dedicates her career to empowering home cooks and making cooking effortless for everyone. She is the founder of HealthyKitchen101.com and HealthyRecipes101.com, where she works with her team to develop easy, nutritious recipes and help aspiring cooks choose the right kitchen appliances.
Comments/ Reviews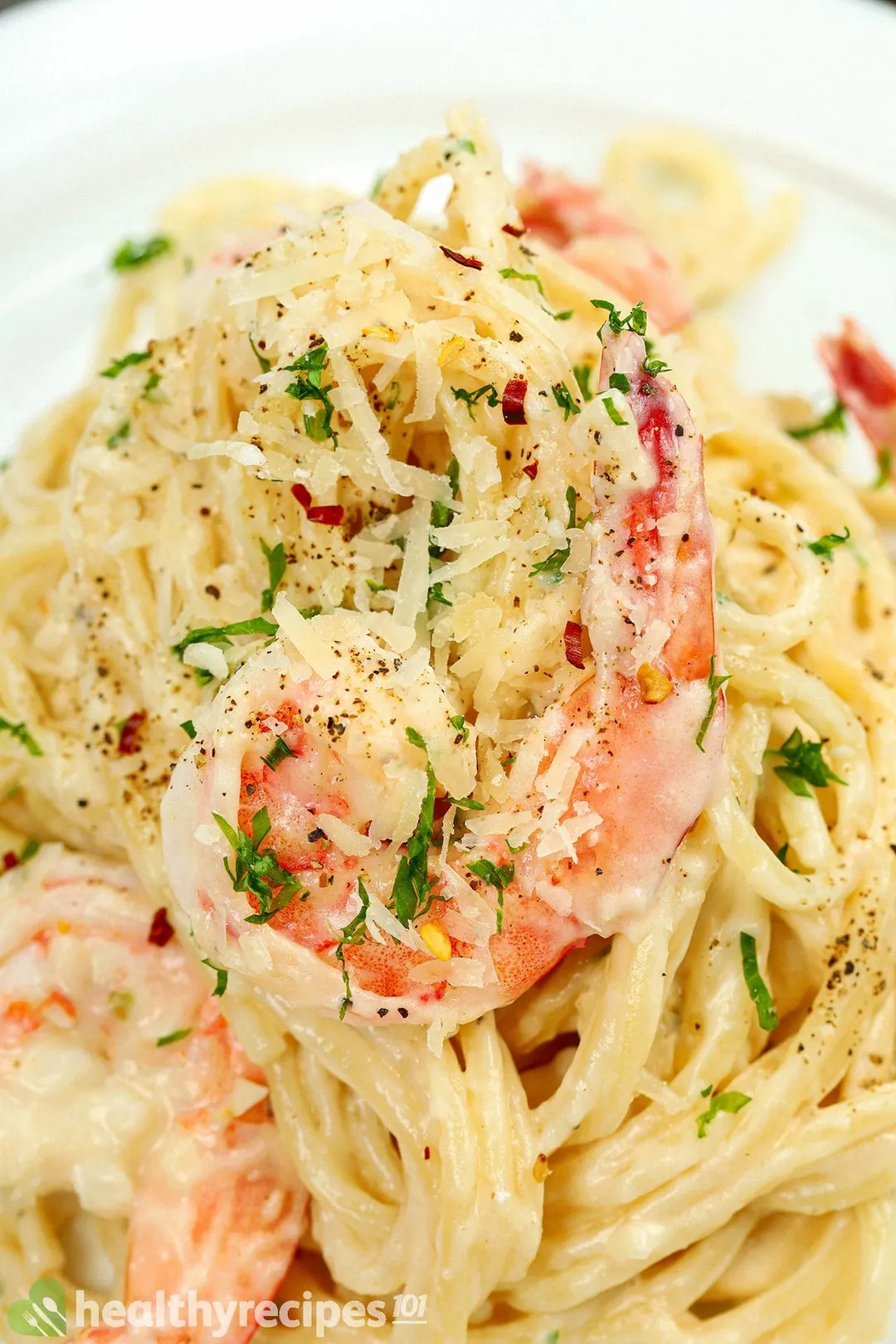 We loved them. Satisfying and delicious pasta recipes!