After a hectic day at work, you could be yearning for a delicious and nutritious meal that melts away your worries. Our cheese spaghetti does just that. This one-pan recipe features al dente pasta and bacon chunks whipped in a thick cheddar cheese mixture. You'll experience the luscious flavors and texture in every bite—chewy pasta, crispy caramelized pork, and velvety cheesy sauce.
Let's don our aprons and get going in the kitchen! 
Is Our Cheese Spaghetti Healthy?
Creating a healthier version of cheese spaghetti is quite a tricky mission, yet we've managed a delicious one you'll want to make plenty of times again.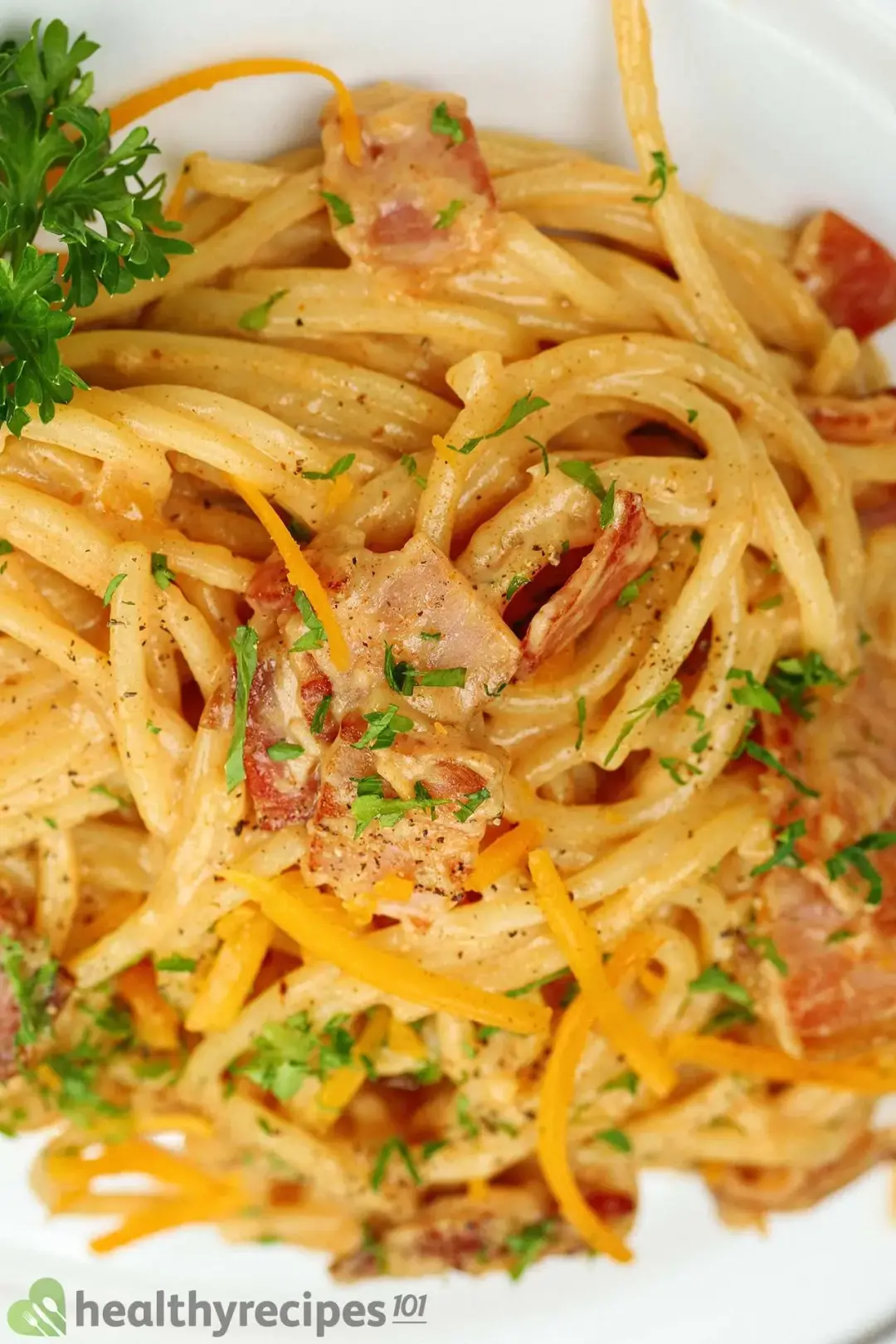 Our chefs ensure this main dish is as healthy as it's tasty. Specifically, each serving has around 460 calories, 9.9 g of saturated fat, and 548 mg of sodium.
Besides its inviting flavor, this spaghetti dish has a lot more to offer. While cheese, whole milk, and heavy cream add extra calcium, which benefits bone health and muscle growth, pasta fuels your body's energy throughout the day.
Ingredients for This Recipe
The name has revealed the simplicity of the ingredients. Here's what you'll need: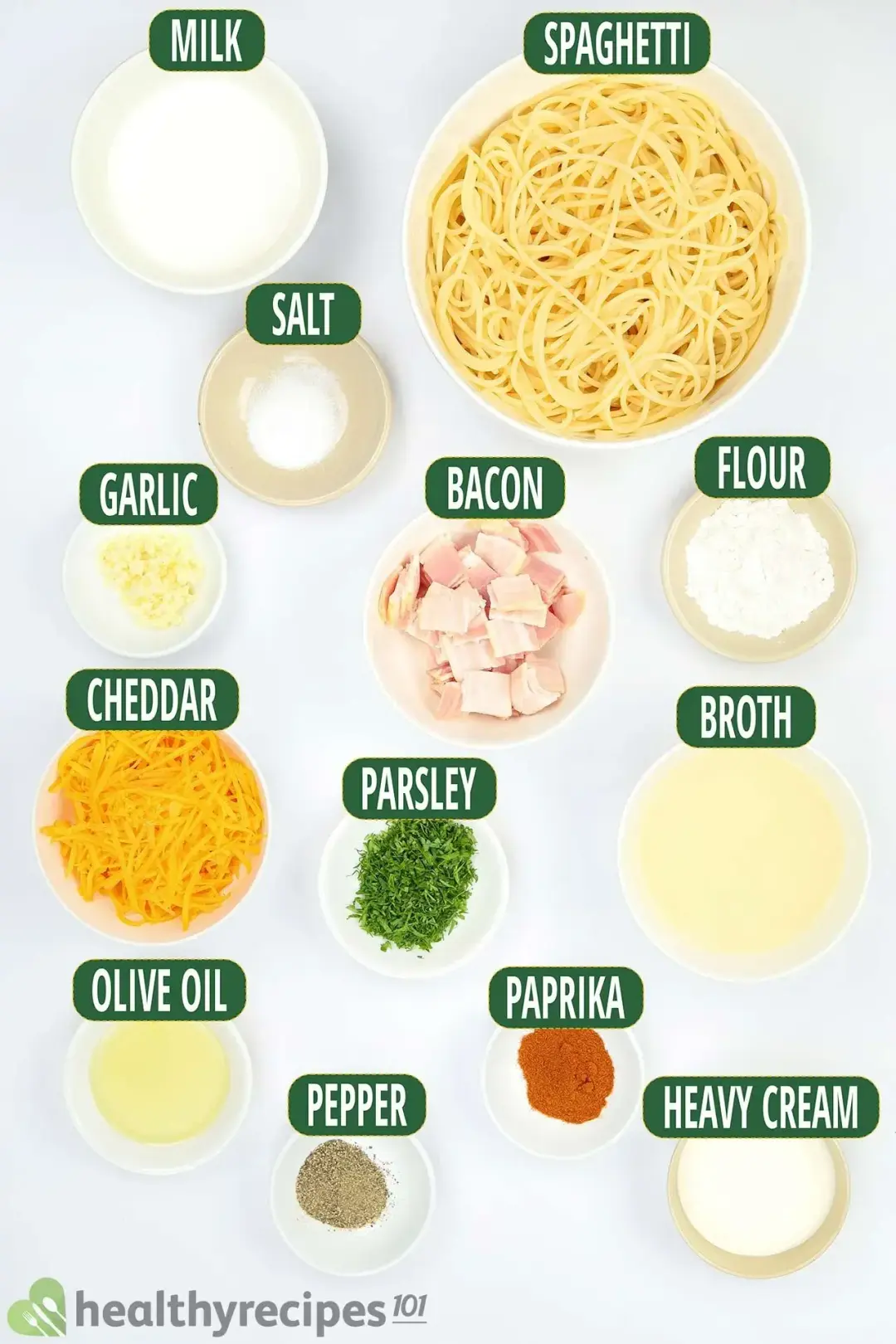 Pasta: Our chefs opt for trusty spaghetti as its long and rounded shape works superbly with thicker sauces like Mariana, Carbonara, Bolognese, or Cheese. In case you run out of spaghetti, a quick drive to the grocery store will restock your pantry.
Bacon: Chunks of pan-seared bacon have a hint of meatiness without adding too much fat and sodium to your diet.
Cheese: Our team prefers hand-shredded cheddar to pre-packed one for three reasons: it's easier to melt, has a more pronounced taste, and is more economical.
Heavy cream and milk: This combination helps blend all the ingredients into a silky-smooth sauce that tantalizes the taste buds of many pasta lovers.
Chicken broth: Chicken broth is just as wholesome as it's delicious and adds a new dimension of flavor to your dish. 
Flour: Flour is essential for thickening the consistency of sauces, stews, or soups. However, if cornstarch is what you have on hand, it works fine as a substitute.
Garlic: This aromatic lends intriguing notes to our cheese sauce—a gentle sweetness infused with a mild garlicky flavor.
Paprika: For those who love spicy food, a sprinkle of paprika livens up the taste.
Seasonings: A pinch of salt and black pepper is enough to brighten your cheese spaghetti.
Garnish: A pop of green parsley, together with some rich, yellow cheddar cheese scattered on our dish, is quite a captivating presentation.
1. What Cheese Goes Well With Spaghetti?
If you have a soft spot for cheese and love playing with flavors, mix a few types for a rich, delicious sauce to serve with the pasta.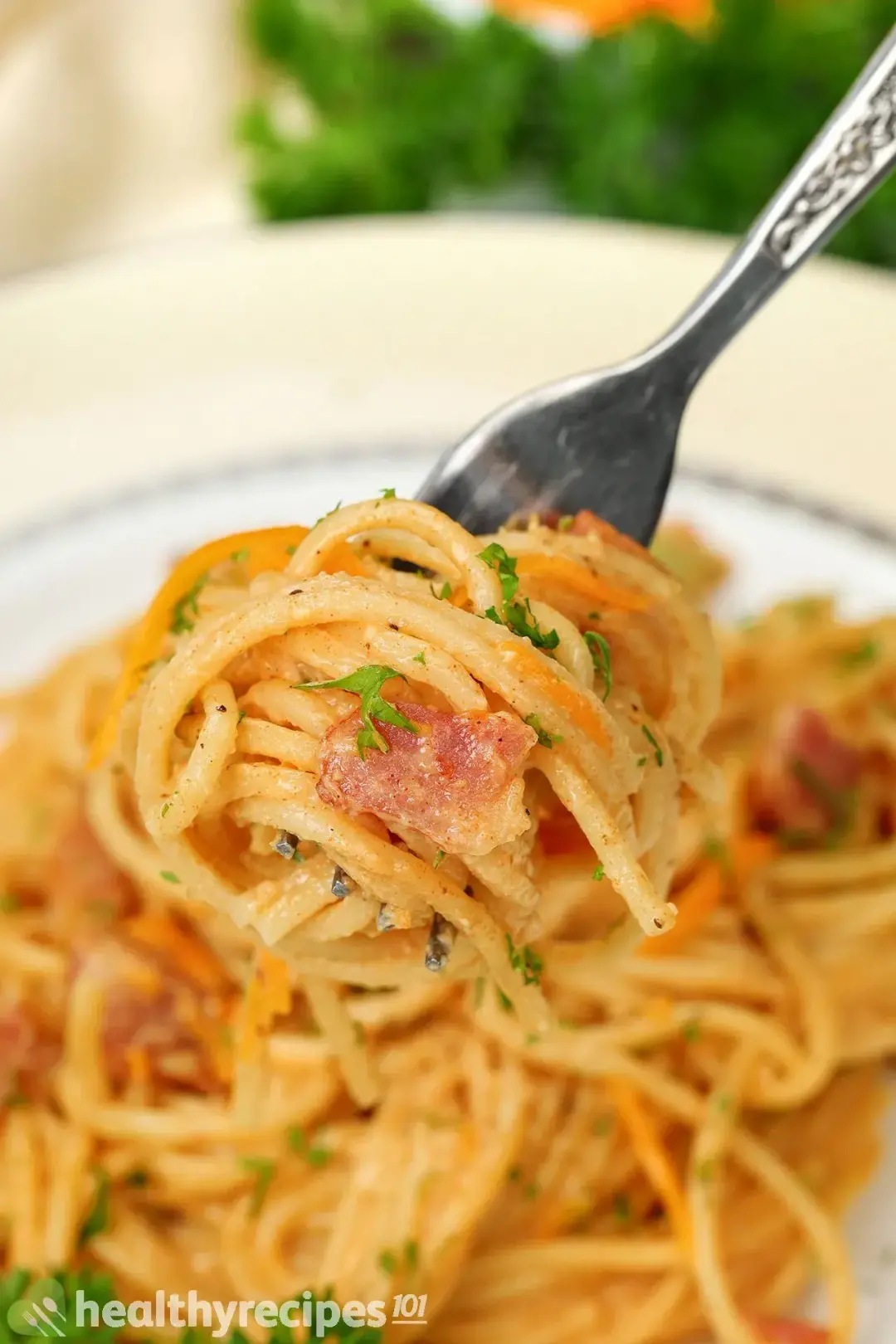 Parmesan/Parmigiano Reggiano: Made from cow's milk, this cheese appears in various recipes across many cuisines – from French and Italian to Spanish and Mexican. High-quality Parmigiano Reggiano has a gritty texture and a unique fruity taste.
Ricotta: Ricotta cheese is perfect for stirring in pasta sauce, thanks to its soft and easy-to-melt texture. It introduces layers of creamy richness to many Italian signature dishes.
Feta: A specialty of Greek cuisine, feta cheese is enjoyed for its luscious, tangy notes
Gorgonzola: The distinctive sharp and saltish taste of grated blue cheese will surprise your taste buds.
2. Can I Substitute Heavy Cream in This Recipe?
The answer is yes.
An ideal alternative to regular heavy cream is vegan heavy cream, as both share almost the same features in taste and texture.
Side Dishes for Cheese Spaghetti
Are you looking for some light and healthy salads to pair with this wholesome main dish? Here are our top recommendations:
Kale Salad
Spinach Salad
Zucchini Salad
Healthy Watermelon Arugula Salad
Beet and Feta Cheese Salad
Healthy Greek Salad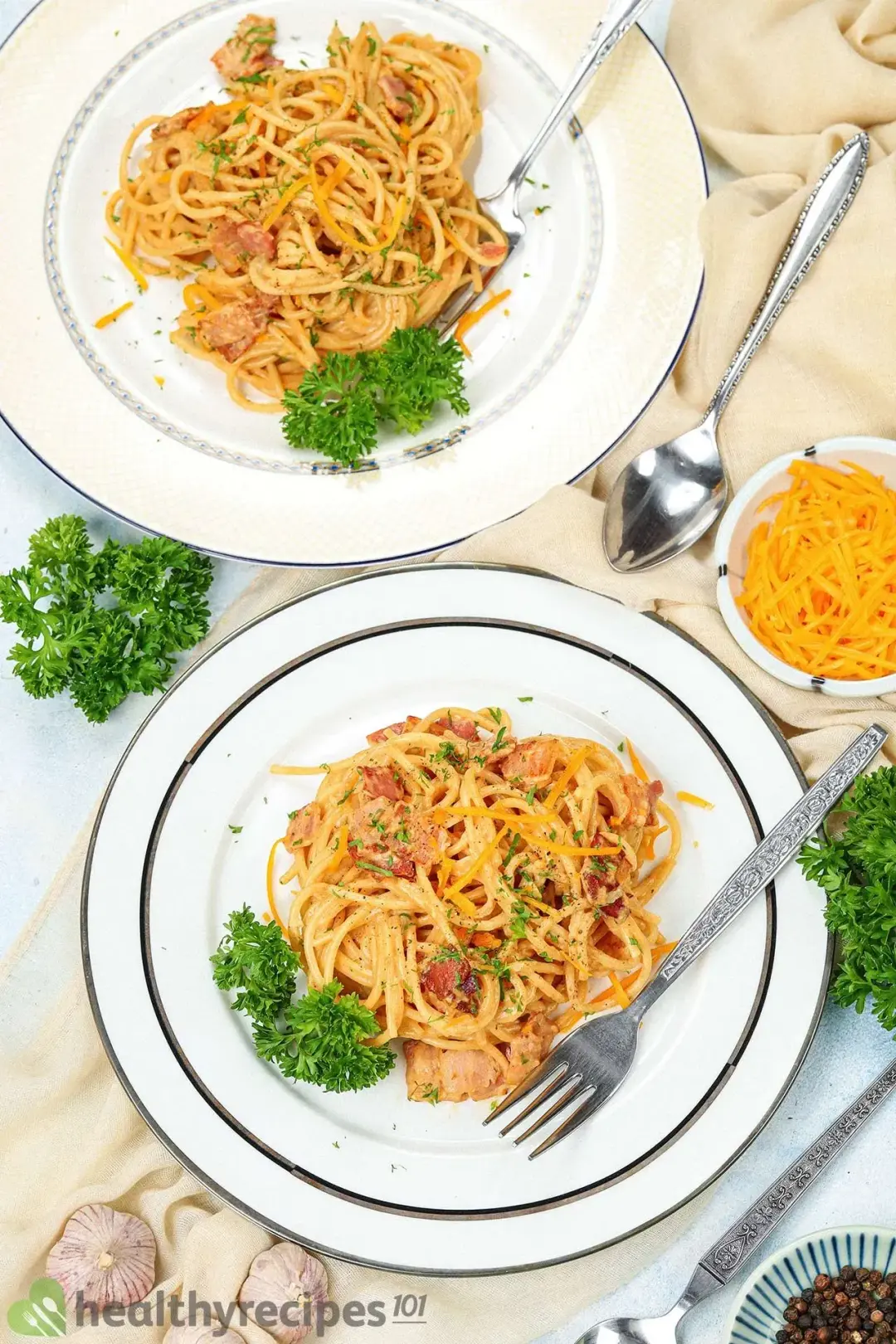 How to Make Cheese Spaghetti
Today's cheese spaghetti recipe guarantees a delectable pasta dish. After 25 minutes of prepping and combining ingredients in one pot, a perfectly cooked cheese pasta is ready to serve.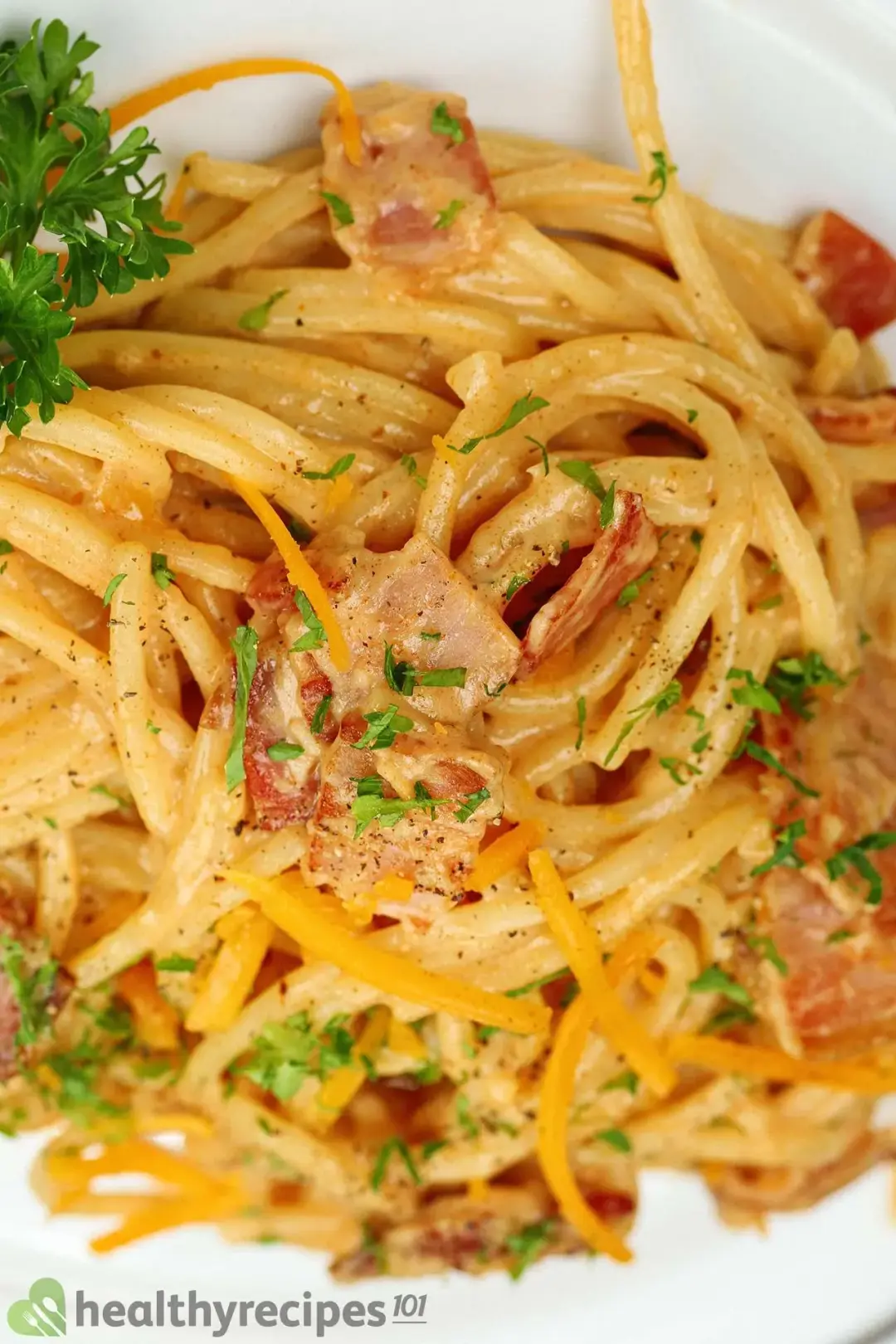 cook TIME

13 mins

prep TIME

12 mins

total TIME

25 mins
COURSE

Main Course

CUISINE

American, Global

SERVINGS

servings

CALORIES

460 kcal
INGREDIENTS
16 oz

spaghetti cooked

3 oz

raw cured bacon sliced

2 tbsp

olive oil

2 oz

cheddar cheese shredded

3 tbsps

heavy cream

0.5 cup

whole milk

0.5 cup

unsalted chicken broth

1.5 tbsp

all-purpose flour

1 tbsp

garlic minced

1 tsp

paprika

2 tbsp

parsley chopped

0.5 tsp

salt

0.5 tsp

pepper
INSTRUCTIONS
PREP:
1
Bring a pot of water to a boil, then add the spaghetti. Cook until al dente according to the packaging instructions. To avoid clumping, rinse the spaghetti in a colander under the faucet.
2
Slice the bacon strips horizontally into 1/2-inch chunks.
3
Peel and finely mince the garlic.
4
Line the parsley bunch on a cutting board and slice off the long stems. Chop finely.
COOK:
1
Pan-sear the bacon: Place a frying pan over low heat, and add 3 oz sliced raw cured bacon. Cook for 3 minutes.
2
Sauté the garlic: In the same pan, add 2 tbsp olive oil and 1 tbsp minced garlic. Stir occasionally until fragrant, about 30 seconds.
3
Combine all the sauce ingredients: Add 1 1/2 tbsp all-purpose flour to the pan and mix well. Pour in 3 tbsps heavy cream, 1/2 cup whole milk, and 1/2 cup unsalted chicken broth. Whisk well for 2 minutes. Continue to stir as you add 2 oz shredded cheddar cheese, 1 tsp paprika, and 1/2 tsp salt to the sauce.
4
Mix the spaghetti with the sauce: Toss 16 oz cooked spaghetti evenly in the cheese sauce for another 3 minutes.
5
Garnish and serve: Transfer your desired portion onto a serving plate. Sprinkle 1/2 tsp pepper and 2 tbsp chopped parsley. Enjoy!
NUTRITION
Nutrition Facts
How to Make Cheese Spaghetti
Amount Per Serving (1 serving)
Calories 460
Calories from FDA
% Daily Value*
* Percent Daily Values are based on a 2000 calorie diet.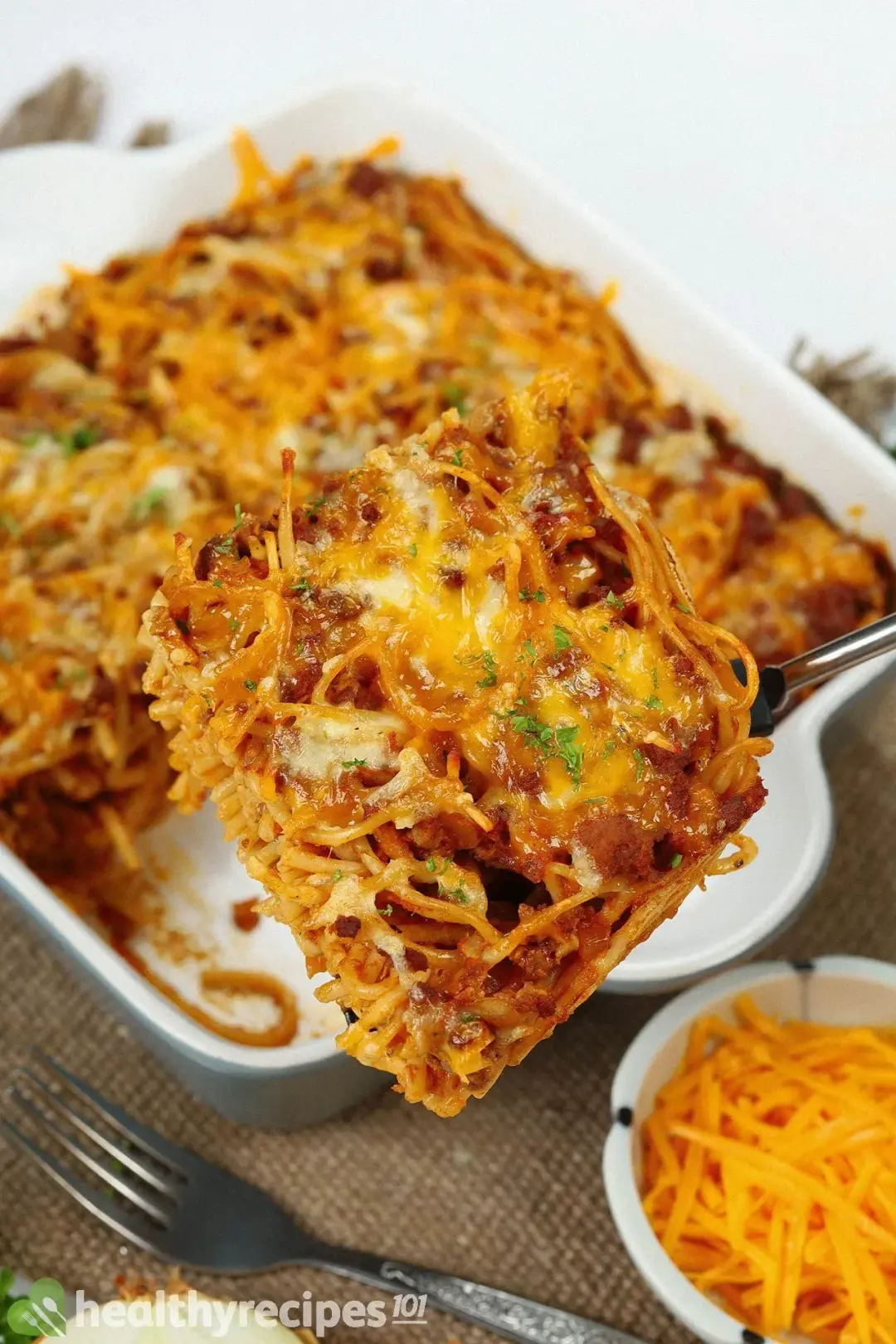 Previous Recipe
Baked Spaghetti
Baked Spaghetti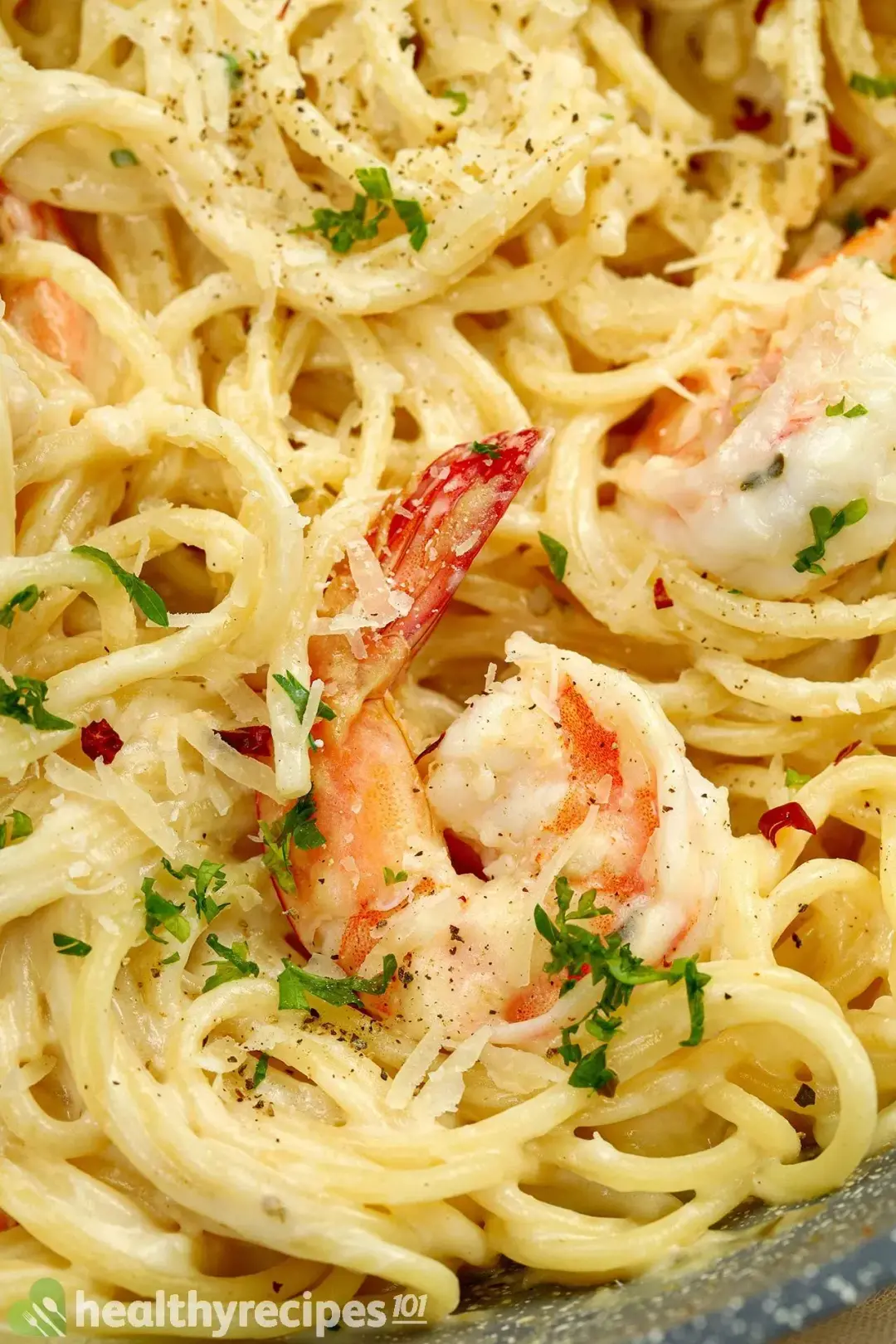 Next Recipe
White Spaghetti
White Spaghetti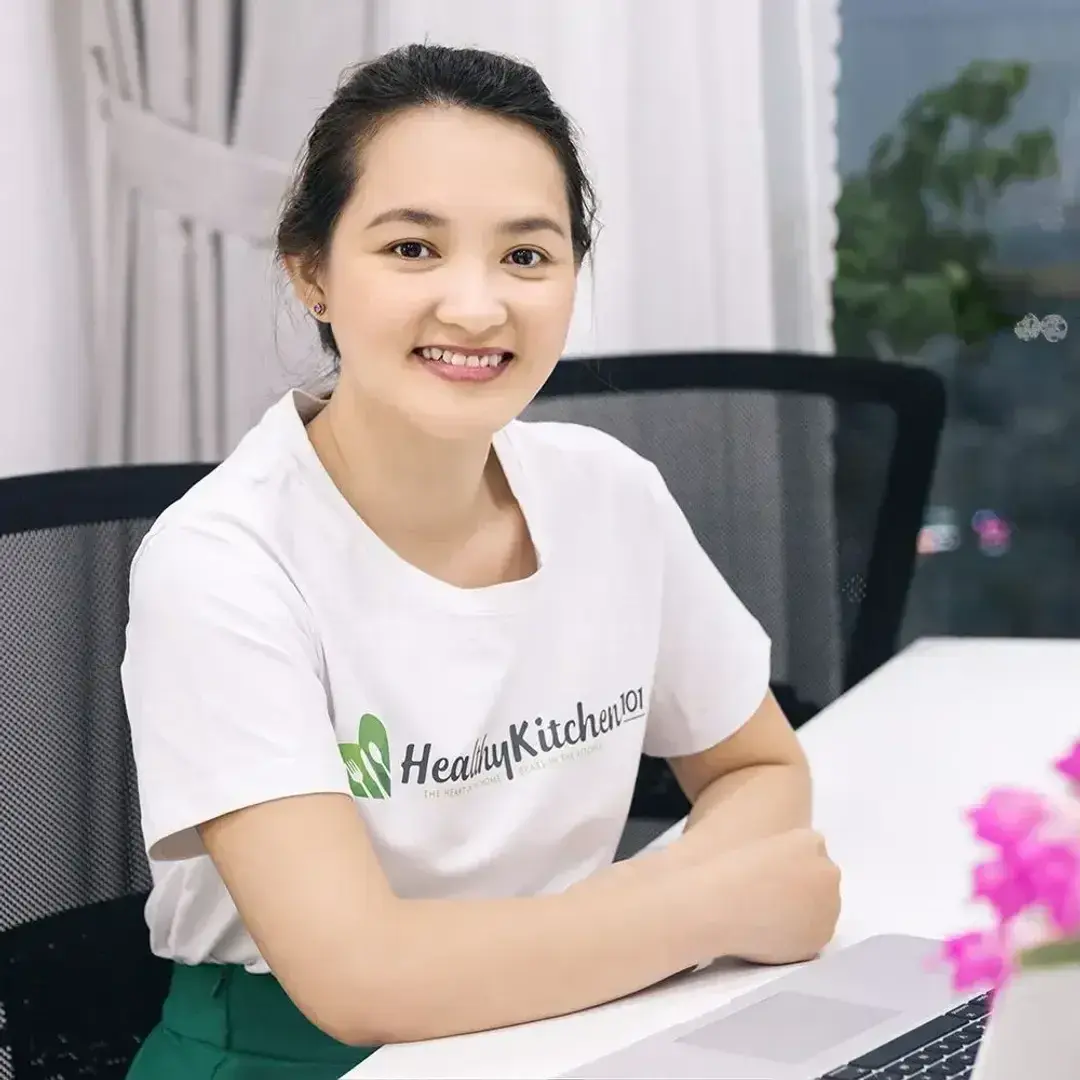 Luna Regina
Luna is the founder and chief recipe developer of Healthy Recipes 101. Apart from cooking, she also loves reading, programming, exploring the outdoors, and collecting useless facts about everything.