In today's potato leek soup recipe, we have a medley of flavors enriched with the right amount of cream and scented with garlic and leek. Made from inexpensive ingredients, the soup is especially comforting when the budget is tight.
Is Potato Leek Soup Healthy?
With a moderate amount of cream and salt, potato leek soup can be considered low in saturated fat and sodium and hence, a healthy side.
We also gave the soup a moderate portion size, so each serving yields around 200 calories.
The soup also provides some complex carbs, the good kind of carbs, and several micronutrients: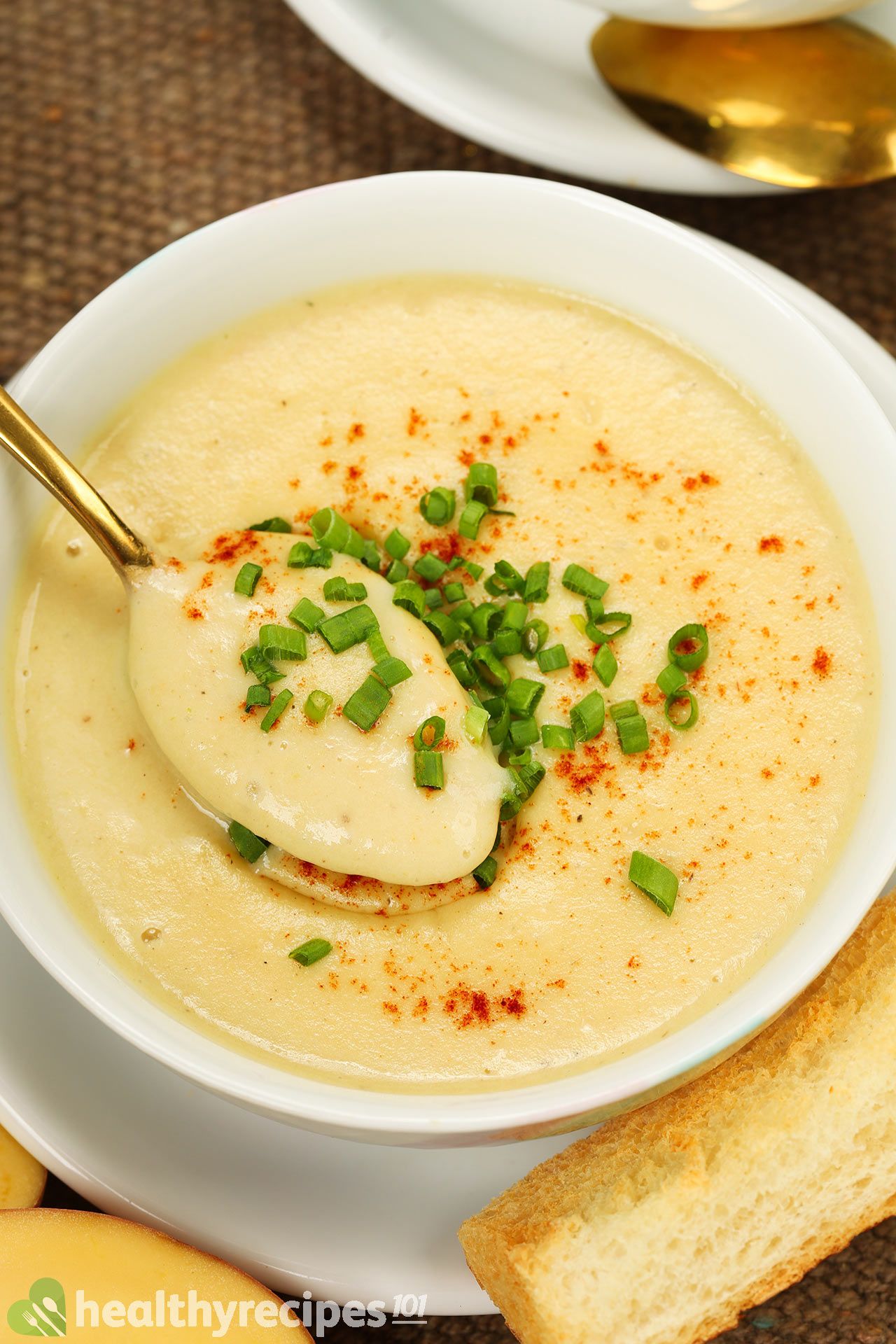 Ingredients for Our Potato Leek Soup
Potatoes and leek, obviously.
Garlic.
Scallions, for garnish.
Some olive oil for sauteing.
Stock, chicken stock, or vegetable stock.
Milk and cream.
Salt and pepper.
Paprika, for a little kick.
Bread to dip.
You'll also need a blender or an immersion blender.
With an immersion blender the task is much easier—stick the machine in there and let it do the work. In a blender, however, the steaming hot soup may push the top off and spill violently out. To avoid this scenario, the soup should be worked with in small batches.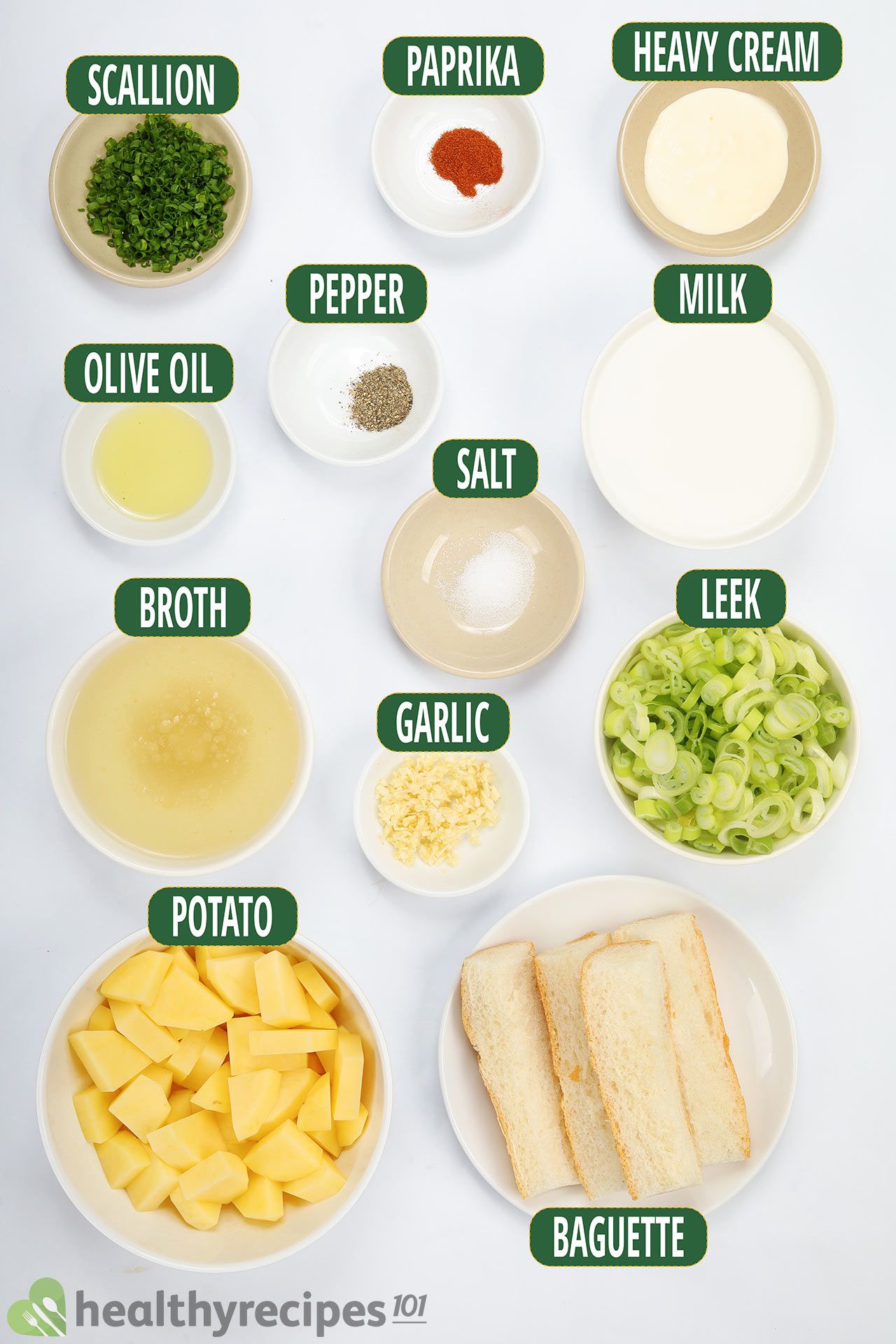 What Does a Leek Taste Like?
In a sense, leeks are giant green onions. They're similarly sweet and fragrant when cooked, but more pungent than green onions. The green part can be thinly sliced to garnish foods, but it is often washed in cold water first to rid the slimy substance on the inside.
What Part of The Leek Do You Eat
Both the green and the white parts can be used in stir-fries or soups. They're often sliced then sauteed like other aromatics before other ingredients are added.
Storing and Reheating Potato Leek Soup
If not intended for immediate use, the soup can be stored away in the fridge for up to 4 days or in the freezer for up to 3 months. Be sure to keep it in air-tight containers so it lasts for as long as possible.
When storing soups in the freezer, we prefer to rely on Ziploc bags rather than containers. Once bagged, it stores neatly in the freezer taking up the least amount of space possible. The frozen soup also comes out of the bags more easily and quickly than it does containers, taking seconds under running water.
To reheat, place the soup into a pot and simmer over low heat until bubbling.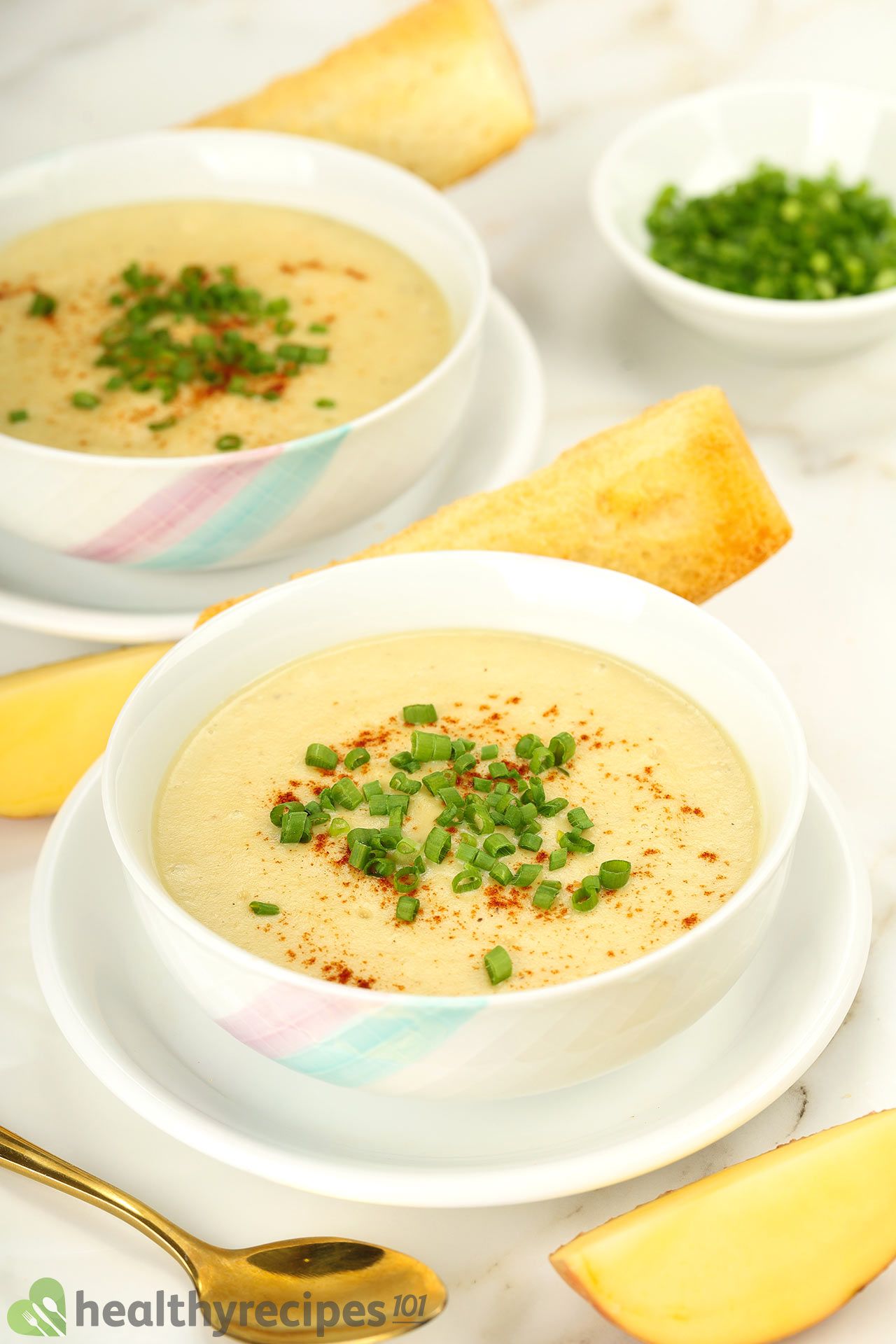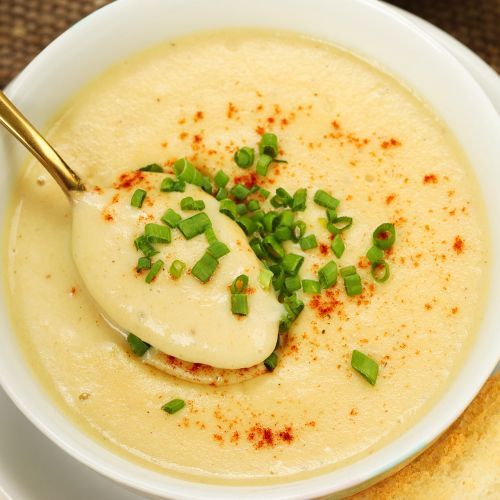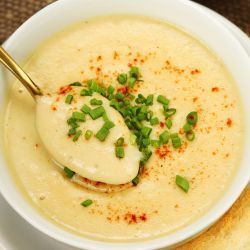 How to Make Potato Leek Soup
Today's potato leek soup recipe will help you prepare a comforting, budget-friendly soup. It's easy and comes together quickly.
Ingredients
10

oz

russet potatoes

4

oz

leek

1

tbsp

garlic

2

tbsp

scallion

1

oz

baguette bread

1

tbsp

olive oil

1

cup

unsalted chicken broth

1

cup

whole milk

2

tbsp

heavy cream

1/4

tsp

paprika

1/4

tsp

salt

1/4

tsp

ground black pepper
Instructions
Prep:
Peel and cut the potatoes: Peel 10 oz potatoes. Half each potato, cut each half into 3-4 fingers, and cut each finger into cubes.

Cut the leek: Cut 1 leek (the white part only, the green part is optional) into chunks and measure out 4 oz.

Mince the garlic: Slice the root off of 3 cloves of garlic, press each one down with a knife, and peel. Mince them and measure out 1 tbsp.

Chop the scallion: Thinly slice 1 scallion (the green part only) and measure out 2 tbsp. The whites can be sliced and added to the cut leek as well.

Cut the bread: Lay a baguette down and cut about 1/3 of its length. Put the rest away, slice it however you want, then measure out 1 oz.
Cook:
Heat the oil, cook the leek and garlic: Heat 1 tbsp olive oil in a pot over medium heat, for about 30 seconds. Add 4 oz leek and 1 tbsp garlic and sauté for 2 minutes or until the leeks soften.

Cook the potatoes and season them: Add 10 oz cubed potatoes and stir to cook for 2 minutes.

Add stock and simmer: Pour in 1 cup chicken broth and 1 cup milk and simmer on medium heat for 20 minutes.

Stir in cream: Turn off the heat and stir in 2 tbsp heavy cream.

Blend the soup: Blend the soup with an immersion blender. You can use your regular blender but work in small batches to make sure no soup spills out.

Air-fry the bread: Add 1 oz baguette to the air fryer and cook for 350°F.

Ladle soup into bowls, garnish and enjoy: Sprinkle 2 tbsp chopped scallion on top of each bowl.
Nutrition
Nutrition Facts
How to Make Potato Leek Soup
Amount Per Serving (1 serving)
Calories 184
Calories from Fat 72
% Daily Value*
Fat 8g12%
Cholesterol 16mg5%
Sodium 241mg10%
Potassium 476mg14%
Carbohydrates 23g8%
Protein 5g10%
Vitamin A 669IU13%
Vitamin C 11mg13%
Calcium 112mg11%
Iron 1mg6%
* Percent Daily Values are based on a 2000 calorie diet.