If you love potatoes and cheese, this cheesy potato soup recipe is for you. It doesn't call for much and comes together in just 25 minutes.
How Good Is The Soup?
If you need a side that simmers in the background while you're getting on with the main course, this one gets the job done. Chop the potatoes and aromatics up a bit and you're halfway through the recipe—the rest is just a bit of sautéing and simmering. With a timer, you certainly can let the pot simmer without supervising.
For something that cooks up in 25 minutes, this soup is pretty tasty. It's creamy, savory, and pleasantly cheesy. Nothing is robust or strong about it, but that makes it fit easily into just about any meal: pastas, meats, fish, poultry, etc.
This recipe serves four, but you can always make 8 or 12 and keep it refrigerated. It's as easy to reheat as it is to make.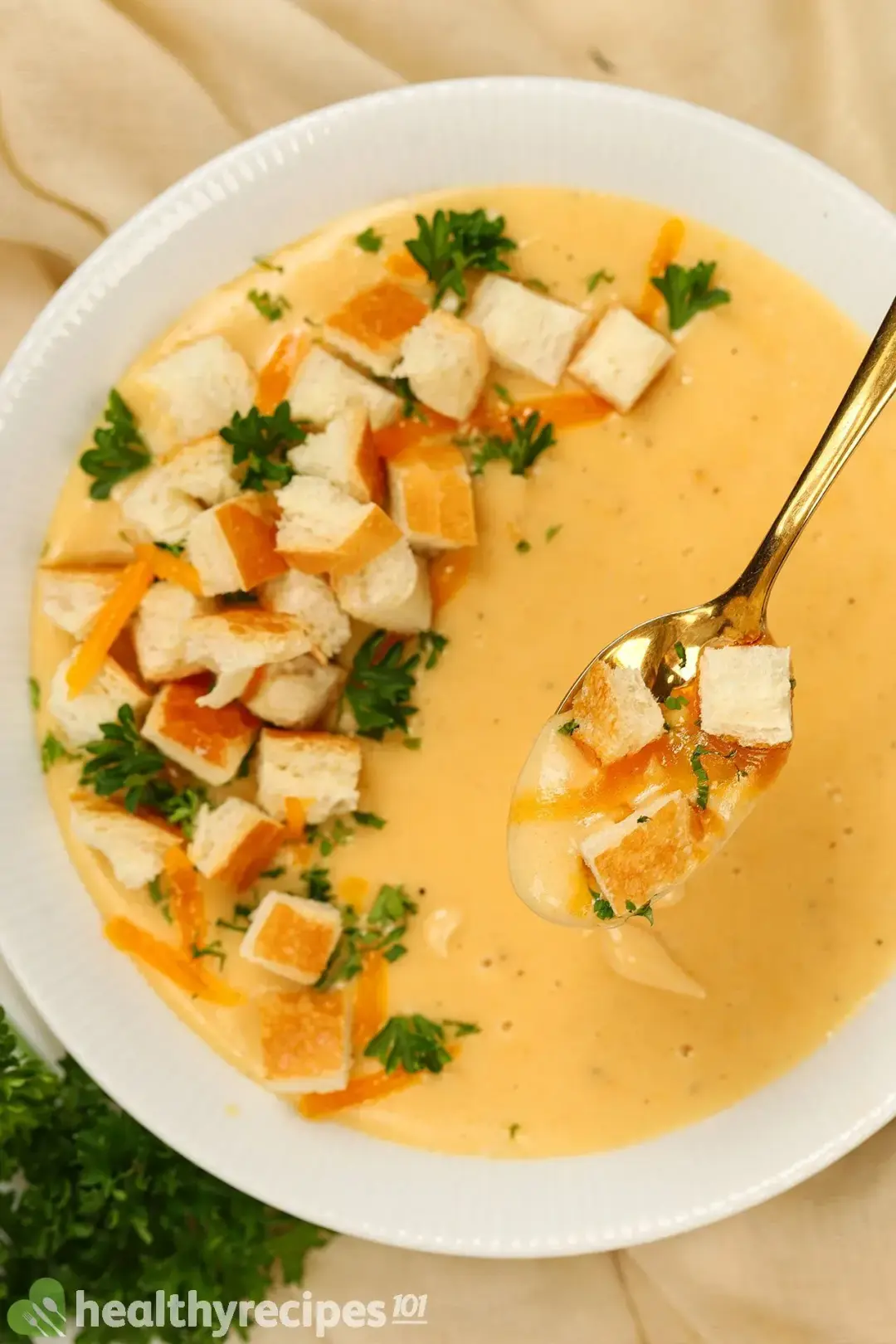 Is This Cheesy Potato Soup Healthy?
With a lower saturated fat and calorie level as compared to many cheesy potato soup recipes, this one is a healthier option. About 200 calories and 4 g saturated fat in a satisfying portion—that's pretty okay in our opinion.
Apart from that, the soup is also beneficial to your body in several ways:
It provides a healthy source of calories from complex carbs in the potatoes. This carb does not spike blood sugar like a refined carb does, and usually contains some fiber that aids the digestive system as well.
Potatoes are abundant in micronutrients: vitamin C, vitamin B6, potassium and manganese to name a few. They all play certain roles in keeping your body well-functioning.
Let's take a closer look at the ingredients.
Ingredients for Our Cheesy Potato Soup Recipe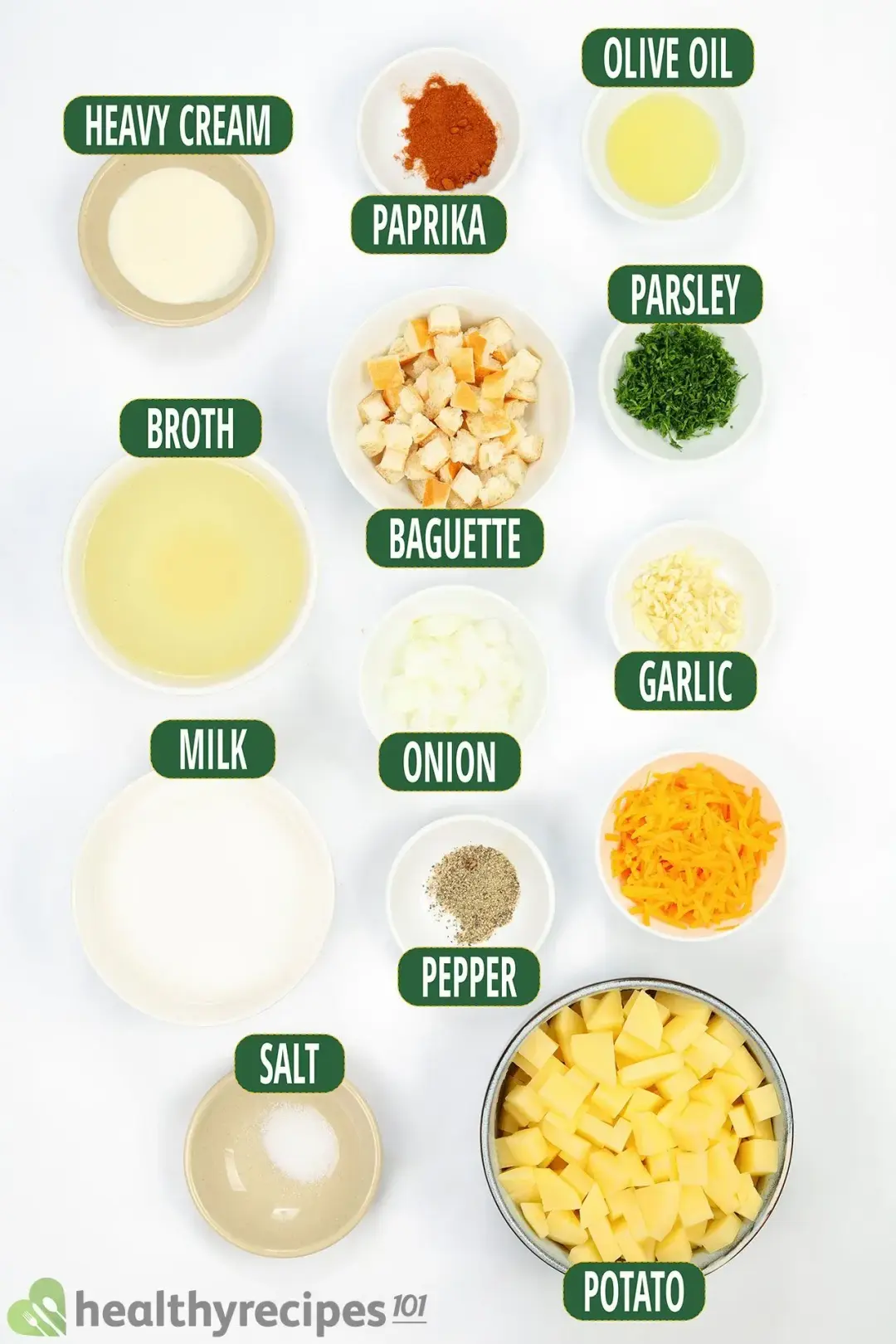 Potatoes: we prefer large ones—they take less time to peel. Russets, if you will, as their high starch content is perfect for soups. We slice them up and cut each slice into 1/4" cubes so they cook more quickly.
Cheddar cheese: grated.
Broth: vegetable or chicken broth.
Milk and heavy cream.
Onion, garlic, salt, pepper, paprika, and parsley.
Croutons: we simply cut up some bread into cubes, and air-fry at 400 degrees Fahrenheit for 4 minutes.
Details on how to make the dish are included in our 'Cheesy Potato Soup Recipe' card at the bottom.
Tips for Making the Best Cheesy Potato Soup
If your soup turns out bland, it just needs some savoriness. Shred some carrots, chop some onions, cook them up in a separate pan with butter until a little charred, then transfer this mixture to your soup. Tip: spoon a little of the soup into the pan, scrape the bottom with a spatula to collect all those flavorful bits, then transfer the mixture into the soup pot.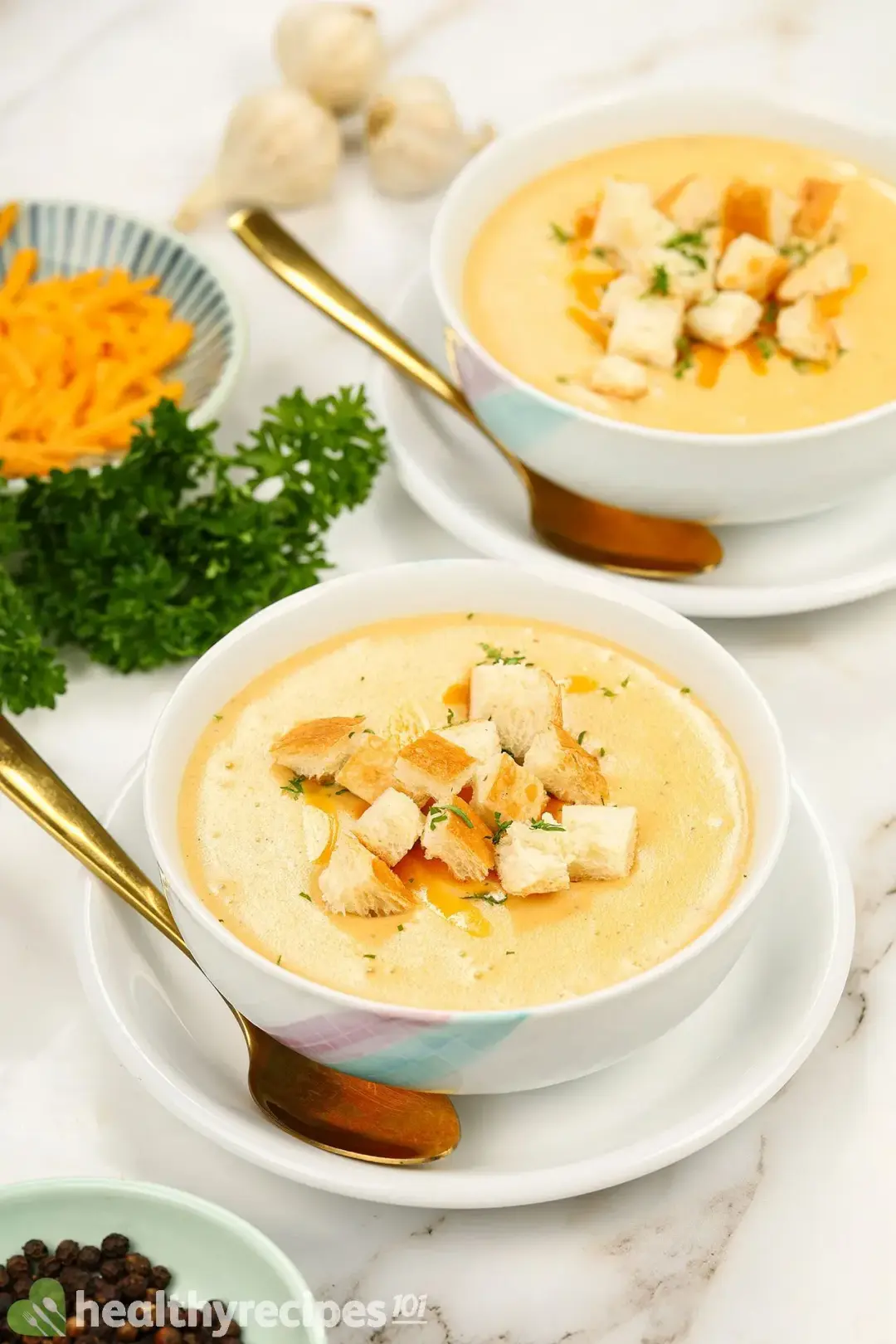 Do you love your soup thick? Just reduce the liquids. Add half the amount of the broth first, and see for yourself if the final texture needs any adjustment. You can also use thickening agents, such as flour, or use waxy potato varieties instead, but we think playing around with the liquid ratio is a lot easier.
What Else Can I Add to This Cheesy Potato Soup?
Bacon would be awesome, but since the saturated fat level is already pretty high, we suggest checking out this bacon potato soup recipe of ours instead of adding more bacon to this soup.
Sliced almonds, crushed cashews, or any softer nuts can also fit into this soup nicely.
Store and Reheat
This soup stores and reheats easily:
Store each portion of the soup in an individual container. It can be a glass container or a sealable bag; any air-tight type of container.
Refrigerate the soup for four days only and freeze it for up to three months. It may help to label the containers with dates.
To reheat, transfer the portion(s) to a pot, turn the heat to medium, stir until it all bubbles, then transfer it into a serving bowl(s). Enjoy.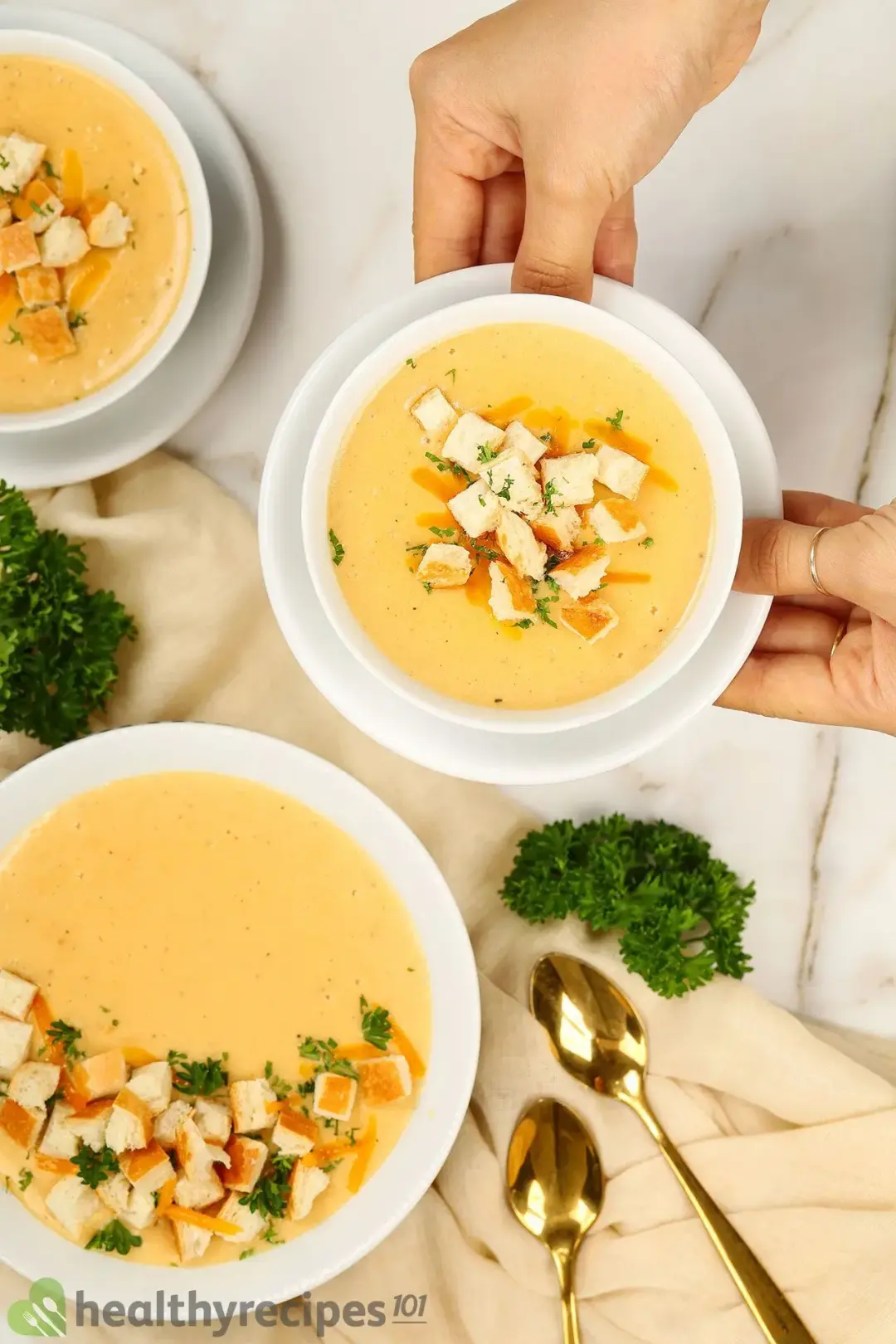 How to Make Cheesy Potato Soup
Our cheesy potato soup recipe comes together in just 25 minutes and lends you plenty of time to get your main course ready. It's sure to help with your hectic schedule.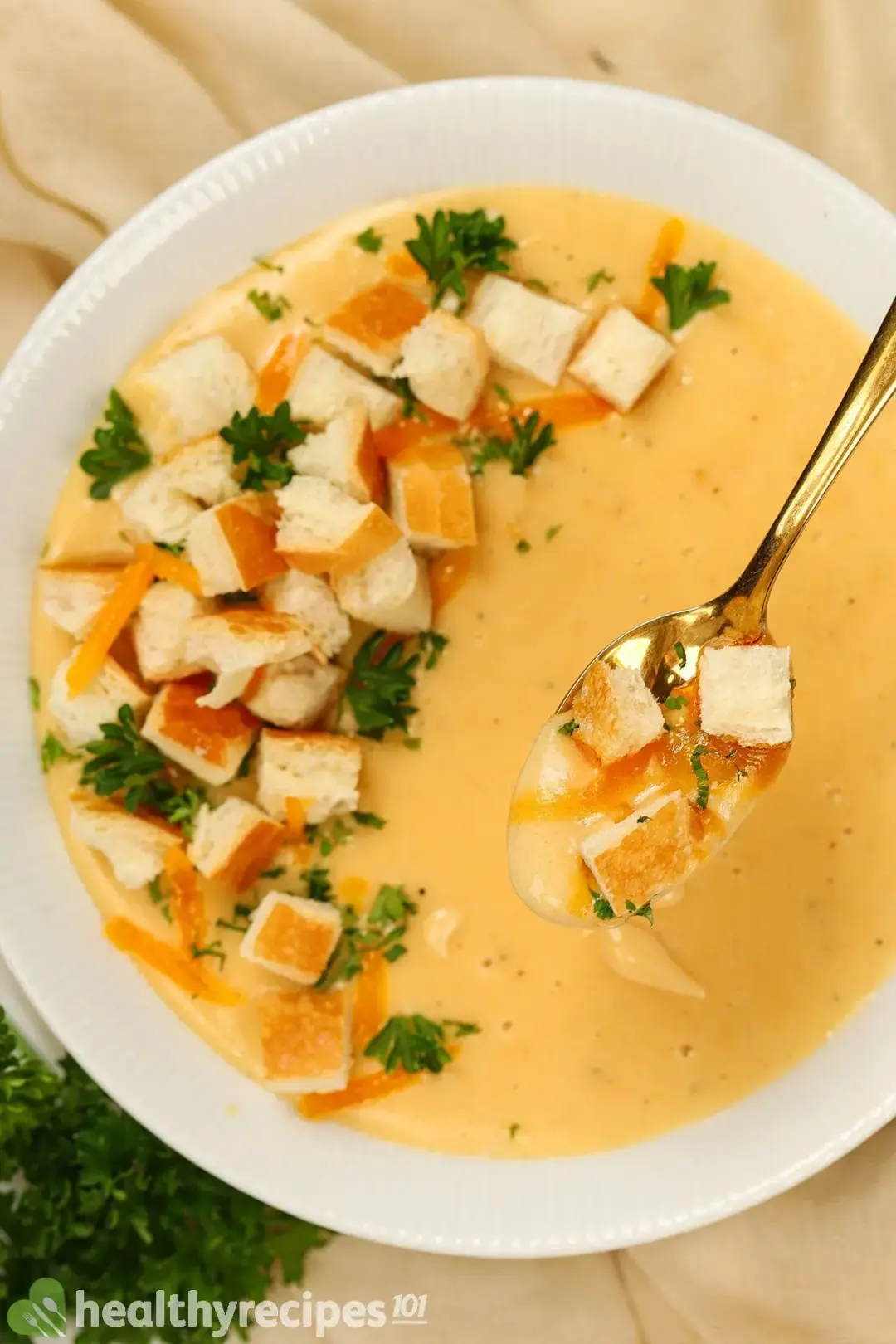 cook TIME

18 mins

prep TIME

7 mins

total TIME

25 mins
COURSE

Side Dish

CUISINE

Global

SERVINGS

servings

CALORIES

194 kcal
INGREDIENTS
12 oz

potatoes peeled and cut into small cubes

1 oz

cheddar cheese shredded

0.5 tbsp

garlic minced

1 oz

onion chopped

1 tbsp

olive oil

1 cup

unsalted chicken broth

1 cup

whole milk

1 tbsp

heavy cream

0.5 tsp

paprika

0.5 tsp

ground black pepper

0.3 tsp

salt

2 tbsp

parsley chopped

1 oz

French baguette cut into small cubes
INSTRUCTIONS
Prep:
1
Peel 12 oz potatoes and cut them into 1/4" cubes.
2
Peel and mince the garlic: Cut to remove the root of each garlic clove and mash them down with a knife to remove the peel with ease. Mince the peeled cloves. Measure out 1/2 tbsp.
3
Chop the onion: Halve the onion lengthwise and peel the skin. Make vertical slices 1/4" apart from each other towards the root, but leave about 1/4" so they're still intact. Turn the half 90 degrees, and grip the root. From the bottom, make horizontal cuts 1/4" apart from each other into the onion, also leaving 1/4" to keep everything intact. Slice the onion into even cubes. Measure out 1 oz.
4
Shred 1 oz cheddar cheese.
5
Cut 1 oz baguette into small cubes.
Cook:
1
Cook the aromatics: Heat 1 tbsp olive oil in a pot over medium heat for about 1 minute. Sauté 1/2 tbsp garlic and 1 oz onion for 30 seconds.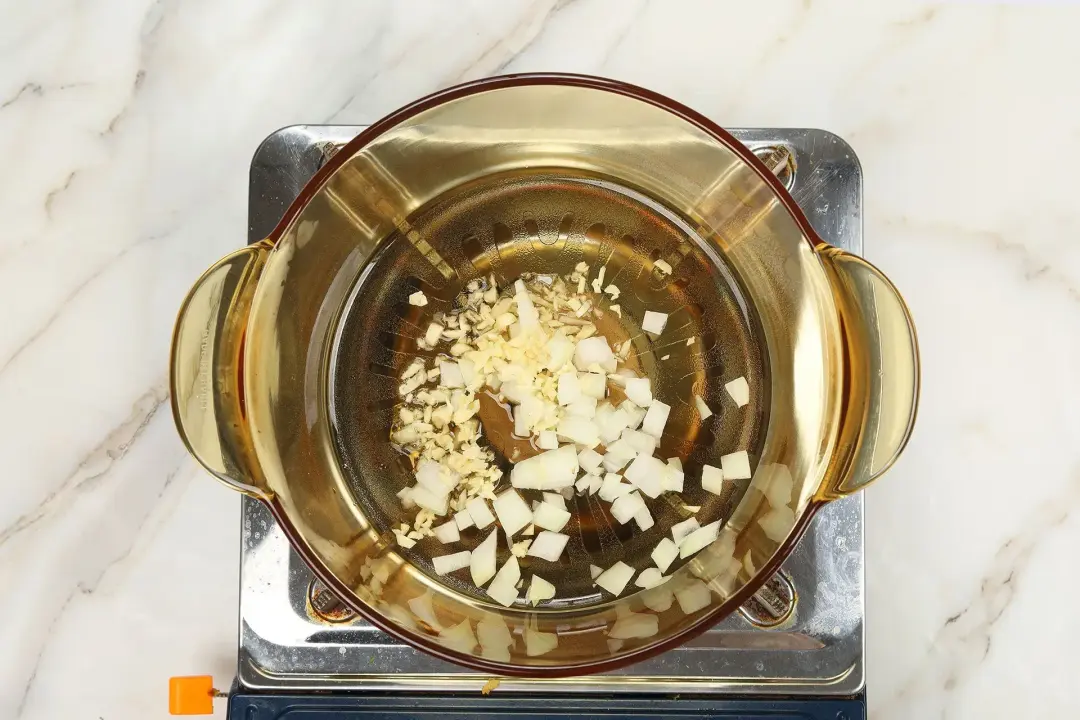 2
Cook the potatoes: Add 12 oz potatoes, 1/4 tsp salt, 1/2 tsp pepper, and 1/2 tsp paprika. Stir to combine, then leave the potatoes to cook for about 5 minutes. We're looking for some charring on the edges.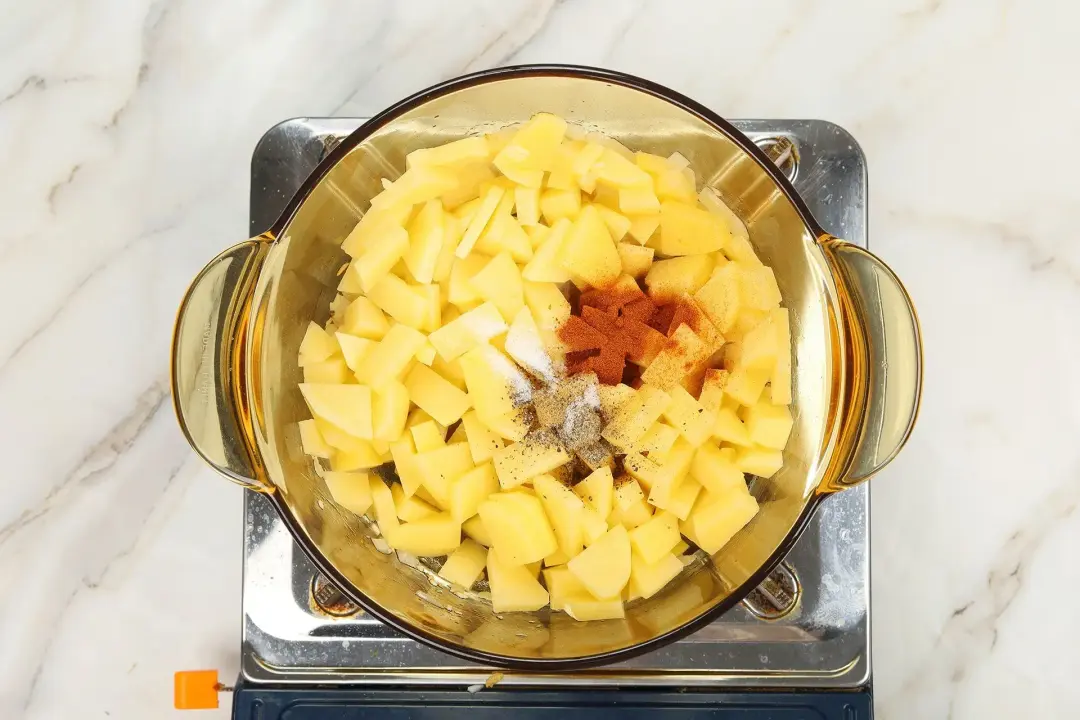 3
Add the liquids: Pour in 1 cup whole milk and 1 cup chicken broth. Bring the mixture to a boil, then leave to simmer on low heat for 15 minutes.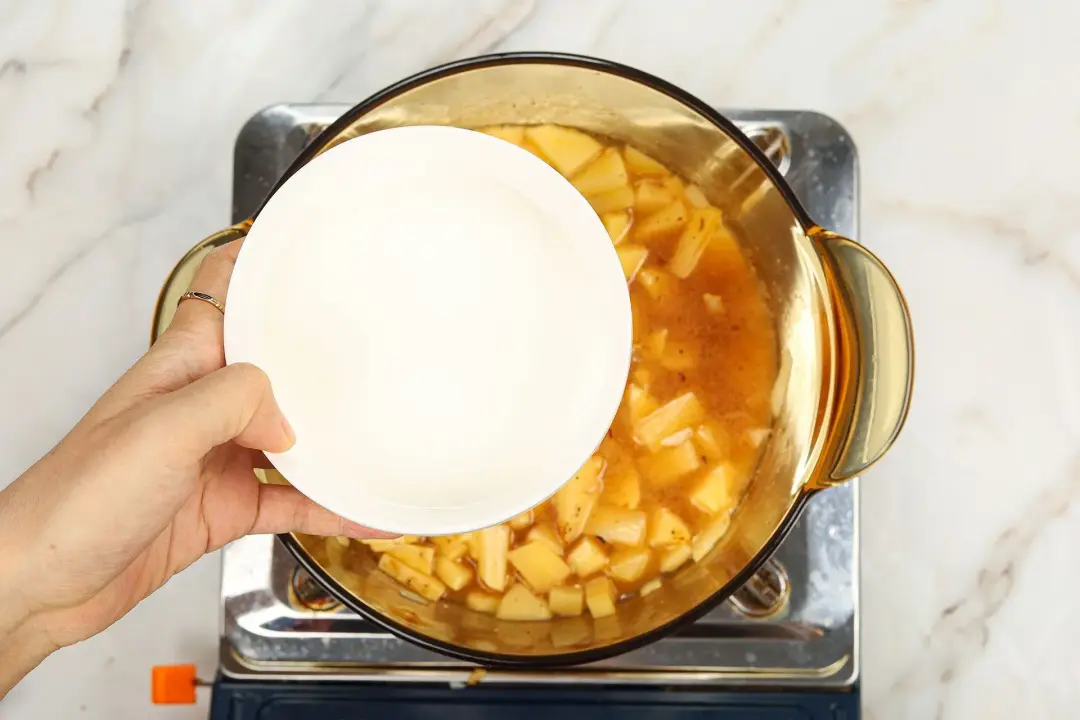 4
Make the croutons: Air-fry 1 oz bread cubes at 400 degrees Fahrenheit for 7 minutes.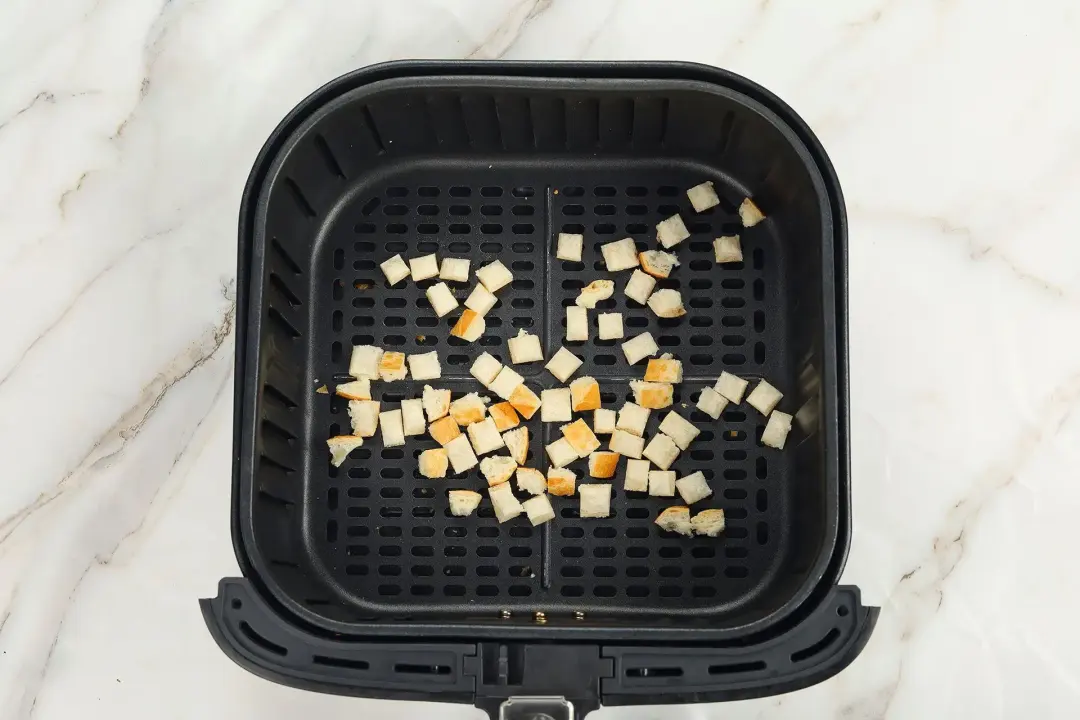 5
Add cream and cheese: Add 1 tbsp heavy cream and 1 oz cheddar cheese. Stir until the cheese completely melts, then turn off the heat.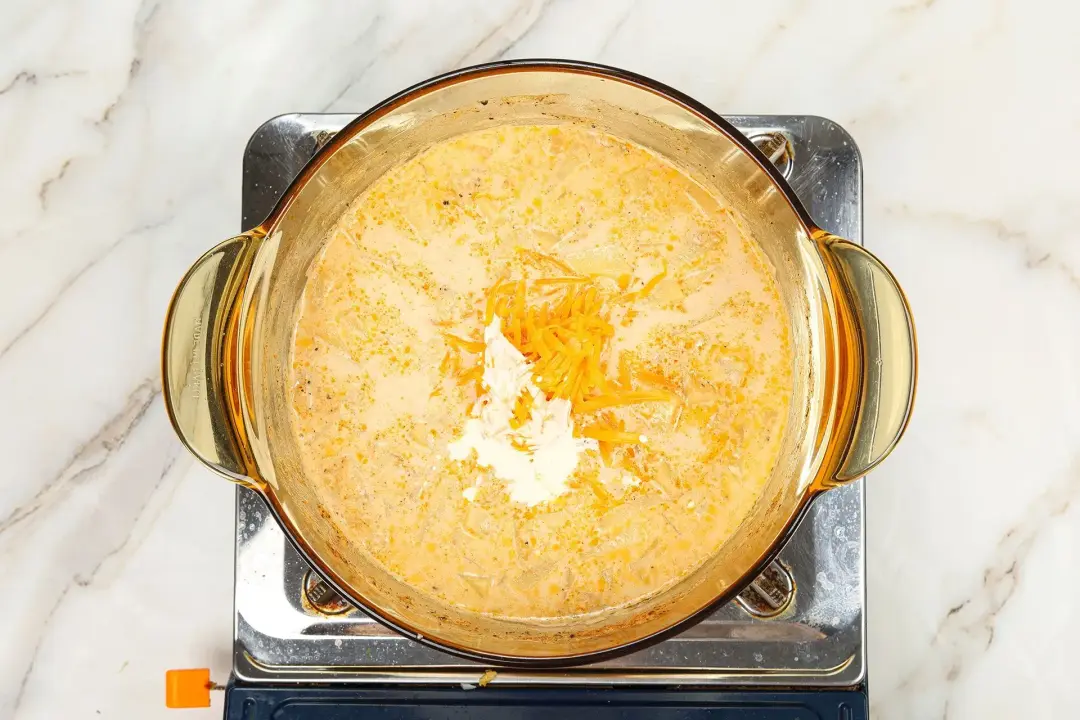 6
Blend the soup: Blend the soup using an immersion blender until smooth. You can also use a regular blender, but work in small batches to prevent the soup from spilling over. If you like the soup a little chunky, blend only 1/2 of the mixture.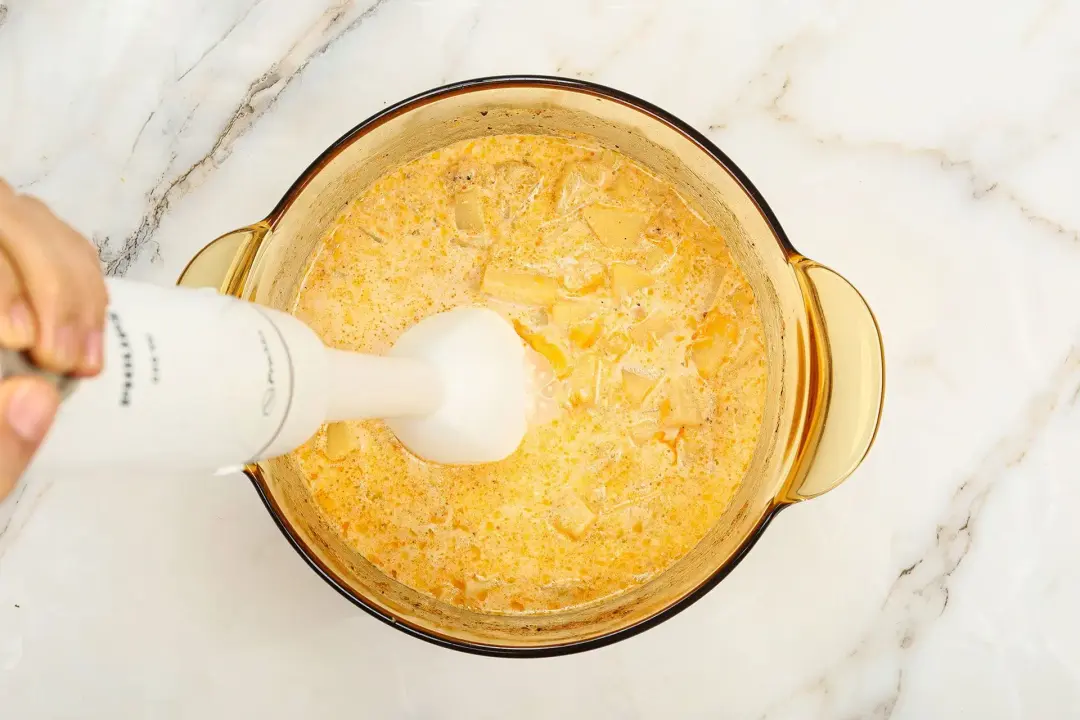 7
Serve: Top the soup with 2 tbsp parsley, then ladle into serving bowls. Top them with croutons.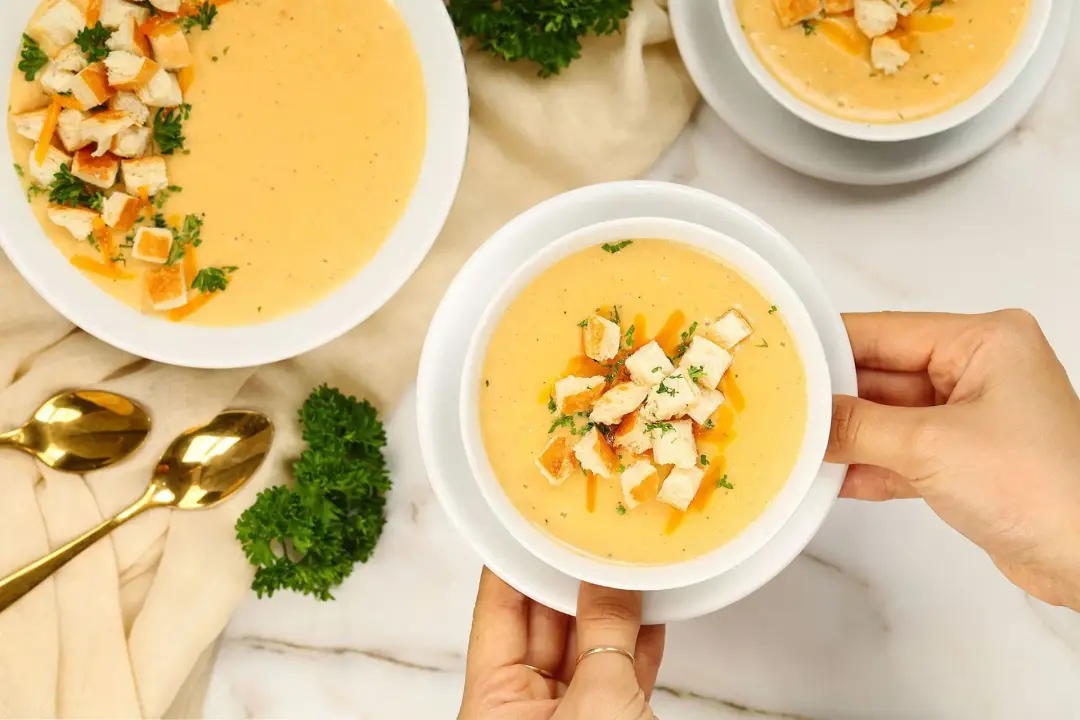 NUTRITION
Nutrition Facts
How to Make Cheesy Potato Soup
Amount Per Serving (1 serving)
Calories 194
Calories from FDA
% Daily Value*
* Percent Daily Values are based on a 2000 calorie diet.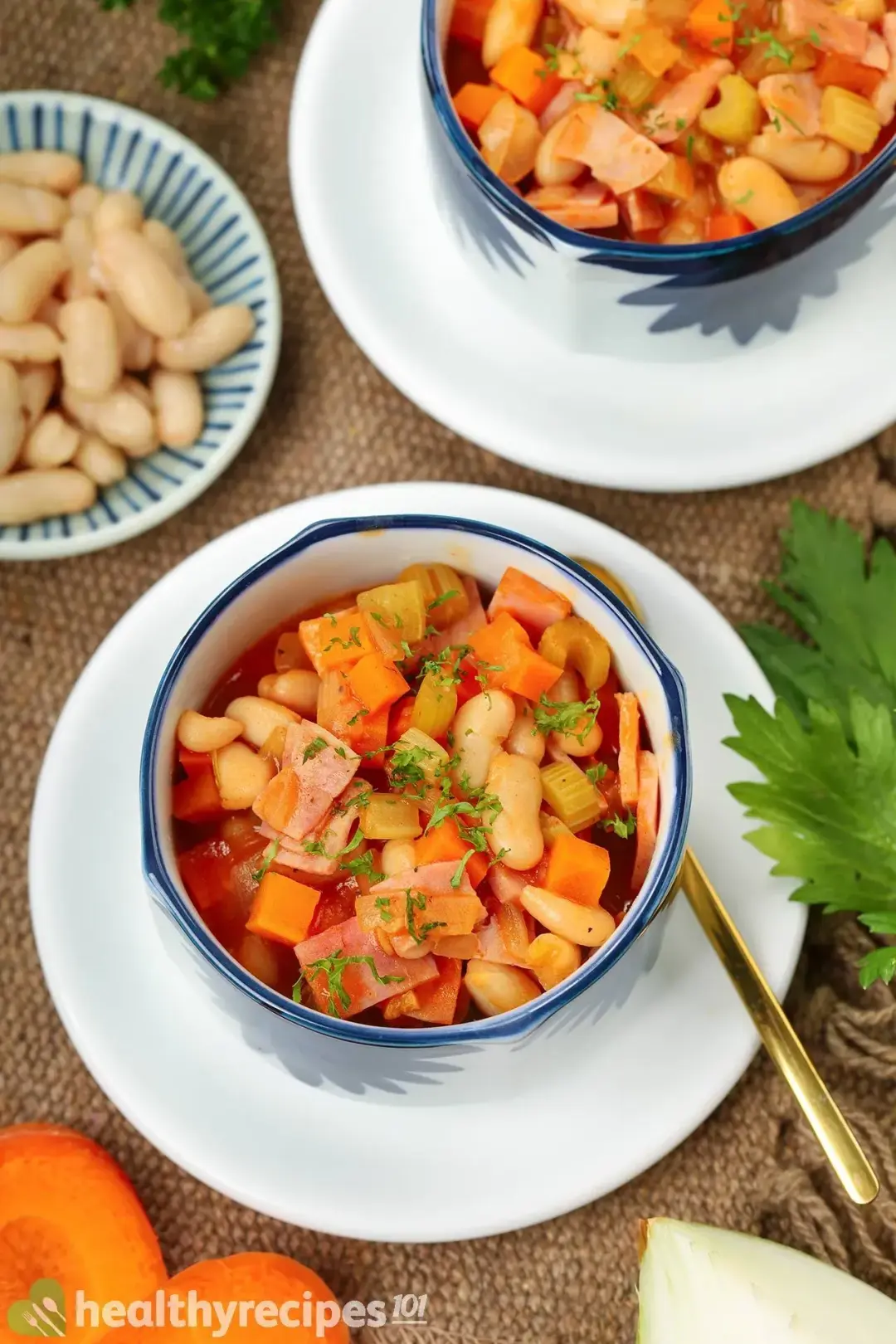 Previous Recipe
Ham and Bean Soup
Ham and Bean Soup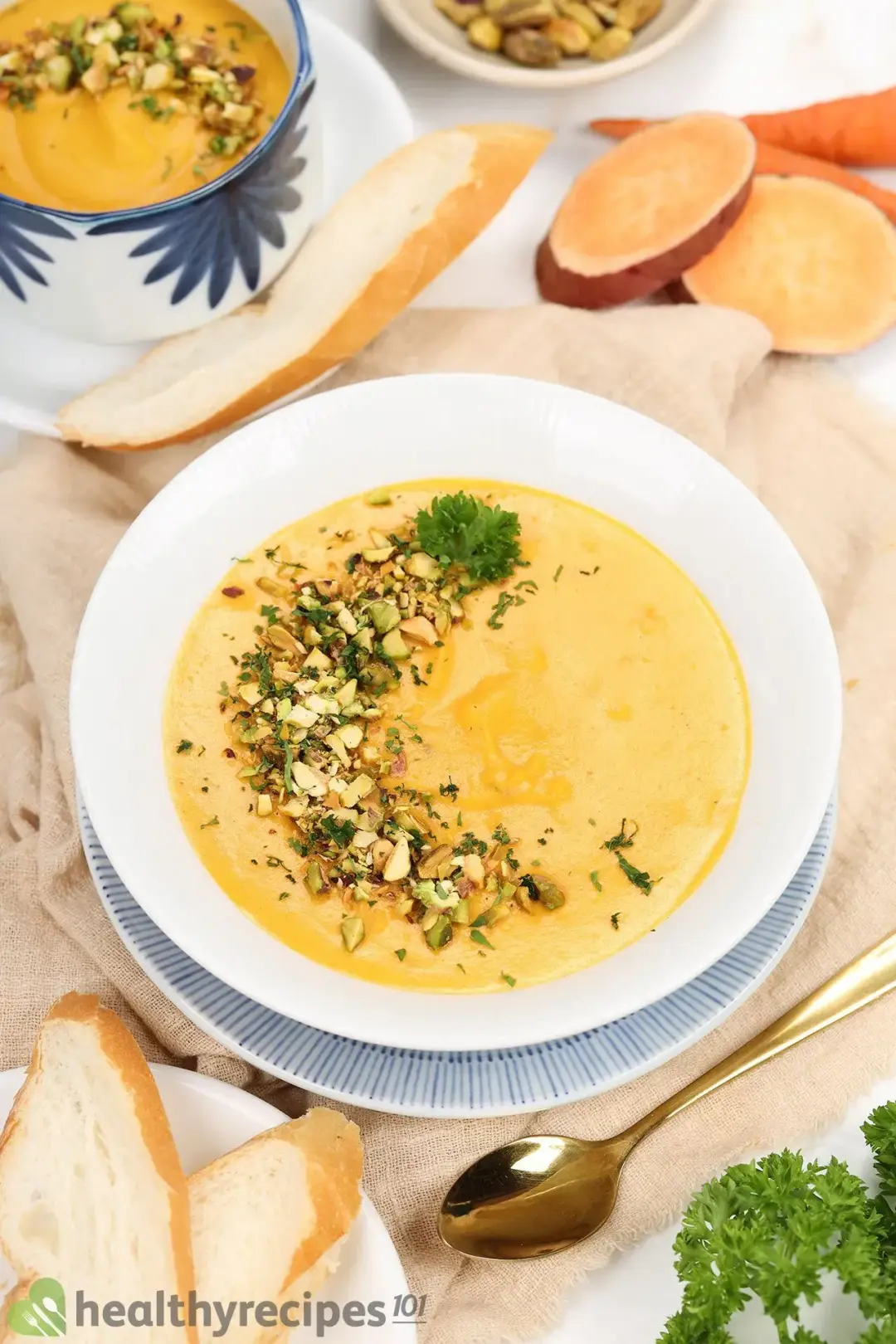 Next Recipe
Sweet Potato Soup
Sweet Potato Soup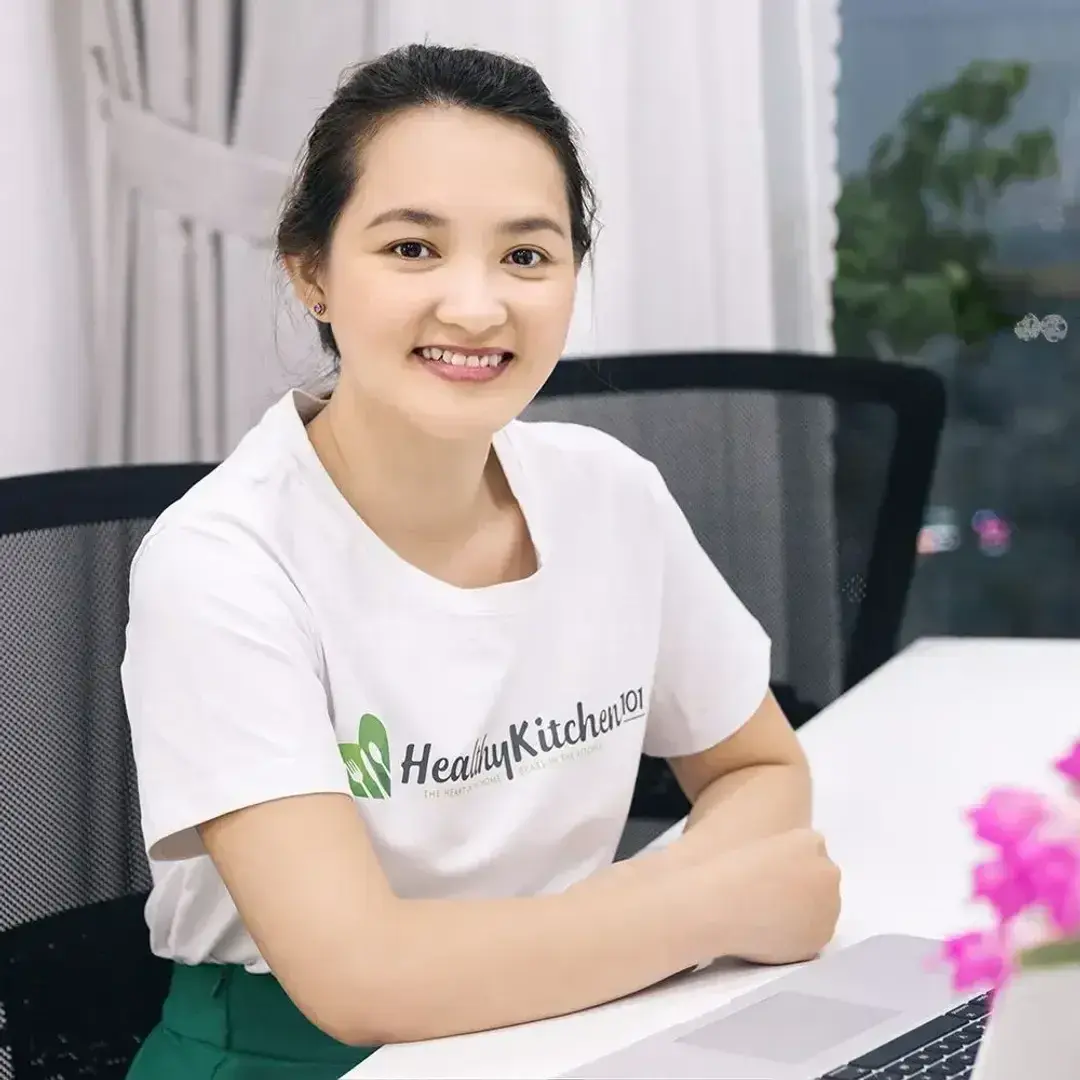 Luna Regina
Luna is the founder and chief recipe developer of Healthy Recipes 101. Apart from cooking, she also loves reading, programming, exploring the outdoors, and collecting useless facts about everything.