Cucumber salad recipe is a perfect example of how you can make a healthy and tasty side dish in 15 minutes. It's an especially great option for anyone who is trying to have more greens in their diet.
This simple salad lives up to its name. Only three straightforward ingredients and some basic dressing seasoning are required to make this light, incredibly refreshing and healthy salad.
The salad is good on its own, but it can also act as a confident complement to any kind of grilled chicken, steak or even salmon.
Health Benefits of Cucumbers
Many people may think of cucumbers as vegetables but actually they are fruit! They belong to the Cucurbitaceae family, which also includes some popular members like watermelon and squashes. 
This low-calorie fruit is a powerhouse of nutritional benefits, including hydrating properties and valuable nutrients. 
Cucumbers are 95% water, which makes them a great way to stay hydrated, especially during hot summer days. Besides, foods that are high in antioxidants like cucumbers boost your immune system and help improve antioxidant capacity. 
So if you weren't convinced before, hopefully that brief overview has encouraged you to include more cucumber in your daily meals. But how do you best prep this magical fruit?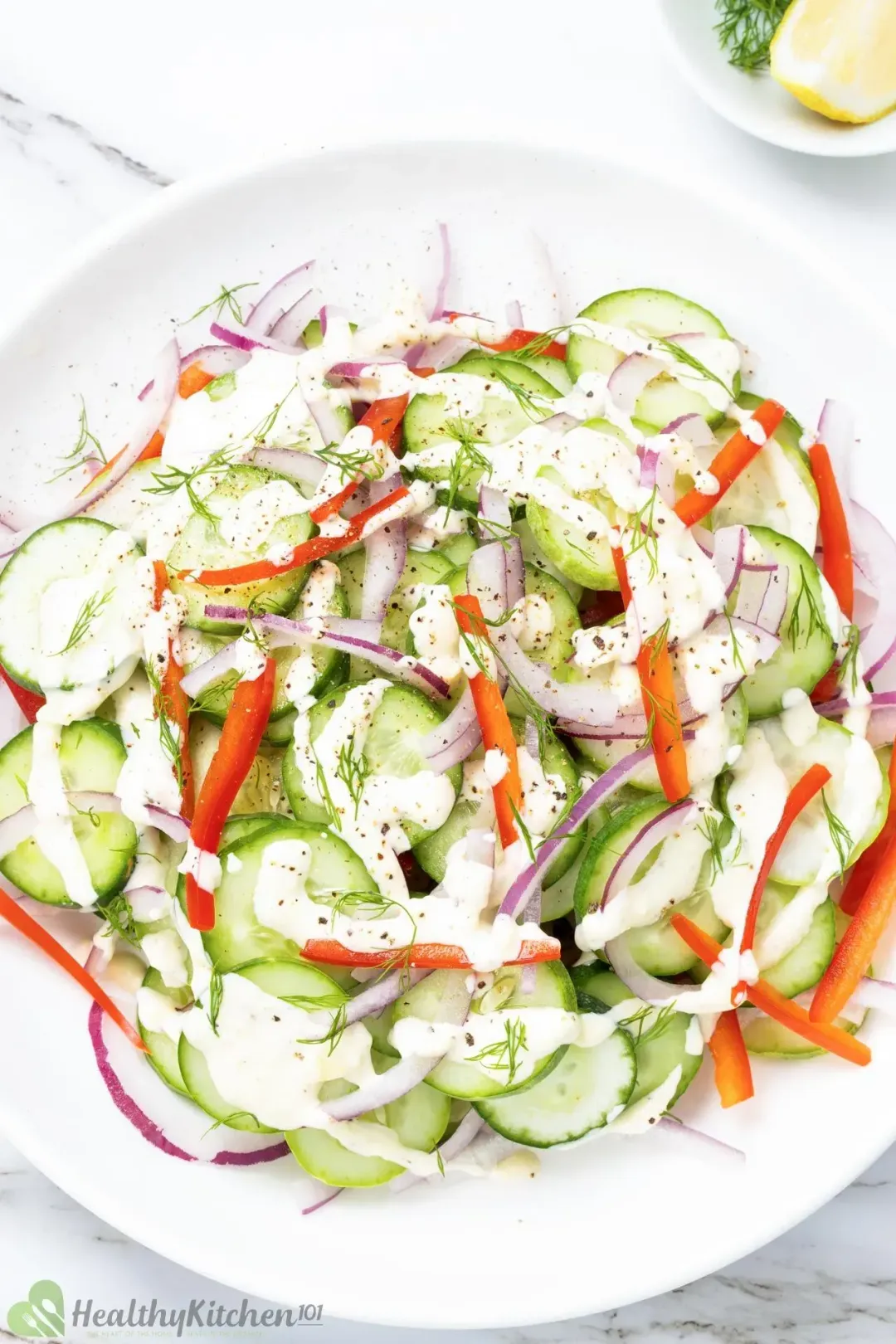 How to make Healthy Cucumber Salad Recipe
This cucumber salad recipe is famous for its simplicity and being 100 percent foolproof. However, there are some small tips that can help you stay away from a messy, watery and tasteless salad. 
Sweating cucumbers helps release excess water so your dish doesn't end up swimming. The process is simple and doesn't require a lot of effort. 
Simply leave your sliced cucumber in a bowl of cold water, cover and allow to rest in the fridge for about 15-30 minutes. Then drain the liquid well and your cucumber is done. This step helps create the salad dressing and also helps the salad to keep longer. 
We also suggest leaving your salad to marinate for 15-30 minutes. That small amount of time increases the flavors in the dish and helps the cucumbers become more tender. 
We use dill in this recipe due to its fresh and pungent taste, but feel free to experiment with your favorite herbs like oregano or thyme.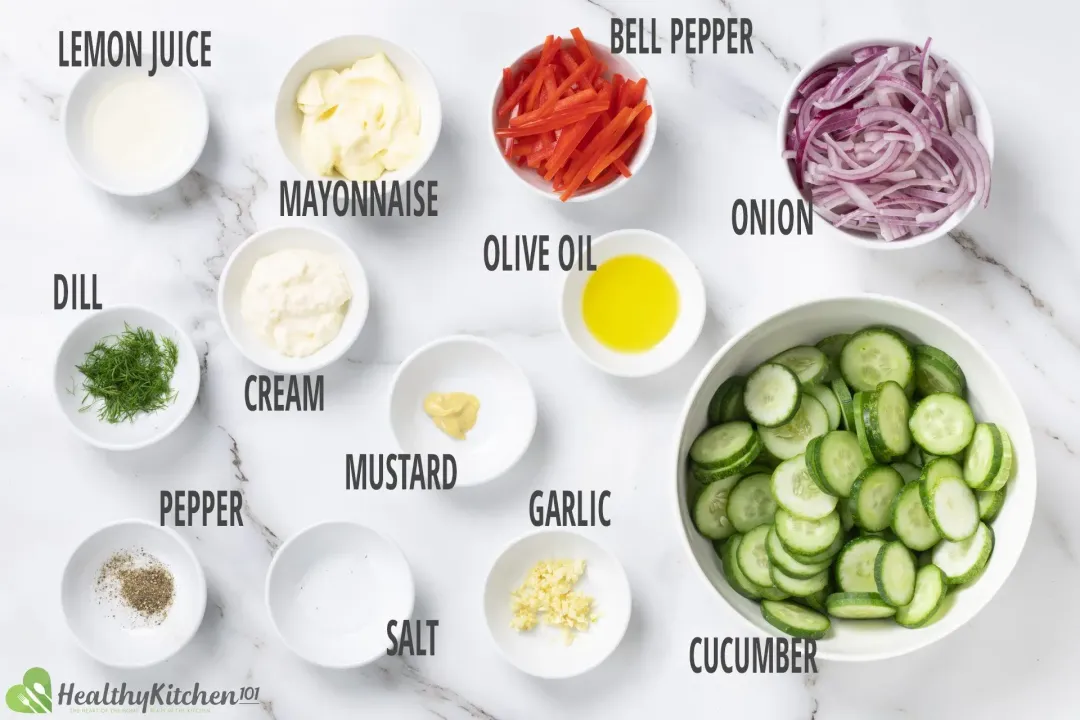 1. Should I Peel Cucumber Skin?
We have been conditioned to peel most fruits and vegetables before eating them. It is believed to be the best way to make them clean. But this is where you can miss out on a lot of nutrition. 
The outer layer of cucumber is a great source of fiber and vitamin K – a multifunctional micronutrient that your body needs for healthy bone maintenance. In addition, cucumber skins enhance health benefits and also help add flavor to this watery fruit.
Cucumber peels may look dirty, but any residues can be easily washed off with water. And if you want to clean further, you can soak them in salt water. Then use a dry kitchen towel to wipe the cucumbers and store them in an airy compartment of your fridge. 
2. To Seed or Not to Seed Cucumber
Cucumber core is the part that contains the most moisture. Most salad recipes have you remove the cucumber seeds and there are proper reasons for that. 
The excess water from the core will bleed out, wilt other ingredients and make your salad soggy. Many people also don't like the mouthfeel and the texture of the cucumber core.
3. Cucumber Salad Variations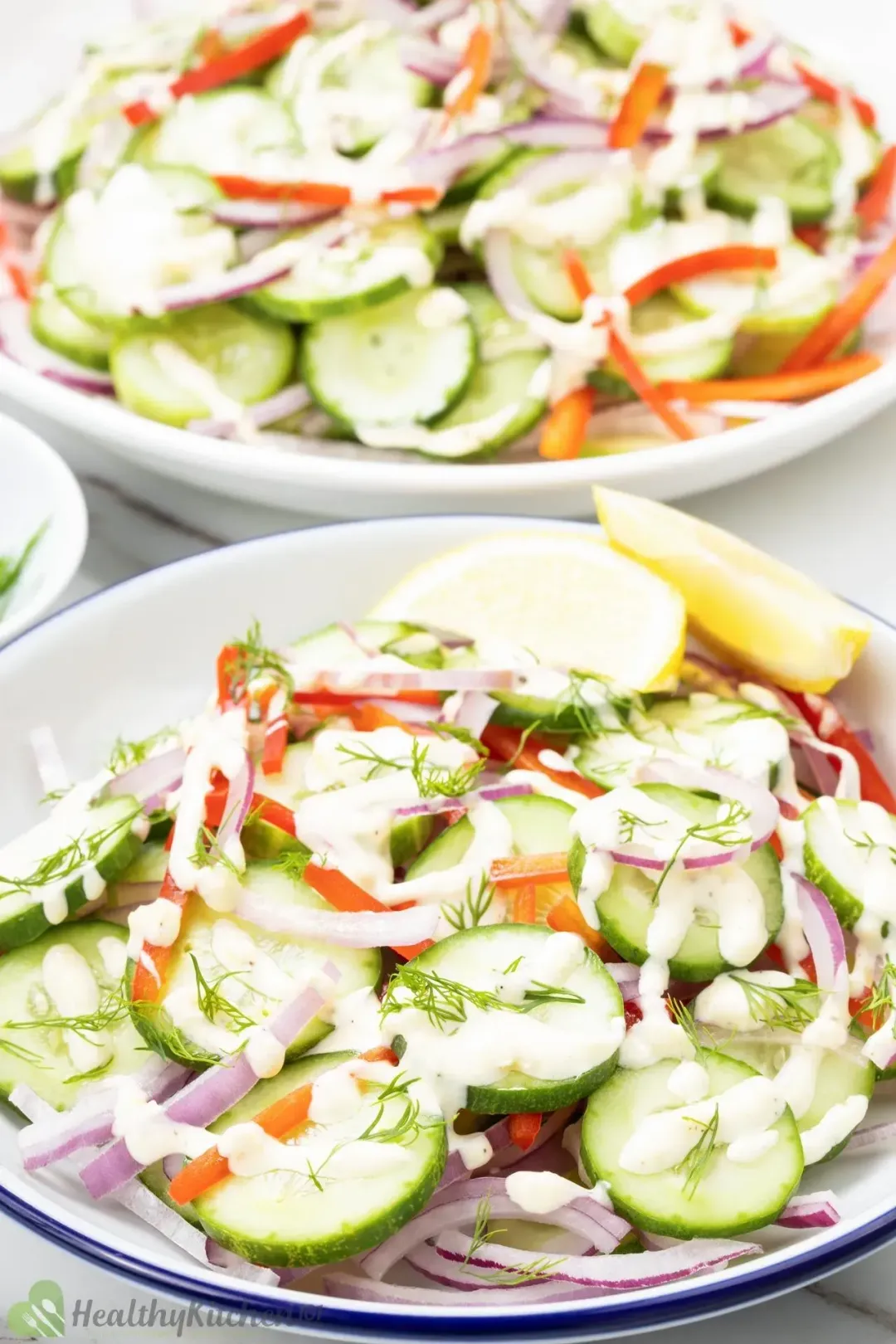 Cucumber Tomato Salad
This salad has all the goodness of summer: cucumber, tomato, red onion, and bell pepper. The combination of fresh herb and tangy vinaigrette dressing emphasizes the Mediterranean cuisine.
It's inexpensive, easy to make, and packed with dozens of vitamins and minerals. 
Cucumber Onion Salad
This cucumber onion salad from addapinch is incredibly simple, which makes it a great seasonal recipe. It simply shines with the freshness and natural sweetness of cucumbers and onions in the summer. 
The cucumber onion salad pairs nicely with roasted chicken, or steak, for a healthy and hearty meal. 
Cucumber Sour Cream Salad
Cucumber sour cream has a special name in Polish: mizeria, which literally means "misery". Believe us when we say this creamy, delightful salad can be anything but miserable. 
It's great to accompany any grilled dish – pork, chicken, or fish.
Thai Cucumber Salad
Thai cucumber salad recipe is famous for its interesting blend of umami flavor from garlic, fish sauce, lime juice, and sugar. And the ingredients couldn't be simpler: cucumber, onion, and cilantro.
If you have it as a main dish, add chicken, beef, or sprinkle on roasted peanuts for extra protein.
What Kind of Cucumbers Are Best for Salad?
There are many varieties of cucumbers, so how do you choose the right one? For this particular salad recipe, we like to use English cucumbers (sometimes sold as "European cucumbers").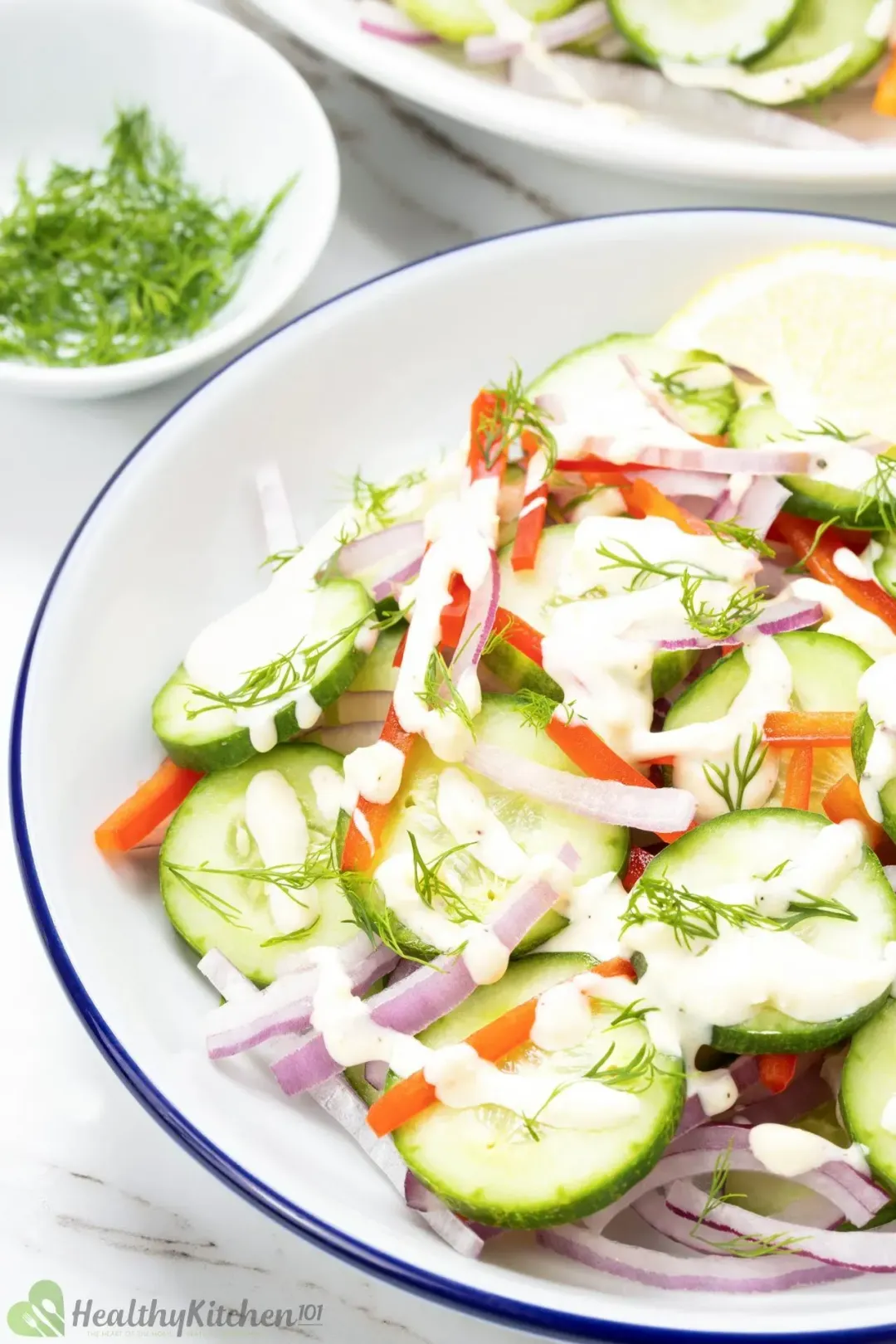 This type of cucumber has a thinner skin, so you don't have to peel them. And more importantly, they are generally seedless and contain far less water than other types. An excess of water from the cucumbers may make your dish watery and dilute the flavor, so English cucumbers are the way to go.
Creamy Cucumber Salad
When it comes to salad, we believe that homemade from scratch makes it even more healthy and enjoyable. It's creamy and refreshing – the ideal salad for this summer. 
Cucumber: any cucumber will work in this salad, but we do love English cucumbers for their crunchiness and thin skin. 
Red onion: since cucumbers usually have a mild flavor, we should avoid combining them with too many strong-tasting vegetables. Red onion has the voice here! A little red onion adds contrast, and the lovely deep purple outer skin makes the salad look irresistible.
Bell Pepper: bell pepper adds a touch of sweetness and balances out the zing of lemon juice. 
Dressing: a combination of olive oil, mayonnaise, sour cream, mustard, salt, and black pepper. 
Herb: fresh dill or parsley gives the salad a flavor kick. If you don't want to buy both, simply use one or the other to suit your own preference. 
Combining some flavorful ingredients to complement and celebrate cucumbers has made this cucumber salad recipe a staple for us. If you'd like some small variations on the classics, here are some options.
For more delicious salad, check out our healthy salad roundup.
Cucumber Salad Dressing
1. Vinegar
A dressing made with vinegar, mustard, and a bit of sugar for balance is an interesting twist for regular cucumber salad. 
To improve the flavor, you can add a pinch of fresh dill. Then, toss all of the ingredients with this simple dressing and leave to marinate for about 1 hour. Yummy!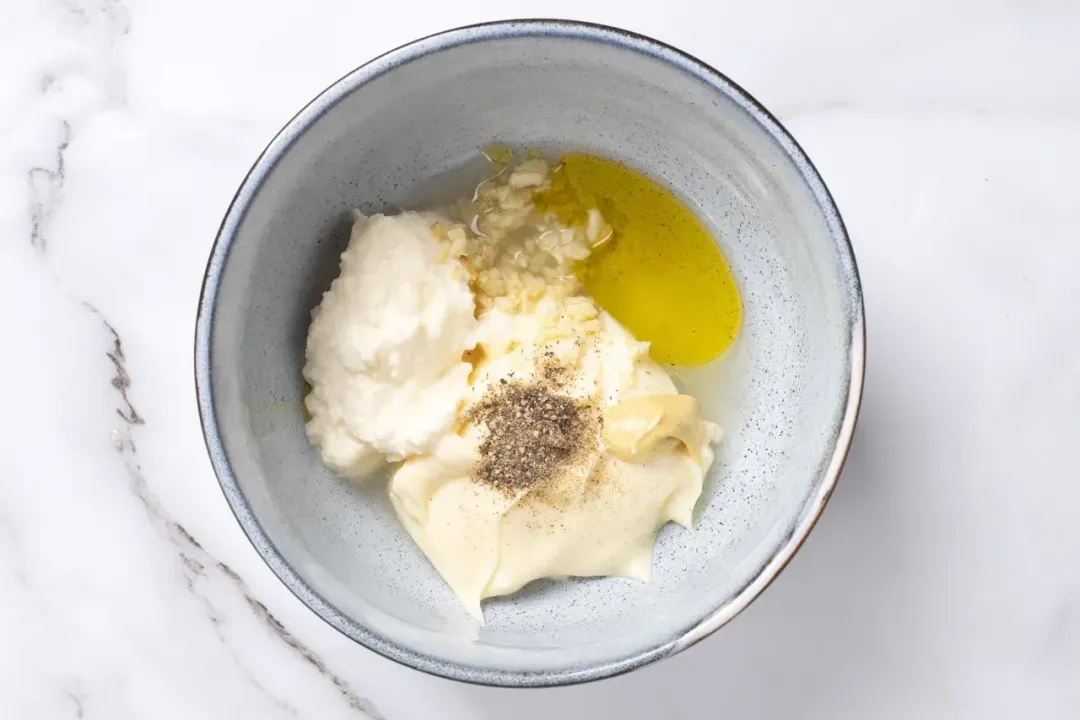 2. Yogurt
Good news is that yogurt dressing is perfect on just about any salad. 
For this salad, we recommend another tasty variation that switches out herbs and adds more yogurt. You can use this dressing as a base for your next cucumber salad or even a dip for chicken and veggies.
How to Store Cucumber Salad
The salad is best served within a few hours of making it. It can be kept in the fridge for up to 2 days but the vegetables will become limp over time. 
For longer storage, you can mạke the dressing and prep the vegetables in advance, then store them separately in the fridge.
How Long Does Cucumber Salad Last?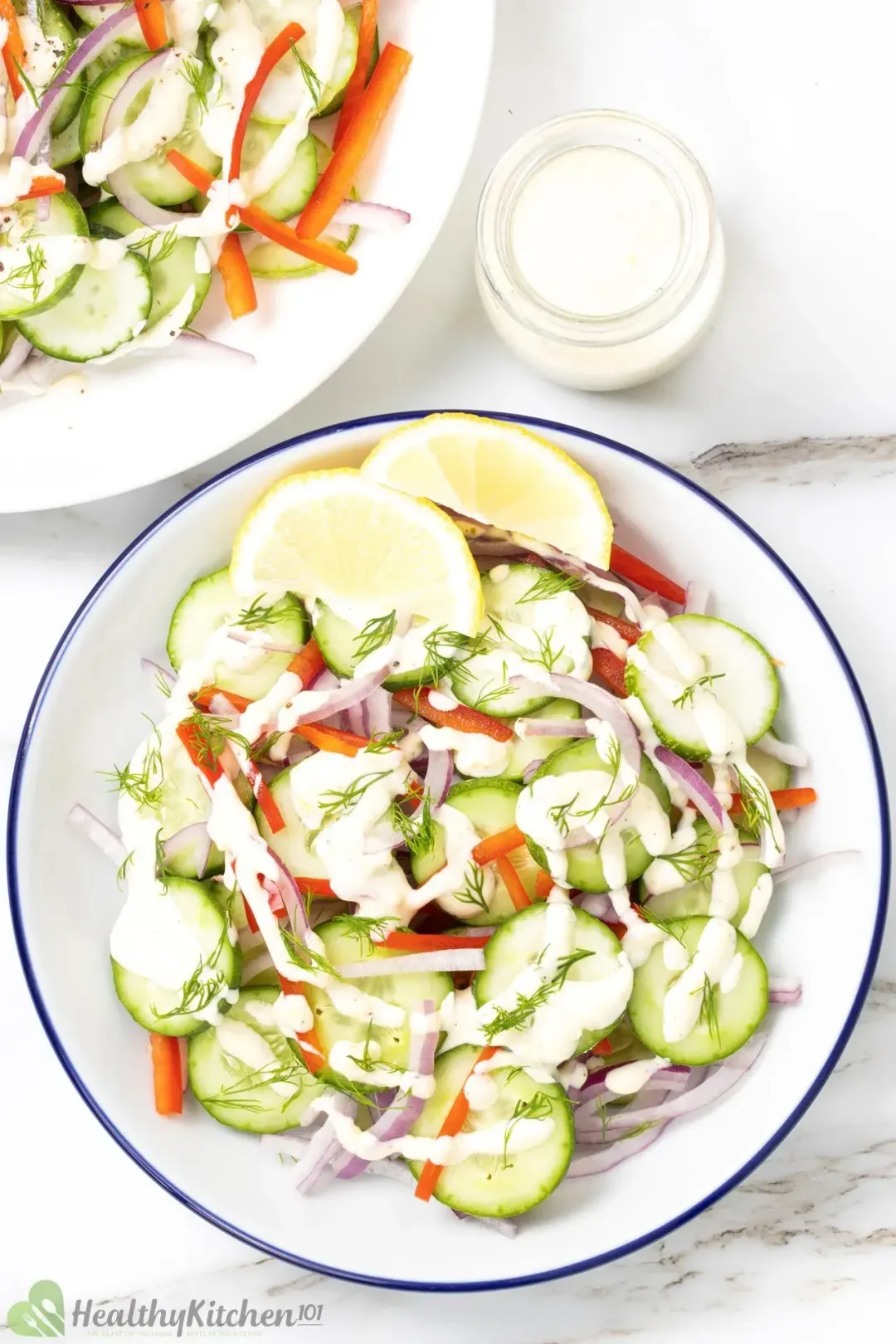 As previously said, you can keep the salad in the fridge for up to 2 days. We have found that the flavor continues to improve after a few hours since ingredients have a chance to meld. However, if you go for longer than that, note that cucumber, onion, and bell pepper will soften over time.
Healthy Cucumber Salad
This healthy cucumber salad recipe requires minimal time and effort to make, but is also versatile to satisfy your taste buds. Whether you want to make a simple side dish for weekday meals or something fancy to serve at your barbecue party over the weekend, this creamy salad is a desirable companion!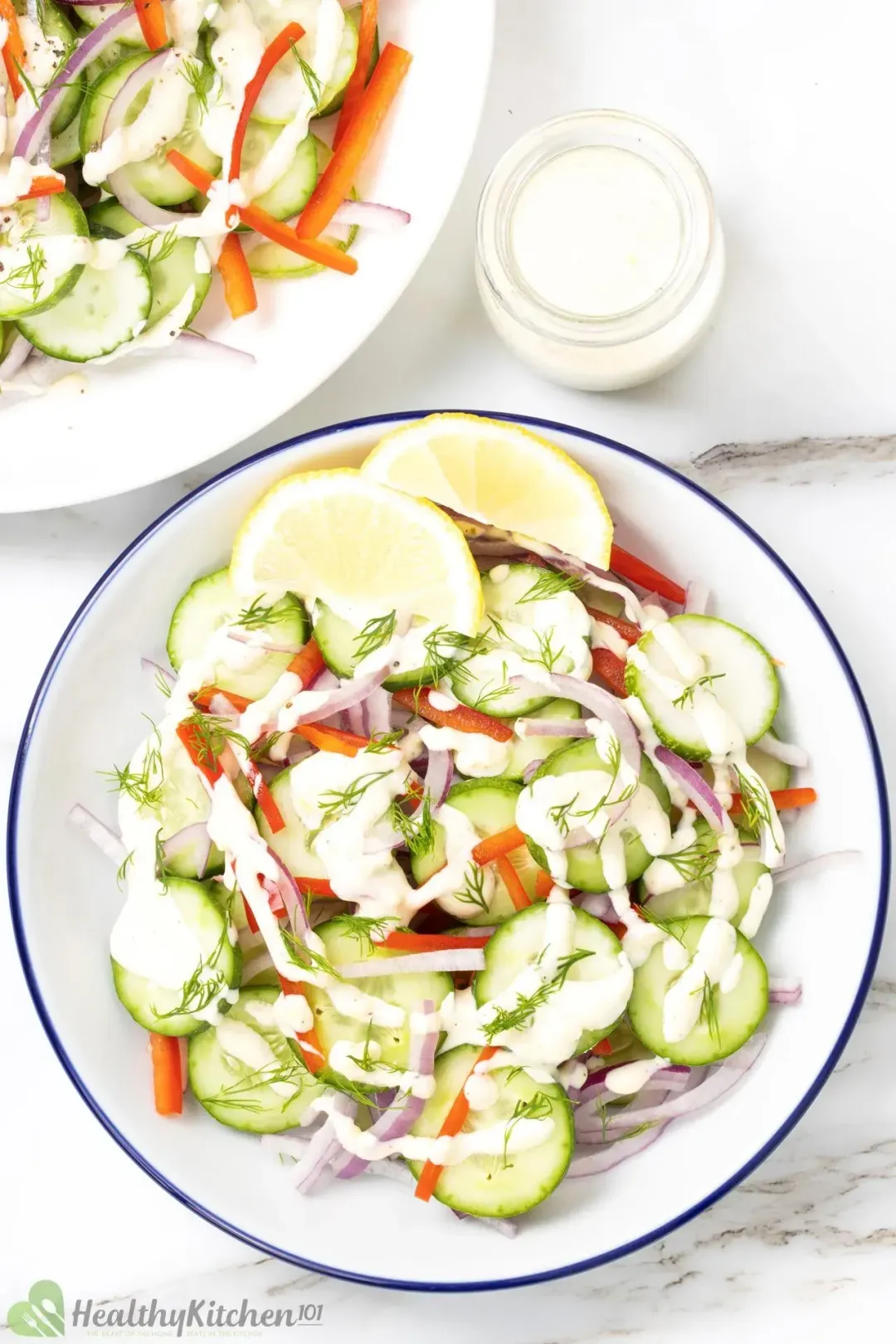 prep TIME

5 mins

total TIME

20 mins

INACTIVE TIME

15 mins
COURSE

Side Dish

CUISINE

American

SERVINGS

CALORIES

163 kcal
INGREDIENTS
2 oz

red bell pepper

(sliced)

1/4 cup

Japanese mayonnaise

1/4 tsp

traditional Dijon mustard

1/8 tsp

ground black pepper

1/2 tbsp

fresh dill

(chopped)
INSTRUCTIONS
1
Place sliced cucumber, onion and bell pepper in a big bowl of cold water and ice and leave them to rest for 15 minutes.
2
In a small bowl, whisk together olive oil, lemon juice, mayonnaise, sour cream, mustard, garlic, salt, and pepper.
3
Drain the vegetables well. Then gently toss with the dressing. Add fresh dill on the top. Serve immediately or allow the salad to rest in the refrigerator from 15 minutes to 2 hours for increased flavors.
Note:
If you want to add some carbs to your meal, try serving the salad with rice or croutons. They are delicious and vegan, too!
NUTRITION
Nutrition Facts
Healthy Cucumber Salad
Amount Per Serving (1 serving)
Calories 163
Calories from Fat 117
% Daily Value*
* Percent Daily Values are based on a 2000 calorie diet.
Keywords: Cucumber Recipe, Cucumber Salad, Cucumber Salad Recipe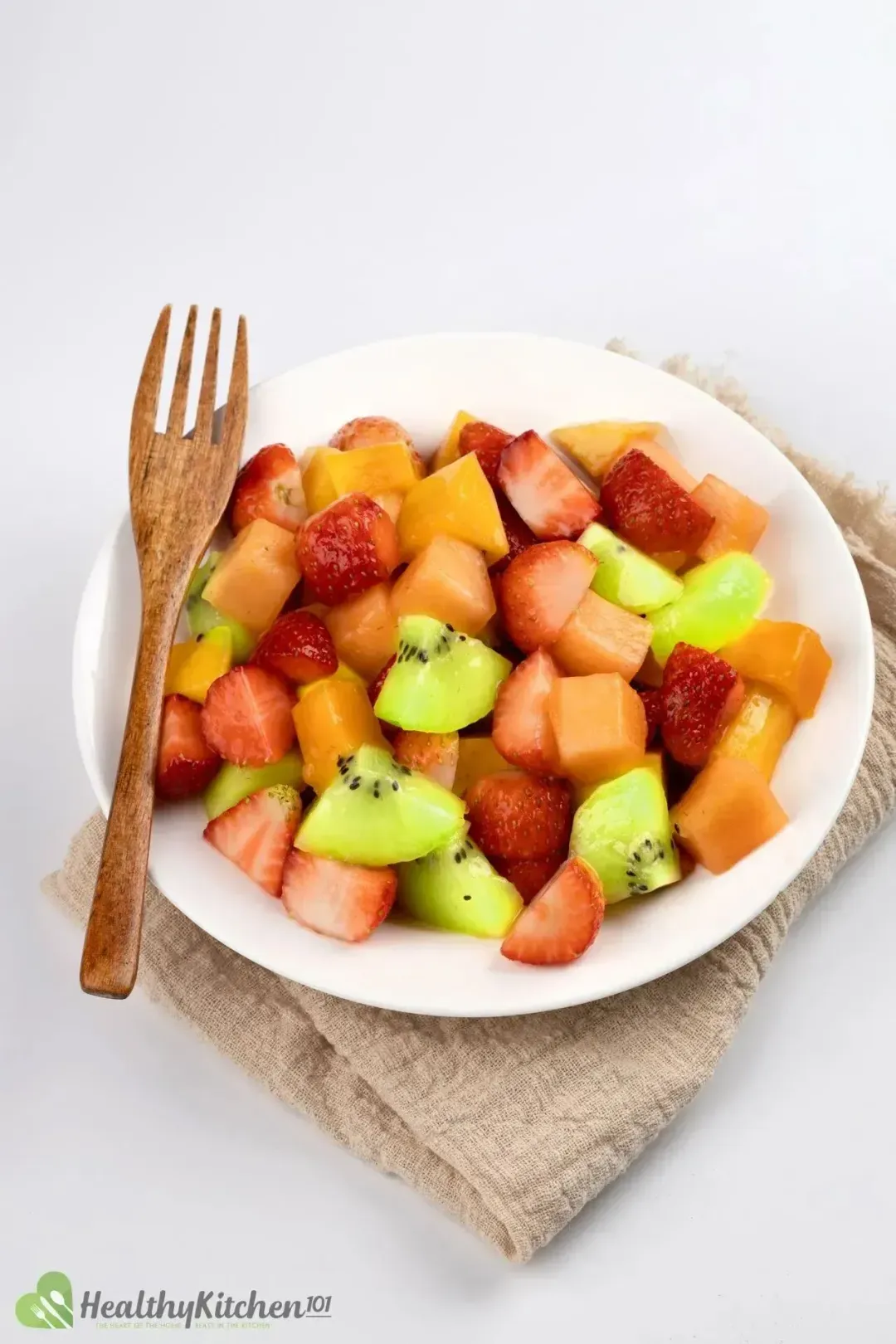 Previous Recipe
Fresh Fruit Salad
Fresh Fruit Salad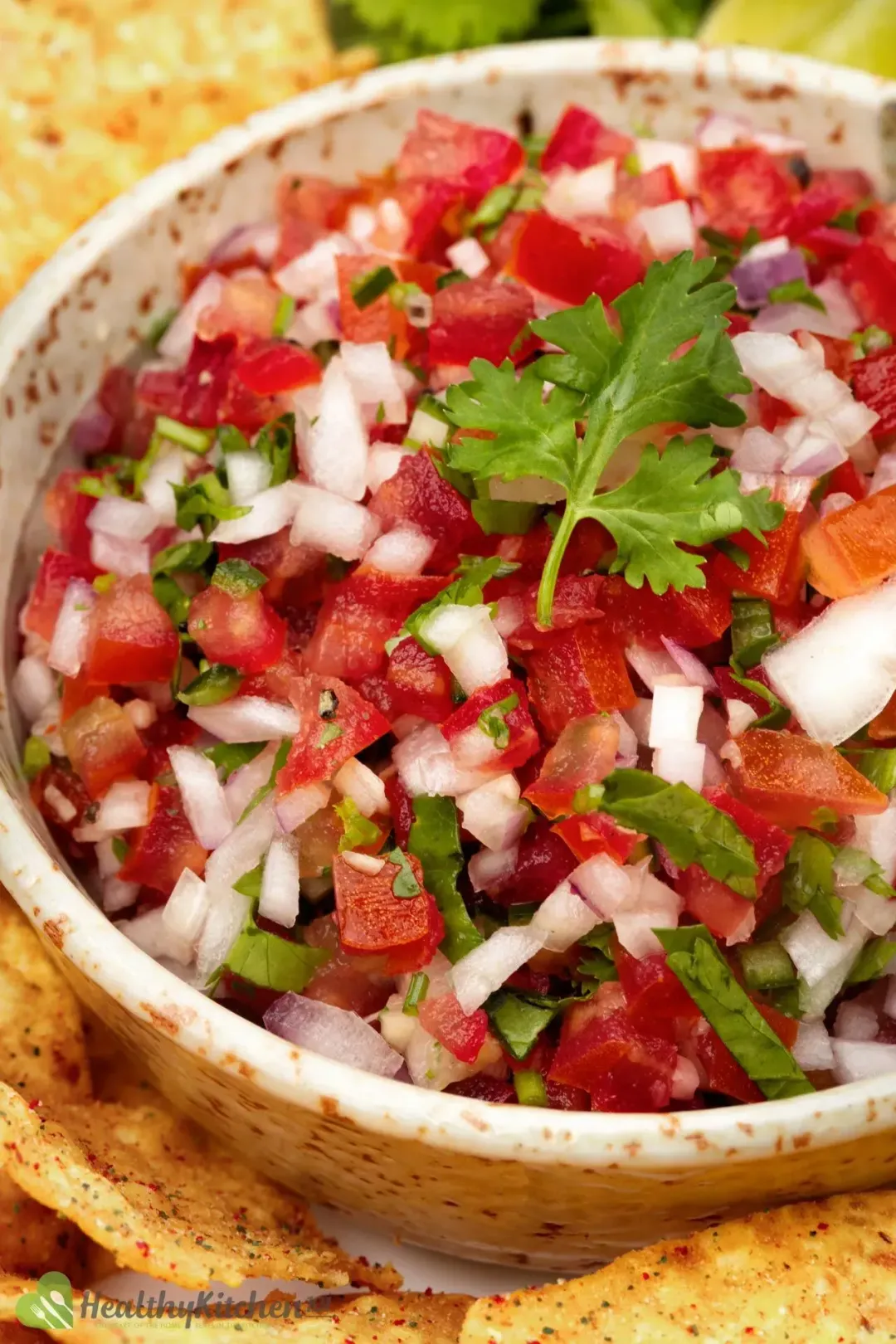 Next Recipe
Healthy Pico de Gallo
Healthy Pico de Gallo
Head Chef, Culinary Consultant
Tuyet Pham is an award-winning Saigonese chef who believes that joy is the secret ingredient to delicious food. At Healthy Recipes 101, Tuyet personally tests and simplifies every recipe, ensuring maximum flavor with minimal effort. With a background at prestigious French restaurants P'TI Saigon and Le Corto, Tuyet knows how to make every dish exceptional.
Writer, Author
Luna Regina is an accomplished writer and author who dedicates her career to empowering home cooks and making cooking effortless for everyone. She is the founder of HealthyKitchen101.com and HealthyRecipes101.com, where she works with her team to develop easy, nutritious recipes and help aspiring cooks choose the right kitchen appliances.
Nutrition Reviewer
Lizzie Streit is a Minneapolis-based dietitian and founder of It's a Veg World After All. She completed her MS in Human Nutrition from Drexel University, and is an expert in culinary nutrition, recipe development, and nutrition communications. Lizzie's philosophy is centered around making nutrition recommendations, and especially the advice to eat more vegetables, approachable and realistic. She is excited to be working with the team at Healthy Recipes 101 to ensure that their recipes are both nutritious and delicious.
This tastes like home. The best cucumber salad recipe I've tasted!