These healthy salad recipes make eating more greens a pleasurable experience. 

—
Salads are awesome: they come in a huge variety, are quick to make, and taste great if done the right way. They can be a light meal on their own, a complement for heavier dishes or a healthy solution to food cravings.
Before getting to the recipes, though, you need to understand the basics; what makes salads healthy and which salad to choose. In the next few sections, we hope to get you up to speed, and hence, help you make better choices.
How Are Salads Healthy, Exactly?
Healthy eating means getting sufficient nutrients (by eating from all food groups) and setting nutrient goals. Since they usually contain just fruit and veg, it would be unfair to let salads 'own' the 'healthy' label.
Still, many people's diets lack these two important food groups. If you consider your diet to be of a similar nature, salads present an easy way to redress the balance.
Choosing Better Salads
Besides fruit and veg, salads can contain meat, eggs, nuts, seeds, even pretzels, too. A salad bowl abundant in ingredients contains more nutrients than one with just a few, and hence is a better choice.
It's also important to choose a salad depending on what your meal is missing. For instance, a chicken salad could be seen as something extra for meaty barbecues, but it's more of a need alongside a low-protein cauliflower pasta.
Finally, some salads can be high in calories, saturated fat, and sodium, levels of which you should regulate. Such will be easier if you go for recipes with sound nutritional profiles, which we're introducing in this roundup.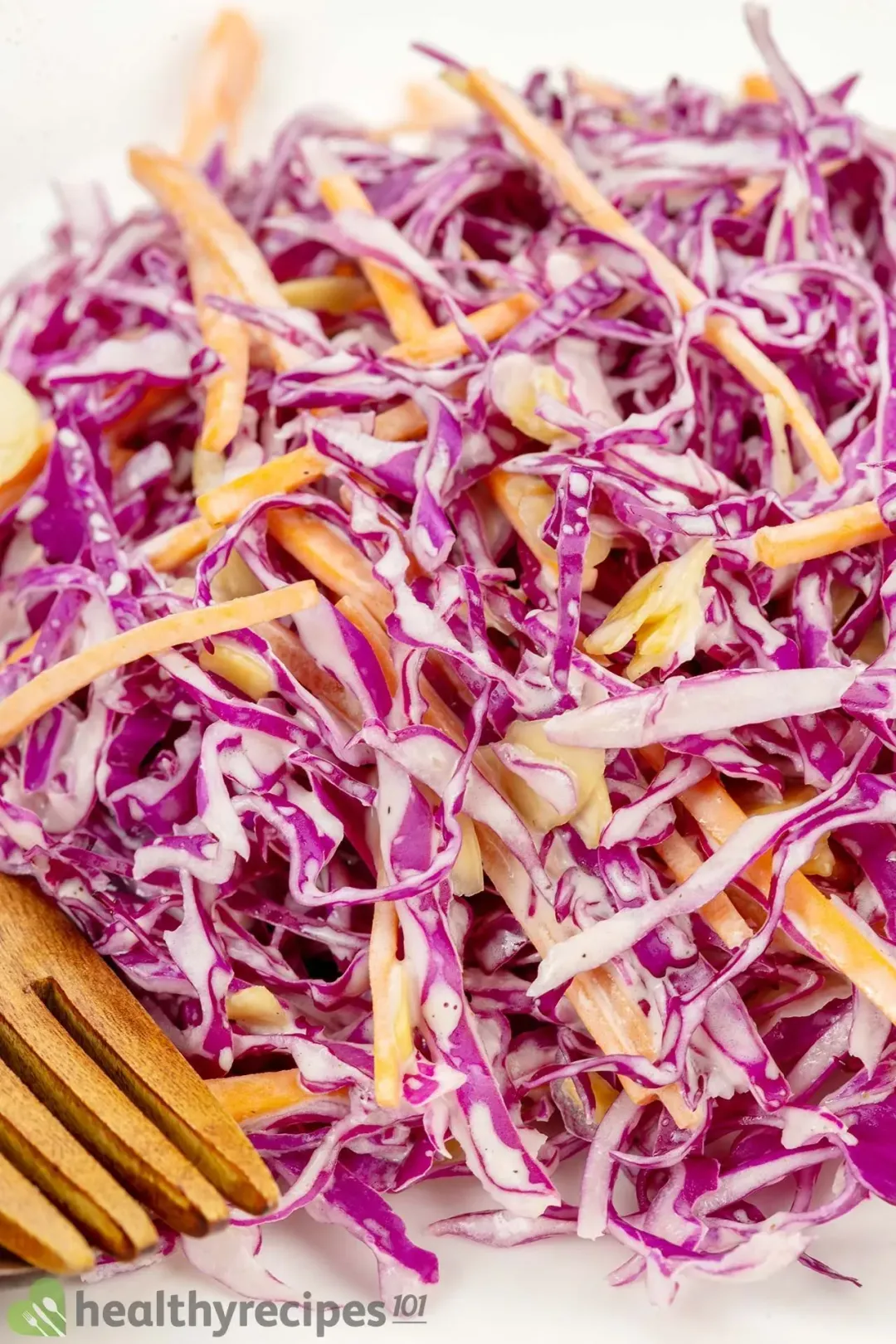 How to Make a Salad
Believe it or not, you can easily make salads without following any recipes once you understand the basics.
1. What to Put in a Salad
A rule of thumb: use a variety of fixings.
First, build a veggie base with your favorite vegetables. Cabbage, carrots, cucumbers, and tomatoes are good choices for beginners; if you're used to making salads, opt for arugula, kale, or spinach – those with a stronger aroma.
Here's our tip: use seasonal produce. Zucchini or cucumber salads are perfect for the summer while squash or beetroots make a hearty bowl of fall salad.
Next, feel free to add proteins, fresh fruits, dried fruits, nuts, cheese, or even snacks to the base:
Proteins: egg, canned tuna, poached chicken breast, bacon, ham, etc.
Fruits: corn, shaved coconuts, apples, berries, avocados, sweet citrus, grapes, etc.
Dried fruits: dried cranberries, raisins, etc.
Nuts: shaved almonds, broken walnuts, pine nuts, etc. (all should be toasted.)
Cheese: feta, burrata, jack, cheddar, parmesan, etc.
Snacks: pretzels, crackers, chips, etc.
Some combinations work better than others, so we suggest you keep trying until you're happy with your own creation.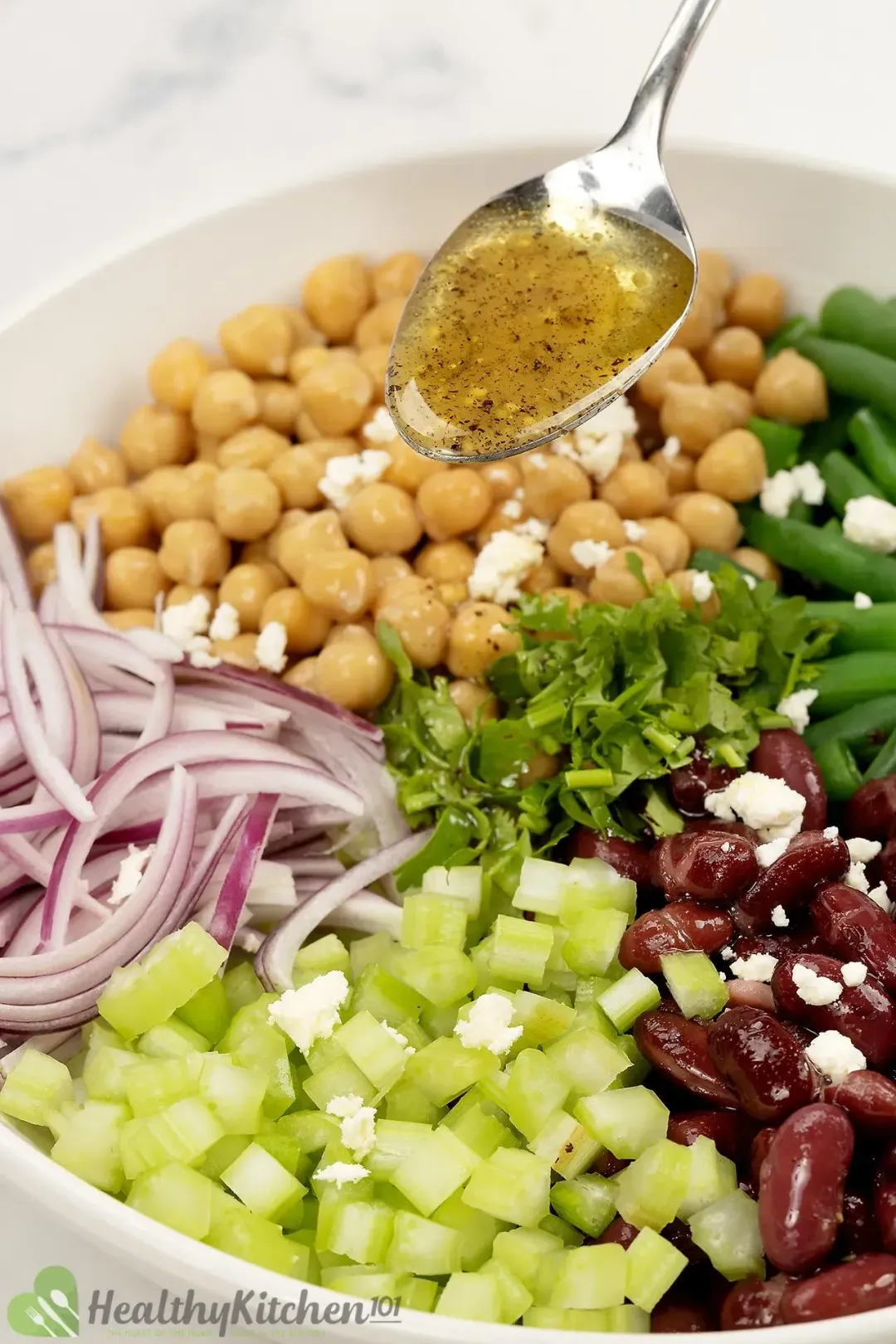 Finally, your salad needs a matching dressing.
2. Dressing for Your Salad
There are many dressings to choose from, but as a beginner, it's okay to stick to the basic, easy ones like vinaigrette, honey mustard, and mayo-based. You can retrieve their recipes here.
In our experience, the dressing should either complete the flavor profile of the chosen ingredients or be in tune with the salad's theme. For example:
Our spinach salad has sweet fruits for toppings and a tangy dressing.
Our egg salad has creamy boiled eggs, crunchy cubes of veg, and a creamy mayo dressing.
Of course, there are exceptions and they are vast. To better grasp how salads work, we suggest you look through our collection of healthy salad recipes below.
A small reminder before you do: avoid overdressing your salad by adding the dressing bit by bit; taste and stop when you feel like there's enough. An overdressed salad might taste good at first, but the next few mouthfuls will be too overwhelming to enjoy.
Chicken Salad Recipes
In this category you'll find protein-rich salads made with cooked chicken breast. They make a great complement to meals that lack protein.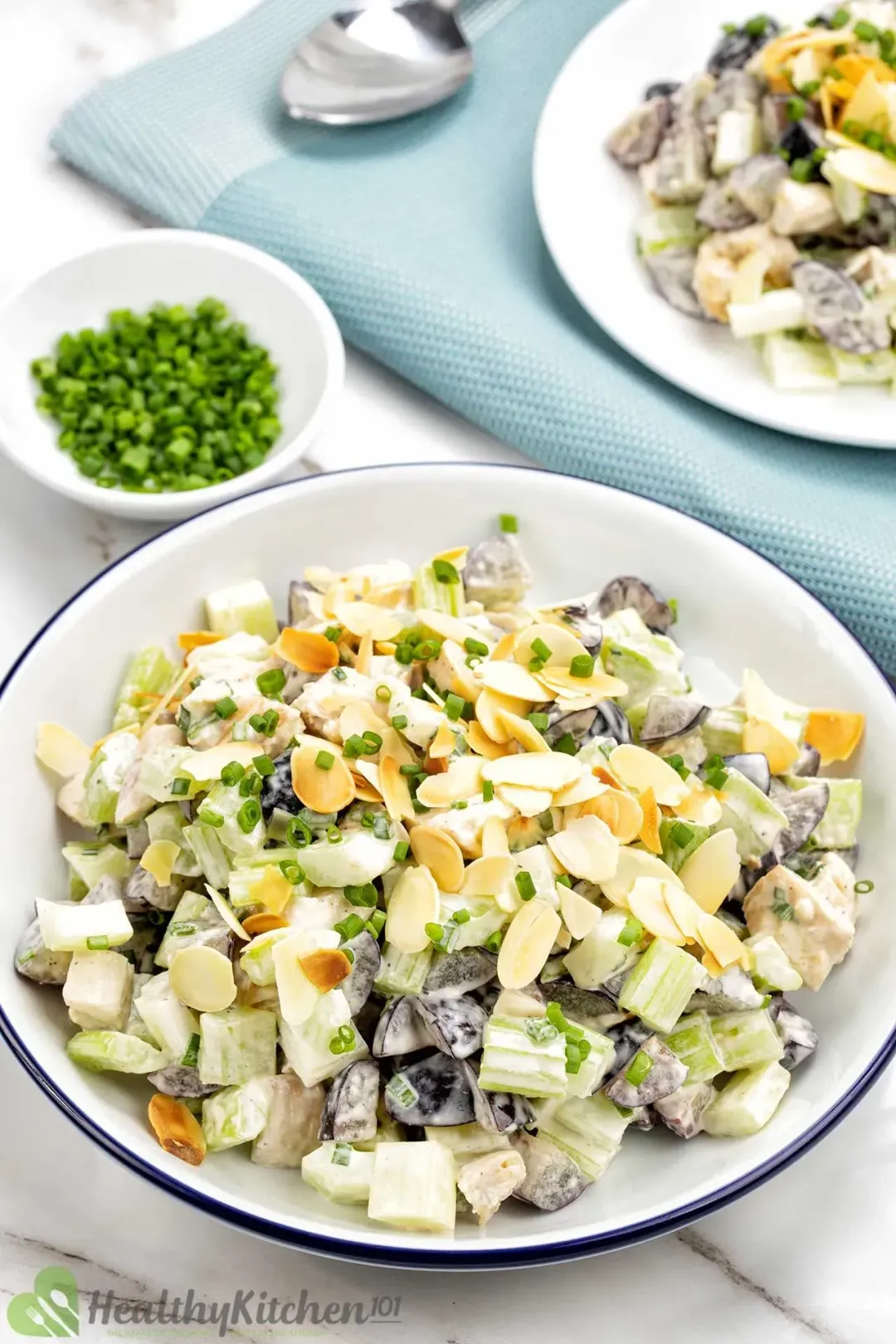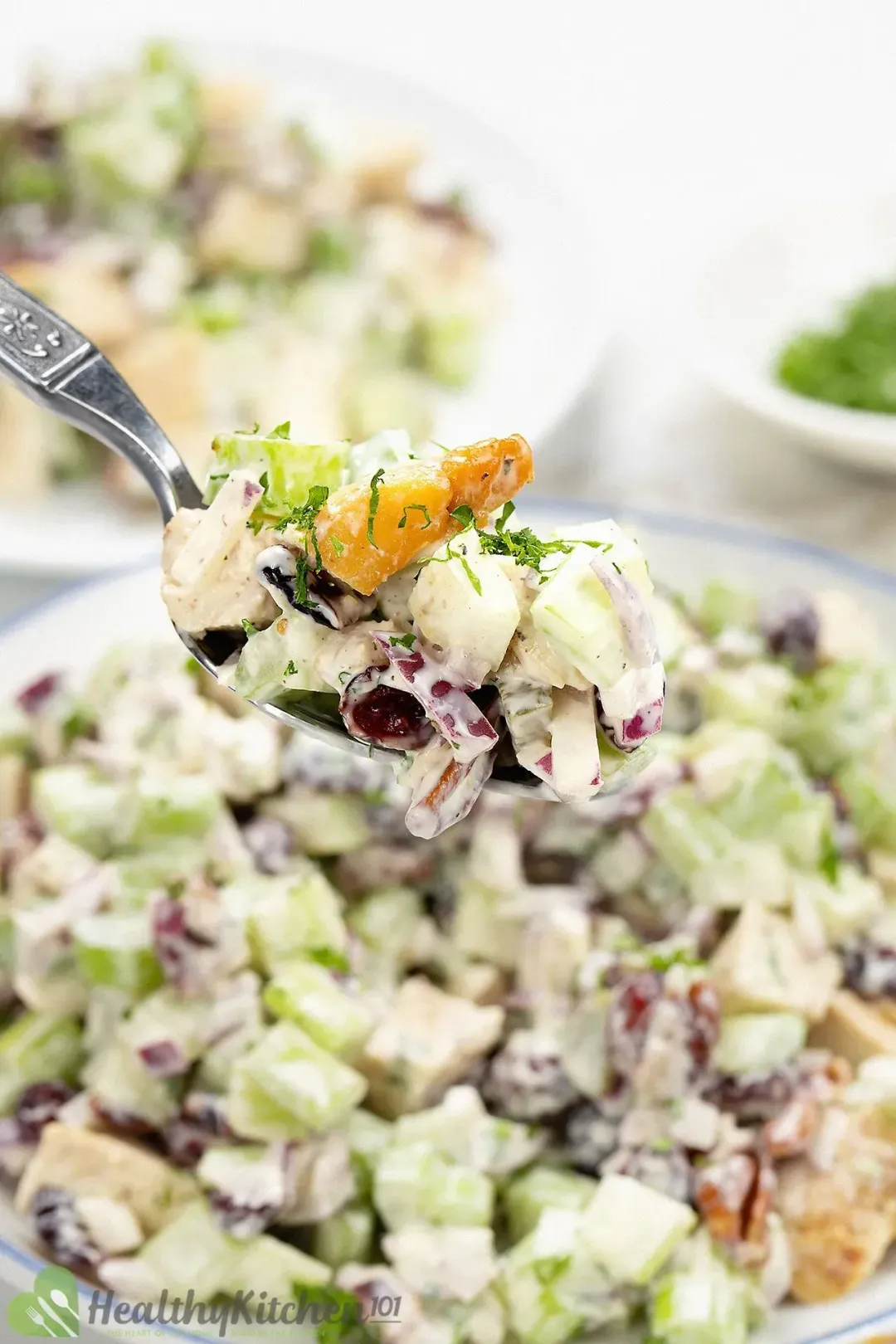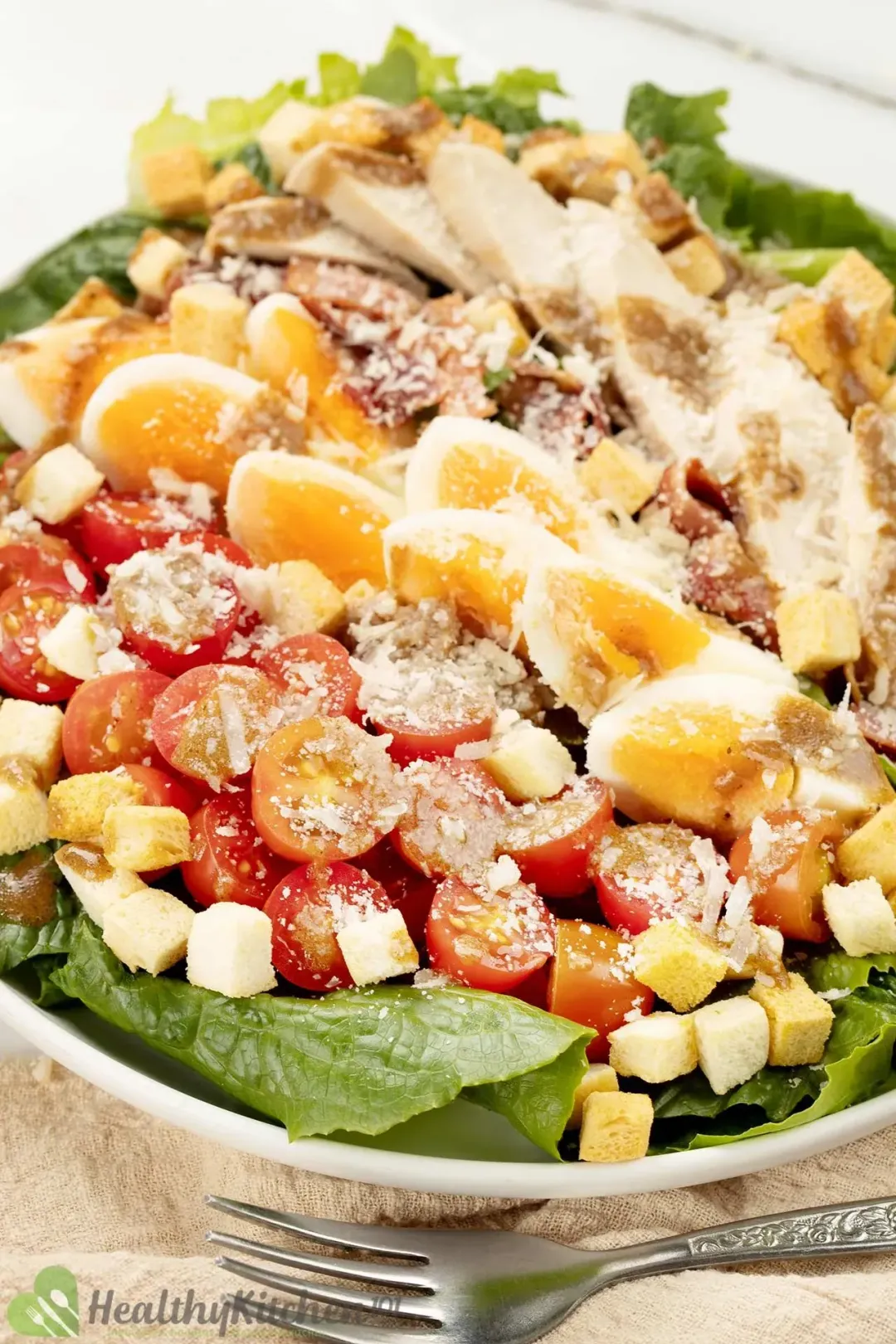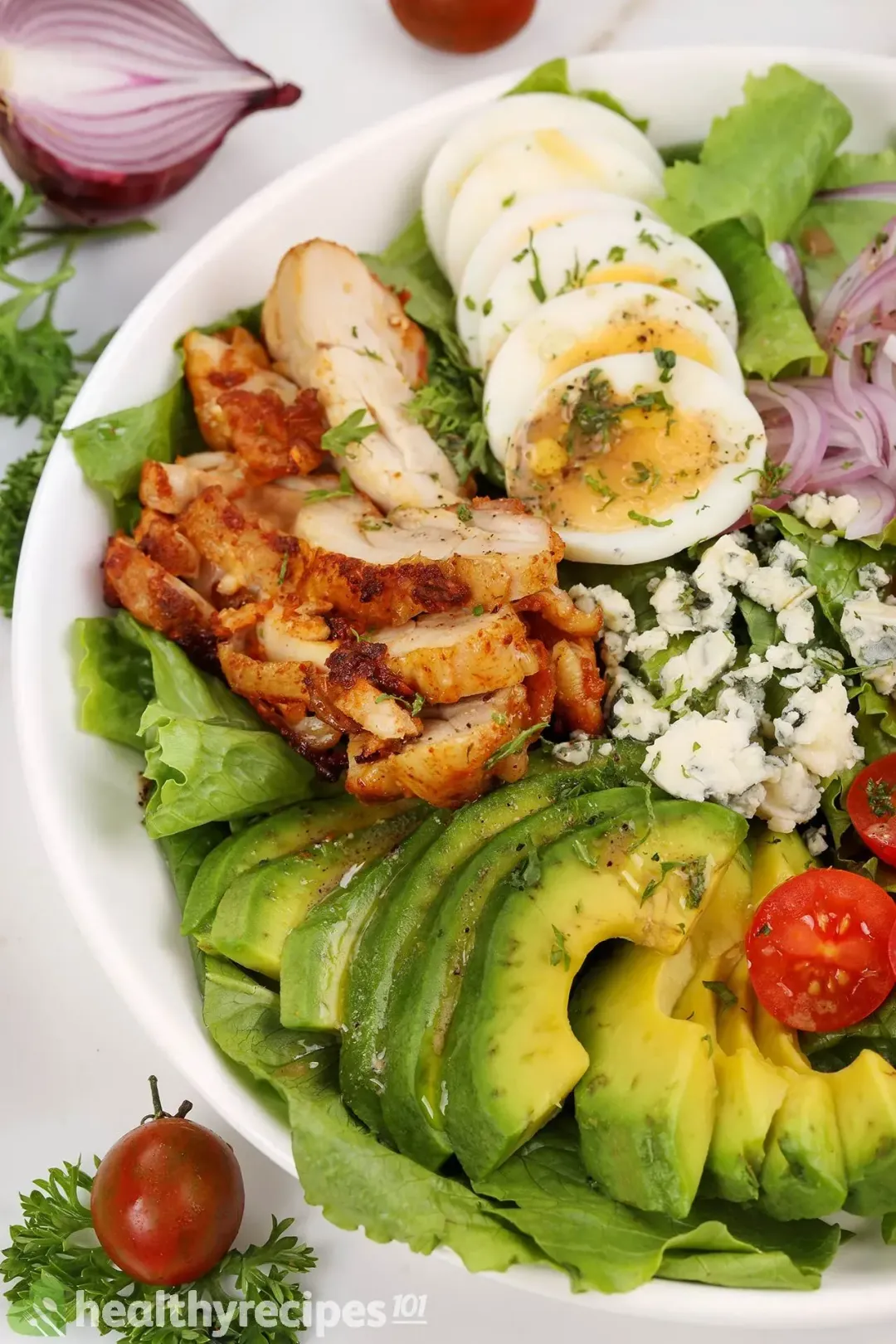 Pasta Salad Recipes
Boil some rotini, tortellini, or whatever short pasta you have on hand until al-dente and you're already halfway to a delicious salad. Easy, yet satisfying.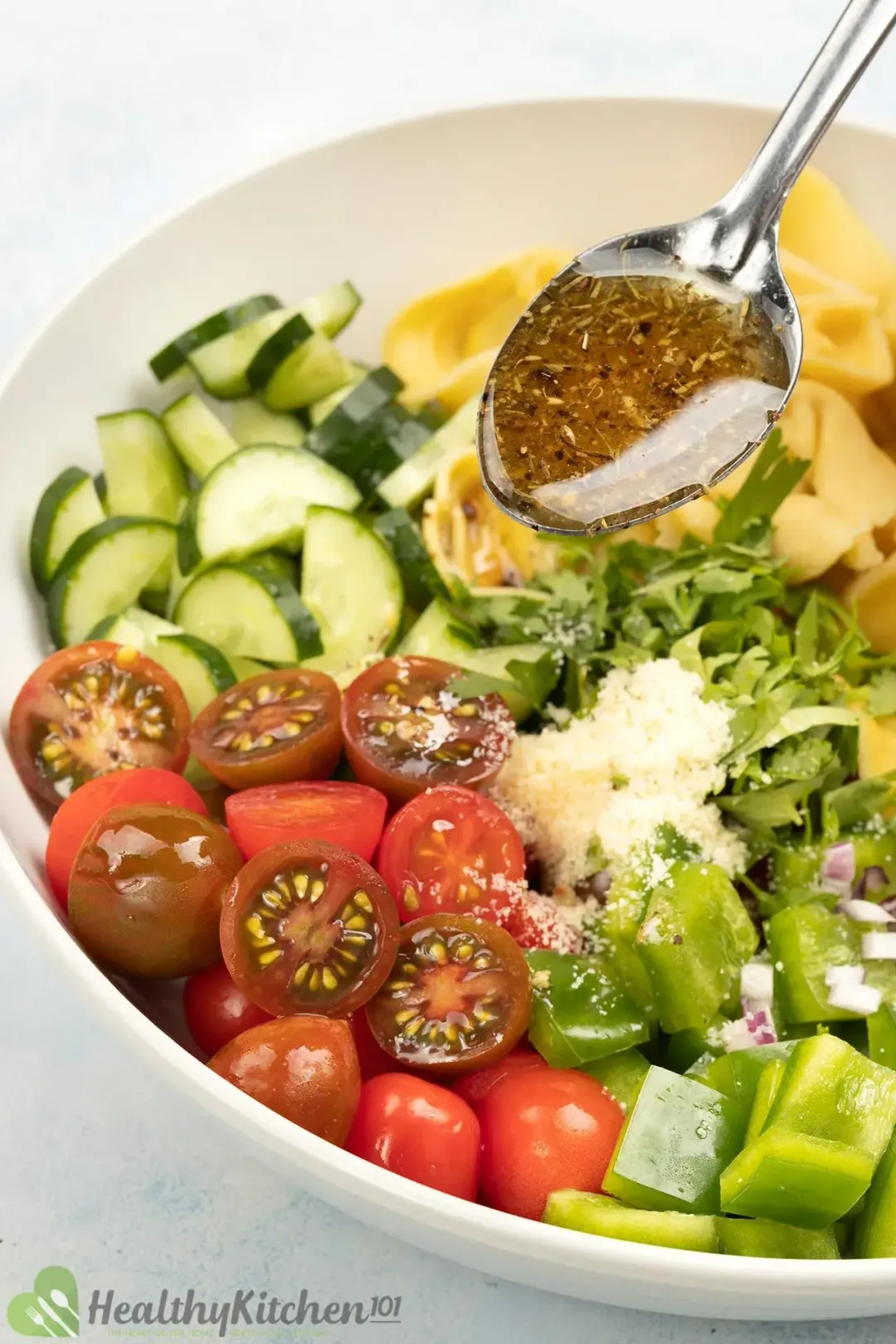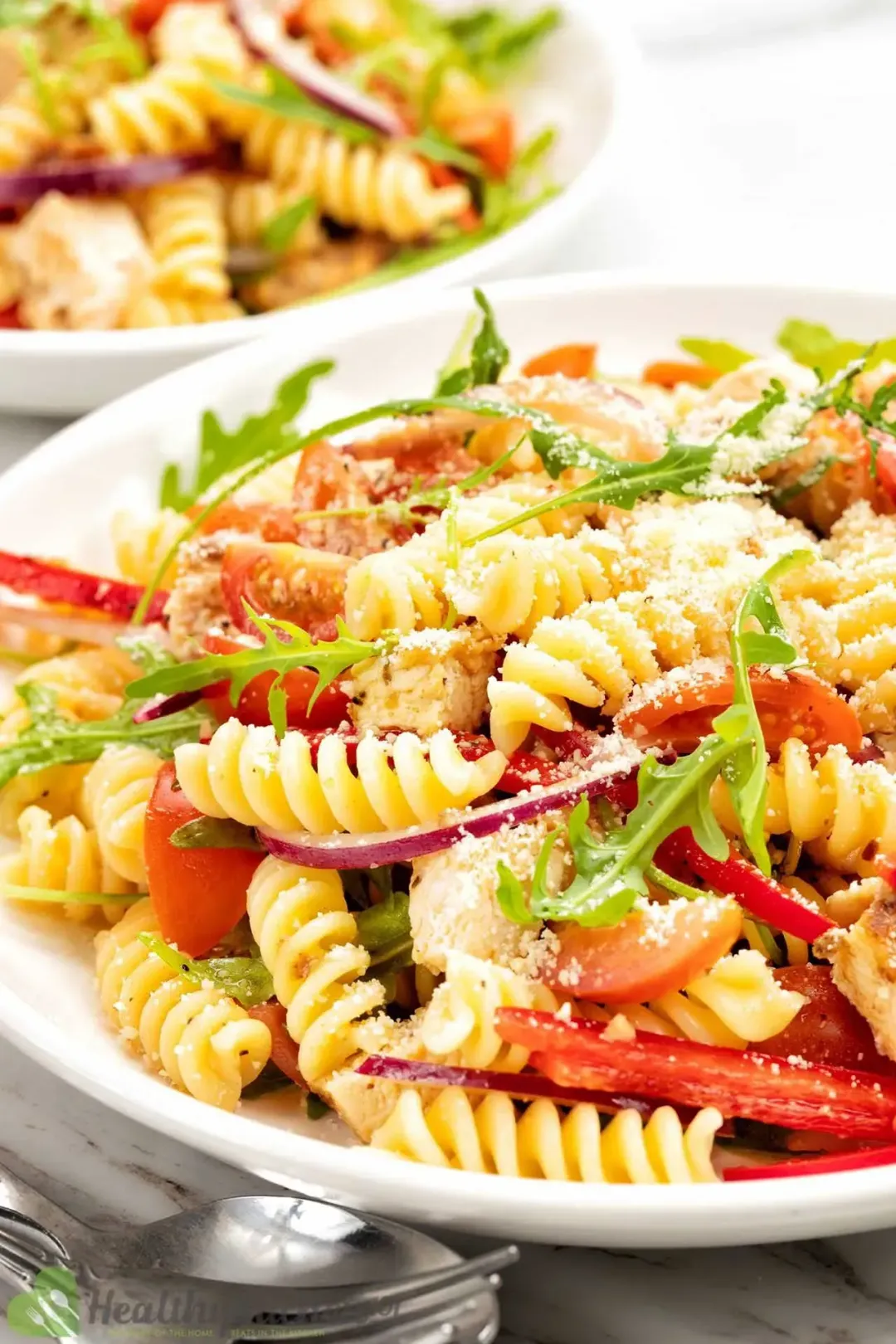 Veggie Salad Recipes
If your meal already has plenty of proteins and carbs, give it some balance with these veggie salads.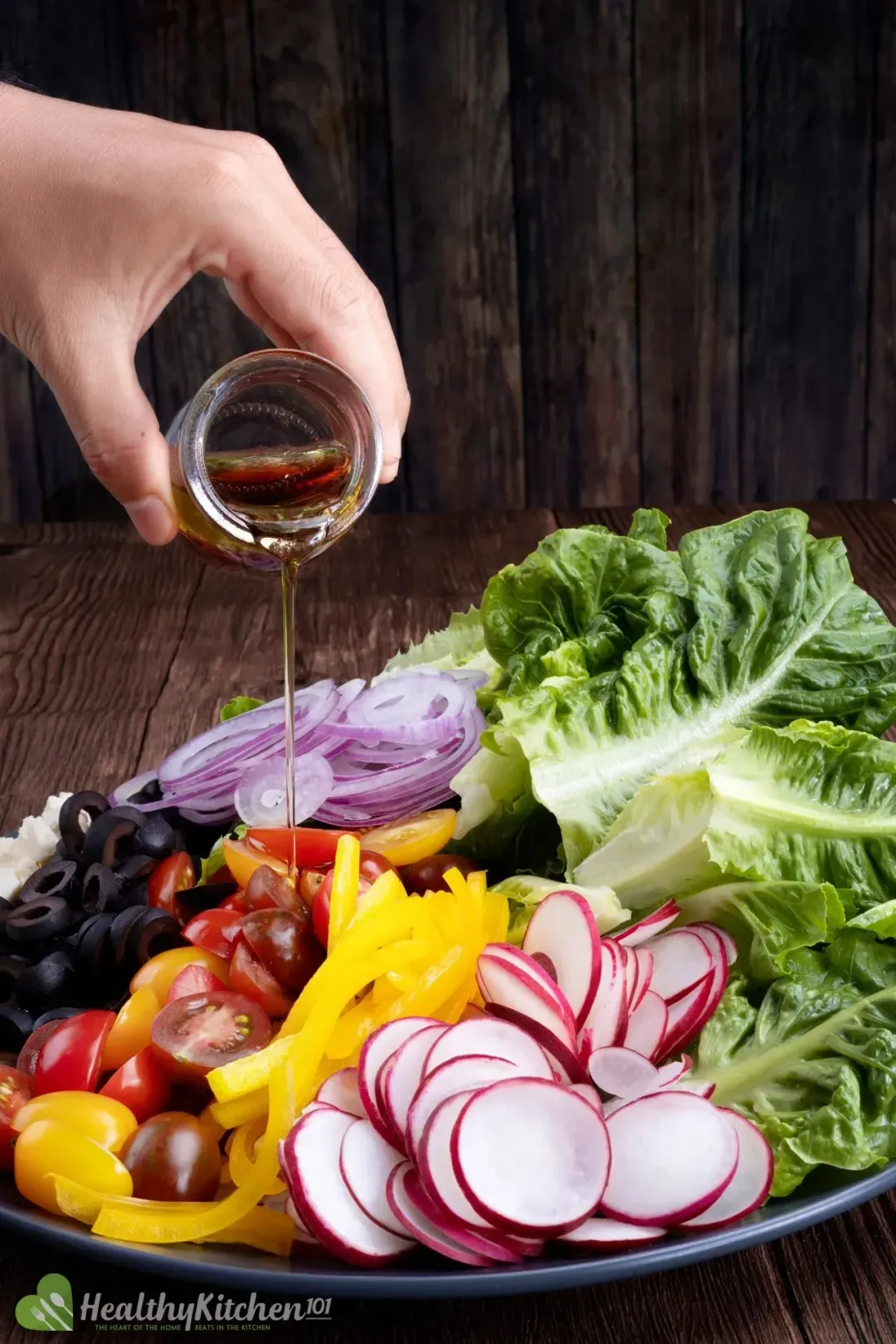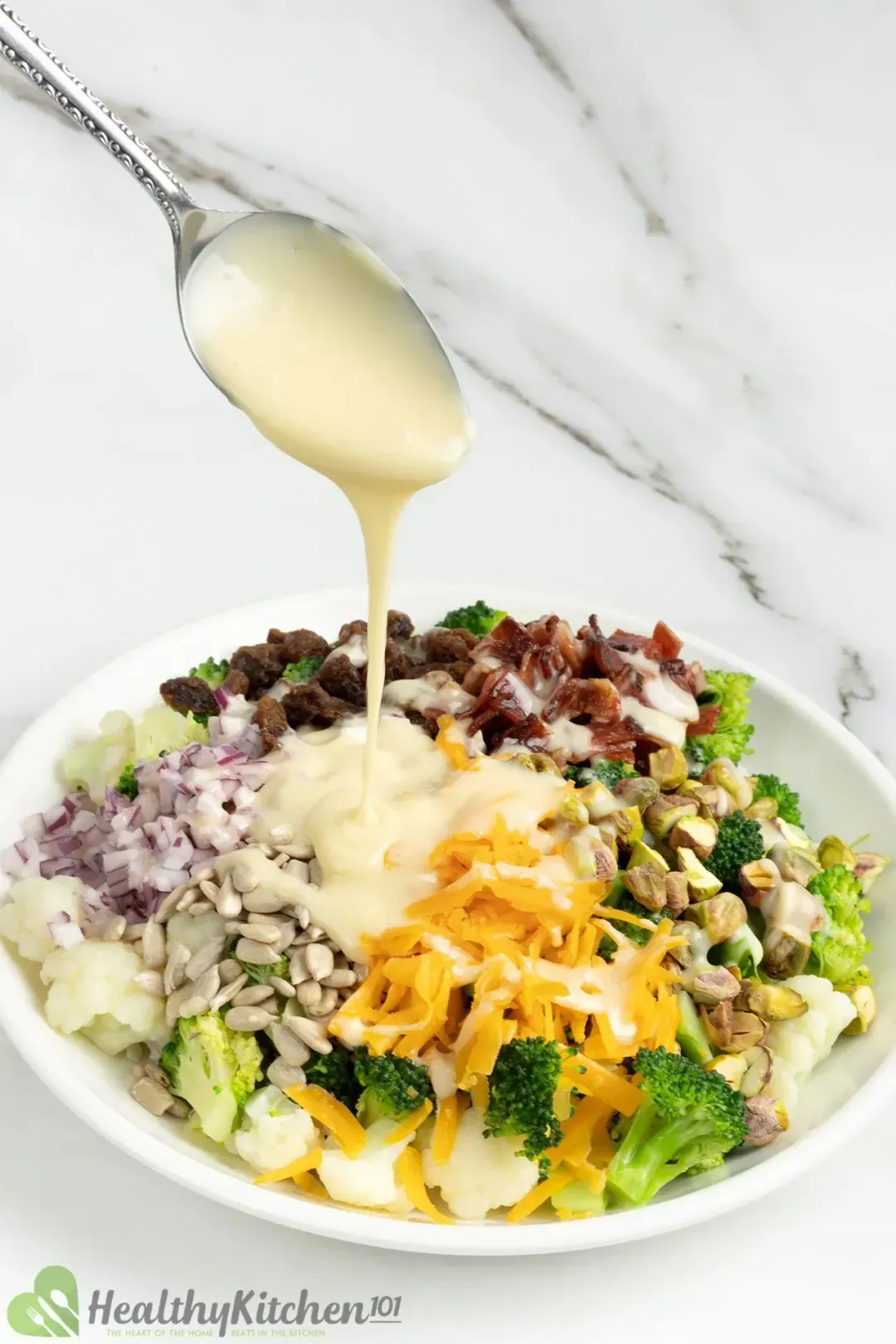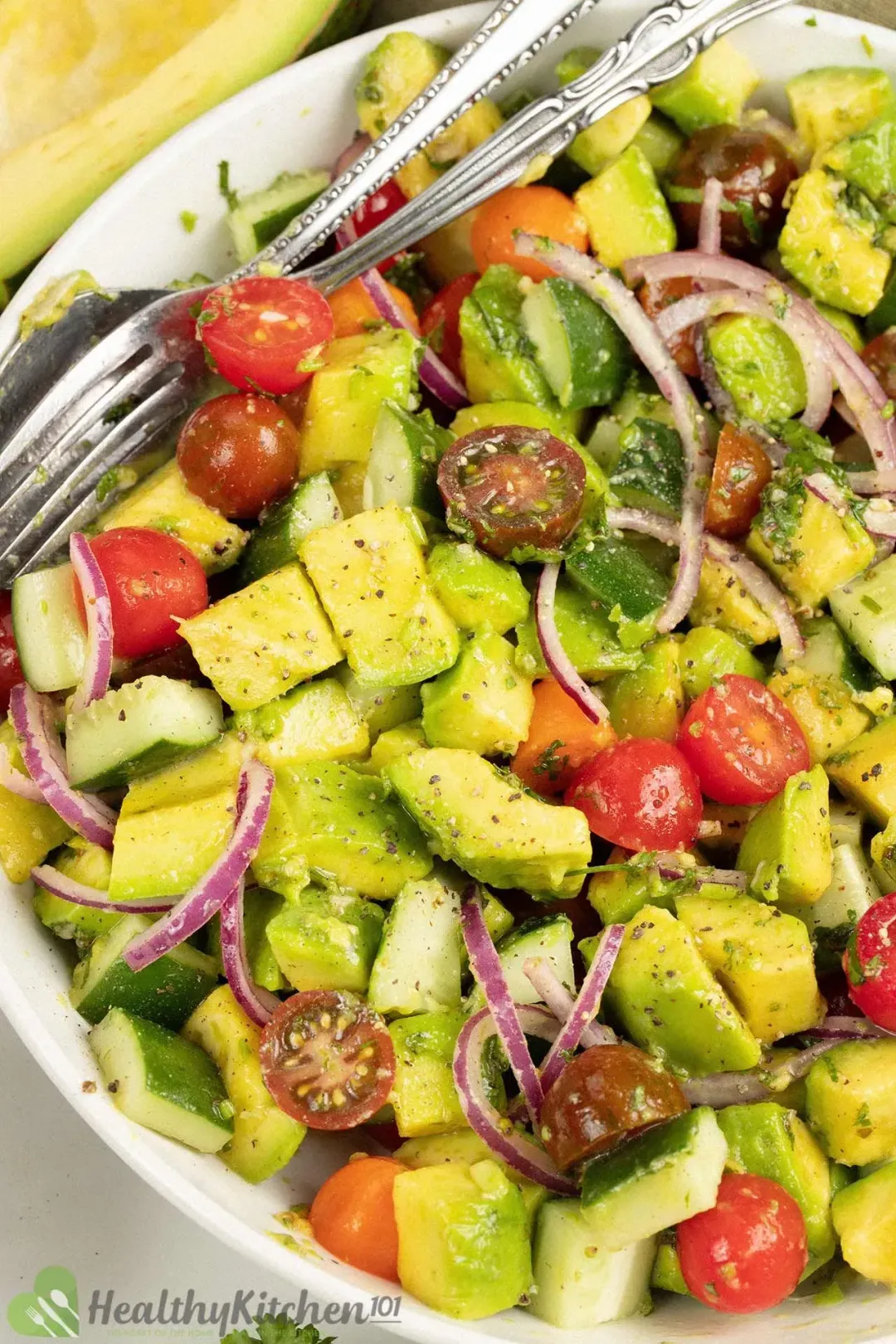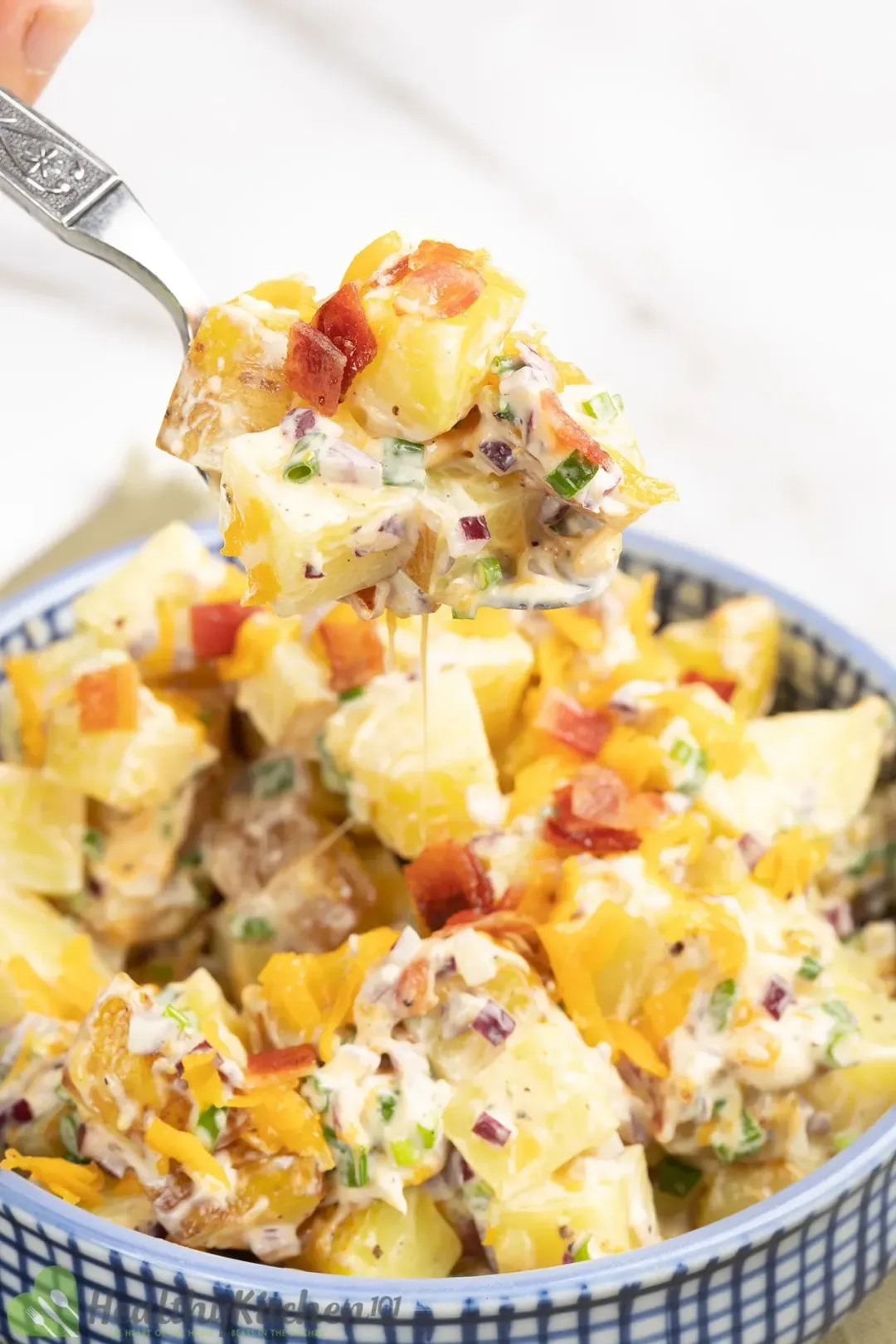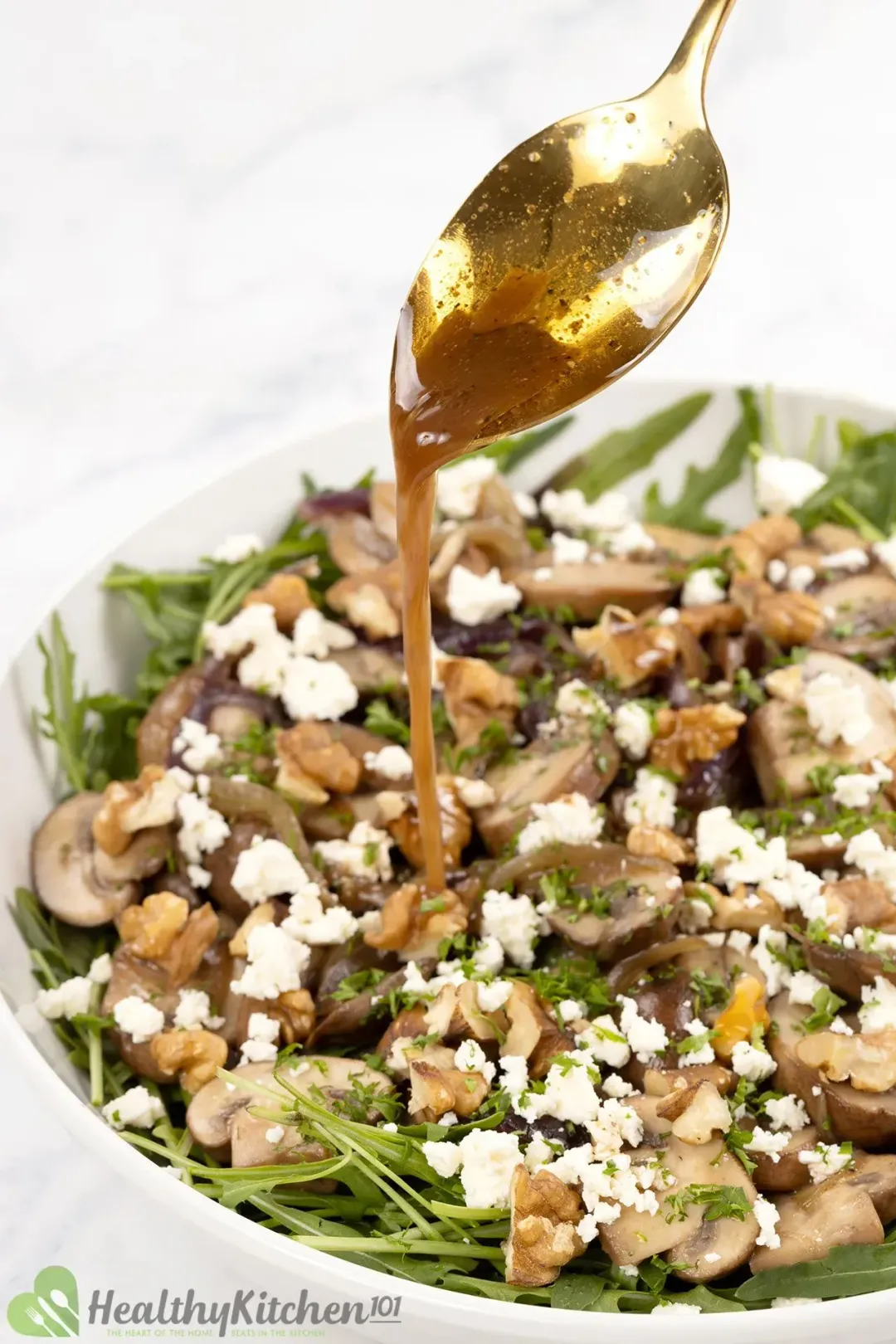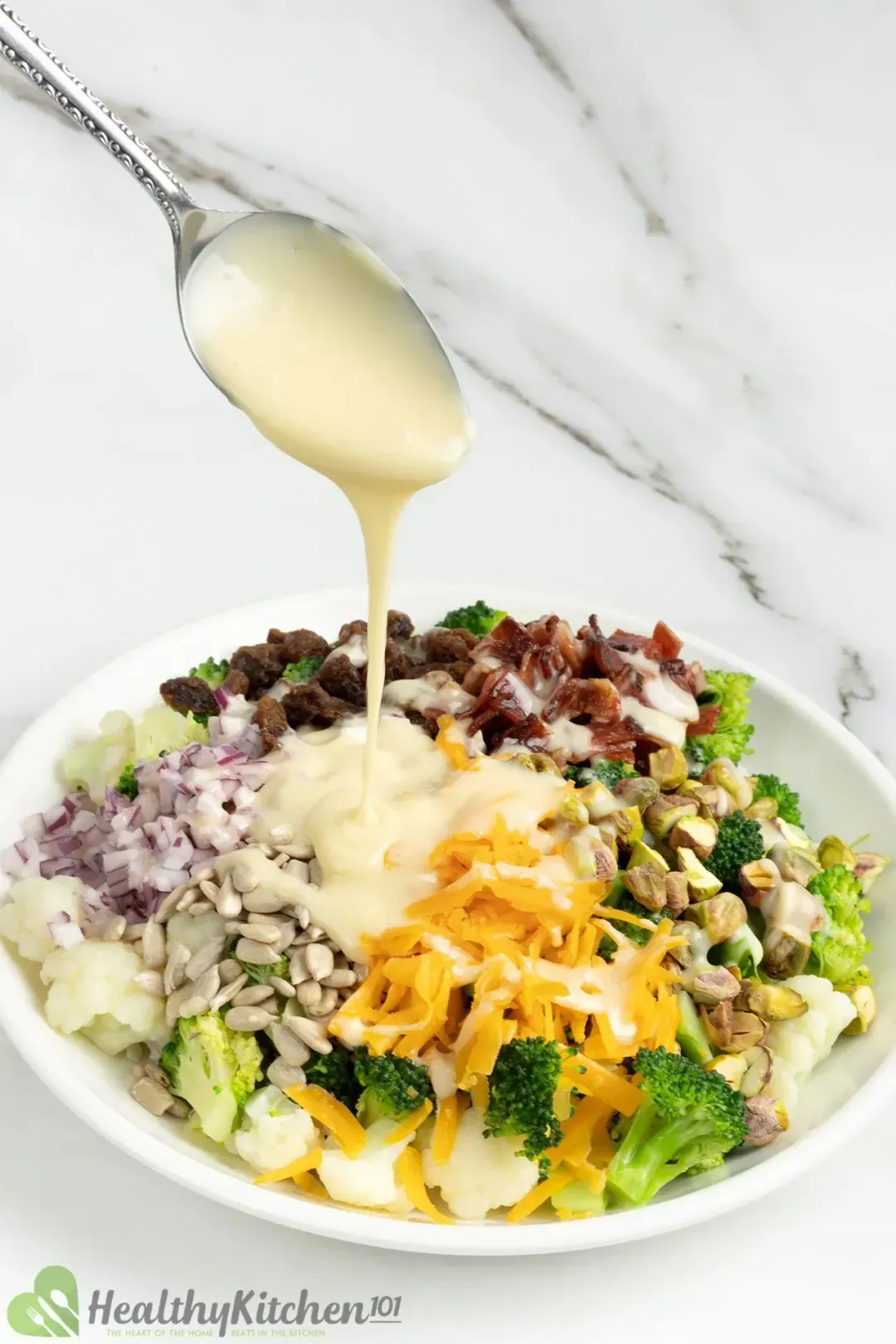 Protein-rich Salad Recipes
These salads are the perfect addition to meals that are low on proteins. Some of them can also make a handy lunch for the day after.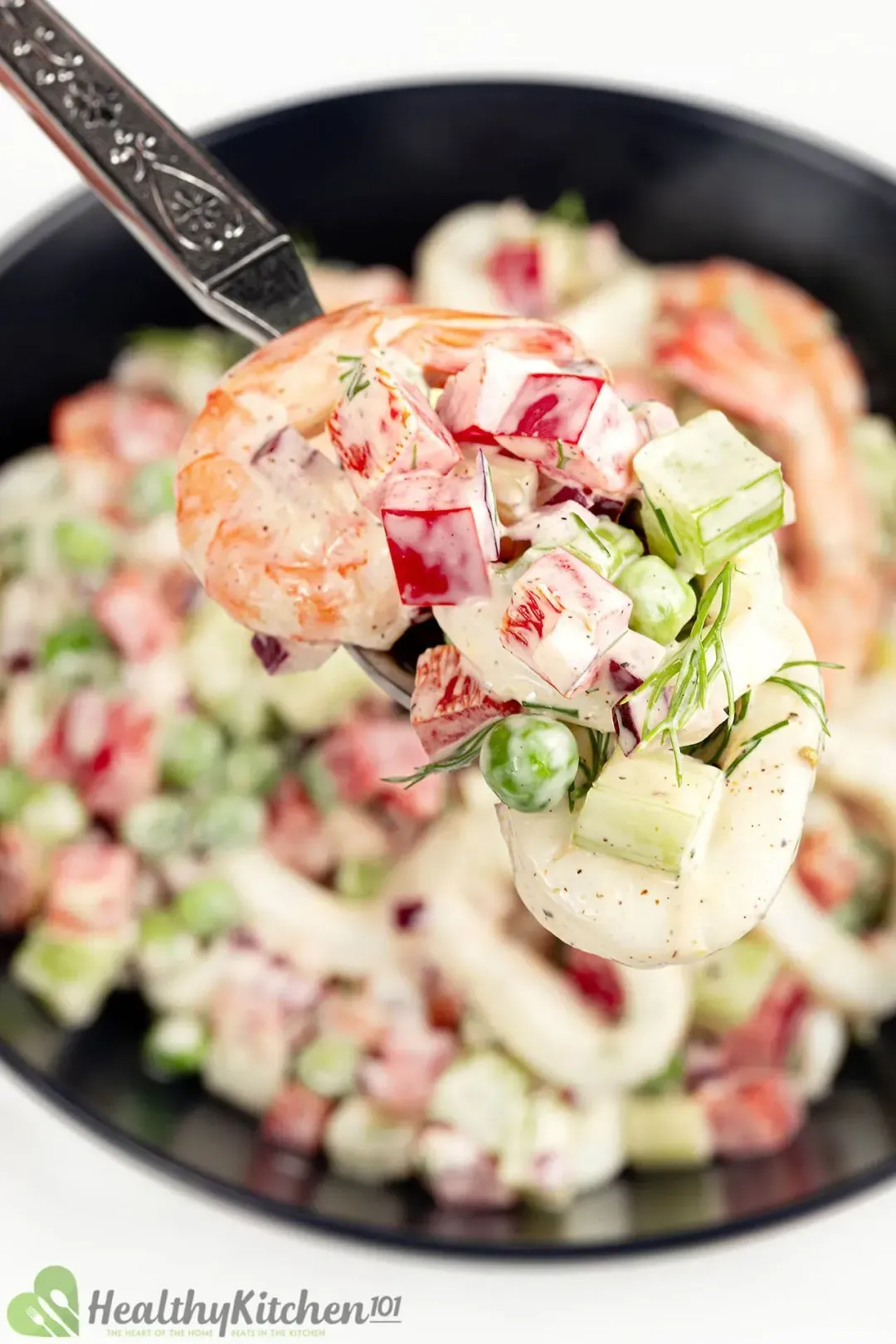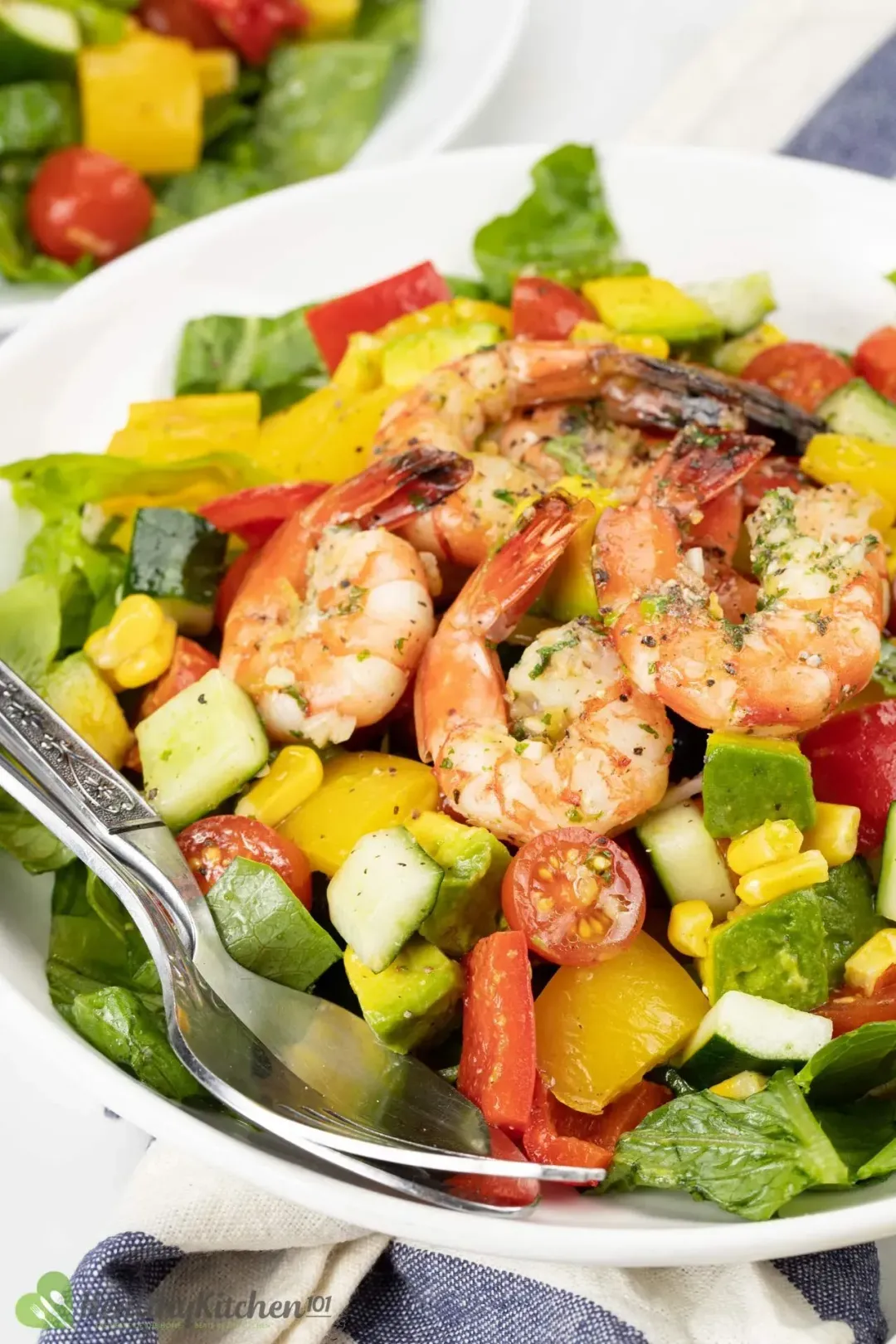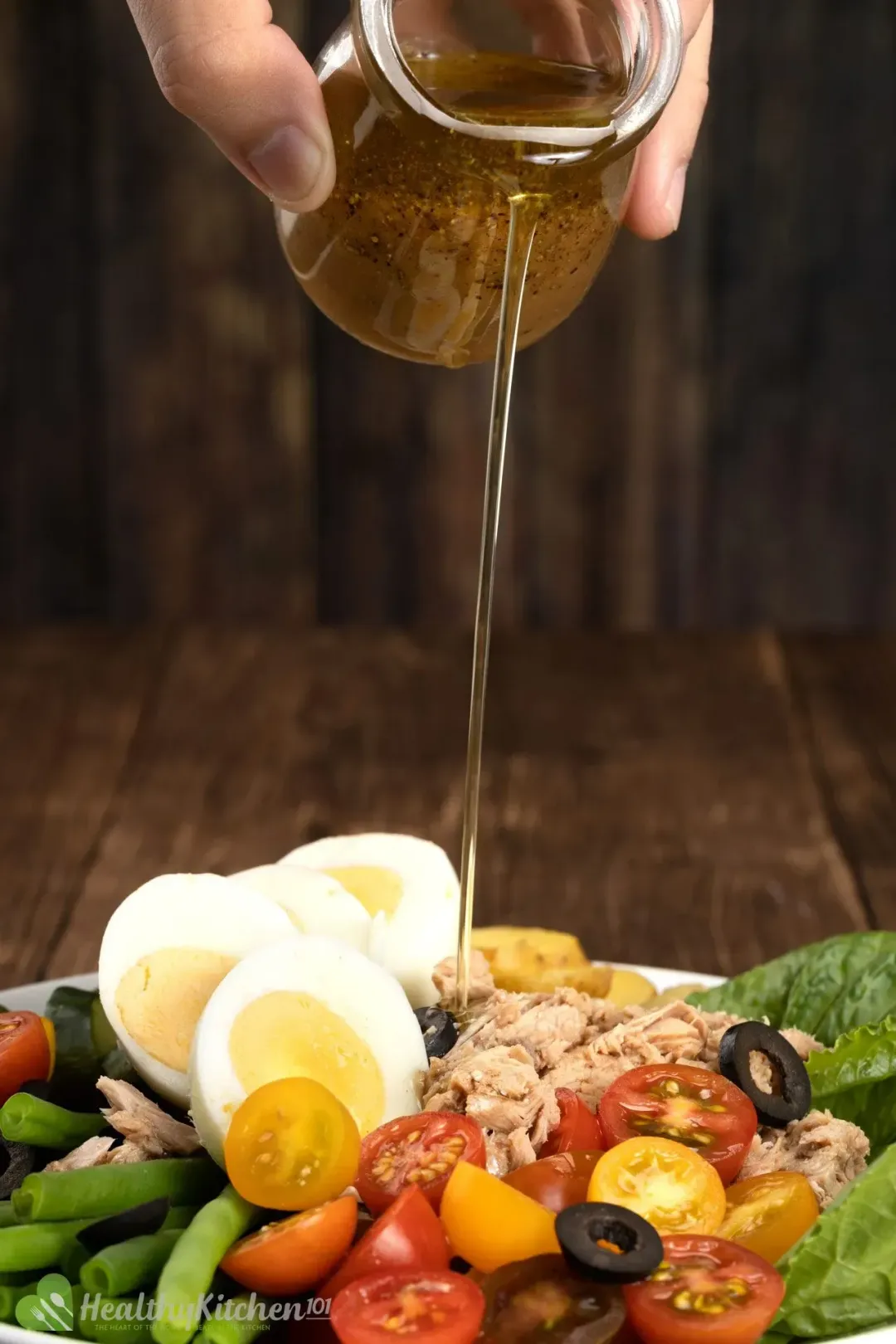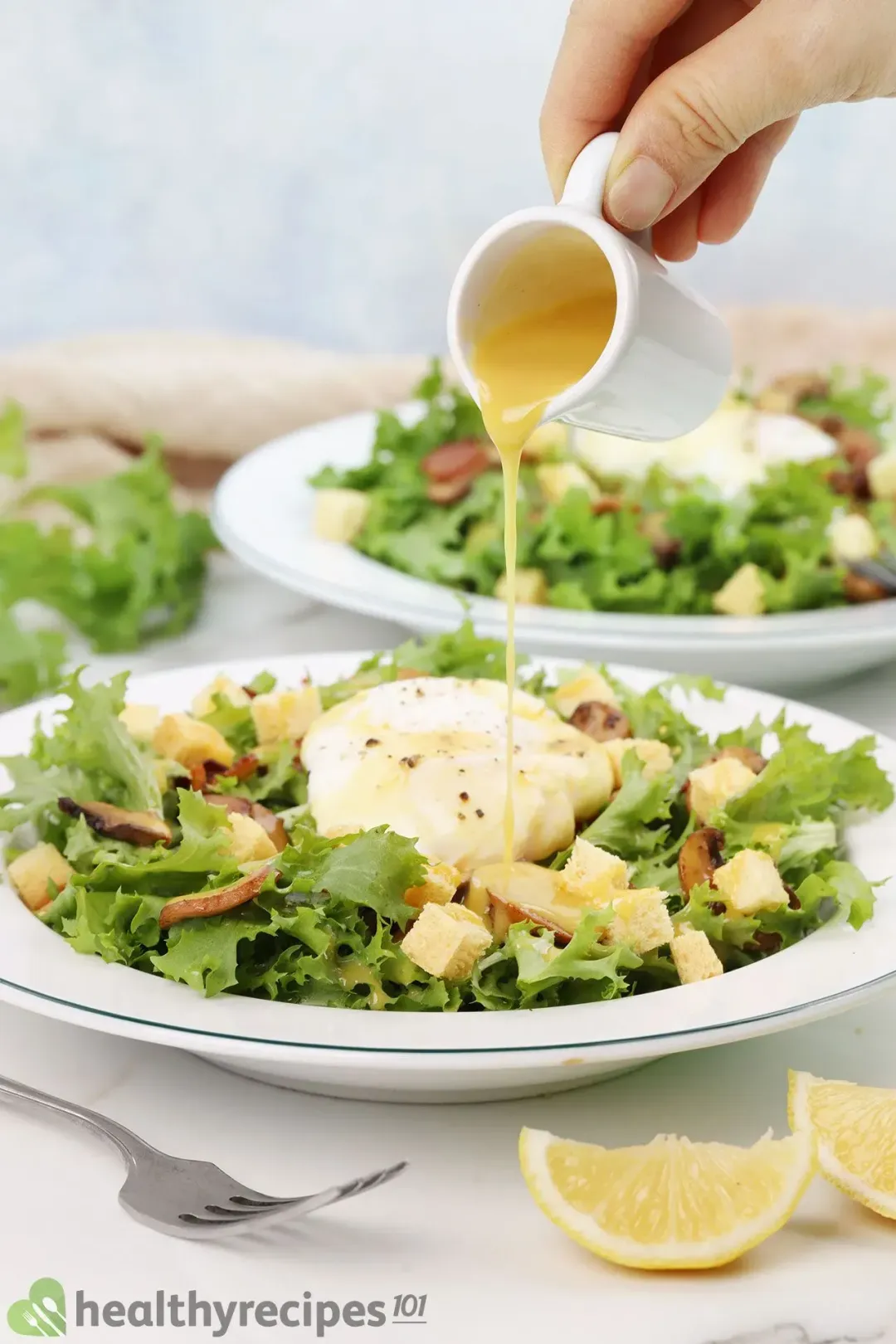 Summer Salad Recipes
Some salads are specifically designed to enjoy during the summer heat, and this section features the best ones. They come in different flavors, but they're all similarly thirst-quenching.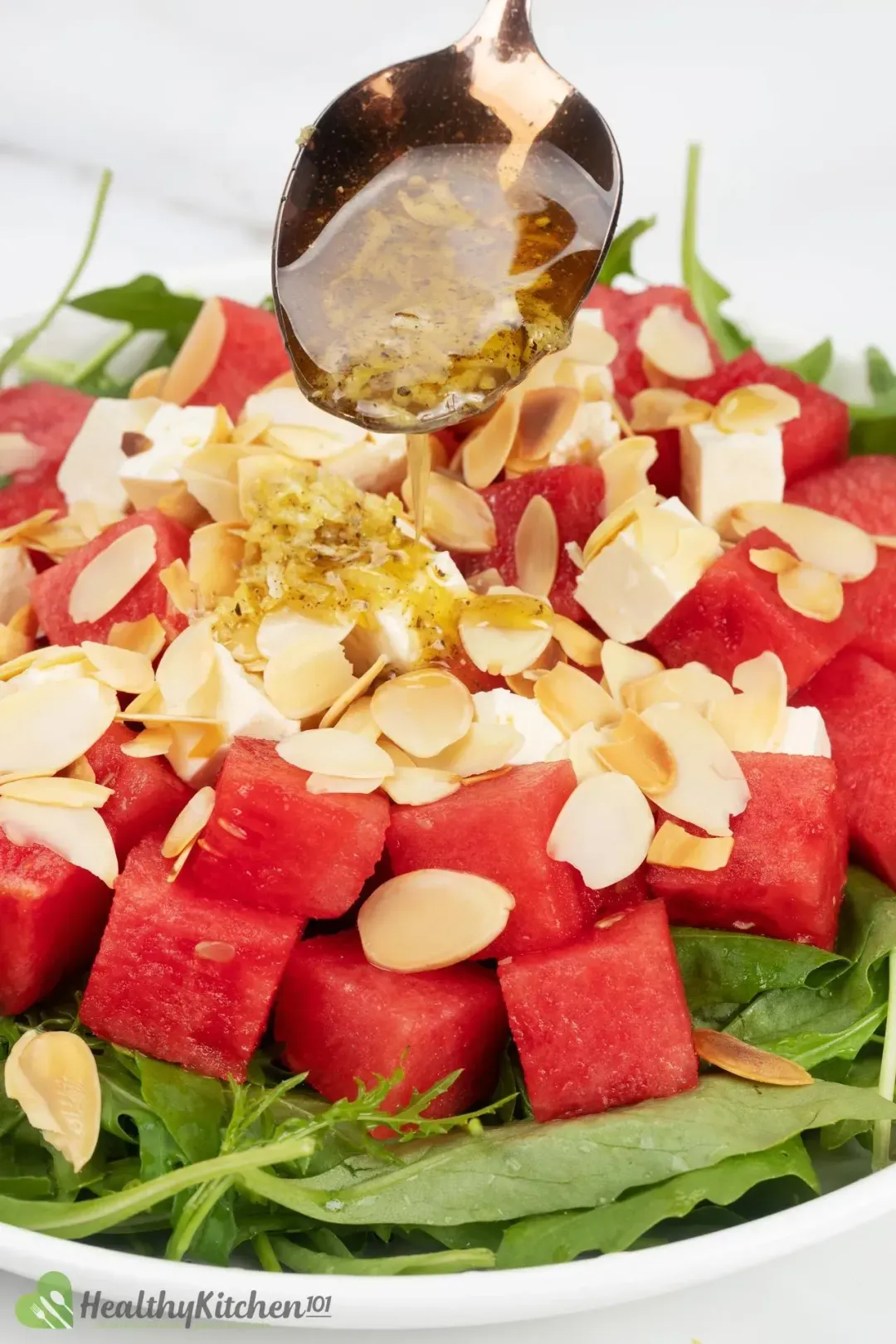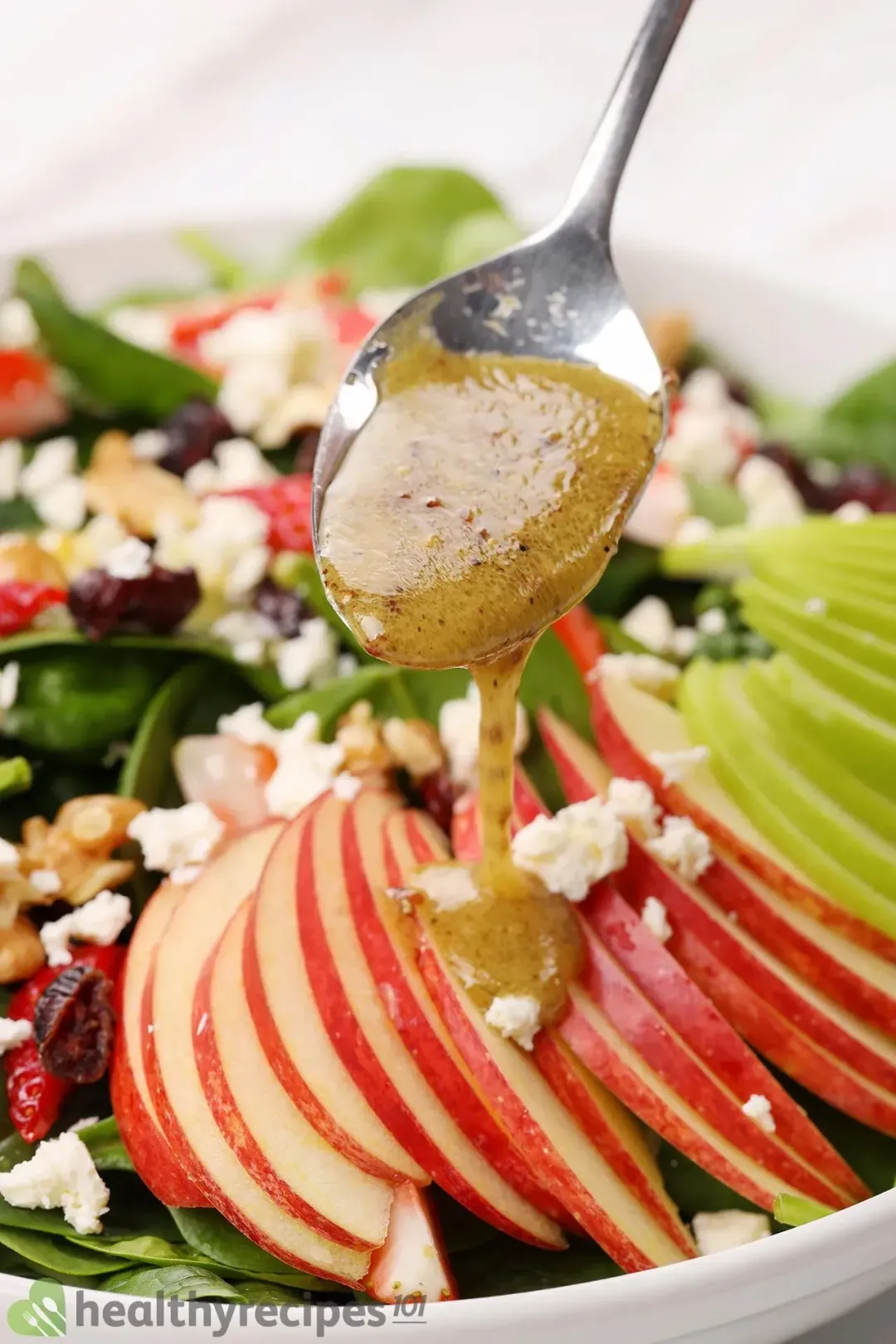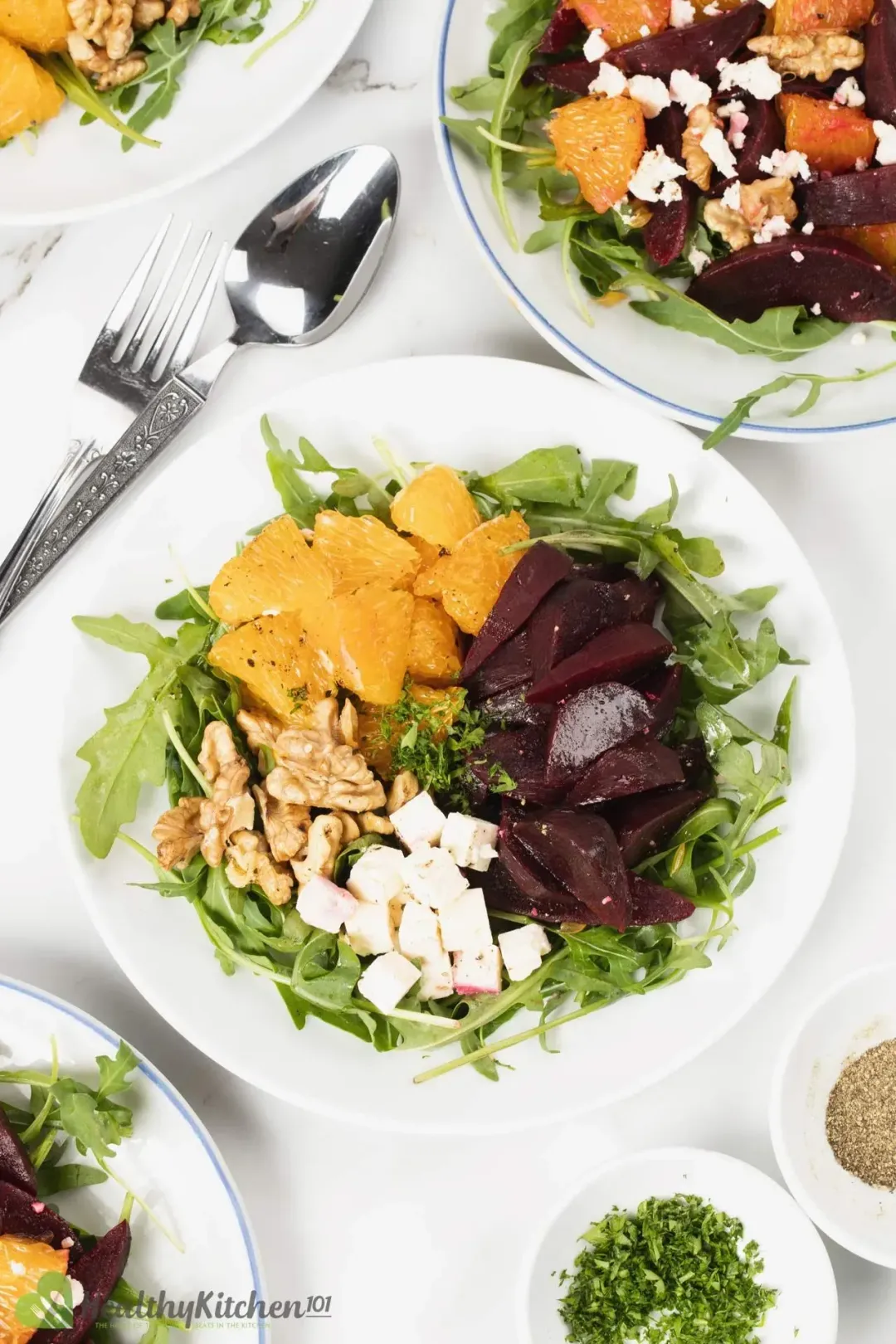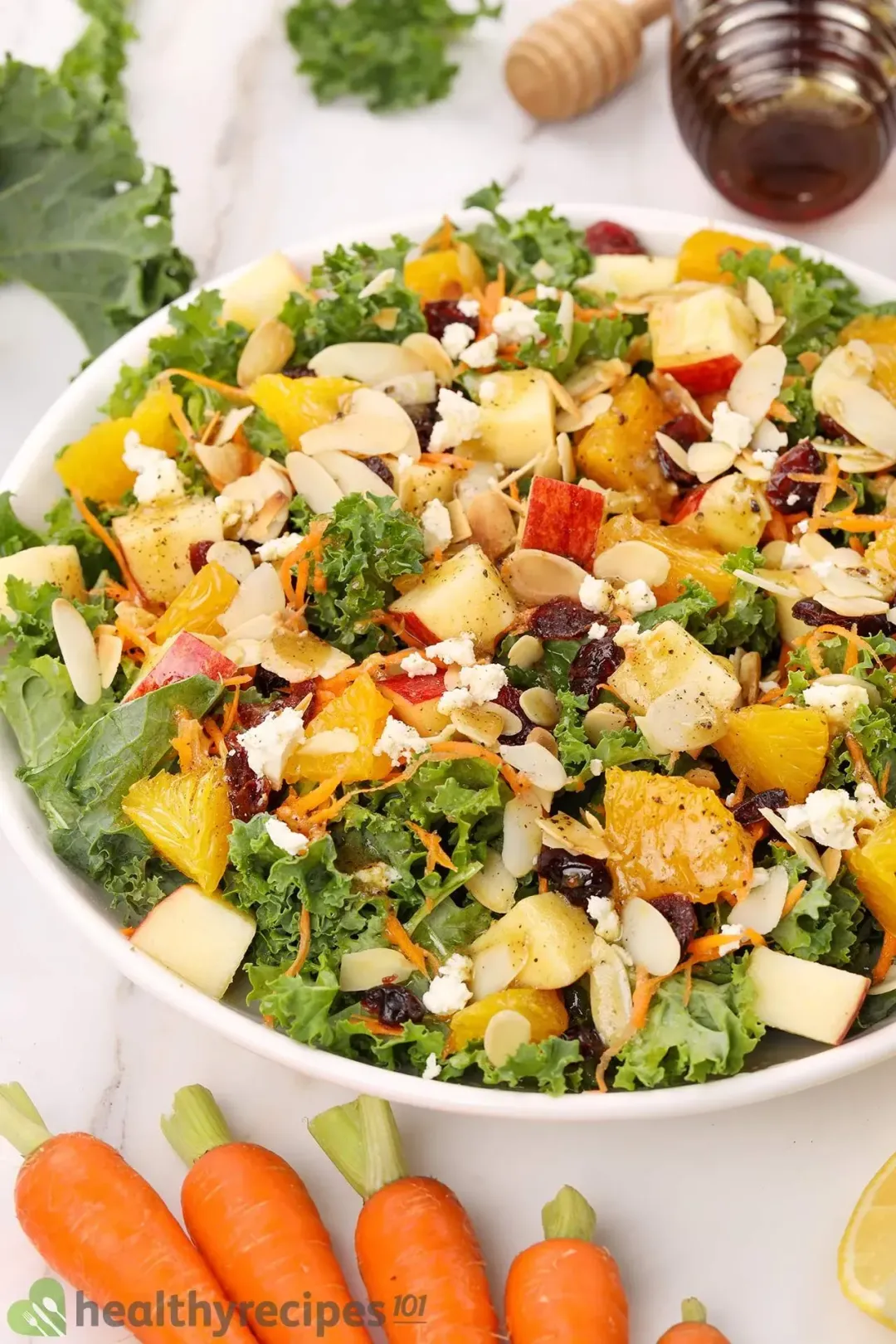 How to Keep Salad Fresh
Here's our rule of thumb: store the veg and the dressing separately and make just enough for the serving. There are exceptions (like coleslaw or egg salad), but unless clearly indicated in the recipe, this rule still stands.
Moisture can make leafy greens wilt quicker than they're supposed to, so make sure they're dried before storing. You can spin-dry them or shake the water off, then roll them in kitchen towels like sushi rolls before storing — the towels will absorb any excess moisture.
Last but not least, make sure to store salads in air-tight containers. If you're using Ziploc bags, remove as much air as possible.
Stick to these rules and your salad will keep for about 5-7 days. For an exact time frame, refer to the storage section in each article.
Remember, salads should not be kept in the freezer, since the juicy ingredients like fruits and vegetables don't thaw well.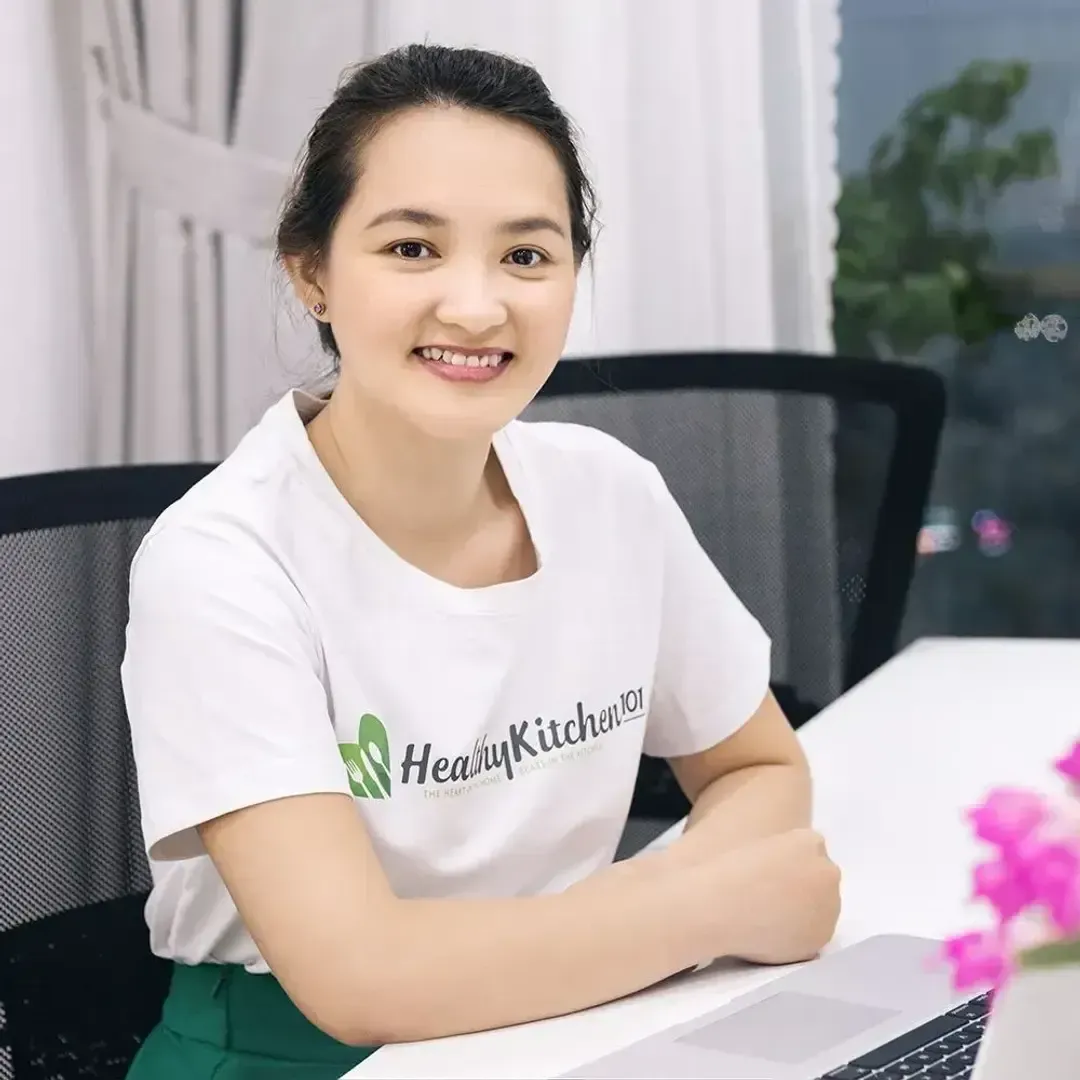 Writer, Author
Luna Regina is an accomplished writer and author who dedicates her career to empowering home cooks and making cooking effortless for everyone. She is the founder of HealthyKitchen101.com and HealthyRecipes101.com, where she works with her team to develop easy, nutritious recipes and help aspiring cooks choose the right kitchen appliances.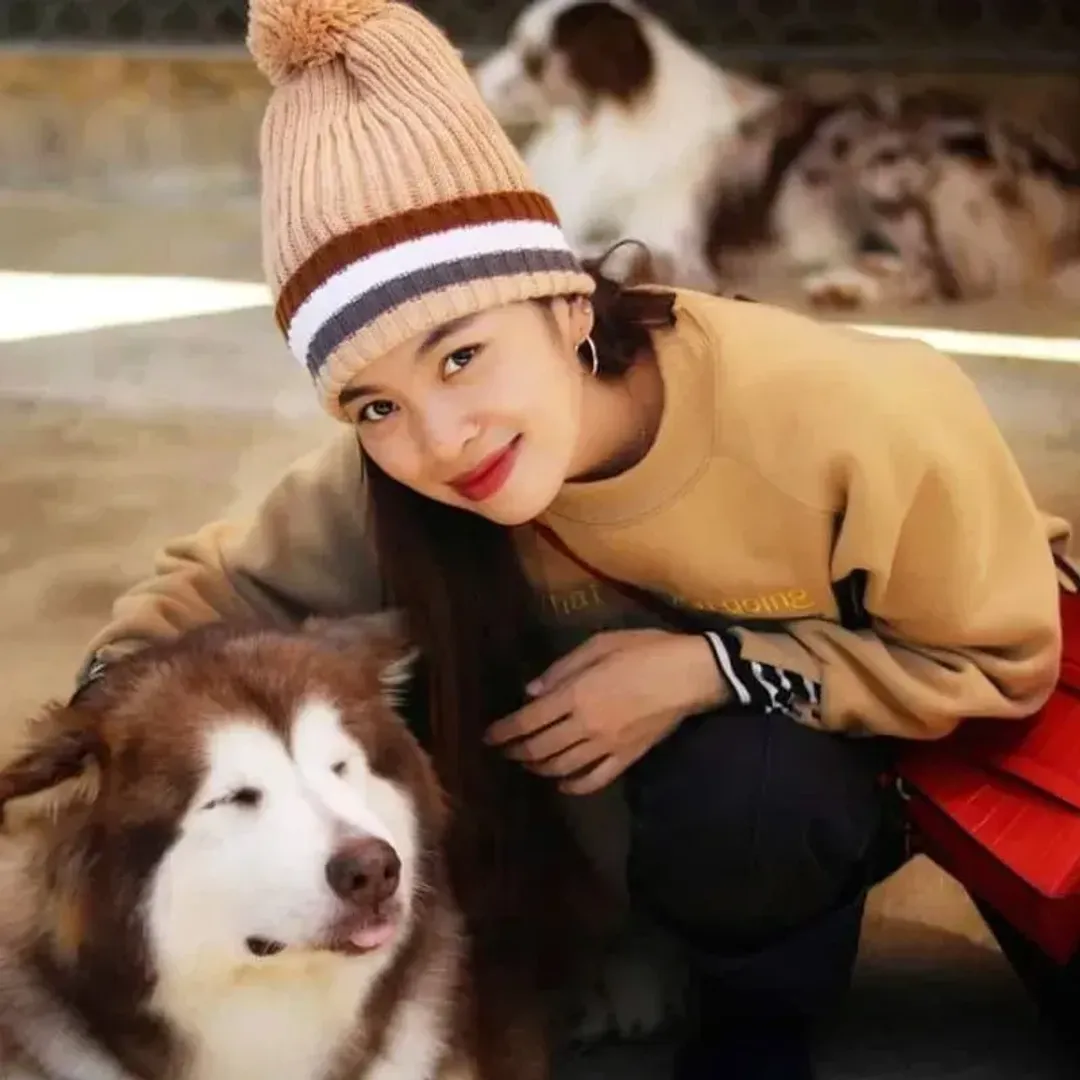 Chef, Culinary Consultant
Tuyet Pham is an award-winning Saigonese chef who believes that joy is the secret ingredient to delicious food. At Healthy Recipes 101, Tuyet personally tests and simplifies every recipe, ensuring maximum flavor with minimal effort. With a background at prestigious French restaurants P'TI Saigon and Le Corto, Tuyet knows how to make every dish exceptional.
Comments/ Reviews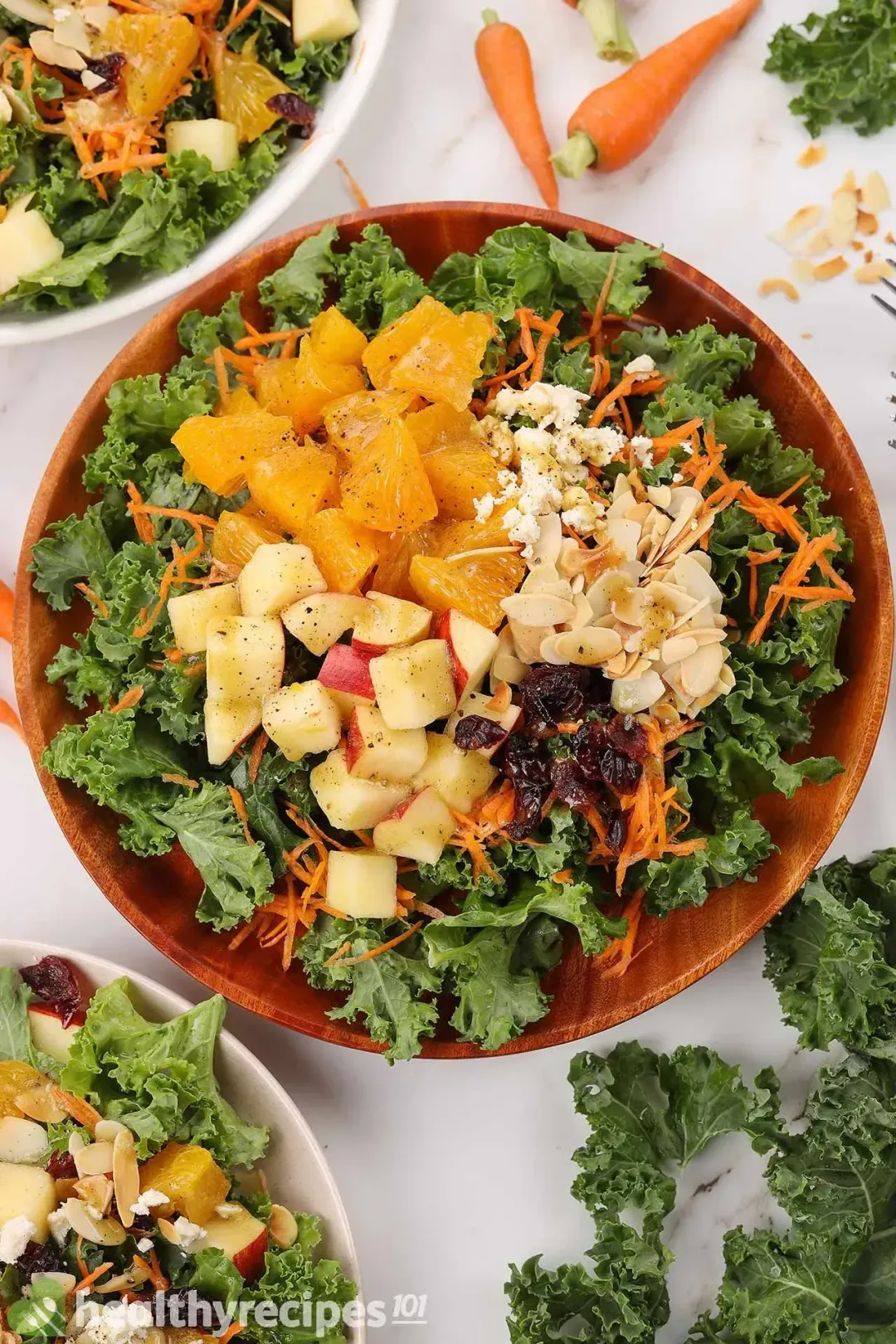 Mary St

March 22, 2023 at 7:21 AM

All the recipes look delicious and it's great to have so many options. I'm definitely going to try a few this weekend!