Today's classic southern pea salad recipe brings you a popular and old-fashioned welcome dish that pulls together in just 15 minutes! It features green peas, onion, cheddar cheese, bacon, and a creamy, tangy dressing.
Is Pea Salad Healthy?
One serving of this pea salad contains 170 calories and is a good source of vitamins and fiber. Although it's not particularly designed for any specific diet, we make sure to keep all the nutrient values within the healthy limit.
The high concentrations of vitamins, minerals, antioxidants in peas also provide some health benefits that you might've not yet known of.
This pea salad is quick, easy to make, and super flexible to your own preferences. Instead of gobs of mayonnaise in the dressing, you can swap it out and replace it with an equal amount of Greek yogurt or low-fat mayonnaise.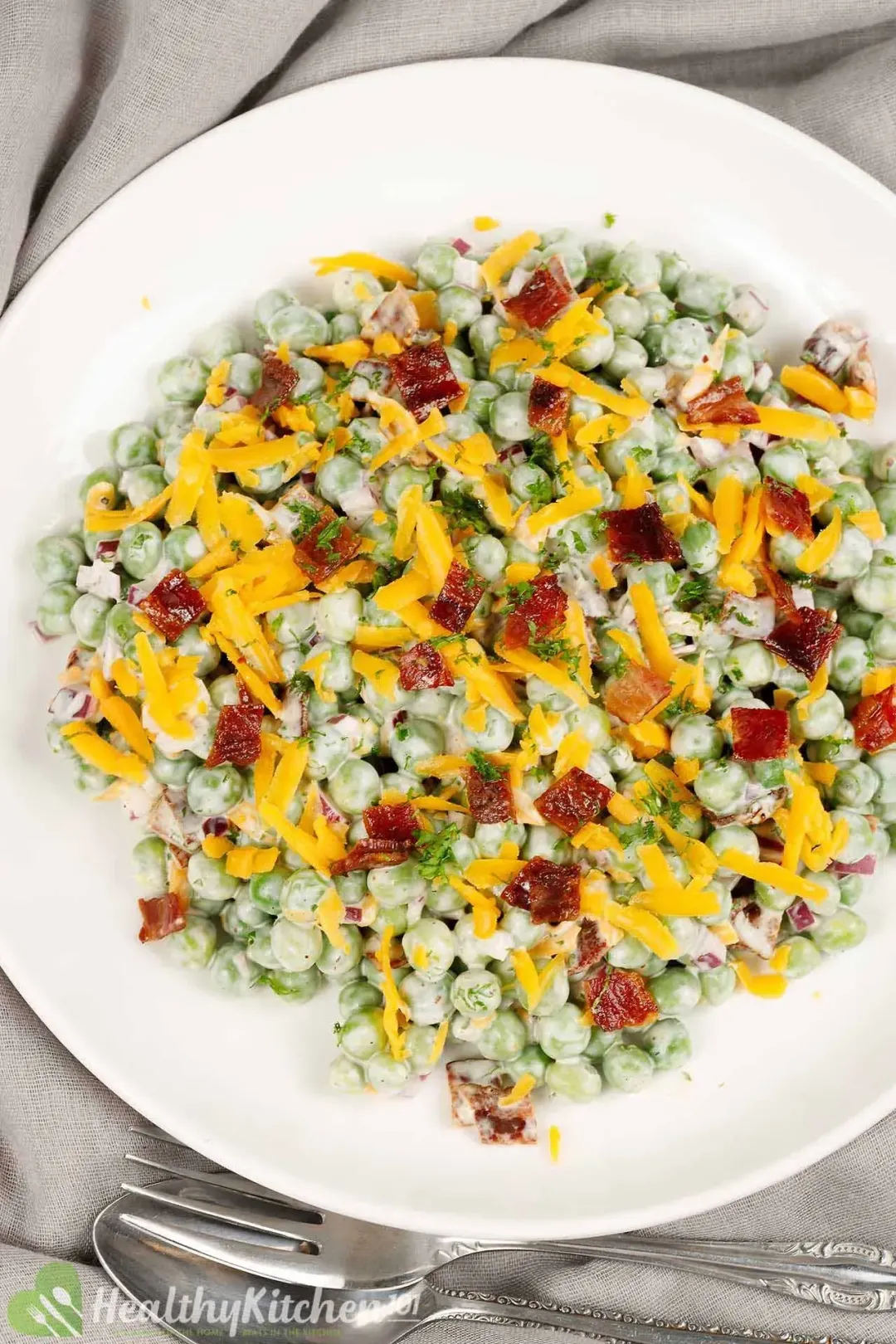 Also, in place of pork bacon, try looking for turkey bacon, as it's comparatively lower in saturated fat.
Pea Salad Ingredients
This 15-minute pea salad recipe requires basic pantry ingredients and fresh produce: green peas, onion, cheddar cheese, and bacon.
First, we purposely choose frozen petite peas since they're sweet and slightly crunchy— perfect for pea salad. They're usually called baby peas or baby sweet peas.
You can also use canned peas, but keep in mind they could break easier when tossing and thus turn the entire salad mushy. They also don't last as long as frozen peas, making them less ideal for preparing the salad in advance.
Coming next is the salty bacon to add another awesome flavor to balance the starchy feeling of peas. Slice it crosswise into ½-inch pieces, or crumble it and sprinkle on top of the salad before serving.
Finally, crunchy onions, together with the sharp, creamy bits of cheddar cheese, help round out a beautiful and harmonious flavor combination for this salad. You can either purchase pre-shredded cheese or a fresh block of cheese and grate yourself.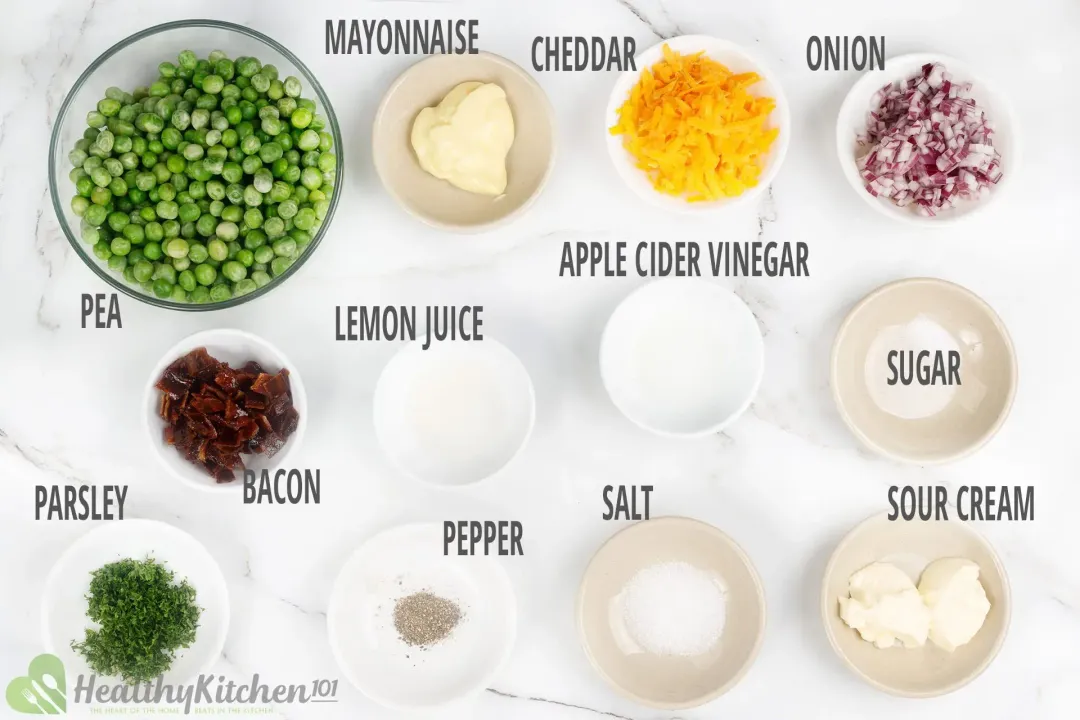 Types of Peas for Pea Salad
Peas come in different shapes and sizes. As each variety comes with a different texture, some can be eaten raw while others should be cooked.
1. Snow Peas
Snow peas have flat, green pods containing small peas, and both the peas and the pods are edible. They can be enjoyed raw, tossed in salads, or combined in stir-fries, blanched, or sautéed dishes.
When buying snow peas, remember to look for very small and flat seeds with shiny pods that are 2 to 3 inches long.
2. English Peas
English peas, also known as shell peas or garden peas, are sweet little peas that grow in pods. Although their pods are considered inedible, they still say a lot about the condition of the peas inside.
When buying peas, look for smooth, firm, and round pods that are about 3 to 4 inches long without blemish spots. These suggest the peas are mature but not too old— this is the stage where they achieve a pleasantly earthy sweetness.
3. Sugar Snap Peas
Sugar snap peas, usually shortened to "snap peas," are small, round peas grown in a thin pod. They're known for their natural sweetness and crispness, perfect to add to raw snacks or dips.
Sugar snap peas are applicable for many cooking methods, including simmering, steaming, and sautéeing. They can be eaten raw, cut into thin slices for salads, or cooked in a hot pot.
Pea Salad Dressing
This pea salad dressing is a simple mixture of mayonnaise, sour cream, apple cider vinegar, ground black pepper, lemon juice, sugar, and parsley.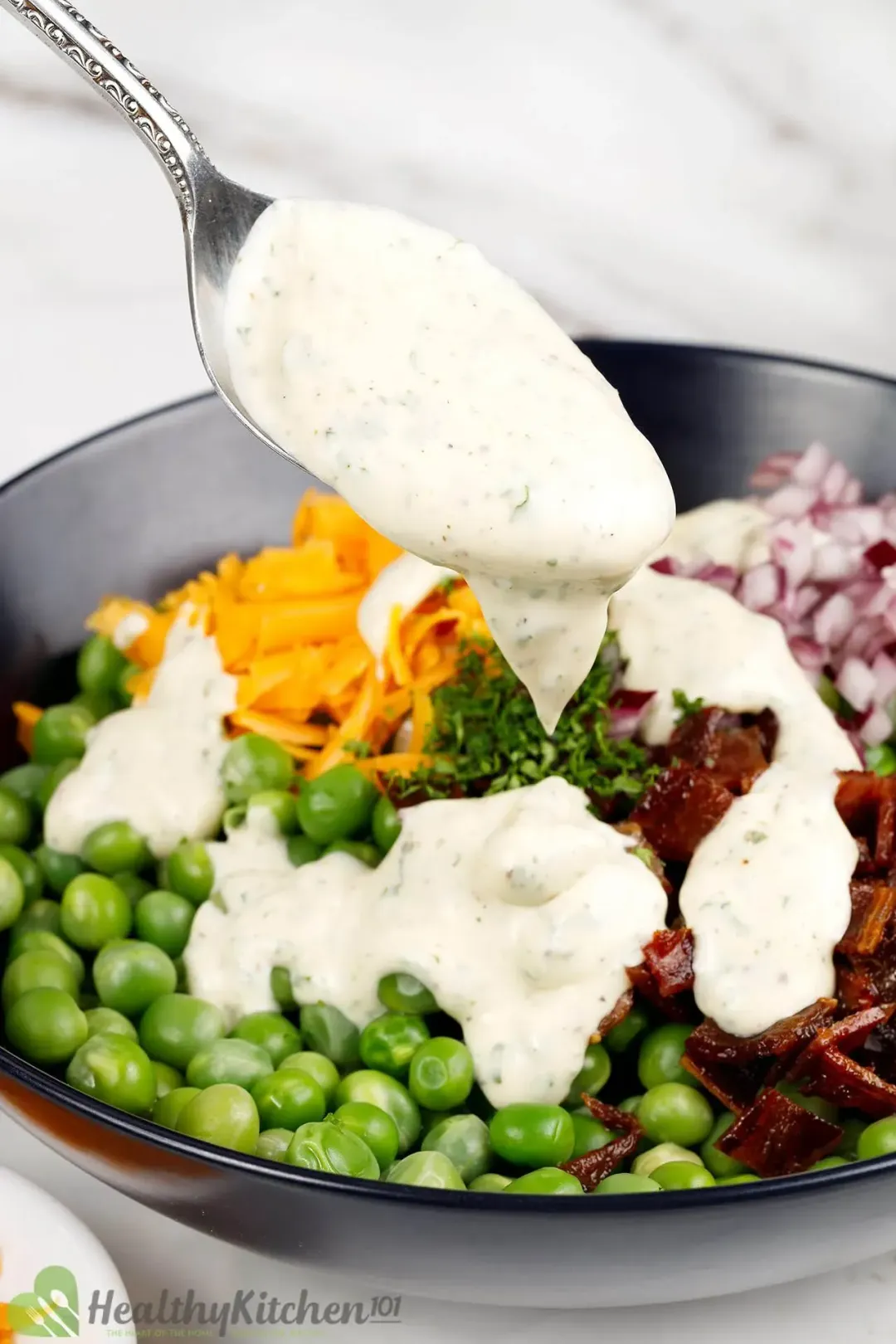 Mayonnaise and sour cream together create a splendid cream base for the dressing, while the sugar and vinegar are added to produce a perfect balance of sweetness and tanginess. If you don't have sour cream or mayonnaise, simply replace them with ranch dressing for a similar taste.
How Do You Make Pea Salad with Frozen Peas?
To create an appealing pea salad with bright green color and a firm, yet chewy mouthfeel, we believe frozen peas are the best choice.
Making pea salad with frozen peas isn't a brain teaser. All you need to do is run the frozen peas under cold water and transfer them to a colander to drain.
Let them sit for some time to defrost naturally at room temperature. While waiting, take your time to start preparing and assembling the rest of the salad.
Is It Okay to Eat Frozen Peas Without Cooking?
Yes, it's totally okay to thaw frozen peas and eat them as-is without cooking. They're edible and won't cause you any harm.
Frozen vegetables are already blanched and partially cooked. This is a compulsory thing in manufacturing to prevent the cell walls from breaking and resulting in mushy peas.
So, when thawing/defrosting frozen peas, you are actually just heating them. Simply run the peas under cold water to defrost them, drain, and serve.
Although this recipe includes a 5-minute cooking step for frozen peas, it's completely fine to omit it. Some people prefer soft, slightly starchy peas while others don't— it's just a matter of personal interest.
How Long Does Pea Salad Last?
If stored in an airtight container and put in the refrigerator, leftover pea salad can last for 3 days from the day it's prepared.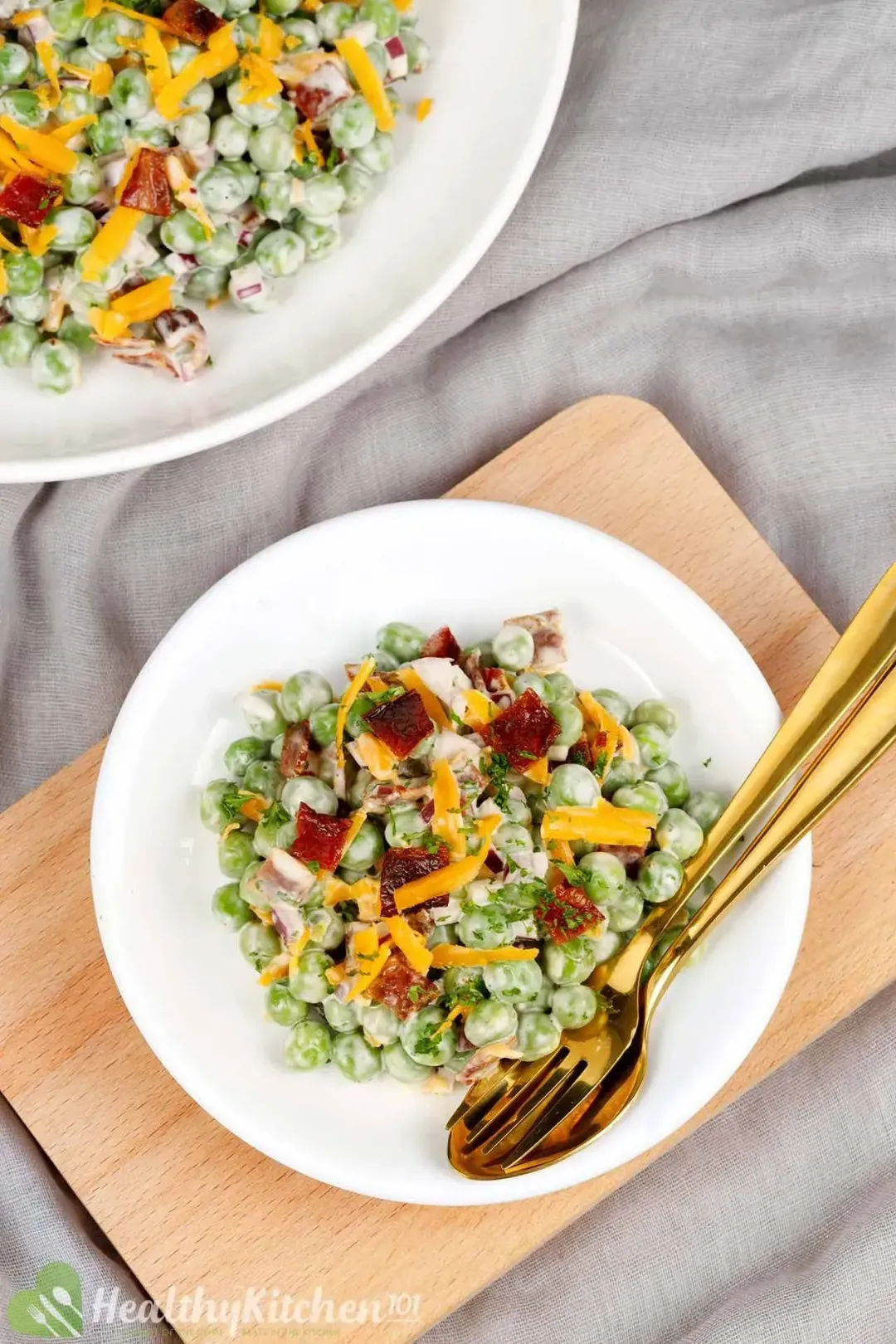 Pea salad is usually served cold, so don't be afraid it will lose its flavors from overnight refrigeration. Also, feel free to make it ahead if need be.
If you want to include more salad in your diet, this healthy salad roundup have a bunch of ideas.
Can You Freeze Pea Salad?
Unfortunately, the answer is no.
After freezing, the mayonnaise separates, the sour cream becomes grainy, and everything turns muddy. The peas and bacon also become too mushy after thawing.
In sum, freezing pea salad is definitely not a good idea. It's best to prepare the salad the day you want it or a few days in advance.
Easy, Healthy Salad Recipes You May Like
If you're interested in pea salad, these healthy and easy salads may also tickle your fancy: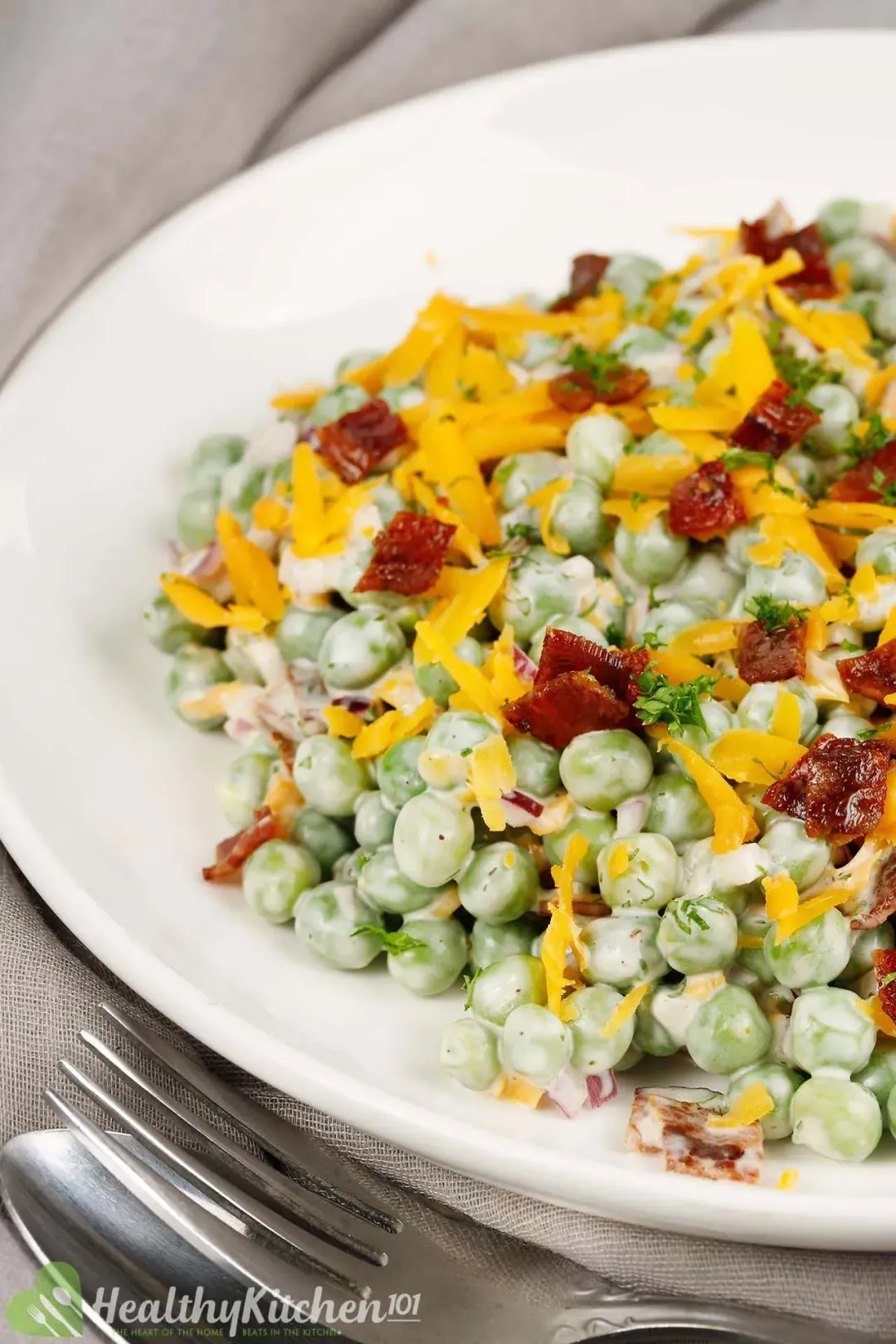 Pea Salad
Featuring green peas, onion, cheddar cheese, bacon, and a creamy, tangy dressing, this easy pea salad recipe gives you the solution for potlucks, cookouts, BBQs, or any large gatherings. The salad can be made up to several days in advance and pairs perfectly with any grilled dishes.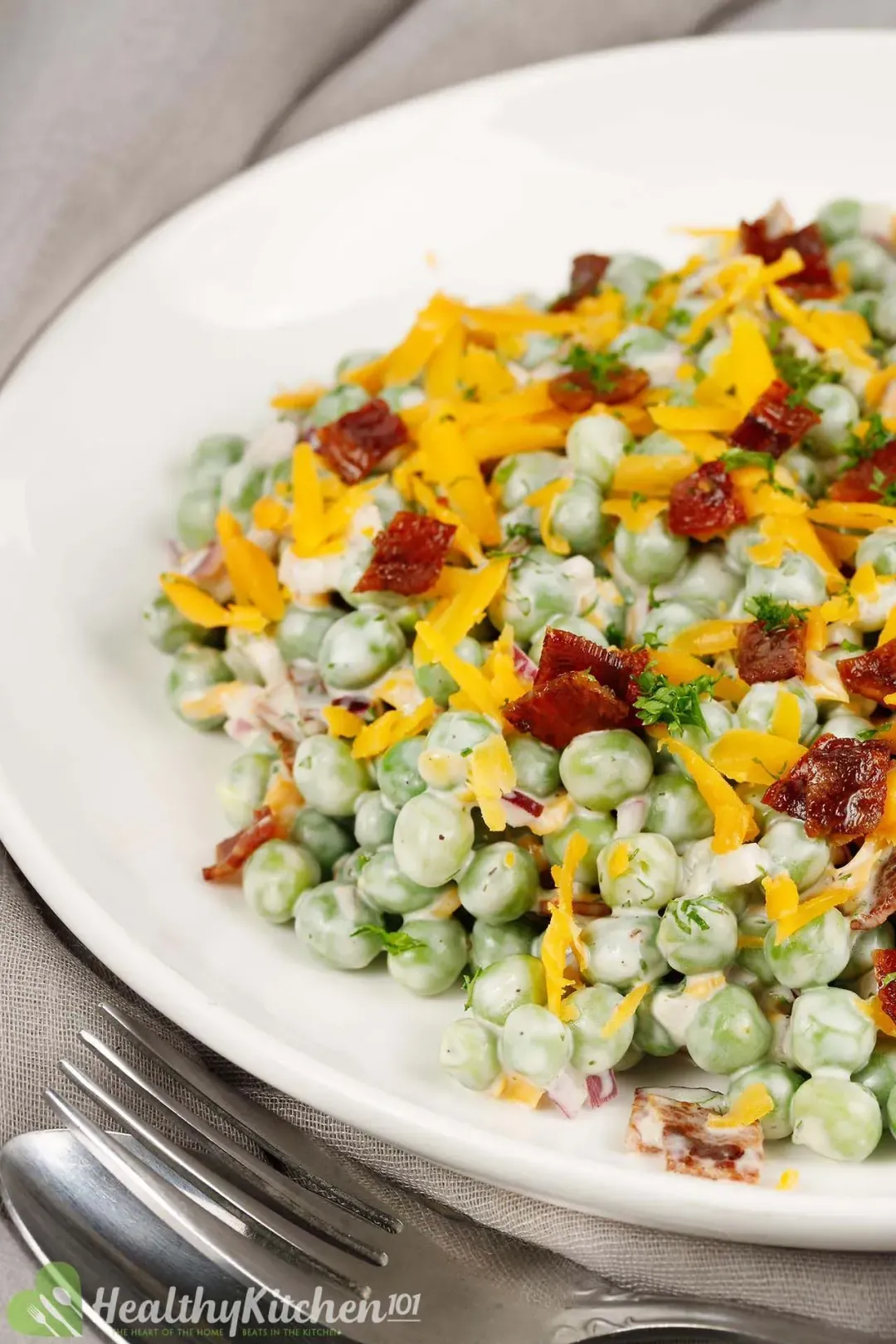 prep TIME

15 mins

total TIME

15 mins
COURSE

Side Dish

CUISINE

American

SERVINGS

CALORIES

162 kcal
INGREDIENTS
2 cups

frozen peas

(thawed)

2 tbsp

Japanese mayonnaise

0.75 oz

cheddar cheese

(shredded)

0.5 oz

baked bacon

(sliced crosswise into 1/2 inch pieces)

1 tsp

apple cider vinegar

1/8 tsp

ground black pepper

1/4 cup

red onion

(sliced)
INSTRUCTIONS
1
Make the dressing: In a large bowl, add 2 tbsp mayonnaise, 2 tbsp sour cream, 1 tsp apple cider vinegar, 1/8 tsp salt, 1/8 tsp ground black pepper, 1/2 tsp lemon juice, 1/2 tsp sugar, and 1/2 tbsp of parsley. Whisk to combine.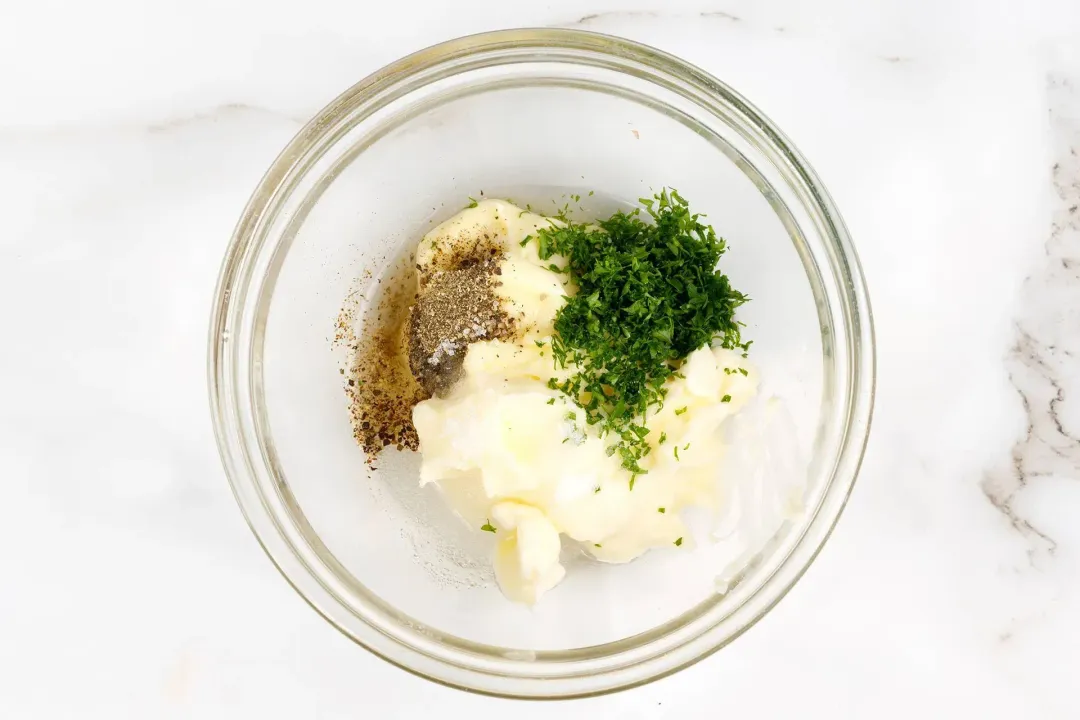 2
Add the peas and water to a medium saucepan. Bring it to a simmer over medium heat for 5 minutes. Drain the peas and set them aside.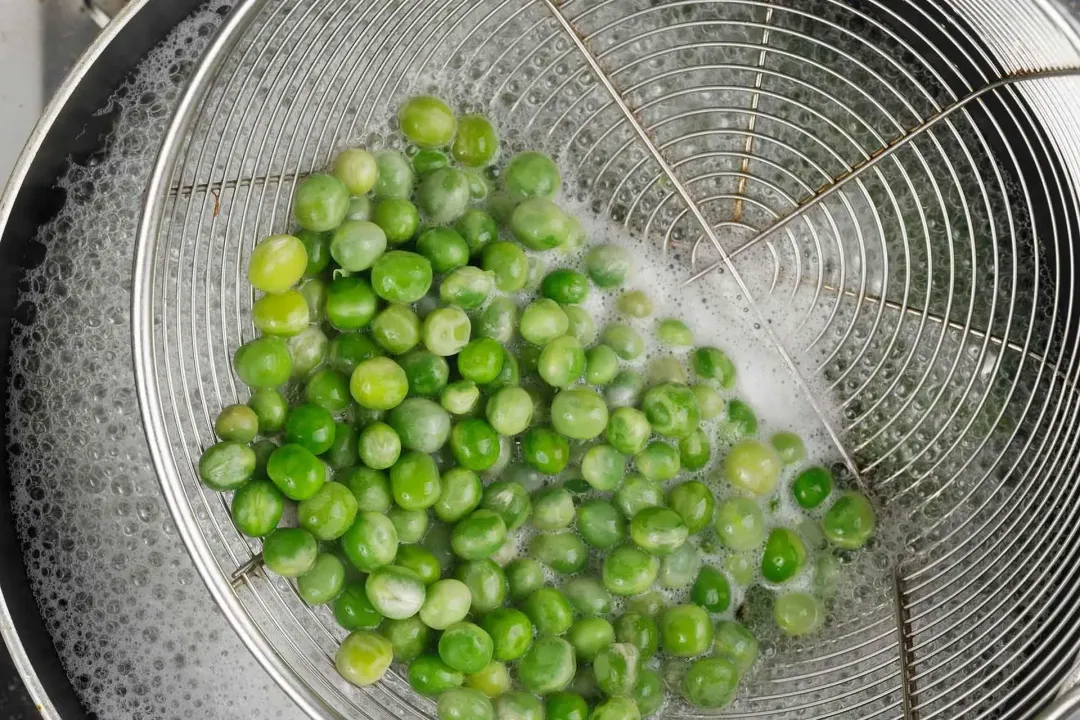 3
Add 2 cups peas, 1/2 cup onion, 0.75 oz cheddar cheese, and 0.5 oz bacon to the dressing bowl. Toss to coat evenly.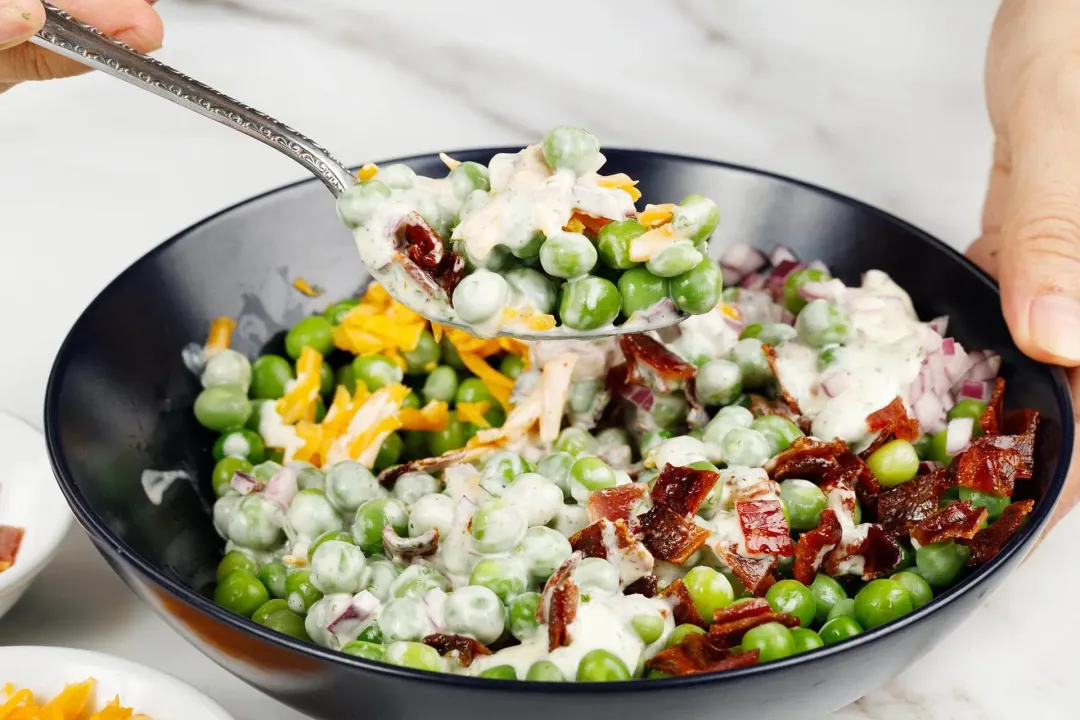 4
Sprinkle the remaining 1/2 tbsp parsley on top. Serve immediately or chill in the fridge for a while and enjoy it cold.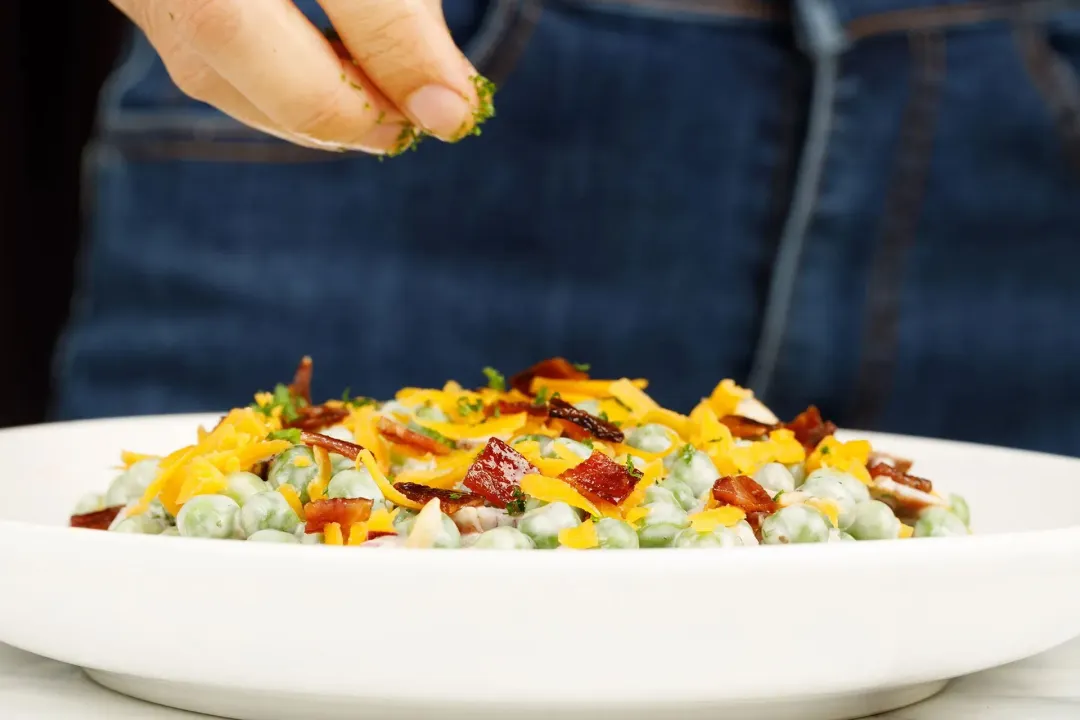 NUTRITION
Nutrition Facts
Pea Salad
Amount Per Serving (1 serving)
Calories 162
Calories from Fat 90
% Daily Value*
* Percent Daily Values are based on a 2000 calorie diet.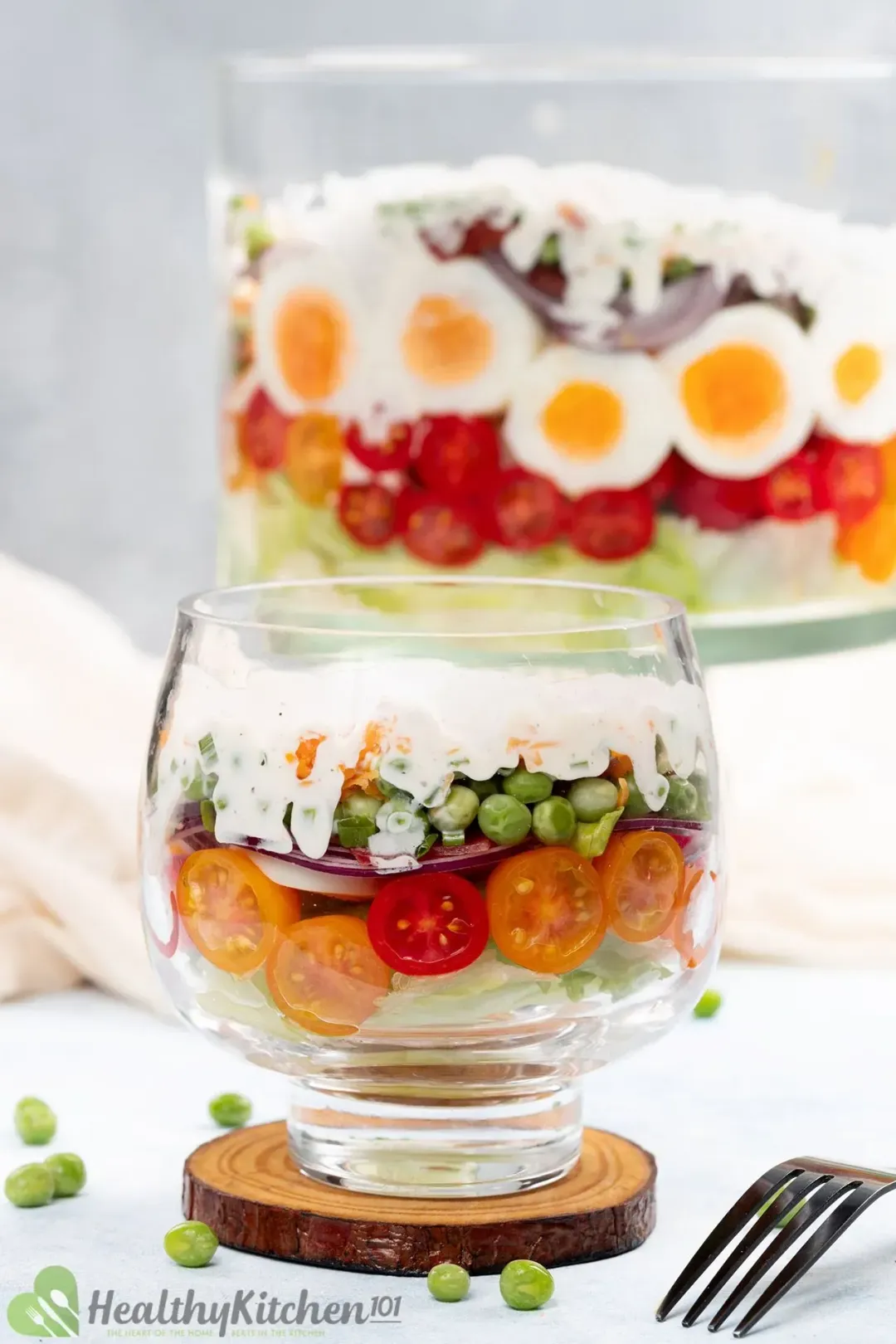 Previous Recipe
Seven Layer Salad
Seven Layer Salad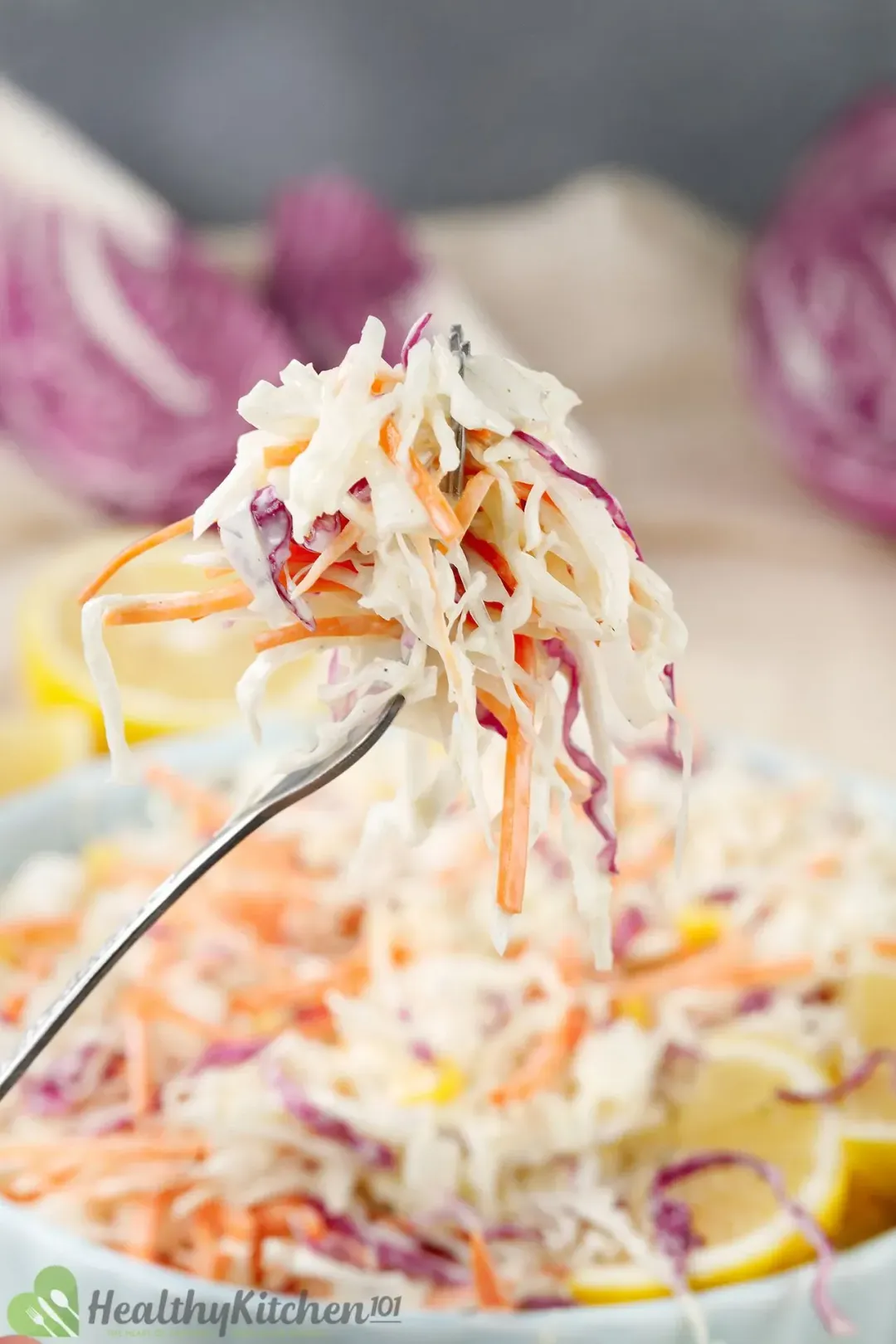 Coleslaw
Head Chef, Culinary Consultant
Tuyet Pham is an award-winning Saigonese chef who believes that joy is the secret ingredient to delicious food. At Healthy Recipes 101, Tuyet personally tests and simplifies every recipe, ensuring maximum flavor with minimal effort. With a background at prestigious French restaurants P'TI Saigon and Le Corto, Tuyet knows how to make every dish exceptional.
Writer, Author
Luna Regina is an accomplished writer and author who dedicates her career to empowering home cooks and making cooking effortless for everyone. She is the founder of HealthyKitchen101.com and HealthyRecipes101.com, where she works with her team to develop easy, nutritious recipes and help aspiring cooks choose the right kitchen appliances.
Nutrition Reviewer
Lizzie Streit is a Minneapolis-based dietitian and founder of It's a Veg World After All. She completed her MS in Human Nutrition from Drexel University, and is an expert in culinary nutrition, recipe development, and nutrition communications. Lizzie's philosophy is centered around making nutrition recommendations, and especially the advice to eat more vegetables, approachable and realistic. She is excited to be working with the team at Healthy Recipes 101 to ensure that their recipes are both nutritious and delicious.
The dressing sounds simple yet flavorful, with a combination of Dijon mustard, honey, and white wine vinegar.