If you're a quinoa lover, don't miss out on this healthy quinoa salad recipe. And if you're not, let this recipe change your mind!
Although it calls for only basic ingredients, the flavor profile and texture of this salad are far from simple. You'll get an explosion of flavors in every bite with bacon, avocado, walnuts, and of course, a homemade lemon dressing.
What Is Quinoa?
Quinoa continues to grow in popularity, but if you've never tried it before, it may seem a bit exotic. Often classified as a grain (though it's a seed), this plant was cultivated 5,000 years ago and originally grown for its seeds.
Once cooked, quinoa seeds become oat-like tiny pearls that are attached to a little sprout called an endosperm. The endosperm is a tissue produced inside the quinoa seed that plays an important role during seed germination and gives them their unique toothsome and slightly snappy texture.
Cooked quinoa seeds are fluffy, oaty, and a little bit crunchy. They're often served in veggie salads or as a side on their own.
Is Quinoa Salad Healthy?
You may have heard that quinoa is a superfood, but what's so special about these seeds? Let's take a closer look and find out why these seeds are widely accepted in many diets.
1. Quinoa
Quinoa is a superfood containing lots of minerals and B vitamins. It's a great anti-aging agent thanks to its large amount of antioxidants.
Quinoa is also a low GI food (only 53) with a high fiber content to make you feel full for longer without adding up excessive calories. These seeds can promote weight loss and help lower the body's glucose level, thus lowering the risk of diabetes and heart diseases.
Besides buckwheat, chia seeds, hempseeds, and soybeans, quinoa is also a plant-based source of "complete protein" with all nine essential amino acids, one of which is lysine.
Quinoa is highly concentrated in lysine, a compound that plays an important role in growing, repairing, and maintaining tissues. As the human body cannot produce lysine itself, the only way to meet your body's lysine needs is through diet.
While quinoa is the main ingredient in our salad and full of essential nutrients, you might be surprised at how amazing the others are as well.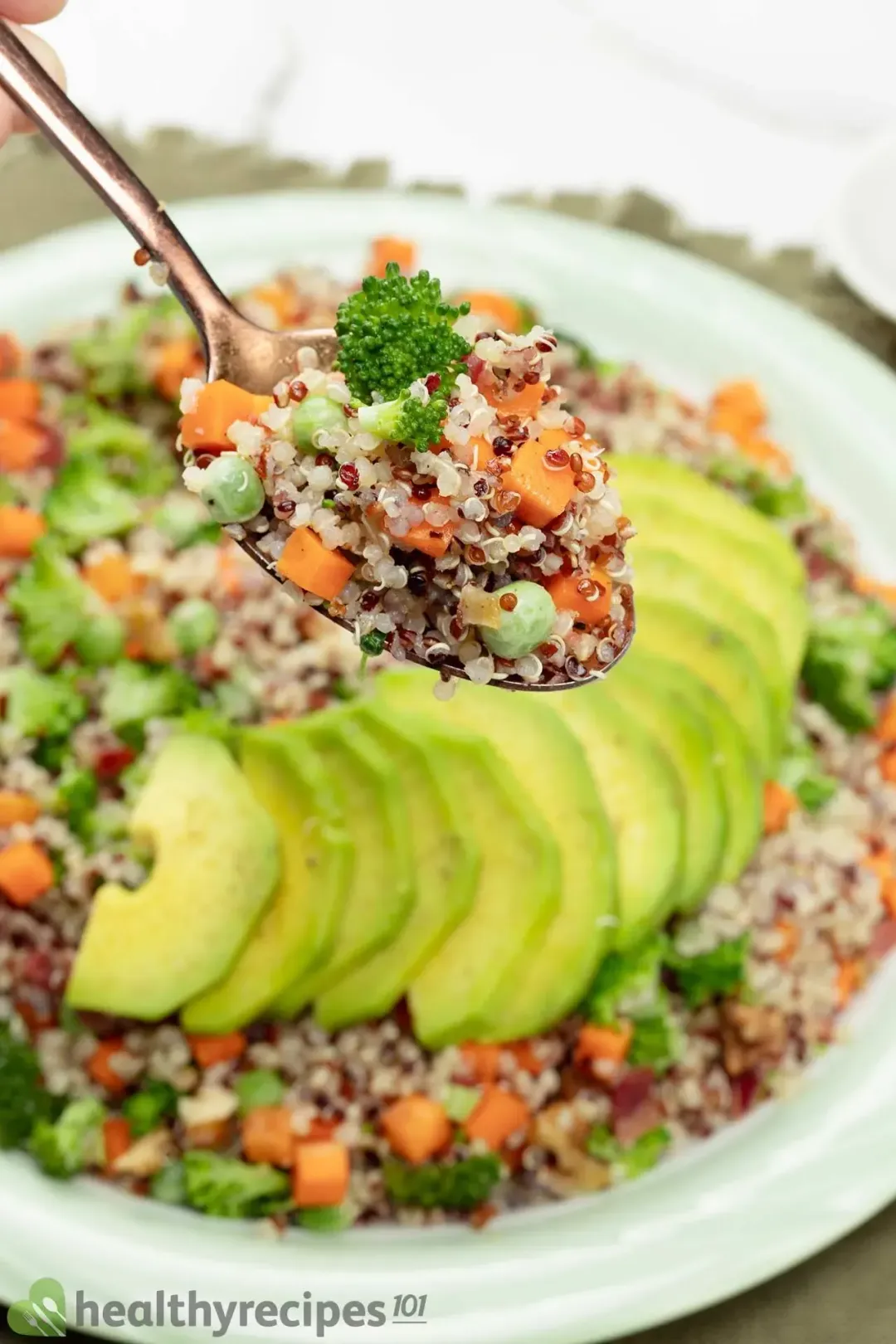 2. Walnuts
It is an undeniable fact that walnuts not only taste great, but also provide an abundant source of healthy nutrients. These tree nuts contain a great number of beneficial phytochemicals and polyunsaturated fats for balancing mood and maintaining brain health.
Like all other nuts, walnuts also supply a wide range of vitamins and minerals — copper, iron, calcium, zinc, folic acid, vitamins E, B6, etc. Their content of antioxidants helps to strengthen your innate immune system and prevent certain cancers.
3. Broccoli
Broccoli is a cruciferous vegetable that's rich in soluble fiber, which is known for reducing bad cholesterol levels. Antioxidants found in broccoli can also support treatments for type 2 diabetic patients by improving insulin resistance.
4. Carrots
Carrots are rich in vitamin A, converted from beta-carotene, which is believed to help promote skin health and keep your eyes healthy, as they have been found to help with eyesight problems such as night blindness.
Ingredients for Quinoa Salad
All the ingredients bring something to the table healthwise, and we chose specific kinds for their texture and visual appeal too. 
Quinoa: We added tri-color quinoa to this salad for variety, but really, there's no need to get fussy about the color. We'll tap into each variety later.
Vegetables: To add more nutrients, flavors and textures, we included carrots, broccoli, and green peas in this recipe. An addition of celery or red onions can also work for an extra pungency, or even diced bell peppers for added vibrant color.
Nuts: Besides walnuts, feel free to use any crunchy nuts you desire—  almonds, cashews, or pecans.
Bacon: This one is optional. If you're vegan, let's switch it out with vegan bacon or crispy fried tofu.
Avocados: These fruits have a soft and creamy texture to accompany all the types of crunch we added. Avocados also provide a source of healthy fats.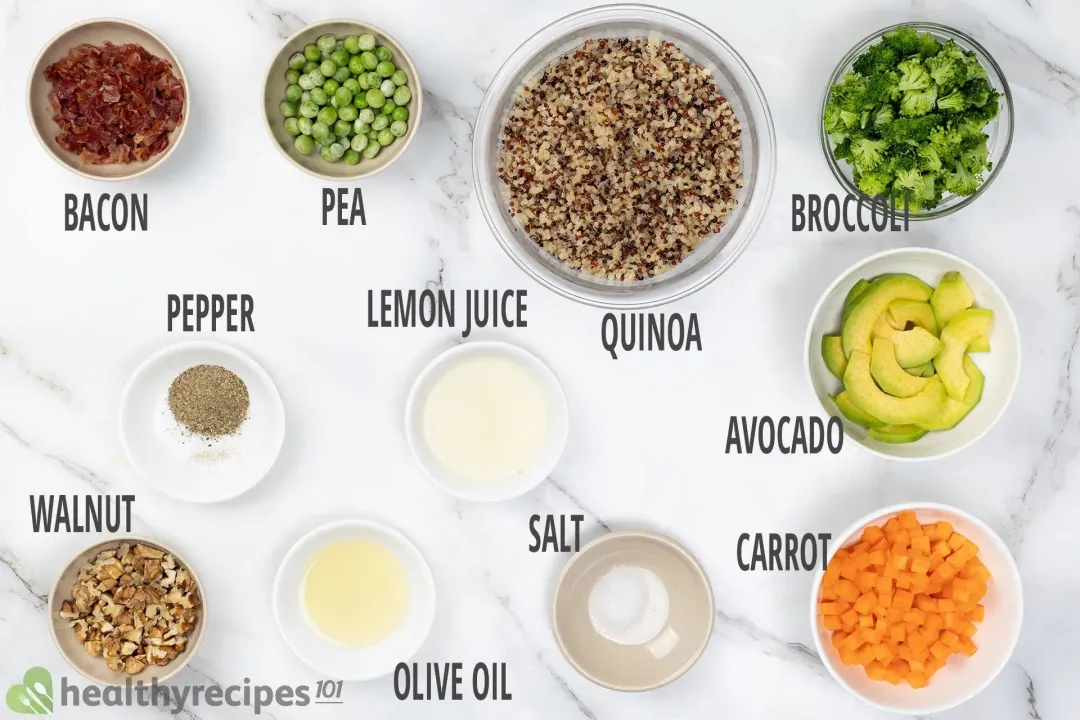 Types of Quinoa
As mentioned earlier, there are different types of quinoa. The most common varieties that you can easily find at local grocery stores are:
1. White Quinoa
White quinoa is the most common type, probably because it's super fluffy and has the mildest flavor. It can blend easily into any dish, from veggie salads to sweet baked treats, and sometimes also works as a replacement for white rice.
White quinoa has many different names: ivory quinoa, golden quinoa, tan quinoa, or just quinoa.
2. Red Quinoa
Red quinoa is considered to be richer, chewier, and nuttier in comparison to white quinoa. These two varieties can be interchangeable in many cases, but not all.
For instance, red quinoa is generally a more favorable choice for cold salads owing to its crunch. However, it doesn't work as well as white quinoa in baking.
3. Black Quinoa
Among the three, black quinoa is the rarest type. It has an impressive black color with a pretty similar texture to red quinoa, but is slightly nuttier and sweeter than white quinoa. 
How to Prepare Quinoa
In a pot/sieve, rinse the quinoa in running water until the water is no longer opaque and drain well.
Put the quinoa into a pot, fill with double the amount of water (no salt needed), and bring it to a boil.
Once boiling, place on a lid to cover and reduce the heat to medium. Let the quinoa simmer for 15 minutes or until it has completely absorbed the water.
Open the lid, stir it up. Remove the pot from the heat and let the quinoa cool completely before tossing in the salad.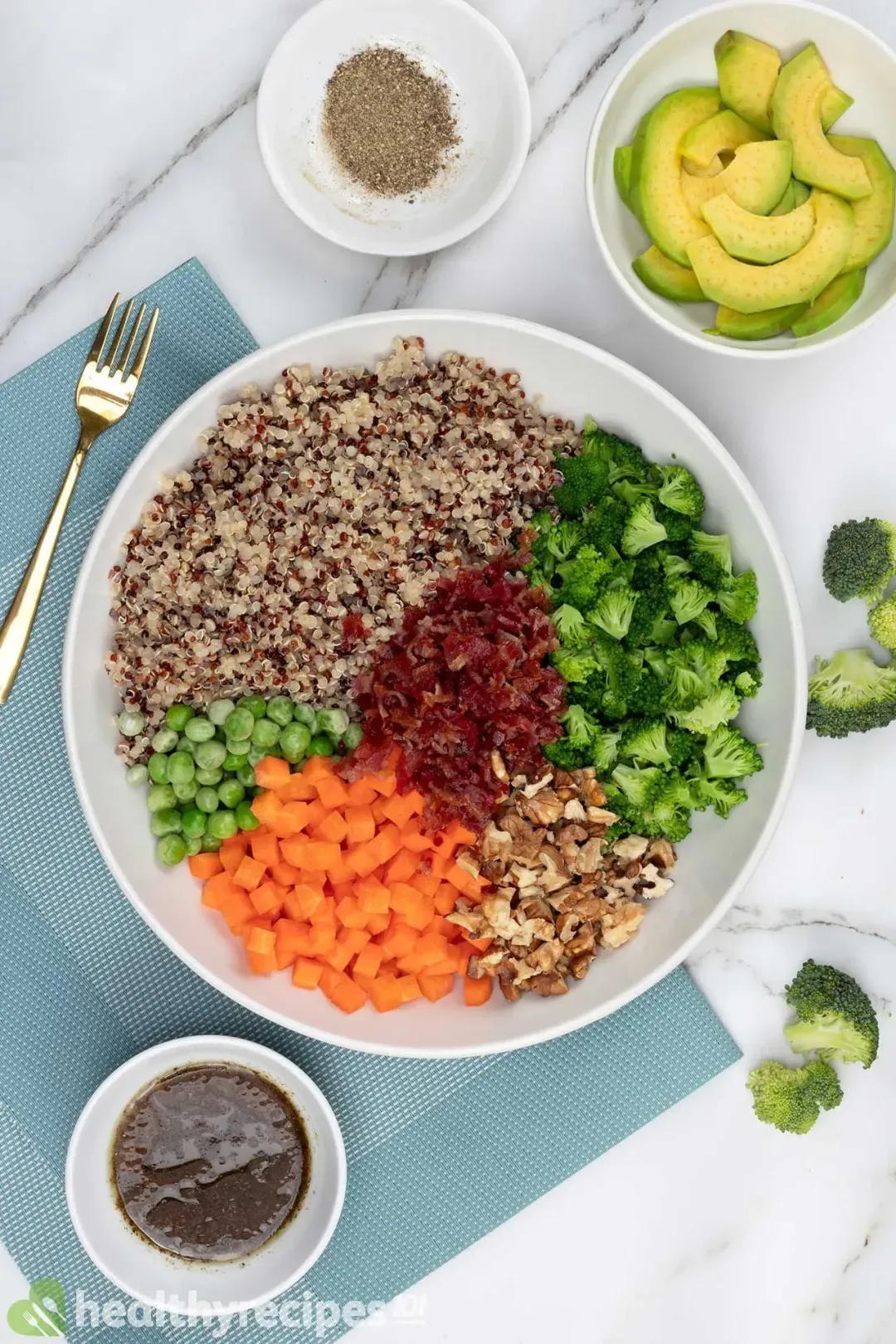 This method is the traditional way of making a batch of nice, fluffy quinoa in a boiling pot. Alternatively, you can also yield a similar result using an Instant Pot — see our guide on how to cook quinoa in an Instant Pot.
To prevent either crunchy or mushy quinoa, here are a few things you need to keep in mind when cooking:
Quinoa can cause bitterness if not rinsed carefully. This is because of the saponins that occur naturally on the exterior. Always rinse quinoa under running water and make sure you drain it well.
Quinoa expands and becomes fluffy when cooked, so don't fill the cooking pot to the brim, leave some room.
A smaller amount of quinoa means shorter cooking time. So you need to keep an eye on the boiling time and check its fluffiness to know when to remove it from the heat.
How to Make Quinoa Salad
Without further ado, let's get to the practical part. Full measurements and detailed instructions are available below; for now, here's a quick visual guide on how to make today's quinoa salad: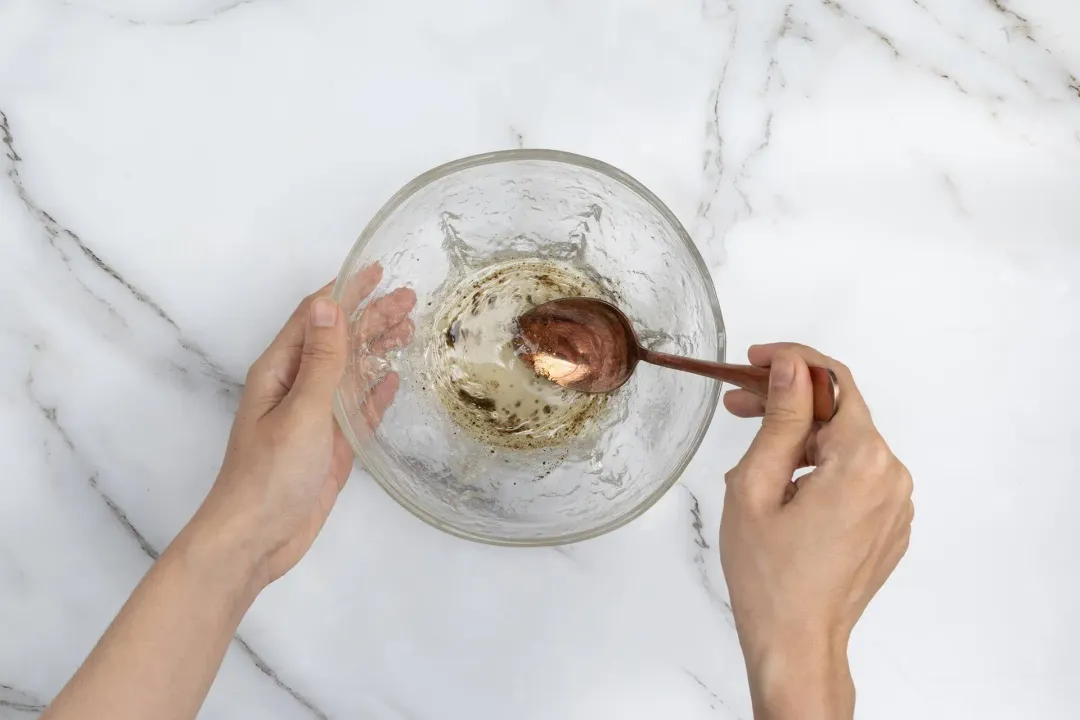 Make the dressing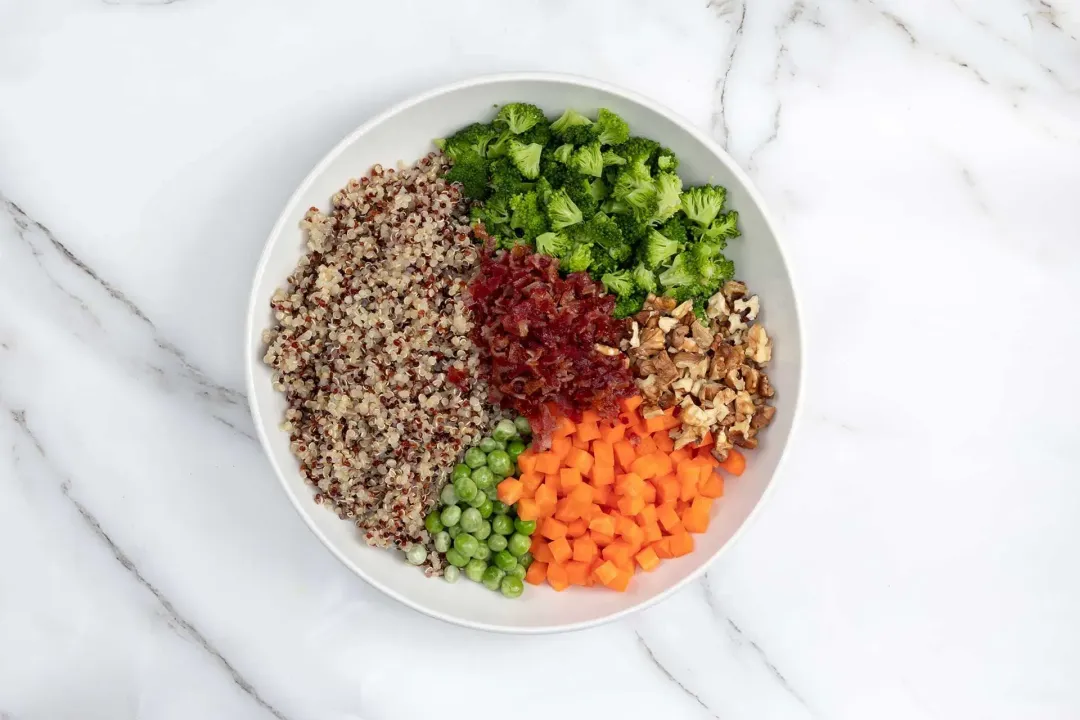 Arrange the salad with cooked quinoa, veggies, and baked bacon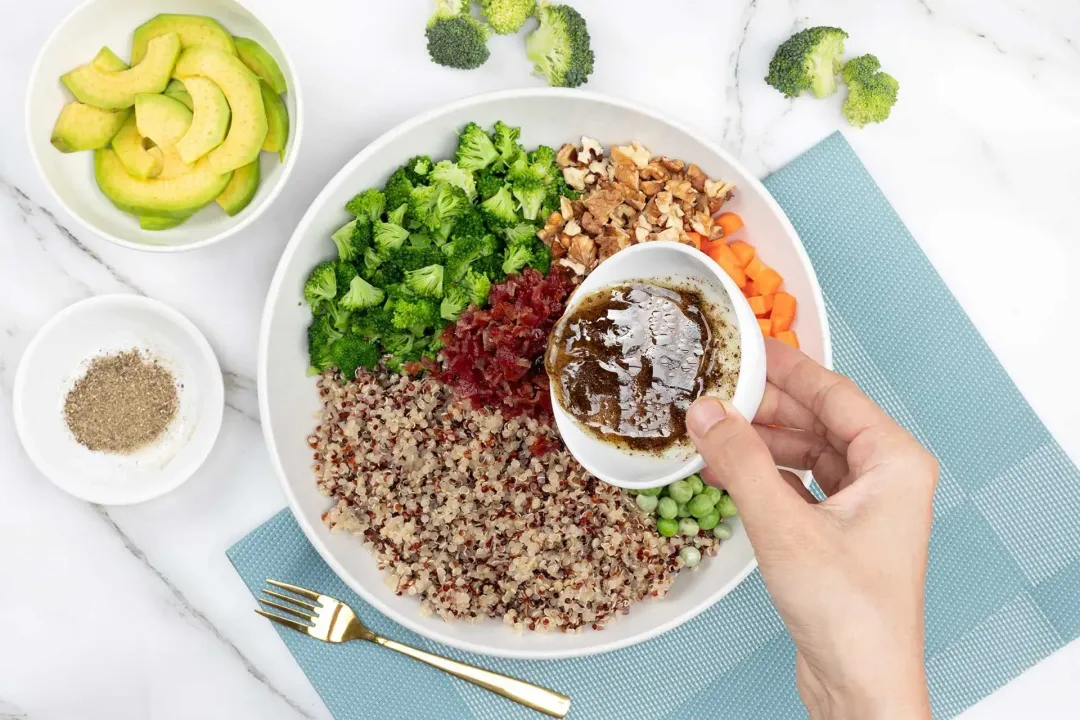 Drizzle the dressing over the salad and mix thoroughly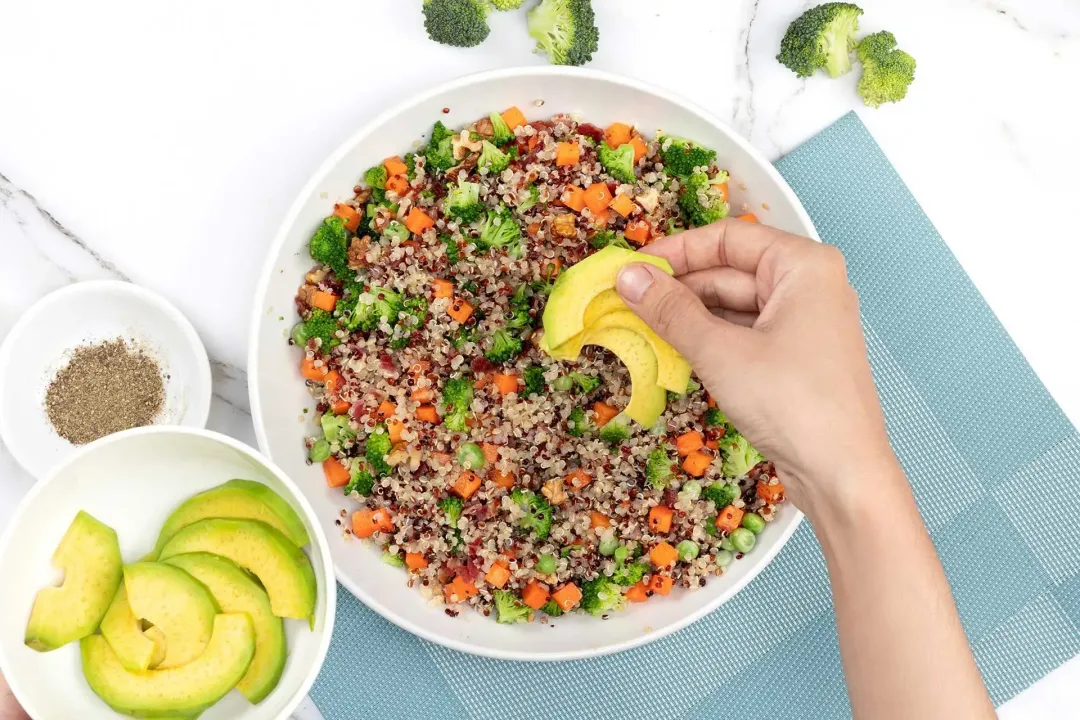 Arrange sliced avocado on top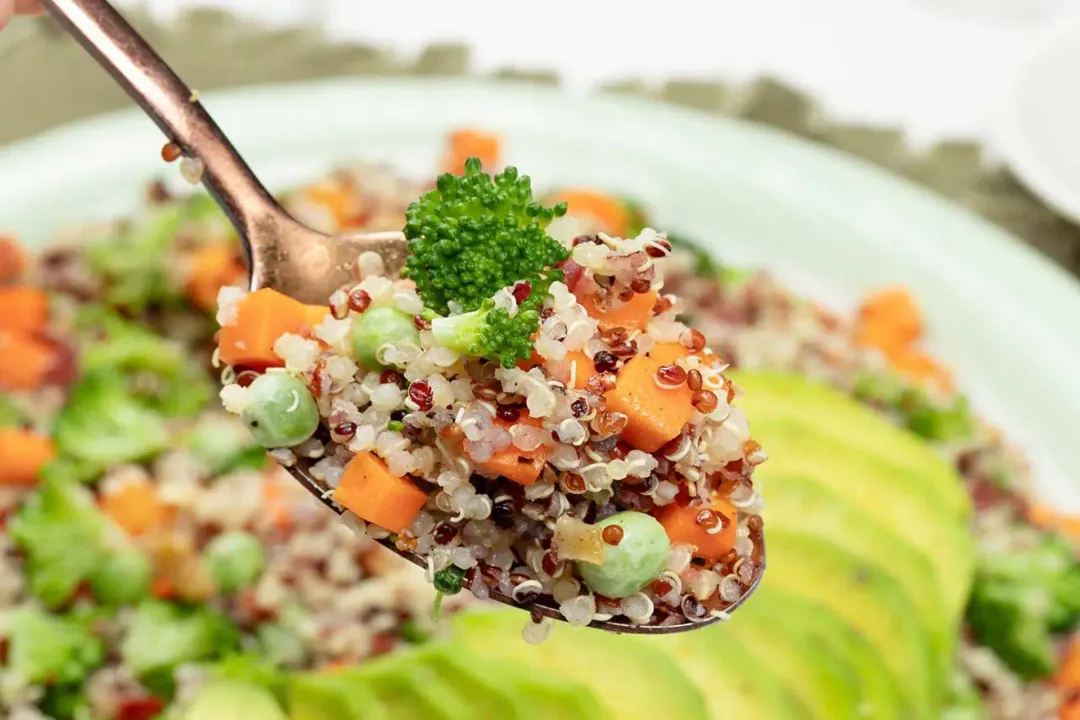 Enjoy
Quinoa Salad Dressing
Since the salad already has so many complex textures and flavors, you only need a simple dressing to finish it off. For today's recipe, we decided to make a vinaigrette with lemon juice, olive oil, salt, and ground black pepper.
You can jazz it up by adding lemon zest to amplify that fresh, citrus flavor. If you find it too acidic, honey would be a great addition.
Tips for Making Quinoa Salad
If you're not comfortable eating raw carrots and thawed frozen peas, you can steam them alongside the broccoli. Here's how you do it:
Wait for the broccoli to cook for 4 minutes in the steamer basket.
Add carrots and peas to the steamer. Cook for an additional 1 minute.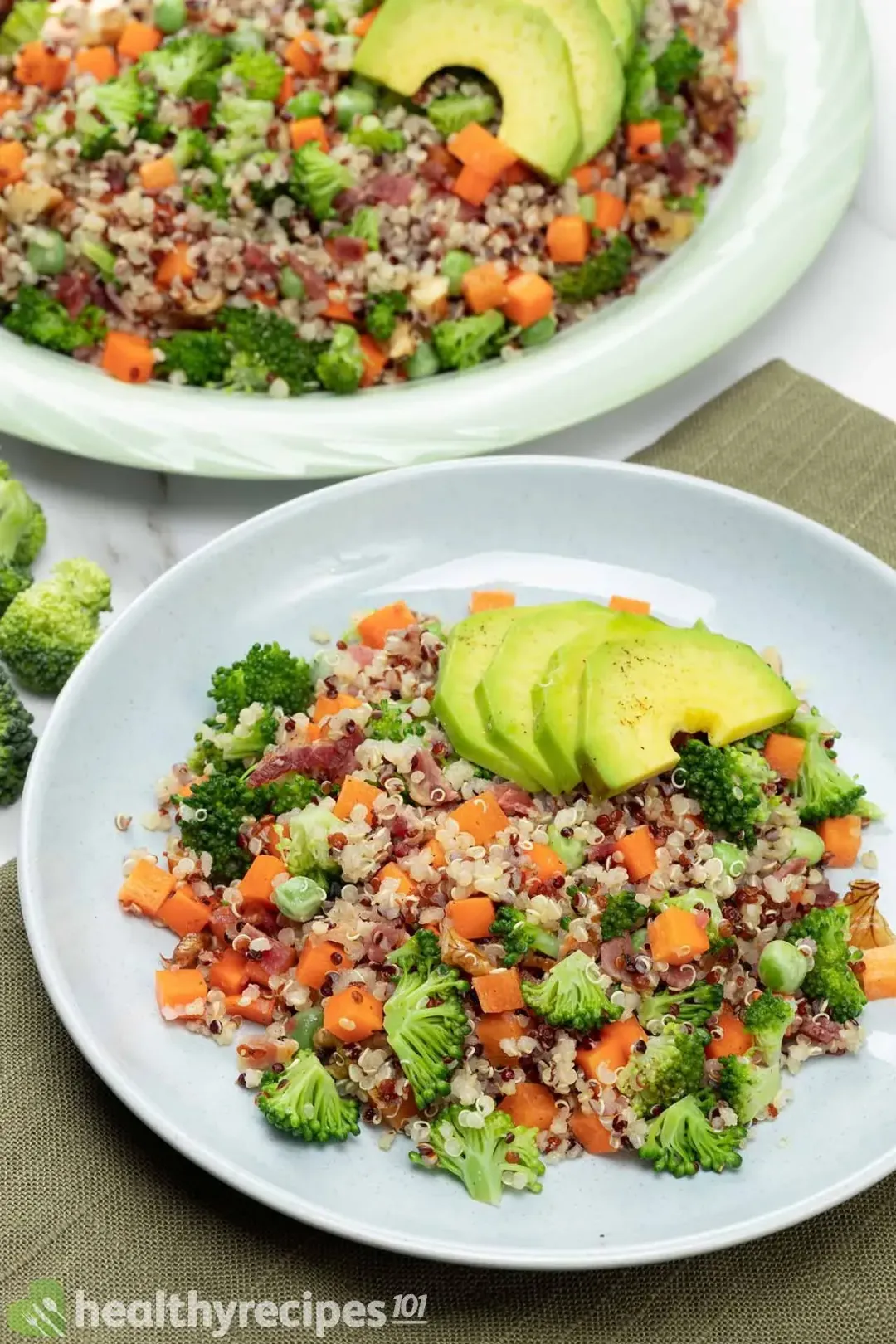 If you don't want to steam the carrots and peas, you can blanch them instead:
Put carrots and peas into boiling water and wait for 1 minute.
Remove and transfer to an iced bath to stop the cooking, preserving their colors and texture.
For more healthy salad recipe ideas, have a look at our 44+ easy salad recipes.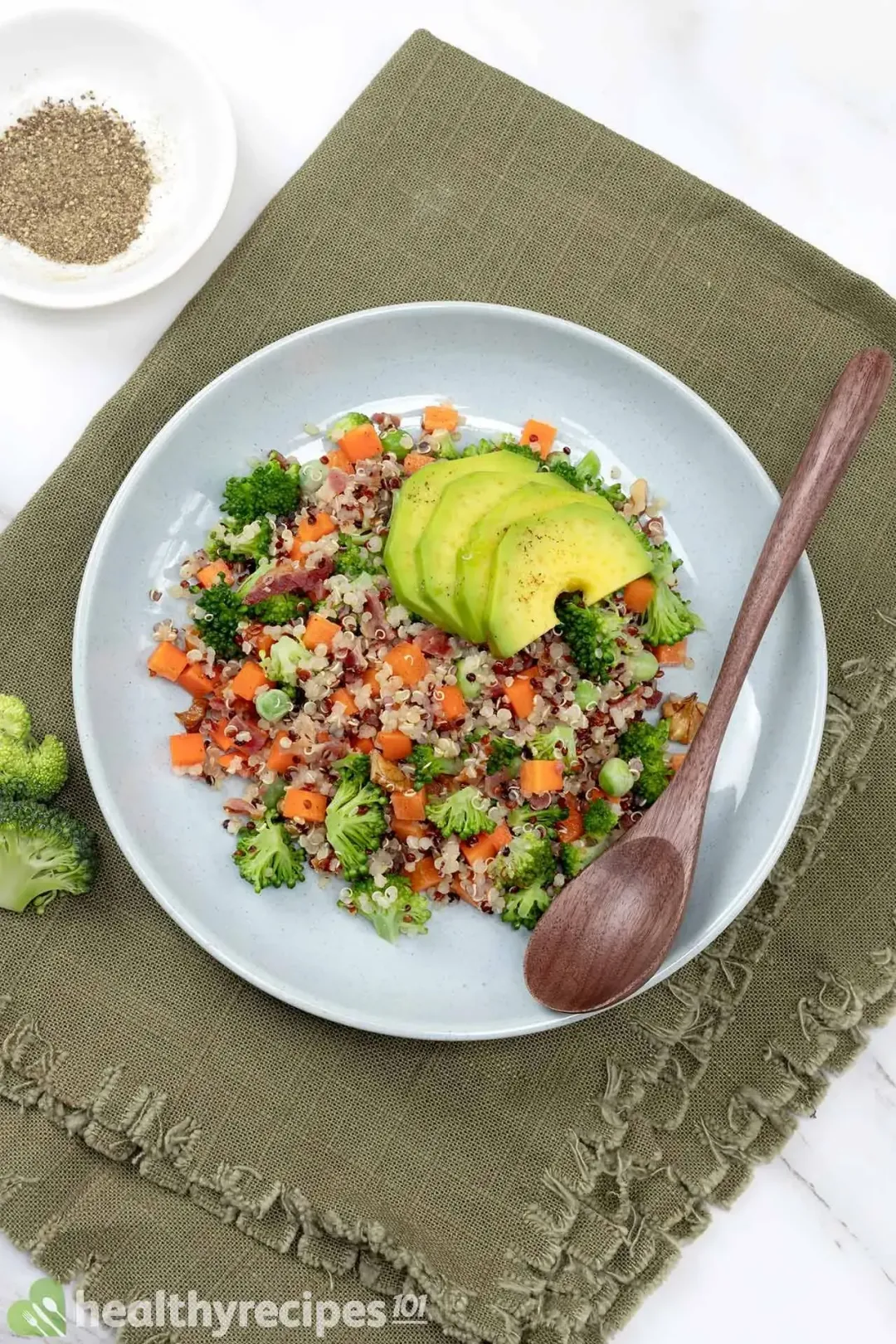 FAQ
1. How Many Calories Are in Quinoa Salad?
There are about 255 calories in one serving of our quinoa salad. It's best paired with another protein main dish to make a complete wholesome and fulfilling meal.
2. Can You Freeze Quinoa Salad?
Our quinoa salad contains fresh ingredients such as carrots, peas, broccoli, walnuts, and avocado. As a matter of fact, we don't recommend putting this quinoa salad in the freezer.
If you freeze quinoa salad, the ingredients will lose their original texture and flavors after thawing, thus lowering the overall quality. You can, however, freeze cooked quinoa separately and it will last for about one month. Then when you want to use it, simply thaw it and toss it with the other ingredients.
3. How Long Does Quinoa Salad Last in the Refrigerator?
Once dressed, this quinoa salad can only last for about 2 days in the fridge. If you want to prolong the shelf life of this salad, here's a few tips:
Do not dress the salad, or else the dressing will soak into the quinoa and vegetables and alter their textures.
Keep ingredients in separate containers (quinoa, vegetables, walnuts, and dressing) to retain their freshness.
Quinoa Salad
Today's salad, featuring earthy and toothsome quinoa, will bring you joy in every bite. If you happen to have some leftover seeds, this quinoa salad recipe is here to make the best use of them.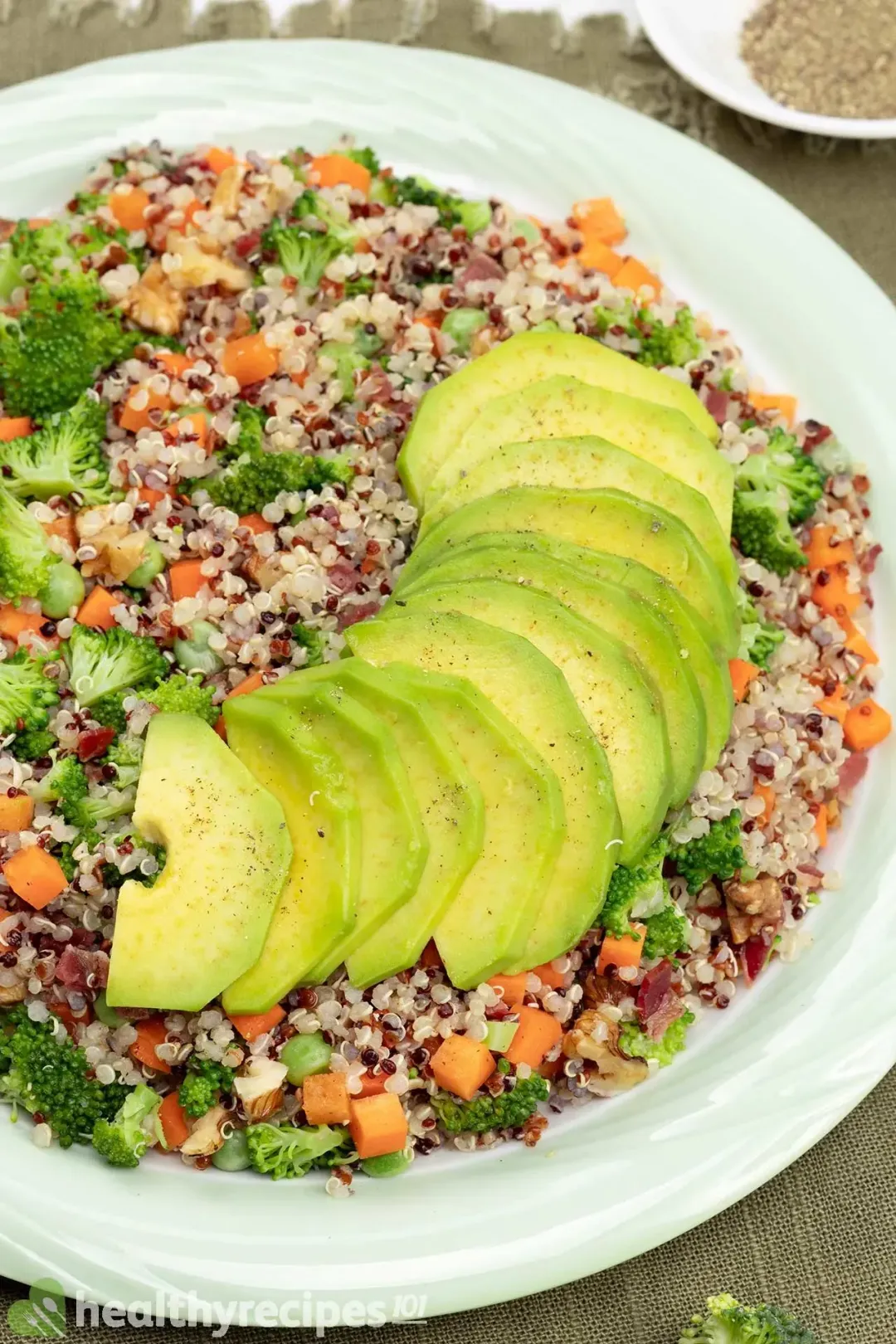 prep TIME

15 mins

total TIME

15 mins
COURSE

Side Dish

CUISINE

American

SERVINGS

CALORIES

255 kcal
INGREDIENTS
1 3/4 cups

cooked quinoa

(equals 1/2 cup uncooked)

1 tsp

ground black pepper

3.2 oz

broccoli

(chopped, steamed for 5 minutes)

1/4 cup

walnuts

(chopped)

1/4 cup

frozen peas

(thawed)

1 oz

baked bacon

(finely diced)

2.5 oz

avocado

(peeled, seed removed, sliced, about 1/4 medium-sized avocado)
INSTRUCTIONS
1
Make the dressing: In a small bowl, combine 2 1/2 tbsp lemon juice, 1/2 tbsp olive oil, 1/8 tsp salt, and 1 tsp ground black pepper. Whisk vigorously with a fork to emulsify the oil and lemon juice.
2
Arrange the salad: Add 1 3/4 cups cooked quinoa, 3/4 cup carrot, 3.2 oz broccoli, 1/4 cup walnuts, 1/4 cup peas, and 1 oz baked bacon on a plate.
3
Add the dressing: Drizzle the dressing over the salad. Mix thoroughly so that the dressing coats every ingredient.
4
Serve: Top with 2.5 oz avocado slices and serve.
NUTRITION
Nutrition Facts
Quinoa Salad
Amount Per Serving (1 serving)
Calories 255
Calories from Fat 126
% Daily Value*
* Percent Daily Values are based on a 2000 calorie diet.
Keywords: how to make quinoa salad, how to prepare quinoa, quinoa pasta salad, quinoa salad, vegan quinoa salad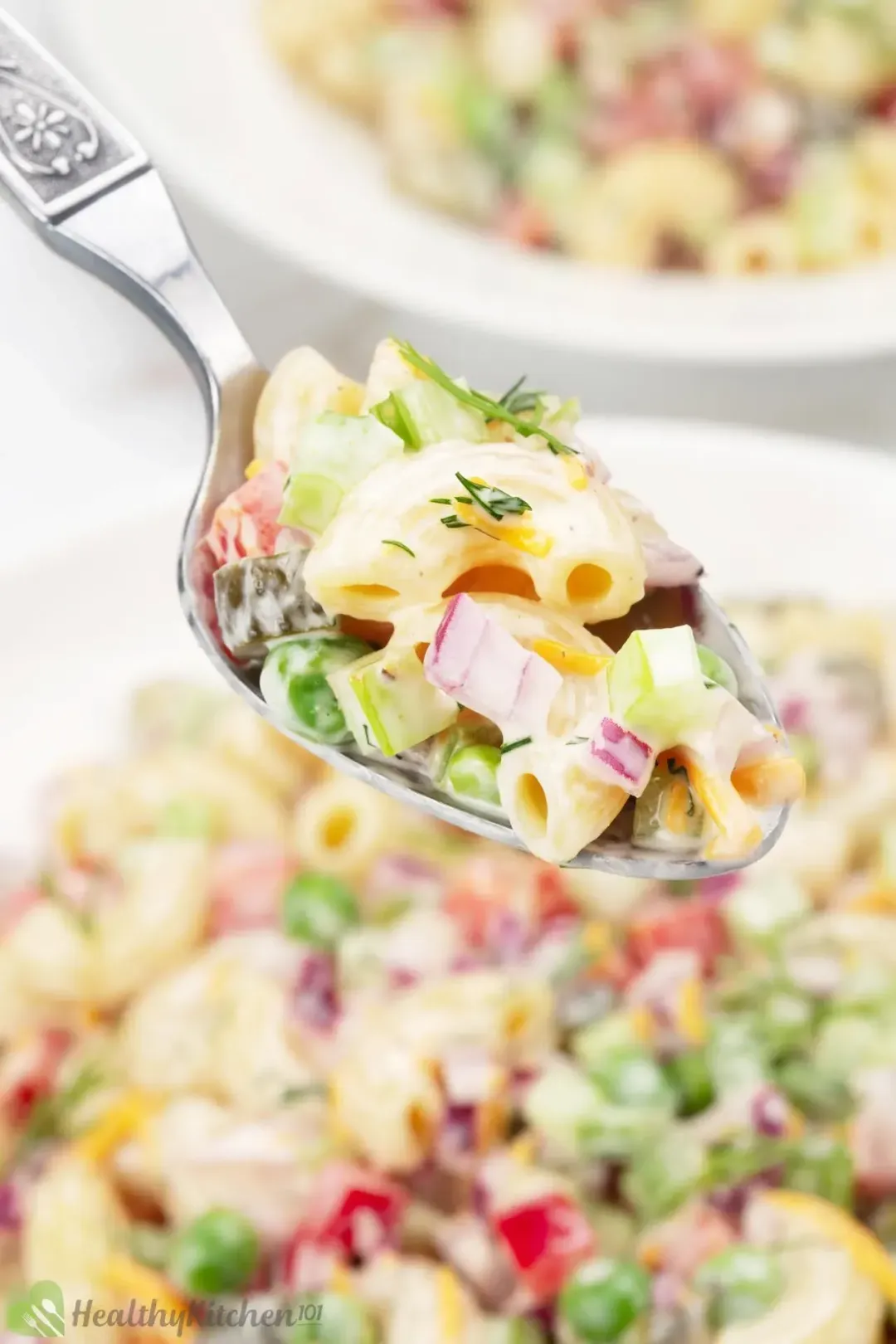 Next Recipe
Macaroni Salad
Macaroni Salad
Head Chef, Culinary Consultant
Tuyet Pham is an award-winning Saigonese chef who believes that joy is the secret ingredient to delicious food. At Healthy Recipes 101, Tuyet personally tests and simplifies every recipe, ensuring maximum flavor with minimal effort. With a background at prestigious French restaurants P'TI Saigon and Le Corto, Tuyet knows how to make every dish exceptional.
Writer, Author
Luna Regina is an accomplished writer and author who dedicates her career to empowering home cooks and making cooking effortless for everyone. She is the founder of HealthyKitchen101.com and HealthyRecipes101.com, where she works with her team to develop easy, nutritious recipes and help aspiring cooks choose the right kitchen appliances.
Nutrition Reviewer
Lizzie Streit is a Minneapolis-based dietitian and founder of It's a Veg World After All. She completed her MS in Human Nutrition from Drexel University, and is an expert in culinary nutrition, recipe development, and nutrition communications. Lizzie's philosophy is centered around making nutrition recommendations, and especially the advice to eat more vegetables, approachable and realistic. She is excited to be working with the team at Healthy Recipes 101 to ensure that their recipes are both nutritious and delicious.
My salad was definitely a winner - it was light yet flavorful thanks to the addition of vegetables, avocado, and spices! It made for a great lunch or dinner.