Our macaroni salad recipe is a much healthier take on the American classic— more veg, less mayo, and less cheese. It may not taste as creamy as other versions you may have tried, but it's still delicious without the fats. Plus, it's the lighter treat you need this National Macaroni Day (July 7).
What Is Macaroni Salad?
As the name suggests, macaroni salad is macaroni and chopped veg, dressed in a mayo dressing. For a person who's trying to live a healthy life, our macaroni salad can be a good first step.
This salad is also really simple to make and can be made ahead of time. Allowing it to sit in the fridge overnight does nothing but make it better.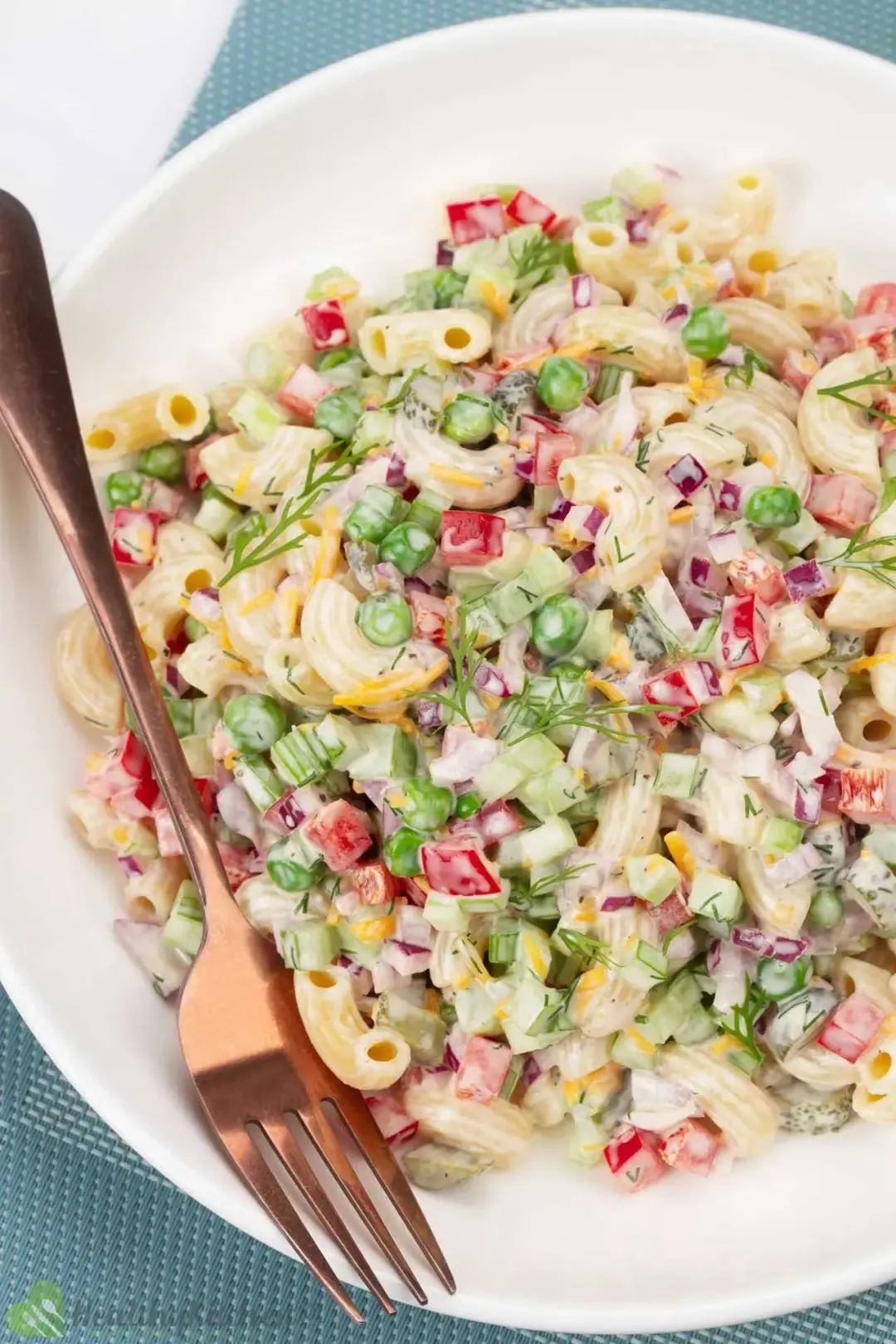 Is Macaroni Salad Healthy?
The dish by itself has smaller amounts of vitamins and minerals. Unlike regular salad, it is not loaded with greens and their micronutrients.
However, we managed to make the healthiest version possible of this classic salad. Here's how:
For starters, this salad is often overdressed with mayonnaise and cheese. We know a lot of people love a good helping of these, but too much is not healthy— both contain loads of saturated fat.
Our macaroni salad recipe finds a balance between taste and fat content. With a moderate amount of mayo and cheese, each serving only has 2 grams of saturated fat, completely within recommended limits.
In addition to this, the vegetable-noodle ratio is usually kept at around 1:2, which offers a lot of carbs, but few micronutrients. This recipe has roughly one part noodles to one part vegetables, which makes it more nutritious than other recipes.
Calories
One serving of our macaroni salad gives around 225 calories, with 40% coming from carbohydrates and the rest from fats and proteins. In other recipes, the calories may range from 350-390, which is a lot of noodles and mayonnaise.
As it has plenty of carbs, this salad should be paired with dishes plentiful in protein and vegetables. Read on and check out our suggestions down in the section below. For now, let's have a look at the ingredients.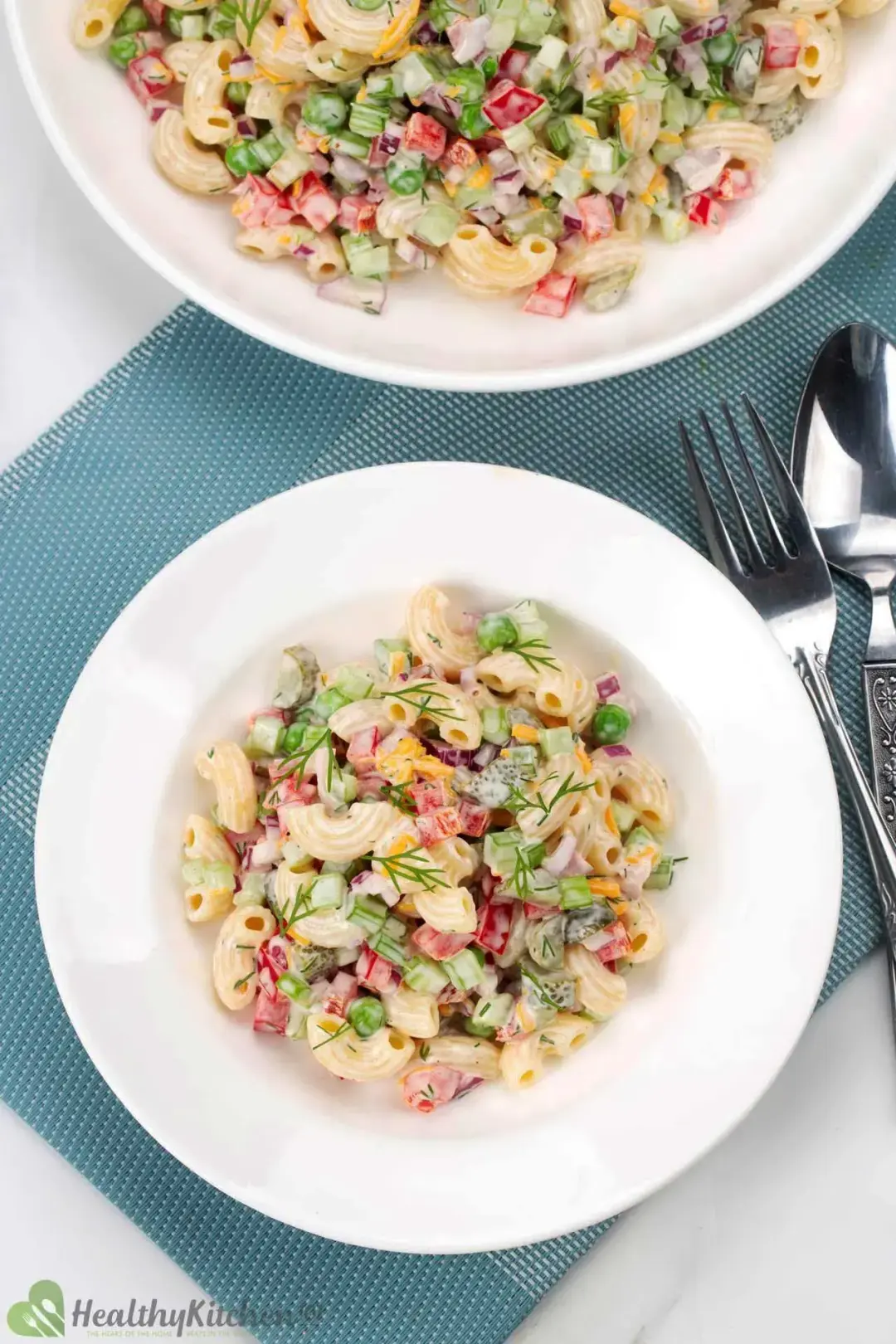 We also have this pesto pasta salad recipe, dedicated to pasta salad lovers. The recipe are easy to follow and complied with our healthy eating standards.
Macaroni Salad Ingredients
1. Noodles
Macaroni is available in pretty much every grocery store. We bet you may even have one in your pantry right now for a future mac and cheese dinner.
The part that requires more thought is how to cook the macaroni for this salad. Don't worry, we'll get to it real soon.
2. Cheese
We've taken a good look around and almost all macaroni salad recipes call for cheddar. Apparently, cheddar is the classic choice.
But you don't necessarily have to stop at cheddar when the world of cheese is so abundant. A mix between orange cheddar and white mozzarella can add layers of flavor and color, plus a stretchy, gooey effect.
Since you want to go easy on the dairies and mayonnaise, you should only use 0.5 ounce of cheese. This might be a good time to use leftover cheese that is too little to add to other dishes.
3. Peas
For convenience, go for frozen peas. They were steamed before freezing, so they can be thawed and used without having to be cooked.
You will notice that they have more bite than boiled peas, because they are not thoroughly cooked. If you enjoy softer peas, use the boiling water after you cook the macaroni to cook the peas for 2 minutes.
4. Pickles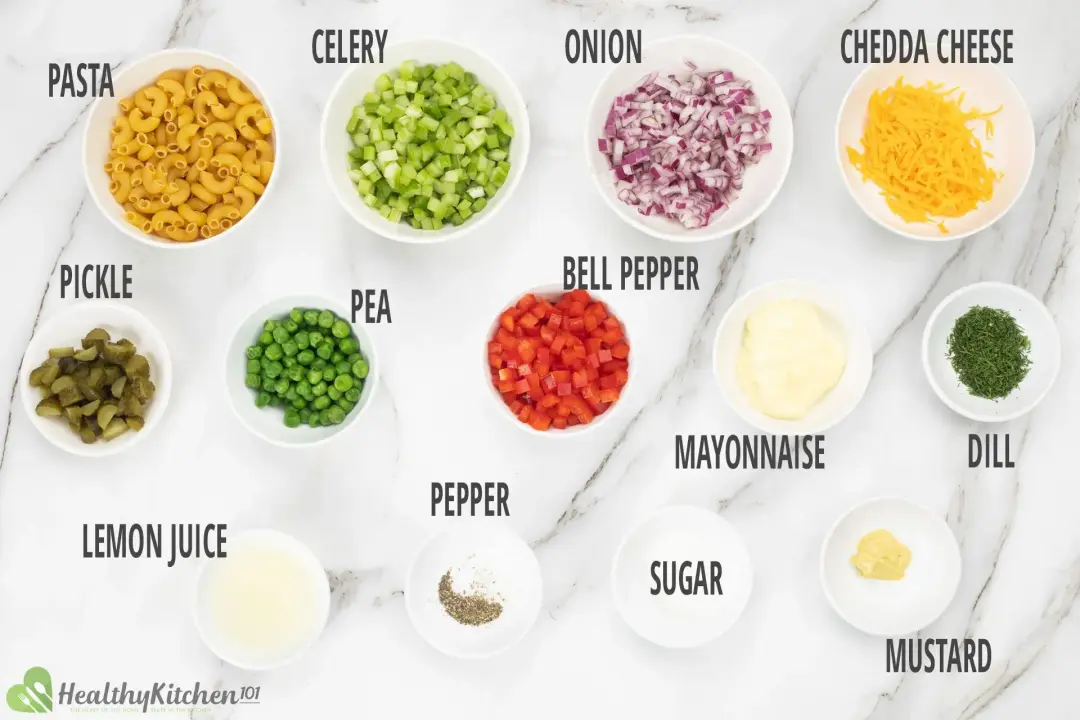 Pickles or cornichons both add wonderful flavors to your macaroni salad. An occasional salty, tangy bite adds a moreish quality that has people coming back for seconds.
Cornichons are smaller in size, so you simply need to quarter them and slice into little chunks. Pickles are often larger, and can sometimes have a large section of seeds that you may or may not want to scrape off before using.
5. Other Vegetables
Besides the basics, we also add chopped bell peppers, celery, and red onions to the salad. They all have distinct aromas and flavors, increasing the diversity of your salad's flavor profile.
Macaroni Salad Dressing
As mentioned, the dressing for this salad is mayonnaise. We use Japanese mayonnaise— Kewpie, which possesses a hint of sweetness instead of being tangy like regular mayonnaise.
To the mayonnaise, we add dill, lemon juice, sugar, mustard, and ground black pepper. With the right ingredient ratio, the dressing should be brightly tangy, aromatic, and mildly sweet, with a little bit of heat.
Let's discuss mustard a little bit, because you know, there are different types, the most common being grainy mustard and plain yellow mustard.
We use Dijon because that's what we had in the pantry. You can go for the grainy if possible, because it delivers more flavor.
Since we're trying to lower your sodium intake and the mayo is already salty, no additional salt is needed in this recipe.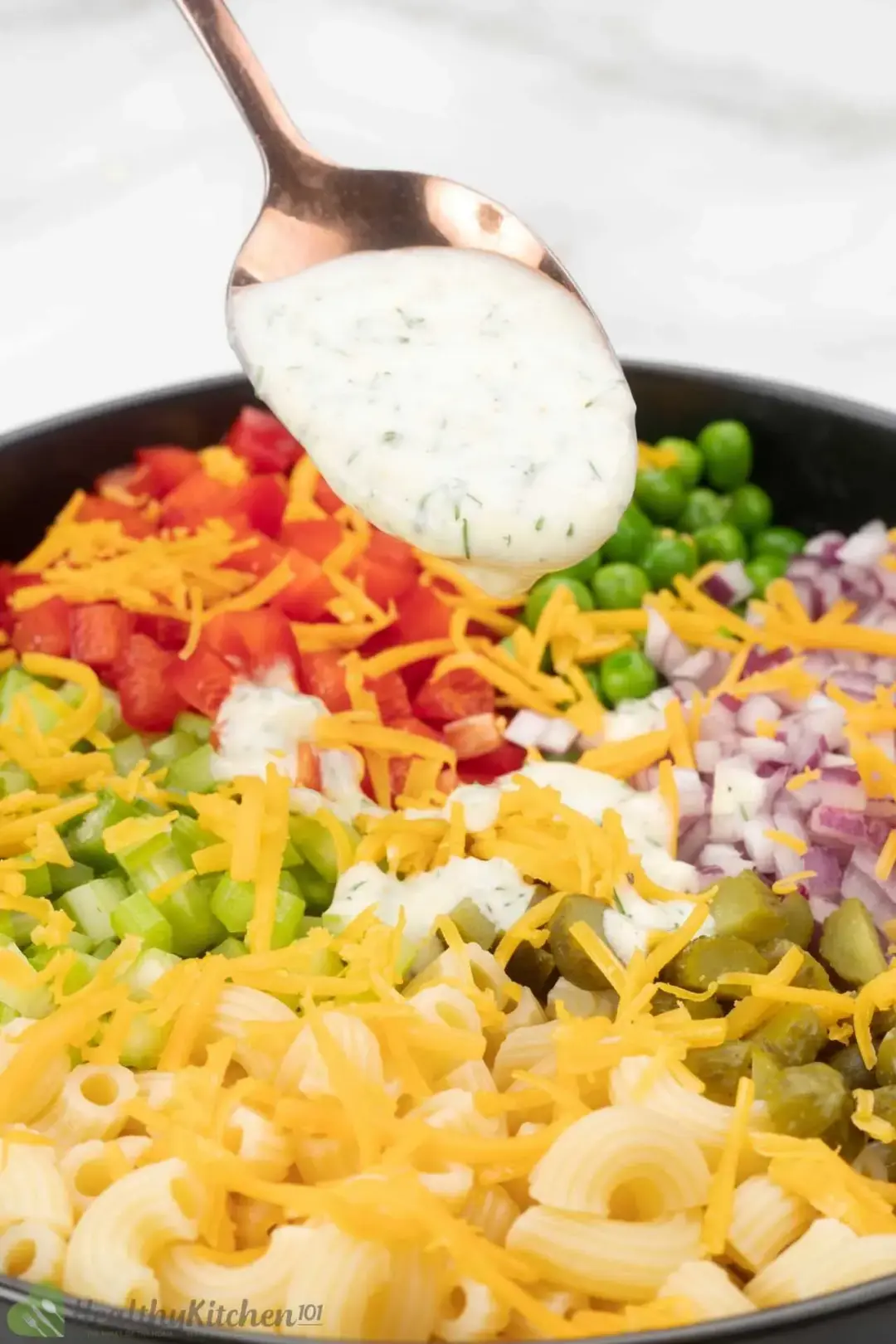 Tips for Making the Best Macaroni Salad
It's not always your level of skill that helps you cook a perfect dish. Sometimes, it's all about the insider knowledge.
1. Cook the Macaroni Just Right
Mushy or tough macaroni can ruin the whole salad. So, you'll want it to be cooked just right.
The texture we're aiming for is al-dente, which is a little bit chewy. However, if you refrigerate the macaroni before serving, it will harden and the result is tough macaroni instead of chewy.
Most macaroni directions will tell you to boil the noodles for 7-8 minutes. 7 makes al-dente noodles while 8 makes them well-done, so 8 is what you should actually be aiming for.
Again, 7 if you want to serve macaroni salad immediately, and 8 if it will sit in the fridge before serving.
2. Add Enough Dressing, at the Right Time
Add just enough dressing to give your salad a well-balanced taste and the right consistency to evenly coat the ingredients. More dressing than necessary makes your salad unnecessarily soggy, which nobody wants.
How to Make Homemade Macaroni Salad
Here is a short version of our macaroni salad recipe. The full and detailed version is included in the recipe card right below.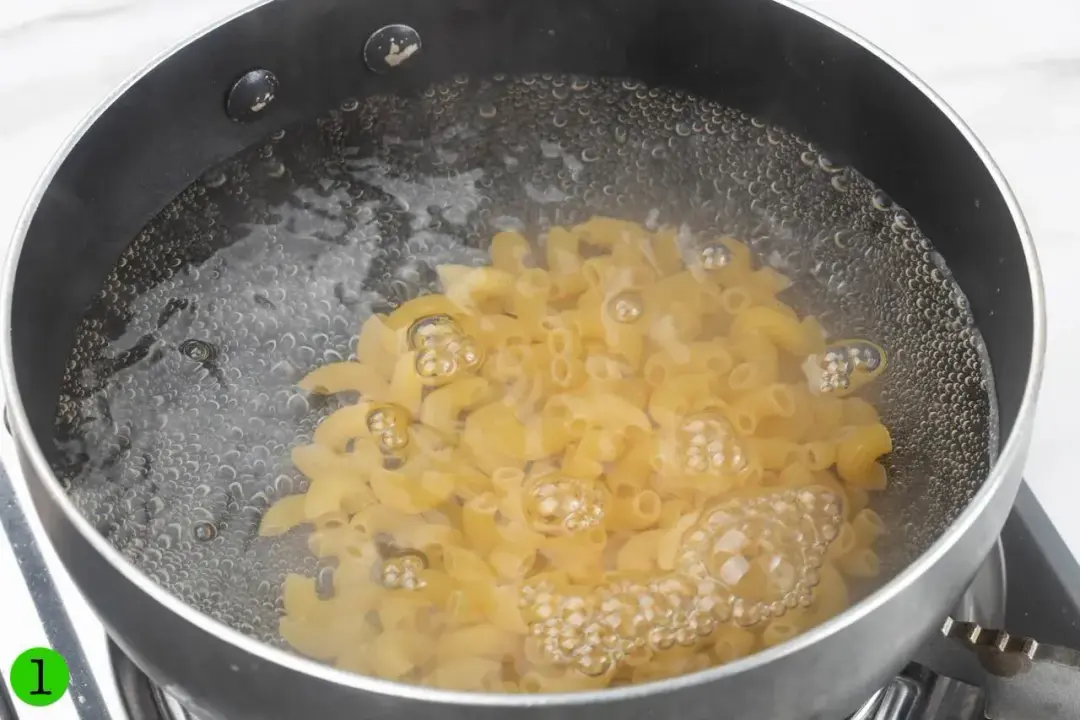 Cook the macaroni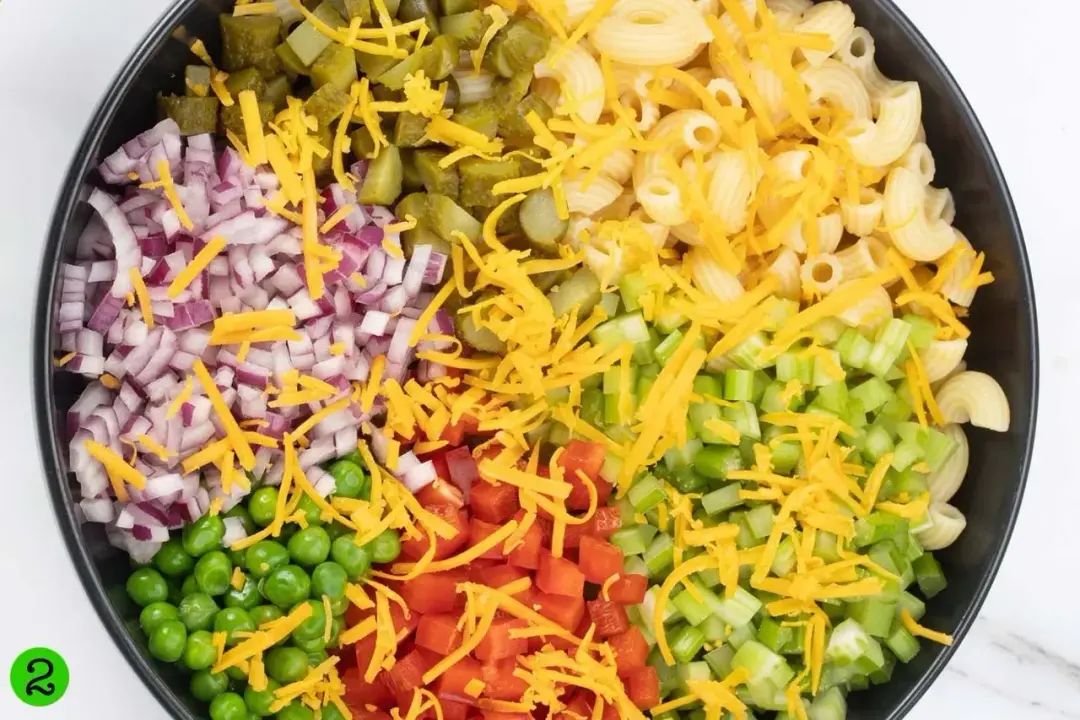 Mix macaroni with veg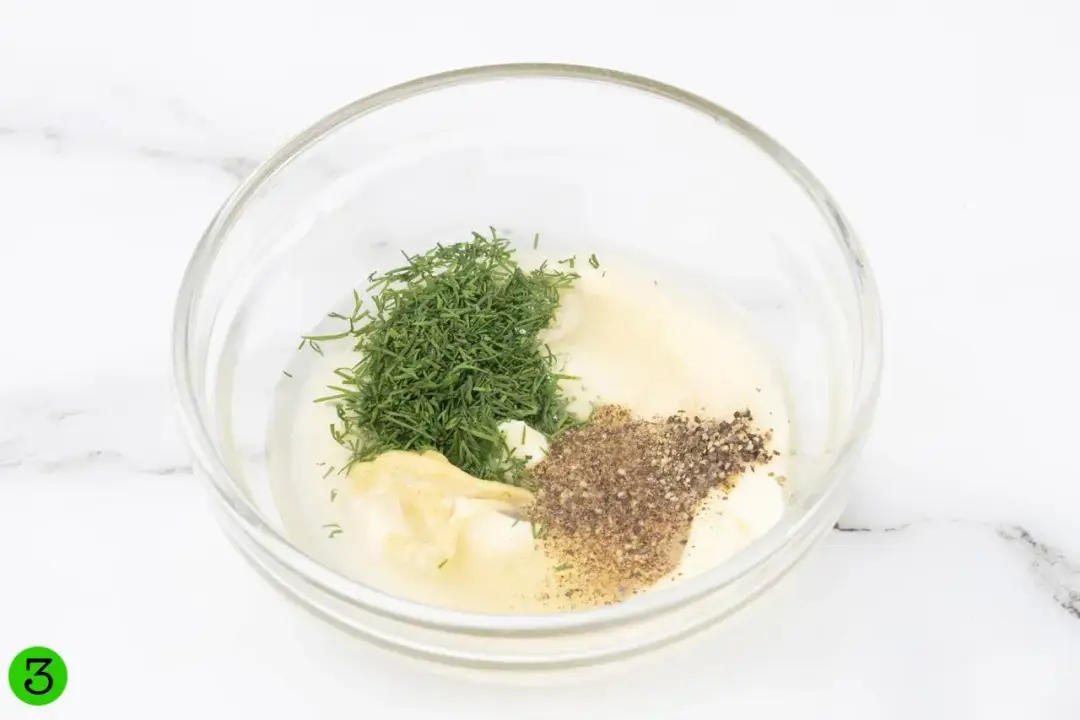 Make the dressing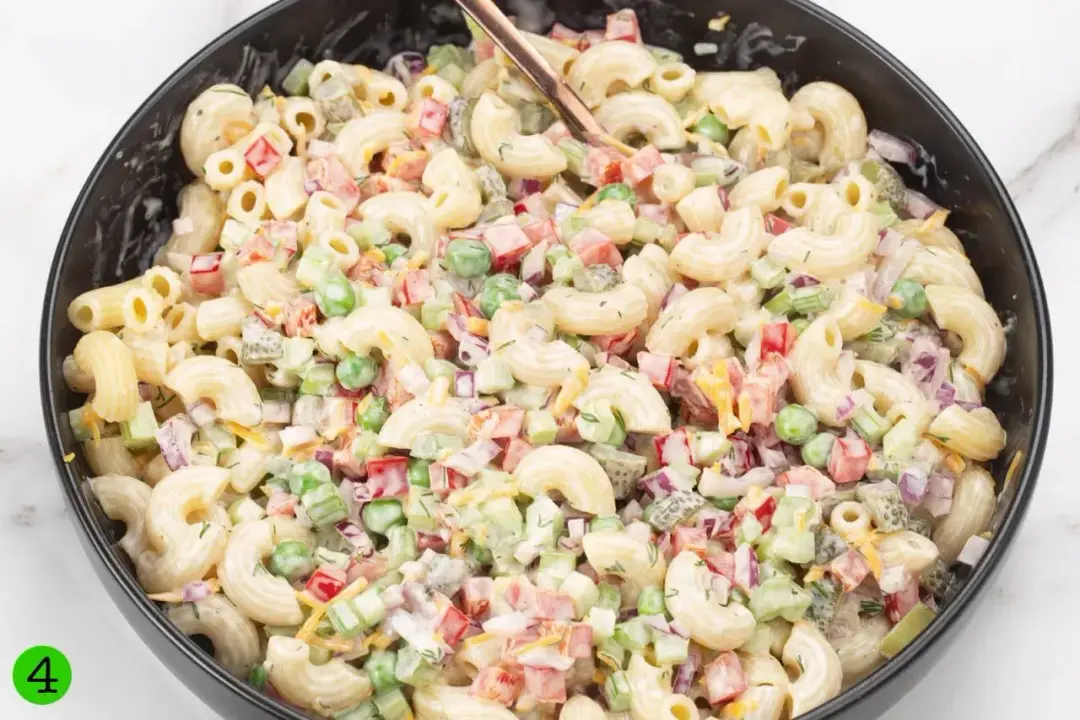 Toss the salad with the dressing and chill before serving
What Else Goes With Macaroni Salad?
1. Tuna
A healthy source of protein is what's missing from this salad, and canned tuna is a perfect candidate. It adds tons of umami flavor, yet needs no prior preparation— simply open the can and use.
Nutritionally speaking, tuna is a great source of omega-3 fatty acids, a type of good fats. Plus, if you choose tuna in oil (often soybean oil), you're adding a healthy oil to your diet.
2. Egg
Eggs are a good source of protein, and all the more appealing as they're accessible all-year-round and at a budget-friendly price. Plus, they are versatile and delicious.
Although there are plenty of ways to prepare eggs, simply boiling them would do for this macaroni salad recipe. Remember to chop them into bite-sized chunks before adding them to the salad!
3. Chicken
Chicken is another option to make your macaroni salad fancier and more protein rich. Boiled/seared chicken breast never gets old with a creamy, tangy dressing, which this recipe happens to possess.
We're using chicken breast just because it has always been a go-to when it comes to salads. Plus, chicken breast is the cut that's packed with the most proteins compared to other parts of the animal.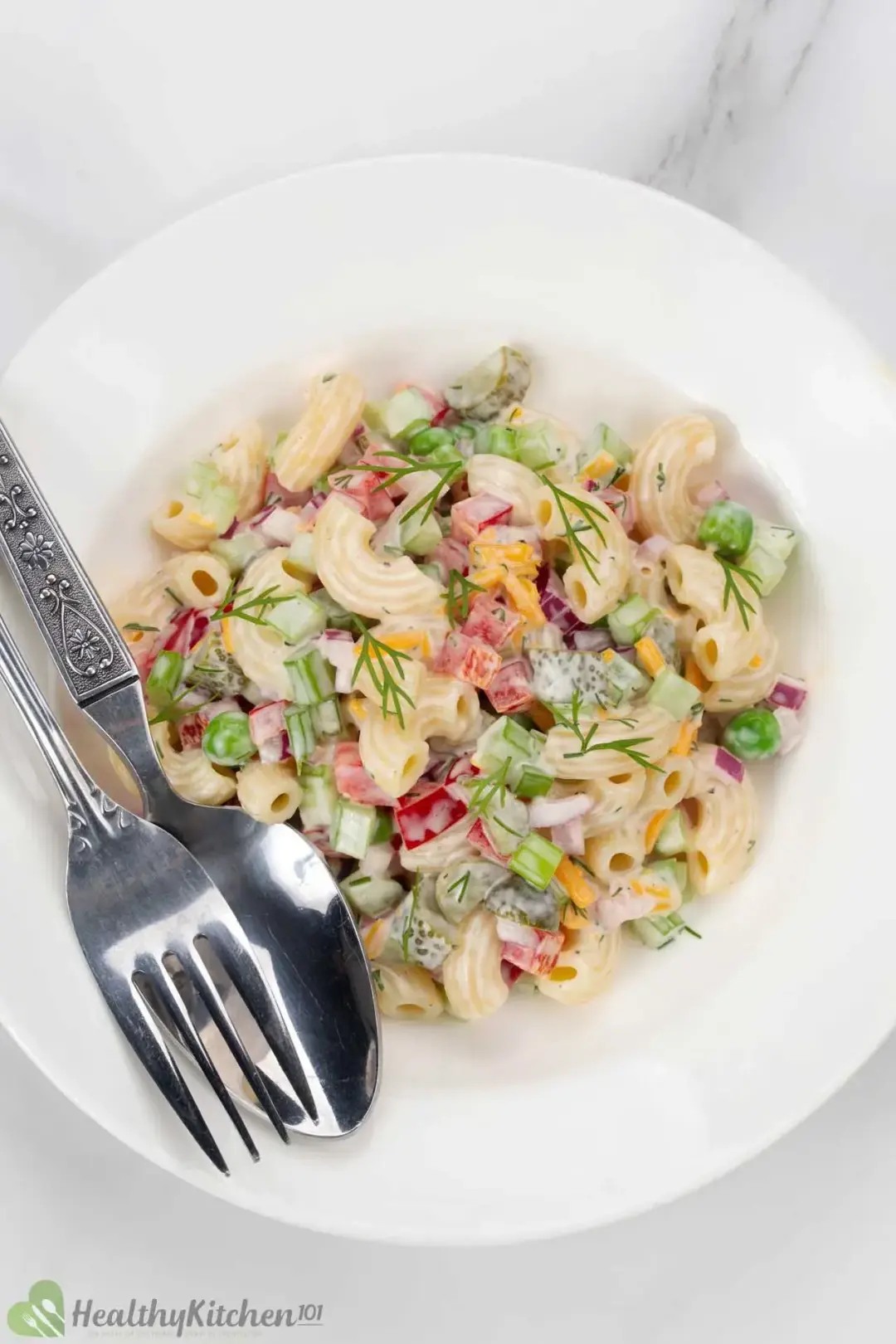 4. Shrimp
Unless seafood isn't your thing, shrimp gives the most expensive taste (and price tag) to a dish. A salad is even better when served with properly-cooked shrimp, the ones that have a pleasant crunch when you bite into them.
To make boiled shrimp crisp up, shock them in an ice bath as soon as they leave the pot. Nothing compares to the sensation of biting crisp shrimp, so do use shrimp if you have the chance.
Foods to Serve with Macaroni Salad
The toppings above add flavor, without being overly calorie-laden. To have a 750-calorie meal, here are some suggestions for what you can serve with your macaroni salad:
Chicken cordon bleu: with these two combined, the plates and bowls will be cleared in seconds! What goes with juicy, creamy, chicken better than a side of macaroni and crunchy veggie chunks dressed in creamy (but tangy) mayo?
Chicken pot pie: warm, creamy, tender, yet missing something tangy and sweet. We saw no reason why these two wouldn't go together, and we were right— they come together to make a symphony of flavor.
Oven-baked chicken breast: tasty and quick to make— 10 minutes to prep and once it's in the oven, you can start making the salad. You should hear that "ding" from the oven right about the time you're finishing up making the macaroni salad.
Can You Freeze Macaroni Salad?
Unfortunately, macaroni salad is not ideal for freezing. The mayonnaise will form ice crystals and lose its creaminess when frozen and thawed.
Even if you can leave the dressing out, veggies and macaroni don't thaw well. It's almost a rule of thumb to never freeze salads.
On the bright side, if you're too busy, it can be made ahead of time and then refrigerated. This macaroni salad is best served after being chilled for at least 15 minutes anyway.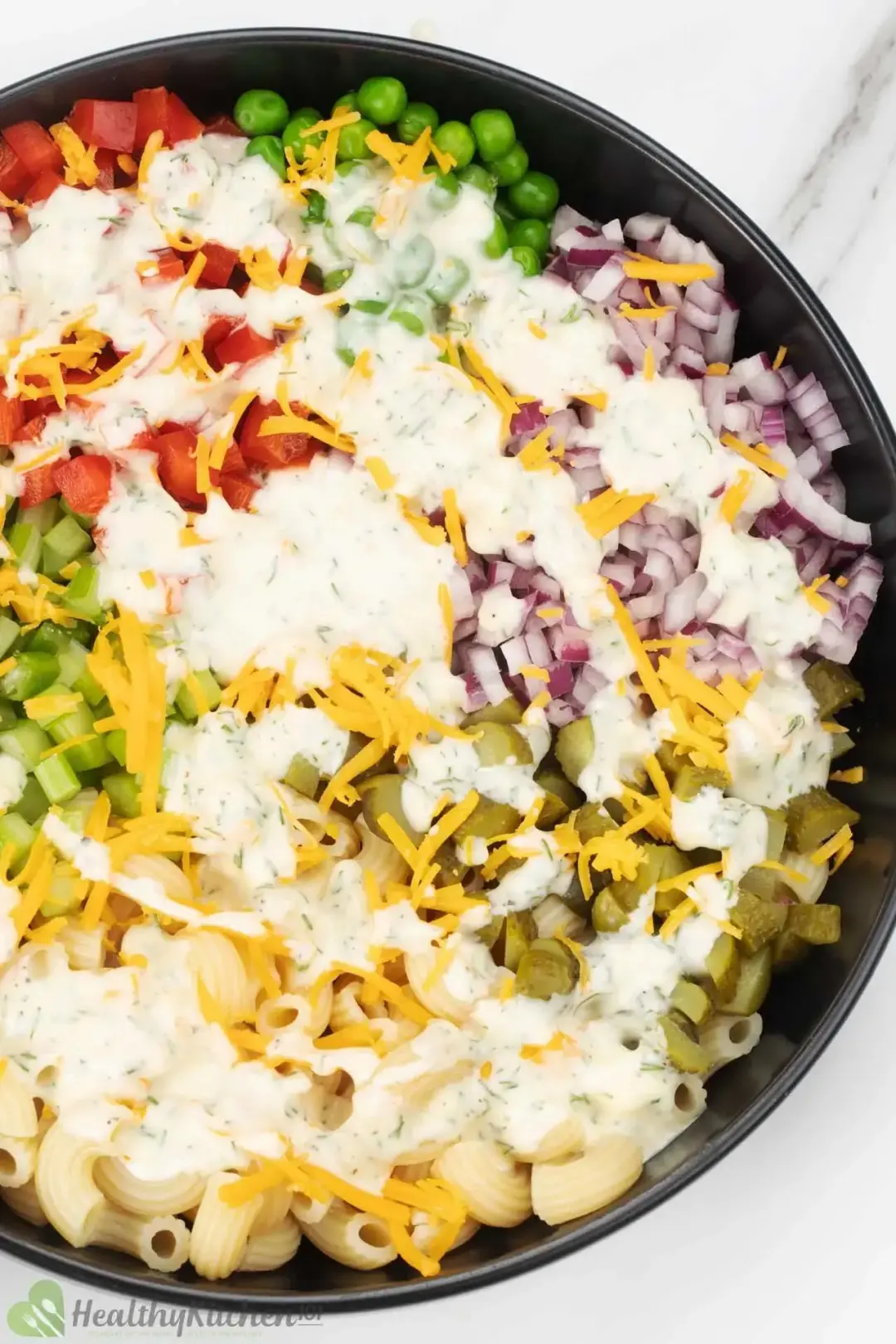 How Long Does Macaroni Salad Last?
Because of the mayonnaise and dairy, macaroni salad shouldn't be left out at room temperature for more than two hours. If it has sat out too long, it will need to be discarded.
If you don't plan to eat the dish within the day, refrigerate the salad in a tightly sealed container. The salad should last for up to 5 days.
For more delicious salad recipes, check out our best healthy salad roundup.
Macaroni Salad Recipe
This macaroni salad recipe makes one of the most healthy and refreshing side dishes. It comes together with a selection of simple ingredients, but tastes delicious and is satisfying enough to be a staple at every party or celebration.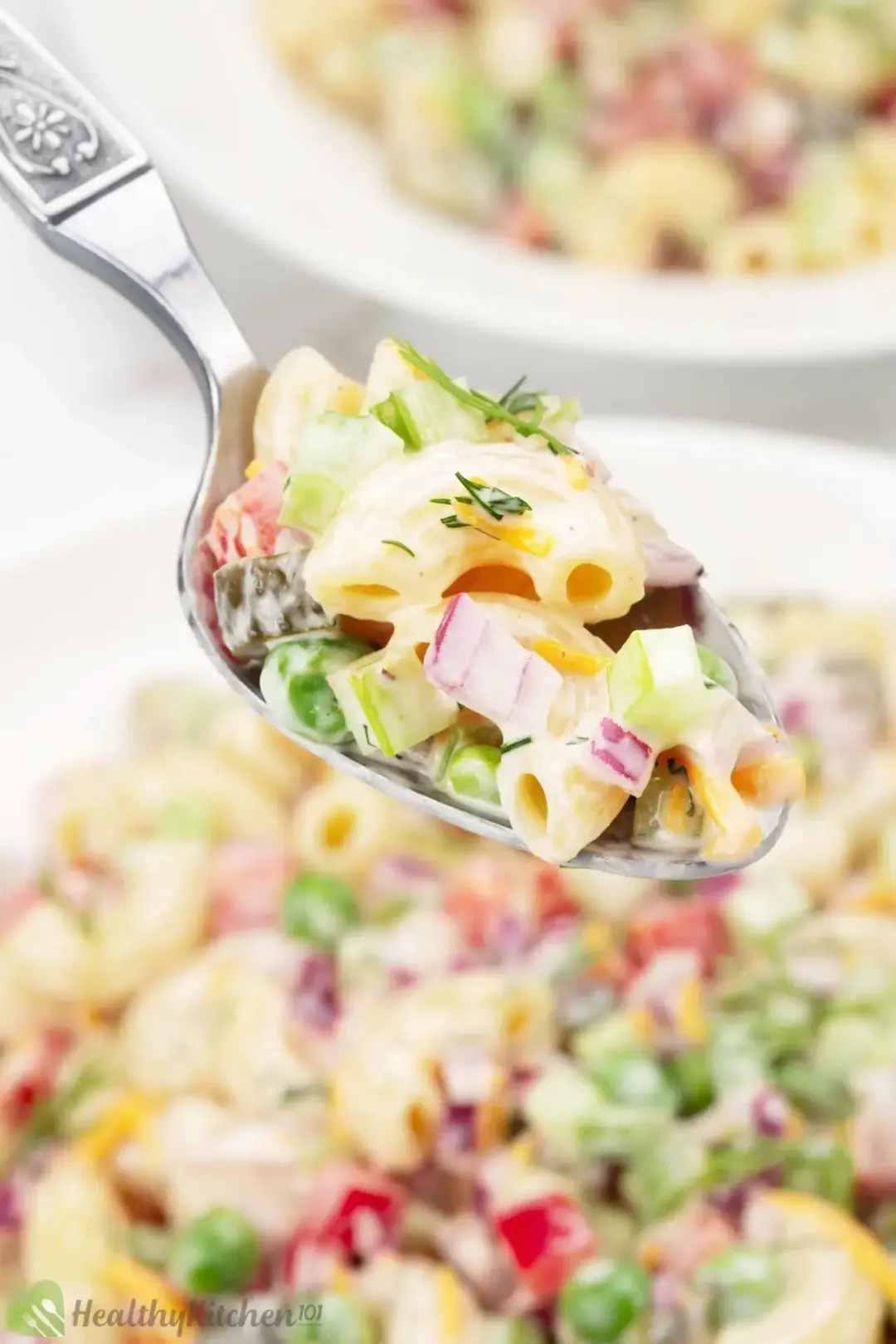 cook TIME

10 mins

prep TIME

25 mins

total TIME

35 mins
COURSE

Side Dish

CUISINE

American

SERVINGS

servings

CALORIES

225 kcal
INGREDIENTS
3.2 oz

elbow noodles

2 oz

red onion minced

3 oz

celery diced

0.3 cup

frozen peas thawed

2.7 oz

red bell pepper minced

0.5 oz

cheddar cheese shredded

1 tbsp

fresh dill minced

0.3 cup

Japanese mayonnaise

2 tbsp

lemon juice

0.5 tbsp

sugar

1 oz

cornichons minced

0.5 tsp

traditional Dijon mustard

0.1 tsp

pepper
INSTRUCTIONS
1
Bring a large pot of water to a boil, cook elbow noodles according to package instructions (ours was cooked for 8 minutes). Drain the boiling water, add cold water to the pot to stop the noodles from cooking, then drain again.
2
Transfer the cooked noodles to a large mixing bowl and toss together with onion, celery, peas, bell pepper, dill, and cheddar cheese.
3
In a small bowl, mix the mayonnaise, lemon juice, pickle, mustard, sugar, and pepper.
4
Pour dressing over the macaroni salad and toss until everything is evenly coated. You can serve immediately, but for best flavor, cover your salad bowl and chill it in the fridge before serving (for at least 15 minutes but up to 2 hours).
NUTRITION
Nutrition Facts
Macaroni Salad Recipe
Amount Per Serving (1 serving)
Calories 225
Calories from FDA
% Daily Value*
* Percent Daily Values are based on a 2000 calorie diet.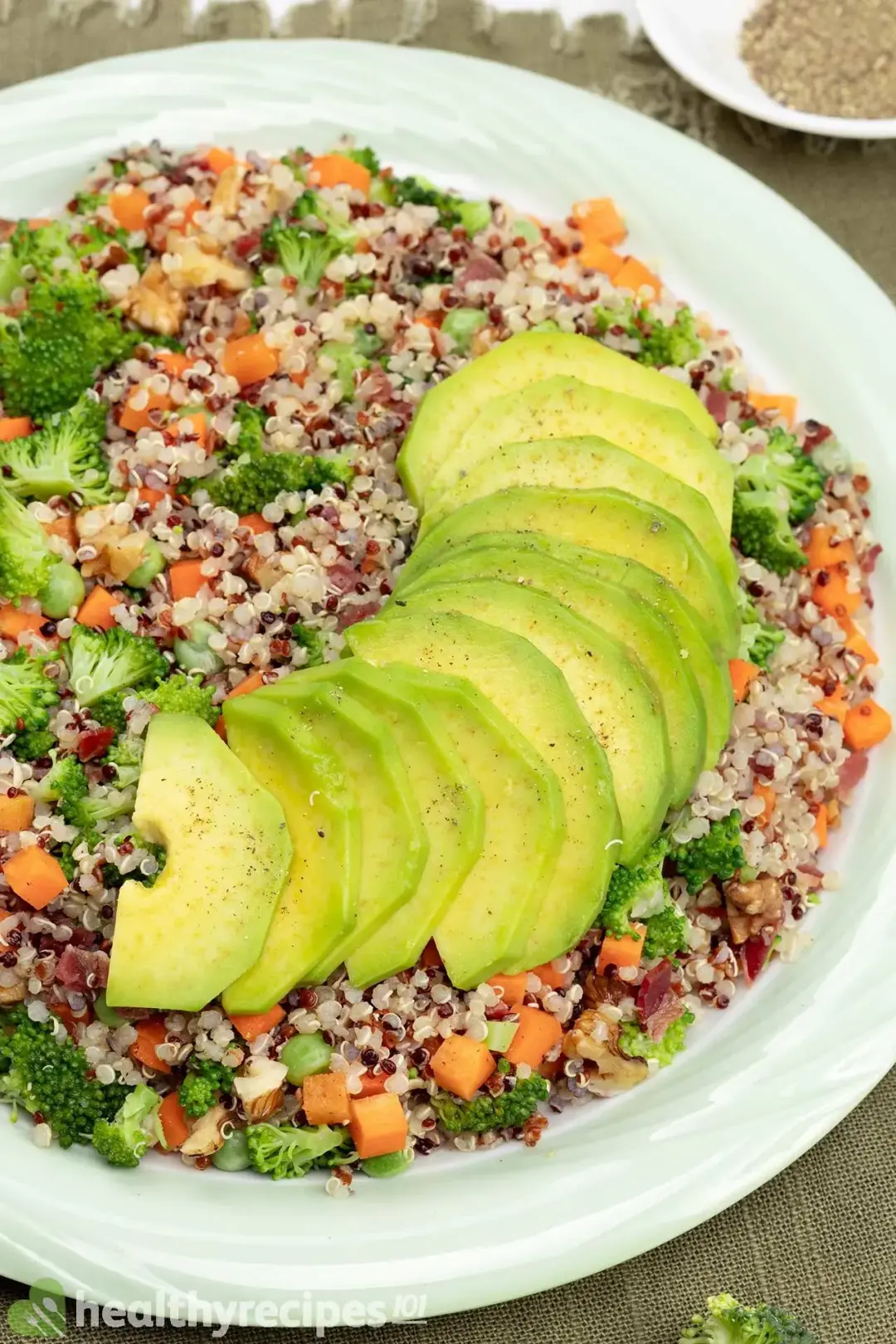 Previous Recipe
Quinoa Salad
Quinoa Salad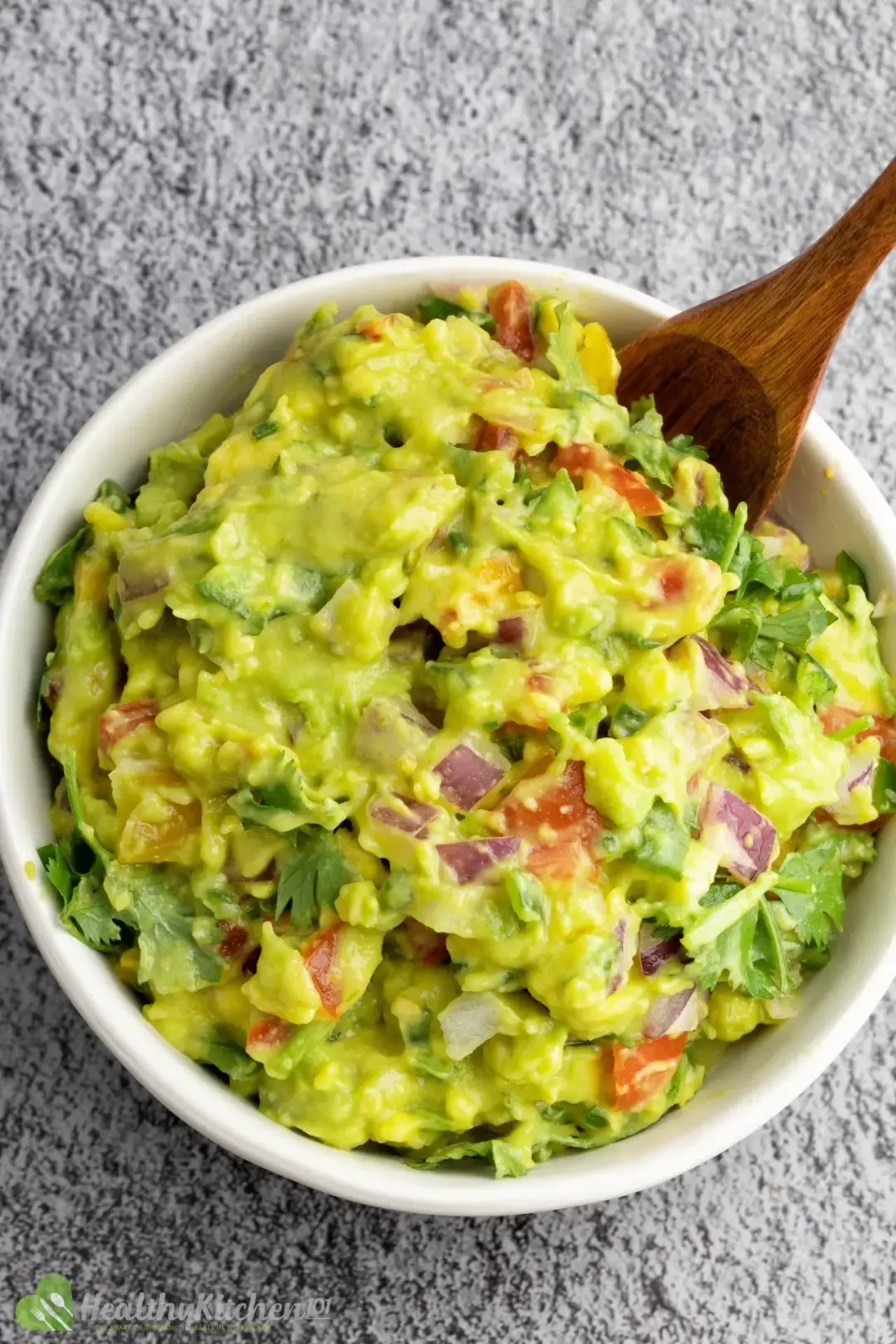 Guacamole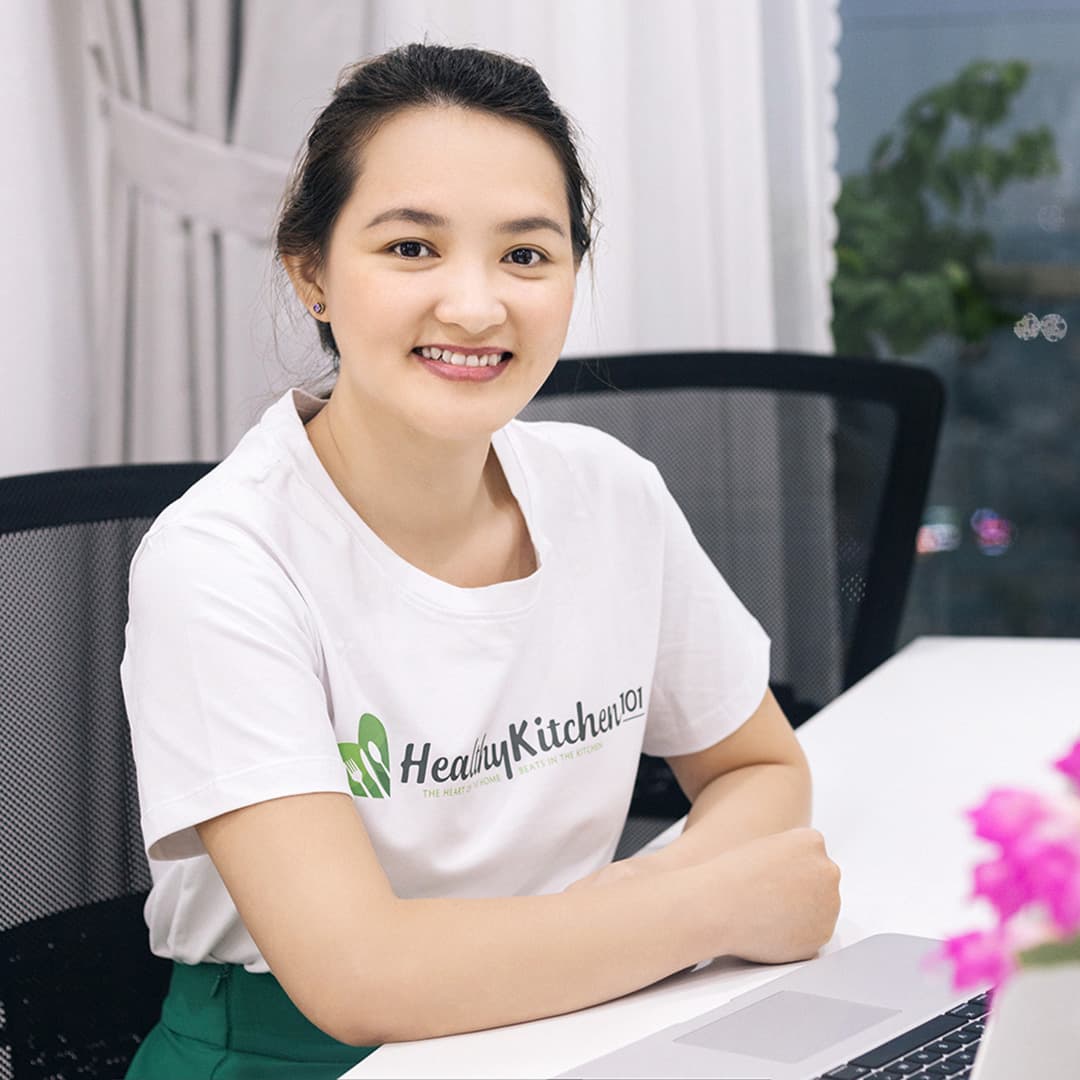 Luna Regina
A writer and entrepreneur, Luna's day doesn't start at the computer keyboard, but in the kitchen.
Half of her working hours are spent on mixing ingredients for her recipes. The other half involve working with the tech team to research and test the tools and appliances that promise to make kitchen work effortless and mess-free. From a kitchen knife or water filter to the Instant Pot, if it can help save time and effort for the home cook, Luna and her team are on it.
Luna's extracurricular pastimes include camping, travel, and photography.
Comments/ Reviews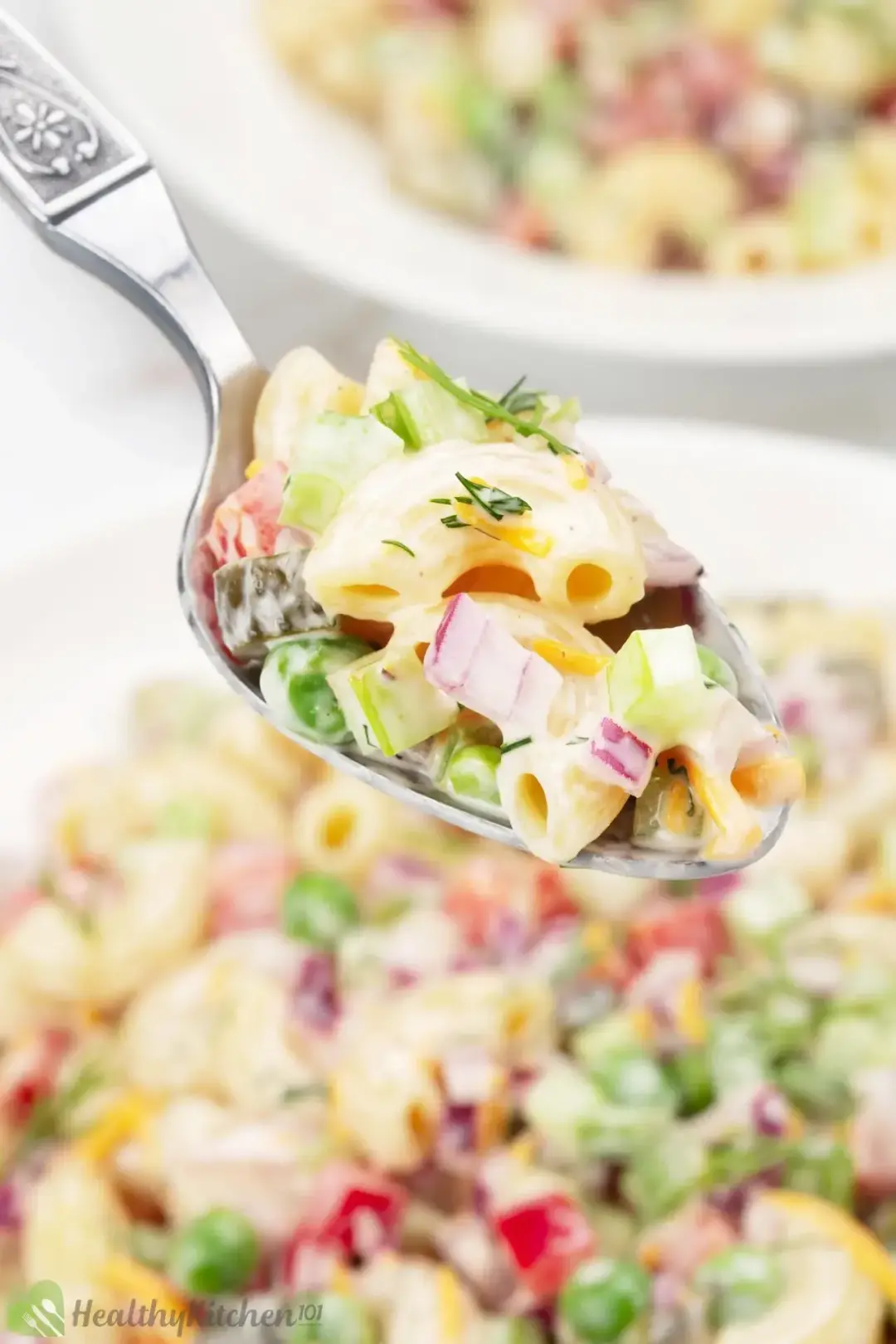 Macaroni Salad Recipe