Colorful, vibrant, and layered with complex flavors, this radicchio salad makes a stunning addition to almost any meal. The radicchio's distinctive bitterness is mellowed out by the sweet potatoes' earthy sweetness and the orange's zesty notes. Drizzled in a balsamic-based sauce, it's a marvelous mixture of flavors that instantly captivates the taste buds.
Radicchio vs Red Cabbage
Radicchio and red cabbage are often mistaken for one another because of their similar appearances. There are, however, some fundamental differences that set them apart: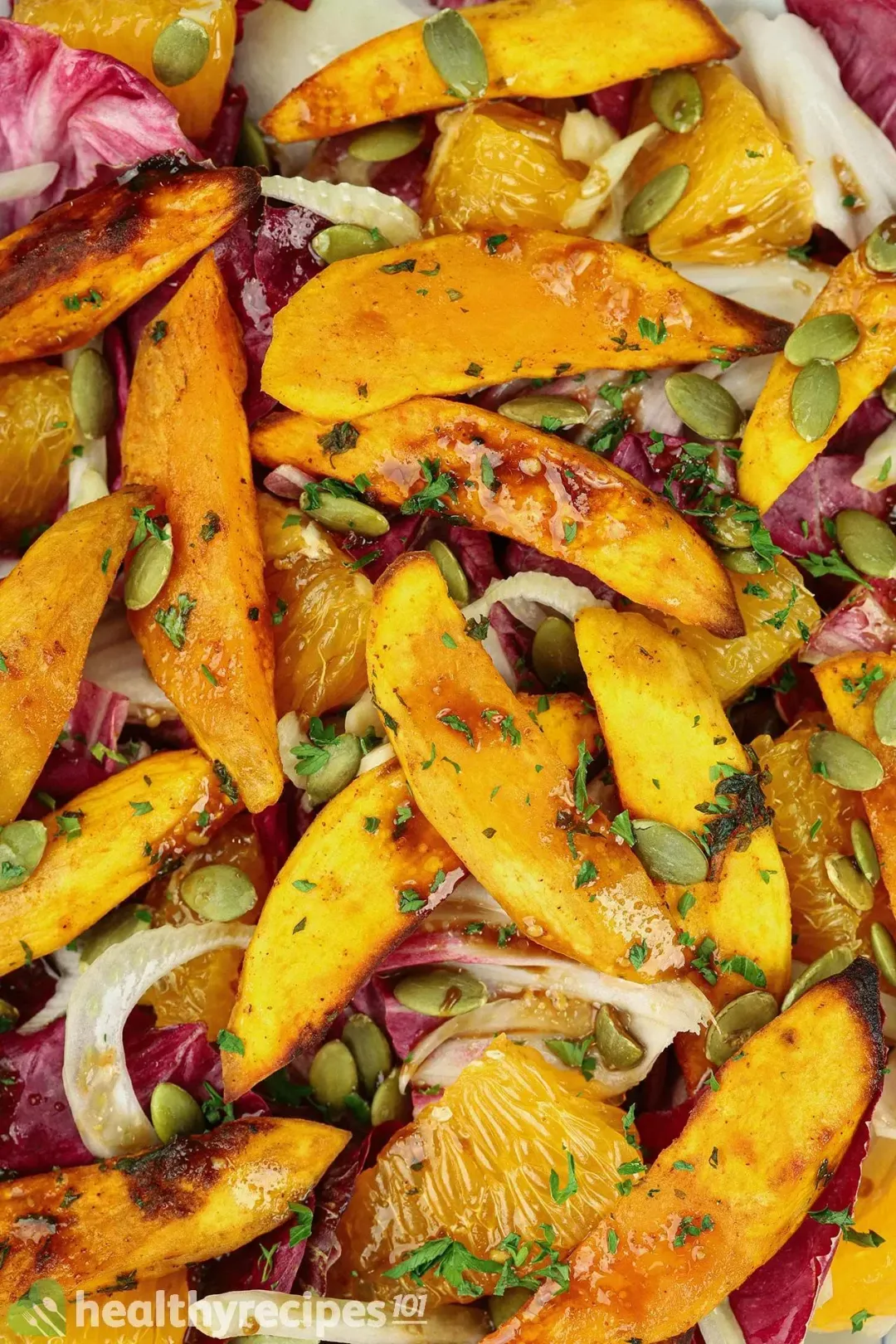 Origin: Surprisingly, radicchio is not part of the cabbage family. It's actually leaf chicory – a healthful plant with clustered leaves and blue flowers native to Europe.
Color: Radicchio is deep red and covered with white veins whereas red cabbage leans more toward purple-ish and magenta.
Taste: Their flavor profiles are both on the bitter side when raw, although radicchio is much more prominent and assertive. They can be cooked with similar methods, such as sautéed, grilled, or roasted. When cooked, their flavors tend to become milder or even sweeter. Texture-wise, radicchio's leaves are softer and less waxy while red cabbage's are much crunchier.
Is Radicchio Salad Healthy?
Yes, it is. Radicchio comes with a number of potential health benefits. This includes lowering the risk of heart disease, supporting bone health, and improving the body's digestive system.
This dish also has a great deal of vitamin A and C thanks to the sweet potatoes and oranges. Meanwhile, its saturated fat and sodium amounts are kept at a minimum, taking up no more than 6% and 10% respectively of the daily intake limit.
Additionally, sweet potatoes and oranges contain nutrients like vitamin C, A, and B6, potassium, and fiber. They may help to boost immunity, maintain blood pressure, and promote a healthy digestive tract.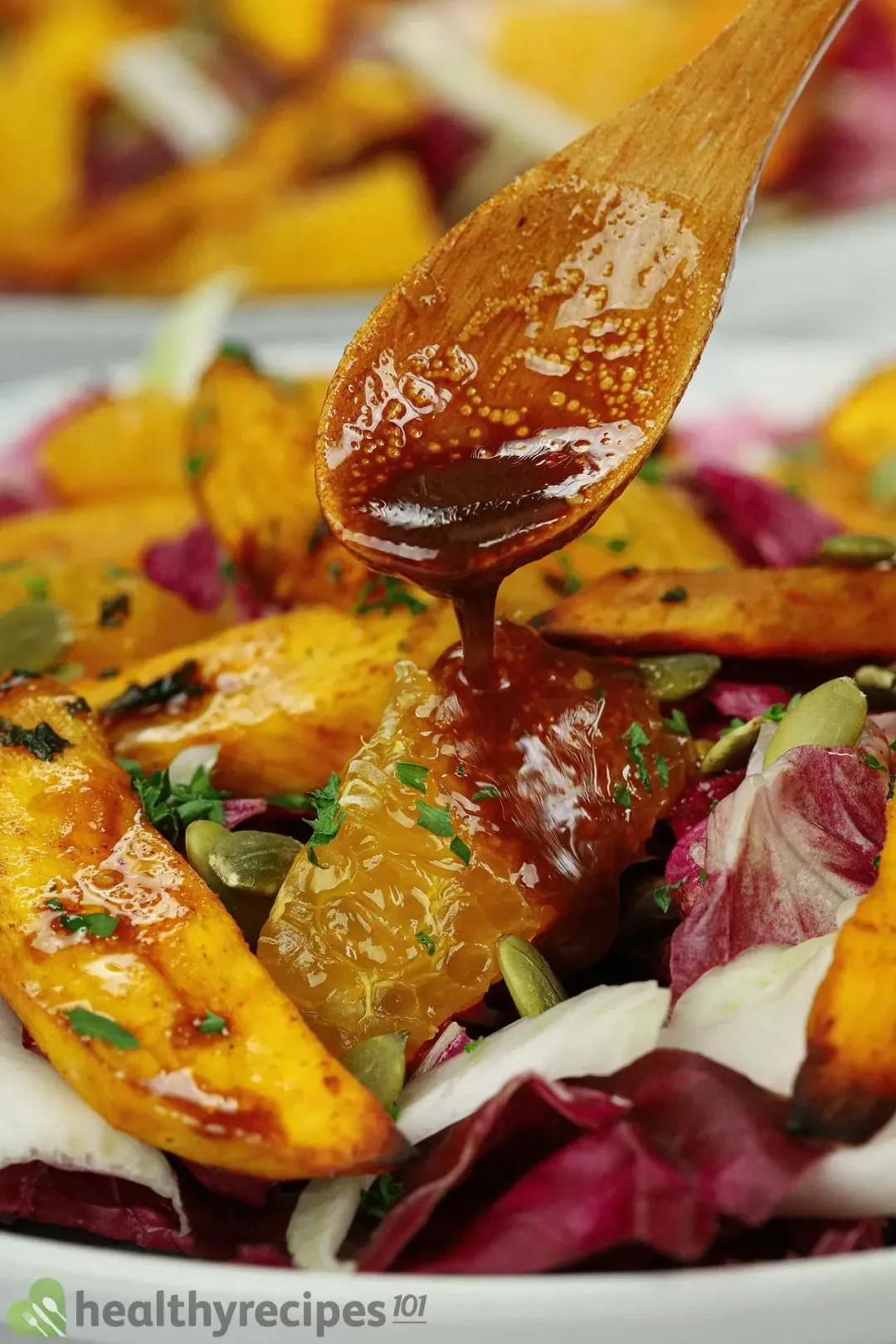 Ingredients for Radicchio Salad
Put together this gorgeous salad using the following ingredients:
1. For the Salad
Radicchio: When picking out radicchio, choose ones whose heads are firm and hard with bright and vivid colors. Avoid wilted and darkened leaves as they might indicate the radicchio is nearing spoilage. 
Sweet Potatoes: Since the radicchio's bitterness is so assertive, we paired it with sweet potatoes to balance out the flavors. To enhance their sugary sweetness and earthy undertones, we air-fried them to create layers of flavors that make this simple salad surprisingly complex.
Fennel: We added a few fennel bulbs to enhance the salad's crunchy texture. Flavor-wise, they're quite delicate with an anise undertone that perfectly complements the radicchio's robust taste.
Orange: Wanting to give the salad a diverse array of flavors, we also added a few orange slices. They instantly brighten up the dish with their distinctive zesty vibrancy and delightful juiciness.
Seasonings: We used garlic powder and cayenne pepper to season the sweet potatoes, keeping up with the dish's strong flavor profile and seamlessly blending all the ingredients together.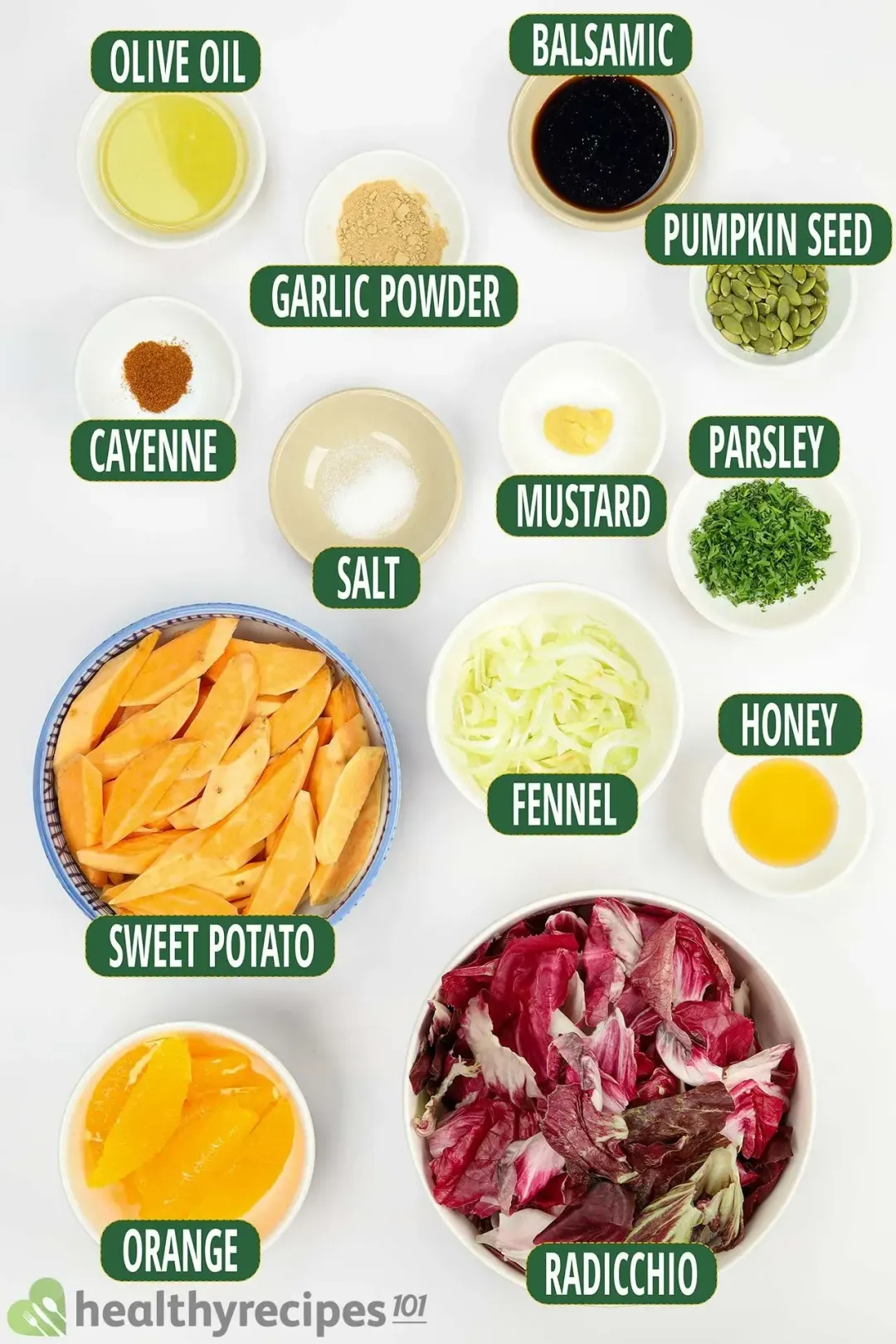 2. For the Dressing
Balsamic Vinegar: This rich and fruity vinegar sets the flavor base for the dressing. Its unique taste wonderfully complements the various fruits and veggies included in this salad.
Dijon Mustard: This mustard's texture thickens the dressing's consistency. Its complex mixture of tangy and spicy flavors helps to further diversify the dish's tastes.
Other Ingredients: Olive oil and honey were also used to make the dressing. Their delicate sweetness mellows out the remaining ingredients' intensity and keeps the overall taste from becoming overwhelming.
How to Store the Leftover
This salad should last for two or three days when kept in an airtight container or a tightly sealed plastic bag in the fridge.
What to Serve Radicchio Salad With
This salad's complex profile flavor makes it a great companion for many different types of main dishes. Savory mains that feature proteins such as chicken, beef, or shrimp are great choices. It also goes quite well in vegan meals with tofu, beans, orzo, or other grilled and roasted veggies.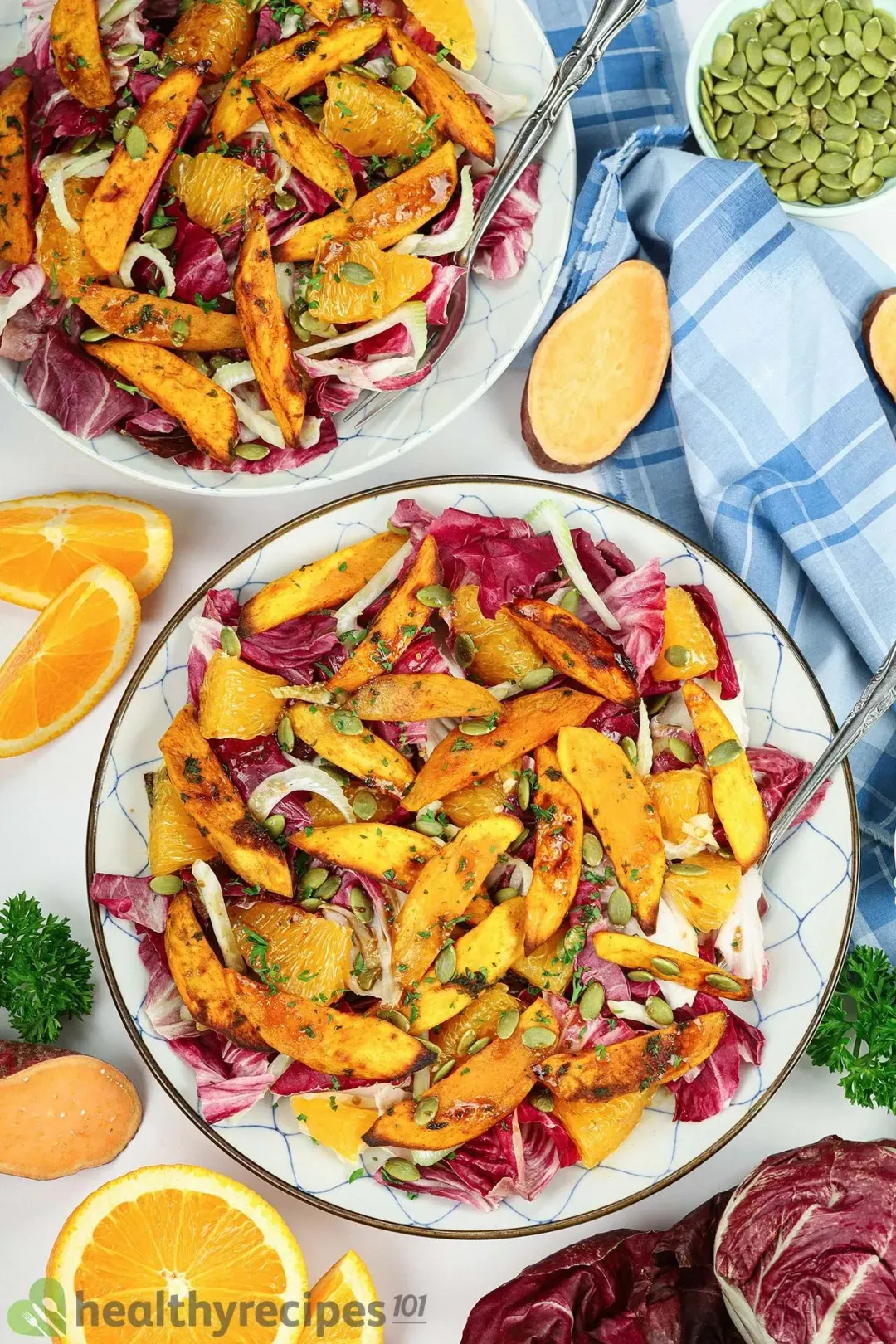 How to Make Radicchio Salad
Colorful, vibrant, and layered with complex flavors, this radicchio salad is a stunning addition to almost any meal. It instantly captivates the taste buds with the radicchio's distinctive bitterness, then mellows out into beautiful zesty and sweet notes.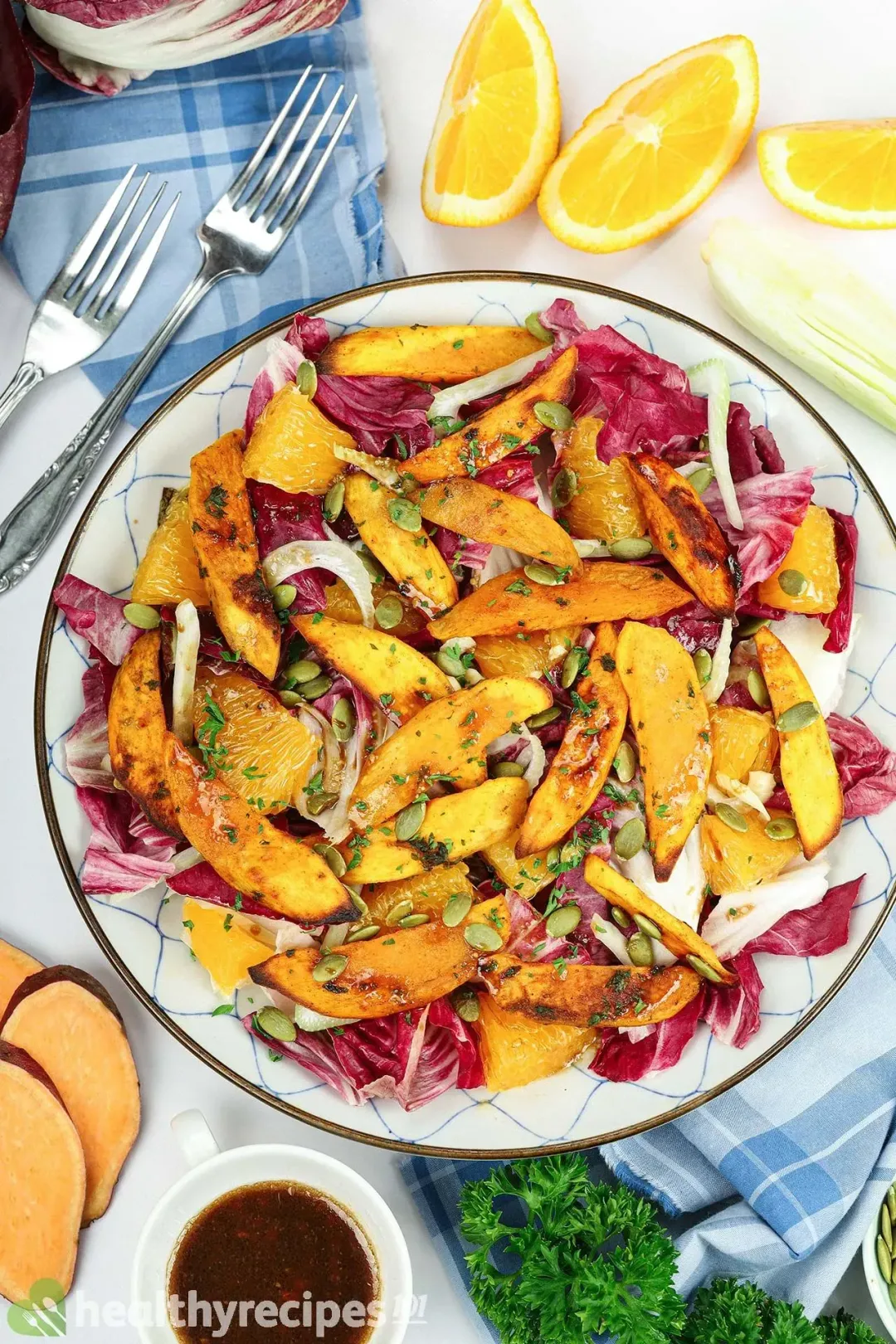 cook TIME

13 mins

prep TIME

10 mins

total TIME

23 mins
COURSE

Side Dish

CUISINE

American

SERVINGS

CALORIES

202 kcal
INGREDIENTS
12 oz

sweet potatoes

(wedge cut)

1 oz

fennel bulb

(sliced)

1 tsp

traditional Dijon mustard
INSTRUCTIONS
Prep:
1
Prepare the Radicchio: Thoroughly wash and dry then discard the outer leaves, then continue tearing the inner leaves into bite-sized pieces.
2
Prepare the Sweet Potatoes: Peel the sweet potatoes then trim off the ends, cut lengthwise into halves, then quarters. Continue slicing each quarter into 1/2-inch wedges.
3
Prepare the Fennels: Remove the stalks and roots. Slice lengthwise into quarters, remove the cores and outer layers then thinly slice each quarter crosswise.
4
Chop the Parsley: Remove the stems then bunch the leaves together on one hand and thinly slice. Over the pile of sliced leaves, rock the knife back and forth into fine pieces.
Cook
1
Season the Sweet Potatoes: In a large bowl, toss 12 oz sweet potatoes with 1/4 tsp cayenne pepper, 1/4 tsp garlic powder, 1 tbsp olive oil, and 1 tbsp parsley until well-combined.
2
Air-fry the Sweet Potatoes: Evenly spread the seasoned sweet potatoes in the air-fryer and cook at 400°F for 12 minutes.
3
Make the Dressing: In a small bowl, mix 2 tbsp balsamic vinegar, 1 tsp traditional Dijon mustard, 1 tsp honey, 1 tbsp olive oil, and 1/4 tsp salt until well-combined.
4
Lay out the Veggies: On serving plates, spread out 6 oz radicchio then lay the air-fried sweet potatoes, 6 oz orange, and 1 oz fennel bulb on top. Garnish with 0.5 oz pumpkin seeds and 1 tbsp parsley.
5
Drizzle the Sauce and Serve: Lightly drizzle the sauce over the salad then serve.
NUTRITION
Nutrition Facts
How to Make Radicchio Salad
Amount Per Serving (1 serving)
Calories 202
Calories from Fat 82
% Daily Value*
* Percent Daily Values are based on a 2000 calorie diet.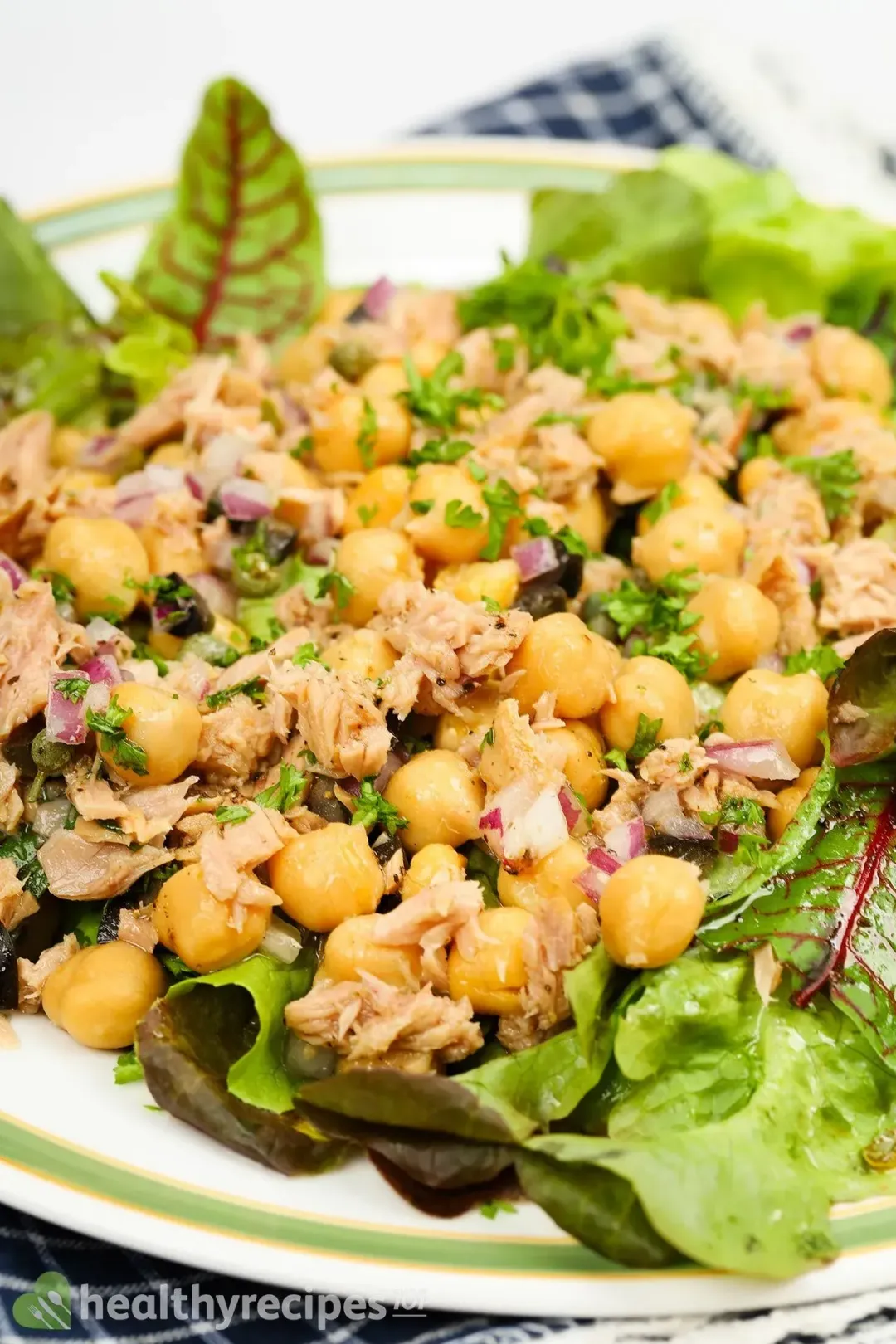 Previous Recipe
Chickpea Tuna Salad
Chickpea Tuna Salad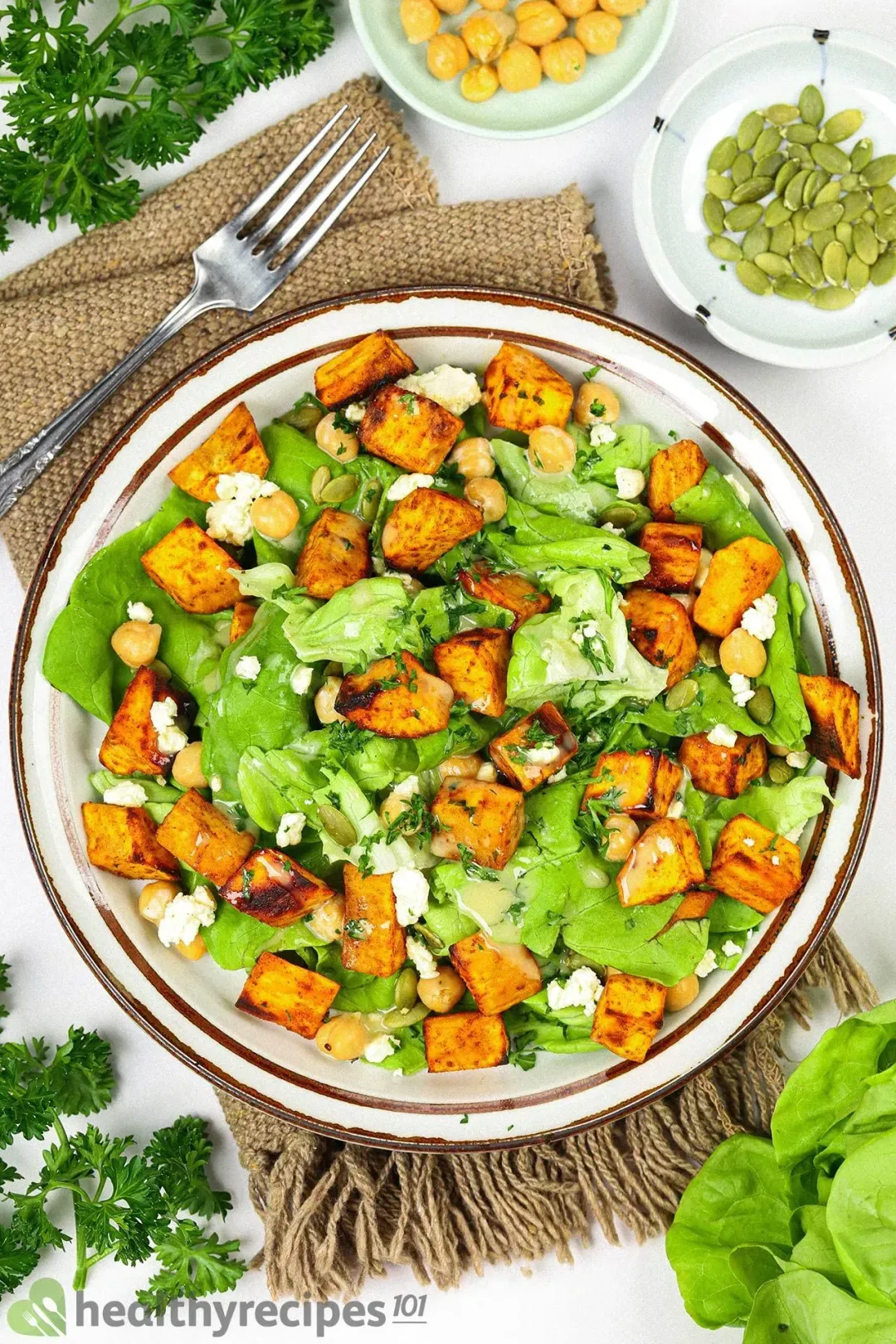 Next Recipe
Sweet Potato Salad
Sweet Potato Salad
Head Chef, Culinary Consultant
Tuyet Pham is an award-winning Saigonese chef who believes that joy is the secret ingredient to delicious food. At Healthy Recipes 101, Tuyet personally tests and simplifies every recipe, ensuring maximum flavor with minimal effort. With a background at prestigious French restaurants P'TI Saigon and Le Corto, Tuyet knows how to make every dish exceptional.
Writer, Author
Luna Regina is an accomplished writer and author who dedicates her career to empowering home cooks and making cooking effortless for everyone. She is the founder of HealthyKitchen101.com and HealthyRecipes101.com, where she works with her team to develop easy, nutritious recipes and help aspiring cooks choose the right kitchen appliances.
Nutrition Reviewer
Natalie Butler is a registered dietitian nutritionist with a passion to help others live their best life through food, fitness, safer beauty and a healthy lifestyle. She has expertise with a variety of diets and diseases and believes that there is no one-size-fits-all approach for health.
Radicchio Salad is a refreshing and flavorful dish that's perfect for a light lunch or as a side dish for dinner.