A big fan of tofu? Then you cannot miss out on this tofu salad recipe. Whip it up in less than 30 minutes for a healthy tasty dish that is low in calories, high in protein, and completely gluten-free.
What Does Tofu Taste Like?
Exactly how you want it to taste. Incredible, right? 
When it is raw, tofu has a neutral, somewhat bland taste with a squishy texture that is quite uninviting. However, thanks to its spongy quality, the famed tofu is an awesome absorber of flavors, so you can cook or season it in numerous ways and be amazed every time.
With different types of tofu, such as soft, firm, or extra firm, each type will lend itself better to certain cooking methods. While soft tofu is perfect for adding to soups or making desserts, extra firm tofu works best for grilling or frying.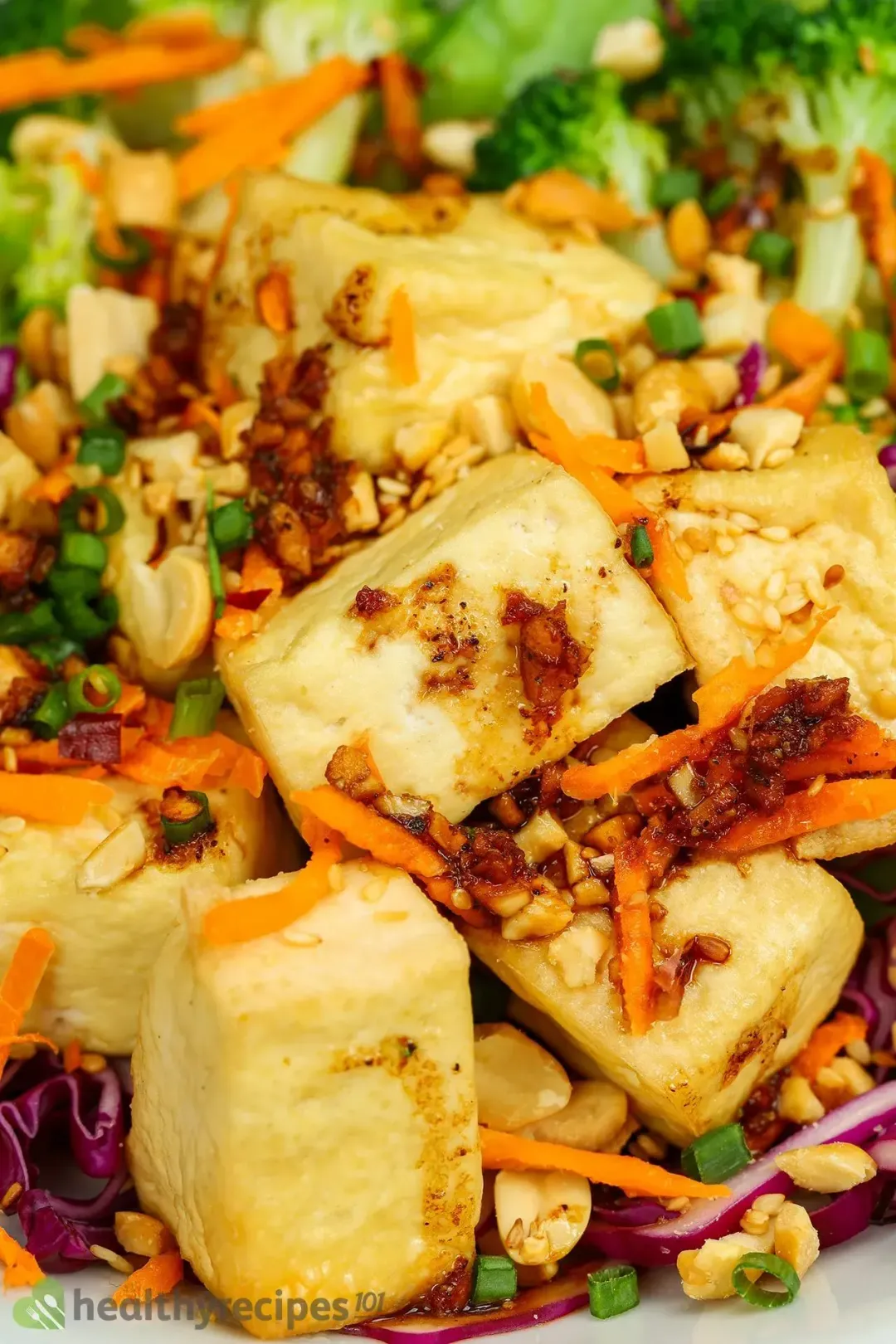 For this recipe, our tofu is cooked in an air fryer, hence, extra firm tofu is the number one choice. The result is a beautiful golden crispy exterior, while the inside is soft and moist. And the burst of flavor comes from the sauce drizzled over at the end.
Is Tofu Salad Healthy?
Yes, our tofu salad is healthy and is a wonderful low-carb, low-calorie, high-protein option.
Let us first look at the main component of this salad – the tofu.
This soy-based product is packed with important vitamins and minerals, such as calcium, magnesium, and potassium. It is also a fantastic source of complete proteins, providing all of the nine essential amino acids that your body needs but cannot produce by itself. This makes tofu an awesome meat substitute in many vegan diets.
Moreover, eating tofu regularly is known to help reduce the number of bad cholesterols (LDL), and hence is beneficial for your heart. Other significant benefits include the promotion of skin health and bone health, as well as the prevention of certain types of cancer, including breast cancer.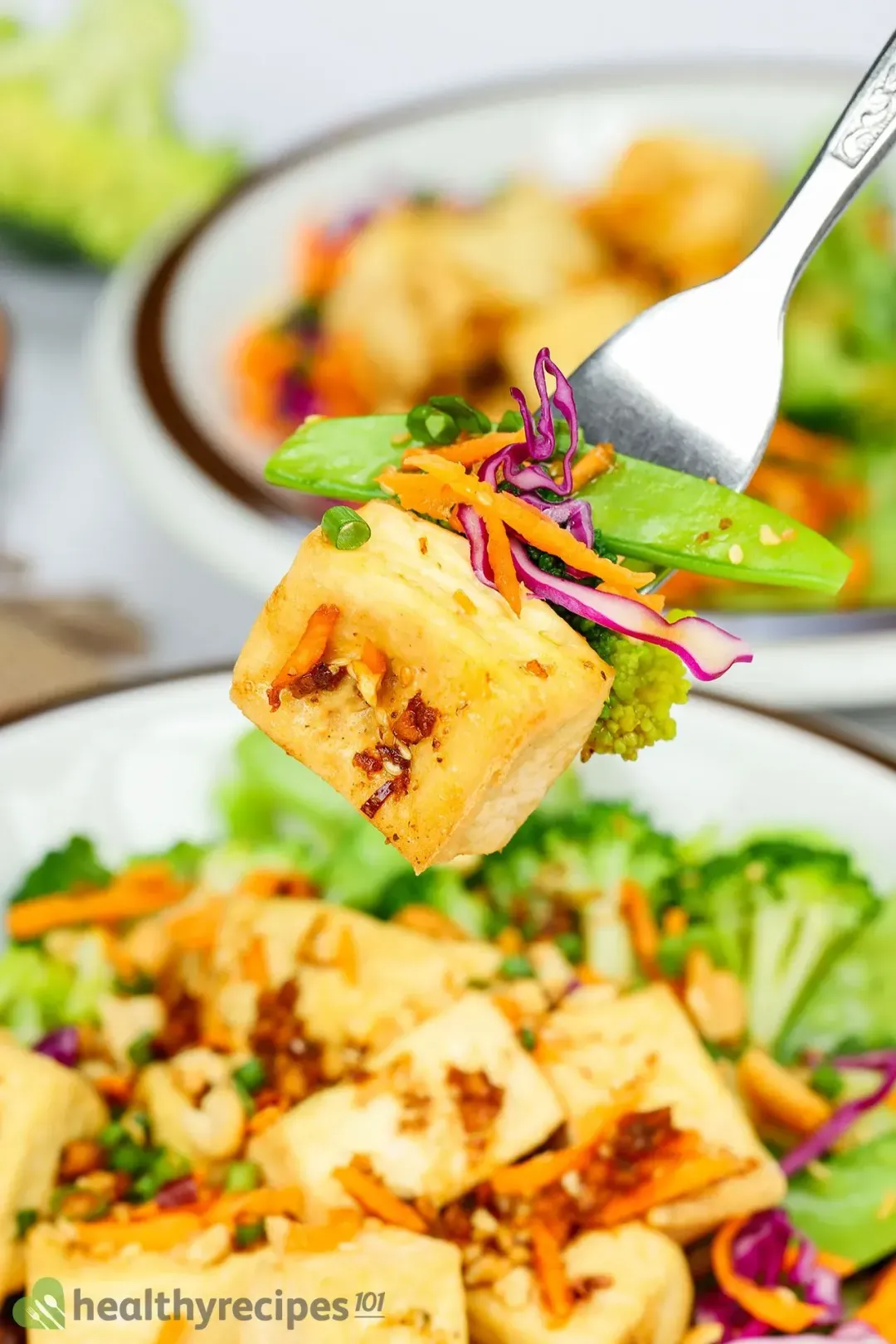 And remember, this recipe doesn't just include tofu: We have a variety of healthy veggies to accompany it, including broccoli, snow peas, red cabbage, and carrots. These ingredients help boost the fiber content and the number of vitamins in our dish, especially vitamins A and C.
Now we know how healthy this tofu salad recipe is, let's get to the ingredient list!
Ingredients for Tofu Salad
1. For the Salad
Tofu: We choose extra-firm tofu for this recipe, since it works best with grilling or frying, and will hold up its shape well.
Broccoli: The fresh nutty taste of boiled broccoli with a slight peppery hint goes beautifully with tofu in a salad.
Snow peas: Their sweet and succulent flavor with a crispy texture makes them a delicious addition to our salad.
Carrots: The mildly sweet taste and tender-crisp texture of carrots harmonize well with the other salad ingredients of our recipe.
Red cabbage: Its refreshing taste, crunchy texture, and gorgeous violet color make it an all-time favorite when it comes to salads, in both aesthetics and flavor.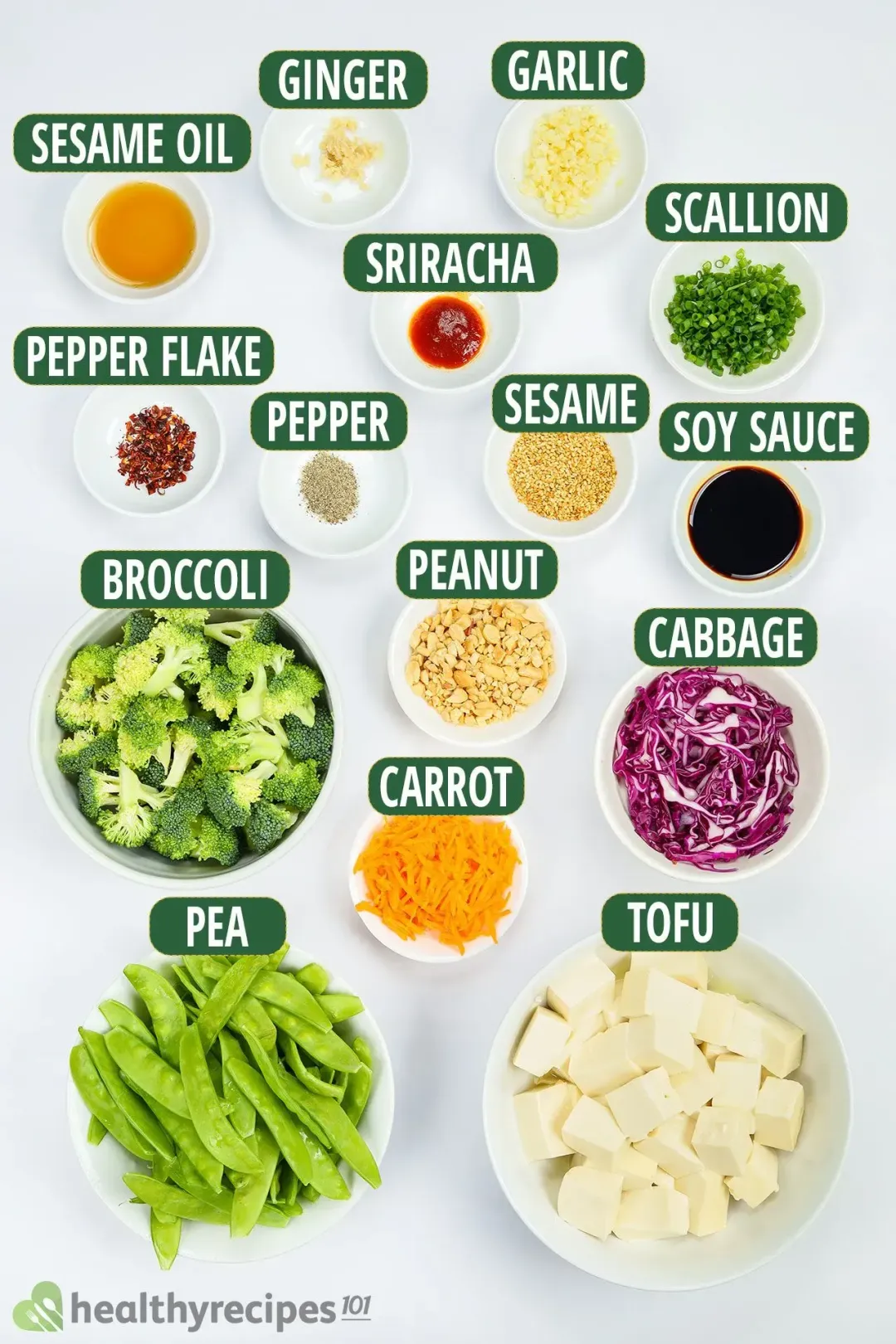 2. For the Toppings
Peanuts: A generous sprinkling of broken roasted peanuts gives our salad a delicious satiating crunch.
Sesame seeds: Roasted sesame seeds bring a distinctive fragrance and flavor to our dish.
Scallions: A pinch of chopped scallions boosts the aroma and the overall appearance of the salad.
3. For the Dressing
This salad calls for a 6-ingredient dressing, including sesame oil, pepper, garlic, ginger, Sriracha, and soy sauce, which results in a pleasantly savory taste with a slight kick and an inviting fragrance.
How to Make Ahead and Store the Leftovers Tofu Salad
This tofu salad is best served hot and fresh when the tofu cubes are still warm and crispy. However, if there are any leftovers and you don't mind soft and chewy tofu, you can store it in an airtight container in the fridge for up to 2 days.
For making ahead, simply prepare the ingredients and the dressing in advance and store them separately. Before serving, reheat the tofu in the air fryer at 400°F for 3 minutes, then assemble the salad.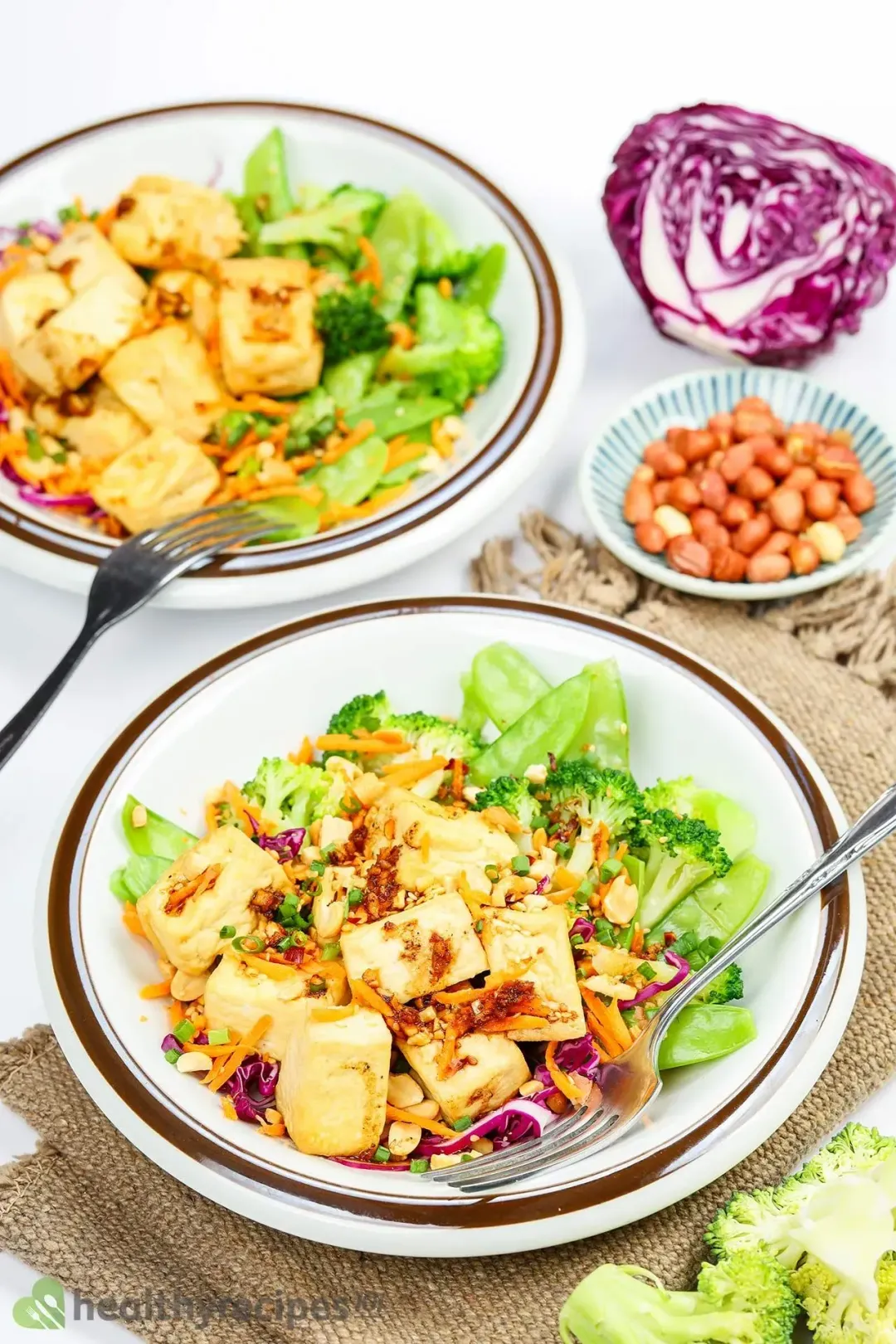 How to Make Tofu Salad
Today's tofu salad recipe makes a wonderful vegan meal or a nutritious side dish with a hearty healthy combination of tofu and a bunch of other veggies.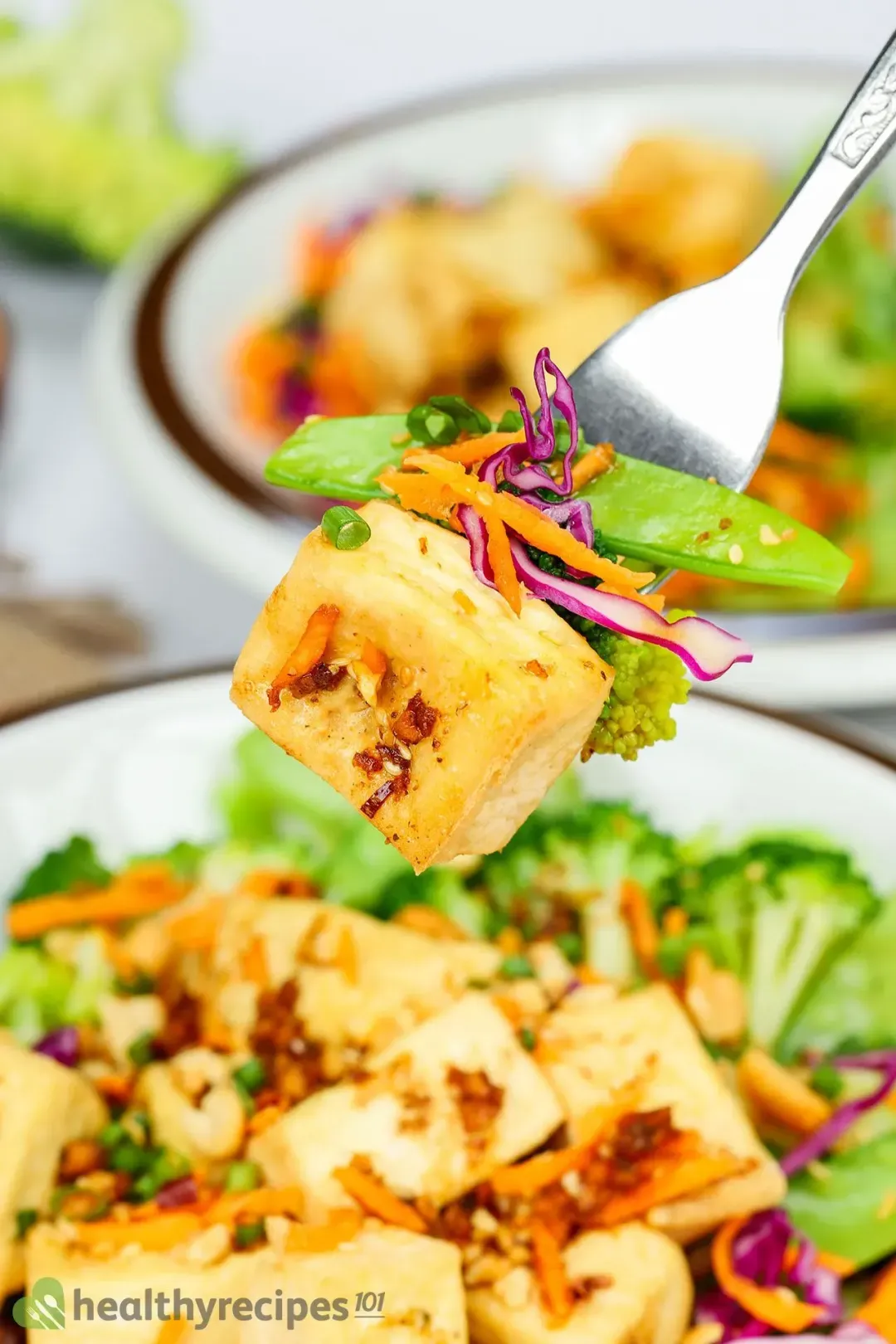 cook TIME

15 mins

prep TIME

10 mins

total TIME

25 mins
COURSE

Side Dish

CUISINE

Asian

SERVINGS

CALORIES

238 kcal
INGREDIENTS
16 oz

extra firm tofu

(cut into 3/4-inch cubes)

4 oz

broccoli

(cut into florets)

1 oz

red cabbage

(shredded)

1 oz

unsalted roasted peanuts

1 1/2 tbsp

reduced-sodium soy sauce

1 tbsp

garlic

(finely minced)

1/2 tsp

ginger

(finely minced)

1 tbsp

roasted sesame seeds

1/2 tsp

red pepper flakes

1/4 tsp

ground black pepper

2 tbsp

scallions

(chopped)
INSTRUCTIONS
Prep:
1
Cut the tofu into 3/4-inch cubes.
2
Trim the snow peas: Wash the snow peas, then cut to remove the stems at both ends.
3
Cut the broccoli: Wash the broccoli, then pat dry. Separate the florets from the head by cutting each one at the point where it meets the stalk. Make sure the florets are consistent in size so that they can cook at an even rate.
4
Shred the cabbage: Rinse the cabbage and pat dry using a paper towel, then cut it in half. Cut each half into halves again, then remove the white stem from the four halves. Finally, thinly slice each quarter to make shreds.
5
Shred the carrots: Wash the carrots, remove the skin, then use a grater to shred the carrots.
6
Mince the ginger: Use a spoon, a grater, or a paring knife to peel the ginger, then cut it into coins. Spread the coins in an even layer, then use the flat of the blade (a large knife would do) to crush the coins before mincing them.
7
Mince the garlic: Separate the cloves from the bulb and peel the skin off. Use a knife to slice each entire clove lengthwise, then hold the clove and turn 90 degrees to slice it crosswise. Keep mincing each clove to make tiny pieces.
8
Chop the scallions: Rinse the scallions, pat dry, then lay them in an even layer on a cutting board. Remove 2 inches of the tops and the root ends, then slide the blade of a sharp knife in a back and forth motion to make scallion rings.
Cook:
1
Air fry the tofu: Place 16 oz tofu cubes into the air fryer basket and cook at 400°F for 10 minutes.
2
Make the dressing: Add 1 tbsp sesame oil, 1 tbsp garlic, 1/2 tsp ginger, 1 tsp Sriracha, 1 1/2 tbsp soy sauce, and 1/4 tsp ground black pepper to a small mixing bowl, then stir to combine.
3
Boil the broccoli and snow peas: Bring water to a boil in a cooking pot, then add 4 oz broccoli and 6 oz snow peas. Cook for 3 minutes, then drain them and transfer to a bowl to let them cool down.
4
Assemble the salad: Add 4 oz broccoli, 6 oz snow peas, 1 oz red cabbage, 16 oz tofu, 1 oz carrot, 2 tbsp scallions, 1 tbsp sesame seeds, and 1 oz unsalted roasted peanuts to a large mixing bowl.
5
Drizzle with the dressing, then serve!
NUTRITION
Nutrition Facts
How to Make Tofu Salad
Amount Per Serving (1 serving)
Calories 238
Calories from Fat 128
% Daily Value*
* Percent Daily Values are based on a 2000 calorie diet.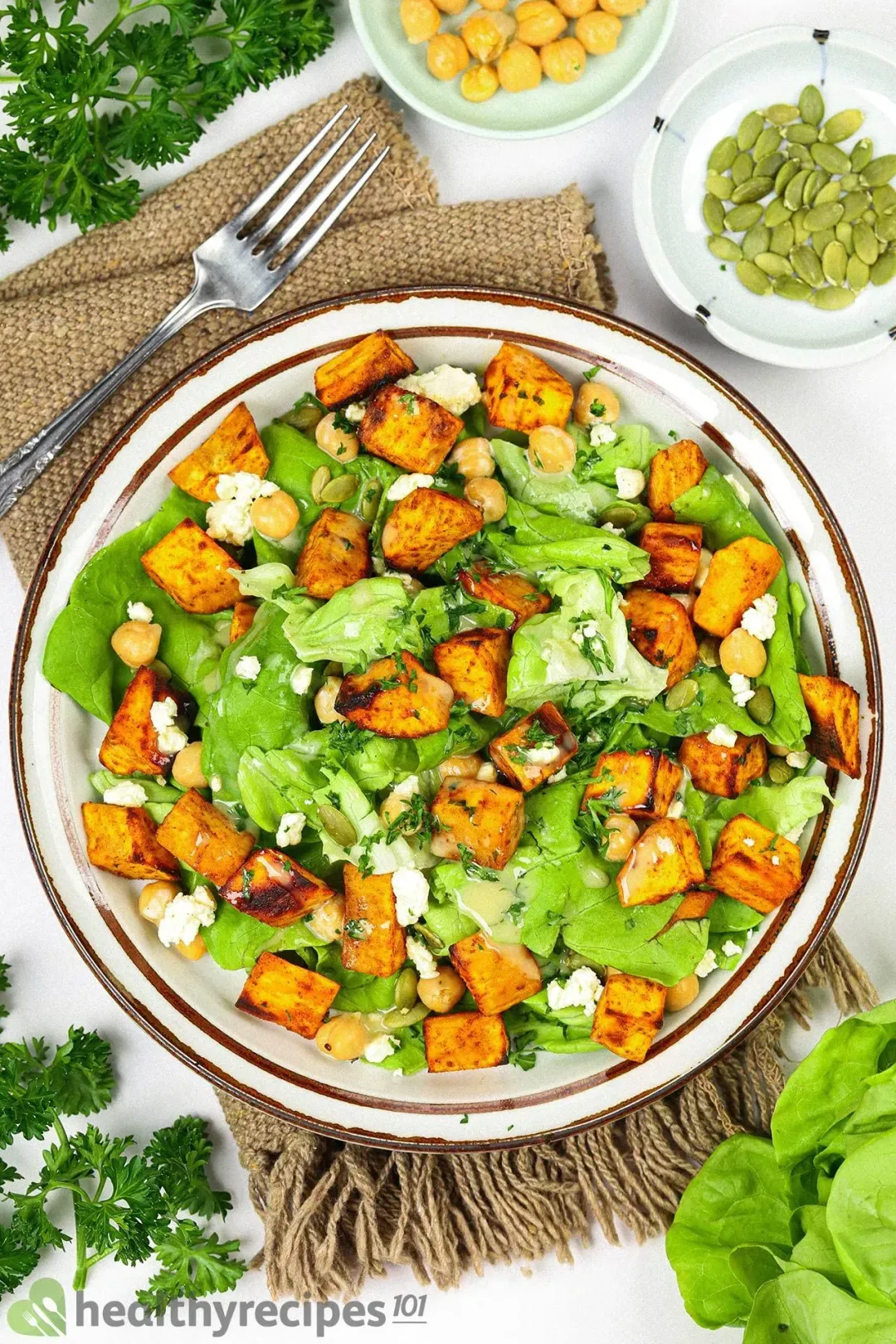 Previous Recipe
Sweet Potato Salad
Sweet Potato Salad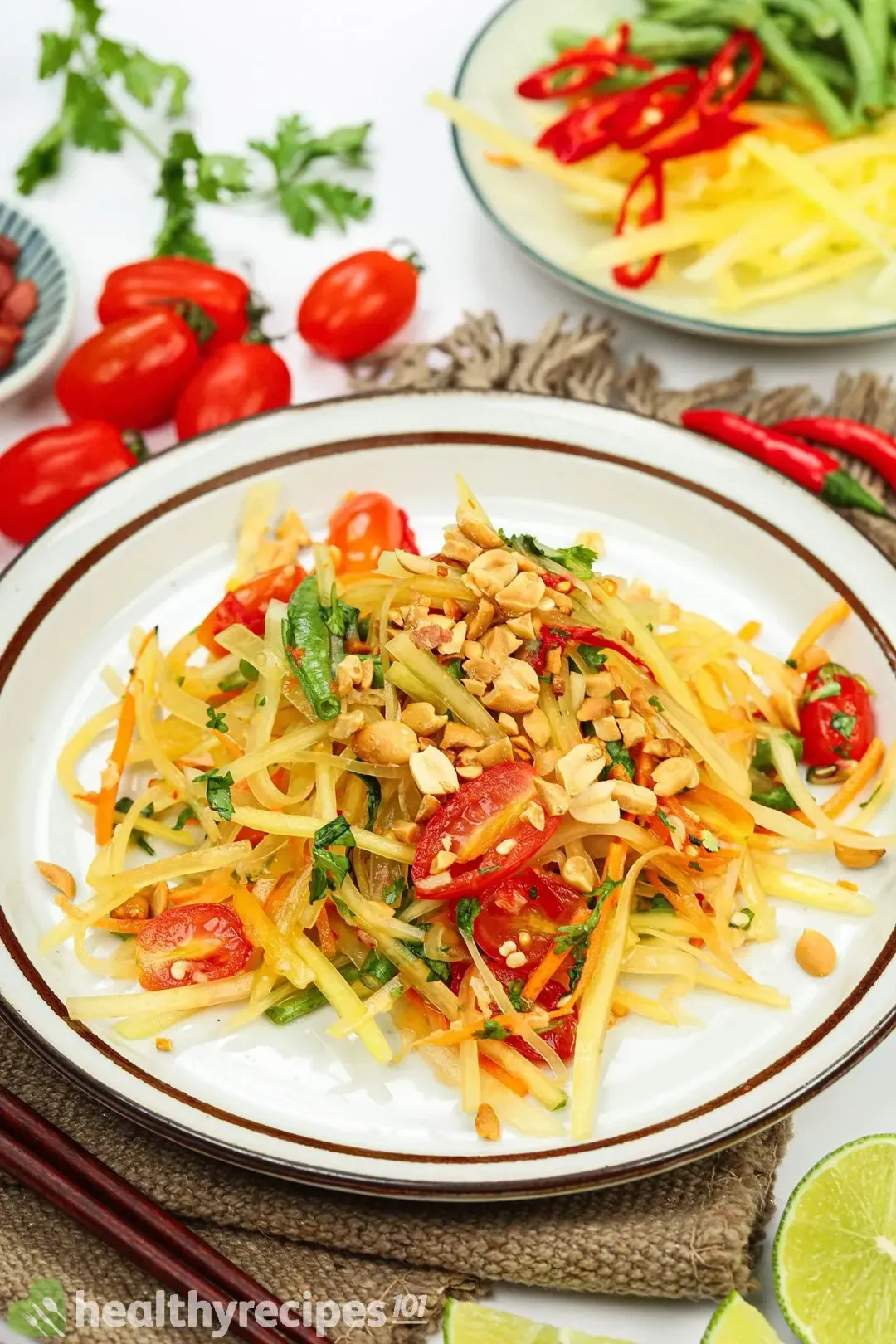 Thai Salad
Head Chef, Culinary Consultant
Tuyet Pham is an award-winning Saigonese chef who believes that joy is the secret ingredient to delicious food. At Healthy Recipes 101, Tuyet personally tests and simplifies every recipe, ensuring maximum flavor with minimal effort. With a background at prestigious French restaurants P'TI Saigon and Le Corto, Tuyet knows how to make every dish exceptional.
Writer, Author
Luna Regina is an accomplished writer and author who dedicates her career to empowering home cooks and making cooking effortless for everyone. She is the founder of HealthyKitchen101.com and HealthyRecipes101.com, where she works with her team to develop easy, nutritious recipes and help aspiring cooks choose the right kitchen appliances.
Nutrition Reviewer
Natalie Butler is a registered dietitian nutritionist with a passion to help others live their best life through food, fitness, safer beauty and a healthy lifestyle. She has expertise with a variety of diets and diseases and believes that there is no one-size-fits-all approach for health.
A refreshing and filling salad that is packed with protein and flavor.