This simple wedge salad with blue cheese dressing recipe is just what you need to impress your dining guests with minimal effort on National Cheese Day (June 4).
The fresh lettuce wedges in this salad are topped with crisp bacon crumbs, finely diced tomatoes, red onions, scallions, and shredded cheddar cheese. Together with a creamy homemade blue cheese dressing, this wedge salad promises to be a perfect side dish for any meal.
What is Wedge Salad?
Wedge salad is a foolproof side composed of light and hearty flavors, making it ideal to serve with steak, burgers, or roasted meats.
As the name implies, wedge salad is based around head lettuce cut into equal-sized wedges. It's usually topped with Cheddar cheese, red onions, and bacon crumbs and served with a blue cheese dressing.
The combination of ingredients for the dressing and the toppings changes from table to table. You can always add toppings to your liking without harming the overall flavor.
Is Wedge Salad Healthy?
Yes, it is!
A study in rats mentions that lettuce improves cholesterol metabolism and helps reduce inflammation.
All lettuce varieties are low in calories. The iceberg lettuce we use in this recipe only has about 2 calories per large leaf and is also low in sugar and fat.
Despite being less nutrient-dense than darker leafy greens, iceberg lettuce contains more water than others. Like other types of lettuce, it's also packed with various amounts of calcium, potassium, and vitamins A, K, and C.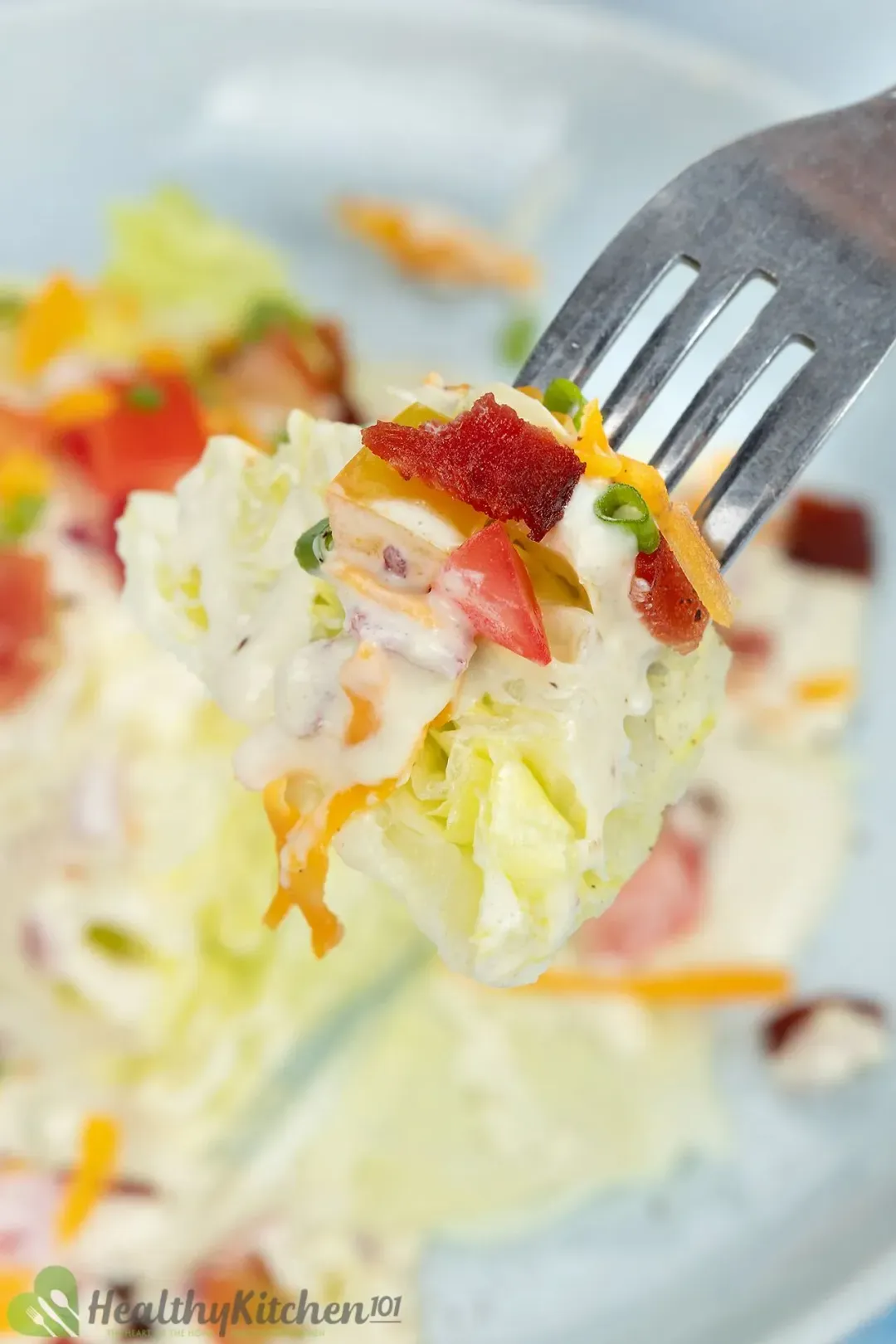 Ingredients
1. Iceberg Lettuce
Iceberg lettuce has always been the preferred choice for wedge salad as it's mild in flavor and made up of tightly packed leaves. Thanks to the compact layers, this lettuce will hold its shape better than others when cut into wedges.
Be sure you pick fresh and crisp iceberg lettuce so it lasts longer in storage and delivers the best flavor. Always check if there are any dark spots, brown edges, or loose leaves.
Iceberg lettuce is best kept in the fridge for use within a week of purchase.
2. Blue Cheese
Rich, creamy blue cheese makes a hearty and delicious companion for a variety of dishes. It's usually spread or crumbled onto salads or melted into a smooth, salty cream to pour over dishes. 
If you have time, we recommend buying fresh blue cheese and crumbling it at home. If that's not an option, your deli's pre-crumbled blue cheese will still do the trick.
3. Toppings
No wedge salad with blue cheese dressing would be complete without some extra flavors. So, in today's recipe, we added cheddar cheese, red onions, chopped scallions, bacon crumbs, and diced tomatoes as toppings.
The crispy bacon crumbles, vibrant red tomatoes, and bright orange Cheddar cheese play up the visual contrast and balance the salad's flavors and textures. Of course, additional toppings can also be added to your liking.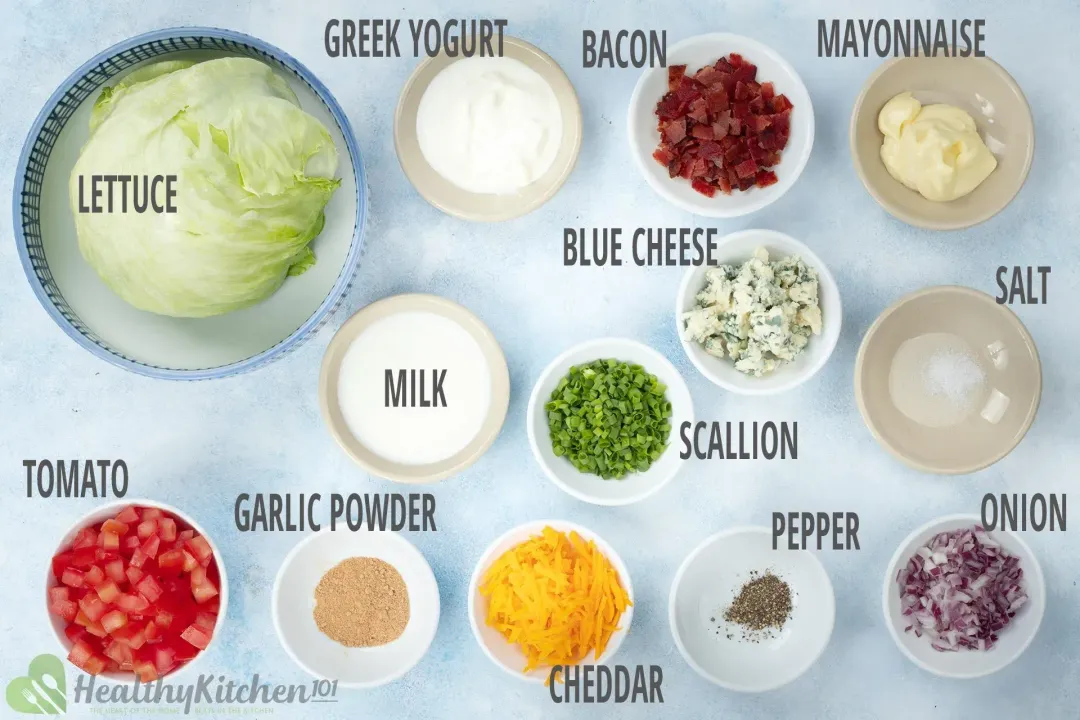 Instead of whisking all the blue cheese into the creamy dressing, you can reserve some to add on top. It gives some bites a creamy, tangy burst of extra flavor. Likewise, feel free to go for cherry or grape tomatoes for more convenience — they're just as sweet and juicy as plum tomatoes.
It's best to avoid the temptation to overload a wedge salad with too many toppings. Dice or chop your toppings small so they'll remain attached to the lettuce and won't fall off after you cut the wedges into bite-sized pieces.
For more delicious salad recipes, check out our best healthy salad recipes.
Types of Lettuce
Lettuce, in general, can be served raw, cooked, or tossed in salads. However, different varieties of lettuce can add very distinct flavors and textures to your dishes. Let's get to know them!
Basically, lettuce can be sorted into four groups. Here's the lowdown on each of them and their most common representatives.
1. Crisphead
The most well-known type among all the crispheads is iceberg lettuce. Its round head and thick, sturdy white ribs are familiar to everyone.
Iceberg lettuce is composed of tightly packed layers of crunchy leaves, which is the reason why it's the choice for this wedge salad. It lends a mild flavor and an interesting texture to dishes when eaten raw, so you find it on numerous salads, sandwiches, and wraps.
2. Looseleaf
Looseleaf, also known as leaf lettuce, is crisp and ruffled lettuce that mostly comes in a dark green or red color. It's mild in flavor and mostly seen in wraps and tacos.
As the name suggests, these lettuce leaves are loosely gathered and assembled at a stem. They don't pile onto each other and form a head like many of its cousins.
3. Butterhead
Butterhead lettuce, also known as cabbage lettuce, provides large, tender, buttery leaves that come together at the stem to form a flower-like shape. The two most popular types are Bibb and Boston lettuce.
Butterhead lettuce usually bears a deep green color. There is also a less popular variety that comes in red.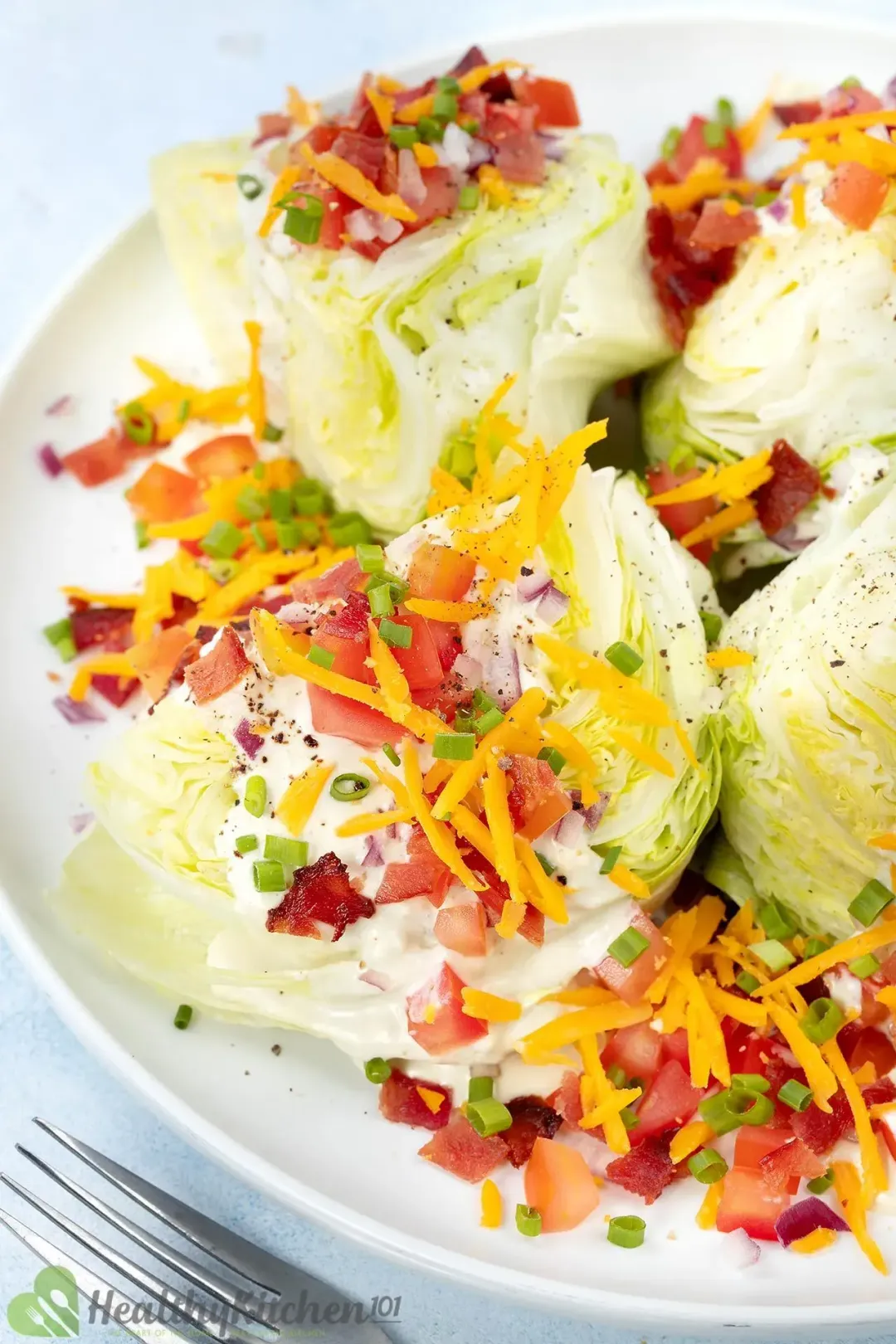 4. Romaine
Romaine lettuce is no stranger to salad fans. Its large, green, crunchy leaves are frequently used in Caesar salad and many composed salads that focus on appearance.
Romaine lettuce is slightly sweeter and bolder in flavor than crisphead. It easily gets soggy so it's best to eat romaine raw and avoid soaking it in too much sauce.
How to Cut and Wash Iceberg Lettuce for a Wedge Salad
First, remove the core of the head lettuce by chopping off the bottom at about 1 inch above the stem. Discard the stem and core. Next, remove the outermost layer or two of leaves— they're usually the most wilted and damaged leaves and may be clogged with dirt.
Cut the head into two halves from the top down to the stem. Place the halves flat-side down on the cutting board and slice again so you have a total of four equal wedges of iceberg lettuce. Finally, rinse the wedges, drain excess water, and ready them for the next steps.
Pre-prepped lettuce wedges can keep in the refrigerator for up to 1 week. When removing them from the fridge, if you notice any brown on the outer layers, simply cut it off or peel off that layer.
Wedge Salad Dressing
Traditionally, wedge salad is served with a blue cheese dressing. It can be made ahead and stored in the fridge up to 1 week in advance.
To make the homemade blue cheese dressing, you'll need blue cheese, Greek yogurt, mayonnaise, whole milk, garlic powder, and salt. Simply run everything through your food processor to create a smooth creamy dressing.
If, instead, you want the dressing to be a bit chunky, throw the ingredients in a large bowl then whisk and mash them with a hand mixer. You can also divide the blue cheese into 2 parts; blend some of it into the cream and then sprinkle the other half of the crumbles on top of your salad when it's time to eat.
How to Make a Wedge Salad
Here are the quick steps to make this wedge salad: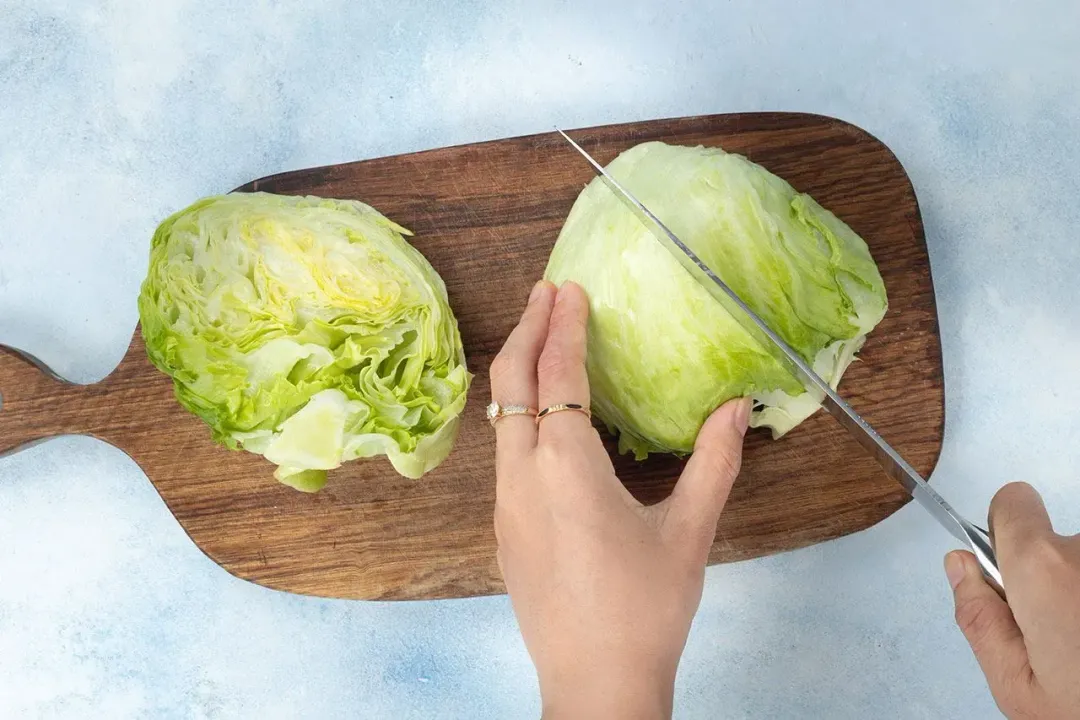 Cut the lettuce head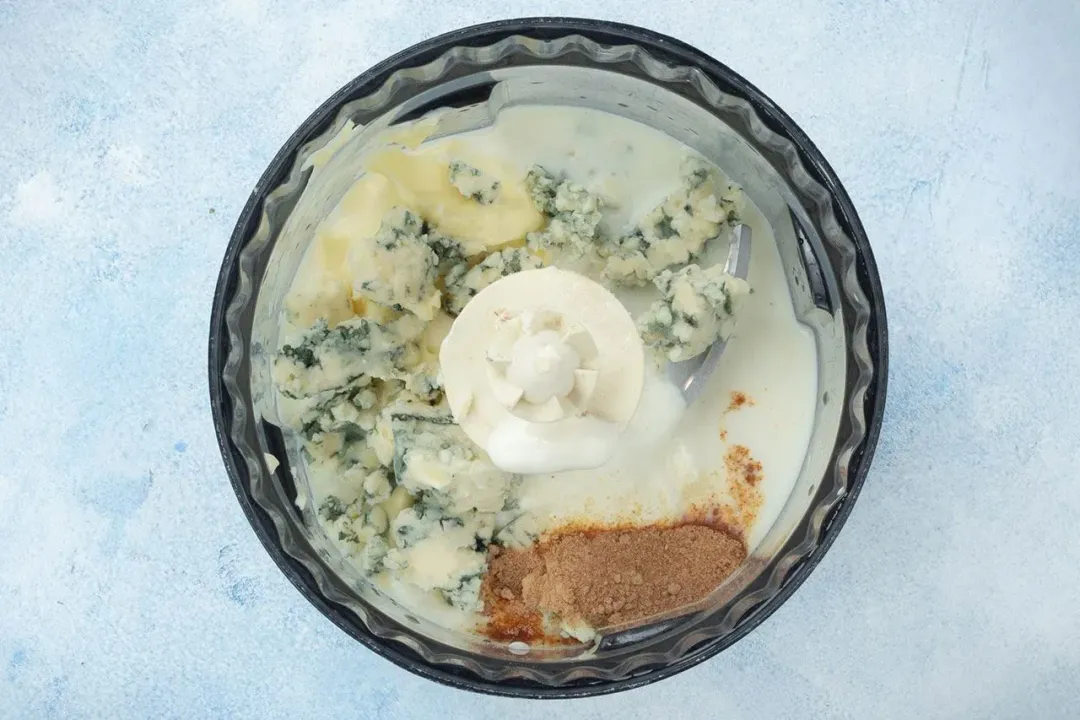 Make the dressing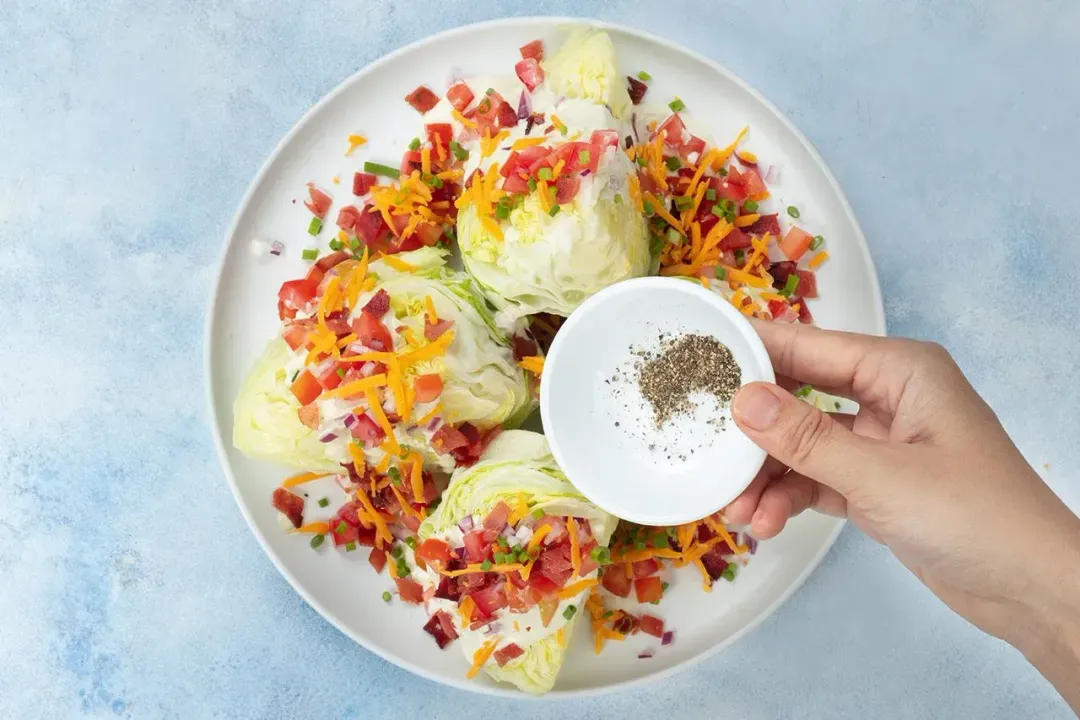 Dress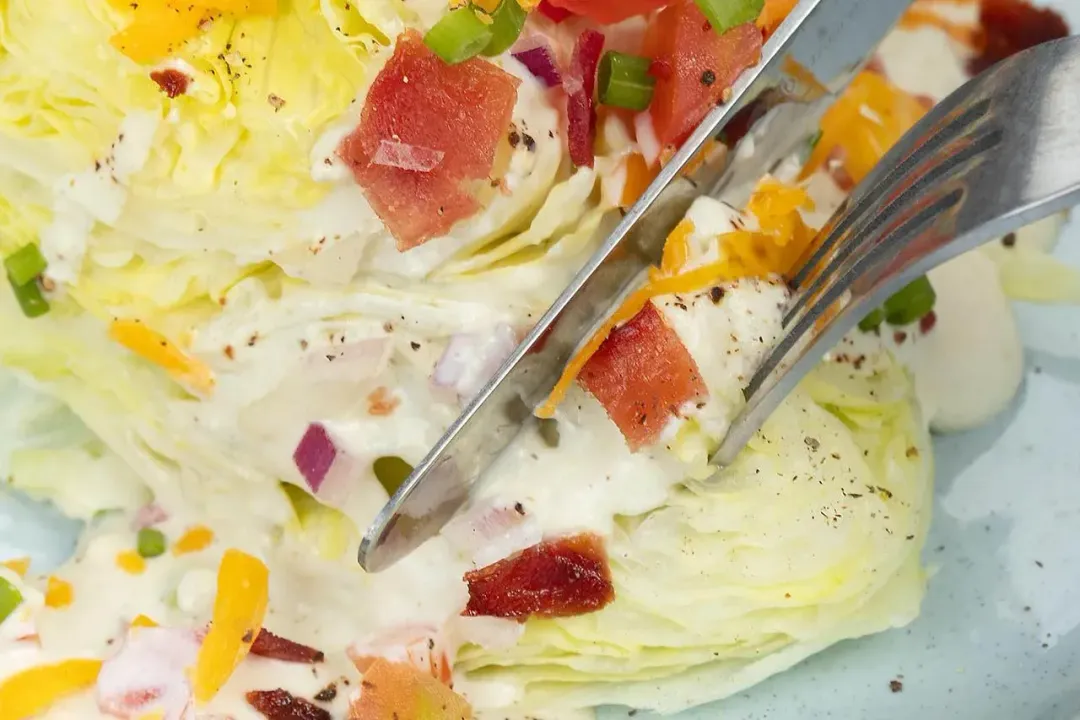 Serve
FAQ
1. Is Lettuce a Vegetable?
Yes, it is.
Lettuce is a vegetable that belongs to the aster family (Asteraceae). The leafy part of lettuce is what's eaten, so lettuce is considered a leaf vegetable.
Raw lettuce is safe to eat. Just make sure any dirt has been rinsed and washed off before use.
2. How Long Does Wedge Salad Last?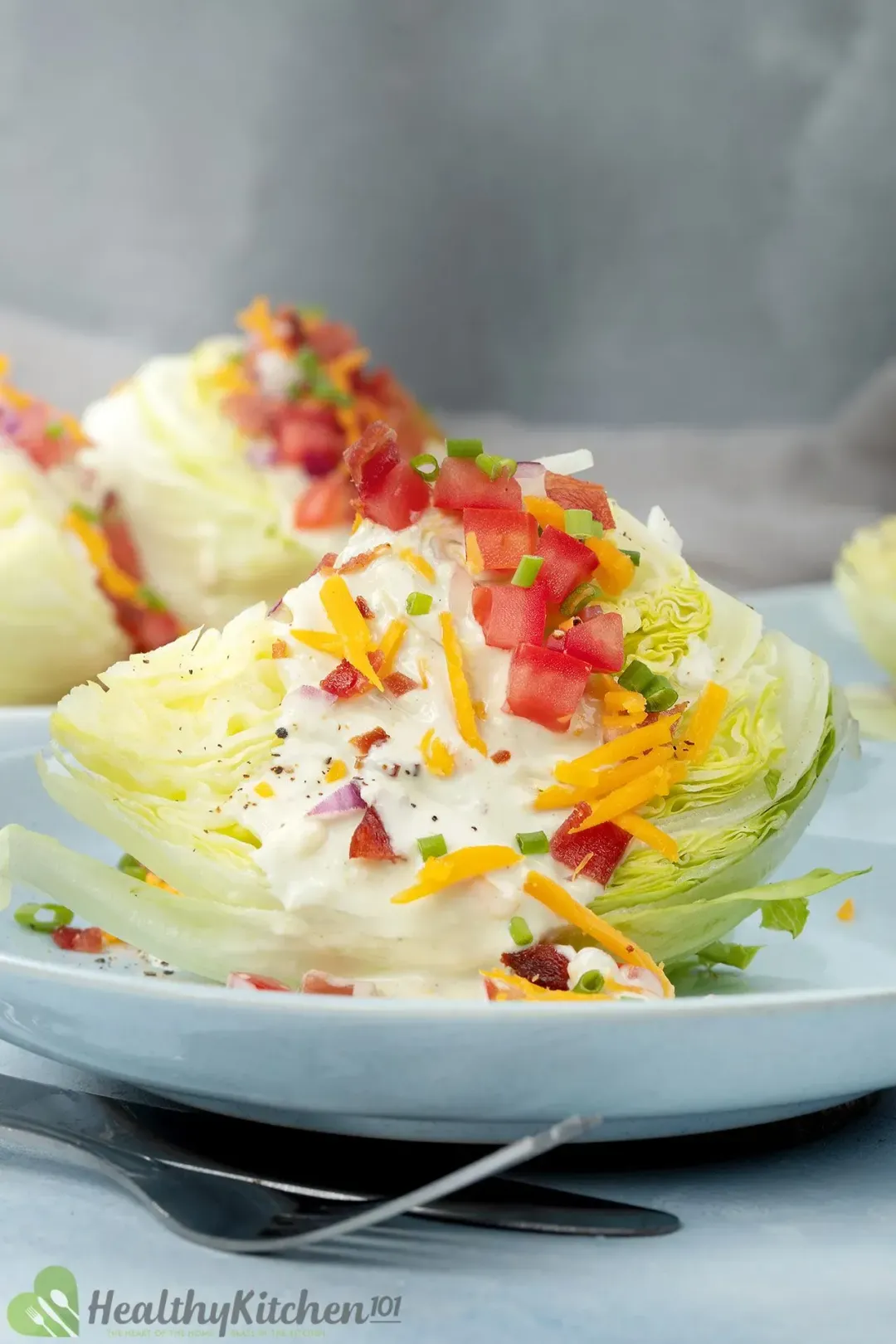 Wedge salad with blue cheese dressing can last up to a week under refrigeration. That's good news — it can also be prepared in advance!
Simply store the lettuce wedges, the toppings, and the blue cheese dressing in separate containers in the fridge. Keep it all on hand for whenever you need a light and simple salad, and combine everything together when you're ready to eat.
Tossed salad should only be consumed fresh, within the day that it's made. It's rather yucky to freeze a fully-prepped wedge salad — the blue cheese dressing will turn the whole salad messy and sloppy.
3. Can You Freeze Wedge Salad?
Containing not-so-freezer-friendly ingredients like cheese and leafy greens, the salad can't exactly be stored in the freezer. They just don't thaw well, with lettuce losing its crispness and cheese dressing separating, becoming unappetizing.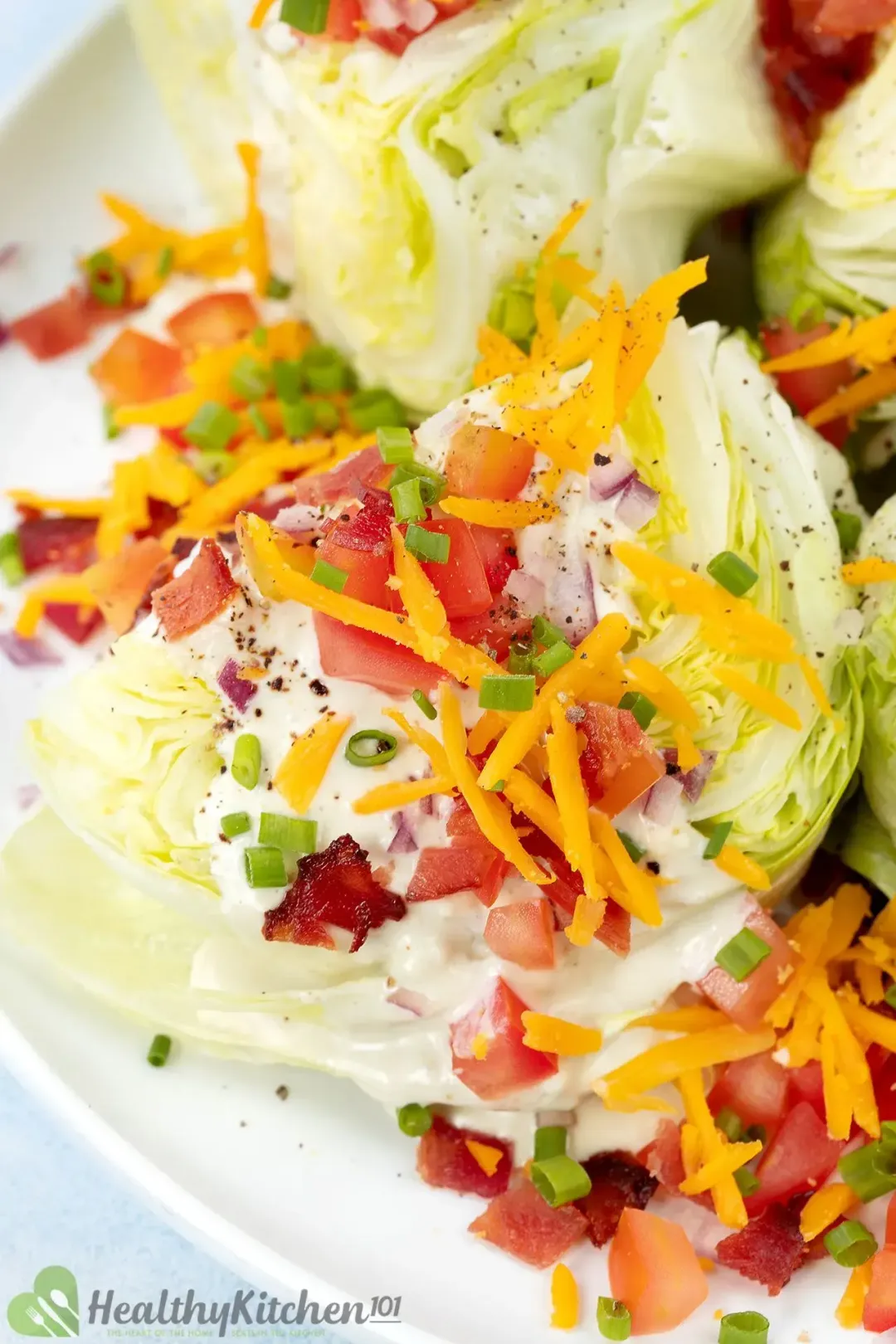 Wedge Salad with Blue Cheese Dressing
In this wedge salad with blue cheese dressing recipe, we use cheddar cheese, red onions, chopped scallions, crispy bacon crumbles, and vibrant red tomatoes as toppings. Together, they play up contrasts and balance in flavor and texture. Of course, additional toppings can also be added to your liking.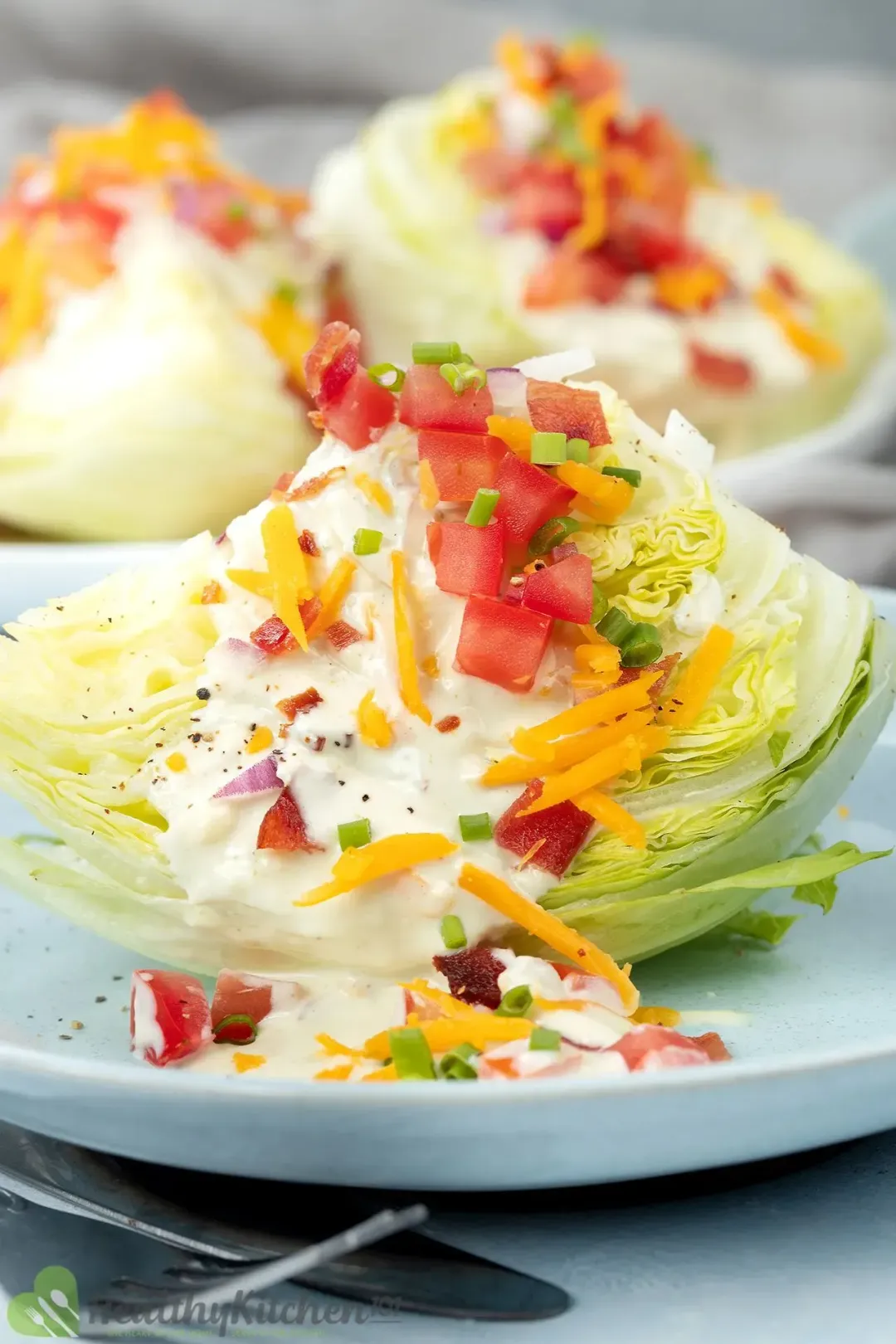 prep TIME

25 mins

total TIME

25 mins
COURSE

Side Dish

CUISINE

American

SERVINGS

CALORIES

137 kcal
INGREDIENTS
14 oz

iceberg lettuce

(1 head)

2 tbsp

plain Greek yogurt

2 tbsp

Japanese mayonnaise

0.5 oz

Cheddar cheese

(shredded)

0.25 oz

red onion

(chopped)

0.25 oz

scallions

(chopped)

0.5 oz

bacon

(cooked, crumbled)

1/4 tsp

ground black pepper
INSTRUCTIONS
1
Remove the outer leaves and the base of the stem from a head of the iceberg lettuce. Chop it into four equal wedges and place them on a large clean plate.
2
Make the dressing: combine blue cheese, Greek yogurt, mayonnaise, whole milk, garlic powder, and salt in the food processor. Process until smooth and well-combined.
3
Pour the dressing evenly over the lettuce wedges.
4
Sprinkle cheddar cheese, red onions, chopped scallions, bacon crumbs, diced tomatoes, and ground black pepper on top of the wedges.
5
Use a fork and knife to cut the wedges into small bites and enjoy.
NUTRITION
Nutrition Facts
Wedge Salad with Blue Cheese Dressing
Amount Per Serving (1 serving)
Calories 137
Calories from Fat 90
% Daily Value*
* Percent Daily Values are based on a 2000 calorie diet.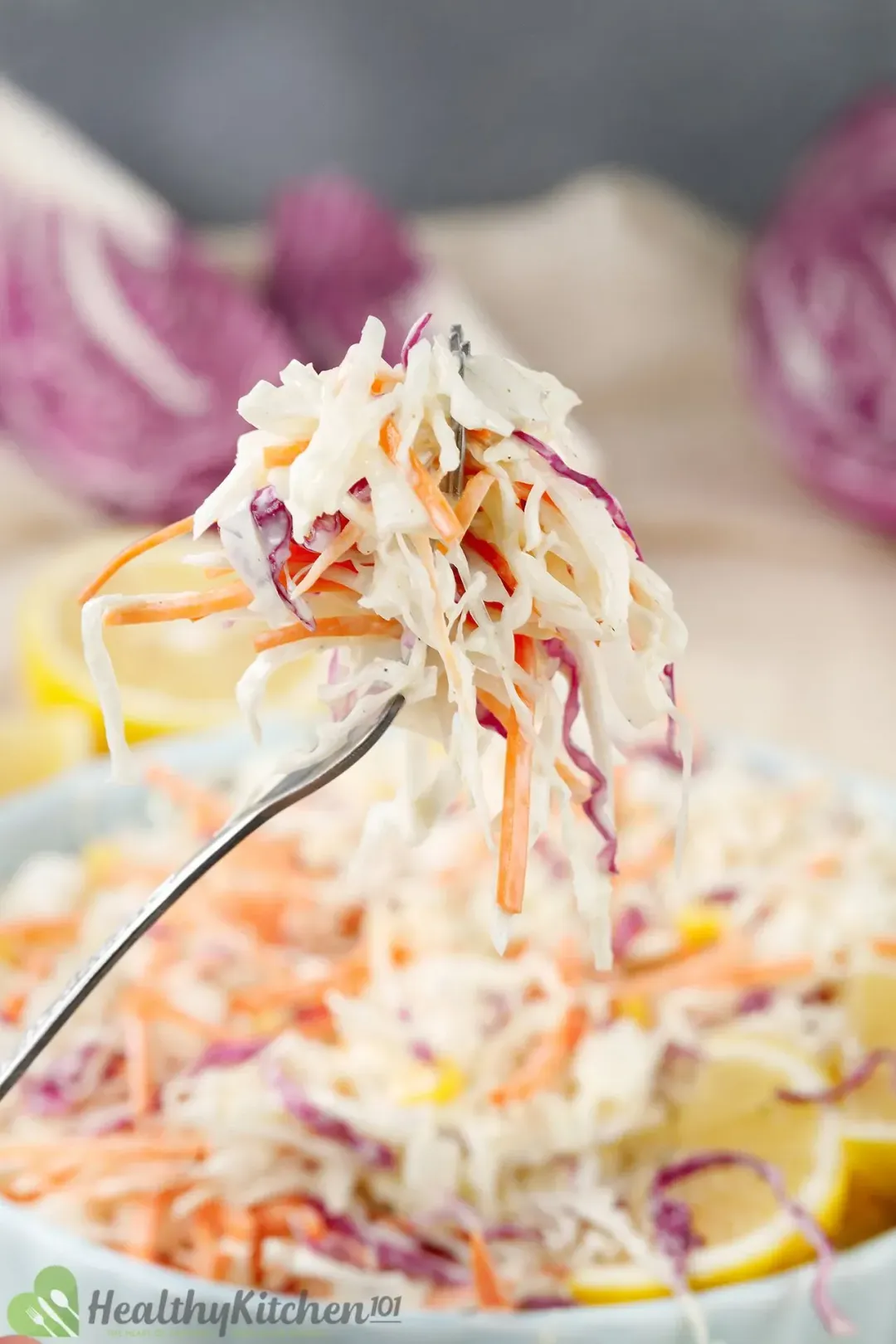 Coleslaw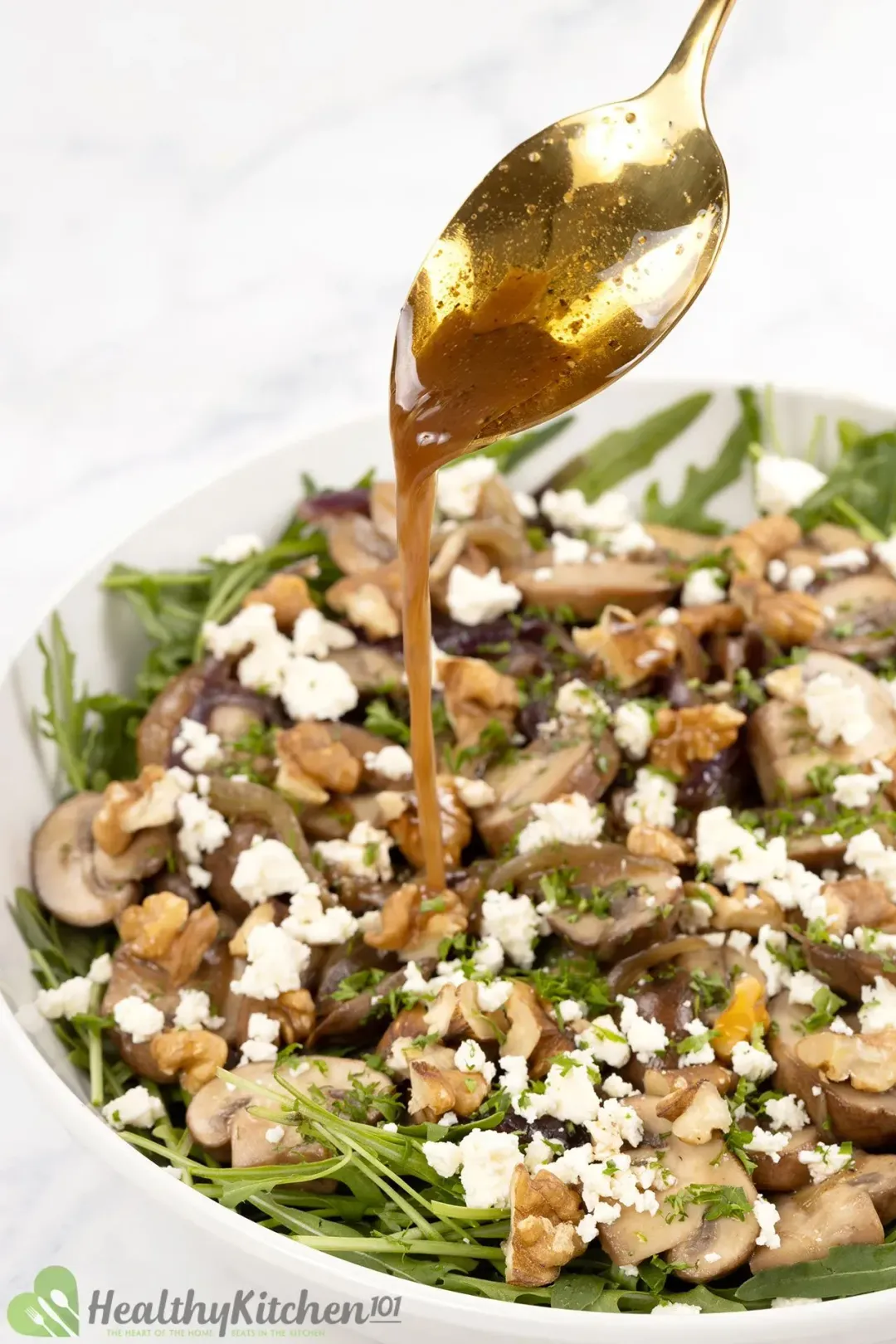 Next Recipe
Mushroom Salad
Mushroom Salad
Head Chef, Culinary Consultant
Tuyet Pham is an award-winning Saigonese chef who believes that joy is the secret ingredient to delicious food. At Healthy Recipes 101, Tuyet personally tests and simplifies every recipe, ensuring maximum flavor with minimal effort. With a background at prestigious French restaurants P'TI Saigon and Le Corto, Tuyet knows how to make every dish exceptional.
Writer, Author
Luna Regina is an accomplished writer and author who dedicates her career to empowering home cooks and making cooking effortless for everyone. She is the founder of HealthyKitchen101.com and HealthyRecipes101.com, where she works with her team to develop easy, nutritious recipes and help aspiring cooks choose the right kitchen appliances.
Nutrition Reviewer
Lizzie Streit is a Minneapolis-based dietitian and founder of It's a Veg World After All. She completed her MS in Human Nutrition from Drexel University, and is an expert in culinary nutrition, recipe development, and nutrition communications. Lizzie's philosophy is centered around making nutrition recommendations, and especially the advice to eat more vegetables, approachable and realistic. She is excited to be working with the team at Healthy Recipes 101 to ensure that their recipes are both nutritious and delicious.
Lovely! Easy to make a classic wedge salad.