If you are a seafood enthusiast, don't let our panko-crusted sea bass recipe slip through your fingers; it's both nutritious and delicious. This dish features battered sea bass fillets, butternut squash, broccoli, and cherry tomatoes seasoned with a Cajun mix.
We bake all the ingredients in an oven until the veggies are soft and smoky, and the fish crackles when you take a bite. Plus, this recipe is home-cook-friendly and requires little in the way of cooking skills, so why not give it a whirl?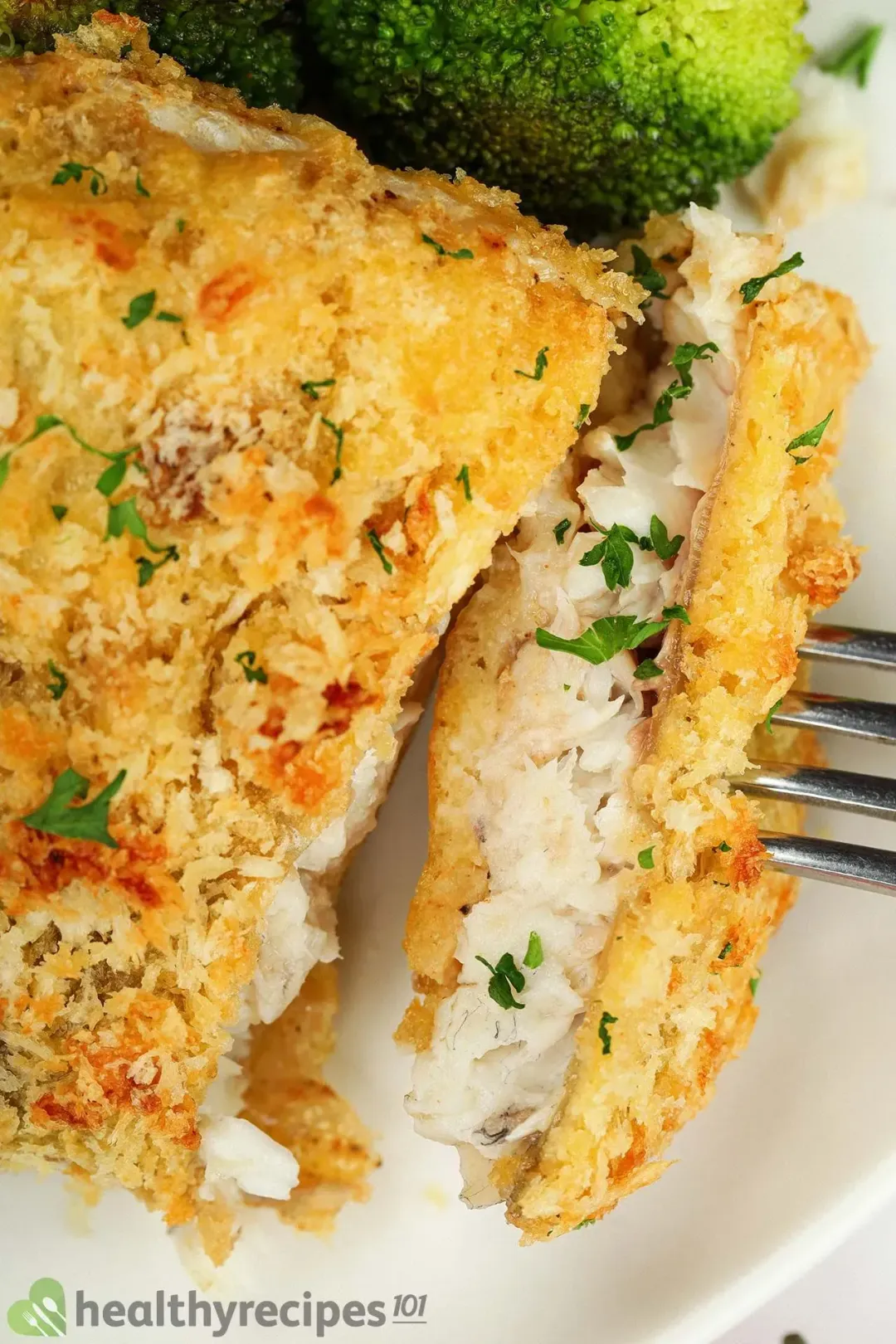 What Does Sea Bass Taste Like?
Sea bass possesses a mild fishy flavor with a delicate sweetness, which is quite comparable with that of grouper or cod. The subtle seafood taste and ensuing versatility of sea bass have won the hearts of many diners – even some picky fish eaters. Texture-wise, if not overcooked, the flesh of sea bass will stay firm, flaky, moist, and buttery.
Ingredients for This Recipe
Though the ingredient list seems quite long, it shouldn't be hard to pull everything together. Most spices are pantry-ready and you can easily find sea bass fillets and fresh vegetables at your local grocery store. The main ingredients are: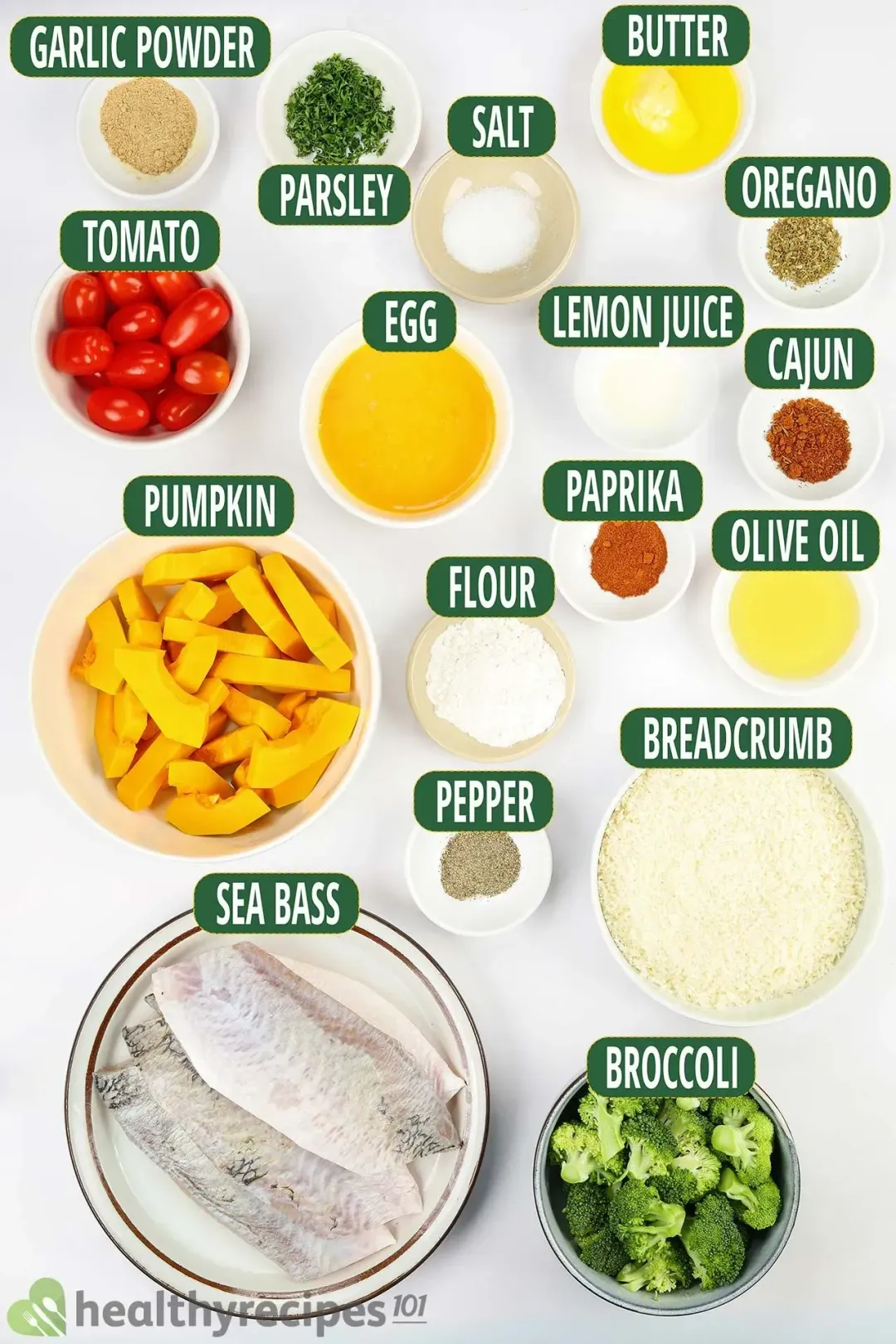 Sea bass fillets: Based on the color, texture, and smell, you can determine whether a sea bass fillet is in good condition or not. High-quality fish should be white-pinkish with a compact texture rather than a dull color, mushy feel, and unpleasant odor. We add a thin layer of coating in this recipe to help retain the moisture and improve the crispy texture of the fish.
Butternut squash: Roasted butternut squash with its intense sweetness and smokiness gives a rustic vibe to our dish. Plus, the creamy texture and buttery aftertaste of this squash complement the freshness of the seafood excellently.
Broccoli: Even if you're not a big fan of grassy broccoli, you can still enjoy it in our recipe. We season this green with lemon juice, paprika, pepper, salt, and a Cajun blend to make it more palatable.
Cherry tomatoes: These offer a burst of umami flavor and a dash of mesmerizing red color to our baked creation.
Panko breadcrumbs: If you feel like mixing up the coating, why not add some desiccated coconut to your plain breadcrumbs? It will add a richer flavor and a crunchier mouthfeel.
Cajun seasoning: Cajun blend, which hails from Louisiana, adds greater character to our sea bass and vegetables, making them spicy, savory, and peppery. For those who want to save pennies, you can make a homemade Cajun seasoning following any online recipe.
Is Panko-crusted Sea Bass Healthy?
Our panko-crusted sea bass recipe is healthy as it's jam-packed with protein, dietary fiber, vitamins, and minerals.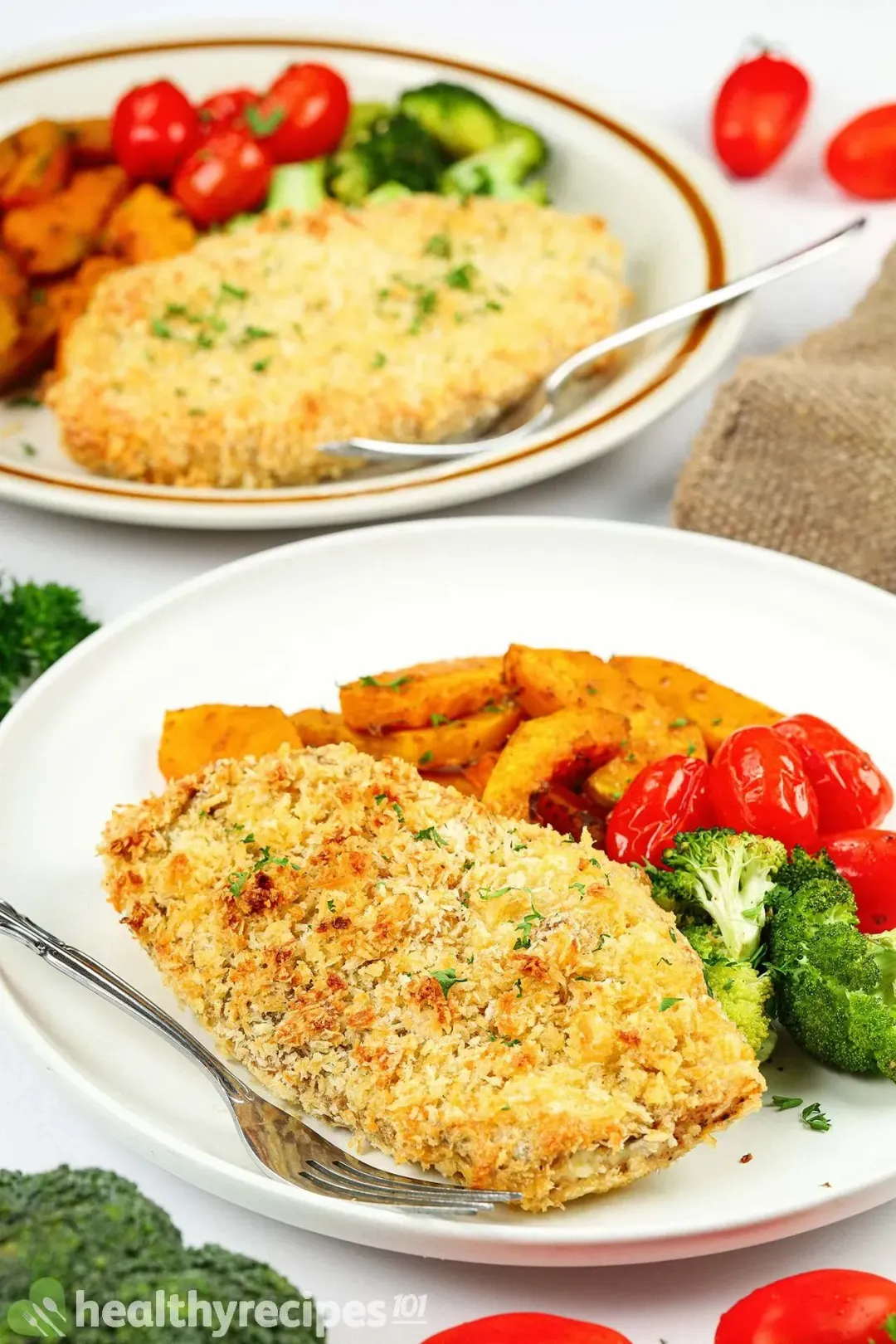 However, just how healthy is also affected by the way it's cooked. Different methods can—somewhat—affect the nutritional values of a dish. 
For today's recipe, our chefs used the oven-baking technique as it requires little to no added oil, not to mention the excess fat that drains out during the baking process. If you want to restrict your fat intake, our baked sea bass is a better option than deep-fried versions.
As for the ingredients, sea bass provides a sizable chunk of protein and omega-3 fatty acids. Specifically, one piece of sea bass fillet, around 4.5 oz, will offer up to 23.8 g of protein and 865 mg of omega-3, both of which have been shown to benefit physical and mental health.
Other vegetables like butternut squash, broccoli, and tomatoes also add a considerable amount of vitamins A, C, and K to your diet.
Overall, this dish contains 495 calories, 537.4 mg of sodium, and only 6.2 g of saturated fat, which is very reasonable for a main course.
What to Serve With Panko-crusted Sea Bass
Here are our top-choice accompaniments to pair with panko-crusted sea bass—each are simple and quick ways to refresh your palate: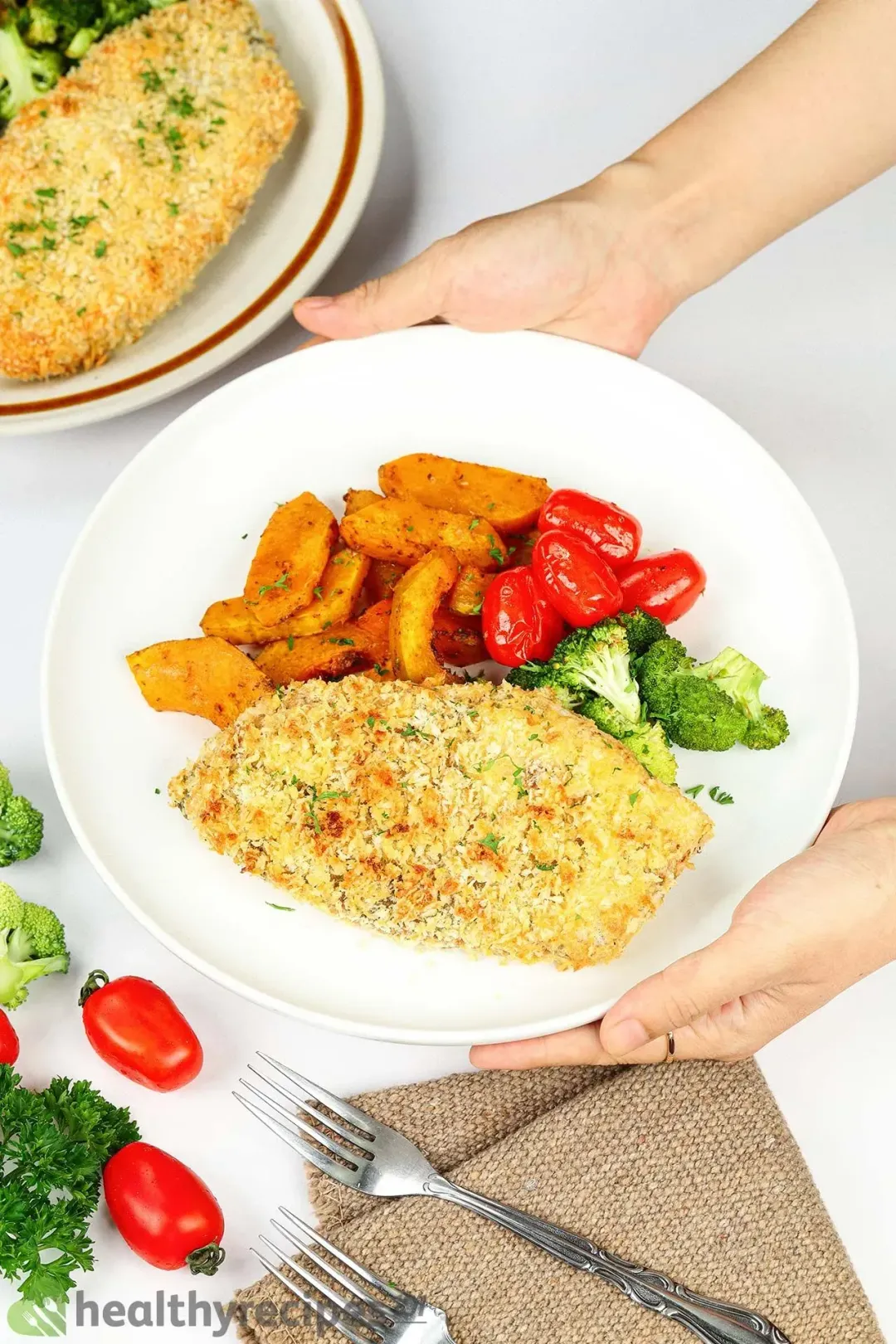 How to Make Panko-crusted Sea Bass
Today's recipe produces a sea bass dish with incredible textures – crackling exterior yet melt-in-your-mouth interior. After 40 minutes of prepping and cooking, perfectly golden-brown fillets are ready to serve.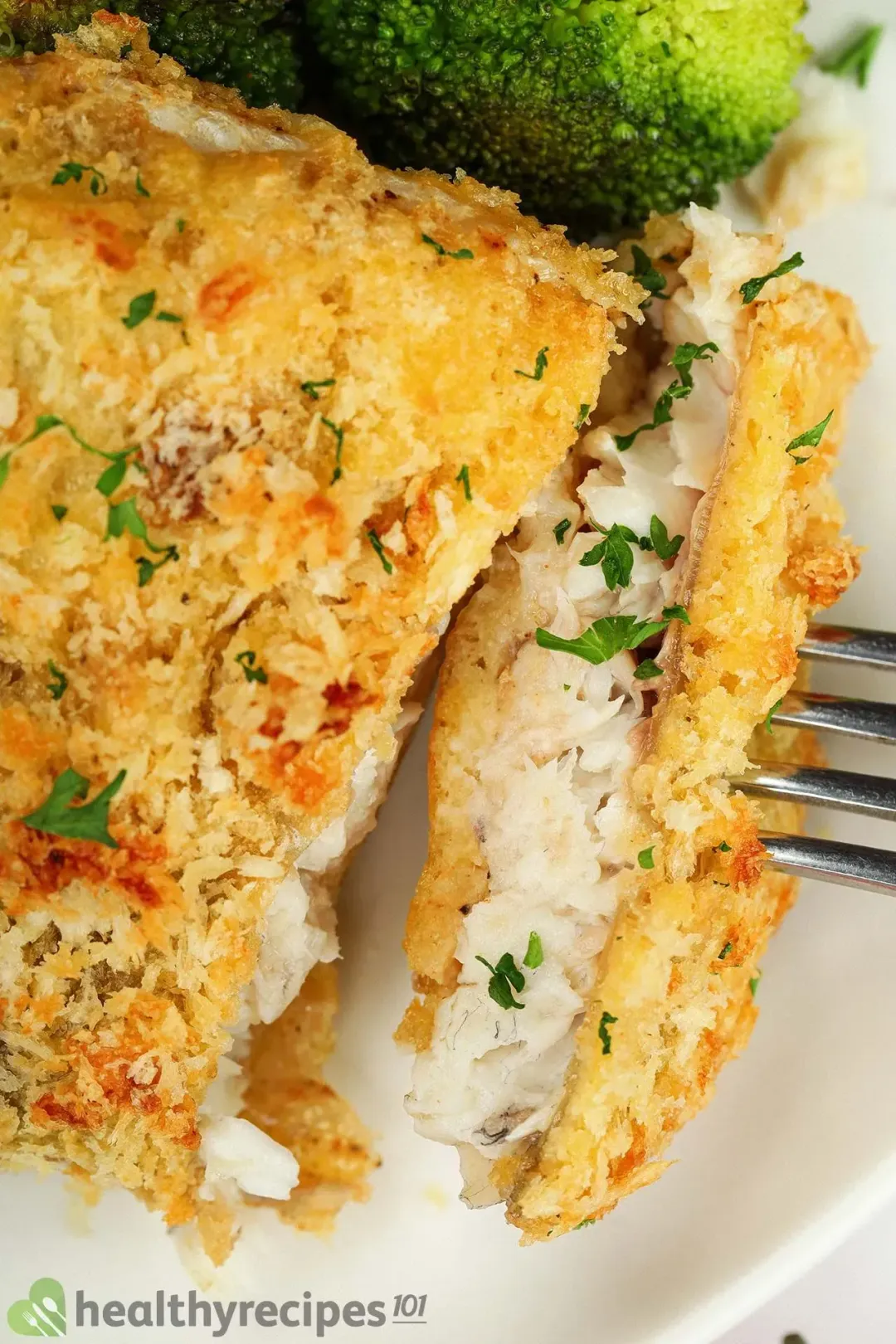 cook TIME

35 mins

prep TIME

10 mins

total TIME

45 mins
COURSE

Main Course

CUISINE

Global

SERVINGS

CALORIES

495 kcal
INGREDIENTS
22 oz

skin-on boneless sea bass fillets

1 3/4 cups

plain panko breadcrumbs

20 oz

raw butternut squash

(skin and seeds removed, sliced)

8 oz

broccoli

(cut into florets)

8 oz

cherry tomatoes

(stems removed)
INSTRUCTIONS
PREP:
1
Sea bass fillets: Run your fingertips along the length of the fillets to check for pin bones. If there are any left, remove them with a pair of tweezers. Do not rinse the fillets under the faucet since water will make the bacteria spread onto other surfaces.
2
Butternut squash: Place the butternut squash onto its side on a cutting board. Use a sharpened knife to chop off the top part and the root end. Cut the butternut squash in half, lengthwise. Continue by slicing off the hard outer skin. Discard the skin. Scrape out the strings and seeds using the tip of a metal spoon. You can either save the seeds for roasting or discard them. Quarter the previous halves. Cut them into thinner slices, about 1-inch thick.
3
Broccoli: Use a large knife to cut off the main stem of the broccoli. Cut the head into smaller florets. Rinse them under running water, then pat them dry.
4
Cherry tomatoes: Remove the stems. Rinse them with cool water and pat them dry with a paper towel.
5
Parsley: Place the parsley bunch on a cutting board. Slice off the long stems. Chop the parsley.
COOK:
1
Season the butternut squash: In a large mixing bowl, add 22 oz sliced butternut squash, 1 tbsp olive oil, 1/2 tsp dried oregano, 1 tsp garlic powder, and 1/2 tsp Cajun seasoning. Mix well with a wooden spoon.
2
Roast the butternut squash: Preheat the oven to 450 °F and line a large baking tray with parchment paper. Spread the seasoned butternut squash slices onto the tray. Bake them in the oven for 10 minutes.
3
Season broccoli and cherry tomatoes: Add 8 oz broccoli, 8 oz cherry tomatoes, and 1 tbsp olive oil to the previous mixing bowl. Toss well.
4
Bake all the vegetables: After 10 minutes of baking the butternut squash, take the tray out of the oven. Push the squash to one side to make room for the broccoli and cherry tomatoes. Continue to bake the vegetables at 450 °F for another 7 minutes.
5
Season the sea bass fillets: With both hands, gently massage 1 tsp paprika, 1/2 tbsp lemon juice, 1/2 tsp salt, and 1/2 tsp pepper into the fillets before breading them.
6
Prepare the coating: Prepare 3 shallow dishes for the breadcrumbs, flour, and beaten eggs. Combine 1 3/4 cups plain panko breadcrumbs and 2 tbsp melted unsalted butter in one dish. Add 2 tbsp all-purpose flour to another one. Lightly beat 3 medium-sized eggs in the last dish.
7
Bread the seasoned fillets: Gently dip each fillet first in the flour, next in the eggs, then in the breadcrumbs, back to the eggs, and lastly in the breadcrumbs once more. Repeat the process for the rest of your fillets.
8
Bake the battered fillets: Remove the cooked vegetables from the oven and put them on a plate before placing the breaded fillets onto the baking tray. Cook them at 450 °F for 12 minutes.
9
Assemble the dish: Transfer the baked fillets and vegetables onto a serving plate. Sprinkle with some chopped parsley.
NUTRITION
Nutrition Facts
How to Make Panko-crusted Sea Bass
Amount Per Serving (1 serving)
Calories 495
Calories from Fat 167
% Daily Value*
* Percent Daily Values are based on a 2000 calorie diet.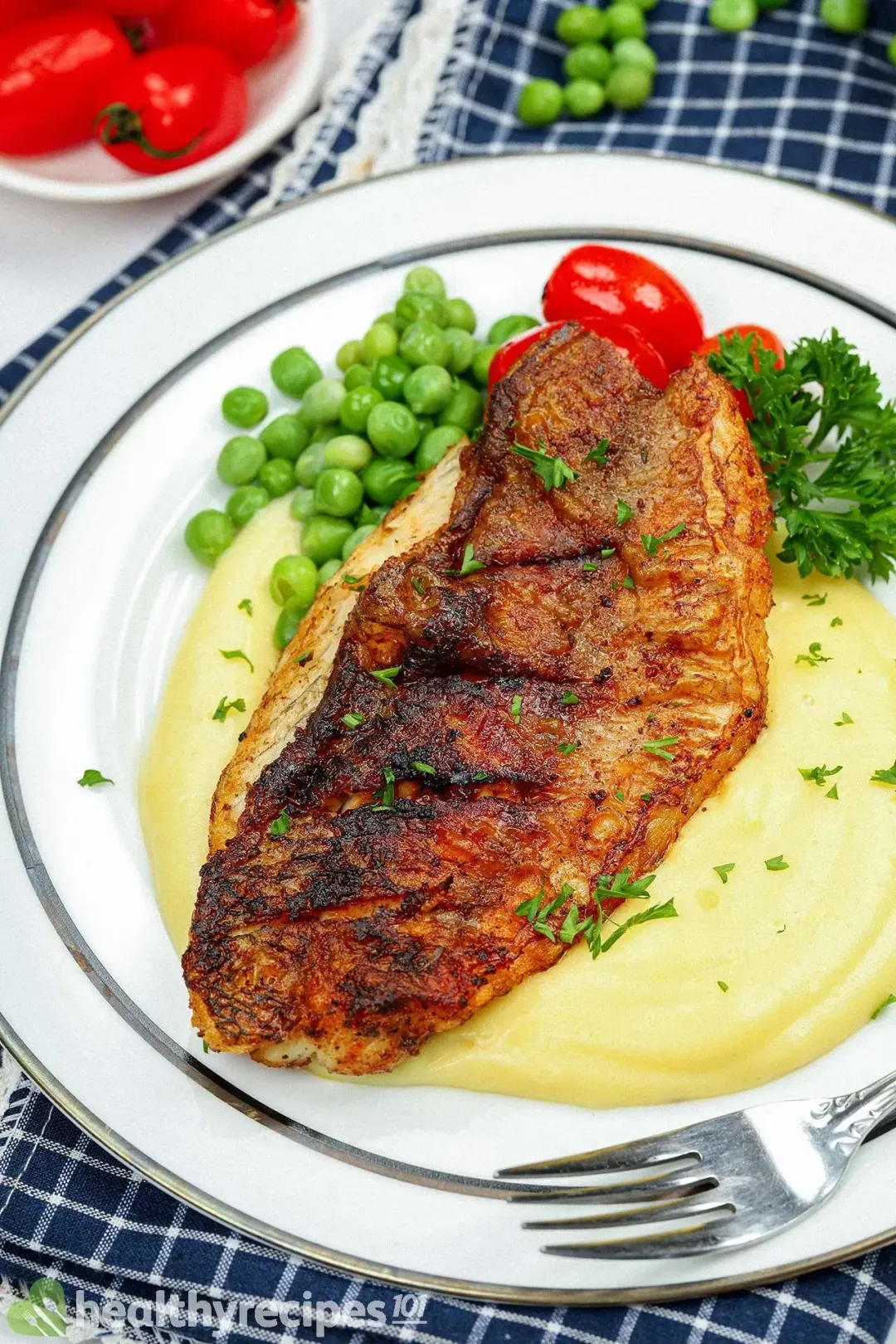 Previous Recipe
Pan-Fried Sea Bass
Pan-Fried Sea Bass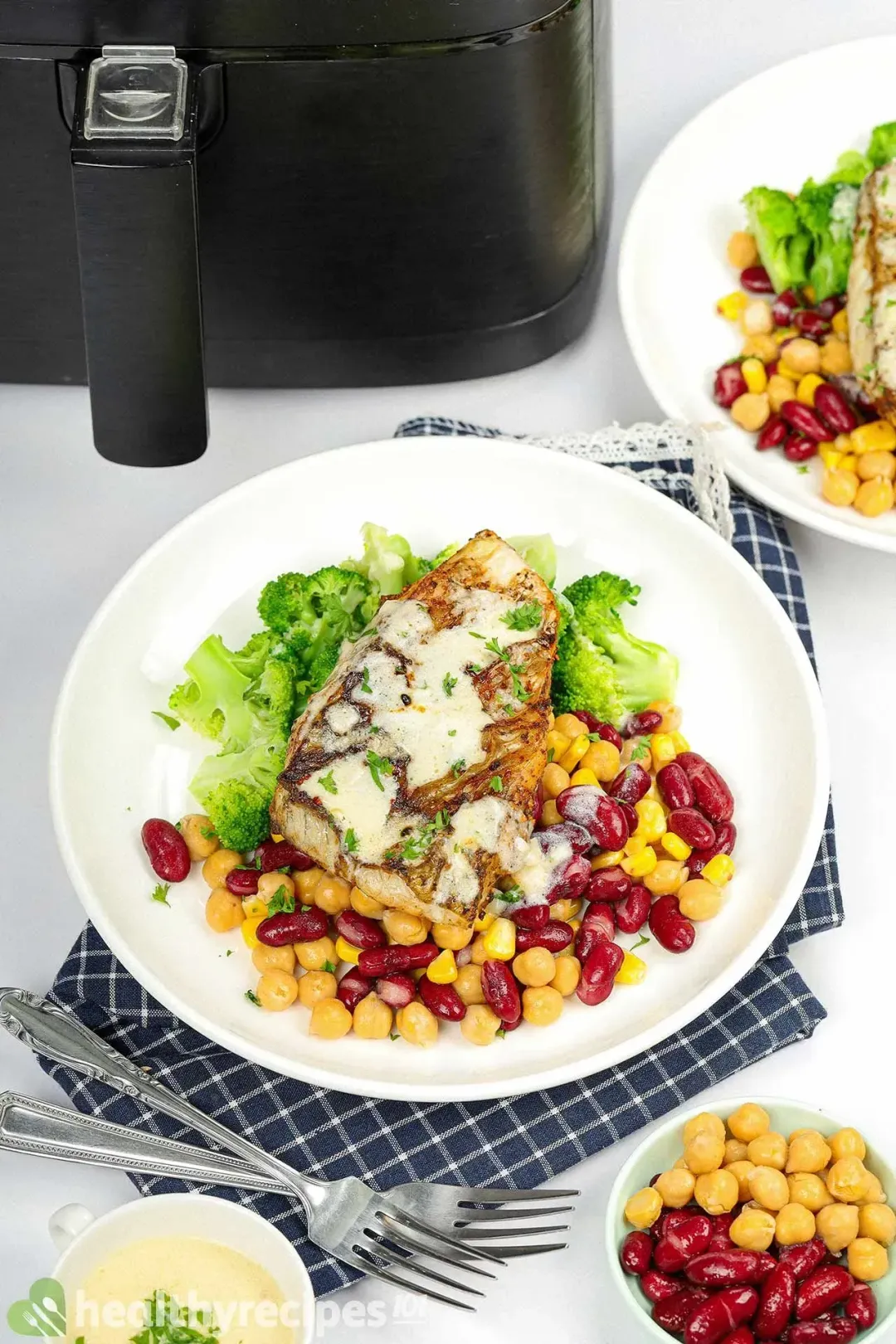 Next Recipe
Air Fryer Sea Bass
Air Fryer Sea Bass
Head Chef, Culinary Consultant
Tuyet Pham is an award-winning Saigonese chef who believes that joy is the secret ingredient to delicious food. At Healthy Recipes 101, Tuyet personally tests and simplifies every recipe, ensuring maximum flavor with minimal effort. With a background at prestigious French restaurants P'TI Saigon and Le Corto, Tuyet knows how to make every dish exceptional.
Writer, Author
Luna Regina is an accomplished writer and author who dedicates her career to empowering home cooks and making cooking effortless for everyone. She is the founder of HealthyKitchen101.com and HealthyRecipes101.com, where she works with her team to develop easy, nutritious recipes and help aspiring cooks choose the right kitchen appliances.
Nutrition Reviewer
Natalie Butler is a registered dietitian nutritionist with a passion to help others live their best life through food, fitness, safer beauty and a healthy lifestyle. She has expertise with a variety of diets and diseases and believes that there is no one-size-fits-all approach for health.
Loved this recipe! Excellent!

So delicious!!!!! will make it again