This easy seafood gumbo recipe can keep your hunger at bay with a delicious, wholesome classic.
Looking for a warm soup that feeds crowds (or just you)? Or a dish that duly celebrates Southern Food Heritage Day (October 11)? Your search ends here. In 40 minutes, you'll have a pot full of chewy sausages, plump shrimps, tender crabs bathed in a thick, flavorful broth.
It's also an amazing comfort food, especially when the cold draws near. Stock your fridge with this warm soup so you can enjoy it whenever.
So to get the ingredients you need to make seafood gumbo. Or, read on to learn more about this dish.
Why Is It Called Gumbo?
Gumbo is a staple of New Orleans cuisine. It's a thick soup with sausages and meat/seafood cooked in a thick, dark broth, served over cooked rice.
Traditionally, gumbo is made in a jumbo size to feed a large crowd. Lots of ingredients are cooked in an extra-large pot, simmered for hours, and people would gather, excitedly waiting for a serving.
But we're not dealing with that jumbo, hours-long recipe here. Today's seafood gumbo recipe makes 4 servings in 40 minutes, and still shares the same flavor.
We also have a more affordable version of gumbo, which also packs flavor. Check out this chicken sausage gumbo recipe for a comfort food you can have even in hard times.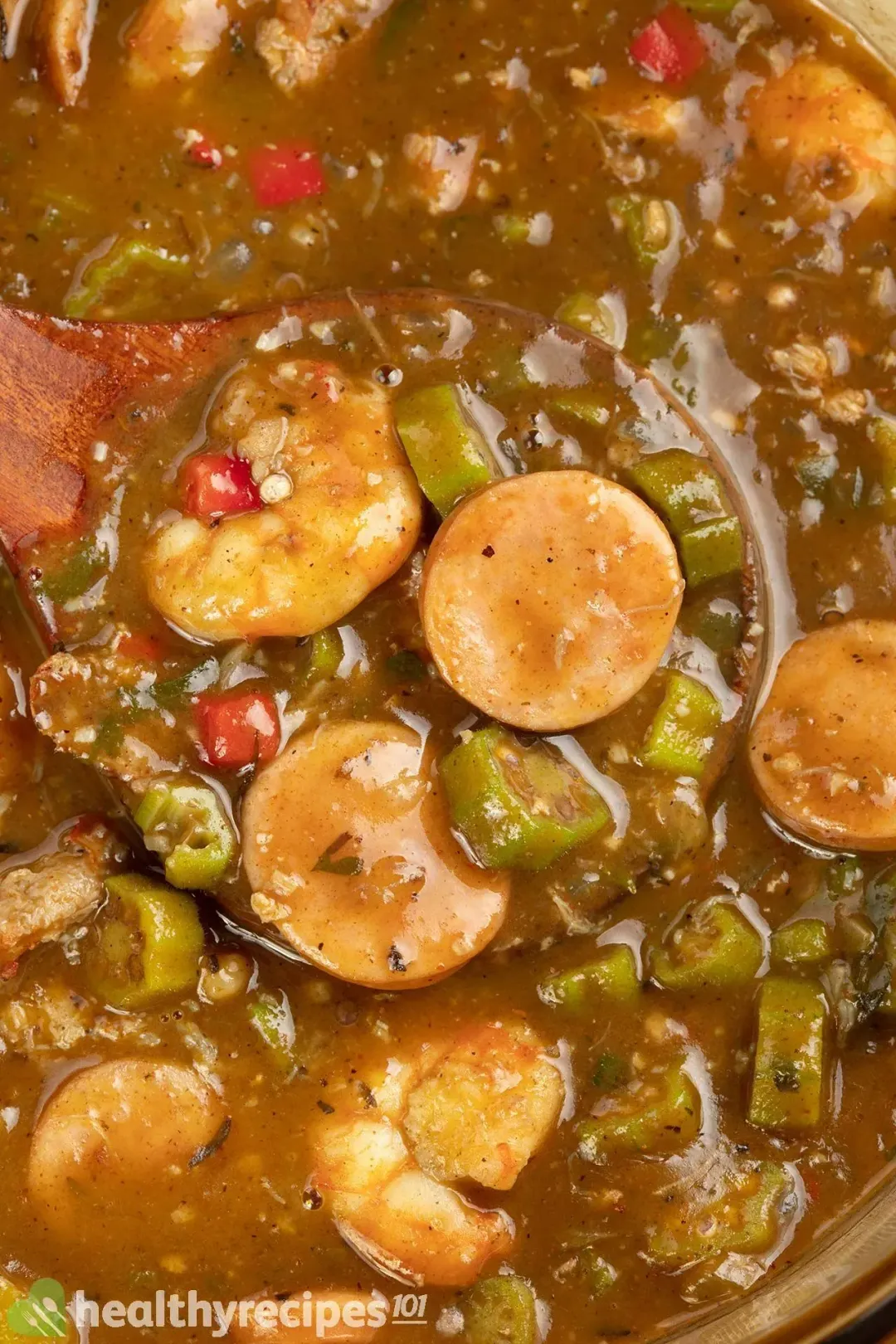 Is Seafood Gumbo Healthy?
Yes, it's a healthy dish.
To begin with, it has a balance of the macros — proteins from seafood, fats from olive oil, and carbs from cooked rice. Plus, it's full of vegetables, which pack fiber, vitamins, and minerals.
With the macros and micros in check, we then look at some nutrients that the USDA's dietary guidelines recommend that we eat less of.
First, we look at added sugar, which is zero grams because our broth is naturally sweetened thanks to cooked-down veggies.
Next is the saturated fat. We used only a little bit of butter, so the level falls within the allowance.
Finally, the sodium content. Seafood and sausages can be salty, so we went easy on the salt, and looked for a low-sodium sausage instead of the traditional.
As a result, we ended up with a healthy dish, with all the macros balanced and some limited nutrients within allowance.
Calories
Served with a portion of white rice, one gumbo serving gives you 480 calories. To crank the calories to 750 like recommended in our guidelines, we paired it with a side of fresh salad and juice.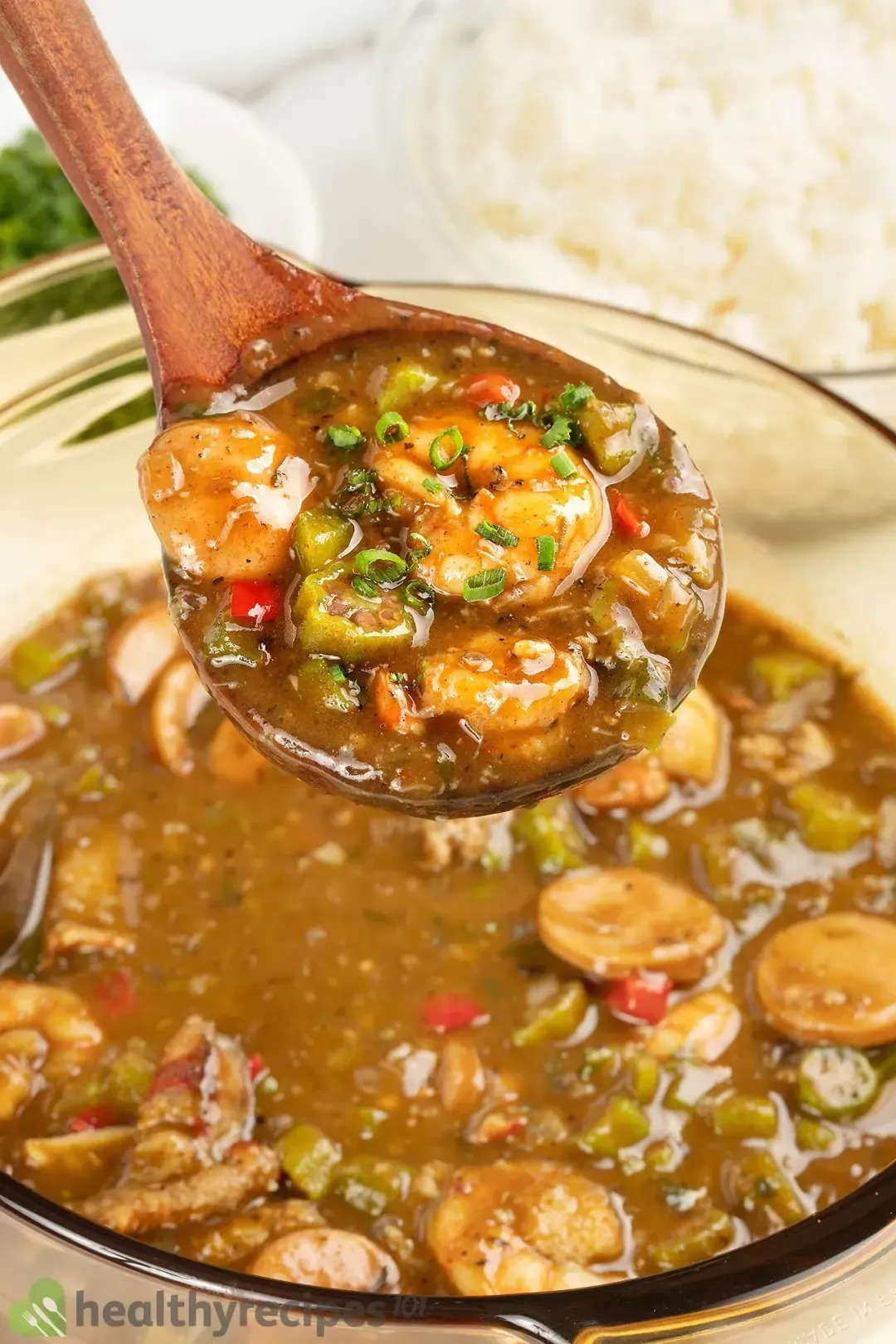 Easy Seafood Gumbo Ingredients
A good gumbo is done with the right ingredients.
1. Thickener(s)
For the thick broth — gumbo's signature texture, there are 3 core ingredients involved.
First and foremost, the brown roux — made by stirring flour in butter over heat, and cooking it until the color darkens. This gives the gumbo broth the depth of flavor it's famous for.
To really thicken the broth (but not thinning it out like flour might), we either use okra or filé powder.
Our seafood gumbo recipe calls for okra because that's what the original recipe calls for (you can use either). It is a green, long-shaped fruit that has a slimy interior that thickens the broth.
2. Sausage Option
A gumbo can't be called gumbo if it lacks sausage.
People often use andouille in their gumbo, a type of French sausage that has a smoky flavor. We couldn't find a quality sausage with low sodium content, so we used a low-sodium pork sausage (listed in the recipe card).
If you can make andouille sausage, go easy on the salt and you can use it to make a more authentic gumbo.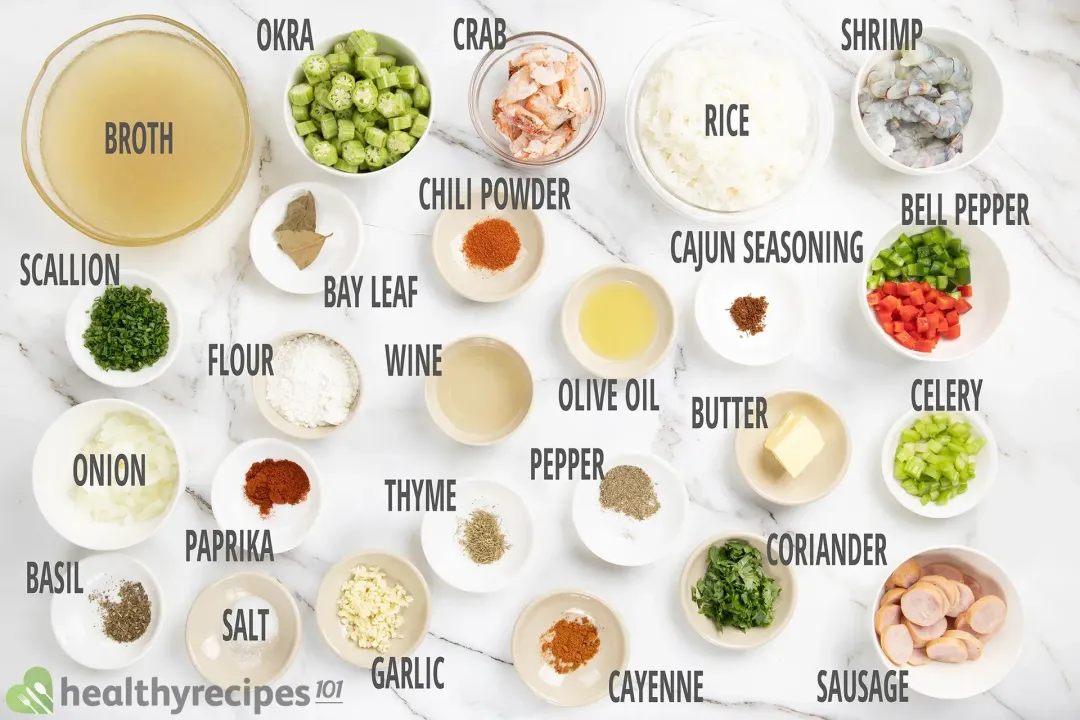 3. Seafood Haul
Next on the list, the "expensive twist" in the gumbo.
First off, shrimp. The snappy, bursty texture of plump shrimp is so unique that no other seafood compares.
To get that desirable texture, you can either go for frozen shrimp or marinate fresh shrimp with baking soda. A pH-8 solution helps the shrimp to firm up and become crisp when cooked (remember to wash off the baking soda before cooking).
Next, crabs. We're using canned crab to skip the hassle of dismantling a crab.
We also wanted to use squid, but given that the dish's already full of proteins, we stopped there. It's enough to make a good seafood gumbo soup pot.
4. Spice Mix
To give the soup its warmth, we added in a lot of chili powder, paprika, cayenne, and Cajun seasoning (for the signature New Orleans flavors). The rest are just basic Mexican-style seasonings: bay leaf, basil, thyme, coriander.
5. Vegetable Choice
Gumbo's broth must contain the holy trinity: celery, bell peppers, and onions. There are other vegetables as well to give it plenty of flavors such as carrots, onions, garlic, and fresh herbs.
With the ingredients gathered, let's get to the cooking.
How to Make Easy Seafood Gumbo
Here's a short version of our seafood gumbo recipe, to give you an overview of what the steps look like: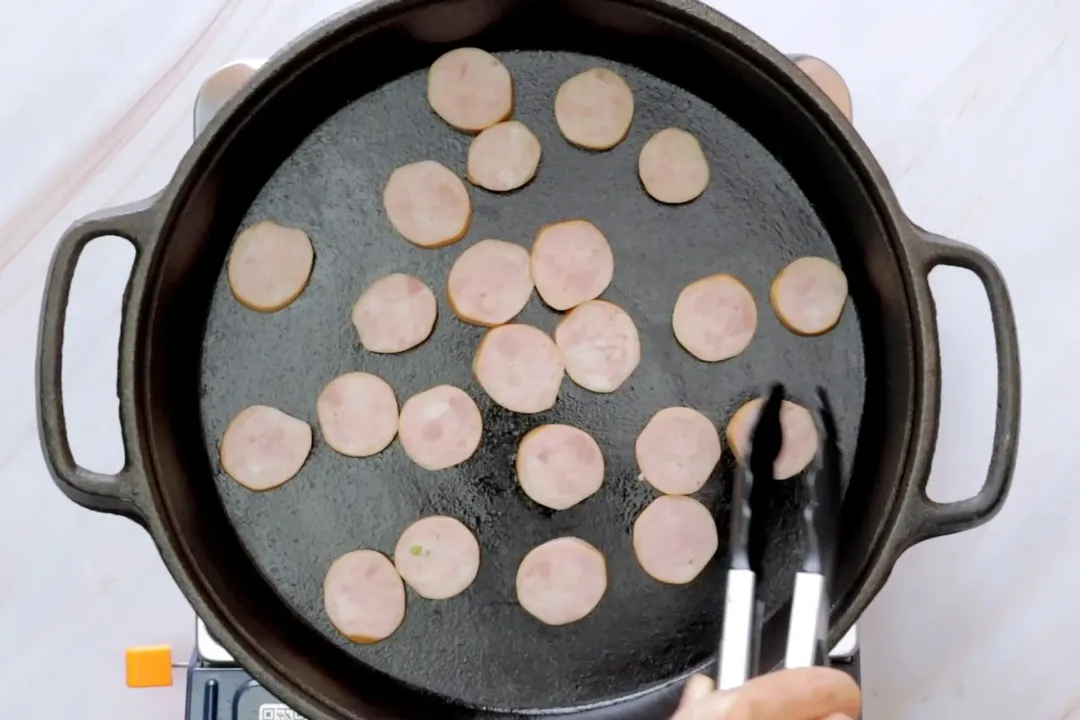 Sear the sausages. Set aside.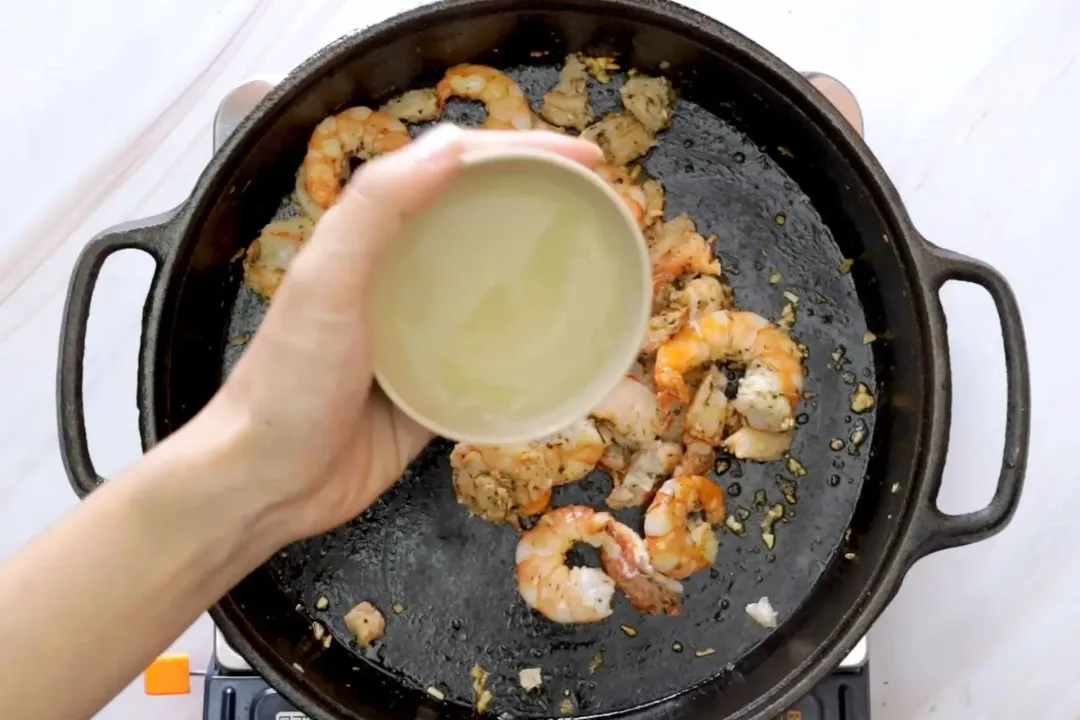 Cook shrimp and crab with aromatics. Set aside.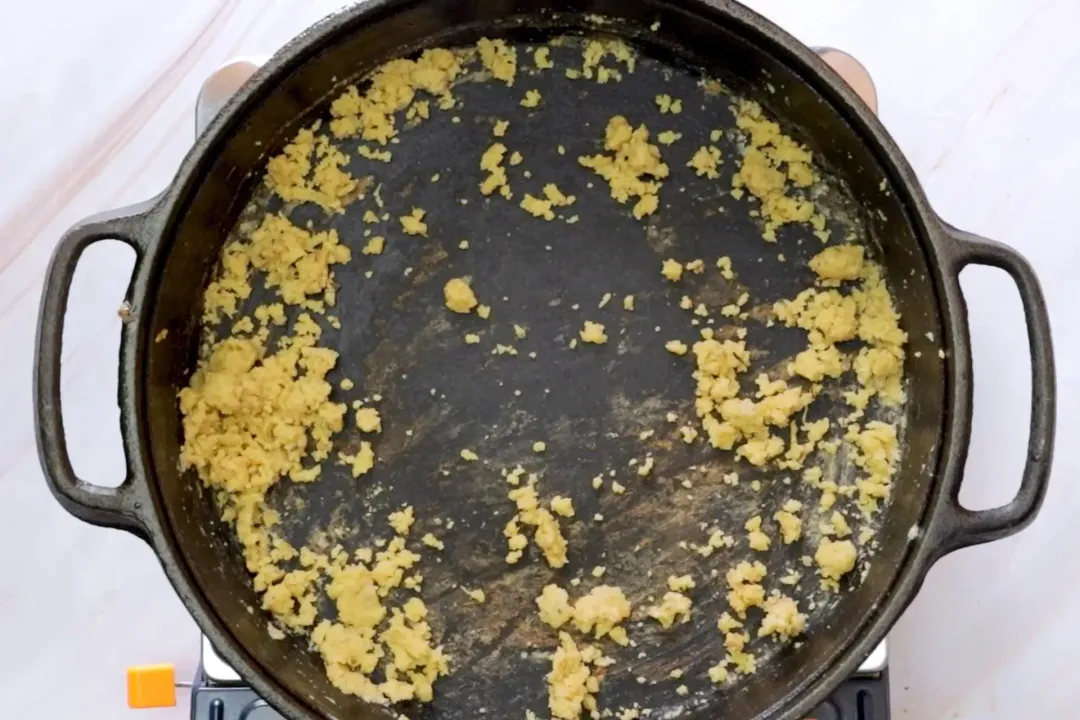 Make the dark roux.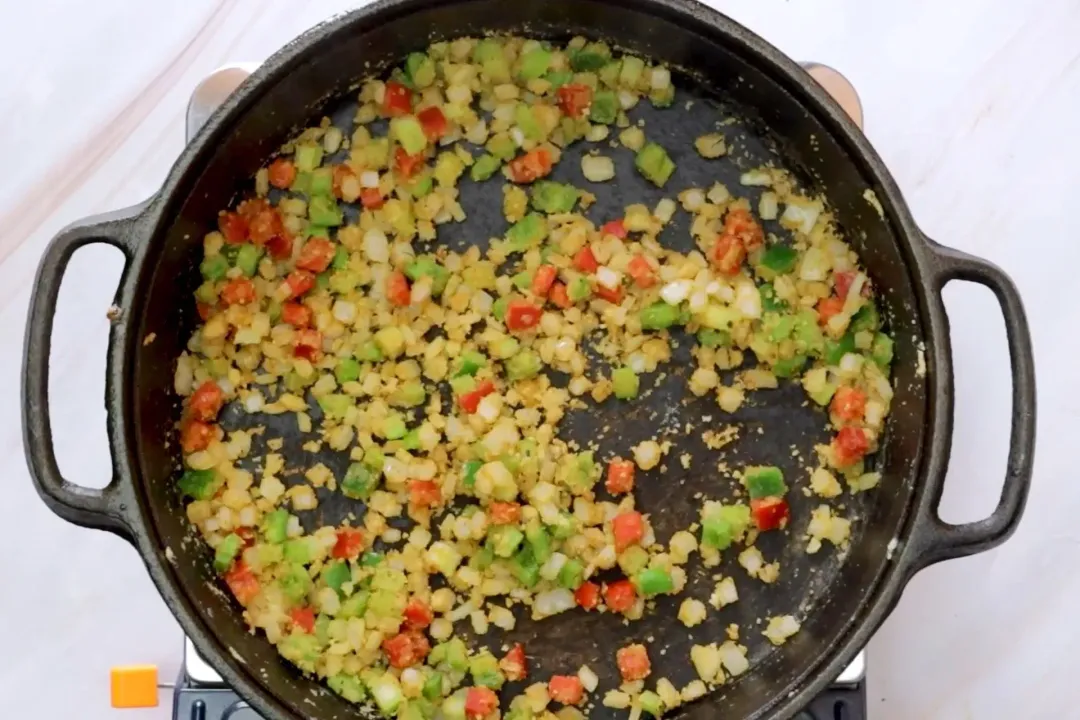 Cook the vegetables.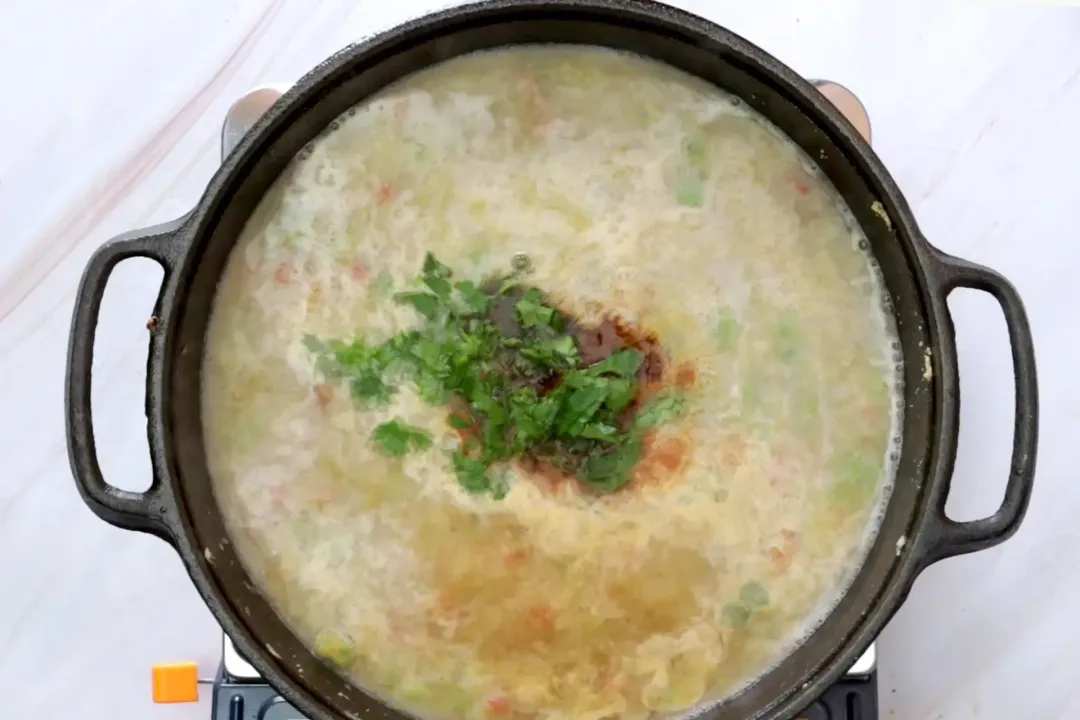 Add broth, seasoning, and simmer for 20 minutes.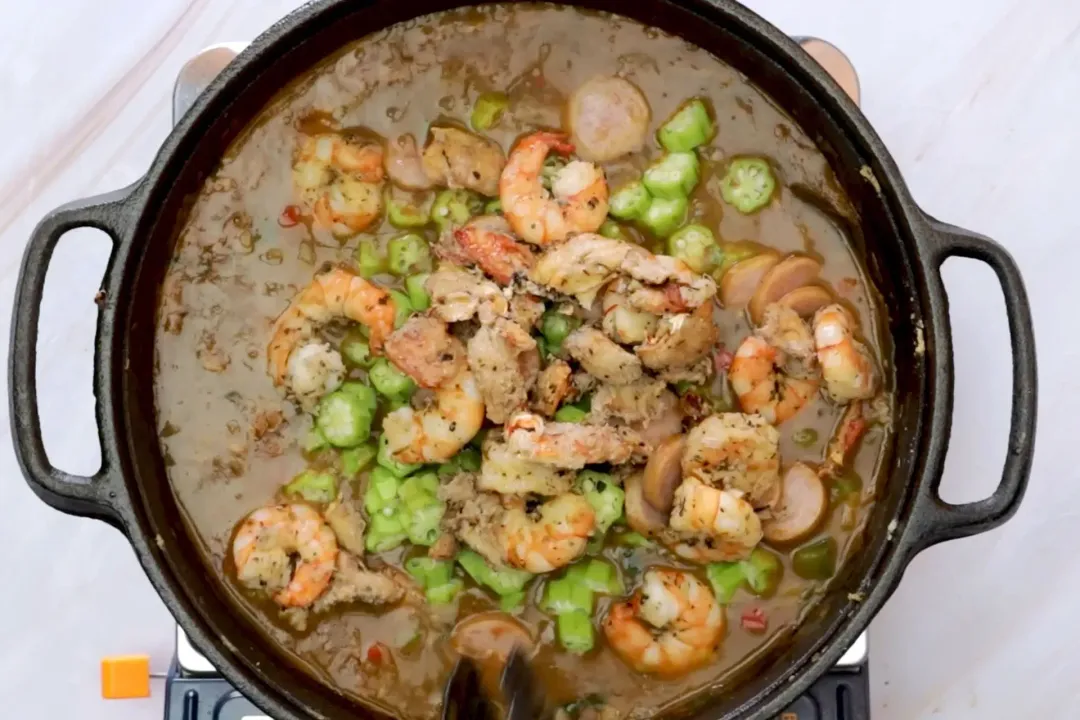 Add sausage, shrimp, crab, and cook for another 15 minutes.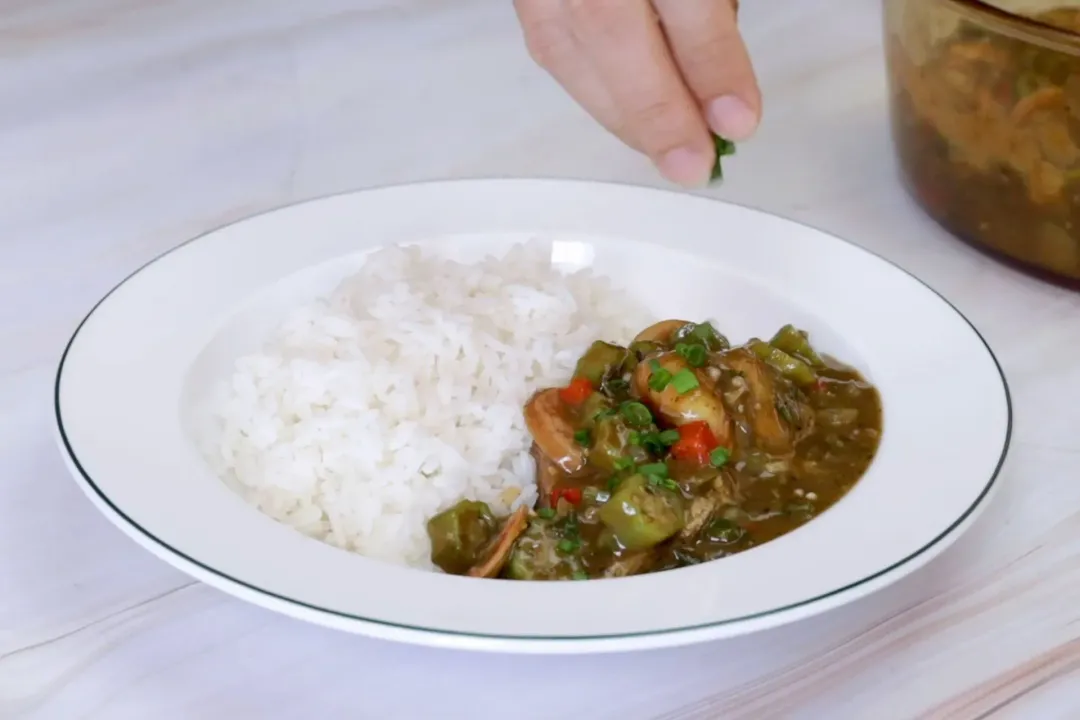 Serve with rice, garnish with fresh coriander.
For the more detailed version, check our recipe card down below.
Jambalaya vs Gumbo
Both belonging to the same cuisine and sharing similar ingredients, you can sometimes describe one but actually mean the other. Let's look at the few key differences.
First and foremost, gumbo has a thick broth while jambalaya is a kind of fried rice. That's why gumbo calls for okra or file powder while jambalaya doesn't.
Also, rice in gumbo is plain white rice, and gumbo is served over. Rice in jambalaya is cooked along with other ingredients.
What to Serve with Easy Seafood Gumbo
Gumbo in general is served over cooked rice, and it's not typically served with other sources of carbs. To include more nutrients in the dish, you can use brown rice instead of white rice.
We also serve our easy seafood gumbo with the following side dishes:
The salad is full of fresh, juicy bites that add both textures and nutrients to the meal. In between bites, sip on the cucumber lime juice to cleanse your palate, getting it ready for the next spoonful.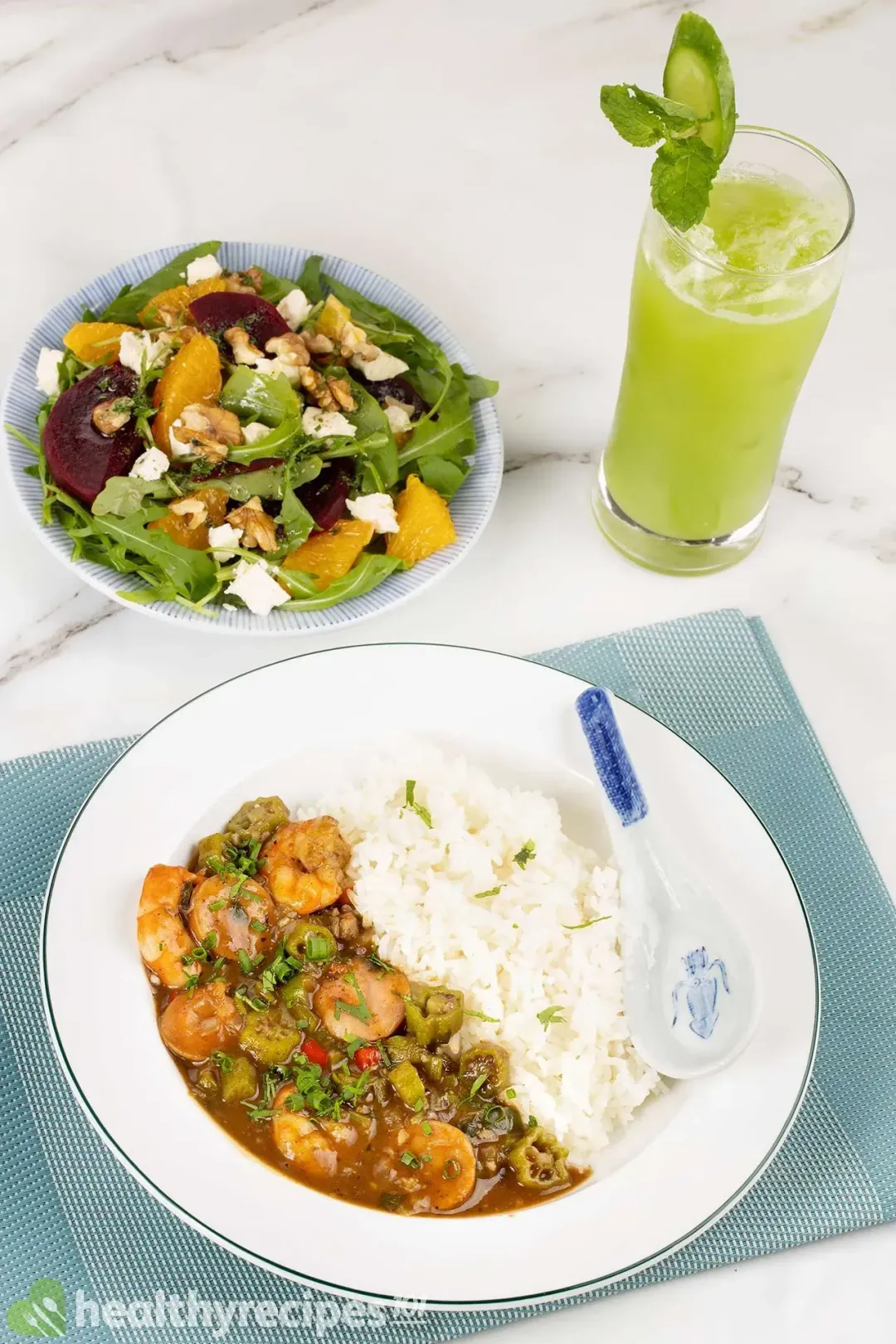 How to Preserve Seafood Gumbo
The FDA's food storage chart says seafood lasts for 2 days in the fridge, and up to months when frozen.
If you're planning to eat it again soon within 2 days, simply refrigerate it. Longer than that, you need to freeze it.
The gumbo broth freezes really well and thaws really well because we need the veggies to be mushy. For best results, you could cook the dish (without seafood), then as you reheat, add the seafood in and you can't tell it's been reheated.
Looking for an even easier gumbo? Check out our Instant Pot Gumbo Recipe and you won't regret it.
More Delicious Shrimp Ideas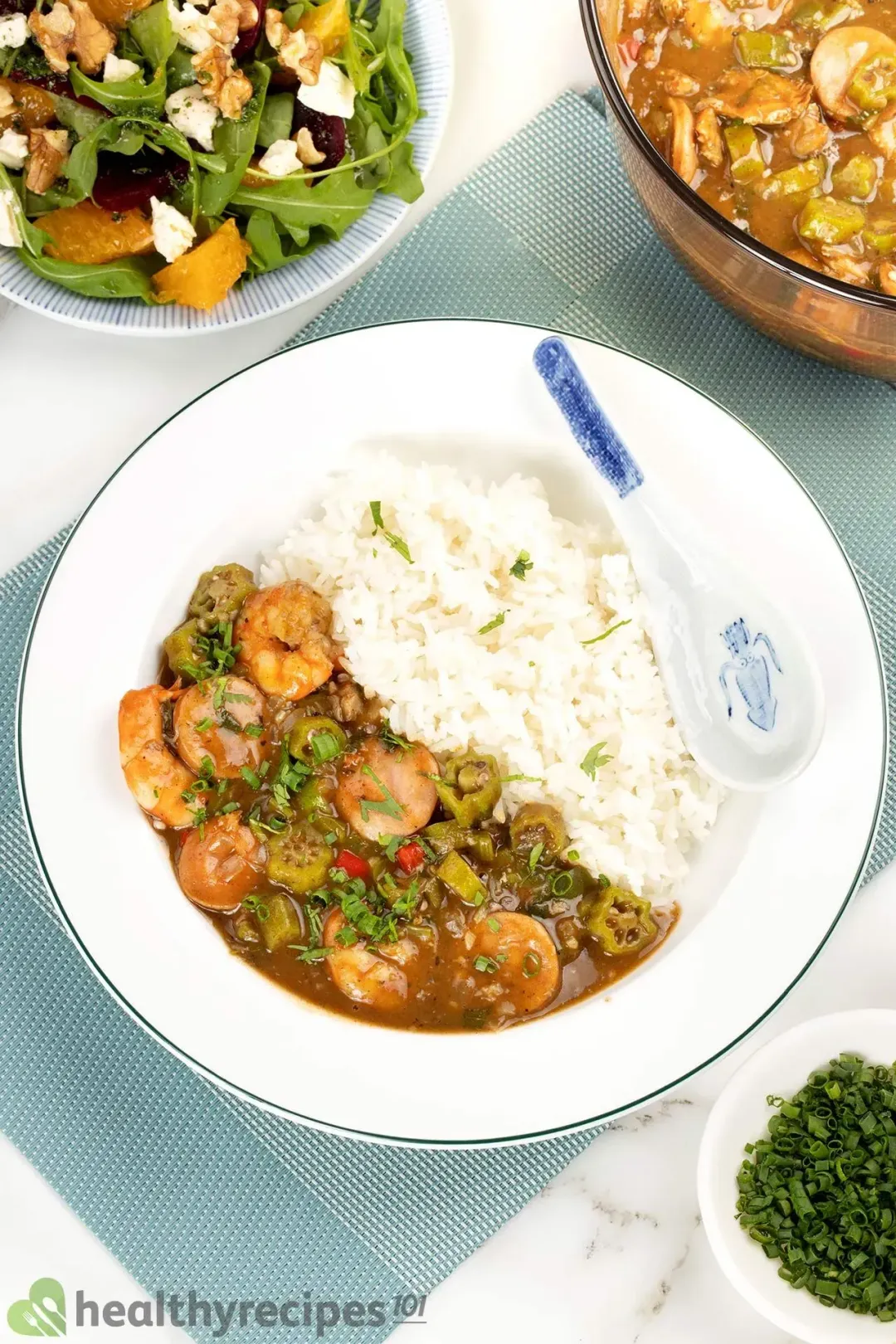 Easy Seafood Gumbo
This seafood gumbo recipe makes a comfort food in just 40 minutes. It's healthy, tasty, and simply wholesome.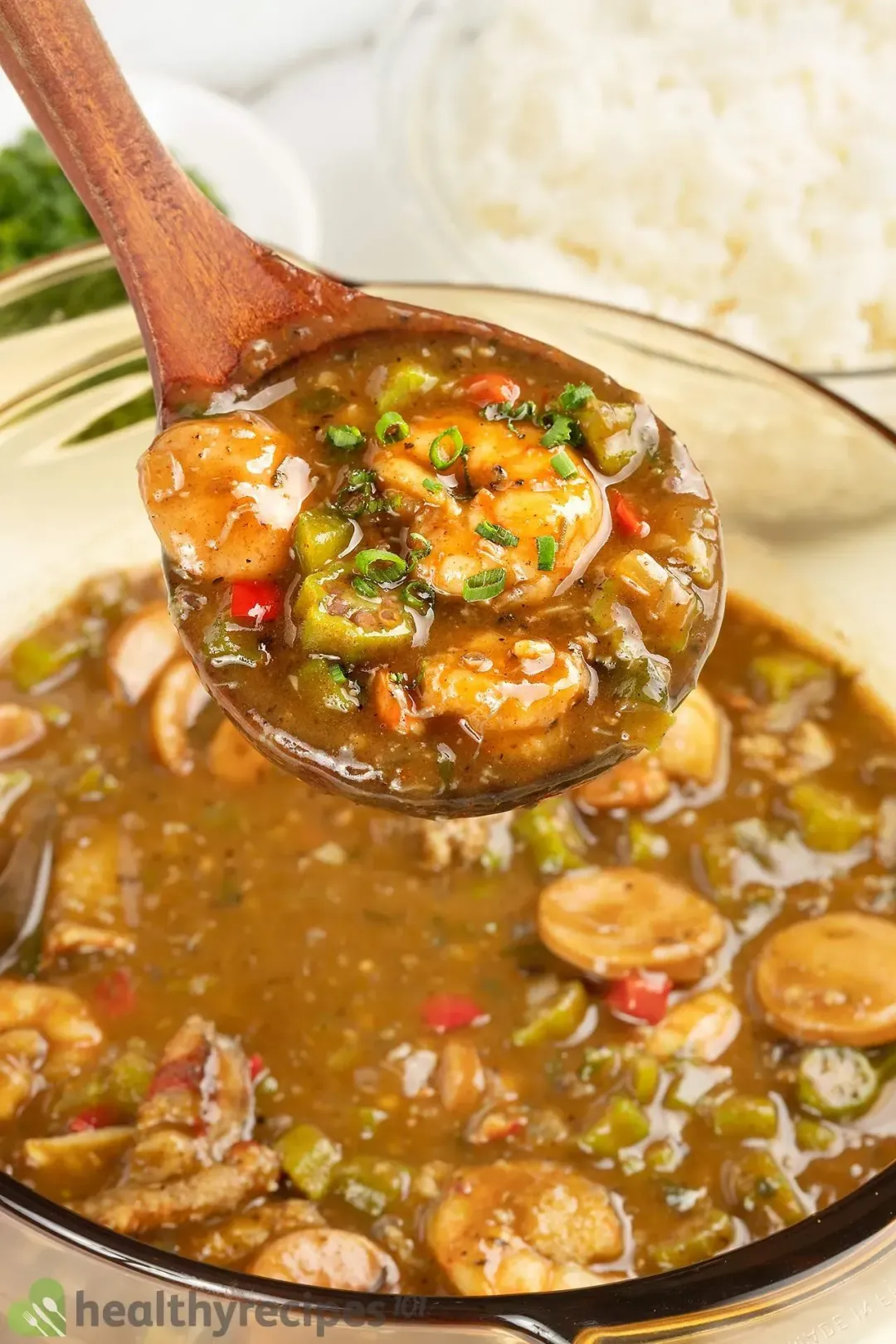 cook TIME

30 mins

prep TIME

10 mins

total TIME

40 mins
COURSE

Main Course

CUISINE

American, Louisiana Creole

SERVINGS

CALORIES

480 kcal
INGREDIENTS
3 oz

smoked sausage

(sliced)

10 oz

raw shrimp

(giving 6 oz peeled)

3 oz

canned crab meat

(drained)

1 1/2 tbsp

unsalted butter

1/4 cup

all-purpose flour

2 oz

bell pepper

((green and red) chopped)

3 cups

unsalted chicken broth

1/4 tsp

ground black pepper

1 tsp

bay leaf

(2 leaves)

2 tbsp

coriander

(chopped, divided in half)

5 oz

okra

(cut into half-an-inch chunks)

3 1/4 cups

cooked medium-grain rice

2 tbsp

scallion

(chopped)
INSTRUCTIONS
1
Heat a large cast-iron, deep pan (or a large pot) over medium heat. Add 3 oz sliced sausage and cook for 2 minutes. Remove the cooked sausage from the pan and set aside.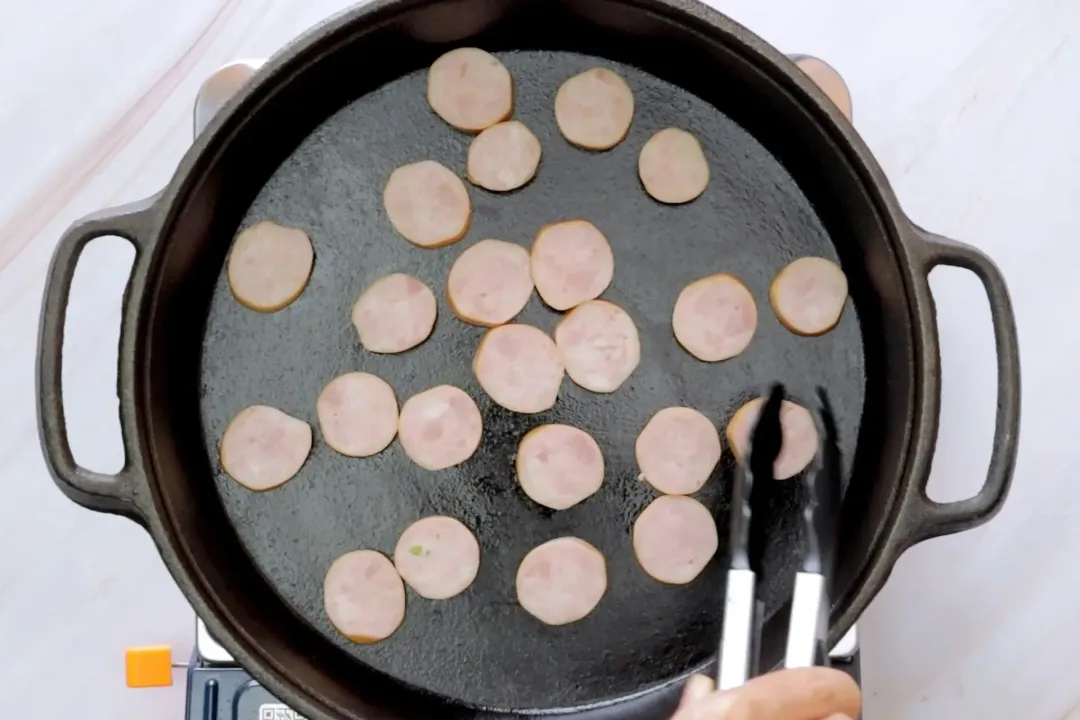 2
In the same pan, add 1 tbsp olive oil, 6 oz peeled shrimp, 2 tsp minced garlic, 1/4 tsp dried thyme, 1/4 tsp dried basil, and cook until the shrimp just begins to turn red. Add 3 oz drained crab, 2 tbsp white wine, and stir until the wine evaporates. Remove from the pan and set aside.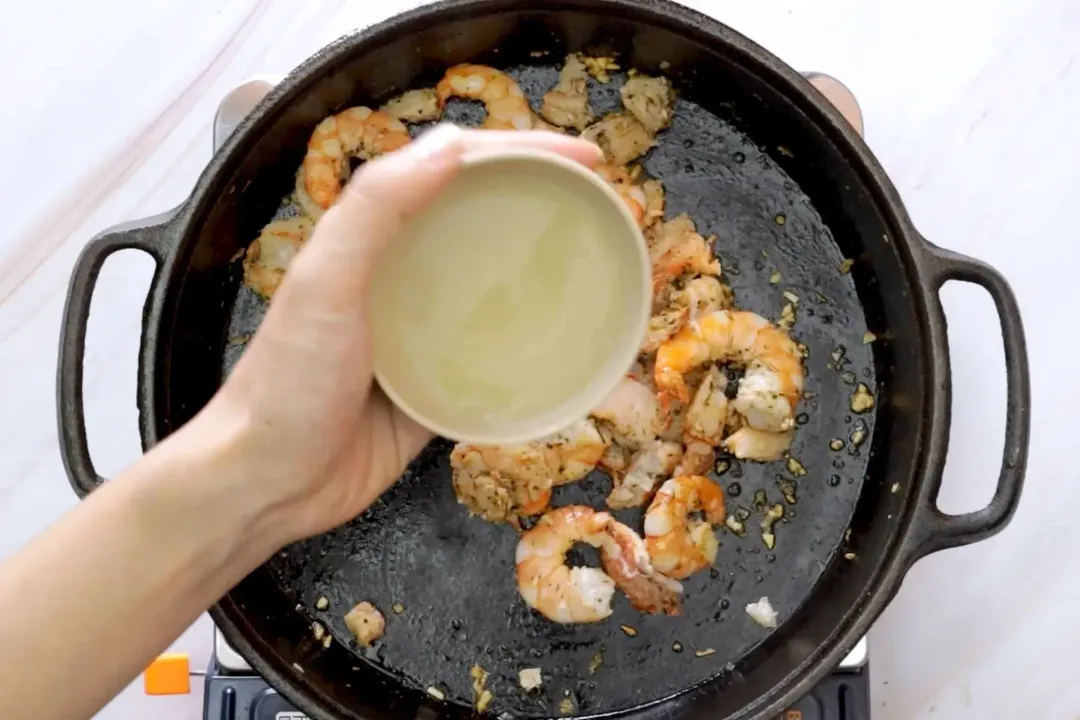 3
In the same pan, melt 1 1/2 tbsp butter over medium heat. Add 1/4 cup all-purpose flour and stir quickly, making sure there are no lumps. Keep stirring until the mixture turns to a light brown.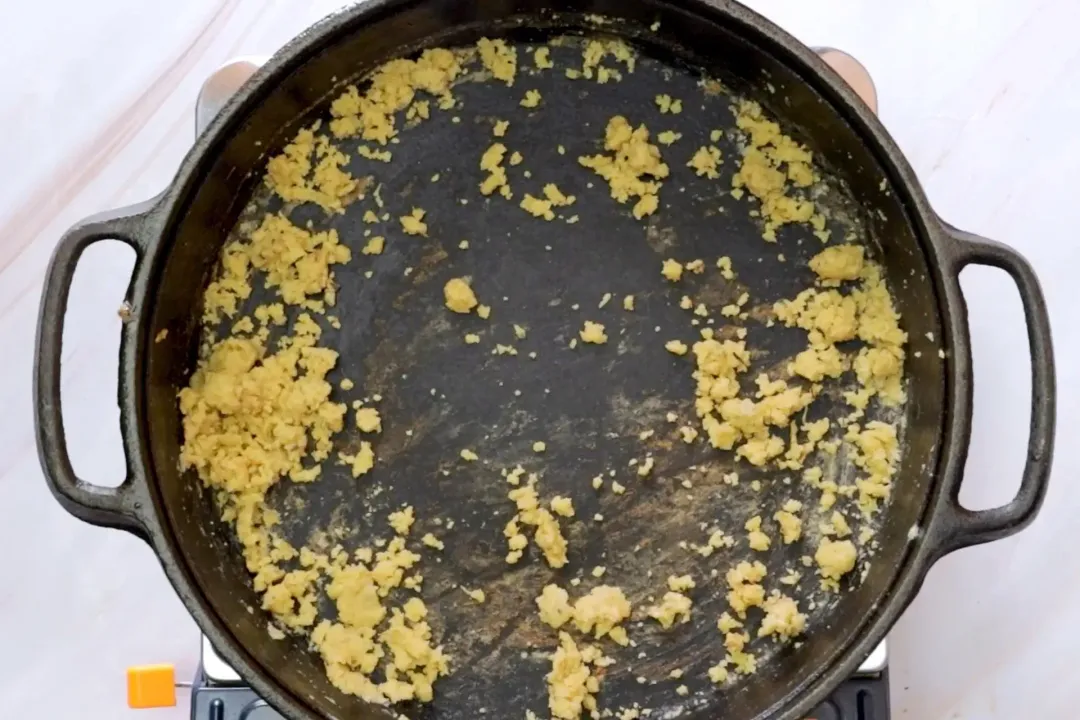 4
Add 2 oz onion, 2 oz bell pepper, 1 oz celery, and stir for 1 minute to get it softened.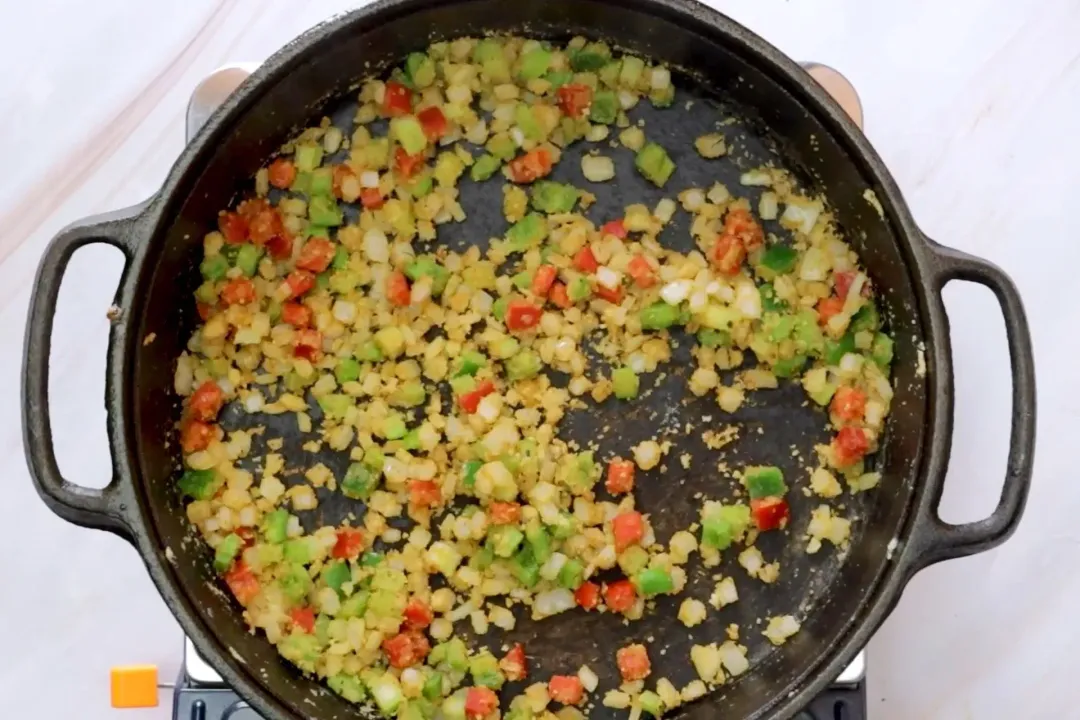 5
Pour in 3 cups broth, and season it with 1/4 tsp salt, 1/4 tsp black pepper, 2 bay leaves, 1/4 tsp Cajun seasoning, 1/4 tsp cayenne, 1 tsp paprika, 1/2 tsp chili powder, and 1 tbsp of coriander. Turn the heat on high, and when it's bubbling, reduce the heat to low and simmer (uncovered) for 20 minutes.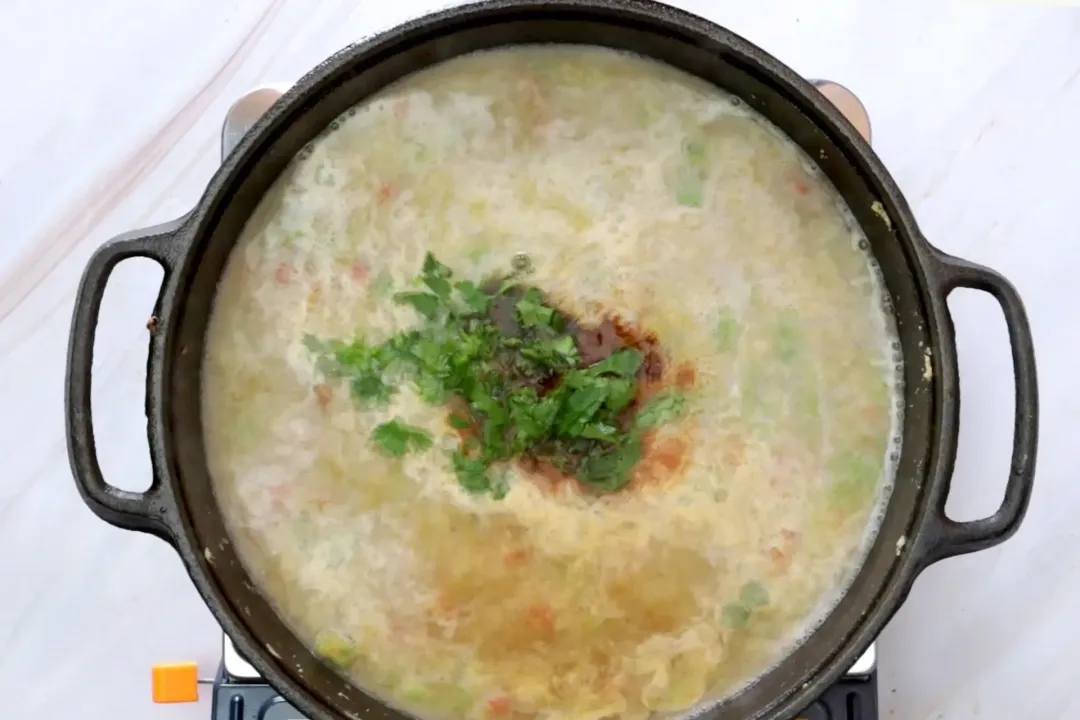 6
Add cooked sausages, seafood, and 5 oz chopped okra in. Simmer for another 15 minutes.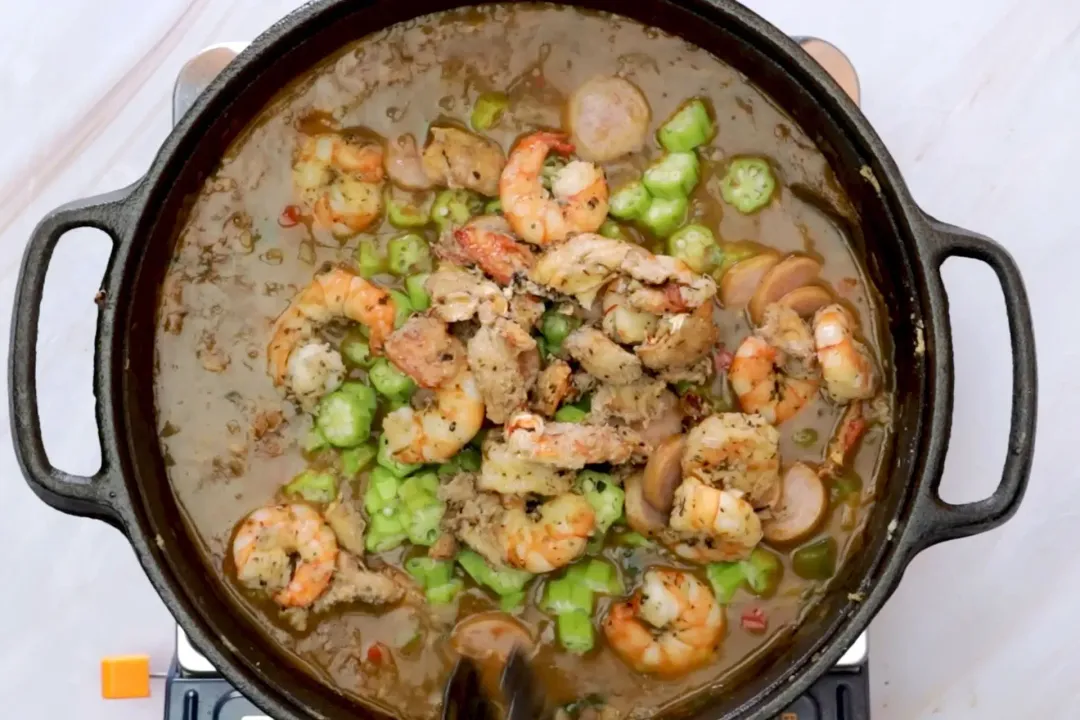 7
Serve with cooked rice and garnish with the remaining scallion and coriander.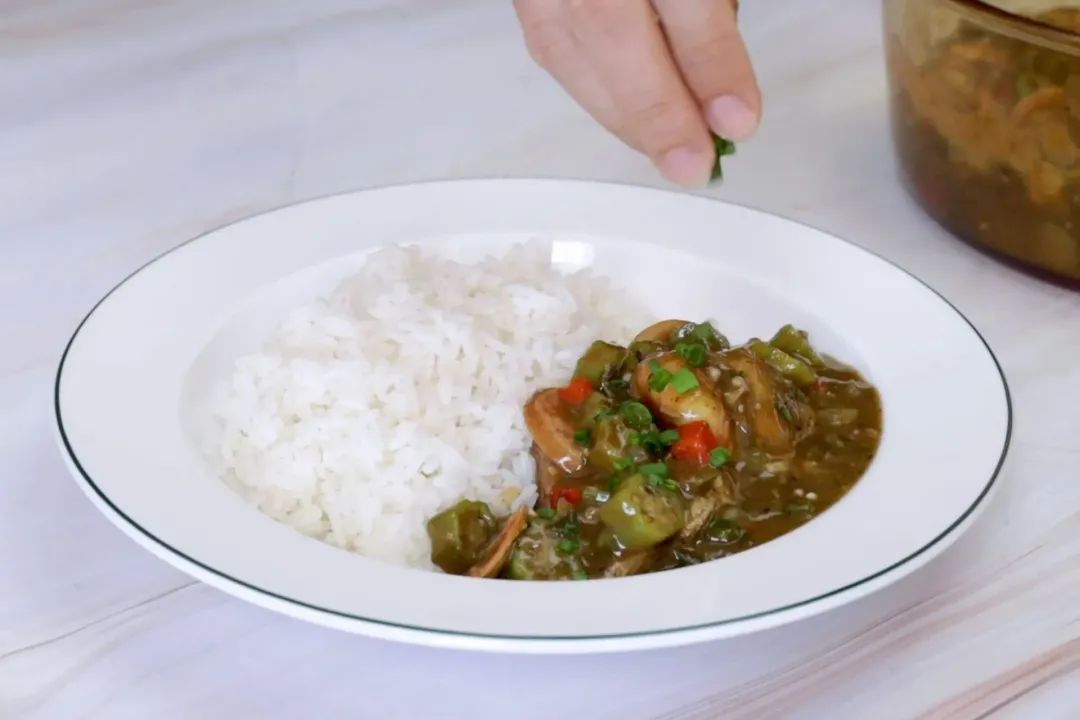 NUTRITION
Nutrition Facts
Easy Seafood Gumbo
Amount Per Serving (1 serving)
Calories 480
Calories from Fat 135
% Daily Value*
* Percent Daily Values are based on a 2000 calorie diet.
Keywords: Easy Seafood Gumbo, Easy Seafood Gumbo Recipe, how to make seafood gumbo, Seafood Gumbo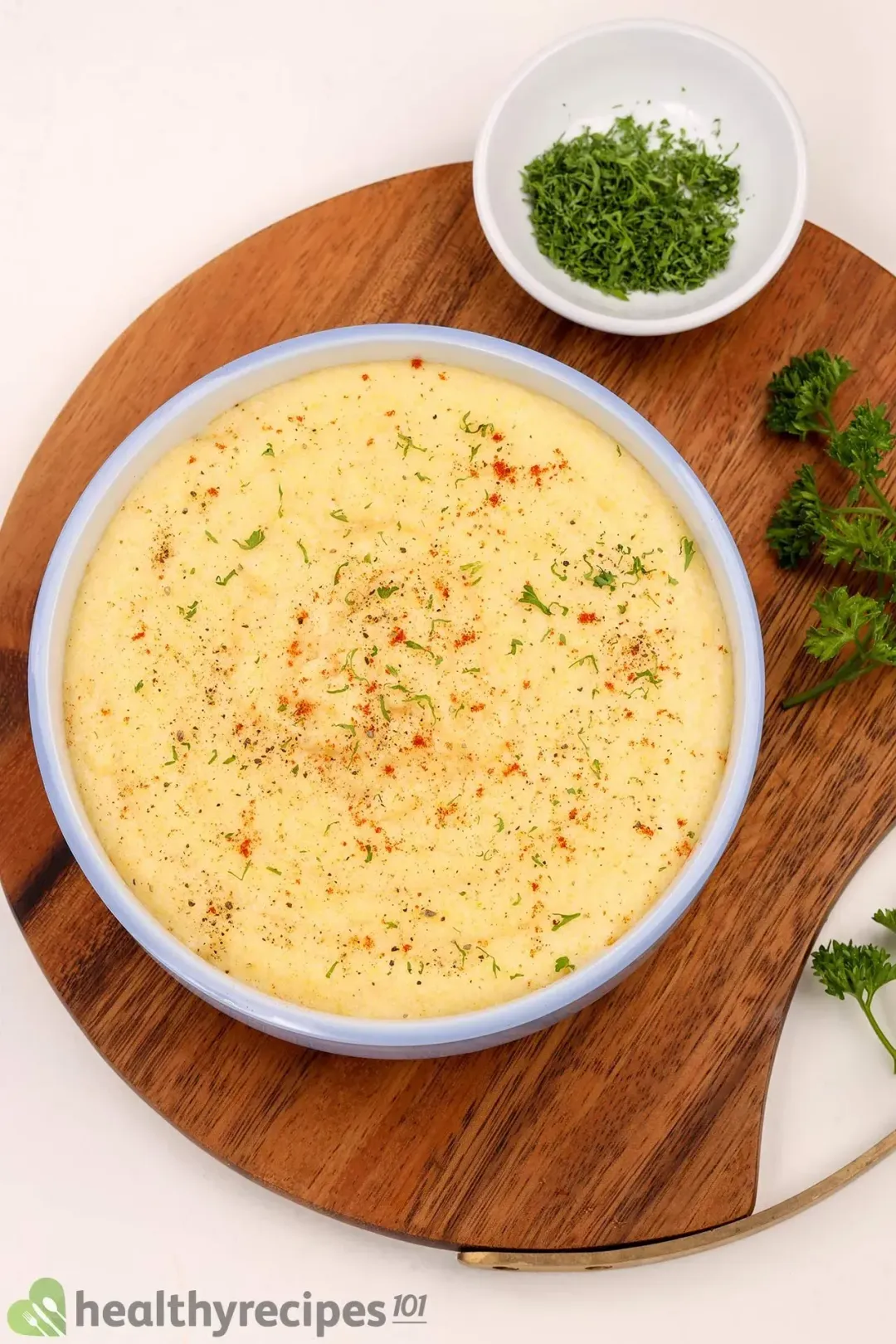 Previous Recipe
Instant Pot Polenta
Instant Pot Polenta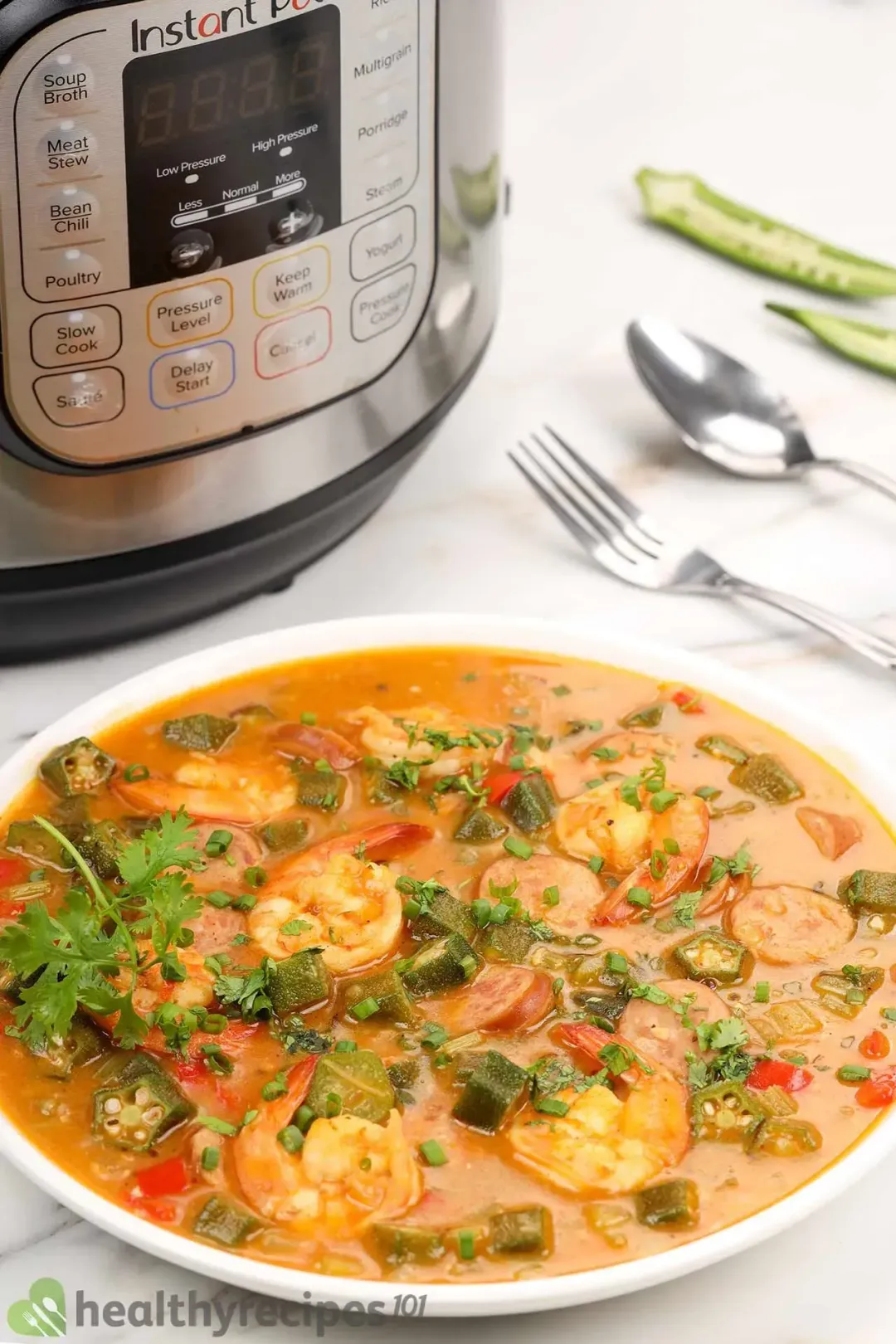 Next Recipe
Instant Pot Gumbo
Instant Pot Gumbo
Head Chef, Culinary Consultant
Tuyet Pham is an award-winning Saigonese chef who believes that joy is the secret ingredient to delicious food. At Healthy Recipes 101, Tuyet personally tests and simplifies every recipe, ensuring maximum flavor with minimal effort. With a background at prestigious French restaurants P'TI Saigon and Le Corto, Tuyet knows how to make every dish exceptional.
Writer, Author
Luna Regina is an accomplished writer and author who dedicates her career to empowering home cooks and making cooking effortless for everyone. She is the founder of HealthyKitchen101.com and HealthyRecipes101.com, where she works with her team to develop easy, nutritious recipes and help aspiring cooks choose the right kitchen appliances.
Nutrition Reviewer
Lizzie Streit is a Minneapolis-based dietitian and founder of It's a Veg World After All. She completed her MS in Human Nutrition from Drexel University, and is an expert in culinary nutrition, recipe development, and nutrition communications. Lizzie's philosophy is centered around making nutrition recommendations, and especially the advice to eat more vegetables, approachable and realistic. She is excited to be working with the team at Healthy Recipes 101 to ensure that their recipes are both nutritious and delicious.
Loved it! Can't wait to try it with shrimp and crab meat!

This seafood gumbo recipe is a flavor explosion! The combination of seafood and spices is simply amazing!