If you're looking for a healthy chicken and sausage gumbo recipe for National Gumbo Day (October 12), your search ends here. It may not be traditional, but it's faster and still captures that gumbo soul.
Don't believe us? See for yourself!
What Is a Gumbo Recipe?
Gumbo is a type of iconic stew that originated in the state of Louisiana. It's famous as one of the state's signature dishes.
The name of the dish is derived from the African word 'ki ngombo', which means 'okra'. This suggests that okra was originally one of its main ingredients.
In the Native American Choctaw language, the word 'kombo', pronounced similarly to the name of the dish, translates to 'filé'. Interestingly enough, filé powder is one of the ingredients used to make gumbo as well.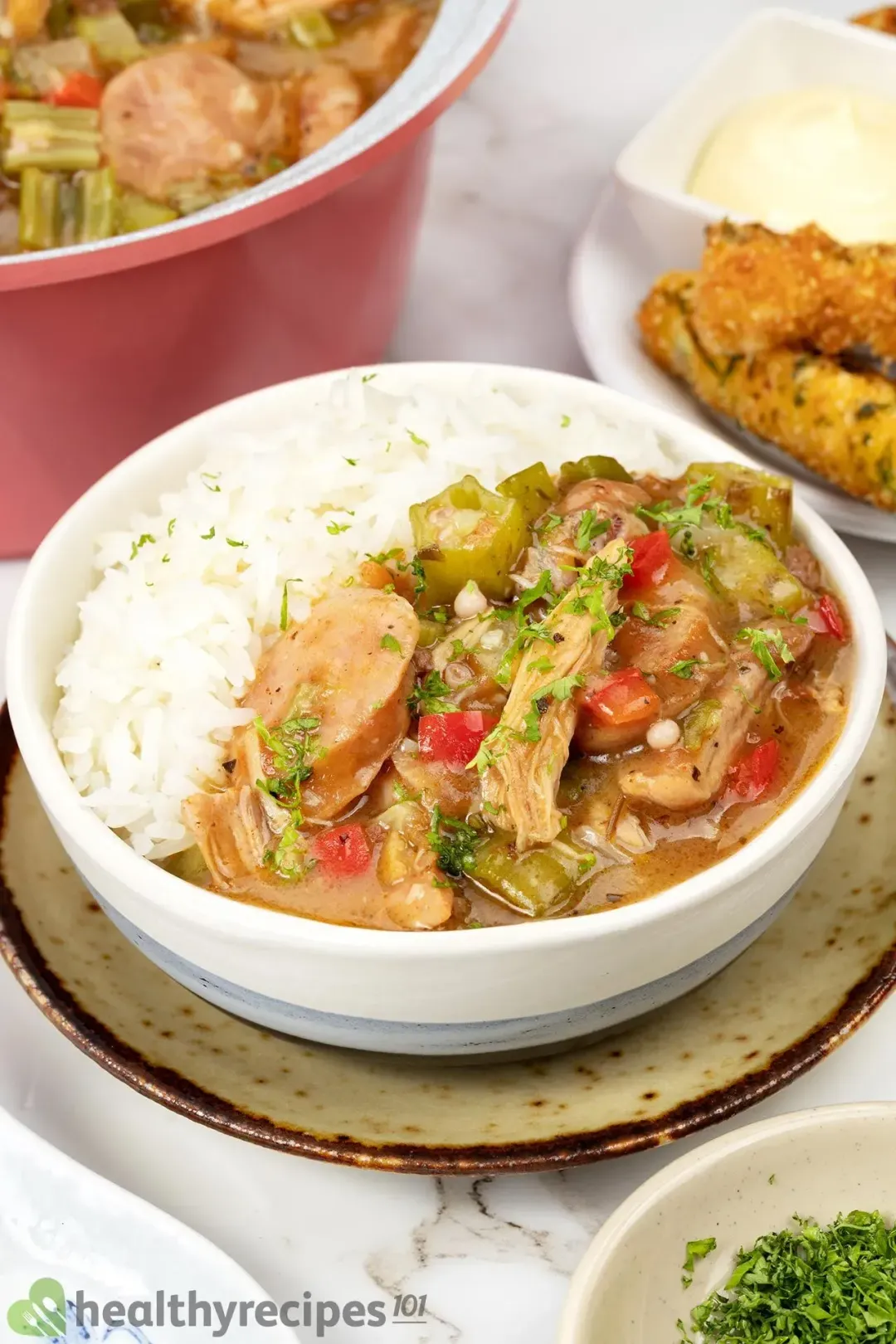 In other words, with all the linguistic possibilities, the dish could easily have been named after its ingredients.
Now, as we all know, Louisiana cooking is strongly influenced by French cuisine, and gumbo is part of that. Many recipes use a 'roux' (a mixture of fat and flour) as a thickening agent.
To sum up: Gumbo is the result of many different cultures coming together. But origin aside, we can all agree gumbo is one of the most popular foods in the Deep South.
Is Our Recipe Healthy?
Our easy chicken and sausage gumbo recipe may not be low in calories, fat, or carbs, but it is healthy. Here's why:
It's high protein. One serving of gumbo contains 40% of your protein DRI; it should keep you full for a long time.
It has almost 15% of your fiber DRI. Fiber can also help you to feel full, and maintain healthy and regular bowel movements.
It's very low in sugar. Having a low-sugar diet can help you lose weight and maintain a healthy blood sugar level.
How Many Calories?
There are 498 calories in our easy gumbo recipe, including a side of cooked rice.
Although this amount of calories may seem high, it's still within your recommended daily intake. And, it's sufficient to fuel you for half a day.
If you love healthy, comforting chicken soup recipes like gumbo, be sure to check out our chicken tortilla soup recipe.
Main Ingredients
The beauty of gumbo is that you can make it with whatever ingredients you have on hand. This is also why no gumbo recipe is the same.
There are a few basic ingredients that really make a chicken and sausage gumbo recipe, and they are: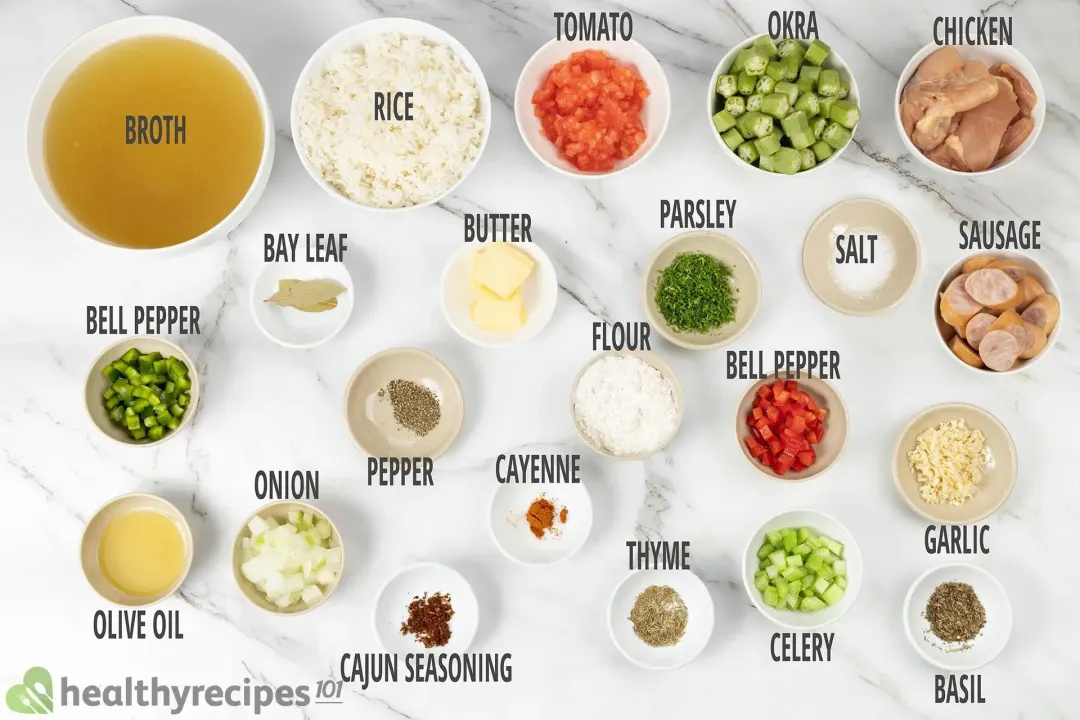 'Holy Trinity' of vegetables: consisting of onion, celery, and green bell pepper. These vegetables will give your gumbo a hint of savory sweetness and lots of powerful flavors.
Thickener: there are 3 main thickeners that you can choose to put in your gumbo: roux, filé powder, or okra. We'll go into detail about them later.
Protein: from poultry, to seafood, to sausages, to veal, you can put whatever you like into the gumbo. The main protein sources for today's recipe are chicken and smoked sausages.
Spices and herbs: dried thyme, dried oregano, garlic powder, onion powder, cayenne pepper, smoked paprika.
Ideas for Seafood Gumbo
Although we're only making chicken and sausage gumbo today, we'd like to talk a bit about seafood gumbo.
Seafood gumbo is one of many variants of gumbo recipe. Its main protein can be a mix of seafood, but the most common ones are shrimp and crabs.
Check out our seafood gumbo recipe.
1. Shrimp
If you want to make an amazing shrimp gumbo, we recommend buying fresh whole shrimp. You will have to put in some extra effort, but it will be worth it.
With fresh, head-on shrimp, you'll have to remove their shells and devein them. And when you do, save the shells and use them to make a flavorful shrimp stock.
To make shrimp stock, you just need to sauté the shells in a bit of oil over high heat. Add chicken broth and wait for it to boil.
Once boiling, reduce the heat to a simmer. Cover and leave it cooking for 15 minutes.
Then all you have to do is strain the stock to remove the shells.
As for the shrimp, sear them before adding them to the gumbo.
The seared shrimp and shrimp stock will give your gumbo an extra seafood flavor.
2. Crabs
Fresh crabs can be very hard to prepare. And depending on the varieties, they can be expensive as well.
Fortunately, you can easily find canned crab meat at a low price. Or if you can afford it, frozen, pre-cut crab is also available.
And since your crab is already prepped and cooked, you just have to add it to your gumbo.
Keep in mind that seafood is high in sodium. So we suggest saving the salt and seasoning your gumbo once it's done cooking.
Apart from shrimp and crabs, you can also add mussels, squid, or scallops.
Gumbo really is a versatile dish; you can make it however you like.
That being said, there is one thing you have to make up your mind about before you start: the thickener.
How to Thicken Gumbo
Some say it's the thickener that breathes the soul into a chicken and sausage gumbo, and we couldn't agree more.
As mentioned, the most commonly used thickeners for gumbo are a roux, okra, and filé powder. Let's get to know them.
1. Roux
Roux is a French cooking technique.
To make a roux, cook flour in a kind of fat such as oil, butter, or lard, to form a paste. Dissolve that paste in liquid and you'll get a thick sauce.
There are 3 types of roux: white, blond, and brown.
All roux starts out as white roux. Then depending on what you're cooking, you adjust the cooking time to achieve your desired roux color.
To make gumbo, you'll need a brown roux as its flavor is more intense in comparison to the others. Dark brown roux also gives body to the gumbo, along with a rich and hearty mouthfeel.
2. Okra
Okra is another thickening agent that gives gumbo its signature flavor.
It's a type of flowering plant that produces edible seed pods. The plant originated in Africa, but is now widely available in America.
Some people may not enjoy okra very much, as it can be slimy.
Whether you like it or not, those slimy seed pods actually have lots of health benefits. And they can help thicken the gumbo too.
Compared to the rich roux, okra won't thicken your gumbo as much. However, it will brighten up your soup with a refreshing taste.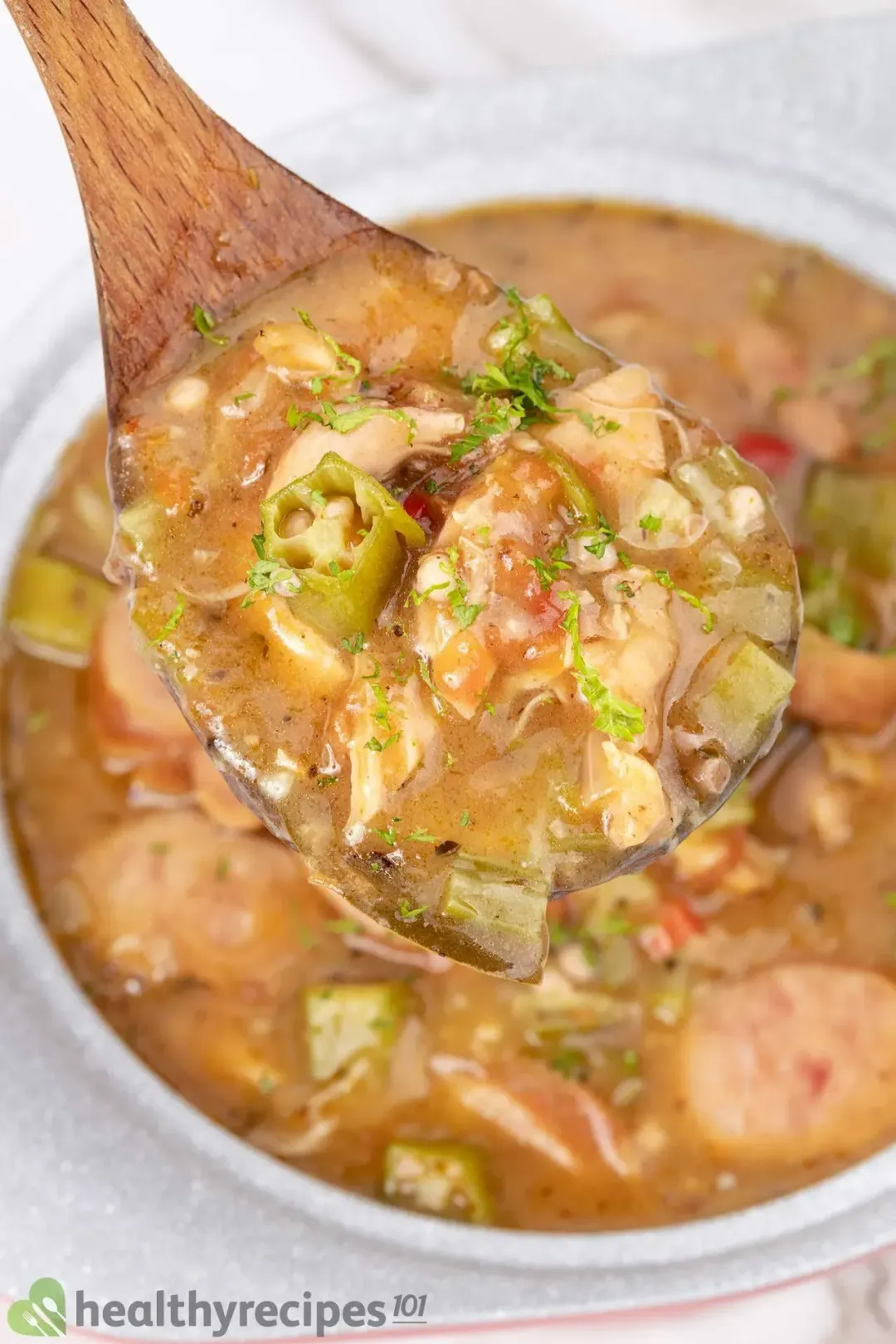 3. Filé Powder
To many people, filé powder is the only acceptable thickener of a gumbo.
This spicy powder is finely ground from the dried leaves of sassafras. It's a type of North American tree that is distinctively known for its aromatic properties.
As a thickening agent, filé powder can be substituted for okra when okra's out of season. This powder will give the soup a thicker texture and a unique flavor with a hint of herby earthiness.
You can use either roux, okra, or filé powder to thicken your gumbo. Or even combine them.
There is no real set recipe, so just do whatever works for you.
What to Serve with Chicken and Sausage Gumbo Recipe
1. Potato Salad
Easy Gumbo recipe and potato salad is a popular meal combo in Southern cuisine.
Southern potato salad is creamy and looks more like mashed potatoes. They usually serve a scoop of potato salad in their gumbo.
When you eat it, take a bit of the potato salad and dip it in the gumbo soup. Grab a bite of chicken, sausage, and vegetables, too, and experience an explosion of flavors.
If you want to make Southern potato salad, it consists of boiled potatoes, hard-boiled eggs, mayonnaise, and mustard. You can add carrots, onions, celery, and pickles to give the salad texture as well.
2. Rice
Steamed rice is a common side dish for gumbo. You can use whatever type of rice you want, but we highly recommend basmati rice.
Basmati rice is less sticky— making it perfect to pair with saucy food like curry and this quick and easy to cook gumbo.
You can serve with simple steamed rice, or you can kick it up a notch by seasoning your rice.
Add ½ teaspoon of ground black pepper and 1 tablespoons of freshly chopped parsley to 3 cups of cooked rice. These seasonings will make both the rice and gumbo more flavorful.
3. Tomatoes
Although tomatoes are usually added to the gumbo, you can serve tomatoes on the side as well.
You can use whatever variety of ripe tomatoes you want.
Drizzle a bit of olive oil and salt on top of the tomatoes. Bake for 15 to 30 minutes until they're slightly softened.
Oven roasted tomatoes are bursting with flavor. They will add a refreshing touch to your gumbo.
If you want to include more chicken in your diet, this best delicious chicken roundup have a bunch of ideas.
Meal Plan
For today's meal, we're having gumbo with a side of zucchini fries.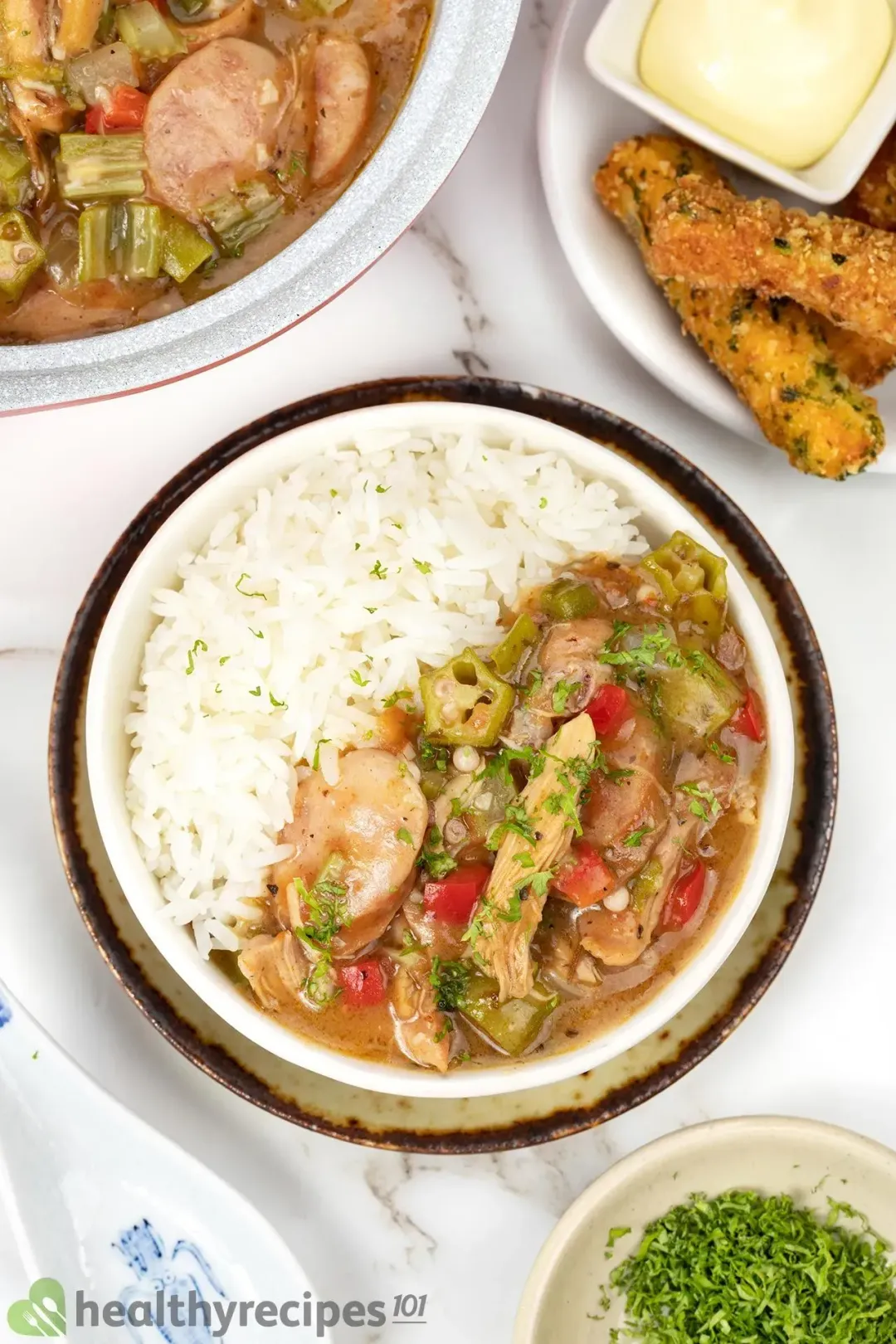 These fries are simply the best appetizer and finger food as they are easy to make, delicious, and healthy. Their crispy exterior adds a nice textural contrast to the thick, rich soup.
Into More Saucy Chicken Skillets?
Tomato chicken is one of the sauciest chicken breast skillets we've ever made. It serves easily with bread or pasta, and finishes in less than 30 minutes. We put some capers in it too, so the sharp tang it has is more prominent.
If you're into something that errs on the sweet side, this honey butter chicken is what you need. It has golden chicken skin basted in the sweet, lemony glaze that looks nice and tastes awesome.
Into more saucy chicken pots and pans? Have a look at our Indian chicken collection!
FAQ
1. How to Store
If you have leftover gumbo, the first step is to wait and allow it to cool to room temperature.
Put the gumbo in an airtight container and put it in the fridge. It will stay good for 3 days.
2. Can You Freeze Gumbo?
Yes, you can freeze it.
Put gumbo in a heavy-duty ziploc freezer bag. Seal it tightly and put it in the freezer.
Frozen gumbo can last up to 1 month.
When you need it, put it in the fridge and allow it to thaw slowly overnight.
Alternatively, you can put the bag of frozen gumbo in a tub of water and let it thaw.
Check to see if the water is too cold; you'll need to change the water a couple of times during the defrosting process.
3. How to Reheat Chicken and Sausage Gumbo
You can reheat your easy gumbo recipe over the stove or in the microwave.
To heat gumbo over the stove, put gumbo in a pot and cook over medium heat. Once it starts to boil, turn off the heat and serve.
If you're using the microwave, be sure to use a microwavable container and lid.
Easy Healthy Chicken and Sausage Gumbo
An easy healthy chicken and sausage gumbo recipe shouldn't take hours to cook. With our recipe, you'll have a hearty bowl of spicy gumbo to enjoy in just one hour.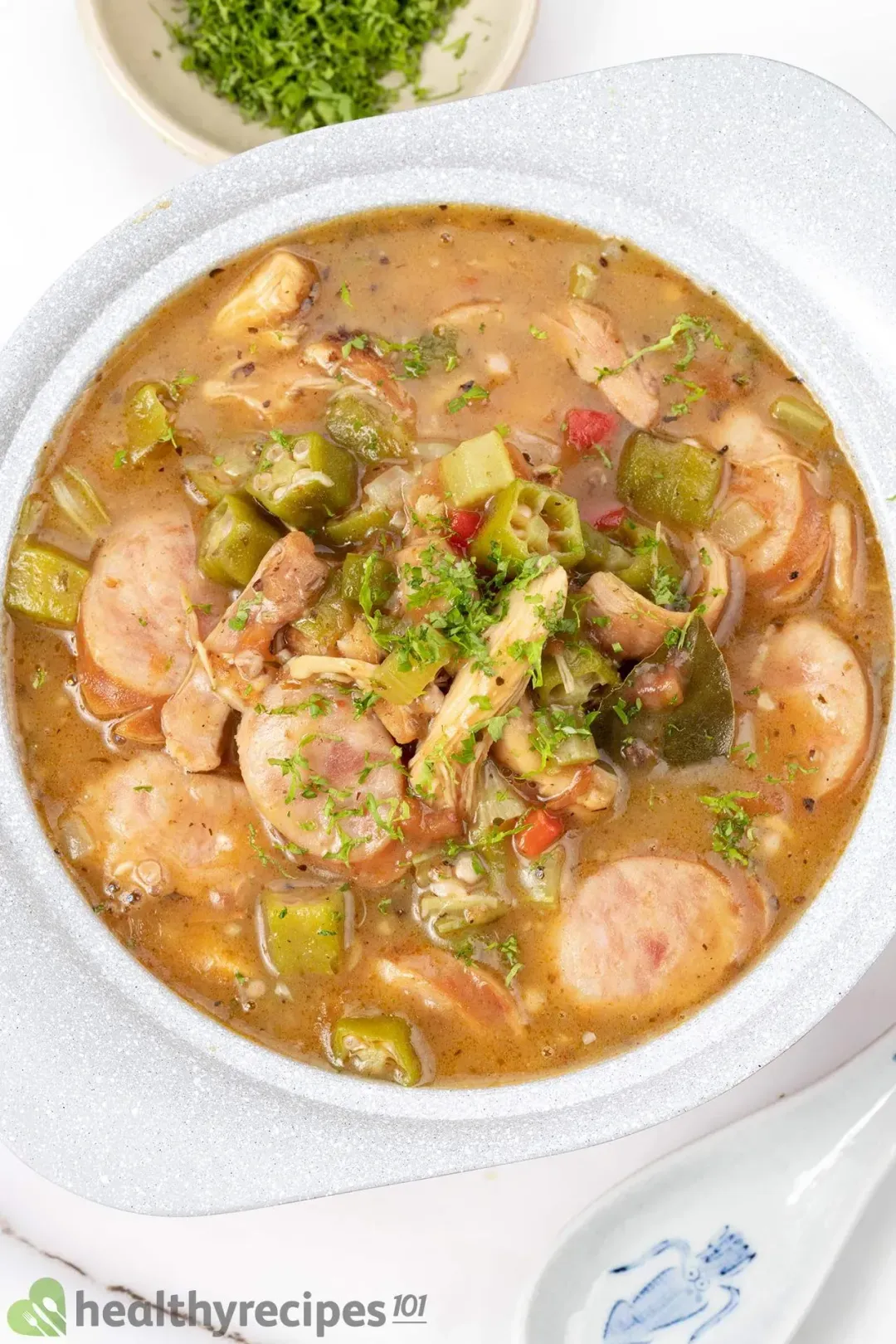 cook TIME

50 mins

prep TIME

10 mins

total TIME

1 hr
COURSE

Main Course, Soup

CUISINE

American

SERVINGS

CALORIES

498 kcal
INGREDIENTS
6 oz

skinless boneless chicken thighs

(4 medium)

4.8 oz

smoked sausage

(2 links)

5 oz

okra

(cut into ½-inch slices)

4 oz

tomatoes

(finely chopped)

1.5 oz

yellow onion

(diced)

1.4 oz

bell pepper

(red and green, diced)

1 1/2 tbsp

olive oil

(divided)

4 cups

unsalted chicken broth

1/4 cup

all-purpose flour

1/4 tsp

ground black pepper

(divided)

1 tbsp

fresh parsley

(finely chopped)

3 cups

cooked medium-grain rice
INSTRUCTIONS
1
Heat up 1/2 tbsp olive oil in a large pot over medium heat. Add 6 oz chicken, 1/8 tsp salt, and 1/8 tsp black pepper. Sear for 8 minutes, flipping halfway through. Transfer the chicken to a plate and cover it with aluminum foil. Allow it to cool slightly.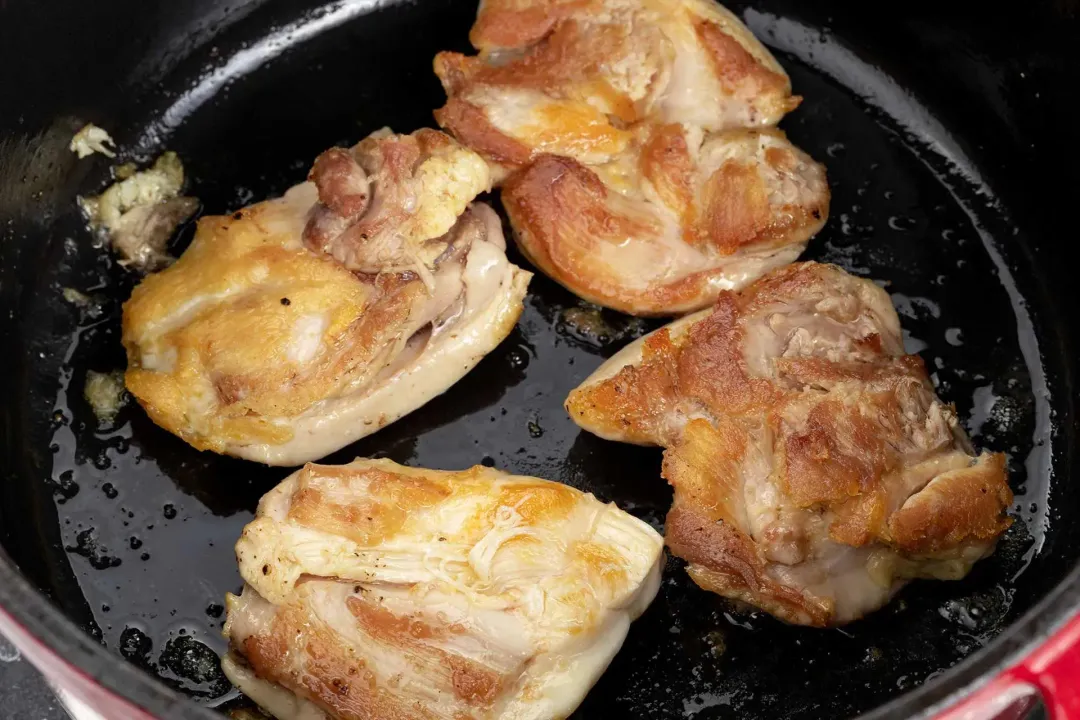 2
In the same pot, add 5 oz okra and cook for 3 minutes over medium heat. Once the okra is lightly browned, transfer it to a plate and set aside.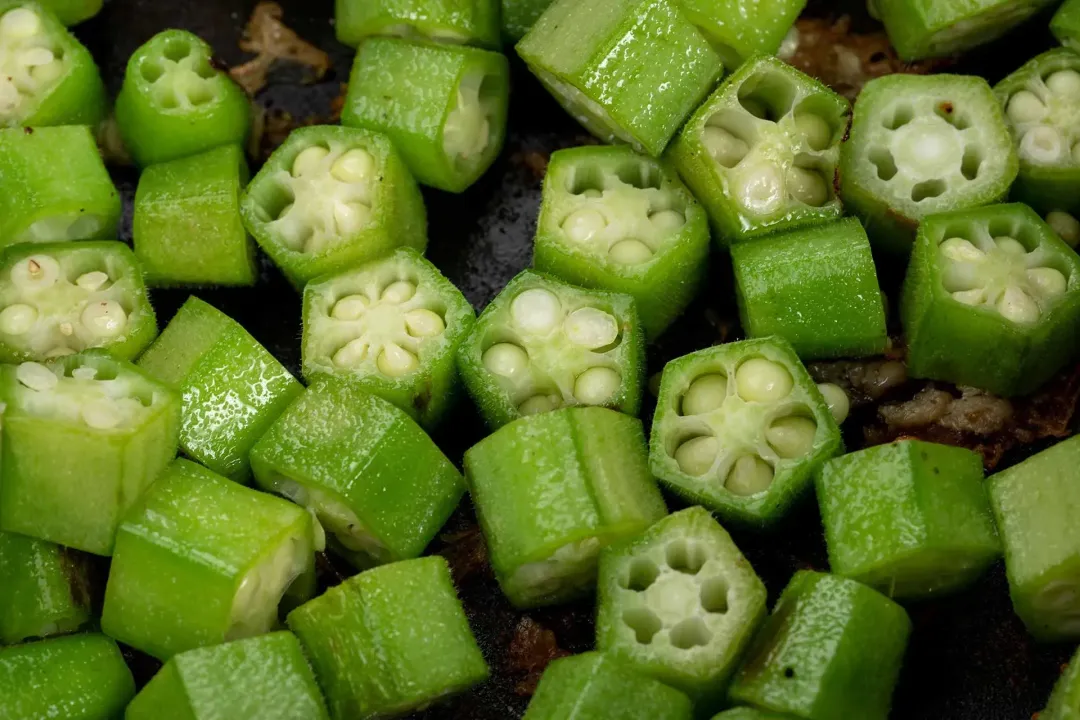 3
Add the remaining 1 tbsp olive oil, 2 tbsp butter, and 1/4 cup flour. Cook for 5 minutes over medium heat or until the roux has reached a dark golden brown hue; stir occasionally. Meanwhile shred the cooked chicken with a pair of forks and set aside.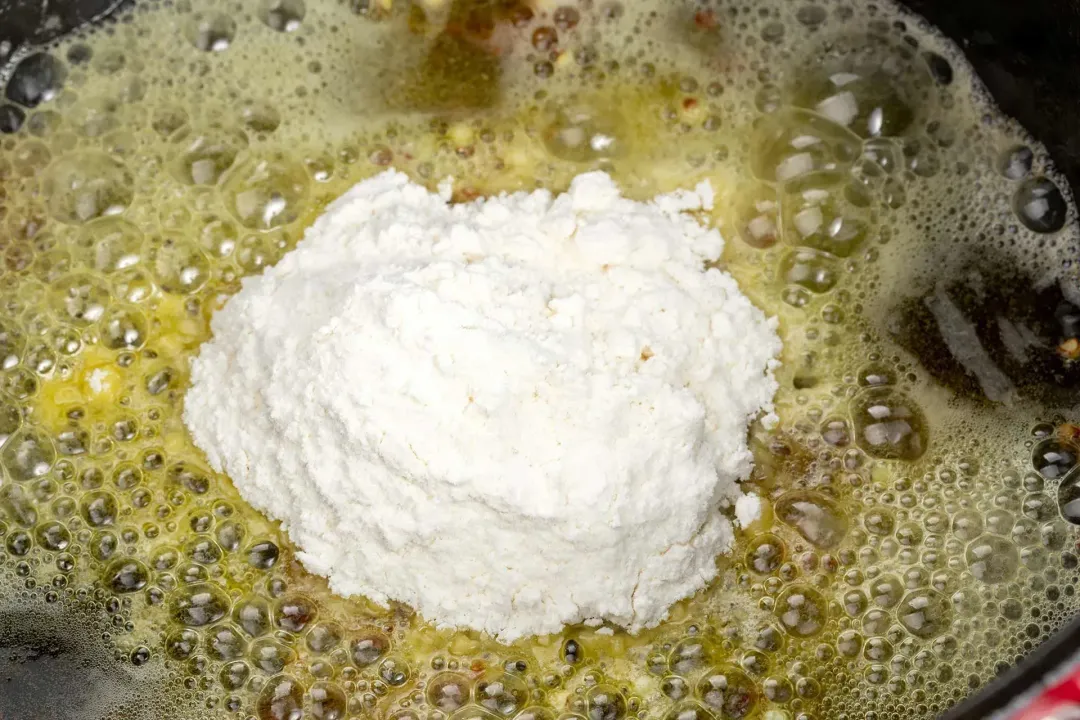 4
Add 1.5 oz diced onion, 1 oz celery, and 1.4 oz bell peppers to the pot. Sauté for 3 minutes over medium heat or until tender.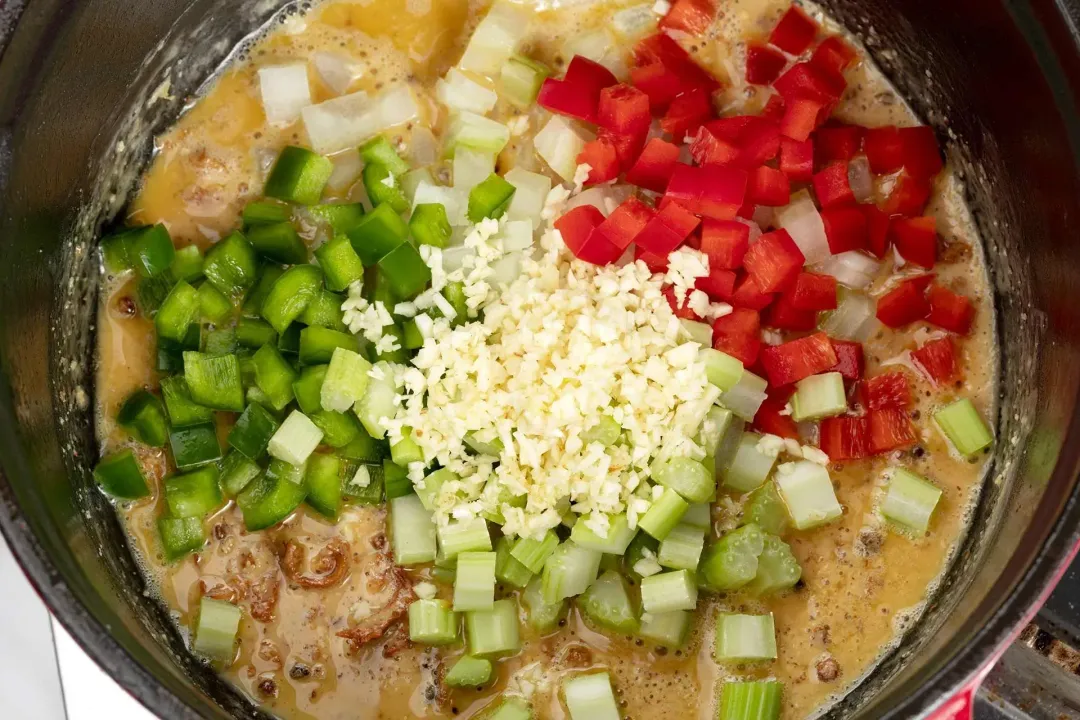 5
Return okra to the pot, along with 1/4 tsp dried basil, 1/4 tsp thyme, 1/4 tsp cayenne pepper, 1/4 tsp Cajun seasoning, 1/8 tsp salt, and 1/8 tsp pepper. Cook for 30 seconds or until fragrant.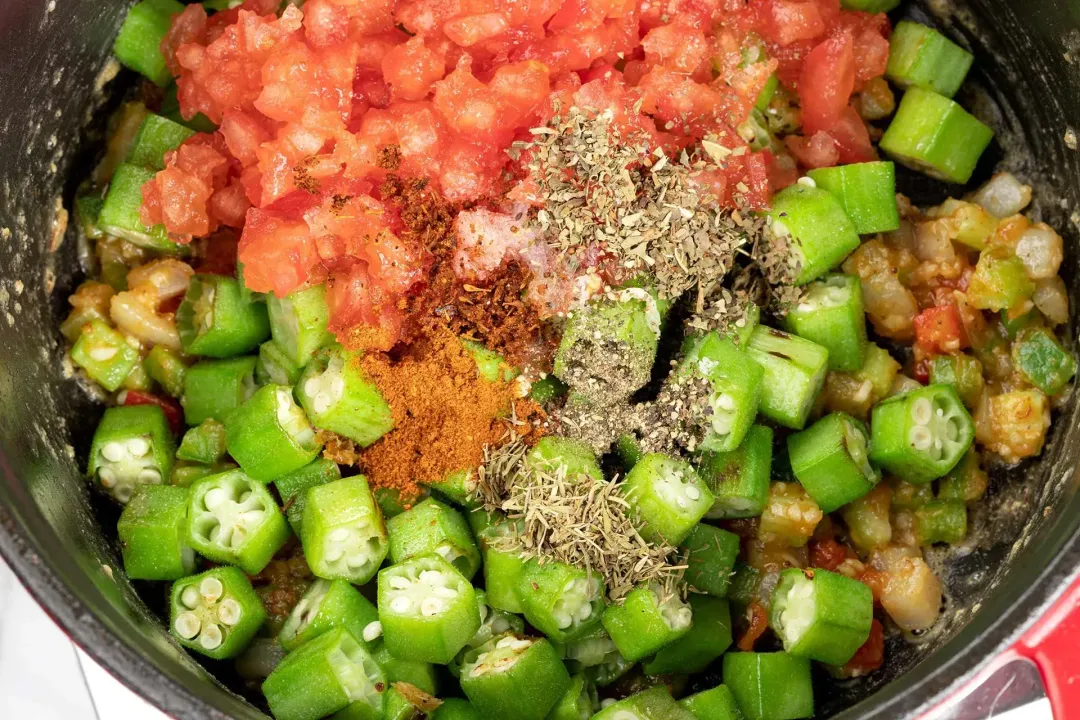 6
Add 4 cups unsalted chicken broth, shredded chicken, 4.8 oz smoked sausages, and 1 bay leaf. Bring the pot to a boil, then reduce the heat to medium-low and simmer for 30 minutes, uncovered.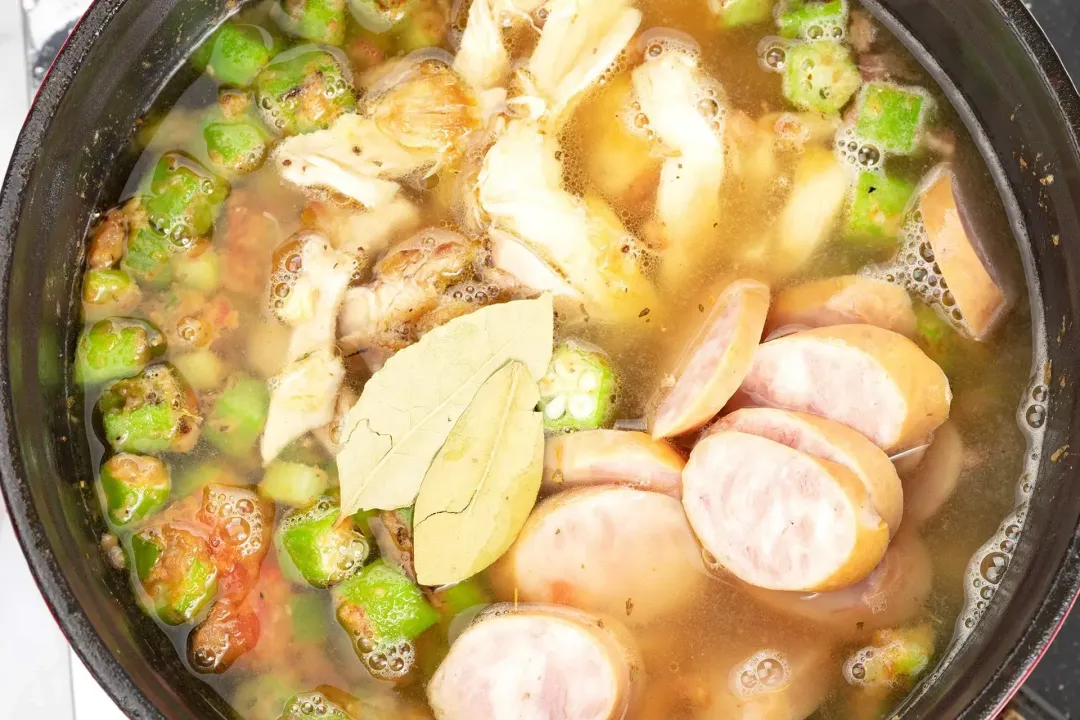 7
Taste and check for seasoning if needed. Remove the pot from the heat. Garnish with 1 tbsp freshly chopped parsley and serve with 3 cups cooked rice.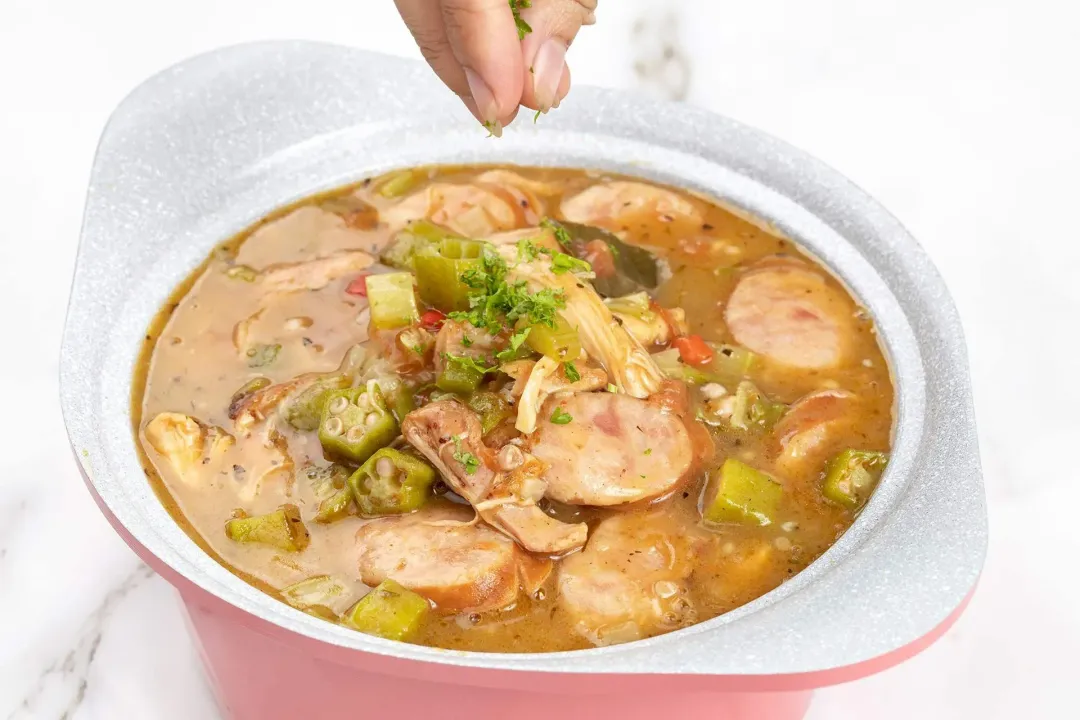 NUTRITION
Nutrition Facts
Easy Healthy Chicken and Sausage Gumbo
Amount Per Serving (1 serving)
Calories 498
Calories from Fat 198
% Daily Value*
* Percent Daily Values are based on a 2000 calorie diet.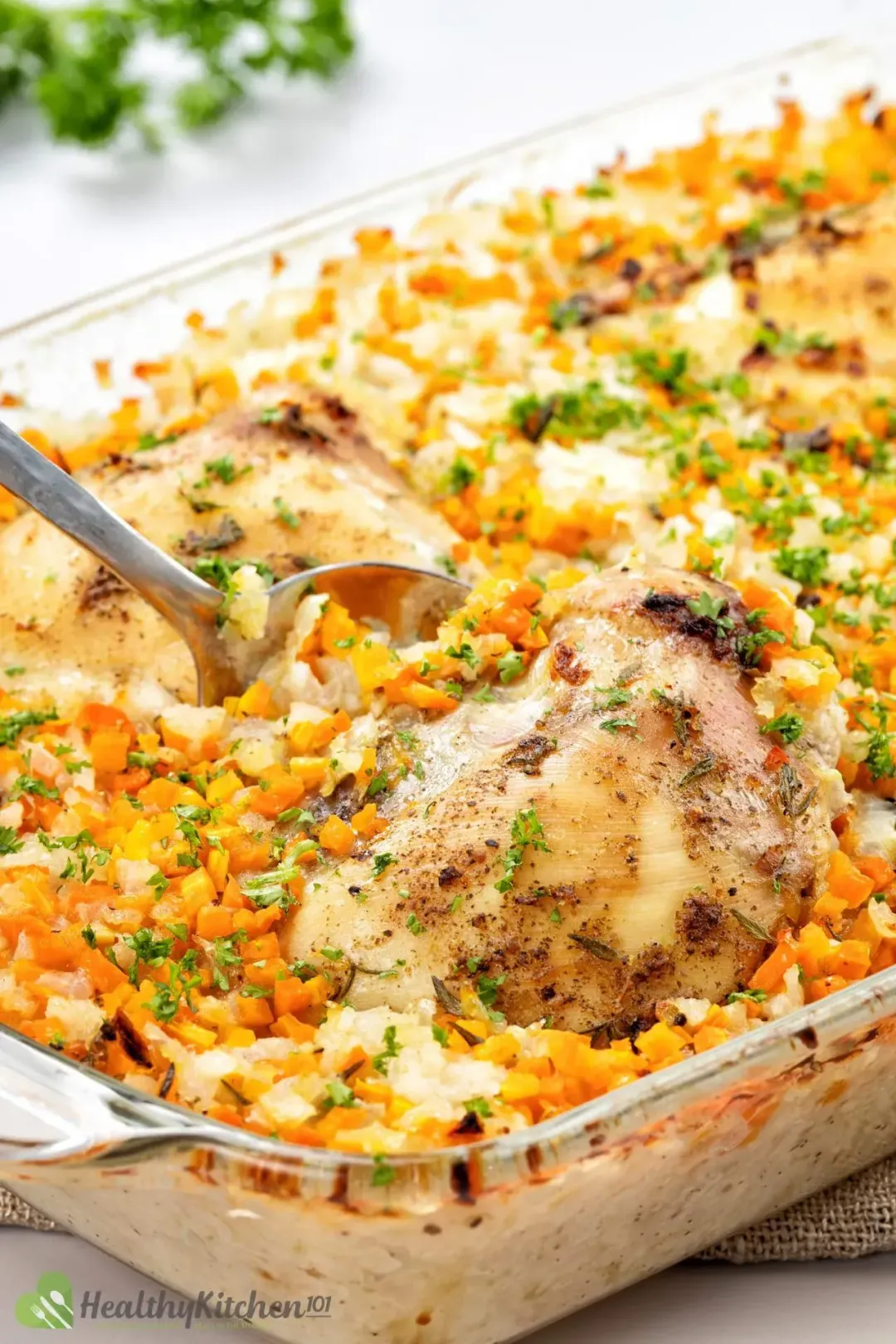 Previous Recipe
Healthy Chicken And Rice Casserole
Healthy Chicken And Rice Casserole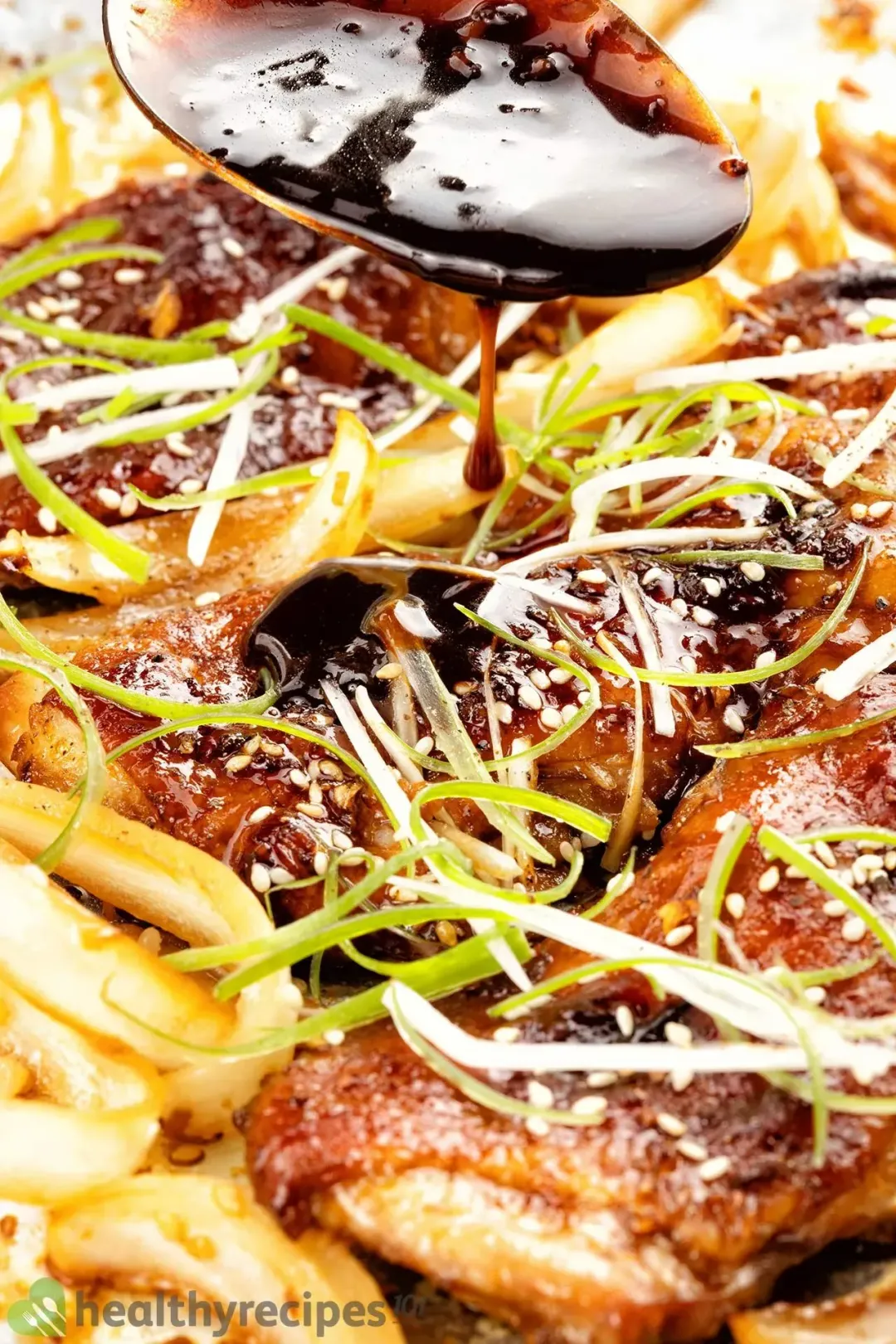 Next Recipe
Teriyaki Chicken
Teriyaki Chicken
Head Chef, Culinary Consultant
Tuyet Pham is an award-winning Saigonese chef who believes that joy is the secret ingredient to delicious food. At Healthy Recipes 101, Tuyet personally tests and simplifies every recipe, ensuring maximum flavor with minimal effort. With a background at prestigious French restaurants P'TI Saigon and Le Corto, Tuyet knows how to make every dish exceptional.
Writer, Author
Luna Regina is an accomplished writer and author who dedicates her career to empowering home cooks and making cooking effortless for everyone. She is the founder of HealthyKitchen101.com and HealthyRecipes101.com, where she works with her team to develop easy, nutritious recipes and help aspiring cooks choose the right kitchen appliances.
Nutrition Reviewer
Lizzie Streit is a Minneapolis-based dietitian and founder of It's a Veg World After All. She completed her MS in Human Nutrition from Drexel University, and is an expert in culinary nutrition, recipe development, and nutrition communications. Lizzie's philosophy is centered around making nutrition recommendations, and especially the advice to eat more vegetables, approachable and realistic. She is excited to be working with the team at Healthy Recipes 101 to ensure that their recipes are both nutritious and delicious.
This recipe is better than I expected. I love how the okra thickens the soup. Interesting!

Made exactly as written. Fantastic!