This Instant Pot gumbo recipe takes only 20 minutes to turn out an awesome meal.
We understand how irresistible gumbo can be. The broth is loaded with sausage, shrimp, and veg, and has a spicy kick that warms you up from the first bite. In short, it's bursting with flavors.
Traditional gumbo takes hours, but with our Instant Pot gumbo recipe, you only need to spend 20 minutes and won't have to sacrifice the flavors of the traditional gumbo you've known and loved.
Is Instant Pot Gumbo Healthy?
Yes, we believe it is.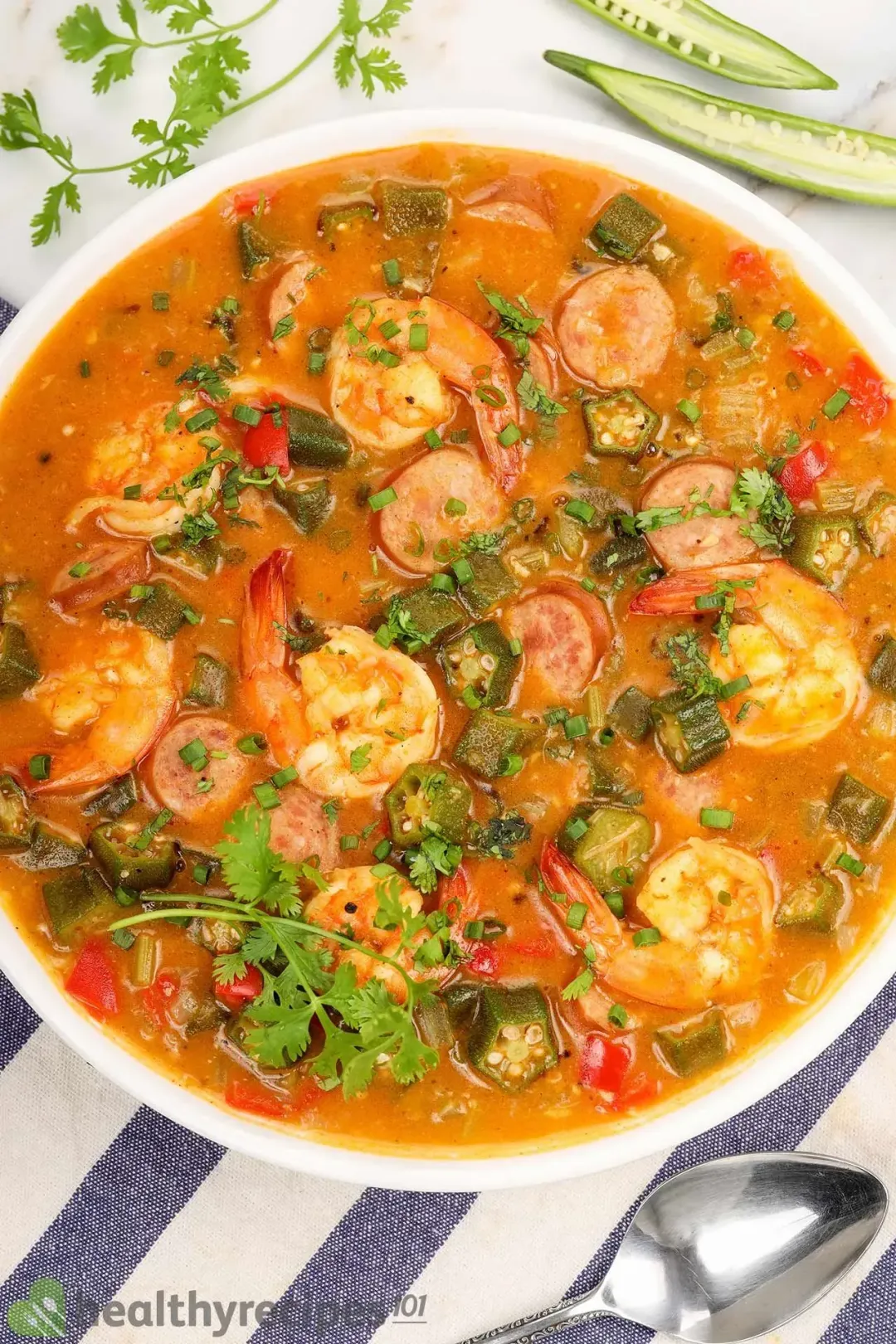 For starters, this recipe calls for an abundance of ingredients. The micronutrient content of each food varies, so eating a variety of foods is a great way to get sufficient vitamins and minerals.
If you're interested in bodybuilding, gumbo can also help you meet your protein goals. Each serving packs 24g of protein, nearly what 100g of chicken can provide.
Gumbo is filled with vegetables, which are good sources of fiber. When they're consumed with a carb, like rice, you'll feel satiated for longer, which helps you control your calorie intake.
Along with calories, experts recommend that we control our intake of sodium, saturated fat, and added sugar. With our trusty tools, we adjusted the ingredients to limit the levels of these nutrients in our recipe.
If you wish to learn more about healthy eating, you can have a look at our dietary guidelines.
Etouffee vs Gumbo
Etouffee or Étouffée, a French word meaning "smothered", is a Louisiana staple, like gumbo. The two look similar but are different in many ways:
Etouffee is a stew that's also served with rice, but instead of sausages, its main protein component is shellfish. The base of the stock is usually shrimp stock, which gives the dish a unique flavor that is different from gumbo.
The source of Etouffee's thickness is a roux, but it's lighter than the one used in gumbo. Etouffee doesn't call for okra or filé powder, the crucial ingredients in a gumbo recipe.
What Are the Ingredients in Instant Pot Gumbo?
Inside the delicious thick sauce lies a complex mix of flavors. It starts with a good stock, plenty of seasonings, and thickening agents and ends with juicy proteins and vegetables.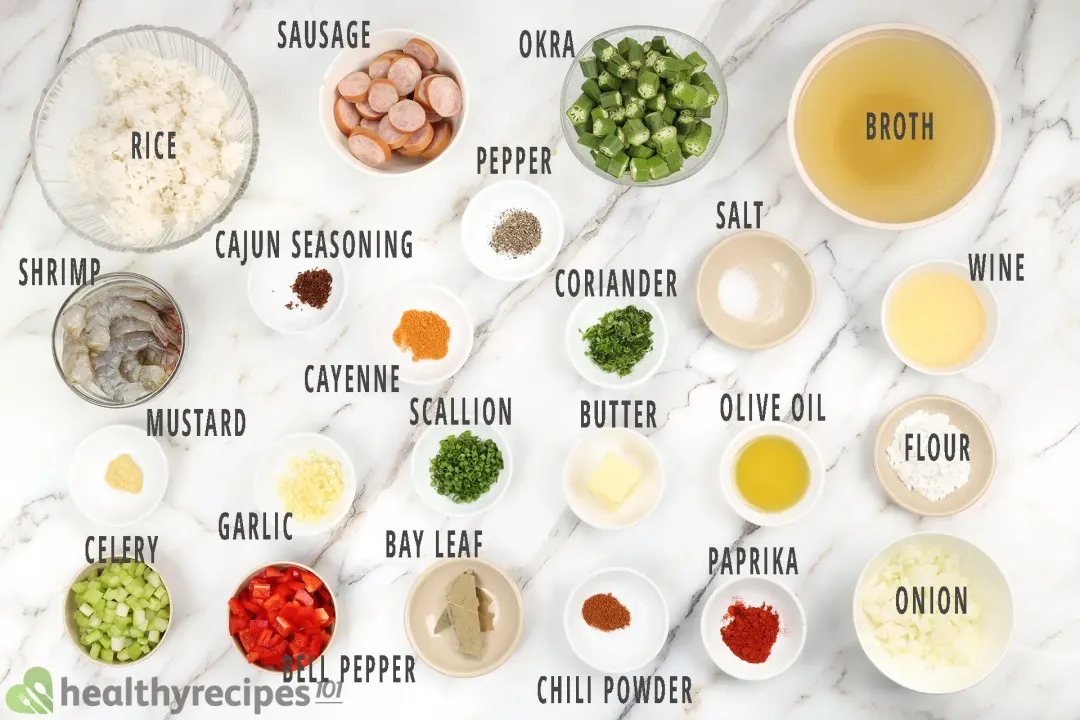 1. The Stock
By "a good stock" we mean the chicken stock that we made from scratch. It's more concentrated in flavors than any commercial stock.
We simply simmered roasted chicken bones with celery, carrots, onions, and a bay leaf for half an hour. If you don't have time to make it yourself, you can get the one we recommend in the recipe card.
2. The Seasonings
With the stock, add a healthy amount of salt and ground black pepper to the pot. It will taste bland at first, but soups always become more flavorful in the end.
Since gumbo is a Louisiana staple, Cajun seasoning is a must. We love to give it a huge spice kick, so we also added plenty of cayenne, paprika, and chili powder.
Of course, a soup-like gumbo wouldn't be complete without a bay leaf. We can't really tell that it's there, but we definitely notice when it's missing.
It may seem a bit unusual, but we found that gumbo tastes better with a little mustard. If you're not feeling creative, you can skip this ingredient.
3. The Thickening Agents
Gumbo is thickened with either okra or filé powder and a dark roux.
We used okra because it's healthier than filé powder. These fruits have plenty of viscous juice inside, which is the main thickener of this gumbo.
"Roux" is a fancy name for flour cooked in fat, usually butter or lard. People normally cook this roux until its color turns dark to develop a complex flavor profile for gumbo.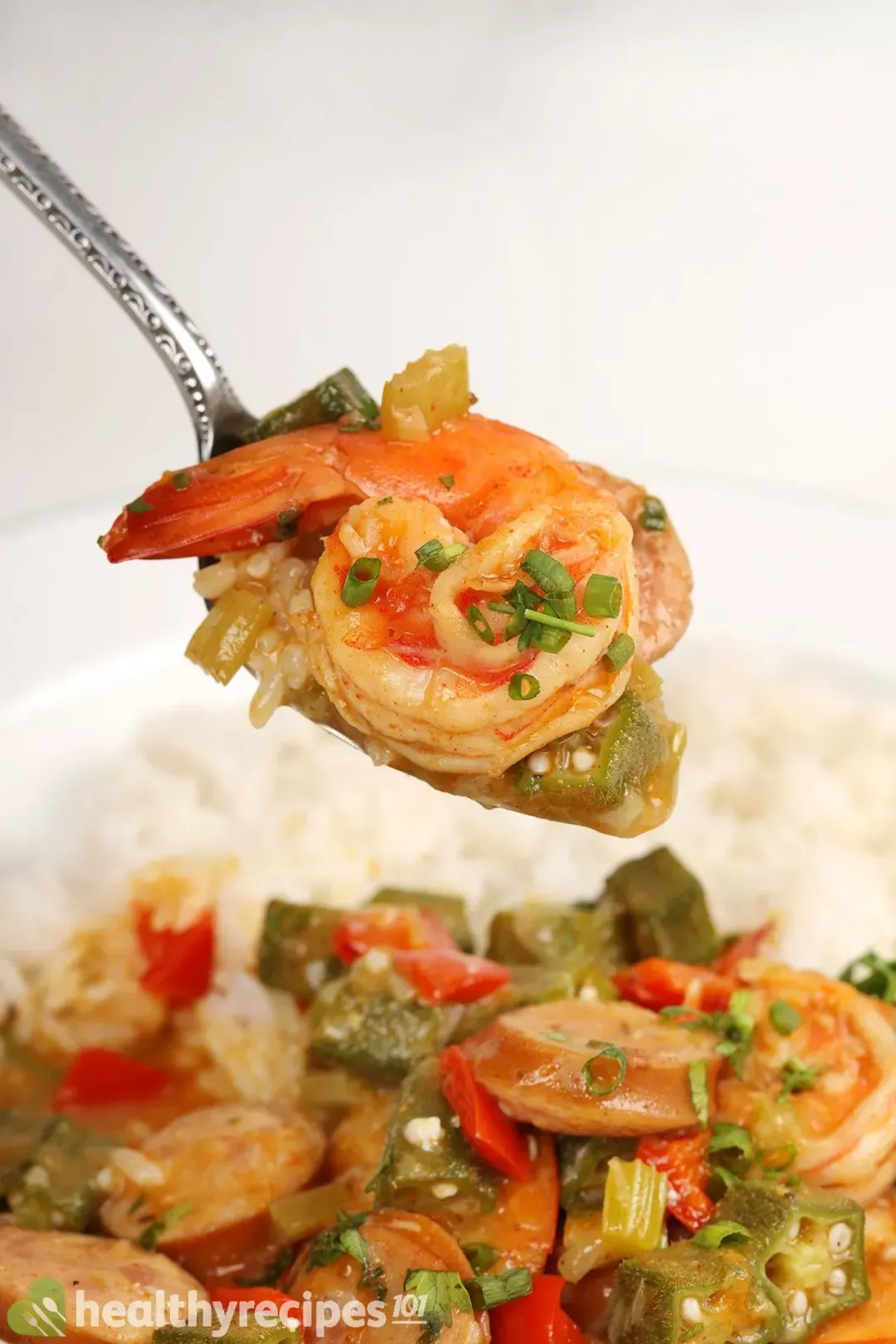 4. The Vegetables and Proteins
We cooked the roux along with the holy trinity of veggies: onions, bell peppers, and celery. These vegetables are often used in this cuisine.
For proteins, shrimp and sausages are the standards:
Of course, you'd want to devein the shrimp and remove its shell— someone could get hurt if you don't. Also, you can remove the tail or keep it on for presentation (like we did).
For sausages, Andouille is the traditional choice, but it can be hard to find. We opted for smoked sausages, which paired beautifully with the spices.
Finally, we finished the gumbo with sprinkles of chopped scallion and cilantro.
5. The Rice
Last but not least, when choosing the rice, pick any type that suits your fancy. Traditionally, gumbo's use white rice, but a more nutritious type like wild rice works as well.
How to Cook Gumbo in the Instant Pot
Here are the steps: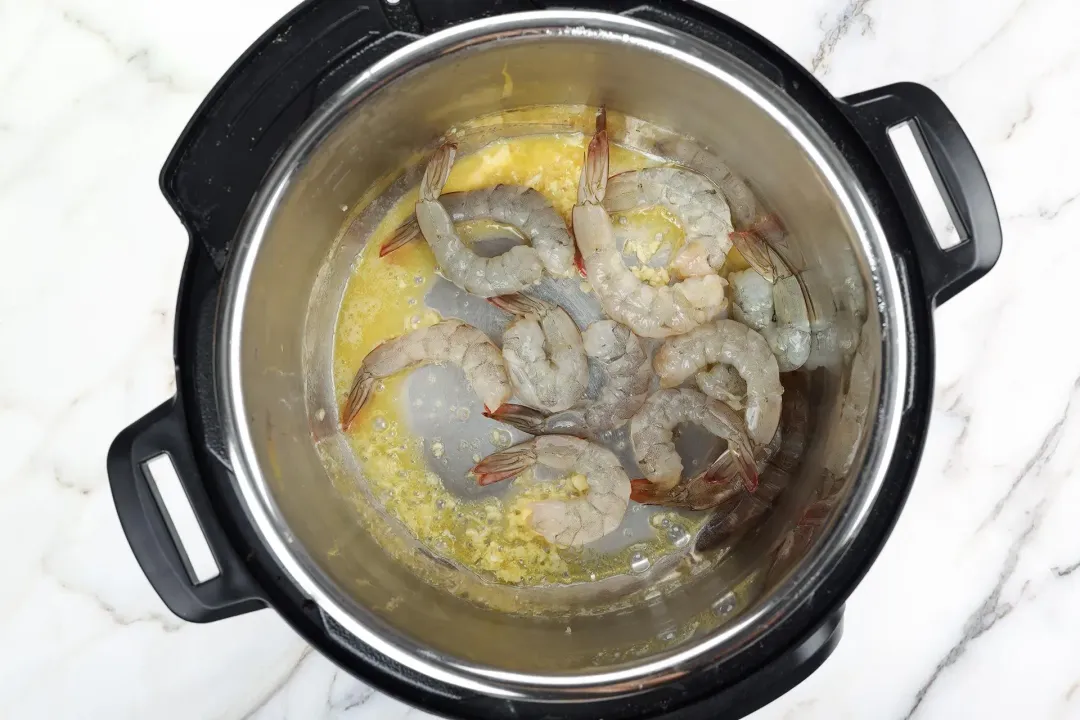 Sauté the garlic and sear the shrimp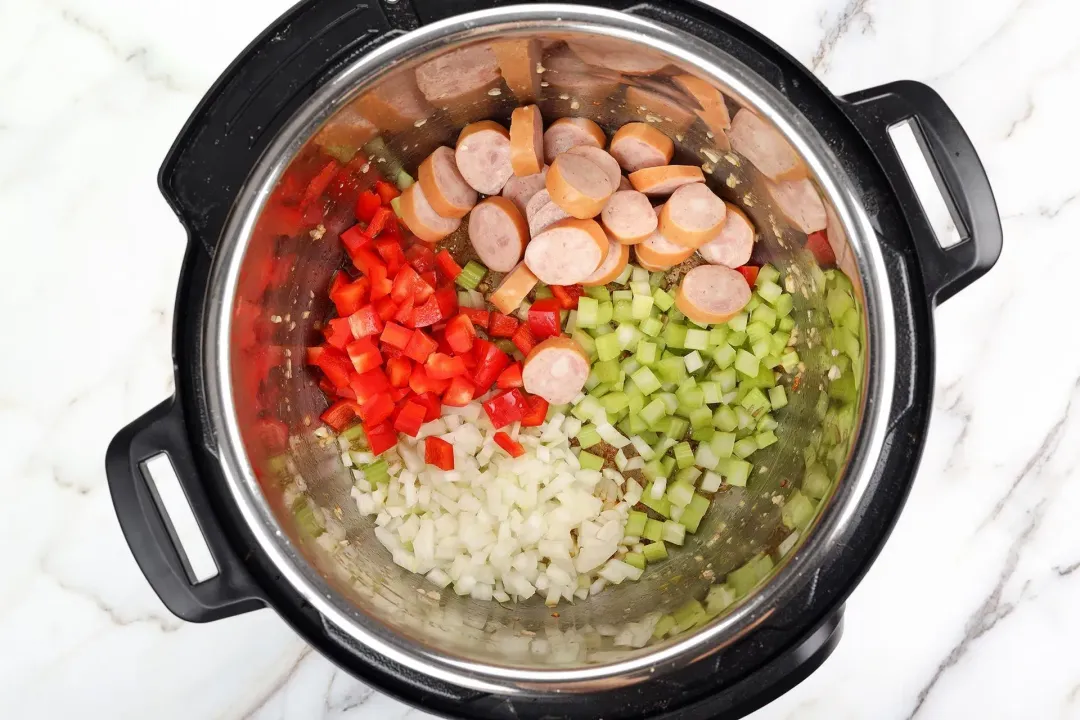 Sauté the veggies and sausages with oil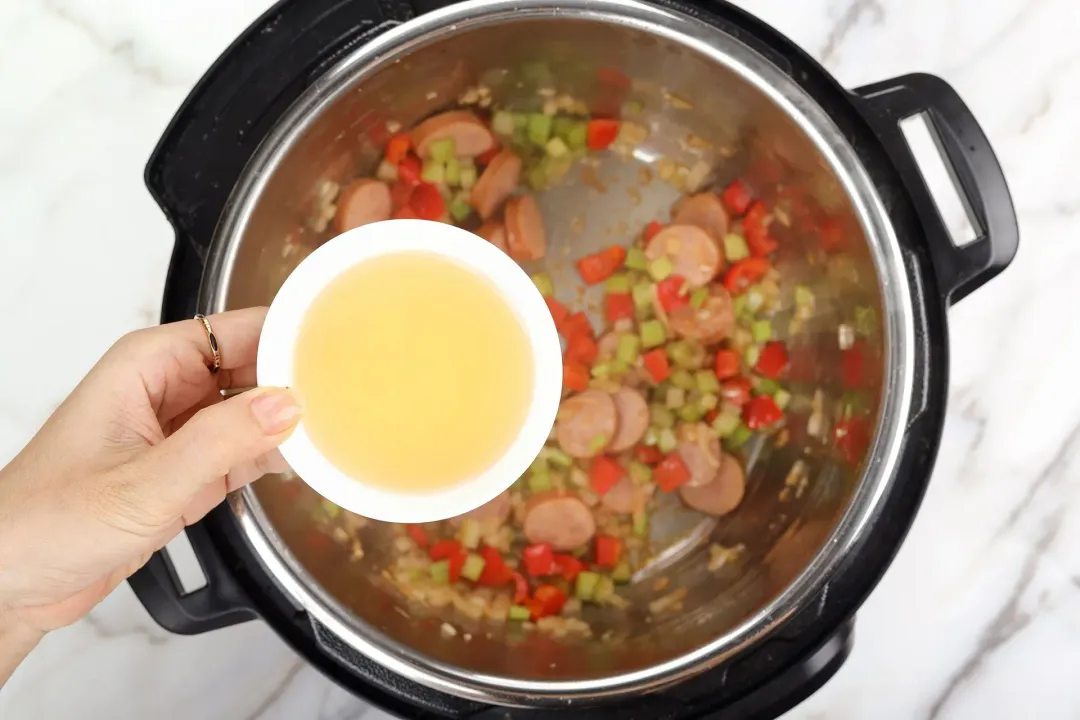 Stir in flour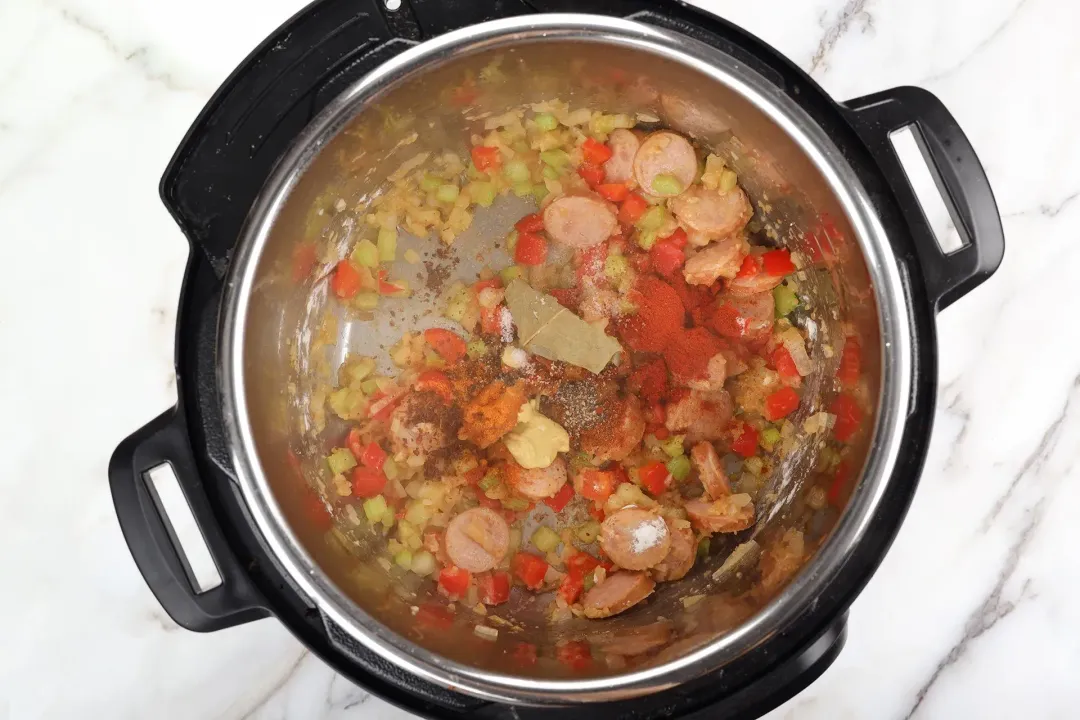 Stir in seasonings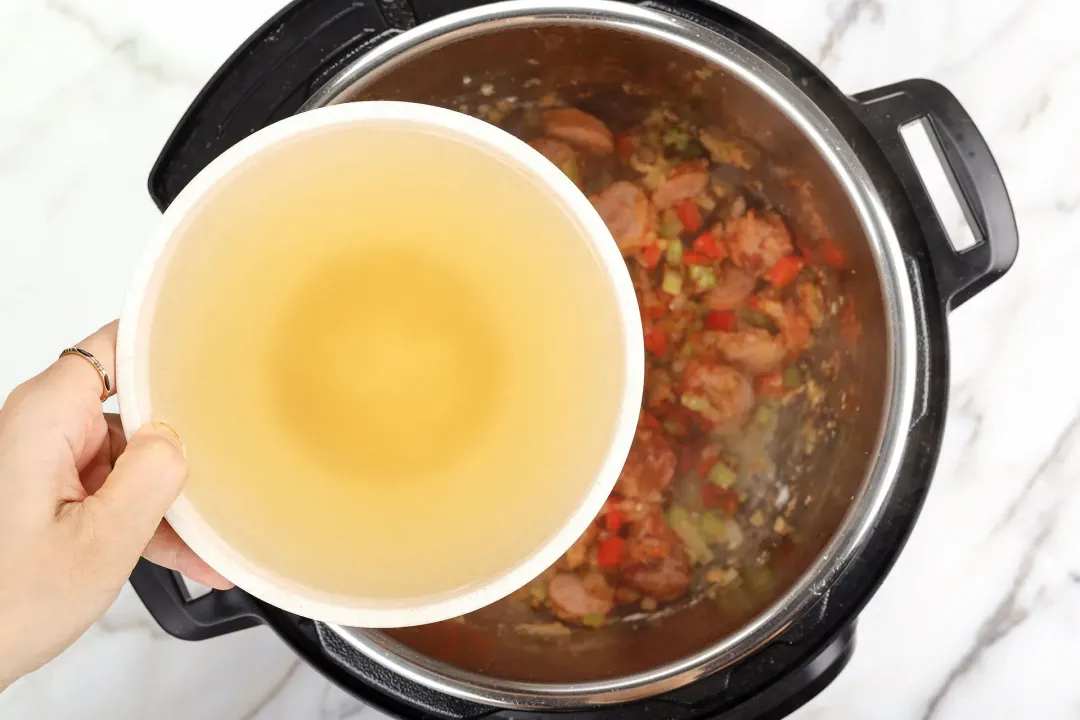 Add chicken broth and pressure-cook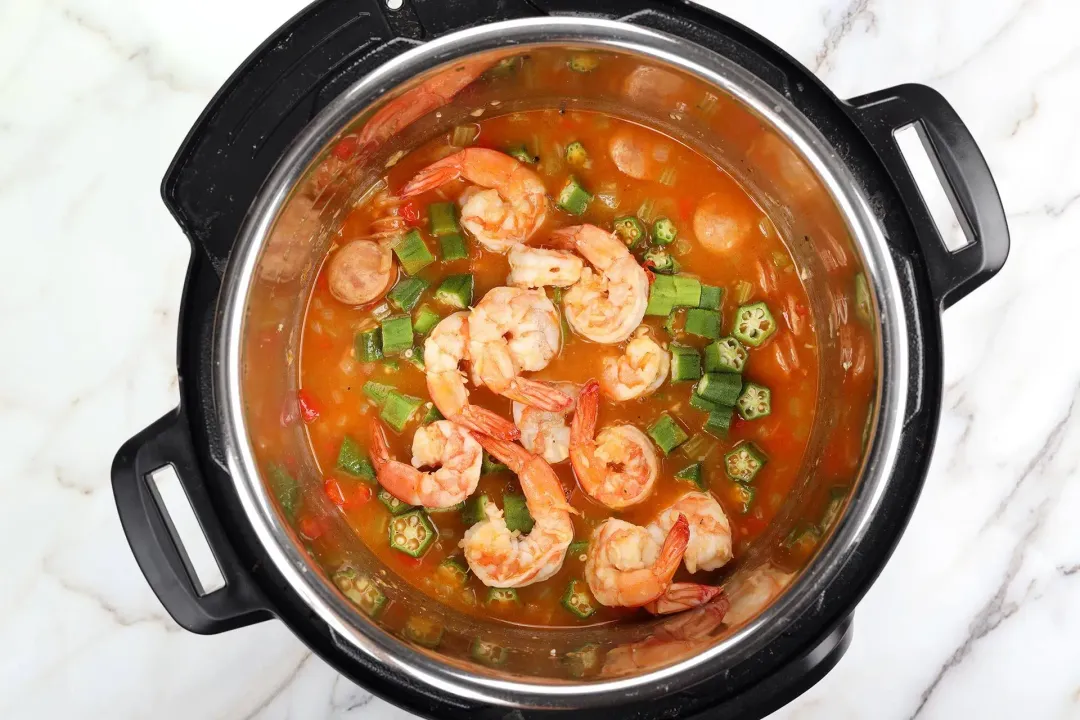 Release the pressure; add shrimp and okra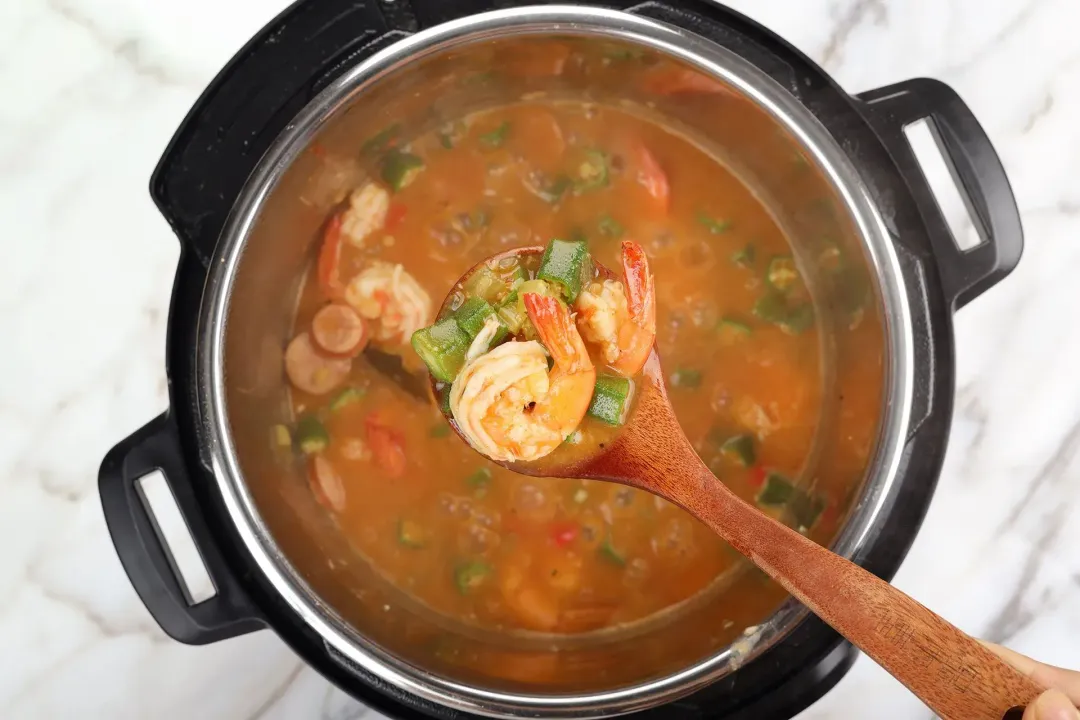 Reduce the broth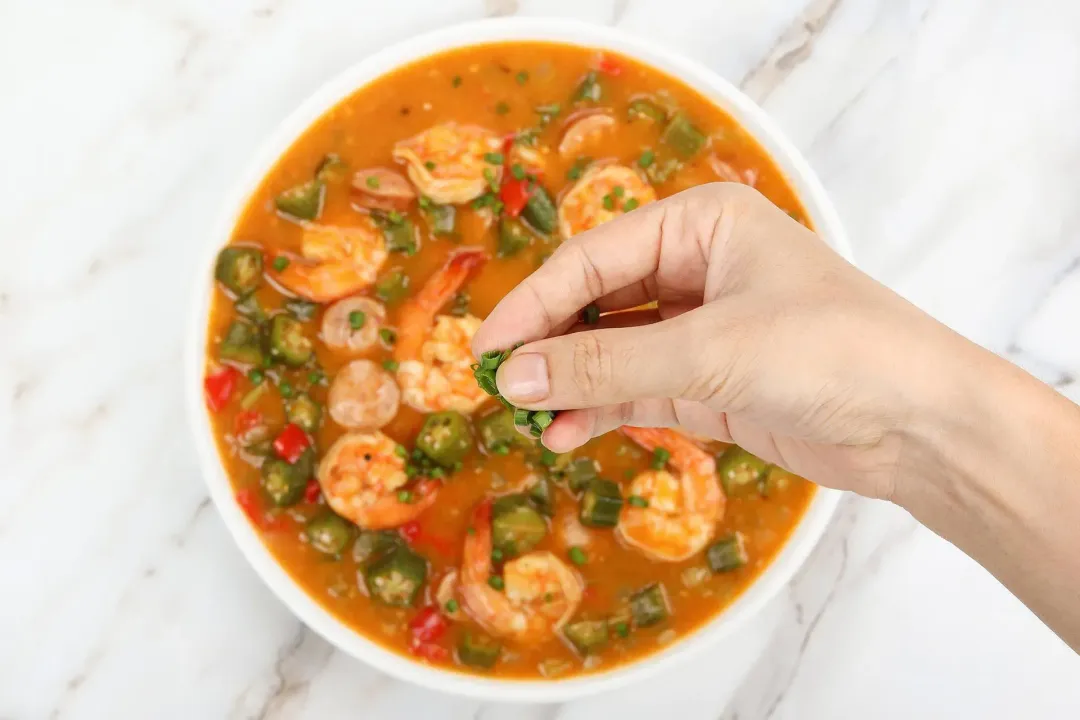 Sprinkle fresh herbs on top and serve
Normally, the roux is cooked separately in another pot because there are heaps of it We believe this isn't necessary. We only made a small amount of roux, enough to add flavor while still fitting in the same pot with the other ingredients.
To reduce the waiting time, you can manually release the pressure instead of natural release. Place a cloth on the vent, use a spoon to switch it to "release," and wait for the steam to die down.
We have to open the pot halfway to add the okra because it cooks really fast. They will turn mushy if you add them along with the broth.
But again, if mushy okra doesn't bother you, feel free to put it in along with the broth, (and add the shrimp in the end). This should save you from releasing the pressure halfway through cooking.
How to Store and Reheat Gumbo
Gumbo and rice, although served together, should be stored in separate containers. Covered tightly with cling wrap, both of them can last for a week.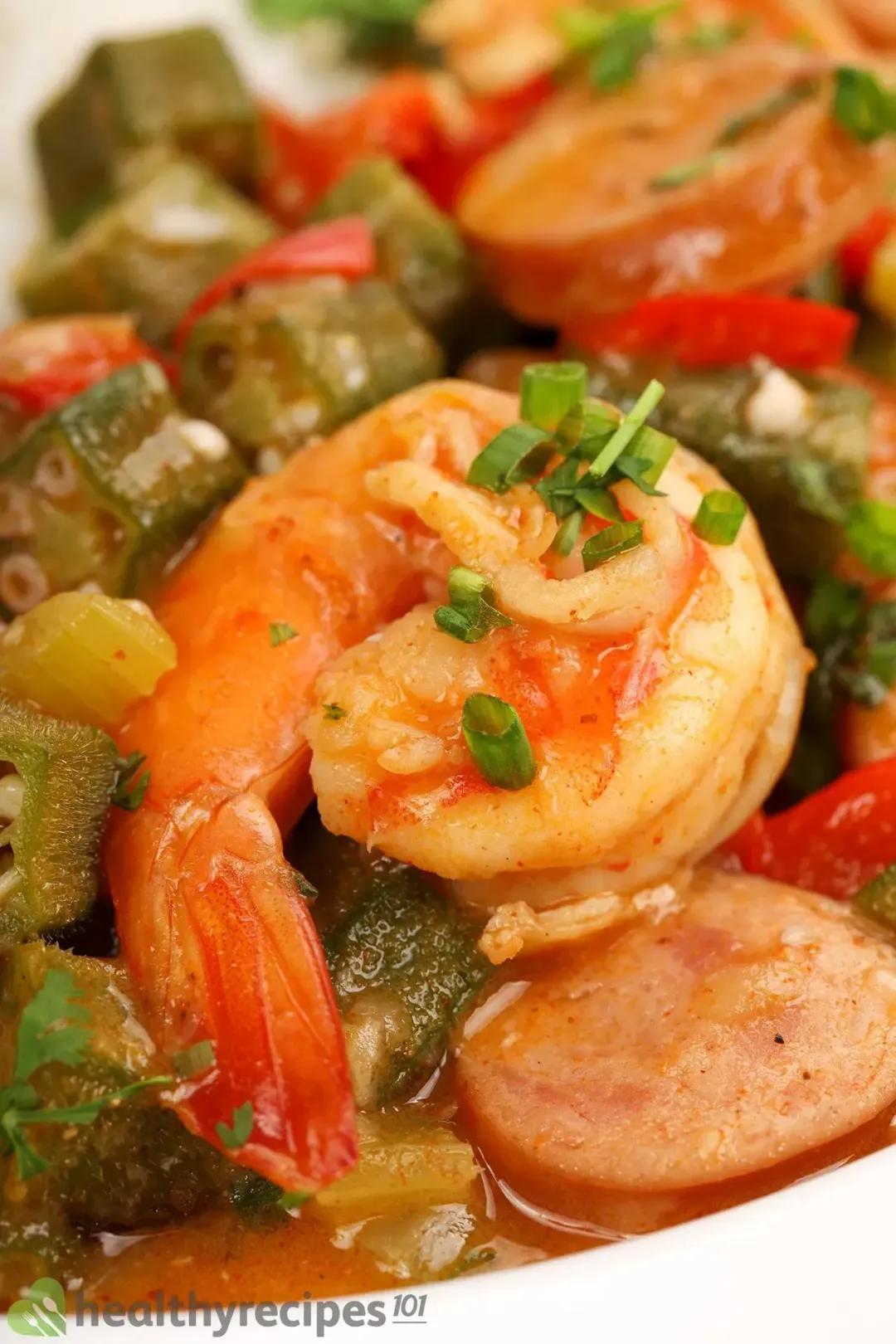 You can also keep the gumbo and rice in the freezer, so they both last for three months.
To reheat, first, heat a non-stick skillet over medium heat and add the rice in with 1 or 2 tbsp of water. Break the rice up and stir it around until it's all heated evenly.
Set the rice aside and place the gumbo in the same skillet with the same amount of water. When it's all bubbly, it's ready to serve.
Side Dishes for Instant Pot Gumbo
Sophie's suggestions: Gumbo and rice can together make a full, nutritious meal on their own. However, if you want more variety on the table, a salad and juice are great options to complete the combo.
Since the main is already flavorful, we simply need a light Greek salad with a variety of textures for the side. Its tanginess, which cuts through the savoriness of the soup, is a bonus.
To bring it all together, we made a simple glass of orange pineapple juice. It both refreshes the palate and packs plenty of vitamins.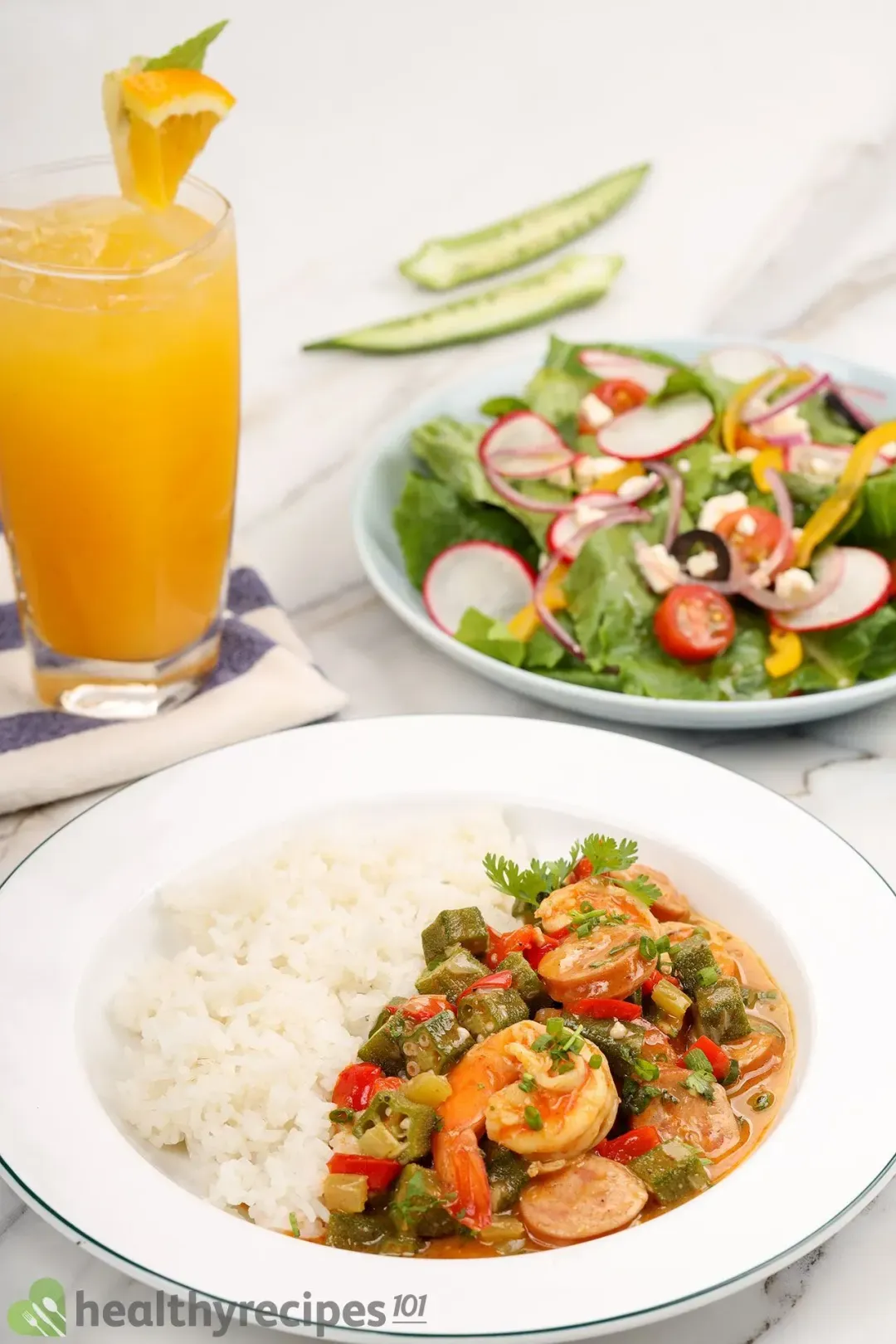 Making the sides can seem like a lot of work, but altogether they make a wholesome meal. They're quite simple and quick to make, and you can utilize the pressure-cooking time to prepare them.
We hope that this meal brings you as much joy as it brought us.
But Wait, There's More!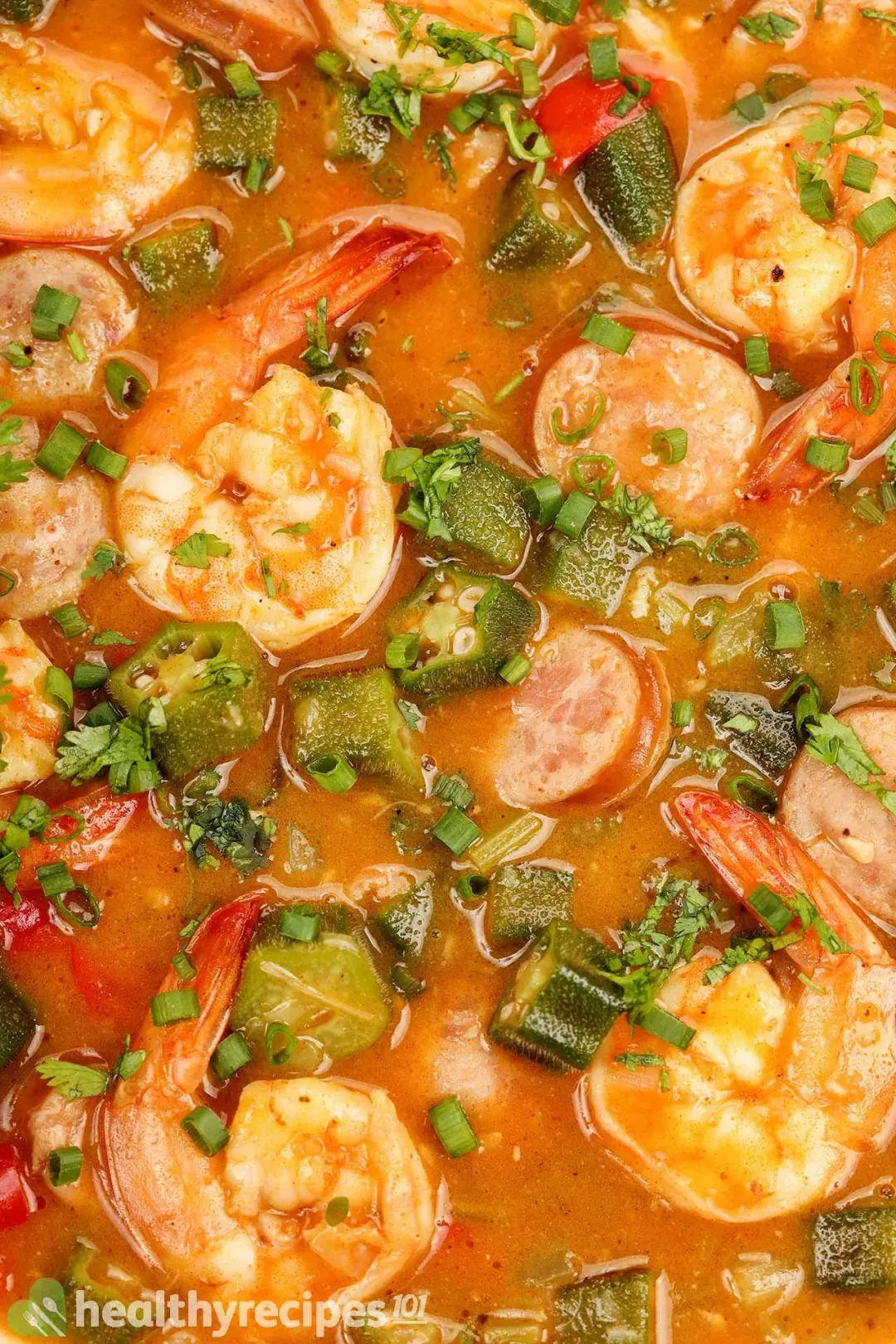 Instant Pot Gumbo
Our Instant Pot Gumbo Recipe will show you how to make this traditional, Louisiana-style meal in no time with the Instant Pot.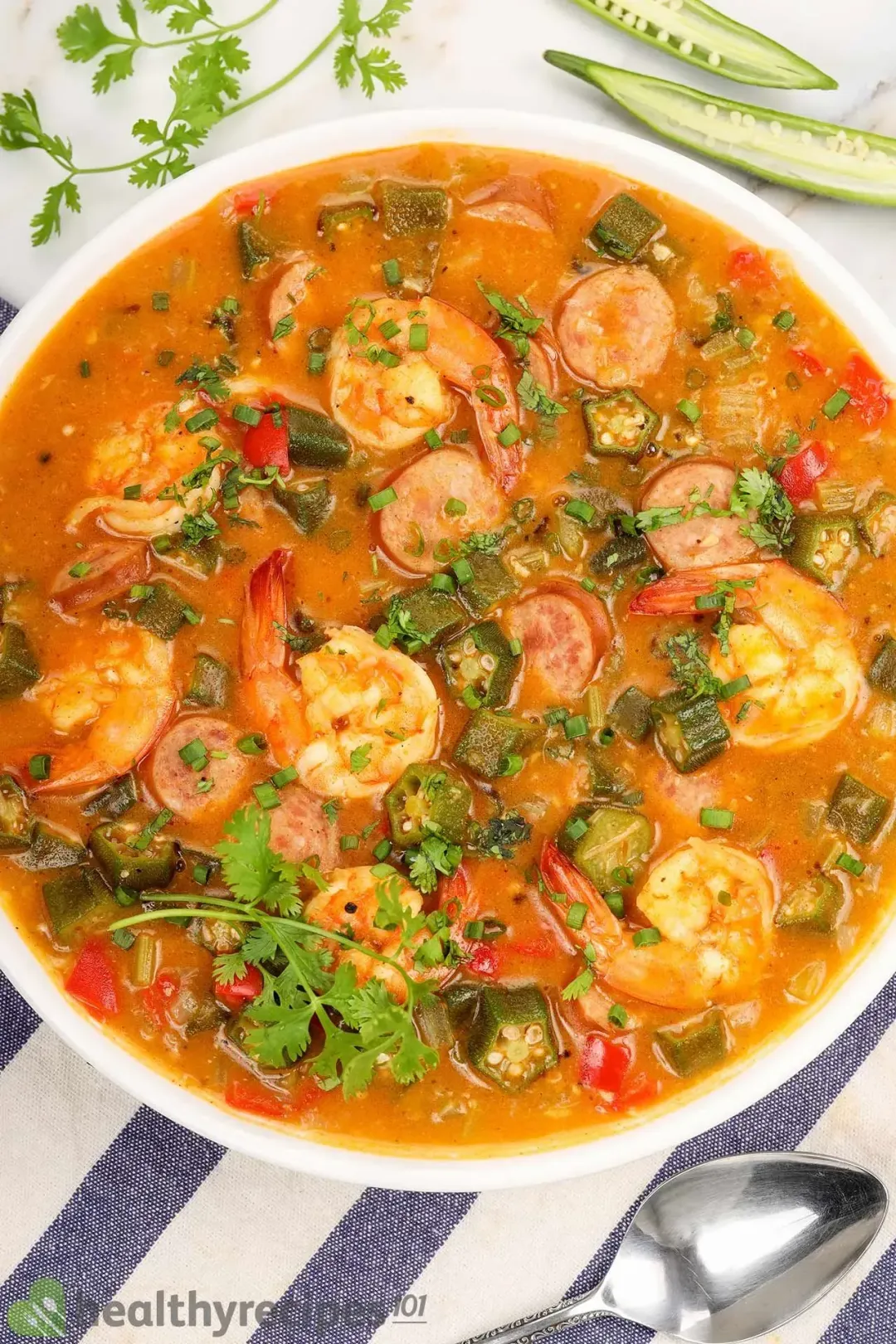 cook TIME

20 mins

prep TIME

5 mins

total TIME

25 mins
COURSE

Main Course

CUISINE

American

SERVINGS

CALORIES

464 kcal
INGREDIENTS
1 1/2 tbsp

unsalted butter

10 oz

raw shrimp

(about 6 oz peeled)

2 oz

yellow onion

(chopped)

2 oz

red bell pepper

(chopped)

4 oz

smoked sausage

(sliced)

1/4 tsp

ground black pepper

1 tsp

traditional Dijon mustard

2 cups

unsalted chicken broth

2 tbsp

scallion

(chopped)

2 tbsp

cilantro

(chopped)

3 cups

cooked medium-grain rice
INSTRUCTIONS
1
Select the "sauté" mode on the Instant Pot. Add 1 1/2 tbsp butter, stir in 2 tsp minced garlic, and sear 6 oz peeled shrimp for about 2 minutes on both sides. Place the shrimp into a bowl and set aside.
2
Add to the pot 1 tbsp olive oil and stir in chopped celery, onion, bell pepper (2 oz each) along with 4 oz sliced sausages. Sauté for about 5 minutes and glaze the bottom with 4 tbsp white wine.
3
Wait for the white wine to evaporate and then tip into the pot 2 tbsp all-purpose flour. Stir so the flour absorbs all of the fat and keep stirring until it darkens in color a little (as shown in the picture), about 1 minute.
4
Stir in the seasonings: 1/4 tsp salt, 1/4 tsp black pepper, 1/4 tsp Cajun seasoning, 1/4 tsp cayenne, 1/2 tsp chili powder, 1 tsp paprika, and 1 tsp Dijon mustard.
5
Pour 2 cups unsalted chicken broth into the pot along with a bay leaf, then close the lid and select "stew meat" mode. Adjust the time to 7 minutes and allow it to cook.
6
Place a kitchen towel over the vent and use a spoon to whack it to "release" mode. Open the pot and add the seared shrimp along with 6 oz okra.
7
Select the "sauté" mode and cook for 7 minutes to reduce the broth. Turn off the machine.
8
Serve: Scoop 3/4 cup of cooked rice into a bowl and ladle the gumbo over the top. Sprinkle with chopped scallion and cilantro and enjoy.
NUTRITION
Nutrition Facts
Instant Pot Gumbo
Amount Per Serving (1 serving)
Calories 464
Calories from Fat 153
% Daily Value*
* Percent Daily Values are based on a 2000 calorie diet.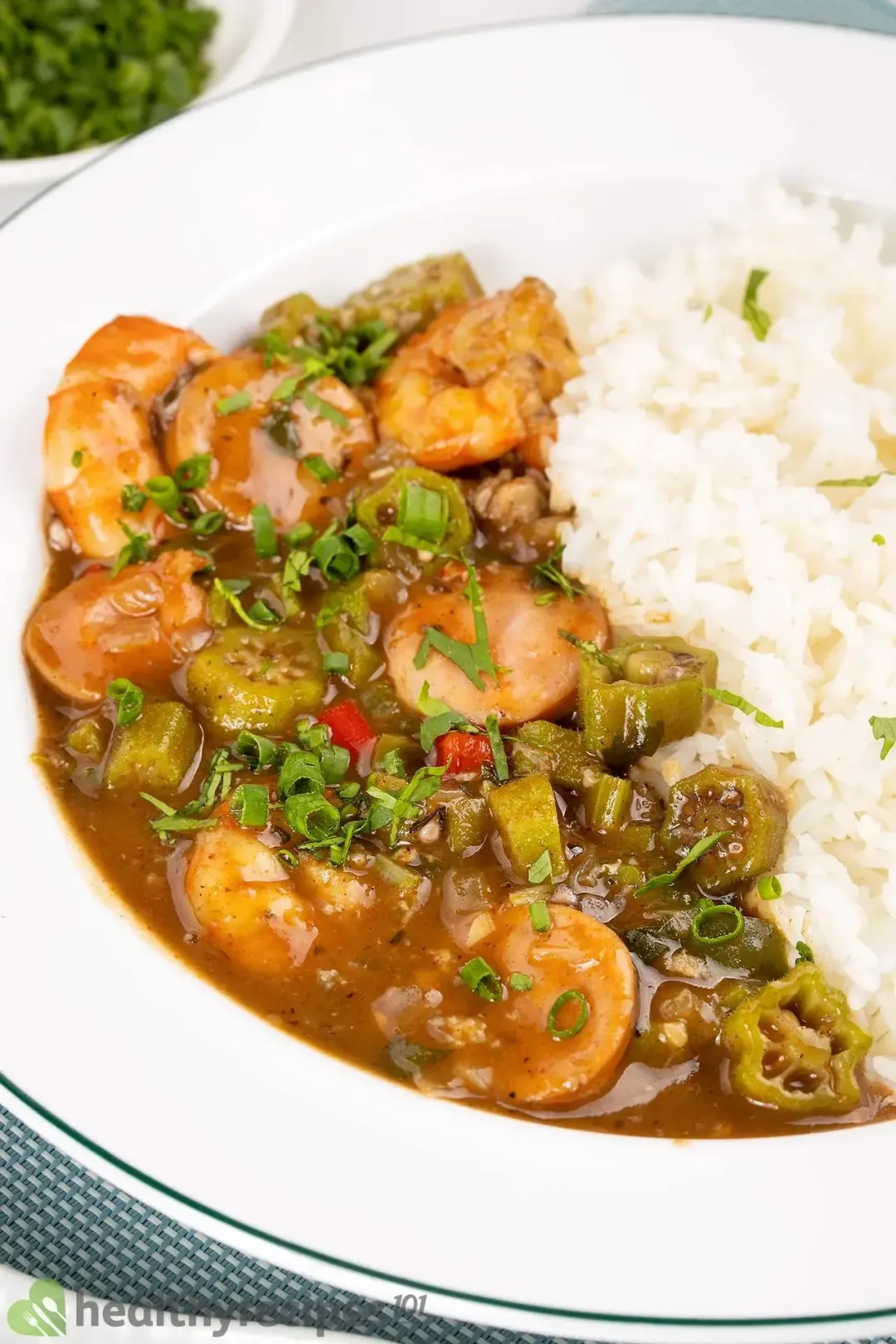 Previous Recipe
Easy Seafood Gumbo
Easy Seafood Gumbo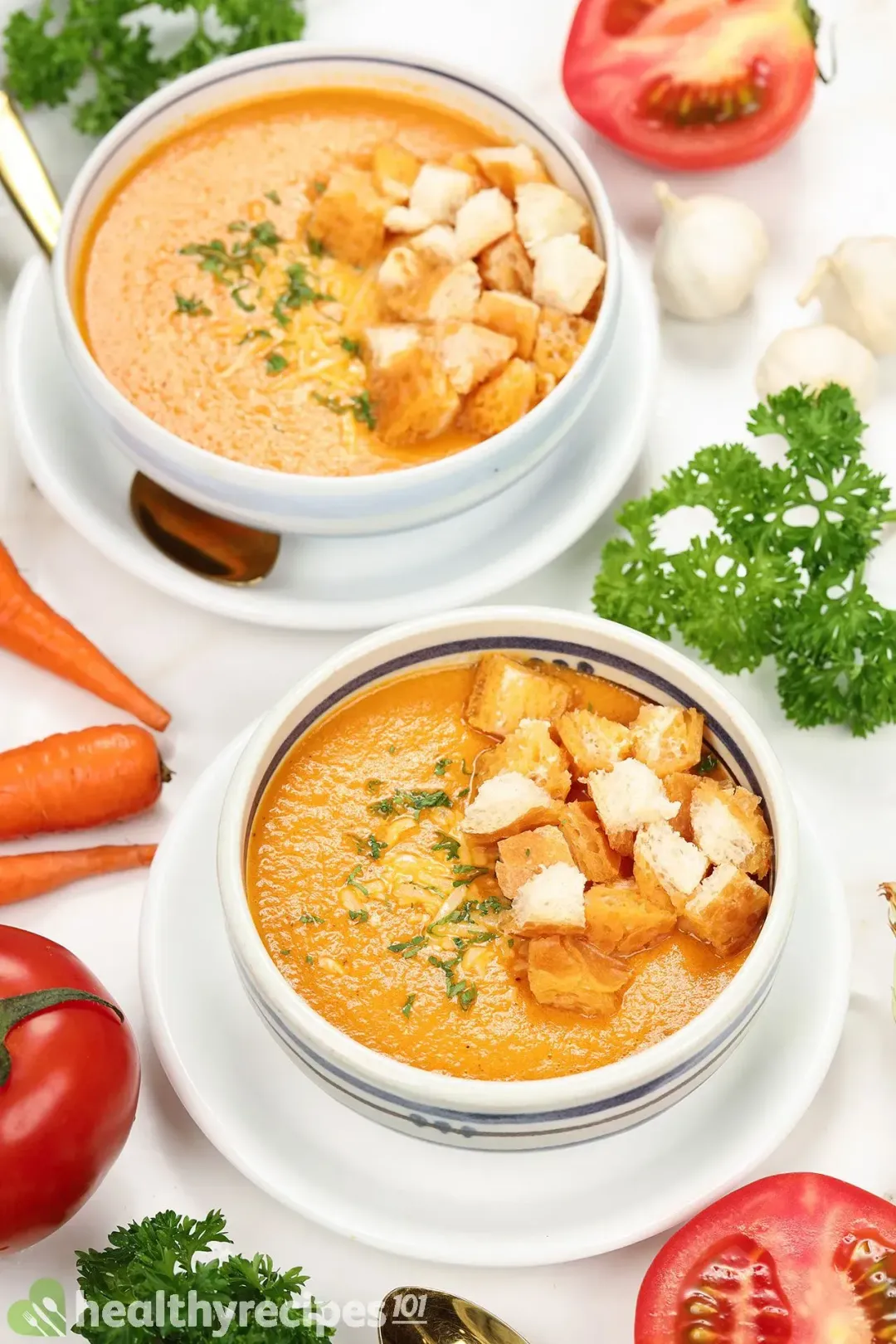 Tomato Soup
Head Chef, Culinary Consultant
Tuyet Pham is an award-winning Saigonese chef who believes that joy is the secret ingredient to delicious food. At Healthy Recipes 101, Tuyet personally tests and simplifies every recipe, ensuring maximum flavor with minimal effort. With a background at prestigious French restaurants P'TI Saigon and Le Corto, Tuyet knows how to make every dish exceptional.
Writer, Author
Luna Regina is an accomplished writer and author who dedicates her career to empowering home cooks and making cooking effortless for everyone. She is the founder of HealthyKitchen101.com and HealthyRecipes101.com, where she works with her team to develop easy, nutritious recipes and help aspiring cooks choose the right kitchen appliances.
Nutrition Reviewer
Natalie Butler is a registered dietitian nutritionist with a passion to help others live their best life through food, fitness, safer beauty and a healthy lifestyle. She has expertise with a variety of diets and diseases and believes that there is no one-size-fits-all approach for health.
Instant Pot gumbo is totally delicious! The mix of spices combined with shrimp and sausage gives the perfect flavor combinations to this southern classic dish.