Today's healthy zucchini salad recipe is proof that raw food can be delicious as well.
You only need to spend 10 minutes to prepare all the ingredients and make the dressing. Then, all that's left to do is mix the salad and enjoy.
Before we start, here are a few things to know about today's recipe:
Is This Zucchini Salad Recipe Healthy?
Zucchini is a low-calorie food — 100g of zucchini contains only 21 calories. This means you can eat a lot of zucchini to fill your tummy without overconsuming calories.
Zucchini is also a rich source of micronutrients and antioxidants, especially vitamin A and C. While vitamin A may help improve your vision, vitamin C may enhance your immune system.
In addition, this summer squash has a high content of water and fiber. These are the key factors that help promote a healthy digestive system and prevent constipation.
Besides zucchini, our salad also contains cashew — a great source of fiber, protein, and healthy fats.
If you love similar healthy salads, check out our beet and feta cheese salad and watermelon arugula salad recipe.
Zucchini vs Squash
You may have heard zucchini is a type of summer squash. So what is a squash?
A squash is a family of plants that is commonly cultivated for their edible fruits. They belong to a genus called 'cucurbita' and are particularly herbaceous vine plants.
There are many varieties of squash and they come in different colors, shapes, and sizes. But generally, squash are divided into winter and summer types.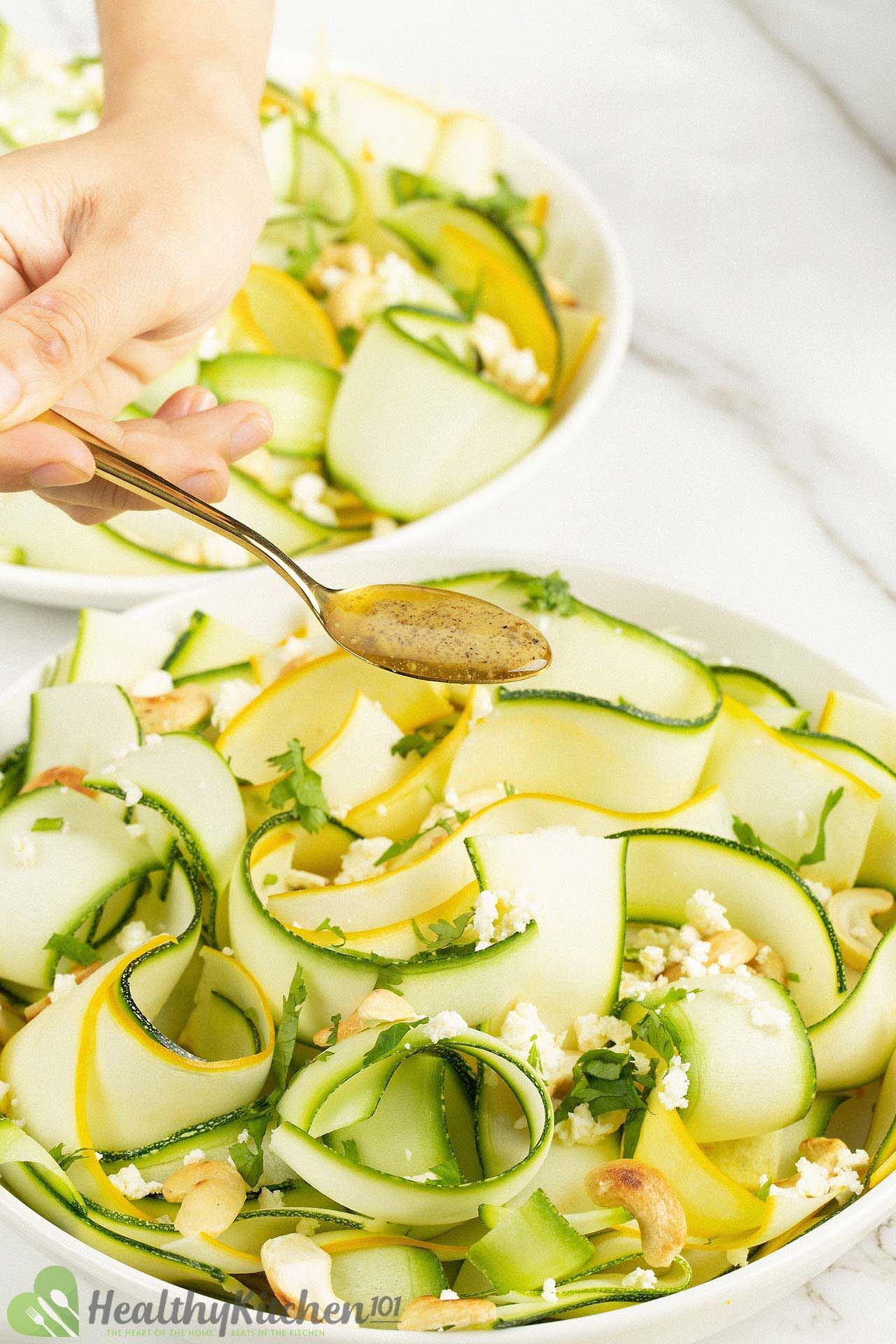 Types of Zucchini
Here are a few several examples of zucchini varieties:
Green zucchini: This is the most common kind of zucchini to find in supermarkets. It can be easily identified with its smooth and dark green skin.
Yellow zucchini: These bright-colored zucchini look similar to the green ones with their oblong shape, straight neck, and smooth skin.
Crookneck squash: As the name suggests, this yellow zucchini has a narrow neck that tilts to a side. The skin can either be smooth or rough with lots of bumps.
Eight ball squash: These round zucchini are ideal for stuffing, but it can be used in place of green ones as well.
These types of zucchini are similarly mild and lightly sweet in terms of flavor. But for today's recipe, it would be ideal to use green and yellow zucchini.
How to Cut Zucchini for Salad
For today's recipe, we are going to thinly shave the zucchini into ribbons. We recommend using a mandoline slicer as it gets the job done in seconds.
However, if you don't have a mandoline, you can use a peeler instead.
To ensure safety, place the zucchini on the cutting board. Use a knife to cut a thin slice of the zucchini, revealing a flat side.
Turn the zucchini so that it lays on the flat side. Hold it tightly as you shave it into ribbons.
This prevents the zucchini from sliding and keeps you from cutting yourself.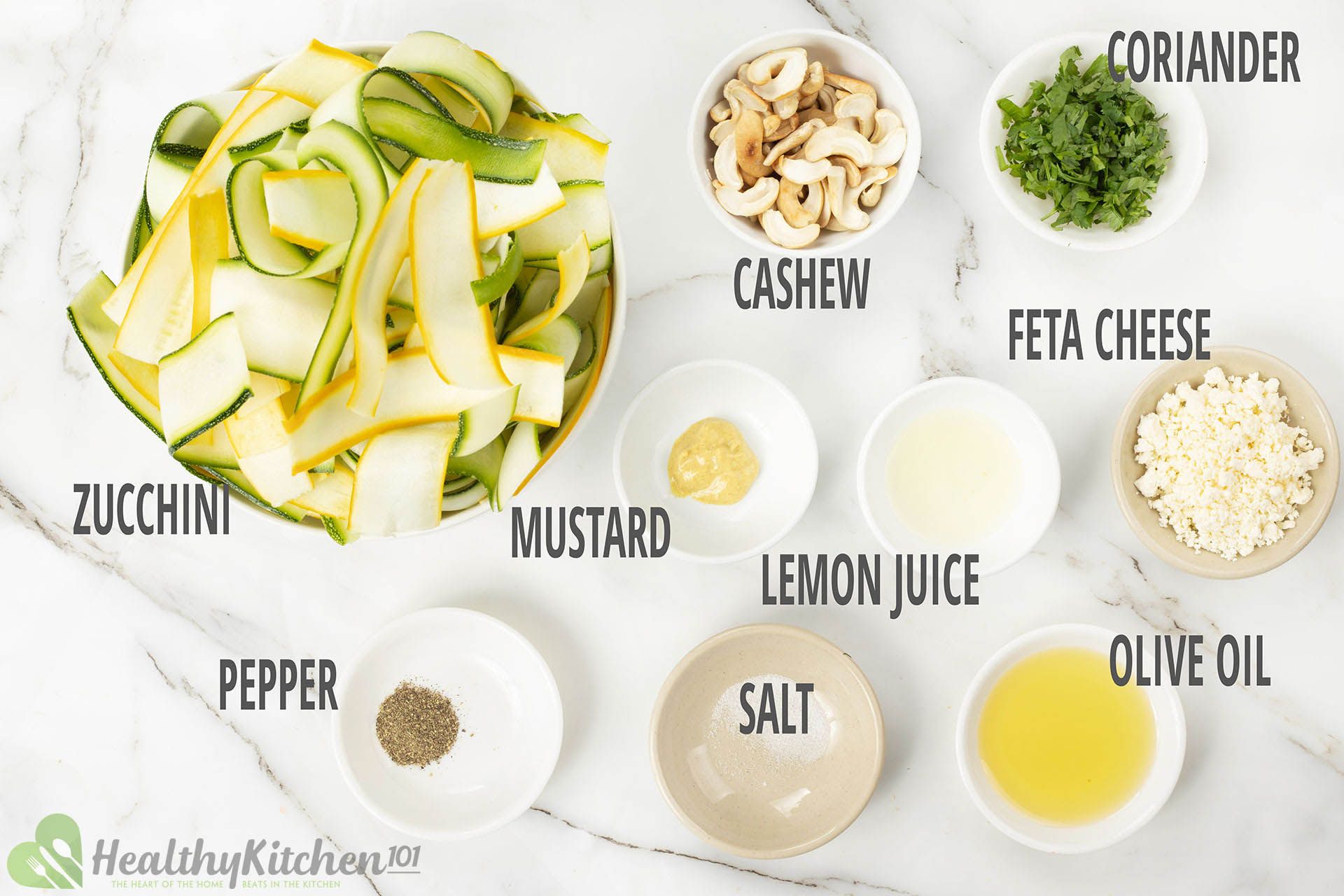 How to Make Zucchini Salad
Here is a brief description of our zucchini salad recipe with photo guides: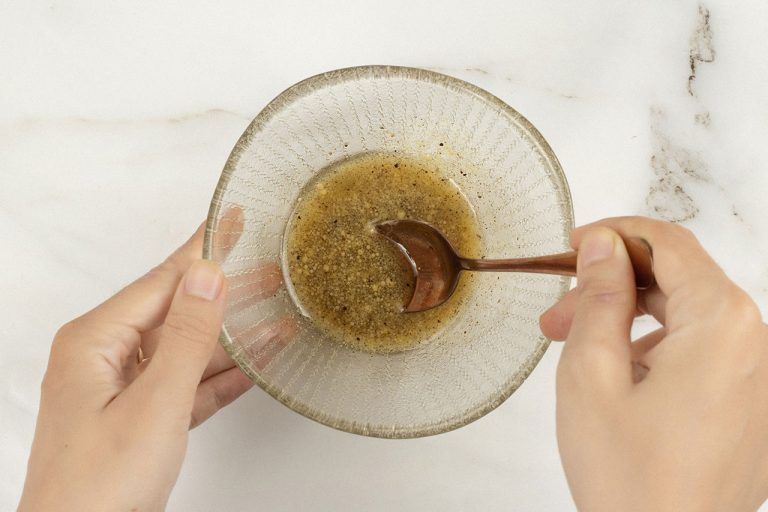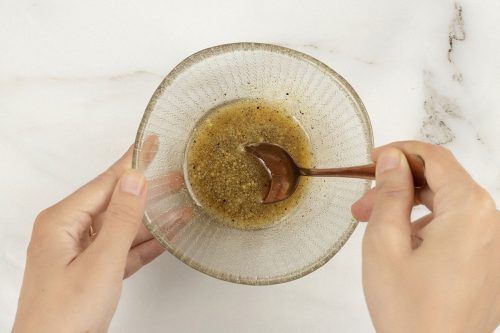 Make the dressing.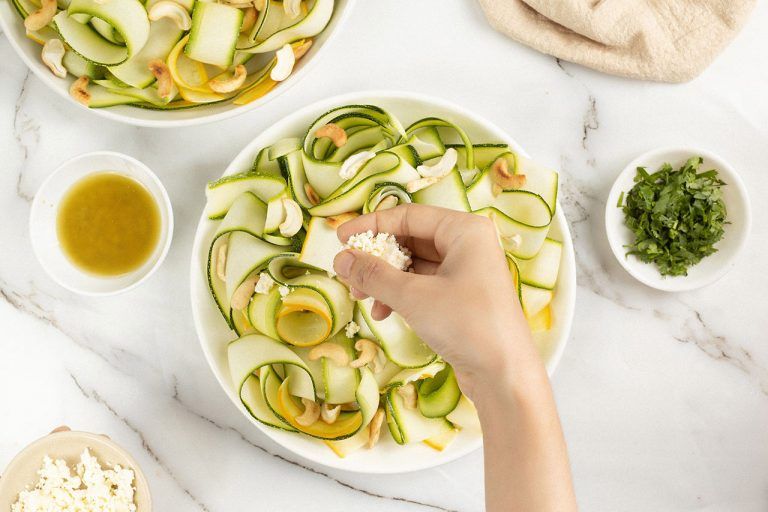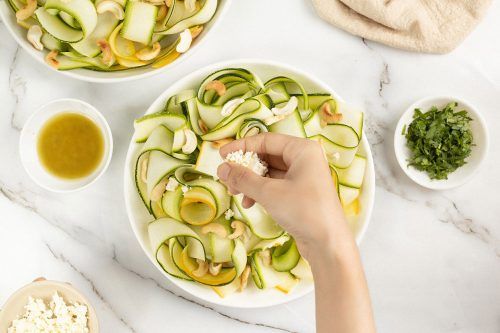 Plate the salad.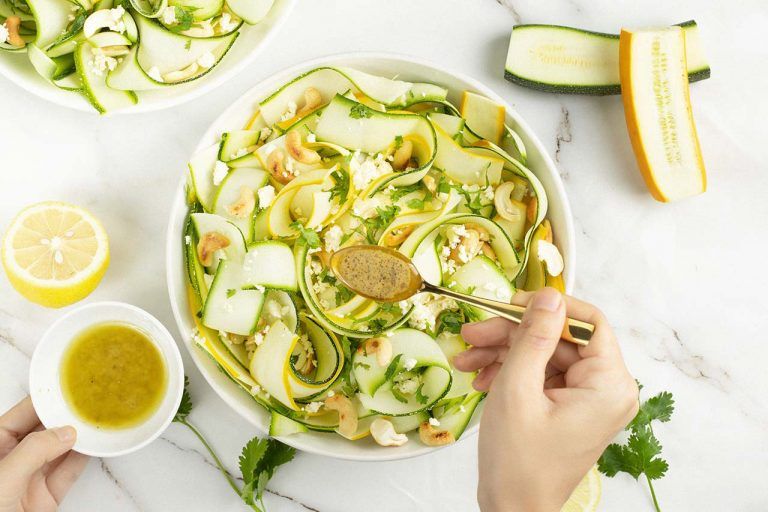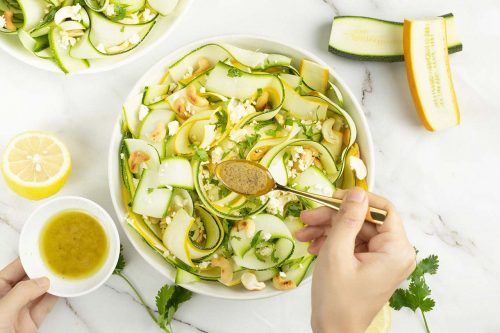 Add the dressing.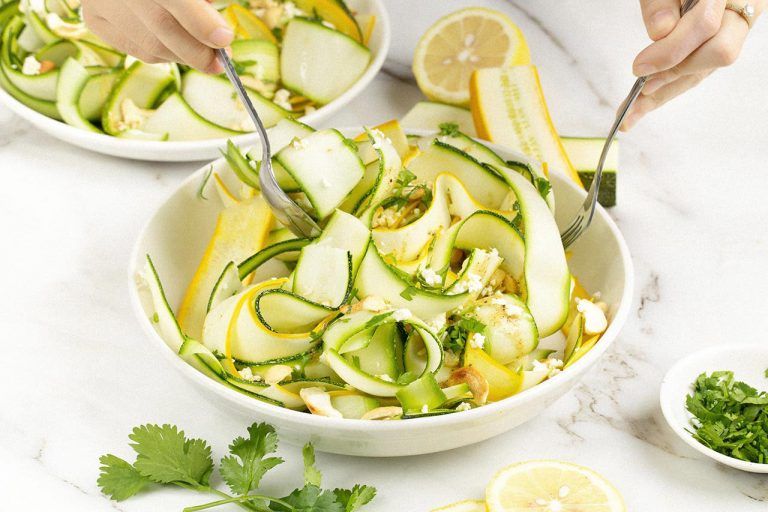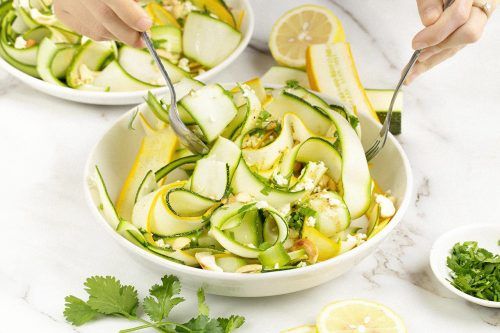 Serve.
For full ingredient measurements and detailed instructions, check out the recipe section below.
What Else Go Well in a Zucchini Salad Recipe?
If you want to customize your own salad, we have a few suggestions:
1. Seeds and Nuts
Pine nuts, sunflower seeds, peanuts, or cashews are some of the best options to add to your salad. These crunchy nuts and seeds will add more crunch and enhance the salad's texture.
2. Tomatoes
When it comes to adding colors to your salad, tomatoes are always the best options. Throwing in a few red and yellow cherry tomatoes will brighten up your salad instantly.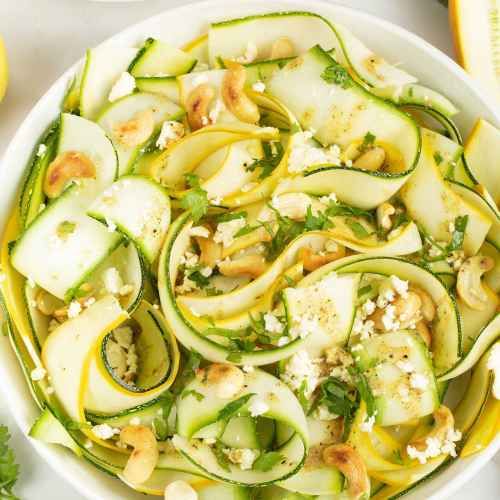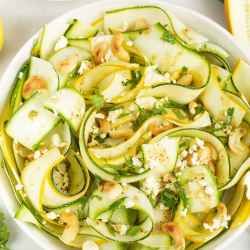 Zucchini Salad Recipe
This vegetarian zucchini salad recipe only requires a few simple ingredients and takes minutes to make from start to finish. Let's begin.
Ingredients
2 1/2

tbsp

olive oil

1/8

tsp

salt

1/4

tsp

ground black pepper

2

tsp

lemon juice

16

oz

zucchini

green and yellow, shaved lengthwise

2.5

oz

cashews

roasted

1

oz

feta cheese

crumbled

2

tbsp

fresh coriander

roughly chopped
Instructions
Make the dressing: In a small bowl, combine olive oil, salt, black pepper, lemon juice, and Dijon mustard. Whisk well to emulsify.

Plate the salad: Divide the zucchini into 4 portions and arrange them on serving plates or bowls. Sprinkle with cashews and feta cheese.

Add the dressing: Drizzle the dressing over the salad and garnish with chopped coriander.

Serve: Mix to coat the dressing evenly and enjoy.
Nutrition
Nutrition Facts
Zucchini Salad Recipe
Amount Per Serving (1 serving)
Calories 215
Calories from Fat 162
% Daily Value*
Fat 18g28%
Cholesterol 1mg0%
Sodium 197mg9%
Potassium 423mg12%
Carbohydrates 9g3%
Protein 6g12%
Vitamin A 241IU5%
Vitamin C 21mg25%
Calcium 61mg6%
Iron 2mg11%
* Percent Daily Values are based on a 2000 calorie diet.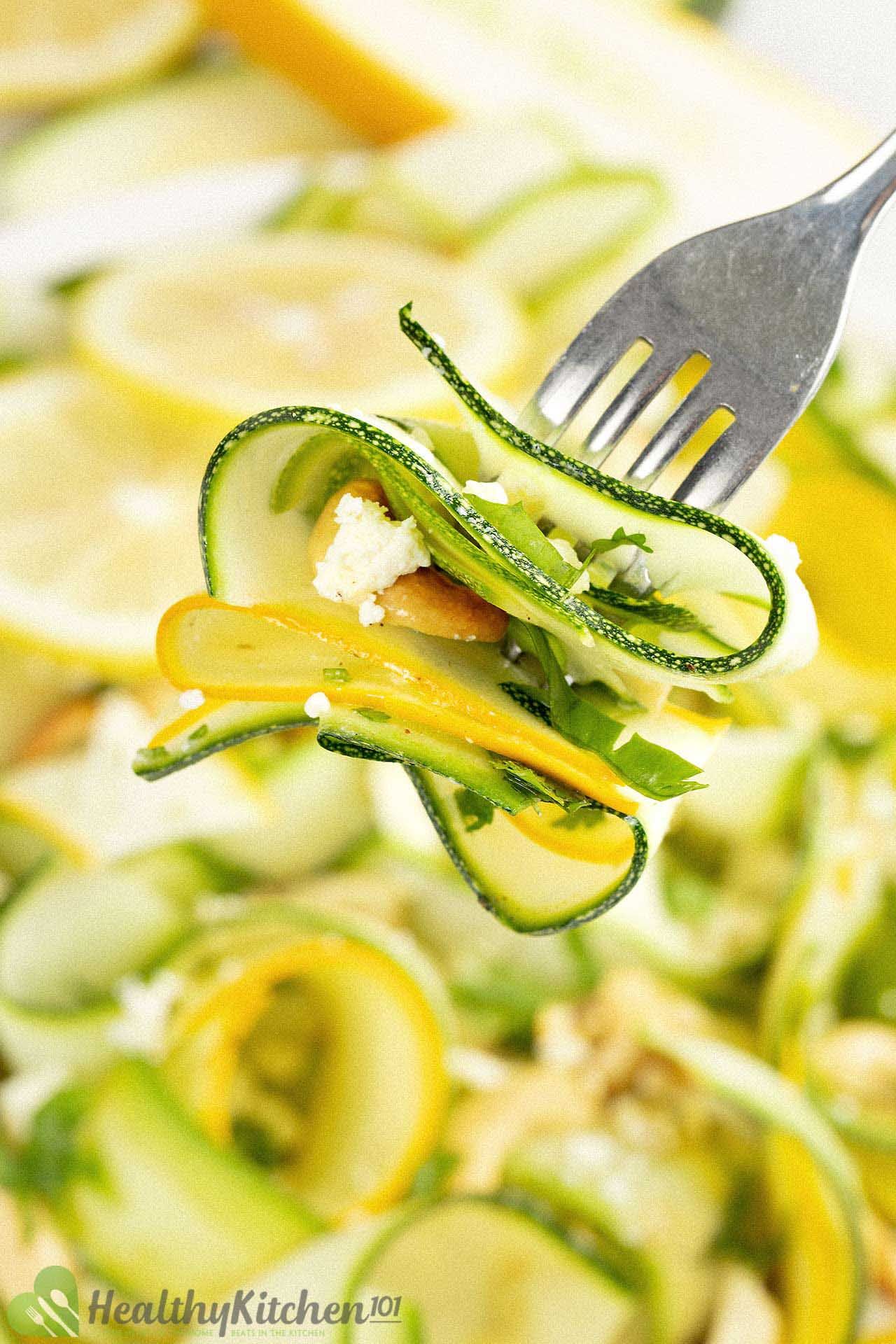 FAQ
1. Is Zucchini a Fruit or Vegetable?
By definition, a vegetable is a plant or part of a plant that is edible. These parts of the plant include roots, leaves, or stems.
Meanwhile, a fruit is developed from a flower and bears the seeds of the plant. So, botanically, zucchini is a fruit.
However, in cookery, zucchini is considered a vegetable.
2. Can You Freeze Zucchini Salad?
Although you have every right to do anything you want, including freezing this zucchini salad, it's simply not necessary.
When you freeze zucchini and thaw afterwards, it may become watery or mushy. The salad may longer be delicious and enjoyable.
Because this is a raw salad, we highly recommend you make it fresh from scratch whenever you're craving it. It doesn't take much time to make afterall.
3. How Long Does Zucchini Salad Last?
Since our zucchini salad contains mainly fresh ingredients, it can only last up to 5 days in the fridge.
Raw salads like this don't usually stay fresh that long. However, our salad contains olive oil and lemon juice— the key ingredients to slow down the spoilage process.
On one hand, the fatty oil coats the raw zucchini, creating a barrier to prevent bacteria growth. On the other hand, lemon juice is commonly used in pickling— a technique to preserve food.
Both the fat and acidity create a strong environment to prolong the shelf life of our salad. We'd also like to recommend storing the salad in an airtight container to minimize the exposure to bacteria.