Our cauliflower fried rice recipe proves that this delicious main course can be made with not a single grain of rice.
If fried rice is your favorite dish, you must give this ingenious creation a try. We're making rice out of cauliflower and turning it into the most flavorful fried rice ever.
Not only delicious but cauliflower rice is also easy to make. It needs no fancy equipment and takes under five minutes.
What Is Cauliflower Rice?
Cauliflower rice is simply cauliflower chopped into fine pieces. Sometimes it's steamed or cooked so that it turns soft, like cooked rice.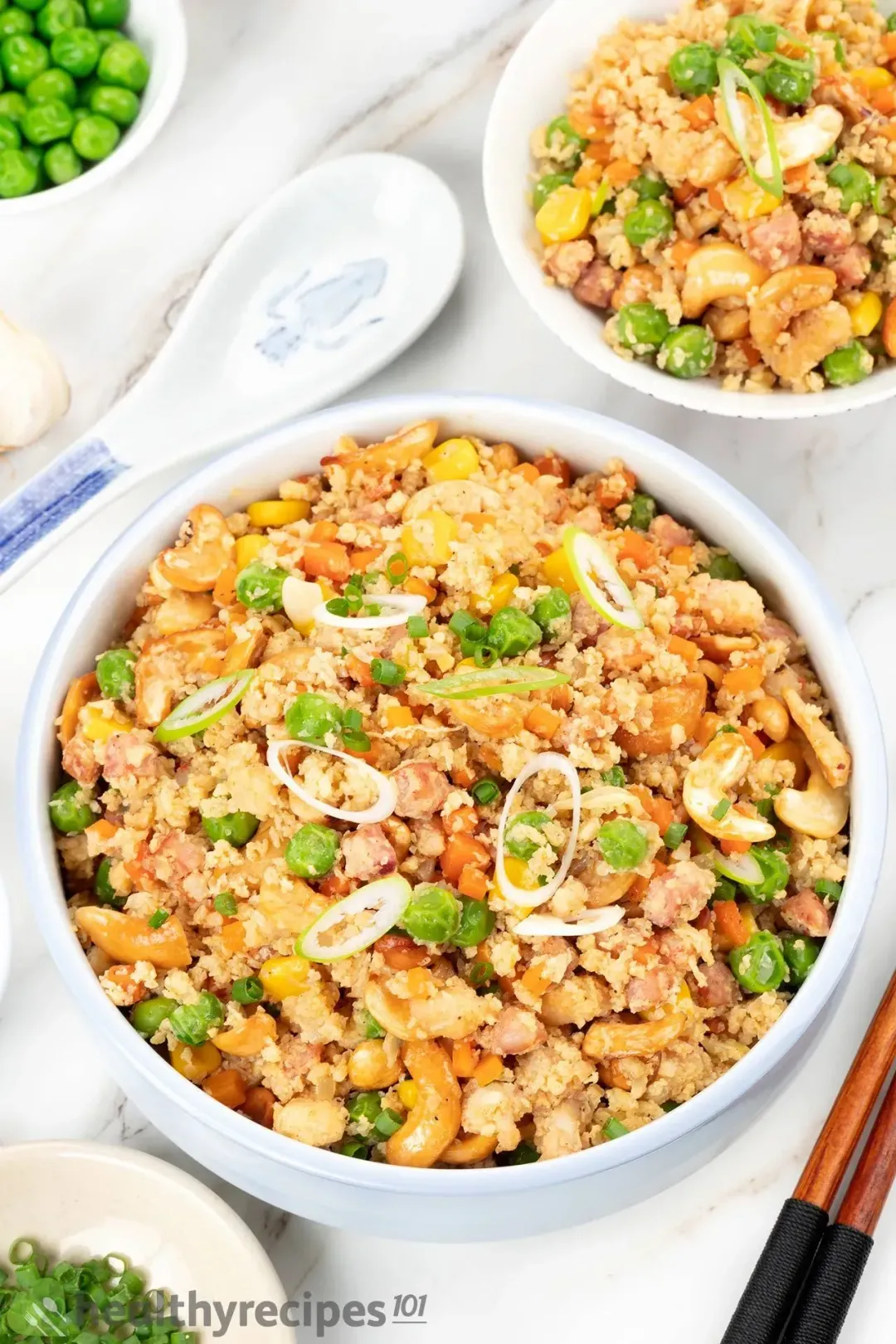 It is often used in place of white rice in many recipes. However, the dishes will differ in taste, as both of them have unique qualities.
Cauliflower Rice vs White Rice
Compared to white rice, cauliflower rice is not as starchy or sweet. But don't get me wrong— it's still satisfying to eat, thanks to its inviting fragrance.
Besides, there are other reasons why it deserves more attention:
First of all, its low-carb content— one cup of cauliflower rice contains only 3 grams of carbs add white rice for comparison. This makes it highly suitable for diets that demand a limited carb intake.
It's more convenient to work with. Whereas white rice needs an hour of simmering (and sometimes demands its own cooker), cauliflower rice takes only five minutes.
Of course, cauliflower rice can't replace white rice entirely, but it can make a flavorful fried rice dish. If you have a strict diet or a busy schedule, it is definitely worth a try, and so is this Cauliflower Risotto Recipe.
Here are some of our favorite recipes that feature cauliflower:
Is Cauliflower Fried Rice Healthy?
Yes, our cauliflower fried rice recipe is definitely a healthy treat.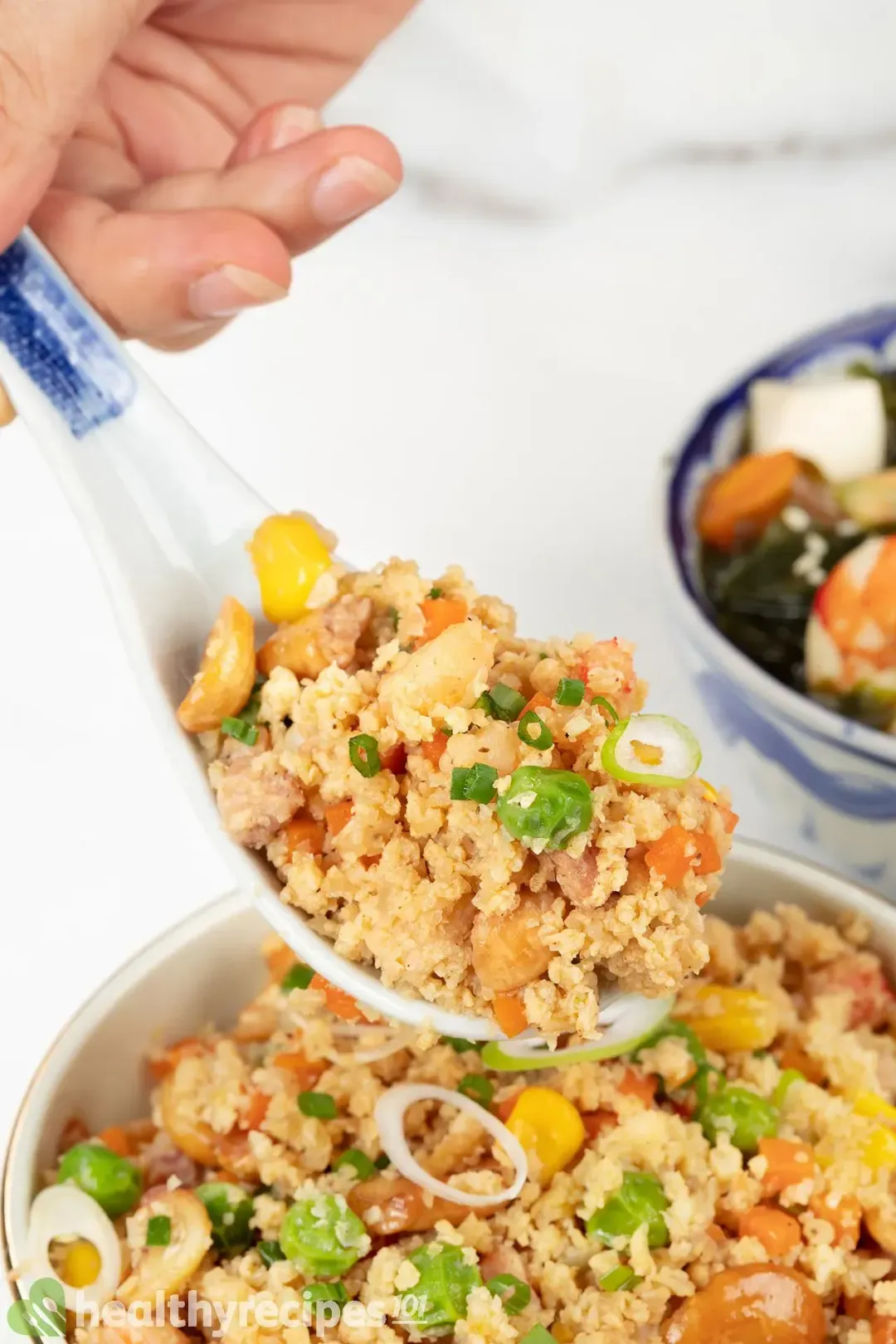 First of all, it calls for a wide range of ingredients: shrimp, pork sausages, and a rainbow of vegetables. They are a perfect balance of proteins, vitamins, and minerals, all of which are essential building blocks for the human body's repair and growth.
Cauliflower is also rich in fiber. Consuming sufficient fiber can promote long-lasting satiety and help you to better control your calorie consumption.
Compared to white rice, with cauliflower rice you get to fit more meat and veggies on your plate. This means you'll have a greater serving of nutrients without having to pile up on the calories.
Finally, we adjusted the ingredients so the dish's nutritional profile complies with our dietary guidelines.
Main Ingredients
1. Cauliflower
Cauliflower rice might not be as sweet as white rice, but it allows the taste of other ingredients to shine through. This fried rice dish is, thus, deeper in flavor.
As it cooks, it loses its raw crunchiness and becomes tender. If you prefer it to be a little crunchy, you can cook it just briefly instead of thoroughly like we did.
2. Vegetables
Our cauliflower fried rice recipe includes a variety of vegetables. We used corn, peas, and carrots to bring different textures and colors to the dish.
These ingredients can take time to prep, so we suggest a more convenient option: a bag of frozen mixed vegetables. They come in varying ratios, but this will have little effect on the nutritional value (or taste) of our dish.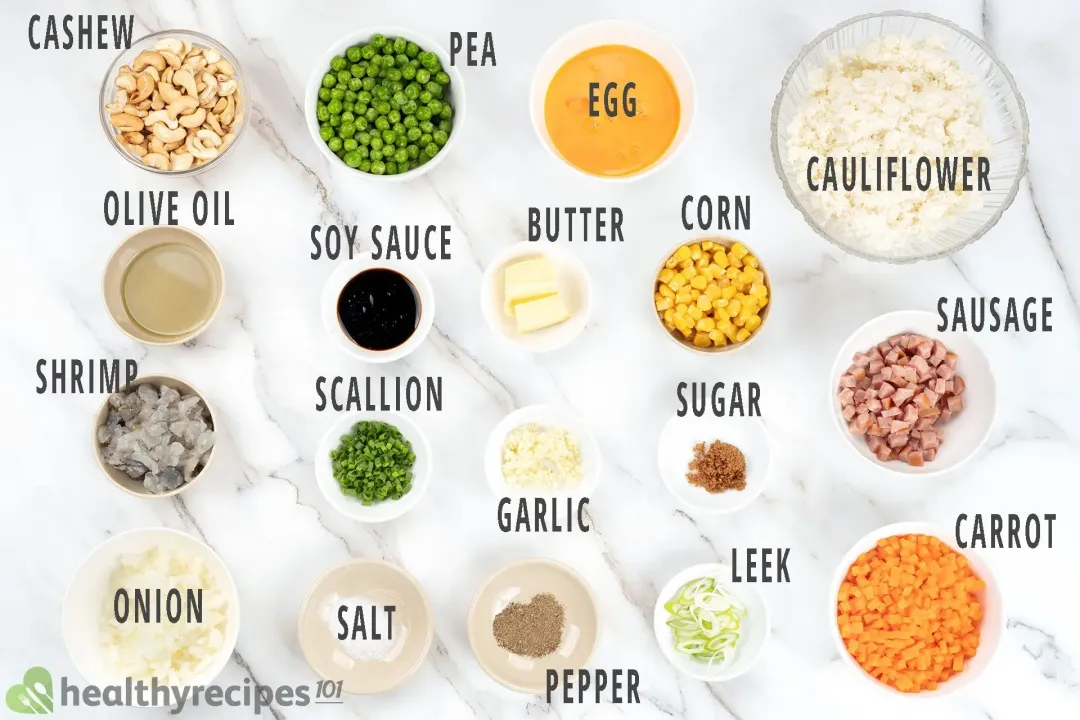 3. Proteins
We picked eggs, shrimp, and sausages as the main sources of protein, with such variety adding different notes of savoriness to our fried rice.
In fried rice, eggs can be either scrambled in the pan or mixed with the rice and cooked as one. We enjoy the touch of yellow it imbues into each grain, so we chose the latter.
We chopped the shrimp finely so every spoonful has a piece in it. If you like, you can leave them whole for presentation, but either way, remember to shell them first.
Sausage is a versatile ingredient — it tastes great no matter how it's cooked. We used smoked sausage, because it has a better flavor.
4. Aromatics
To ensure our cauliflower fried rice dish packs some spice, we added onions and garlic; the essential elements. It's best to cook them in butter, to the point of caramelization, so they release all of their exciting flavors.
We also included chopped green onions for a little freshness adding them last, so their vibrant color is preserved.
5. Seasonings
Salt, pepper, sugar, and soy sauce are all the seasonings you need. Added in the correct proportions, they can work wonders.
The soy sauce we used is the 'Kikkoman' brand, due to its uniquely fragrant aroma. Don't worry though, if you're unable to find it, other brands will be fine too, but remember to keep an eye on the sodium content.
6. Finishing Touches
If you've never added toasted cashews to fried rice, it's time you did; they're a wonderful addition! You can skip on them but we think you'll reconsider once you've tasted their silky creaminess.
To avoid having to toast a batch of nuts every time you make the dish, toast them all as soon as you get home. You can use a pan, oven, or air fryer— we found the air fryer the most convenient.
Once the dish is plated, we like to garnish it with sliced leeks, both white and green. This is optional, but it doesn't hurt to give your food a little makeup, does it?
How to Rice Cauliflower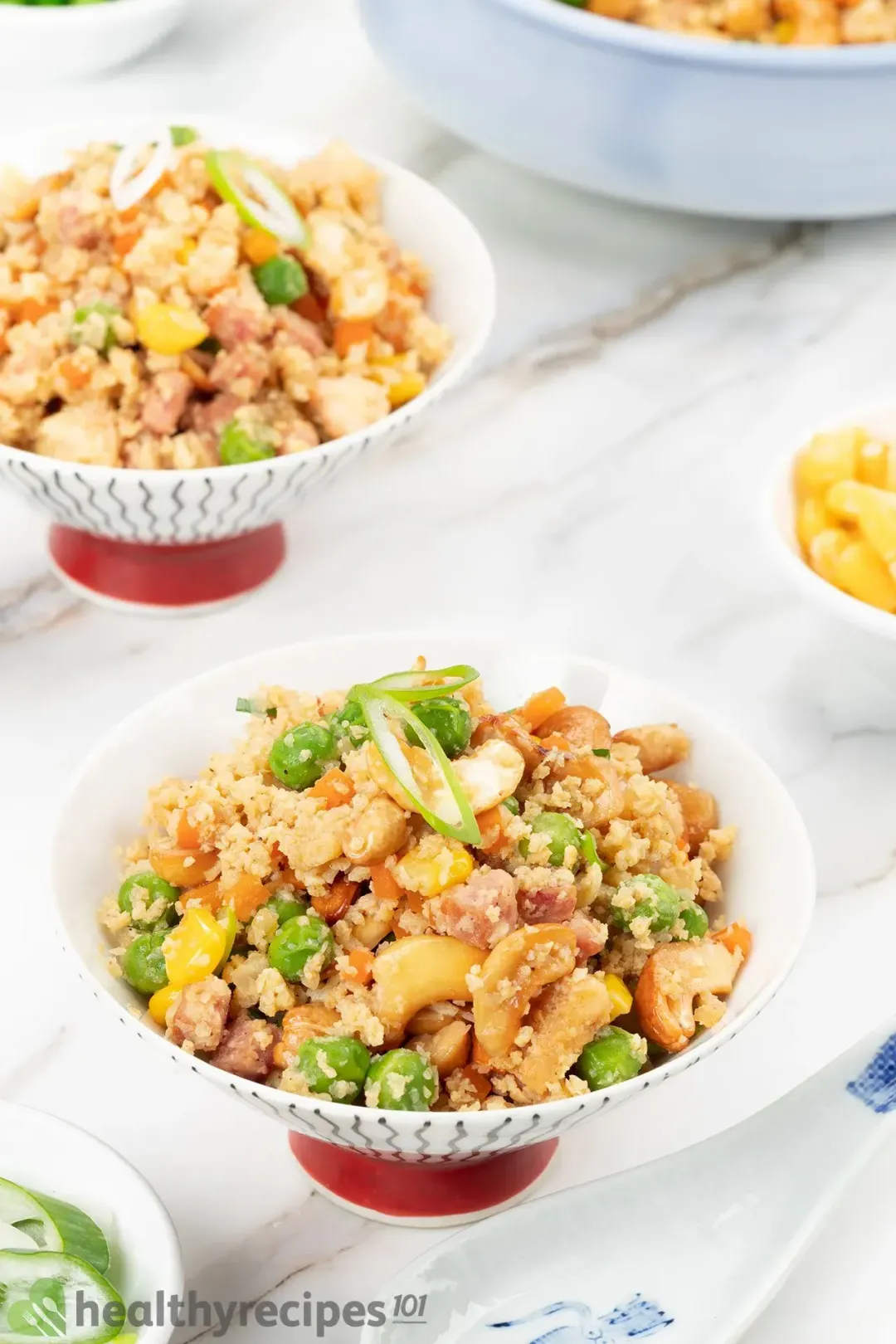 We often cut the florets close to the stalk, but for our cauliflower fried rice recipe, we make the cuts closer to the little flowers. They're softer and resemble rice better.
If you want, however, you can use the tough stalk as well; whatever suits your taste.
Next, give the florets a good wash, leave to dry, and chop them in a food processor. We're not looking for a fine paste, so pulse just three or four times, scrape the sides, and pulse one last time.
If you make more than you intended to, you can wrap them up and store them in the freezer. They can last for three months.
What to Eat With Cauliflower Fried Rice
Fried rice can be dry, so we paired this fried rice with our miso soup. It's filled with slices of salmon, shrimp, tofu, and kelp, which make for a hearty side dish.
To round everything off, we recommend a glass of passion fruit juice. It's sweet and slightly tangy, making for a refreshing finish.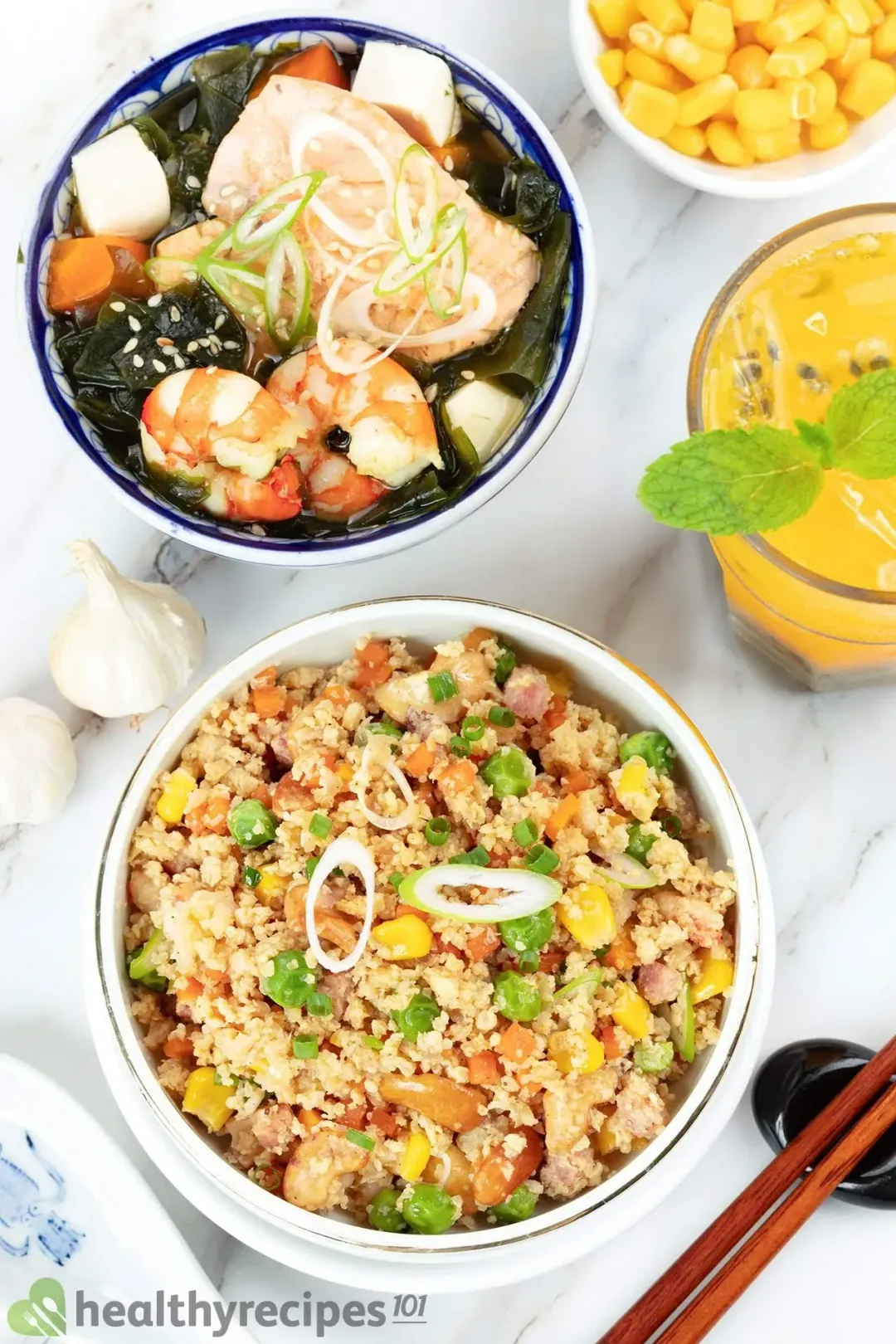 More Delicious Cauliflower Ideas
When it comes to making delicious meals out of cauliflower, the possibilities are endless. We have plenty of ideas for you to get started:
Cauliflower Fried Rice
This cauliflower fried rice recipe takes just 20 minutes and results in a hearty meal. It's super flavorful and comforting, especially when paired with the recommended side dishes.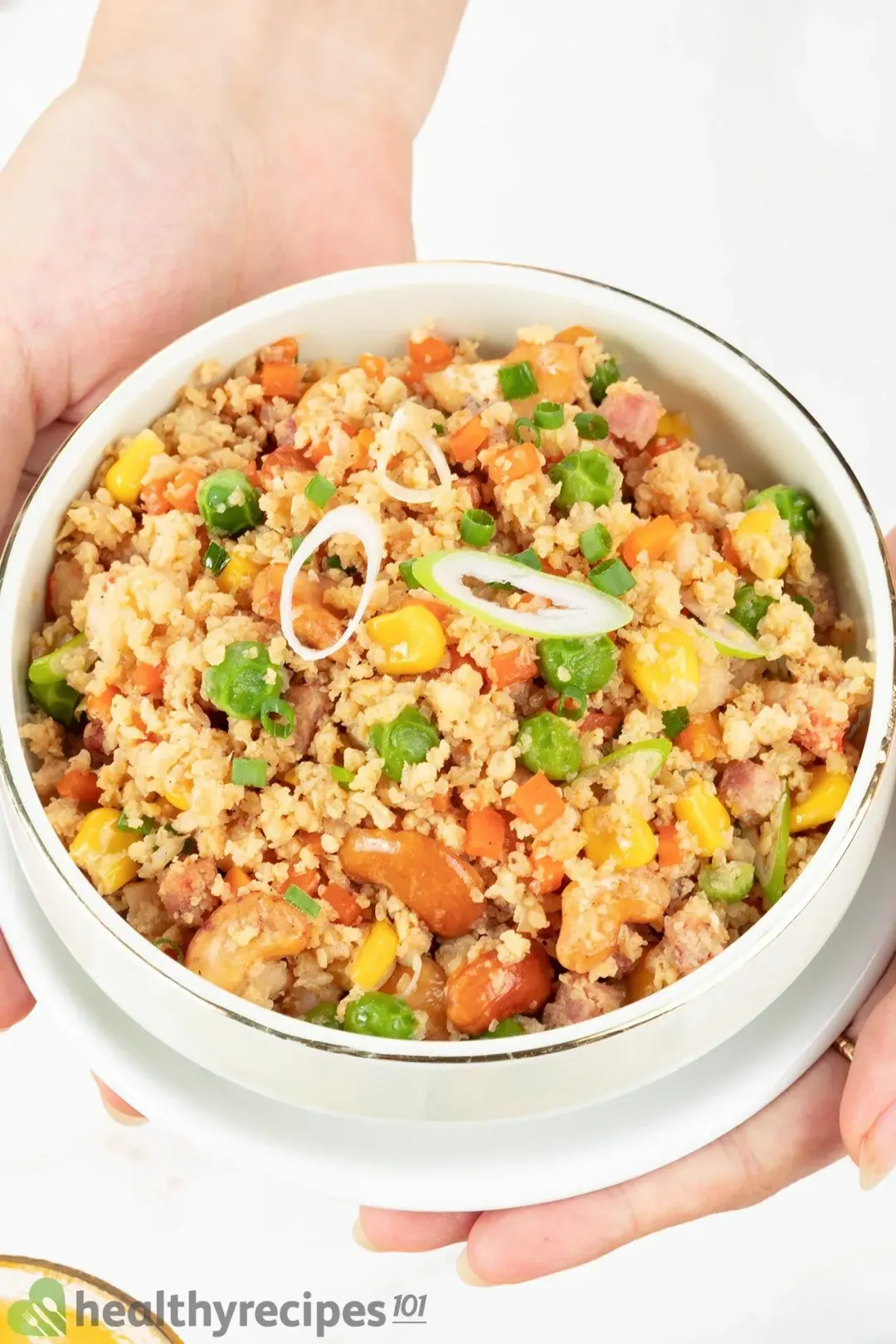 cook TIME

15 mins

prep TIME

5 mins

total TIME

20 mins
COURSE

Main Course

CUISINE

Global

SERVINGS

CALORIES

492 kcal
INGREDIENTS
2 oz

smoked sausage

(diced)

4 oz

peeled shrimp

(from about 6 oz whole)

1/4 tsp

ground black pepper

1 tbsp

reduced sodium soy sauce

2 oz

leek

(sliced on a bias)
INSTRUCTIONS
1
Mix the cauliflower with 2 medium eggs in a bowl.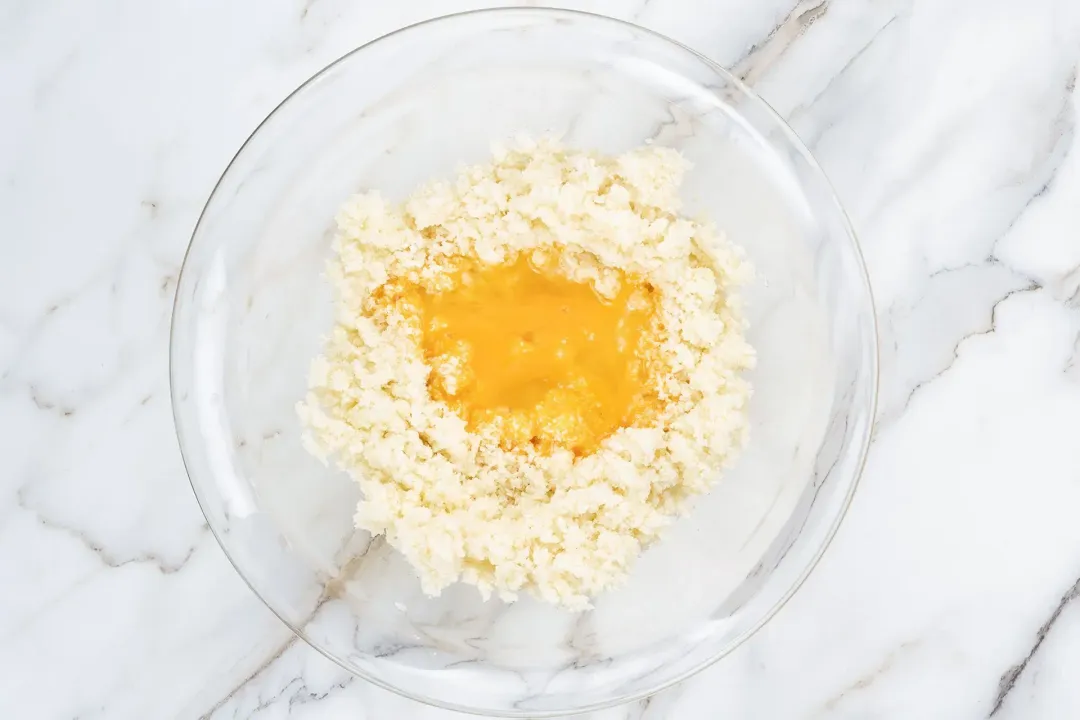 2
Heat a skillet over medium heat and add the 2 oz smoked sliced sausage. Cook for 1 minute or until they're slightly charred.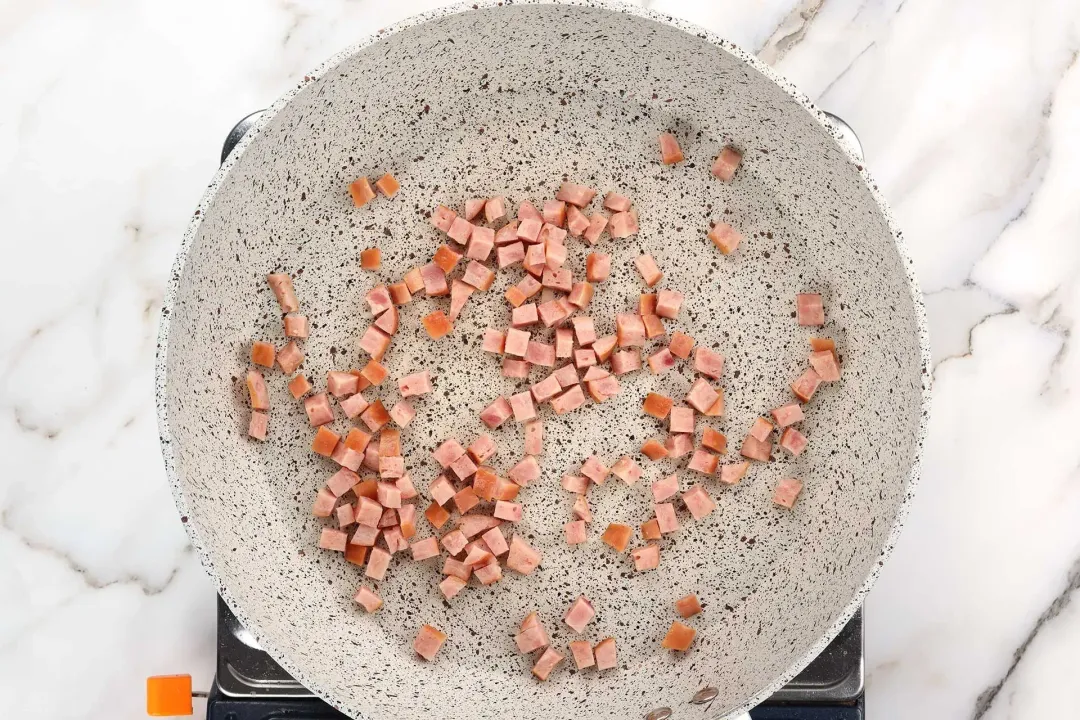 3
Add the 2 1/2 tbsp olive oil, 2 tbsp unsalted butter, and 1 tbsp garlic straight to the pan and cook for 1 minute or until fragrant.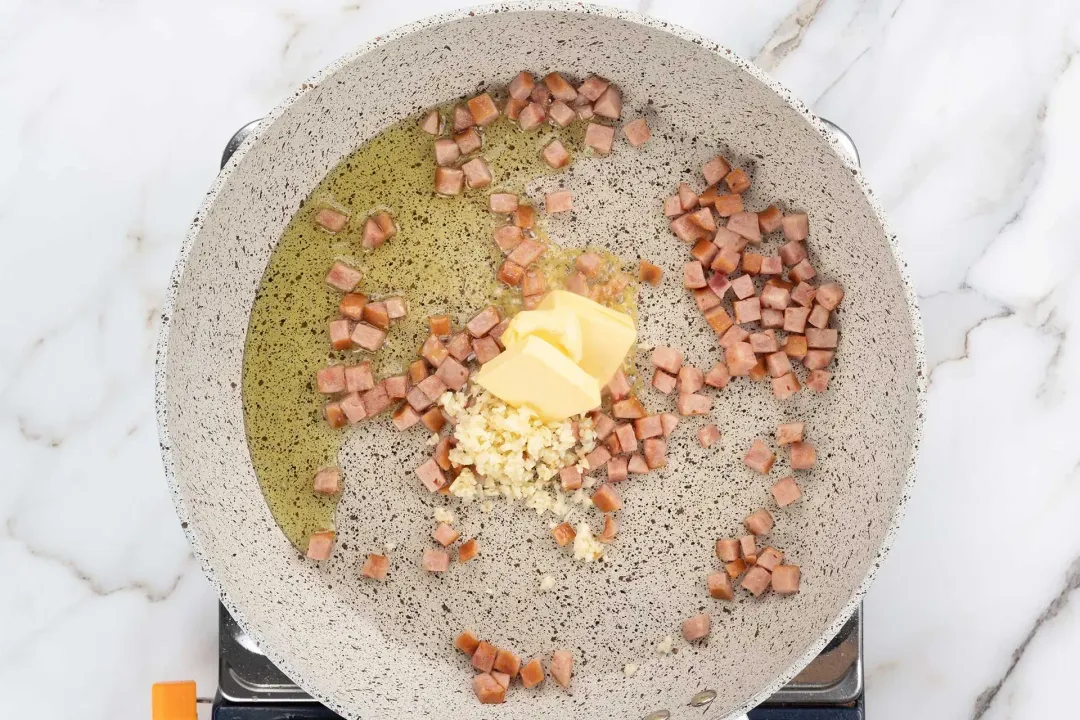 4
Add 4 oz shrimp and cook for another minute. Remember to stir so all sides of the shrimp cook evenly.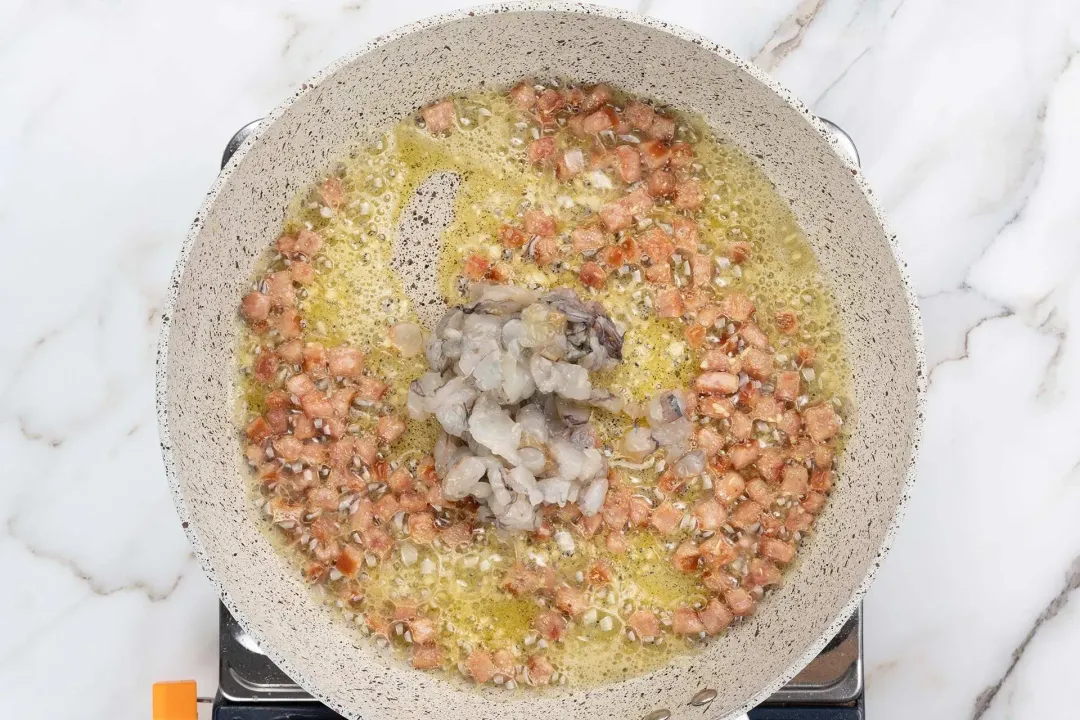 5
Add 2 oz onions, 2 oz corn, 4 oz carrots, 4 oz green peas and spread them out in the pan. Leave them to cook for 5 minutes.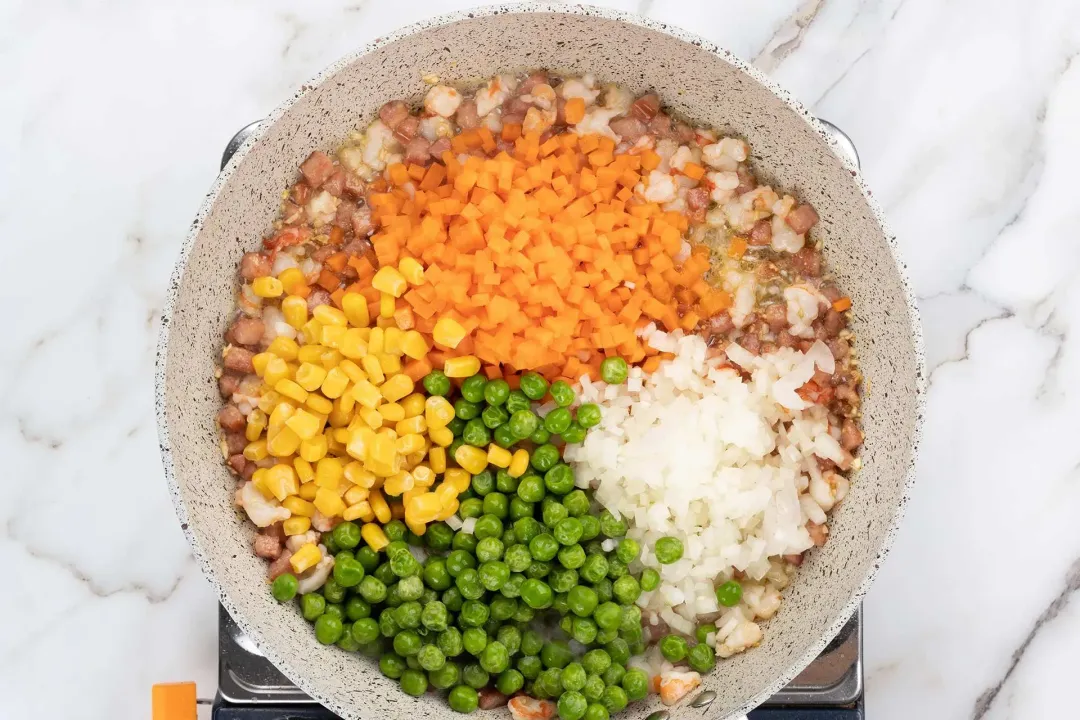 6
Add the cauliflower rice and stir occasionally (every 30 seconds or so). Cook them for 5 minutes.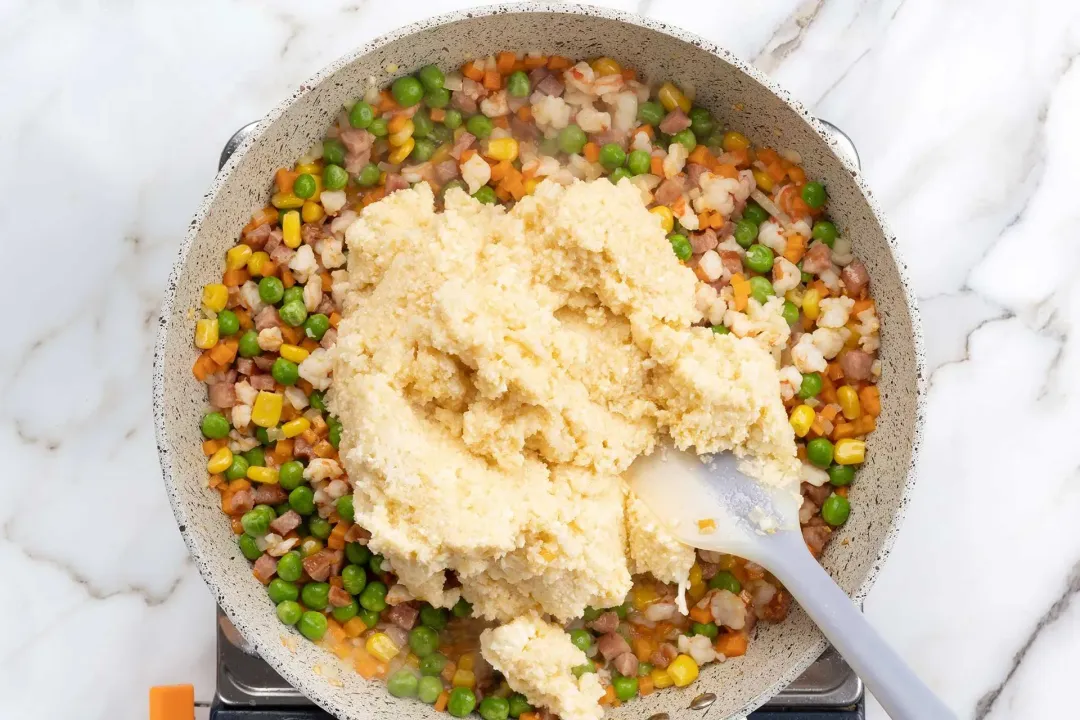 7
Add 1 tsp brown sugar, 1/4 tsp salt, 1/4 tsp ground black pepper, 2 tbsp scallion, and 1 tbsp low-sodium soy sauce. Stir well to work everything in and cook for another 2 minutes.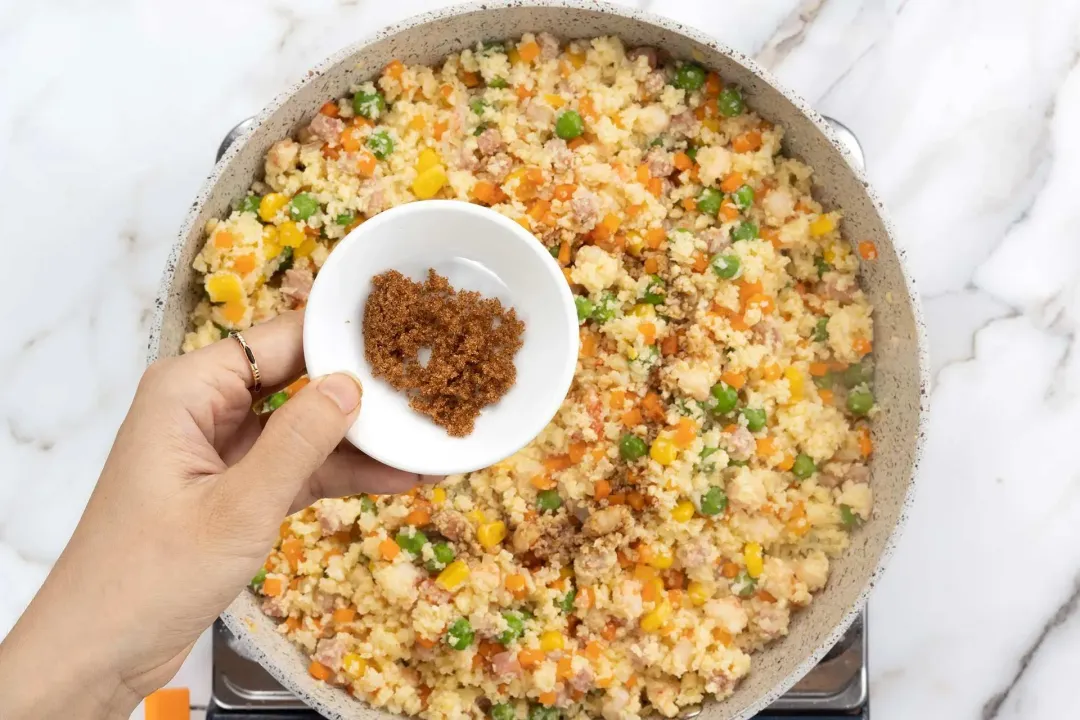 8
Turn off the heat and stir in the 4 oz cashews.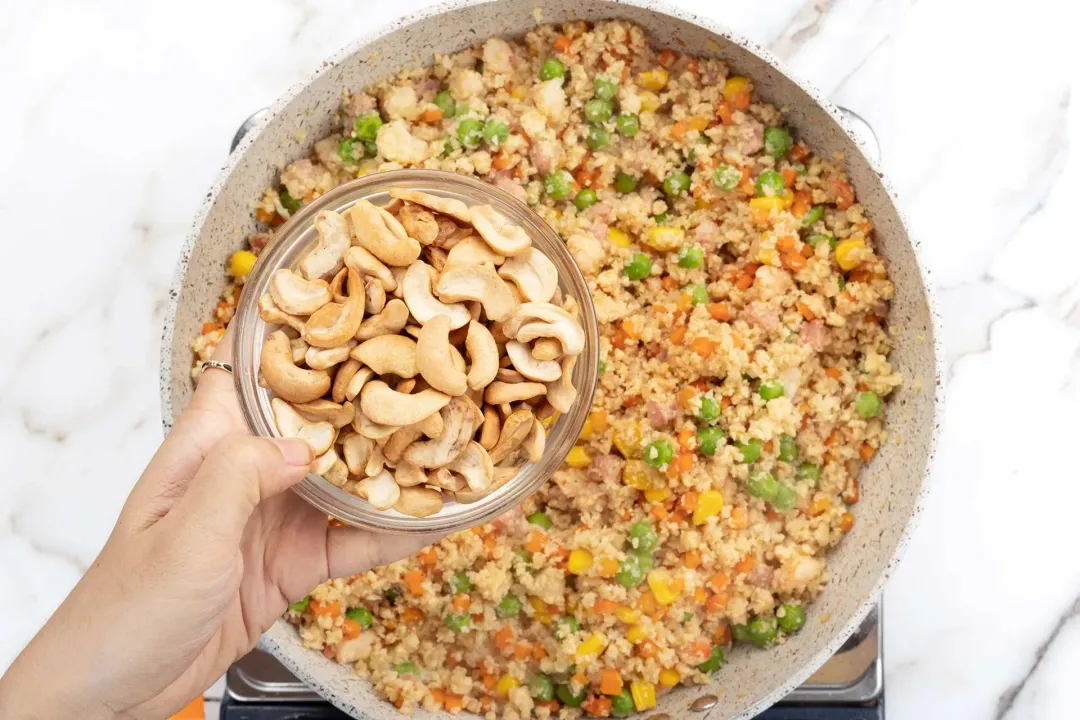 9
Serve: plate the rice, garnish with the 2 oz sliced leek, and enjoy.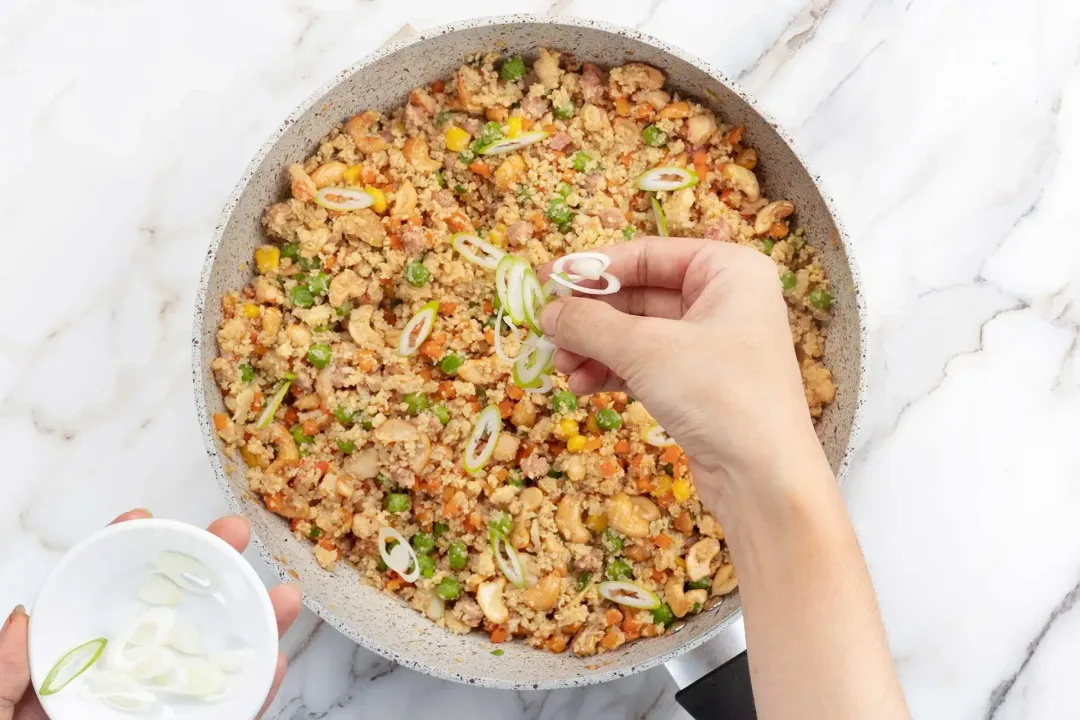 NUTRITION
Nutrition Facts
Cauliflower Fried Rice
Amount Per Serving (1 serving)
Calories 492
Calories from Fat 306
% Daily Value*
* Percent Daily Values are based on a 2000 calorie diet.
Keywords: Cauliflower Fried Rice, Cauliflower Fried Rice Recipe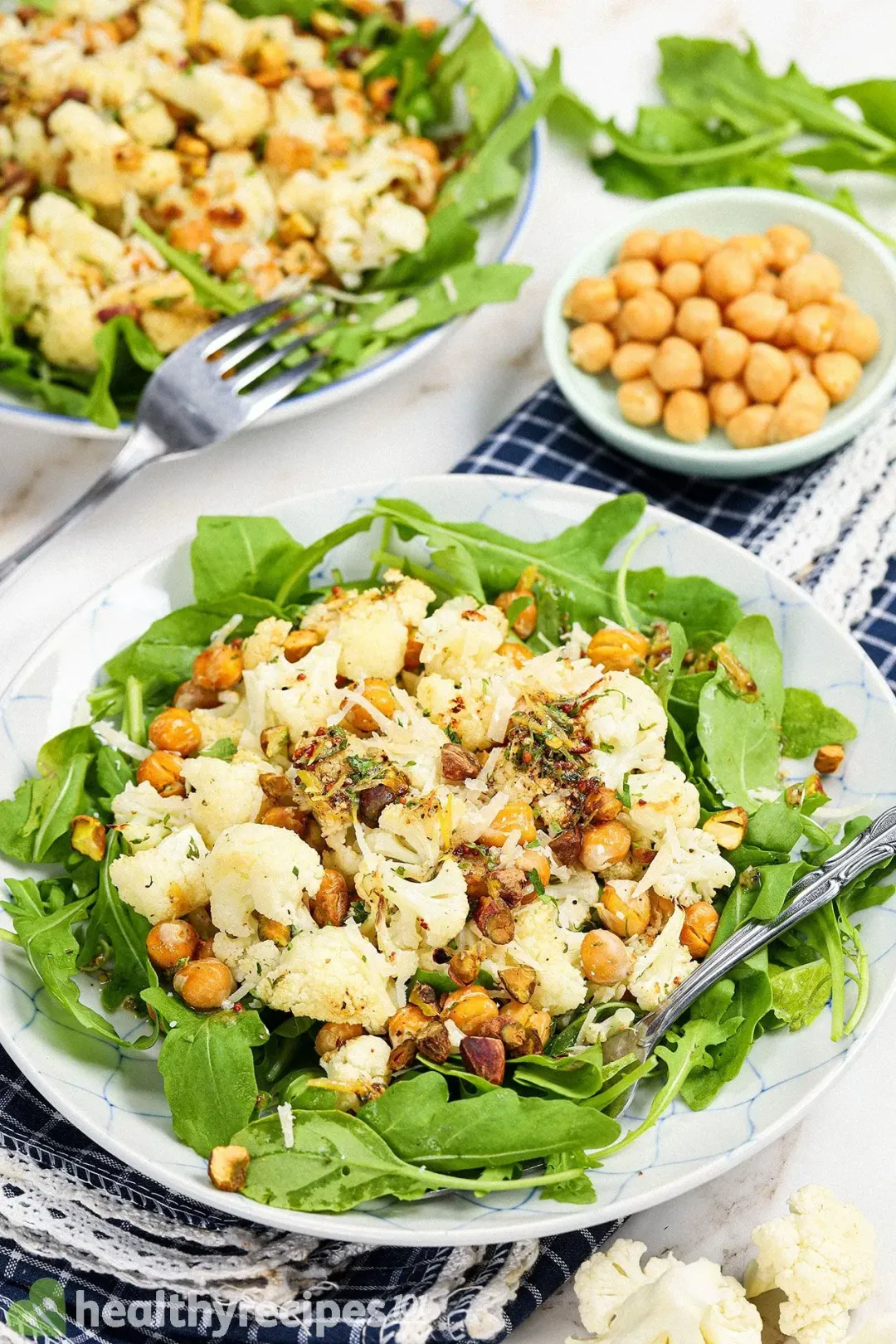 Previous Recipe
Cauliflower Salad
Cauliflower Salad
Head Chef, Culinary Consultant
Tuyet Pham is an award-winning Saigonese chef who believes that joy is the secret ingredient to delicious food. At Healthy Recipes 101, Tuyet personally tests and simplifies every recipe, ensuring maximum flavor with minimal effort. With a background at prestigious French restaurants P'TI Saigon and Le Corto, Tuyet knows how to make every dish exceptional.
Writer, Author
Luna Regina is an accomplished writer and author who dedicates her career to empowering home cooks and making cooking effortless for everyone. She is the founder of HealthyKitchen101.com and HealthyRecipes101.com, where she works with her team to develop easy, nutritious recipes and help aspiring cooks choose the right kitchen appliances.
Nutrition Reviewer
Lizzie Streit is a Minneapolis-based dietitian and founder of It's a Veg World After All. She completed her MS in Human Nutrition from Drexel University, and is an expert in culinary nutrition, recipe development, and nutrition communications. Lizzie's philosophy is centered around making nutrition recommendations, and especially the advice to eat more vegetables, approachable and realistic. She is excited to be working with the team at Healthy Recipes 101 to ensure that their recipes are both nutritious and delicious.
This cauliflower fried rice recipe is a healthy and delicious alternative to traditional fried rice.