If you need a low-carb alternative to mashed potatoes, this mashed cauliflower recipe is a godsend.
We get it — the creamy deliciousness you've been in love with doesn't fit your new diet, so have we got the thing for you. This creamy cauliflower alternative has heaps of dairy, tons of flavor, and is sure to tickle your fancy.
And no, it won't take long, about 20 minutes, though your presence will only be required in the kitchen for about five of those. It's easy to mash cauliflower because it's so soft when cooked. You can mash it in less than a minute.
But before we get to the recipe, let's take a look at the dish first.
Mashed Cauliflower vs Mashed Potatoes
Despite their similar look, the two bring different vibes to the table.
Because of the low starch content, mashed cauliflower isn't as heavy as mashed potatoes. Don't get me wrong — it's still very creamy and satisfyingly flavorful.
Speaking of flavor, we chose mashed cauliflower thinking of it as a replacement, but we fell in love with it for what it is (and created an impressive Instant Pot Mashed Cauliflower Recipe). It has this unique flavor that becomes irresistible when combined with aromatics and seasonings.
We think you're gonna love it, even though it tastes nothing like its counterpart.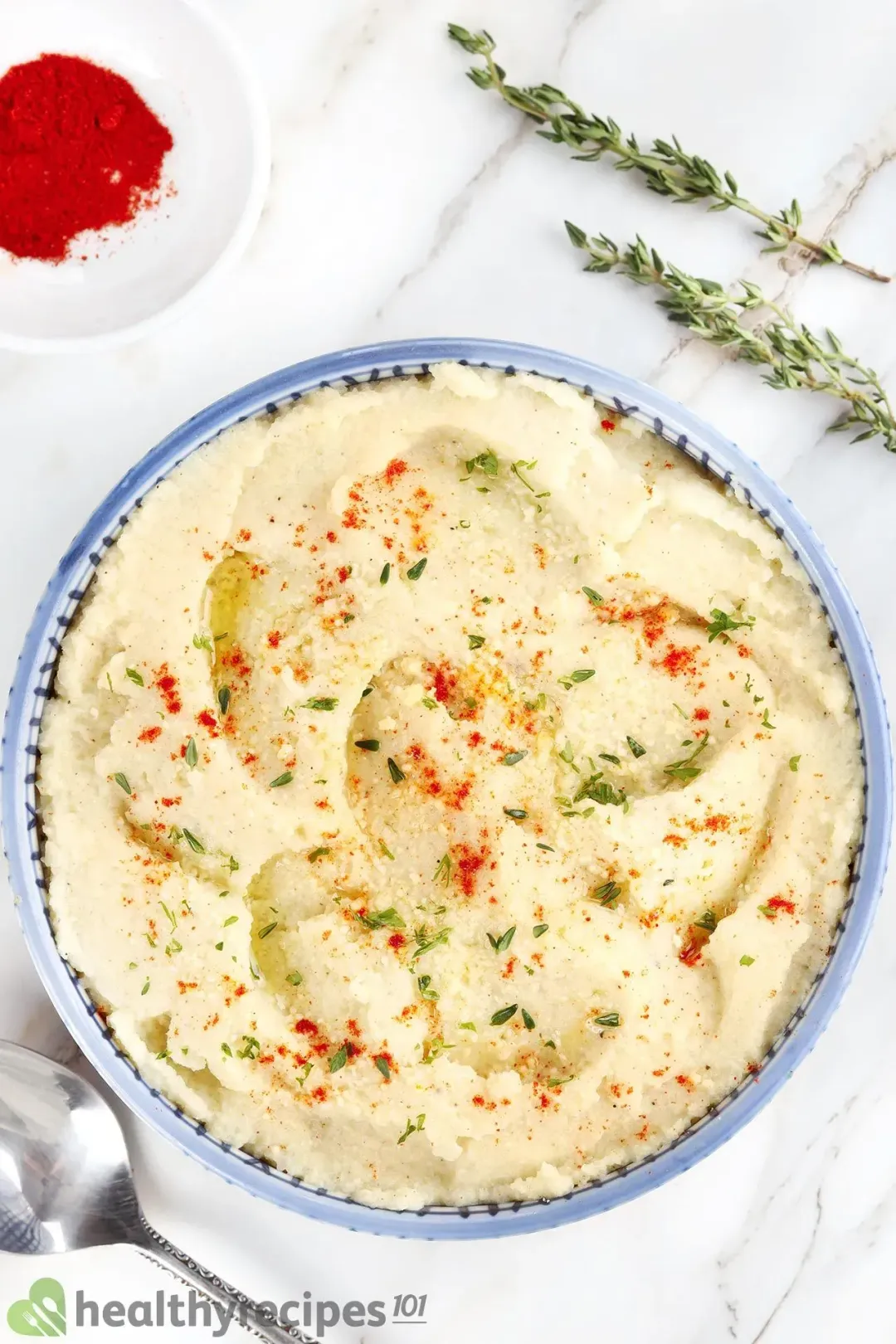 Is Mashed Cauliflower Good for You?
Cauliflower has plenty of fiber and micronutrients, which are good for the body in many different ways. Fiber is also known to aid digestion and keeps us feeling full for longer, which is super helpful for appetite control.
As mentioned before, mashed cauliflower is also a low-carb alternative to mashed potatoes. This may make it sound healthier, but it's not really; we'll explain what matters instead.
How Healthy Is Our This Recipe? 
We base our recipes on the USDA's dietary guidelines, which have no guidance on whether it is a healthy practice to reduce carbohydrates or not. Instead, here's what it says about a healthy diet:
Calorie consumption should be controlled, depending on sex, age, and level of activity.
Intakes of sodium, saturated fat, and granulated (or added) sugar should be limited.
Various foods from different food groups should be included in the diet.
The body will go through different stages and will have different needs that should be met.
Alcohol isn't advised. If it's unavoidable, drink in moderation.
After making the recipe, we checked its nutritional labels and made necessary adjustments to make it fit with our guidelines.
Cauliflower doesn't contain many calories, but the dairy component can ratchet up the sodium and saturated fat levels. We used just enough to keep them within the guidelines.
You can check out those guidelines here. They're based on those of the USDA and are designed to control the intake of calories and nutrients.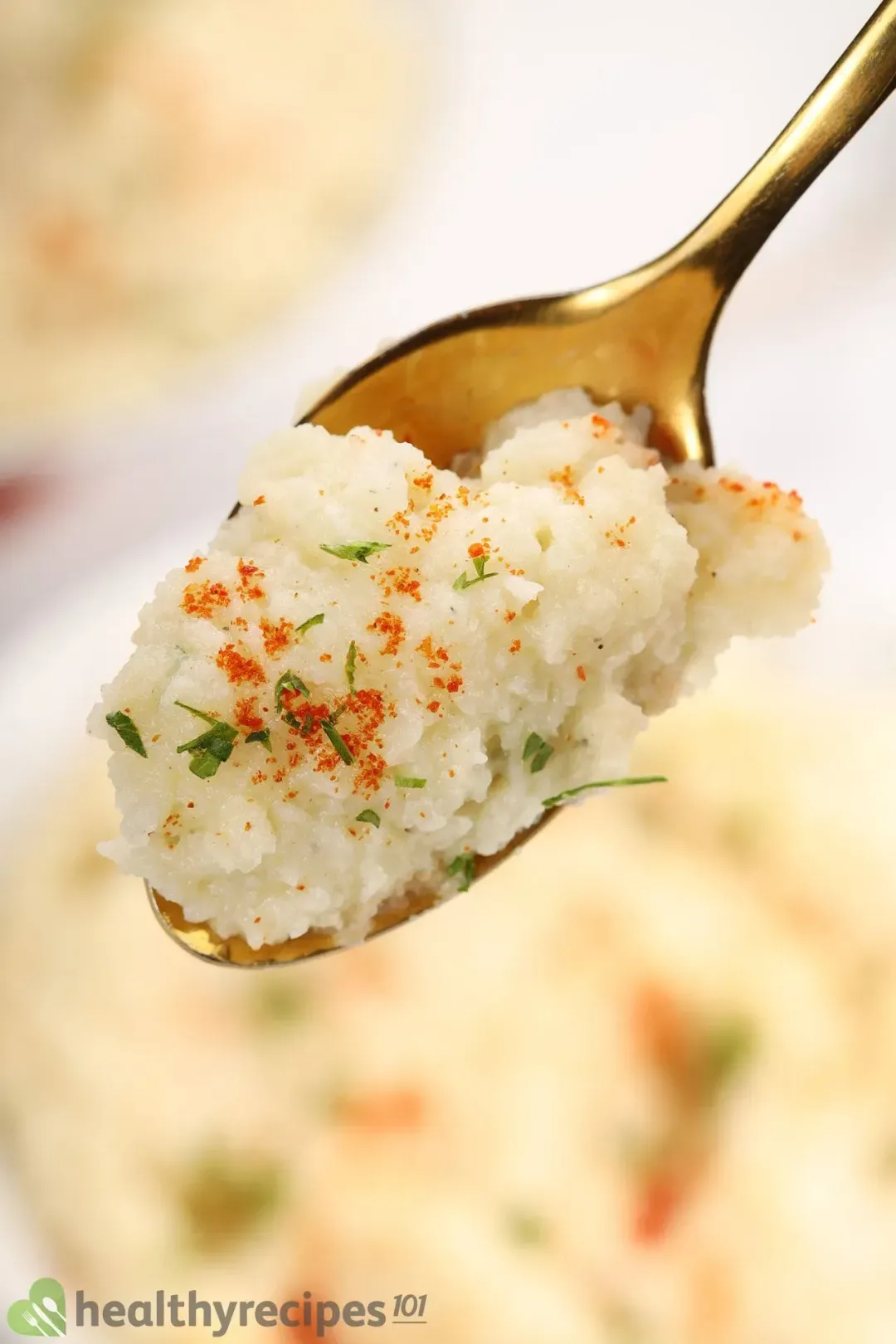 Now let's have a look at the main ingredients.
Main Ingredients for Mashed Cauliflower 
1. Cauliflower
Cauliflower comes in all shapes and sizes — there are purple, orange, and even green cauliflowers (no, they're not broccoli). You can pick these instead of the common white one to make a beautiful "smashing" dip.
We highly recommend that you don't use different colors in the same bowl. We learned our lesson back in art class and we have to say, it's not very beautiful.
2. Dairy
Cauliflower tastes great already, but adding butter to it makes it even better. Butter makes everything better, and that's a fact.
We could've used just heavy cream for the creamy texture, but it's just too high in fat. In most of our recipes, we use a combination of heavy cream and whole milk, a half-and-half you might say.
To further enhance the creaminess, we added a touch of sour cream. You can use Greek yogurt if you want.
Finally, grated parmesan for that savory flourish. We didn't use cheddar or mozzarella — they may look good as a pizza topping, but they're too heavy for a creamy dip.
3. Seasoning for Mashed Cauliflower
We began to season the dip with salt and pepper, the two seasonings that go with almost anything.
Next, we added some garlic powder to complete the savory profile. If you like nibbling on little bits of garlic, you can always chop some up and add them to the dip.
We then complete the aroma profile by Sautéing some thyme along with the cauliflower to bring out the flavor better.
We also used parsley but it's more for decoration than for flavor.
Finally, the dip is finished with a touch of paprika. We don't think any more paprika than that is a good idea, but you can add more if you prefer.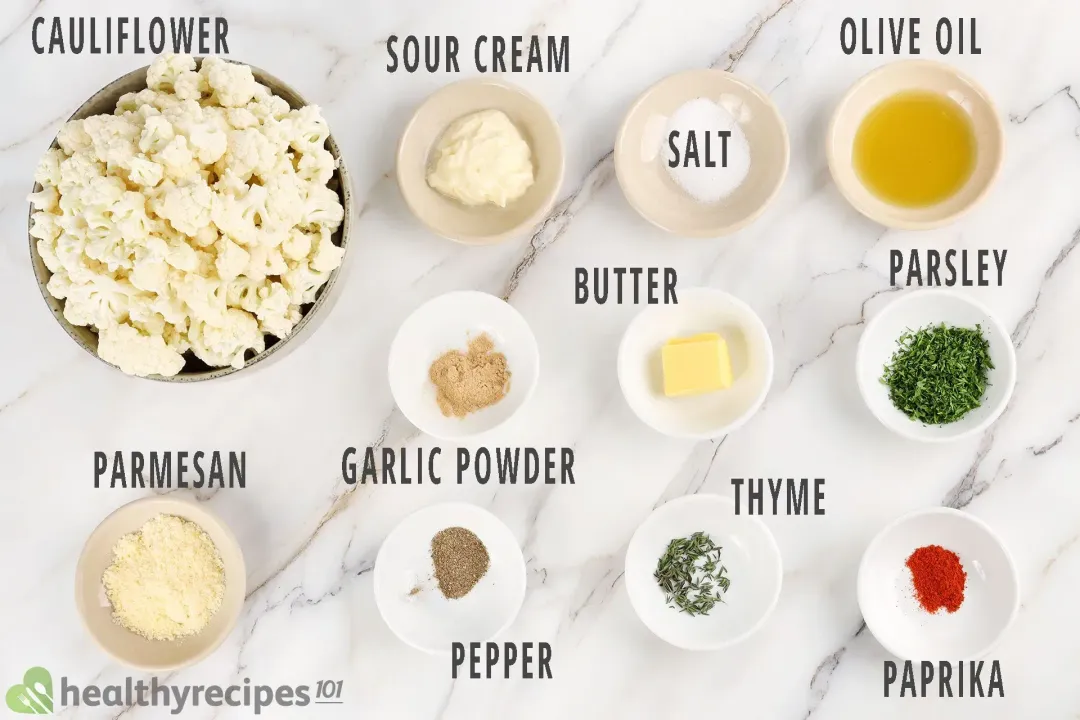 How to Make Mashed Cauliflower
A creamy mashed potato begins with thoroughly cooked potatoes, so place your washed cauliflower into a pot and boil for 6 minutes. 
Then, place the cooked cauliflower in a sieve over a bowl to ensure no excess liquid is in the mash. When it's nicely dry, blend it with your food processor.
Add the mashed cauliflower to a skillet with the rest of the ingredients and sauté (save a little bit of parsley, paprika, and olive oil to sprinkle on top for decoration).
Here's a recap:
Boil the cauliflower
Leave it to dry
Blend the cauliflower
Cook the cauliflower with aromatics and seasonings
Decorate the mashed cauliflower and serve
For exact measurements and timing, refer to our mashed cauliflower recipe card down below.
How to Store and Reheat Leftover Mashed Cauliflower
Similar to mashed potatoes, this dish freezes well, thaws well, and can last for 3 months when frozen. We often store ours in airtight containers, but sometimes, we wrap it up like a ball of dough.
First, we grabbed a bowl and lined it with a square-ish piece of cling wrap. We took one serving straight from the pot and scooped it into the lined bowl.
We then carefully folded the cling wrap to form a ball of mashed cauliflower, and froze it.
To reheat, we simply removed the wrap and placed it in a pot with a tablespoon of water. When it got bubbling hot, we allowed it to cool down before serving.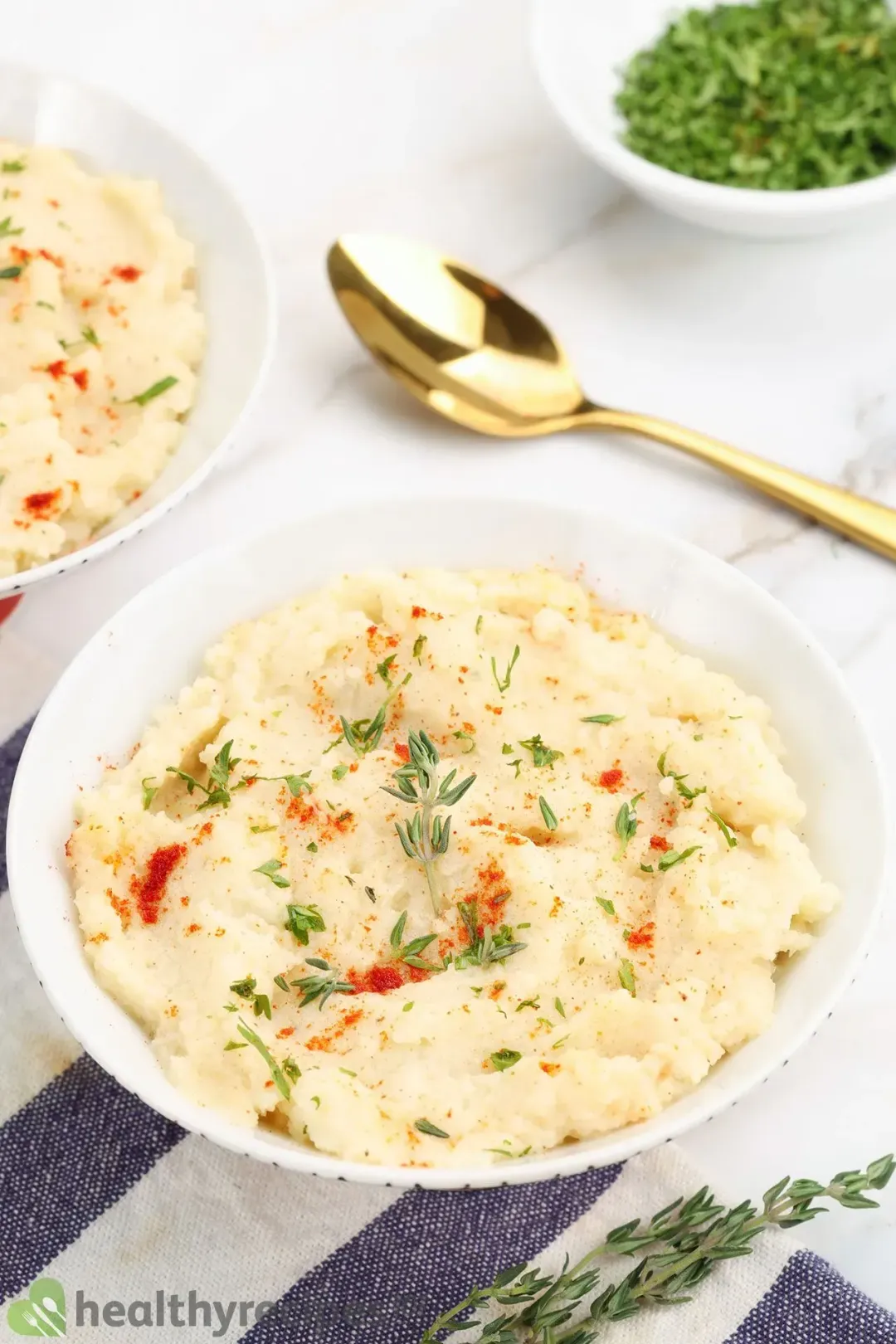 How to Serve Mashed Cauliflower
Mashed cauliflower is a lot like mashed potatoes, so it can be served as a dip for crunchy garlic bread. The two make for satisfying finger food, perfect for parties or gatherings.
We couldn't think of any better option, so please give us some comments if you have ideas on how to serve this amazing dip!
More Cauliflower Dishes to Try
Mashed Cauliflower
This mashed cauliflower recipe is a great solution if you're craving mashed potatoes and looking for something similar. It tastes unbelievably good.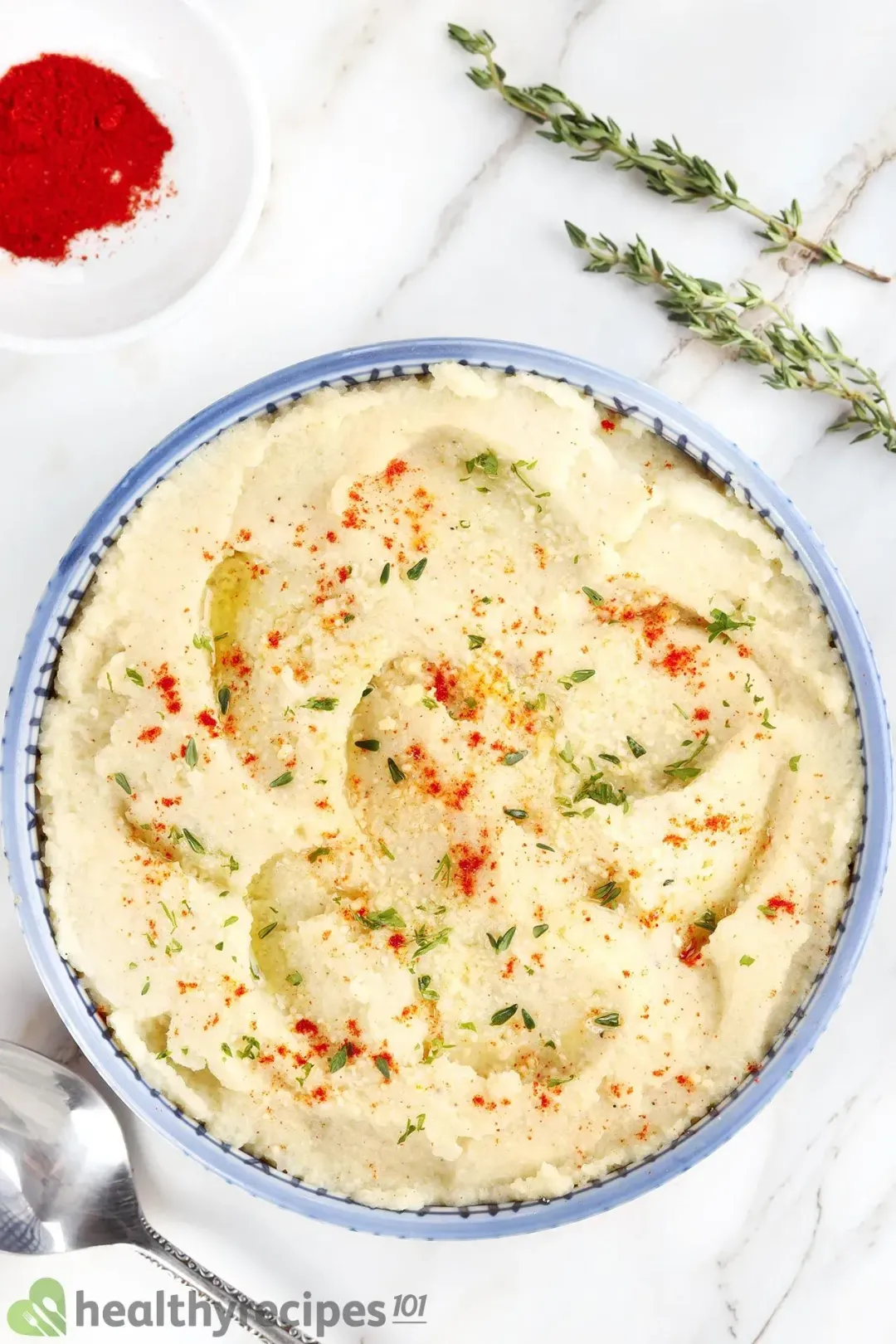 cook TIME

15 mins

prep TIME

5 mins

total TIME

20 mins
COURSE

Side Dish

CUISINE

American

SERVINGS

CALORIES

119 kcal
INGREDIENTS
22 oz

cauliflower

(cut into florets)

1 tbsp

olive oil

(divided)

1/2 tsp

ground black pepper

1 tbsp

parsley

(finely chopped)
INSTRUCTIONS
1
Add 1 cup water and 22 oz cauliflower to a pot and boil for 6 minutes.
2
Drain the cauliflower. Place a large sieve over a bowl and place the cauliflower into it. Allow excess water to drain off before blending.
3
Add the dry cauliflower to your food processor and blend until smooth.
4
Heat a skillet over medium heat and add the blended cauliflower, 1/2 tbsp olive oil, 1 tbsp unsalted butter, 1 tsp thyme, 1/2 tsp garlic powder, 1/2 tsp ground black pepper, 1/4 tsp salt, 1/4 tsp paprika, 1 tbsp parsley, and cheese (save some oil, paprika, and parsley for decoration). Stir and cook until the butter is melted.
5
Add the mash to a bowl and sprinkle it with paprika, parsley, and the remaining oil. Serve.
NUTRITION
Nutrition Facts
Mashed Cauliflower
Amount Per Serving (1 serving)
Calories 119
Calories from Fat 72
% Daily Value*
* Percent Daily Values are based on a 2000 calorie diet.
Keywords: how to make mashed cauliflower, mashed cauliflower, mashed cauliflower recipe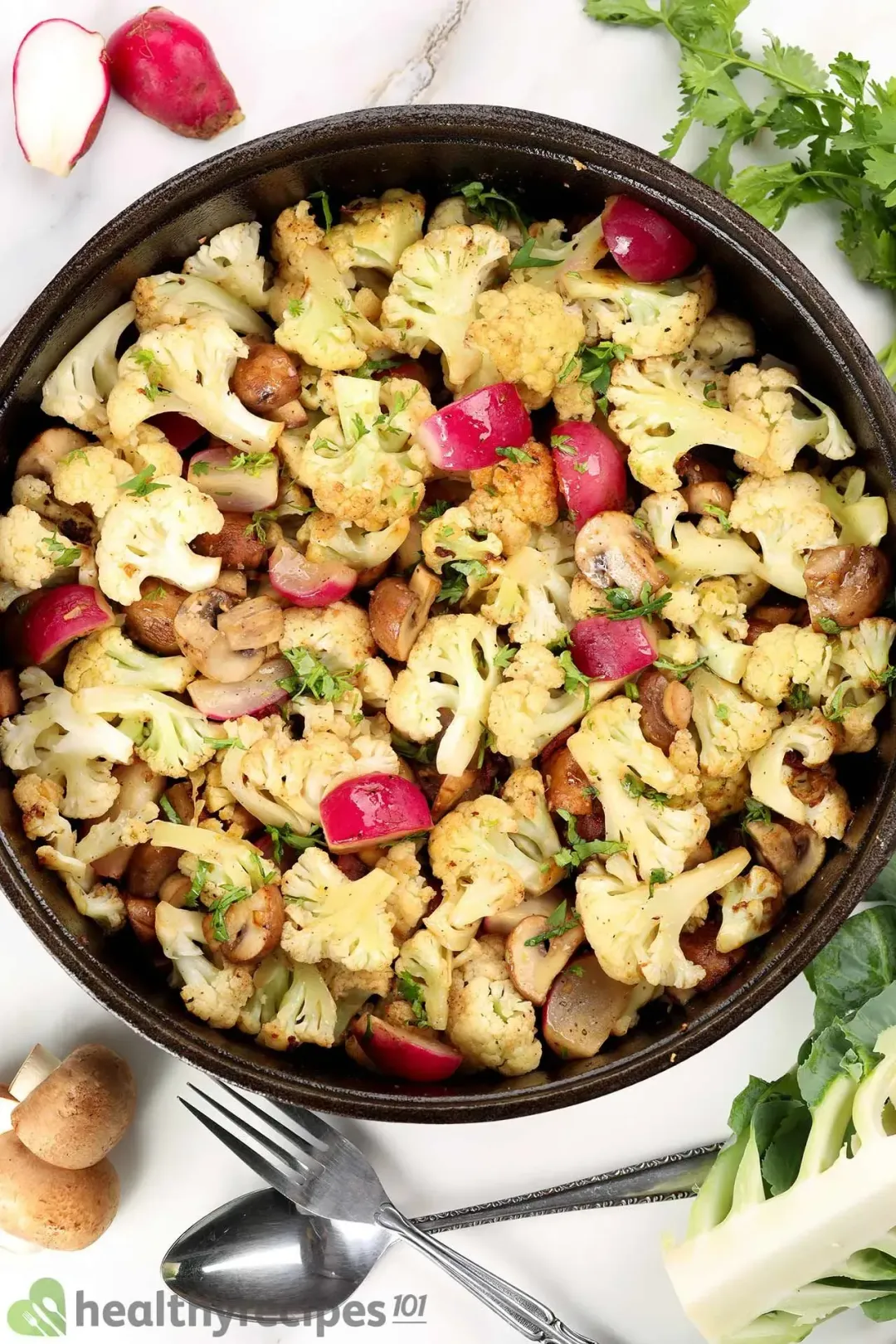 Previous Recipe
Sauteed Cauliflower
Sauteed Cauliflower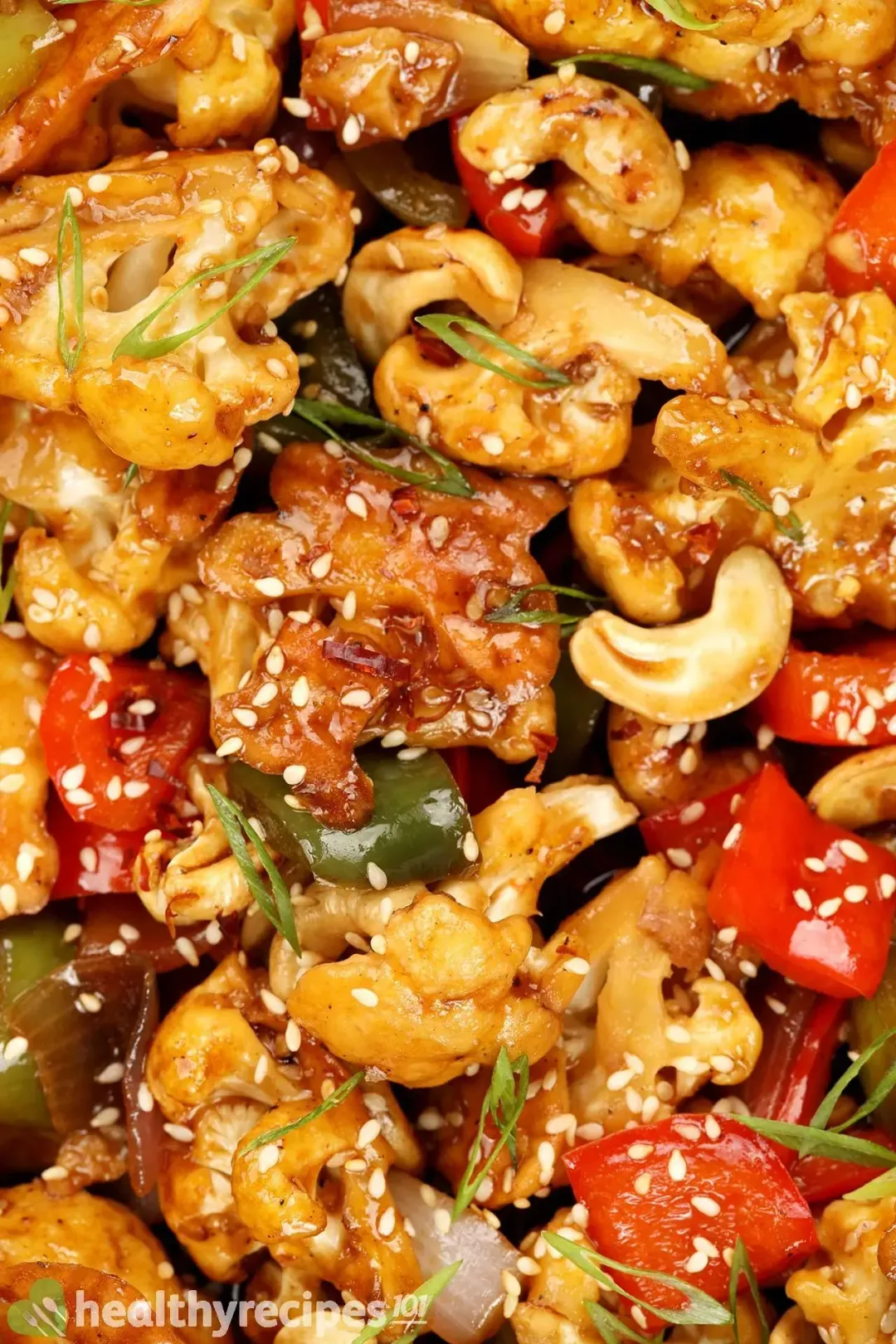 Next Recipe
Kung Pao Cauliflower
Kung Pao Cauliflower
Head Chef, Culinary Consultant
Tuyet Pham is an award-winning Saigonese chef who believes that joy is the secret ingredient to delicious food. At Healthy Recipes 101, Tuyet personally tests and simplifies every recipe, ensuring maximum flavor with minimal effort. With a background at prestigious French restaurants P'TI Saigon and Le Corto, Tuyet knows how to make every dish exceptional.
Writer, Author
Luna Regina is an accomplished writer and author who dedicates her career to empowering home cooks and making cooking effortless for everyone. She is the founder of HealthyKitchen101.com and HealthyRecipes101.com, where she works with her team to develop easy, nutritious recipes and help aspiring cooks choose the right kitchen appliances.
Nutrition Reviewer
Lizzie Streit is a Minneapolis-based dietitian and founder of It's a Veg World After All. She completed her MS in Human Nutrition from Drexel University, and is an expert in culinary nutrition, recipe development, and nutrition communications. Lizzie's philosophy is centered around making nutrition recommendations, and especially the advice to eat more vegetables, approachable and realistic. She is excited to be working with the team at Healthy Recipes 101 to ensure that their recipes are both nutritious and delicious.
Creamy mashed cauliflower alternative.