Are you looking for a way to celebrate National Spaghetti Day (January 4)? This cauliflower pasta recipe will do the job.
Vegetables are amazing— they're affordable, packed with nutrients, and can be turned into many delicious meals. A quick search will bring up thousands of ideas that all look and taste fantastic.
Today's cauliflower pasta recipe is a good example. The pasta is mixed with crunchy cauliflower and fragrant garlic bits — healthy and flavorful! Plus, it's all coated in a glossy, buttery sauce.
Is Cauliflower Pasta Healthy?
Cauliflower pasta, specifically our version, is a healthy meal.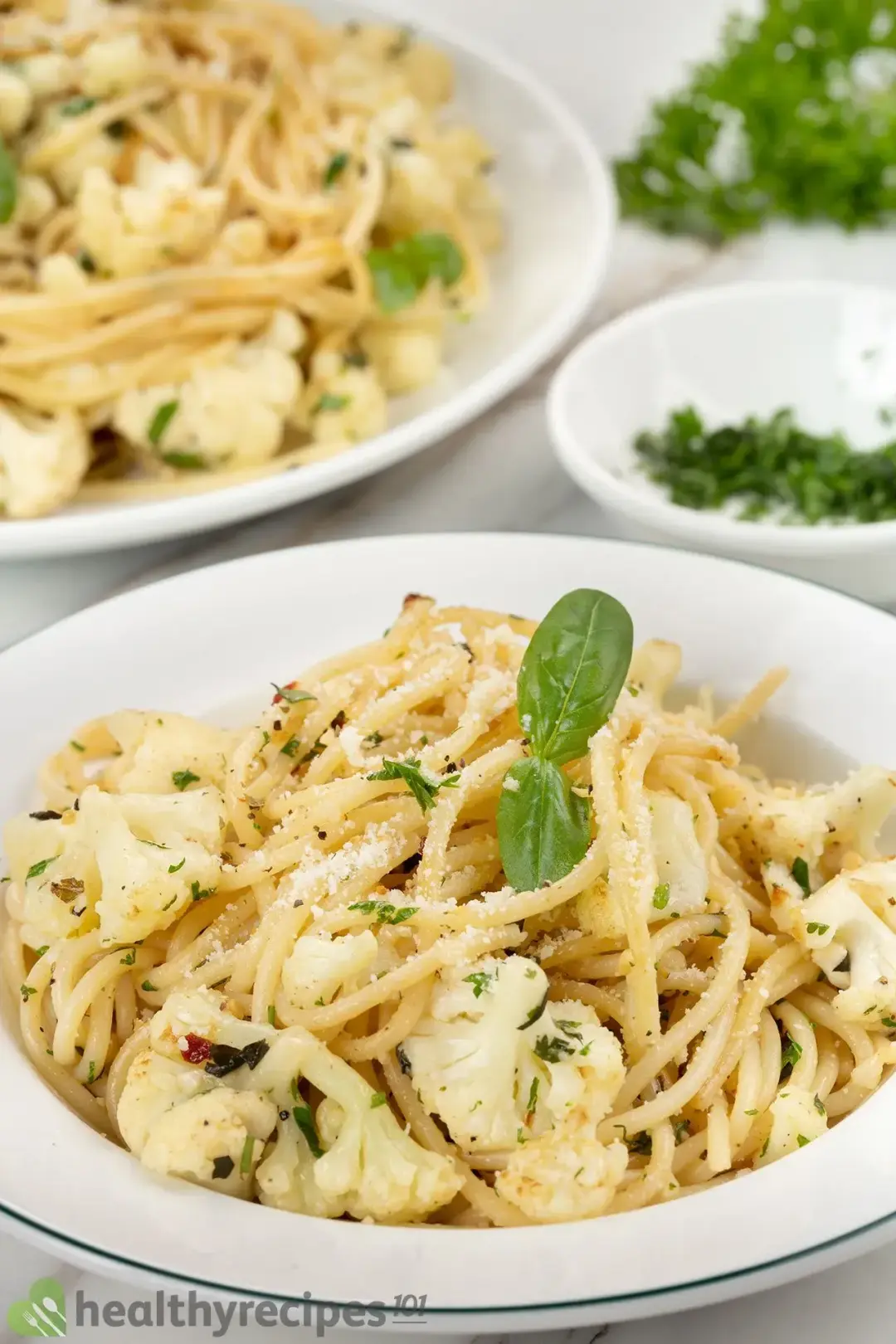 For starters, cauliflower is rich in micronutrients— the building blocks of a healthy body. It's also a good source of fiber, which supports the digestive system and keeps your bowel movements regular.
Pairing pasta with a fibrous vegetable like cauliflower makes your meal more satiating. This means you can feel full for longer after eating and hence manage your cravings (and calorie intake) better.
As with all our recipes, we make sure this savory dish has reasonable amounts of calories, sodium, and saturated fat. Its nutritional profile complies with our dietary guidelines, which are approved by our in-house nutritionist.
Is Cauliflower Pasta Good for Weight Loss?
Yes, it can help you pursue your low-calorie diet more easily. Ours has around 250 calories, and thanks to the fiber, a seemingly small serving can still feel fulfilling.
Types of Pasta Noodles to Use
We chose to simply use spaghetti. Any type of pasta that you can swirl or stab with a fork will work just as well.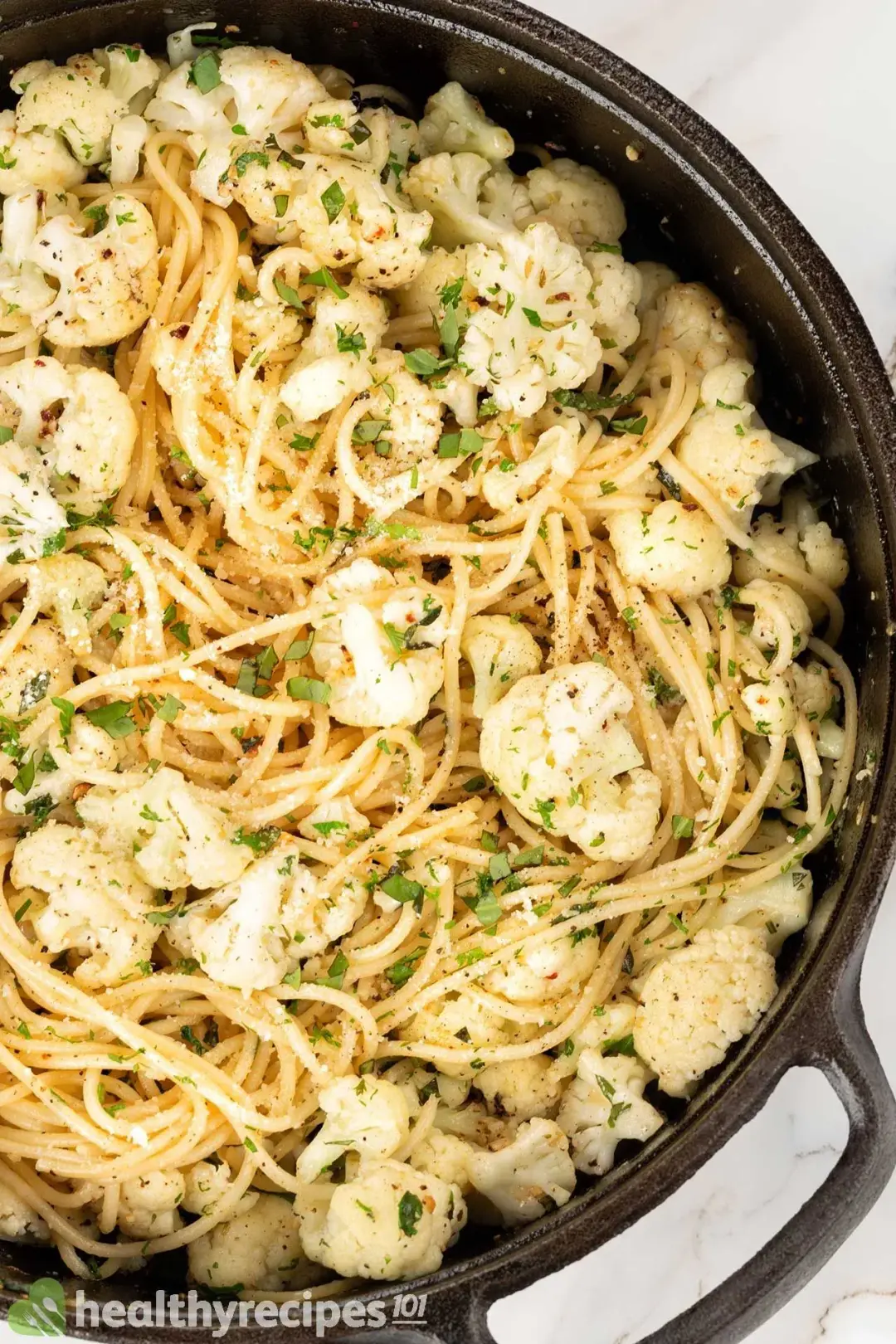 We don't recommend using noodles that are too large, too small, or shell-shaped. Since they're intended for different purposes, you'll find working with them awkward and strangely difficult.
Other Ingredients for Cauliflower Pasta
1. Cauliflower
The vegetable can appear complicated to cut, but it's actually rather easy. Using a paring knife, simply slice the florets off the large stalk and cut them into manageable pieces.
The stalk is also edible once its outer skin is peeled away. You can slice it thinly and add it to your sauté— it's a bit tough in texture but still nutritious and tasty.
After everything has been cut, store any cauliflower chunks you're not using and wash the ones you are. Let them dry after washing.
If you're considering using frozen cauliflower, we recommend saving that for another time. This dish is all about the vegetables' freshness.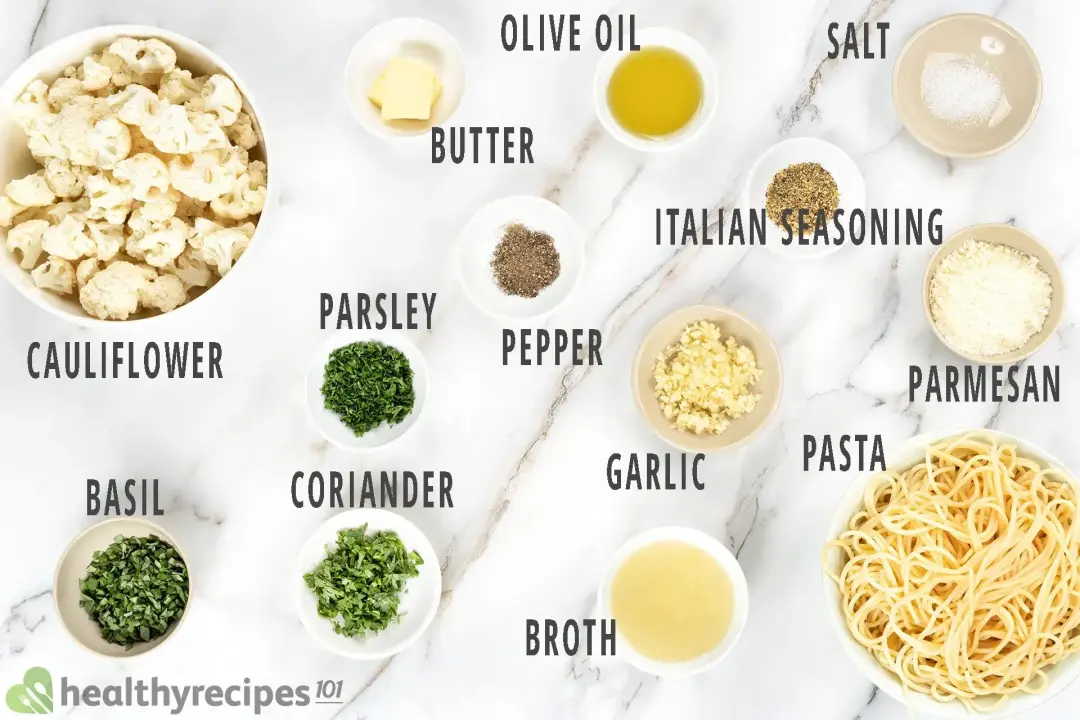 2. Aromatics and Seasonings
You'll notice that almost all stovetop dishes start by sautéing garlic in olive oil and butter. This is because their fragrance together makes a good flavor base for any dish.
Also similar to every dish ever, we seasoned ours with salt and pepper.
An Italian pasta wouldn't be Italian without the right herbs. We used a mixture of dry oregano, basil, rosemary, thyme, and other ingredients— a combo commonly tagged as "Italian seasonings."
Cauliflower won't cook evenly if plainly sautéed, so we poached the florets with a little stock. Once the water evaporates, the essence of the stock coats the florets and adds even more flavor.
And finally, as everything came together, we added a handful of fresh herbs and grated parmesan. We used a combination of herbs— parsley, coriander, and basil— to add different notes of freshness to the pasta.
If you like a little kick in your pasta, feel free to sprinkle paprika or chili powder on top. We prefer to keep things plain and simple, though.
How to Make Cauliflower Pasta Noodles
This one-pan dish is straightforward. All you need to do is add the ingredients in order, stir, and voilà!
Here's how we cooked the cauliflower pasta: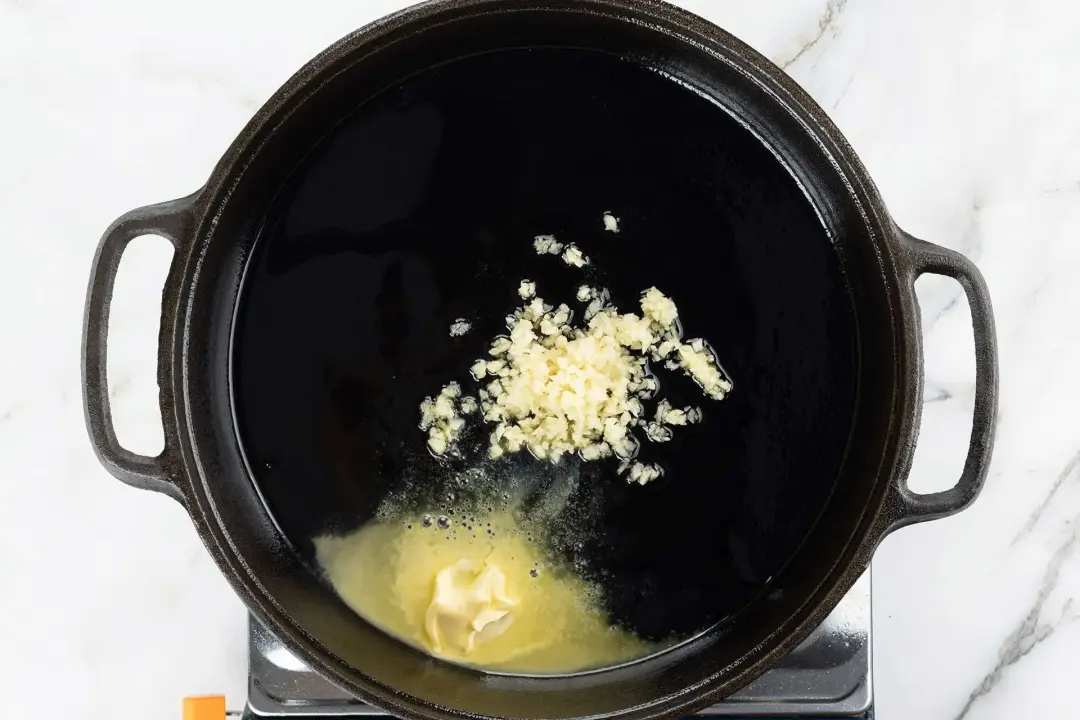 Sauté garlic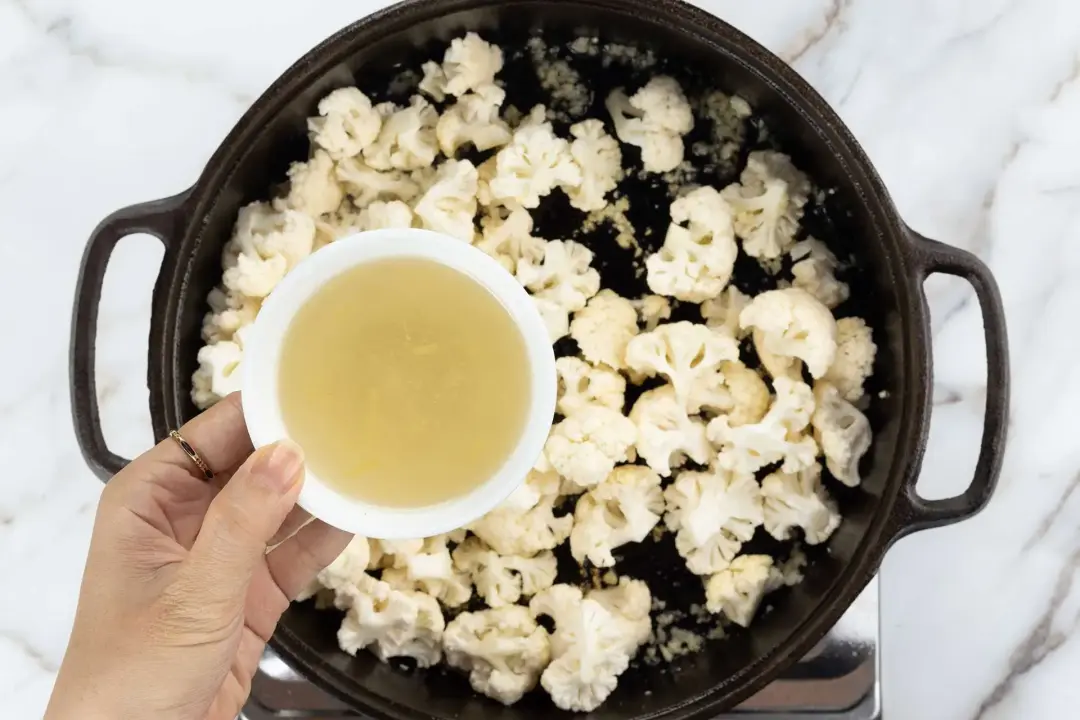 Add cauliflower and broth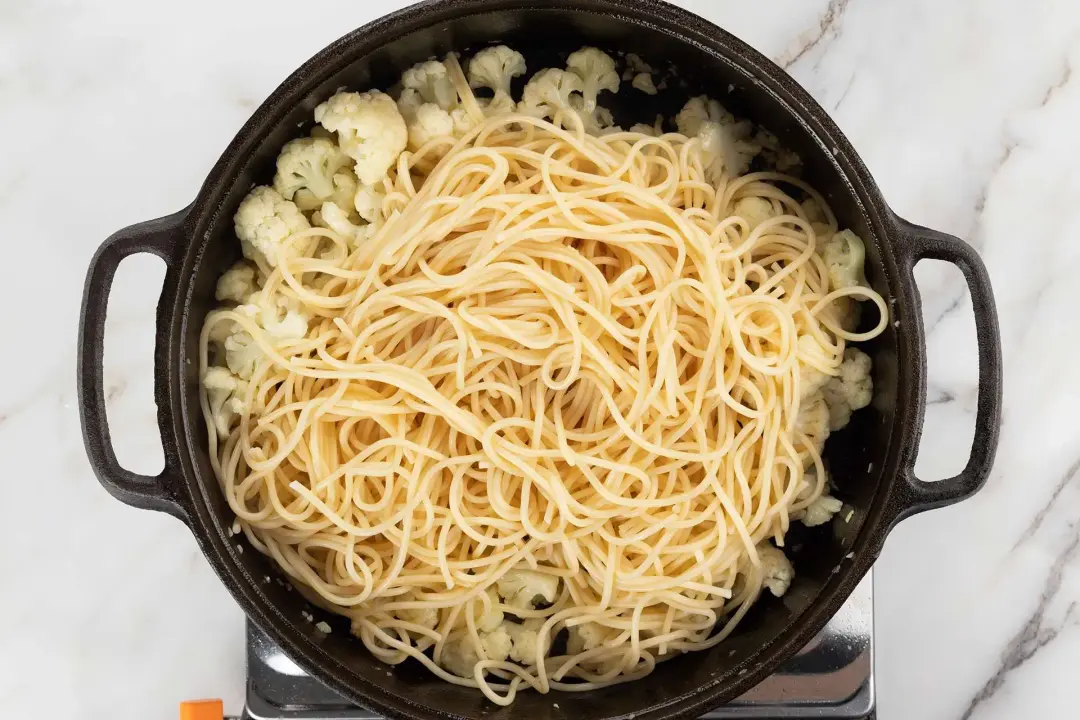 Add spaghetti and seasonings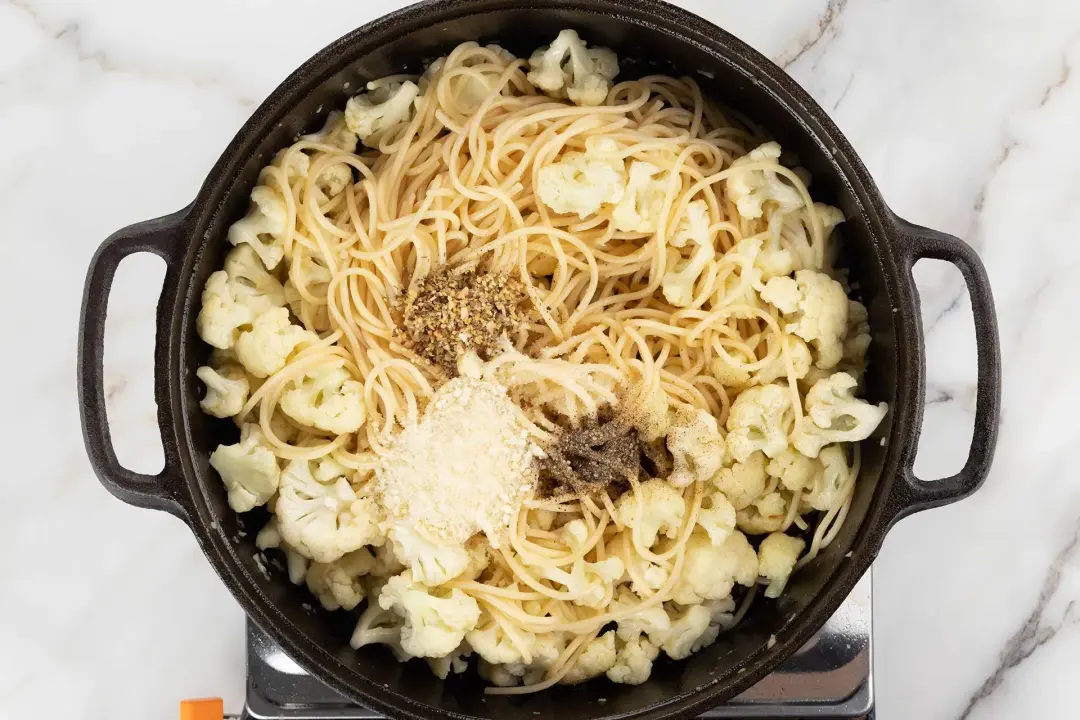 Stir in herbs and parmesan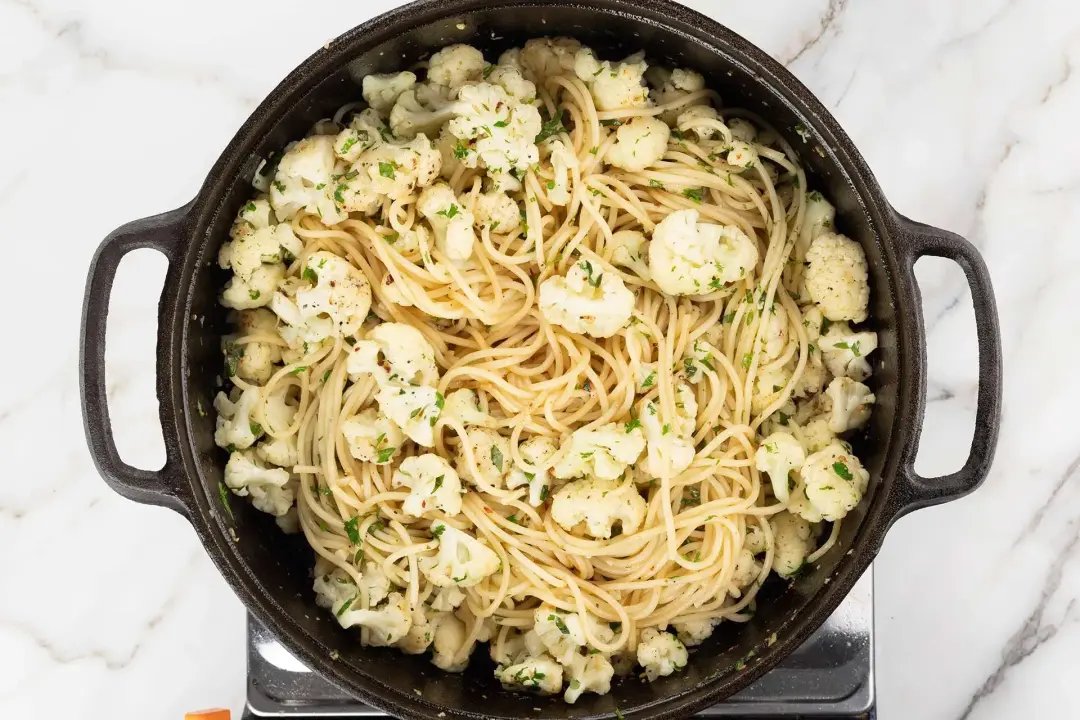 Serve
For measurements and timing, refer to the cauliflower pasta recipe down below.
Tips to Cook Pasta
Most pasta-boiling instructions written on the package will make for tender noodles. If you prefer it al-dente, reduce the recommended boiling time by 2 minutes.
You can boil many portions of pasta at once and then save them for later use. They can last up to a week in the fridge, so plan carefully to avoid making too much.
Even without pre-boiled pasta on hand, you can still cook pasta more quickly with a fast-boiling kettle. Using it to boil the water and then pouring that water into the cooking pot saves you plenty of heating time.
How to Store, Freeze, and Reheat Cauliflower Pasta
To store this dish, portion it into containers, seal the containers tightly, and place them in the fridge. If your containers don't have air-tight lids, a little cling wrap over the top can help keep the food fresh.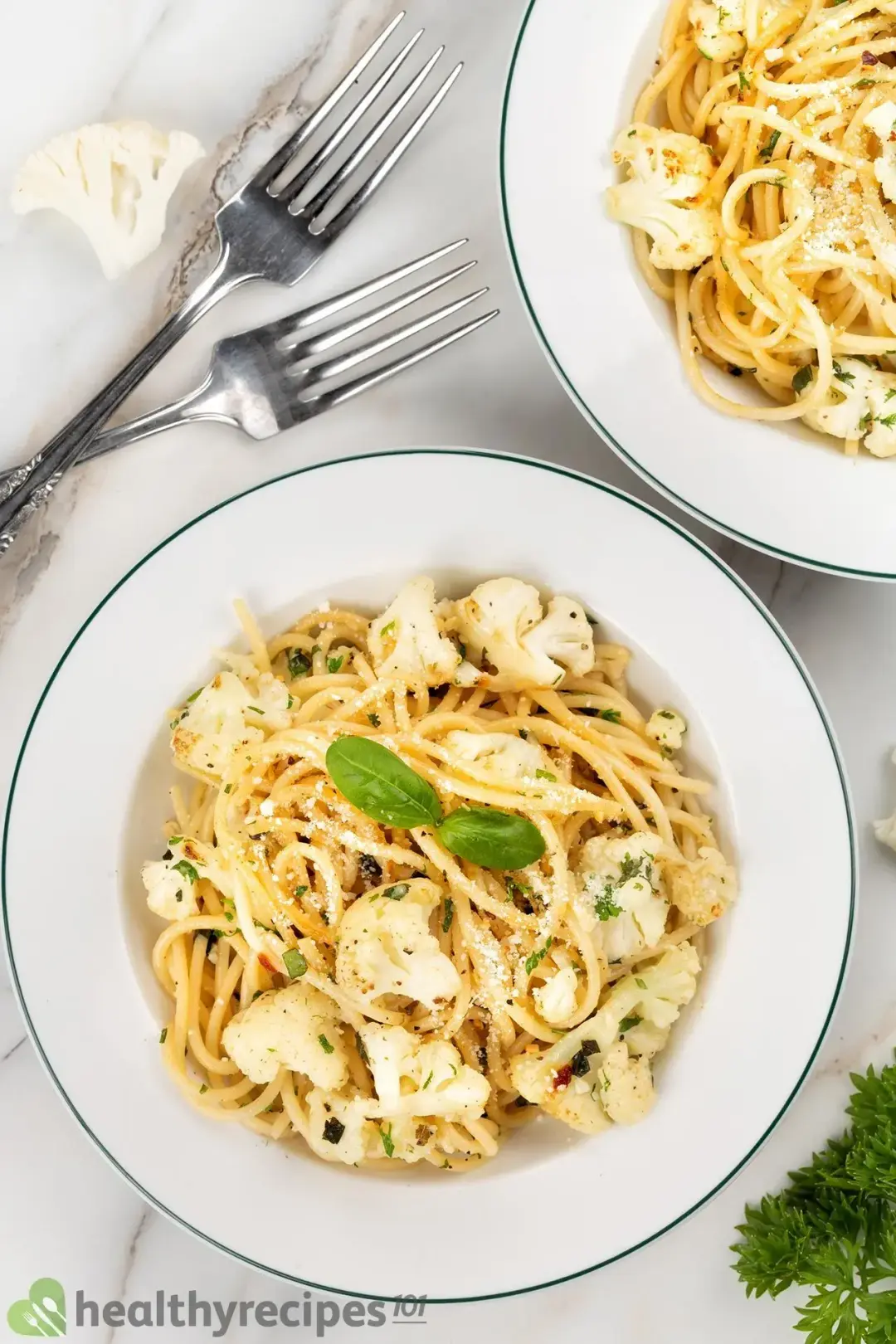 Refrigerated cauliflower pasta lasts about five days. Or you can freeze it instead to store it for longer.
We recommend that you cook your pasta al-dente if it's going into the freezer. Soft pasta tends to become mushy when thawed and reheated.
Reheating is also easy: place the pasta in a pot with 2 tbsp of water (or stock) per serving. Heat the pot over medium-low heat, stirring occasionally. Once everything is hot, it's ready to go.
Love This Recipe? There's More!
Here are some tasty, easy pasta meals that we just couldn't help but fall in love with:
Cauliflower Pasta Recipe
This cauliflower pasta recipe is easy to make but satisfying to eat. It comes together quickly to make your healthy eating journey easier.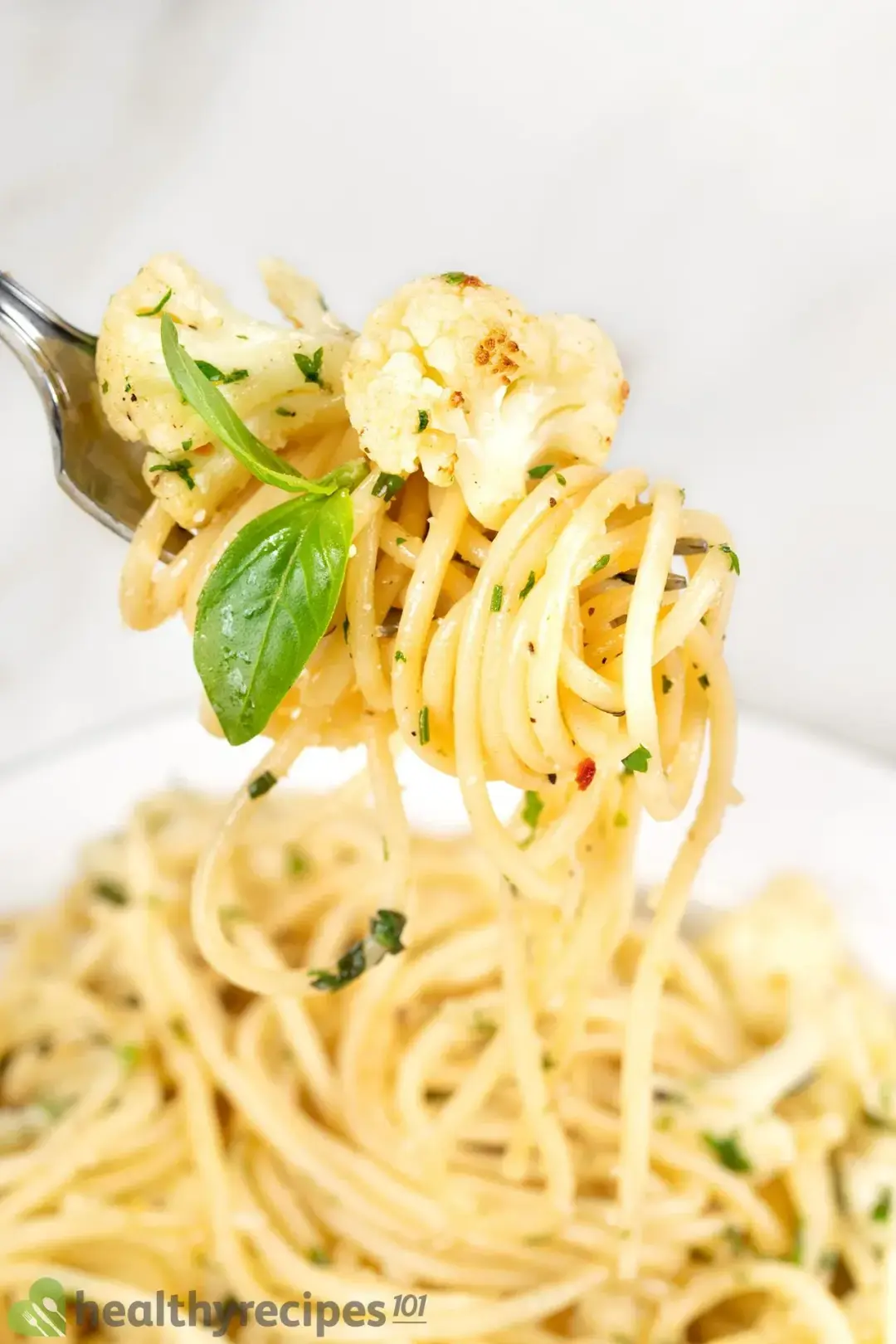 cook TIME

10 mins

prep TIME

5 mins

total TIME

15 mins
COURSE

Side Dish

CUISINE

Global

SERVINGS

servings

CALORIES

247 kcal
INGREDIENTS
14 oz

cauliflower (cut into florets)

1 tbsp

olive oil

1 tbsp

unsalted butter

2 tbsp

garlic (minced)

4 tbsp

unsalted chicken broth

12 oz

cooked spaghetti

1 tsp

Italian seasoning

0.3 tsp

salt

0.5 tsp

ground black pepper

0.8 oz

parmesan (grated)

2 tbsp

parsley (finely chopped)

2 tbsp

basil (finely chopped)

4 tbsp

coriander (finely chopped)
INSTRUCTIONS
1
Heat a skillet over medium heat. Add 1 tbsp olive oil, 1 tbsp unsalted butter, and 2 tbsp minced garlic. Cook until fragrant.
2
Add 14 oz cauliflower and 4 tbsp unsalted chicken broth. Cook for 4 minutes, stirring occasionally.
3
Add 12 oz cooked pasta along with 1 tsp Italian seasoning, 1/4 tsp salt, and 1/2 tsp pepper. Mix well and cook for 4 minutes.
4
Turn off the heat and stir in 0.75 oz grated parmesan, 2 tbsp parsley, 2 tbsp basil, and 4 tbsp coriander.
5
Plate the pasta and serve while it's still warm.
NUTRITION
Nutrition Facts
Cauliflower Pasta Recipe
Amount Per Serving (1 serving)
Calories 247
Calories from FDA
% Daily Value*
* Percent Daily Values are based on a 2000 calorie diet.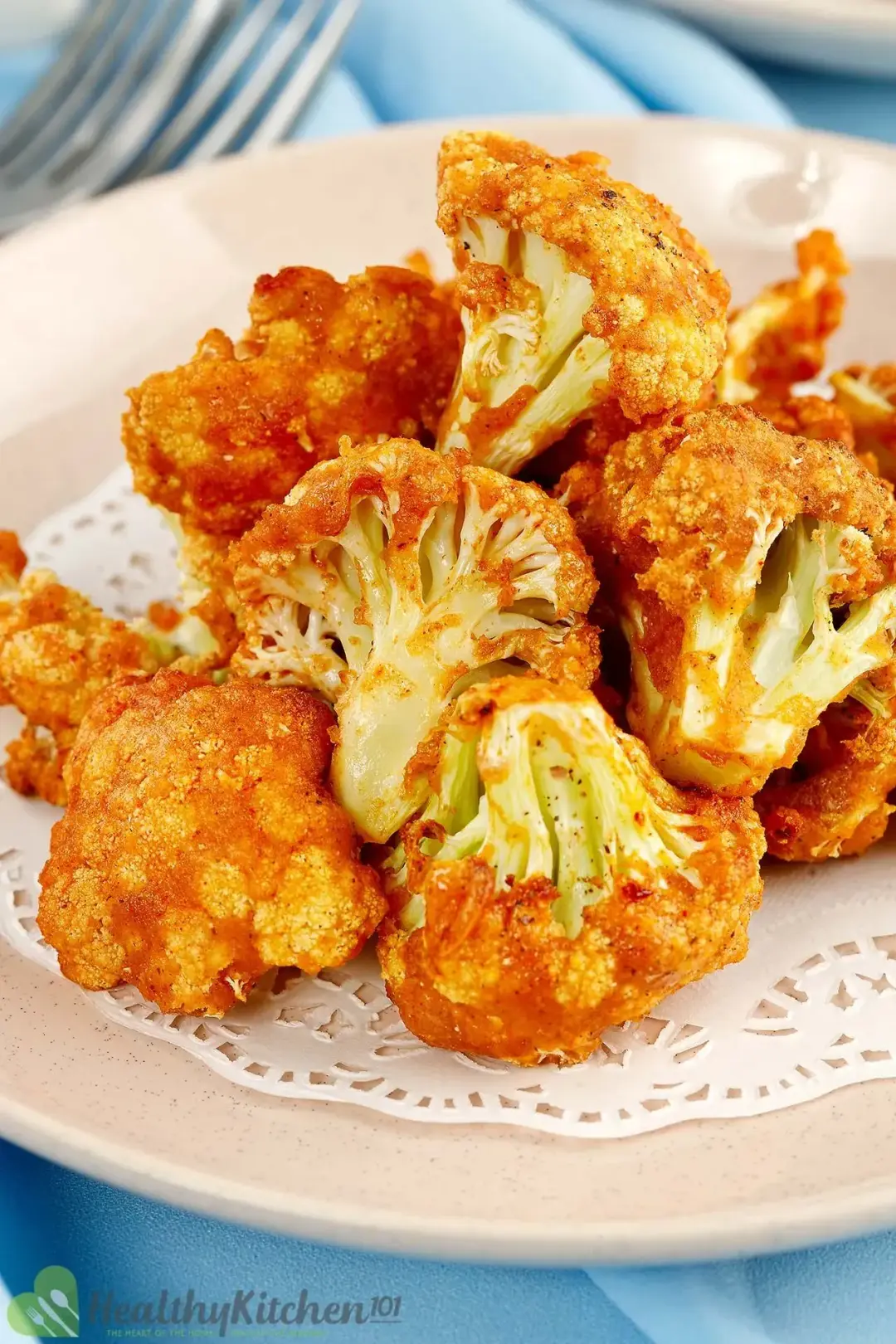 Previous Recipe
Air Fryer Buffalo Cauliflower
Air Fryer Buffalo Cauliflower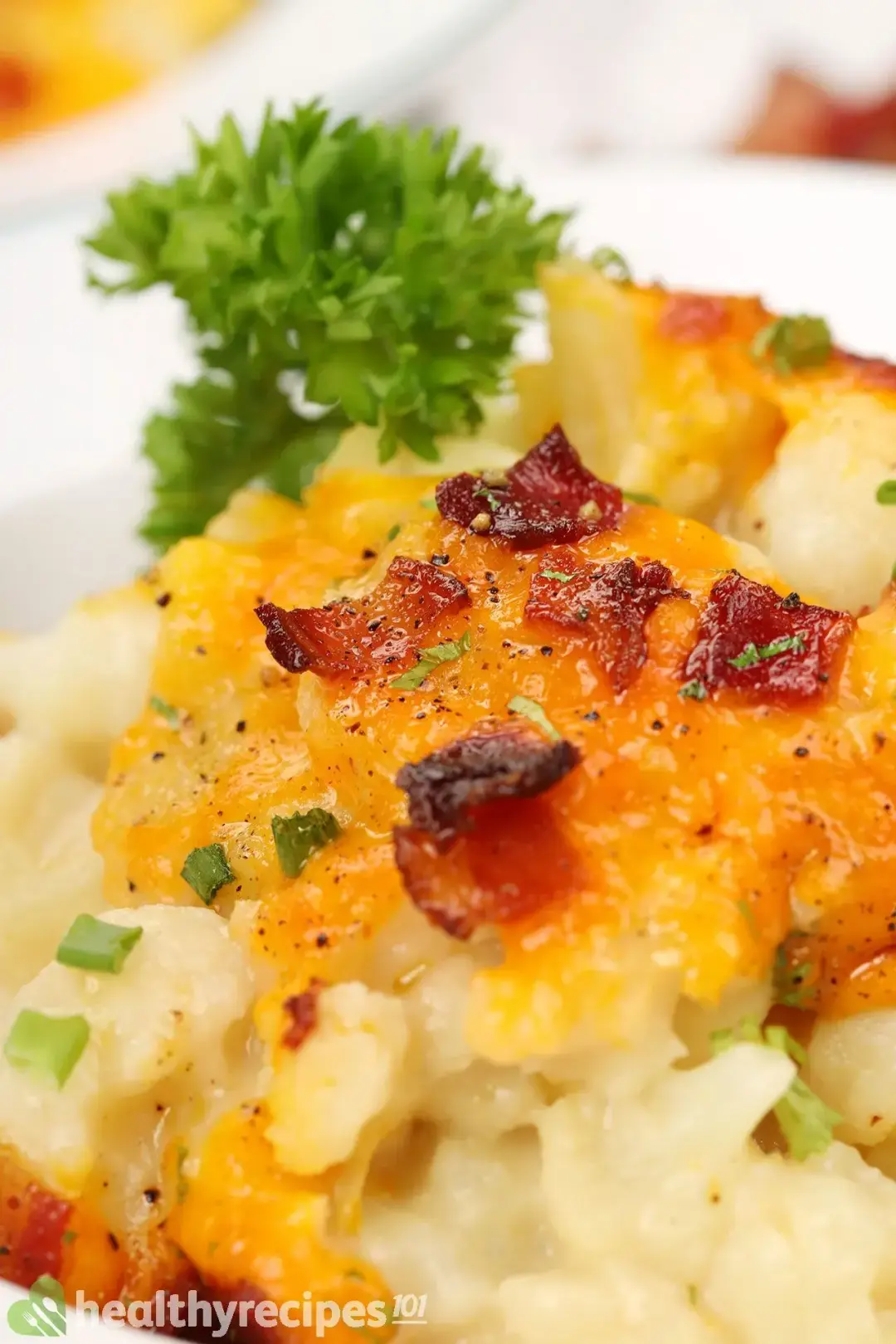 Next Recipe
Loaded Cauliflower Casserole
Loaded Cauliflower Casserole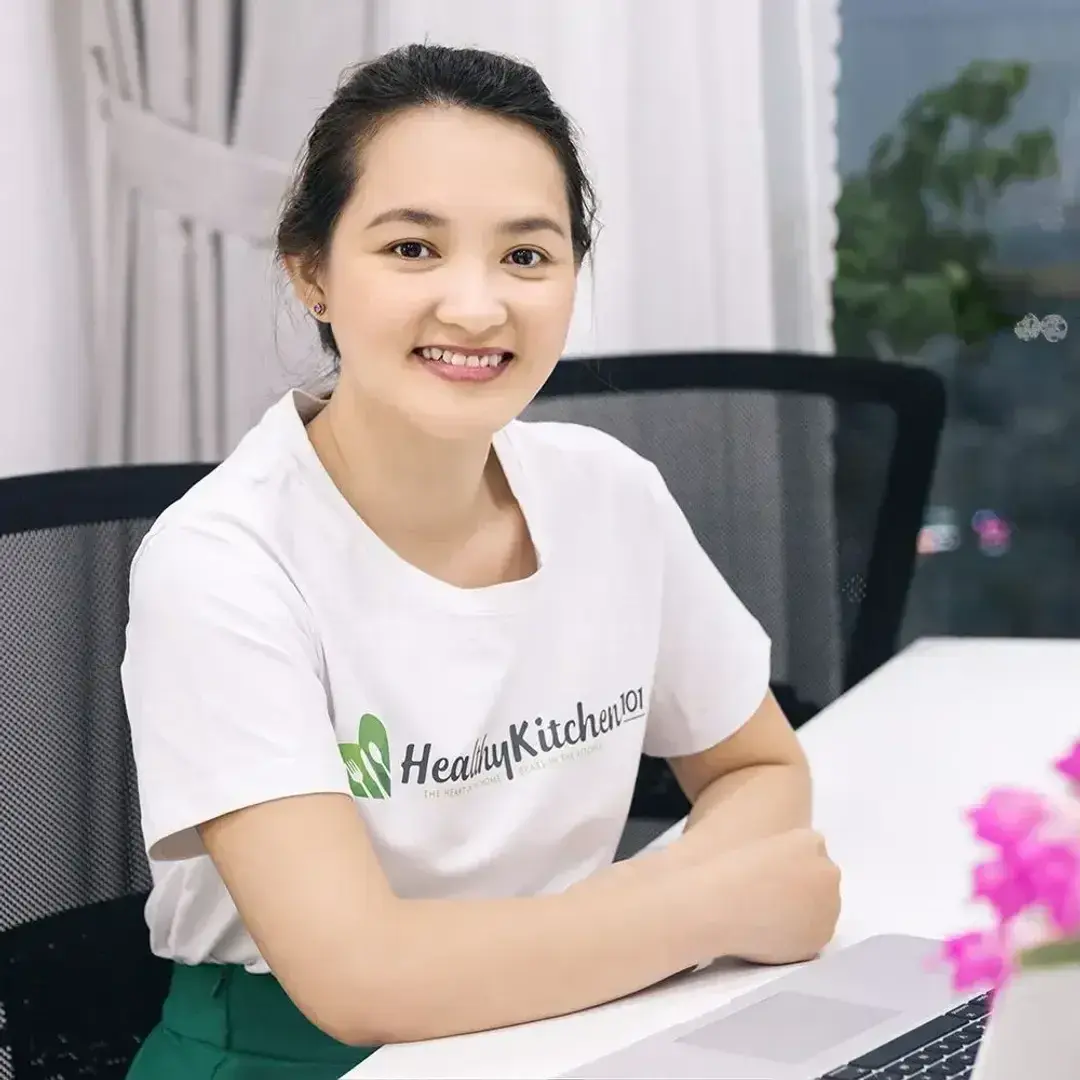 Writer, Author
Luna Regina is an accomplished writer and author who dedicates her career to empowering home cooks and making cooking effortless for everyone. She is the founder of HealthyKitchen101.com and HealthyRecipes101.com, where she works with her team to develop easy, nutritious recipes and help aspiring cooks choose the right kitchen appliances.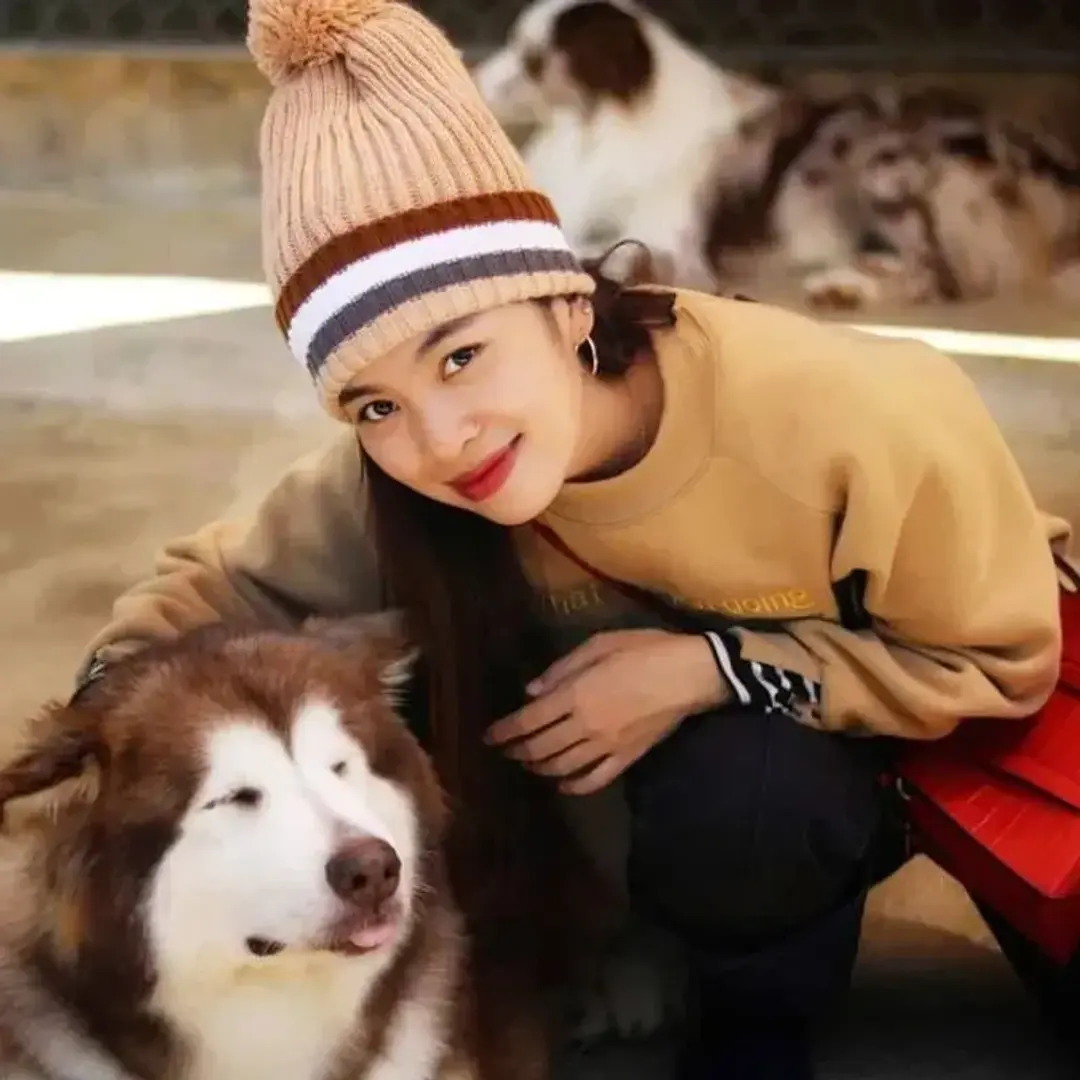 Chef, Culinary Consultant
Tuyet Pham is an award-winning Saigonese chef who believes that joy is the secret ingredient to delicious food. At Healthy Recipes 101, Tuyet personally tests and simplifies every recipe, ensuring maximum flavor with minimal effort. With a background at prestigious French restaurants P'TI Saigon and Le Corto, Tuyet knows how to make every dish exceptional.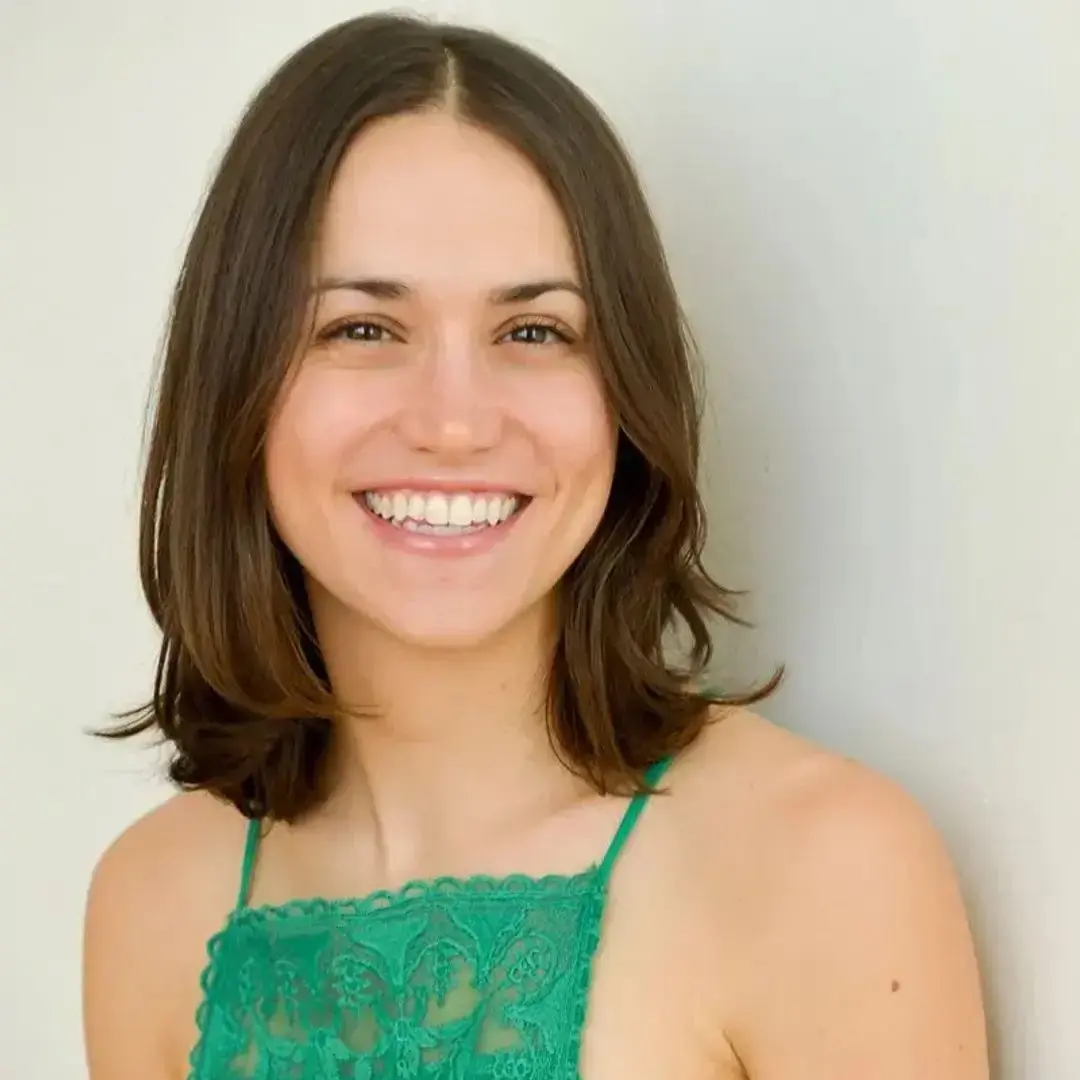 Nutrition Reviewer
Lizzie is a Minneapolis-based dietitian and founder of It's a Veg World After All. She completed her MS in Human Nutrition from Drexel University, and is an expert in culinary nutrition, recipe development, and nutrition communications.
Comments/ Reviews