Our roasted cauliflower recipe makes a flavorful and easy side dish.
Roasting cauliflower represents a delicious transformation — from bland and raw to flavorful, caramelized, and juicy tender. It's so simple too, requiring just a bit of light tossing and 20 minutes of waiting.
Besides showing you how it's done, we'll also share different ways to season it and creative ways to serve it. It sides perfectly with meat and can be turned into a delicious lunch to go.
If you're interested in building meals around cauliflower, this Kung Pao cauliflower is a great start.
Is Roasted Cauliflower Healthy?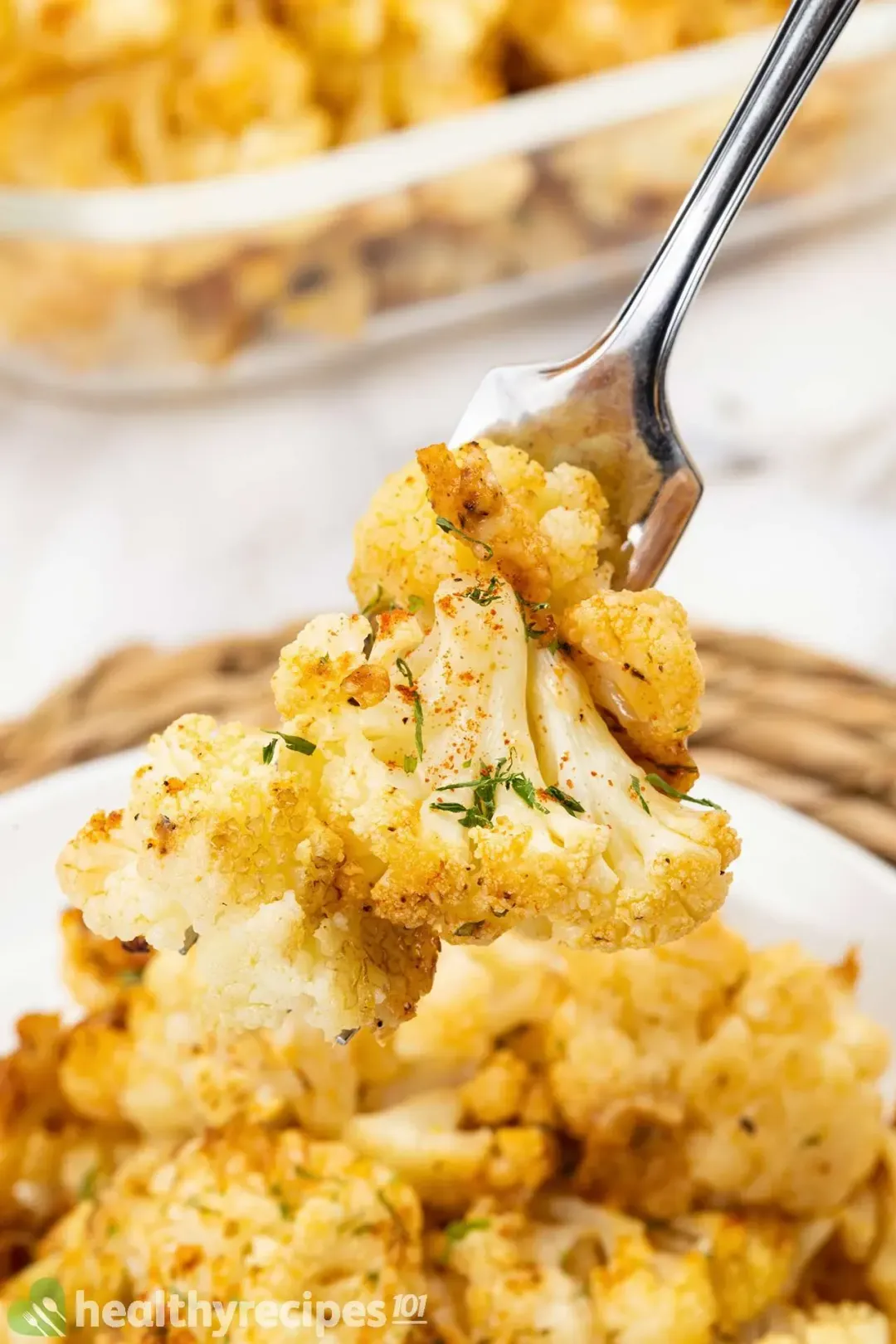 It certainly is, as cauliflower is a nutritious vegetable. Providing just 27 calories, 1 cup comes with 51.6 mg vitamin C (57-68% the recommended daily allowance), and a small portion of other vitamins and minerals.
Moreover, each serving of this recipe contains healthy amounts of calories, saturated fats, and sodium (at 122, 3.4 g, and 287.8 mg respectively). These numbers equate to about less than 15% of our nutritional recommendations, making it a healthy side dish.
Seasonings for Cauliflower
First, you need the basic five: salt, pepper, onion powder, garlic powder, and paprika. These are like the background colors of a blank canvas, and from there you can get really creative:
Cumin: this spice has an irresistible aroma that's used often in Mexican foods and curries. You can even add it to chicken or fries.
Honey: if you have a sweet tooth, a touch of honey can add a sweet crunch.
Hot spices: if you want to take the heat up a notch or two, include in the mix either cayenne, hot paprika, cajun, or all of them. We, on the other hand, prefer to keep our side dishes a little milder.
Turmeric: a dash of turmeric gives the roasted veg a gorgeous golden glow. 
Lemon: together the zest and the juice add a great deal of freshness, which will perfectly complement a rich, creamy main dish.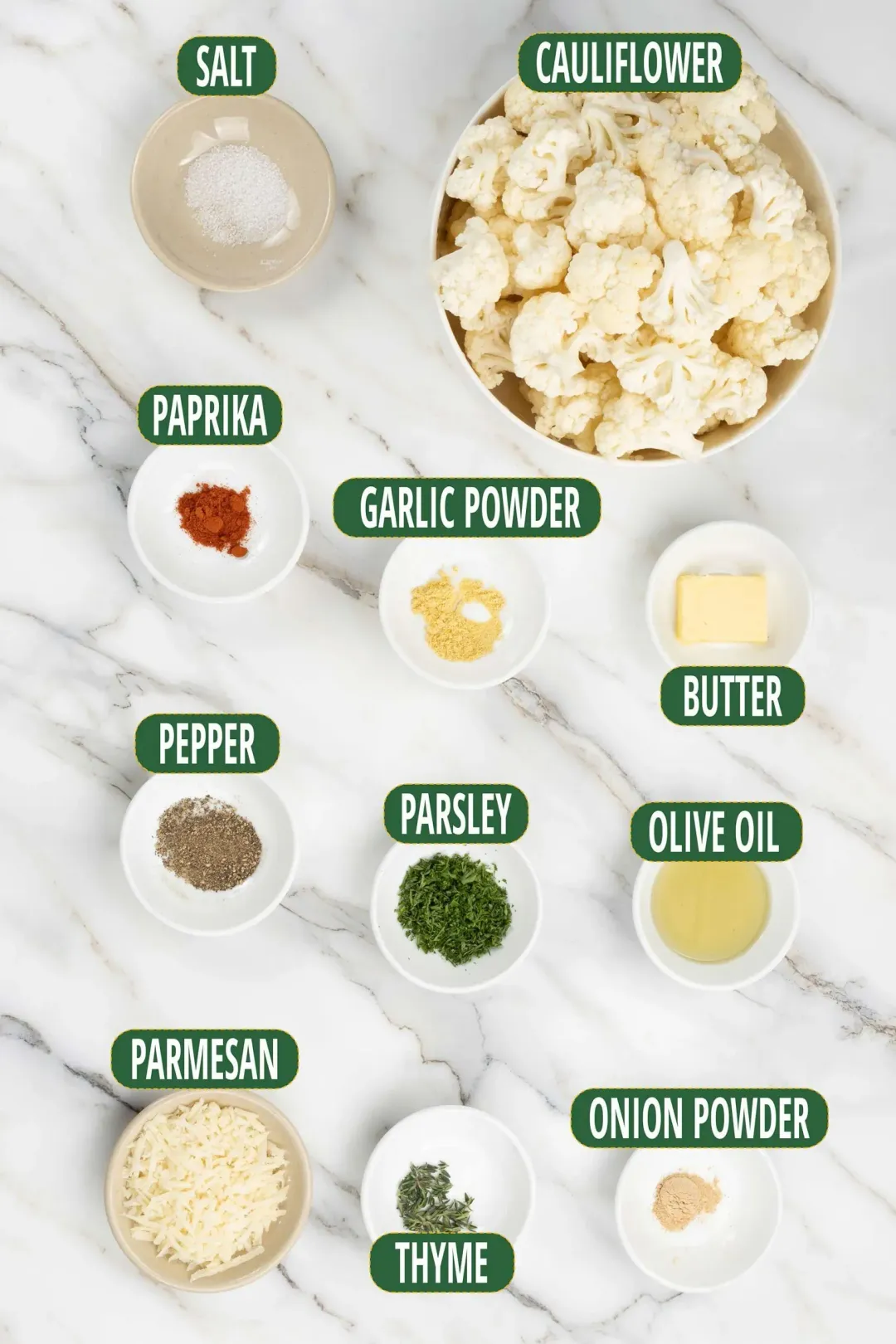 Today, we're adding parmesan for extra savoriness and thyme for a fragrant aroma. If you like, you can replace these ingredients with something that better suits your taste.
How to Roast Cauliflower
The first step is to partially cook the florets in the microwave for about 7 minutes. It's a roasted cauliflower recipe, indeed, but this step is crucial to achieve a juicy, tender result.
Next, coat them in olive oil and butter, and bake them in the oven for 15 minutes. Take the tray out and sprinkle the cauliflower with the seasoning mix. Slide it back in there and bake for an additional 5 minutes.
How Long to Roast Cauliflower
The beauty of roasted vegetables is the charred, caramelized texture and the golden color, so we recommend baking them at a high temperature. 450°F works best, we found.
At 450°F, cauliflower will cook in 25-30 minutes without pre-cooking, depending on how large the florets are and how precise your oven is. It's best to judge their doneness by their look — golden and with a small amount of charring.
By microwaving the florets first, you're shortening the cooking time by only a few minutes, but more importantly, preserving the vegetable's juiciness. It then needs only 20 minutes in the oven to turn out perfectly — caramelized on the outside, juicy on the inside.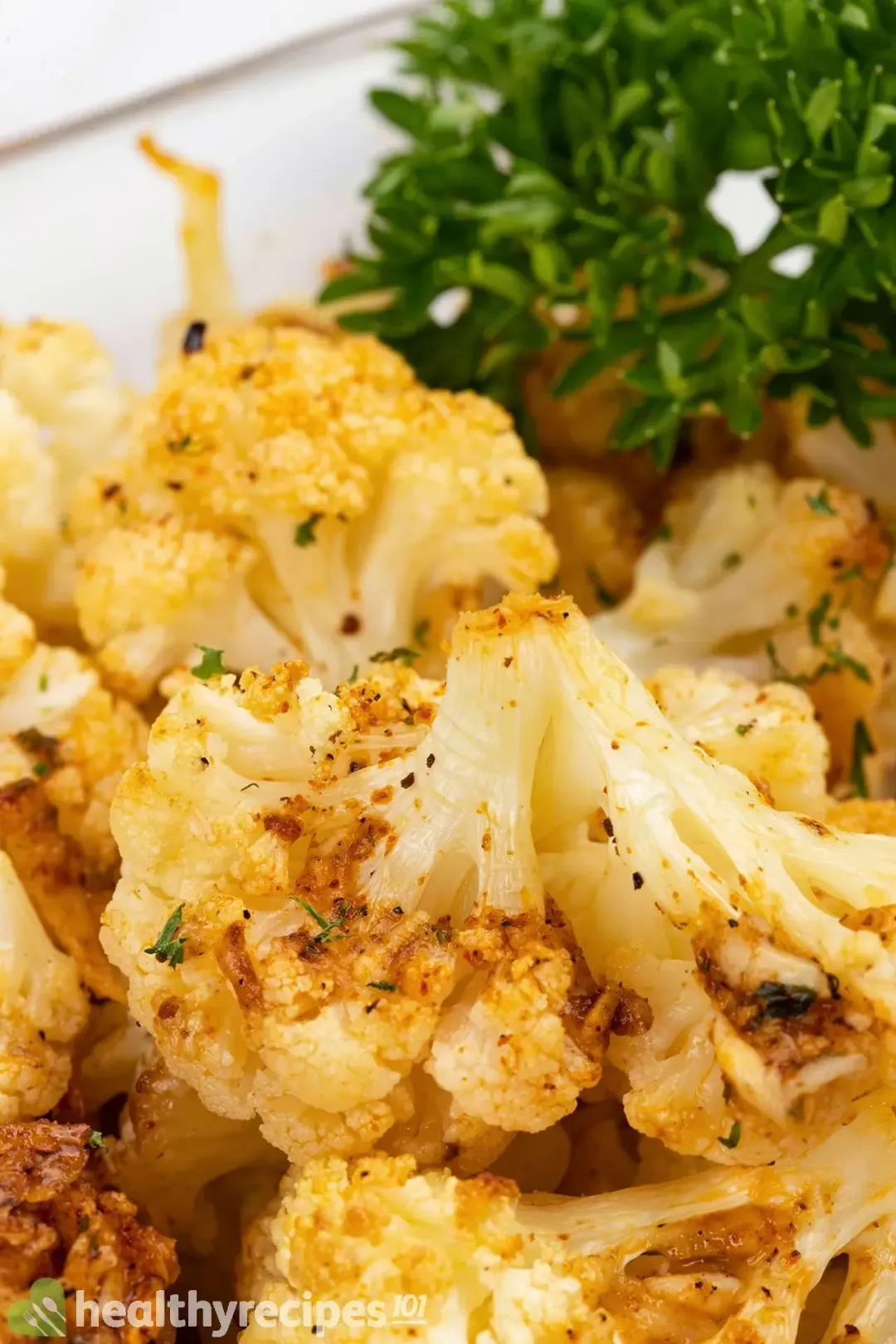 Either way, it's important to add the seasoning  when there's only 5 minutes left. Add it before cooking and you risk burning the cauliflower.
How Long Does Roasted Cauliflower Last?
Keep the leftovers in an airtight container or a bowl covered with cling wrap and place it in the fridge. It'll last for about a week.
We don't recommend freezing it because it'll turn mushy when thawed.
To reheat, either microwave the leftovers for about 2 minutes (stir halfway through) or bake at 450°F for 5 minutes. Be sure that the container is microwave-friendly or oven-safe.
What to Eat With Roasted Cauliflower
Now that your cauliflower has turned out perfectly, you can serve it in many ways.
The most straightforward way is to pair it with grilled, roasted, or pan-seared meat. We're talking steaks, pork chops, chicken thighs, even fish like salmon or bahamut.
Have leftovers? You can either save it for another main dish, or, use it to make a main dish:
With bread, fresh veggies, and a sauce of choice, roasted cauliflower becomes a low-calorie, meatless lunch for the next day. If you're using whole-wheat bread it's even healthier.
Or, cook up some pasta, toss with the roasted cauliflower, stir in some butter, squeezed lemon, and cracked black pepper on top for an easy meal. Sear some shrimps and add to them too for a protein boost.
You can turn it into a flavorful salad by adding nuts, broccoli, dried fruits, and Greek yogurt. The roasted flavor will make the salad an unforgettable experience.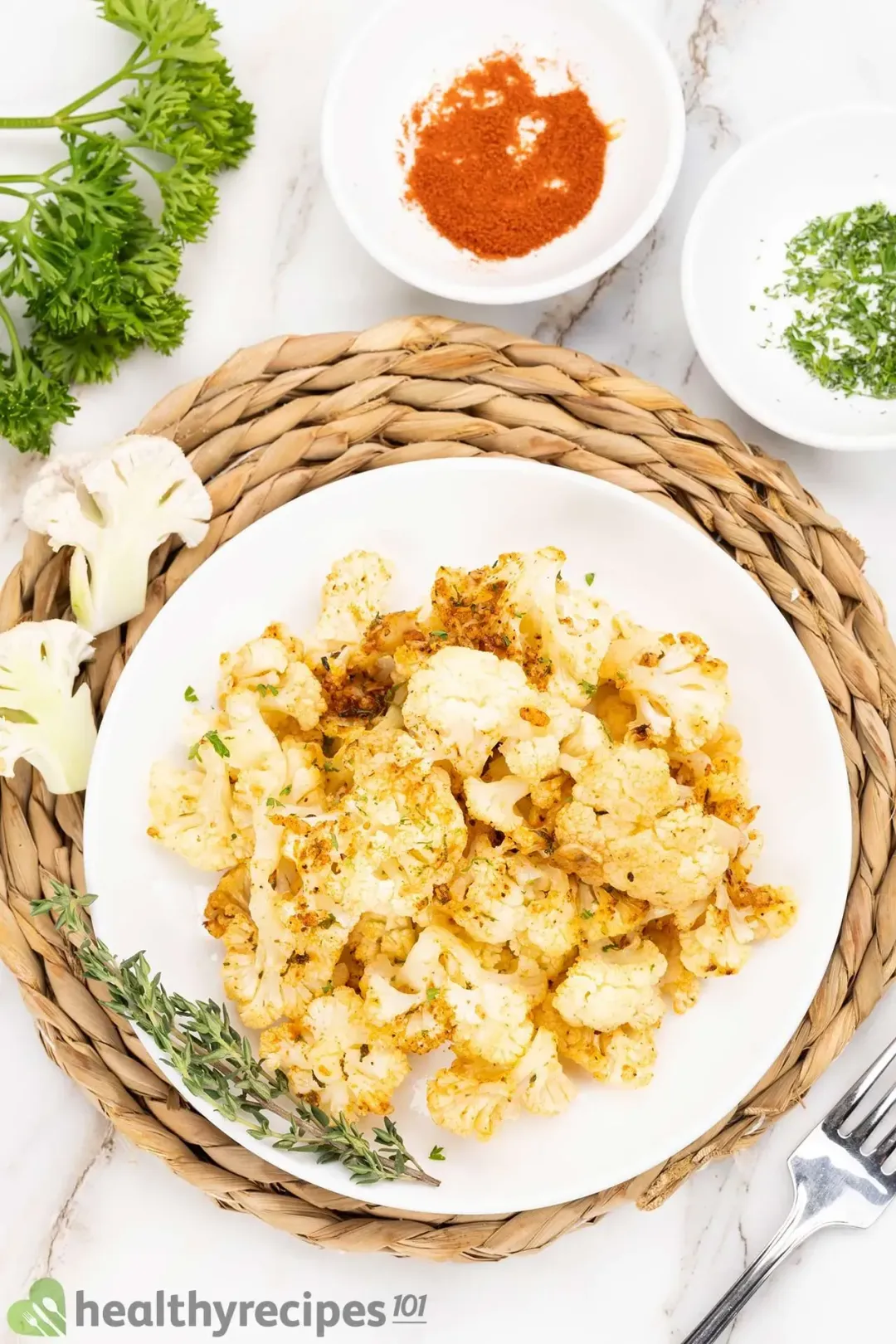 Easy & Healthy Cauliflower Recipes
If you're interested in other cauliflower recipes as healthy as this one, we've got some seriously delectable ones:
Roasted Cauliflower
This roasted cauliflower recipe makes a great side for steaks, pork chops, chicken, or even salmon. It's easy, flavorful, and customizable.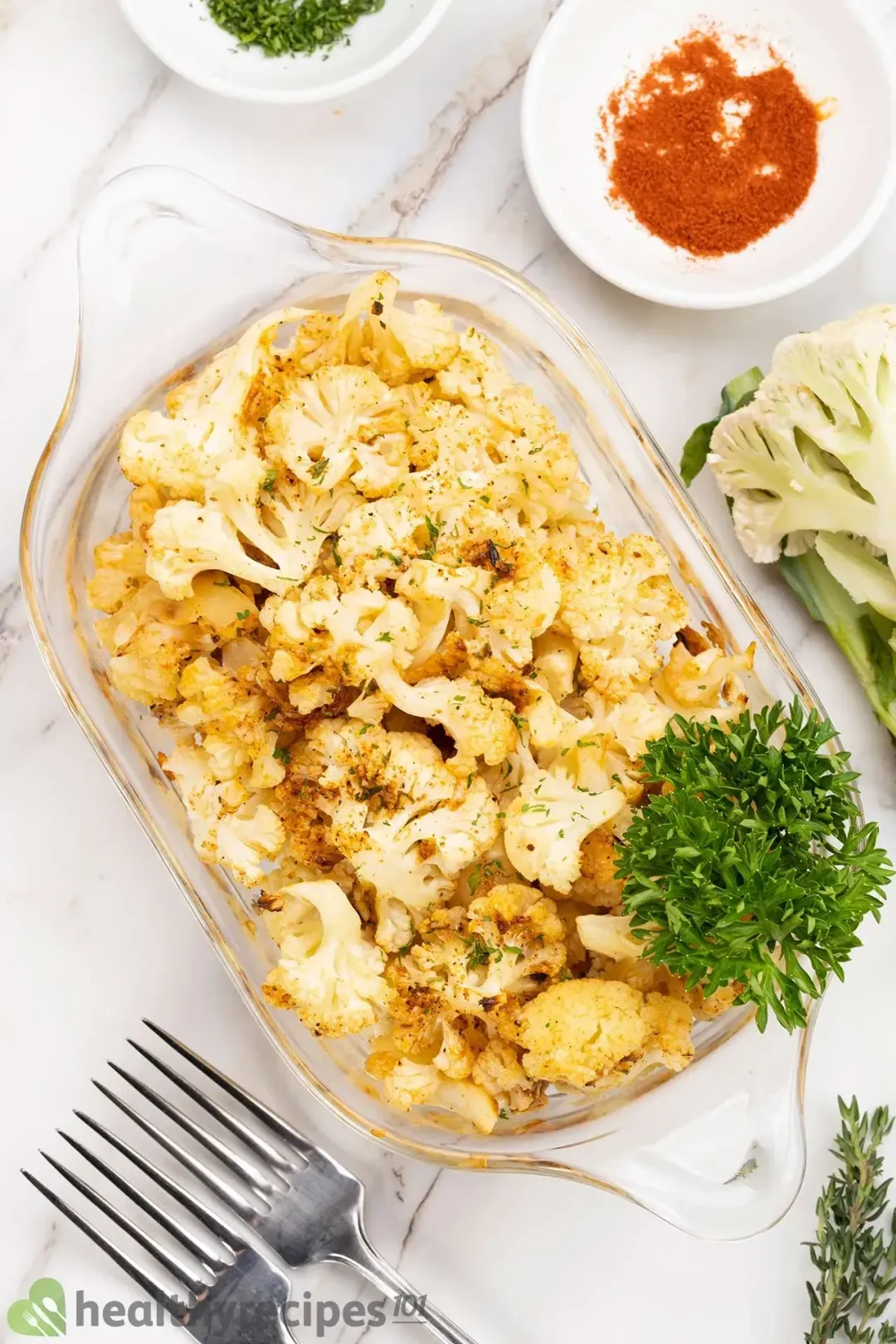 cook TIME

27 mins

prep TIME

5 mins

total TIME

32 mins
COURSE

Side Dish

CUISINE

Global

SERVINGS

CALORIES

122 kcal
INGREDIENTS
1 tbsp

unsalted butter

(about half an ounce)

1/4 tsp

ground black pepper

0.75 oz

parmesan

(shredded)
INSTRUCTIONS
1
Preheat the oven to 450°F.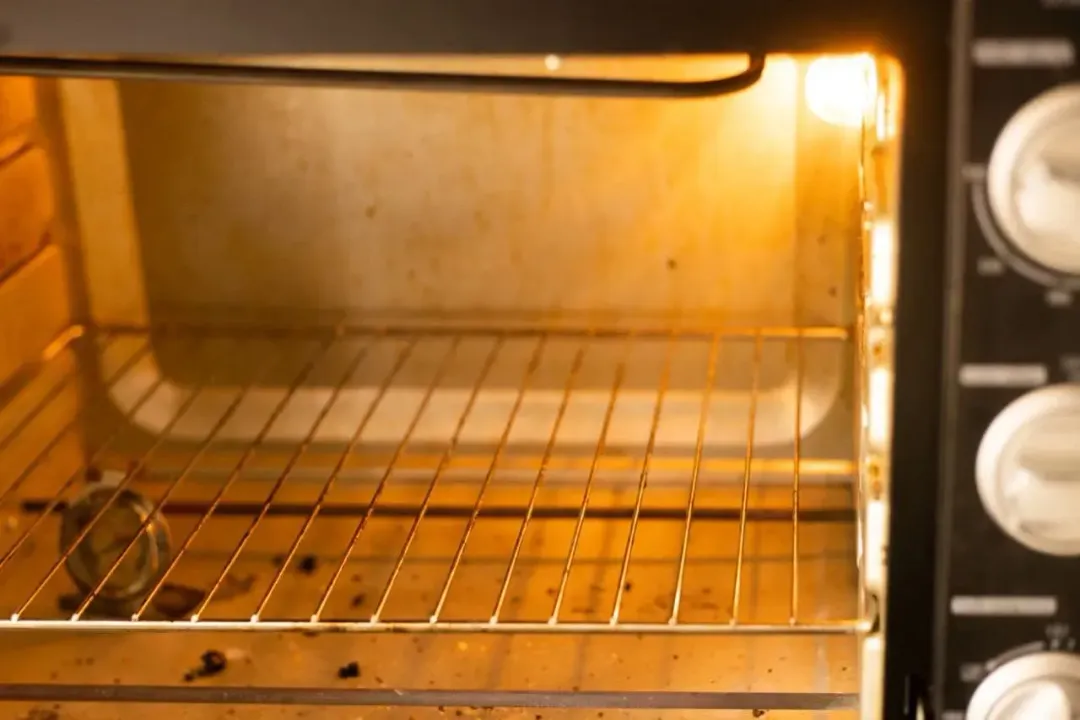 2
Place 24 oz worth of cauliflower florets into a bowl and cover with plastic wrap. Microwave for 7 minutes. Alternatively, you can steam them for the same amount of time.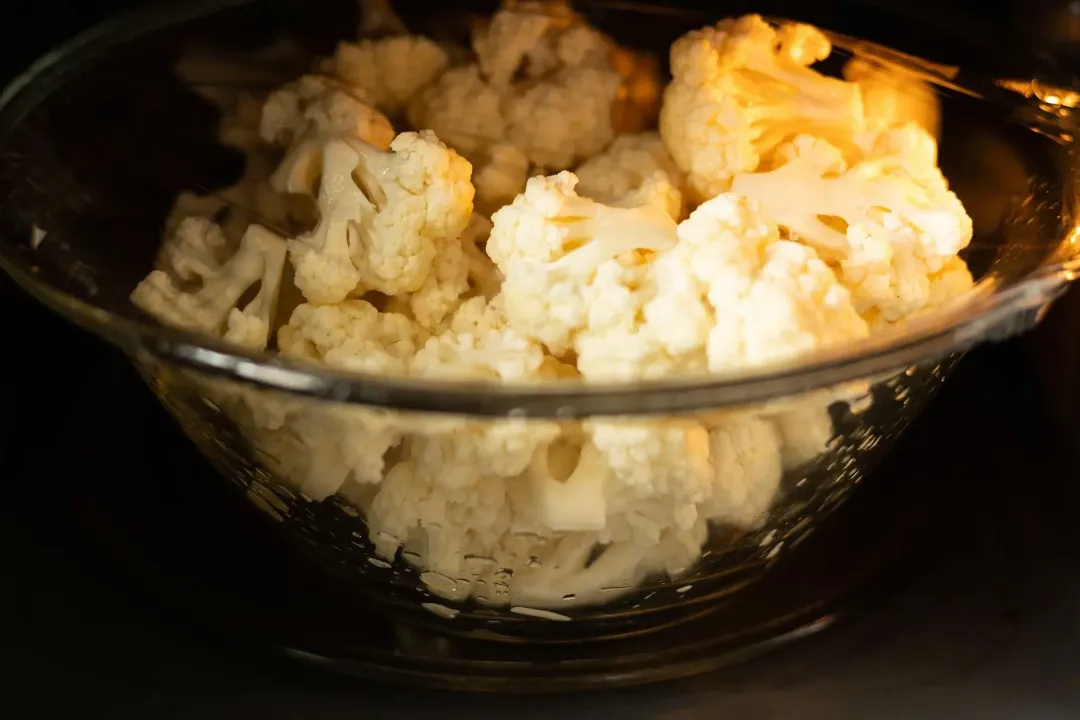 3
Carefully remove the wrap and add to the bowl 1 tbsp olive oil and 1 tbsp unsalted butter. Gently toss to coat. You don't need to melt the butter, as the residual heat from the cauliflower is enough to do so.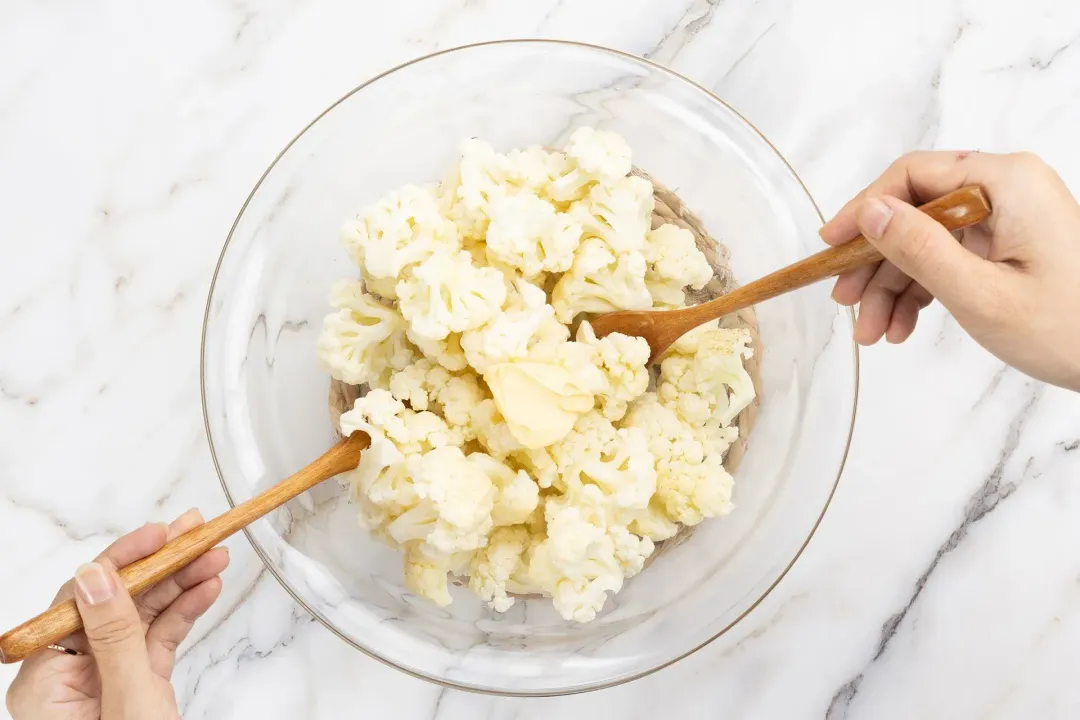 4
Spread them out onto a baking tray, lined with parchment or sprayed with non-stick spray. Slide into the oven and bake for 15 minutes.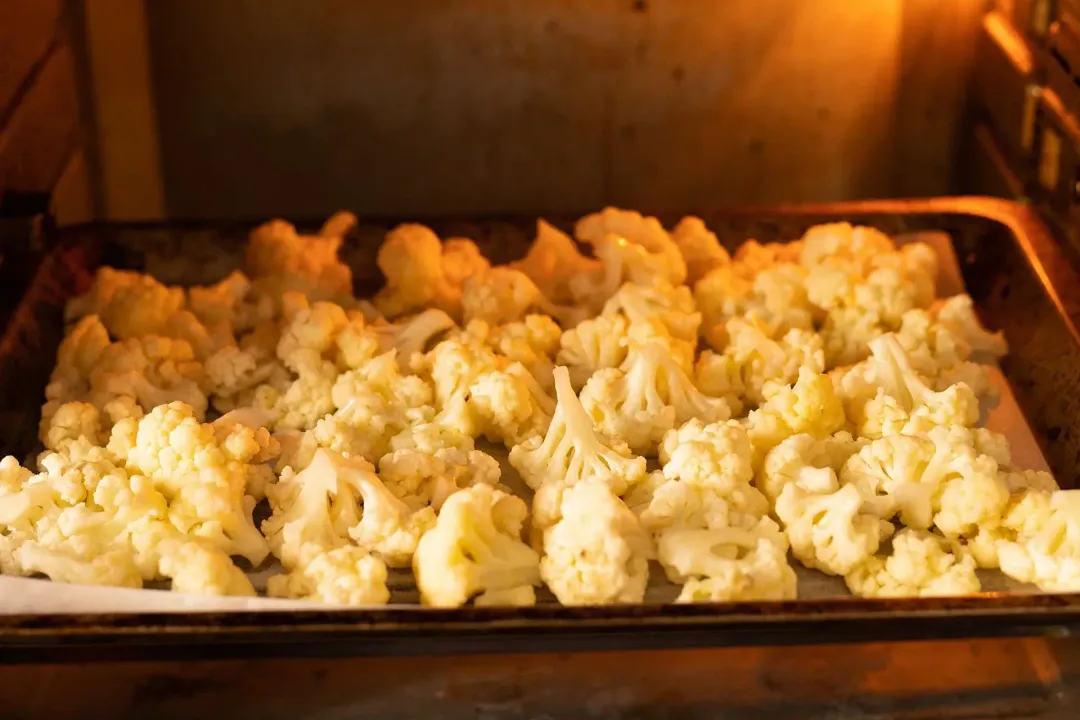 5
Meanwhile, combine the seasonings, herbs, and spices in a bowl. There are: garlic powder, onion powder, salt, pepper, paprika (1/4 tsp each), 0.75 oz parmesan, 1 tbsp chopped parsley, and 1 tbsp fresh thyme.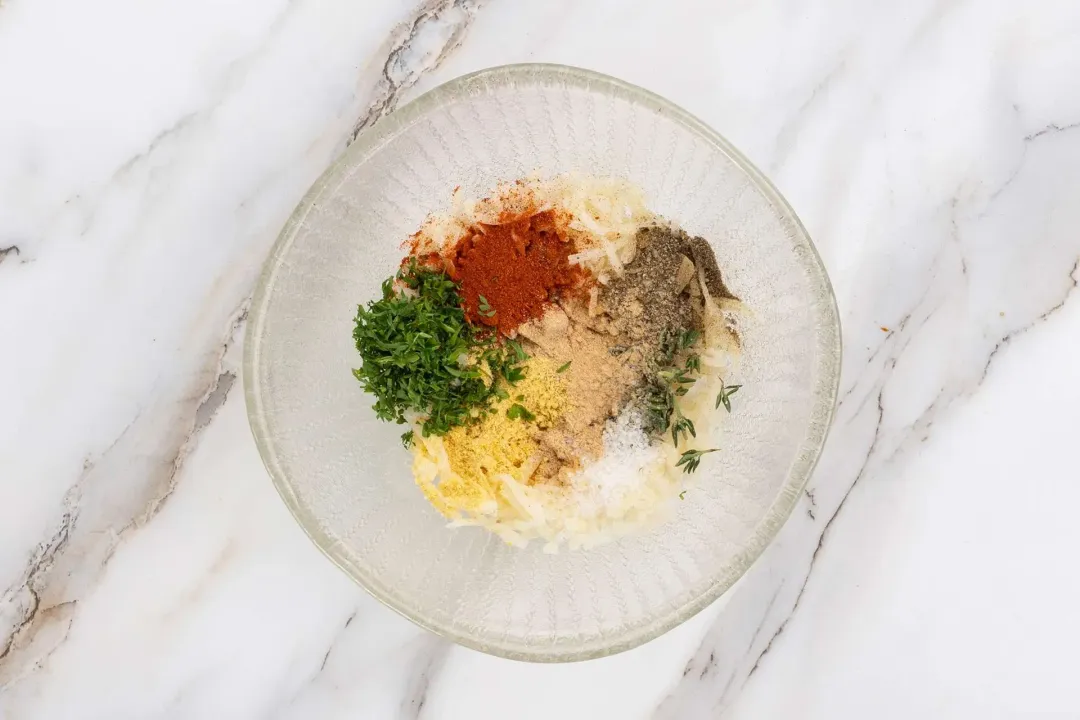 6
Take the cauliflower tray out of the oven and sprinkle the mixture onto the cauliflower. Pop it back to bake for another 5 minutes.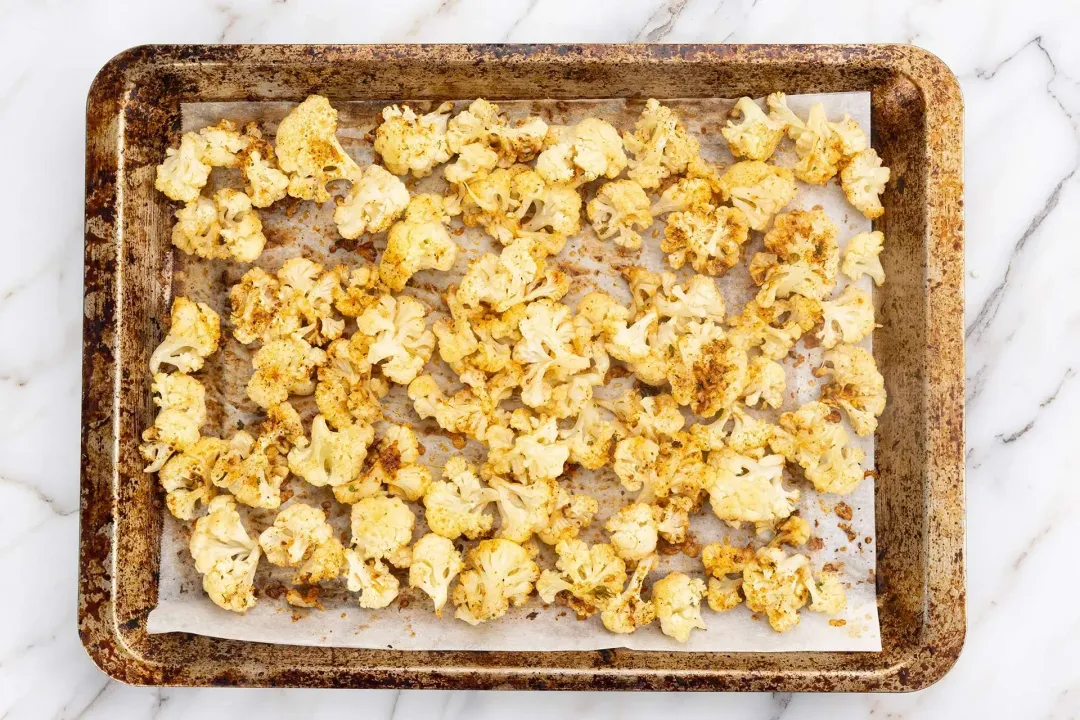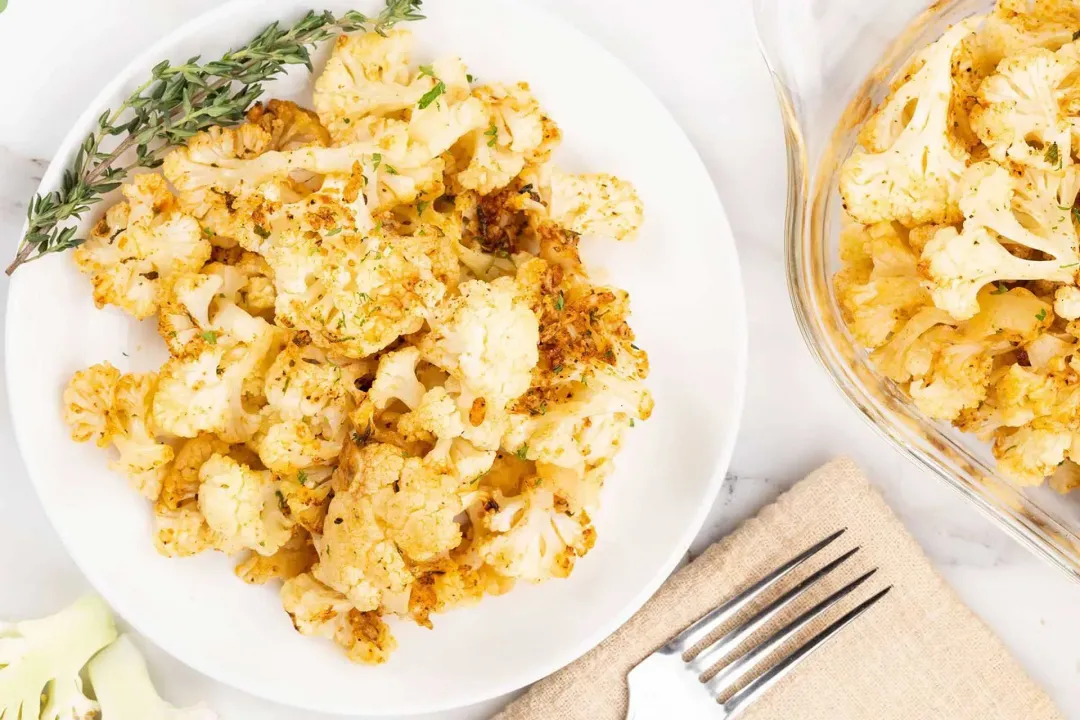 NUTRITION
Nutrition Facts
Roasted Cauliflower
Amount Per Serving (1 serving)
Calories 122
Calories from Fat 72
% Daily Value*
* Percent Daily Values are based on a 2000 calorie diet.
Keywords: Roasted Cauliflower, Roasted Cauliflower Recipe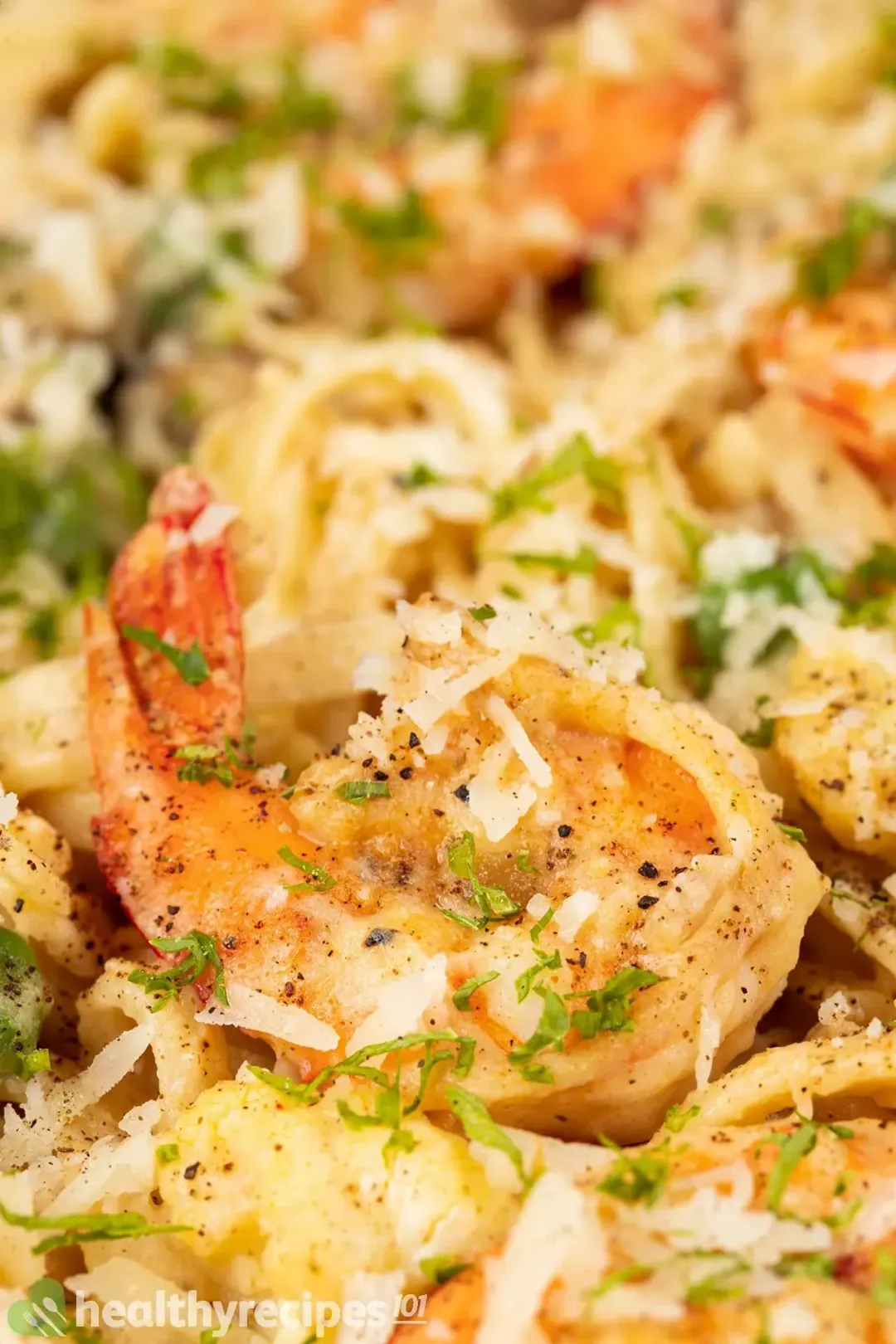 Previous Recipe
Cauliflower Alfredo
Cauliflower Alfredo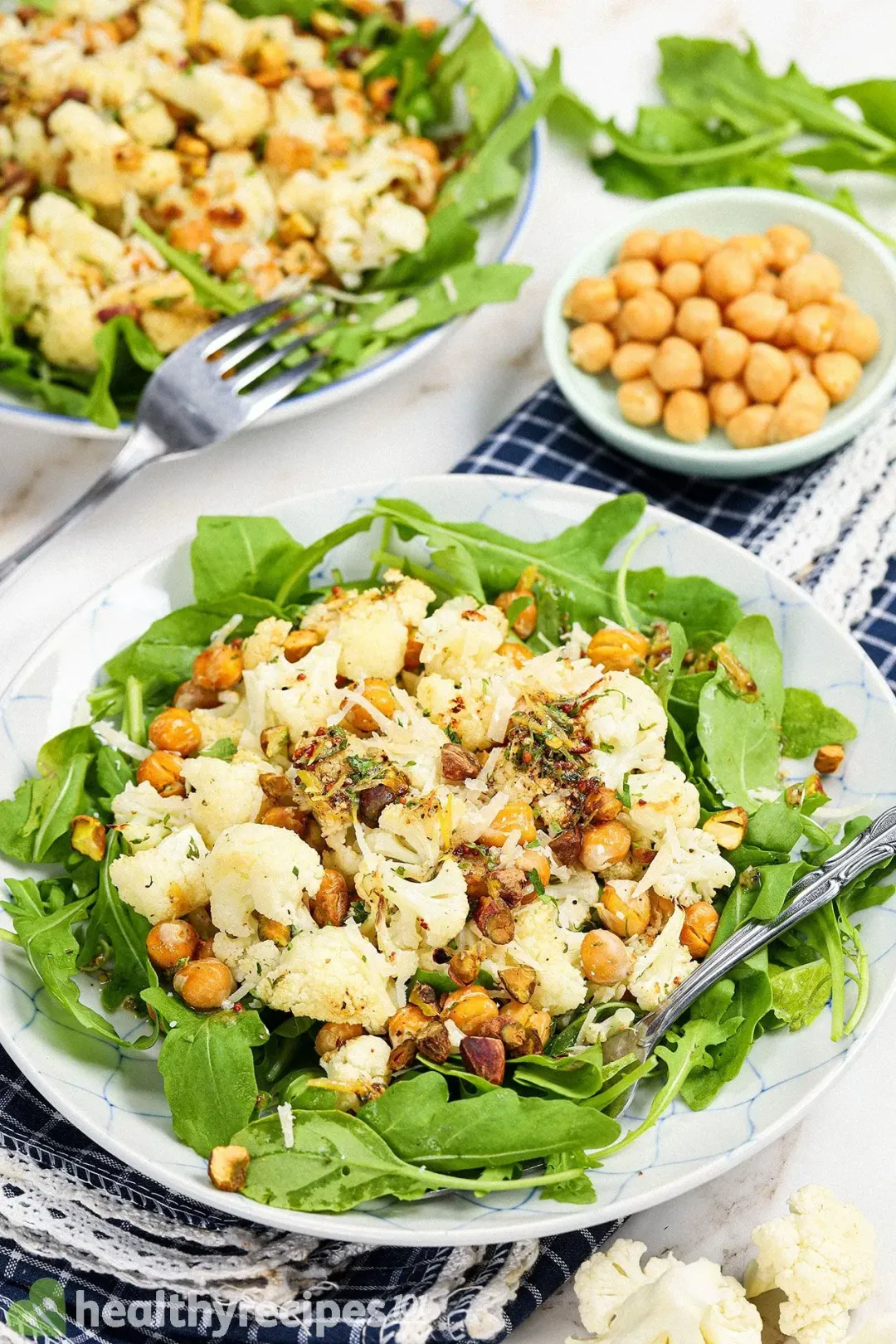 Next Recipe
Cauliflower Salad
Cauliflower Salad
Head Chef, Culinary Consultant
Tuyet Pham is an award-winning Saigonese chef who believes that joy is the secret ingredient to delicious food. At Healthy Recipes 101, Tuyet personally tests and simplifies every recipe, ensuring maximum flavor with minimal effort. With a background at prestigious French restaurants P'TI Saigon and Le Corto, Tuyet knows how to make every dish exceptional.
Writer, Author
Luna Regina is an accomplished writer and author who dedicates her career to empowering home cooks and making cooking effortless for everyone. She is the founder of HealthyKitchen101.com and HealthyRecipes101.com, where she works with her team to develop easy, nutritious recipes and help aspiring cooks choose the right kitchen appliances.
Nutrition Reviewer
Natalie Butler is a registered dietitian nutritionist with a passion to help others live their best life through food, fitness, safer beauty and a healthy lifestyle. She has expertise with a variety of diets and diseases and believes that there is no one-size-fits-all approach for health.
Deliciously roasted cauliflower recipe, bursting with flavor!