If you haven't made pasta at home before, try making this sweet potato gnocchi recipe first. Today's recipe includes interesting facts about gnocchi, step-by-step instructions, tips on how to make it and enjoy as a side dish or as the crowning glory of National Cook a Sweet Potato Day (February 22).
It might seem like a long process, but it's really simple. All you gotta do is keep calm and follow the recipe.
What Is Gnocchi?
Gnocchi is a type of Italian pasta dumplings, customarily made from wheat or semolina flour, potato, egg, and possibly cheese.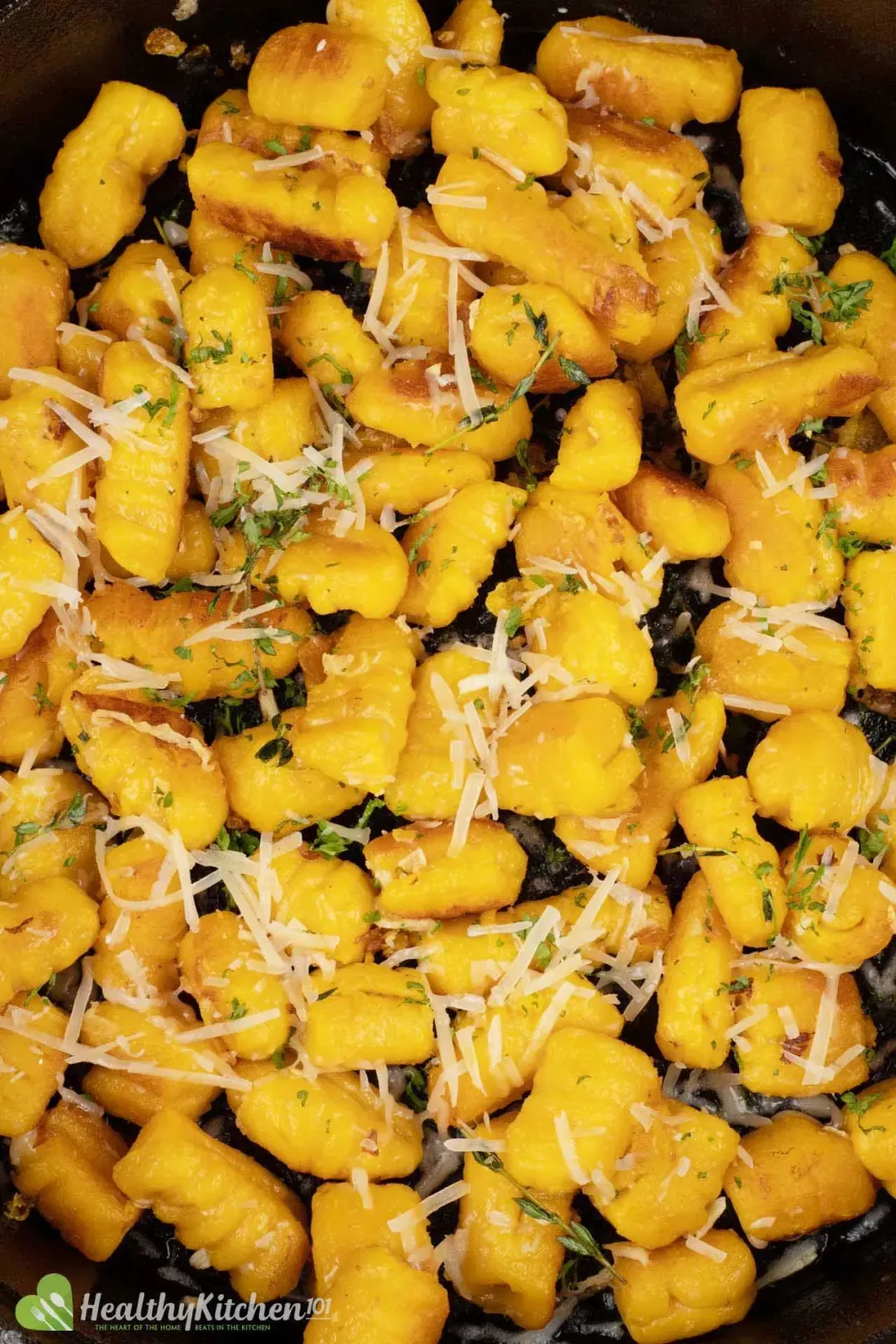 You can experiment and replace and/or add other ingredients to give your gnocchi more personality as well. For example, adding different kinds of herbs will give the dish more flavor.
Like other types of pasta, gnocchi can take many different shapes and sizes.
In order to shape the gnocchi, the dough is rolled into a long rope and cut into small pieces. This shapes the gnocchi into tiny pillows.
At this stage, the pillow-shaped gnocchi is ready to cook. However, you can shape them even further and create ridges on the gnocchi.
To do this, simply press the gnocchi gently with a fork, or roll while pressing it along the fork tines. This process can be easier with the help of a wooden pasta shaping board.
Once shaped, the gnocchi will have ridges— this allows it to hold sauce more effectively.
There are many ways to serve this pasta. It can either be a main course or take the role of a side dish.
Gnocchi is flexible and can accompany any type of protein like beef or pork and/or vegetables.
Generally, after being cooked in salted, boiling water, gnocchi is pan-seared with butter and herbs until crispy on the outside. Alternatively, they can be dressed with various types of sauce like pesto, alfredo, bolognese, etc.
Is This Sweet Potato Gnocchi Recipe Healthy?
Yes, our sweet potato gnocchi is healthy.
This recipe also follows our healthy eating guidelines. We ensure each recipe provides enough calories and doesn't exceed the limits for sodium and saturated fats.
In addition, our gnocchi contains about 3 grams of dietary fiber per serving— about 10% of your Recommended Daily Intake (RDI). It's important to consume enough fiber to maintain bowel health.If you want to know how much fiber is enough for one day, check out this article. But for now, let's get back to our gnocchi.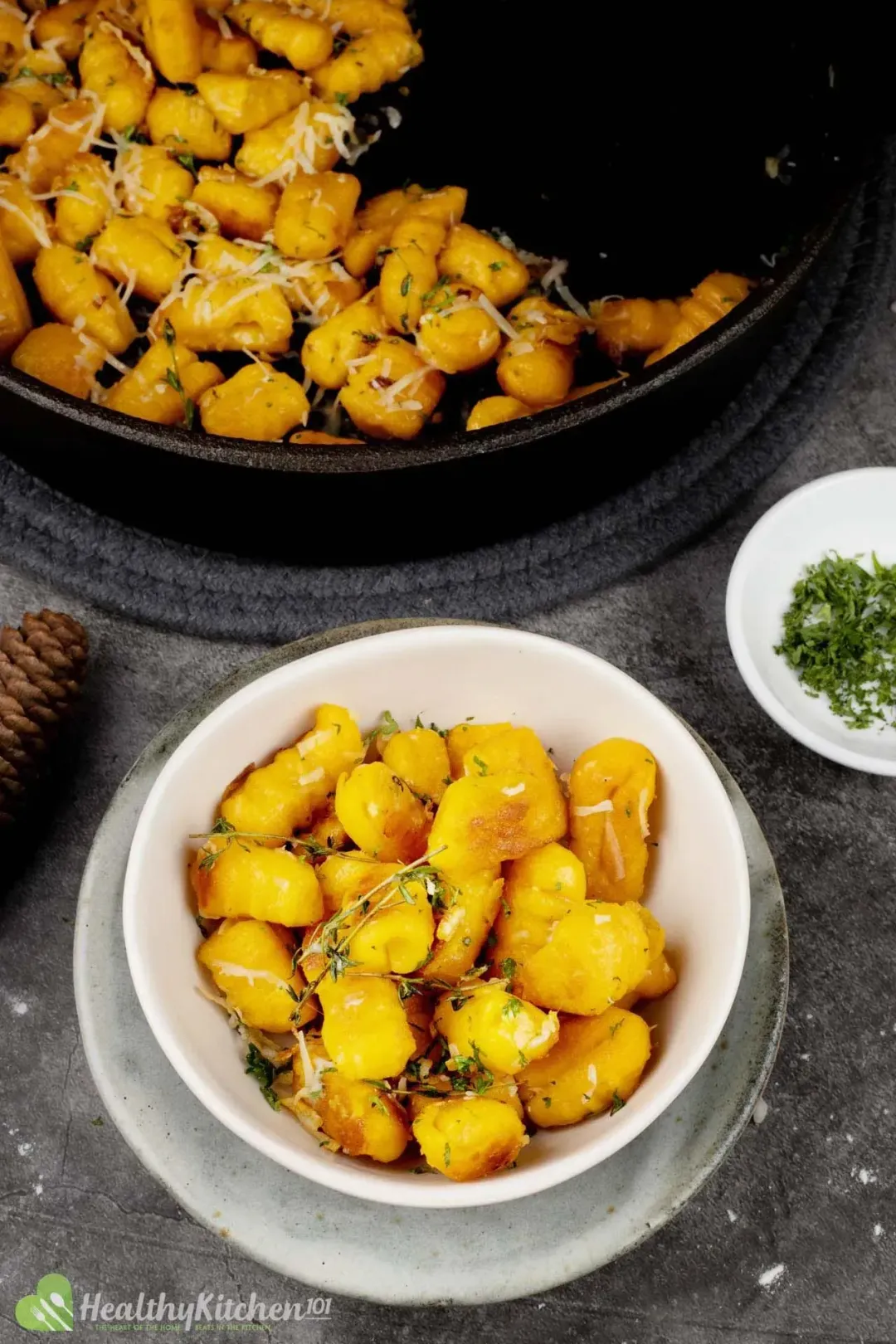 Calories in Sweet Potato Gnocchi
One serving of our sweet potato gnocchi gives your body 236 calories.
Our gnocchi is boiled, cooked in butter, and seasoned with grated parmesan cheese. If you only boil the gnocchi and skip the butter step, your pasta will be lower in calories.
That being said, 236 calories is enough calories for a side dish— you don't need to cut it down.
It's perfect to pair with a main dish to make a 750-calorie meal. You can even sneak in a low-calorie drink to refresh your palate after the meal as well.
Main Ingredients for Sweet Potato Gnocchi
There are only four main ingredients to make gnocchi:
Sweet potatoes
All-purpose flour
Egg yolks
Salt
Full measurements are available in the recipe below.
If you want to pan-sear the gnocchi as we do, you'll also need butter, herbs, and parmesan cheese.
What Goes Well with Gnocchi?
Here are a few things you can add to your sweet potato gnocchi recipe:
1. Pesto
As mentioned, gnocchi can go well with almost any type of pasta sauce, including pesto.
If you've never had pesto before, we recommend giving it a try. (see our Pesto Spaghetti.) This sauce is fresh, extra herby, nutty, and deeply flavorful because its main seasoning is parmesan cheese.
You can find it at your local grocery store, or you can make it at home.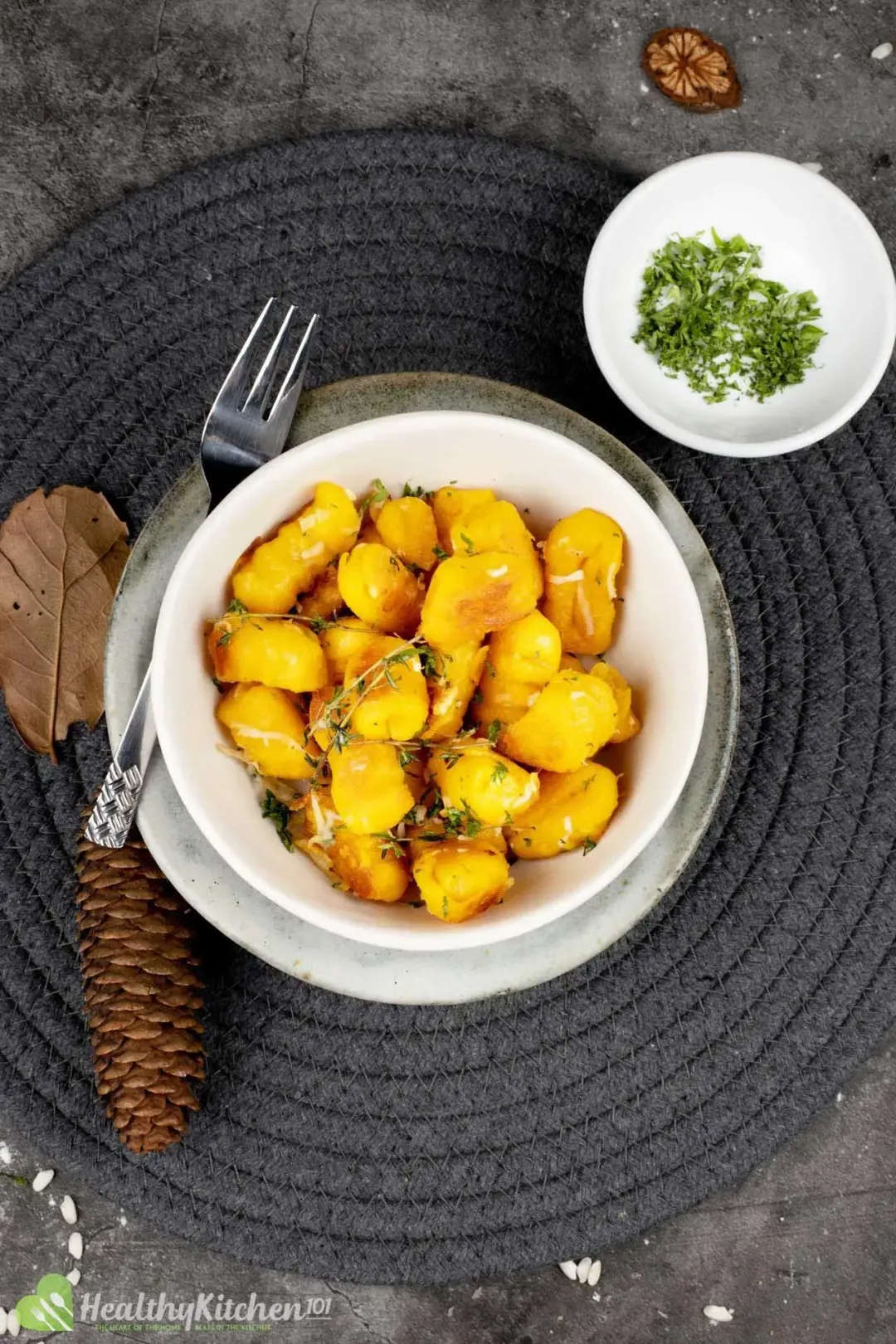 2. Sausage
You can never go wrong with sausage and pasta; this Spaghetti With Sausage is proof of that. If you're planning on pairing gnocchi with sausage, we recommend adding a simple tomato sauce to make it more wholesome.
Do keep in mind that sausage tends to be very high in sodium. You might want to cut down on salt, or reduce the number of sausages in the recipe.
3. Mushrooms
Mushrooms are a great addition to any pasta recipe. For today's sweet potato gnocchi recipe, we suggest using button mushrooms.
After pan-searing the gnocchi, transfer them to a plate and cook the mushrooms in the same pan. Sauté until the mushrooms are golden brown, add minced garlic, and stir for 30 seconds.
Once cooked, add the gnocchi back into the pan and mix to distribute the mushrooms evenly among the pasta.
4. Broccoli
As mentioned, our sweet potato gnocchi recipe contains about 3 grams of fiber per serving. But you can always add more fiber to your diet, and broccoli is the perfect fit for this.
You can either keep it simple and boil or steam the broccoli, or you can cook it with the gnocchi. When you pan-sear the pasta, add the broccoli and they will cook at about the same rate.
FAQ
1. Can You Freeze Gnocchi?
Yes, you can.
Simply place it in a single layer on a baking tray and put it in the freezer. It will stay good for one month.
Don't worry if you have too much gnocchi, but only one baking tray. You can lay a large piece of cling film over the first layer and arrange a second layer on top.
If your freezer doesn't have much room, you can freeze the gnocchi first and then transfer it to a ziploc bag.
2. How to Cook Frozen Gnocchi
Cooking frozen gnocchi is simple. Bring a pot of water to a boil, add gnocchi, and cook until float to the surface.
However, there are a few things to keep in mind when you cook frozen gnocchi:
Don't thaw the gnocchi prior to cooking: Thawing will release moisture, making the gnocchi mushy and stuck together.
Use a large pot and fill it with lots of water: This helps cook the gnocchi more evenly.
Stir the gnocchi when placed into the water: Doing so prevents the gnocchi from sticking to each other. It also keeps them from sticking to the bottom of the pot.
Don't overcrowd the pot: Cook the gnocchi in batches instead.
Overcrowding the pot will make the temperature of the water drop quickly. It will take some time for the water to come back to a boil.
By the time your water comes up to temperature, your gnocchi will most likely be mushy and unevenly cooked.
3. How Long Does Gnocchi Last?
Raw, homemade gnocchi can only last 1 day in the fridge. So, if you're planning to make it ahead of time, be sure to cook it the following day.
Cooked gnocchi, on the contrary, can last up to 5 days in the fridge if stored properly. Let your leftover gnocchi cool before putting into airtight containers and into the fridge.
However, refrigerated pasta tends to have a hardened texture, even after you've reheated it, and the same goes for gnocchi. For this reason, we recommend eating it all up within the first 3 days for better quality.
And that concludes today's basic guide on gnocchi. Now let's start making it.
Sweet Potato Gnocchi
This sweet potato gnocchi recipe doesn't require many ingredients, but it does call for some effort. But don't worry— it's actually very simple.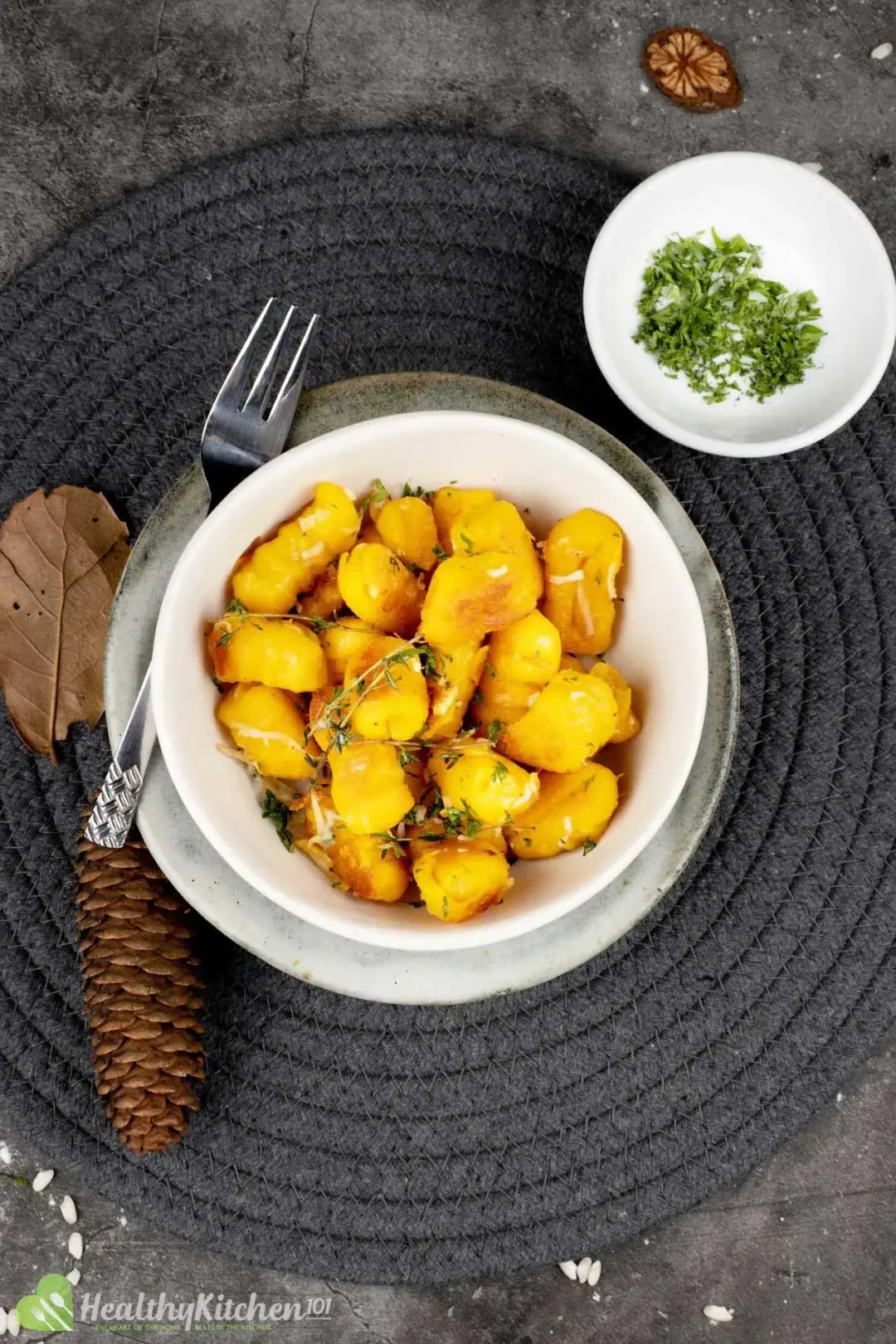 cook TIME

5 mins

prep TIME

35 mins

total TIME

40 mins
COURSE

Dinner, Lunch, Side Dish

CUISINE

Italian

SERVINGS

CALORIES

236 kcal
INGREDIENTS
10.6 oz

sweet potatoes

(peeled and cut into 1-inch chunks)

3/4 cup

all-purpose flour

(plus more for dusting)

1 1/2 tbsp

unsalted butter

3 tbsp

grated parmesan cheese

(divided)

1 tbsp

fresh thyme leaves

1/4 tsp

ground black pepper

(or to taste)

1 tbsp

fresh parsley

(for garnishing)
INSTRUCTIONS
1
Steam sweet potatoes: Place a pot on the stove, put a steamer basket inside the pot, and add water below the steamer basket. Add 10.6 oz sweet potato into the steamer basket and cover with a lid. Turn on high heat and bring to a boil. Steam for 10 minutes or until the sweet potatoes are tender.
2
Mash the sweet potatoes: Transfer the sweet potato to a large mixing bowl. Mash with a potato masher until smooth. Allow to cool for 5 minutes.
3
Mix the dough: Add 3/4 cup all-purpose flour, 1 egg yolk, and 1/4 tsp salt to the mashed sweet potato and mix well to combine.
4
Knead the dough: Once the mixture begins to come together, transfer to a clean, lightly floured work surface. Knead with your hands for about 5 minutes to form a smooth ball of dough.
5
Shape the gnocchi: Using a knife or a pastry cutter, divide the dough into four portions and roll each into thick ropes. Then, cut each rope into 1-inch pieces.
6
Boil the gnocchi: Bring a large pot of water to boil on high heat. Once the water is boiling, reduce the heat to medium and drop the gnocchi into the water, a third at a time. Give them a stir to prevent sticking to the bottom of the pot, and wait for them to float to the top for about 2 minutes. Transfer gnocchi to a bowl with a slotted spoon and set aside. Repeat with the remaining gnocchi.
7
Pan-sear the gnocchi: In a large frying pan, heat 1 1/2 tbsp unsalted butter, 1/2 tbsp olive oil, and 1 tbsp fresh thyme over medium heat until the butter starts to brown. Add 2 tsp garlic and stir for 30 seconds. Add boiled gnocchi and cook for 2 minutes. Add half of the parmesan cheese (1 1/2 tbsp) and cook for another minute until lightly browned.
8
Serve: Transfer gnocchi to a plate. Sprinkle with the remaining 1 1/2 tbsp parmesan cheese. Garnish with 1 tbsp fresh parsley and 1/4 tsp ground black pepper, and serve.
NUTRITION
Nutrition Facts
Sweet Potato Gnocchi
Amount Per Serving (1 serving)
Calories 236
Calories from Fat 81
% Daily Value*
* Percent Daily Values are based on a 2000 calorie diet.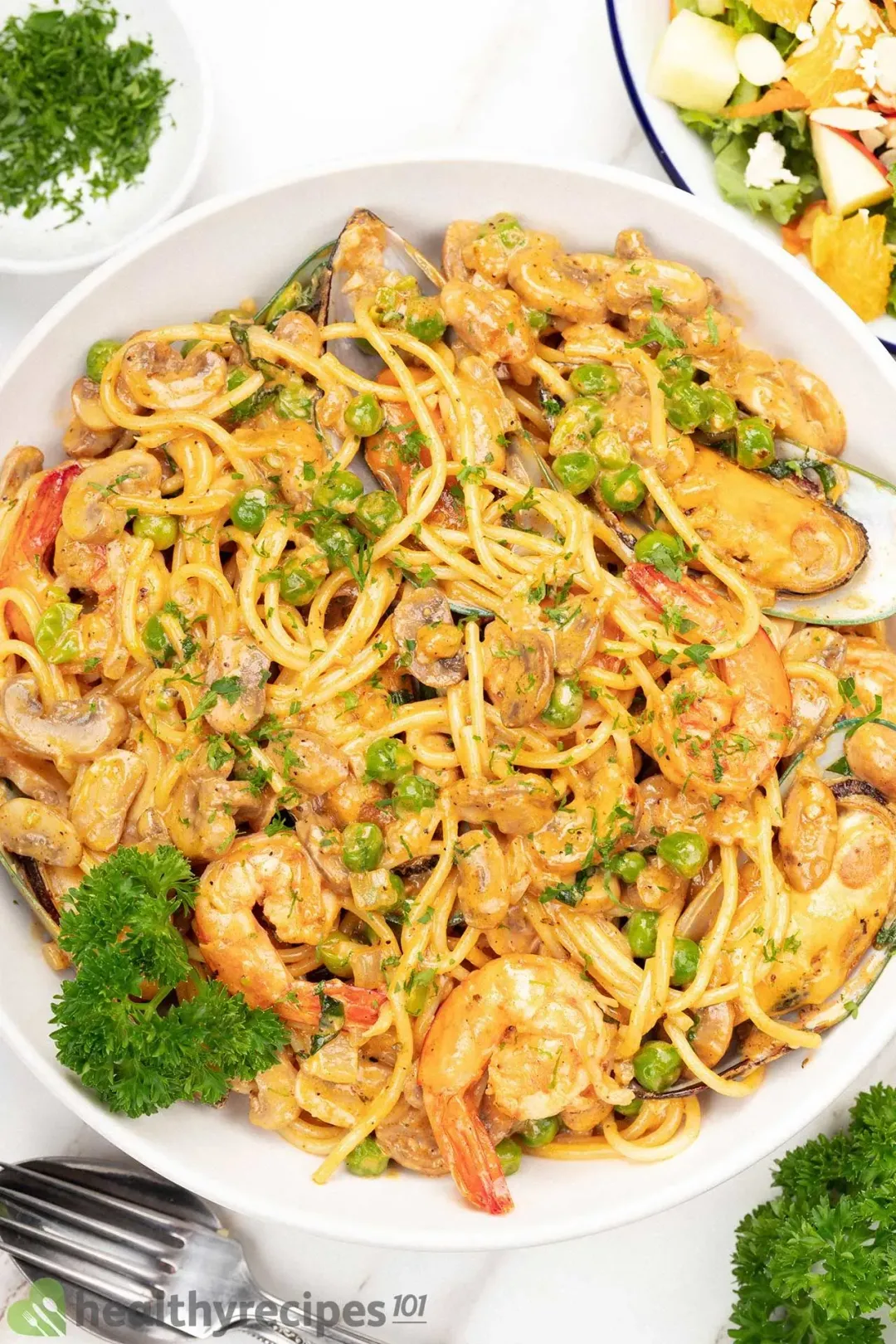 Previous Recipe
Creamy Seafood Pasta
Creamy Seafood Pasta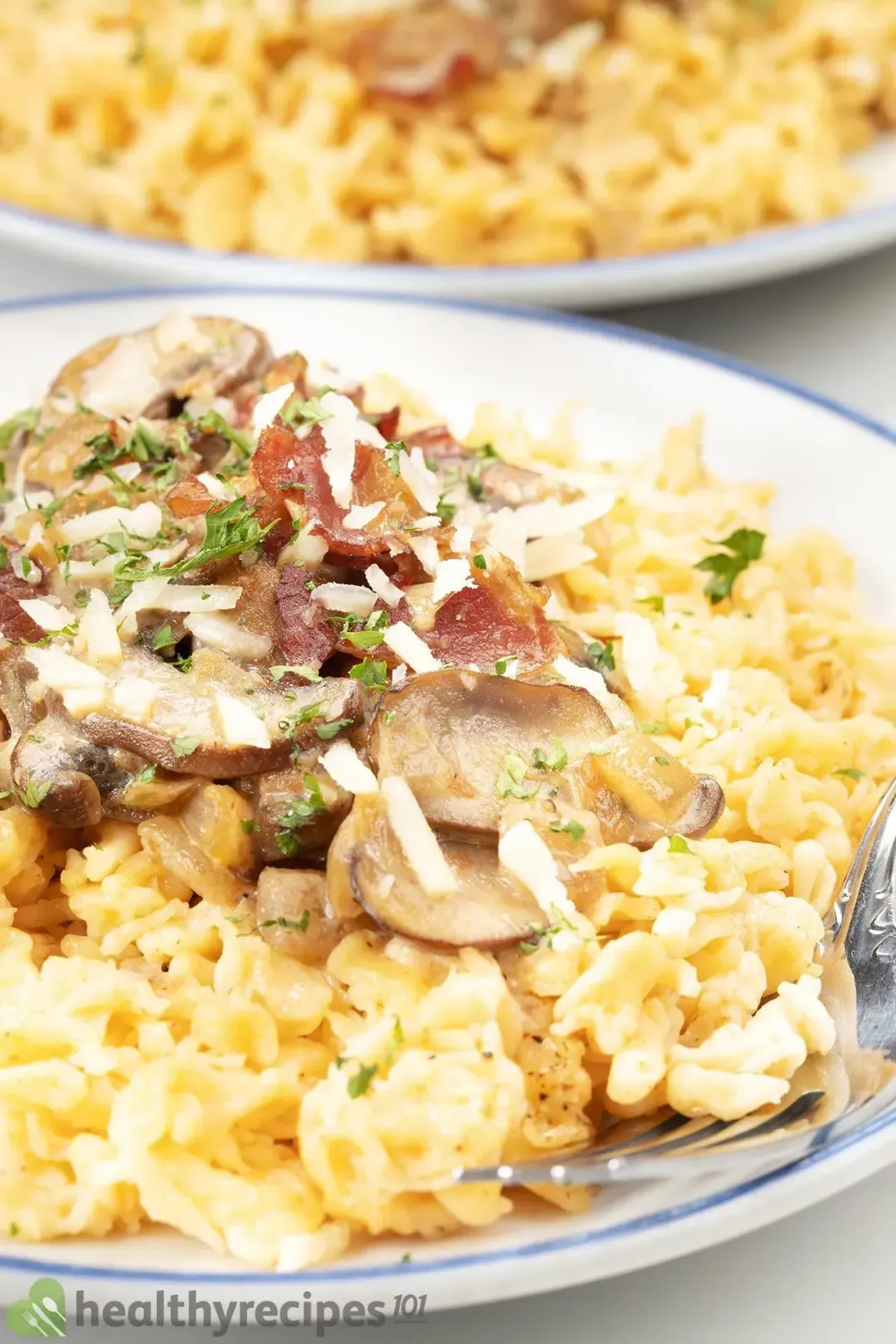 Spaetzle
Head Chef, Culinary Consultant
Tuyet Pham is an award-winning Saigonese chef who believes that joy is the secret ingredient to delicious food. At Healthy Recipes 101, Tuyet personally tests and simplifies every recipe, ensuring maximum flavor with minimal effort. With a background at prestigious French restaurants P'TI Saigon and Le Corto, Tuyet knows how to make every dish exceptional.
Writer, Author
Luna Regina is an accomplished writer and author who dedicates her career to empowering home cooks and making cooking effortless for everyone. She is the founder of HealthyKitchen101.com and HealthyRecipes101.com, where she works with her team to develop easy, nutritious recipes and help aspiring cooks choose the right kitchen appliances.
Nutrition Reviewer
Lizzie Streit is a Minneapolis-based dietitian and founder of It's a Veg World After All. She completed her MS in Human Nutrition from Drexel University, and is an expert in culinary nutrition, recipe development, and nutrition communications. Lizzie's philosophy is centered around making nutrition recommendations, and especially the advice to eat more vegetables, approachable and realistic. She is excited to be working with the team at Healthy Recipes 101 to ensure that their recipes are both nutritious and delicious.
This looks so yummy, can't wait to try this.

This looked amazing and I had all the ingredients. Followed the directions. When I put the gnocchi in the boiling water they disintegrated!!! What did I do wrong