Our spaghetti casserole recipe will live up to your expectation of a health-friendly and tasty baked dish.
After forming a spaghetti base, we spread on a mixture of beef, onion, and tomatoes, then top it with a creamy sauce and cheese. Bake until the cheese melts and the edges are slightly charred, and your spaghetti casserole is ready for the taste test.
Shall we learn how to make it?
Is Spaghetti Casserole Healthy?
Our healthy version of spaghetti casserole will satisfy your pasta cravings without stressing you out with the calorie count.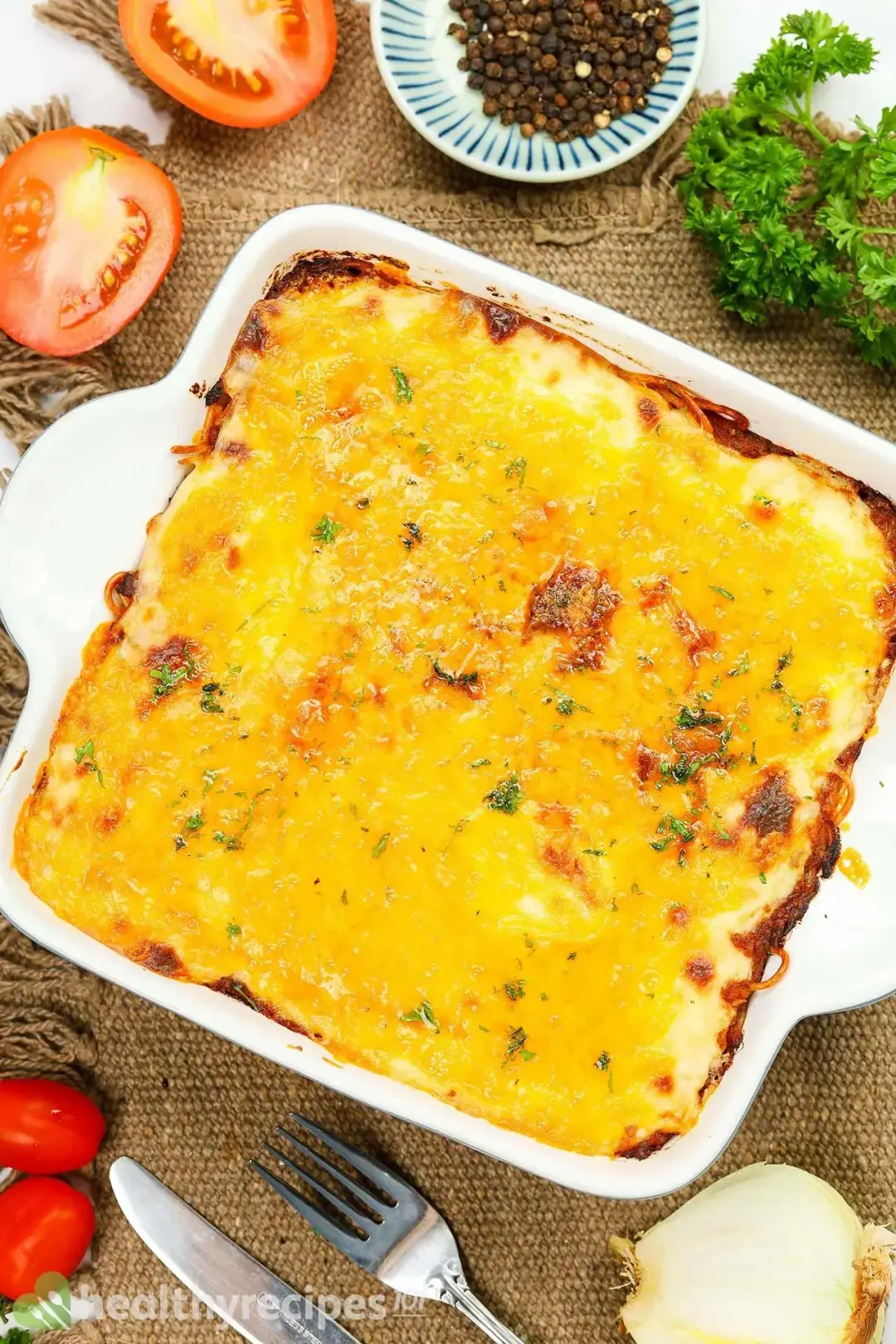 Our chefs have kept a strict eye on this recipe so that each serving has around 489 calories, 9.3 g saturated fat, and 594 mg sodium.
Nutritionally, ground beef, one of the main ingredients, brings a bulk of lean protein and minerals, especially zinc and iron. High-quality protein may help prevent muscle loss, whereas micronutrients support human physical health.
Additionally, cheddar cheese and whole milk add extra calcium and vitamin B-complex to your diet.
Ingredients for Spaghetti Casserole
This Midwestern-inspired dish only requires a few pantry ingredients: a bag of spaghetti, ground beef, cheddar cheese, spices, and aromatics.
Shall we take a closer look at some main items?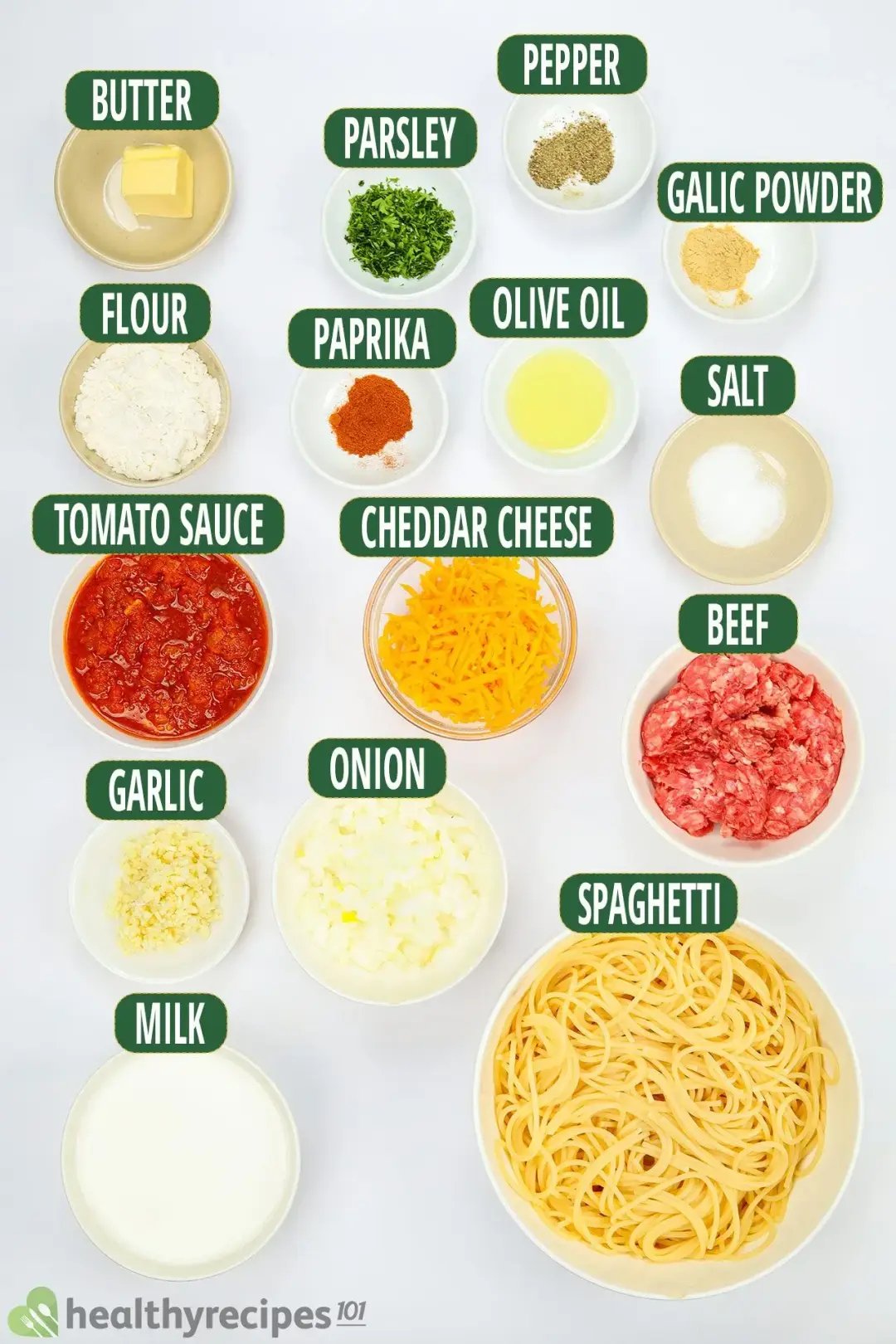 Spaghetti: Opting for long-shaped pasta like spaghetti adds an intriguing twist to the texture of your casserole's saucier and chunkier bites.
Ground beef: Our top pick option for any recipe that calls for ground meat is the 85% lean type, since it remains succulent and moist once cooked perfectly.
Onion: The subtle sweetness of sautéed onions is preferred as a base for many savory dishes.
Cheddar cheese: This melted goodness, made from goat's milk, gives our baked casserole a golden-brown hue and a sharp flavor.
Homemade tomato sauce: Homemade sauce possesses a superior taste and nutrition profile than store-bought options. By preparing your own sauce, you can also reduce added sugar, sodium, and preservatives included in those commercial options.
Whole milk: When combining whole milk with cheese, keep in mind to stir the mixture occasionally to attain a silky-smooth consistency.
Garlic: We use fresh and powdered garlic to impart a more pronounced flavor to the dish.
Different Variations and Add-ins
Our spaghetti casserole recipe has so much room for creativity, as you can combine other adds-in to the layers to mix up the dish.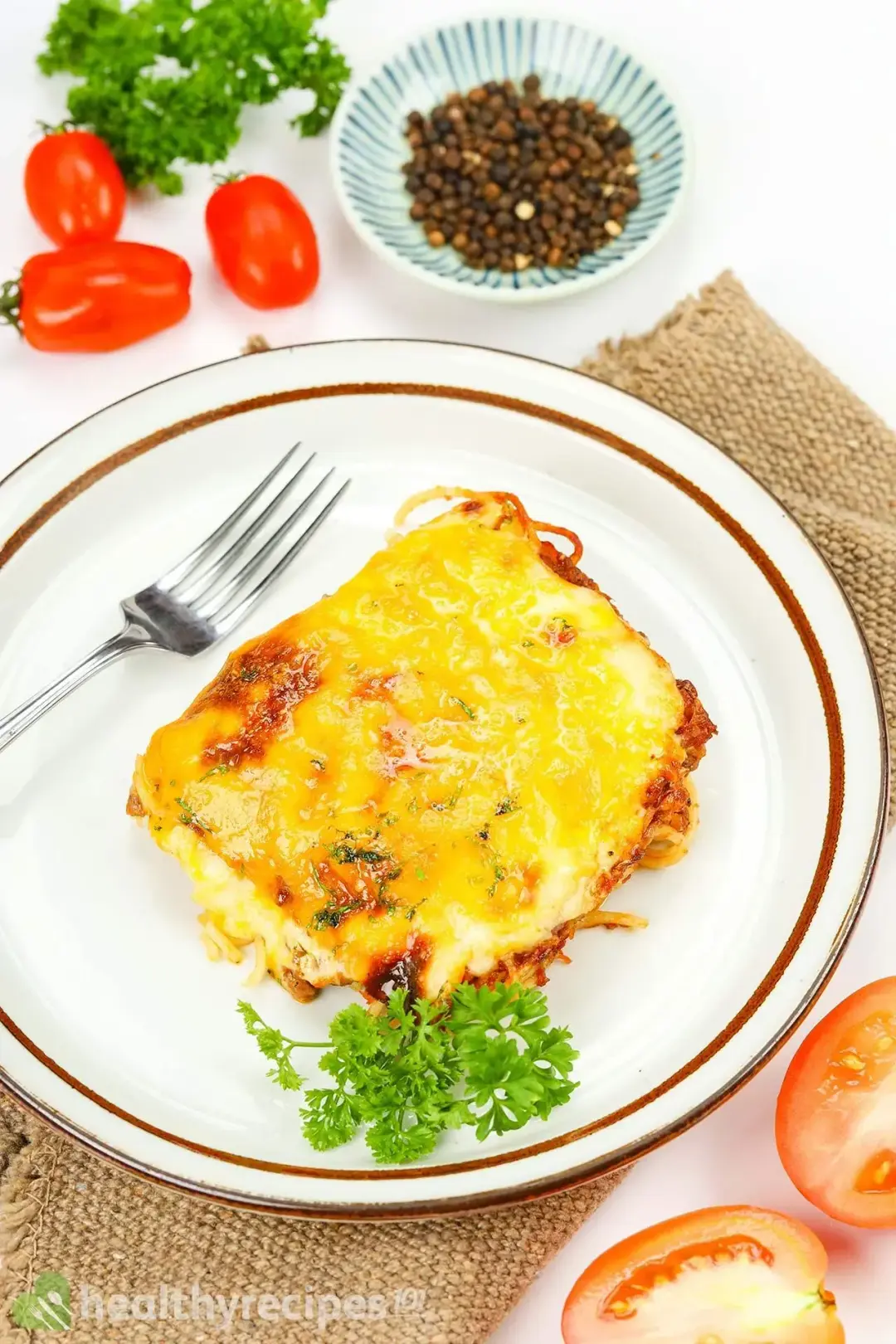 If you fancy some chicken or still have some leftover turkey from Thanksgiving night, replace ground beef with them. Also, some plump shrimp as an alternative is an ideal choice.
Try adding some vegetables like broccoli, asparagus, or spinach to introduce more fiber into your dish.
And still, no one can resist the combination of stringy mozzarella and cheddar, so why not use both in your recipe?
How to Store and Reheat
1. How to Store
Freezing is not advisable for dairy-rich casseroles as it will ruin the cheese texture and turn your spaghetti soggy when defrosted.
To properly store your leftovers, divide them into smaller portions, store them in airtight containers, and label with the date. Your spaghetti casserole will last from three to four days in the fridge.
2. How to Reheat
When it's time to serve, transfer your leftovers to a casserole tray and bake at 350°F for a few minutes until hot.
What to Serve With Spaghetti Casserole
A simple, yet refreshing green salad is all you will need to help cleanse your palate, allowing for more tempting bites. Here are some great suggestions from our chefs: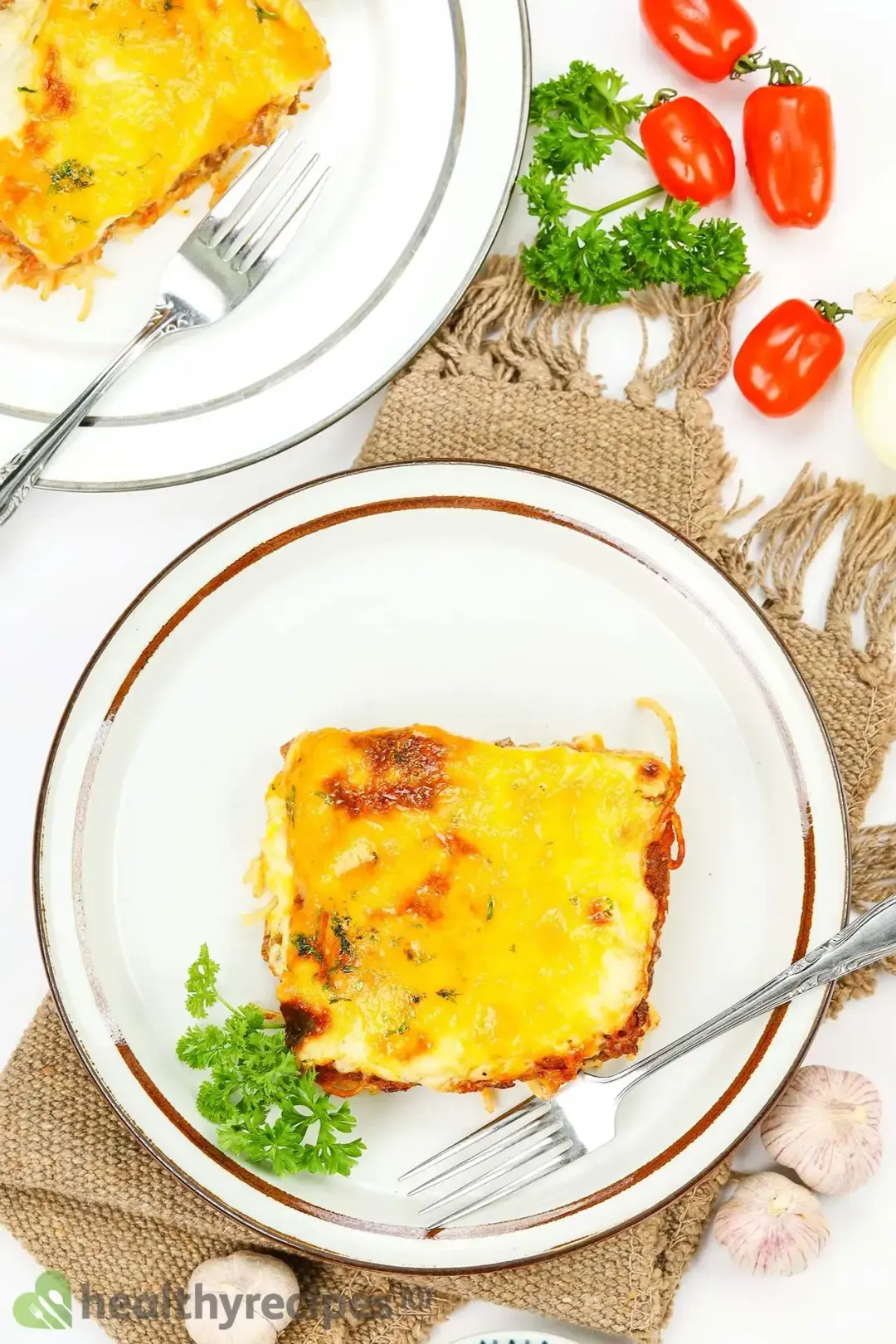 How to Make Spaghetti Casserole
Today's spaghetti casserole introduces an addictive combination of al dente pasta, savory ground beef, and cheddar cheese. Pair it with a light salad or stir-fried vegetables for a crowd-pleasing weeknight dinner.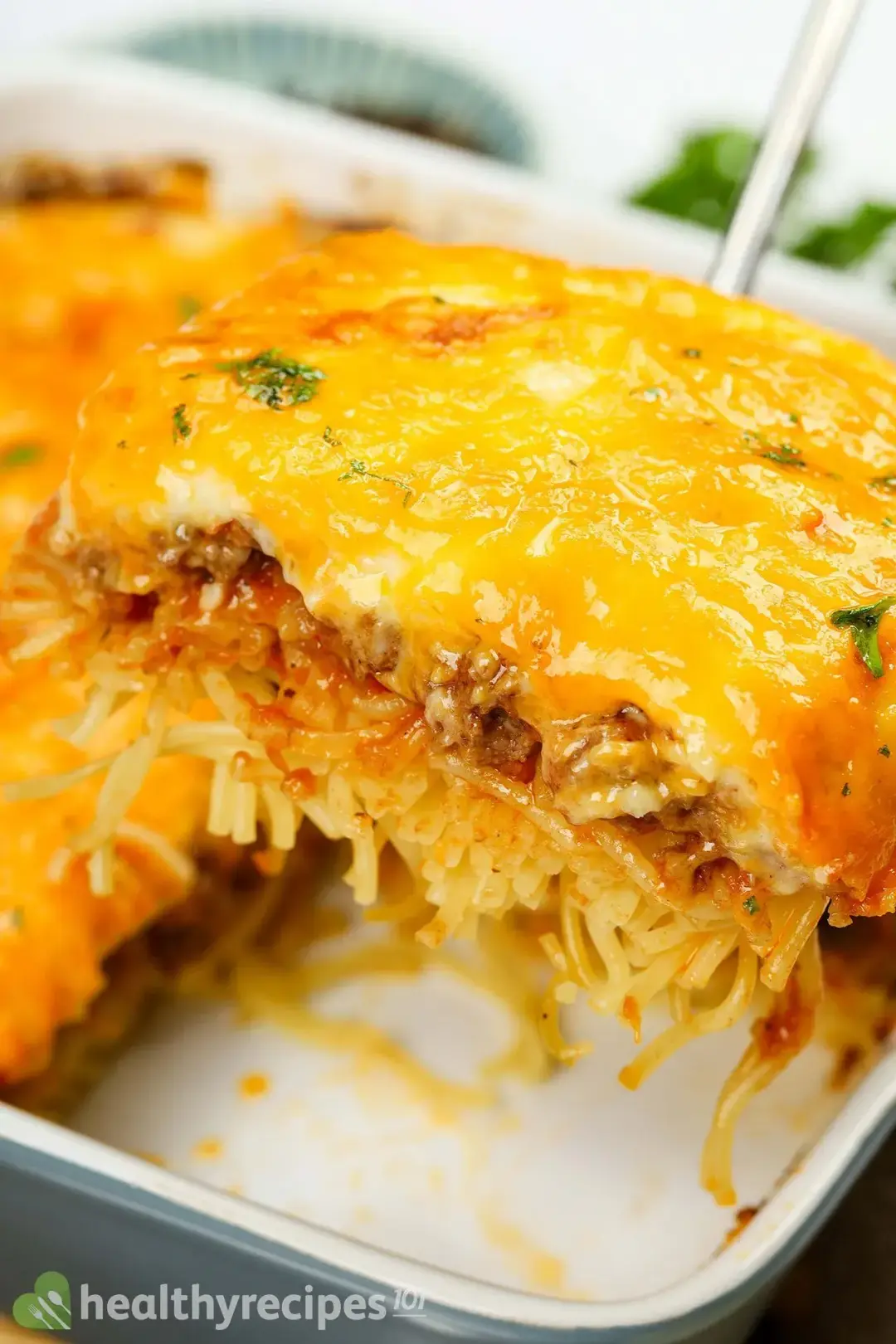 cook TIME

33 mins

prep TIME

12 mins

total TIME

45 mins
COURSE

Main Course

CUISINE

American

SERVINGS

servings

CALORIES

489 kcal
INGREDIENTS
14 oz

cooked spaghetti from 7 oz uncooked

6 oz

85% lean ground beef

2 oz

cheddar cheese shredded

2 oz

onion diced

0.8 cup

homemade tomato sauce

3 tbsp

all-purpose flour

1 cup

whole milk

1 tbsp

unsalted butter

1 tbsp

olive oil

1 tbsp

garlic minced

0.5 tsp

garlic powder

0.5 tsp

paprika

0.8 tsp

salt

0.5 tsp

pepper

2 tbsp

parsley chopped
INSTRUCTIONS
Prep:
1
Heat a pot of water until it boils, then add 14 oz spaghetti. Cook until al dente, following the packaging instructions. Quickly rinse the pasta with cool water to prevent overcooking and clumping.
2
Trim off the stem of the onion, then peel away the skin. Split the onion in half lengthwise. Make thin vertical cuts into each half while leaving the root intact. Next, cut horizontal slices from the bottom to the top of the onion. Finally, slice downwards to dice the onion into smaller chunks.
Cook:
1
Sauté the garlic: Place a shallow pan over medium heat. Add 1 tbsp unsalted butter and 1/2 tbsp minced garlic. Sauté until fragrant, about 30 seconds.
2
Make the cream sauce: In the same pan, add 2 1/2 tbsp all-purpose flour, stir to make a roux. Slowly stir in 1 cup whole milk and 1/4 tsp salt. Lower heat setting to low, and stir frequently for five minutes, or until thickened. Remove from heat.
3
Cook the beef: Heat 1 tbsp olive oil in another frying pan over medium heat. Stir in 1/2 tbsp garlic and 2 oz diced onion, then sauté for 1 minute. Add 6 oz 85% lean ground beef and stir to cook for another 3 minutes.
4
Incorporate the tomato sauce and the seasonings: To the beef, add 3/4 cup homemade tomato sauce, 1/2 tbsp all-purpose flour, 1/2 tsp paprika, 1/2 tsp garlic powder, 1/2 tsp salt, and 1/2 tsp pepper. Stir continuously for 3 minutes.
5
Assemble all the ingredients: In a baking casserole dish, layer 14 oz cooked spaghetti, pour in the beef mixture and top it with the cream sauce. Make sure each layer is evenly spread.
6
Bake the spaghetti casserole: Preheat the oven to 400°F. Put the baking dish in the middle rack of the oven and bake at 400°F for 15 minutes. Take it out and sprinkle on 2 oz shredded cheddar cheese. Switch oven to broil and place dish on top rack for approximately three minutes, or until cheese is melted. Remove from the oven.
7
Garnish and serve: Transfer your desired portion onto a platter. Garnish with 2 tbsp chopped parsley. Enjoy.
NUTRITION
Nutrition Facts
How to Make Spaghetti Casserole
Amount Per Serving (1 serving)
Calories 489
Calories from FDA
% Daily Value*
* Percent Daily Values are based on a 2000 calorie diet.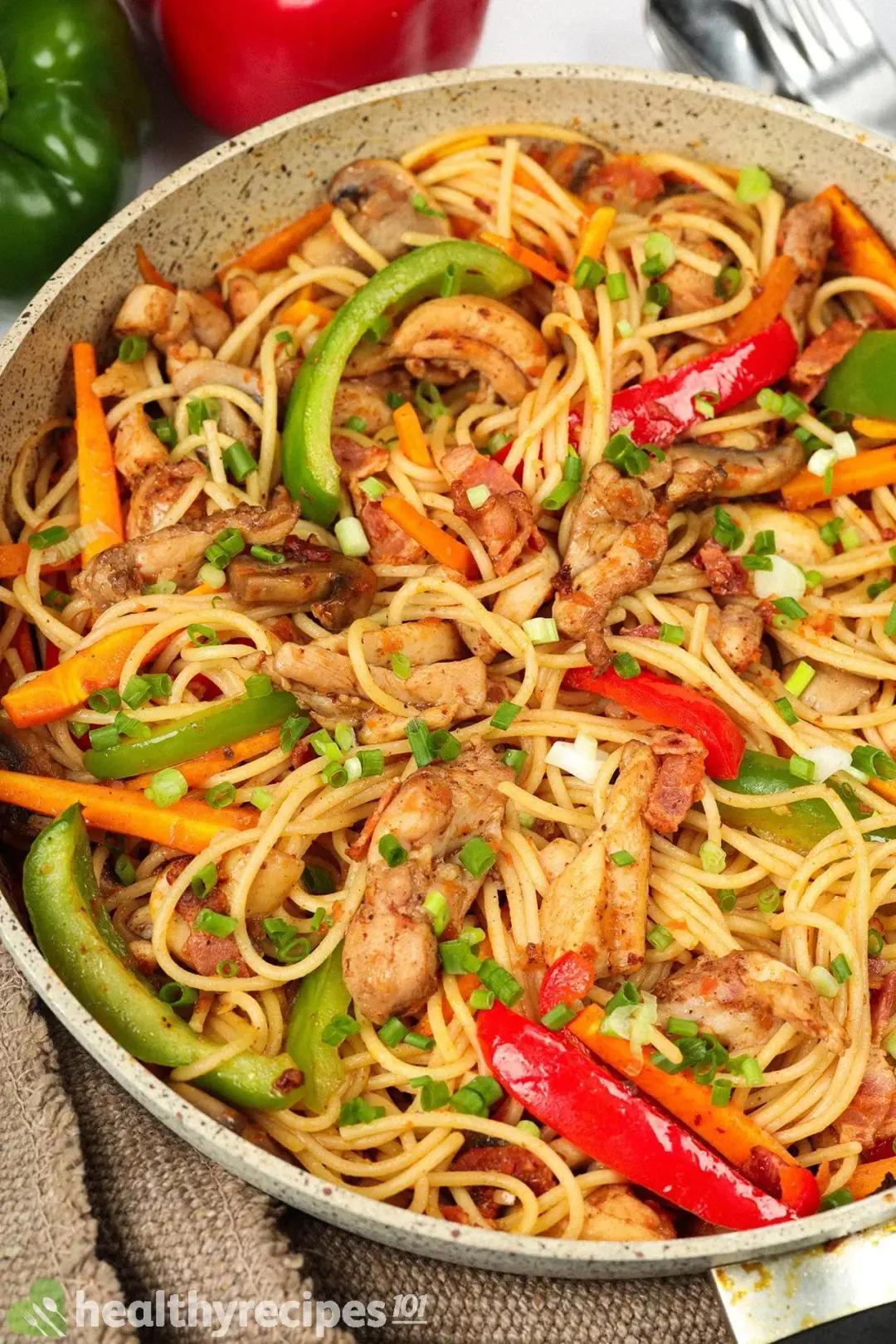 Previous Recipe
Stir-fried Spaghetti
Stir-fried Spaghetti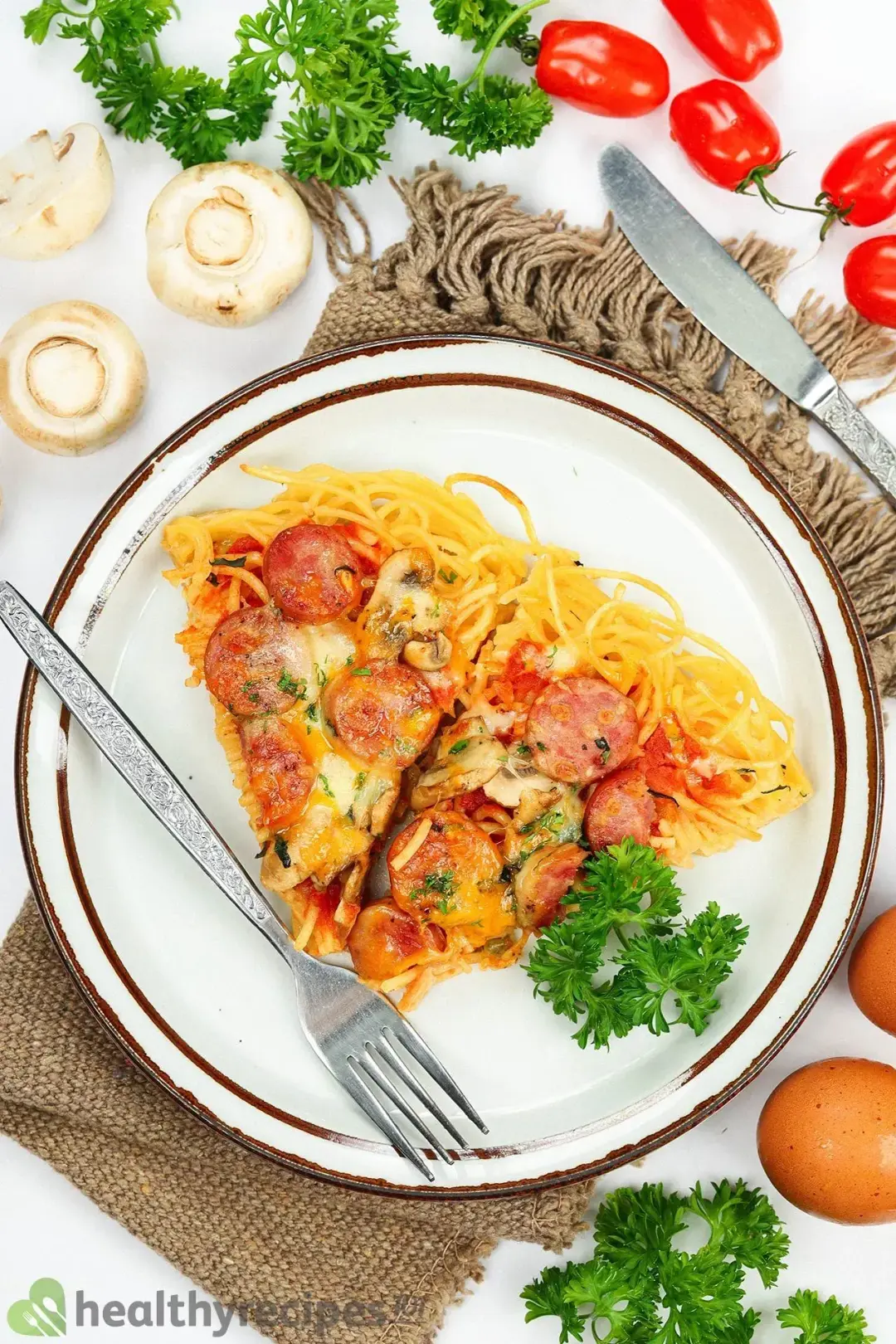 Next Recipe
Spaghetti Pizza
Spaghetti Pizza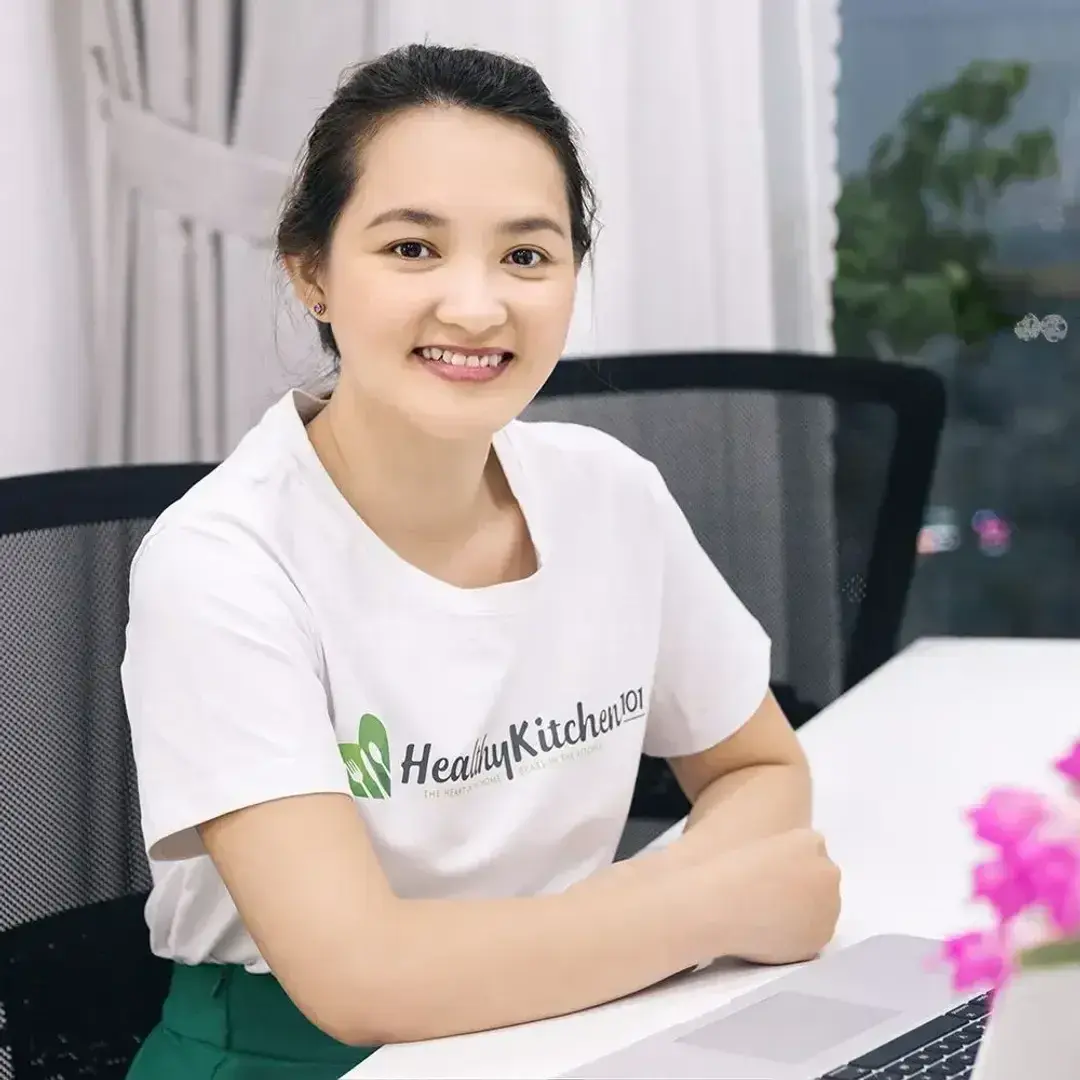 Luna Regina
Luna is the founder and chief recipe developer of Healthy Recipes 101. Apart from cooking, she also loves reading, programming, exploring the outdoors, and collecting useless facts about everything.