If you are a loyal customer of the California Pizza Kitchen, you must be familiar with all their signatures, especially their Chinese dishes. In today's recipe, we are delighted to introduce a healthy version of their Kung Pao spaghetti.
Ours features succulent chicken, chewy spaghetti, dried chilies, and crunchy peanuts tossed in a sweet and savory condiment. Requiring only 25 minutes and minimal cooking skills, this delectable CPK's Kung Pao Spaghetti is definitely worth trying.
What Does Kung Pao Spaghetti Taste Like?
Kung Pao spaghetti delivers the unique taste of Chinese cuisine, specifically the Sichuan food culture—sweet, salty, umami, and lingeringly spicy.
An authentic Kung Pao dish usually has protein (chicken, shrimp, or beef), vegetables, nuts, and a special Chinese-style sauce. For our healthy recreation, we pair chicken thighs with toasty peanuts, smoky and spicy dried chilies, peppery spices, and a sweet and sour sauce for a hint of umami.
This Kung Pao spaghetti is the perfect balance of flavor and texture, promising you a satisfying dining experience.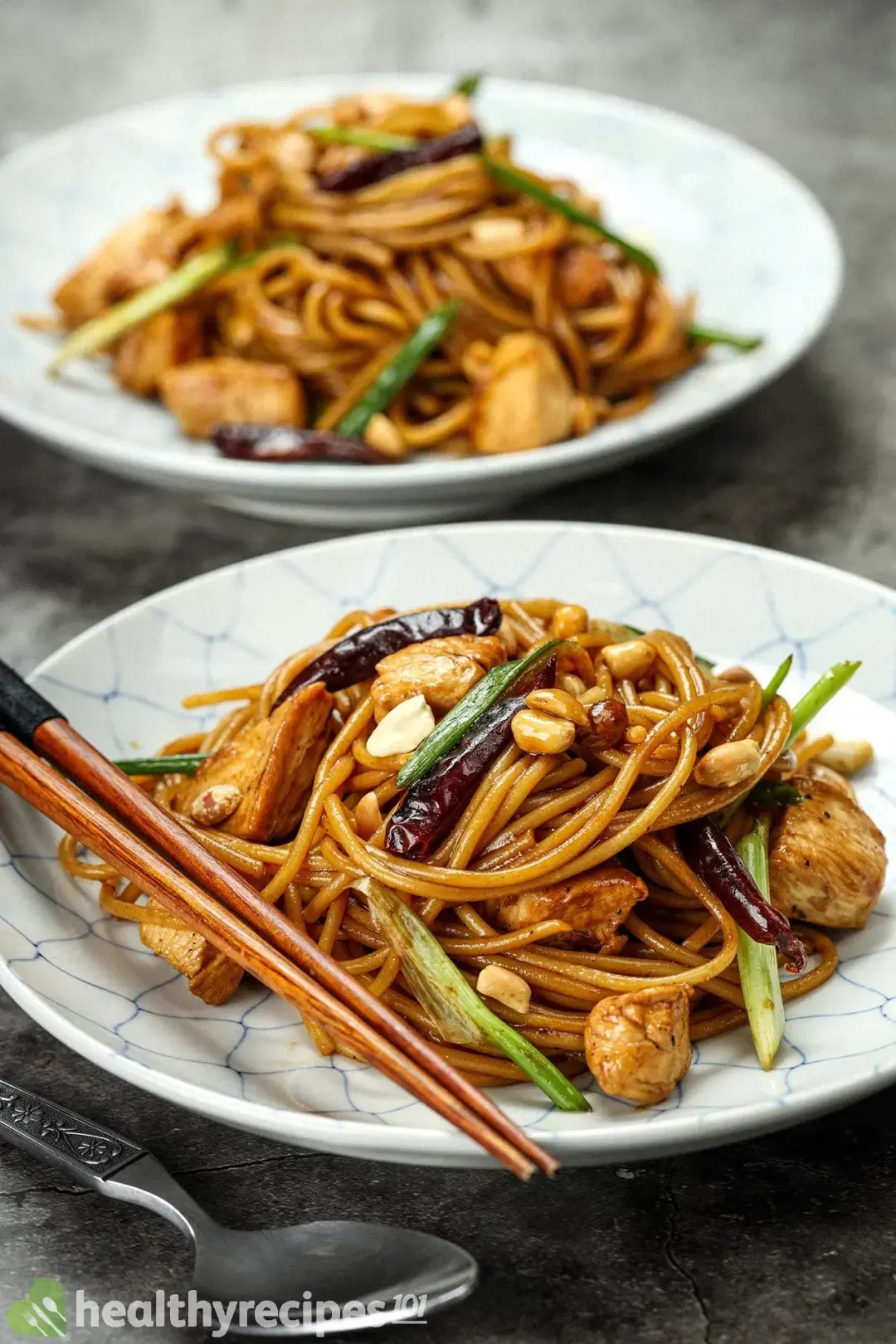 Is Kung Pao Spaghetti Healthy?
Our Kung Pao spaghetti is a healthier version of your favorite takeaway meal. Our team has worked extra hard to ensure the amounts of saturated fat and sodium are diet compatible, at 2.9 g and around 600 mg, respectively.
With chicken, spaghetti, dried chilies, and peanuts on the ingredient list, this main course is jam-packed with protein and micronutrients (vitamins A, C, and E). Specifically, one serving will provide up to 26.2 g of protein, up to 52% of the recommended daily value.
Overall, this main course only yields 494 calories, leaving plenty of room for a green salad and a glass of fresh-squeezed juice.
Ingredients for This Recipe
Most home cooks feel slightly intimidated when recreating Chinese signatures as they usually require pulling together a combination of complex ingredients.
Our Kung Pao spaghetti is one of the exceptions with a super-simple list of ingredients.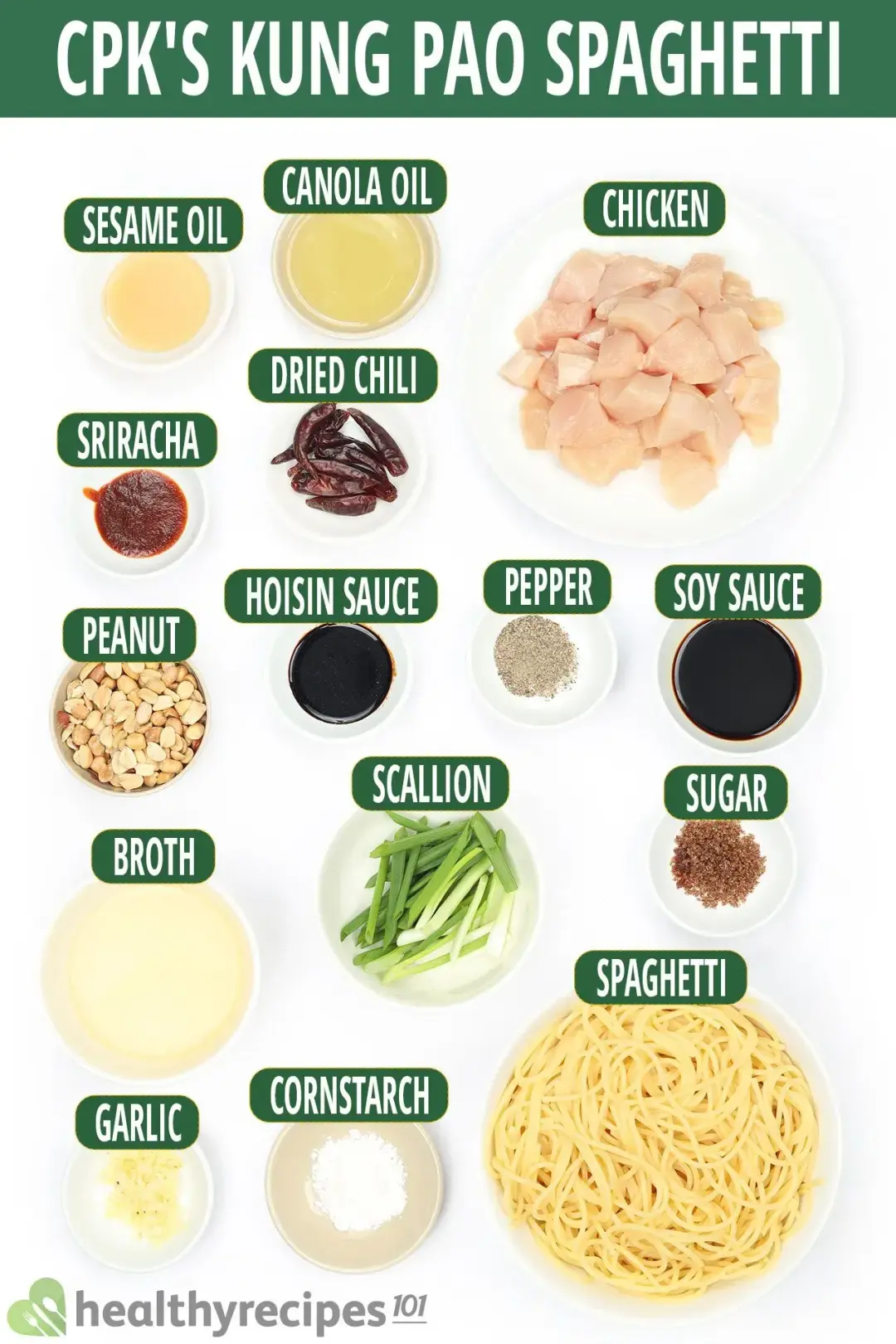 Chicken: Being one of the most-used proteins in many of our recipes, chicken thighs are flavorful, versatile, and budget-friendly. Unlike seafood or red meat, which tend to be overcooked easily, chicken thighs are more forgiving to work with.
Pasta: To reduce the amount of sodium intake, our chefs opted for unenriched spaghetti without added salt.
Dried chilies: Dried chilies are more than just a vehicle of heat as different varieties will add distinct characteristics to your dish. Among a wealth of choices, we plumped for dried guajillo chilies to impart a complex flavor profile to the pasta—a sweet and tangy taste with notes of pepper and tea.
Sriracha: This spicy sauce has mild heat and a pungent garlicky flavor—ensuring every bite livens up your palate.
Nuts: Peanuts, representing longevity and wealth in Chinese culture, are our much-loved nut for Kung Pao dishes. However, if you prefer cashews or walnuts, you can use either as a substitute.
Sauce: We keep the sauce as close to the original as possible by combining cornstarch, brown sugar, pepper, chicken broth, hoisin sauce, soy sauce, sriracha, and sesame oil.
How to Store and Reheat Leftovers
For the most effective storage, divide your leftovers into portions in airtight containers, label the date to keep track of the storing time, and store them in the fridge. They will last for 2-3 days if stored properly.
The reheating process won't cause much fuss. Simply place your leftovers in a microwave-safe bowl, add a tablespoon of water, cover with a microwave lid, and microwave until hot.
What to Serve With Kung Pao Spaghetti
If you're looking for some light and refreshing pairings for your CPK's Kung Pao spaghetti, check out our suggestions below.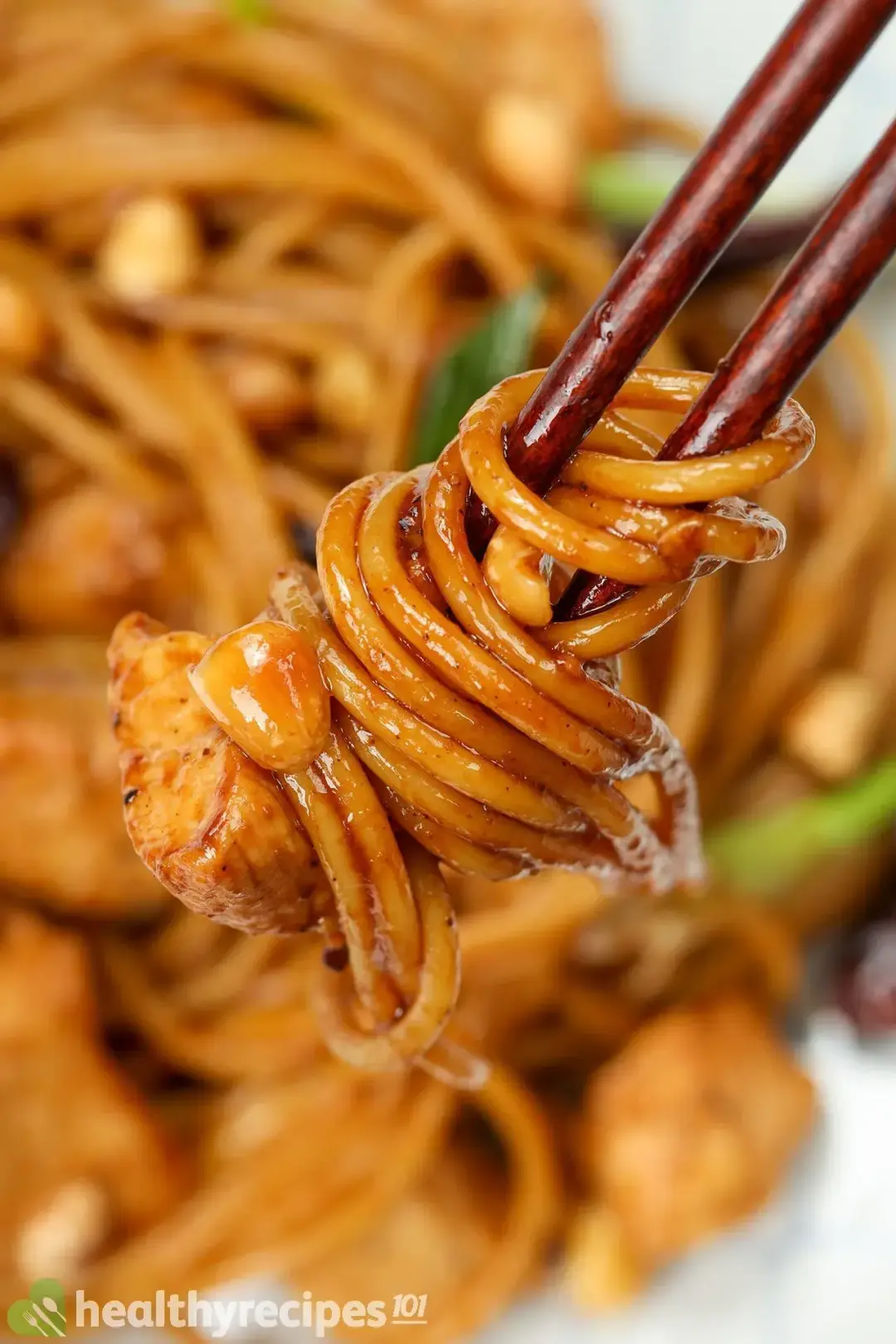 How to Make Kung Pao Spaghetti
This Kung Pao spaghetti transforms simple ingredients into a sumptuous Chinese feast in less than 30 minutes.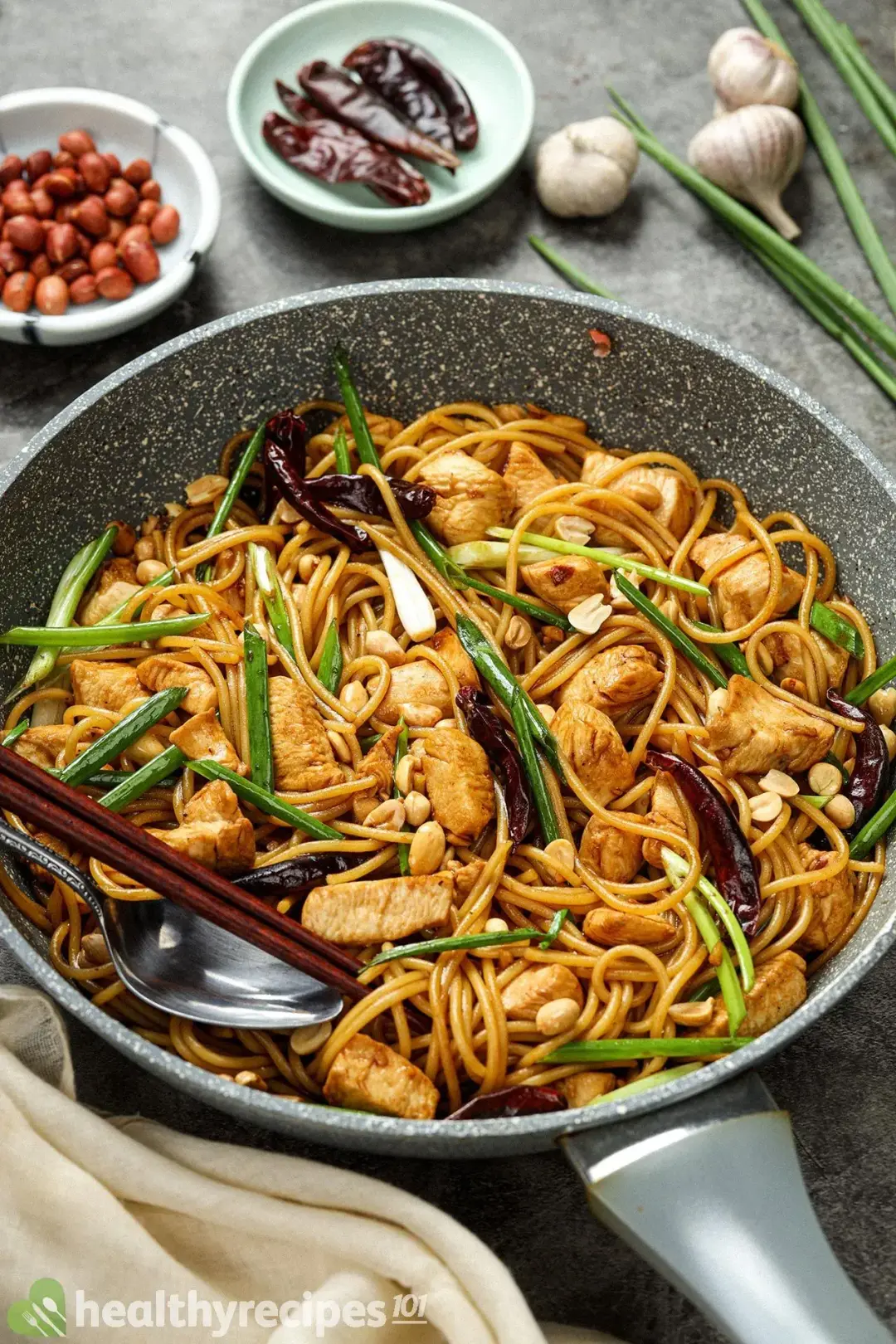 cook TIME

13 mins

prep TIME

12 mins

total TIME

25 mins
COURSE

Main Course

CUISINE

Chinese

SERVINGS

servings

CALORIES

461 kcal
INGREDIENTS
10 oz

skinless boneless chicken thigh cut into 1-inch cubes

14 oz

cooked spaghetti from 7 oz uncooked

8

dried chilies

2 oz

raw peanuts

3 tbsp

canola oil

0.5 cup

unsalted chicken broth

0.5 tbsp

hoisin sauce

3 tbsp

reduced-sodium soy sauce

0.5 tbsp

sesame oil

1 tsp

sriracha

1 tsp

brown sugar

0.5 tbsp

cornstarch

1 tbsp

garlic minced

0.5 tsp

pepper

0.3 cup

scallions cut into 1-inch segments
INSTRUCTIONS
Prep:
1
Place the chicken thigh skin-side down on a cutting board. Use a sharpened knife to slice under and cut along the back of the bone. Discard it. Peel away the skin. Cut the deboned chicken thigh crosswise into 1-inch thick strips, then slice those strips into small cubes, about 1-inch thick.
2
Bring a pot of water to a boil, then add the spaghetti. Cook until al dente according to the packaging instructions. Rinse the spaghetti under the faucet to prevent overcooking and clumping.
3
Cut off the root part of each garlic clove. Use the side of a knife to press down and crush the cloves, then peel away the skin. Mince the peeled garlic.
4
Slice away the root end and the tough top part of the scallions. Line the scallions on a cutting board and cut them into 1-inch segments.
Cook:
1
Make the sauce: In a small mixing bowl, add 1/2 tbsp cornstarch, 1 tsp brown sugar, 1/2 tsp pepper, 1/2 cup unsalted chicken broth, 1/2 tbsp hoisin sauce, 3 tbsp reduced-sodium soy sauce, 1 tsp sriracha, 1/2 tbsp sesame oil. Mix well.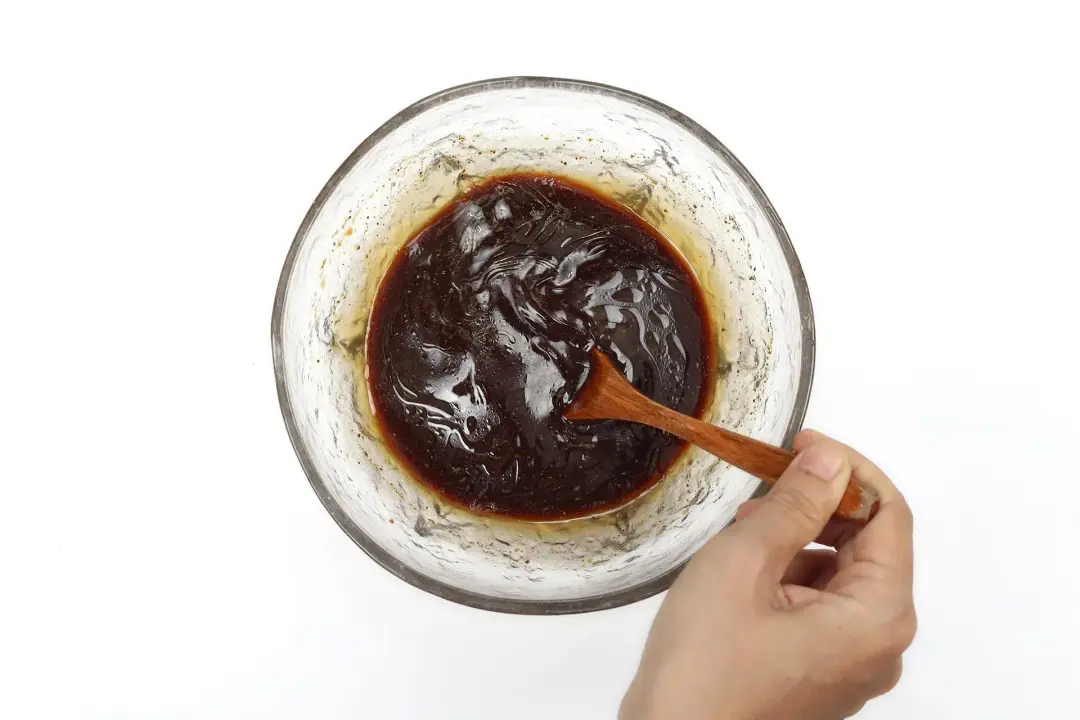 2
Sauté the garlic: Place a large non-stick pan over medium heat. Add 3 tbsp canola oil and 1 tbsp minced garlic. Stir frequently until the garlic is fragrant, about 30 seconds.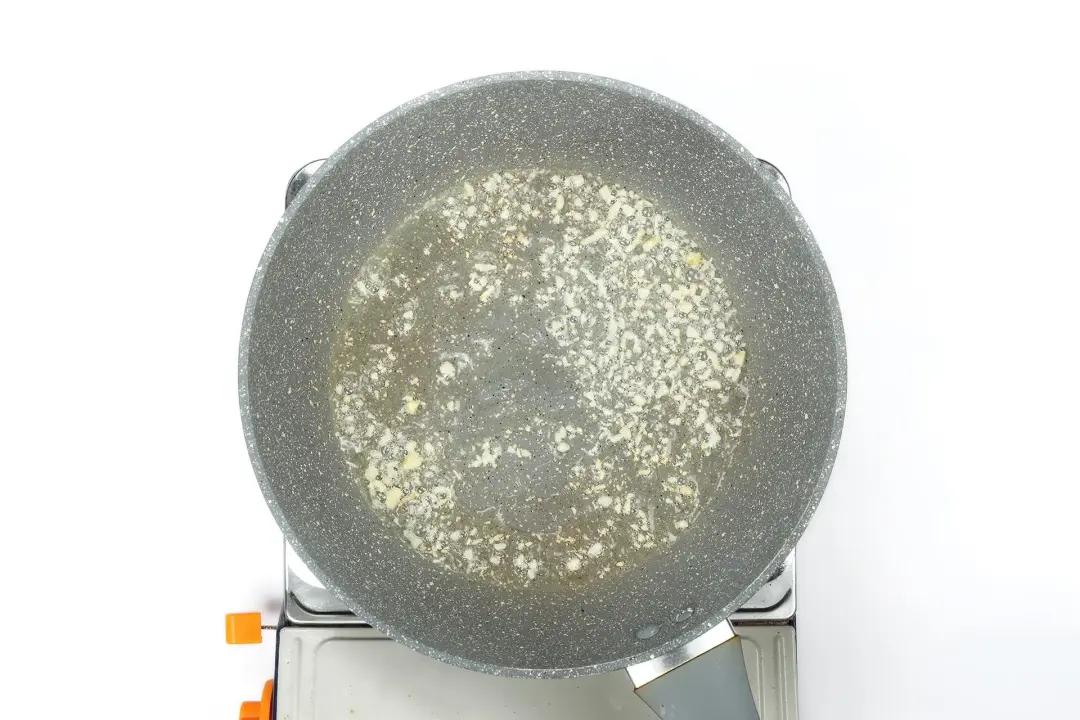 3
Cook the chicken: Stir in 10 oz cubed skinless boneless chicken thigh, and cook for 4 minutes.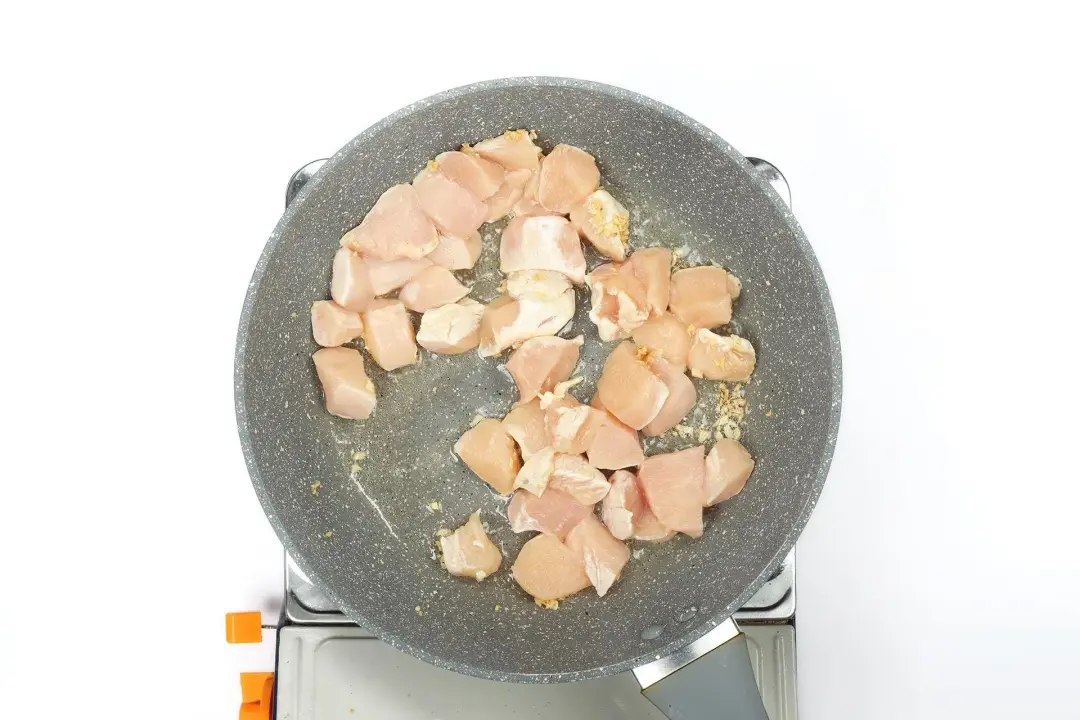 4
Incorporate the sauce and the chicken: Pour in the sauce mixture. Bring to a boil and cook it for 2 minutes.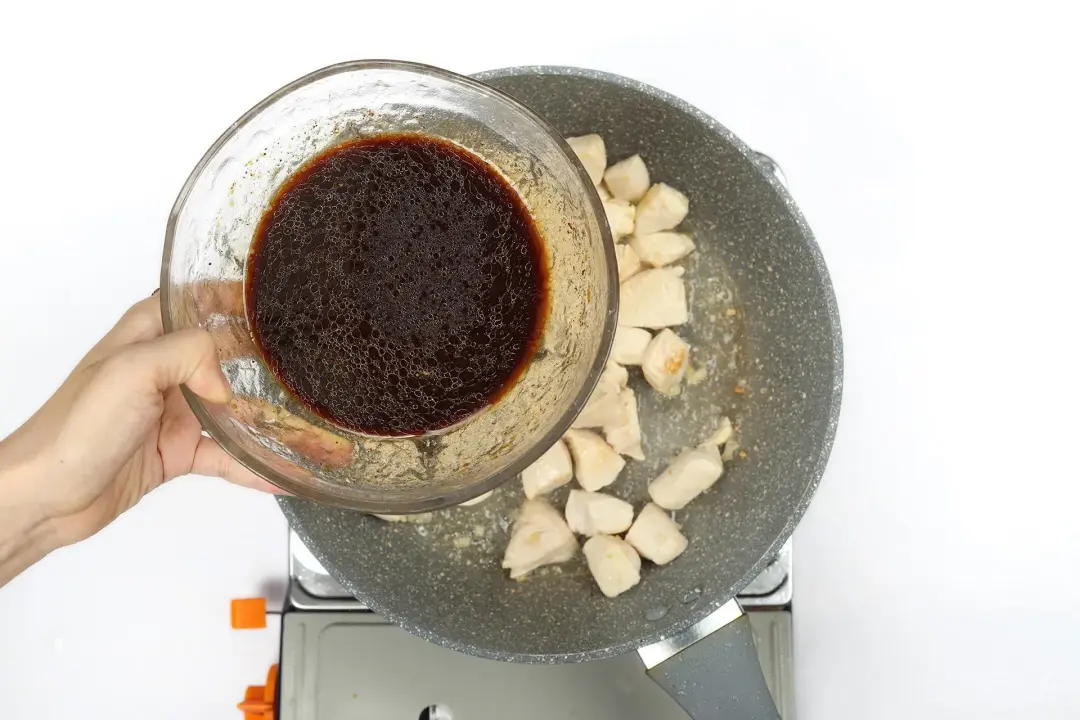 5
Add the spaghetti: Add 14 oz cooked spaghetti to the pan. Stir frequently for another 2 minutes until the pasta is evenly coated in the sauce.
6
Add the rest of the ingredients: To the pasta, add 1/4 cup chopped scallions, 8 dried chilies, and 2 oz peanuts. Stir for 1 more minute, then turn off the heat.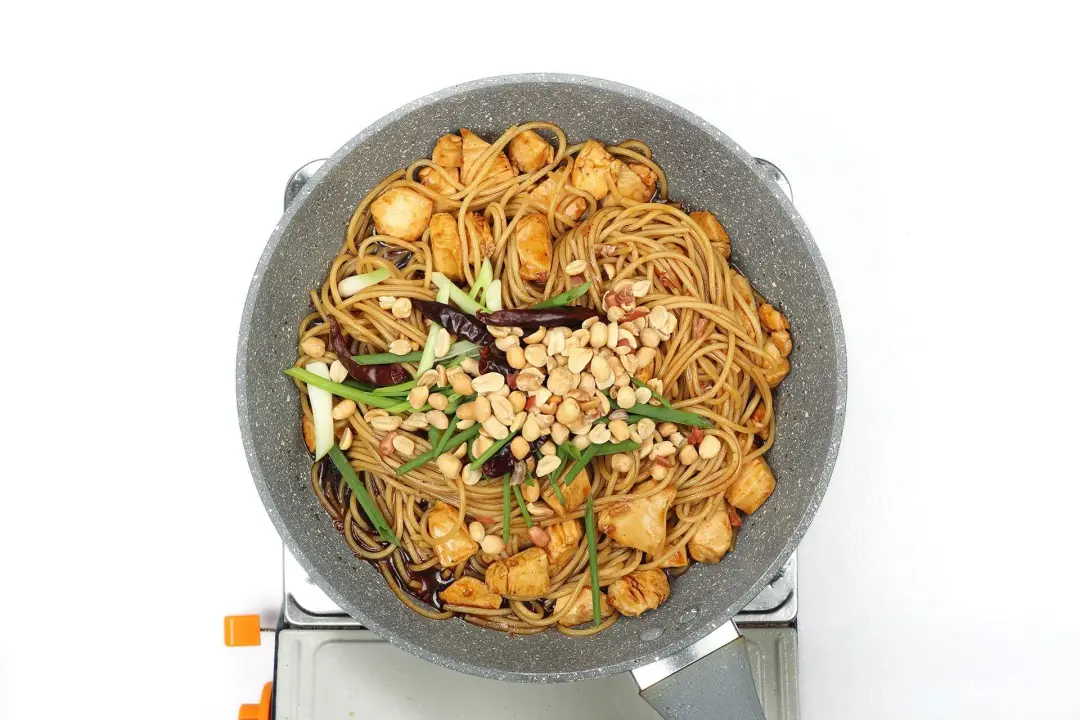 7
Serve: Place your desired portion onto a platter and enjoy.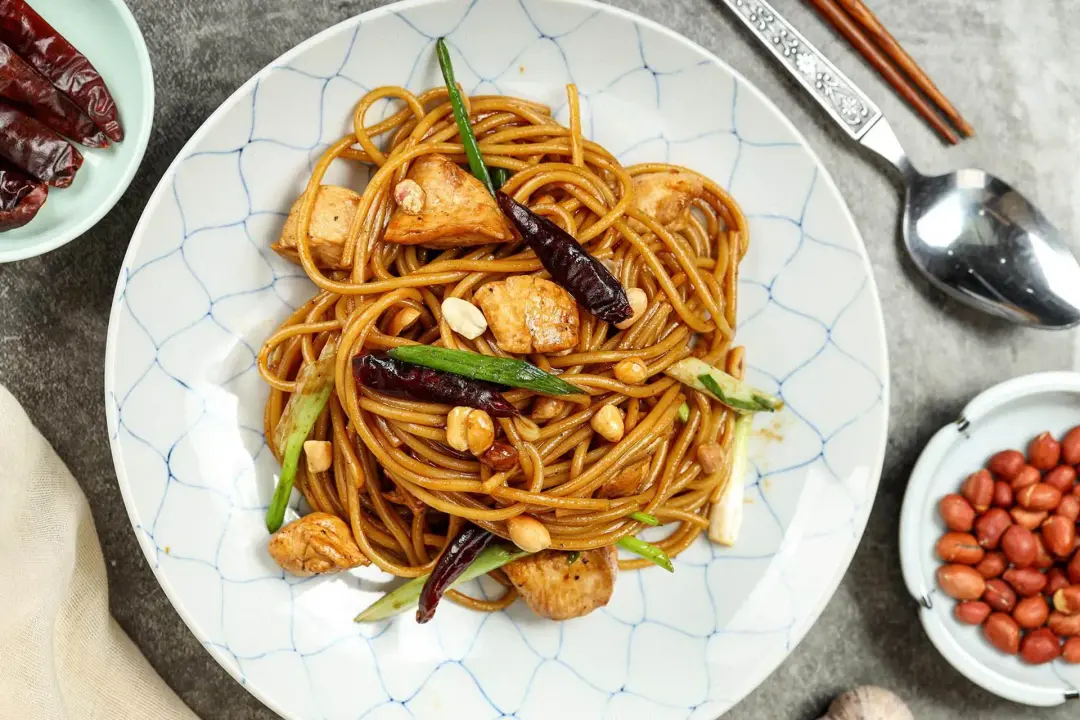 NUTRITION
Nutrition Facts
How to Make Kung Pao Spaghetti
Amount Per Serving (1 serving)
Calories 461
Calories from FDA
% Daily Value*
* Percent Daily Values are based on a 2000 calorie diet.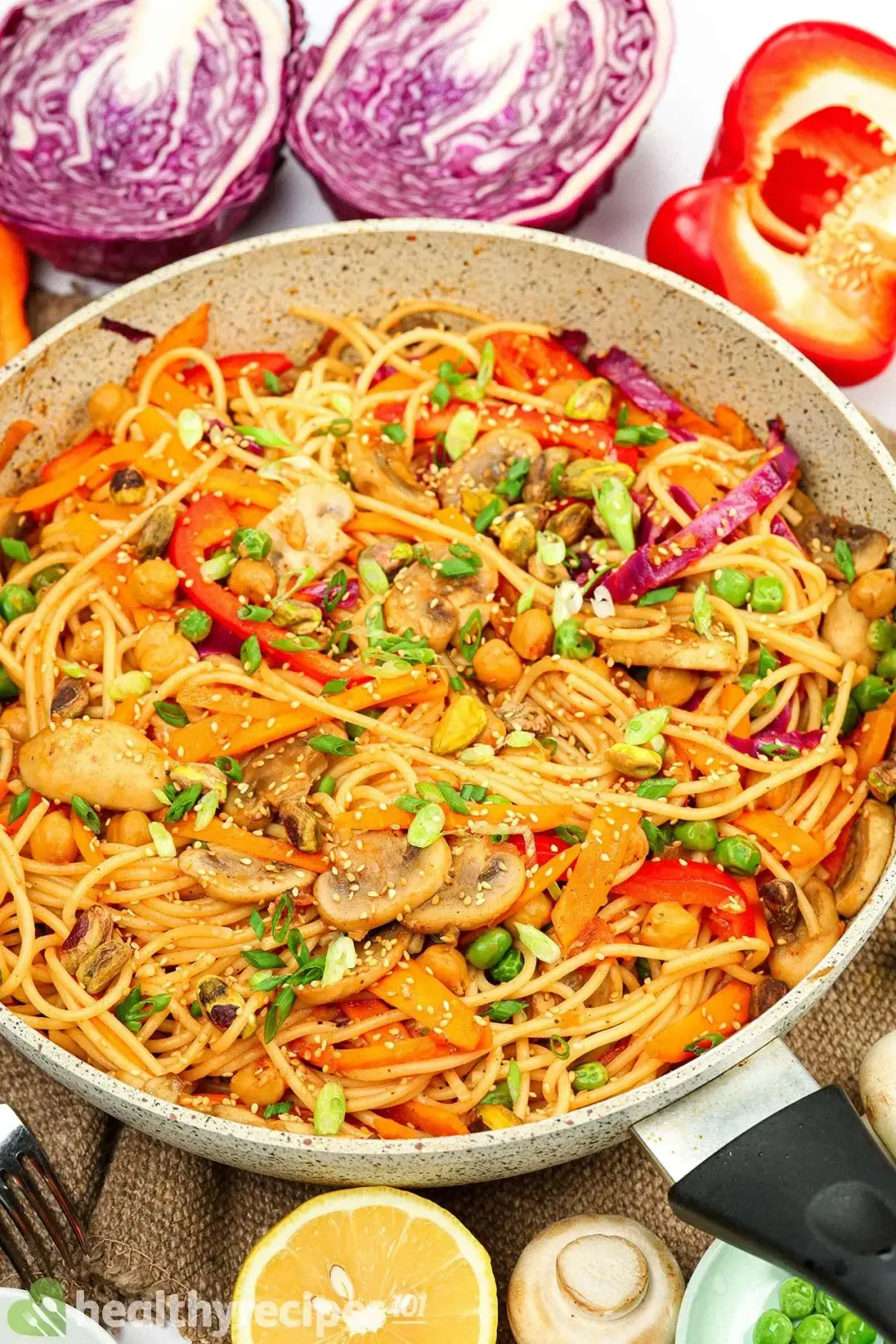 Previous Recipe
Vegan Spaghetti
Vegan Spaghetti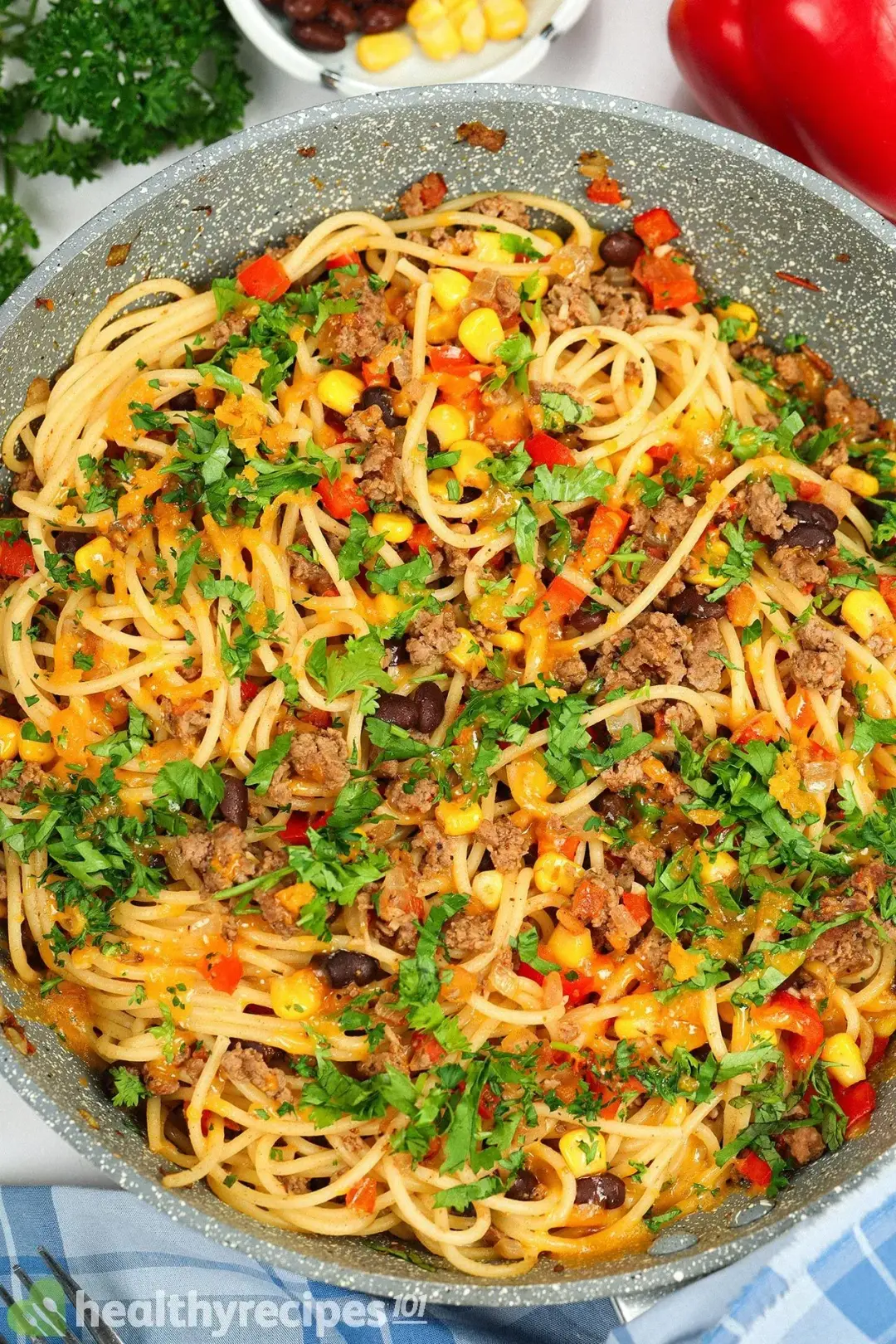 Next Recipe
Southwestern Spaghetti
Southwestern Spaghetti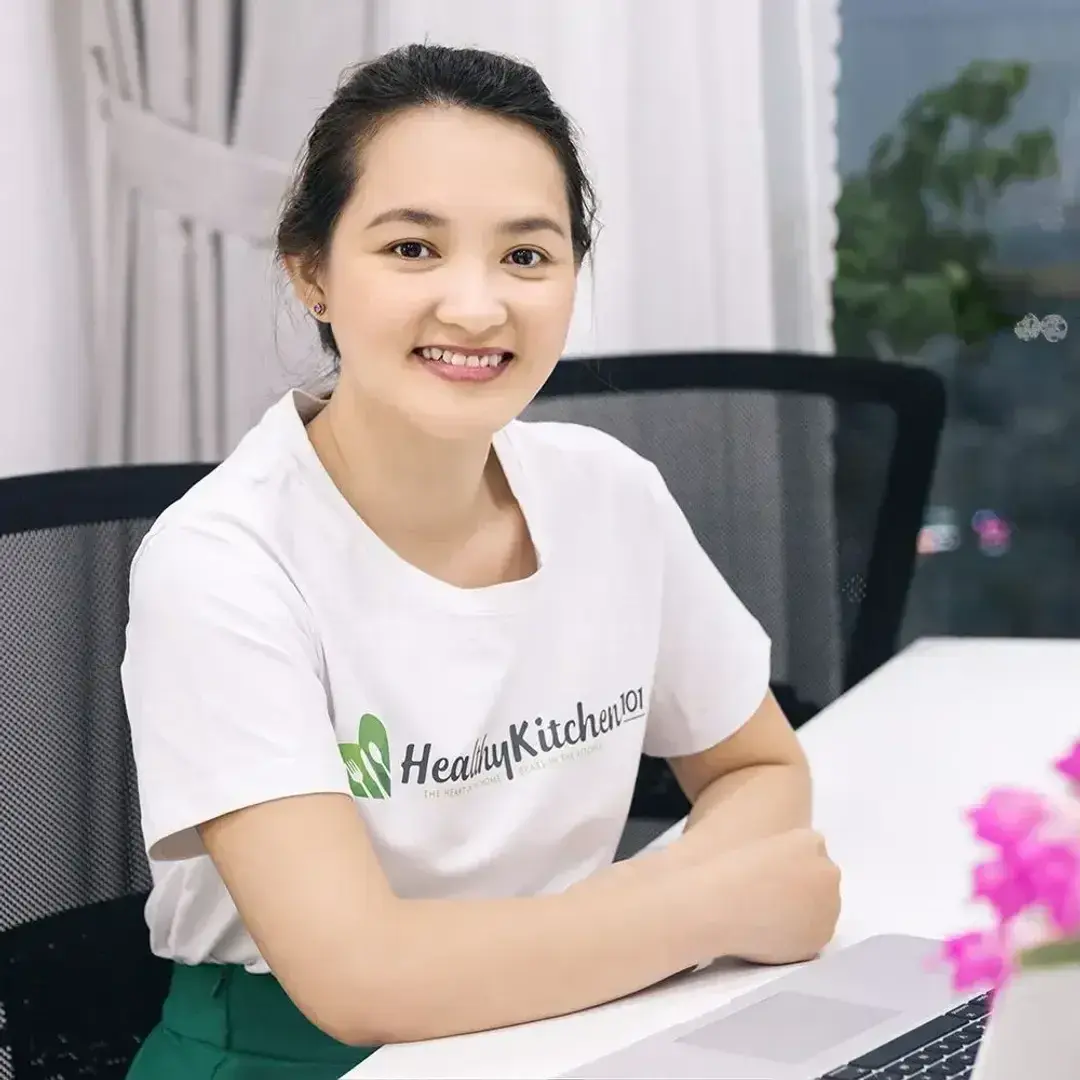 Luna Regina
Luna is the founder and chief recipe developer of Healthy Recipes 101. Apart from cooking, she also loves reading, programming, exploring the outdoors, and collecting useless facts about everything.