Today, we're making our own healthy take on a classic: Caesar salad recipe.
Caesar salad has been a popular item on the menu of many restaurants. But why go to a restaurant when you can make it at home, especially this National Caesar Salad Day (July 4)?
It takes only a handful of ingredients and requires hardly any effort. And in 30 minutes, you will have a salad that is just as good as any restaurant's, or even better.
But first, let's learn a bit about this famous salad.
What Is Caesar Salad?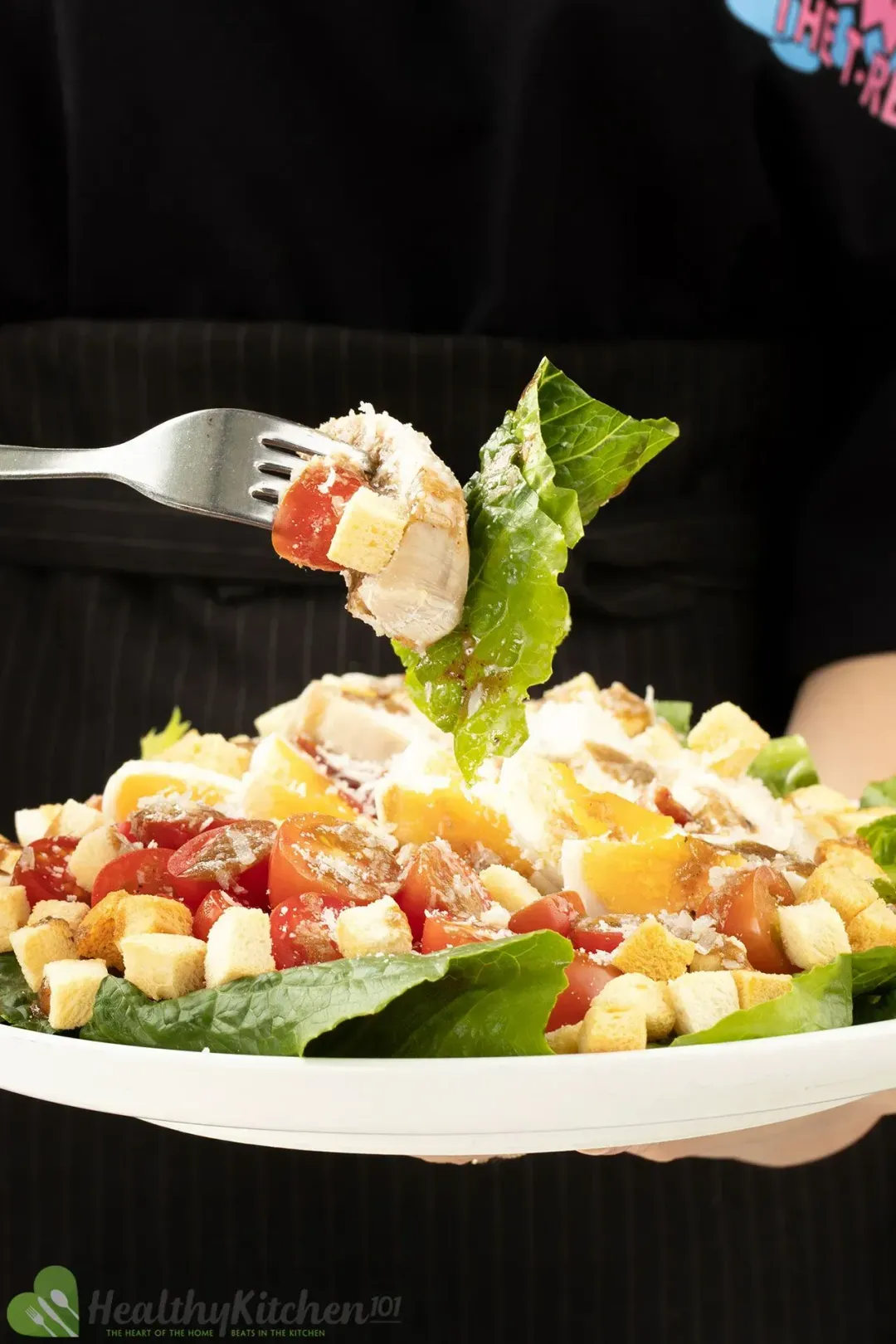 A Caesar salad recipe often consists of romaine lettuce, croutons (toasted bread cubes), eggs, grated Parmesan cheese, and cooked chicken. The salad dressing is usually made of olive oil, salt, black pepper, Worcestershire sauce, mustard, and lemon juice or vinegar.
Why Is It Called Caesar Salad?
Some might say the salad is named after the famous Roman emperor, Julius Caesar, but that's not likely.
The dish is believed to have been named after its creator, Caesar Cardini. Chef Cardini was an Italian restaurant and hotel owner in the early 1920s.
Is This Caesar Salad Recipe Healthy?
Salads are often high in saturated fat as they contain fat-based dressings such as olive or sesame oil.
Like all of our recipes, this Caesar salad recipe follows our healthy eating guidelines. This means the dish provides you with enough calories, saturated fat, and sodium within USDA recommended limits.
Our salad also contains lots of vital micronutrients such as vitamins A, B3, B6, B9, and B12.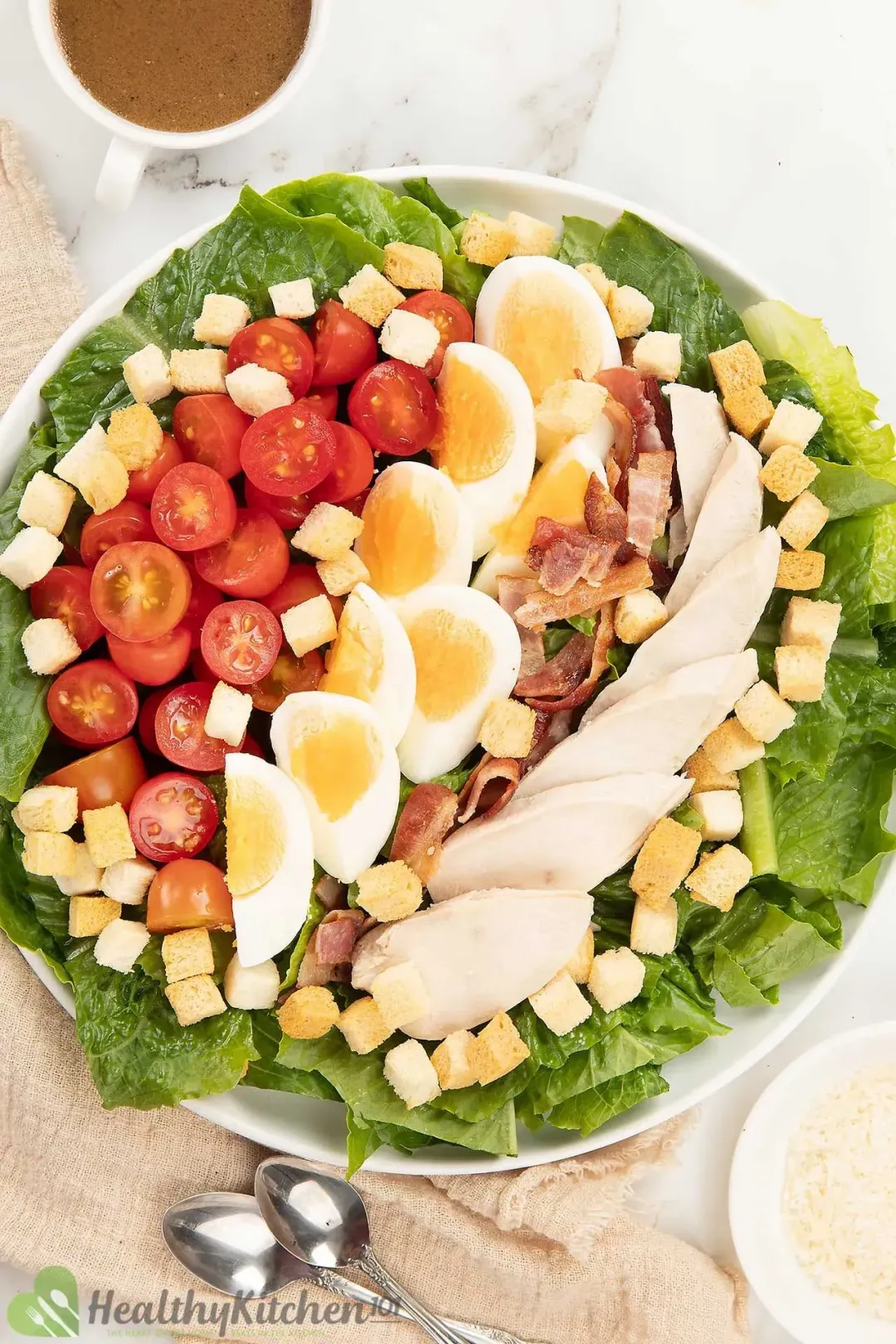 Main Ingredients
1. Chicken
For today's recipe, we use boneless skinless chicken breast. It's lean and low in saturated fat, making it a healthy source of protein.
You can prepare it however you want: grilling, searing, baking, etc. We decided to boil the chicken to minimize the use of salt and fat.
If you happen to have some leftover rotisserie chicken on hand, add it to your salad as well. It's already well-seasoned chicken and will add more flavors to the salad.
2. Egg
The different doneness of eggs can give your salad its own character.
We're making hard-boiled eggs for today's recipe because it is fail-proof. But you choose whatever you want, be it soft-boiled, poached, or even pickled eggs.
3. Romaine Lettuce
Romaine lettuce has a refreshing, satisfying crisp that can become the highlight of any salad. When it is coated in salad dressing, these greens remain crispy and won't get soggy quickly.
If you love this type of crunchy lettuce greens, check out our Greek salad recipe and nicoise salad recipe. These are just as healthy and easy to make, too.
4. Croutons
As mentioned, croutons are made from toasted bread cubes.
We use regular white bread for today's recipe, but you can use any type of bread you have on hand. A healthier option would be whole grain bread because it contains a lot more fiber than white bread.
5. Parmesan Cheese
Some say Parmesan cheese is a must-have in a Caesar salad recipe, and we couldn't agree more. When grated, flakes of sharp, salty cheese add a savory, umami flavor to any dish.
If Parmesan cheese is not available, you can substitute with any other type of hard cheese. The best examples would be Pecorino Romano and Grana Padano.
Recipe for Caesar Salad Dressing
Our salad dressing is very simple with only four ingredients:
Worcestershire sauce
Apple cider vinegar
Dijon mustard
Extra virgin olive oil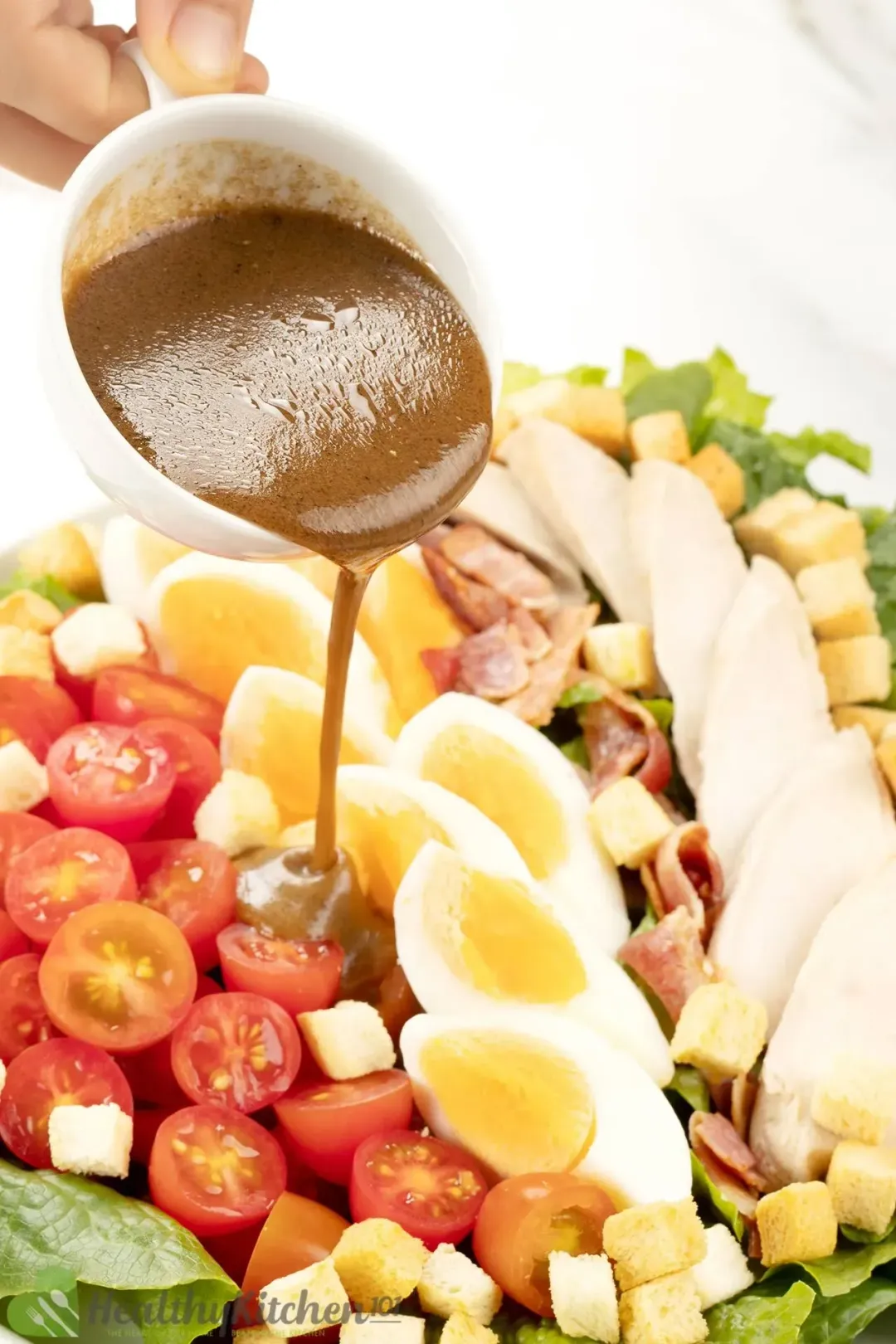 We don't season our salad with salt, and here's the reason why.
What Else Can You Put in Caesar Salad?
There are many versions of Caesar salad. Every chef adds a bit of their own personality to the recipe by altering the ingredients.
Of course, you can customize your own recipe as well. Here are some food items you could add to your salad:
1. Bacon
It's debatable whether or not bacon should appear in a healthy salad because it is high in sodium and saturated fat.
For our recipe, we baked the bacon to render the fat, thus lowering the fat content. And we don't have salt in our salad, so the bacon acts as seasoning as well.
2. Anchovies
These fish are canned in oil and can give your salad a lovely depth of flavor. They are salty, so you don't need to add salt when you use anchovies either.
You just need to whisk the anchovies into the dressing to disintegrate the fish and draw out the flavor.
How to Make Caesar Salad
Here's a brief summary of our Caesar salad recipe: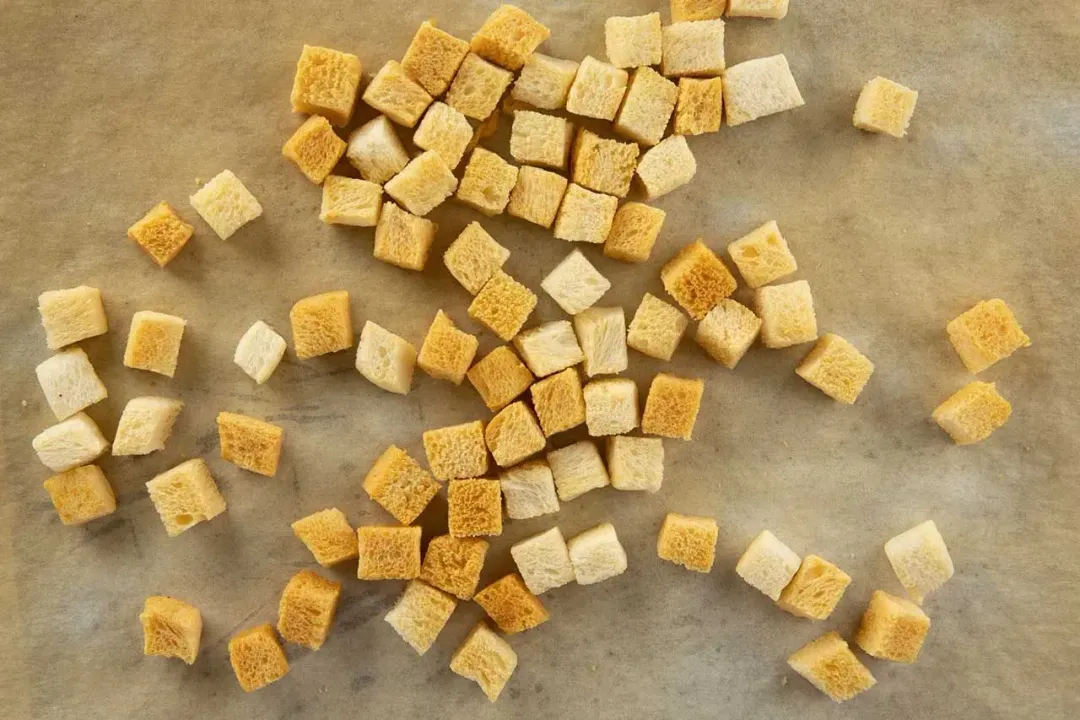 Step 1: Make croutons.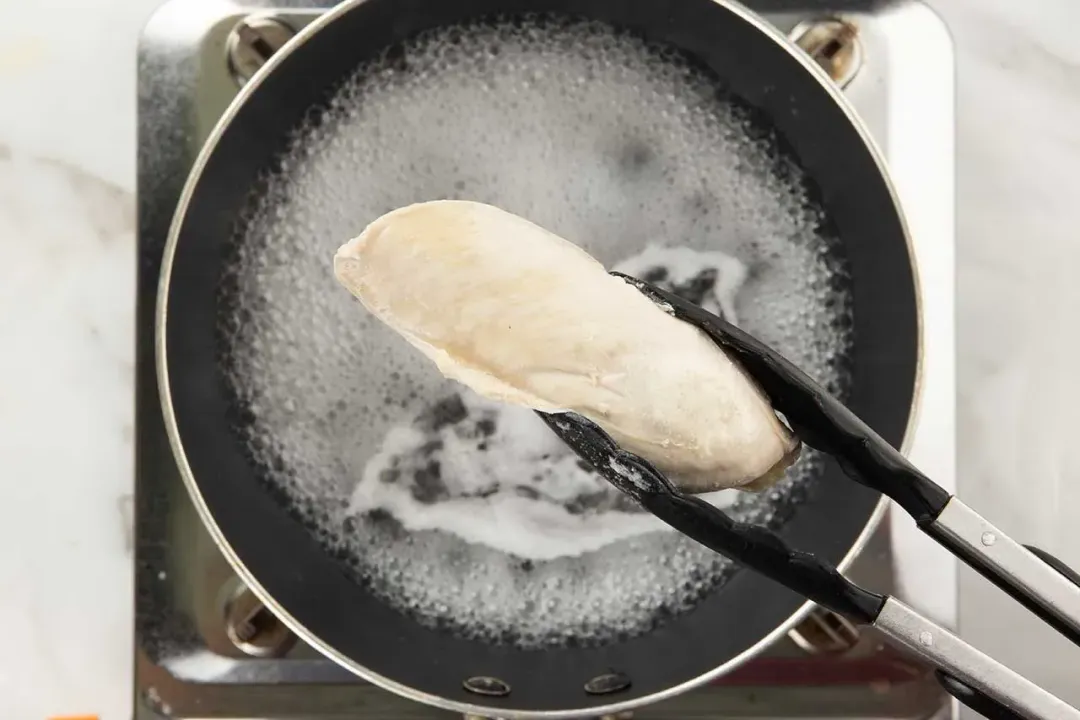 Step 2: Cook the chicken.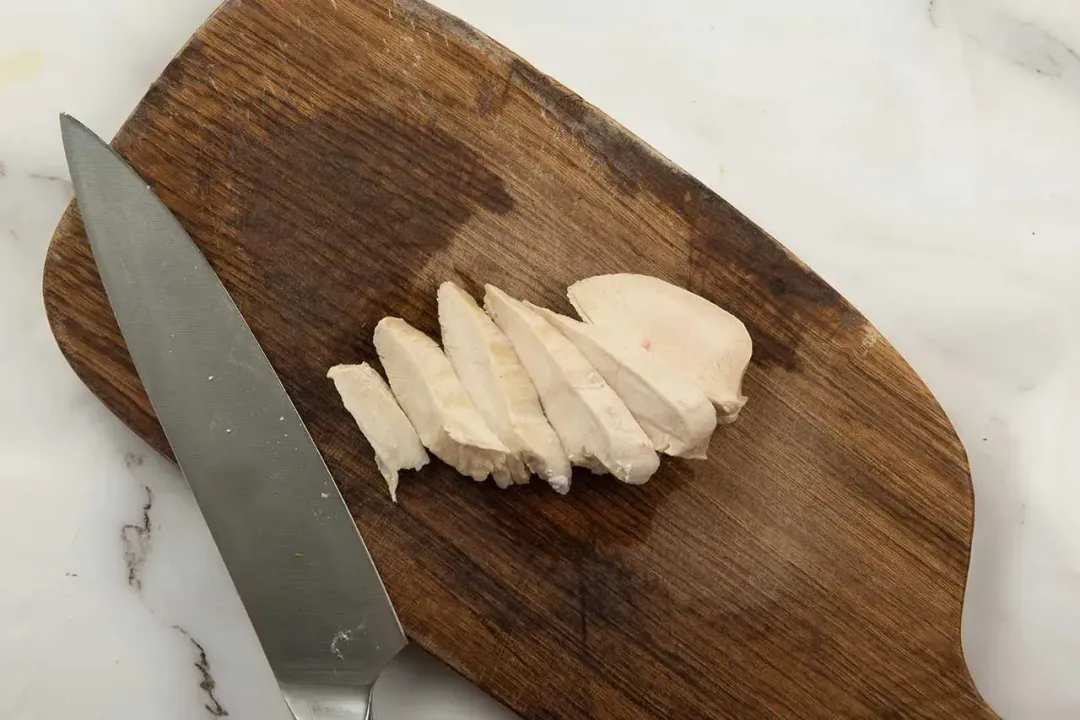 Step 3: Slice the chicken.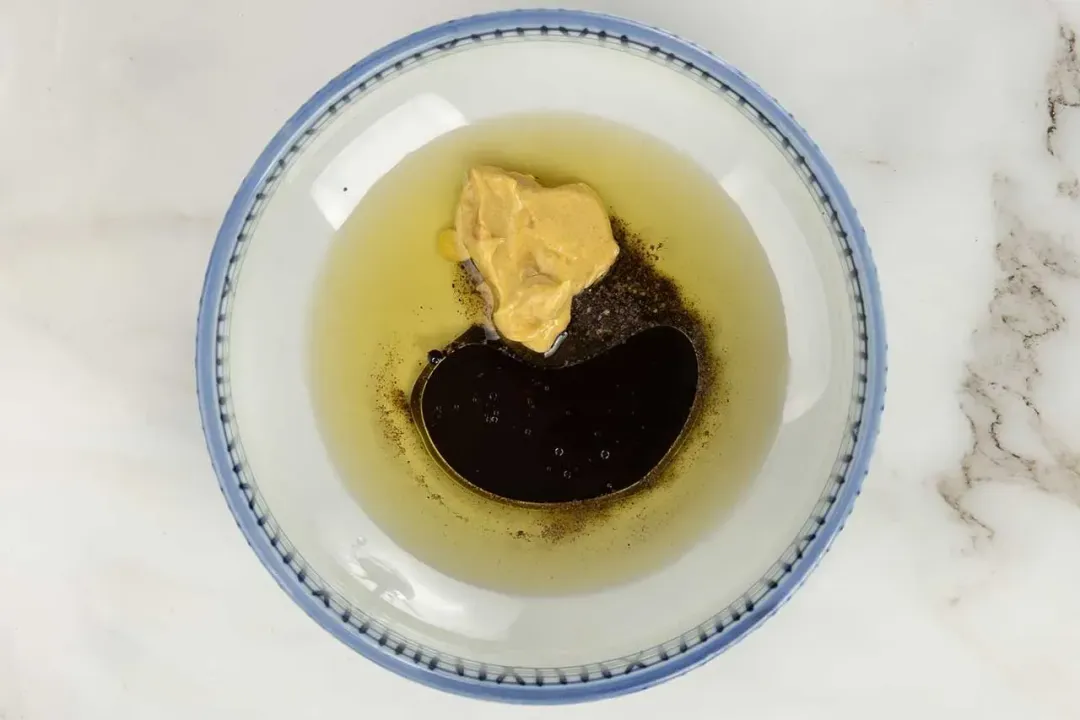 Step 4: Make the dressing.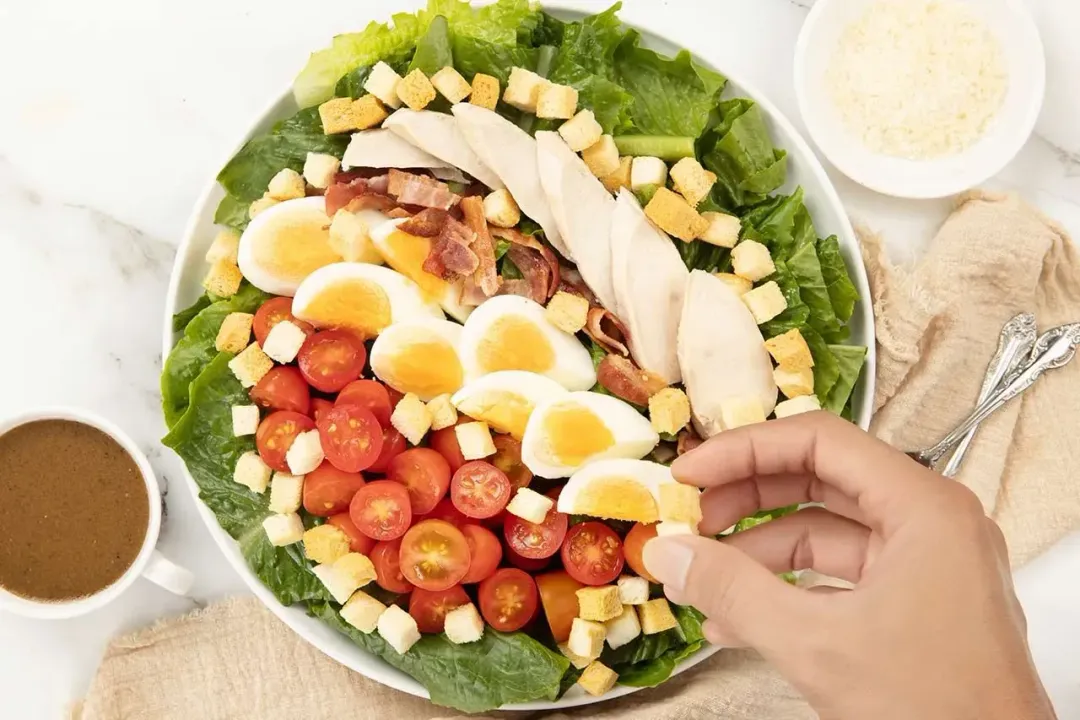 Step 5: Arrange the serving platter.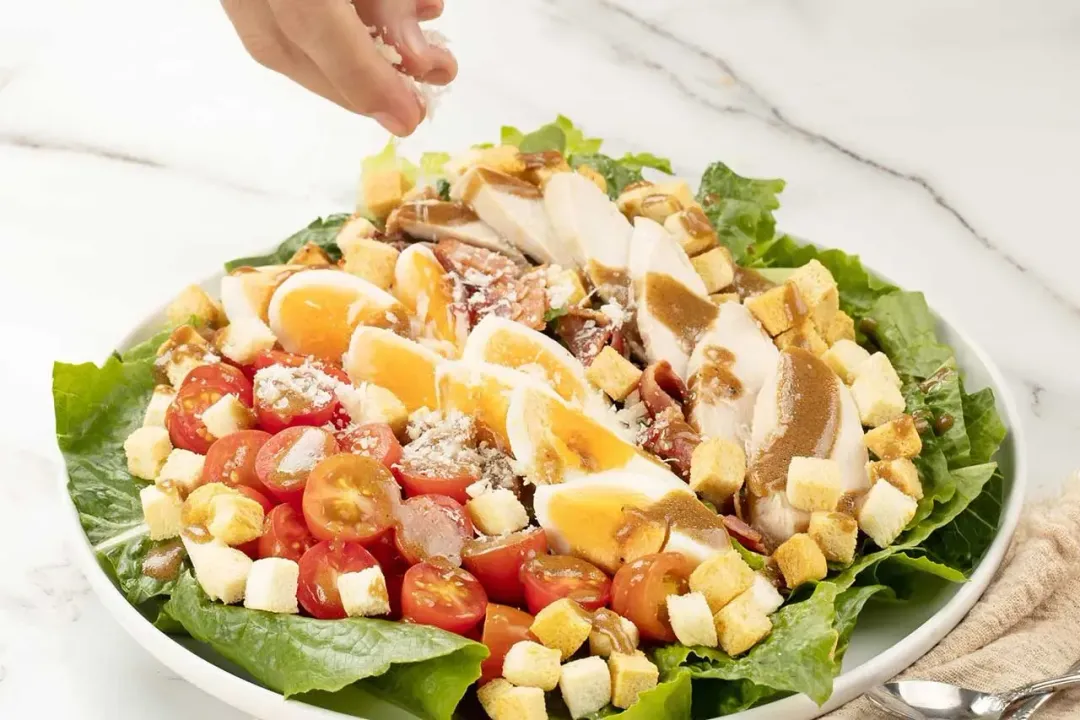 Step 6: Serve.
(You can quickly refine it with a large, cylindrical salad bowl.)
Detailed instructions and full measurements will be available below.
What to Serve with Caesar Salad
1. Grilled Salmon
Although the salad already contains lots of protein from chicken and eggs, there's still room for more. The perks of eating protein is that it can keep you full for a long time.
We recommend serving salmon because it's light and cooks quickly. We also suggest grilling the fish because it's a simple cooking method that requires little seasoning and hardly any effort.
2. Pasta
When it comes to pasta, it all boils down to personal preference.
Since our Caesar salad is light and fresh in taste, this makes it versatile and can fit any main dish. So, just pick your favorite type of pasta and sauce, and it will pair perfectly with our salad.
Notable mentions are pasta with bolognese, arrabiata, pesto, alfredo, garlic and olive oil, or cheese and pepper sauce.
Of course, cooking a main dish would require at least 30 minutes. So, if you're too hungry and cannot wait, you can just eat this Caesar salad alone for dinner.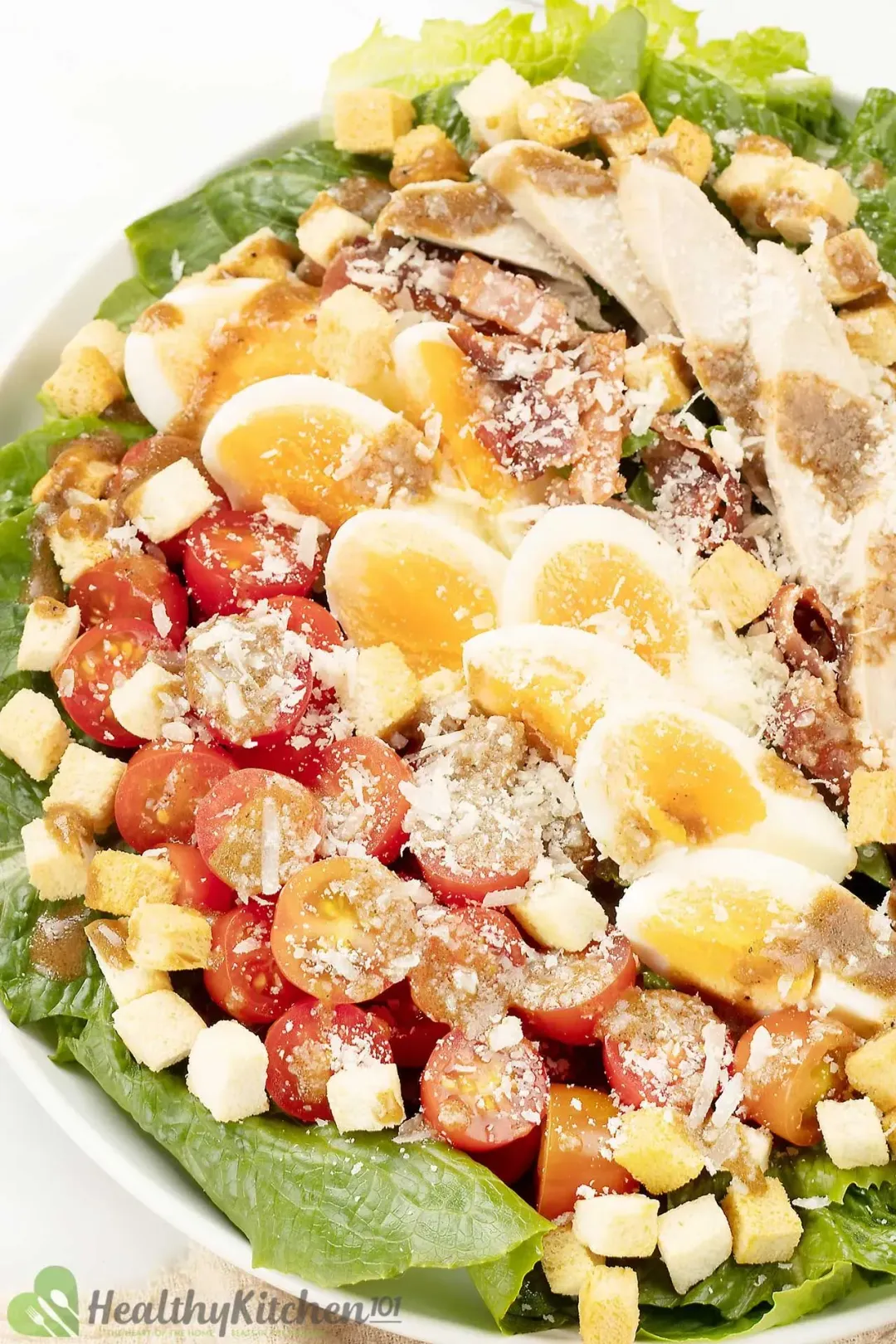 Just double the recipe and you'll have a hefty meal with lots of protein and fiber to keep you full. For more delicious salad recipes, check out our top 44+ salad recipes.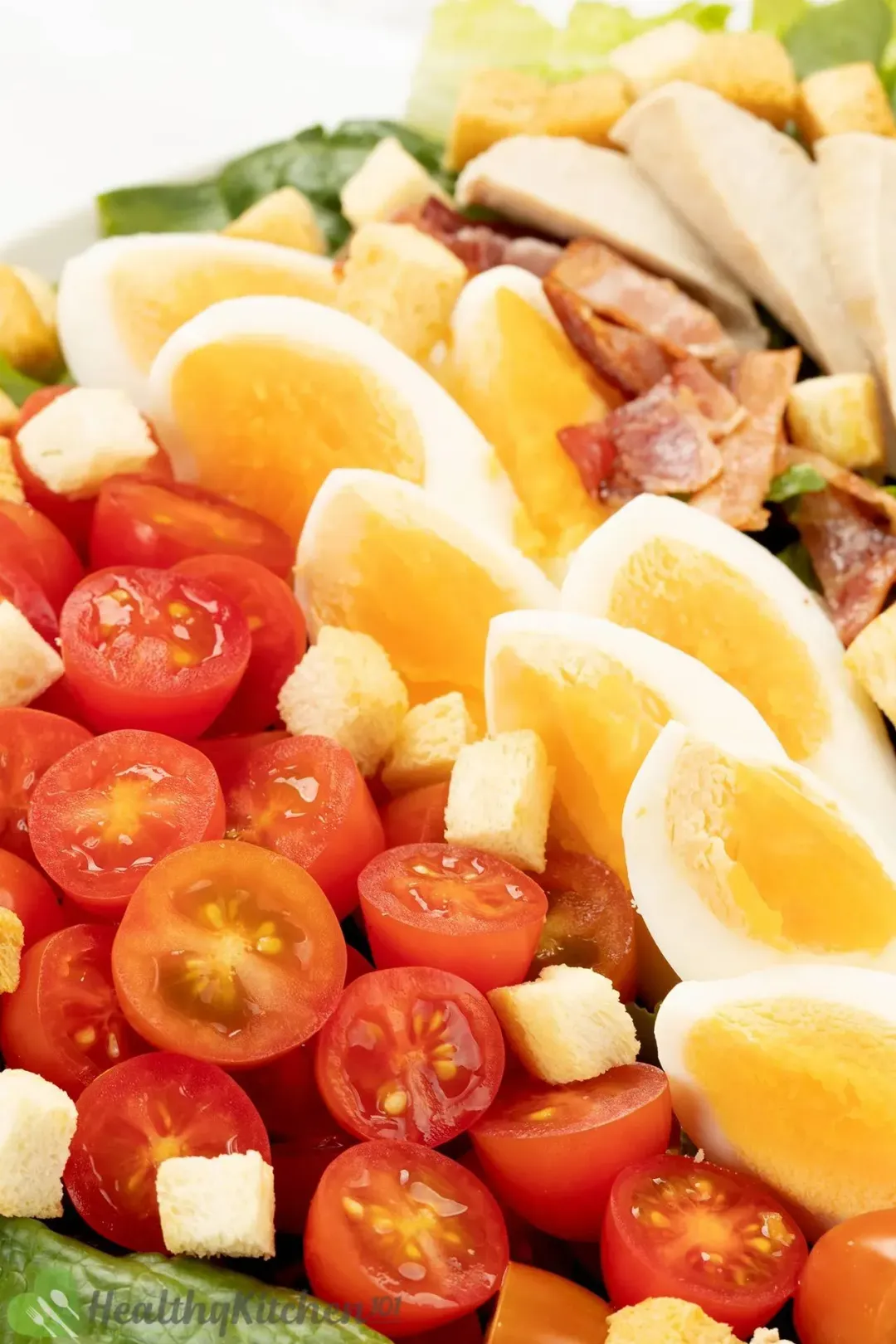 FAQ
1. How Many Calories in Caesar Dressing?
If you use a nutrition calculator, you'll know that our Caesar dressing contains about 95 calories per serving. Most of these calories come from olive oil.
If you want to lower your caloric intake, you can reduce the amount of oil.
2. Can You Freeze Caesar Salad?
This salad contains mostly fresh ingredients such as romaine lettuce, tomatoes, and eggs. It wouldn't be ideal to keep this salad in the freezer.
Cooked chicken and Caesar dressing are the only two ingredients that can be kept in the freezer. You can make them ahead of time and put them in freezer-safe containers, and they'll last up to 1 month.
When you need to make the salad, defrost in the microwave; it'll only take a couple of minutes.
3. How Long Does Caesar Salad Last?
If you're a busy person, you can make Caesar salad ahead of time and keep it in the fridge. When properly stored, it can last up to 3 days.
You can cook the chicken and boil the eggs beforehand. They can stay good for 5 days, provided you keep them in airtight containers.
The salad dressing can be made in advance as well. Keep it in a clean jar or bottle and it'll last for 2 weeks.
We also recommend preparing all the vegetables and keeping them in separate, airtight containers. They can stay fresh and maintain their texture for 3 days.
With all the ingredients ready in the fridge, you can make the salad any time you want. Simply add everything to a bowl and toss gently to combine.
We wouldn't recommend refrigerating a dressed salad, though.
The acidity in the dressing will "cook" the lettuce, making it lose its crunch. The liquid will also soak into the croutons and make them soggy.
In case you have leftover, already-dressed Caesar salad, we highly recommend eating it within 12 hours for best quality.
Caesar Salad
If you're looking for a quick and easy side dish, this Caesar salad recipe is the answer. It takes only 30 minutes to make.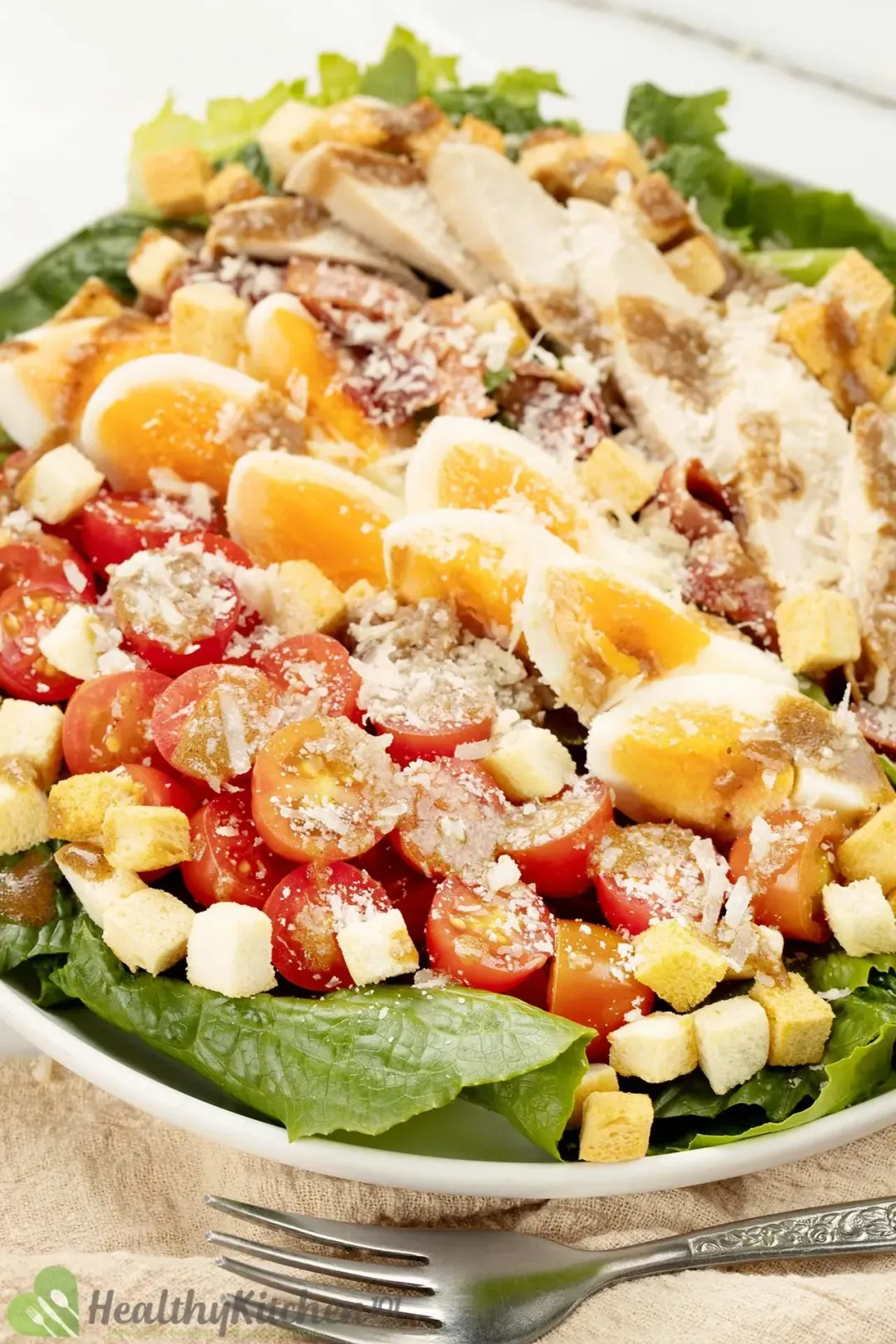 cook TIME

20 mins

prep TIME

10 mins

total TIME

30 mins
COURSE

Side Dish

CUISINE

American

SERVINGS

CALORIES

213 kcal
INGREDIENTS
0.9 oz

white bread

(cut into 1-inch cubes)

3 oz

skinless boneless chicken breast

2 tsp

Worcestershire sauce

2 tsp

apple cider vinegar

2 tsp

traditional Dijon mustard

3 tbsp

extra virgin olive oil

8 oz

romaine lettuce

(roughly chopped)

4 oz

cherry tomatoes

(cut in half)

2

medium eggs

(hard-boiled, peeled, and quartered)

0.3 oz

grated Parmesan cheese
INSTRUCTIONS
1
Make croutons: Preheat the oven to 300°F. Line a baking tray with parchment paper. Arrange the bread cubes on the baking tray and put it in the oven. Bake for 12 minutes. Once golden brown, remove from the oven and set aside.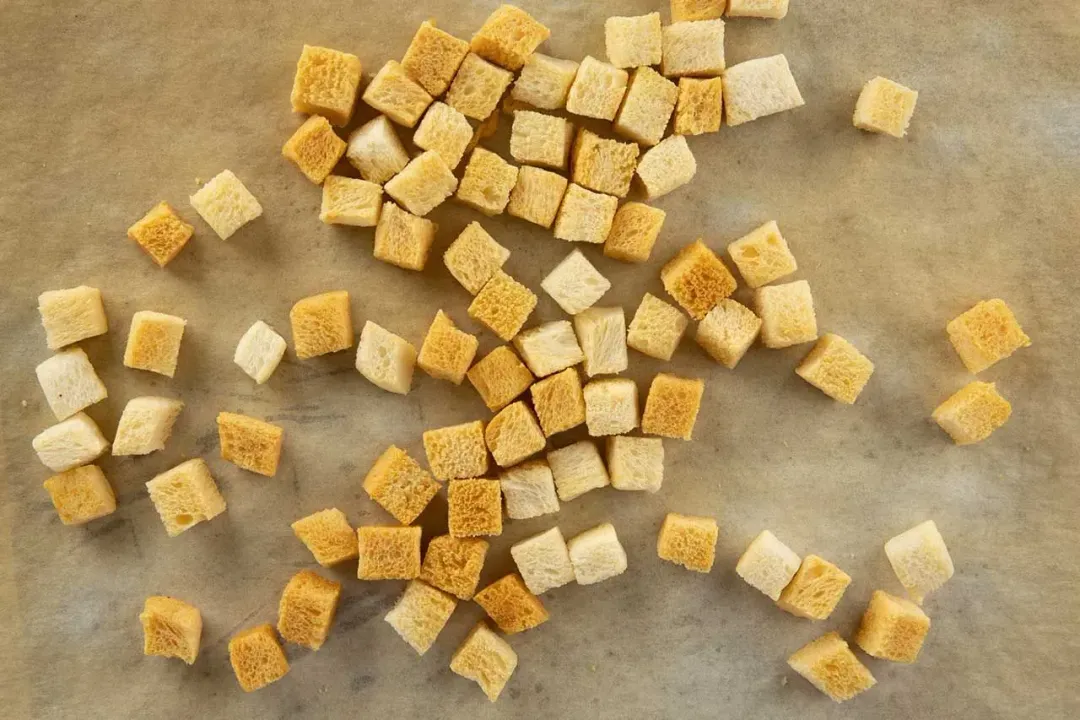 2
Cook the chicken: While the bread is baking in the oven, add water to a small pot and bring to a boil over high heat. Once the water is boiling, add the chicken to the pot. Reduce the heat to medium and cook for 20 minutes uncovered. Remove the chicken from the pot and leave to cool.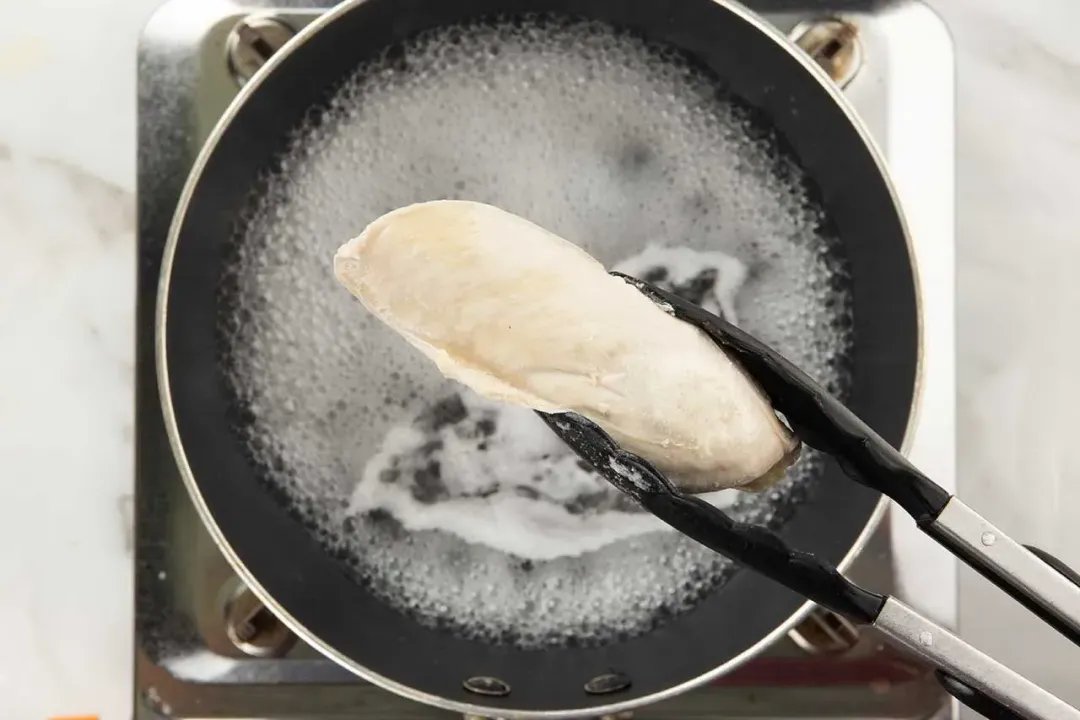 3
Slice the chicken: Once the chicken is cool enough to handle, place it on a cutting board and cut diagonally to make 1/2-inch slices (or thinner if you prefer). Transfer to a plate and set aside.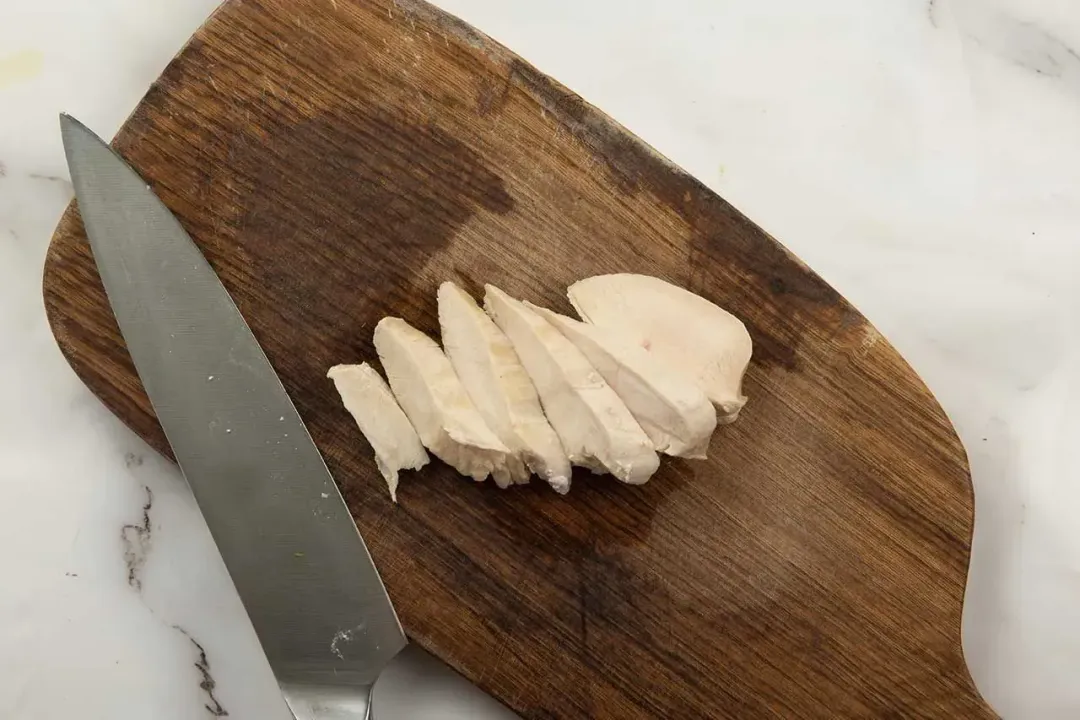 4
Make the dressing: In a small bowl, add the Worcestershire sauce, apple cider vinegar, and Dijon mustard, and whisk well to combine. Gradually pour in the olive oil a bit at a time while whisking to emulsify the sauce. Set aside.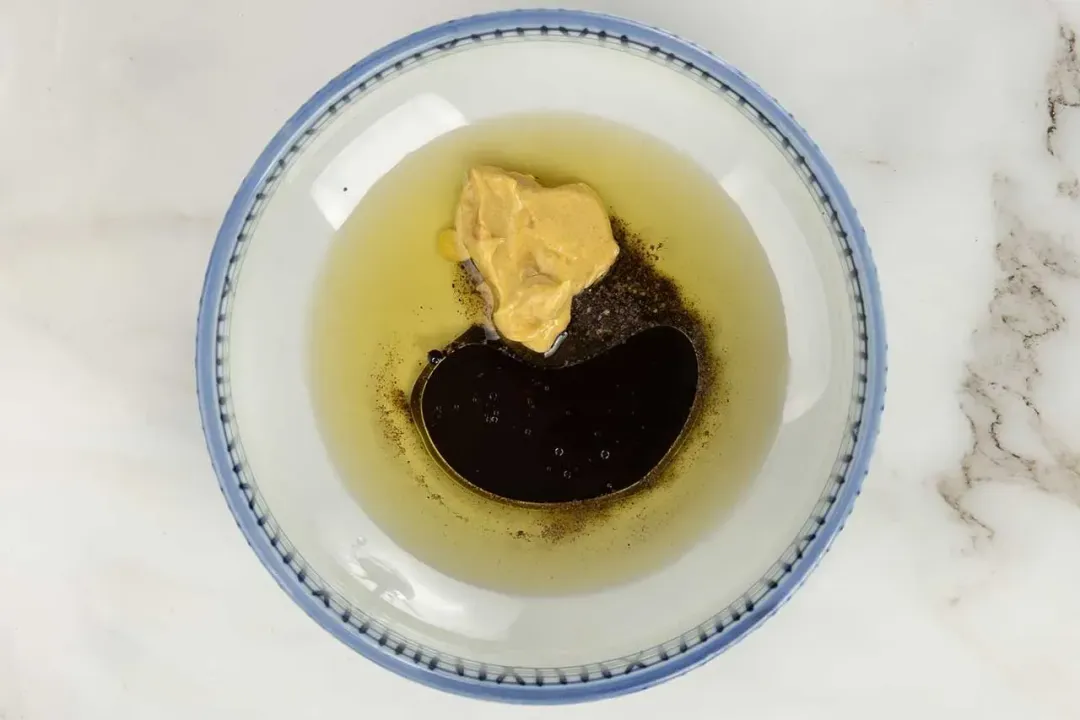 5
Arrange the serving platter: Put a nest of romaine lettuce in the middle of a large plate. Scatter the sliced chicken, cherry tomatoes, eggs, bacon, and bread cubes on top. Pour the dressing over the salad.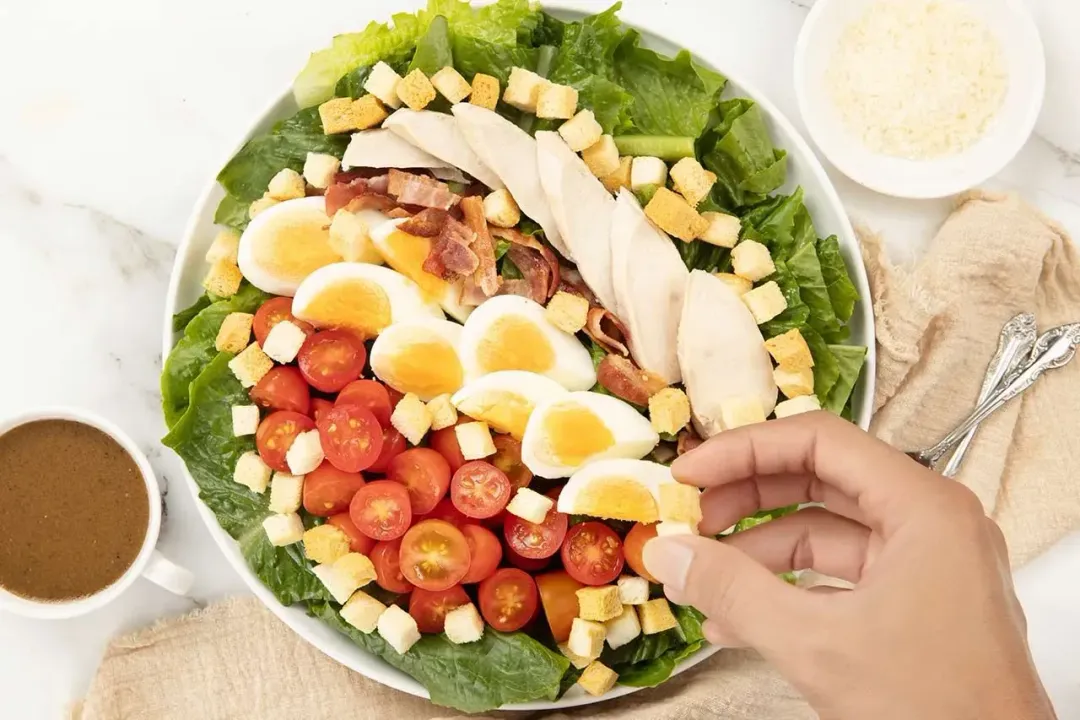 6
Serve: Divide the salad into four portions. Sprinkle grated Parmesan cheese and black pepper on top to garnish and serve.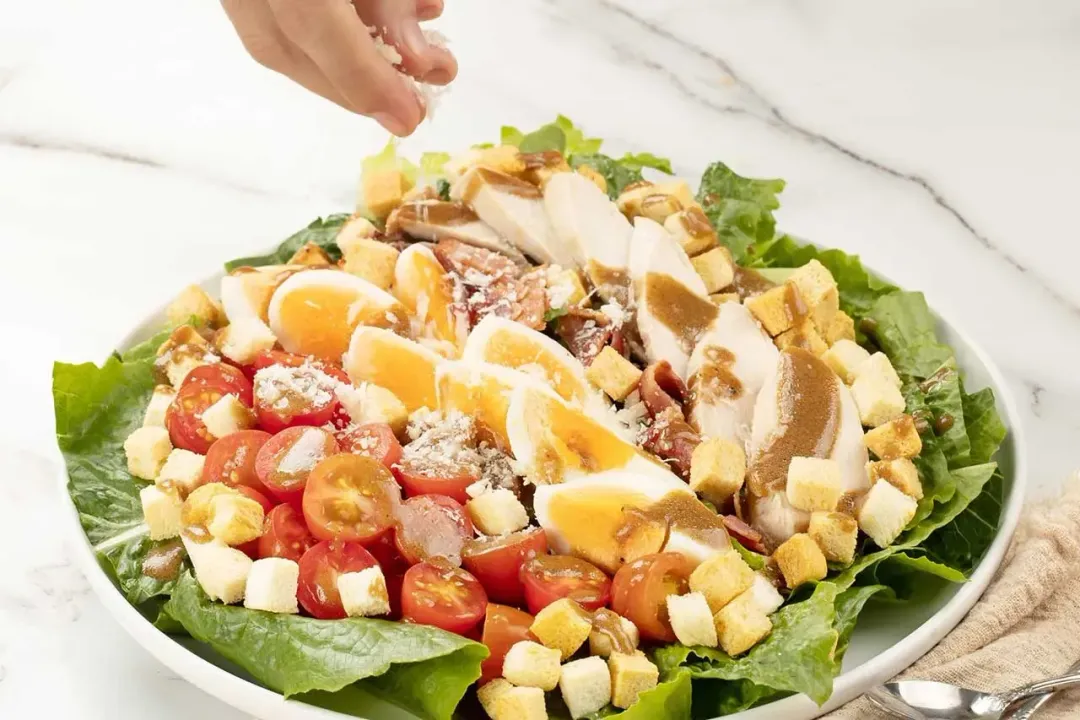 Note:
Avoid pouring the dressing directly over the croutons to keep them nice and crispy.
NUTRITION
Nutrition Facts
Caesar Salad
Amount Per Serving (1 serving)
Calories 213
Calories from Fat 135
% Daily Value*
* Percent Daily Values are based on a 2000 calorie diet.
Keywords: Caesar Salad, Caesar Salad Recipe, How to Make Caesar Salad Recipe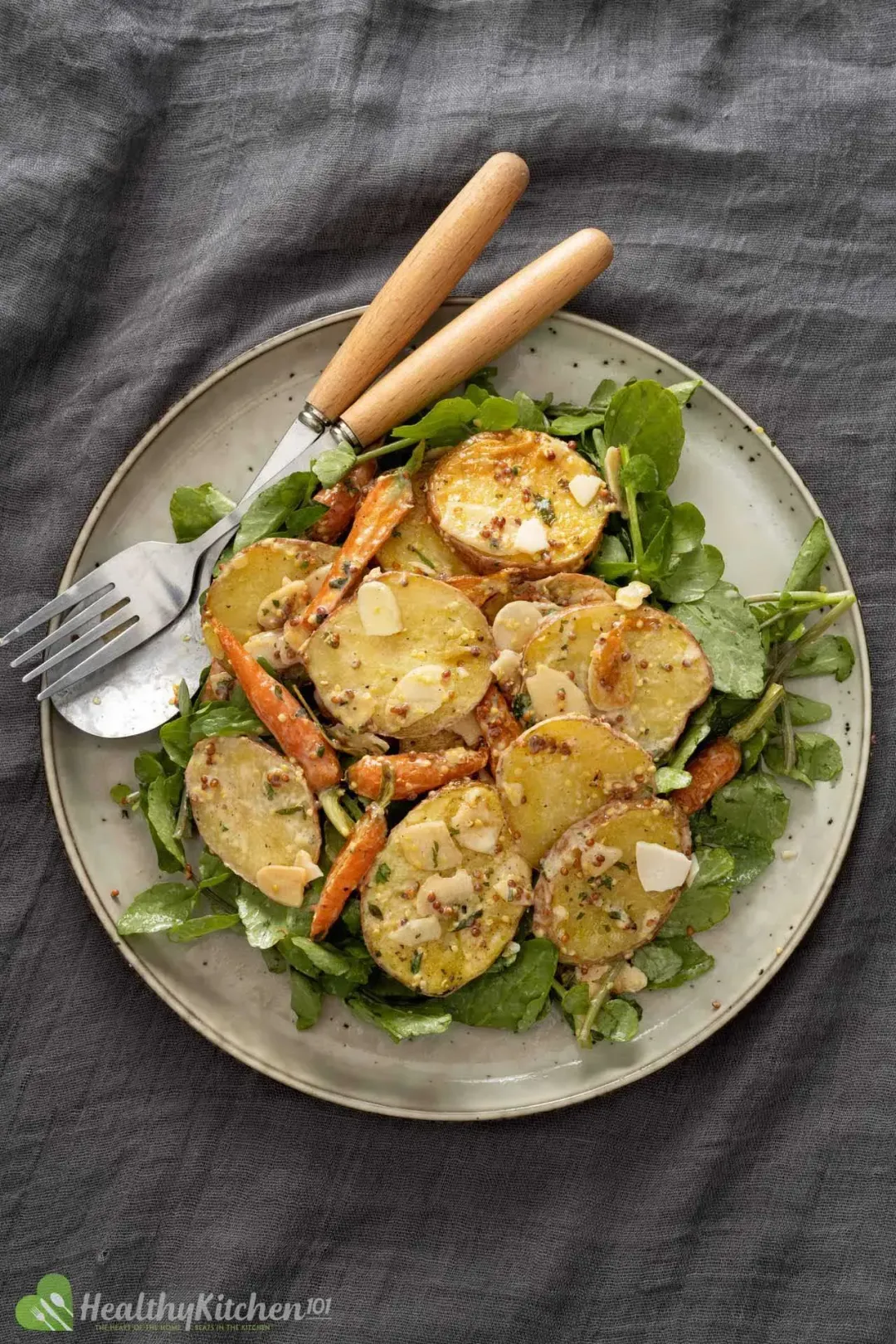 Previous Recipe
Mustard Potato Salad
Mustard Potato Salad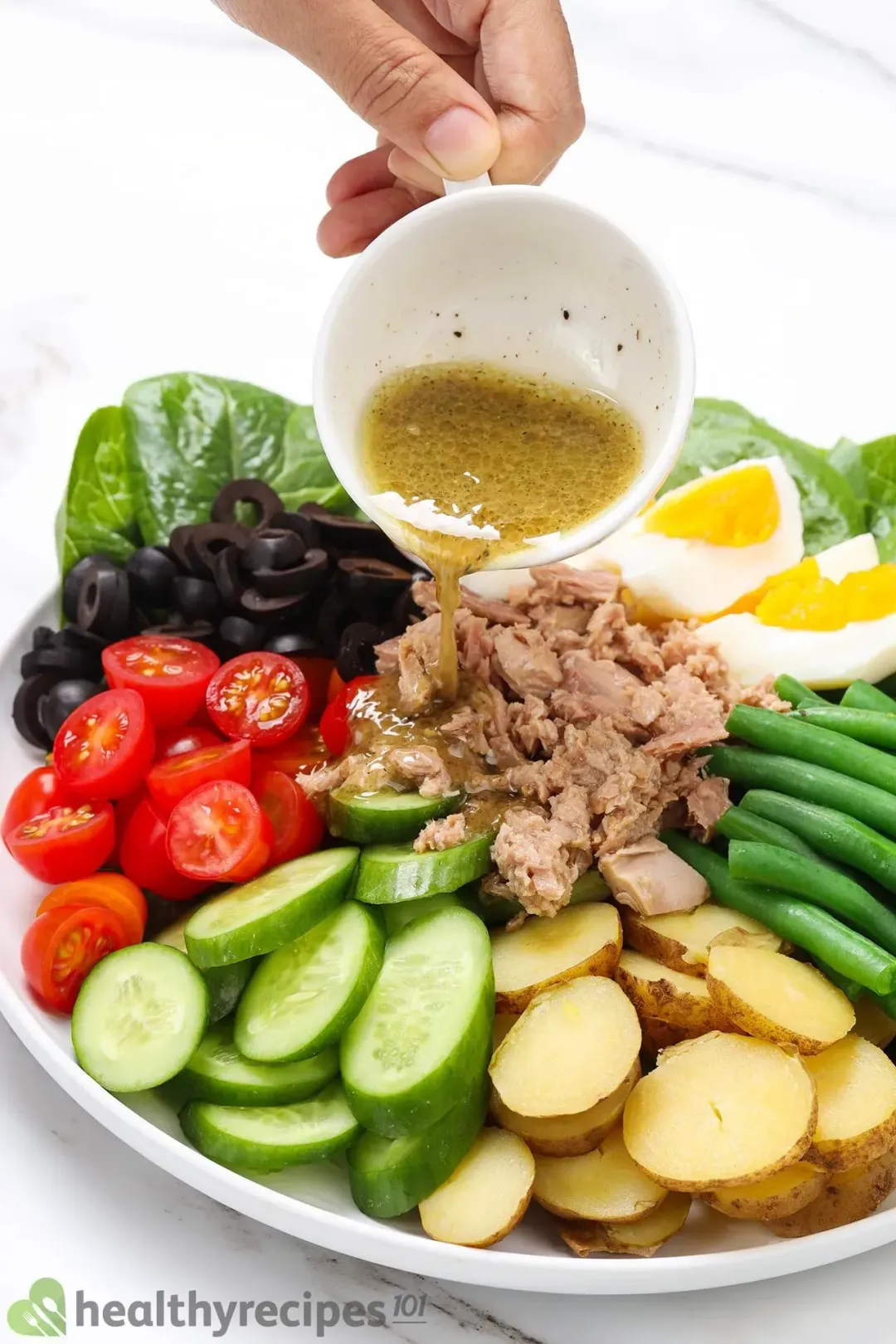 Nicoise Salad
Head Chef, Culinary Consultant
Tuyet Pham is an award-winning Saigonese chef who believes that joy is the secret ingredient to delicious food. At Healthy Recipes 101, Tuyet personally tests and simplifies every recipe, ensuring maximum flavor with minimal effort. With a background at prestigious French restaurants P'TI Saigon and Le Corto, Tuyet knows how to make every dish exceptional.
Writer, Author
Luna Regina is an accomplished writer and author who dedicates her career to empowering home cooks and making cooking effortless for everyone. She is the founder of HealthyKitchen101.com and HealthyRecipes101.com, where she works with her team to develop easy, nutritious recipes and help aspiring cooks choose the right kitchen appliances.
Nutrition Reviewer
Lizzie Streit is a Minneapolis-based dietitian and founder of It's a Veg World After All. She completed her MS in Human Nutrition from Drexel University, and is an expert in culinary nutrition, recipe development, and nutrition communications. Lizzie's philosophy is centered around making nutrition recommendations, and especially the advice to eat more vegetables, approachable and realistic. She is excited to be working with the team at Healthy Recipes 101 to ensure that their recipes are both nutritious and delicious.
A tasty and classic Caesar salad with all its favorite flavors!