Are you looking for a quick, hearty assemblage for Fresh Veggies Day (16th June)? Our Greek salad recipe is simple, healthy, and takes less than 15 minutes to make.
What Is Greek Salad?
Known natively as "horiatiki salad", Greek salad is a popular dish in Greek cuisine. Originally, it consisted of tomatoes, cucumbers, feta cheese, and olives, dressed in a simple salt, pepper, and olive oil dressing.
The dish was first imagined as a farmer's meal, because it uses the most basic plentiful ingredients.
Since cuisines often cross, you'll probably see a few variations of Greek salad. Most of them may include lettuce, but interestingly, it's not called for in the original recipe.
Our greek salad recipe is among one of those variations, with lettuce, tomatoes, feta cheese, olives, and vinaigrette dressing.
Calories in Greek Salad
Many Greek salad recipes yield a lot of calories per serving.
The reason being their versions have lots of calorie-packed components like olive oil, feta cheese, or even avocado.
It's delicious if done this way, but you can end up adding lots of unwanted calories to your daily count.
Our version of Greek salad, after some adjustments, works out at 176 calories per serving. We go easy on the olive oil when mixing the dressing, as well as the feta cheese crumbles.
Avocado is also off the table, but if you feel like you're not getting enough calories, feel free to add some. It's a great source of good fat.
The salad alone can go with lots of calorie-packed main dishes. If you're unsure what dish to have with Greek salad, we have a few recipes you might like further down.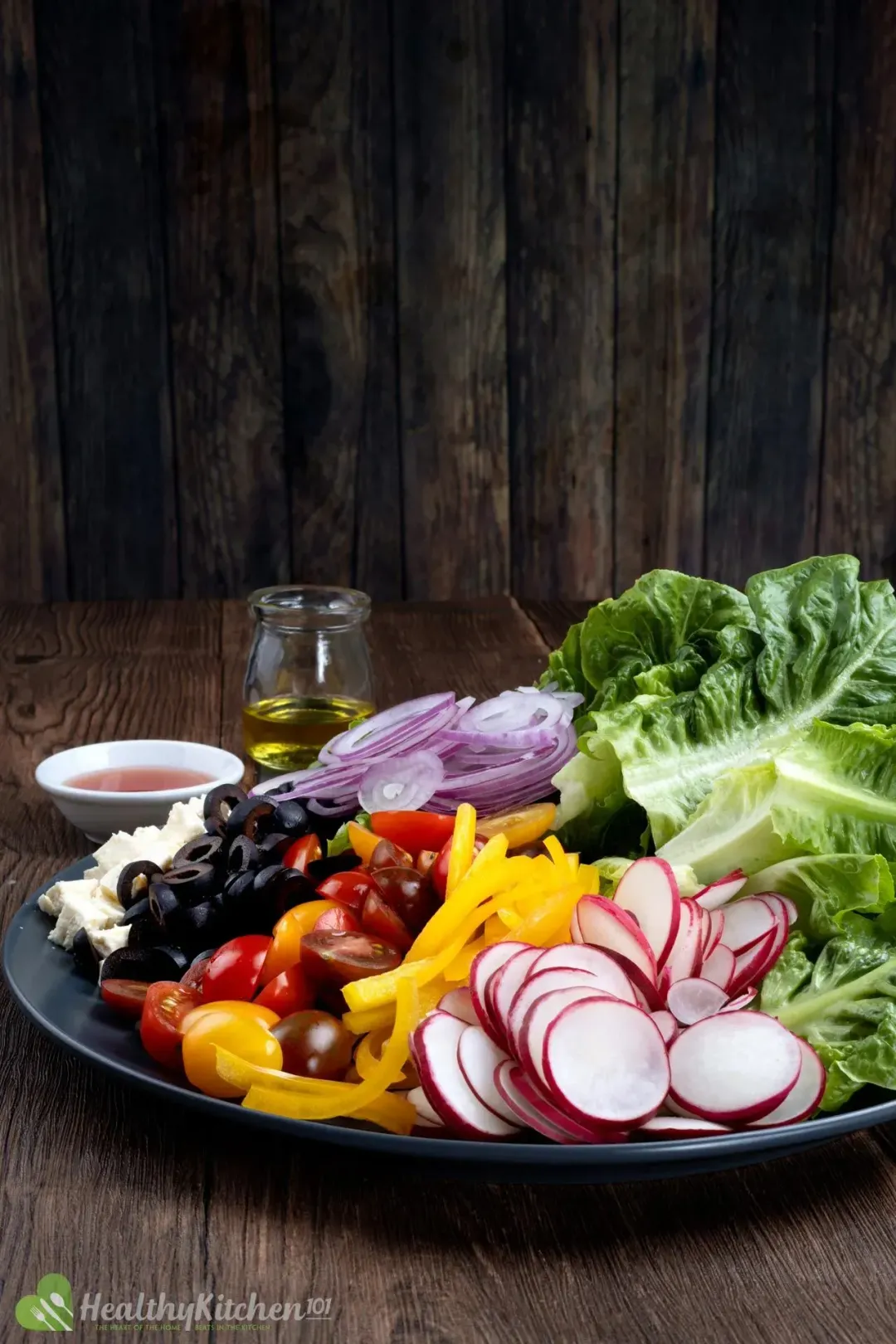 Is Greek Salad Healthy?
When it comes to our site, healthy eating is all about eating the right stuff, at the right amount.
Our Greek salad has lettuce, tomatoes, bell peppers, onions, olives, feta cheese, olive oil, and red wine vinegar. There's NO processed carbs or trans fat, and the salad overall is low GI— it doesn't cause blood sugar spikes.
And as we mentioned earlier, this Greek salad yields around 176 calories, 3g saturated fat, and 279mg sodium per serving. Satisfying all criteria from our guidelines, it makes a great side that's packed with vitamins, minerals, and fiber.
For similar healthy salads, we have a creamy Waldorf chicken salad packed with protein and good fats. If you fancy shrimp and avocado, check out our healthy shrimp salad.
Choosing Greek Salad Ingredients
Besides seasoning and presentation, choosing fresh, appropriate produce is what makes or breaks a perfect dish.
1. Feta
Feta is a traditional choice. It comes in blocks, firm to the touch, but gives a creamy mouthfeel as you bite into it.
If you're watching your waistline, cottage cheese is a perfect substitute. It's not as creamy, but is packed with more proteins instead of fat and hence, has less calories.
2. Tomatoes
All tomatoes may taste similar, but when it comes to presentation, cherry tomatoes sure know how to impress.
You can pick any kind of tomato, but in this recipe, we're using cherry tomatoes for the good pics.
3. Lettuce
We don't get the hate over iceberg lettuce (they say it's nothing but water). Its texture might not feel wholly right in salads, including ours, but there is a place for it— rolls, tacos, etc.
Romaine is an interesting choice of lettuce for those of you wanting crisp salads. It's not watery like iceberg, but is also crisp and has a defined texture.
The one we used for this recipe is butterhead. It's tender and gives a sort of creamy mouthfeel even though there isn't any fat.
4. Olives
There are black and green olives, which are the same kind but differ in the harvest age. The black ones are mature fruits, hence fattier and less bitter.
Of course, we're using canned black olives. They are available almost everywhere and wee feel that the green ones are better for other dishes.
Dressing for Greek Salad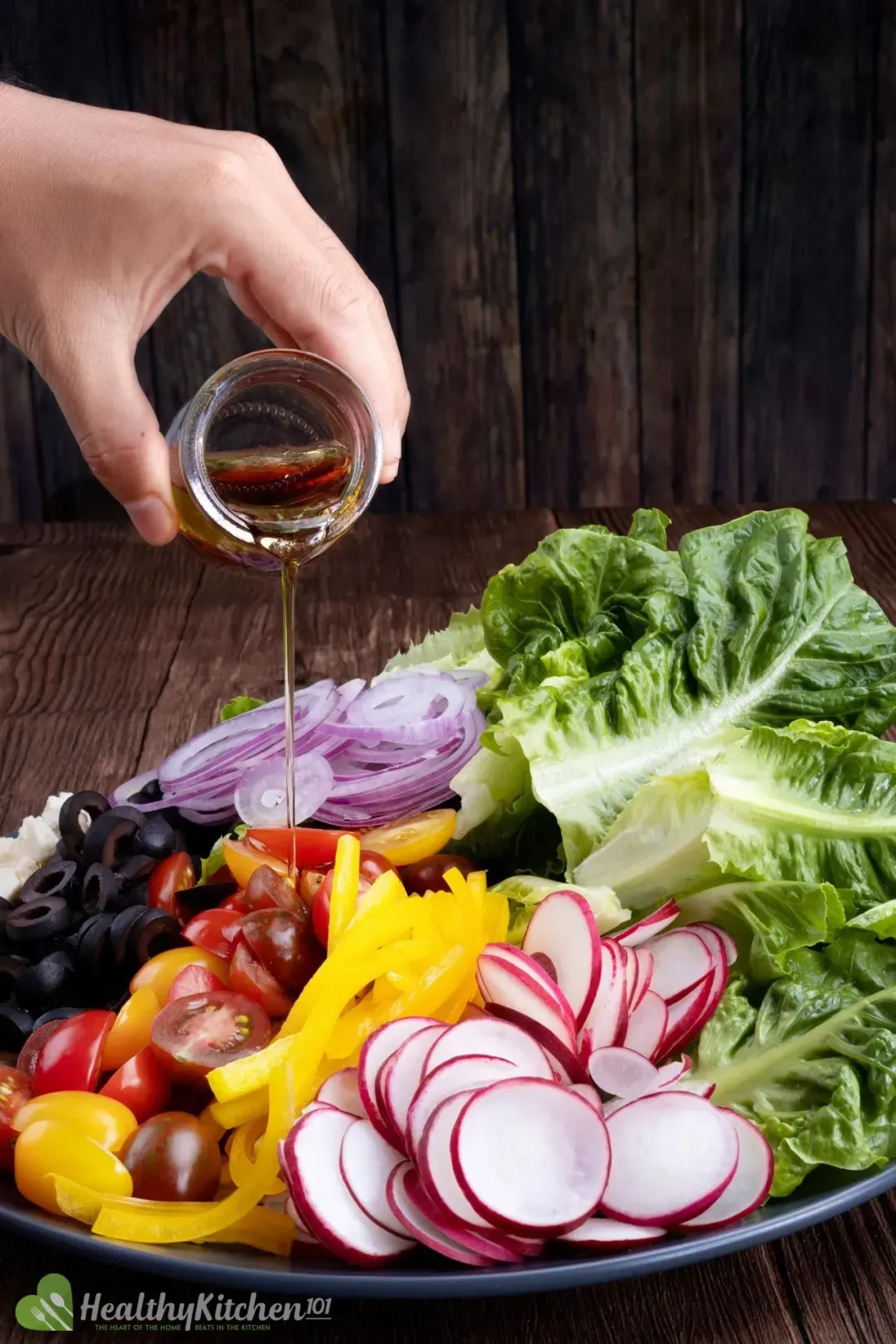 Greek salad, the original version, uses only salt, black pepper, and olive oil for its dressing. We thought it's not as flavorful as it could be, so we added red wine vinegar.
How to Make Greek Salad Dressing
Vinegar and olive oil don't mix together, no matter how intensely you whisk them. So there's no need to mix your dressing in a bowl.
Simply toss the veg in vinegar and oil, then as you finish plating, sprinkle pepper on top.
Check out our steak salad recipe – brings you a delicious and convenient choice when planning meals for one.
How to Make Greek Salad
Step 1: Prep
Chop your ingredients into small, bite-sized pieces. Cut feta into small cubes.
Step 2: Mix
In a large bowl, toss the veg, olives and tomatoes with red wine vinegar and olive oil.
Step 3: Plate
Plate the salads and put feta cheese on top.
Step 4: Add pepper
Sprinkle with pepper and serve.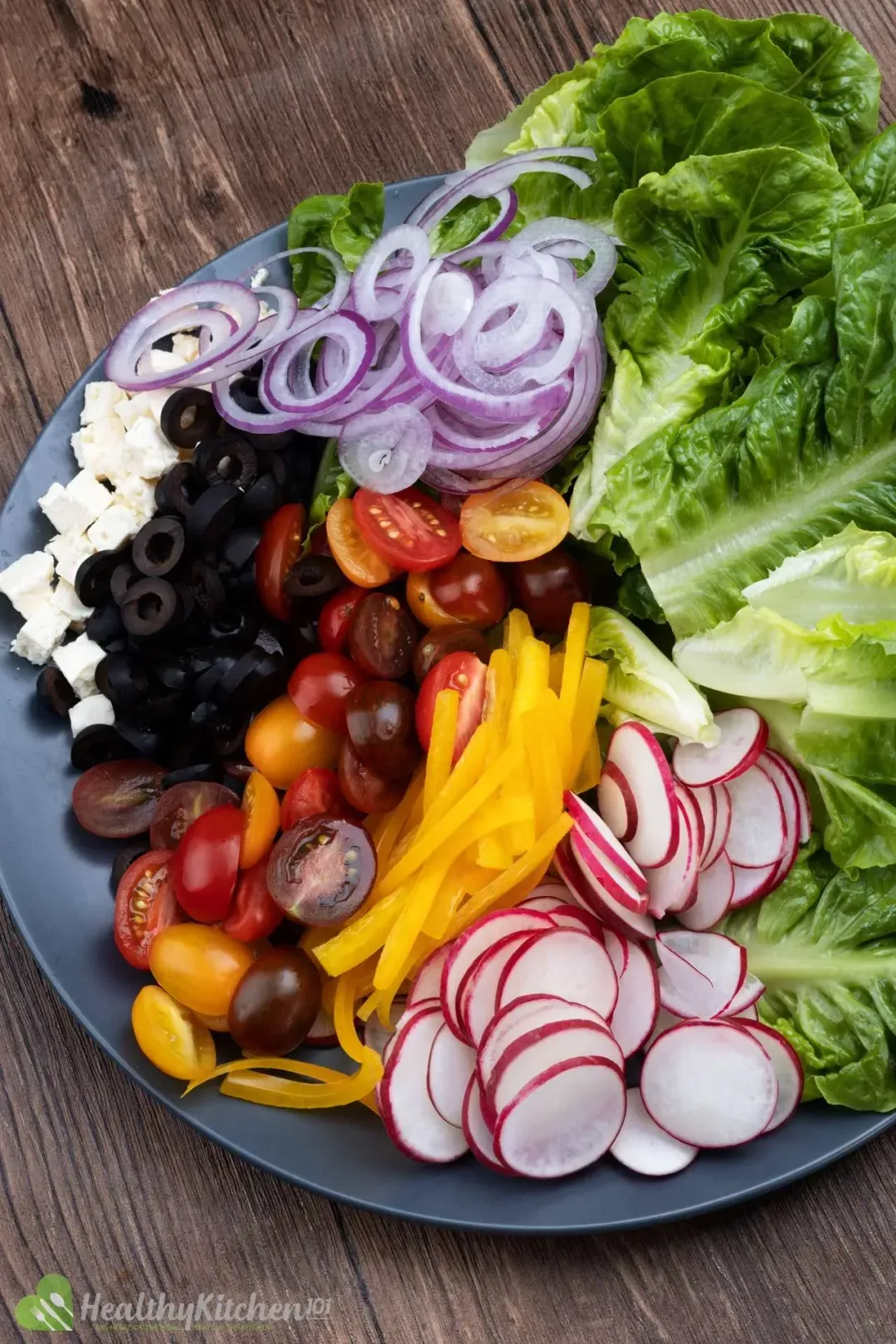 How Long Does Greek Salad Last?
Just like any salad, Greek salad won't last long at room temperature, exposed to the open air. To make it last for longer, we refrigerate it.
If you've just prepped the veg and foresee leftovers, it's a good idea to store them separately in the fridge. The olives should be in a jar, feta should be intact, and sliced veg should be in an airtight container.
If you have many plates, divide the veg into servings on each plate. Then cover each plate with cling wrap and stack them up in the fridge.
All there's left to do is toss them with the dressing when you're ready to use. However, we recommend eating them up within a week.
If the salad is already mixed, cover the leftovers and make sure they're eaten within a day or two. Tossed salad doesn't store well, especially since it's usually been left sitting in the air for too long.
Can You Freeze Greek Salad?
The short answer is no. Ingredients in this salad have a high water content that will make them mushy as they thaw.
To keep your Greek salad edible within a week, simply refrigerate it. It's always the healthiest to have salads made with fresh produce.
If you are craving some salad ideas, our top 44+ healthy salad recipes is definitely worth a try. It's simple, tasty and healthy, as with all recipes on our website!
What to Serve with This Greek Salad Recipe
What's missing from the salad (first) is a good source of protein— meat, poultry, seafood, tofu, beans or lentils. It can be lean or with a little bit of fat, as long as they are consumed with moderation.
Here's what we can recommend: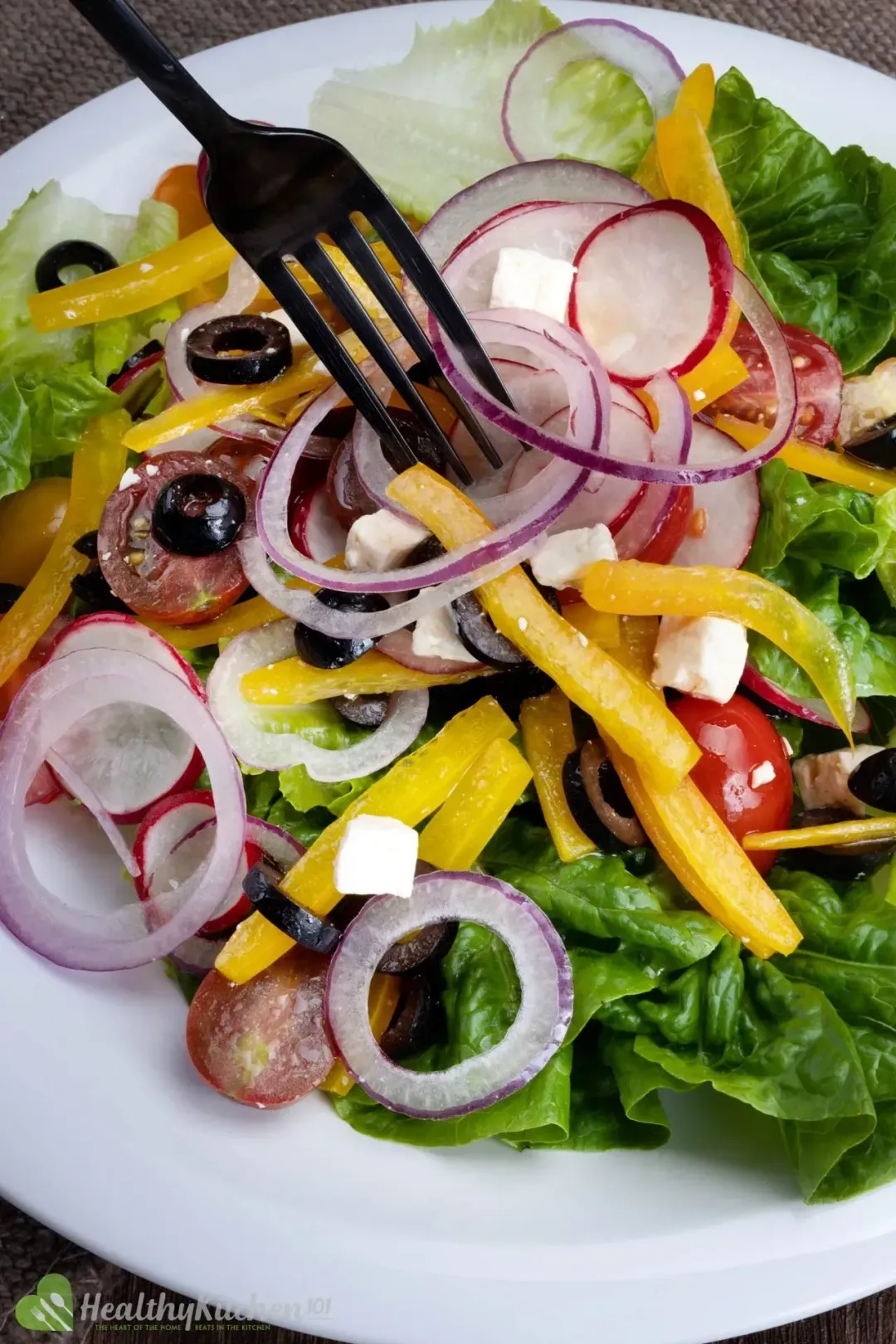 1. Chicken Alfredo
Chicken breast, whether with skin or no skin, is the leanest cut of chicken with around 21% protein. Cooked in a creamy sauce and served with pasta, it makes for a wholesome meal with a Greek salad on the side.
2. Pepper Steak
Lean steak is also a healthy option, especially when cooked in little fat and seasoned moderately.
Although the dish belongs to Asian cuisine, we love a bit of fusion. Coated in flavorful sauce and served over warm rice, our pepper steak would make a great main for the salad.
3. Baked Cod
Cod is a lean type of fish, with a flaky, tender texture and perfect when baked. Our baked cod recipe also has baked asparagus, but it's not really complete without a side salad.
Although the recipe says to pair baked cod with arugula watermelon, Greek salad can also make a tasty, wholesome meal. To round it all off, a cool glass of watermelon smoothie would do.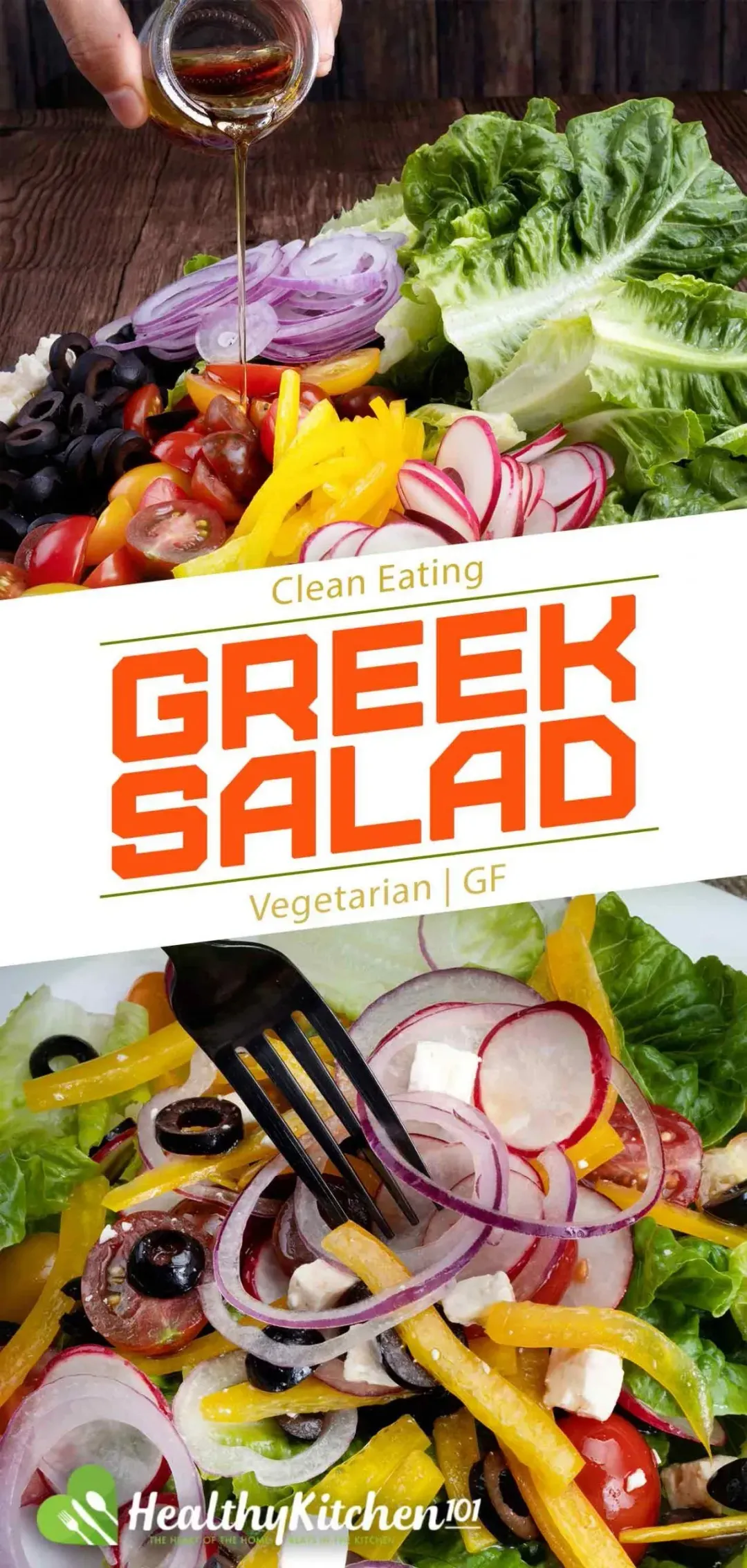 4. Spicy Tofu
As a tasty vegetarian alternative source of protein, spicy, crispy tofu served over rice is a crowd-pleaser. However, it needs a side, and our Greek salad can be an awesome palate cleanser between bites.
Healthy Greek Salad
If you don't know what to make as a side, try a healthy Greek salad recipe. It's refreshing and full of greens, perfect to pair with healthy, high-fat main dishes.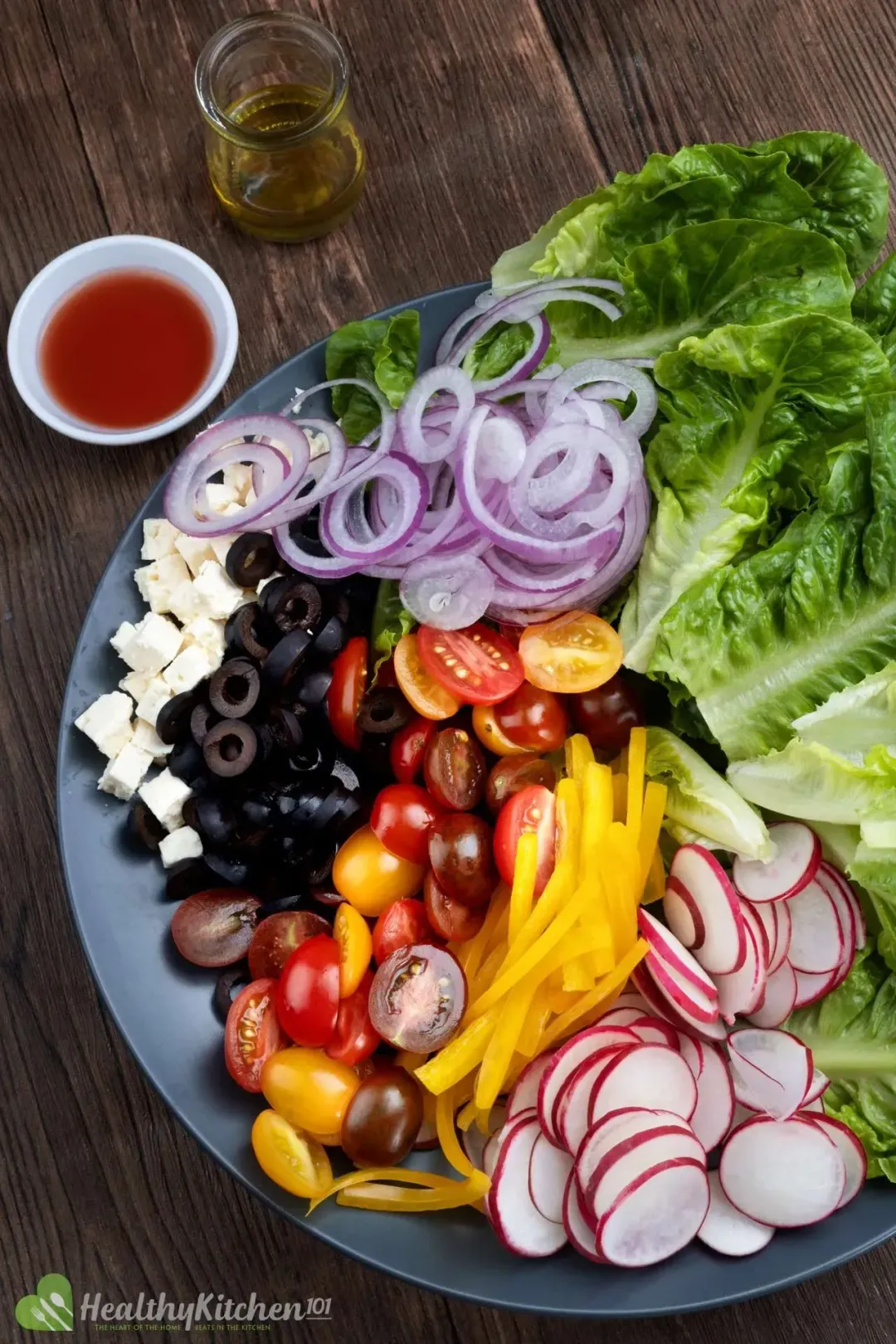 prep TIME

15 mins

total TIME

15 mins
COURSE

Side Dish

CUISINE

Greek

SERVINGS

CALORIES

176 kcal
INGREDIENTS
2.1 oz

yellow bell pepper

(sliced)

5.3 oz

cherry tomatoes

(halved)

2.6 oz

black olives

(sliced)

2.5 oz

red onion

(sliced)

1/4 tsp

ground black pepper

1.5 oz

feta cheese

(crumbled)
INSTRUCTIONS
1
Chop your ingredients into small, bite-sized pieces. Cut feta into small cubes.
2
In a large bowl, toss the veg, olives and tomatoes with red wine vinegar and olive oil.
3
Plate the salads and put feta cheese on top.
4
Sprinkle with pepper and serve.
NUTRITION
Nutrition Facts
Healthy Greek Salad
Amount Per Serving (1 serving)
Calories 176
Calories from Fat 135
% Daily Value*
* Percent Daily Values are based on a 2000 calorie diet.
Keywords: Greek Salad, Greek Salad Recipe, How To Make Greek Salad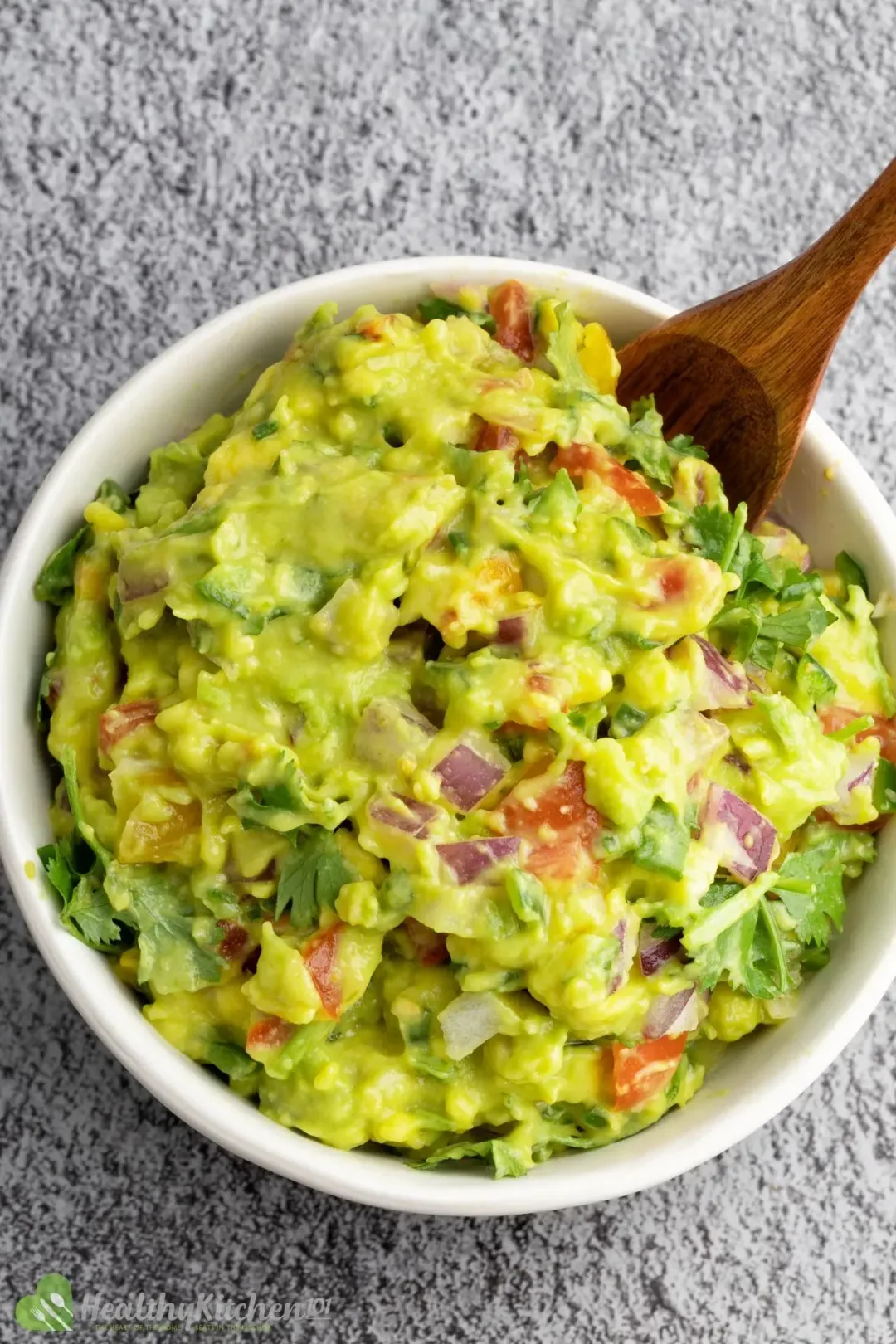 Guacamole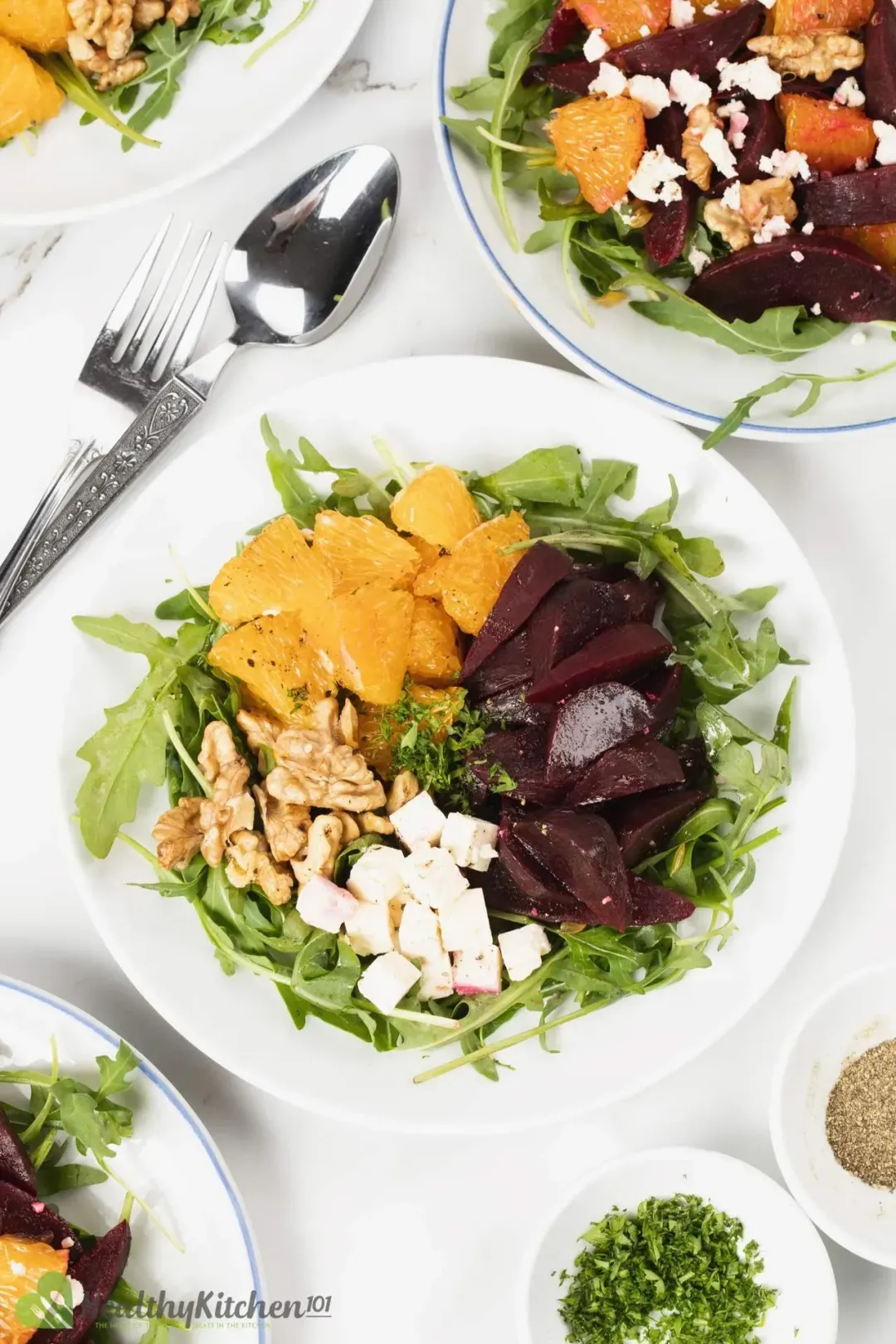 Next Recipe
Beet and Feta Cheese Salad
Beet and Feta Cheese Salad
Head Chef, Culinary Consultant
Tuyet Pham is an award-winning Saigonese chef who believes that joy is the secret ingredient to delicious food. At Healthy Recipes 101, Tuyet personally tests and simplifies every recipe, ensuring maximum flavor with minimal effort. With a background at prestigious French restaurants P'TI Saigon and Le Corto, Tuyet knows how to make every dish exceptional.
Writer, Author
Luna Regina is an accomplished writer and author who dedicates her career to empowering home cooks and making cooking effortless for everyone. She is the founder of HealthyKitchen101.com and HealthyRecipes101.com, where she works with her team to develop easy, nutritious recipes and help aspiring cooks choose the right kitchen appliances.
Nutrition Reviewer
Lizzie Streit is a Minneapolis-based dietitian and founder of It's a Veg World After All. She completed her MS in Human Nutrition from Drexel University, and is an expert in culinary nutrition, recipe development, and nutrition communications. Lizzie's philosophy is centered around making nutrition recommendations, and especially the advice to eat more vegetables, approachable and realistic. She is excited to be working with the team at Healthy Recipes 101 to ensure that their recipes are both nutritious and delicious.
This is definitely going to be my go-to salad. Bonus points for the simple dressing!