Today's Nicoise salad recipe provides a convenient, tasty make-ahead dish that you can munch on any occasion. Whether it's for outdoor picnics or simple daily meals, this salad promises to strike a classy French vibe.
Little did you know that Nicoise salad is actually effortless to make but result in a surprisingly satisfying side dish. Keep scrolling to figure it out!
What Is Nicoise Salad?
First of all, for those who haven't yet known, "Niçoise" means "in the style of Nice" in French.
Nicoise salad is a composed salad that's aesthetically pleasing and screams the style of French cuisine. It incorporates delicious fresh produce grown around the Nice area in the South of France.
For salad fans, the term "composed salad" is not strange at all.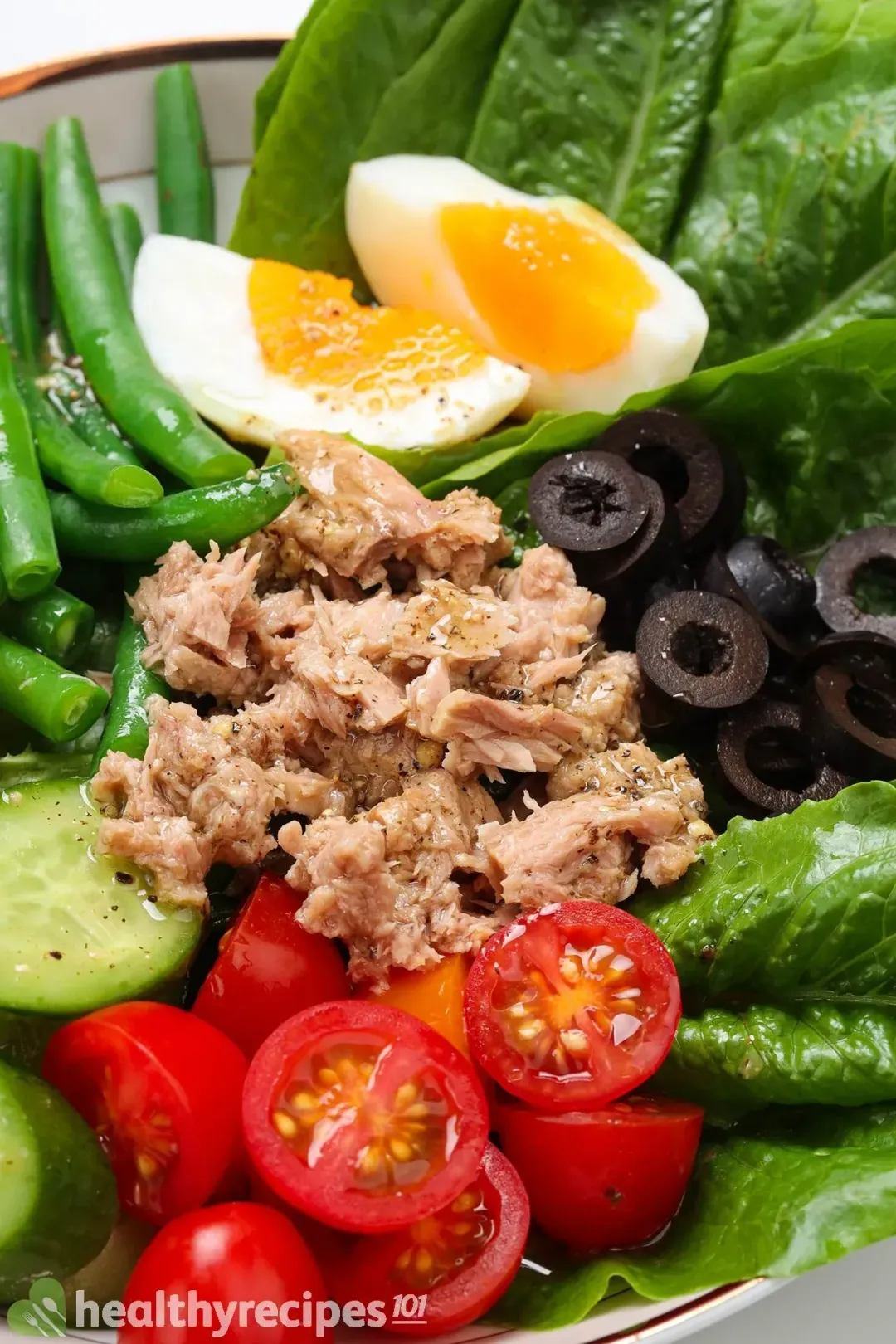 In a composed salad, all the ingredients are assembled in groups, offering a variety of flavors, textures, and colors. They're usually arranged in sections over a bed of green, instead of being tossed together in a bowl.
A traditional Nicoise salad usually includes black olives, tomatoes, anchovies, and a salty, tangy vinaigrette to serve along with it. You'll have a delicious, colorful piecemeal dish where you can scoop a bit of everything.
Is Nicoise Salad Healthy?
Having tuna mixed with a variety of vegetables and leafy greens, we believe the answer is yes. This salad is a light and healthy dish— suitable for when you're short on time but craving for wholesome foods.
Ingredients
Traveling to the US, a typical Nicoise salad recipe is built up from the traditional ingredients. People made attempts to improve the salad by adding extra ingredients such as green beans, tuna, and boiled eggs.
1. Tuna
In common Nicoise salad recipes, oil-packed tuna is essential. As tuna is mild-flavored, it can easily be paired with the veggie mix in the salad.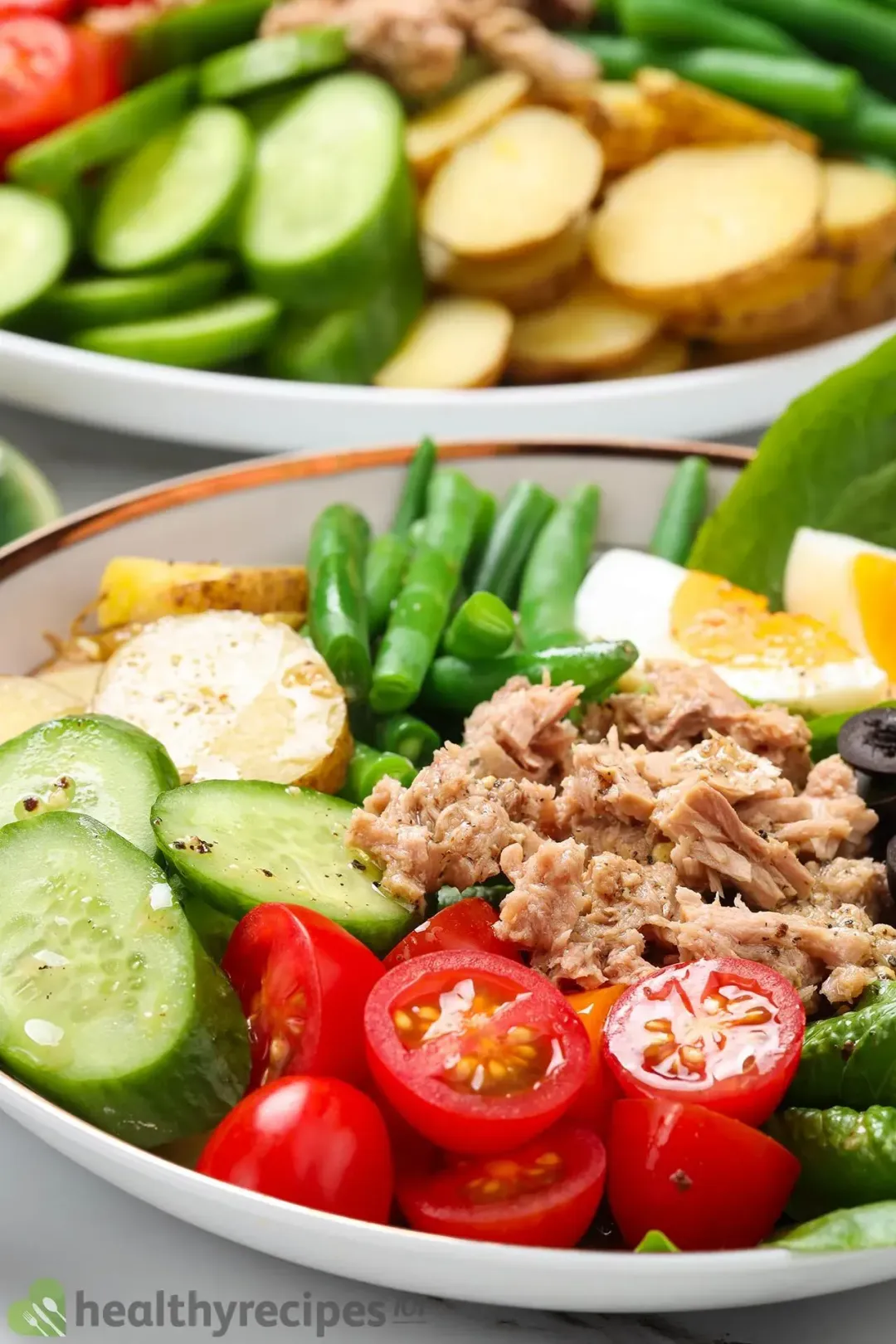 Other substitutions are water-packed tuna, seared fresh tuna, or char-grilled tuna. The less expensive anchovies can also do a good job— but note that they're significantly fishier and saltier, comparing to tuna.
2. Eggs
If there's any advice we could give, then it's this: always use hard-boiled eggs for this salad. Hard-boiled eggs stay in their shapes better and won't leave a sloppy mouthfeel after every bite.
In case you want to focus more on the eggs, here's a vegetarian egg salad recipe for you to try. No fish, no meat, just eggs, and a generous amount of mayo-based sauce!
3. Potatoes
In this recipe, we use baby potatoes as they boil fast and look very lovely in display.
Of course, russet potatoes are still a great choice to make. You can either boil, grill, or roast them— they're delicious in every way.
4. Cucumber
Speaking of toppings for Nicoise salad, in this recipe, first, you'll get crunchy veggies like lettuce, tomatoes, and cucumber. Together with the tuna, it's not exaggerating to say that you'll get to taste a little bit of everything in the few first bites.
If you're using Muncher cucumbers, consider deseed them first if you don't like the watery mouthfeel they leave.
5. Beans
After getting started with the crunchy bites, you'll get to soothe the taste buds with tender soft-boiled vegetables. Those namely are potatoes and green beans.
Either canned or freshly cooked beans can do this salad good. It's a nice way to add another source of plant-based protein to your meal.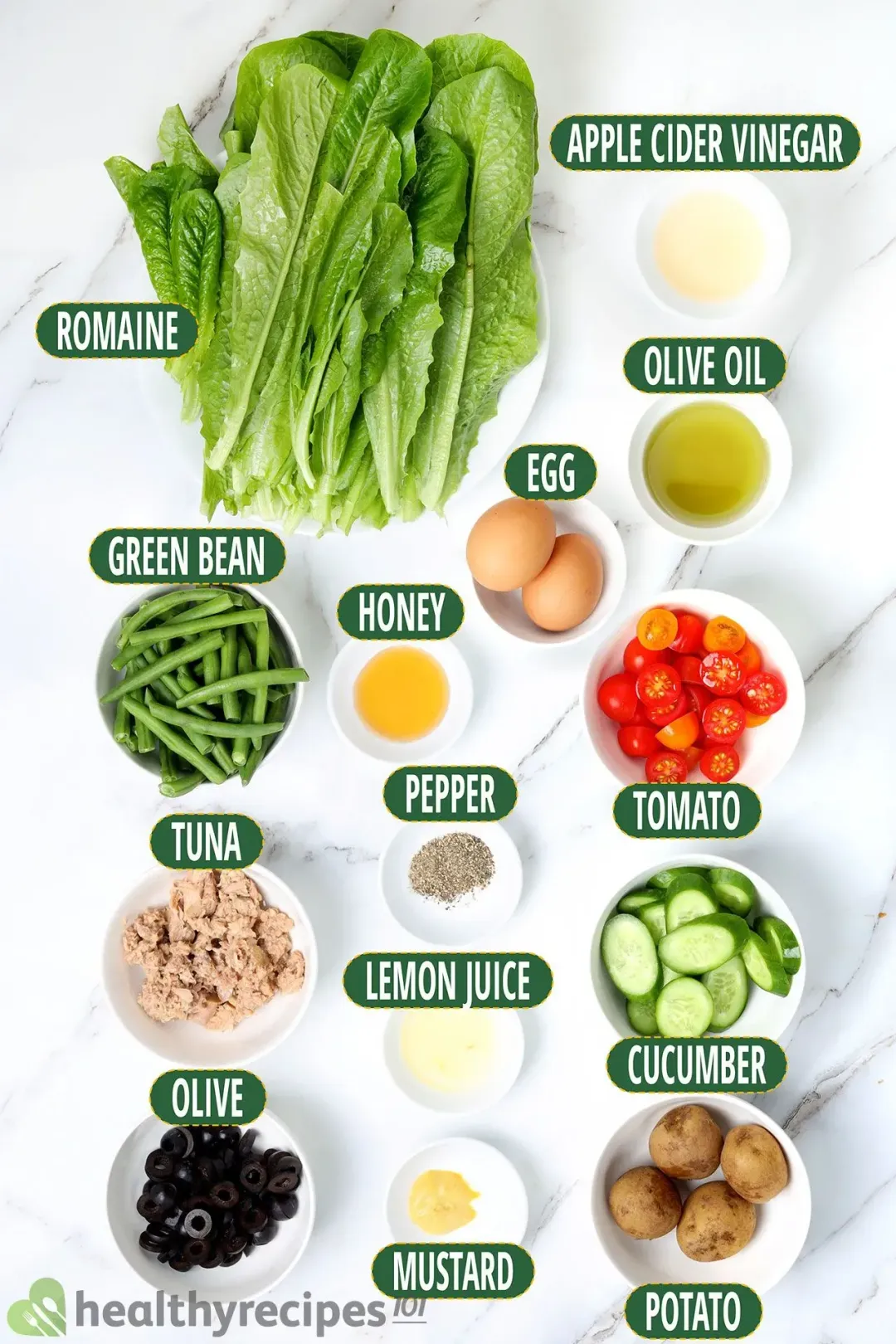 Nicoise Salad Dressing
In this recipe, the salad dressing is what ties the contrasting flavors from all the ingredients together.
The dressing is composed of mustard, salt, ground black pepper, lemon juice, apple cider vinegar, olive oil, and honey. It's sweet, tangy, and mustardy at the same time, giving the salad a bright and pleasant aftertaste.
What to Serve with Salad Nicoise
Nicoise salad is versatile, time-saving, and easy to make. You can either enjoy it as a brunch on its own or pair it with an entrée to create a full meal.
For instance, you can enjoy Nicoise salad with a toasted sandwich to add more carbs to your diet. Thanks to being so light and earthy, it can also serve wonderfully as a side for grilled beef or rotisserie chicken.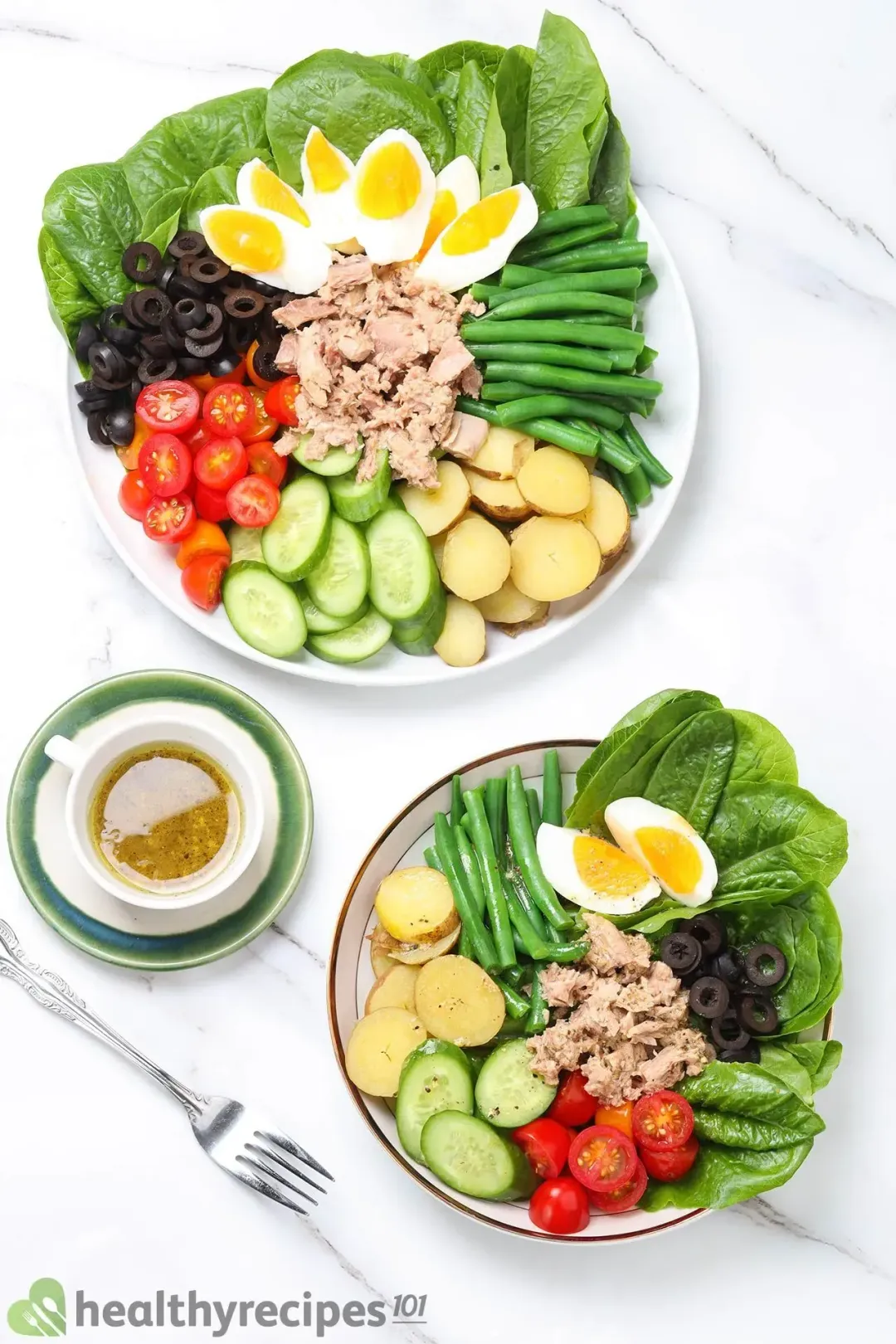 For more easy and nutritious salad, take a look at our best healthy salad roundup.
FAQ
This Nicoise salad takes only 15 minutes to put together and you'll get four servings of it, ready to be served. You can double or triple the quantity to treat a small crowd and the time spent still won't vary much.
1. How Long Does Nicoise Salad Last?
The thing that we like the most about this recipe is that all the ingredients can be made ahead. That means you can make a large batch of Nicoise salad and preserve it to enjoy later.
The vinaigrette can be stored overnight. As for the vegetables and eggs, you're allowed to cook them a day ahead and chill them in the fridge.
Leftover Nicoise salad can last for up to 3 days in the fridge and no more than a day at room temperature.
Nevertheless, foods that are freshly made always taste the best. Therefore, it's better to scale the recipe to your table size so you won't be bothered with leftovers anymore.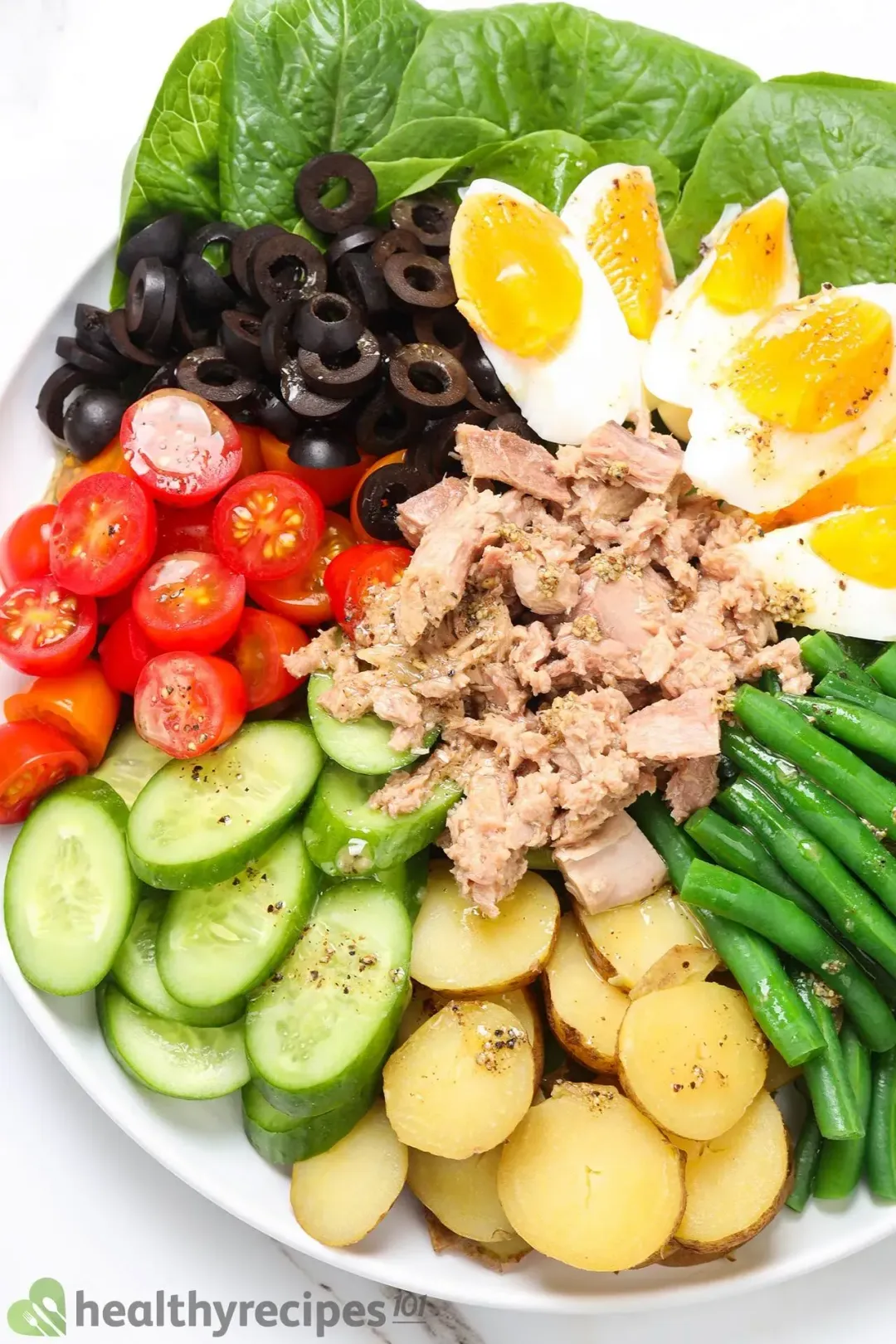 2. Can I Freeze Nicoise Salad?
Yes, you can.
Frozen Nicoise salad is good within 2 months time. All you need to do is transfer the leftover salad to an airtight container, cover, and put to the freezer.
However, as Nicoise salad is super quick and simple to make, we'd suggest storing each ingredient separately. Whenever you feel like eating, simply defrost and throw them into a salad.
Nicoise Salad
This Nicoise salad recipe takes only 15 minutes to put together and you'll get four servings of it, ready to be served. You can double or triple the quantity to treat a small crowd and the time spent still won't vary much. How cool is that!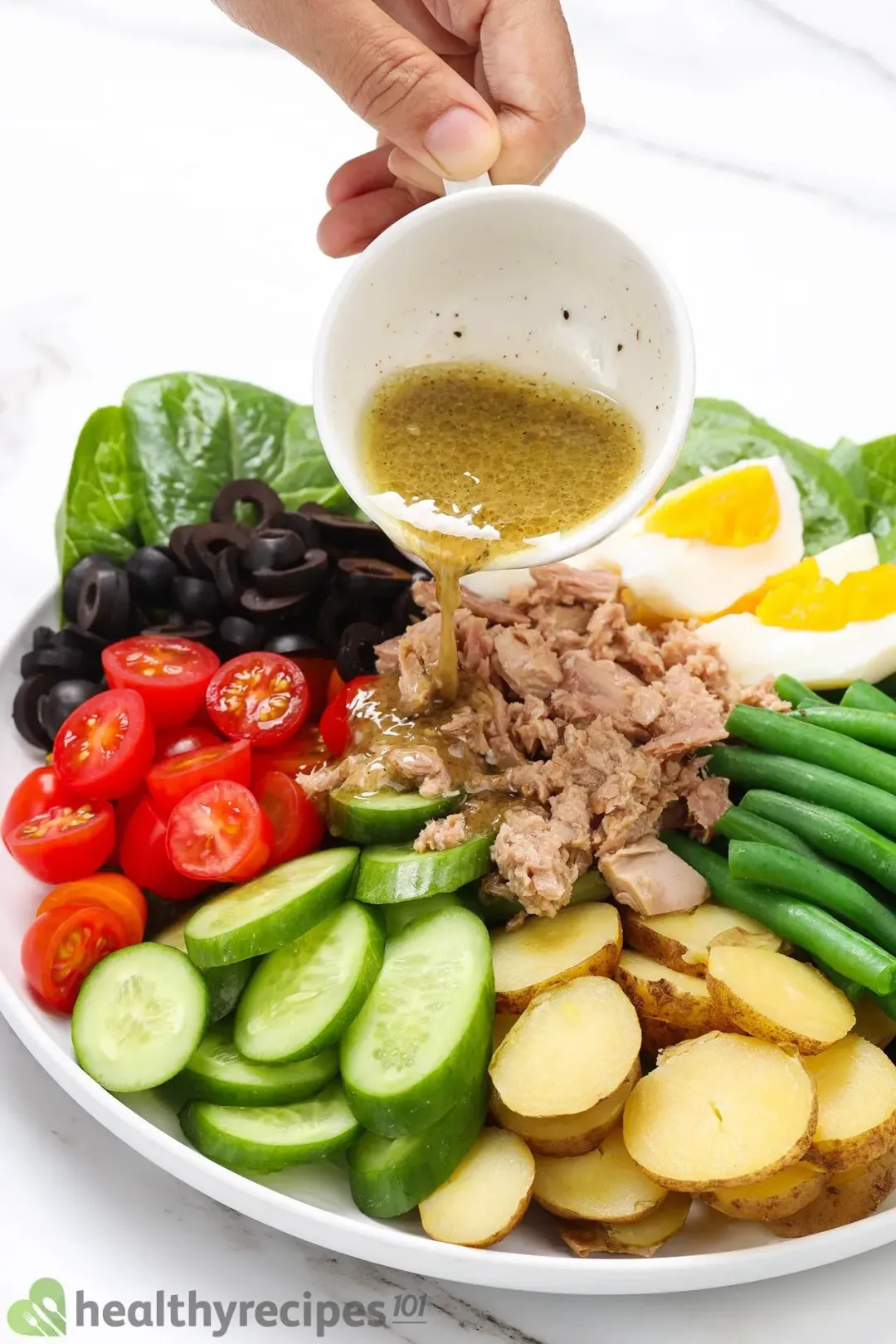 prep TIME

15 mins

total TIME

15 mins
COURSE

Salad, Side Dish

CUISINE

French

SERVINGS

CALORIES

252 kcal
INGREDIENTS
4 oz

cherry tomatoes

(sliced in half)

4 oz

low sodium canned light tuna

1 tsp

traditional Dijon mustard

1/2 tsp

ground black pepper

1 tbsp

apple cider vinegar
INSTRUCTIONS
1
Hard-boil 2 medium eggs, then slice them in half lengthwise.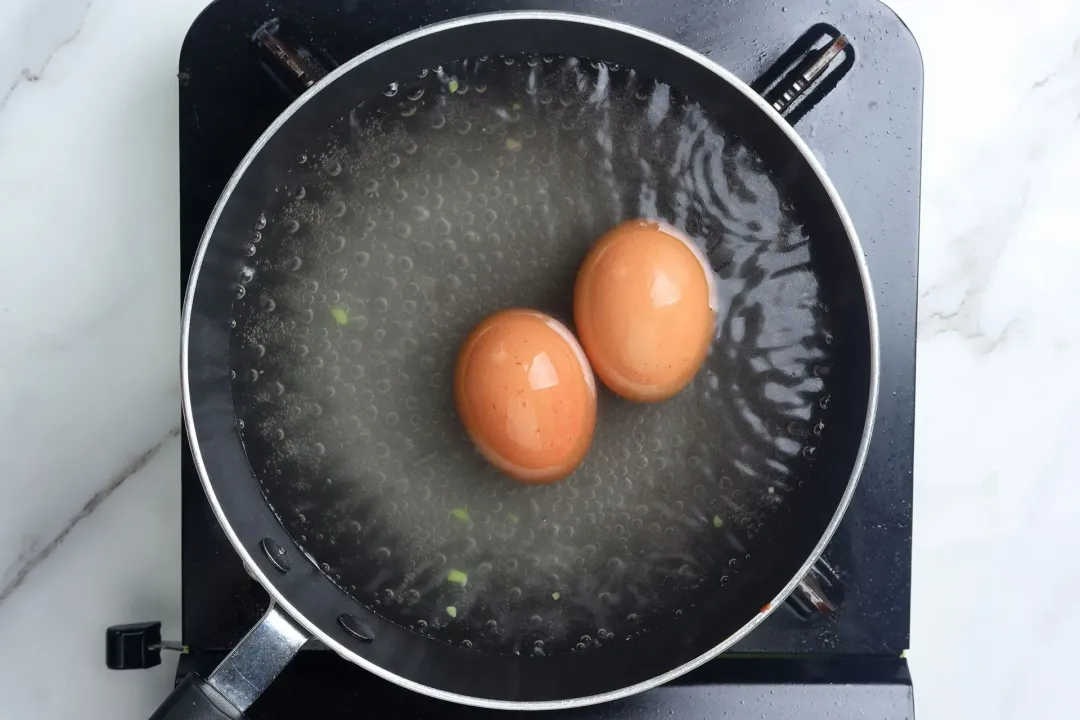 2
Boil 4 oz green beans until tender.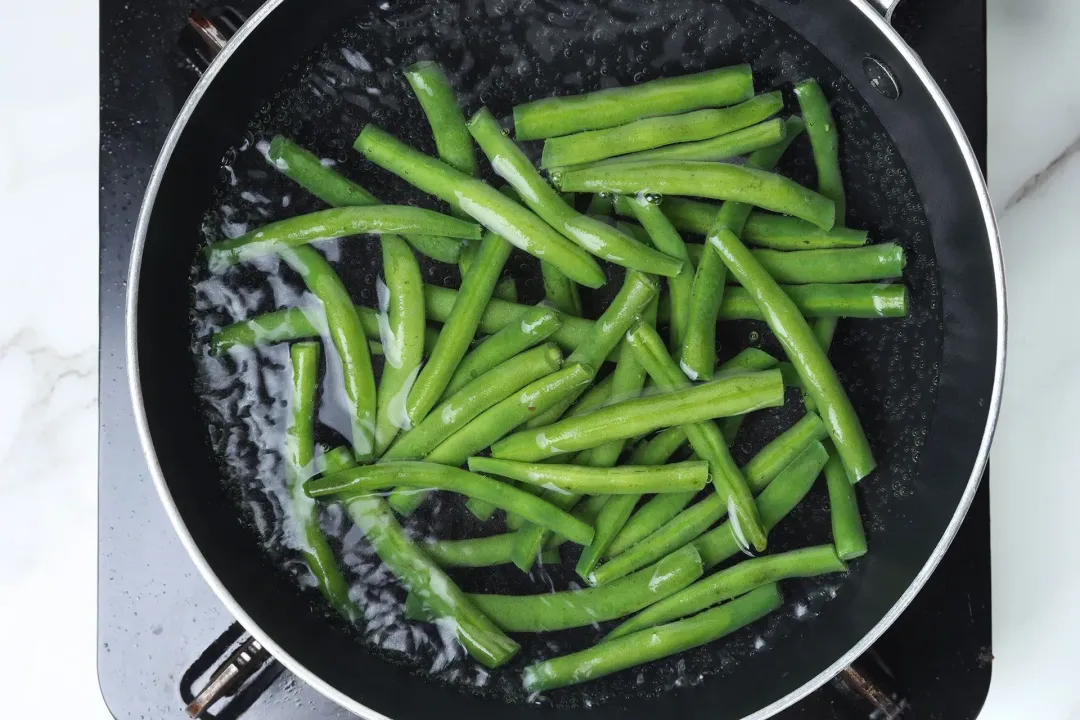 3
Boil 4 oz baby potatoes until tender.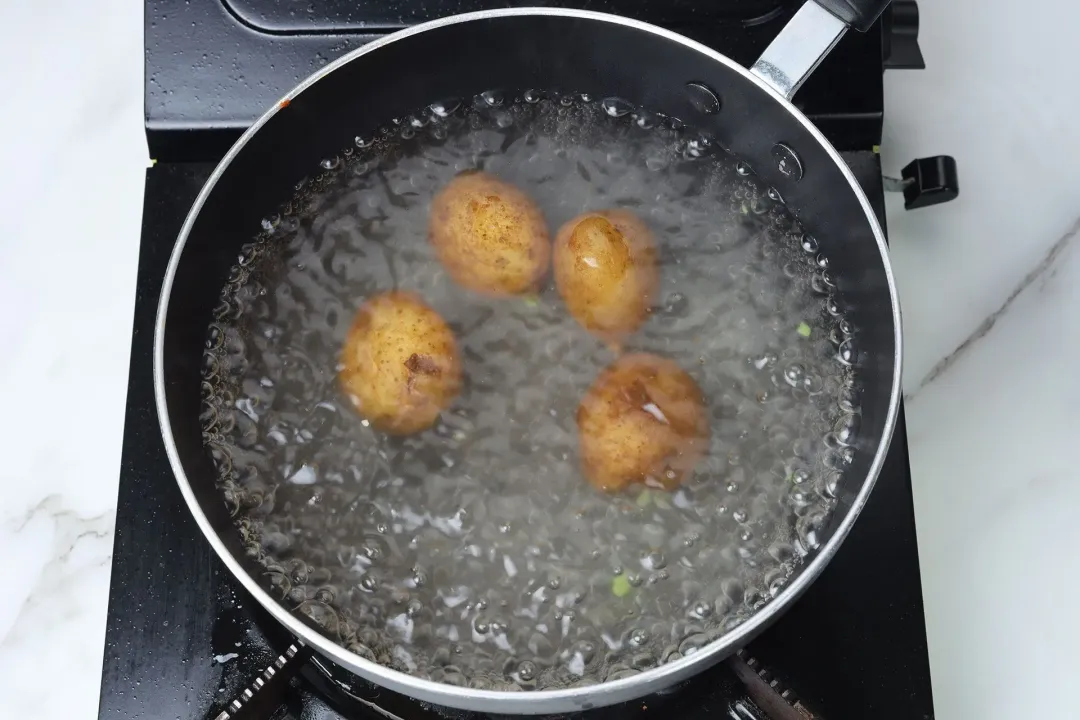 4
Slice the baby potatoes in thick slices.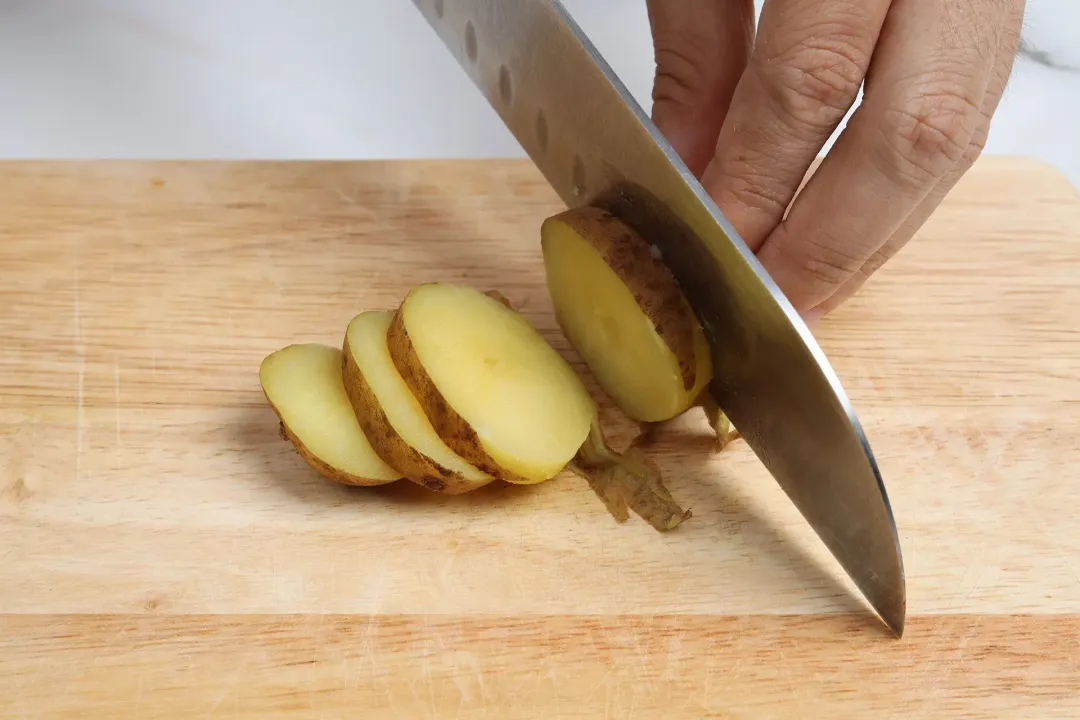 5
Make the dressing (vinaigrette): In a small bowl, whisk together 1 tsp Dijon mustard, 1/2 tsp ground black pepper, 1 tbsp lemon juice, 1 tbsp apple cider vinegar, 3 tbsp olive oil, and 1 tsp honey. Set aside.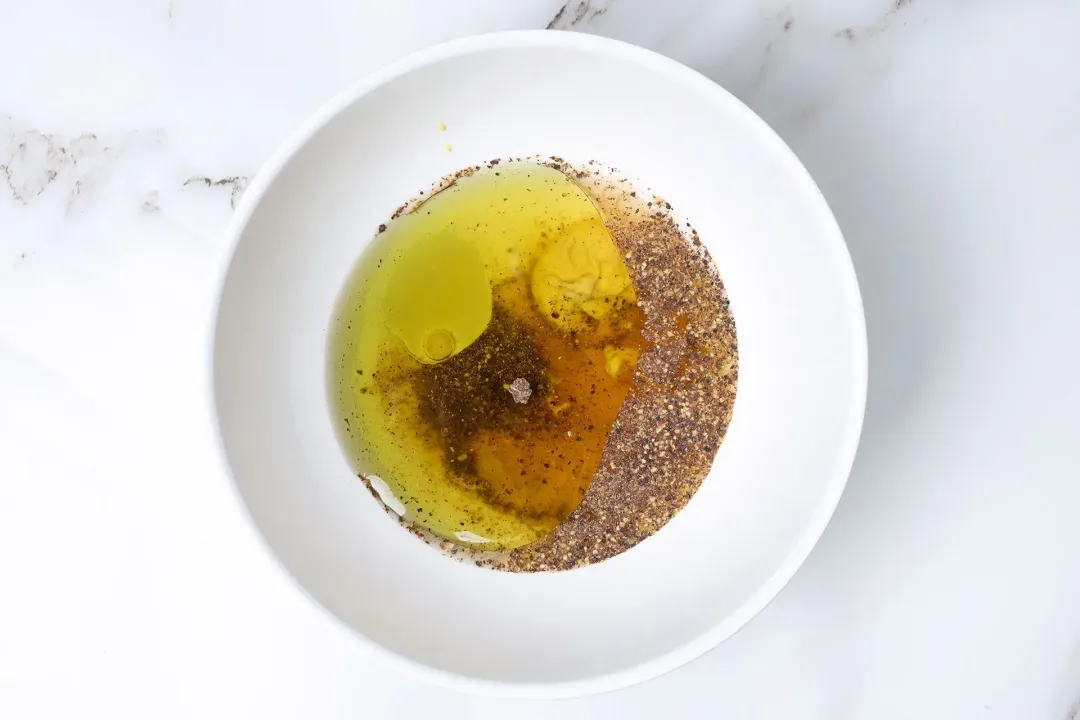 6
On the serving plate, assemble in sections: 4 oz canned tuna, 6 oz romaine lettuce, 4 oz cherry tomatoes, 1.5 oz olives, and 4 oz cucumber.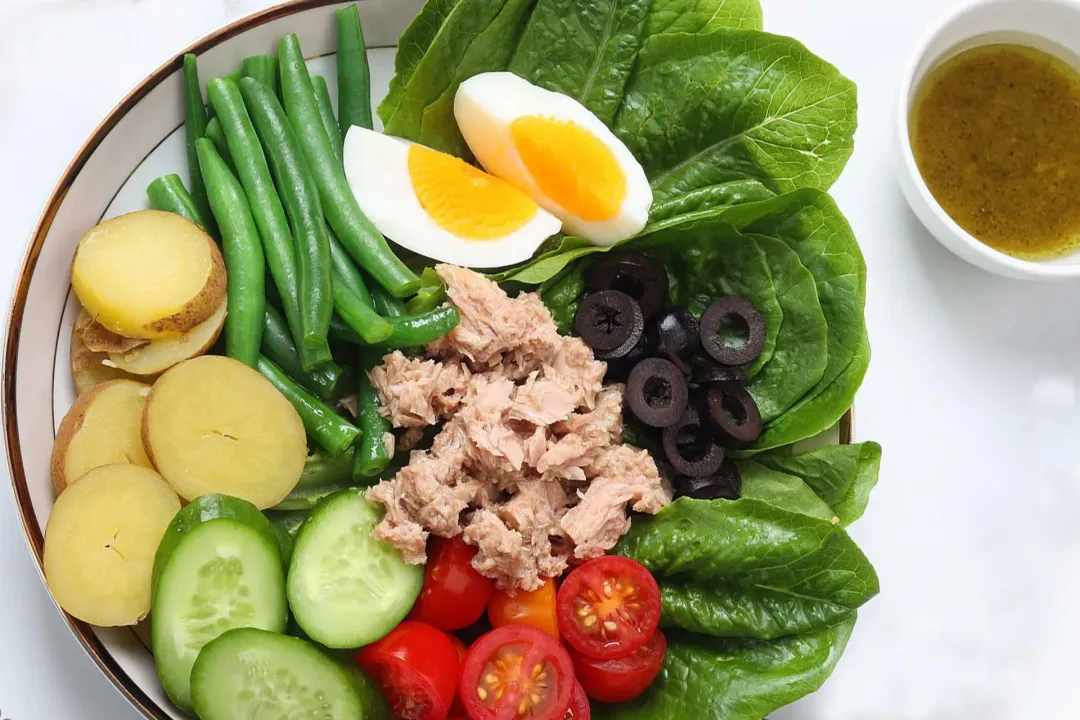 7
Dress the salad with the vinaigrette. Enjoy!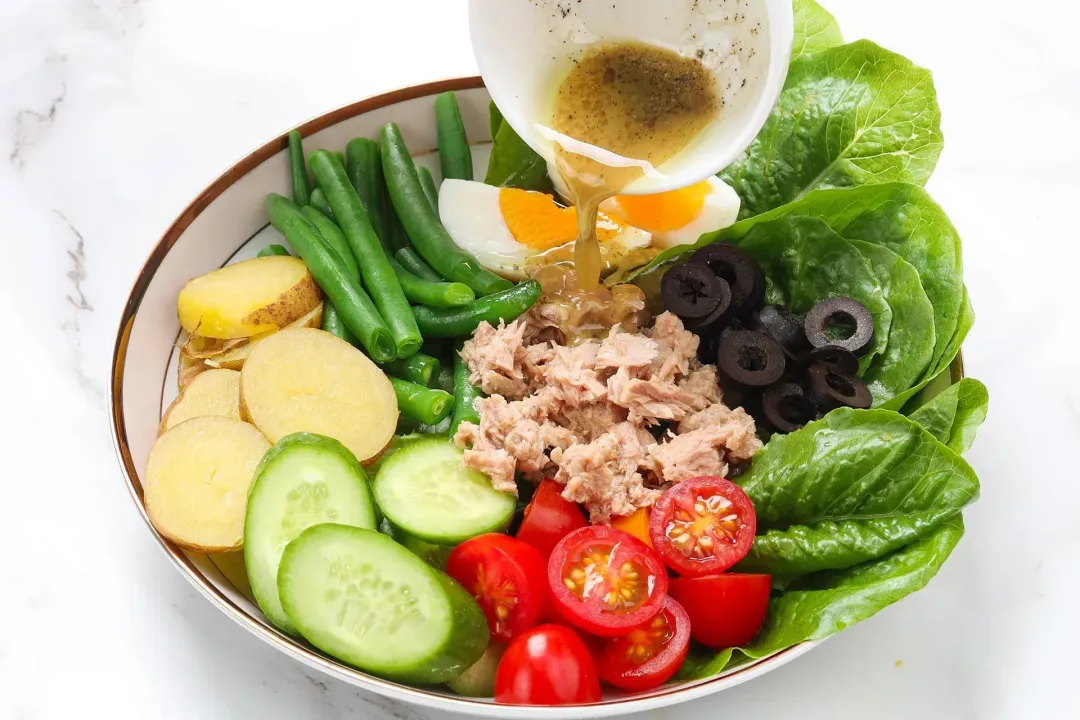 NUTRITION
Nutrition Facts
Nicoise Salad
Amount Per Serving (1 serving)
Calories 252
Calories from Fat 162
% Daily Value*
* Percent Daily Values are based on a 2000 calorie diet.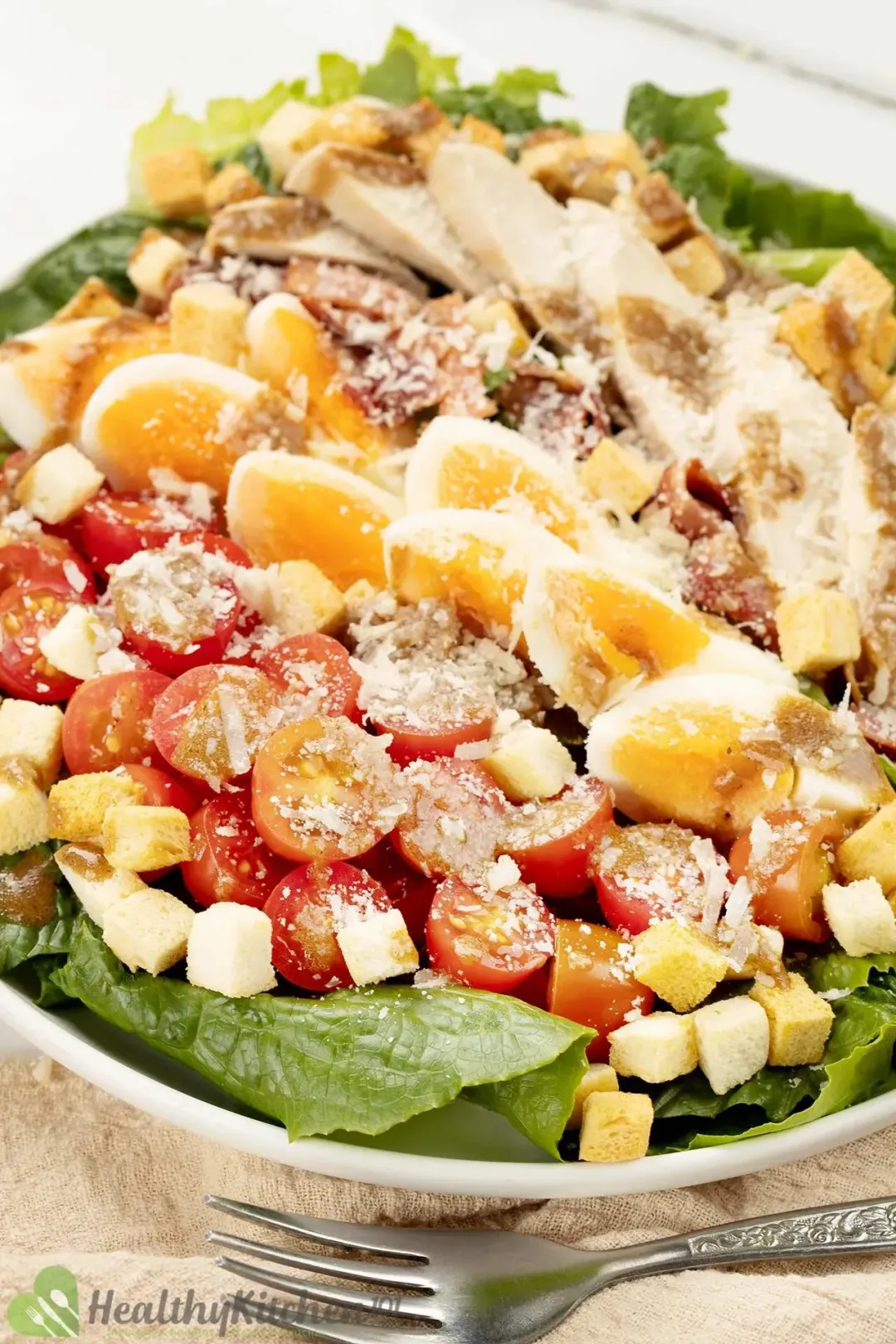 Previous Recipe
Caesar Salad
Caesar Salad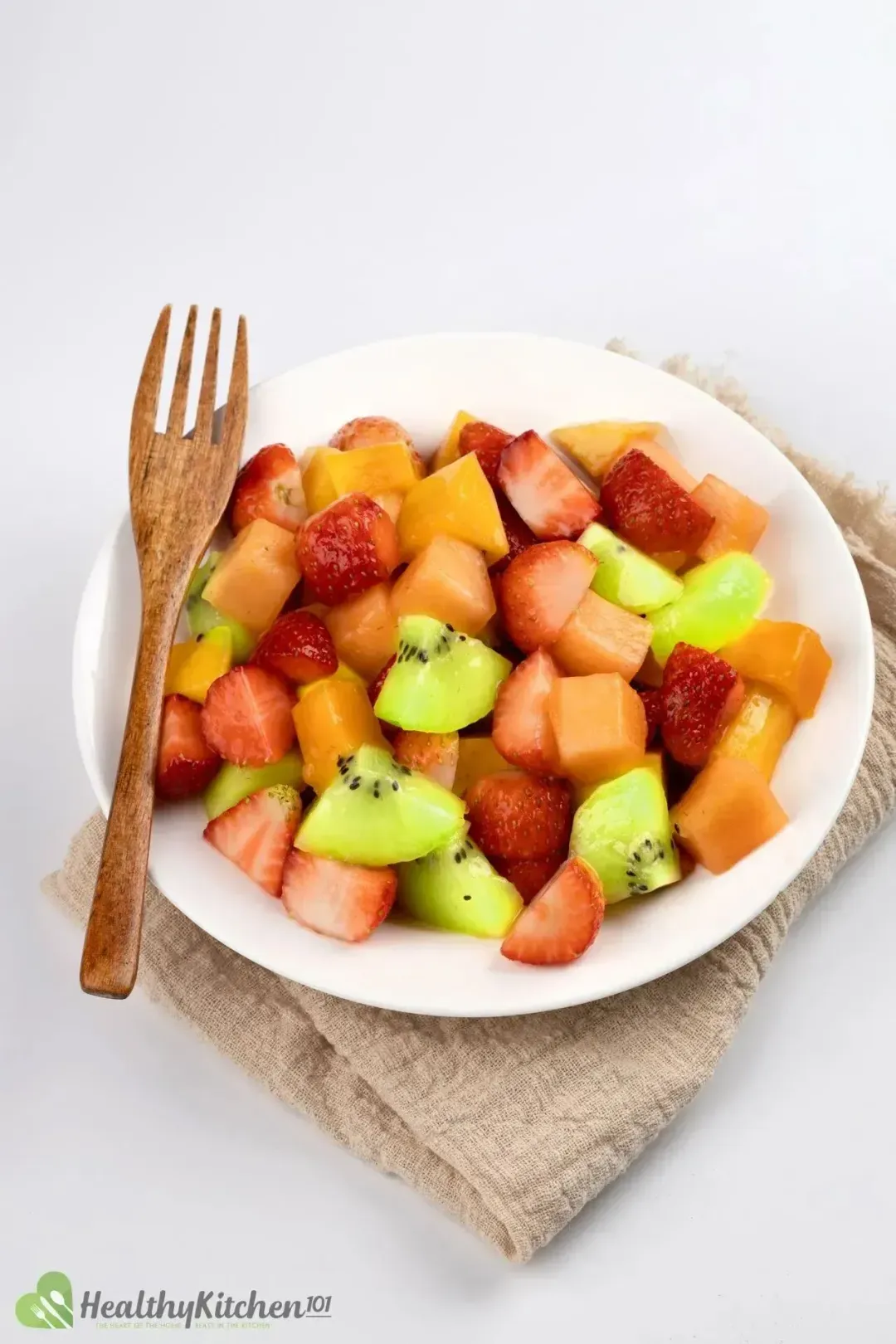 Next Recipe
Fresh Fruit Salad
Fresh Fruit Salad
Head Chef, Culinary Consultant
Tuyet Pham is an award-winning Saigonese chef who believes that joy is the secret ingredient to delicious food. At Healthy Recipes 101, Tuyet personally tests and simplifies every recipe, ensuring maximum flavor with minimal effort. With a background at prestigious French restaurants P'TI Saigon and Le Corto, Tuyet knows how to make every dish exceptional.
Writer, Author
Luna Regina is an accomplished writer and author who dedicates her career to empowering home cooks and making cooking effortless for everyone. She is the founder of HealthyKitchen101.com and HealthyRecipes101.com, where she works with her team to develop easy, nutritious recipes and help aspiring cooks choose the right kitchen appliances.
Nutrition Reviewer
Lizzie Streit is a Minneapolis-based dietitian and founder of It's a Veg World After All. She completed her MS in Human Nutrition from Drexel University, and is an expert in culinary nutrition, recipe development, and nutrition communications. Lizzie's philosophy is centered around making nutrition recommendations, and especially the advice to eat more vegetables, approachable and realistic. She is excited to be working with the team at Healthy Recipes 101 to ensure that their recipes are both nutritious and delicious.
Am from Nice, France. You forgot the radishes! And if you put each ingredient between to brioche buns (Gelsons, Ralphs) you have an incredible "Pan Bagnat" sandwich (Google that). With smaller buns, you get mini pan bagnat the kids love. Don't forget to brush each inside side of the buns with the vinaigrette (add a garlic clove to your vinaigrette, or better, brush the inside of the buns with the garlic clove for more buds pleasure.