Our cauliflower potato salad recipe offers a low-carb way for you to enjoy the classic potato salad. It features the same ingredients, with essential add-ins like eggs, onions, and celery, along with the typical mustard-mayo dressing combination. However, instead of potatoes, we use cauliflower as the main veggie. 
It may sound odd at first, but cauliflower makes a surprisingly fitting substitute for potato in this recipe. They are both mild in taste and similar in texture, as well as being alike in color. Once blended in with the creamy dressing and buttery eggs, the differences are so minimal you'll hardly believe it's not the original salad.
Is Cauliflower Potato Salad Healthy?
Our recipe uses cauliflower as a substitute for potato, which only has around one-fifth of the amount of carbs. This vegetable is also high in water, fiber, vitamin C, and certain minerals, giving it potential health benefits such as maintaining a healthy digestive tract and lowering the risks of cardiovascular disease as well as diabetes.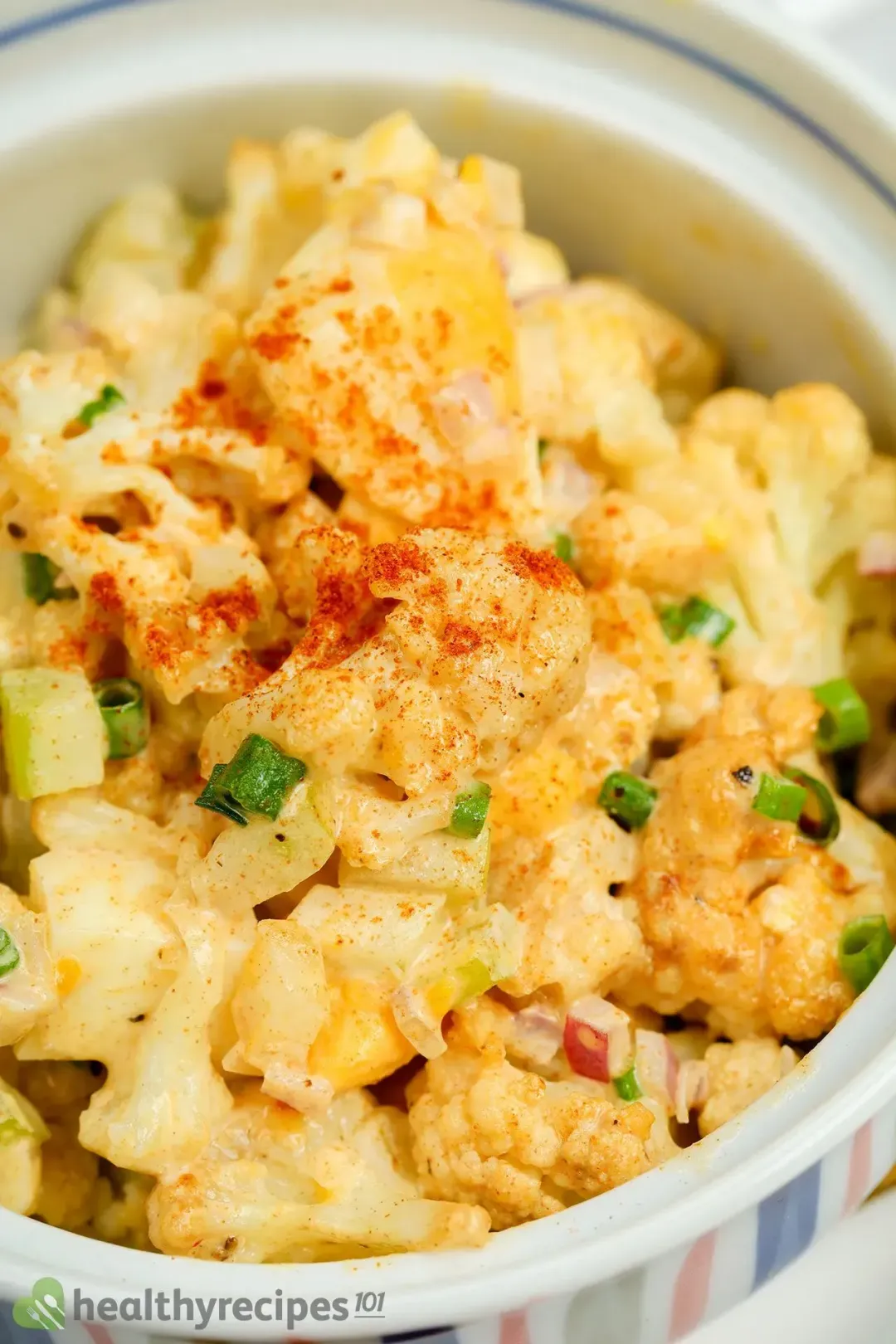 This salad also provides a decent amount of protein thanks to the eggs. This essential macronutrient not only gives you energy boost but may also help to prevent heart disease, diabetes, and aid in weight control. 
Moreover, we carefully measured the ingredient portions so that the recipe strictly follows our nutrition guidelines. There are only 3.5 g saturated fat and 251 mg sodium per serving, both amounting to no more than 15% of their daily intake limit. 
Ingredients for Cauliflower Potato Salad
Cauliflower is the central ingredient, so we only paired it with a few other ingredients. Even so, it's still incredibly flavorful thanks to the various seasonings and sauces.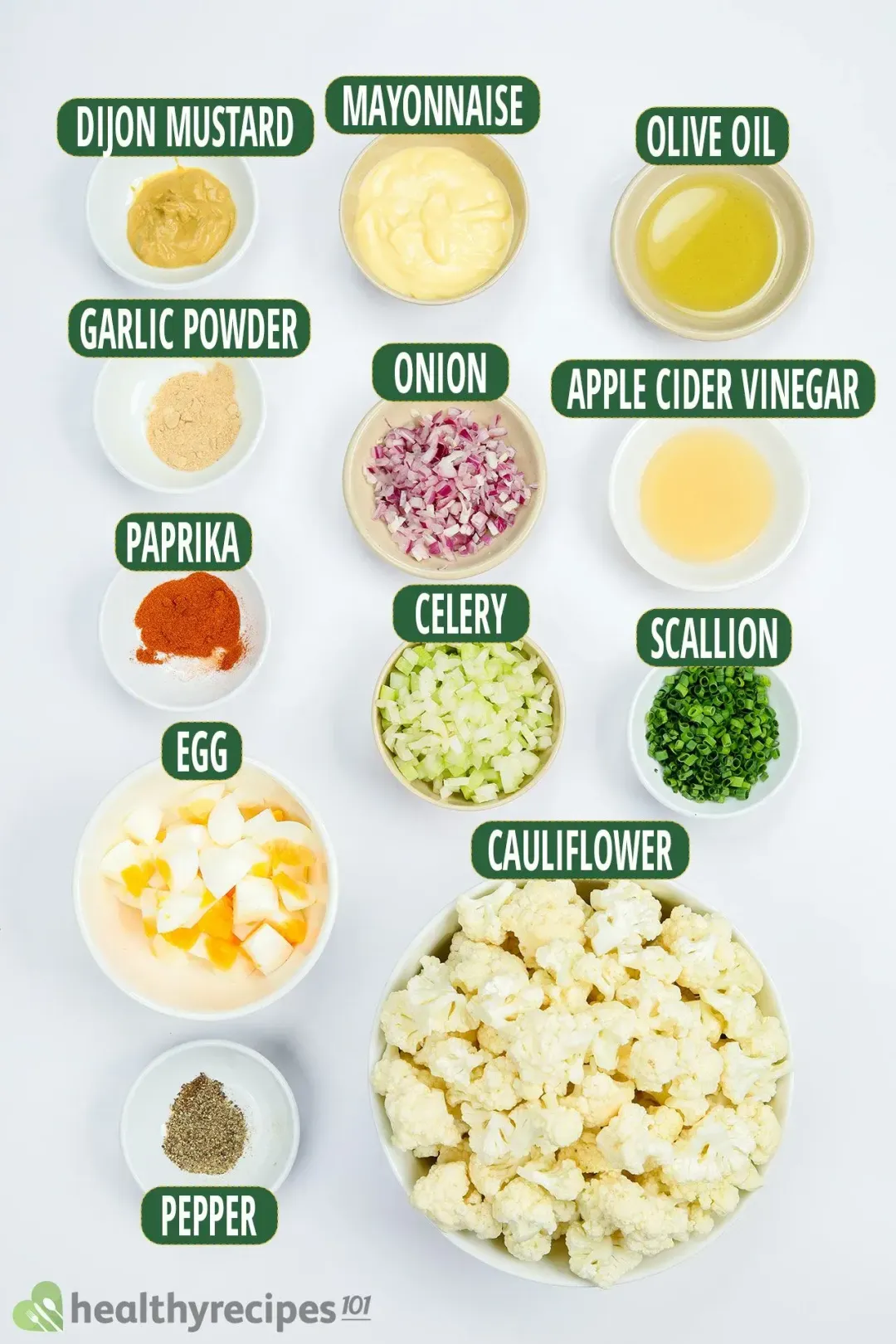 We went with white cauliflower for this recipe. When picking it out, make sure the heads are firm, fresh, and tightly closed without little blemishes or browning spots. It might have a strong, unpleasant smell if it's overripe and about to rot. 
The runny yolk of the eggs not only provides a gorgeous pop of color but also gives the dish a buttery consistency that perfectly contrasts with the cauliflower's bite. 
Keeping it simple, we only used a red onion, scallion, and celery. These ingredients have distinctive tastes on their own but when blended into this salad, they bring about an aromatic undertone that kicks the flavor up a notch. 
This delectable condiment is used to set a thick consistency for the dressing. It also lays a flavor base with its gorgeous mesh of sweet, spicy, and tangy. 
This is a Japanese mayonnaise that's made with egg yolks, vinegar, and a dash of spices. Its texture is thicker and its flavor is richer than regular mayonnaise, making it the ideal choice for a full-flavored salad. 
You can most likely find this mayo at local supermarkets and grocery stores. If it's not available, whip up a homemade version by blending some vinegar and sugar with regular mayo.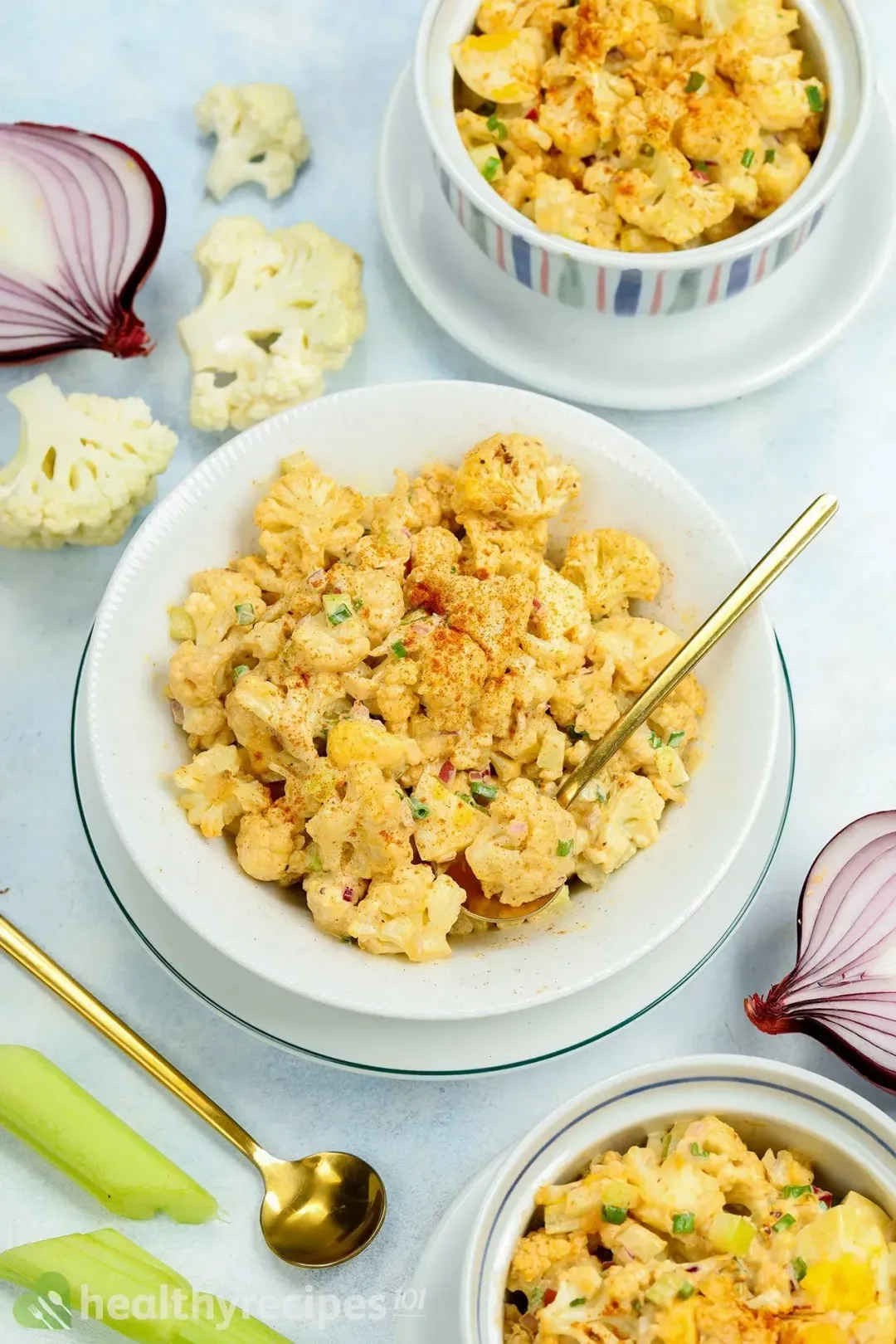 This vinegar brightens the dressing with its woodsy fruit scent and tangy sourness. It can be sharp if used in large amounts so we only opted for one tablespoon. 
We used garlic powder, paprika, and pepper to spice things up a bit. They complement one another incredibly well since they are all mildly spicy with earthy notes. The paprika, however, has a subtle sweetness that leaves a delightful aftertaste.
What to Serve With Cauliflower Potato Salad
Since this cauliflower salad is meant to be a substitute for the classic potato salad, you can serve it in the same way. It's a wonderful choice for all kinds of potlucks, picnics, and barbecues. Pair it with grilled meat dishes, hamburgers, hot dogs, and more for a filling meal with addictive summer flavors.
How to Store the Leftovers
This salad should last for two days when kept in an airtight container in the fridge. It tastes great cold so you can just enjoy it straight out of the fridge.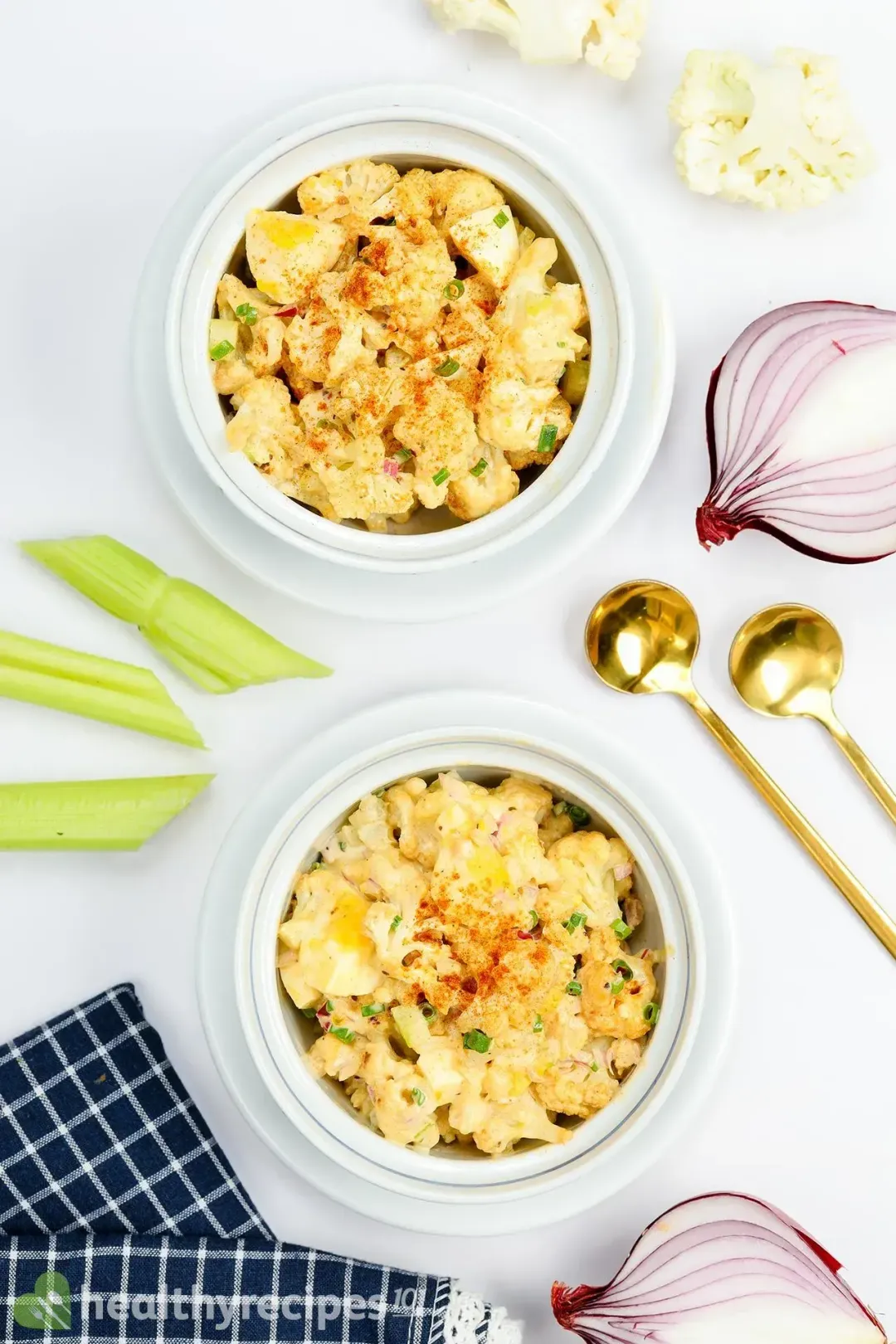 How to Make Cauliflower Potato Salad
Our cauliflower potato salad recipe offers a low-carb way for you to enjoy the classic potato salad. It still has all the creamy deliciousness of the original dish, but uses cauliflower instead of potato for a guilt-free way to indulge.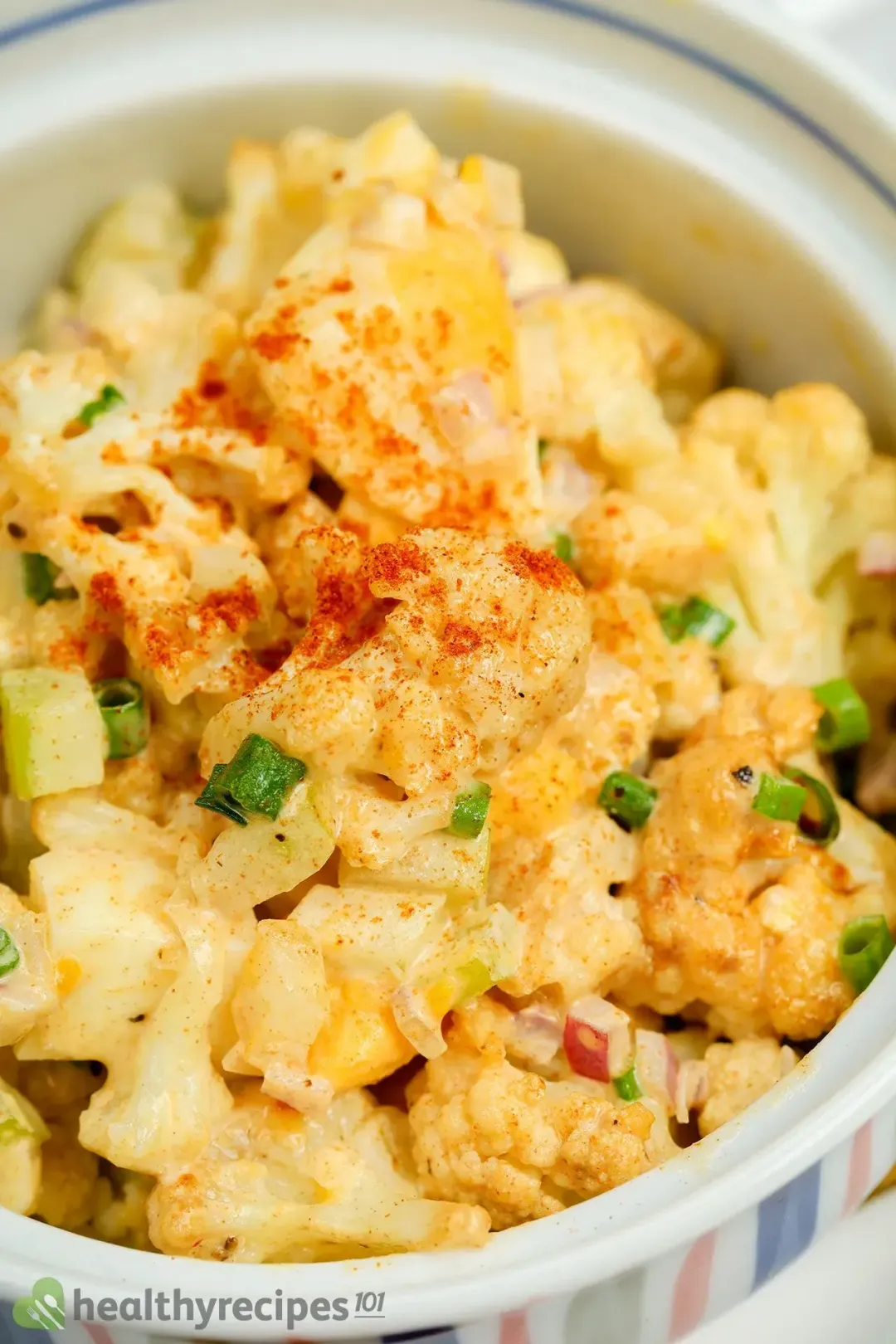 cook TIME

15 mins

prep TIME

15 mins

total TIME

30 mins
COURSE

Side Dish

CUISINE

American

SERVINGS

servings

CALORIES

248 kcal
INGREDIENTS
2

large eggs

(medium-boiled)

2 tbsp

scallion

(chopped)

2 tsp

traditional Dijon mustard

4 tbsp

Japanese mayonnaise

1 tbsp

apple cider vinegar
INSTRUCTIONS
Preparation
1
Boil the Eggs: In a small pot, bring cold water to a boil over high heat and use a slotted spoon to drop the eggs in individually. The water should go 1 - 2 inches over the eggs. Reduce the heat to a simmer when the water surface starts bubbling then cover with a lid.
2
Prepare the Cauliflower: Remove the leaves and use a knife to slice off the big stem. Then, continue to slice off the smaller stems to obtain the individual florets. Wash the florets in a colander, then leave to dry. Remove any brown spots or blemishes if needed.
3
Dice the Onion: Trim off the stem but leave the root intact throughout the entire cutting process. Cut the onions in half, remove the peel, hold one of the halves upright, and start cutting in straight lines that are half an inch apart from each other.
4
Dice the Celery: Use a chef's knife to split the stalks into halves and then quarters lengthwise. Then rotate about 3 or 4 pieces into a horizontal position, use your other hand to pinch them together, and make small crosswise cuts to create diced pieces.
5
Chop the Scallion: Wash the scallion, remove any wilted parts, then cut off the white roots. Line up several scallions on the chopping board, hold them together in a horizontal position with your non-dominant hand, then slice the knife back and forth to chop them up into small bits. Try not to stack or press down too hard because it might bruise the scallions.
Cook
1
Season the Cauliflower: In a large bowl, put in 20 oz cauliflower, add 1/2 tsp paprika, 1/4 tsp pepper, 1/2 tsp garlic powder, and 1 tbsp olive oil. Use a small spoon to mix everything together until the cauliflower is well-seasoned.
2
Roast the Cauliflower: Preheat the oven to 450 °F. On a parchment-lined baking sheet, spread the seasoned cauliflower evenly with a little space between the pieces to allow the heat to circulate. Place in the oven and roast for 10 minutes.
3
Let the Cauliflower Cool Down: Remove the cauliflower from the oven and leave it to cool for 1 - 2 minutes.
4
Toss the Salad: Put the cauliflower back into the large bowl, and add 2 large eggs, 1 oz red onion, 2 tbsp scallion, 2 oz celery, 2 tsp Dijon mustard, 4 tbsp mayonnaise, 1 tbsp apple cider vinegar, and 1 tbsp olive oil. Lightly toss until the ingredients are well-mixed.
5
Serve the Salad: Transfer the salad into serving bowls, sprinkle with some paprika, and enjoy.
NUTRITION
Nutrition Facts
How to Make Cauliflower Potato Salad
Amount Per Serving (1 serving)
Calories 248
Calories from FDA
% Daily Value*
* Percent Daily Values are based on a 2000 calorie diet.
Keywords: cauliflower potato salad, cauliflower potato salad recipe, how to make cauliflower potato salad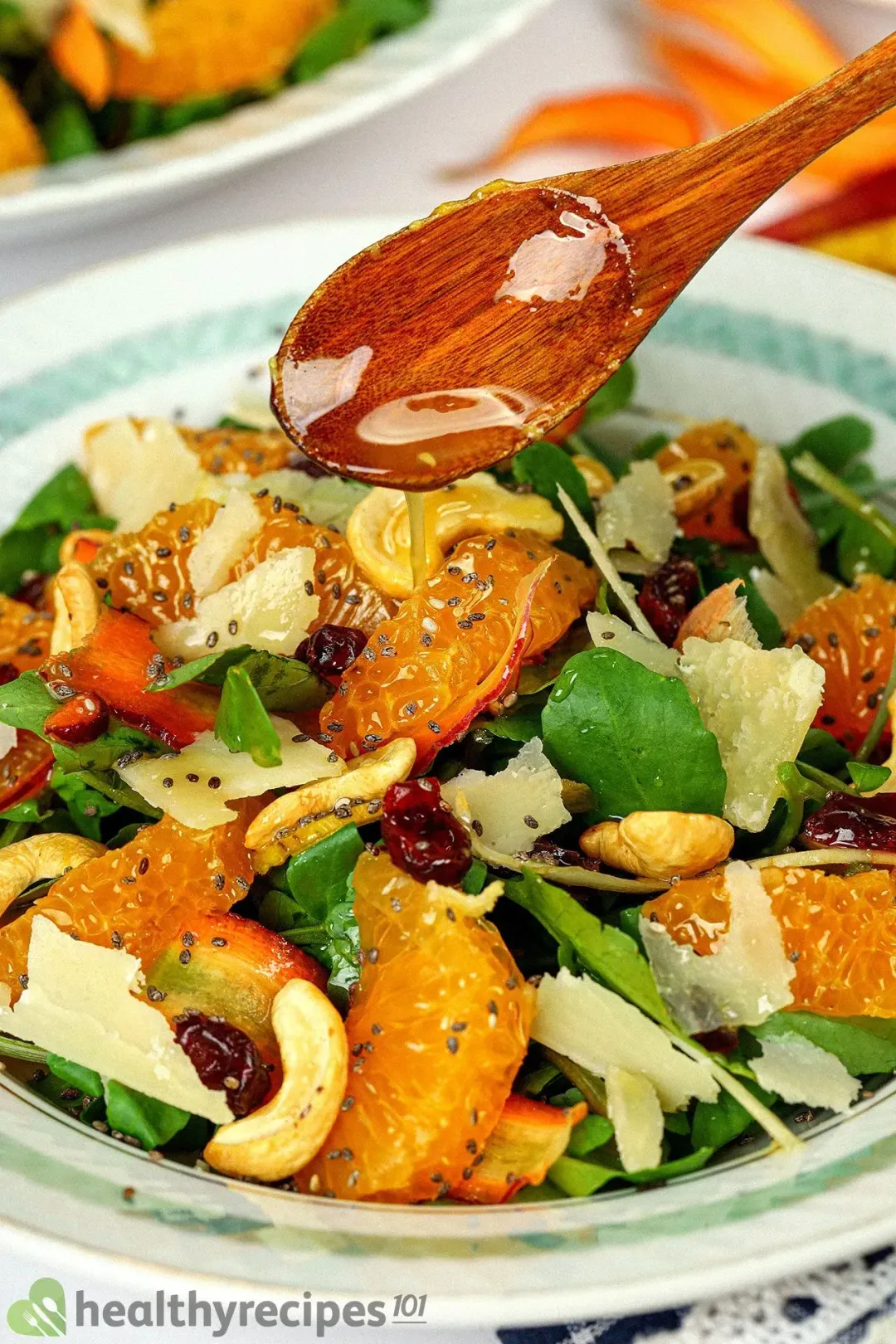 Previous Recipe
Watercress Salad
Watercress Salad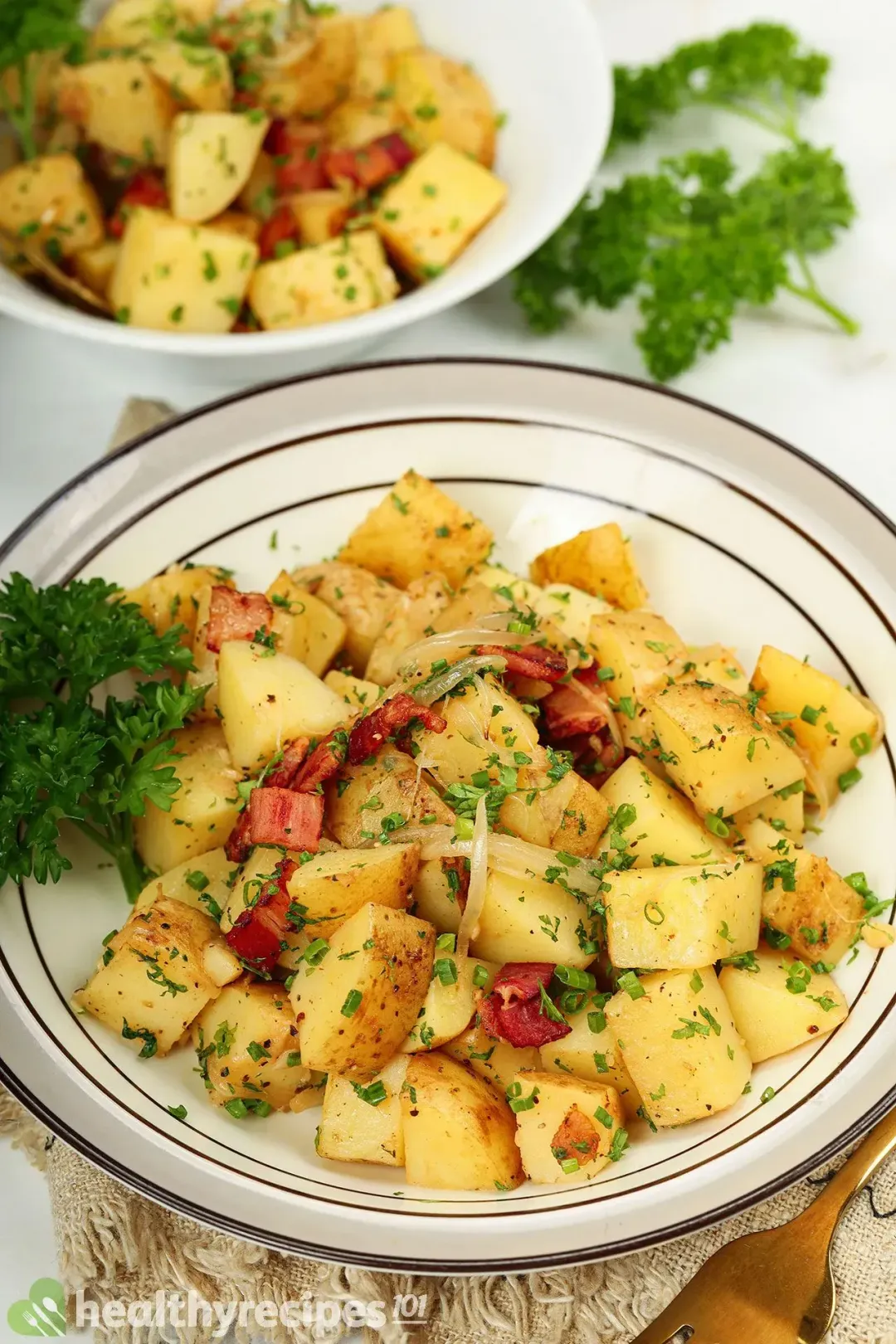 Next Recipe
German Potato Salad
German Potato Salad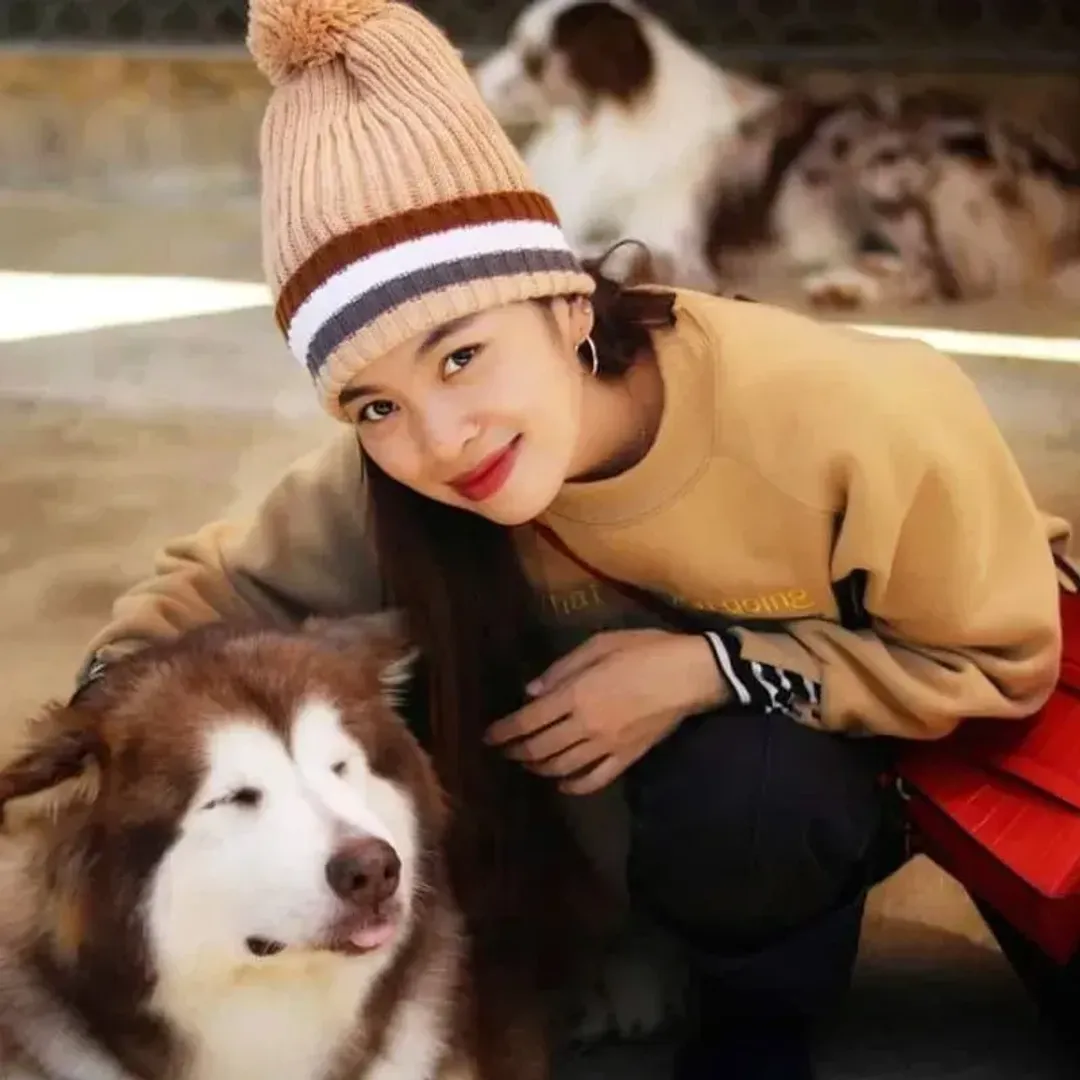 Chef, Culinary Consultant
Tuyet Pham is an award-winning Saigonese chef who believes that joy is the secret ingredient to delicious food. At Healthy Recipes 101, Tuyet personally tests and simplifies every recipe, ensuring maximum flavor with minimal effort. With a background at prestigious French restaurants P'TI Saigon and Le Corto, Tuyet knows how to make every dish exceptional.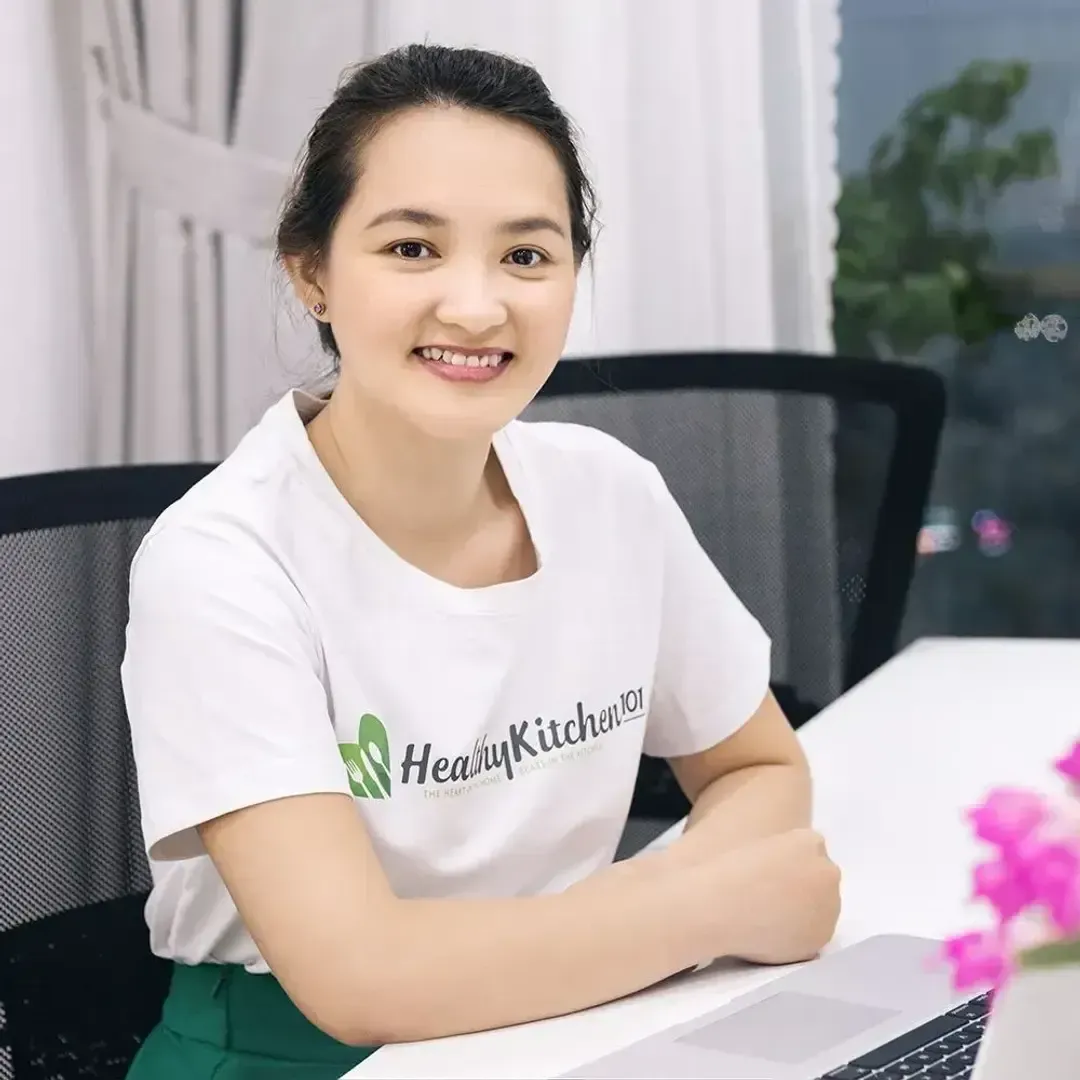 Writer, Author
Luna Regina is an accomplished writer and author who dedicates her career to empowering home cooks and making cooking effortless for everyone. She is the founder of HealthyKitchen101.com and HealthyRecipes101.com, where she works with her team to develop easy, nutritious recipes and help aspiring cooks choose the right kitchen appliances.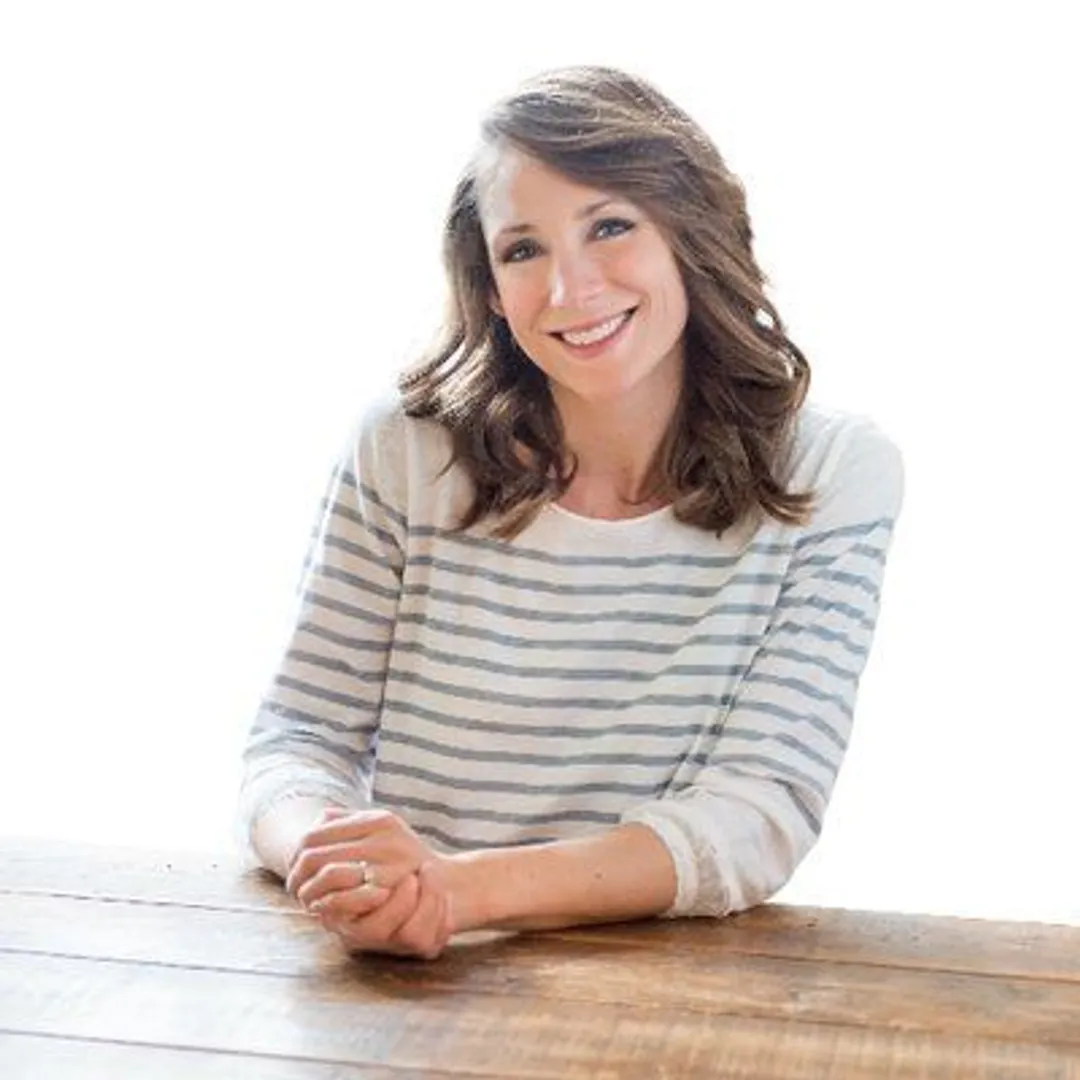 Nutrition Reviewer
Natalie is a registered dietitian nutritionist with a passion to help others live their best life through food, fitness, safer beauty and a healthy lifestyle. She has expertise with a variety of diets and diseases and believes that there is no one-size-fits-all approach for health.
Comments/ Reviews