If you are looking for a quick-and-easy salad recipe, lemon kale salad is the one for you. Our salad offers tons of nutrients thanks to a combination of kale, broccoli, chickpeas, carrots, and onions as the main ingredients. Coming together in less than 15 minutes, it's perfect for breakfast, brunch, and snack time. 
Is Lemon Kale Salad Healthy?
Yes, it is.
Our lemon kale salad recipe is densely packed with "superfood" vegetables, providing an abundance of vitamins, minerals, protein, and fiber.
Kale, one of the main ingredients, is included in most healthy eating trends for its impressive nutrition profile. Each serving of 3.5 oz kale contains only 50 calories while providing up to 241 µg vitamin A and 817 mg vitamin K.
Broccoli also adds fiber, minerals, and a moderate amount of vitamins C, E, and B-complex. This vegetable offers many health benefits such as helping to prevent cancer and lowering the risk of heart disease.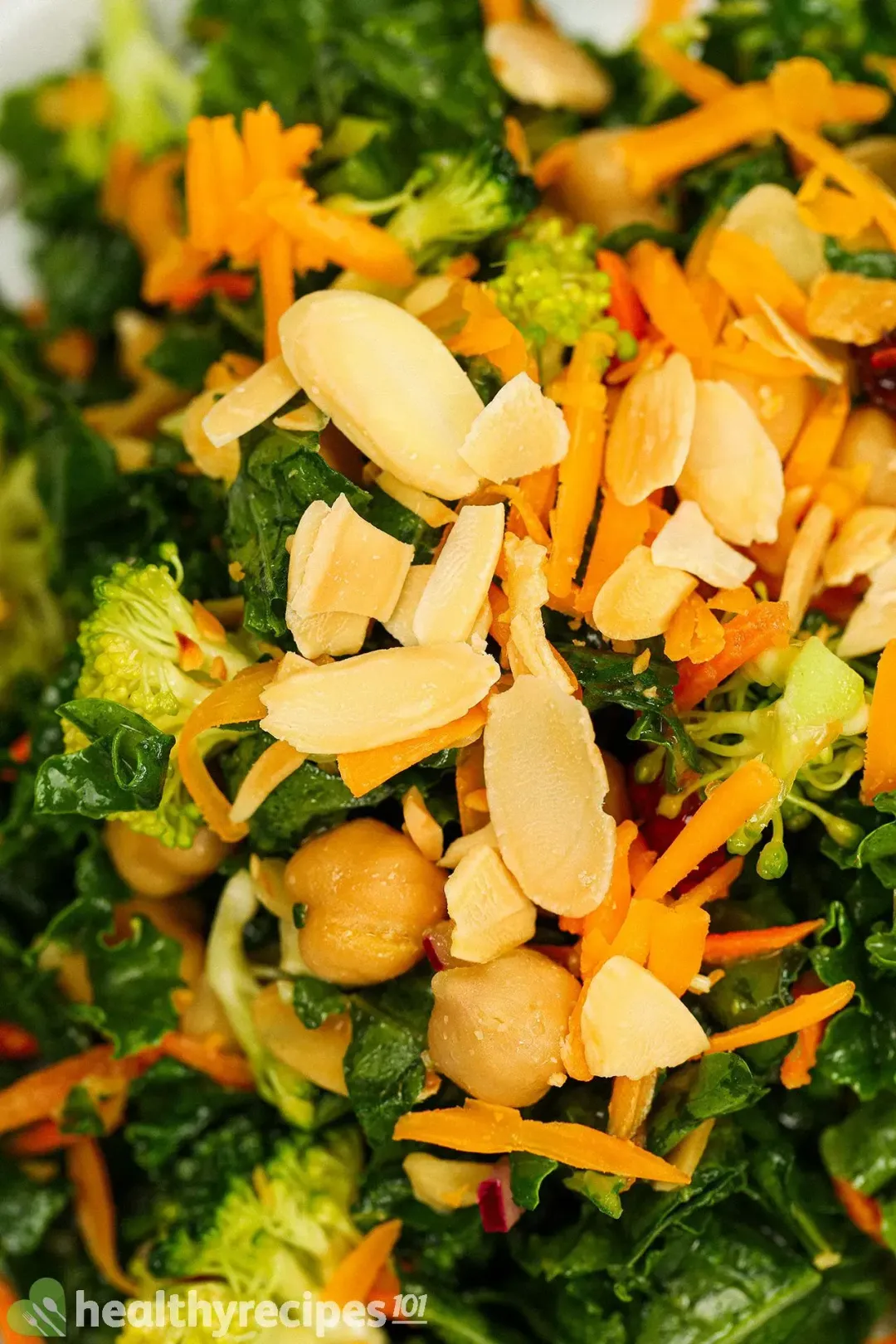 Chickpeas, carrots, onions, dried fruits, and nuts make up the rest of the dish. They not only add a greater variety of flavors and textures but also nutrients.
Our salad recipe is also low in calories, sodium, and saturated fat, with each portion containing 207 calories, 247.6 mg, and 2.5 g, respectively.
Ingredients for Lemon Kale Salad
Kale: Kale possesses a strong earthy flavor and a bitter aftertaste. Some people find it enjoyable while others feel a bit intimidated by it. So, if you are trying kale for the first time, opt for young kale as it has a milder taste. For those who fancy a more pronounced flavor, go with the more mature options.
Broccoli: The crunchiness of broccoli adds more texture to our salad. Since our recipe is quite flexible, you can substitute it for other greens of your preference (baby bok choy or cauliflower also work well).
Canned chickpeas: Chickpeas have a starchy texture and a nutty flavor quite similar to beans. They are great for adding filling to any dish. Plus, you can opt for low-sodium canned chickpeas to save more time.
Onion: Onion, along with the cheese and dried cranberries, helps stand up to the strong flavor of raw kale and adds another dimension to the taste.
Cheese: We love a sharp cheese like cheddar for this salad. However, if you're vegan, you can replace cheddar with plant-based cheese.
Dried cranberries and almonds: These adds-in give more personality, color and nutrients to our salad. Plus, you can pick and choose what to add—let your creativity flow by changing things up with other options like raisins, sultanas, dried blueberries, or other nuts.
Dressing: We serve raw kale with a tart, tangy dressing that helps soften those hardy stems and tough leaves, making it easier to digest. This is good news for stomach-sensitive dieters.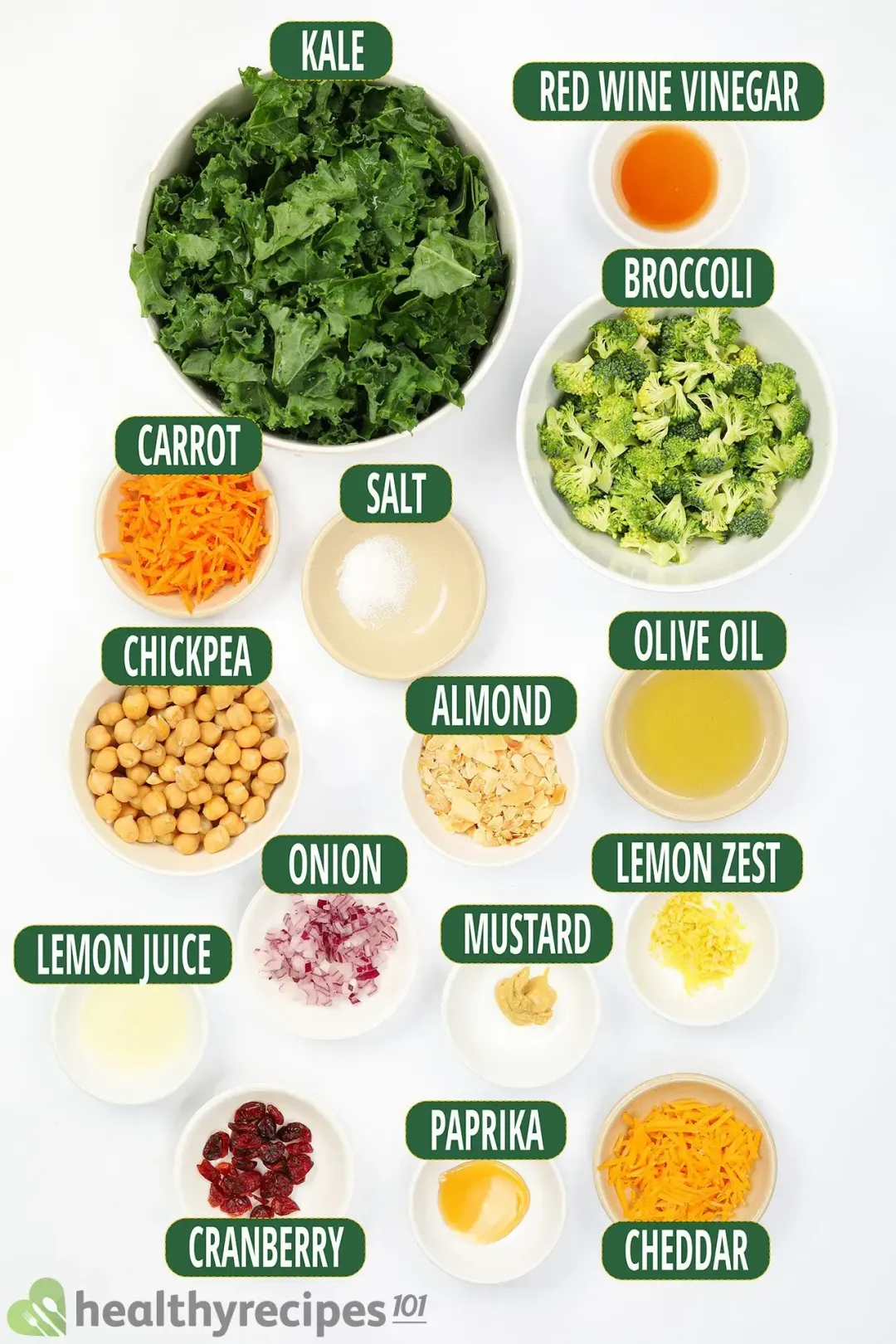 Types of Kale You Can Use for Salad
Kale comes in more than 12 varieties, so it may be overwhelming for you to pick the best ones for salad. Here are some options that our chefs recommend:
Curly kale: This is the most popular type and is available in most grocery stores. Its curly, wavy edges create a sturdy base for seasonings and dressing to stick to. Since raw curly kale is a bit tough compared to other varieties, it needs a good massage with lemon juice or vinegar to soften it a little.
Dinosaur kale: Also goes by two other names—Tuscan or Lacinato kale. This kale has a unique appearance with long, bumpy leaves and a dark green color. By comparison, the taste of this variety is milder and sweeter than curly kale. Thus, less massaging is required.
Baby kale: This is a younger version of kale that is more suitable for those just starting with kale. The tender leaves and mild flavor will lend your salad just a hint of green flavor.
How to Prepare Kale for Salad
When choosing kale, you should go for bunches with fresh, plump, crispy leaves. Avoid stalks that are going limp or have dark spots.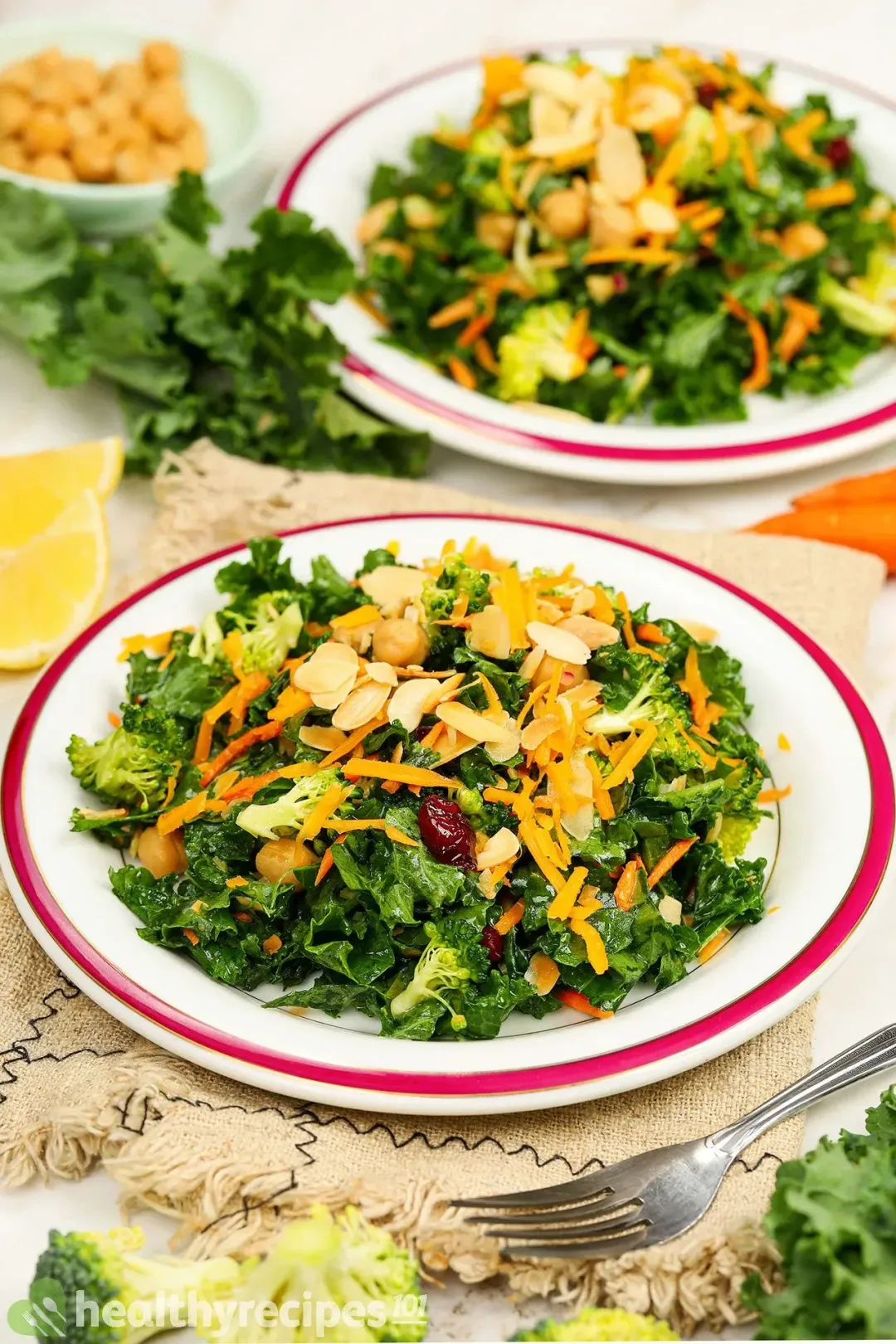 Wash and Chop Kale for Salad
Raw kale with frilly-edged leaves needs to be washed properly to get rid of any dirt and bacteria.
First, remove the center stems by gently tearing them out with your hands or slicing them with a knife. For long-leaf kale, you can continue to cut the leaves into bite-sized pieces.
Next, put the leaves in a colander, and place them under the running water. With both hands, swish them back and forth to get rid of any soil. After 5-7 minutes of swishing, drain out the water. You can use a salad spinner for an extra rinsing step. Doing this will remove even more of the excess water and help your vegetables stay crispy longer.
How Long Does Lemon Kale Salad Last?
Like other salads served with a high-acidity dressing, leaving lemon kale salad in the open air will make it go bad quickly. You have a window of about two hours for it to be at its best.
If you do end up with some leftovers, put them in an airtight container and store them in the fridge for up to three days. However, the longer they sit, the more soggy they get, and the less appealing they become. So, ideally, you should finish up the leftovers on day one or two.
Our chefs don't recommend freezing this salad, as the greens will turn mushy after thawing.
How to Make Lemon Kale Salad
If you are looking for a quick and easy salad recipe, lemon kale salad is the one for you. It features kale, broccoli, chickpeas, carrots, and onions as the main ingredients, so it offers tons of nutrients.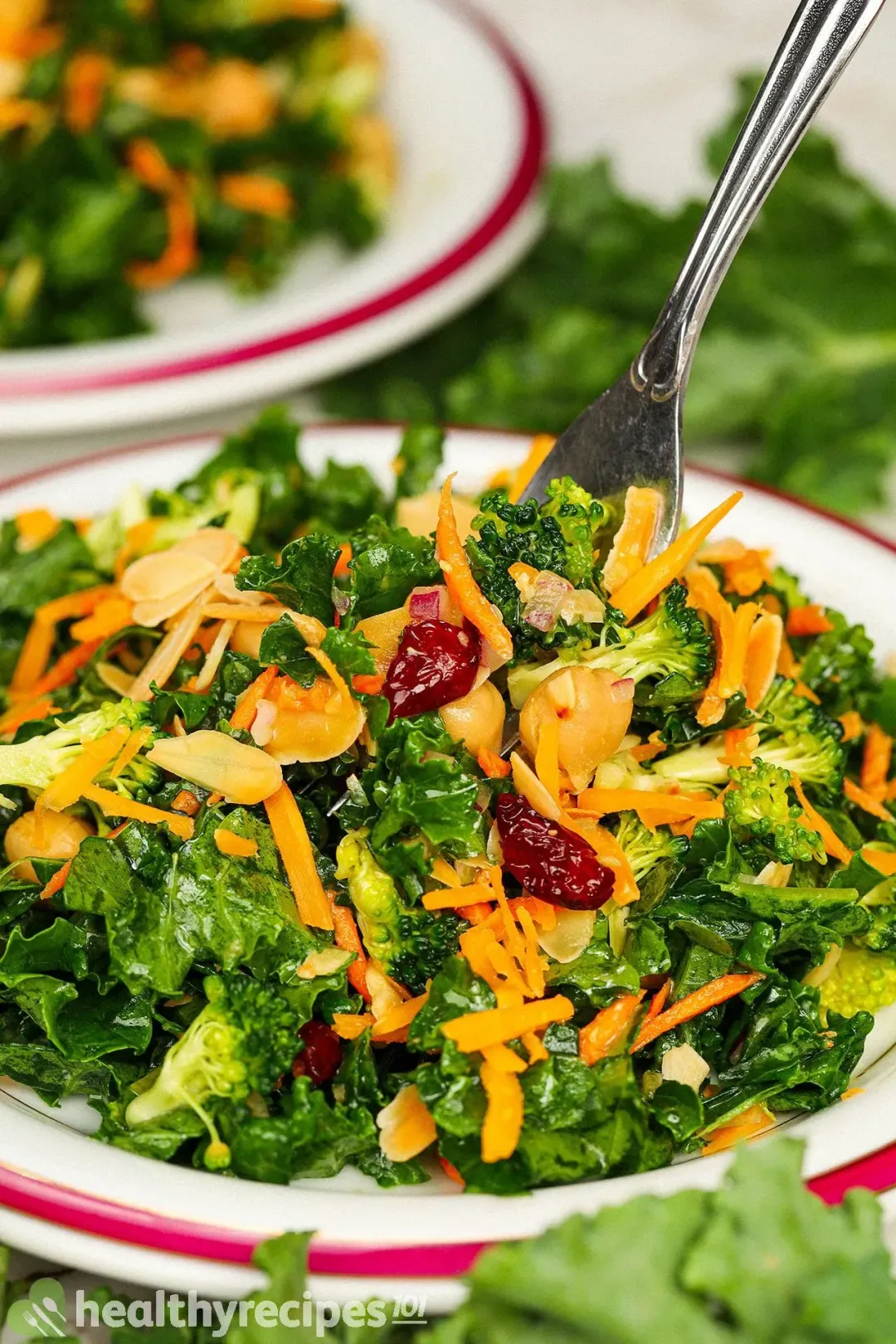 prep TIME

12 mins

total TIME

12 mins
COURSE

Side Dish

CUISINE

Global

SERVINGS

CALORIES

207 kcal
INGREDIENTS
1 tsp

traditional Dijon mustard

1/2 tbsp

red wine vinegar
INSTRUCTIONS
1
Make the dressing by whisking together 3 tbsp olive oil, 1 tsp traditional Dijon mustard, 1 tbsp lemon juice, 1/2 tbsp red wine vinegar, 1 tsp lemon zest, and 1/4 tsp salt.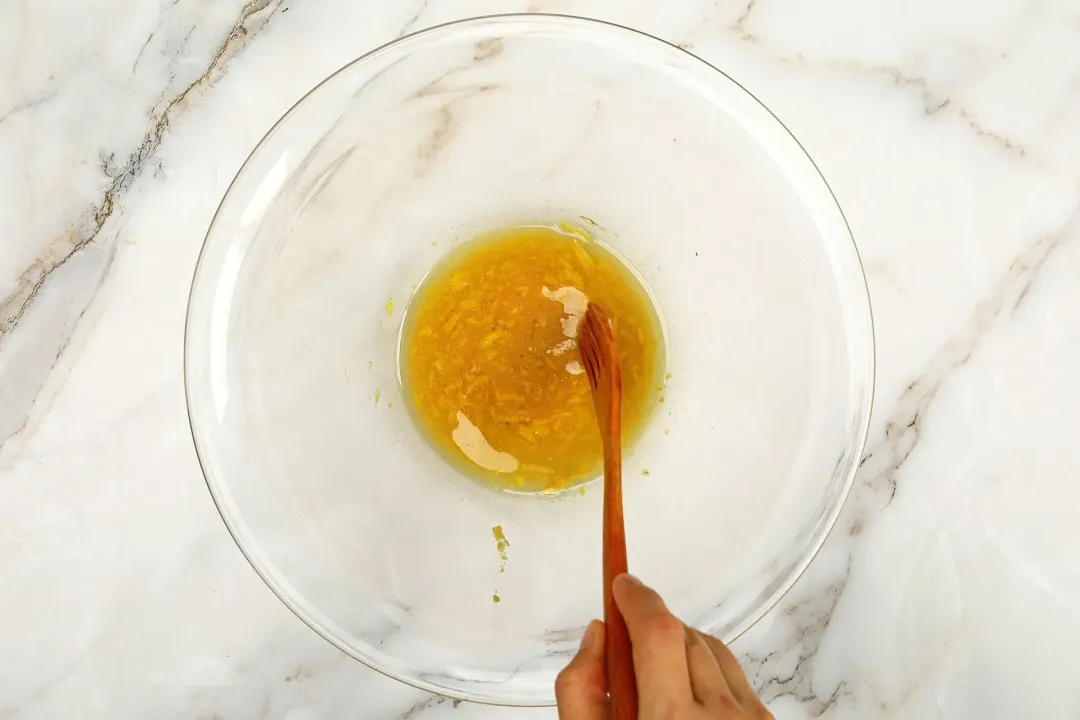 2
In a big mixing bowl, add 3 oz kale, 3 oz broccoli, 4 oz canned chickpeas, 1 oz julienned carrot, 0.5 oz diced onion, 0.5 oz dried cranberries, and 1 oz sliced almonds.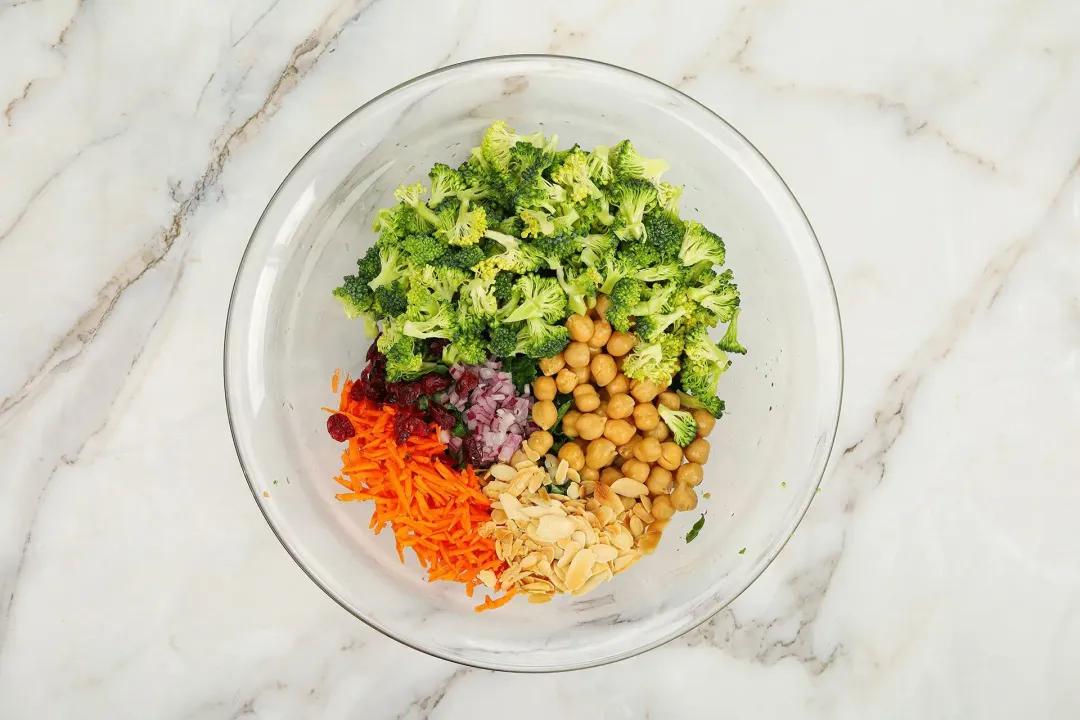 3
Drizzle the dressing all over. Toss well until all of the ingredients are evenly coated in the dressing.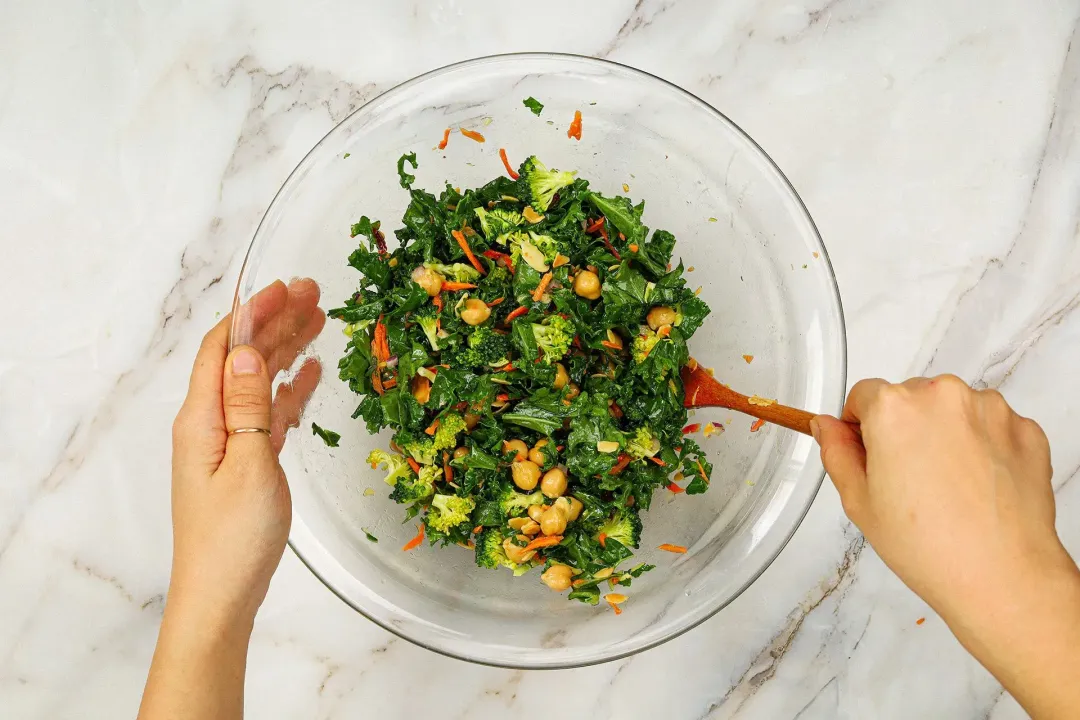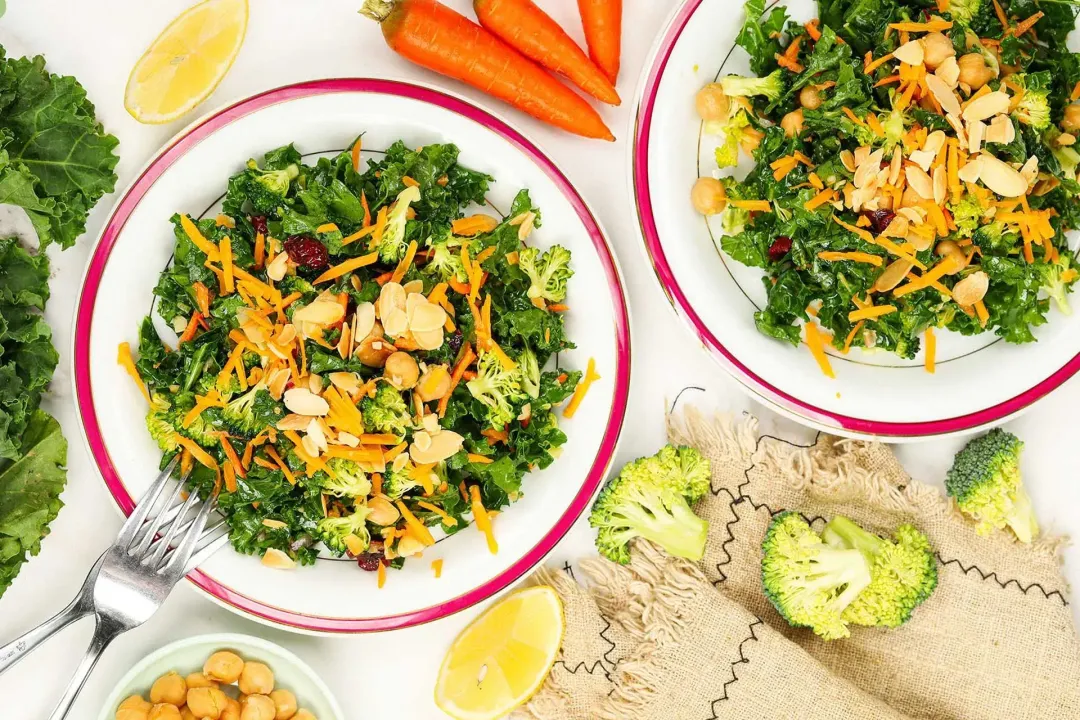 NUTRITION
Nutrition Facts
How to Make Lemon Kale Salad
Amount Per Serving (1 serving)
Calories 207
Calories from Fat 144
% Daily Value*
* Percent Daily Values are based on a 2000 calorie diet.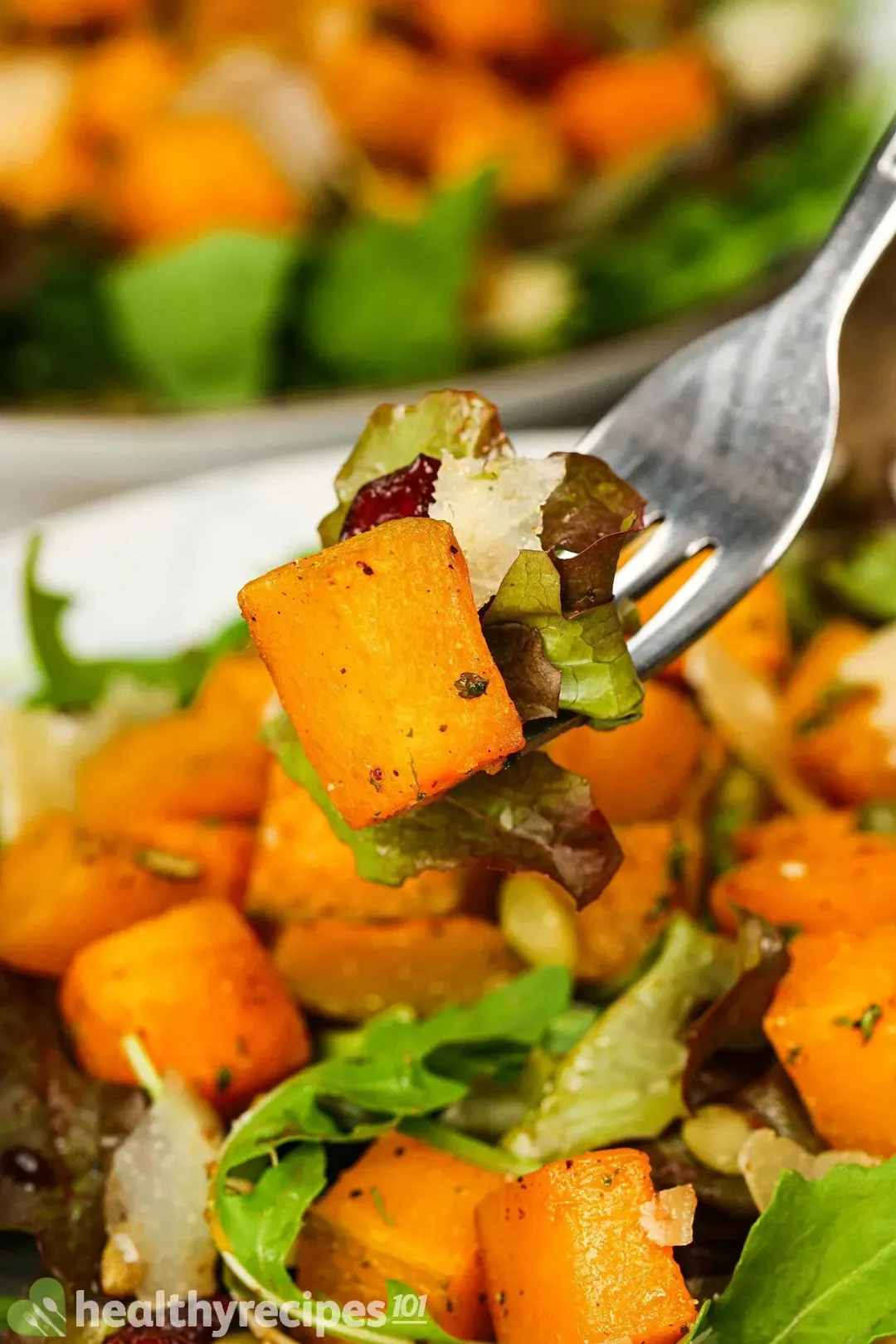 Previous Recipe
Butternut Squash Salad
Butternut Squash Salad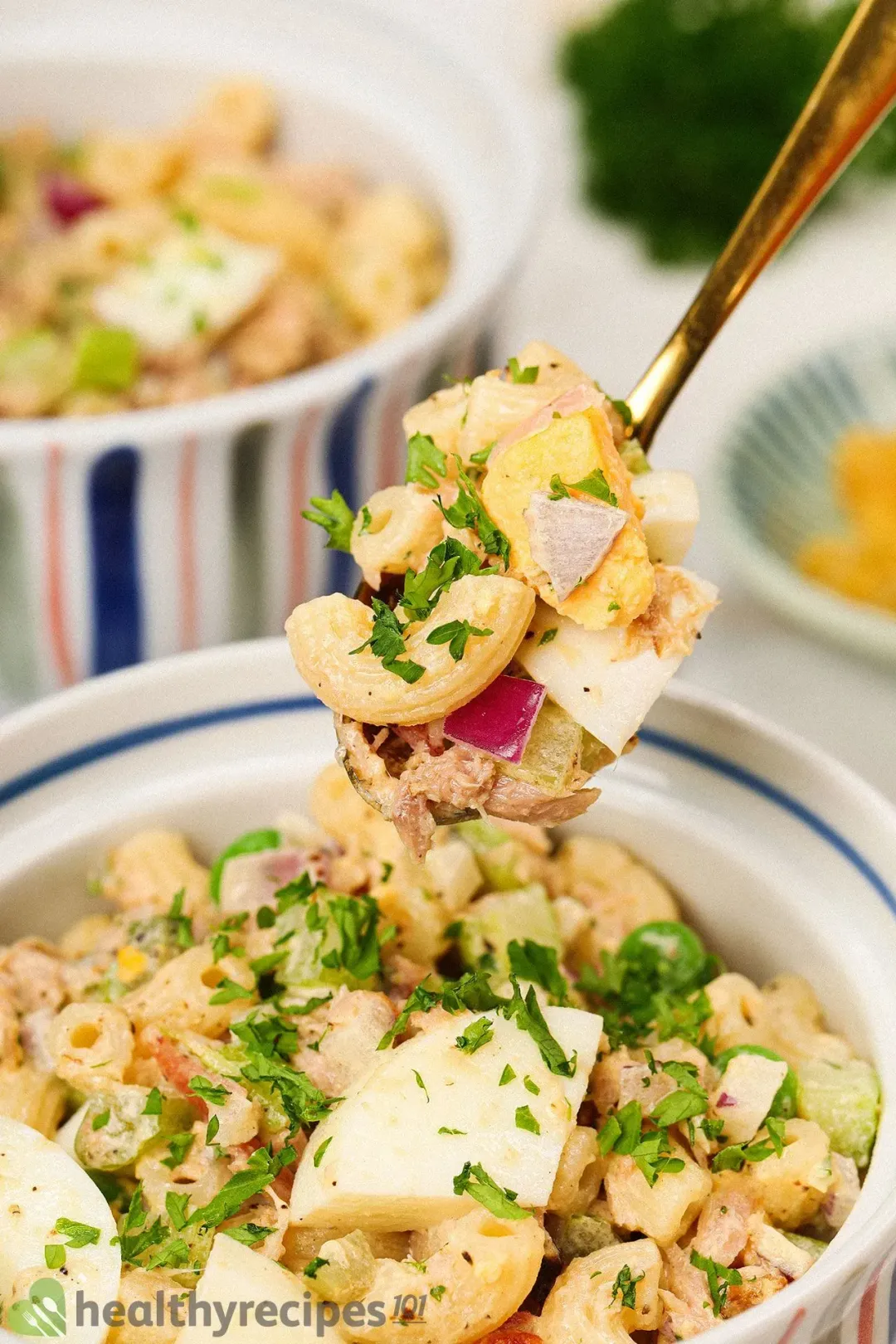 Next Recipe
Tuna Macaroni Salad
Tuna Macaroni Salad
Head Chef, Culinary Consultant
Tuyet Pham is an award-winning Saigonese chef who believes that joy is the secret ingredient to delicious food. At Healthy Recipes 101, Tuyet personally tests and simplifies every recipe, ensuring maximum flavor with minimal effort. With a background at prestigious French restaurants P'TI Saigon and Le Corto, Tuyet knows how to make every dish exceptional.
Writer, Author
Luna Regina is an accomplished writer and author who dedicates her career to empowering home cooks and making cooking effortless for everyone. She is the founder of HealthyKitchen101.com and HealthyRecipes101.com, where she works with her team to develop easy, nutritious recipes and help aspiring cooks choose the right kitchen appliances.
Nutrition Reviewer
Natalie Butler is a registered dietitian nutritionist with a passion to help others live their best life through food, fitness, safer beauty and a healthy lifestyle. She has expertise with a variety of diets and diseases and believes that there is no one-size-fits-all approach for health.
A tangy twist on a classic kale salad with the refreshing taste of lemon!

Tangy and refreshing salad.