This lettuce salad might seem simple, but that's the beauty of it. Made with familiar vegetables that come together in a zesty and tangy dressing, this salad truly is an irreplaceable staple. Worried about it being boring? Fear not, the contrast in textures and flavors is more than enough to keep things interesting. 
Is Lettuce Salad Healthy?
You may already know the answer, but it's a definite yes. Packed with an abundance of lettuce and other healthy veggies, this salad is a powerhouse of nutrients in one single bowl.
This salad's main ingredient is lettuce, which, with around 95% water content, is well-known for being hydrating. Being abundant in vitamins and minerals, this veggie may also have anti-inflammatory qualities and help to reduce the risk of depression, not to mention numerous other diseases. 
Our recipe also includes other nutritious veggies, such as cucumber, radish, red onion, and cherry tomatoes. With green produce making up the majority of ingredients, the overall dish only contains 2.7 g saturated fat and 212.4 mg sodium. These both amount to less than 12% of the recommended daily limit.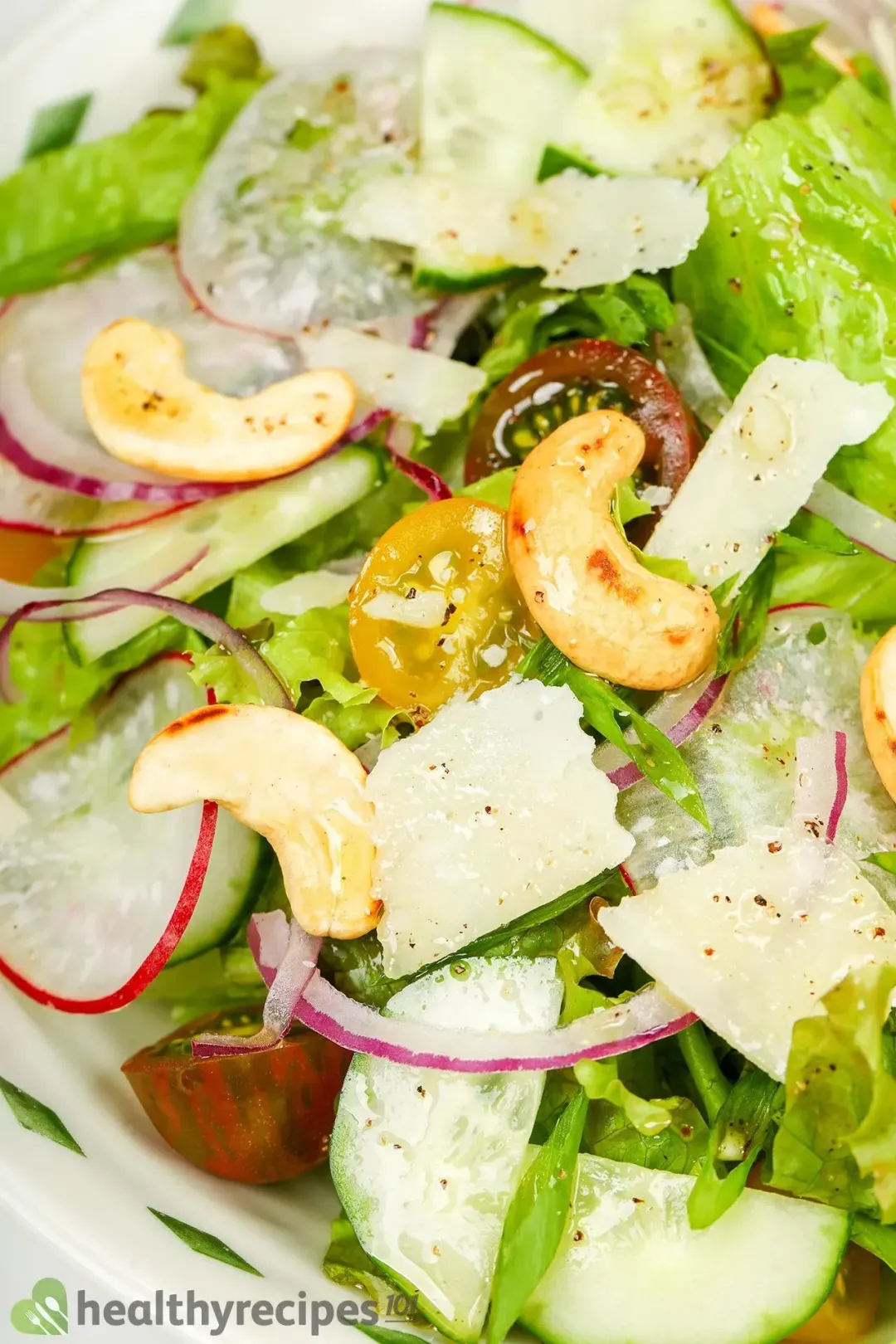 Best Lettuce for Salad
Lettuce is an incredibly diverse veggie that comes in multiple varieties. Each has its own texture and flavor, and you may be surprised by just how different they are. Here are a few standout ones that you can use and combine.
This type of lettuce is recognizable by the leaves that grow in loose clusters rather than gather in one tight head. The two most common colors are red and green, both of which are crisp with a mildly sweet taste. The more mature ones tend to be semi-bitter, so stick to younger ones if that isn't to your liking. 
This lettuce is round with multiple layers of green leaves. Its taste is relatively mellow compared to other types, but the leaves are quite thick, making it much more crispy and voluminous. 
This Caesar salad staple is characterized by its long shape and leaves that slowly fade from green to white towards the head. The leaves have contrasting sturdy textures in the center but are soft at the top. Flavor-wise, it's neutral with a bitter undertone that gets sweeter towards the center. 
Other common types you can consider adding to your salads are Boston lettuce, Bibb lettuce, kale, spinach, and arugula. Pair a few of them together to diversify the dish with subtly different flavors and various textures.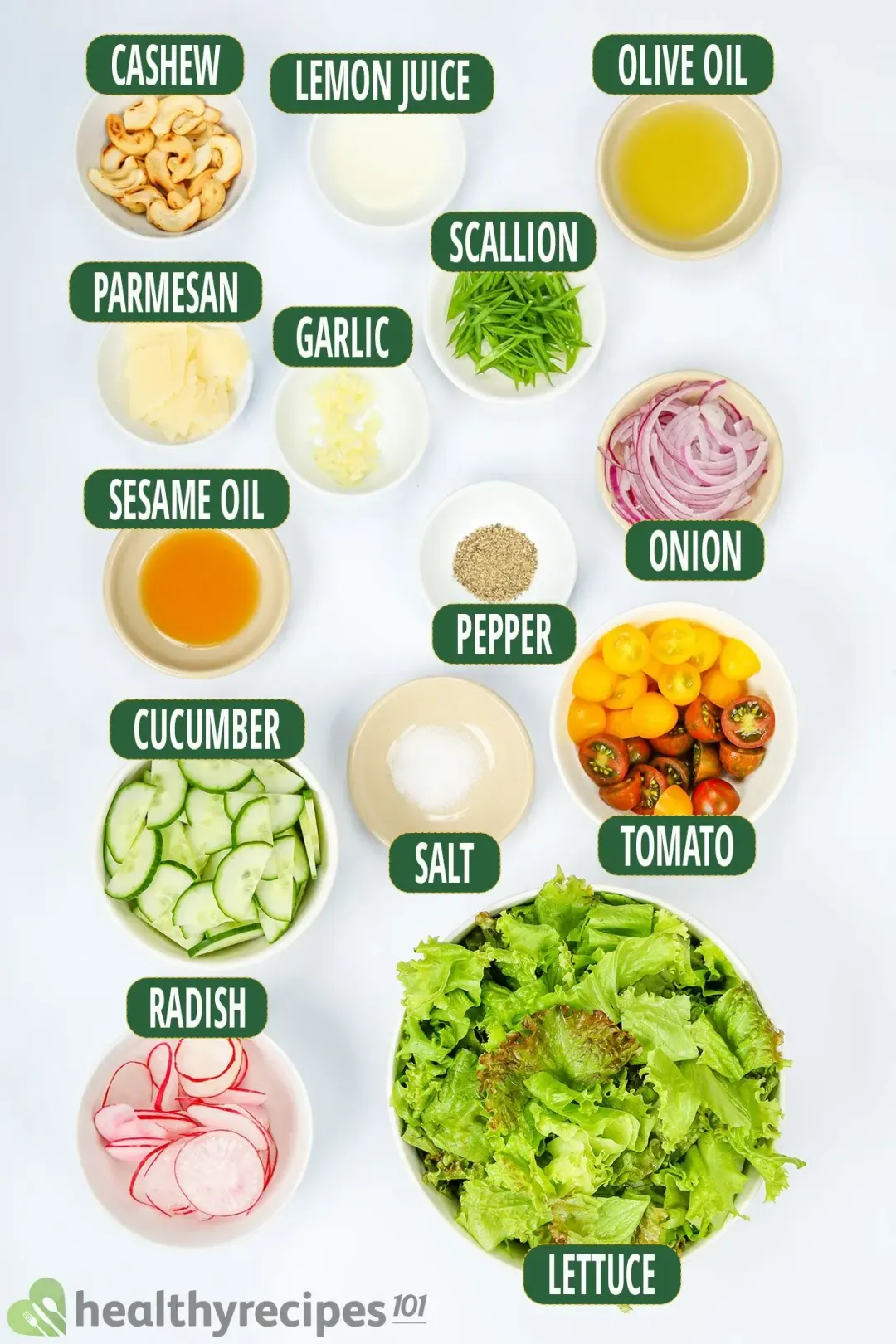 How to Prepare the Ingredients
Since there's little to no cooking, the ingredients must be as clean and fresh as they can possibly be. There are two main steps you should take in preparation for making this salad:
Wash & Dry The Vegetables
Dunk the veggies in a large bowl of cold water. Separate and swirl the leaves as you wash to clean all the corners of the leaves thoroughly. Let them soak for around 10 minutes to wait for the dirt and sand to fall off. 
Use a salad spinner immediately afterward to dry the veggies and prevent the residue water from turning the leaves slimy. You can also roll them in a paper towel and gently pat them dry, but be careful not to bruise any leaves in the process.
Cut the lettuce leaves into bite-sized pieces, the cherry tomatoes in half, the red onions into thin slices, and chop all the remaining veggies. If you use other types of lettuce, don't forget to remove the core.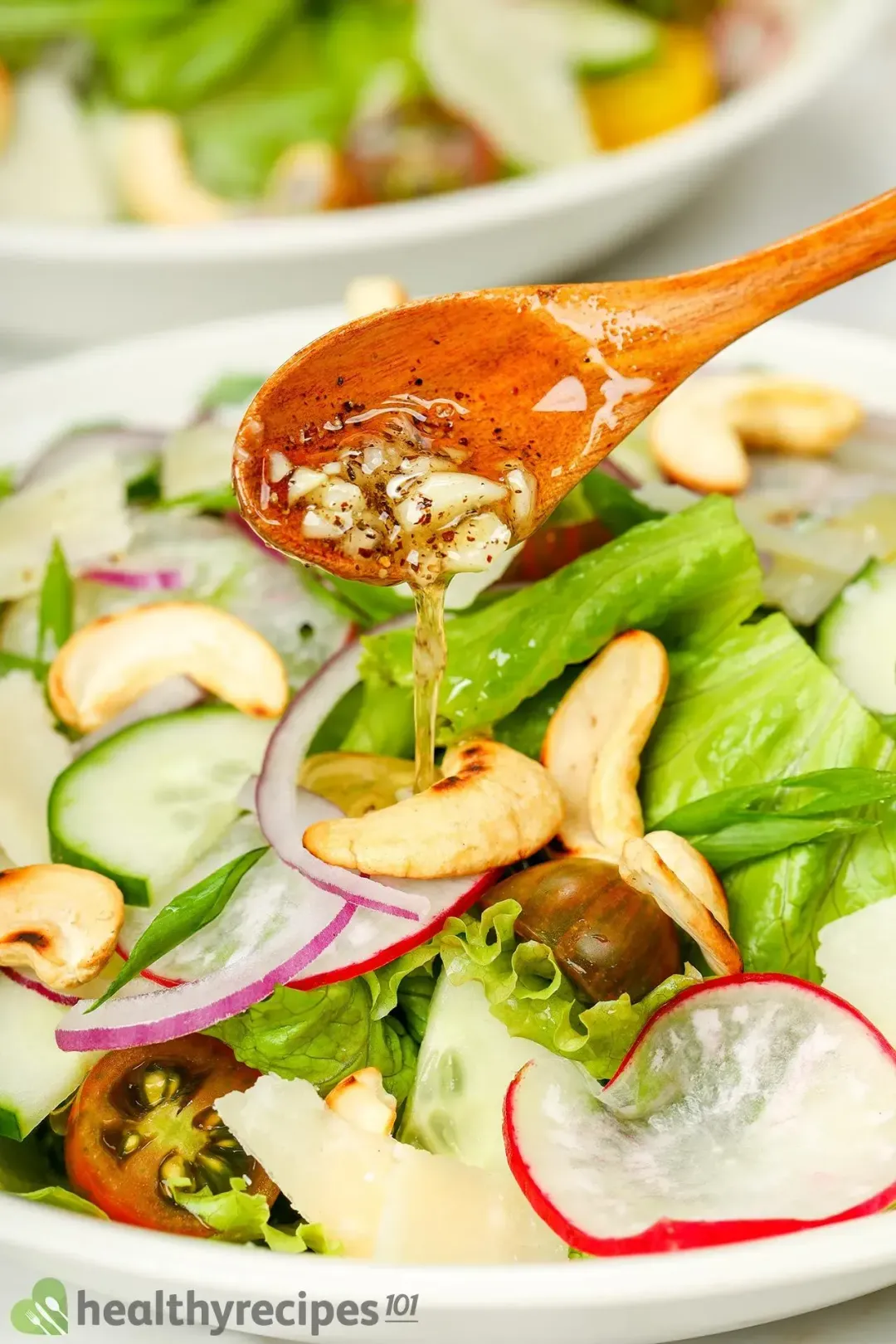 How to Serve Lettuce Salad
Lettuce salad tastes best when it's chilled. You can facilitate this by refrigerating the plate 30 minutes prior to serving. As for the salad itself, pour the dressing in right before you serve to prevent the whole dish from getting soggy. 
What to Serve Lettuce Salad With
This salad's bright and versatile taste complements a wide range of main dishes. It works great as a side or a bed for various proteins like chicken, fish, or grilled meat. You can also eat it alongside soup for a light meal or use the leftovers as fillings for burgers and sandwiches.
How to Store the Leftovers
Your lettuce salad will taste best when eaten within the first 30 – 60 minutes. If you have any leftovers, you can keep them in an airtight container with dry paper towels lining the top and bottom. They should last for around a week in the fridge's crisper drawer.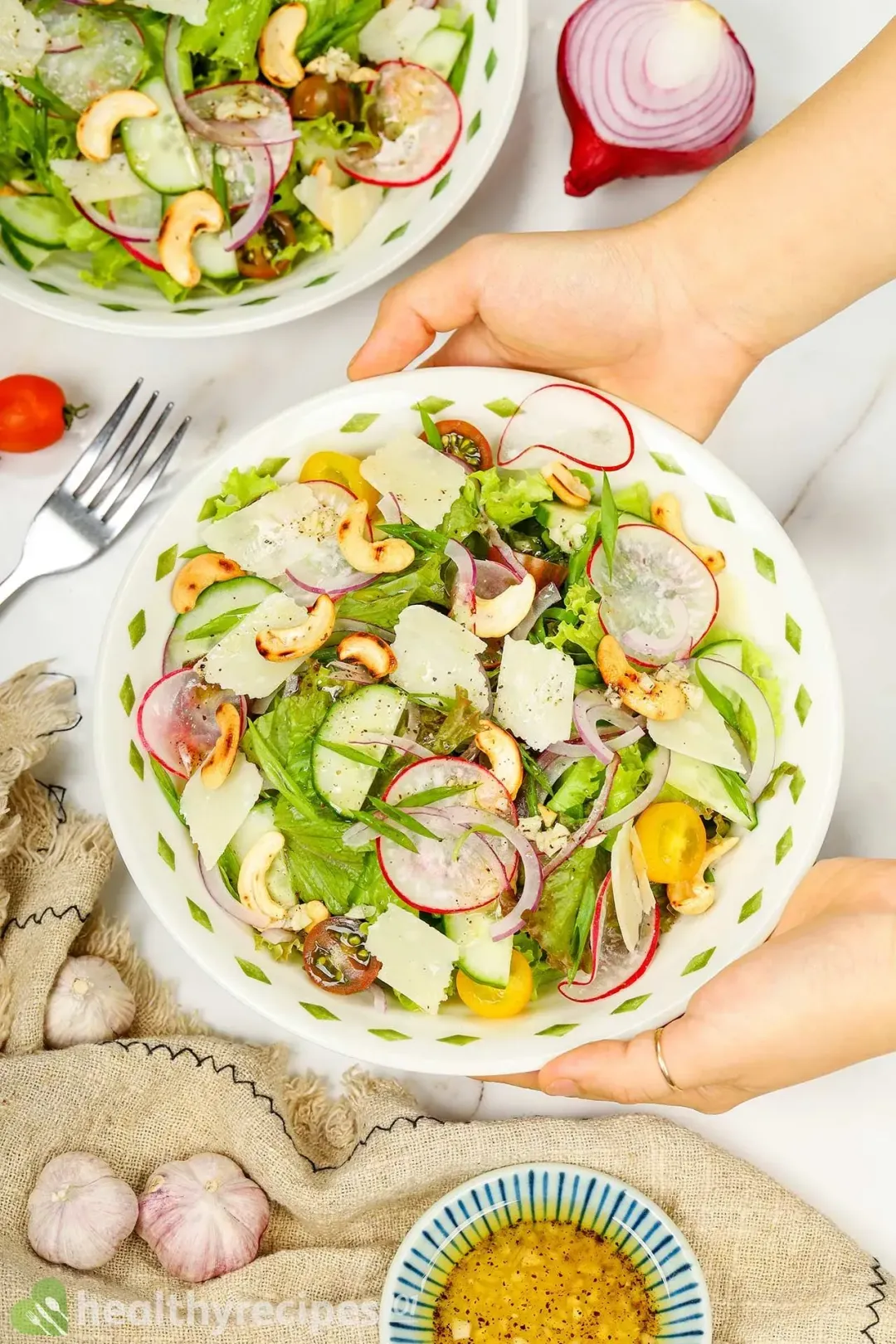 How to Make Lettuce Salad
Bring some greens into your diet with this delicious and easy lettuce salad. It's made of familiar ingredients but tastes brand new thanks to the zesty dressing that binds everything together.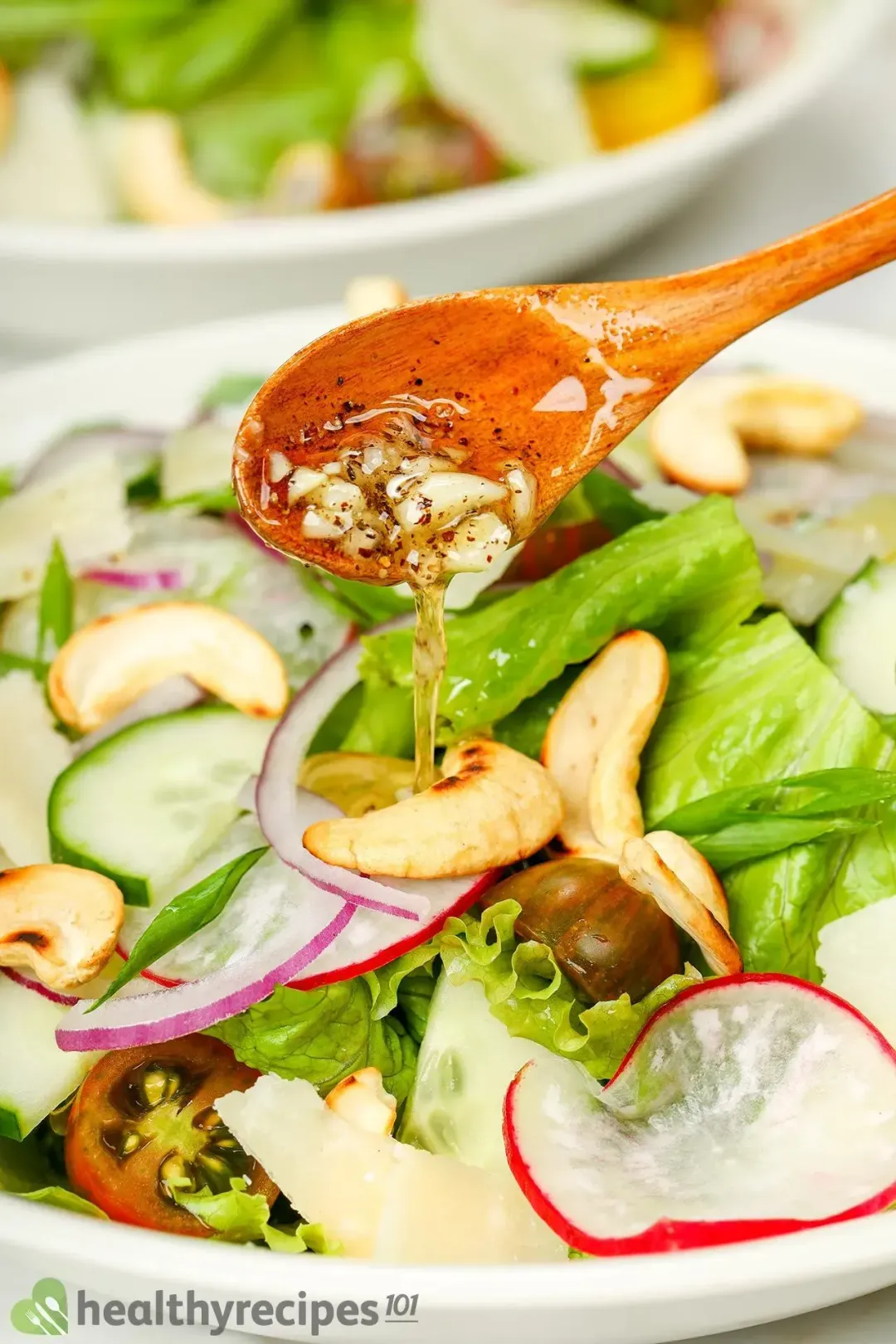 cook TIME

5 mins

prep TIME

10 mins

total TIME

15 mins
COURSE

Side Dish

CUISINE

American

SERVINGS

CALORIES

163 kcal
INGREDIENTS
2 oz

cucumber

(unpeeled, sliced)

1 oz

red onion

(thinly sliced)

4 oz

cherry tomato

(halved)

2 tbsp

scallion

(tops only, thinly sliced)

0.5 oz

shredded parmesan cheese
INSTRUCTIONS
1
In a small bowl, mix 1/2 tbsp garlic, 1 tbsp lemon juice, 1 tbsp sesame oil, 2 tbsp olive oil, 1/4 tsp salt, and 1/2 tsp pepper to make the dressing.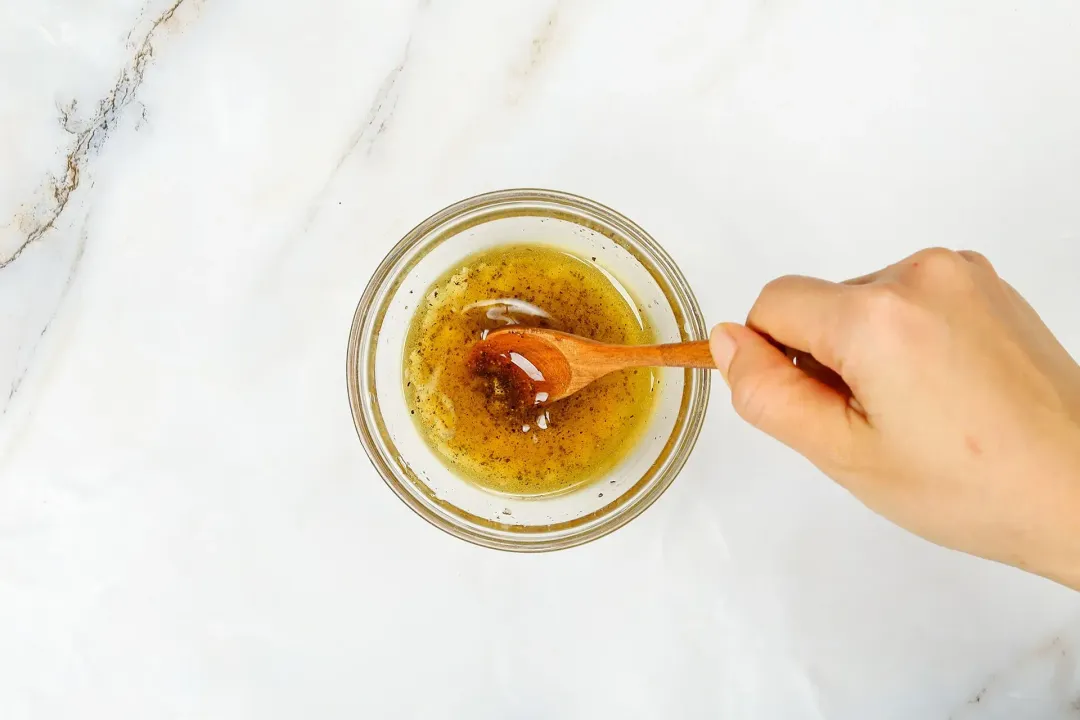 2
Lay 4 oz leaf lettuce, 2 oz cucumber, 1 oz red onion, 1 oz radish, 4 oz cherry tomato, 0.5 oz shredded parmesan cheese, and 1 oz cashews onto the plate. Pour the dressing over the ingredients and gently toss until combined.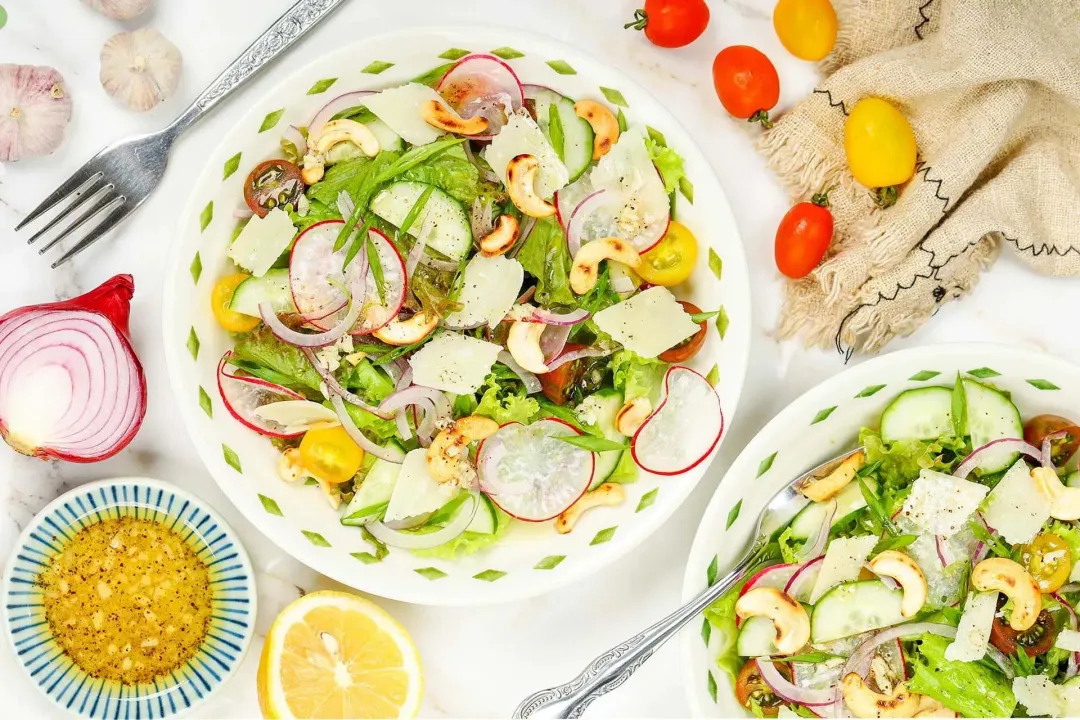 NUTRITION
Nutrition Facts
How to Make Lettuce Salad
Amount Per Serving (1 serving)
Calories 163
Calories from Fat 126
% Daily Value*
* Percent Daily Values are based on a 2000 calorie diet.
Keywords: how to make lettuce salad, lettuce salad, lettuce salad recipe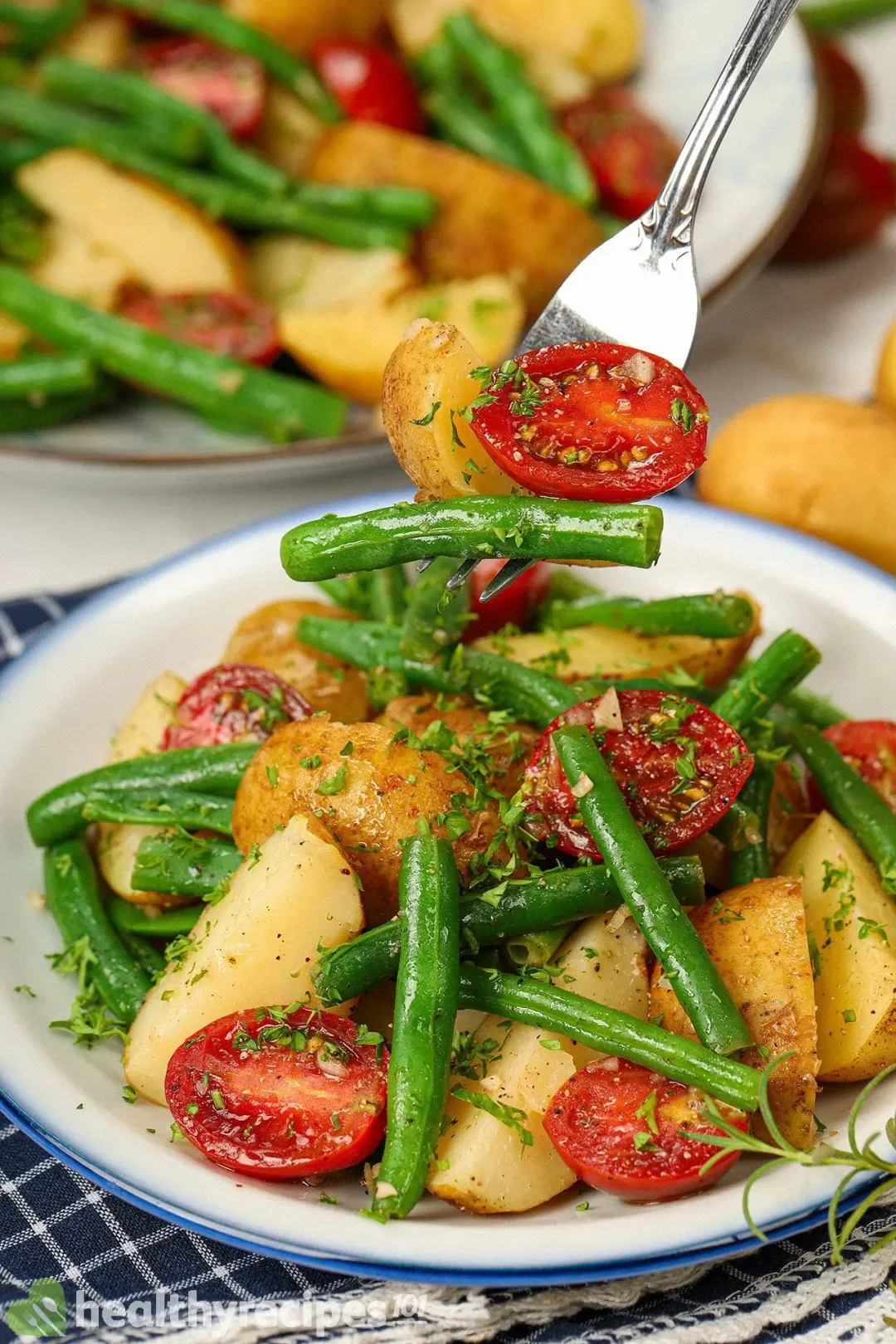 Previous Recipe
Italian Potato Salad
Italian Potato Salad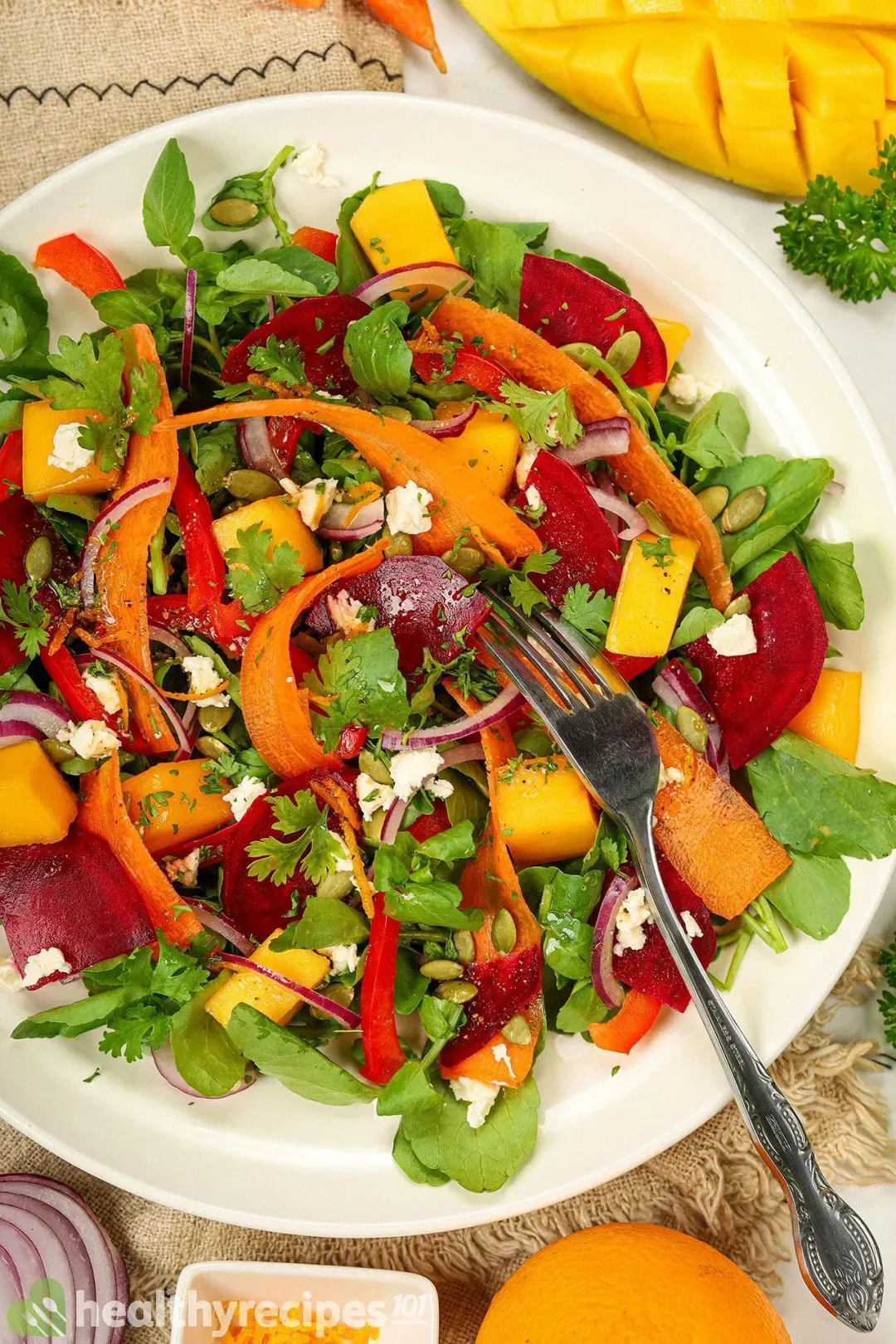 Spring Salad
Lettuce salad is a simple and nutritious side dish.