Bright and colorful, today's spring salad with a fruit-and-veggie mix is pleasing to the eye and refreshingly delicious to the tongue. 
Within just 15 minutes of preparation time, you and your family will be enjoying this delightful dish.
Is Spring Salad Healthy?
Yes, our spring salad is healthy. Here are the reasons why:
First, it is very low in carbs and calories, making it a great snack or side dish: You can eat a lot of it without the fear of gaining weight.
At the same time, the dish is extremely rich in vitamins A and C, with 17% and 56% of your daily recommended intake, respectively. This is thanks to the presence of the fantastic four: watercress, mangoes, oranges, and carrots.
Sufficient consumption of vitamin A and vitamin C can have benefits for your eyes and skin and strengthen your immune system, as well as lower the risks of other health problems, such as cardiovascular diseases.
Now, let's dive in to see more of the ingredients!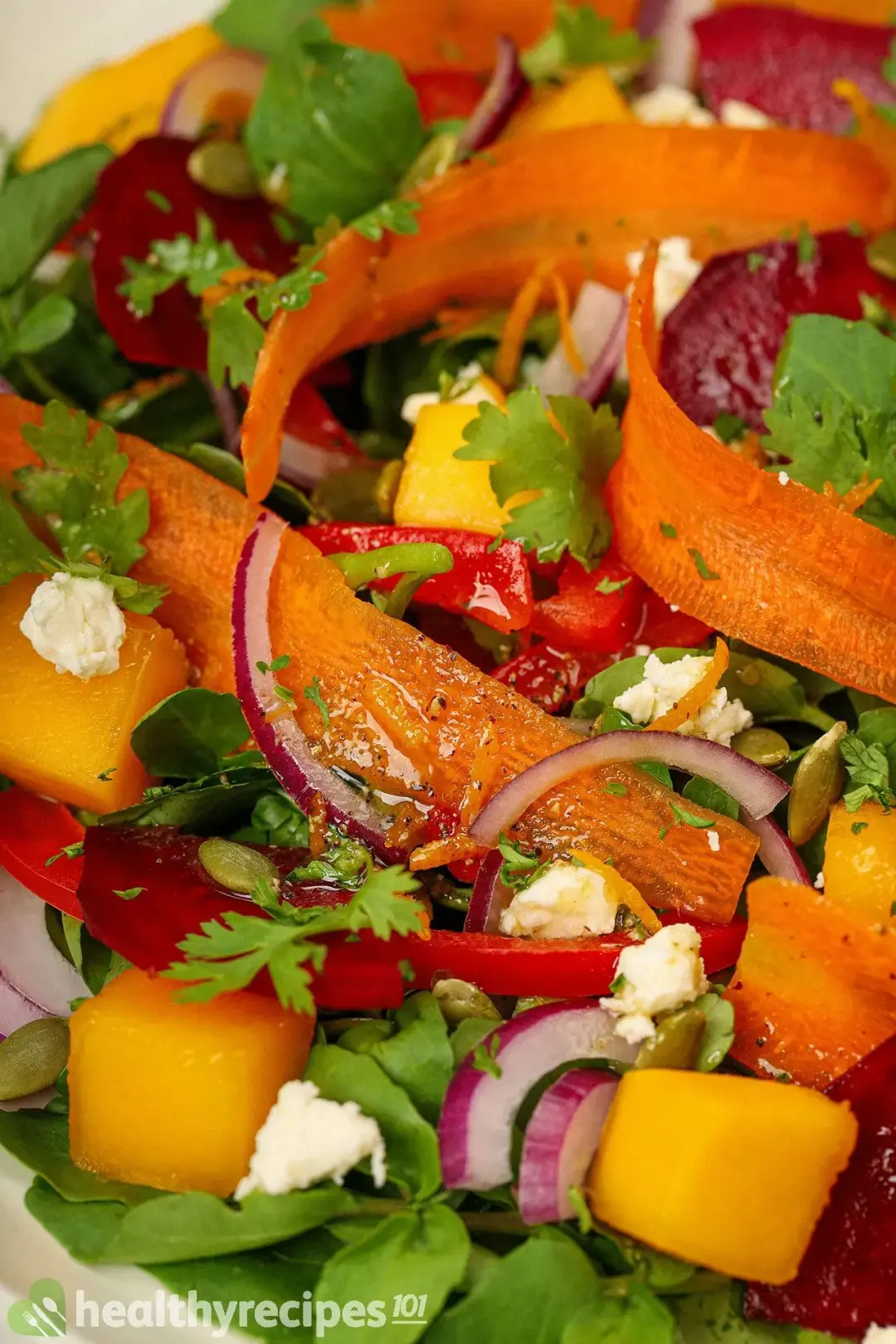 What's In Spring Mix Salad?
Here are all the ingredients you need to make this light-hearted spring salad:
1. For the Salad
Watercress: Raw watercress is fresh and mild in taste, with distinctive nutty and peppery notes.
Red bell pepper: These 'red bells' have a fruity and mildly sweet taste, making them a great addition to our spring salad.
Mango: Rich and exotic in flavor, this sweet-tasting fruit shines brightly in our spring salad.
Beet: The dark purple-red of beets and their earthy taste add more depth. 
Baby carrot: Fresh and crunchy carrot slices add to the color and the texture of the dish.
Red onion: A few slices of slightly spicy red onions give the salad a kick.
Pumpkin seed: Chewy pumpkin seeds are fun to bite into, making our spring salad a more enjoyable experience.
Feta cheese: Rich and buttery, a little bit of feta cheese can work magic in this dish.
Cilantro and parsley: These aromatic herbs are used to garnish and add extra flavor to the salad.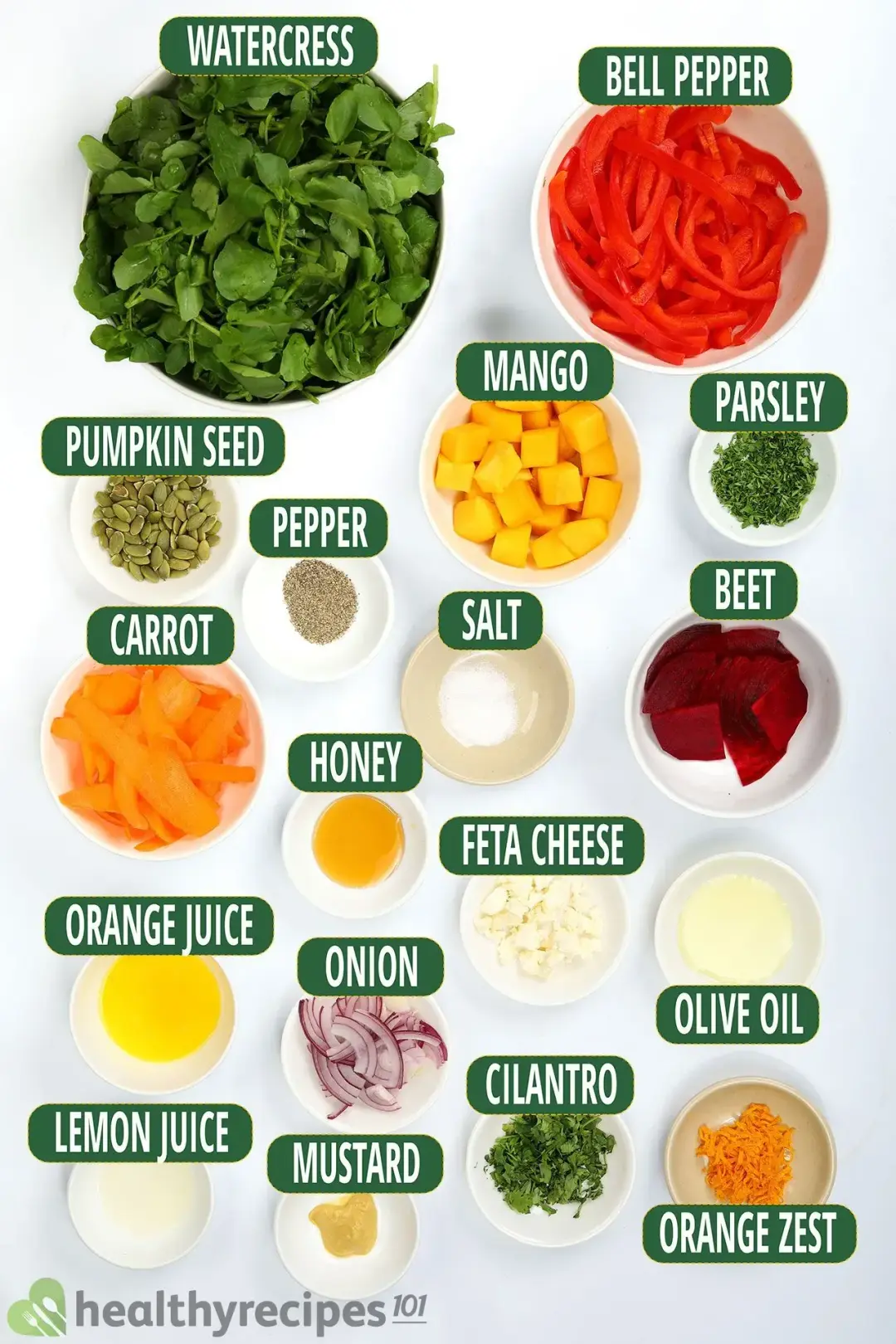 2. For the Dressing
Orange juice, orange zest, and lemon juice: These are added for their citrusy flavors and bright aromas.
Honey: The sweetness from honey helps balance out the sour, acidic taste of the citrus mix.
Salt and pepper: Staples – add a bit of salt and pepper to taste.
Mustard: To add a pungent blast of flavor.
Olive oil: Use cold-pressed, extra virgin olive oil for your salad dressing.
How to Prepare Ingredients
Preparation will only take you about 10 minutes.
Of course, you need to pick the freshest watercress leaves for your plate.
Then, before cutting the fruit and veggies, remember to wash them clean.
Slice the red bell peppers, red onions, baby carrots, and beets. Remember to remove the peels of the beets and carrots first. Also, one tip to give these two a crunchier texture is to plunge them into separate bowls of cold/ice water for 1-2 minutes, then drain them off.
Peel the mango, then cut into bite-sized pieces.
Zest the orange using a zesting or grating tool. After that, squeeze it and the lemon for juice.
Chop the parsley, cilantro, and garlic.
When done, place all of the ingredients on the table to get ready for the salad.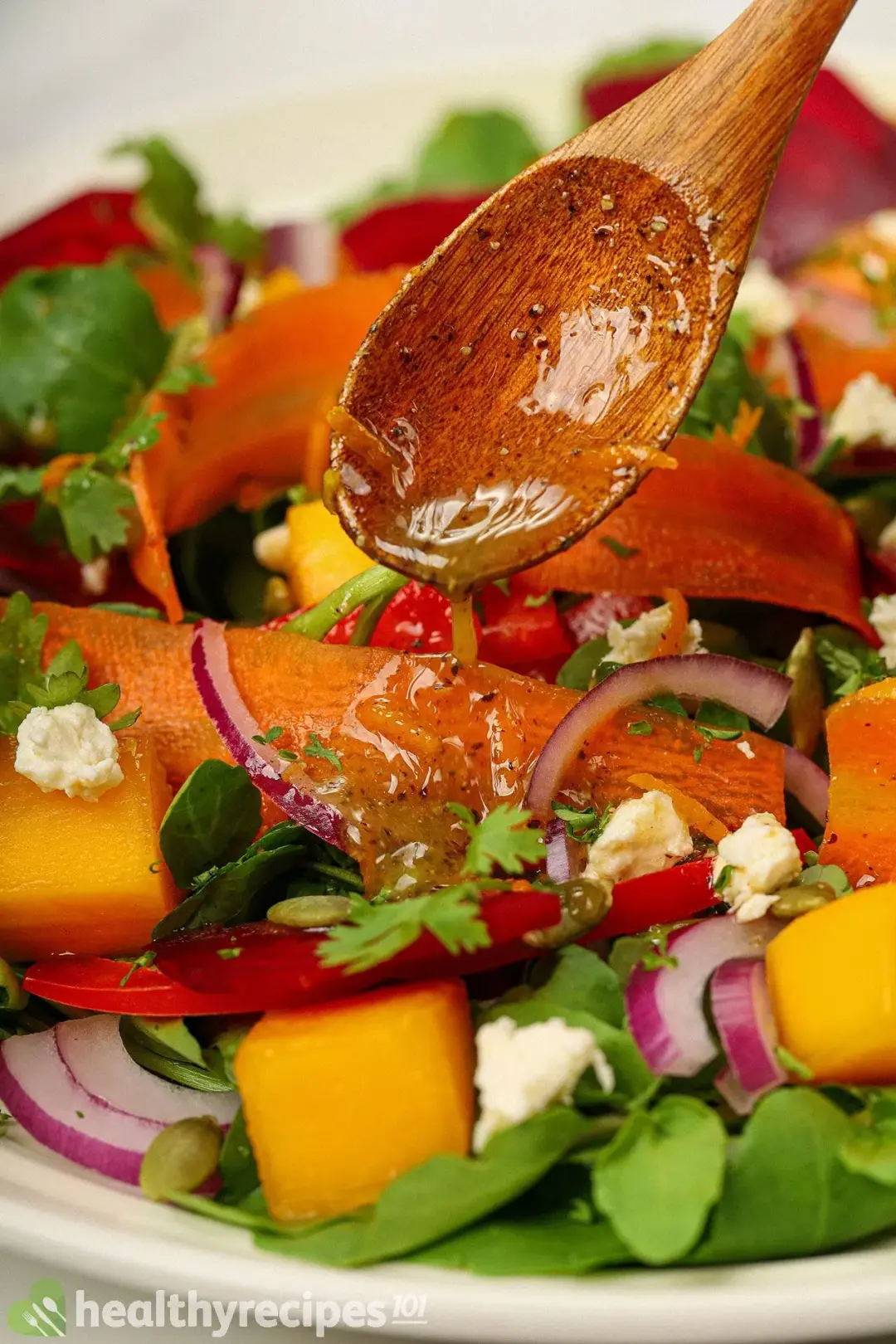 What to Serve Spring Salad With
This sweet and refreshing spring salad makes an awesome snack or a wonderful side dish for your family meals.
It will easily go with other savory dishes and main courses, such as pan-fried chicken breasts or grilled salmon.
So, feel free to be creative and include this delicious spring mix in your lunch or dinner meal plans.
How to Store the Leftover
If your salad is already dressed, then it's best to eat it right away, or you can keep it in the fridge but be sure to eat it within a day.
If the salad and the dressing are kept separately in the fridge, they should stay fresh and good for up to 2 days.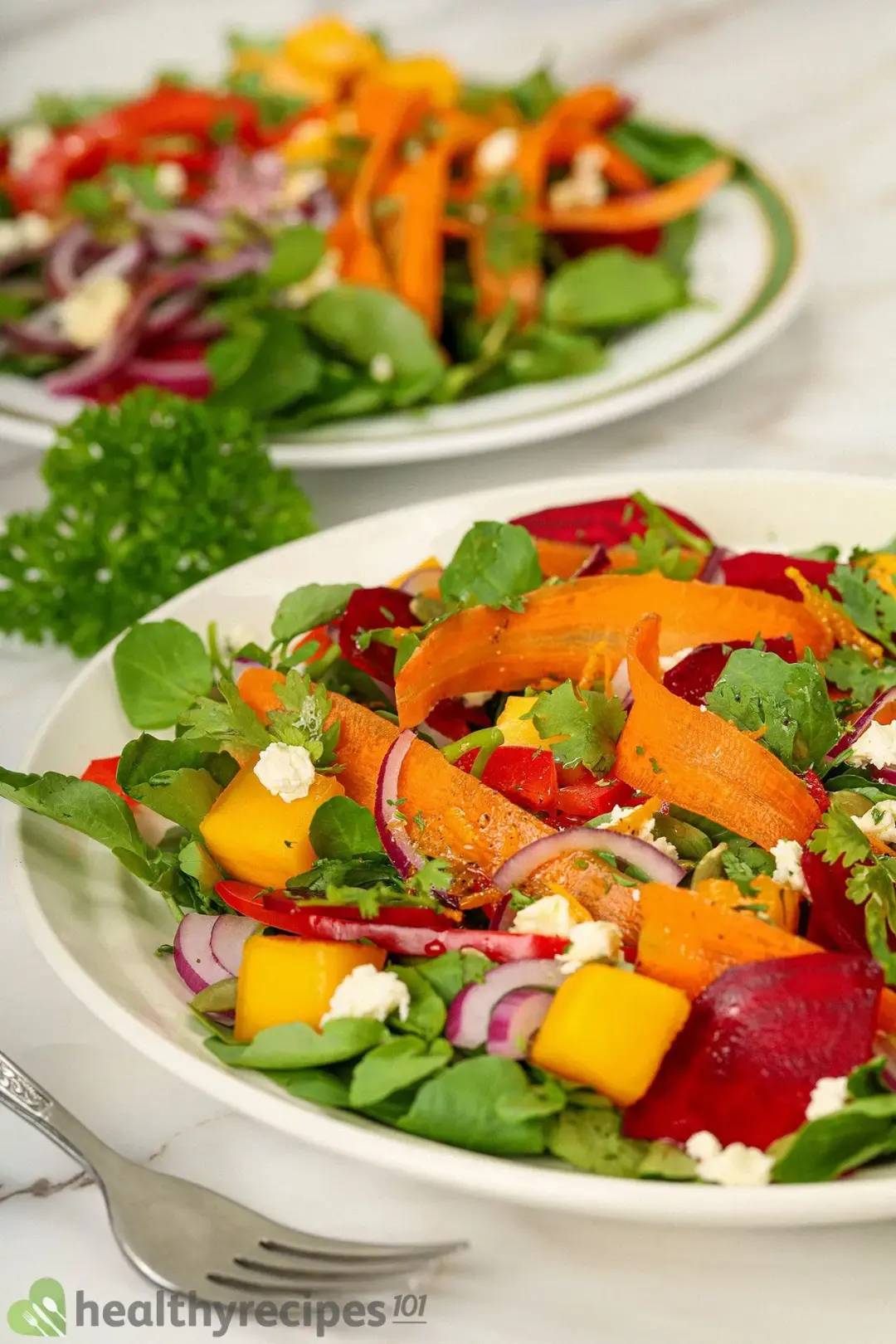 How to Make Spring Salad
This delightful spring mix with a splash of color and flavor will cheer you up in no time!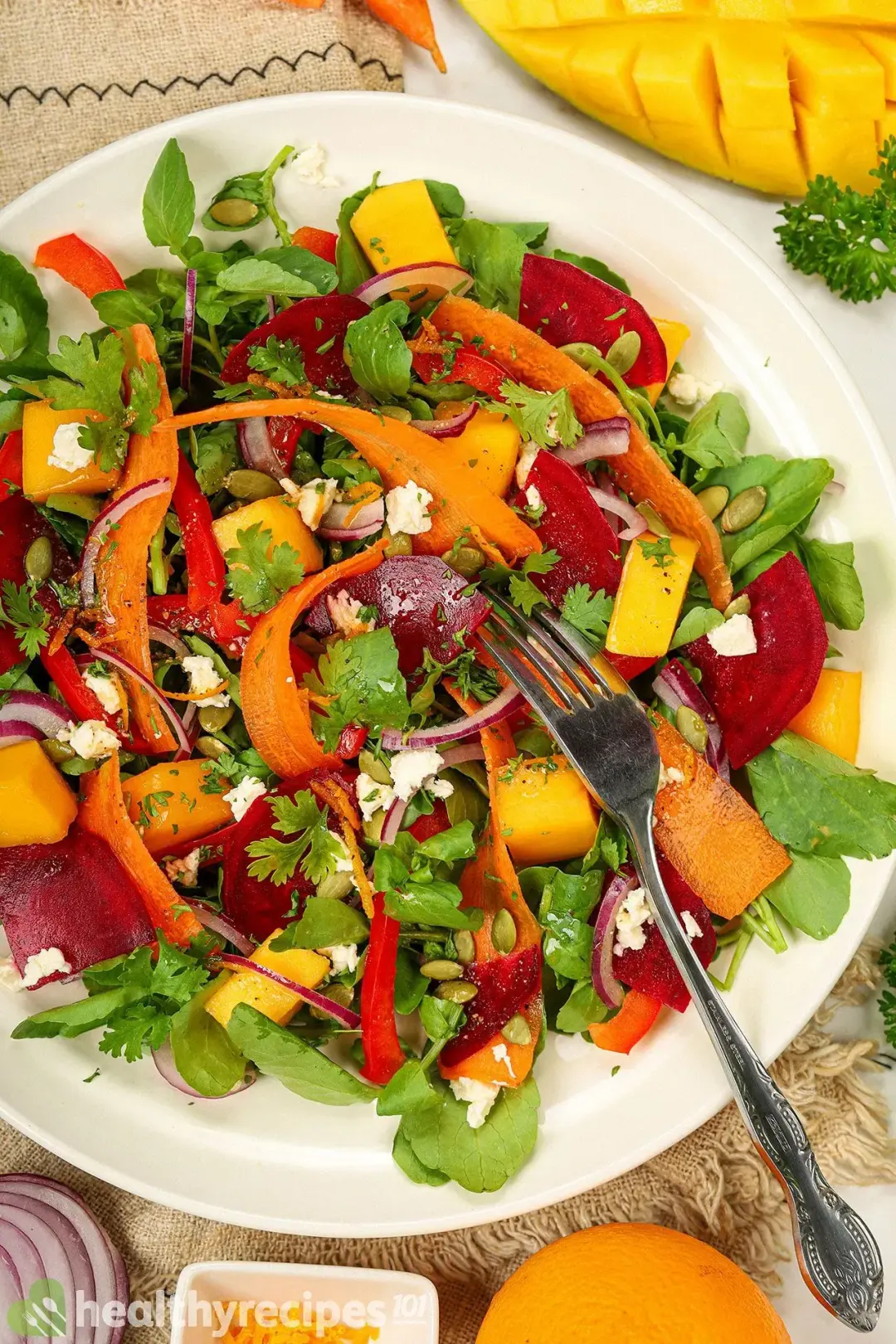 prep TIME

10 mins

total TIME

10 mins
COURSE

Side Dish

CUISINE

American

SERVINGS

servings

CALORIES

105 kcal
INGREDIENTS
1 oz

red onion sliced

4 oz

watercress

2 oz

red bell pepper sliced

4 oz

mango cubed

1 fl oz

orange juice

1 oz

beet sliced

1 tsp

orange zest

0.5 tsp

pepper

1 tsp

honey

2 tbsp

parsley chopped

0.5 tbsp

lemon juice

0.3 tsp

salt

1 tbsp

olive oil

0.3 cup

cilantro chopped

0.5 tsp

traditional Dijon mustard

1 oz

baby carrots sliced

0.5 oz

Feta cheese

0.5 oz

pumpkin seed
INSTRUCTIONS
1
Make the dressing for the salad. Add 1/2 tbsp lemon juice, 1 fl oz orange juice, 1 tsp orange zest, 1 tsp honey, 1/4 tsp salt, 1/2 tsp pepper, 1/2 tsp mustard, and 1 tbsp olive oil to a mixing bowl, then stir to combine.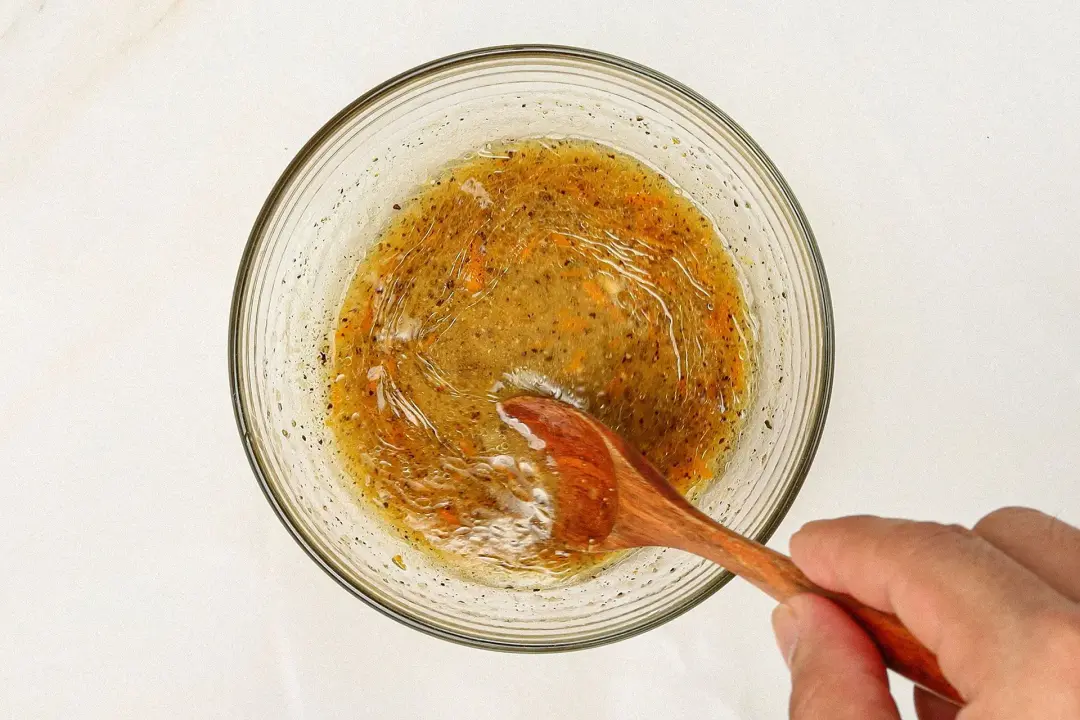 2
Add 4 oz watercress, 4 oz mangoes, 2 oz red bell peppers, 1 oz red onions, 1 oz baby carrots, 1 oz beets, 0.5 oz pumpkin seeds, and 0.5 oz feta cheese to a serving plate or bowl of choice. Top with cilantro and parsley, then pour over the dressing before serving!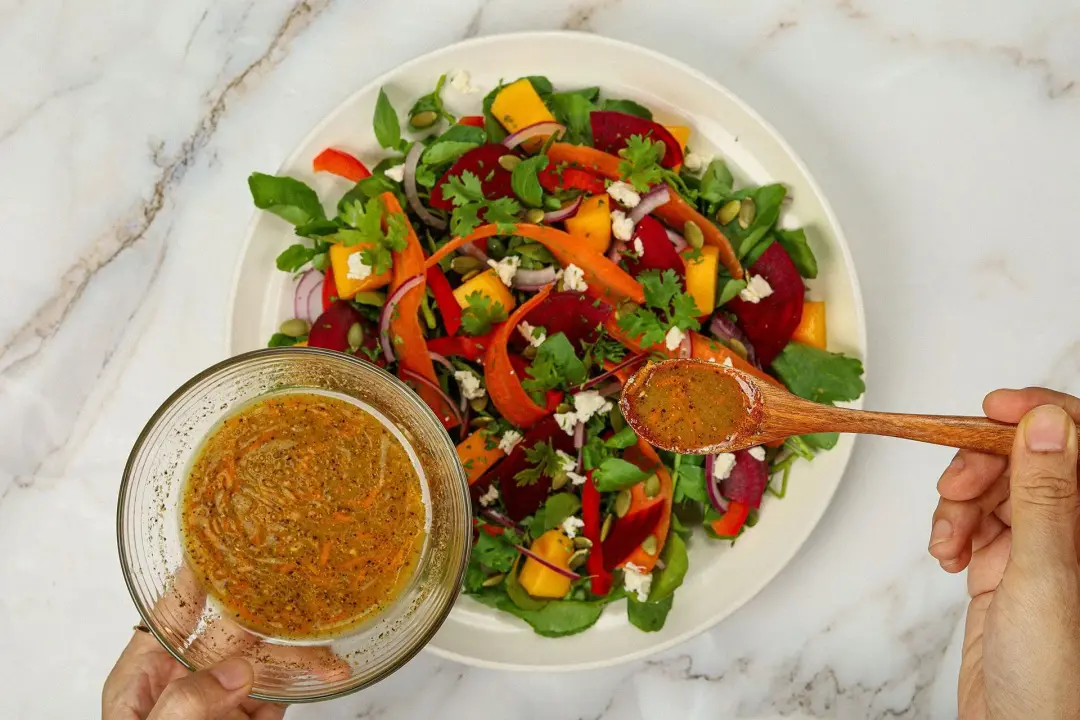 NUTRITION
Nutrition Facts
How to Make Spring Salad
Amount Per Serving (1 serving)
Calories 105
Calories from FDA
% Daily Value*
* Percent Daily Values are based on a 2000 calorie diet.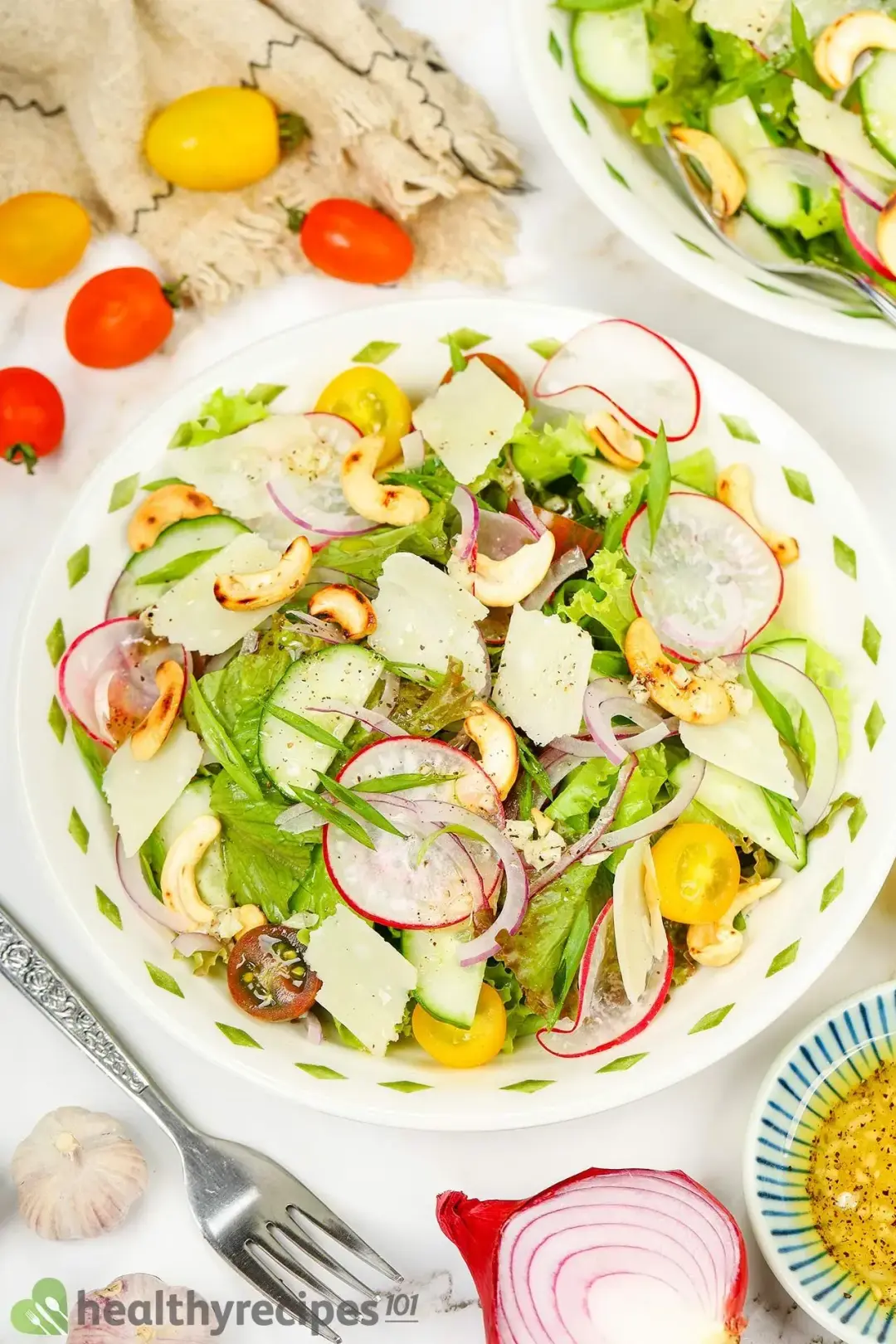 Previous Recipe
Lettuce Salad
Lettuce Salad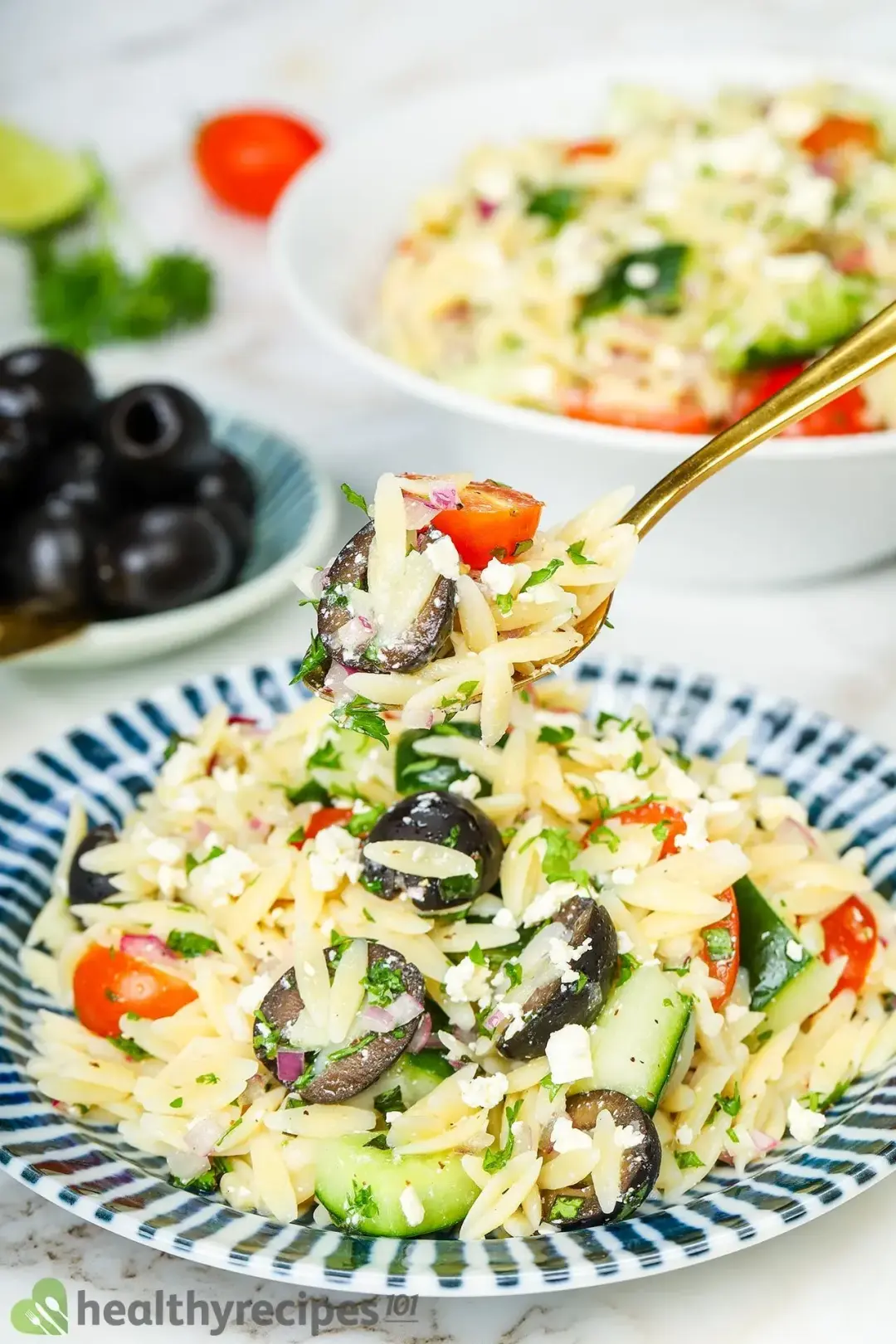 Next Recipe
Orzo Salad With Feta
Orzo Salad With Feta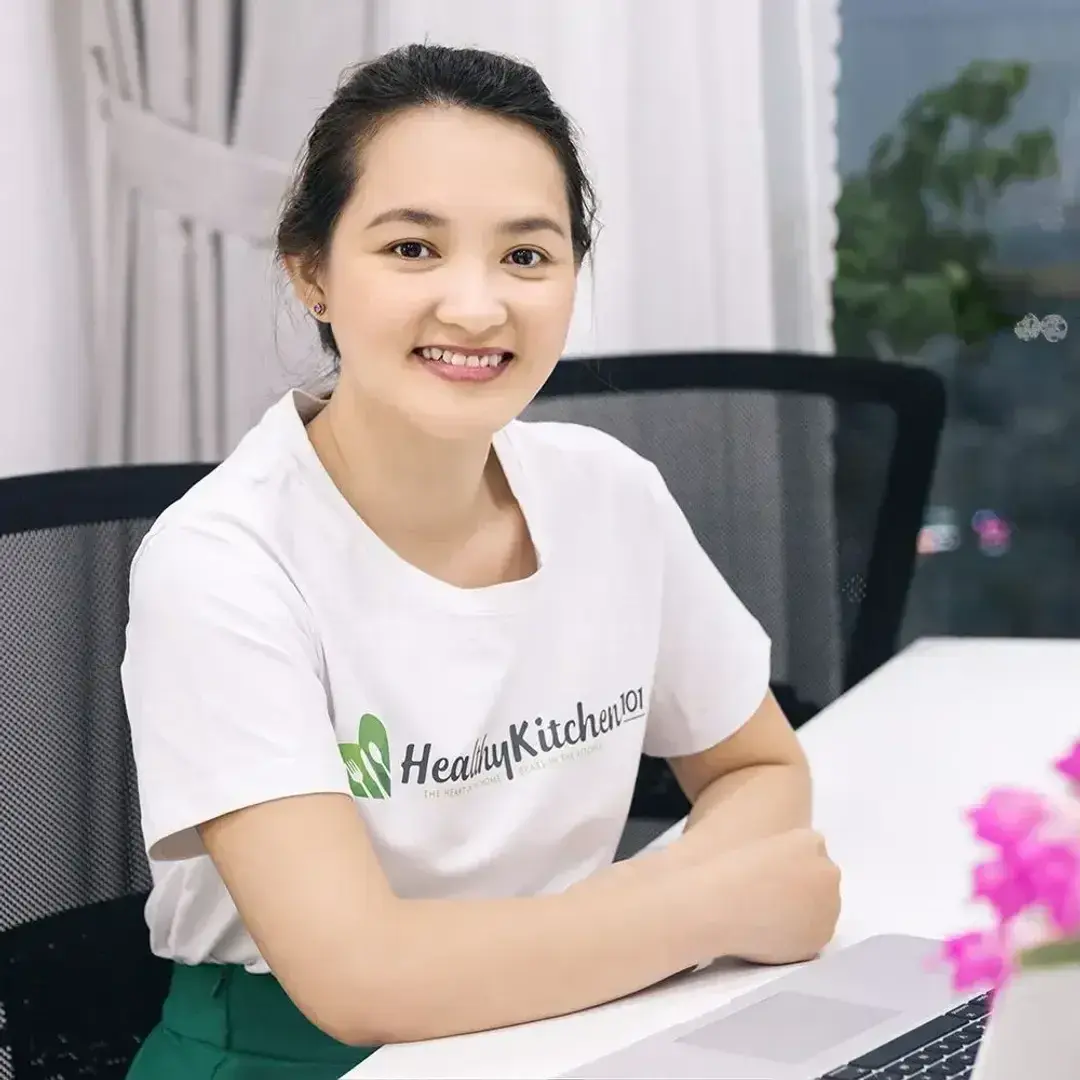 Luna Regina
Luna is the founder and chief recipe developer of Healthy Recipes 101. Apart from cooking, she also loves reading, programming, exploring the outdoors, and collecting useless facts about everything.