Egg salad recipe is the most underrated recipe of all time. It's simple, easy, healthy, and versatile.
What Is Egg Salad?
Egg salad is a dish made of cut-up hard-boiled eggs mixed with mayonnaise, dairy, chopped vegetables, and seasonings. It first appeared in "The Boston Cooking-School Cook Book" and has become a staple ever since.
Egg salad can be eaten in many ways. It is common to sandwich the creamy salad in between two slices of toasted bread.
Another way to serve egg salad is with a dish of plain lettuce, which diners use to wrap the mixture. It is a keto, low-carb way to eat the dish, as the recipe calls for no major source of carbohydrates.
Why Is Our Egg Salad Healthy?
At this site, we are proud to present tasty recipes approved by our prestigious nutritionist. This egg salad recipe is no exception.
For starters, each serving of this creamy salad yields around 242 calories, which is below the recommended amount for side dishes (250). According to the USDA, male and female adults (aged 19-25) should consume no more than 2,700 and 2,100 calories per day.
The guidelines also look at saturated fats, as their health effects are being studied and, so far, the findings are mixed. In terms of this nutrient, our recipe has 4 grams per serving, exactly what is recommended for a side dish.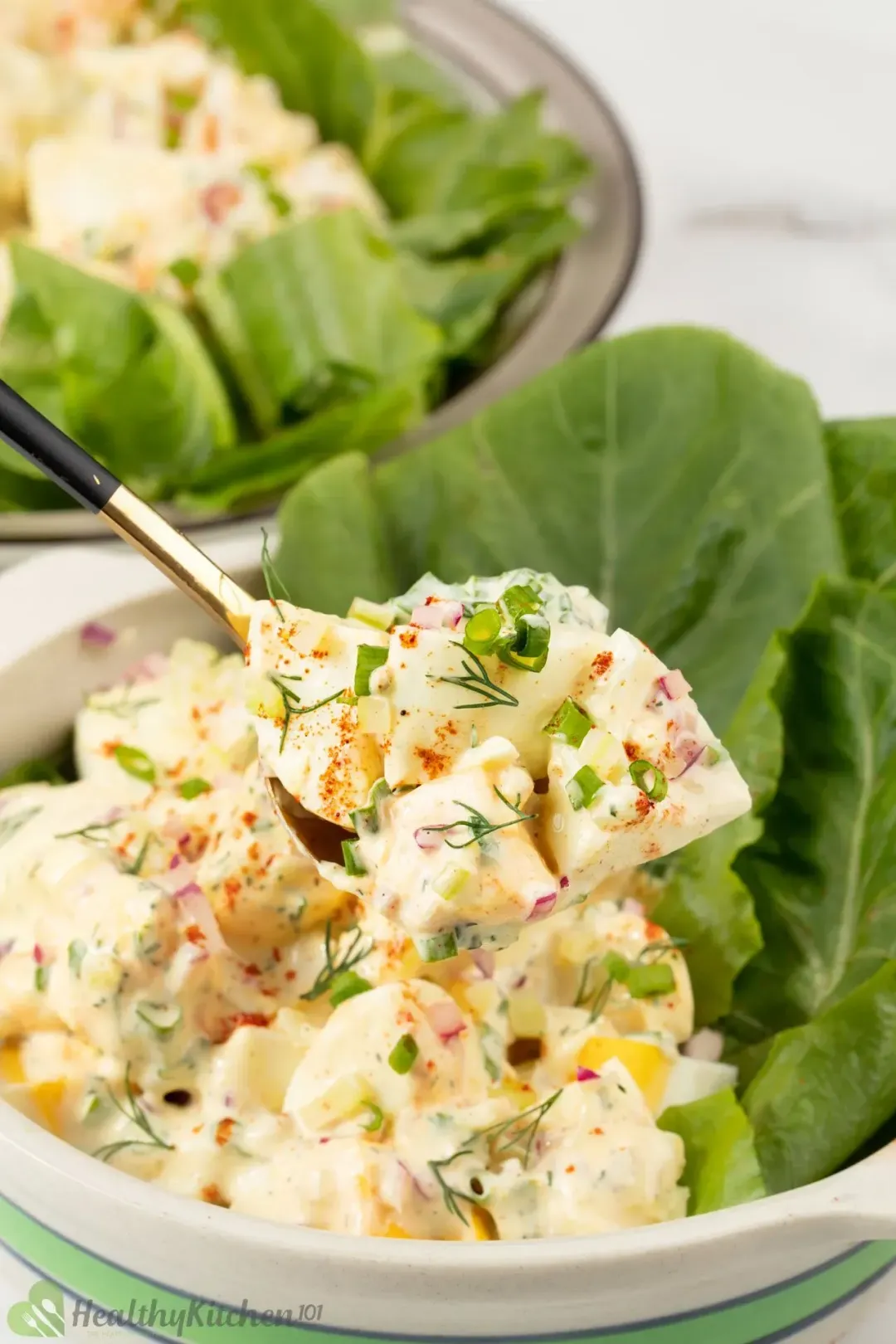 Finally, the sodium content, whose overconsumption is linked to high blood pressure. Each serving of our egg salad has less than 300 milligrams, about 13% of the daily recommendation.
For more healthy egg dishes, see this Sunday brunch recipe, our festive, indulgent breakfast, or this nostalgic and delicious soup.
Eggs Nutrition
Let's see the reasons why eggs are a popular dish.
1. Carbohydrates
Eggs contain little to no carbohydrates. It's a perfect fit for low-carb and keto diets.
2. Proteins
Eggs are a crucial source of protein for vegetarians.
Our body needs protein to grow, and protein is present in plants as well as meat. However, some plants don't contain the essential amino acids that meat, poultry, and fish have.
So, besides plant-based proteins, those on a vegetarian diet can rely on eggs. They are a complete source of protein, which means they contain all of the essential amino acids.
Specifically, there are 12.4 grams of protein per 100 grams of eggs. This amount is not as significant compared to animal meat, but it's a good alternative that's vegetarian-friendly.
In terms of protein distribution, the whites contain more proteins than the yolks. This is one of the reasons why bodybuilders opt for eating egg whites rather than whole eggs.
3. Cholesterol
Another reason egg whites are preferred is because all of the cholesterol lies in the yolk, and none in the whites.
A high LDL cholesterol (bad cholesterol) level is linked to cardiovascular diseases and accompanying complications. However, whether the cholesterol in egg yolks plays a role has been debated, and so far, results from studies differ greatly.
What we do know is experts recommend to keep the dietary cholesterol intake under 300 milligrams a day. This is equivalent to the yield of two medium yolks.
4. Calories
A medium egg provides roughly 63 calories, and 76% of the calories derive from the yolk. This is because the yolk is the richest part which contains all of the fats.
Regardless, eggs are still a good source of protein if consumed in moderation. And at Healthy Kitchen 101, moderate consumption happens to be our nature.
Egg Salad Ingredients
Let's have a quick look at the ingredients needed for this egg salad recipe.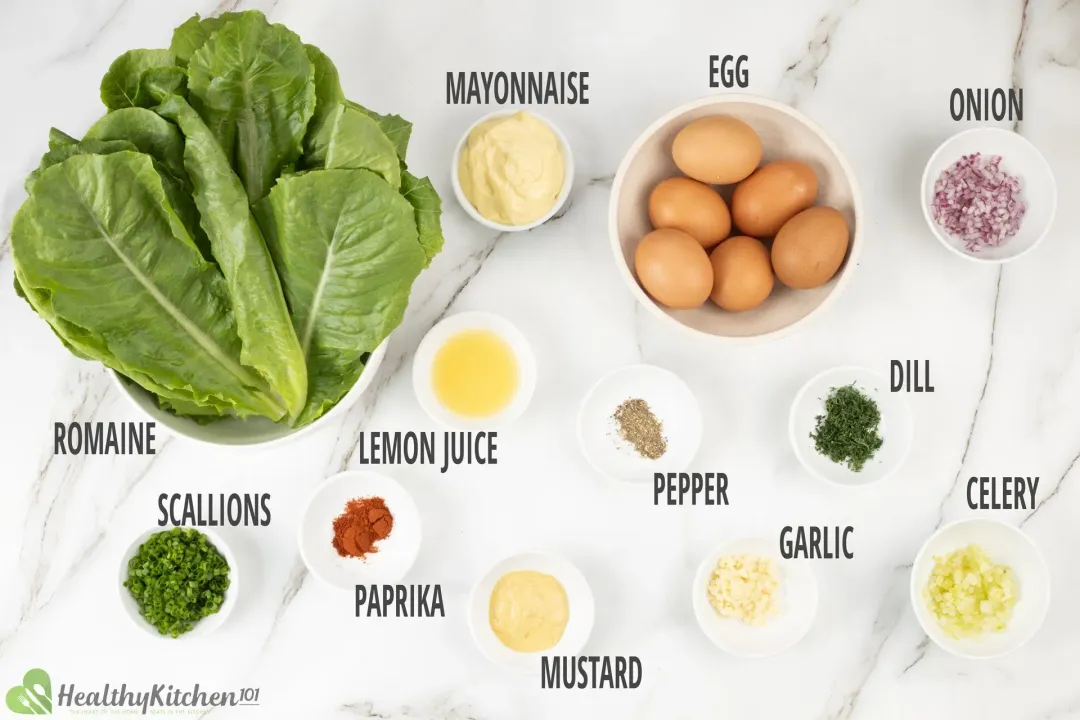 1. Hard-boiled Eggs
Dressing-coated chunks of hard-boiled eggs are what egg salad is all about. So, it's crucial that the eggs are boiled properly.
You can either check out our article on how to boil eggs for easy peeling or simply follow this guideline:
You can either check our detailed guide on egg-boiling, or simply do the followings:
Place eggs in a pot of water. High heat on.
When it's boiled, turn off the heat and wait 8 minutes.
Shock eggs in an ice bath, deshell, and chop.
A lot of people make the mistake thinking hard-boiled eggs can't be overcooked— they can. Chemical reactions would take place, and the result could be seen in the yolk: a gray, rubbery center.
So, again, treat your eggs with care and a timer.
2. Creamy Dressing
That creamy dressing you've probably tasted before is mayo-based, and it's super rich. We're picking Japanese mayonnaise in particular, as it's got a hint of sweetness instead of being super tangy like the other kinds.
The following spices and seasonings are added to the mayo:
Lemon juice, to cut the richness of mayo
Paprika, pepper, and mustard, for a little bit of heat
Garlic, the base of every good dish
Thanks to these ingredients, the rich dressing of our egg salad recipe stays inviting to the very last bite.
You can also add in sour cream and milk like we did with our favorite deviled egg recipe and get an even tastier dressing!
3. Crunch Veggies
Along with the tender eggs is a combination of crunchy, juicy vegetables: celery and red onions. They have a strong aroma if eaten alone, but when used in moderation, they can make a world of difference in flavor.
And to wrap it all up, we chose good ol' lettuce, any kind that fits your liking. To us, Romaine lettuce is the perfect choice— large leaves for coverage and pliable texture for easy wrapping.
How Long to Boil Eggs for Egg Salad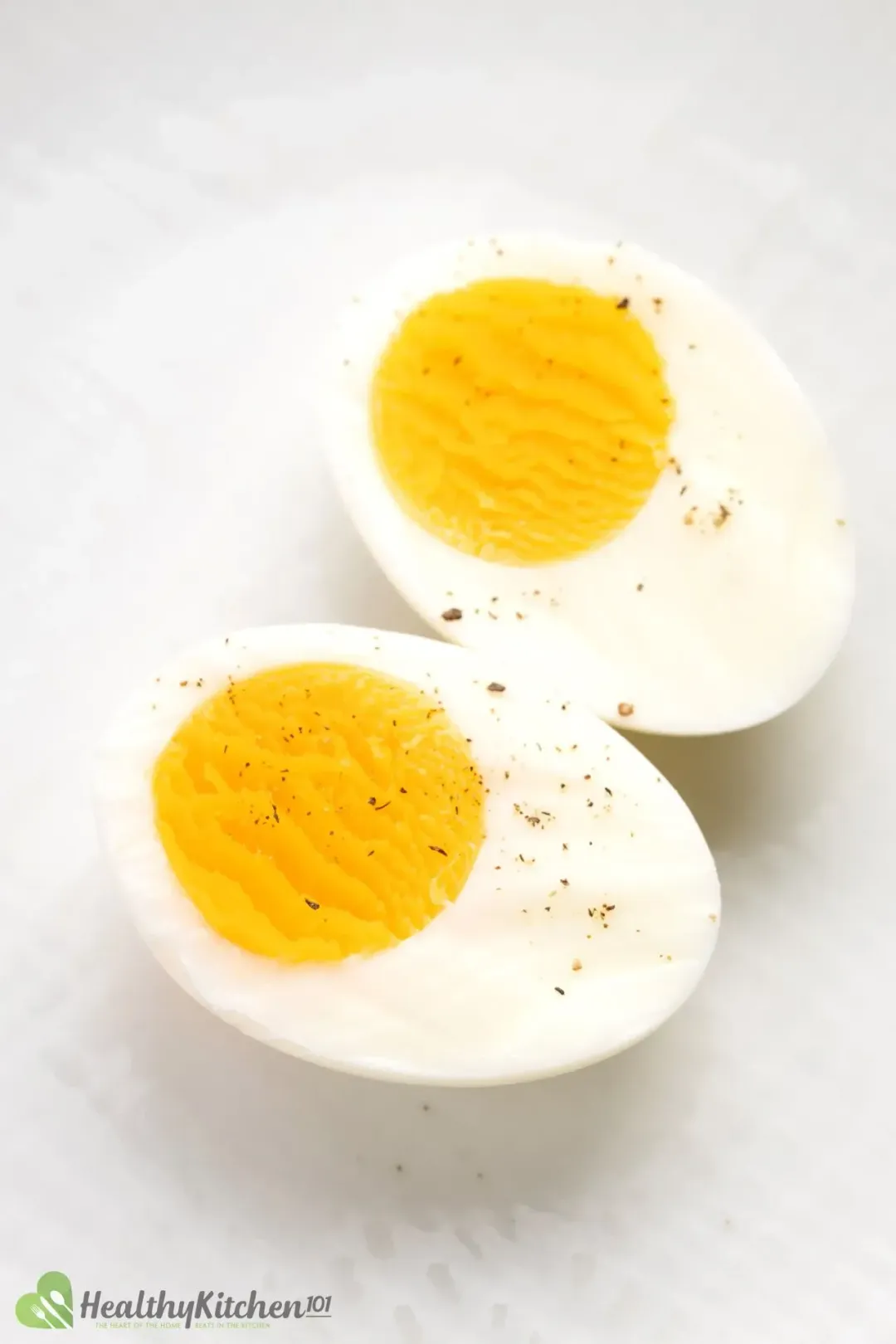 There are many different ways to boil eggs, but in this egg salad recipe, we're showing you the easiest how-to.
Fill your pot halfway with tap water and bring it to a boil. Very gently, place the eggs in one by one.
Start the timer for 8 minutes and after that, shock them in cold water for 5 minutes.
After they're completely cooled down, all there is to do is remove the shell and cut them up. Easy and effortless, right?
To see how to make all kinds of boiled eggs, check out these delicious scotch eggs or this easy, delicious pickled dish.
Egg Tips
1. Aged or Fresh Eggs?
Fresh eggs are definitely what you need, but telling the two apart in a bunch can be tricky.
If you have eggs in the fridge and aren't sure which to toss away, follow this ancient float test.
Start by placing an egg in a bowl of room-temp water, and check for the eggs' positions. Eggs that sink to the bottom are fresh, and those that float to the top need to be discarded.
If it's somewhere in the middle, it's still edible and needs to be eaten right away, hard-boiled.
2. Peeling
To easily peel eggs, "season" the water with some salt and vinegar before boiling.
After the 8 minutes of boiling, give the eggs an ice bath in a bowl of ice-cold water for about 2 minutes. When you peel them, the shells should come off easily.
If you didn't add salt and vinegar, there is another way to remove the shells with ease.
Place your cooked eggs into a mason jar half-filled with water. Twist the lid on tightly and start shaking to damage the shell, and you'll find the shell coming off easily.
Egg Salad Sandwich
After following our egg salad recipe, you can either serve it as-is or save it to make a wholesome sandwich. This can come in really handy for the next day's lunch.
It's easy to make, too— a slice of bread, egg salad, heaps of lettuce, and the other slice on top. Make sure to wrap it with parchment paper before placing it in a container, so it doesn't fall apart.
What Goes with Egg Salad
1. Avocado
With its natural creamy texture, avocados can make your egg salad extra smooth and rich. What's best about it is, it has plenty of good fats.
Since it's extra rich, only half of an avocado would fit a batch of egg salad for 4. Cut it into cubes, gently toss it in your salad and you'll find your egg salad out-of-this-world.
2. Potato
If you ask me, potatoes can do wonders to the salad. Tenderness and creaminess are a good pair when it comes to comforting dishes.
To add potatoes: boil the potatoes for 10 minutes, peel the skin off, and cube them into bite-sized pieces. This healthy source of carb is now ready to be added to your salad.
3. Chicken
Longing for protein? Chicken breast is the safest option that fits just about any salad, and it's always my go-to.
For salads, the simplest way to prep chicken breast is to boil them for 15 minutes, then cube them. With chicken, you'll need to use fewer eggs so it doesn't have too much protein (about three eggs).
4. Yogurt
Many egg salad recipes call for Greek yogurt instead of mayo, and we think it's really clever. With Greek yogurt, the dish stays creamy, but becomes more beneficial for your health.
Since our recipe calls for 5 tbsp of Japanese mayo, you can use 5 tbsp of Greek yogurt instead. You can add around 1 tsp of sugar for a hint of sweetness, or don't, if that's your preference.
5. Bacon
Despite its high saturated fat content, bacon is undeniably a good topping choice for egg salads. Its saltiness and chewy texture can really enhance the overall flavor of the dish.
We highly recommend you bake the bacon and discard the fat before adding it. Use no more than two strips for four servings, as it is also high in sodium.
If you want more delicious salad, check out this healthy salad recipes.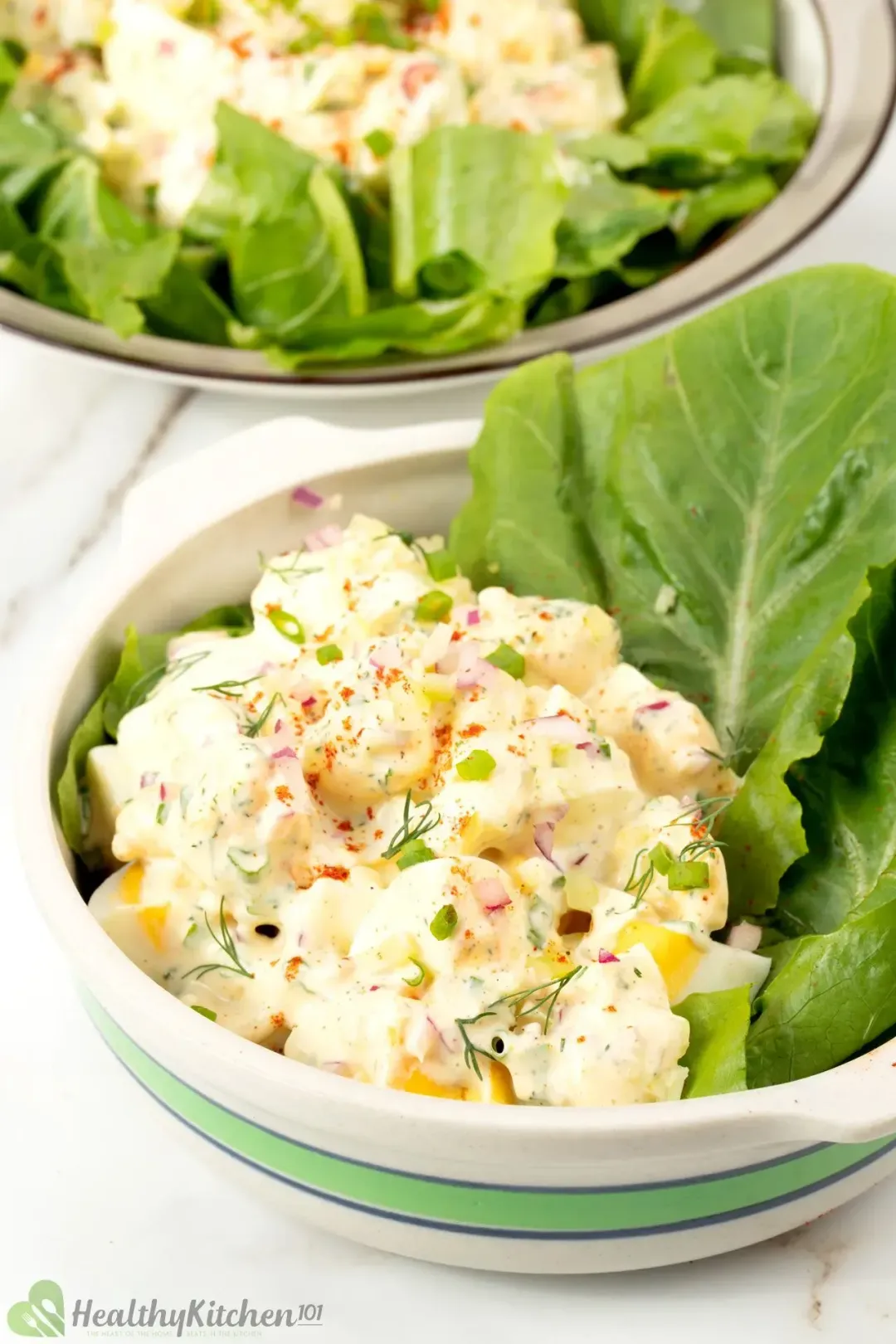 How Long Does Egg Salad Last?
1. At Room Temperature
Bacteria can grow rapidly at room temperature (40°F to 140°F). So, this rich salad can't be left out in the open air for more than 2 hours.
That's why it's best to refrigerate the salad right after you make it, whether it's to be used right away or not.
2. In the Fridge
Egg salad can last for 5 days in the fridge, as long as it's properly stored. It means:
It's covered with plastic wrap or placed in an airtight container.
It's stored right away after making.
Within those 5 days, the egg salad is ready to serve at any time.
Check out our healthy eggs roundup for more delicious eggs recipe.
Can You Freeze Egg Salad?
Unfortunately, you can't. Eggs, cooked or raw, don't thaw well after being frozen. However, there are other breakfast options for busy mornings, which freeze exceptionally well.
If you wish to make this salad ahead of time, the best option is to refrigerate it.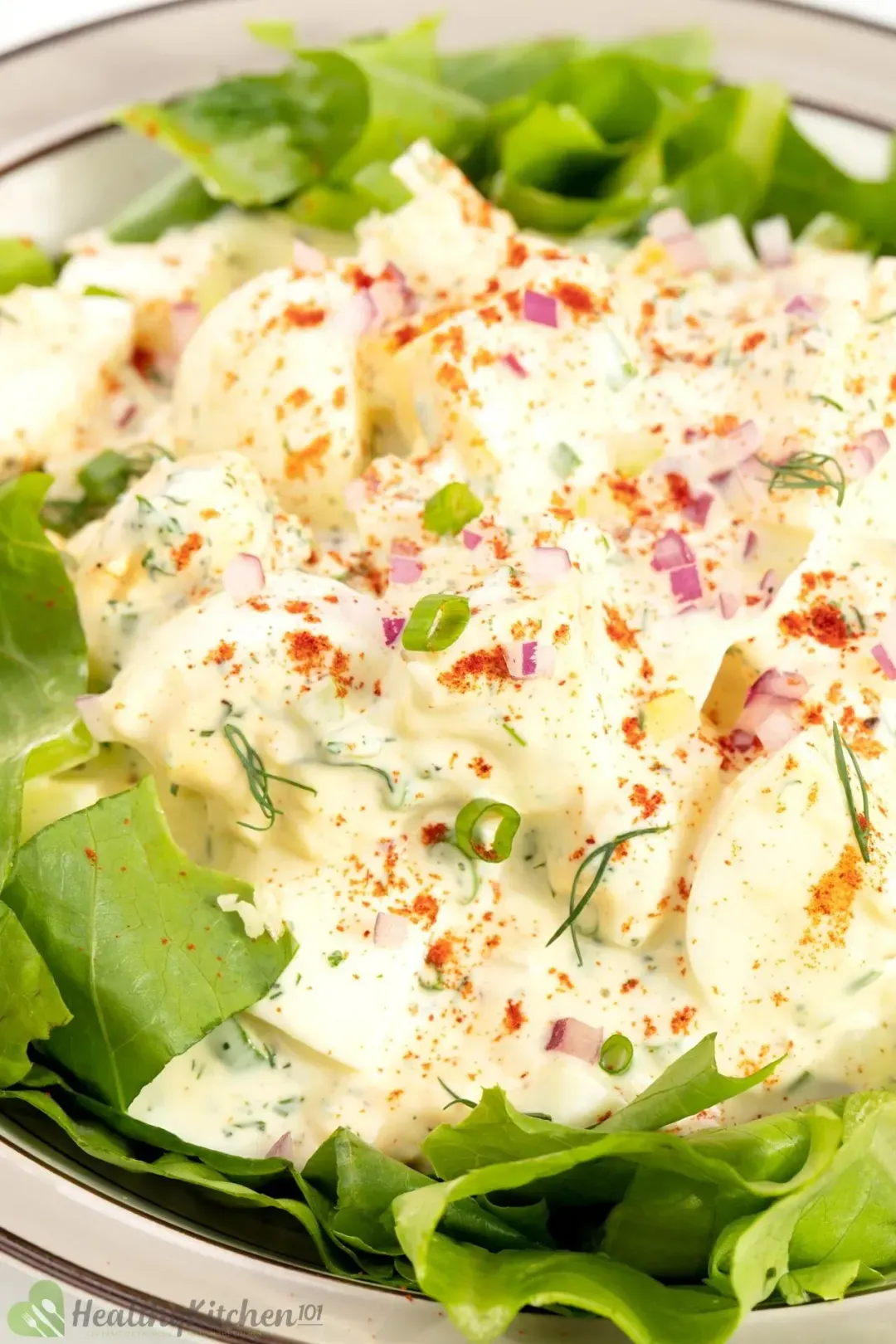 And that's it! For more recipes, check out our traditional eggs benedict, this easy "drop and roll" method for making eggs, and how to make perfect fried eggs at home.
Egg Salad
This egg salad is delicious, healthy, and make-ahead friendly. It can be served as a side for today's dinner, and the leftover can be used as the sandwich filling for tomorrow's lunch.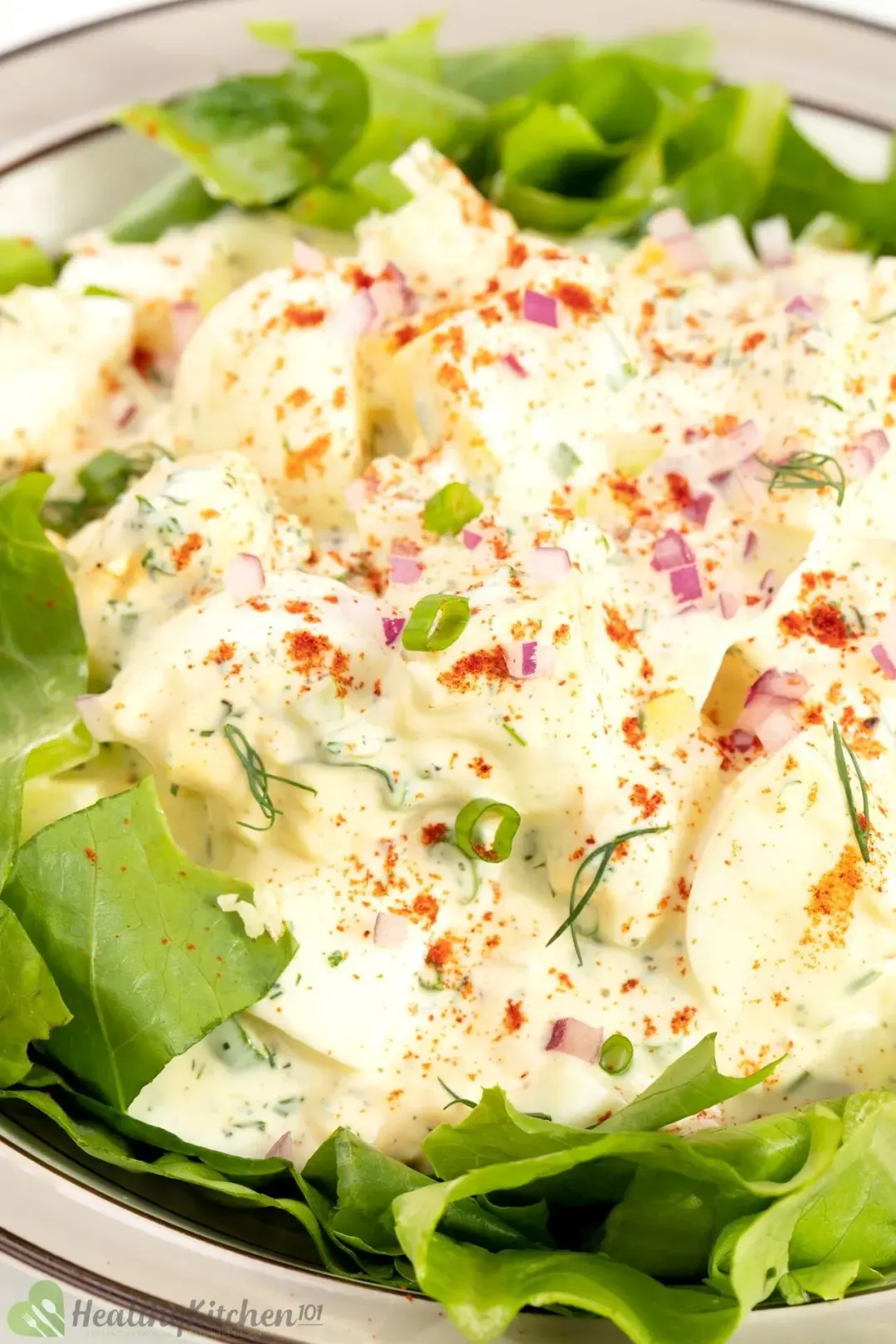 cook TIME

10 mins

prep TIME

5 mins

total TIME

15 mins
COURSE

Dinner, Lunch, Side Dish

CUISINE

American

SERVINGS

CALORIES

242 kcal
INGREDIENTS
0.5 oz

celery stalk

(finely chopped)

0.5 oz

red onion

(finely chopped)

0.5 oz

green onion

(chopped)

1 1/2 tsp

garlic

(1 clove, minced)

5 tbsp

Japanese mayonnaise

2 tsp

traditional Dijon mustard

8 oz

romaine lettuce

(whole leaf)
INSTRUCTIONS
1
Bring a pot of water to a boil. When the water bubbles, gently place the eggs in and cook them for 8 minutes.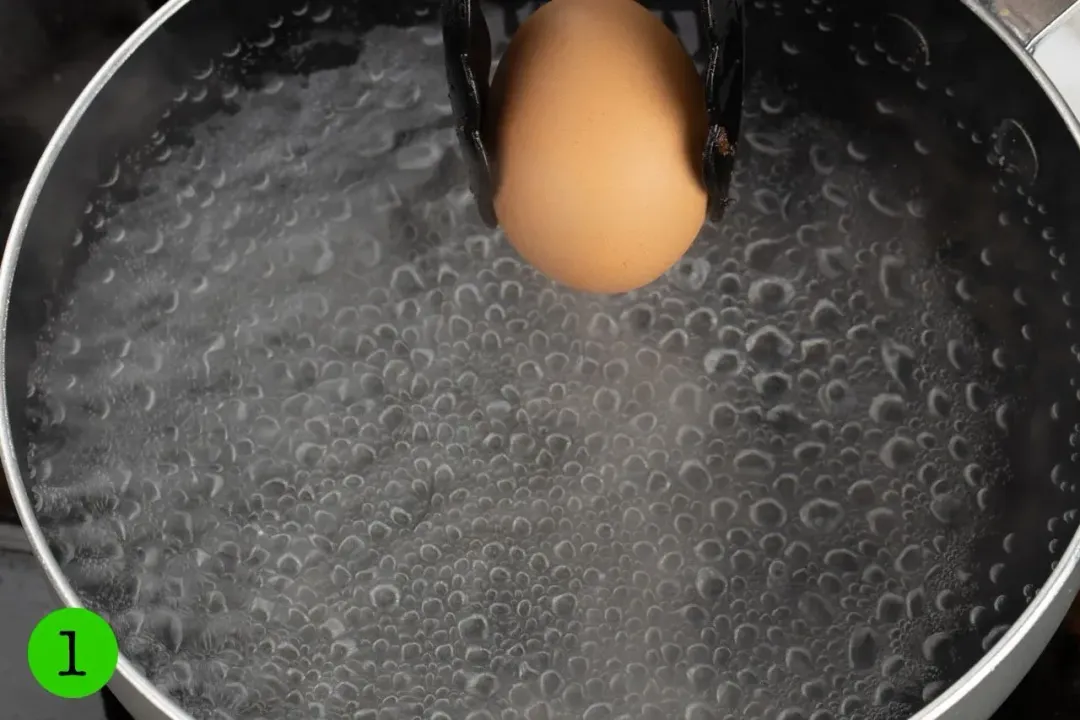 2
After 8 minutes, give the eggs an ice bath. De-shell. Dice them to the desired size (we cut each egg into 8).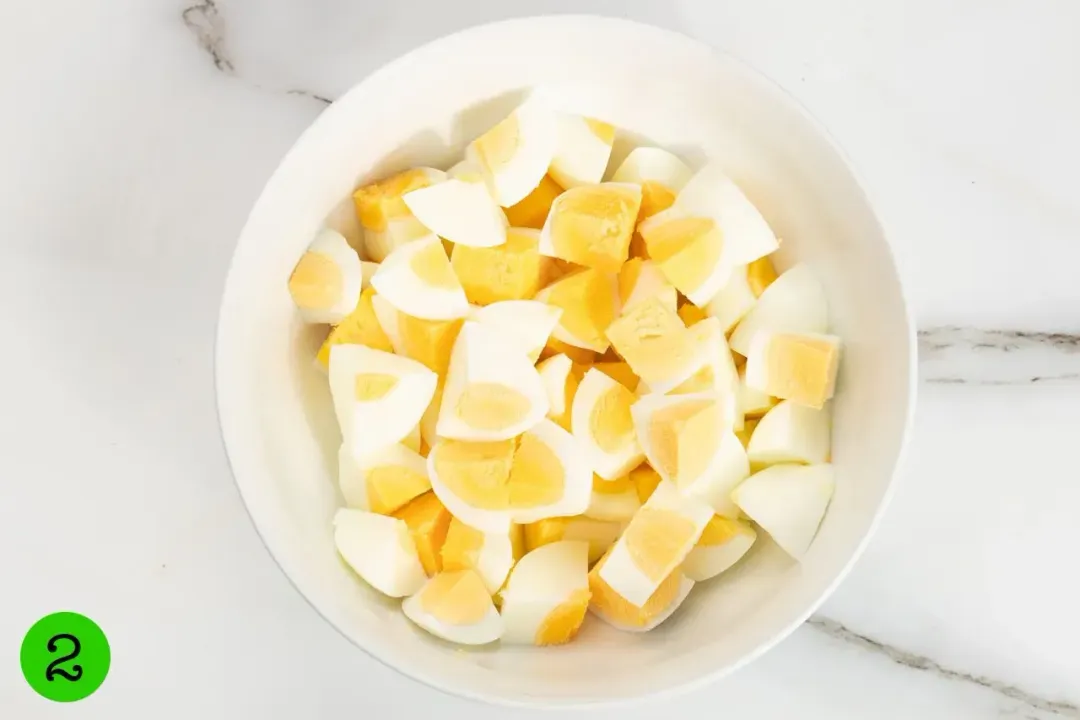 3
In a large salad bowl, combine all ingredients (except for lettuce).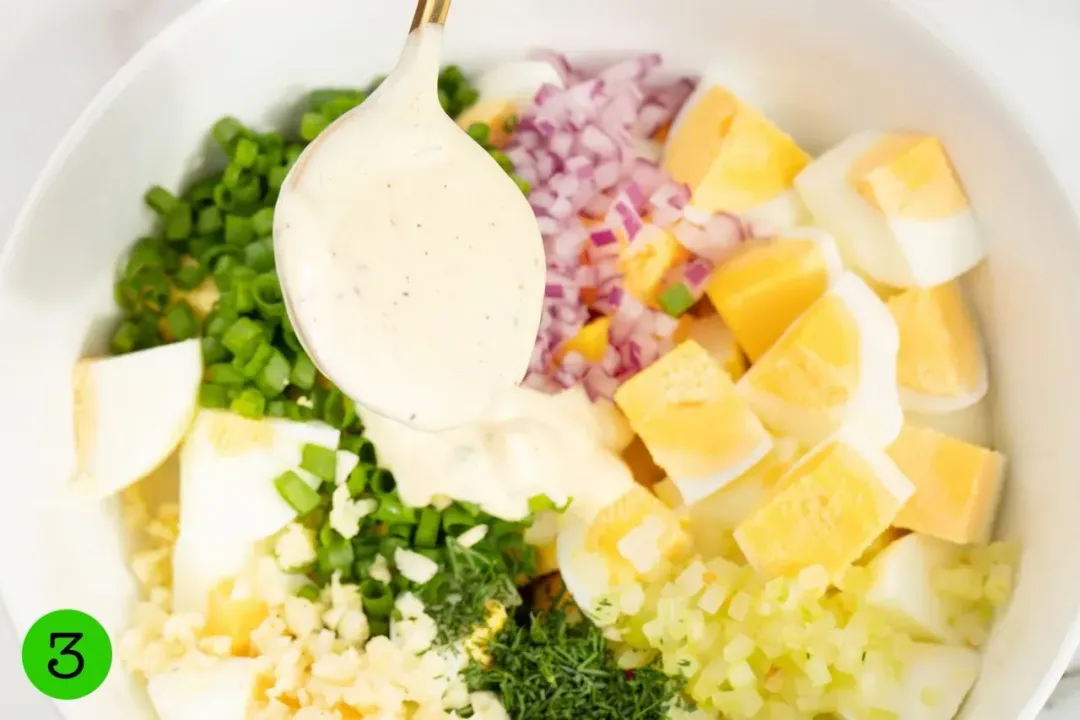 4
Chill the eggs for at least 15 minutes before serving. Serve with whole lettuce leaves.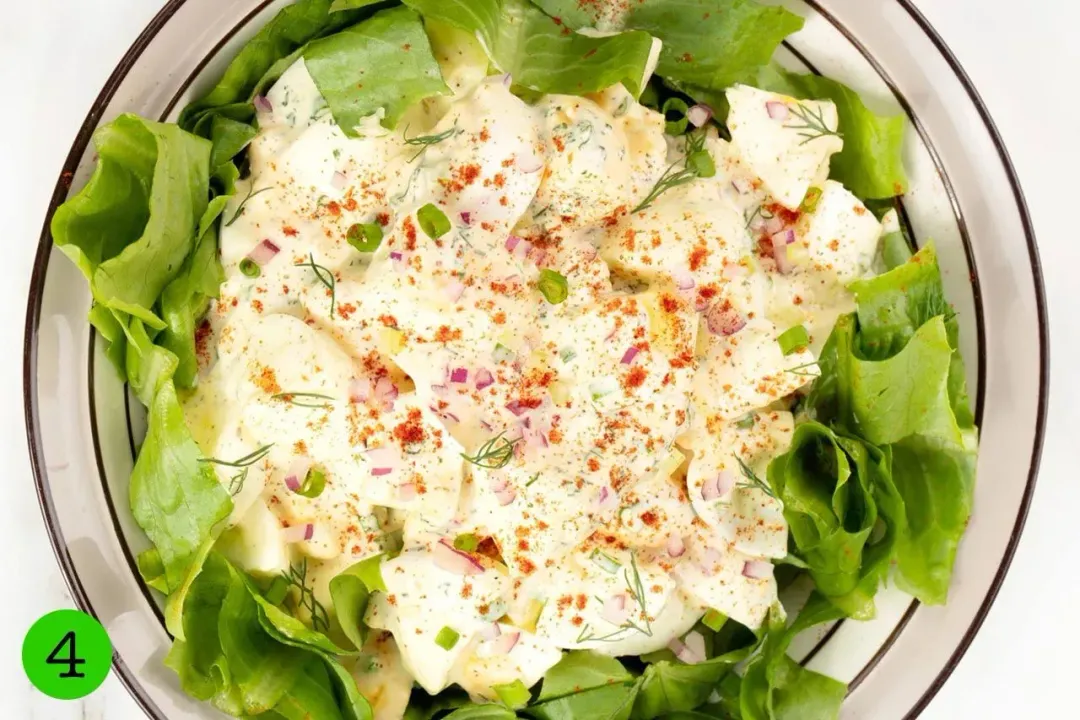 NUTRITION
Nutrition Facts
Egg Salad
Amount Per Serving (1 serving)
Calories 242
Calories from Fat 171
% Daily Value*
* Percent Daily Values are based on a 2000 calorie diet.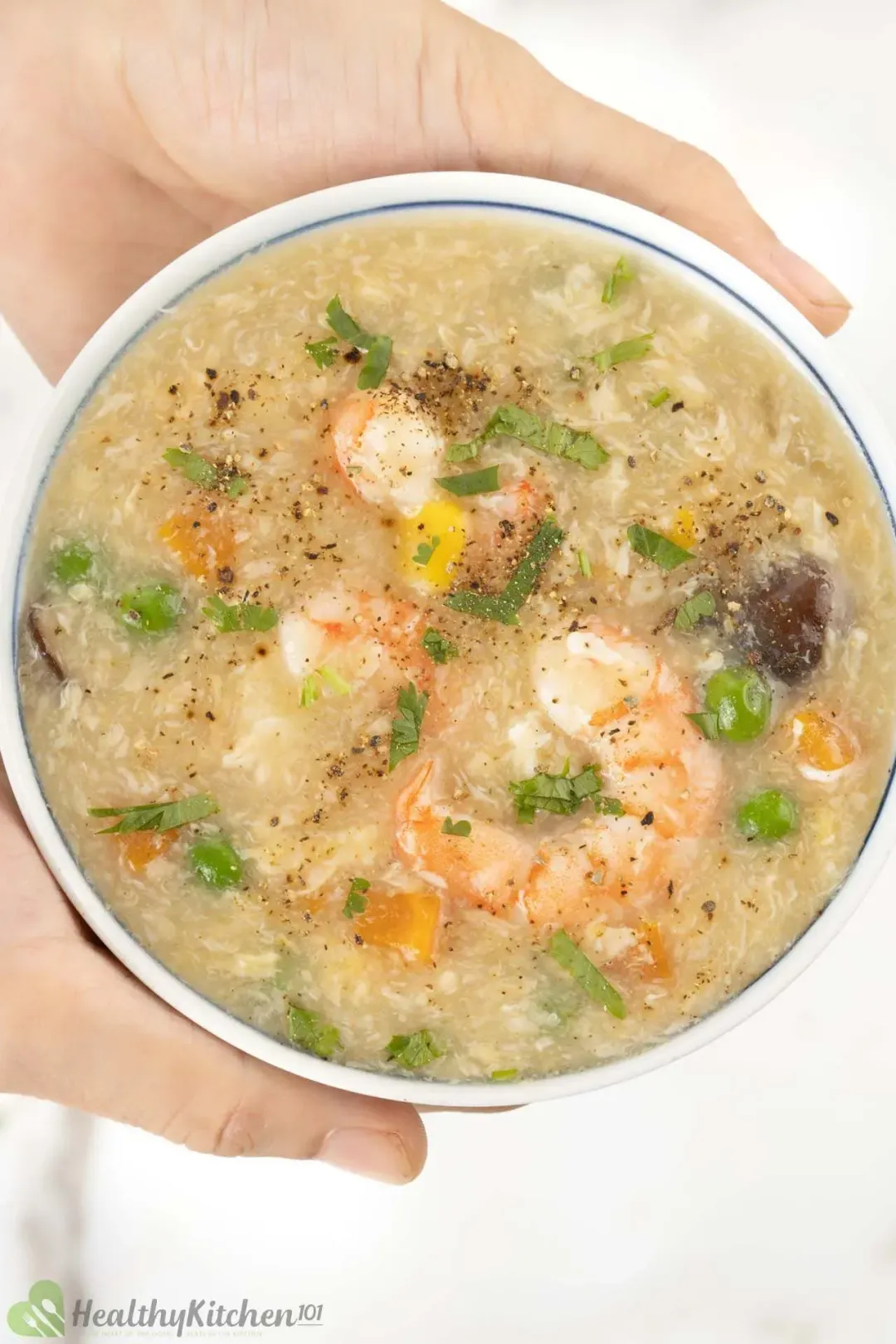 Previous Recipe
Egg Drop Soup
Egg Drop Soup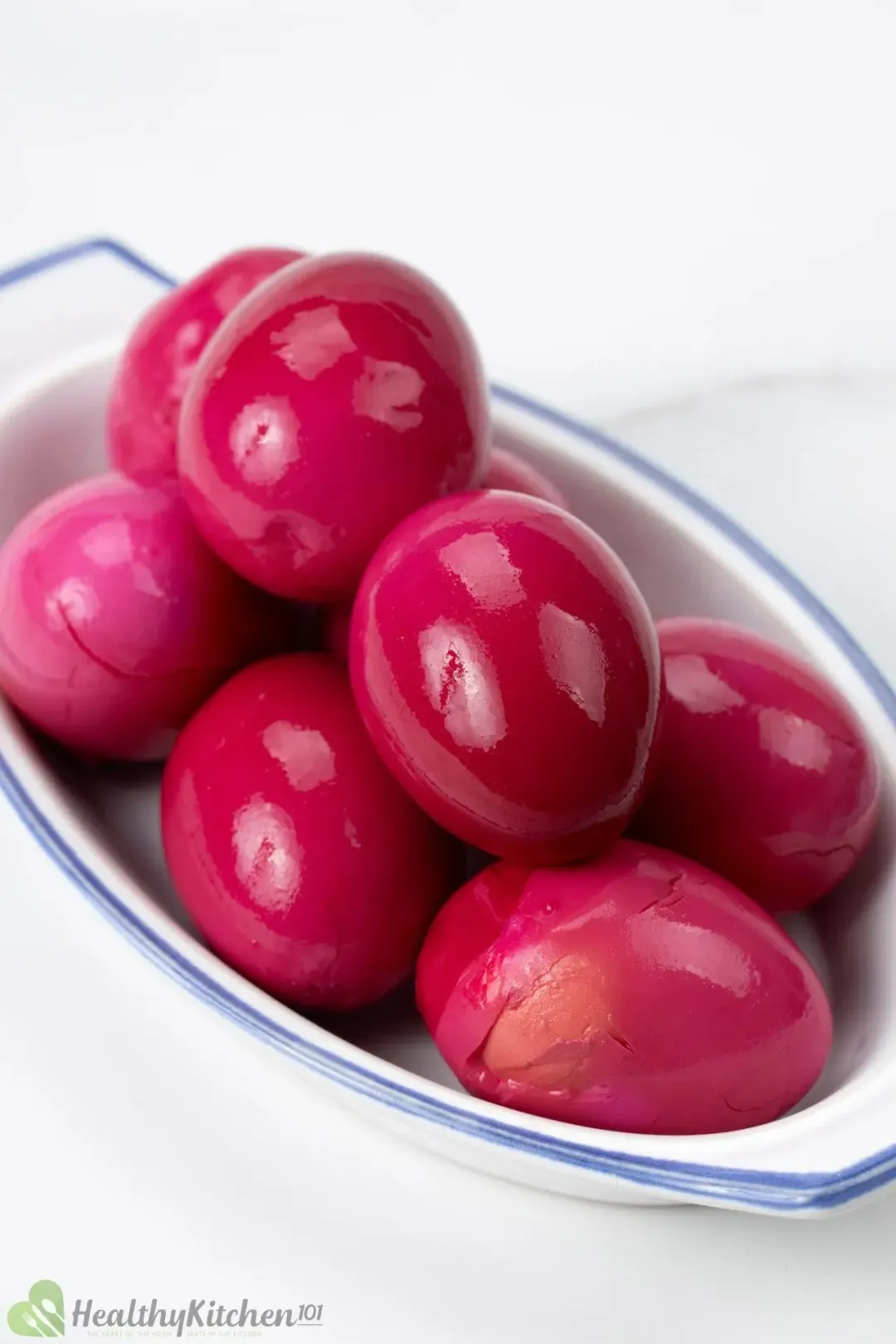 Pickled Eggs
Head Chef, Culinary Consultant
Tuyet Pham is an award-winning Saigonese chef who believes that joy is the secret ingredient to delicious food. At Healthy Recipes 101, Tuyet personally tests and simplifies every recipe, ensuring maximum flavor with minimal effort. With a background at prestigious French restaurants P'TI Saigon and Le Corto, Tuyet knows how to make every dish exceptional.
Writer, Author
Luna Regina is an accomplished writer and author who dedicates her career to empowering home cooks and making cooking effortless for everyone. She is the founder of HealthyKitchen101.com and HealthyRecipes101.com, where she works with her team to develop easy, nutritious recipes and help aspiring cooks choose the right kitchen appliances.
Nutrition Reviewer
Lizzie Streit is a Minneapolis-based dietitian and founder of It's a Veg World After All. She completed her MS in Human Nutrition from Drexel University, and is an expert in culinary nutrition, recipe development, and nutrition communications. Lizzie's philosophy is centered around making nutrition recommendations, and especially the advice to eat more vegetables, approachable and realistic. She is excited to be working with the team at Healthy Recipes 101 to ensure that their recipes are both nutritious and delicious.
Egg Salad is a classic and versatile dish that's perfect for lunch or a snack.