Today's orange salad recipe combines juicy oranges and creamy avocados on a bed of hearty lettuce mix, sprinkled with a nut-and-cheese topping, all tossed together in a sweet-tart dressing that ends with a lovely hint of pepper.
Let us look more closely at this wonderfully fresh salad.
Is Orange Salad Healthy?
Yes, it is. Here are some reasons why:
First, as the name suggests, we've got orange as our main ingredient.
This fruit is known for being an antioxidant powerhouse. A medium-sized orange contains 70 mg of vitamin C, providing most of your recommended daily intake.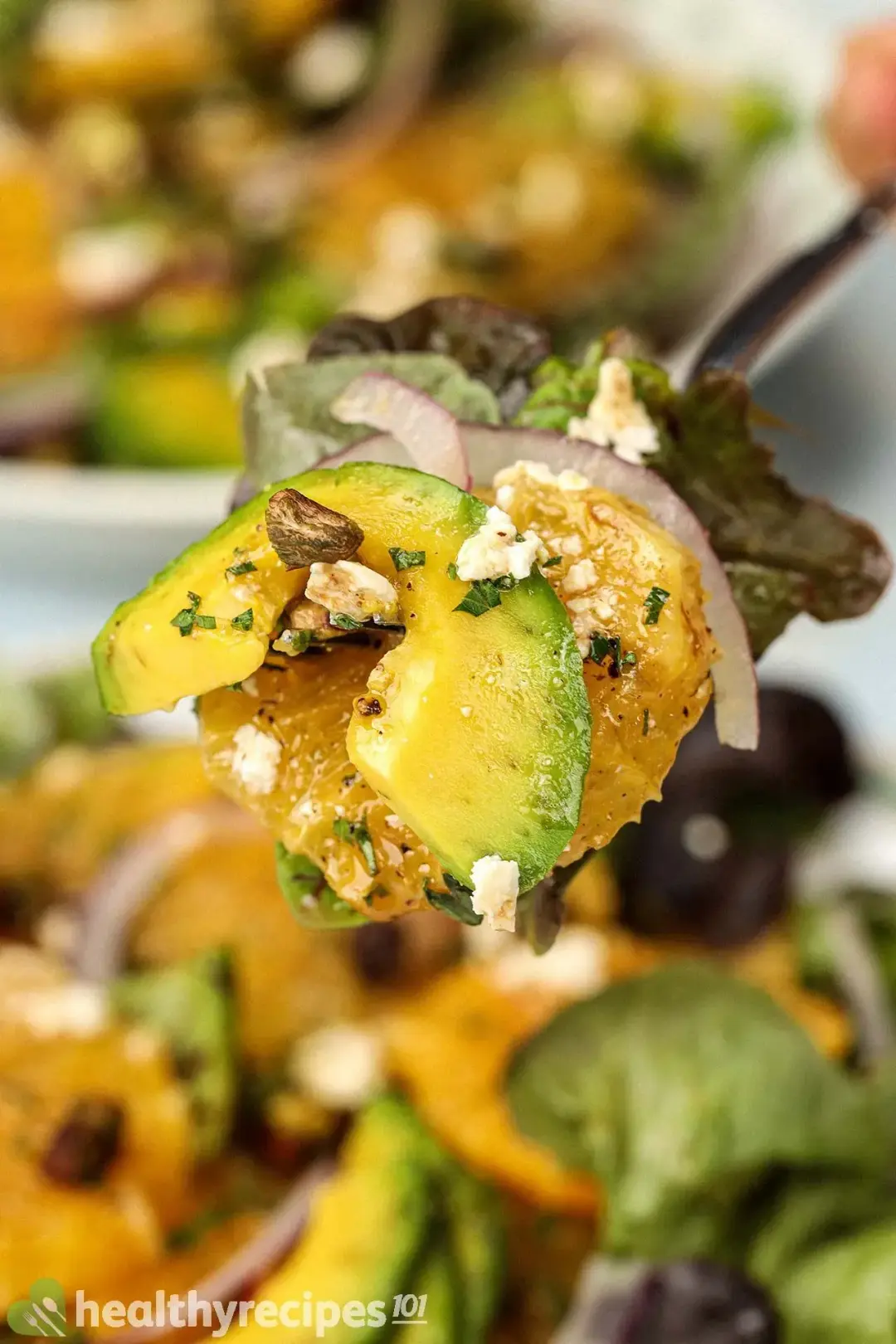 Next, we've got avocado, another superfood. This green beauty is an excellent source of healthy fats and fiber and is also packed with vitamins, such as vitamin C, E, and K.
Plus, a mix of lettuce for our salad base also adds to the amount of fiber and other essential minerals.
Now that we know about the benefits, let's move on to the ingredients.
Ingredients for Orange Salad
1. For the Salad
Orange: These fresh and juicy orange slices bring a sweet and sour taste to our salad for a mouth-watering experience.
Avocado: Fresh and creamy avocados work surprisingly well with oranges, both in taste and texture. This seemingly odd but amazing combo will please your taste buds in the most unexpected way.
Lettuce mix: Added for the salad base. With its vibrant red and green colors, the lettuce mix gives our salad an appetizing look and refreshing taste.
Red onion: Red onion slices add extra aroma to our salad.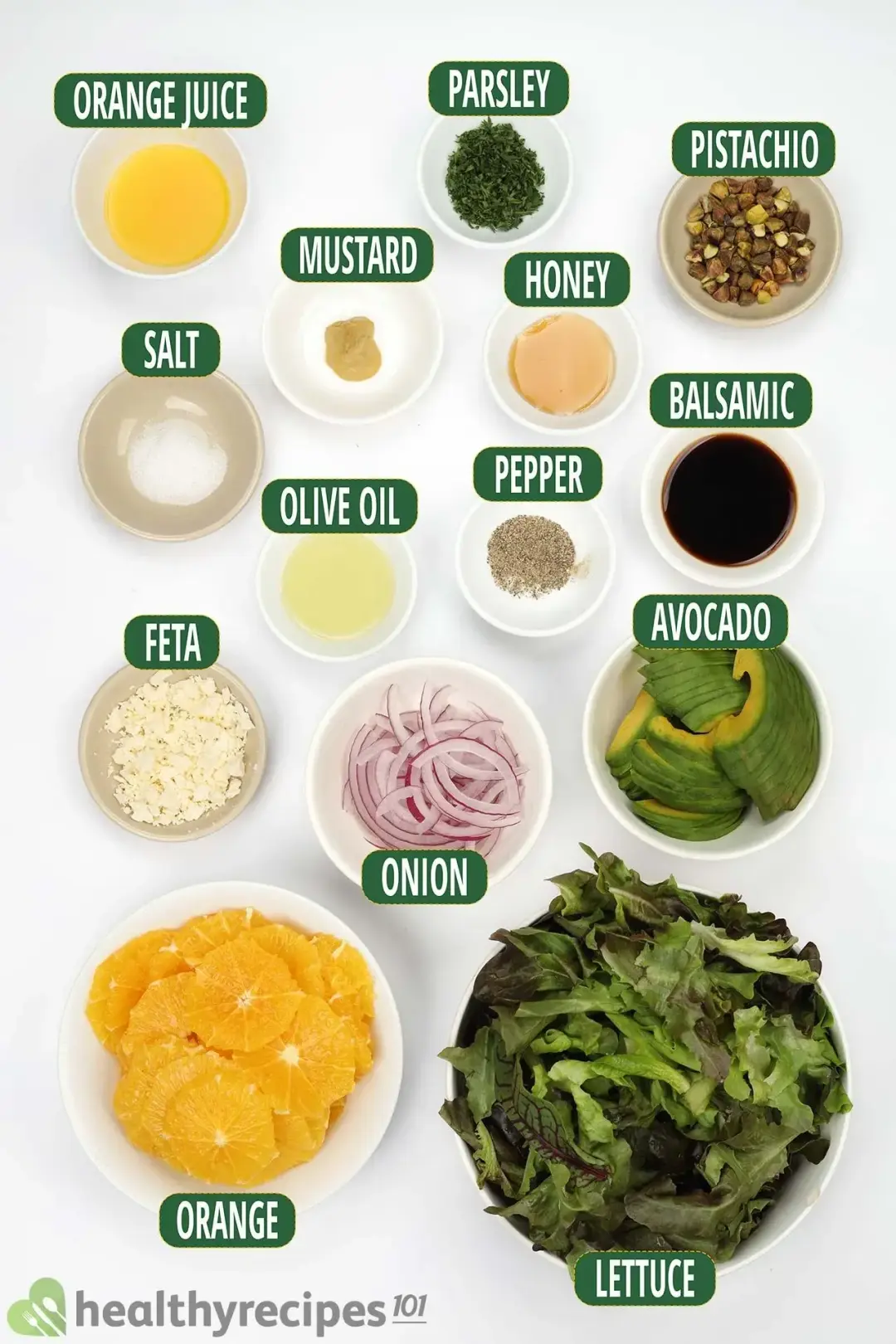 2. For the Dressing
Olive oil: We use cold-pressed, extra virgin olive oil.
Salt: A pinch of salt to taste.
Pepper: Pepper adds a nice kick to the overall flavor.
Honey: Sweet in taste and dense in texture, a few drops of honey helps balance out the tart taste of other acidic ingredients.
Orange juice: Fresh orange juice adds to the flavor and aroma of the dressing.
Balsamic vinegar: The mildly sweet and tangy taste of balsamic vinegar makes it an all-time favorite for salad dressing.
Dijon mustard: Dijon mustard adds pungency to elevate the flavor.
Parsley: Parsley adds an extra aroma to the dressing.
3. For the Topping
Pistachio nuts: Pistachio nuts have a nutty, earthy, and slightly sweet flavor.
Feta cheese: Feta cheese is a classic ingredient when it comes to salad topping. Its briny taste and creamy texture work beautifully in our dish.
Parsley: Parsley adds extra aroma and helps garnish our salad.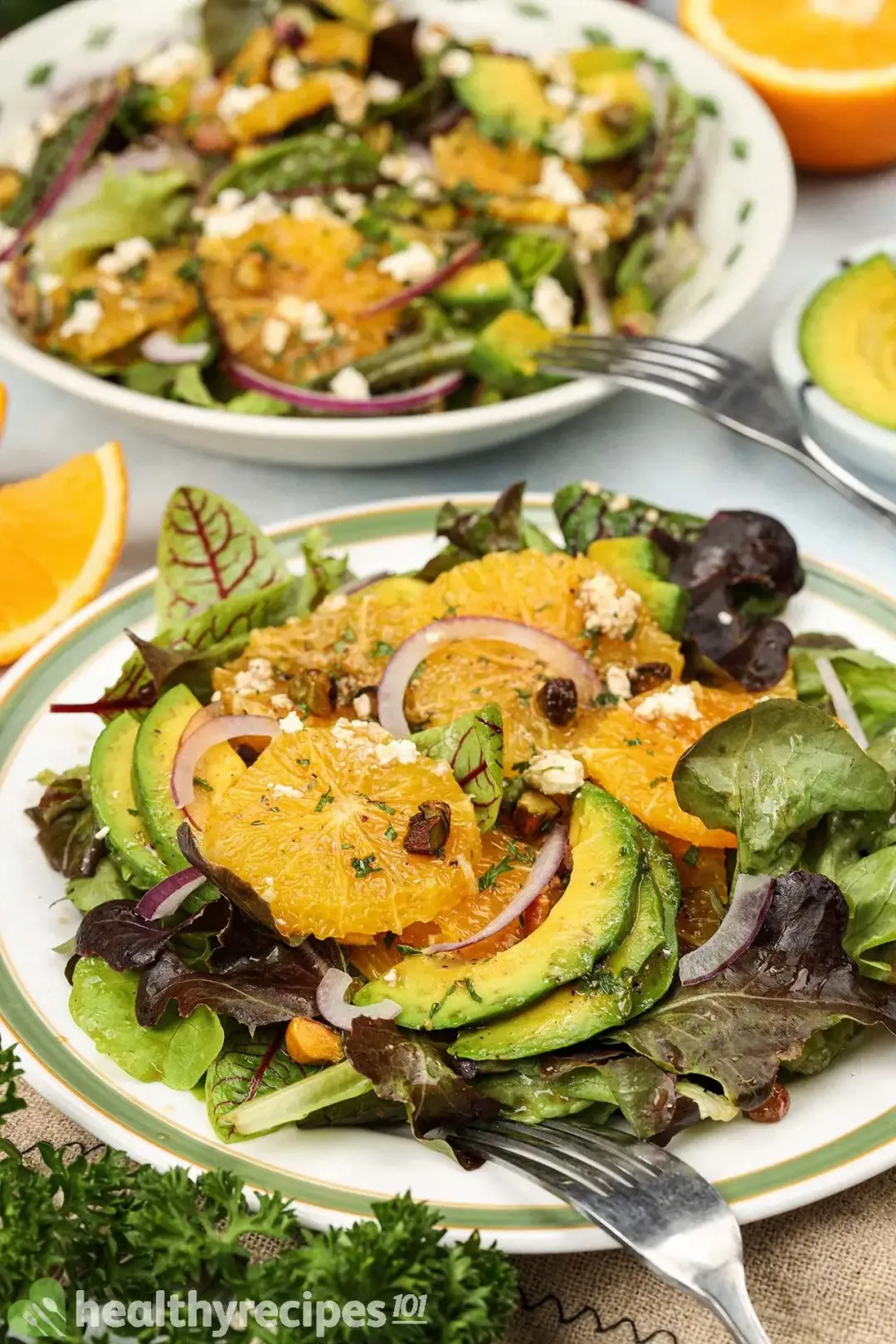 How to Prepare Ingredients for the Salad
For the orange: Cut the orange in half, then remove its skin with a peeling knife. After that, slice it thinly.
For the avocado: Cut the avocado in half, remove the seed, then peel off the skin. Then, slice it thinly.
With the lettuce mix: Wash them clean to remove any debris, then roughly chop them as desired.
How to Store the Leftover Orange Salad
With the leftover salad, you can store it in airtight containers in the fridge.
You shouldn't leave it for too long because the orange will turn bitter, and the avocado will also turn brown due to oxidation.
So it is best to consume it within 24 hours for the best quality.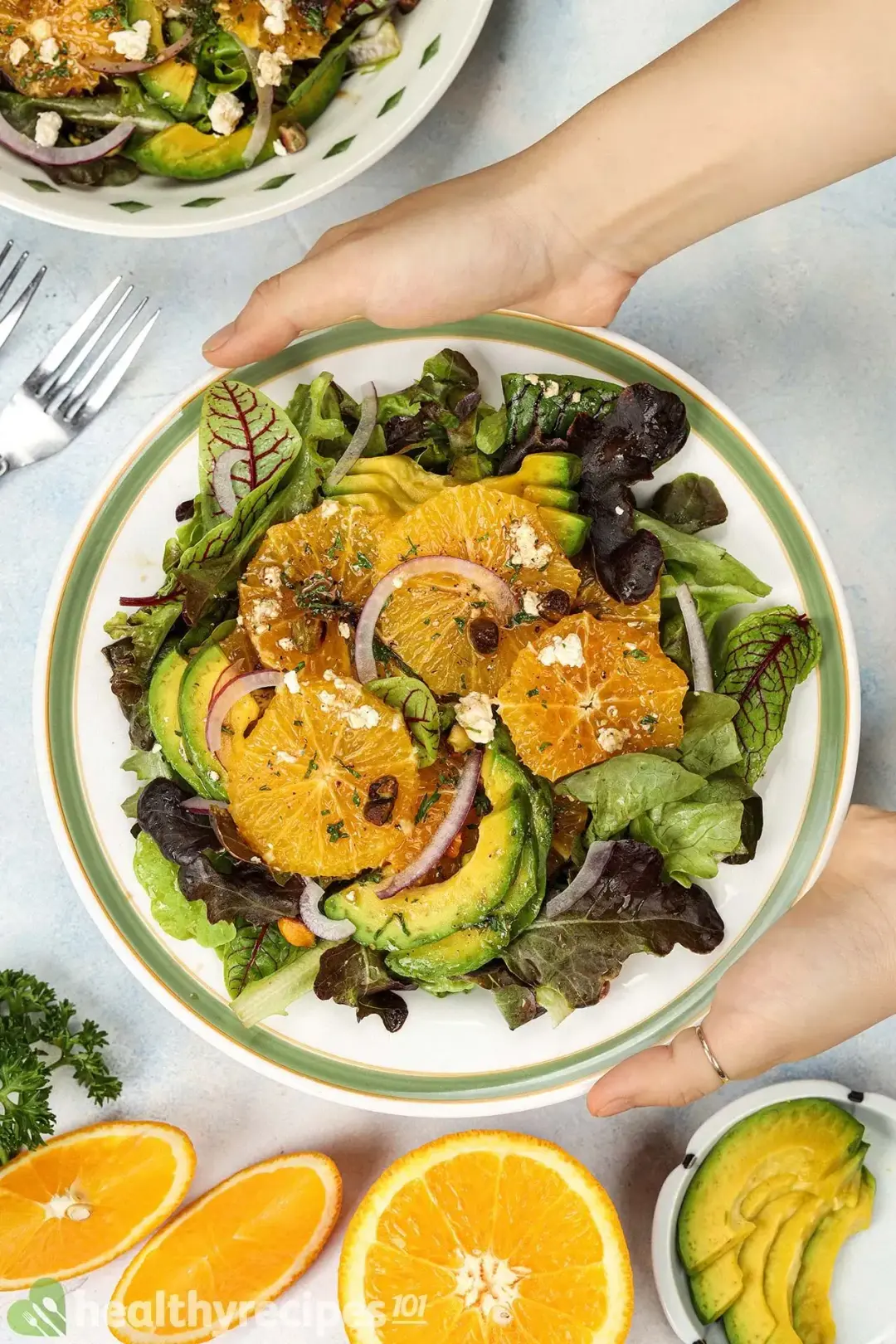 How to Make Orange Salad
This refreshing salad has juicy oranges and creamy avocados tossed together on a bed of greens with a delicious nut-and-cheese topping. Give it a try and get freshened up for the summer!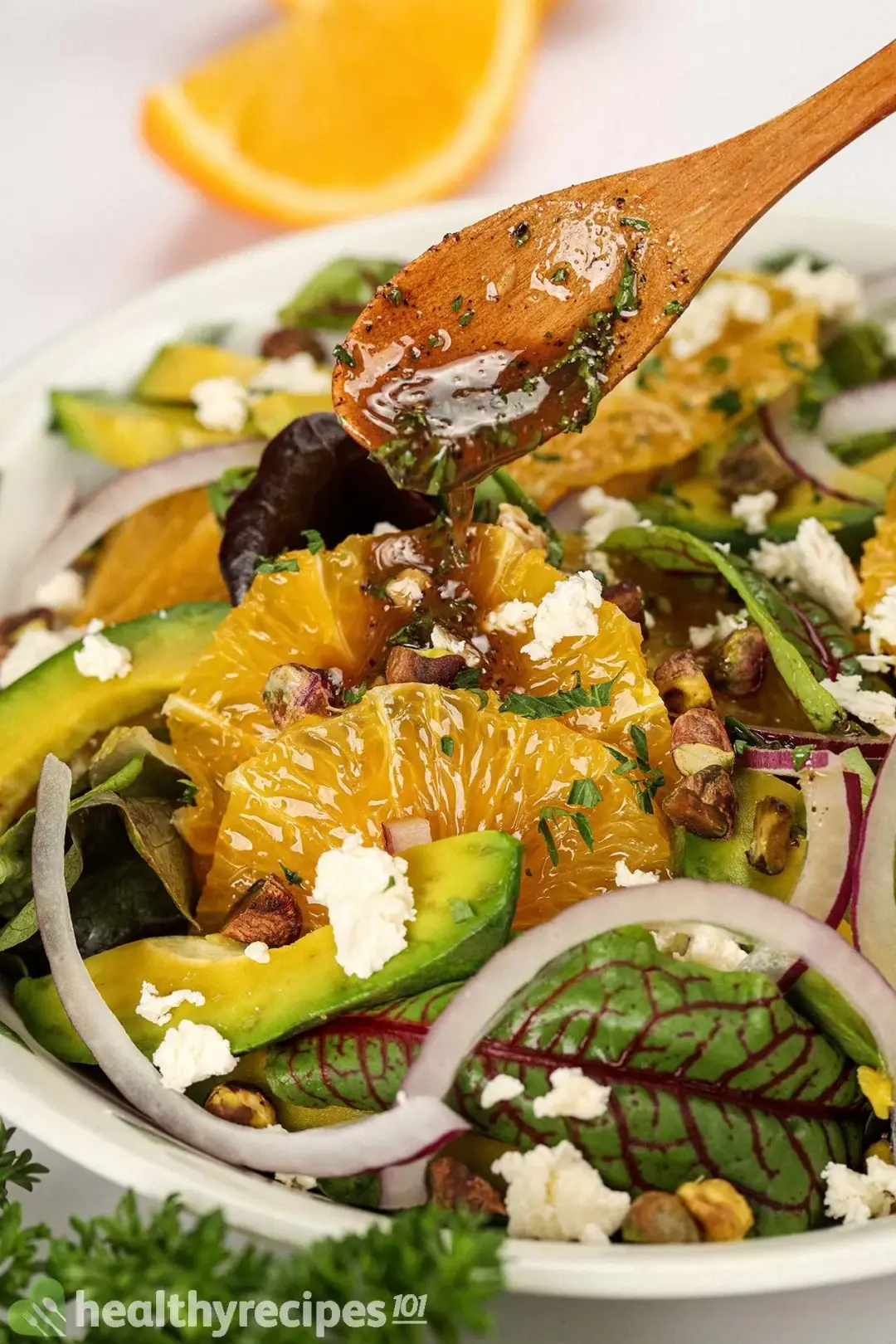 prep TIME

15 mins

total TIME

15 mins
COURSE

Side Dish

CUISINE

American

SERVINGS

servings

CALORIES

233 kcal
INGREDIENTS
16 oz

orange peeled and sliced

0.5 tsp

pepper

1 tbsp

olive oil

6 oz

avocado peeled and sliced

1 tbsp

balsamic vinegar

2 oz

red onions sliced

0.5 tbsp

honey

0.3 tsp

salt

2 tbsp

parsley chopped

1 oz

pistachio cut in half

1 fl oz

orange juice

0.5 tsp

traditional Dijon mustard

0.5 oz

feta cheese

4 oz

lettuce mix
INSTRUCTIONS
1
Make the dressing. Add 1/2 tsp pepper, 1 tbsp olive oil, 1 tbsp balsamic vinegar, 1/2 tbsp honey, 1/4 tsp salt, 1 tbsp parsley, 1 fl oz orange juice, 1/2 tsp Dijon mustard to a mixing bowl, then stir to combine.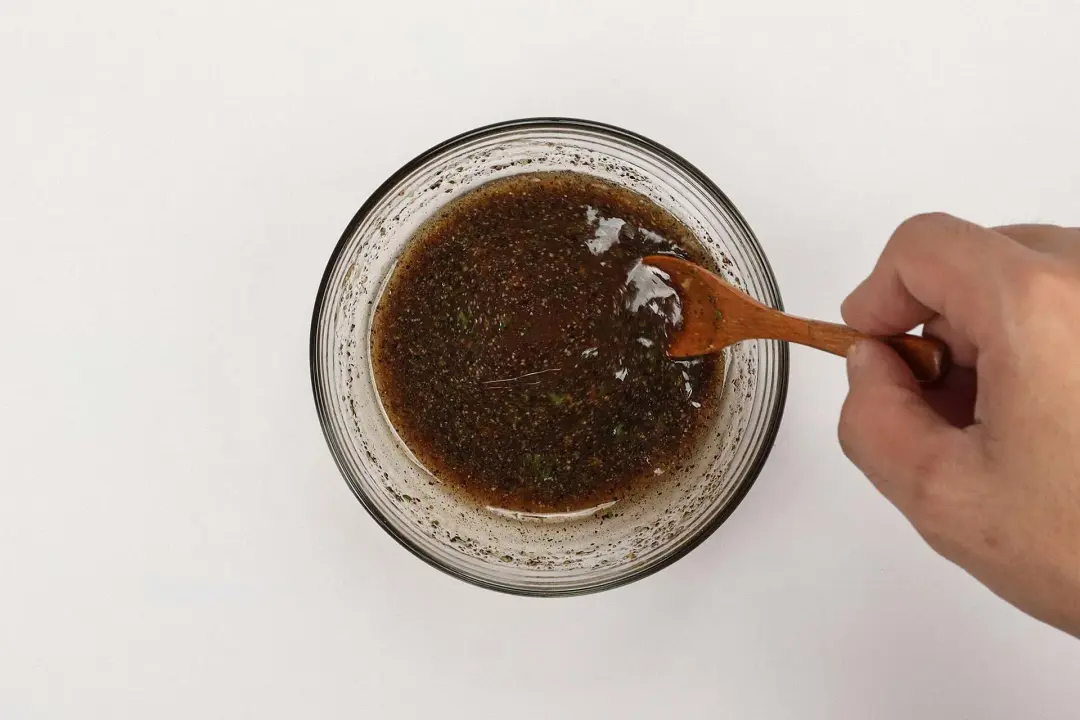 2
Assemble lettuce mix, orange, avocado, red onions, feta cheese, and pistachio on a serving plate.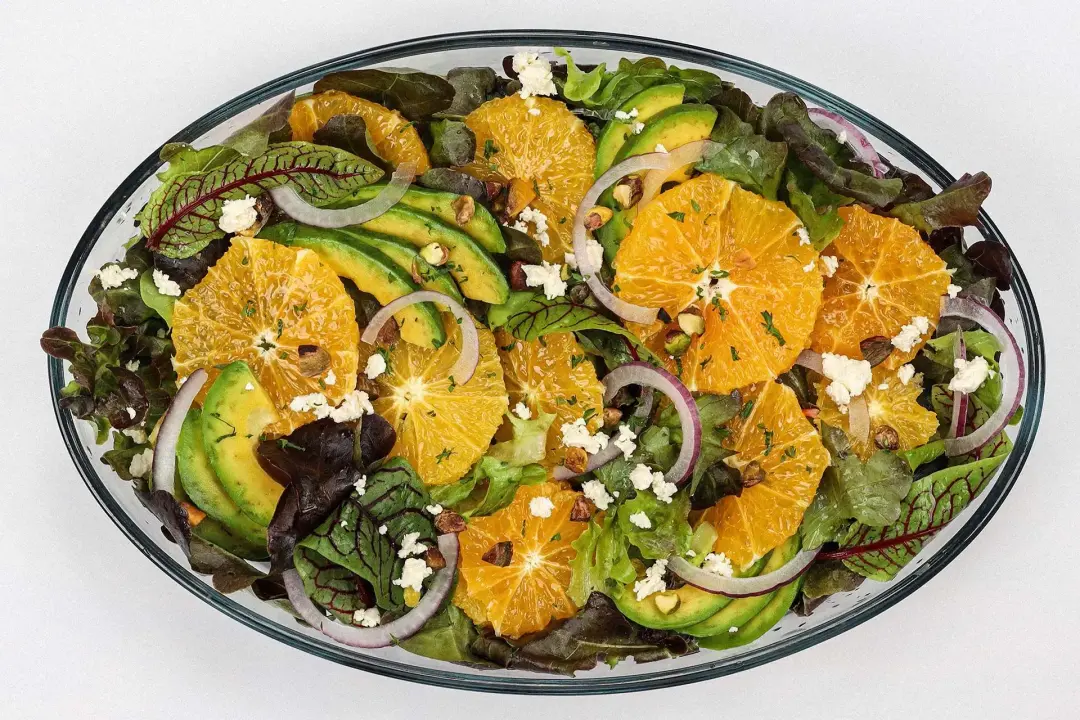 3
Top with parsley, then drizzle the dressing over the salad before serving.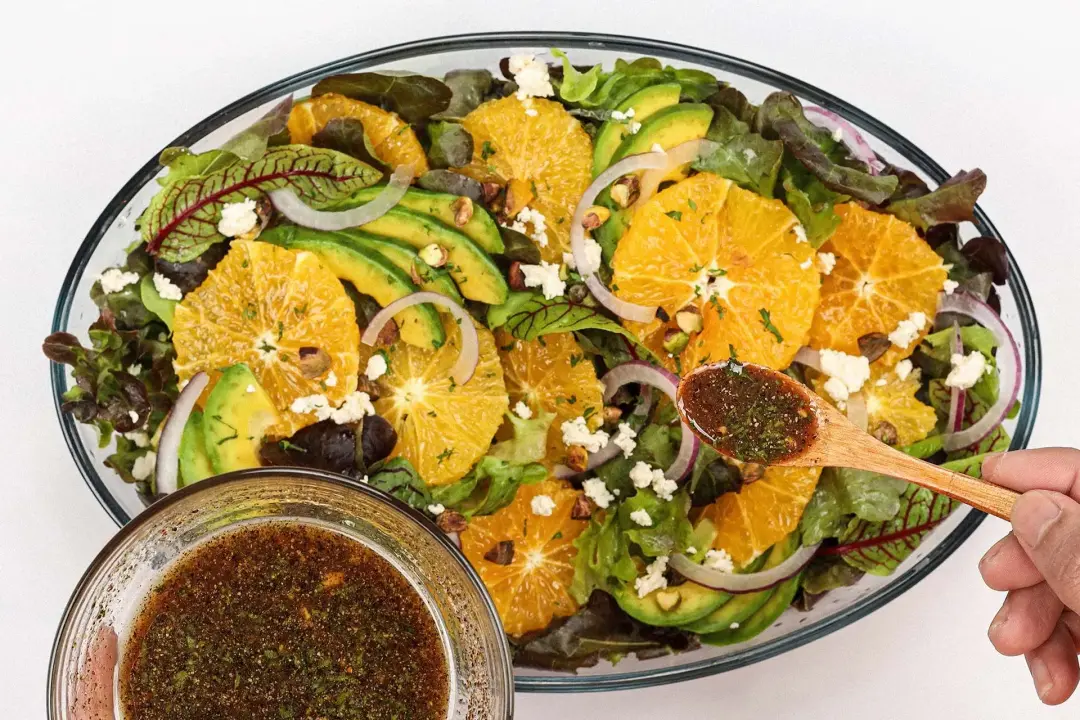 NUTRITION
Nutrition Facts
How to Make Orange Salad
Amount Per Serving (1 serving)
Calories 233
Calories from FDA
% Daily Value*
* Percent Daily Values are based on a 2000 calorie diet.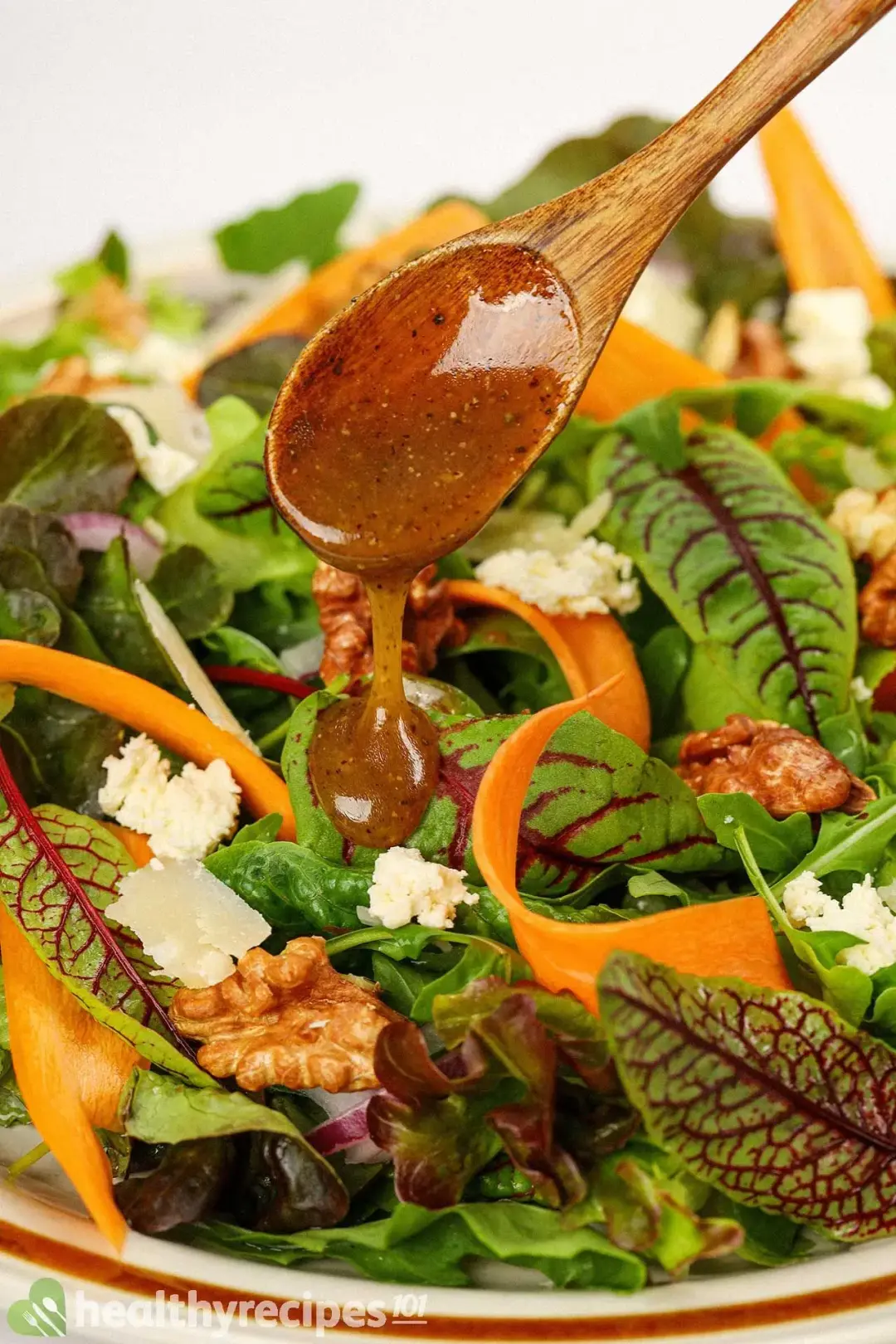 Salad Mix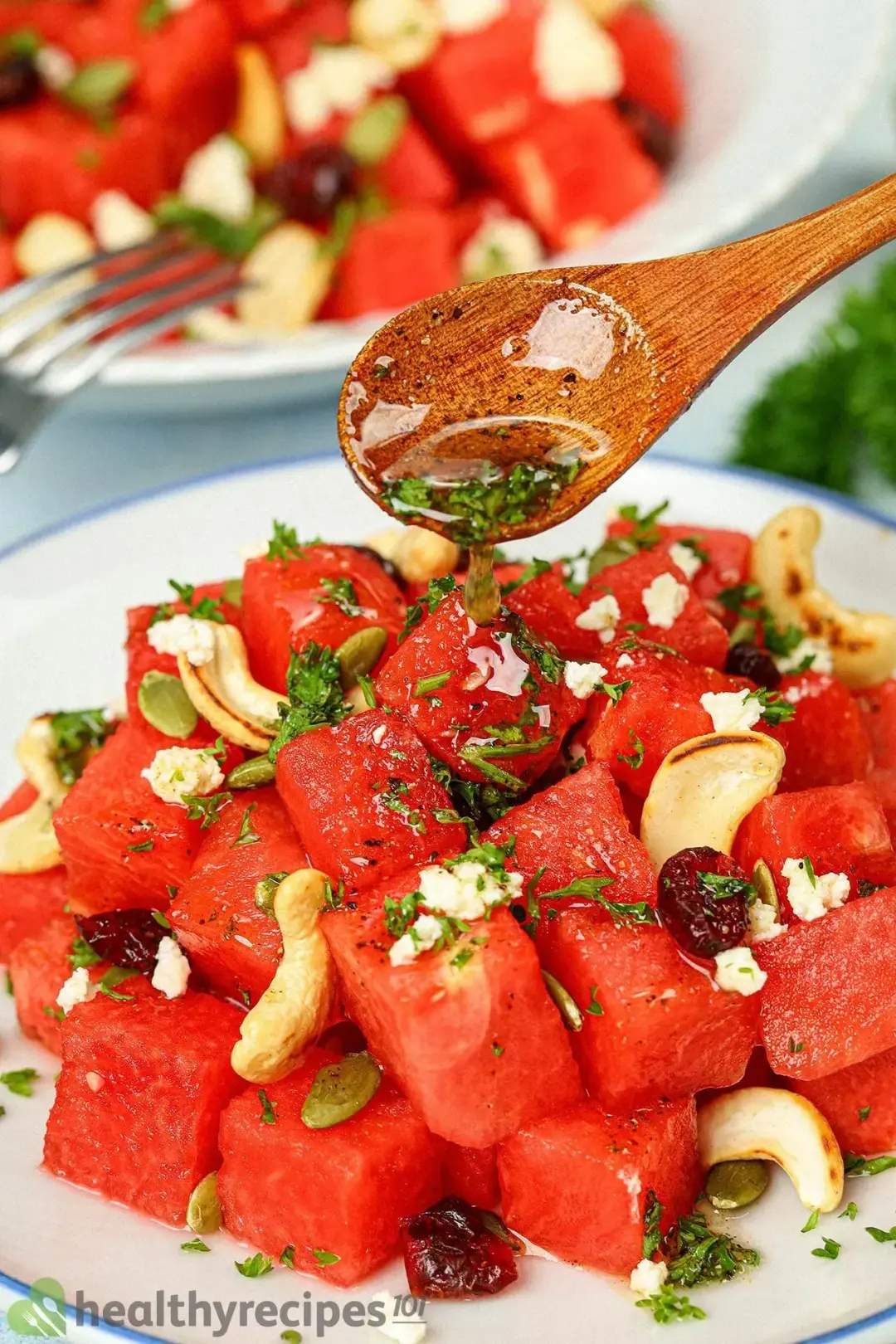 Next Recipe
Watermelon Salad
Watermelon Salad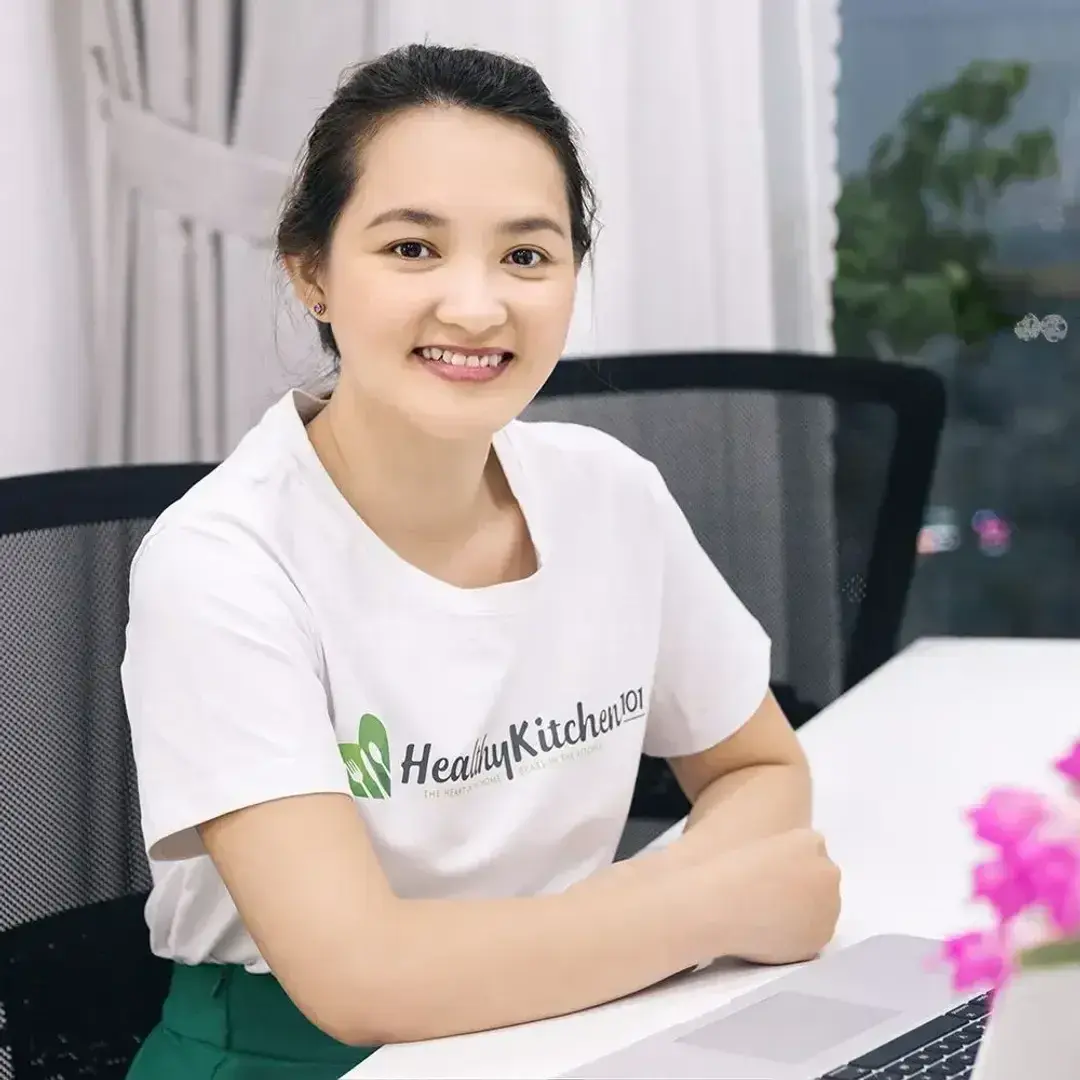 Luna Regina
Luna is the founder and chief recipe developer of Healthy Recipes 101. Apart from cooking, she also loves reading, programming, exploring the outdoors, and collecting useless facts about everything.